A kitchen countertop can make or break the way your kitchen looks. Since the countertop covers maximum space in a kitchen and is used the most, you can design it beautifully to enhance your kitchen.
Also, cooking in an area you have constructed the way you want can be liberating since cooking is a means of relaxation for many people. Are you looking for countertop ideas to renovate your kitchen?
Do you like to take on 'Do It Yourself' projects around the house? If you answered yes to these questions, why not combine them both? DIY is an incredible way to save the cost of labor. In our guide, we elaborate on some of the most affordable and creative DIY countertop ideas for your kitchen that will give it a luxurious touch.
Continue reading to find out!
DIY Countertop Ideas for Your Kitchen
1. Paint It Marble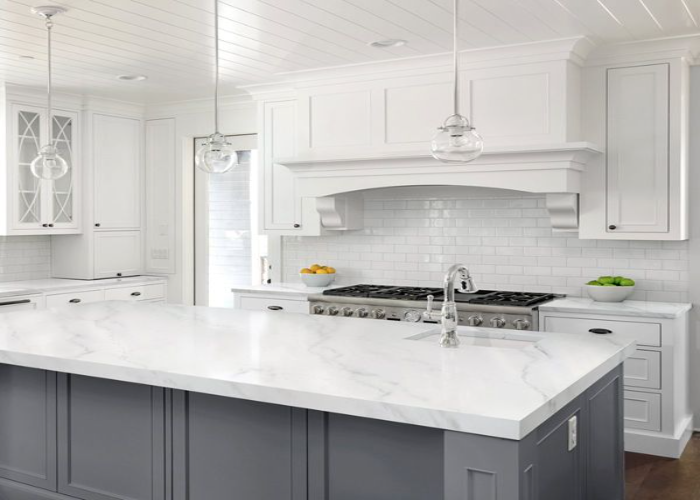 Were you aware of specialized types of white paint which look like marble? You can use any of them to paint your countertop and give it a classy look. The technique is easy, quick, and quite affordable. According to several customer reviews, it holds up for a long period as well. All in all, using a countertop painting kit for your kitchen is one of the best DIY countertop ideas.
2. Faux Tops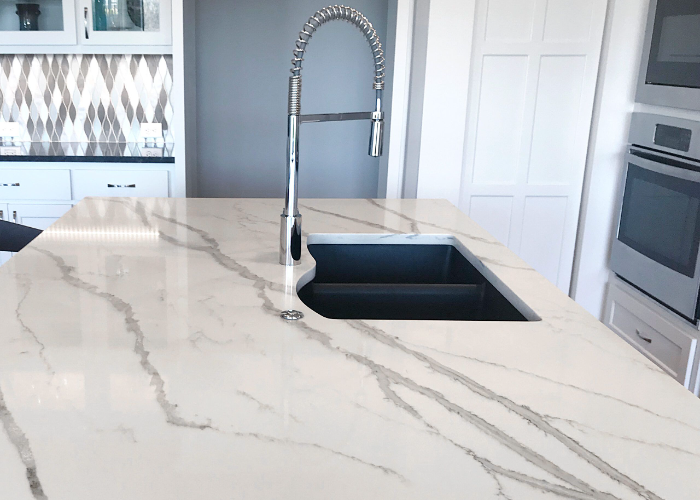 If painting seems a tough and sticky job to you, why not consider faux countertops? As the name suggests, these are marble-look-alike countertops designed using contact paper. It's pretty cheap with a strong adhesive that is known to last. Depending on the rest of your kitchen, you can select a glossy or matt finish. Explore options like gold, silver, black or vinyl designs here and pick the one you like best!
3. Butcher Block Tops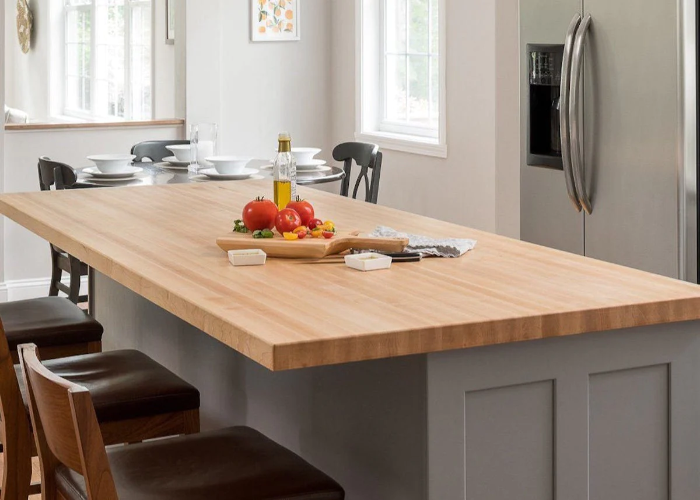 Butcher block countertops for your kitchen are an even more affordable option to consider while exploring different DIY countertop ideas. Although it takes a bit of effort, the results are totally swoon-worthy. The first step is to pick the type of wood you want. Oak is preferable over pine since it's hardwood, but you can go for any other. Use wood fillers and sanding techniques to give it a finished touch.
4. Ebony Wood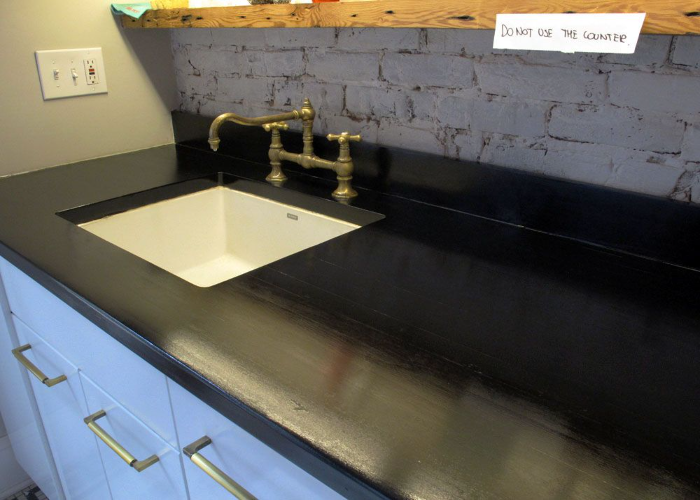 If you like the look of stone but don't wish to go high-budget, this DIY countertop idea is perfect for you. Ebony wood is a far cheaper and more durable option for kitchen countertops compared to dark stone. Once you stain them with Ebony, don't forget to add multiple coats of Varathene Crystal Clear (check out the satin one) to get the desired finish.
5. Penny Countertop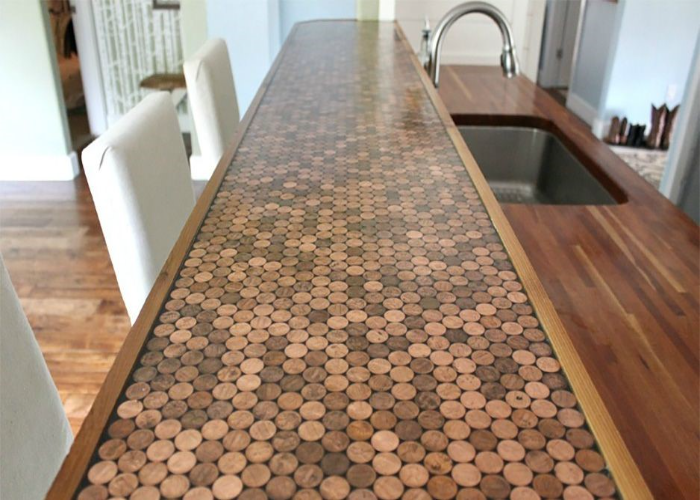 A penny countertop is, hands down, one of the most creative and innovative DIY countertop ideas for your kitchen. As the name implies, you use old pennies to fashion a countertop. However, you can use any other interesting material, like dried and preserved flowers under glass, and not just pennies. This way, your kitchen countertop will certainly be a great conversation starter and the talk of the party!
6. Chalk Paint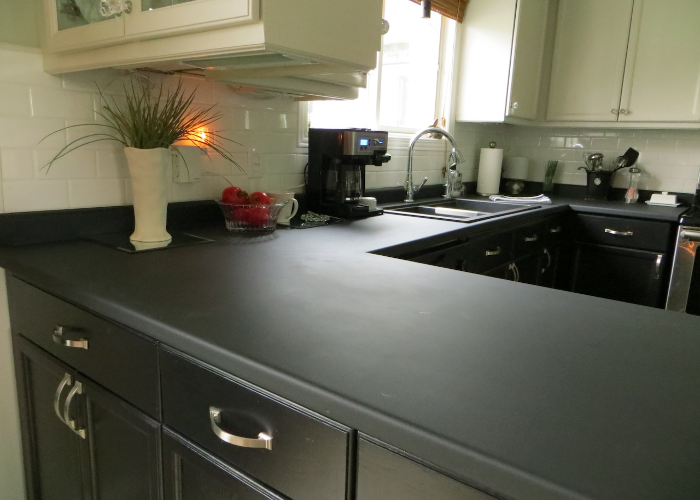 Chalk Paint is a pretty way of renovating your countertop since it adds an element of fun to the kitchen. However, it requires a bit of extra maintenance and isn't necessarily very durable. Hence, selecting chalk paint as your initial material must be a well-calculated decision. Is there a solution to it, though? What you can do instead is fashion a small part of the countertop using chalk paint to save you trouble.
7. Concrete Countertops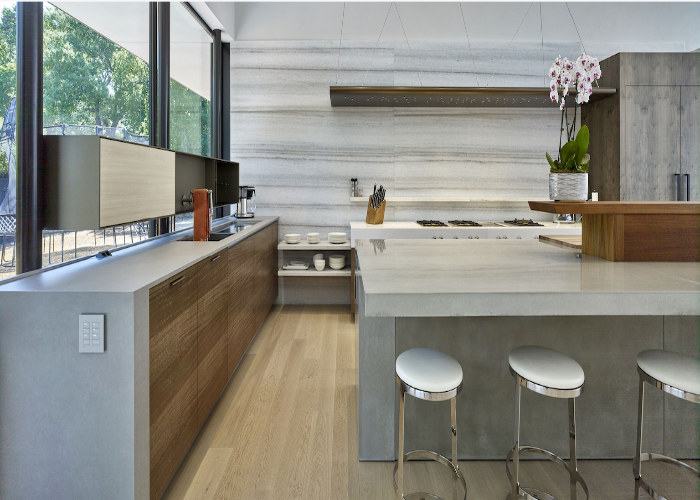 Do you have toddlers or young kids in the house who tend to cause a lot of chaos in the kitchen? Or do you and your partner like to experiment while cooking? Then this countertop is perfect for you. A concrete countertop can endure a lot of maltreatment, like spilling, burnt food, broken plates, etc. While it might be one of the tougher DIY countertop ideas to execute, it's quite doable once you understand the steps.
8. Wallpapers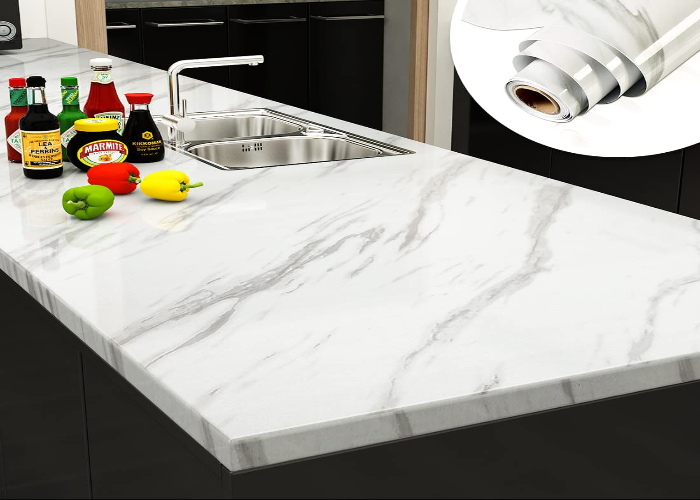 One of the quickest and most unique DIY countertop ideas is to use a peel-and-stick wallpaper to get the desired look. This way, you can explore any kind of design, like wood, marble, granite, or even solid colors. Do you find it tough to stay on one decision? Then this will work great for you as it's extremely budget-friendly, and you can change it as many times as you want to experiment freely.
9. A Splash of Copper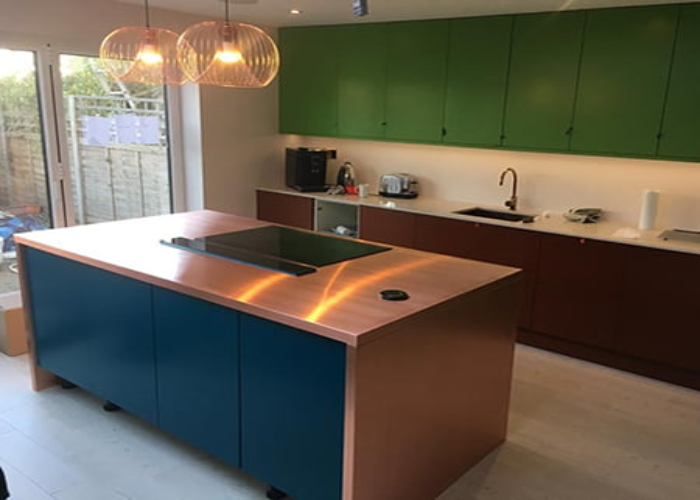 Copper countertops look classy and are easy to install if you style yourself as a handyman. They add depth and character to the kitchen. Since copper also has many anti-bacterial and anti-microbial properties, it is great for a kitchen. However, it needs a bit of maintenance. On the plus side, regular scrubbing down will help you clean the countertop as cleanly as possible.
10. Live Edge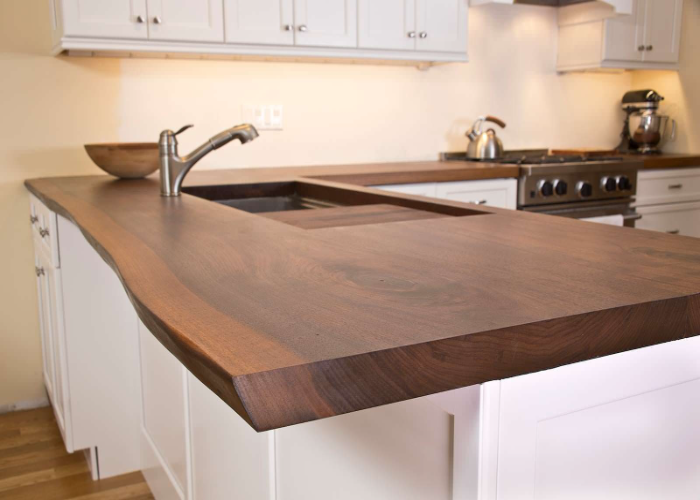 Live edge countertops are gaining increasing popularity nowadays. All you need to do is leave the edges of the countertop natural and avoid working on shaping them too much. They look classy, especially at home bars. This technique of styling your countertops is cheap and requires fewer tools too. However, to increase the durability, you can paint, stain or sand it. This way, it won't cause any harm either.
11. Subway Tile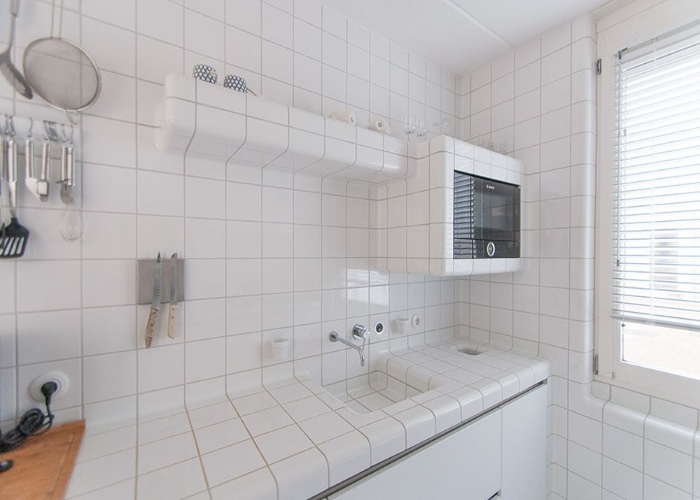 A subway tile countertop will make your kitchen seem lively and chic. You can construct it easily by following simple steps. First, measure a wooden board the size of your countertop and mount a cement backer board on it. Glue the subway tiles to the backer board and then fix the entire structure on your existing countertop, and voila! You're done. These countertops are great for small kitchens to make them seem brighter and bigger.
12. Stainless Steel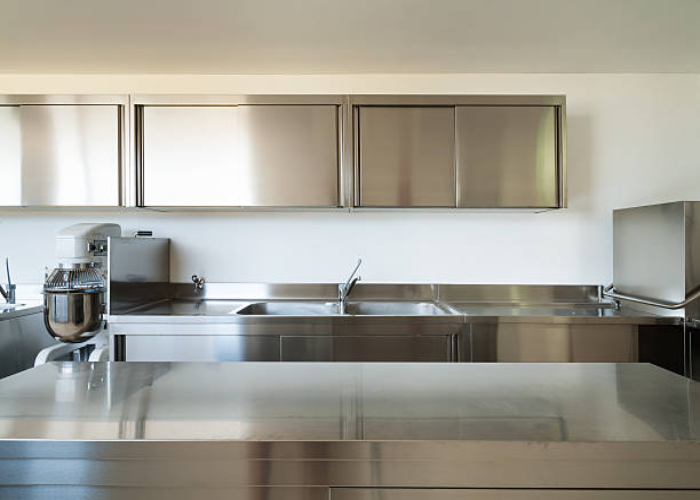 Stainless steel countertops are incredible if you don't like frequent cleaning since they're quite easy to maintain. They also give the kitchen a sleek and polished appearance. However, installing stainless steel countertops is not cheap at all and may go over the budget. Moreover, they are susceptible to scratches. Hence, according to several customer reviews, stainless steel countertops are preferred for utility spaces. You can always check them out as a backup!
13. Repurpose the Wood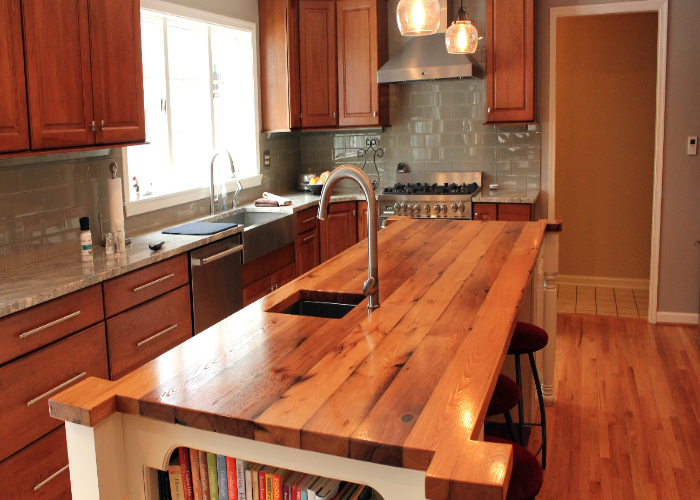 If you fashion yourself as a craftsperson who likes to take projects around the house, this is one of the most creative DIY countertop ideas for you. Repurposing old wood will save a ton of money and add the required depth and character to your kitchen. You can use old doors, tables, or bedframes to design a countertop. However, you will have to work a lot on the wood to add the appropriate finishing.
14. Renovate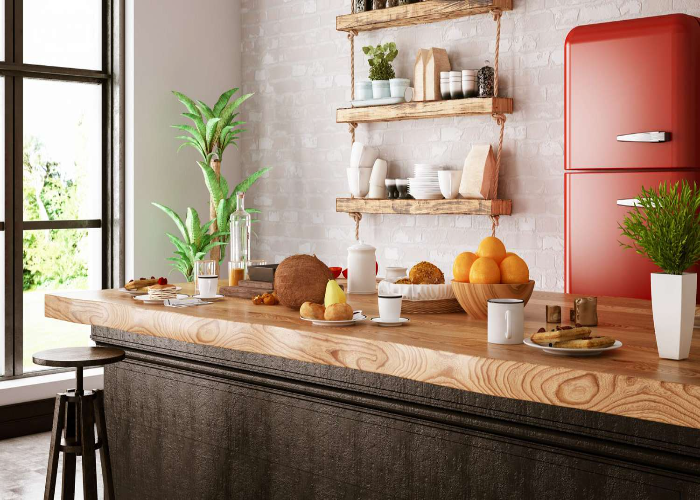 One of the best DIY countertop ideas to save money is to renovate and work on the existing countertop. If you had previously installed a laminate countertop, then you can do resurfacing. It costs less and has a high impact as well. For wooden countertops, you can add a new stain or experiment with some of the easy DIY countertop ideas like painting or using contact paper. It saves resources and also requires less effort.
How to Pick A Kitchen Countertop?
Selecting a countertop and then renovating it can be tedious and exhausting. Fortunately, we have broken down the process of finalizing a kitchen countertop into simple steps, which will make the task fun and interesting for you. Although these steps apply to any kind of installation, it is advisable to be extra mindful while exploring DIY countertop ideas.
1. Visual Style Preferences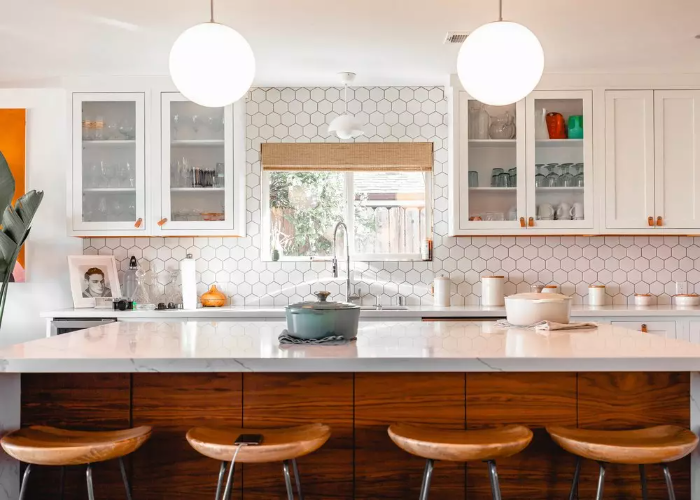 Aesthetic! Visual style preference is another way of advising you to know your aesthetic. Since you will be working in the kitchen every day and using the countertop for a majority of activities, it goes without saying that you should listen to what your heart wants in terms of style, vibe, and look. The "theme" you select will influence the material and techniques that you use while installing the countertop.
2. Utilitarian Material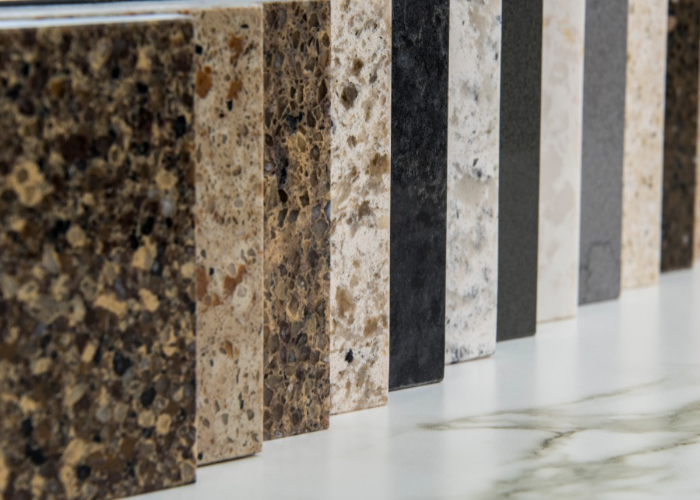 We add this as an extra step because choosing the right material is quite crucial. But how to know which one is apt? Consider your needs. If you have a lot of spill accidents in the kitchen, you might want to choose a material accordingly. Some countertop materials are more porous and liable to get cracks faster. Selecting a utilitarian material to implement your DIY countertop ideas will also increase the durability of your project.
3. Easy Maintenance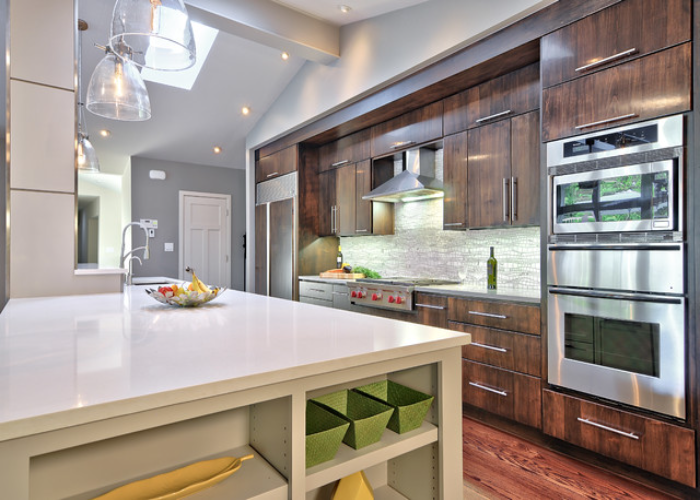 A component of the kitchen which gets used so much will also require the highest amount of maintenance. Even though we clean the countertops almost every day, certain types of materials need additional care routinely, like polishing, sealing, and sanding. Hence, this becomes a key factor in the decision-making process. If you don't want to invest many resources, go for quartz and laminate. These are low-maintenance and inexpensive to repair.
4. Hefty Costs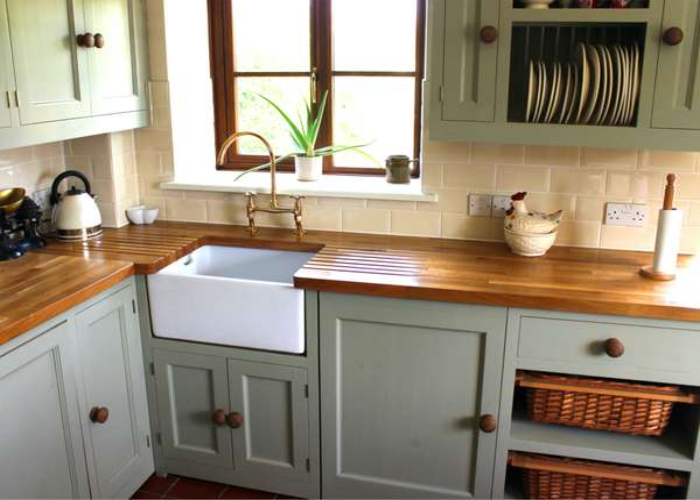 One of the major reasons for exploring DIY countertop ideas is often cited to be the high costs. Not only are the materials expensive, but opting for installation services can also cost you a lot. Hence, consider all the detours and small components, and then set a budget for the renovation of your kitchen countertop. This technique will make the process of choosing materials quite easy as well.
5. Sink Mounting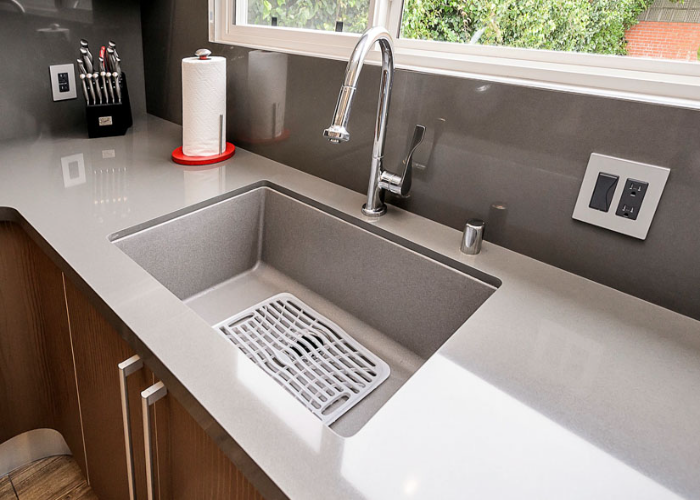 Sink mounting can be of two types – under-mounter sinks and over-mounted sinks. The edge lip of an under-mounted sink typically goes below the kitchen countertop. Whereas, for the latter, the sinks are dropped into the countertops, and their edges come over it. Granite, concrete, marble, and quartz are some of the best-preferred materials for under-mounted sinks. Or you will have to pick a material that is comparatively more sturdy and rigid.
6. Expert Advice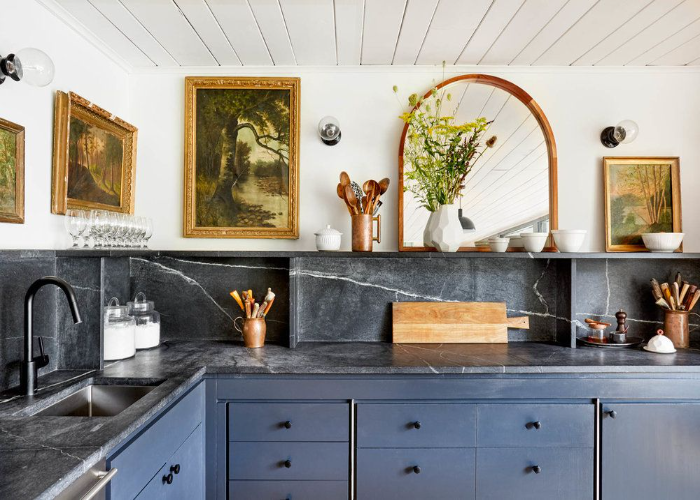 Home planners and experts can help you design your kitchen in a way that not only maintains the flow of your home but also matches all the above criteria. Paying an expert for additional advice might cost you a bit more, but in the end, making the right decisions with your material and each of the steps will save you more money. The only thing to ensure is to communicate your needs and expectations well.
Final Words
Designing a countertop for your kitchen can be a fun and creative 'Do It Yourself' process. The first step is to understand your needs and start exploring different countertop ideas accordingly. Consider materials that also suit your needs and not just match the aesthetic.
Next, take into account the maintenance that goes behind each material. For instance, some substances like stainless steel are easy to clean and maintain. Also, set a budget. Renovation projects around the house usually start small, but they can eventually escalate quickly in terms of cost.
Hence, it is advisable to set a fixed amount beforehand and move ahead accordingly. Lastly, you can also take expert advice from interior designers or home design visionaries to guide you in a direction that meets all your needs and expectations.
Once you're sure about the procedure of installing or renovating kitchen countertops, you can start exploring DIY countertop ideas. Out of the many ideas elaborated on in our guide, which one is your personal favorite?
Let us know in the comments section below!
Frequently Asked Questions
Which is the Easiest DIY Countertop?
The easiest DIY countertop for kitchens is laminate. It is available in many assertive colors and designs like stone or wood, which will match everyone's aesthetic and vibe. It is also quite easy to install by yourself and great for saving money.
Which is the Cheapest DIY Countertop?
Money and budget can be pivotal while installing or renovating a kitchen countertop. If you're looking for affordable varieties with various designs, colors, and patterns, ceramic and porcelain tiles might be appropriate for you. Many options mimic granite and other types of stone. Although natural stone tiles are more expensive than ceramic, they are much more affordable than slab granite or marble.
Which Countertop is Most Durable?
Quartz is one of the most durable materials for any kind of renovation work around the house. Investing in a durable countertop is often a wise decision as it requires less maintenance and is more or less a lifelong investment.
Which is the Healthiest Kitchen Countertop?
Some of the healthiest and least toxic countertops include granite, marble, natural stone, quartz, solid surface countertops that are plastic resin-based, stainless steel, butcher block, and tile countertops. Considering the toxicity of the material is an essential step while designing kitchen countertops.
Which Countertops Are Preferred by Chefs?
Professional cooks and chefs usually prefer granite countertops as their ideal material. Since one of the largest portions of most kitchens is the countertops and worktop areas, carefully choosing the material used in these areas is essential to the quality of the entire kitchen.