Whether simple or very fancy, a mailbox speaks a lot about the personality of the owner. A well-designed mailbox not only provides a secure space but also reflects the style of the owner. There are a few very essential points to keep in mind while designing the mailbox post ideas. First and foremost is functionality. It must be able to keep mail of different sizes, it must stand in all weather conditions, and it should provide ease in dropping and receiving mail.
We have to make such mailbox post ideas where functionality should not affect the design of the mailbox as the design will give the mailbox a look that will attract guests to the first impression. The shape, color, design, and material everything play an important role in making an overall impressive mailbox. In addition to the mailbox, the surrounding plays an important role in the overall look and design of the mailbox.
So in this article, we will explore various mailbox post ideas that will enhance the look of your house and deliver a beautiful experience of designing with some fun ideas.
Best Eye-Catching Mailbox Post Ideas
A mailbox is something that a person sees when they enter your house. Thus, it signifies a lot of things about the person living inside the house. However, you can be creative using these ideas, as we have mentioned below.
1. Mailbox on a Tree Branch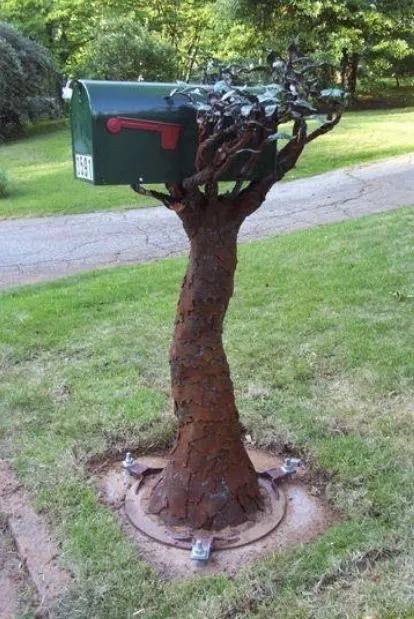 One incredibly impressive and unique idea for a mailbox post ideas is to mount it on a tree branch. This unique approach adds a touch of whimsy and natural beauty to your mailbox. By carefully selecting a sturdy tree branch and securely positioning the mailbox, you can create a striking display that immediately captures the attention of your guests.
This design choice not only blends seamlessly with the surrounding environment but also showcases your creativity and love for nature. A mailbox on a tree branch is sure to leave your guests in awe and create a lasting impression of your home.
Similar Post: 17 Guest Bedrooms Ideas to Bring Them Ultimate Comfort
2. A Mailbox Using Granite Brick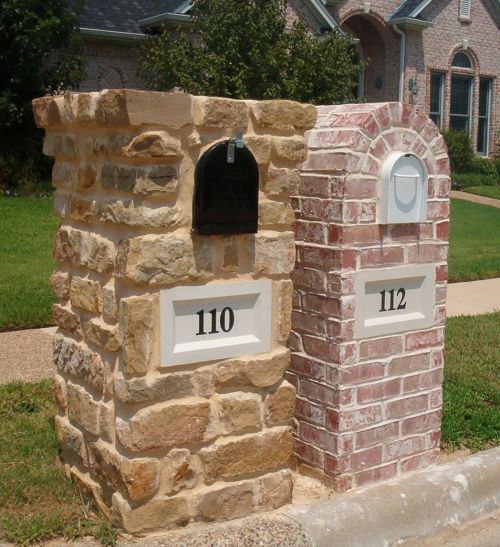 If you are looking for long-term mailbox post ideas, then you should definitely try installing a mailbox made up of granite blocks. These granite bricks are impressive and sophisticated in appearance. Along with that, the use of granite bricks gives a luxurious appearance to the place where it is placed. All you need to do is construct the mailbox with granite bricks. So that you create a durable and visually striking structure that exudes timeless beauty.
The natural variations in color and texture of the granite enhance the overall appeal of the mailbox, giving it a unique and prestigious look. Whether you choose a sleek and minimalist design or incorporate intricate detailing, a granite brick mailbox is sure to impress your guests and leave a lasting impression of your home's refined style.
3. Climber Plant Mailbox Post Ideas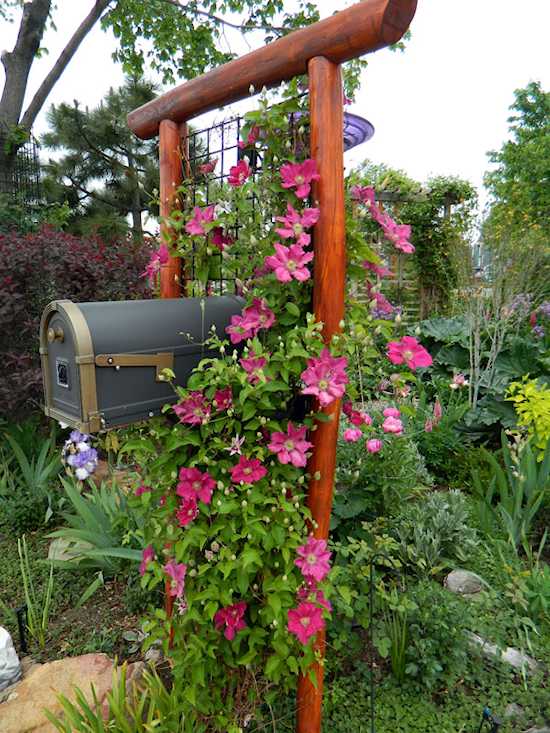 Adding a climber plant on the mailbox stand is truly impressive as it adds a green touch to your artistic mailbox. This mailbox post idea creates a captivating and organic display that will amaze your guests. You can choose a beautiful, fast-growing climber plant like a vibrant flowering vine or ivy. Provide them with support in the direction around the mailbox stand.
As the plant flourishes and blooms, it adds a touch of natural beauty and softness to the otherwise rigid structure. The lush greenery and colorful blossoms create a visually stunning contrast against the mailbox, transforming it into a charming focal point that effortlessly blends with the surrounding landscape.
4. Mixed Flowers at The Bottom of The Mailbox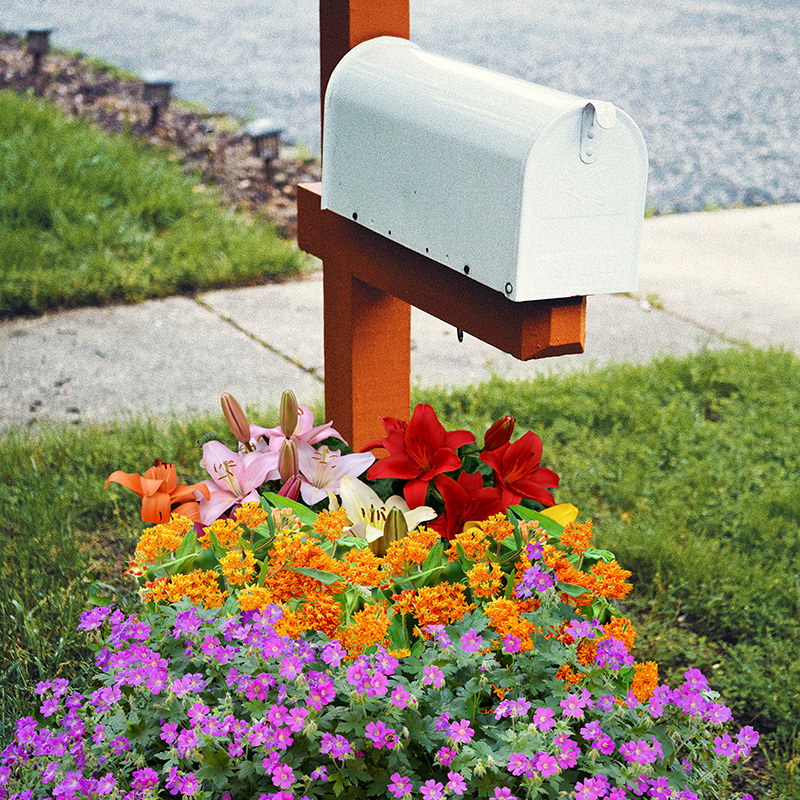 A delightful and impressive idea for a mailbox design is to incorporate mixed flowers at the bottom of the mailbox. By planting an array of colorful blooms around the base, you instantly create a vibrant and inviting display that catches the eye. Choose a variety of flowers with different heights, colors, and textures to create a visually dynamic arrangement.
Whether it's cascading petunias, cheerful daisies, or fragrant lavender, the mix of flowers adds a touch of natural beauty and charm to the mailbox area. This design choice not only enhances the curb appeal of your home but also creates a warm and welcoming atmosphere for your guests.
5. Brick Mailbox
If you are looking for mailbox post ideas and have wanted something for a long time, then you can surely opt for a brick mailbox. As constructing a mailbox with bricks adds a touch of sturdiness and elegance to your home's exterior. The natural texture and rich color of the bricks create a classic and sophisticated look that stands out from traditional mailbox designs.
Whether you choose a simple and minimalist brick structure or opt for intricate patterns and detailing, a brick mailbox adds a sense of permanence and grandeur to your property. This design choice not only exudes a sense of craftsmanship but also complements a wide range of architectural styles.
6. Pebbles and Stones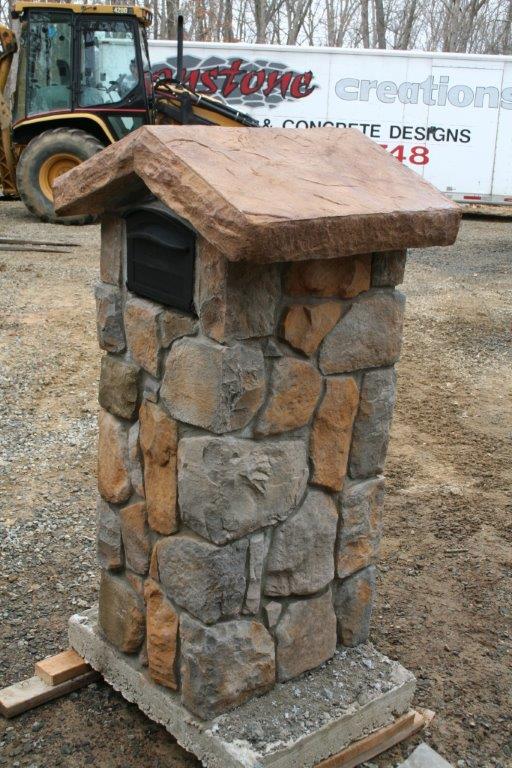 Using pebbles and stones as a design element for your mailbox is a creative and eye-catching mailbox post idea that is sure to impress your guests. If you incorporate these natural elements, you add texture, depth, and a touch of rustic charm to the mailbox area. All you need to do is arrange an assortment of pebbles and stones around the base of the mailbox, creating a visually appealing and organic border.
You can choose a monochromatic palette for a clean and minimalist look or opt for a mix of colors and shapes to add vibrancy and visual interest. The pebbles and stones not only enhance the aesthetic appeal of the mailbox but also provide a natural ground cover that requires minimal maintenance.
7. Industrial Type with a Simple Box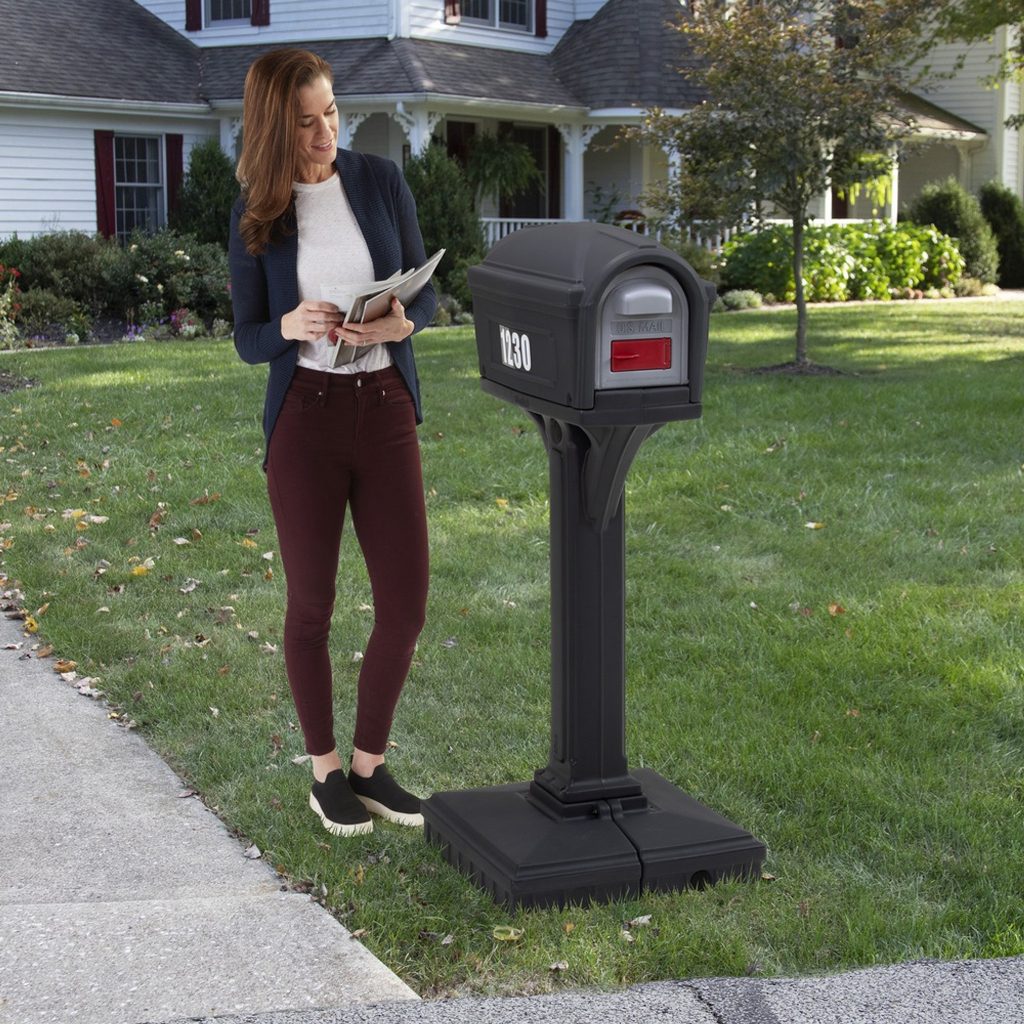 Industrial type with a simple box adds a minimalist approach that combines sleekness and functionality, creating a striking and modern mailbox. Opt for materials like galvanized steel or brushed metal to achieve an industrial aesthetic. The clean lines and sharp edges of the simple box design make a bold statement and give your mailbox a sleek and sophisticated look.
This design choice is perfect for those who appreciate a contemporary and minimalist style. The industrial-type mailbox not only adds a touch of urban charm to your property but also reflects your taste for modern design.
8. Metal Design Engraved Mailbox Post Ideas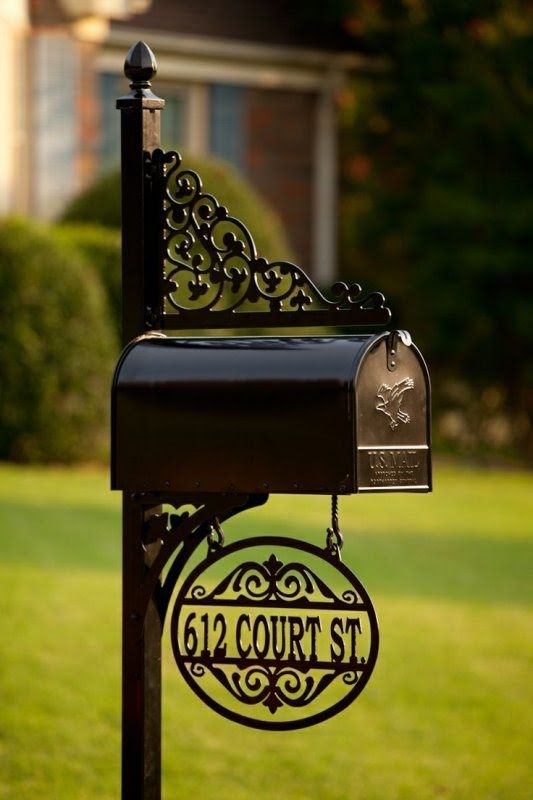 A metal design engraved on the mailbox is truly innovative, as it could be anything from your name initials to any modern pattern that you admire the most. You can choose anything in the mailbox. These are unique mailbox post ideas because they incorporate intricate and artistic engravings onto the metal surface. You elevate the mailbox from a merely functional object to a stunning piece of craftsmanship.
Whether it's ornate patterns, elegant motifs, or personalized details, the engraved metal design adds a touch of sophistication and uniqueness to your mailbox. The precision and attention to detail in the engravings showcase a level of artistry and refinement that will leave your guests in awe. This design choice not only enhances the visual appeal of the mailbox but also adds a personal and sentimental touch.
9. Pillar-Style Mailbox Post Ideas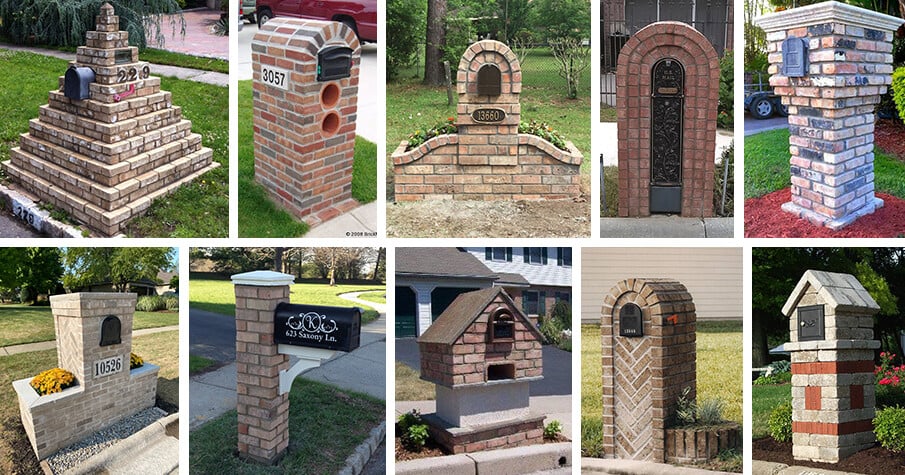 Creating a pillar made of stone for your mailbox is an idea that is certain to impress your guests. The use of stone adds a timeless and majestic quality to the overall design. A stone pillar not only enhances the durability and sturdiness of the mailbox but also brings a sense of grandeur and elegance to your property's entrance. Choose from a variety of stone options, such as granite, limestone, or sandstone, to suit your preferred aesthetic.
The natural texture and earthy tones of the stone pillar create a visually captivating focal point. This design choice not only showcases your attention to detail but also adds a touch of sophistication and refinement to your home's exterior.
Also Read 13 Budget-Friendly Ideas for Remodeling Your Guest Bathroom
10. Hanging Flower Basket Mailbox Post Ideas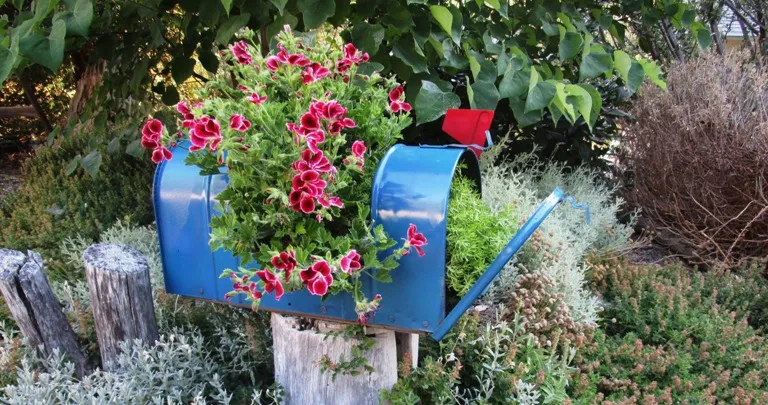 Who does not like a bunch of flowers? I guess everybody likes them. However, you can incorporate a hanging flower basket in your front yard along with your mailbox is a pretty decent idea. You can add a vibrant touch by hanging a basket to the mailbox post or arm. These mailbox post ideas will instantly add a touch of beauty and charm to the area where the mailbox is placed.
You can choose a variety of colorful blooms and trailing vines to create a stunning display that complements the surrounding landscape. The sight of the blossoming flowers swaying in the breeze creates a warm and inviting atmosphere. This design choice not only enhances the visual appeal of your mailbox but also showcases your love for nature and attention to detail.
11. A Fortress Made of Brick and Cement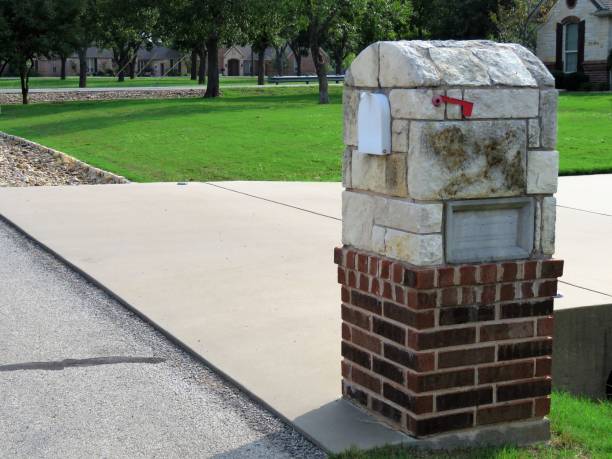 Creating a fortress-style mailbox made of brick and cement is quite a task, but it is worth it in the end. This is also one of the long-lasting mailbox post ideas. You can use durable and sturdy materials while creating a unique-style mailbox. The fortress-like structure not only adds a unique and eye-catching element to your property but also shows your craft and creative ability.
The combination of brick and cement creates a visually imposing and robust appearance, giving your mailbox a sense of permanence and grandeur. This design choice not only enhances the security of your mail but also adds a touch of architectural elegance to your home's exterior.
12. Hanging Lamp or Lantern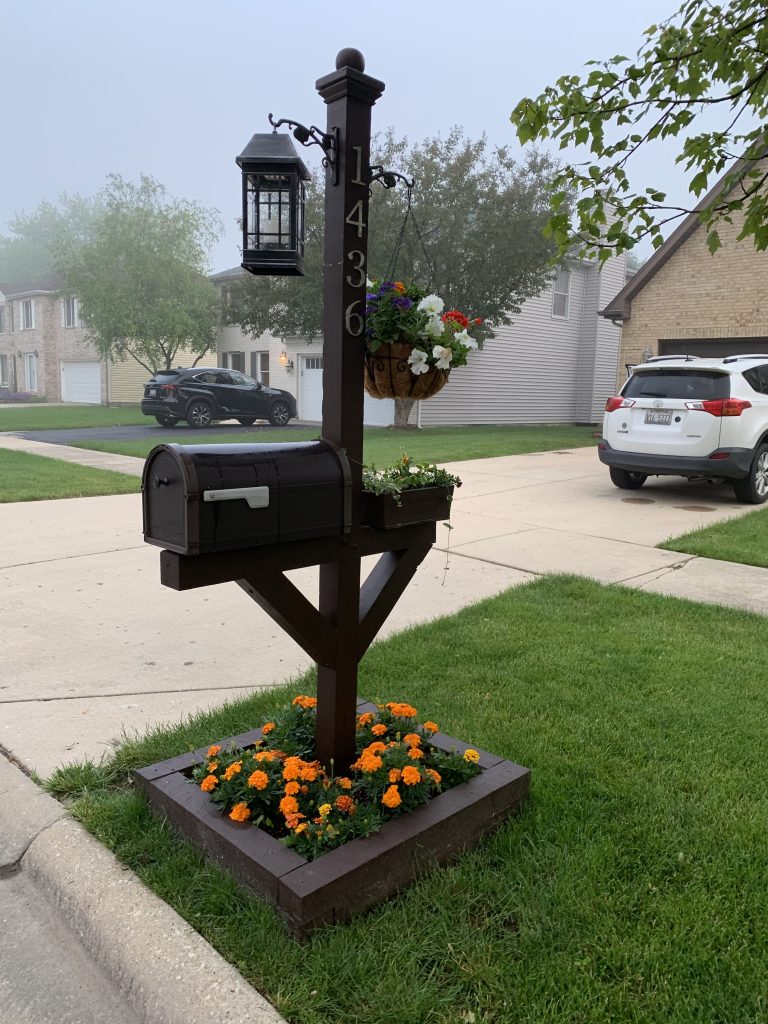 If you find all the above-mentioned ideas quite tiresome, then you can simply hang a lamp or lantern to give your mailbox post a new look. You can choose a stylish and decorative lantern hanging on the mailbox post or arm.
This will instantly create a warm ambiance. Furthermore, you should choose a lamp or lantern that goes well with the architecture of your house and also shows your personal choices. This design choice not only enhances the visual appeal of your mailbox but also showcases your attention to detail and creates a welcoming atmosphere.
13. Lustrous Metal Design Mailbox Post Ideas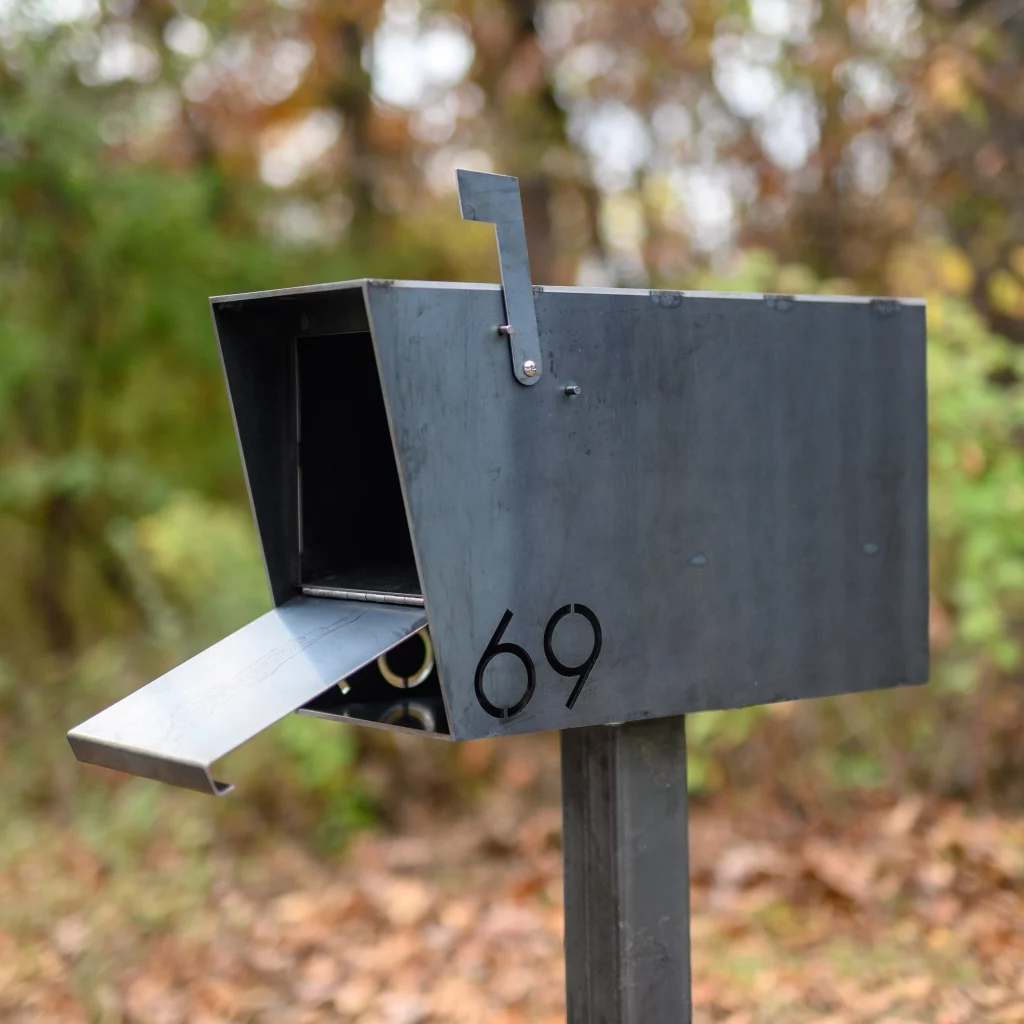 The lustrous metal design is always a sophisticated and modern choice for having in or outside your house. You can opt for this mailbox post idea, as it will surely leave your guest awestruck. Further, you can opt for a polished metal finish such as stainless steel or brass that will give a striking visual impact to the place where it is placed. The lustrous metal design will catch the attention of anyone who passes by your house and will surely give your mailbox a new appearance.
Whether it's a minimalist and streamlined metal box or an intricate metalwork pattern, the lustrous metal design showcases a level of craftsmanship and attention to detail that will undoubtedly impress your guests.
14. Toyhouse Design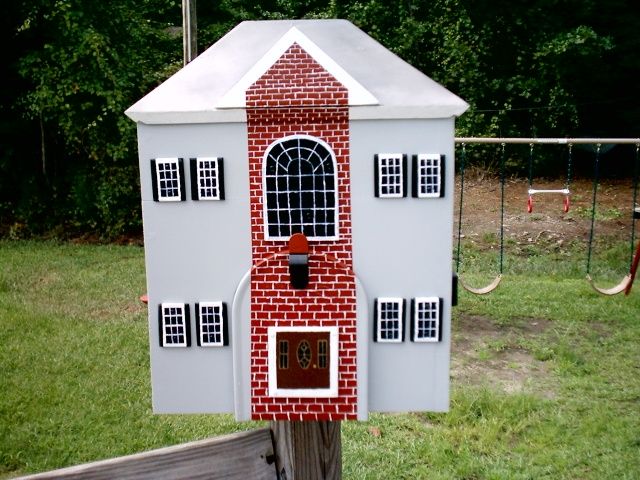 If you are looking for more playful mailbox post ideas, then you can surely opt for a toyhouse design mailbox. Imagine a miniature house, complete with windows, a door, and a roof, serving as a charming and unique mailbox. This design choice adds a touch of nostalgia and imagination to your home's exterior, capturing the attention and curiosity of passersby.
Furthermore, choose vibrant colors, decorative details, and even a tiny mailbox flag to enhance the toyhouse theme. This design not only showcases your creativity but also adds a sense of joy and wonder to your mailbox area. You can also use your kid's preferences and choices to give it a realistic look.
15. Barrel Mailbox Design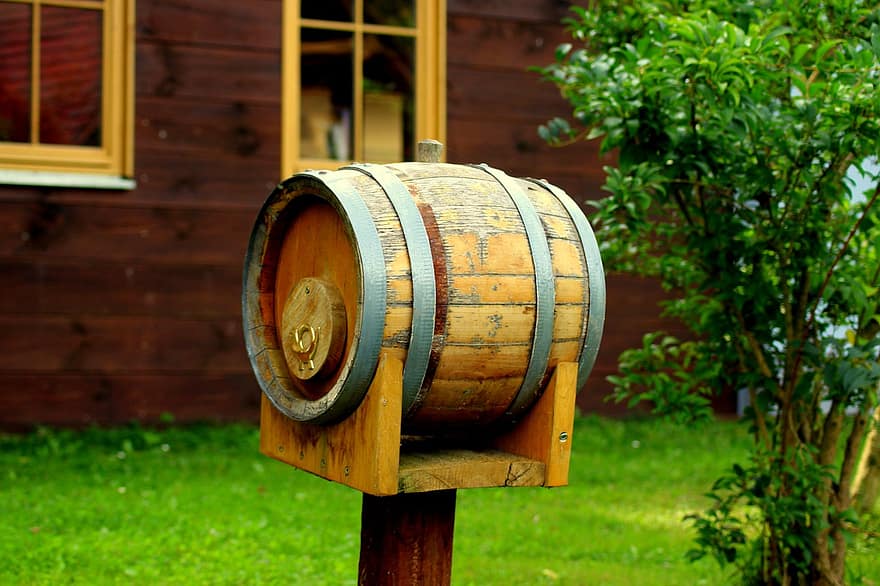 A full-on countryside vibe can be created by incorporating a Barrel mailbox design. You can create this from sturdy materials like wood or metal, and it will create an eye-catching masterpiece. You can further add decorative elements for tiny details like metal hoops, engraved details, or a weathered finish to enhance the rustic appeal.
This will surely surprise your guest, as barrel mailbox post ideas are unique and mesmerizing. Also, this design choice not only showcases your appreciation for craftsmanship and creativity and adds a touch of nostalgia and warmth to your property.
16. Poured Paint Design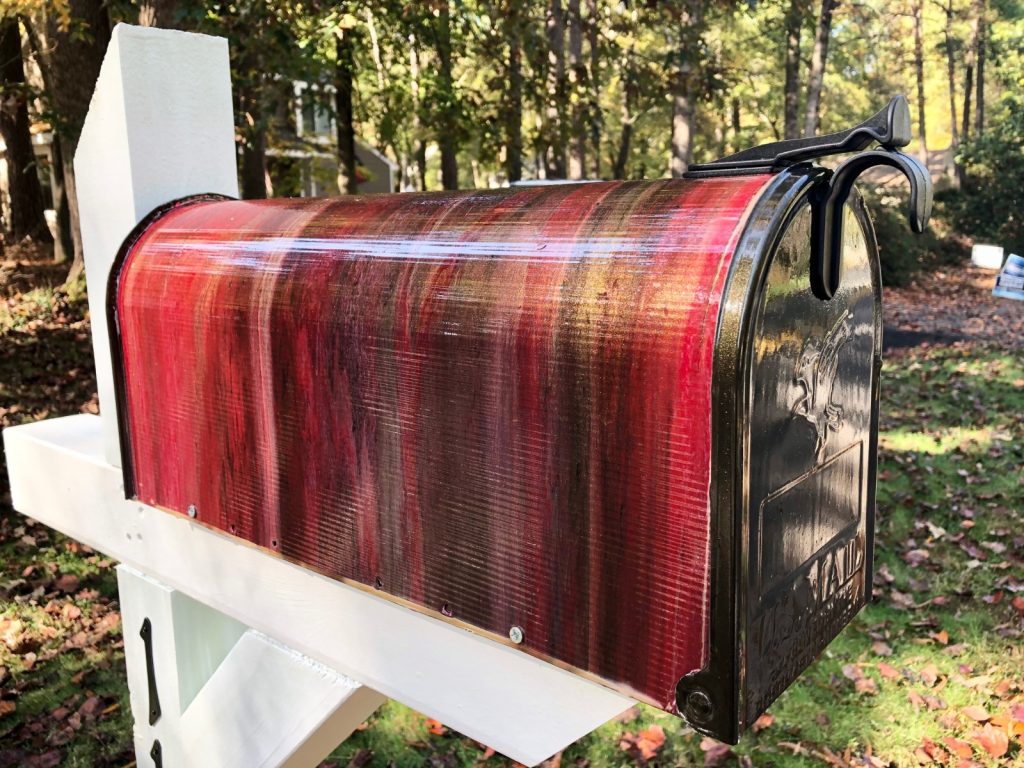 Creating a mailbox with poured paint techniques will create a visually stunning and vibrant mailbox design that stands out from the crowd. All you need to do is choose a color palette that complements your home's exterior and experiment with different pouring techniques to achieve a unique and dynamic pattern. The fluidity and movement of the poured paint design add a sense of energy and creativity to your mailbox.
This design choice not only showcases your artistic flair but also adds a modern and captivating touch to your property. If you want to have a fun activity, then use this mailbox post ideas and create a unique element to stand outside your house.
Related: Top 9 Brick Fire Pit Plans DIY Designs for Your Backyard
17. Farmhouse-Type Mailbox Design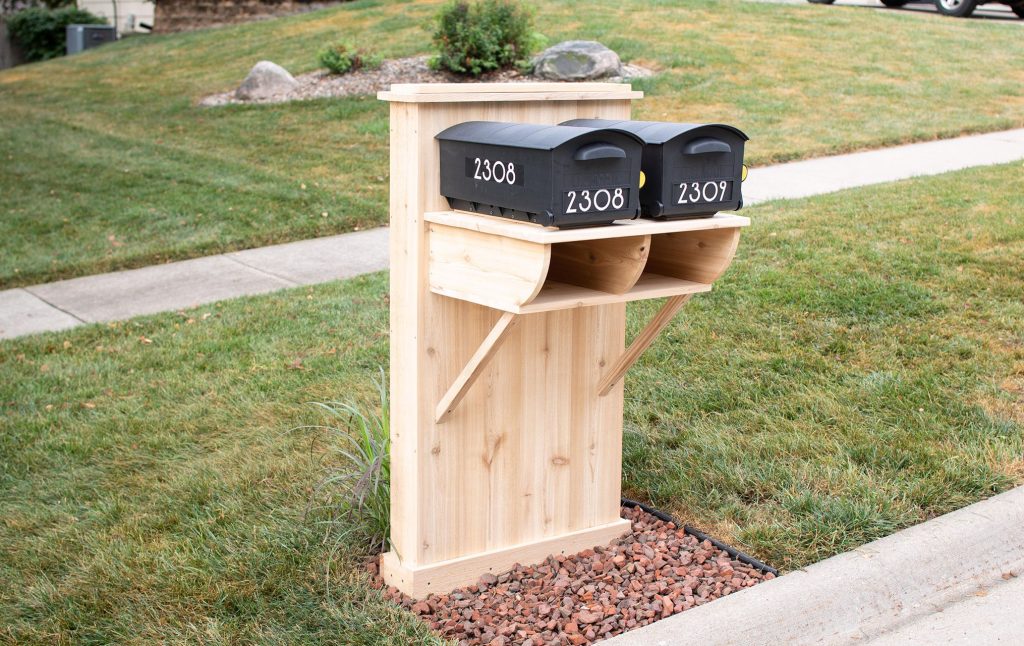 This mailbox post idea is a unique design inspired by rural aesthetics. Furthermore, this design shows warmth, simplicity, and a rustic vibe from the old farm days. You can create this design by choosing materials like wood and galvanized metal to create a farmhouse look.
To make it look realistic and similar to the inspiration, add tiny details such as decorative brackets, vintage-style signage, or even a small planter box to add character and authenticity. The farmhouse-type mailbox design not only complements rustic and country-style homes but also adds a delightful contrast to modern exteriors.
Conclusion
Designing a mailbox is an art that has endless possibilities. The purpose of the mailbox has moved far ahead from just keeping mail. Now, it is a way of impressing guests with a good first impression. It is something beyond functionality, which includes creativity, aesthetics, and design. Mailbox post ideas are unique from person to person, which provides uncountable ways in which we can design our mailbox.
Further, the surroundings and the supporting elements add more to its design, giving it a desired look that reflects the personality of the house owner. With these 17 fantastic mailbox post ideas and designs, you can transform this often-overlooked element into a stunning focal point that leaves your guests truly impressed.
Try creating these ideas and give your home's exterior a brand new look by only adding this tiny change in your mailbox that is placed outside.
Check This Next: 14 DIY Countertop Ideas to Give Your Kitchen a Luxurious Touch