Summer months are here! So, if you are looking to keep your child engaged with some creative activities, then let's start by designing your garden with some DIY backyard ideas. With some innovative and inspirational DIY (Do-It-Yourself) tasks, you can change the setting of your outdoor space into an enjoyable playground for your little ones. From building a treehouse to creating a sensory garden, there are endless possibilities for backyard fun.
This article will focus on a list of 21 DIY backyard ideas that will excite your child's outdoor activities. You might have a little toddler or a teenager at home who might get bored during the summer holidays.
With a little bit of planning and creativity, you can create a beloved backyard retreat for kids that will create memories that last a lifetime. This promotes physical activity, coordination, and problem-solving ability among kids and can work wonders for their health.
To cheer them and to keep them active, you can try out any of the following DIY creative tasks.
Similar Post: 15 Backyard Deck Ideas on a Budget to Upgrade Your Deck's Look
1. Building a Treehouse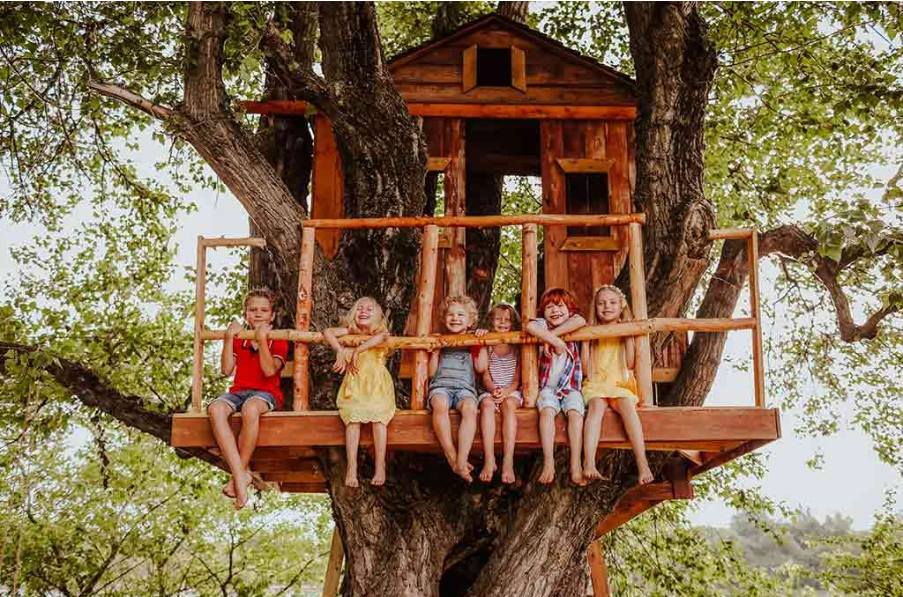 Building a tree house is one of the fantastic DIY backyard ideas that can provide endless hours of fun for kids of all ages. It facilitates all the kids to play outside during the summers and bring their imagination to life. The tree house DIY task boosts the physical activity and stamina of the kids, making them rich in problem-solving skills. You will need a lot of materials such as rope, wood, or even recycled materials. Well, such work requires active involvement from the ends of both parents and kids. Thereby, it will also enable you to spend quality time together.
2. Create a Backyard Obstacle Course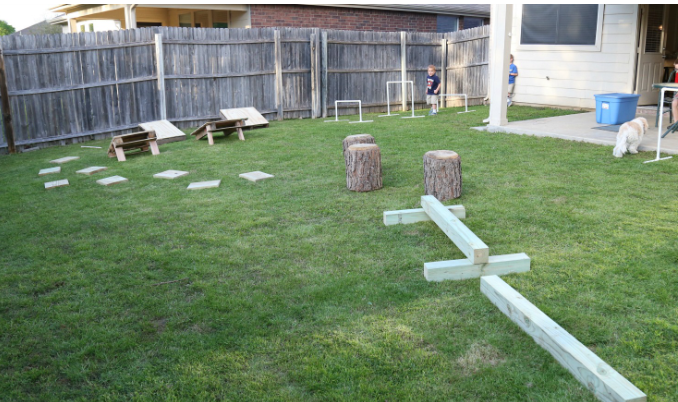 If you are looking for a great and exciting way to keep your child engaged during his/her vacations, try out DIY backyard obstacle courses. It could be effortless, and it all depends upon the age and skill of the kids involved. It can include a variety of challenges, such as crawling under ropes, jumping over hurdles, and balancing on beams. The course can be set up using materials found around the house, such as pool noodles, hula hoops, and cones.
3. Make a DIY Slip and Slide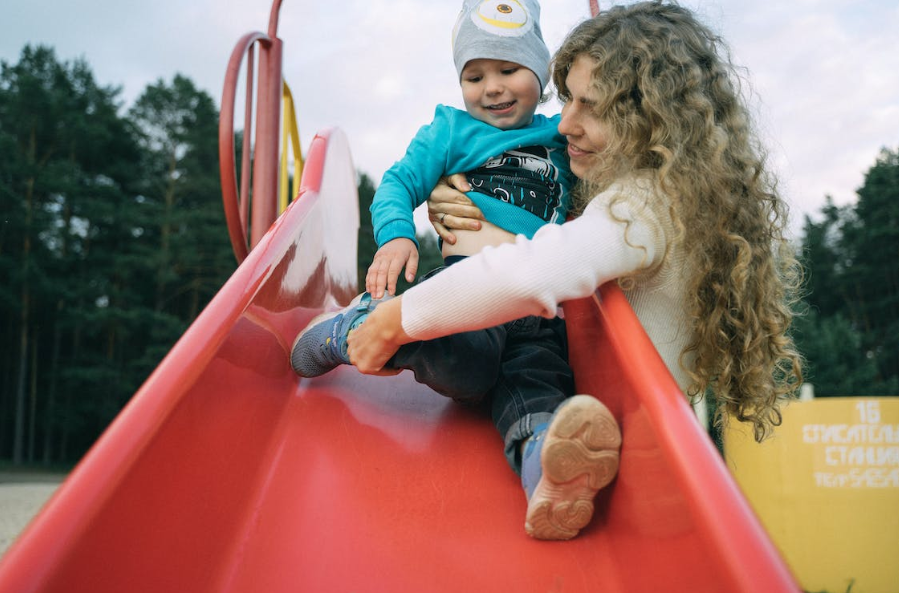 Making a DIY slip-and-slide is a fantastic way to bring some fun to your backyard and keep kids entertained for hours. This activity is perfect for summer days, and it's easy to create with a few simple materials. You'll need a plastic tarp, some soap, and a hose. First, lay the tarp on a flat surface and secure it with stakes or rocks. Then, use a bucket or watering can to spread soap and water on the tarp, making sure to cover the entire surface. Finally, turn on the hose and let the water flow onto the tarp, creating a slippery surface for kids to slide on. If you want to engage your child in a fun-filled and active activity, try this DIY out.
4. Build a Backyard Sandbox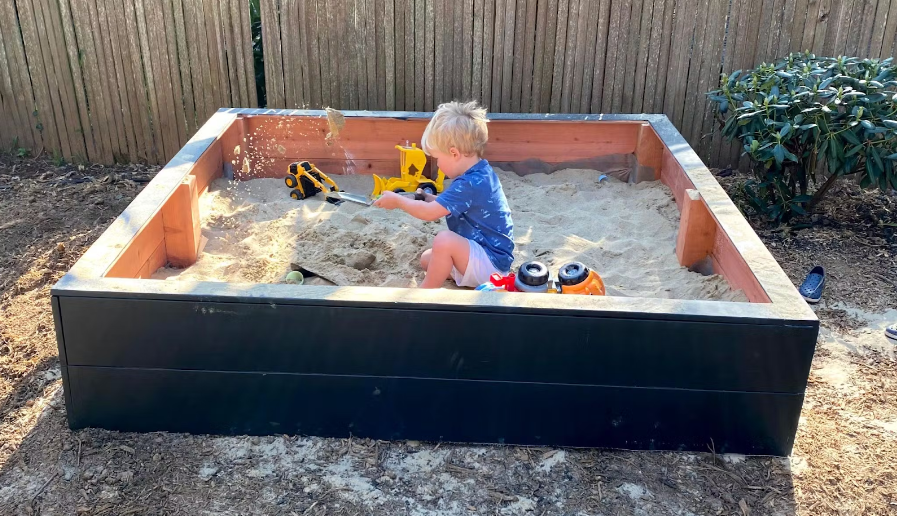 If you want to offer a fun-filled backyard activity for your kids, creating a sandbox is one of the best creativities to explore. Why should you consider this one? It's because building a sandbox is less challenging, and it is also affordable. You only need to invest less time in the process. You will need certain simple tools – saw, drill, hammer, screws, sand, etc. DIY backyard ideas to curate sandbox is a great addition to any backyard and a fun project for the whole family to enjoy.
Also Read: 21 Inspired Sloped Backyard Ideas on a Budget
5. Create a Backyard Movie Theater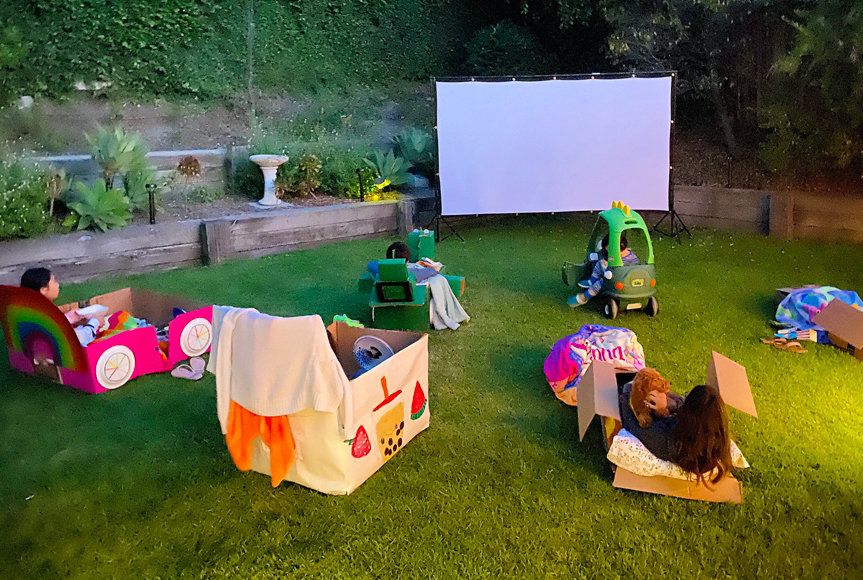 If you want to provide some entertainment for your kids, why don't you try the phenomenal clutch with DIY backyard ideas to establish a makeshift movie theater? Well, this can be an engaging and thrilling activity. You can start with the gathering of a few vital items – projector, screen, sound system, etc. You can purchase a screen or create one using a white sheet or a blank wall. After setting up the items, you can create a movie time with your little ones. Create a cozy seating area using blankets, pillows, and outdoor furniture with lots of snacks and drinks to complete the experience.
6. Make a DIY Backyard Tic-Tac-Toe Game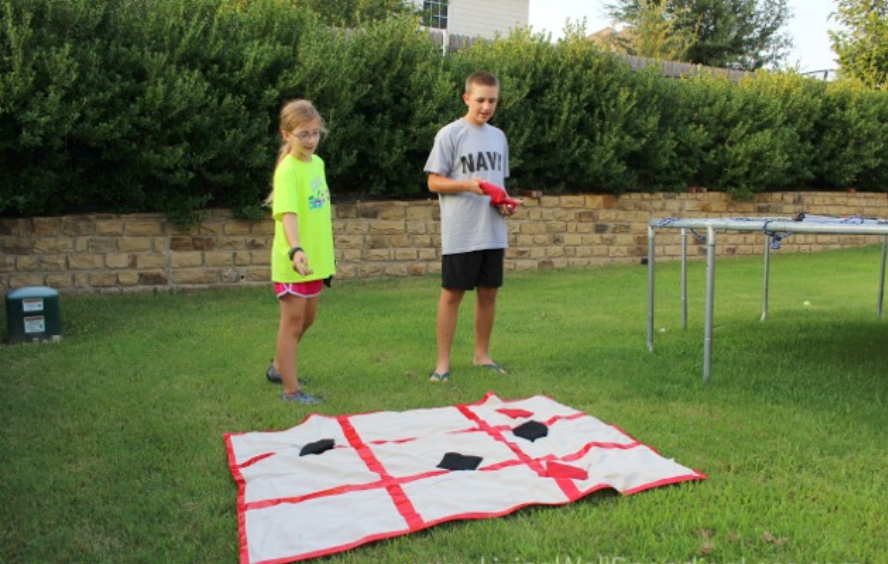 If you are not aware, let us tell you that a DIY Tic-Tac-Toe is one of the simplest and best backyard games. All you need is a few vital materials – wooden blocks, paint, brush, tiles, etc. You can paint the blocks or tiles in two different colors to represent the X and O pieces. It is easy to develop the game board on a flat surface after the paint gets dried up. Apart from that you can play the game countless times, and it is a great way to spend quality-rich time outdoors.
7. Build a Backyard Zipline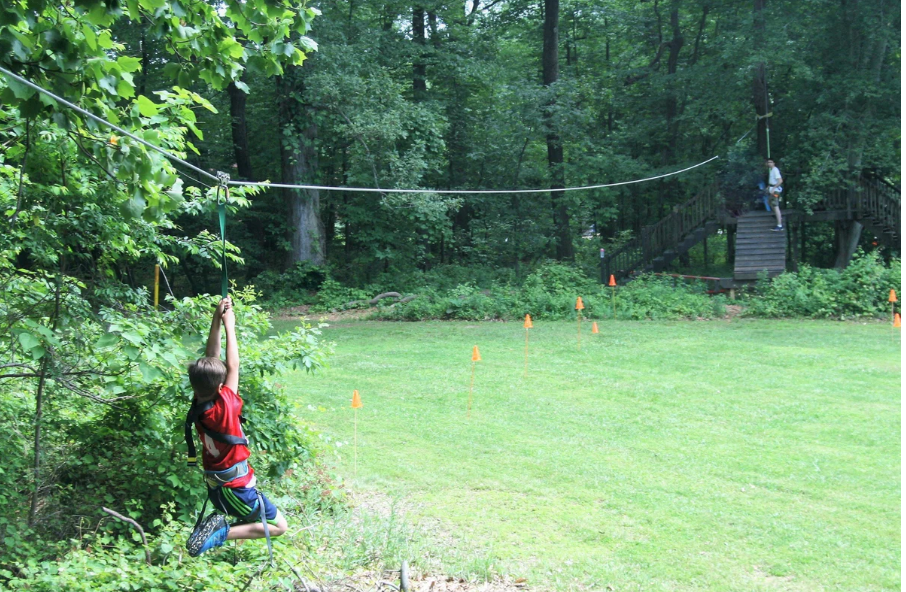 If you are wondering about what could be the best DIY adventurous project for your little one, it could be the creation of a backyard zipline. It will provide fun and excitement to kids of all age groups. You need to collect materials, for example – cable, trolley, braking system, etc. Make sure that the cable is strong and durable. It should have the ability to support the rider's weight. Make sure to test the zipline before allowing anyone to ride it.
8. Create a Backyard Mini-Golf Course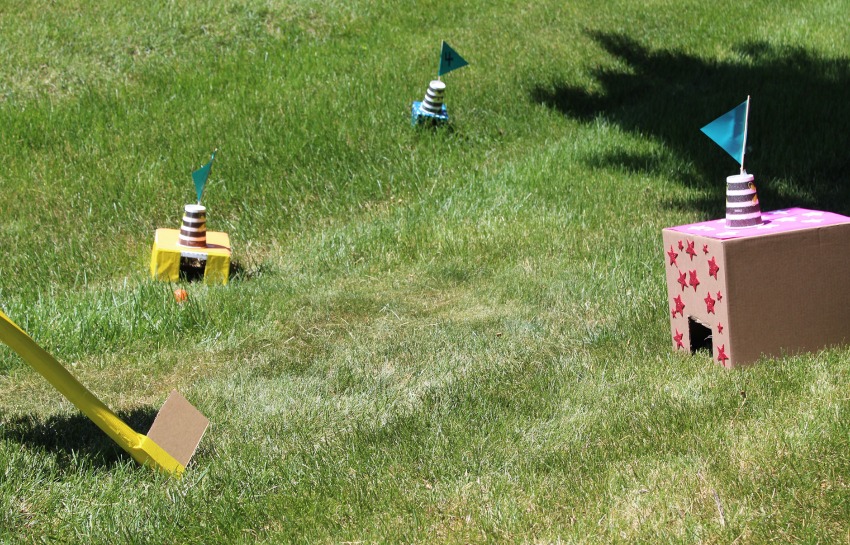 Have you thought about a DIY mini-golf project? It can excite the kids of all age groups. To get started, you will need some basic materials like PVC pipes, golf balls, putters, and some creativity. First, map out the course design on paper and identify the areas where digging is needed or build obstacles. After finalizing the design, you can start building the course. Call out your friends and family, and have a nice time together.
9. Make a DIY Backyard Water Wall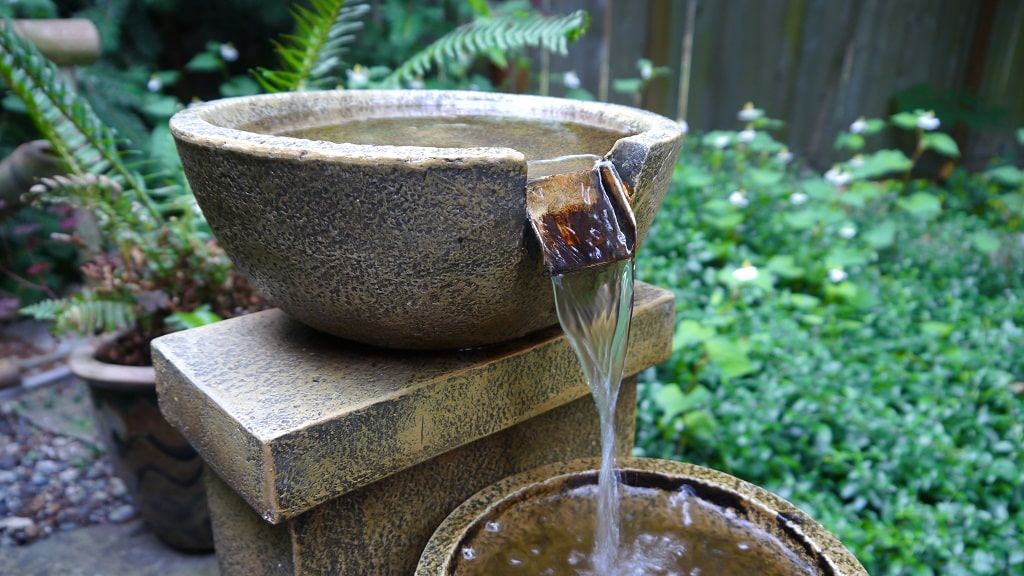 Making a DIY backyard water wall is a great way to add a fun and unique feature to your outdoor space. It is one of the best activities for kids, and it can provide a sense of relaxation. Wondering how? Well, it can create a backyard oasis by following simple steps. To create the water wall, a few materials are required – a water pump, tubing, container, etc. A container is needed to store the water.
10. Build a Backyard Fort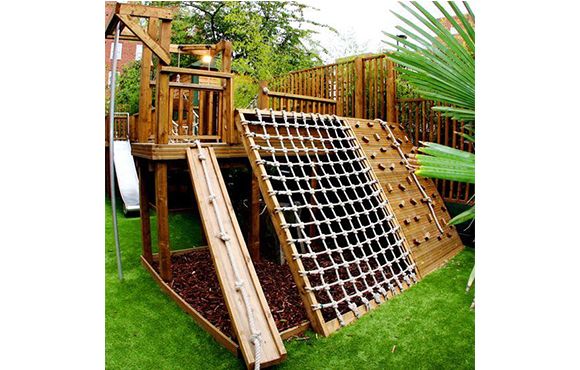 Building a backyard fort is a classic childhood activity that never goes out of style. This is one of the great ways that would enable the kids to use their creativity. To build a backyard fort, you can use materials like PVC pipes, wooden pallets, and even old sheets or blankets. Based on the fort's size, you can get the help of your family or friends. After collecting all the essential materials, you need to add your effort and imagination to real life.
11. Create a Backyard Rock-Climbing Wall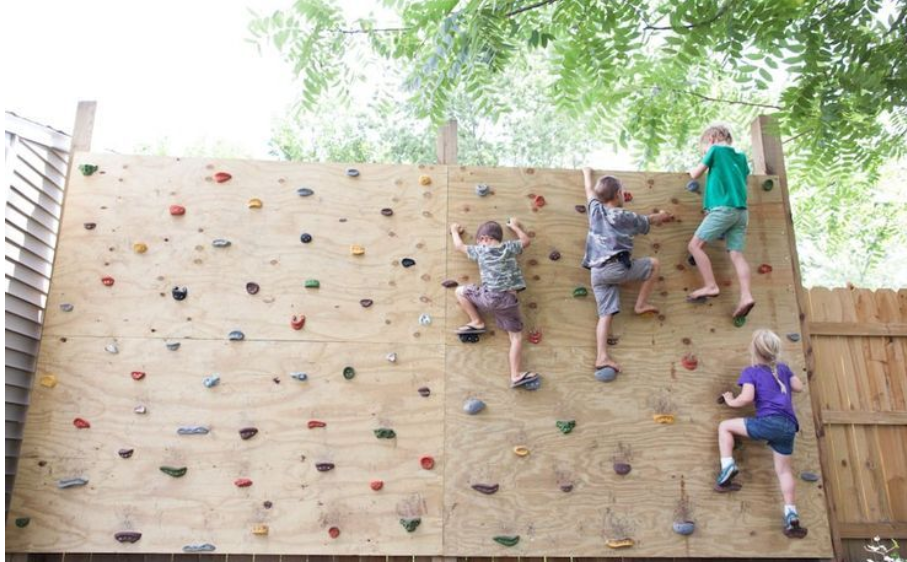 DIY backyard ideas in the form of establishing a rock climbing wall is a great way to keep kids active and entertained while also providing them with a fun physical challenge. You will only require a few materials to create a customized climbing wall – plywood, rocks, climbing holds, etc. This DIY activity also promotes problem-solving skills and builds confidence and strength in kids as they challenge themselves to reach new heights.
12. Make a DIY Backyard Balance Beam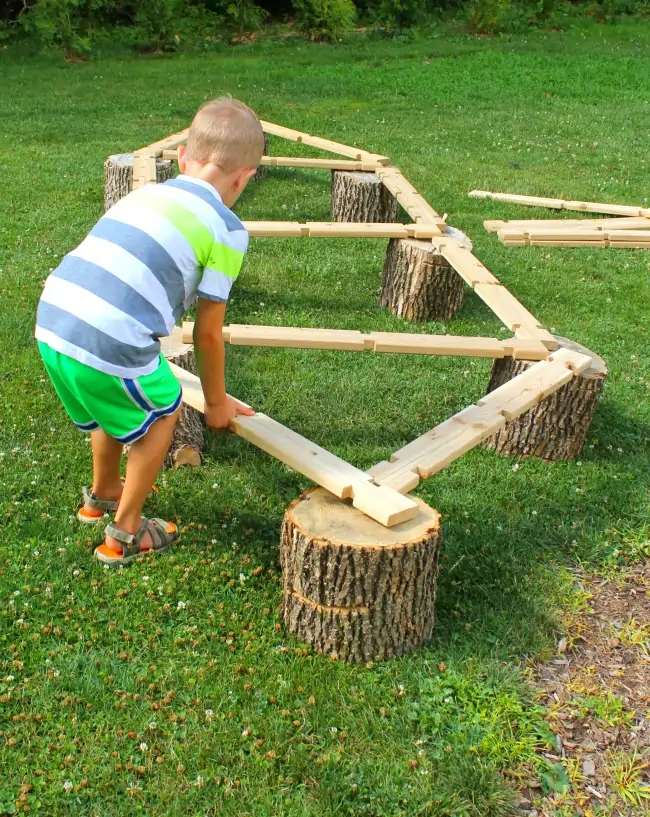 Ever tried making a DIY balance beam? It is one of the best ways to enhance the physical development of your child and boost their balance skills. This activity is affordable since all the materials required will be available at your home. Simply gather some wood planks or beams, sand them down, and secure them together with screws or nails. You can even add some non-slip grip tape or paint to make it safer for little ones. Your kids will love practicing their balancing skills and showing off their newfound abilities to friends and family!
See More: 15 Outstanding DIY Fire Pit Ideas You Can Finish in a Day
13. Build a Backyard Fire Pit for Roasting Marshmallows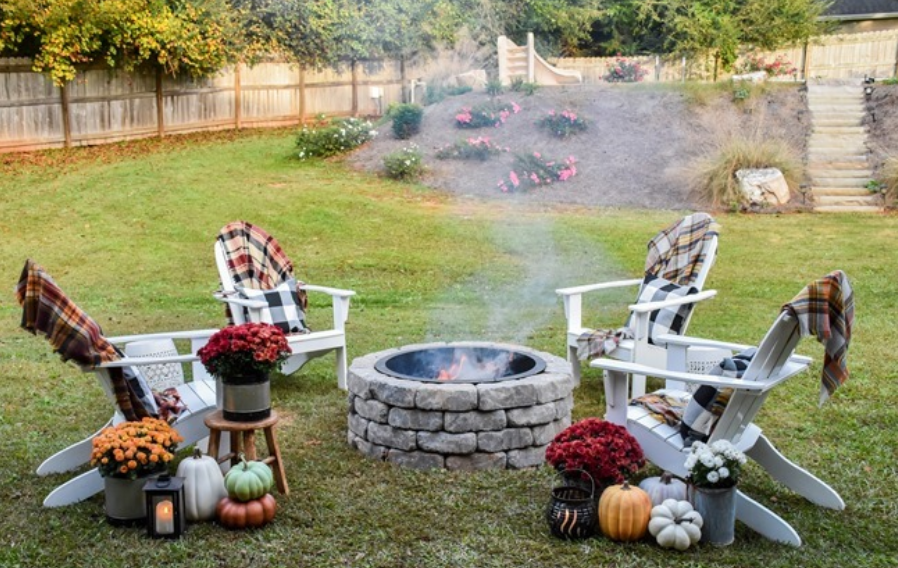 Creating your backyard fire pit for roasting marshmallows and enjoying some quality family time outdoors is one of the best and easy DIY projects. It will enable the family to have quality time together and will also transform your backyard beautifully. You can do this DIY with a few materials and it can create a relaxing space for your complete family. So why not get started on your DIY fire pit today?
14. Create a Backyard Hopscotch Game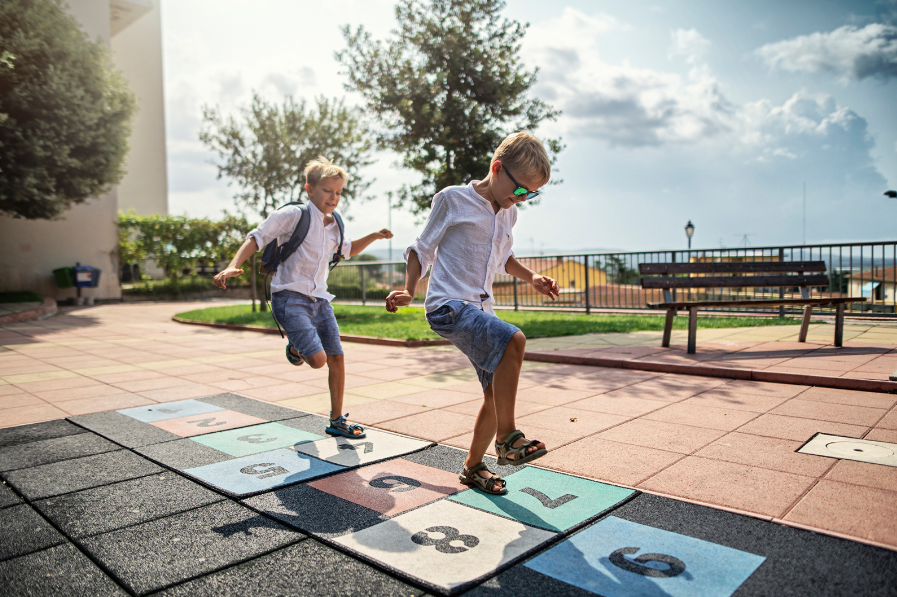 The fire hopscotch game certainly will be one of the finest DIY backyard ideas to have and is a fantastic way to keep kids of all ages entertained while spending time outdoors. It is a fun-filled activity and is perfect for any kind of family gathering or a mini-party in the backyard. You only need some sidewalk chalk, a few rocks, and a safe area to build your fire pit. A few basic supplies will spice up your exciting game!
15. Make a DIY Backyard Ring Toss Game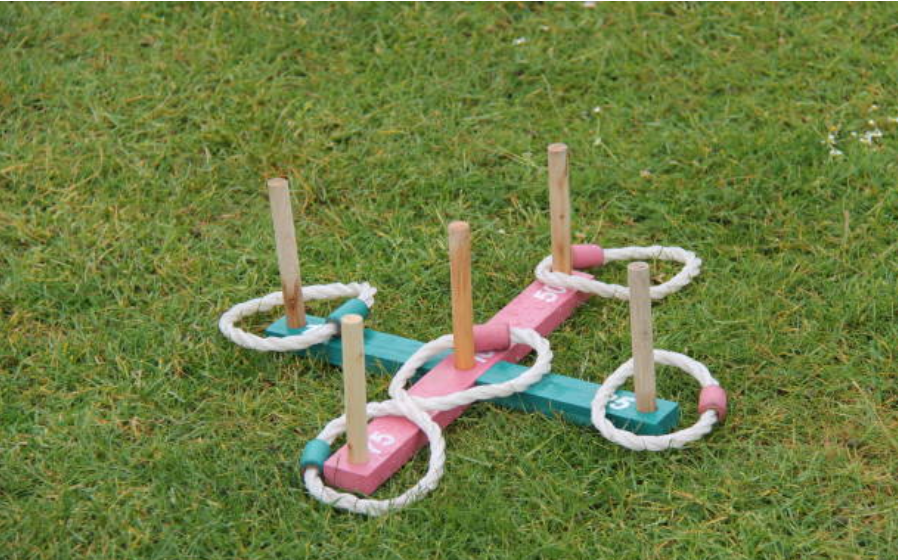 Looking for some fun DIY backyard ideas? Then try making a backyard fire ring toss game. Apart from being simple, it's also an inexpensive project. All you need are some metal rings, a few metal rods, and a fire pit. Simply attach the rods to the ground around the fire pit and start tossing the rings! It's a great way to get kids outside and active while enjoying the warmth and ambiance of a backyard fire.
16. Build a Backyard Swing Set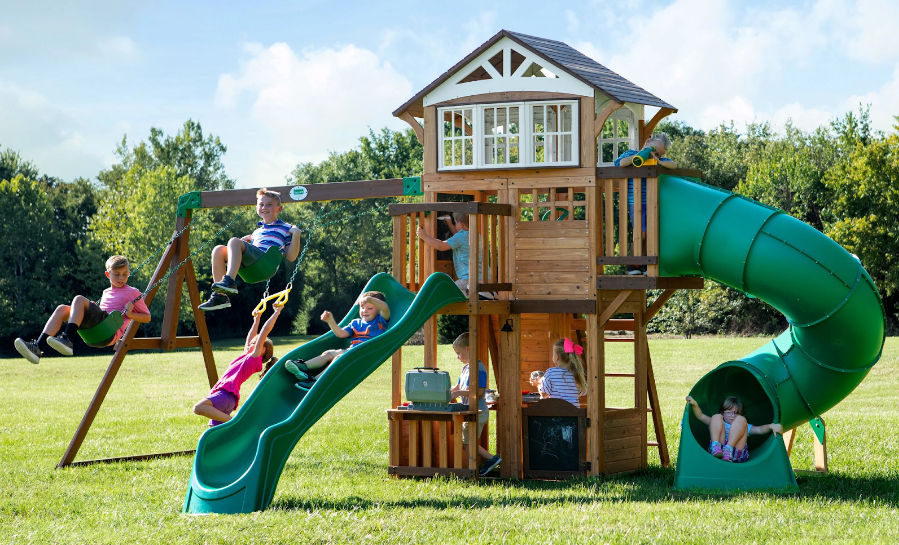 Making a DIY backyard swing set is a fantastic way to keep your kids entertained and active. This is a great possibility wherein you can create a fun-filled bond with your family. With just a few basic tools and materials, you can create a customized swing set that fits your backyard perfectly. Apart from being enjoyed by your kids, this project will add value to your home.
17. Create a Backyard Water Balloon Launcher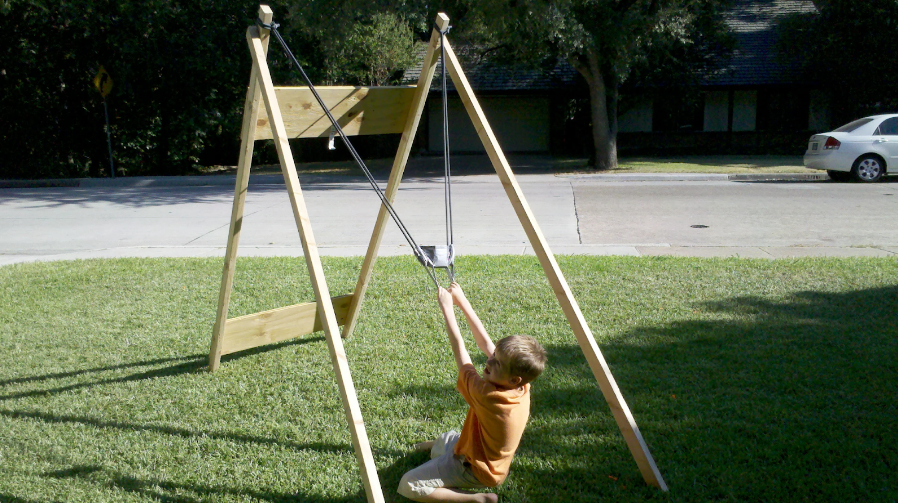 A DIY backyard water balloon launcher is a fun and easy project that will provide hours of entertainment for kids of all ages. With just a few simple materials, you can create a launcher that will send water balloons soaring through the air. This is one of the perfect ways to beat the scorching summer heat. All you need is to gather a few PVC pipes, rubber bands, and other essential supplies. Once these are ready, get set to launch the water balloons into the sky.
18. Make a DIY Backyard Bean Bag Toss Game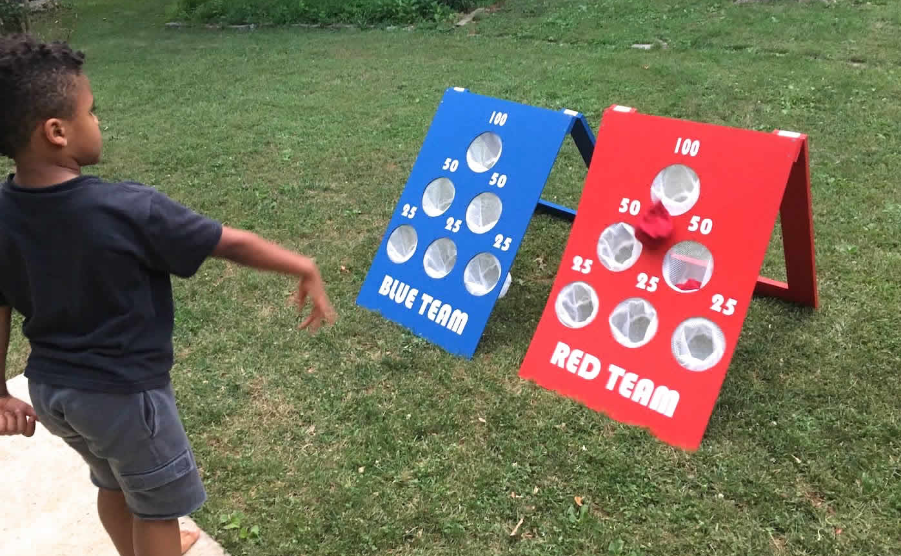 Making a DIY backyard bean bag toss game is a fantastic way to keep kids entertained and active outdoors. It's also a great opportunity for them to learn about measurements, colors, and teamwork. You would need some simple stuff such as paint, plywood, and a bean bag. Suitable for kids of all age groups, this can be tailored as per the theme of a backyard with a bit of creativity and effort.
19. Build a Backyard Playhouse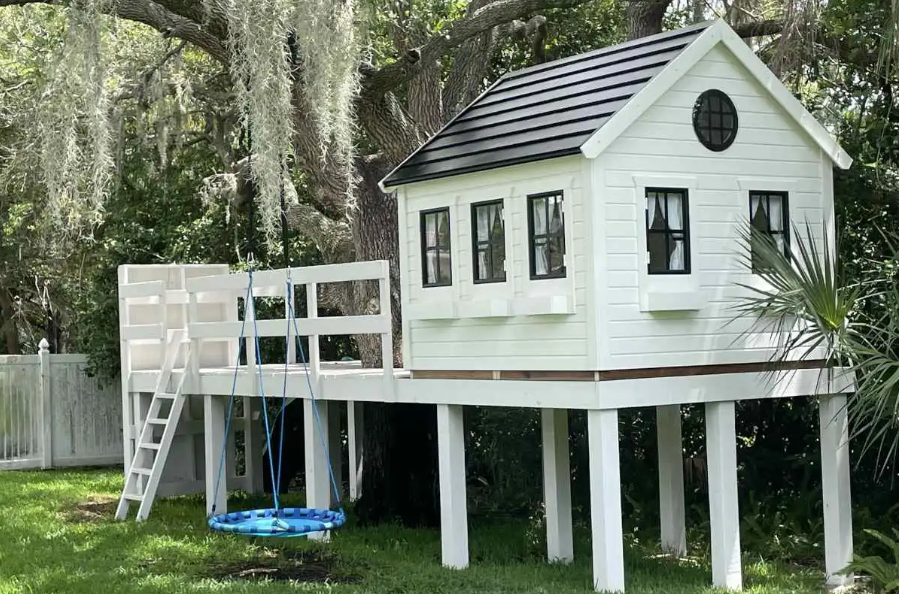 This task is one of the best ways to engage your kids in a fun-filled activity. It arouses their creativity and imagination, making them more active in outdoor play. With just a few basic materials and some creative inspiration, you can easily create a backyard playhouse that your kids will love. From simple wooden structures to elaborate treehouses, the possibilities are numerous.
20. Create a Backyard Nature Scavenger Hunt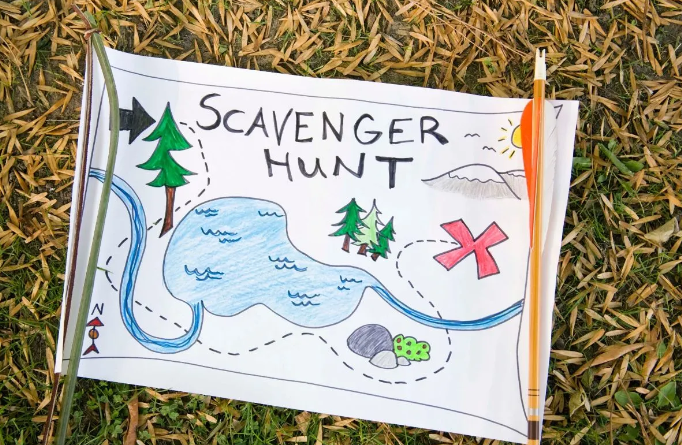 A DIY nature scavenger hunt can keep your kids entertained for a long time. You can gather all the items, such as leaves, flowers, rocks, etc. Then, create a set of clues or riddles that will lead kids to each item on the list. For example, you could write a clue like "I'm green and grow on a stem, but I'm not a bean. Find me near the fence where the sun shines bright and clean." Once the scavenger hunt is set up, kids can work together or compete to find all the items on the list.
Related: 13 Low Cost Fire Pit Landscape Designs for Your Backyard
21. Make a DIY Backyard Ladder Golf Game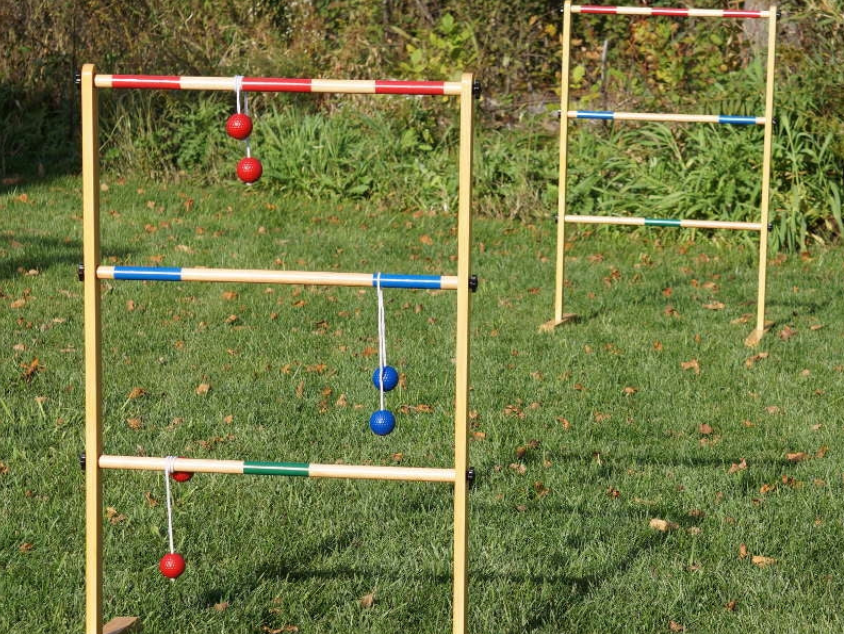 Making a DIY backyard ladder golf game is a great way to spend quality time with your kids. Apart from being a fun-filled activity, this game enhances hand-eye coordination and creates healthy competition. To make this game, you will need PVC pipes, connectors, golf balls, and some basic tools. First, cut the PVC pipes into different lengths and connect them using the connectors to create the ladder structure. Then, drill holes into the golf balls and attach strings to them. Finally, hang the golf balls from the ladder using the strings and start playing.
Final Thoughts
These 21 fun DIY backyard ideas for kids of all ages provide a great way to keep children engaged and entertained while also promoting creativity, physical activity, and social interaction. Such ideas can be implemented with ease without any hassle.
All it will require is the support of the parents and family. From creating a DIY water park to building a backyard obstacle course, there are endless possibilities for transforming any backyard into a fun-filled oasis for kids.
These DIY activities will help the kids to learn new skills seamlessly. Also, it has been noted that spending more time outdoors can have countless benefits for the physical and mental health of a child.
By integrating these ideas into your backyard, you will be creating a safe place for your kids to explore more fun.
Frequently Asked Questions
What Are the Common Tools and Materials that Are Used for DIY Backyard Projects for Kids?
Tools and materials commonly used for DIY backyard projects for kids include wood, PVC pipes, ropes, paint, and recycled items. Commonly used tools include saws, drills, and paintbrushes. These materials and tools can help create various play structures and interactive games to keep kids entertained and engaged in outdoor activities.
How to Make a Boring Day More Fun in My Backyard?
Transforming a boring day into an exciting one is easy with some backyard fun. Set up a DIY obstacle course using everyday items, create scavenger hurt, or build a fort, even with blankets and pillows. You can try organizing a backyard picnic, playing golf, setting up a water play area, or engaging in arts and crafts. The possibilities are endless for making your backyard a hub of entertainment and adventure.
How Often Should I Clean My Backyard?
At what interval you clean your backyard depends on various factors, such as the size, the number of kids or individuals using it, and the types of activities taking place. Apart from that, a general rule of thumb is to perform a routine cleaning once a week or 10 days. It includes picking up toys, removing debris, and sweeping or hosing the play area.
Check This Next: Top 9 Brick Fire Pit Plans DIY Designs for Your Backyard