Are you looking for terraria house designs? Terraria is a fantastic game that will keep you busy for hours. You will fight, dig, build, and explore this beautiful world by yourself or with your friends. Terraria is a mixture of classic action and sandbox style.
You will love this unique gaming experience where the journey and the destination are as incredible as the game players themselves! You can download this game from Google Play, iOS, iPadOS, Amazon Appstore, Windows Phone, Nintendo Switch, Xbox, and other platforms.
Play Terraria by yourself or invite your family or friends to join in the adventure. One of the most important things you do in this game is to build homes for automated non-player characters. In the game, the happiness of these non-players is a priority as it affects your game.
In this article, you will learn about 15 Terraria house designs and the house requirements. You can use this article as a guide when you start building homes in Terraria, and your game will be more exciting.
What is Terraria?
First off, if you are confused, let's learn some basic information before we get into the main focus of this article. Terraria is a sandbox video game that Re-Logic developed and released for Microsoft in 2011.
In this game, you explore, craft, build, survive, paint, mine, and fight with many creatures. It is a procedural generation game in 2D. In this game, there are dark powers that are distorting the natural order.
You can play in single-player and multiplayer modes. You have to conquer obstacles and slay monsters; you receive some basic tools and an automated non-player character or an NPC guide when you begin playing the game.
NPCs provide services to you, the players; they have distinct preferences, personalities, and purposes that help you.
Similar Post: 15 Stunning Must-Try Front of House Landscaping Ideas
What Is a Terraria House?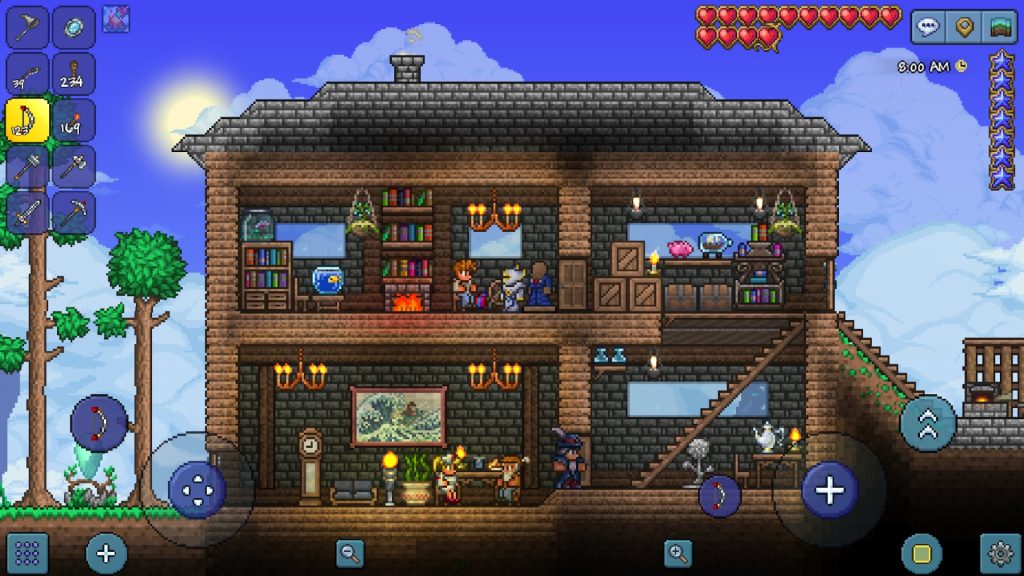 In the game, you must first build a house so that you can survive and hide from monsters. In Terraria, there is day and night, so you need a house for shelter.
Terraria House Designs and Ideas
Now that you have decided to build a Terraria house and learned the house requirements, you need to pick a house design and build it.
1. Starter House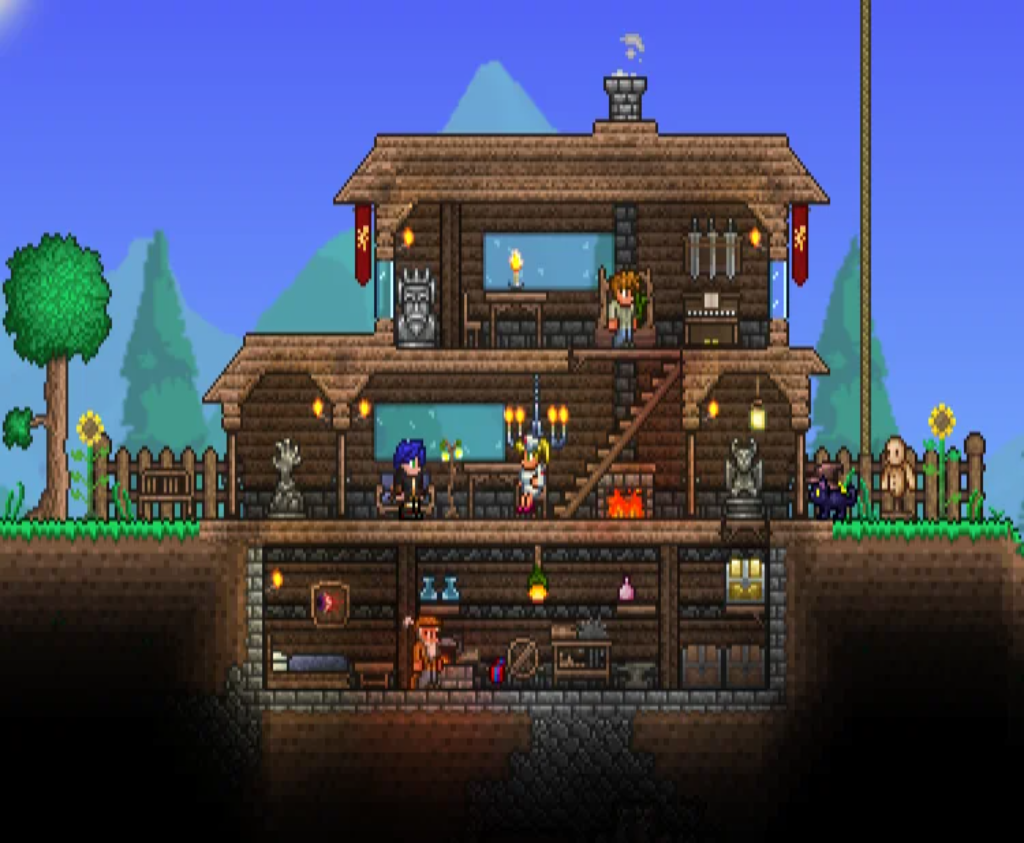 If you are playing Terraria for the first time, then a starter house or shelter is your best bet, and it also looks terrific. You can easily put together this starter house, and it will not take too much time.
Building a starter home will help you get comfortable so that, further along in the game, your NPCs are happy.
2. Underground House
You can try your hand at making an underground house once you feel comfortable making homes for NPCs. This will really get your creative juices going. The NPCs looking for calm and peace will appreciate this underground house.
If you are confused about how to make this, do not worry. You just need to turn old ruins into this type of house. This house will require more blocks than wood.
3. Desert House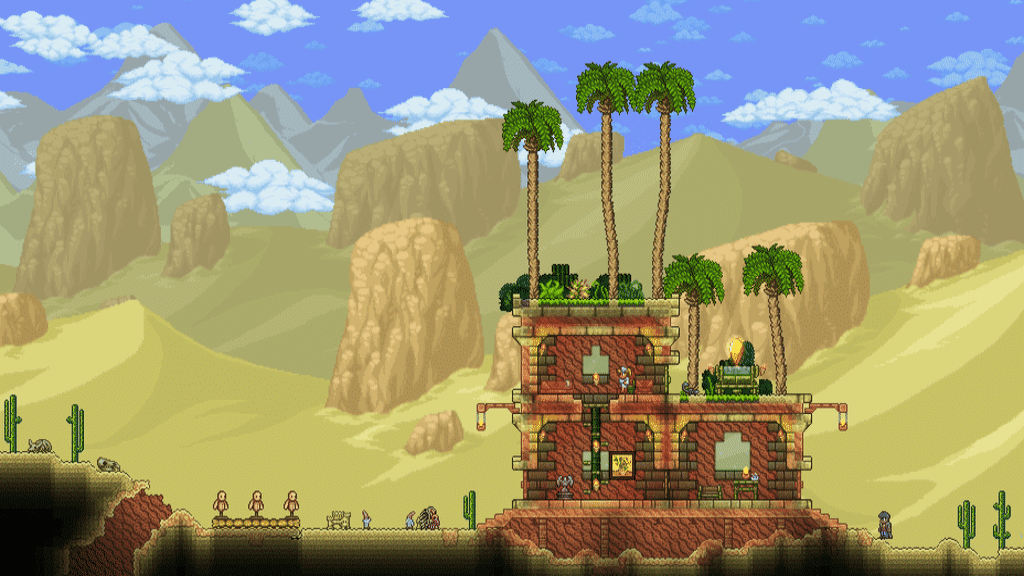 Building a desert house is also exciting; this house is simple and straightforward. The elegant biome and amazing decorations will undoubtedly make many NPCs, like the Dye Trader, happy.
Use wood tones, lush greenery, and textured walls to turn this desert landscape into a hospitable house. Make sure to add more impressive designs after the basic foundation is complete.
4. Snow House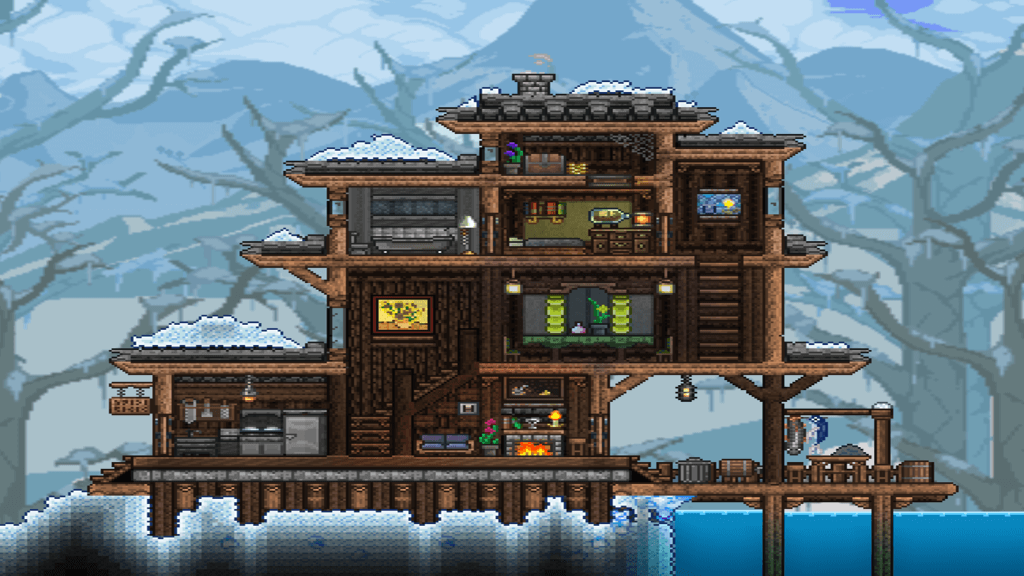 This snow house is so homely and cozy. Even though this house is not easy to make, you can get all the necessary resources together once you have acquired the correct skill set.
This house does need a lot of wood, decorations (for example, lanterns, couches, and fireplaces), and blocks.
5. Jungle House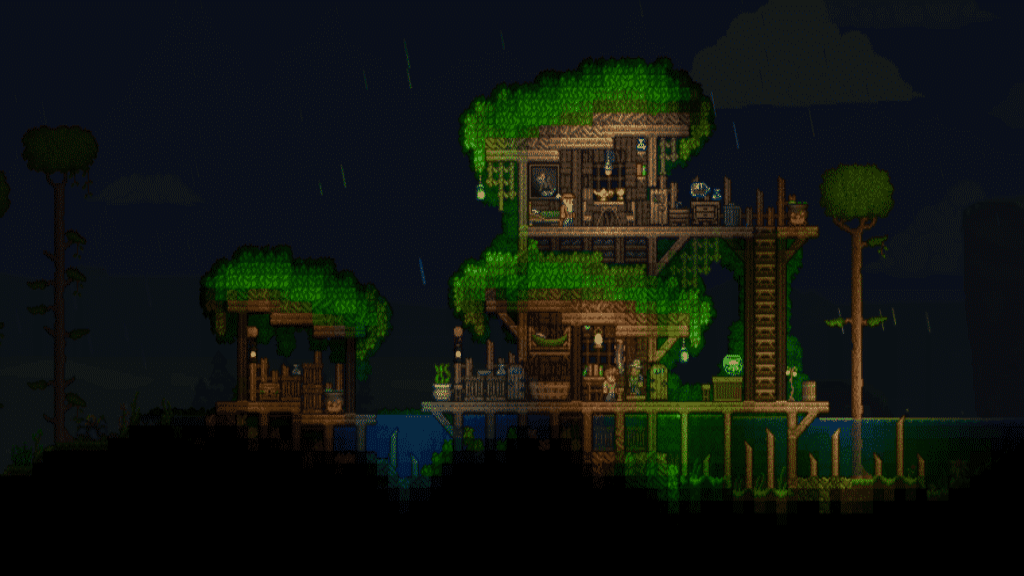 Next on the list of Terraria house designs is the jungle house. Even though this house is one of the most popular houses, this jungle biome house is also very tough. You have to make sure the house complements the jungle biome, so focus on the surroundings when building this house.
If you have an advanced skill set, you use the jungle hut design to make your jungle house.
6. Castle House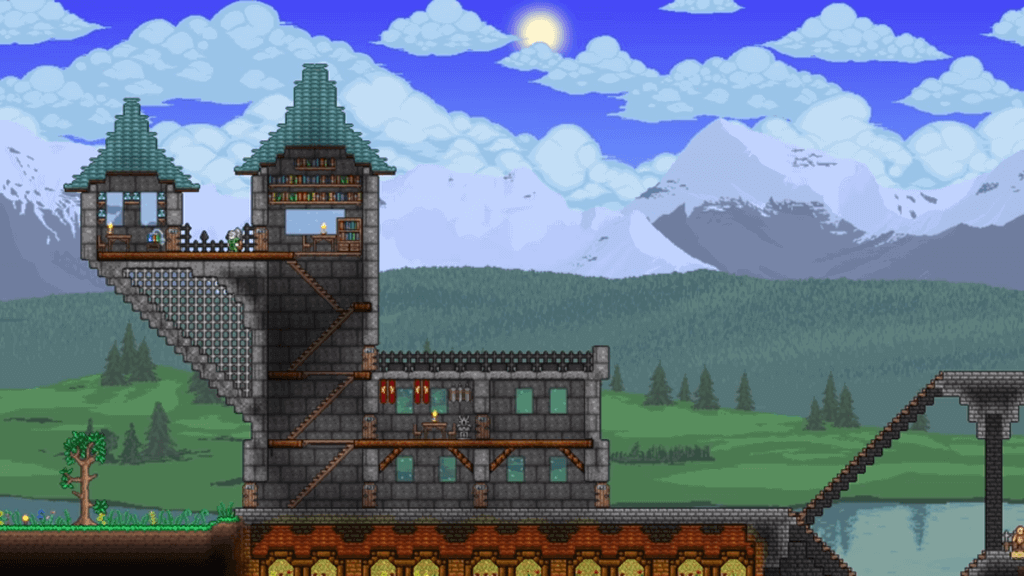 This castle house is every player's favorite house since it is one of the easier houses to build. You will need thick stone slabs, wood, and fences to construct this magnificent castle. In this castle, the security of all the wizards and knights is the main priority.
You can build the castle above ground or build structures above ground and underground. Make good use of decorations and intricate details.
7. Treehouse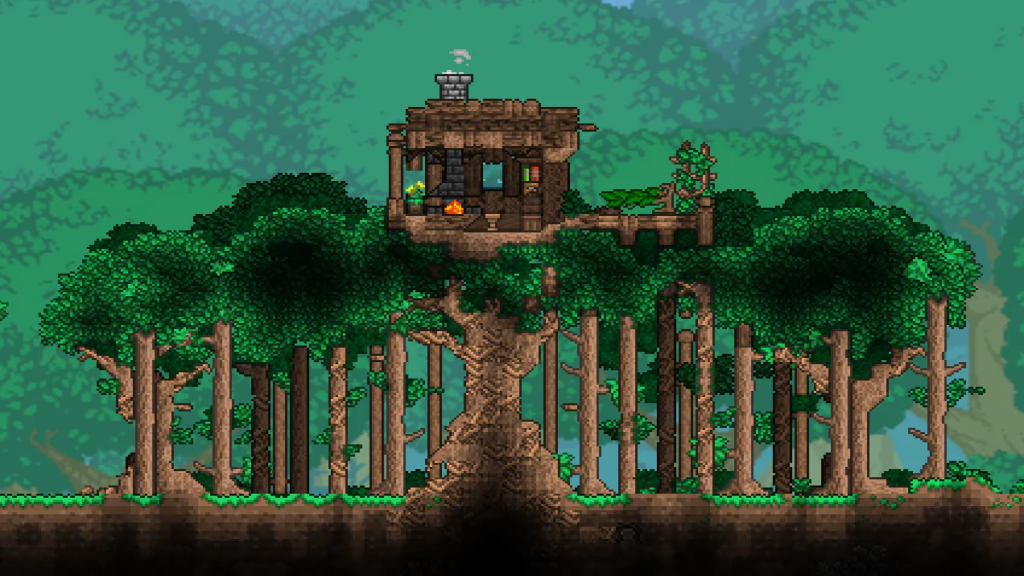 The treehouse is one of the most difficult houses to build in Terraria. You can build the treehouse in one tree or connect several trees to construct one large treehouse. The first option is a good choice for new players since the second option is more difficult.
Keep an eye on natural lighting when making this house; obviously, you will use a lot of wood since it is a treehouse. To make this treehouse more appealing, add some dangling vines for the NPCs.
8. Beach House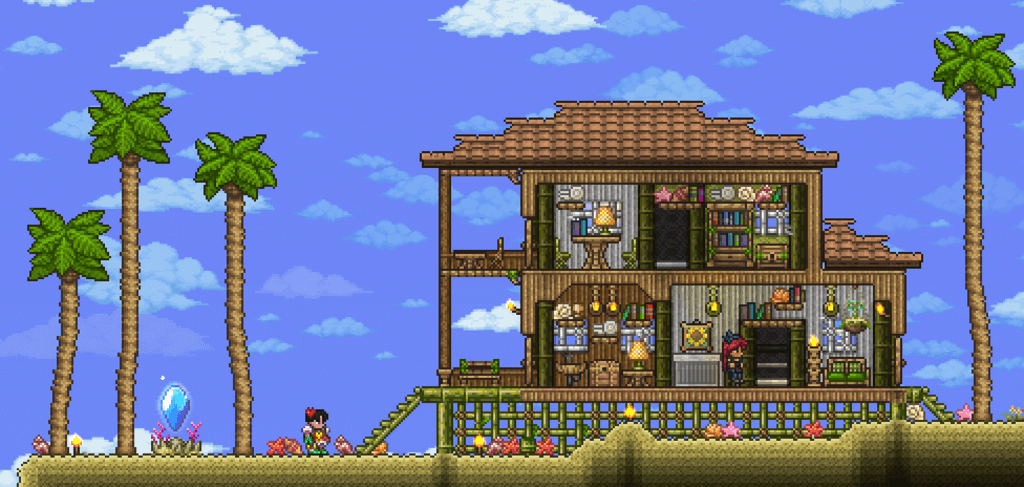 9. Underwater House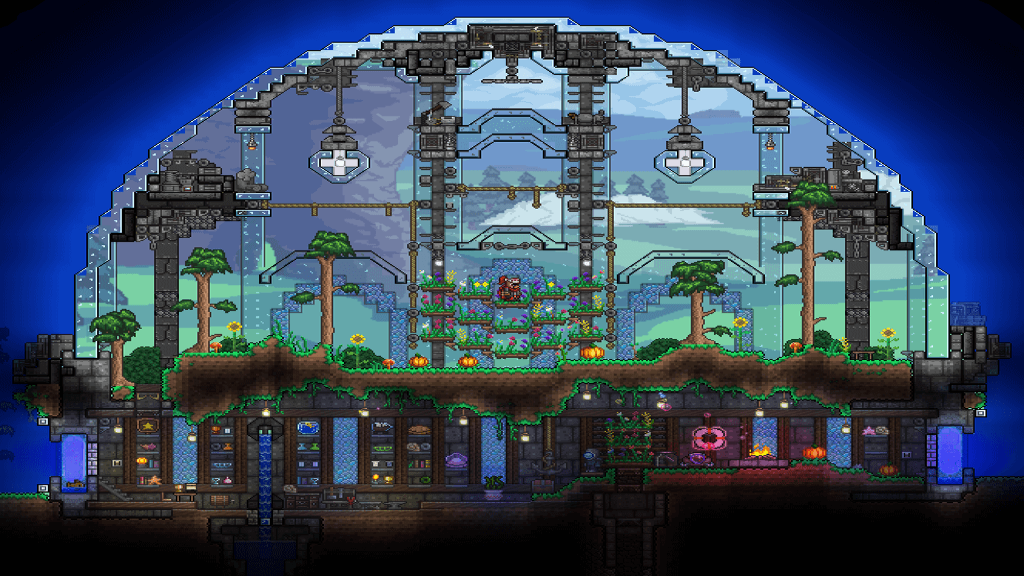 The most beautiful and rare house design is the underwater house. This house is challenging because it requires a lot of effort, resources, and time. Once you have all the materials, you can use any of the underwater house designs, like guilds, simple havens, or pirate retreats.
Usually, players will make the underwater houses as pirate ship houses or dome-shaped structures.
10. House On Stilts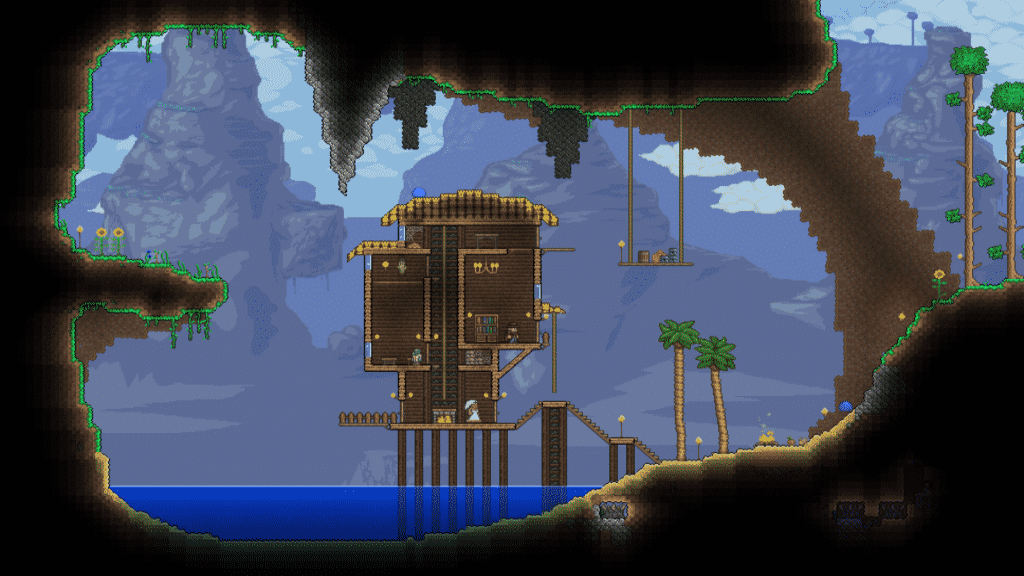 One unique Terraria house design is the house on stilts. Built over a body of water, NPCs will have limited space, but this design is completely unconventional, catching everybody's eyes.
Once you have all the resources, you can create this house on a single level or multiple levels. Make sure to stack the columns or beams correctly for your house to be livable.
11. Christmas House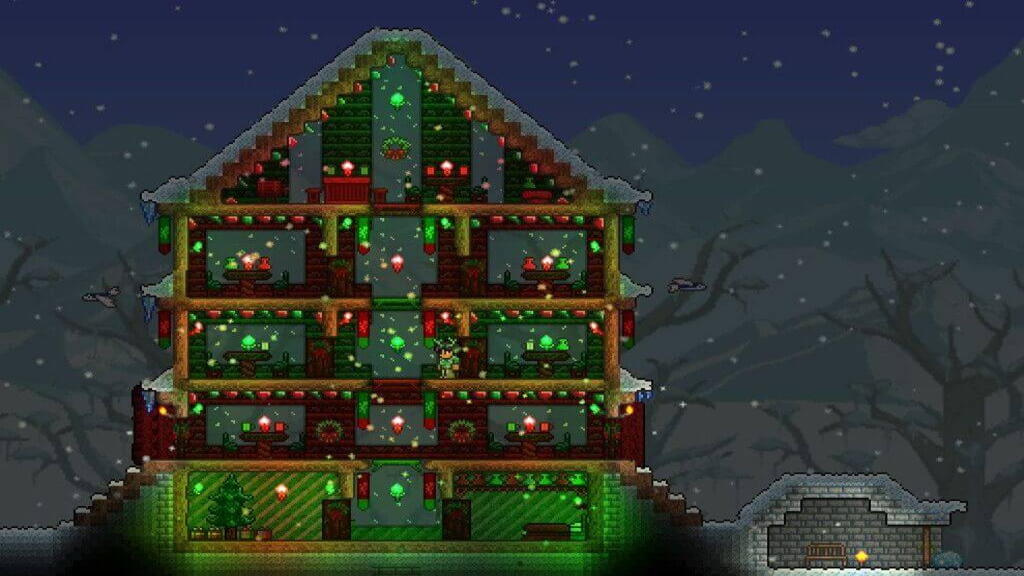 Love the Christmas holidays? Then this is the right house for you. Celebrate this amazing holiday by constructing this Christmas house. You get the 3D effect when you decorate the house with snowmen, candy canes, festive lights, fireplaces, and more.
Build this house in a snowy environment for a cozy atmosphere. Get all the decorations during the holiday season and spread the Christmas cheer all around you.
12. Ship House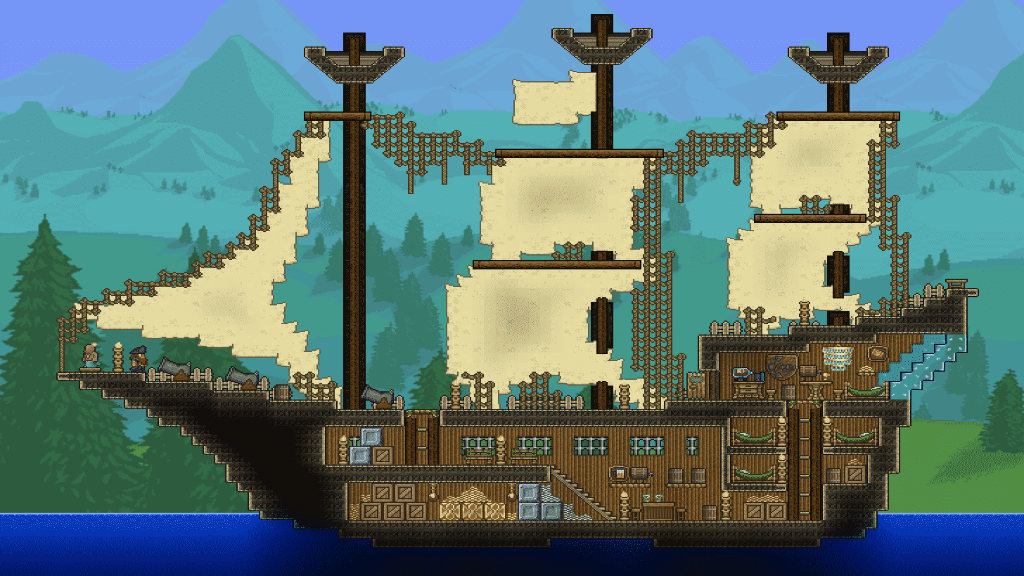 If you like challenging houses to build, then the shipping house should be on your radar. Stand out from the crowd with this shiphouse and push your creative limits. You can begin with a small house before constructing this large and complicated house.
Wood is, of course, one of the most important materials for this house. Along with the right location, there is a wide range of ship choices for you to pick from. With enough decorations, your shiphouse will attract the right NPCs.
Also Read: 21 DIY Backyard Ideas to Keep Your Kids Entertained
13. Winter Cabin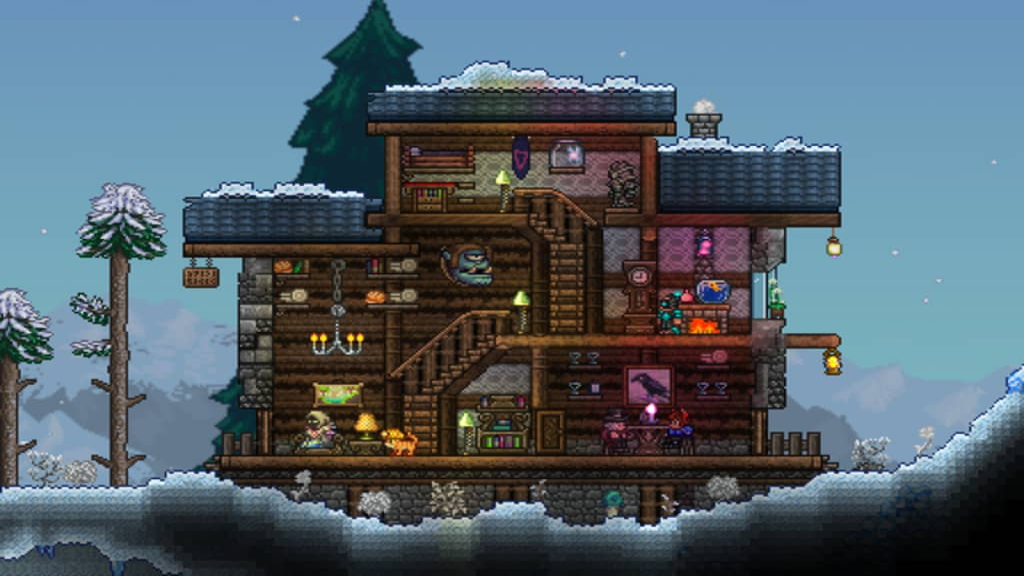 This idyllic winter cabin should definitely be on your list of Terraria house designs. You will need more wood and fewer blocks to build this snowy winter house against the picturesque background.
During the night cycle, use lanterns to make a cozy atmosphere for your NPCs. This house design makes you go out into the wilderness to find the best location for your winter house.
14. Modern Villa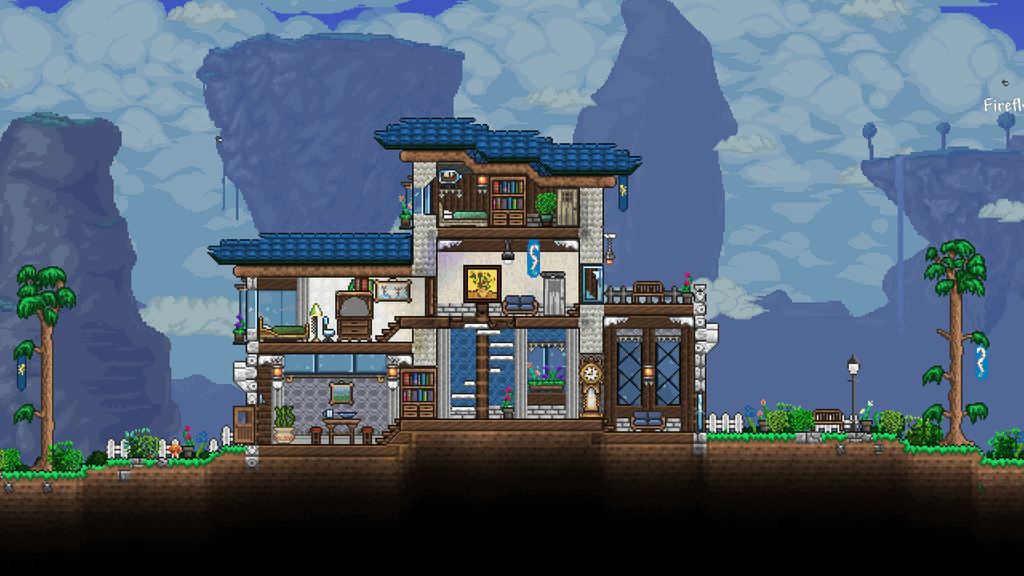 A traditional or modern villa is possible in the world of Terraria. Do carefully lay out all the plans for this house first, for example, single or multiple levels. Figure out the decorations like furnishings, floral arrangements, lighting, and more. You can even add a 3D effect to make the house look more realistic.
Add an underground level and a trap door if the resources are available.
15. Tower House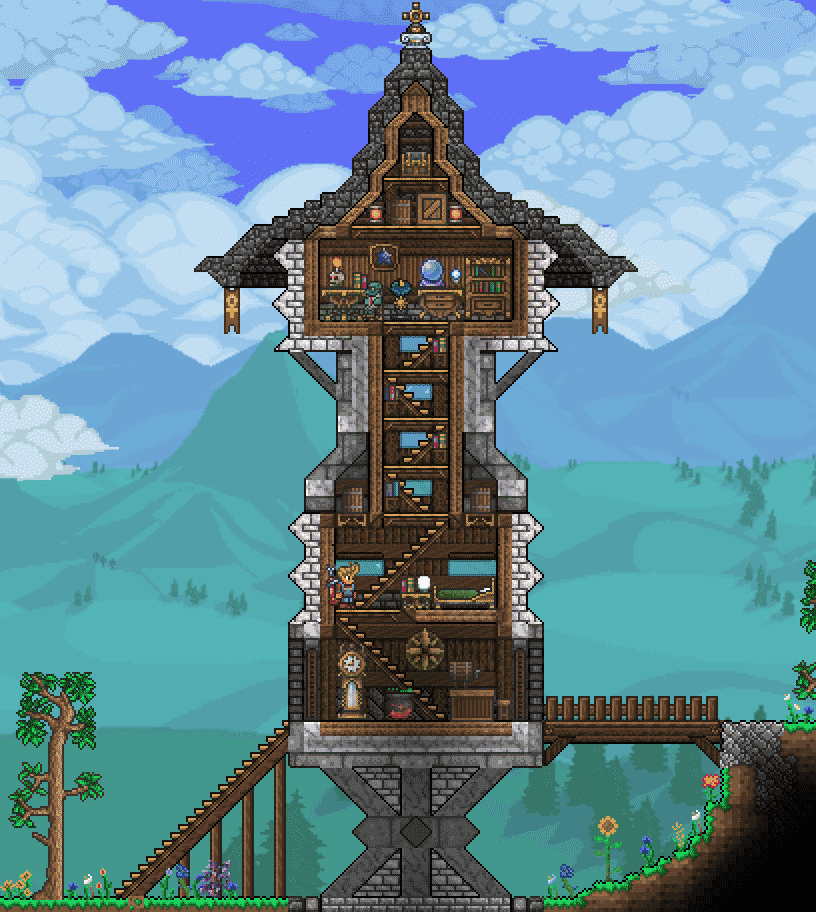 The tower house is a distinct Terraria house design; build one single tower or have multiple ones depending on your preference and resources like stone slabs and wood.
The NPCs have to be able to enter and exit quite easily in this type of house. This tower house can house guards for defense or wizards for their laboratory.
Why Do You Build a Terraria House?
You need these homes for current and upcoming NPCs. The happiness of these NPCs is an essential factor for you as their attitude toward the players affects the benefits and services they can provide to you.
As you progress in the game, you will build more houses that attract NPCs with different skill sets. NPCs want their own space hence why you build houses. Eventually, you will have a bustling town filled with NPCs and their houses.
Building homes for NPCs and attracting new NPCs helps in raising Terraria NPC's happiness; this step requires time, resources, and effort. Their happiness or unhappiness can affect the prices of their services and inventories if they sell things to increase or decrease.
It is suggested that you build an all-in-one housing complex at the beginning, and then eventually, you can build individual houses for each of the NPCs once you have more resources.
How Many Different Types of NPCs Are There?
There is a wide range of NPCs in Terraria, and all of them have their purpose. Usually, you will meet the Guide first. The Guide gives tips, crafts recipes, and advice on how to get more NPCs. There is the Merchant who gives basic starter tools and exploration supplies.
Other NPCs include the Demolitionist, Nurse, Angler, Dye Trader, Zoologist, Painter, Stylist, Arms Dealer, Golfer, Goblin Tinkerer, Tavernkeep, Tax Collector, Witch Doctor, Clothier, Pirate, and much more.
Terraria House Guide
Building a Terraria house is fun and engaging while challenging. You can build a wonderful-looking house that brings the feeling of exhilaration. To build a house in Terraria, you must know what is allowed so that you survive the game. Here is a compiled guide for Terraria house designs and requirements.
With this guide, you can master the art of building Terraria houses in no time. So, without further ado, let's get into Terraria house rules and designs.
1. Terraria House Requirements
Building a house in other games might be easy. But when building a house in Terraria, there are rules you must follow.
A Terraria house must have between 60 and 750 tiles used across its floor, frame, walls, and ceiling.
You must use 10 horizontal tiles and at least 4 vertical tiles to make a Terraria house.
A Terraria house must have walls on all sides.
In your Terraria house, there should be one comfort item, one light source, and one flat item. For example, a chair, a torch, and a workbench are good starting items for this rule.
A background wall should be built to avoid leaving gaps in your Terraria house.
The Terraria house should have an entrance, such as a door or a trap door.
Any and all corruption zones or evil biomes must be avoided when you are building a Terraria house.
After the house requirements are met, you can set the NPCs to spawn in the house through the Housing Menu.
Related: 21 Stunning White Cabinet Kitchen Backsplash Ideas
2. Terraria House Size
You need to use a minimum of 60 tiles which includes the frame; if you build a rectangular house, it will have the following dimensions:
| | |
| --- | --- |
| Excluding Ceiling, Walls, and Floor | Including Ceiling, Walls, and Floor |
| 3 tiles wide × 10 tiles high | 5 tiles wide × 12 tiles high |
| 4 tiles wide × 8 tiles high | 6 tiles wide × 10 tiles high |
| 5 tiles wide × 7 tiles high | 7 tiles wide × 9 tiles high |
| 6 tiles wide × 6 tiles high | 8 tiles wide × 8 tiles high |
| 7 tiles wide × 5 tiles high | 9 tiles wide × 7 tiles high |
| 8 tiles wide × 4 tiles high | 10 tiles wide × 6 tiles high |
| 10 tiles wide × 3 tiles high | 12 tiles wide × 5 tiles high |
| 13 tiles wide × 2 tiles high | 15 tiles wide × 4 tiles high |
Final Thoughts
Now you have finished reading about the best Terraria house designs, which should be on your house list. Hopefully, this housing guide will help you pick which house to make in Terraria.
These wonderful houses will keep the NPCs happy, which in turn will guide you in the game. Some of these houses are complex to build, needing many resources and materials.
But with enough practice, your hard work and patience will pay off when you see the NPCs living in these houses happily. There are many guides on how to make Terraria houses available, and you should take advantage of them, especially if you are a new player.
Please write in the comments below which houses you have made in Terraria, which resources you used, was the house easy or difficult to make, and why you picked them.
Your comments will help your fellow gamers in choosing which house to construct.
Check This Next: DIY Guide to Transform Your Fireplace with Peel and Stick Tiles