Inside the kitchen is where the magic happens, and so it is one of the busiest places in the house. If you are under a time crunch and need to cook quickly, small splashes of the dish can get on the wall unknowingly. This can make your beautiful kitchen look old and dirty. In order to prevent this, backsplash tiles or simply referred to as backsplashes can be installed.
These are easy to clean and will improve the aesthetic of your kitchen as they will complement your kitchen cabinets and decor. You can use this space to express yourself creatively so that you become happy whenever you step into your kitchen. However, it can be frustrating to choose one from the several options available, especially if you have white kitchen cabinets.
So here are the 21 best white cabinet kitchen backsplash ideas to inspire you!
Things to Consider Before You Choose a Backsplash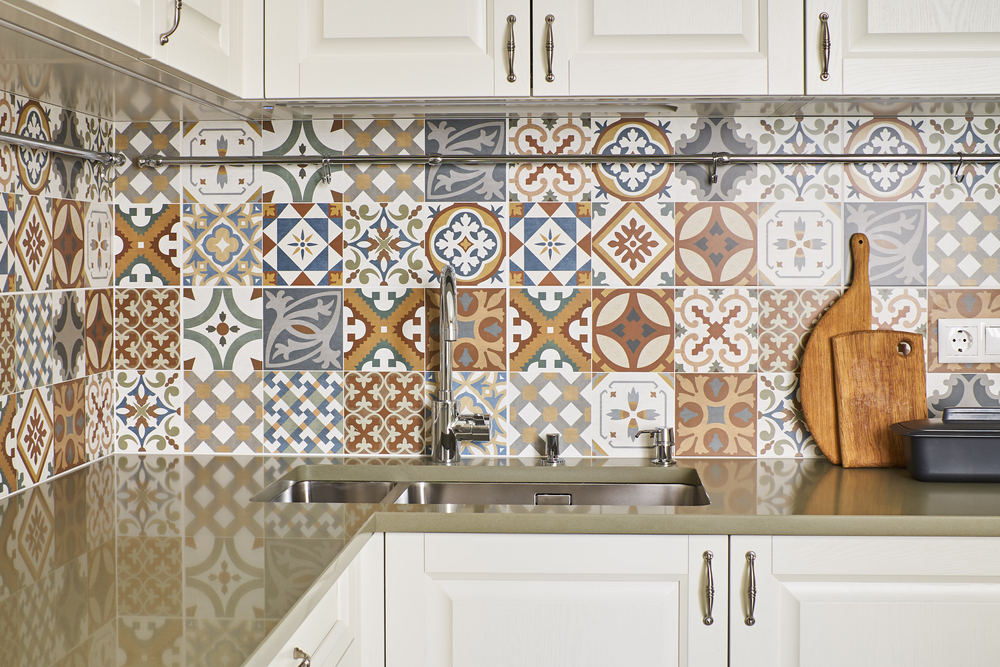 1. Style of Your Kitchen
The backsplash should suit the style of your kitchen, as traditional kitchens can look great with simple and classy single-colored tiles, but modern kitchens can work with patterned tiles. If your kitchen already has a lot of details in the decor and utensils, then going for a backsplash that is heavily patterned may not be the best choice. On the other hand, if your kitchen is minimalist, then going for a bright backsplash will work wonders.
2. The Countertop and Cabinet Colors
The color of your kitchen countertop and cabinets is one of the important elements you need to consider before choosing a backsplash. It is likely that your countertop and cabinets will already complement each other aesthetically. So you need to choose a backsplash that will go well with both. In this case, your kitchen cabinets are white, but your countertop can be a different color. Consider both of these before choosing a backsplash.
3. Budget
Depending on the tiles you like for your backsplash, the cost will vary. In addition, you need to spend money on installing it as well. Therefore, it is best to have a budget beforehand and then start choosing the tiles that you like. This way, you don't have to compromise or overdo anything with regard to this kitchen makeover.
4. Material and Texture
The backsplash tiles come in different materials, textures and have different price ranges. But the most commonly used ones are ceramic or porcelain tiles, followed by metal, natural stone, glass, etc. This is because these materials are the most water-resistant, easy to clean, and aesthetic. In addition, these are available in different colors, styles, and textures. You need to choose one that will work well with your white kitchen cabinet.
5. Latest Trends
Although kitchen backsplashes have been around in different forms (a couple of tiles only in the wall in front of the stove, etc.), some styles may not be that popular anymore. For instance, the plain white tiles were desired at one point, but not so much now. Your kitchen can have a lot more personality, and you can go for more interesting designs. So for inspiration, do your research and understand the trends.
But don't worry, and we are here to help! See if you like any of these white cabinet kitchen backsplash ideas that we have compiled for you.
Best Backsplash Ideas: Based on The Material
1. Marble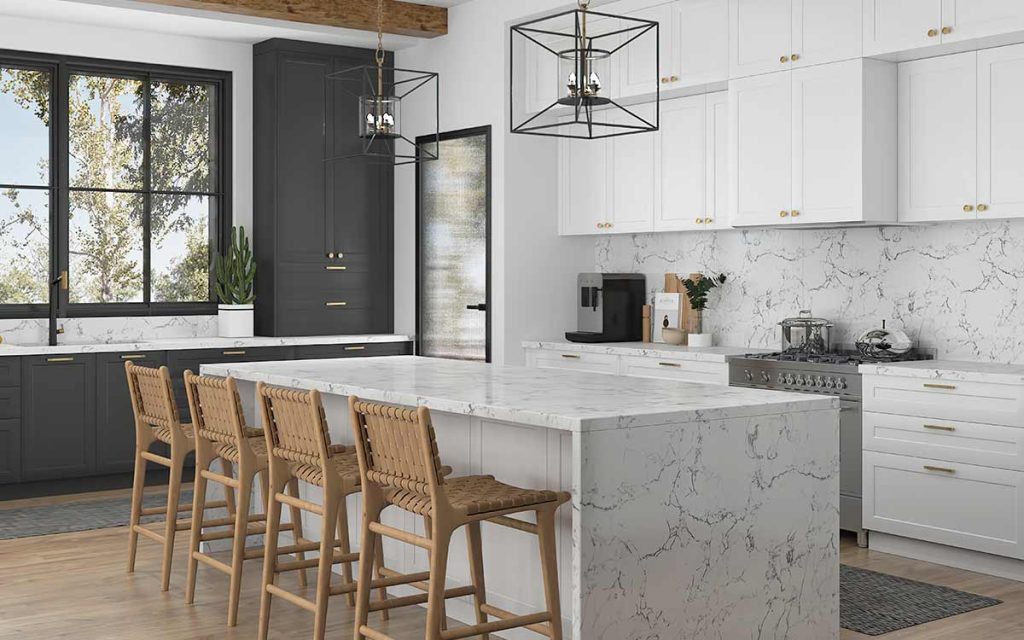 Marbles are becoming increasingly popular due to their classy and elegant appearance. These are being used for kitchen countertops and backsplashes, and you can also try this trend. Since you have white kitchen cabinets, you can check out different colors of marble, such as gray, pink, blue, ones with golden highlights, etc. All of these will look gorgeous and give your kitchen a sophisticated appearance. These are easy to clean and maintain as well.
2. Wood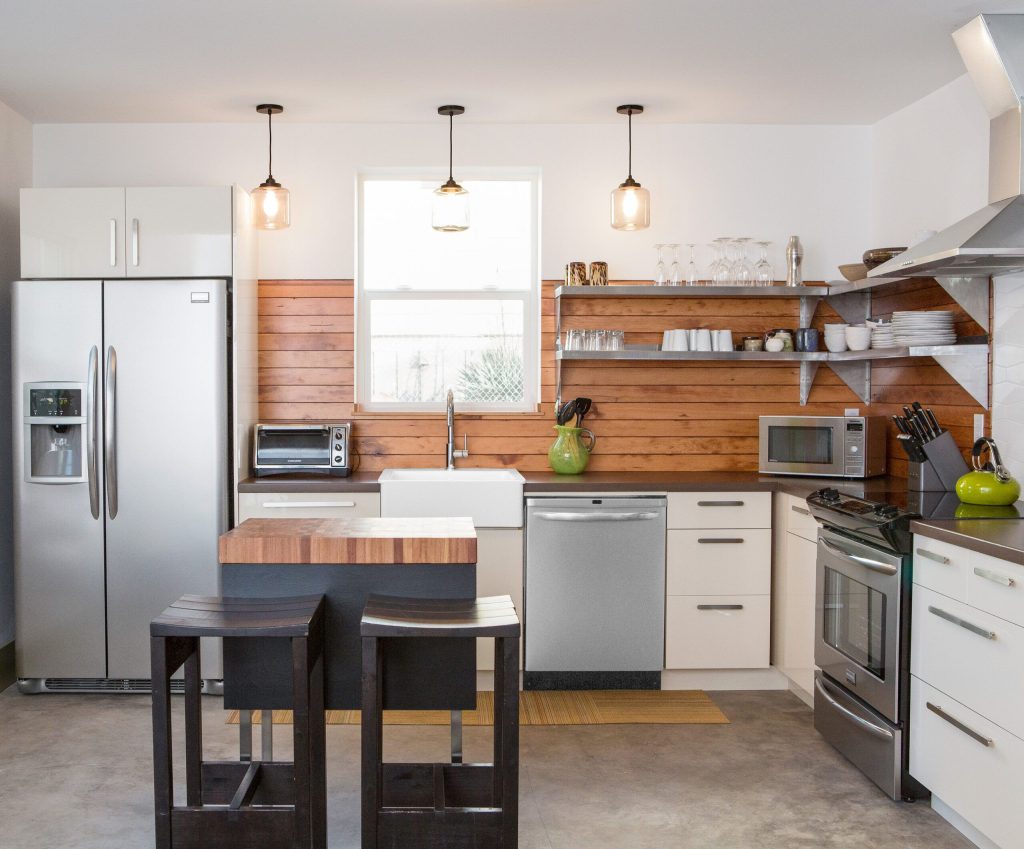 The wood of any color will complement your white kitchen cabinet, and it will add a touch of warmth to your decor. You can try adding wooden tiles and create a mosaic, stain or color the wood, and add wood of different types like oak, teak, etc. so that it looks visually appealing. One disadvantage of adding wood is that it may not last as long as other materials, as wood is affected by heat and water. You may have to replace it relatively more often, and wooden backsplashes may not go well with the style of several kitchens, especially modern ones. So although wooden backsplashes are great, consider these factors before making a decision.
3. Laminate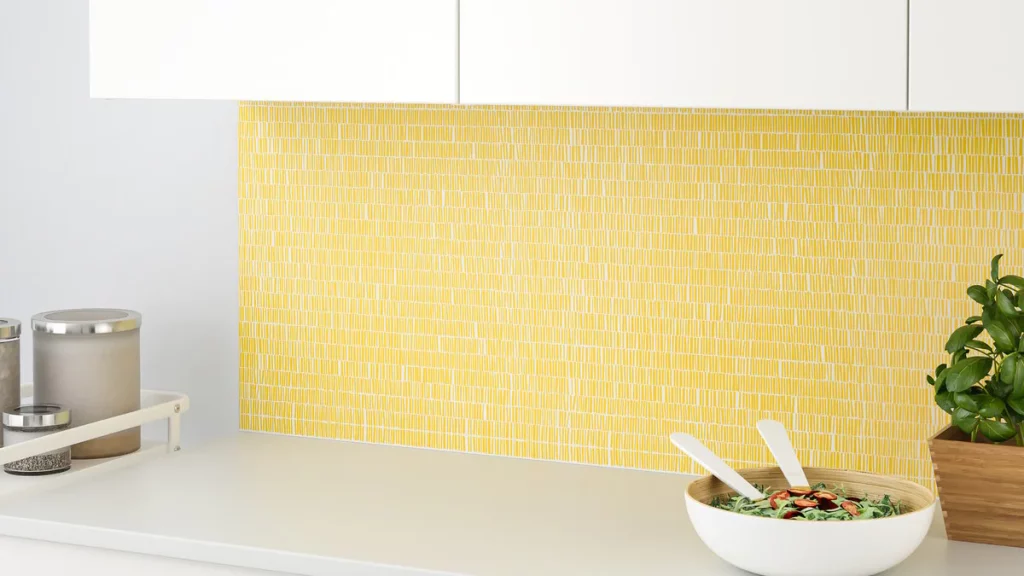 These are highly durable, available in different colors, easy to clean, easy on the pocket, and look absolutely stunning. There are some laminated backsplash designs that look like marble or metal. So it is one of the ideal choices for your kitchen backsplash to suit your white kitchen cabinets. However, placing them near a gas stove with open flames is not advised. Though they don't catch fire easily, it is best to proceed with caution as different tiles have different compositions. So consult with an expert and do a thorough check before installing these. However, if you can find a good laminate backsplash, you may have hit the jackpot!
4. Metal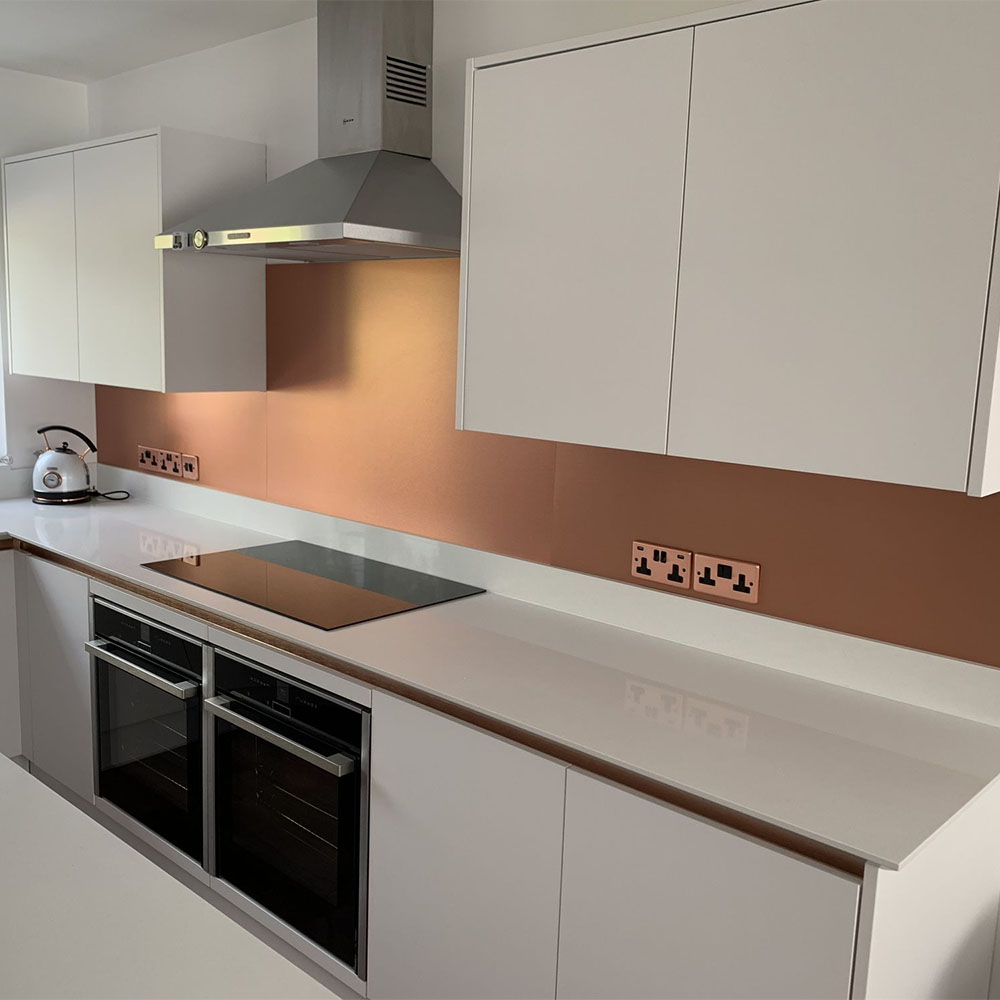 These are a great option as they come in different materials and colors, for instance, copper, stainless steel, etc. They are usually coated with protective layers so that they don't get affected by heat, water, or food splashes. Oxidized copper designs with colored tones are becoming popular due to their stunning appearance. These can be statement pieces in your kitchen since you have white cabinets. A full gray metal backsplash will also work with modern white cabinet kitchens. These are easy to clean and last for a long time, so they are a great choice for you to consider.
5. Glass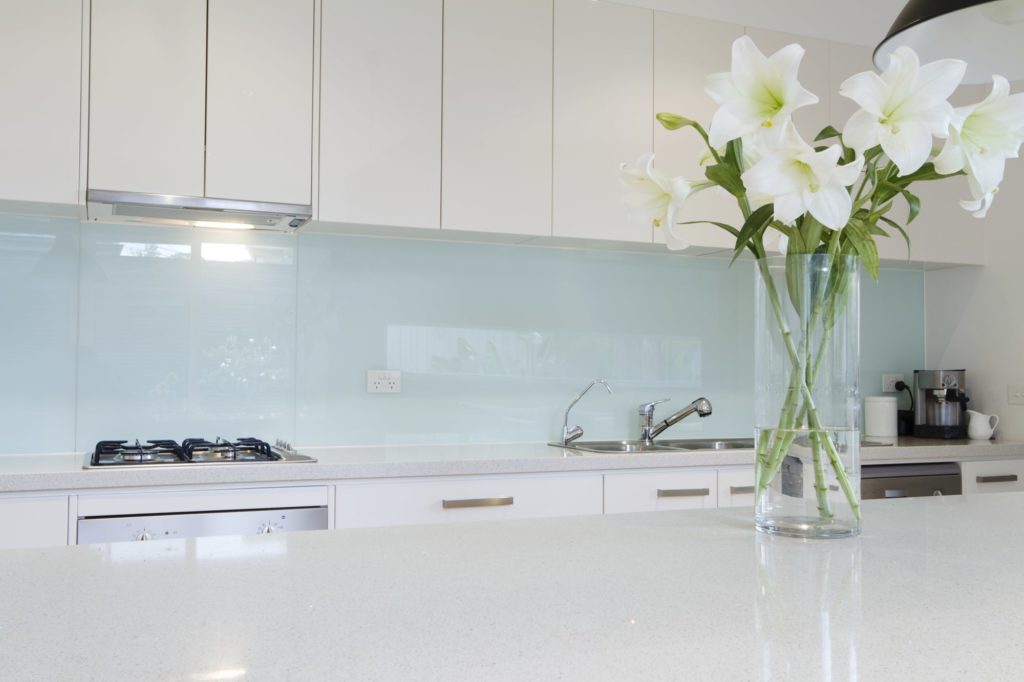 Having a glass backsplash is also in trend, as mirrored ones create an illusion of space and make your kitchen feel bigger. Glass backsplashes are heat and water-resistant, so they are easy to maintain. It will create a clean and neat look in your kitchen. However, since your kitchen cabinet is white, the transparent glass may not be a great choice unless you have a beautiful wall color. Therefore, if you are considering glass, think deeply before making a choice and do your research well.
Best Backsplash Ideas: Based on The Tile and Its Design
6. Herringbone Tiles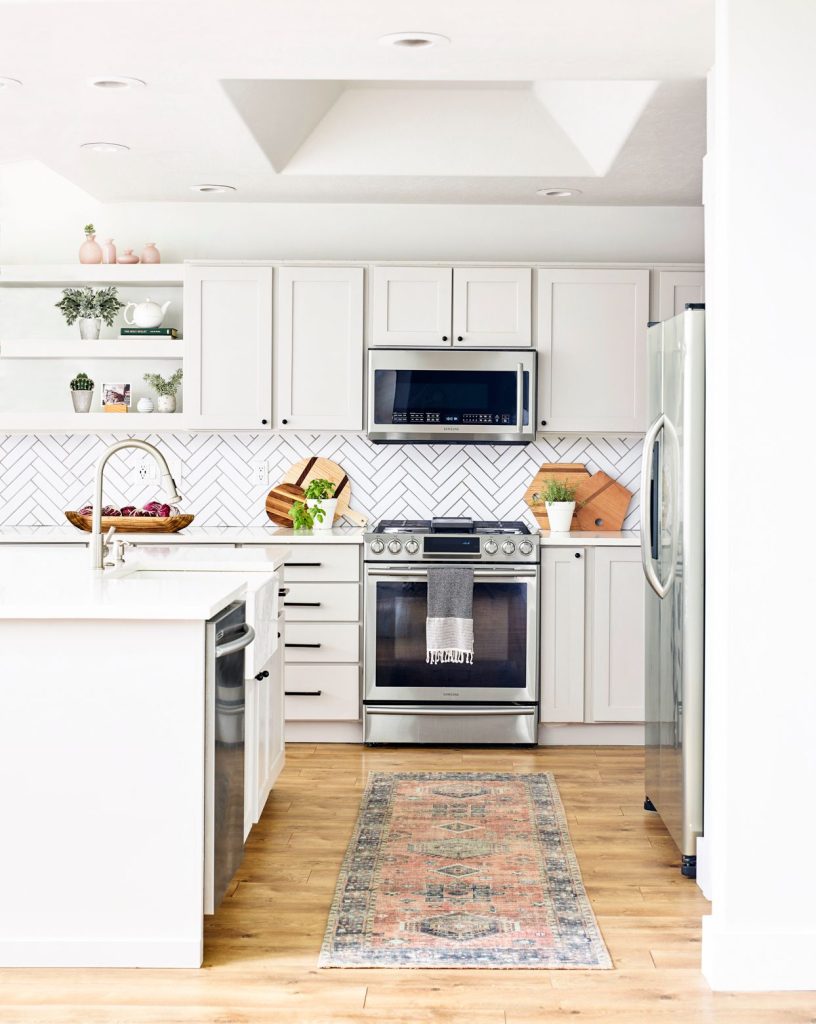 These look beautiful as the tiles are arranged in a zig-zag or V-shaped pattern, and this resembles the bones of a Herring fish. Since your kitchen cabinets are white, you can add Herringbone tiles of darker colors so that there is a good contrast. These tiles are glossy, and they also look vintage, which will add a touch of sophistication to your kitchen. You can try adding tiles in some of the trendy colors such as black, turquoise, red, etc. These tiles form a statement piece due to their appearance, and they are a great choice.
7. Shiplap Tiles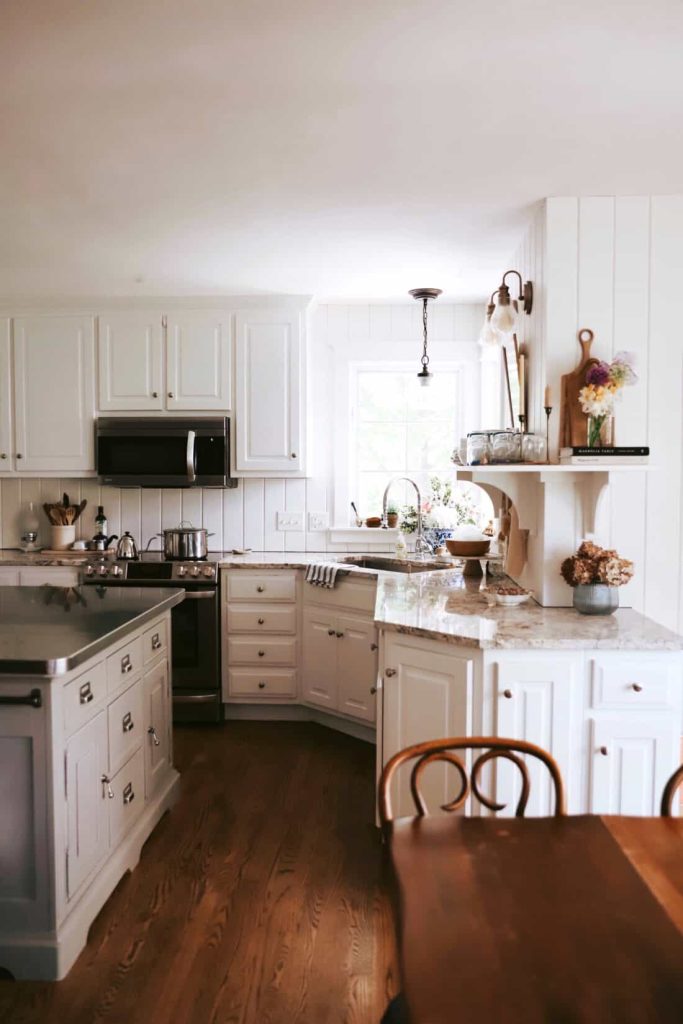 Traditionally these tiles were made of wood, and they were closely placed, creating a rugged and timeless look. These have been in trend for a while as they now adorn the walls of several cafes, restaurants, bedrooms, etc. These tiles are available in modern versions as they come in different colors, styles, textures, etc. You can install them as your backsplash for a classy look. These will go well, especially with traditional-style kitchens with white cabinets and wooden countertops. The tile can be white or brightly colored.
8. Brick Veneer Tiles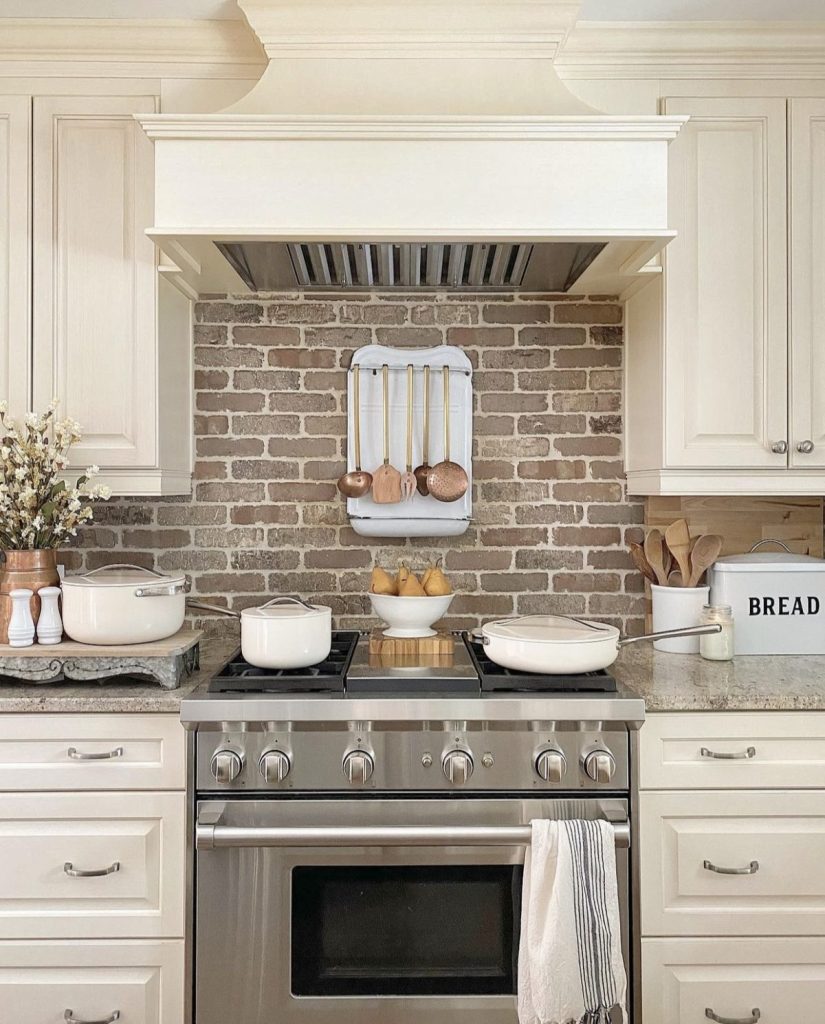 These tiles are where multiple bricks of different shades of red and brown are arranged in rows. These days this style is available in normally printed tiles (which look textured), so there is no need to go through the trouble of installing actual bricks. This aspect makes it easier to clean and looks neat as well. This look is also popular as it looks both modern and traditional. Since these are not actual bricks, they are available in different color palettes such as red, gray, black, blue, etc. Therefore, this is another choice you can consider for your kitchen, as these bricks will have a great contrast with your white kitchen cabinets.
9. Metro Tiles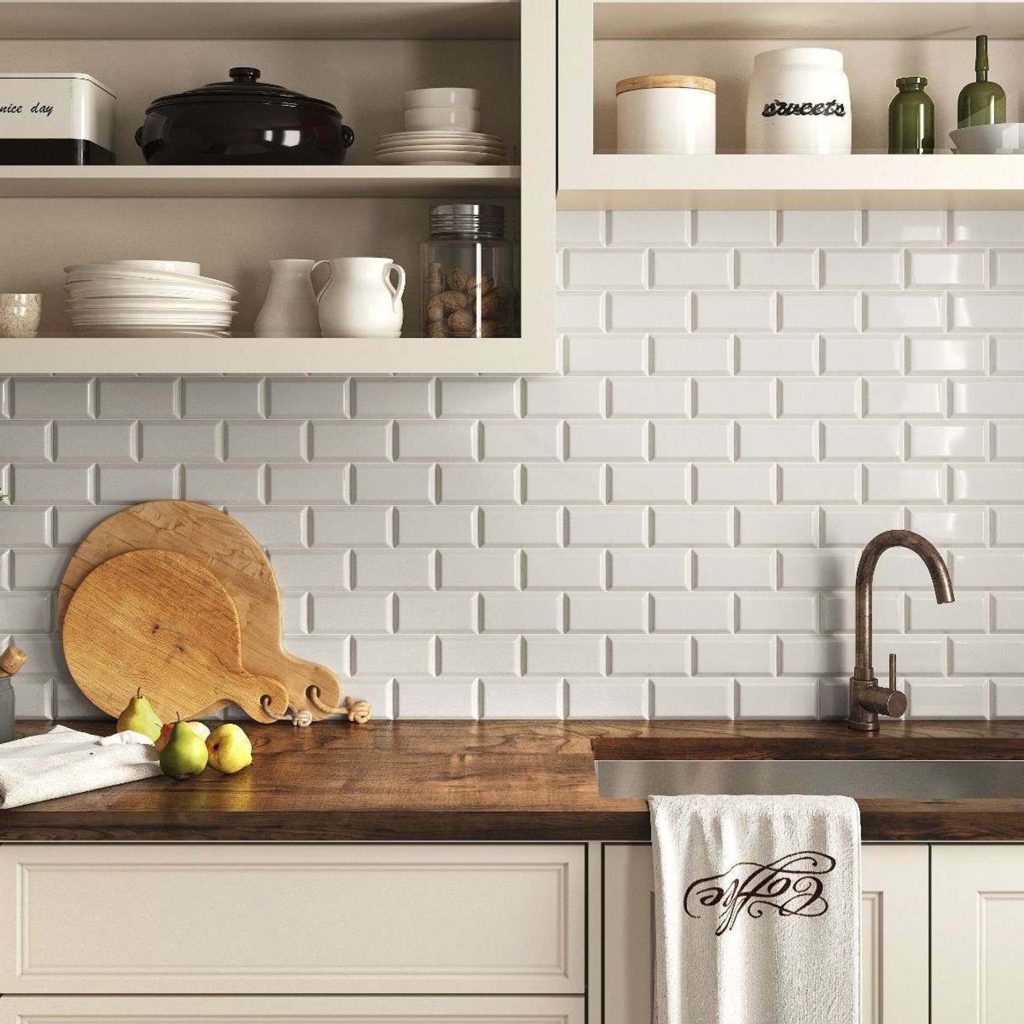 Very similar to brick veneer tiles, these are textured tiles that are available in different colors. Adding a kitchen backsplash with this type of tile will make your kitchen look vintage, especially if you choose some unique colors. They are also a great option if you prefer a minimal look in your kitchen, as you can choose a light gray colored tile to complement your white cabinets. It can create an illusion that your kitchen is bigger, and this is another benefit.
10. Zellige Tiles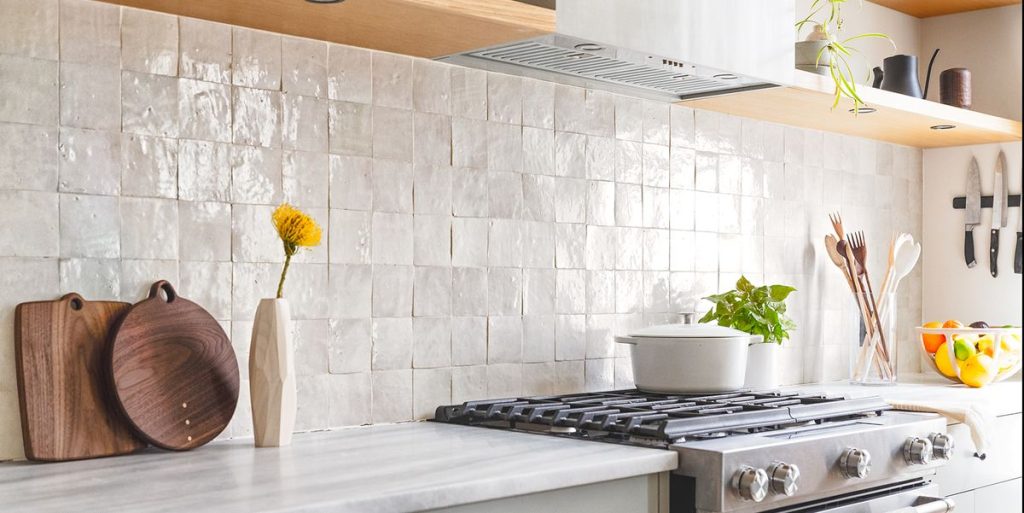 These Moroccan tiles are known for their bright colors, geometric and imperfect patterns. They have intricate patterns in them, and they can be made in several shapes, including rectangles, triangles, squares, etc. These are hand cut and, therefore, display excellent craftsmanship. If you wish to have that personal artistry in your kitchen, these versatile tilesare a great choice. They look striking regardless of the color palette of your kitchen.
11. Chevron Tiles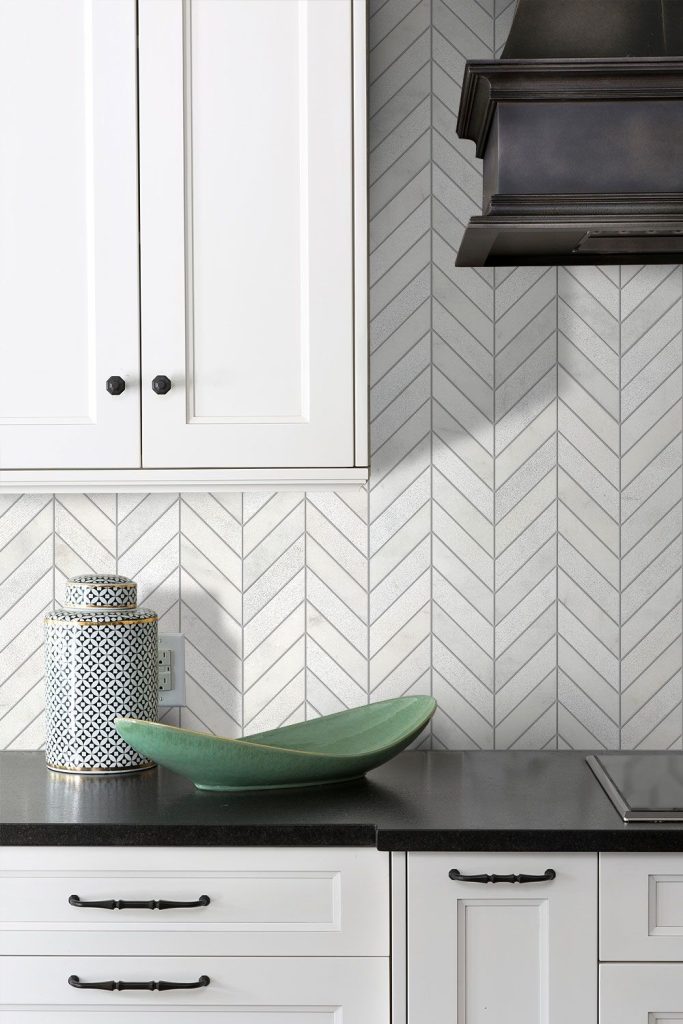 These tiles have a characteristic triangular pattern that is repealed several times. These famous tiles are available in different materials such as ceramic, porcelain, wood, marble, etc. Because of their eye-catching geometric triangles, they have been used in different rooms of a house. Therefore, they would make a beautiful backsplash, especially if you choose bright colors. There are modern variations of this tile where in square or rectangle-shaped colored tiles, these triangular patterns are printed.
12. Textured Tiles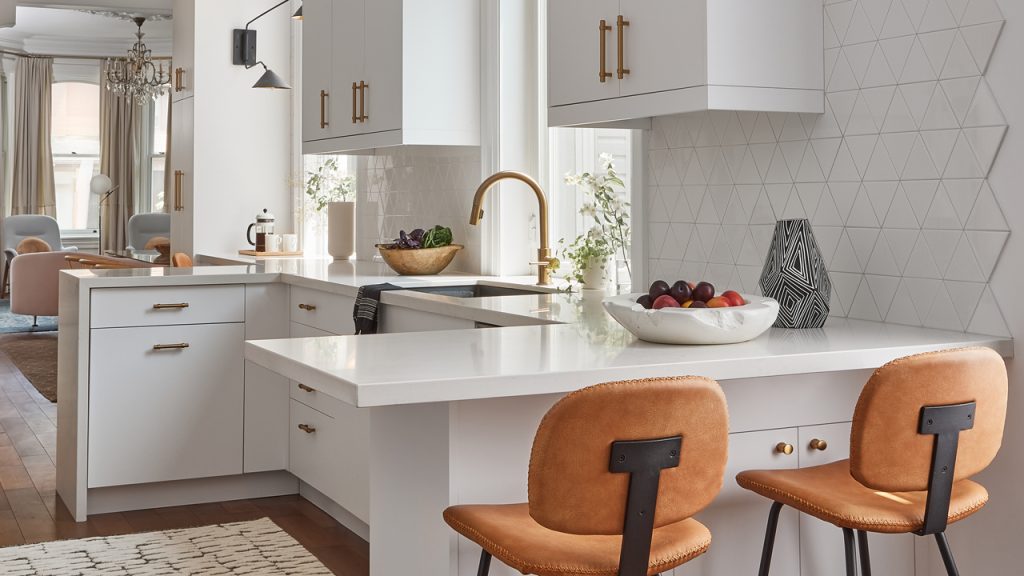 These textured tiles are also a good choice as you can find a range of options. You can go for amorphous textured tiles, which don't have any shape or geometric patterns like rectangular patterns, hexagons, etc. These come in different colors, and if you choose an intricate pattern, it can be a statement piece as well. Make sure to choose a color and pattern that will fit the style, color palette, and decor of your kitchen.
13. Decorative Tiles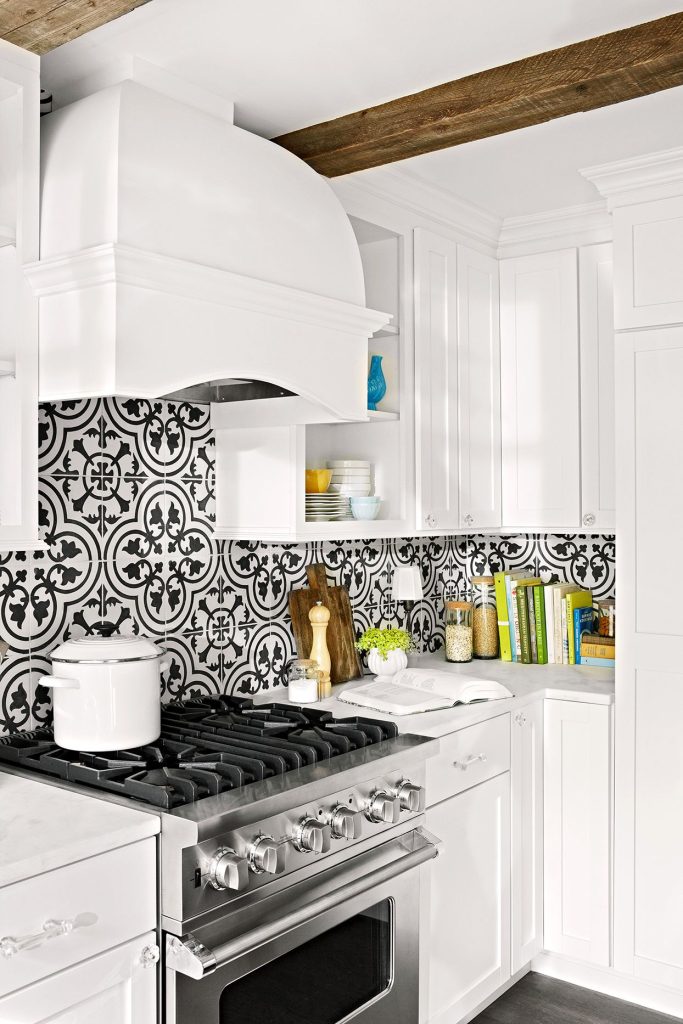 You can choose tiles that come in unique shapes, which overall make a pattern, or have interesting printed patterns in them. If your kitchen is traditional, you can go for some traditional patterns like printed flowers, flower-shaped tiles, or mandala designs. If your kitchen is modern, you can try out printed tiles with lines or outlines. These will elevate your kitchen style to the next level as these tiles will make it look stunning!
14. Stone and Tile Pattern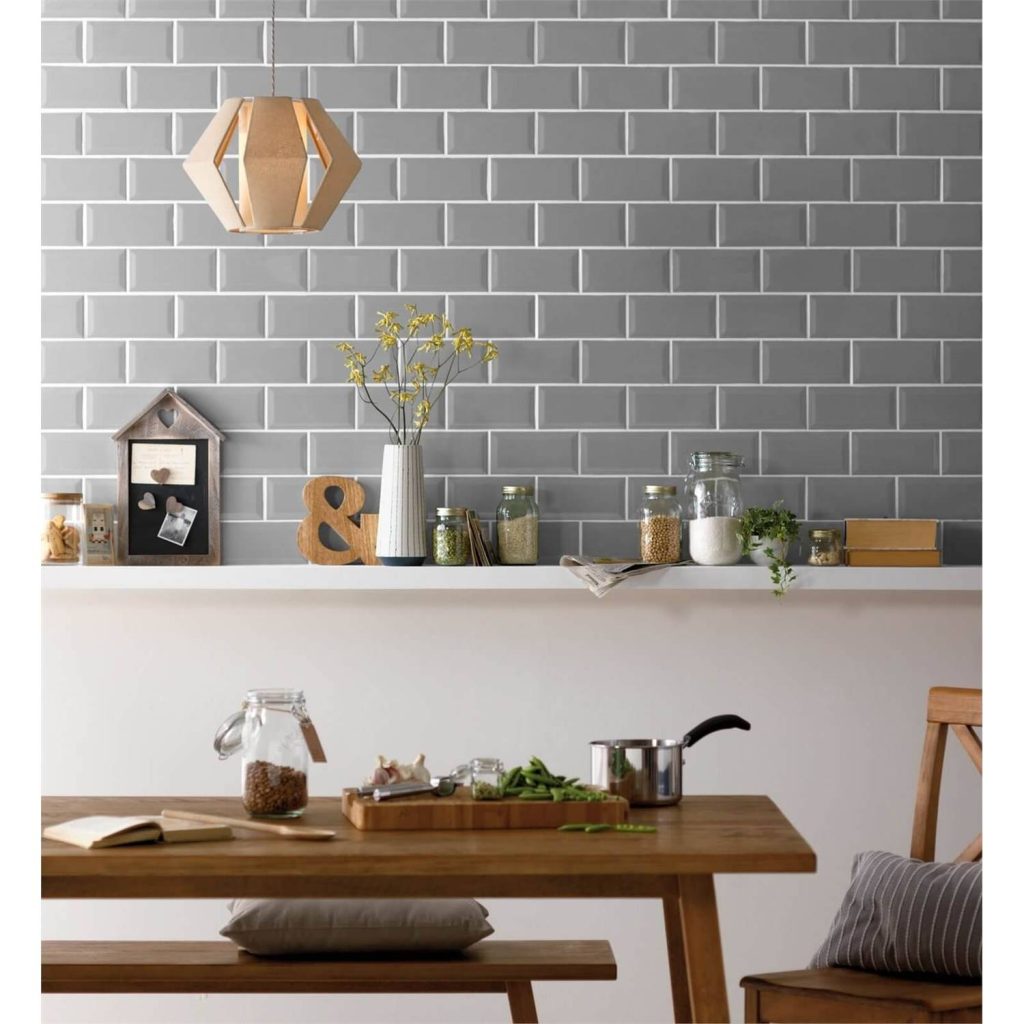 This is a unique style that is slowly gaining more attention. This is where up to half a distance, stone (marble, granite, etc.) are placed, and then geometric tiles are placed, and at the point where these two meet, a small floating shelf is created. This backsplash can increase storage and serve the function of protecting the wall. Since the splatter from cooking is unlikely to go above a certain height, having shelves will be an effective utilization of space. These shelves are also made of stone, so they are also easily cleanable. This may be an ideal choice for your kitchen, and it needs deeper consideration.
15. Glitzy Mosaic Tiles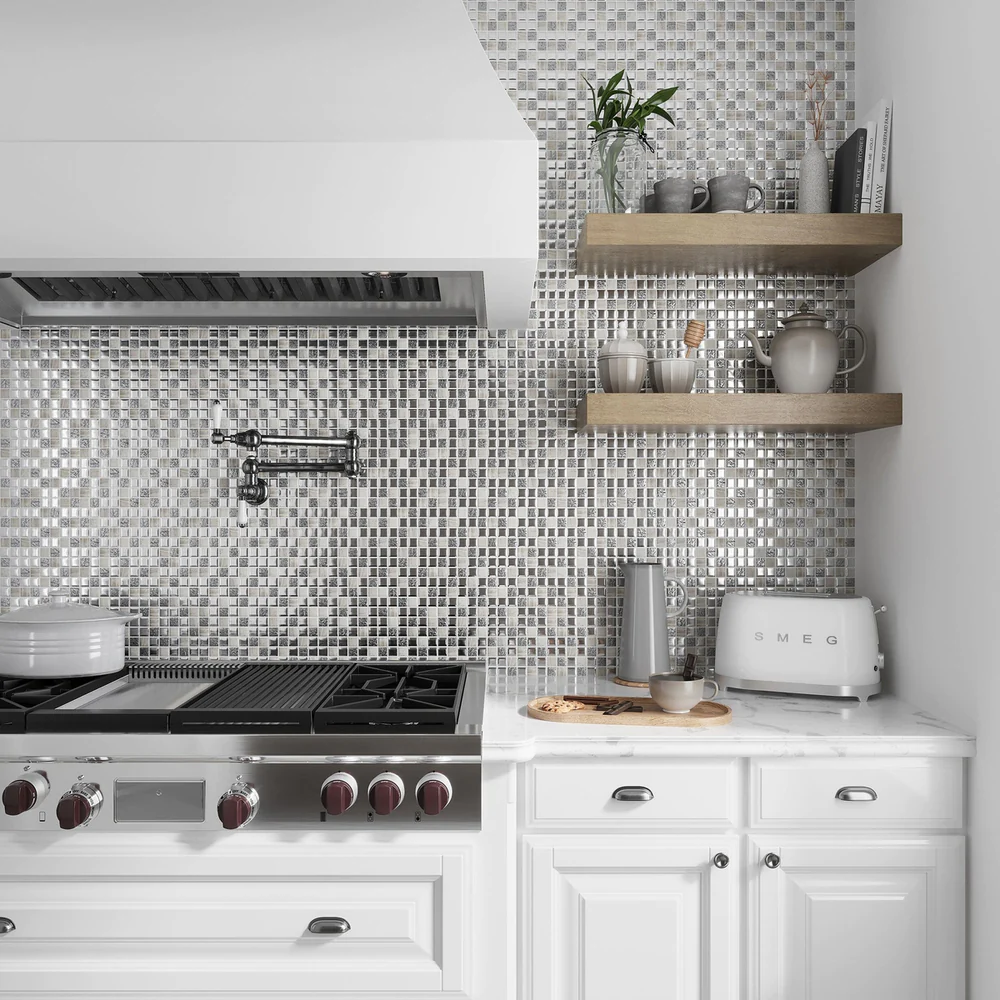 These tiles will reflect light, look dazzling, and have a beautiful mosaic pattern. Although there are several glitzy tilessuch as glass, metallic, mirrored tiles, etc., this mosaic type is by far the most striking in appearance. You can try mosaic patterns made of very tiny squares or rectangles that also come in different colors. Although they are called mosaics, these tiny shapes will already be placed on bigger tiles, so you don't have to worry about installing those small tiles. These tiles will make your kitchen sparkly and shiny!
16. Beadboard Tiles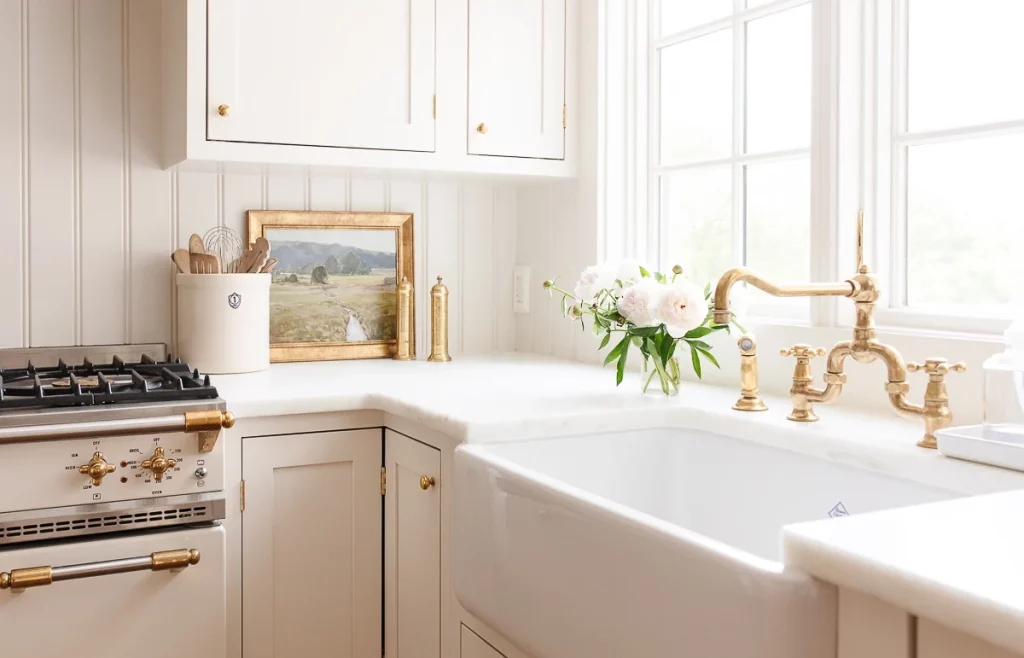 These are another type of classic tiles that have been used in different rooms and also as kitchen backsplashes. From a distance, these look like a string of beads placed inside two rectangular boxes, and this pattern is repeated. This tile enhances the looks of your kitchen because these beadboard tiles are associated with royal and rich places like mansions, hotels, restaurants, etc. Although this is history, the effect is back in trend, and even a simple white beadboard backsplash will make your kitchen look majestic.
17. Penny Tiles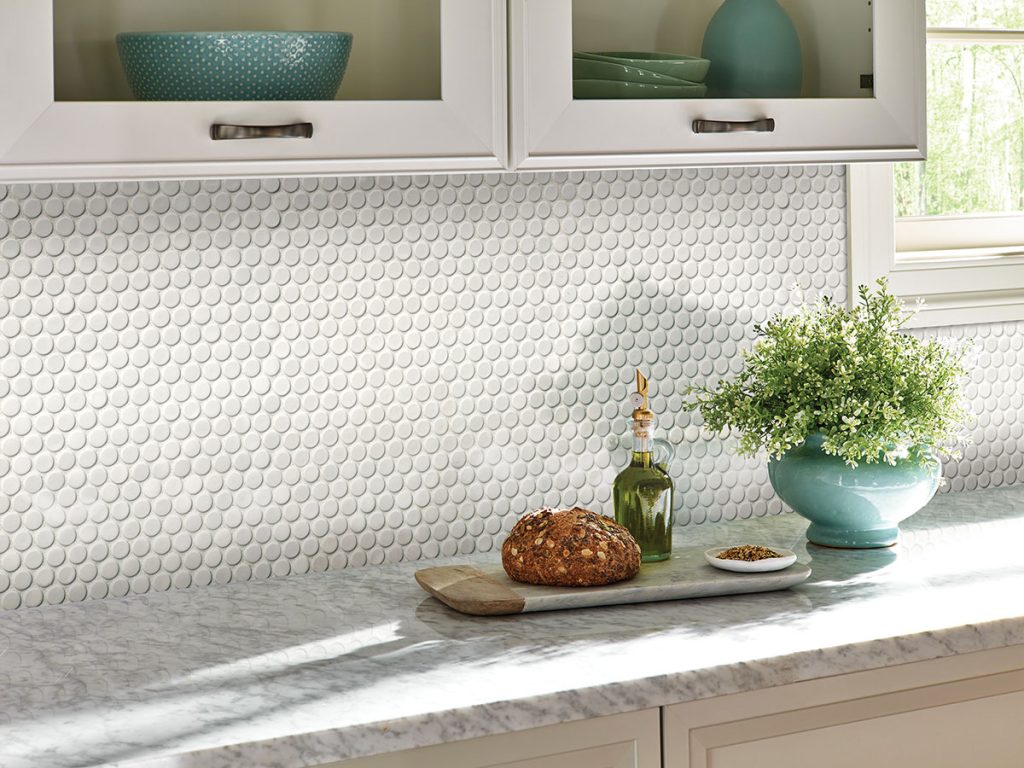 These tiles have an interesting name as they have round protrusions that are about the size of a penny. These may be glossy or matte and look beautiful. You can add uniquely colored Penny tiles to your backsplash to make it look more striking. Multi-colored Penny tiles are also a wonderful option and will add a playful vibe to your kitchen. These tiles are highly textured and may not go well with kitchens that already have great detailing.
Best Backsplash Ideas: Based on Colors
18. Dark-Colored Tiles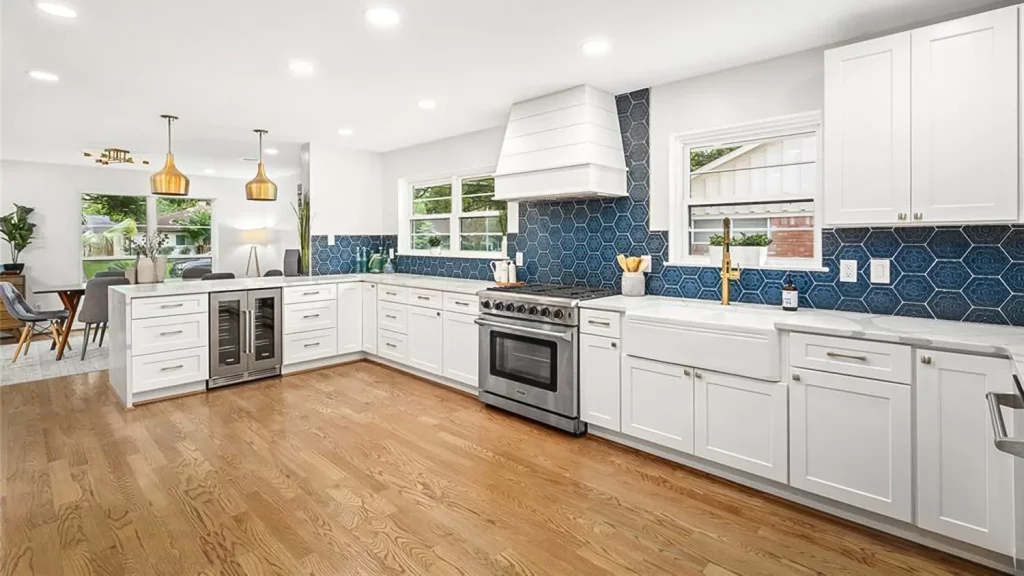 Dark colors like deep blue, purple, black, dark gray, bottle green, pink, maroon, brown, etc., are some good choices for your kitchen. They will look contrasting as your kitchen cabinets are white and create an interesting and cheerful look in your kitchen. This will make your kitchen look inviting, and if you can find a way to add a different color highlight (e.g., gold, silver, rose gold, etc.) maybe as part of your decor or utensils, this theme will look even more beautiful.
19. Mermaid Tiles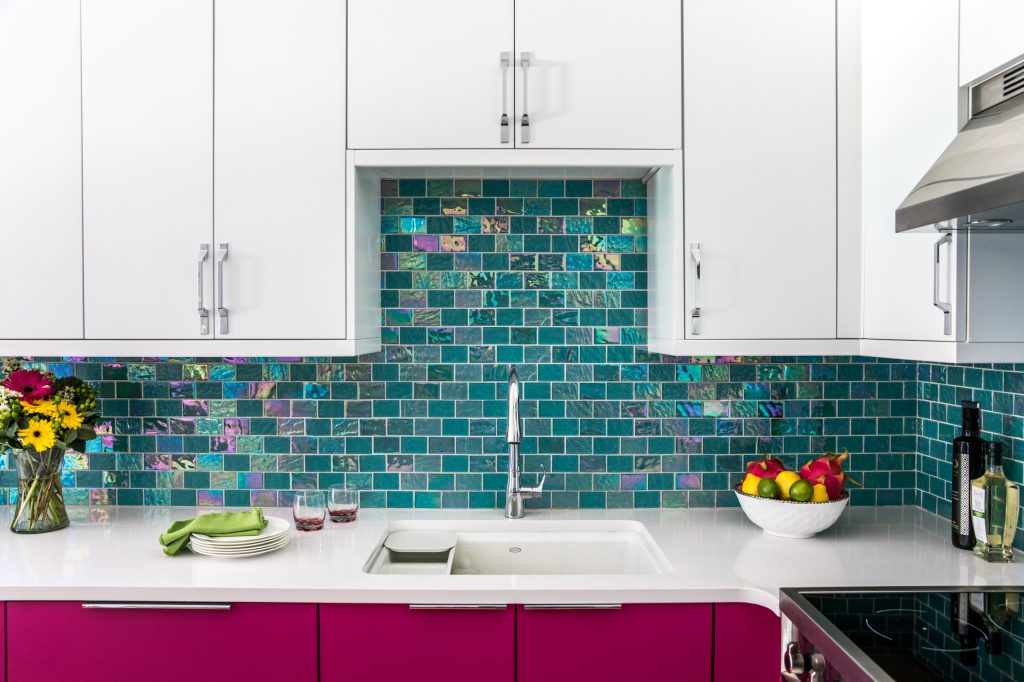 White cabinets with other woodwork in the kitchen will complement very well with a deep turquoise tile backsplash. If you can find lamps, chair cushions, etc., that are of the same shade and install them along with your backsplash, it will look absolutely stunning. This textured, turquoise tile has been affectionately called mermaid tiles because their tails are of similar colors in movies and books. This will work especially well with a contemporary kitchen that is not too modern or not too traditional.
20. Luminescent Tiles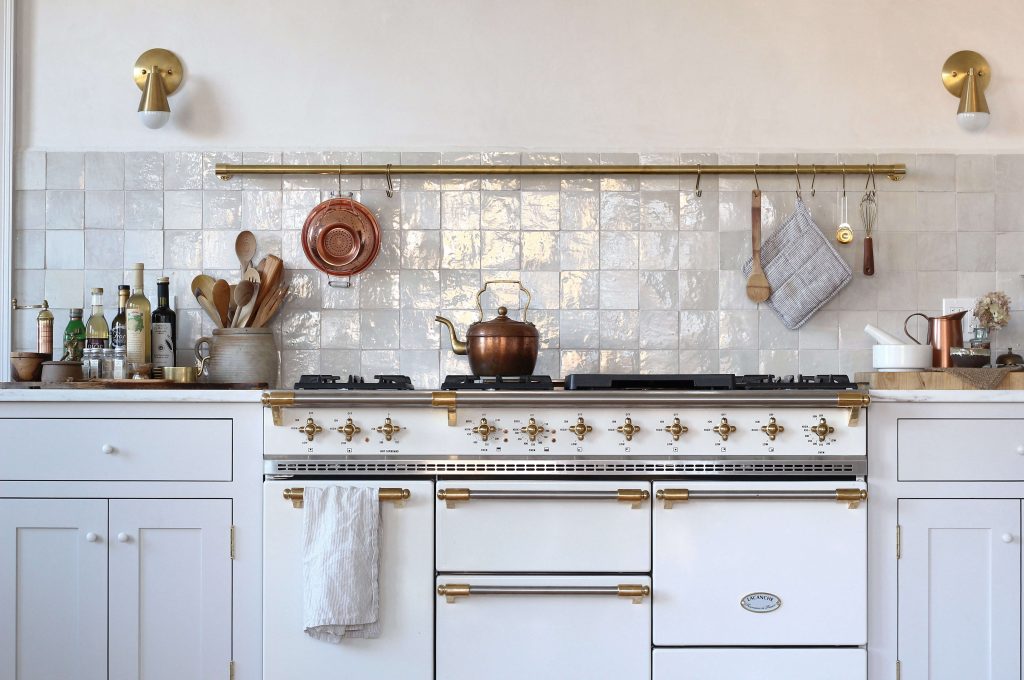 These tiles are just like others in terms of texture and color, but in addition, they have a pearlescent sheen to them. As your kitchen has white cabinets, having white backsplashes may not be that interesting. Instead, you can consider this choice as it looks eye-catching. You can choose simple Zellige or Metro tiles and coat them with this sheen. If you decide to have this material for your kitchen backsplash, you will have an amazing kitchen that glows!
21. Olive Green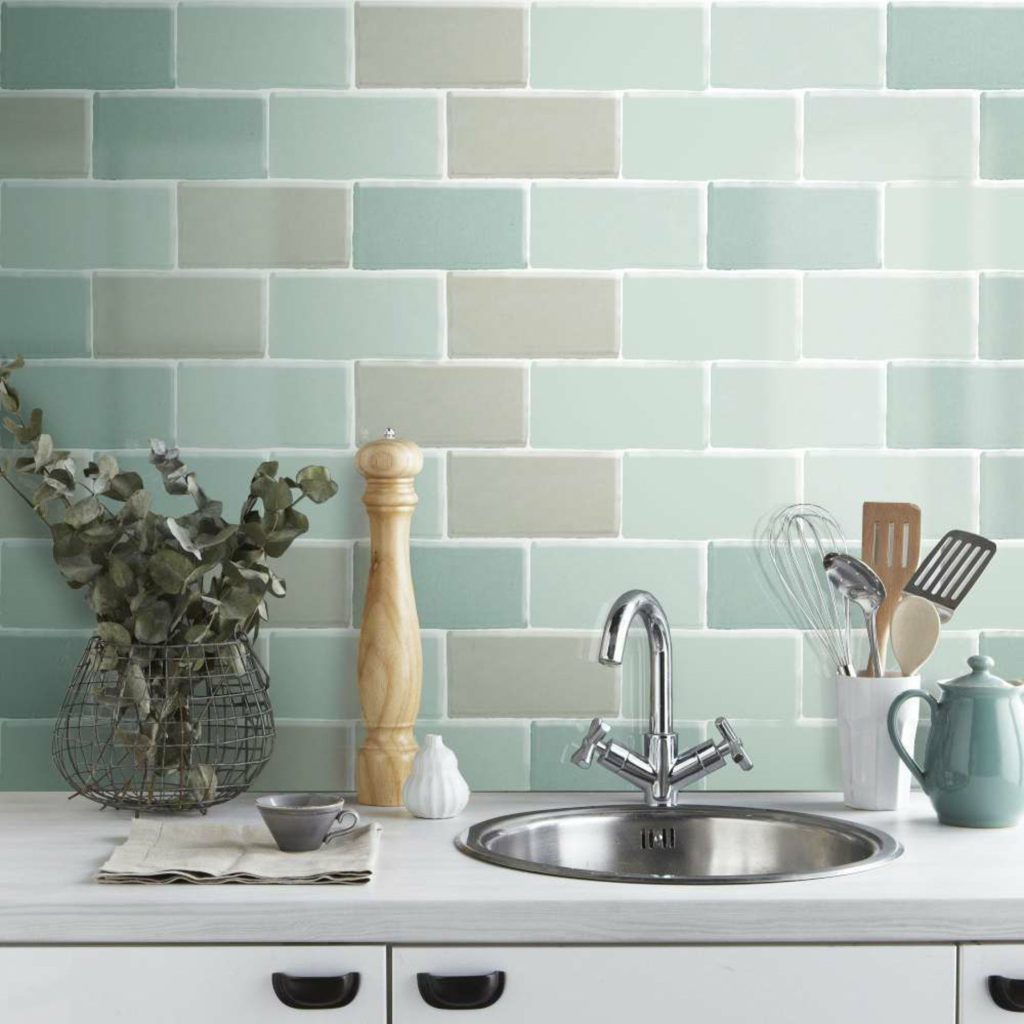 These tiles add a touch of nature to your kitchen, especially if the tile has small printed shapes that are of different shades of olive green (light, dark, or very dark olive green). You can choose this color if you think it will accentuate your present decor, such as having white cabinets. This is a great choice if you have some woodwork as well. This color has also been in trend for a while and has caught the eyes of several designers and architects. But confirm if such a bold backsplash will suit the style of your kitchen or not.
Final Thoughts
In kitchens, due to some mistake, food splatters may hit the wall occasionally. Since it is painted, once stained, it can't be erased. This gives your kitchen a dull look, and one way to counter this issue and elevate the appearance of your kitchen is to add backsplashes.
These are protective extensions that extend above the countertop, are easy to clean and maintain and also add statement pieces to your kitchen. There are several choices available for kitchen backsplashes which include using different materials like marble, wood, glass, metal, etc.
The majority of kitchen backsplashes use tiles that come in different colors, textures, prints, etc. They should match the style of your kitchen because otherwise, even if you have chosen great designs, they won't work.
Therefore choosing one from these white cabinet kitchen backsplash ideas is very effective, functionally and aesthetically.
Frequently Asked Questions
What Are Kitchen Backsplashes Used For?
The space above the gas stove will be exposed to heat, food splashes, water, etc., and this can easily damage the paint there. Adding a backsplash removes these problems because it is easy to clean and water and heat-resistant. In addition, adding a backsplash increases the aesthetic of your kitchen.
What Tiles Can I Use for My Kitchen Backsplash?
There are several varieties of tiles that come in different shapes, colors, patterns, textures, etc., and you can choose one of them. However, the most famous and classy tiles include metro, Herringbone, Beadboard, Zellige, Glitzy mosaic, Chevron, brick veneer, shiplap, etc. If you choose one of these tiles, you are less likely to go wrong with the design!