If you are thinking of having a cat without a dedicated living space, the last thing you want is to see your cat lying down on your personal space, bed, sofas, and every other place where they shouldn't. So how to provide a personal living space for your cat? Create a small room or nook for your cat where you can feed your cat. The cat can play or sleep.
You can create a complete room in the cat room or a small tent House for your cat. Keep reading to know more about the amazing cat room ideas. We have curated a list of 13 amazing cat room ideas to help you prepare a cat room for your furry cat.
We have covered modern cat room ideas, minimalistic ones, cat playhouses, DIY room ideas, and more.
1. Modern Cat Room Ideas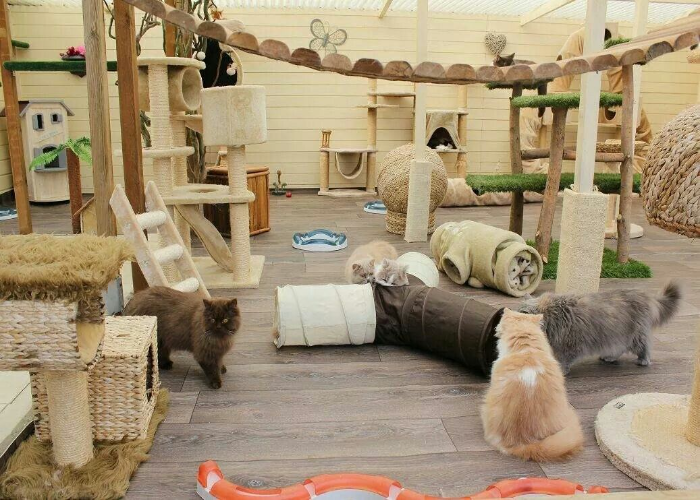 You can decorate the wall with aesthetic wallpaper and vibrant accents for a modern touch. Place a velvet couch for your kitty, and give space to the wall art of the mouse. You can place a few bright toys like a kitten and mouse to make it a royal cat room.
Since cats have natural desires to have fun, just like human kids, they will love the furniture and things which can provide them comfort and help them to get wild at the same moment. Keep a few scratching posts and cardboard in the room so your cat can scratch them instead of scratching costly furniture.
Install a play tunnel and a cat tower for your cat for playing purposes. Lastly, a cat room is incomplete without a cat bed, so ensure you keep a comfy cat bed for your cat to relax fully apart from the couch.
2. Climbing Paradise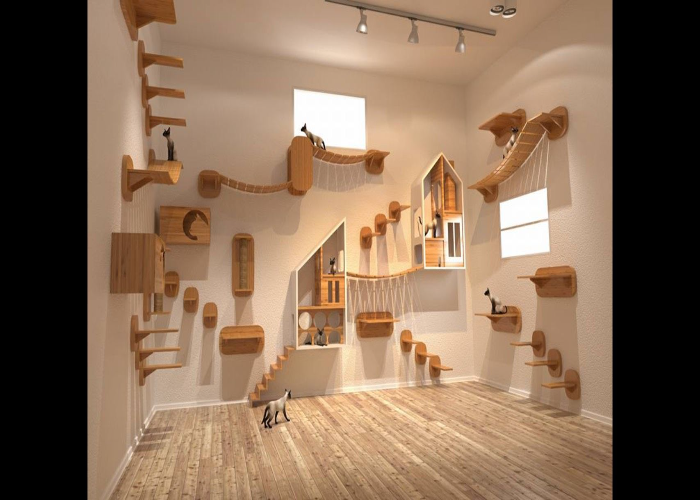 Cats love to get wild and thrive, which is natural for them for hunting purposes. So you can create a naturally friendly environment for them in the cat-like paradise. It will help them satisfy their natural willpower, jumping, and wild side.
To make the cat room a climbing paradise for your cat, use some thick hanging knobs and mounted planks. You can also mount a honeycomb wall shelf. Place the furniture so your cat can roam and jump over them in the action role. You can also create a few small slabs mounted on the wall as a sitting place for your cat.
3. Cat Playhouse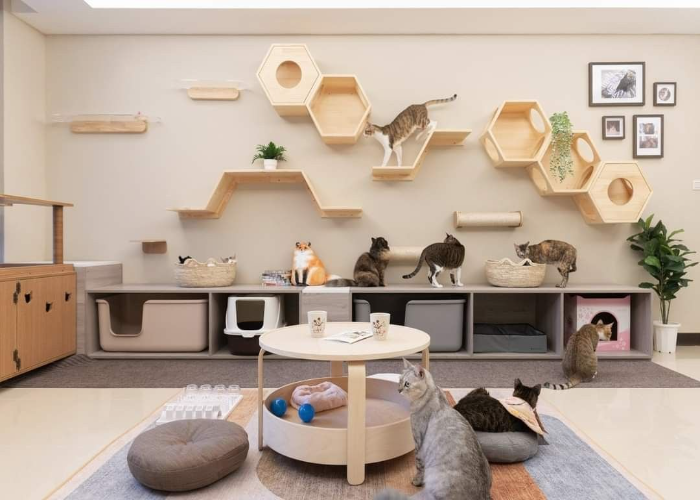 If you are looking for playing cat room ideas, convert the space for your cat room into a playhouse. You can start from the cat phone booth or a train compartment for your cat. So start with a phone booth; prepare a comfortable rooftop so your cat can lie there. Create 2 to 3 small rooftops inside the phone booth, according to your number of cats. DIY at least two rooftops inside it.
Cover them with a nice comfy sheet that sticks around the rooftops so it will be easier to rest and sit on them. Make sure to keep a few open spaces in the top or bottom or a few holes so your cat can breathe properly and the ventilation is proper enough to avoid suffocation.
4. Minimalistic Cat Room Ideas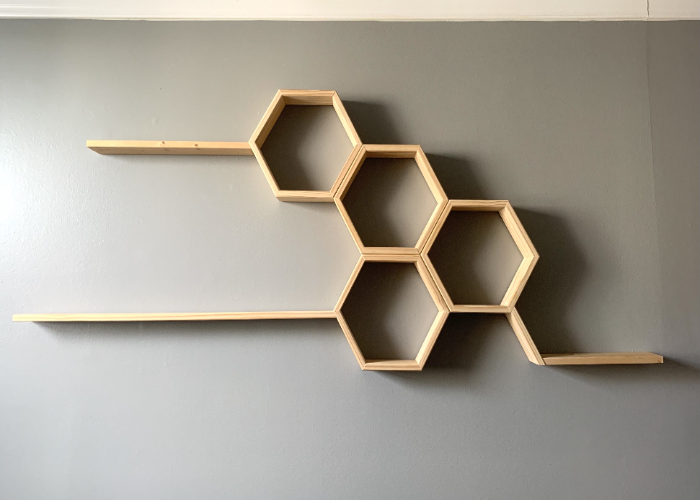 If you want minimalist cat room ideas, consider a sleeping corner for your cat. Cats love sleeping and can spend 12 to 20 hours like this. So a cozy and soft sleeping space is always a bonus for them. You can give space to their playing and entertainment area as an add-on.
You can add a few toys like string balls and a mouse. To prepare a minimalistic room for your cat, utilize the cat cubbies. Utilise mounted cat steps along with the cubbies.
5. Kitty Teepee Bed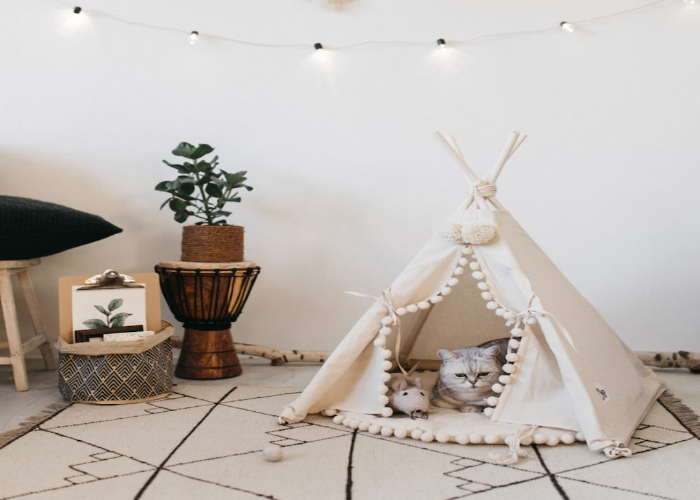 This cat teepee is like a small tent house, including the bed simultaneously. To prepare a Kitty Teepee Bed, you will need a pair of five wooden sticks of similar size to support each other, meaning a total of eight sticks. Tie up five sticks to make a pentagon or structure for the floor and bed.
Tie the remaining five sticks to make the hood and top of the teepee bed. Place them together and tie them from a little lower end from the top. Pull out the bottom ends of each stick outside to give it a tent shape by making a cross sign with all five sticks simultaneously.
The outer structure is ready. Now you have to place a cozy blanket to make a bed on the floor, in the square structure of wooden sticks. After that, tie the bed with the tent structure of five wooden pieces from the bottom and fix the floor bed with the individual bottom ends of the wooden sticks. Wrap a blanket around the teepee to cover the wooden structure, and your kitty teepee bed is ready. Kitty teepee-bed room ideas are affordable and easy to bring into action.
6. Cat Play Station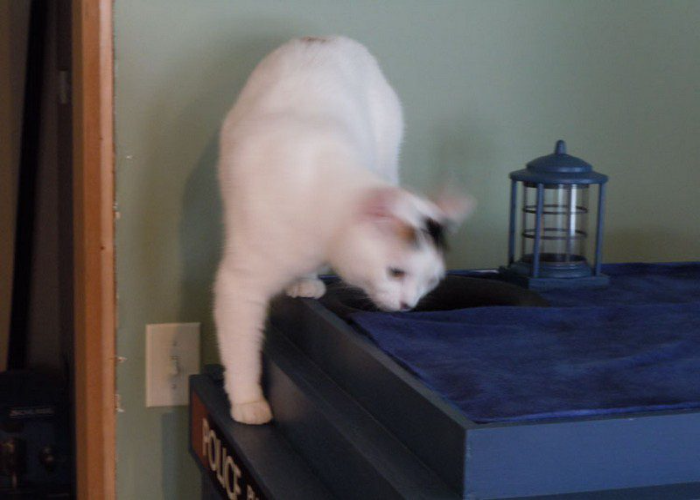 You can prepare the cat station from the old desk you no longer want to use, or you can prepare it from scratch with the help of wood and litter boxes. Prepare an outer shelf with the help of wood if you do not want to use the desk for Play Station cat room ideas.
Use litter boxes to make drawers and cubbies inside and on the rooftop of the shelter. Prepare a comfortable rooftop with a small comfy bed on top of it. If you want to get more creative with the floor, dig out one or two holes so your cat can use them to play and have fun. You can also install a playing tunnel for your cat with the desk PlayStation idea. The purpose is to prepare the room like a play station where they can do several activities together apart from sleeping.
7. Built-In Cat Bedroom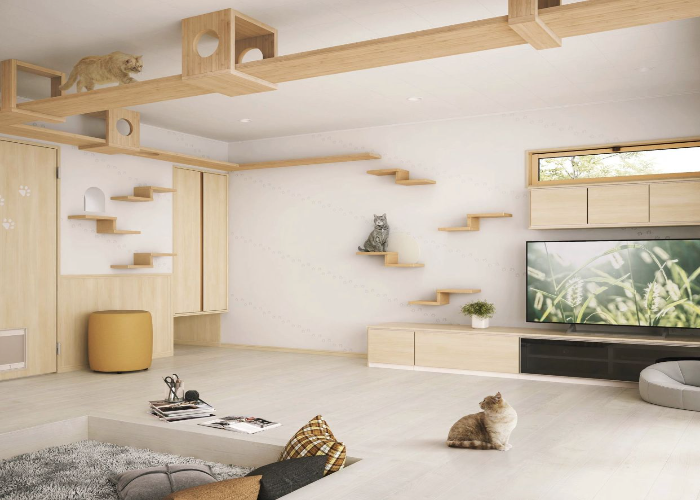 A built-in room is a great choice if you do not want to build it yourself. This built-in cat bedroom is premade cat house with a cat bed, and you have to buy it and install it in the home for your cat. This unique built-in cat bed comes with floating hanging boxes.
They will make it like a paradise with a bedroom for your cat. There are also wooden perches and slates, and the ventilation is great. Built-in bedroom for cat offers a small and sweet house for your cat to play and rest.
8. Multipurpose Cat Room Ideas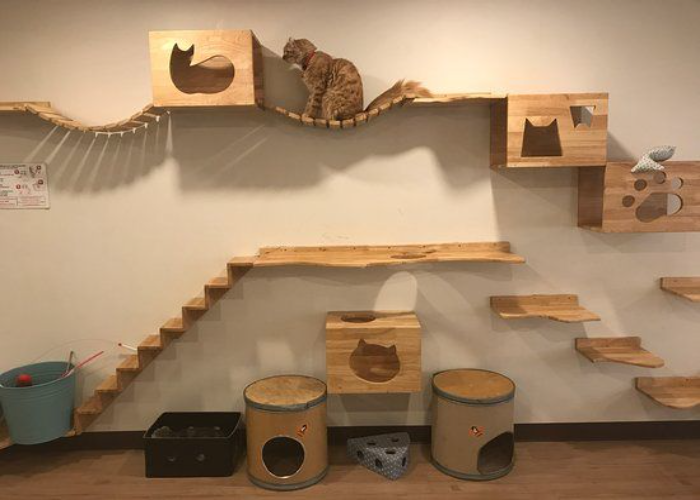 If you want a pet-friendly living space for your care and are not willing to dedicate an entire room to your cat, then this is for you. A multipurpose cat bed-like Ottoman cat bed combo is a great choice.
A multipurpose cat house can offer various things, from sleeping to feeding and playing. So this multipurpose cat room has cat trees and planks for fun, a litter bin for cleaning and trash storage, and other accessories for feeding and sleeping. You can install as many things as you want to create the room into a multipurpose room for your cat.
9. DIY Cat Climbing Tree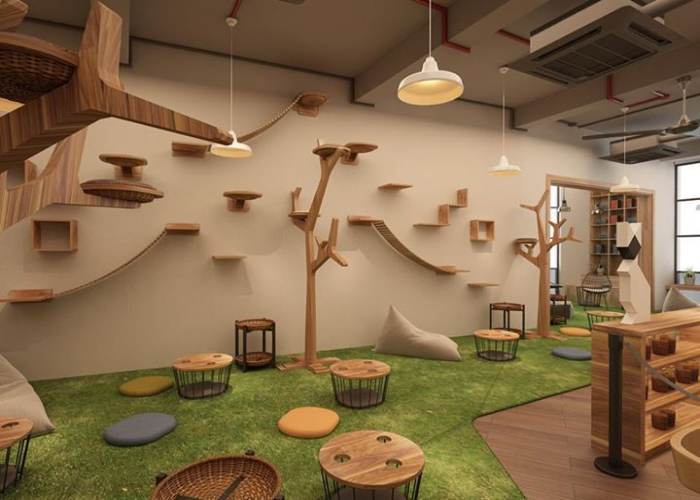 You can prepare this DIY project of Climbing a tree in an already-decided space for your cat. You only need to attach a cat-climbing tree to the wall. You can use curved planks to make tree branches and small mounted sleeping spaces for your cat.
To DIY the climbing tree, take a tree stand for the cat and mount it on the floor with drilling or nuts. Once the tree stand is sturdy in the right way, wrap a long wrap around it. You can fix the rope around the stand with the help of fixing clamps. And for more fun, you can fix and hang something with the rope on the top, which the cat climbs on, or try to catch it.
10. DIY Cat Hotel
Cat hotels are a great option if you are looking for a cool and luxurious cat room idea that can be affordable. By DIY, you can convert your cat room into a luxurious hotel room. You can use an old shelf to DIY this project. Remove the top drawers from the shelf and replace them with comfy beds or hanging beds like hammocks.
Make two to three holes on the sidewalls to make it more creative. Tie the hammocks properly with the shelf walls so they do not fall off with the cat's weight. You can get creative and prepare something on the lower half shelf for their fun. Make a hole in one of the lower drawers like a tent house. The DIY final shelf will look like a complete hotel room for your cat.
11. Cat Adventure and Escape Wall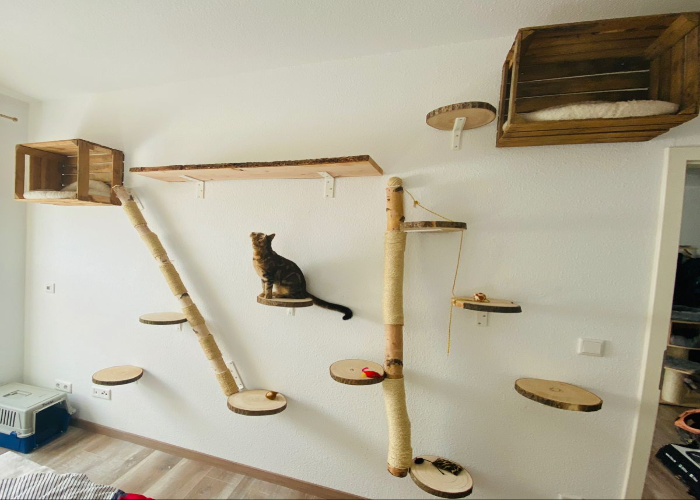 Though your cat can entertain themselves independently, adding more toys to make their life adventurous will always be a bonus. So uninstall the cat tunnel, and place a few string balls and mouse toys in the room to make it more playful.
For more fun and adventure, you can DIY a cat escape wall to make it the cat room idea like an adventure room. Use mounted planks and cubbies to prepare the one. Place a few toys near the escape wall to make your room more action-packed.
12. Cat House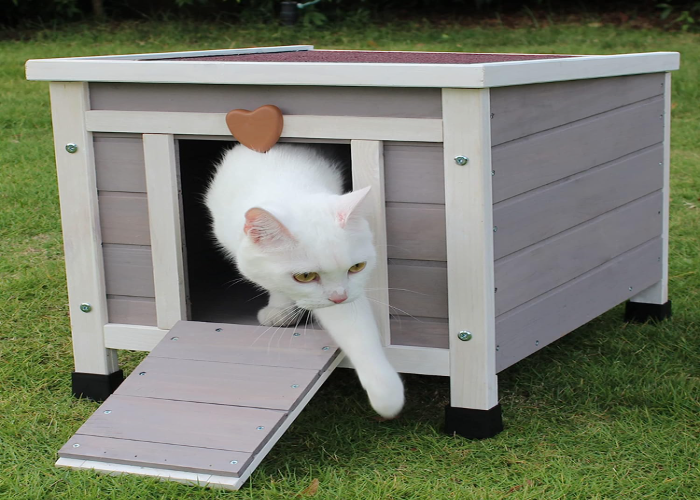 Prepare a small cat house if you do not want to give a whole room to your cat. It will save space and give you enough space to live your life if you are allergic to cats but still want to have one. So to provide a safe space for your outdoor cat, you can DIY a cat house. You will need wood planks and elements to prepare the shelter and the rooftop.
You can add soft straws on the rooftop or floor to keep it warmer in winter. You can keep the door in one of the cat house walls or use the rooftop as the door that opens like a box lid. You can prepare it for 60 to 300 dollars and make it small or large according to the cats you have. You can also buy an outdoor cat house if you are in a hurry and don't want to prepare it yourself.
13. Cat Tent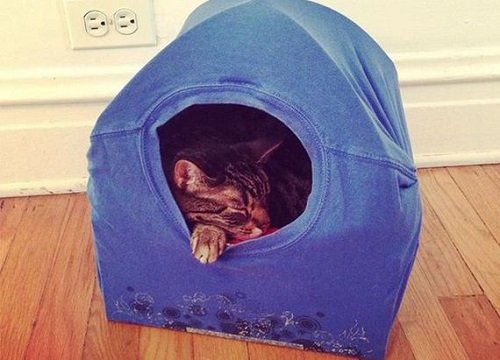 If you are looking for cheap cat house ideas, then a cat tent is the one you might consider. If you often find your cat lying down in the big boxes, then a cat tent is a great option for them. You will need a big box or light litter, two to three hangers, adhesive, wire cutters, a large cloth piece, or an old blanket. Now take the box, remove one of the sides to make it an open box with five sides, and make the hood with the help of a hanger to give it a t-shape on the top of the box.
You can use wires and adhesive to stick the hanger with the litter box. Make sure that you put the hanging wires in a crossway so that they can handle the pressure and tension of the tent. Now wrap the cloth piece or blanket around the box to make it a tent. You can also use an old long top to cover the box to avoid stitching and adhesion to the cloth pieces.
Final Thoughts
Every cat owner wants to provide the comfiest space for their cat to provide them with their home feelings, and making the most suitable space for a cat and organizing the cat room according to your cat's behavior is the way to get there. This post showed you 13 amazing cat room ideas to design an awesome room for your cat.
This post covers modern cat room design ideas to cat paradise, cat playhouse to cat PlayStation, built-in cat bed to cat hotel, multipurpose cat house to cat sit tree climbing house, and much more. This post covers affordable cat room ideas to royal-look cat ideas you can try to design your cat room.
If you are looking for more ways and strategies to design parts of your home for special purposes, sign up to get some best strategies directly in your inbox.