The bedroom is the most intimate room of your home. It reflects your style and comfort levels since you spend so much of your life in the bedroom, right from sleeping, relaxing, watching TV, working on the laptop, reading a book, scrolling on your phone, and much more. 
That's why so much care is put into decorating your bedroom, regardless of whether you have a bedroom to yourself or are sharing your bedroom with someone else.
When you have finally decided to decorate your bedroom, there are several bedroom design concepts. The unique options for a bedroom can be found quite easily. Whether you want a stylish, comfortable, classic, imposing, wooden, clean, sexy, or spacious vibe, you can design your bedroom any way you want to.
In this article, you will be presented with a wide range of ideas for your masculine bedroom and why you should pick that particular style.
What is a Masculine Bedroom?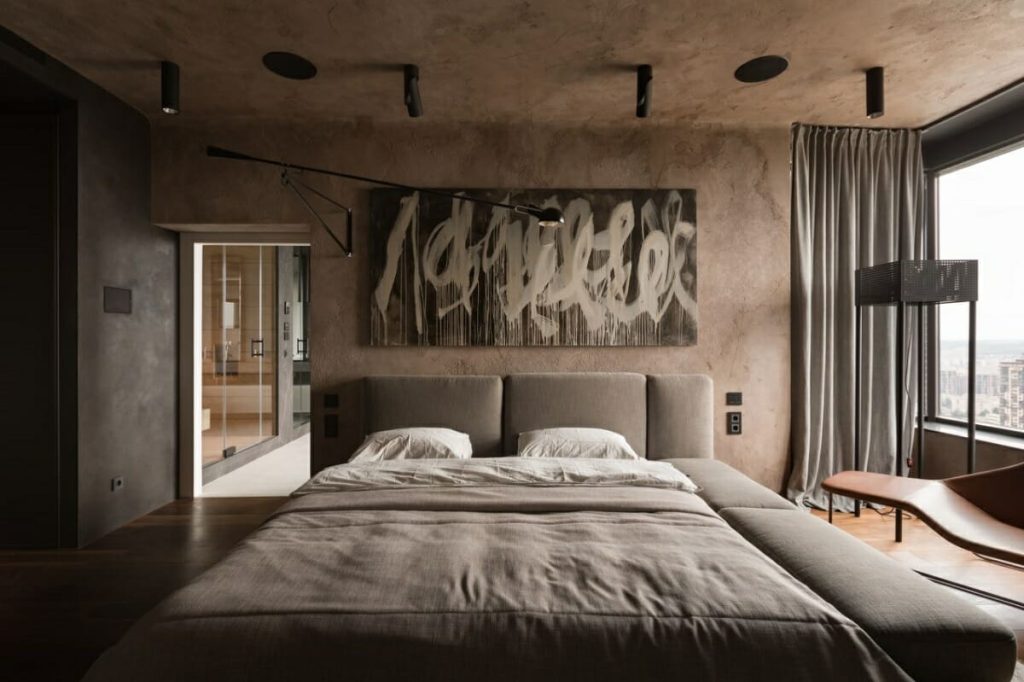 Before looking at the different styles, let's find out what masculine bedrooms say about the person who sleeps there from a conceptual viewpoint. A masculine-style bedroom shows independence, maturity, and adulthood. It is a visual expression of your personality, choices, desires, and needs. When you move out of your parents' house, live alone, live with roommates, or move in with a partner, you have the freedom to express yourself and one of the several ways in this is to design your bedroom. You need a little creativity, imagination, and googling to decorate your bedroom in whichever way you wish and like.
Similar Post: 15 Modern Bedroom Design Ideas for a Dreamy Appeal
Masculine Bedroom Ideas and Designs
You now know what a masculine-style bedroom is and what design tips you should keep in mind when fixing up your bedroom. So let's get into the various designs and ideas you can use in your bedroom.
1. Wall Art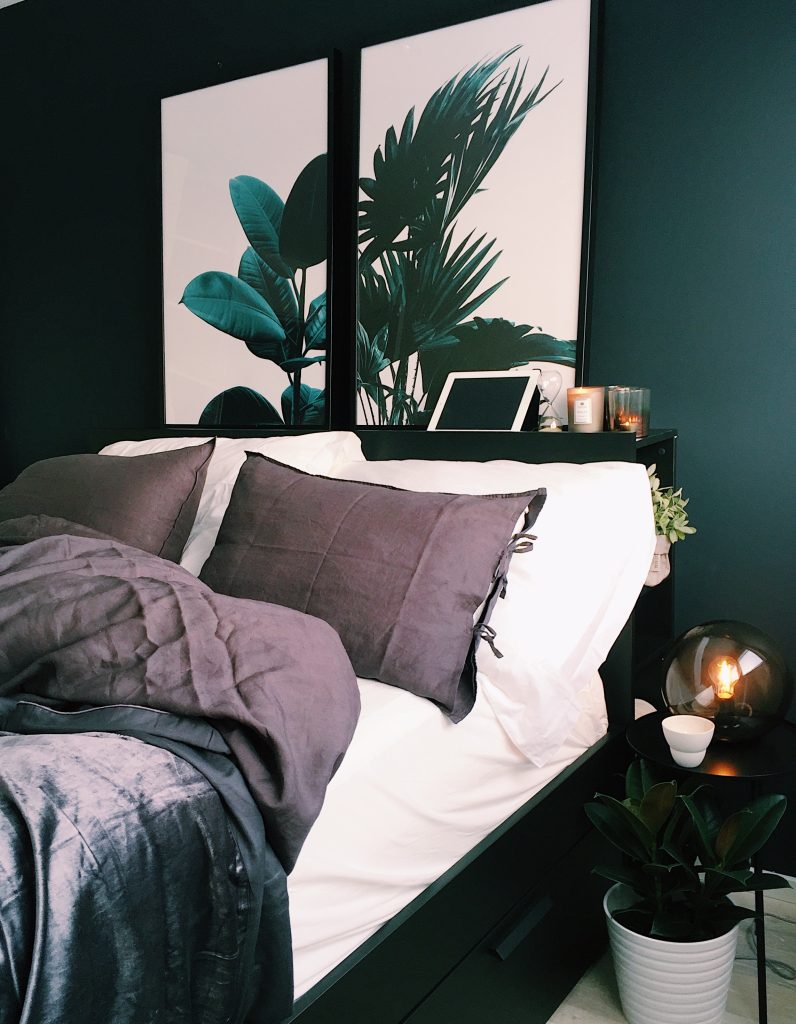 You will always notice the art when you enter a room, so why not in your bedroom? Install a painting, photograph, or canvas art above your bed and see how it pulls your eyes to it. The art can be a big statement painting or photograph that will draw all eyes toward it when people enter the room; it could also be multiple matching small paintings or pictures to create an overall look. Even an abstract piece of art will intrigue visitors. You can even put complementary nightstands and reading lights on both sides of the bed, and this will give symmetry to your masculine bedroom.
2. Minimalism in Your Masculine Bedroom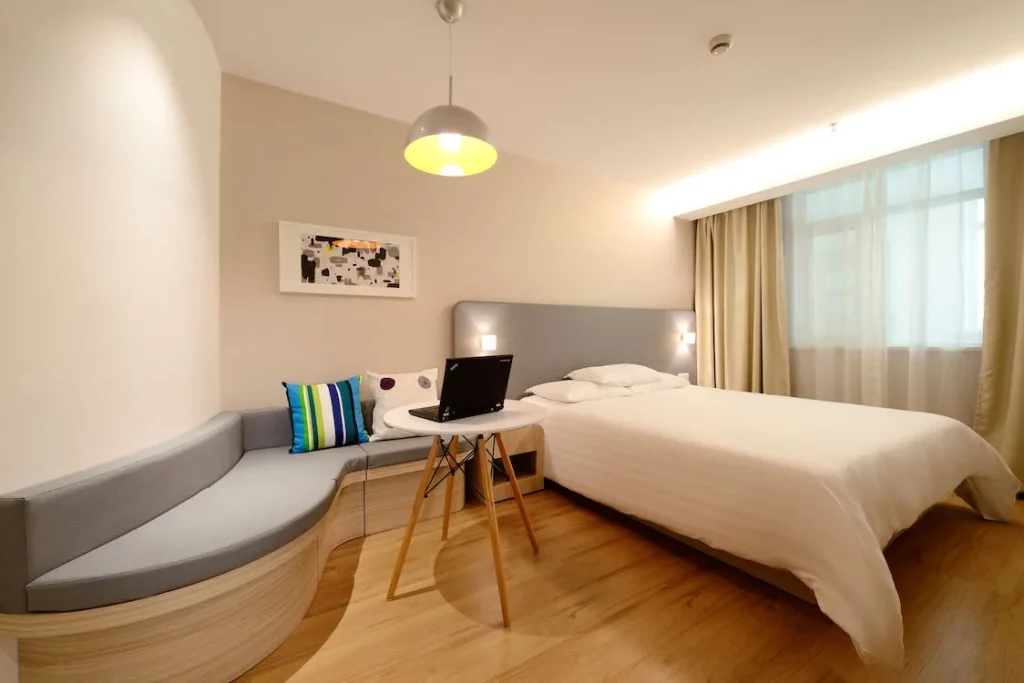 The concept of minimalism exists in many cultures, especially in Japanese and Zen Buddhist cultures. The term less is more is the core part of minimalism. With this style, you decorate your bedroom with minimal essentials. The space, light, color, and furnishings can all be used for this aesthetic; you do not need to fill all the space available with things. The distance between things means as much as the things themselves. One thing in the center of the room is the focal point, and in your bedroom, it is the bed. Your bed will tie everything together with the minimalist approach.
3. Headboard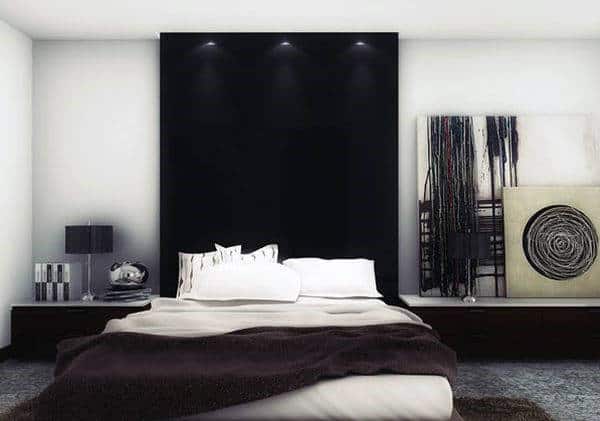 A headboard is a great idea when designing your room, and a tall headboard significantly adds height to your bedroom. The headboard makes your bed look even longer than it is since headboards can go all the way to the ceiling. Headboards can even come with built-in reading lights and shelves for your books; this makes a little late-night reading much more accessible. A headboard also makes your bed the main attraction and pulls all the focus to the bed. You can get a headboard in a different color than the wall to give some contrast to the room; for example, if you have white walls, then the headboard can be black.
Also Read: 17 Guest Bedrooms Ideas to Bring Them Ultimate Comfort
4. Platform Bed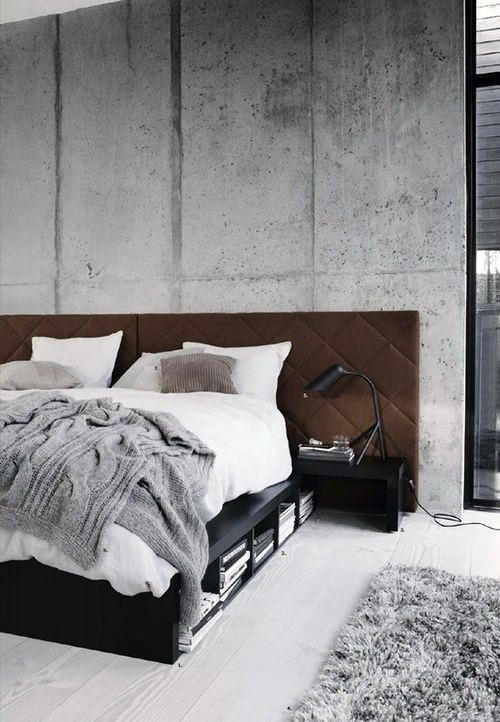 If you want something unique, then try using platform beds. Platform beds are comfortable as well as practical. You get to sleep on a welcoming bed, and these cubbies underneath are helpful for keeping books and storing items. You should consider adding a headboard to your platform bed as well. Even nightstands are built into these kinds of beds, so you do not need to buy them separately; just put on your reading lights, and you are good to go. With platform beds, you will have more storage places than any other beds. The look of your bedroom will also be different and unique since most beds are taller.
5. Floor Bed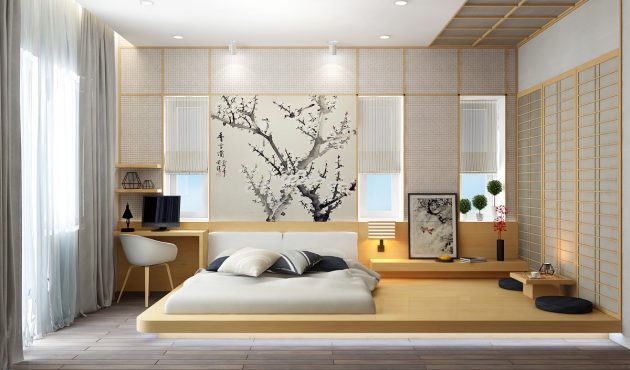 If you do not want a tall bed, then a floor bed is your solution. This type of bed will work perfectly with minimalist decor. These floor beds may look simple, but they are as elegant as any regular beds. These beds come in various heights so that you pick whichever one you want. Even children can sleep on these beds comfortably, and you will not be worried about them falling. Internationally, these floor beds are extremely popular in Japan; they go very well with the Japanese aesthetic. Your bedroom will be uniquely styled with a floor bed, and your room will be more open.
6. Just Mattress for Your Masculine Bedroom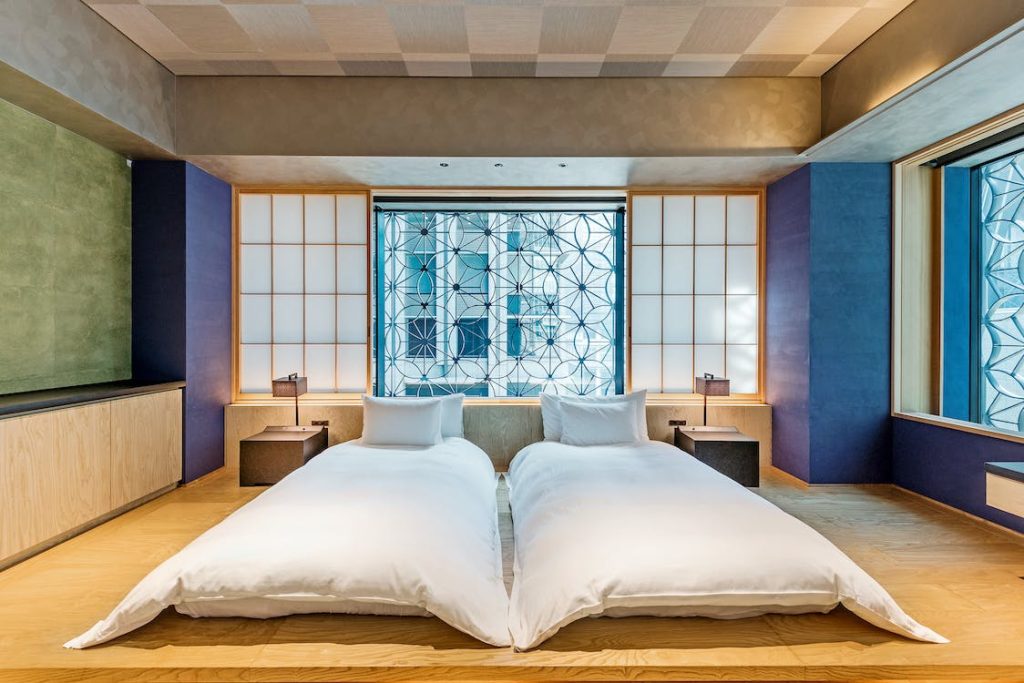 In Japan, minimalist-styled homes are widespread, so you will find a mattress on the floor instead of a bed. Take inspiration and see how it looks in your bedroom, a mattress, and low-height nightstands. Like Marie Kondo, declutter your life and enjoy an uncomplicated setup in your bedroom. Once all the unnecessary things are removed, your bedroom will look and feel much bigger than it is. Your bedroom will be easy to manage and clean, especially if you have a busy job or lifestyle. Pick the color palette to be used throughout the bedroom for a balanced atmosphere.
7. Flooring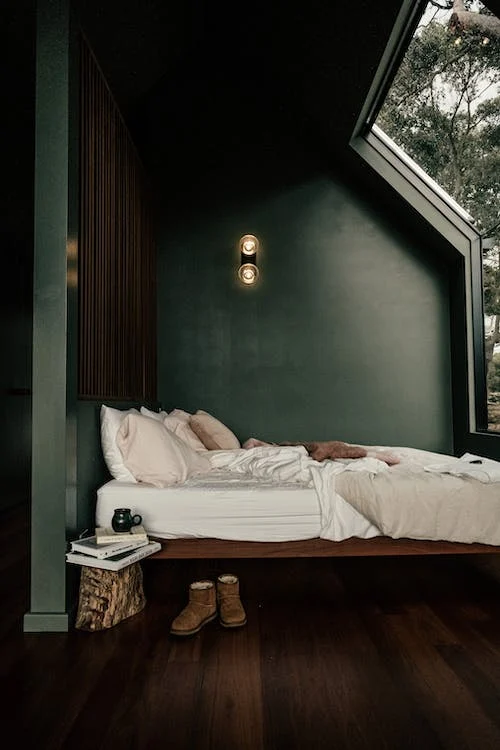 The flooring really sets the mood of any room in your home, especially your bedroom. For example, black tile flooring is classic, as black goes with every color; it can also reflect any natural light coming from windows back into your bedroom. If you prefer hardwood wooden flooring, then choose from the many dark and light-toned wood options for your masculine bedroom. There is even vinyl wood, carpet, laminate, engineered wood, and much more. With carpets, you can easily choose from various colors, materials, and textures; they can match your decor and easily be replaced when the need arises.
8. Office Space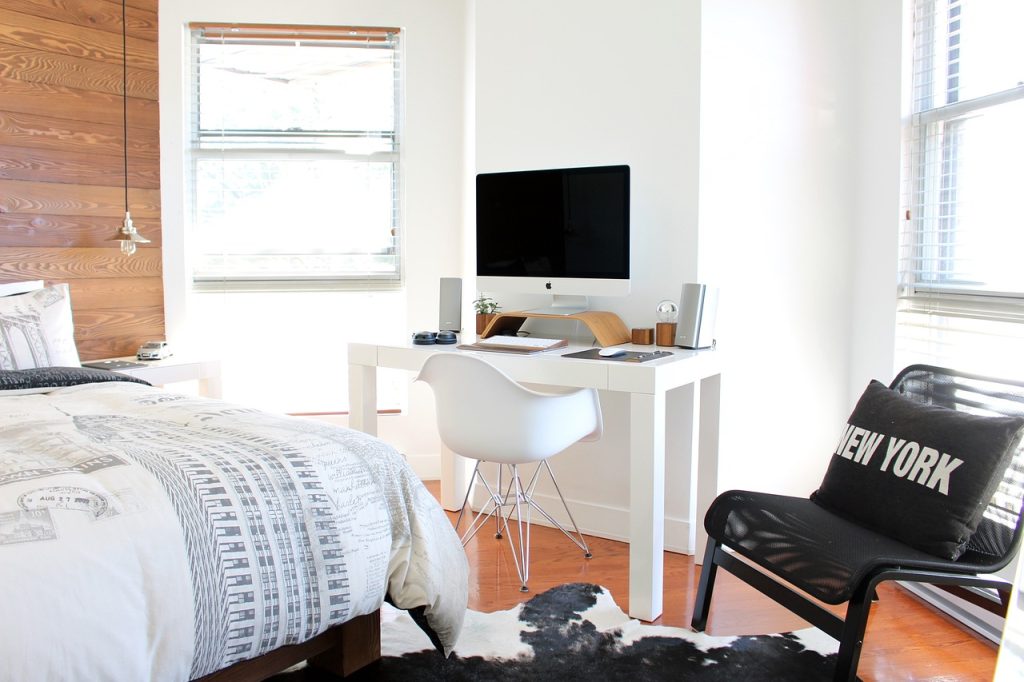 If you can not convert a spare room into an office, then your bedroom can double up as an office room. You can easily place a small table and chair, and now, you have a workspace in your bedroom. With remote working on the rise, more and more people are working from home, which means they need a designated workspace. It said that you should also change up your working area to avoid monotony, so now, you can move your workspace from your dining table to your bedroom cum workspace in no time. You can even drink tea or coffee at this office table while reading the news in the morning.
9. Rustic Elegance for Your Masculine Bedroom
If you want a country in the city style, then rustic elegance is your answer. This style refers to a high-end wooden style but with rustic elements. It is comfortable and homey yet chic and fashionable; your bedroom will have a relaxed vibe with an upscale look. All that wooden decor will look warm and inviting. Check out repurposed antique furniture that will look tasteful and elegant at the same time; there are many rustic furniture pieces that will complement your preferred style. Any antiques in your family will be given a new life when you display them in your new bedroom.
10. Layered Curtains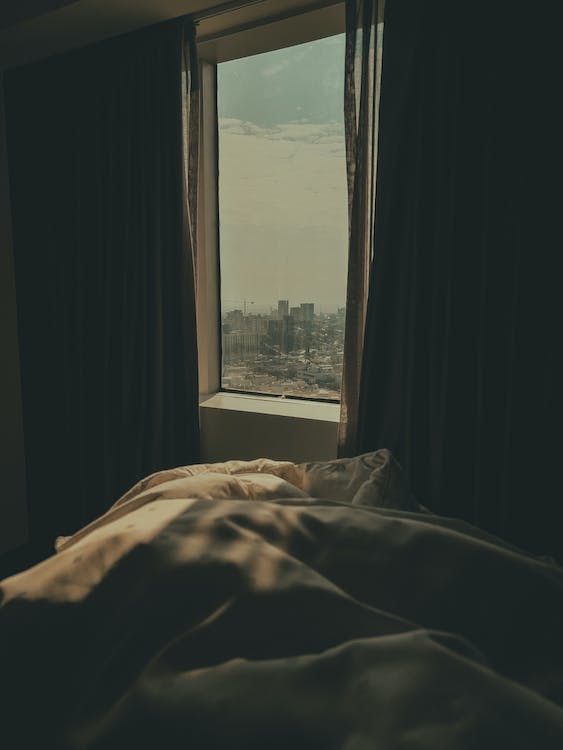 There are lots of people who have odd working hours; they sleep during the day and work during the night. So the bright sunlight will disturb you first thing in the morning whether you have a small or large window. Sleeping for adequate hours is extremely important for your health; otherwise, your work and family life are also affected along with your health. Your answer is double-layered curtains; these types of curtains keep sunlight at bay so that you get the well-deserved sleep you need. People with regular working hours will be grateful for these curtains when they want to sleep in on the weekends or holidays.
11. Factory Living Space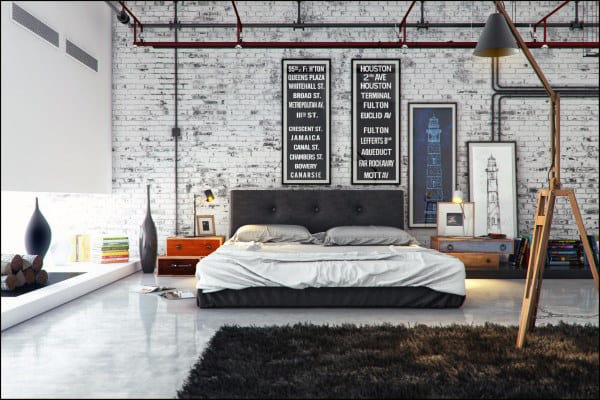 Renovated factories have been refurbished for new offices and homes. If you live in such a home, do not worry, as you will have a wonderfully decorated home. There might be high ceilings, brickwork, exposed beams, or other industrial design elements for you to work with. All of these things will make a fantastic bedroom. The factory look is popular since it requires minimal construction. Minimal decoration and furniture fit flawlessly with the factory look; a bed, nightstands, reading lights, bookshelves, a chair, a small table, a carpet, and a few paintings or pictures will absolutely suit your factory-style bedroom.
12. Bohemian Masculine Bedroom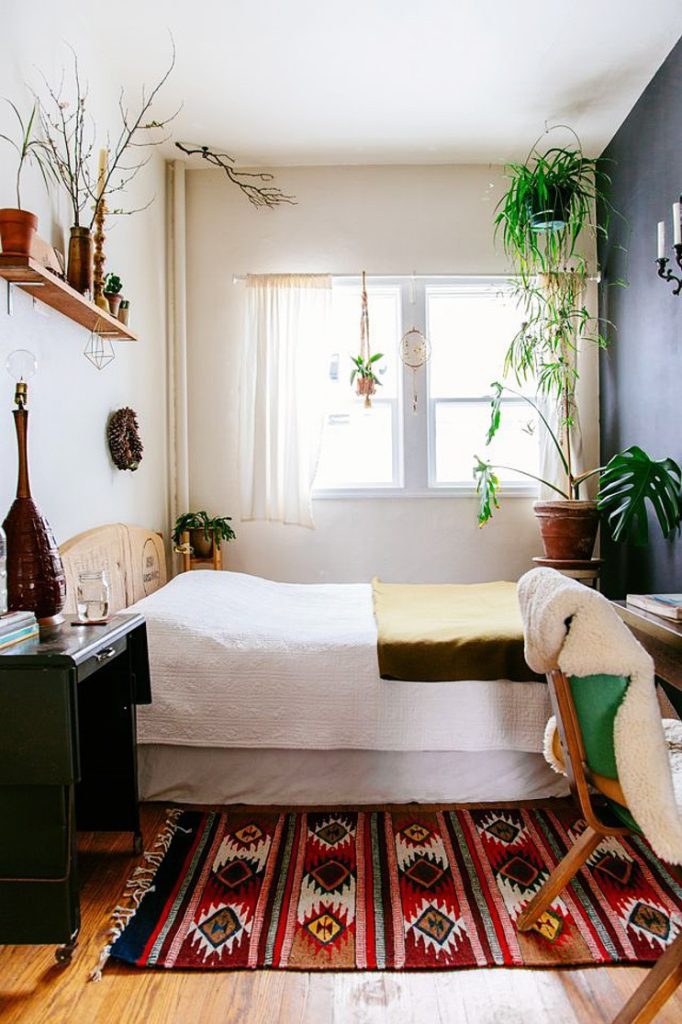 When you think of bohemian style, you think of twinkle lights, bright colors, and free-spiritedness, not masculine. But the bohemian style has evolved to include masculine decor. Instead of floral patterns, go for stripes in neutral colors; subtle patterns will also become your friends. If you are a nature lover, some indoor plants or plant-inspired wall art will spruce up your masculine bedroom. Keep plants in hanging pots, plants in pots, or succulents around your room. This way, the bohemian decor will not skew toward feminine style; you will not have to hide your love for bohemian interior design.
Related: 21 Trendy Wood Trim Accent Wall Ideas
13. Chic Vintage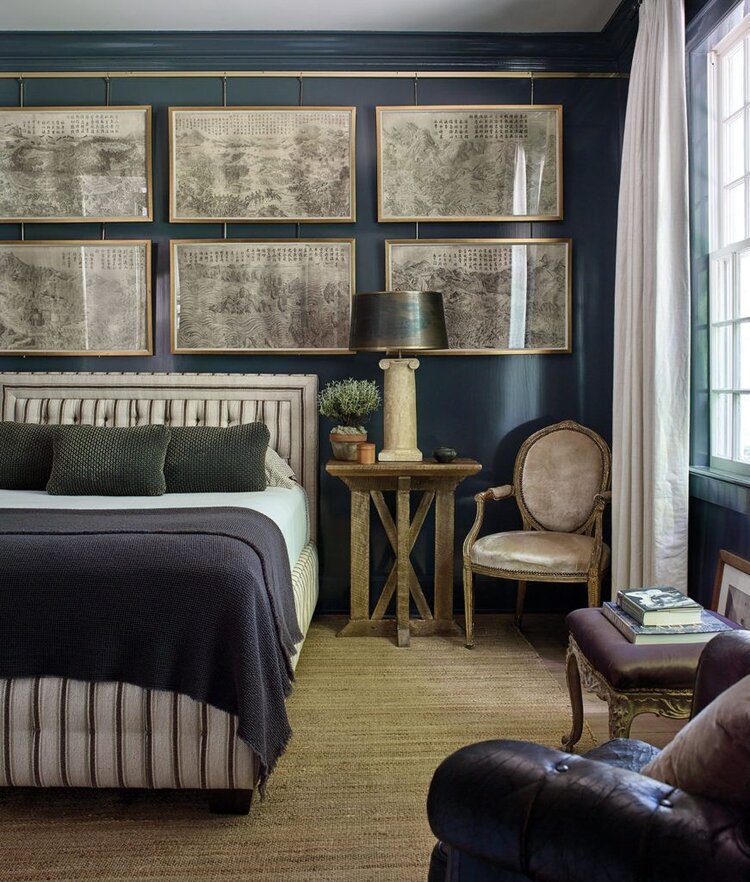 If you like traditional and dignified style, chic vintage is the name. Elegance can be feminine and masculine; vintage does not mean old-fashioned. Men's bedrooms do not have to be all moody and leathery. Chic vintage is sleek and sophisticated. Vintage furniture makes your bedroom look historic and refined; vintage chairs, tables, or nightstands are always top-notch. Dark hues bring warmth into your bedroom, while soft hues add depth. Wooden furniture also falls into this category if your home's overall decor is wooden. For a bold look, a statement artwork or wallpaper will be striking; in a minimally decorated bedroom, a bold piece will bring together all the colors of the room.
14. Black, Black, and Even More Black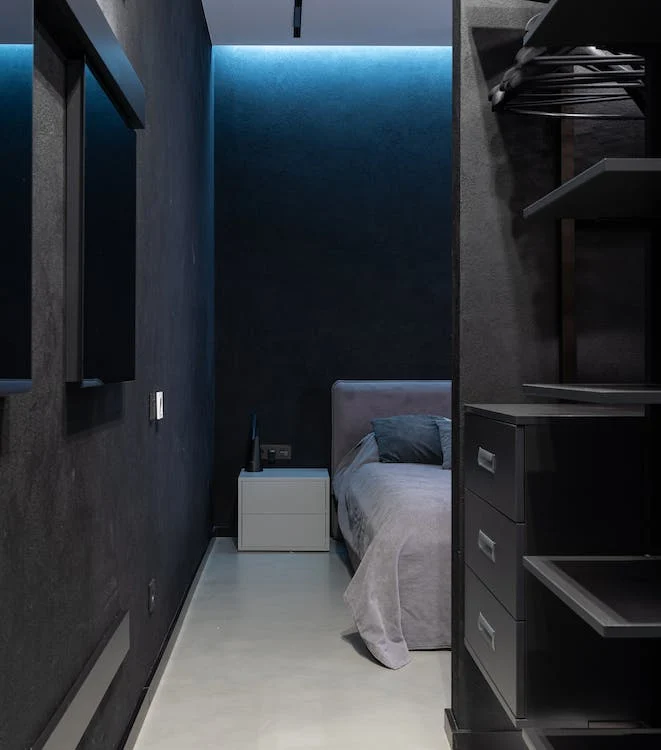 Most people consider black a cold and depressing color, but it is so much more than that. Black goes with every color, from the dark to the lighter shades. You can easily coordinate the black decor with wall art, bed, headboard, chair, and bedding. You can go full monochrome if that is your preference; for a little bit of color, add some contrast with white or solid colors in your bedding, art pieces, or furniture. Add black to your bathroom just as well to match your bedroom. The color gray can also be used while decorating since it is between white and black.
15. Exposed Brickwork in Your Masculine Bedroom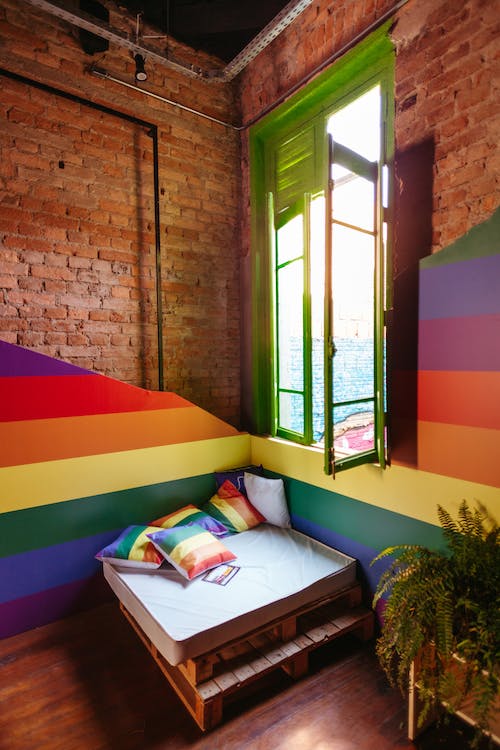 If you live in an older building, then you might have exposed brickwork. The brickwork aspect looks spectacular in a man's bedroom. You can easily incorporate your personal style with brickwork. Hang up art pieces or, better yet, black and white photographic prints; the brickwork is the perfect background for this type of decor. Wooden furniture will complement the brick wall flawlessly. Adding a rug to a large mirror frame will make your bedroom look unique. If there is a large window, then you have hit the jackpot when it comes to bedrooms. Make your bedroom rustic or eclectic, depending on how you decorate it.
16. Animal Print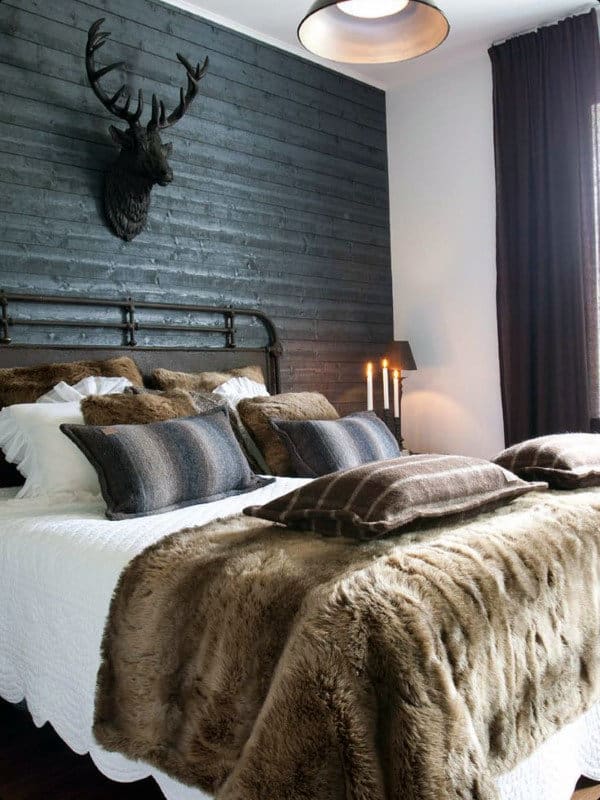 Do you not like plants but like nature? You do not have to be an apex predator as there are now environmentally friendly options. There are cast versions of trophy animals available to hang up in your bedroom. PETA will not come after you if you do your decorating this way. Faux-animal furs are also an option when it comes to decorating, just like in clothing. A faux animal fur blanket or pillow cover will show your love for nature while hurting the animal kingdom. The faux animal furs are another new texture for you to play around with while decorating your bedroom.
17. Contemporary Design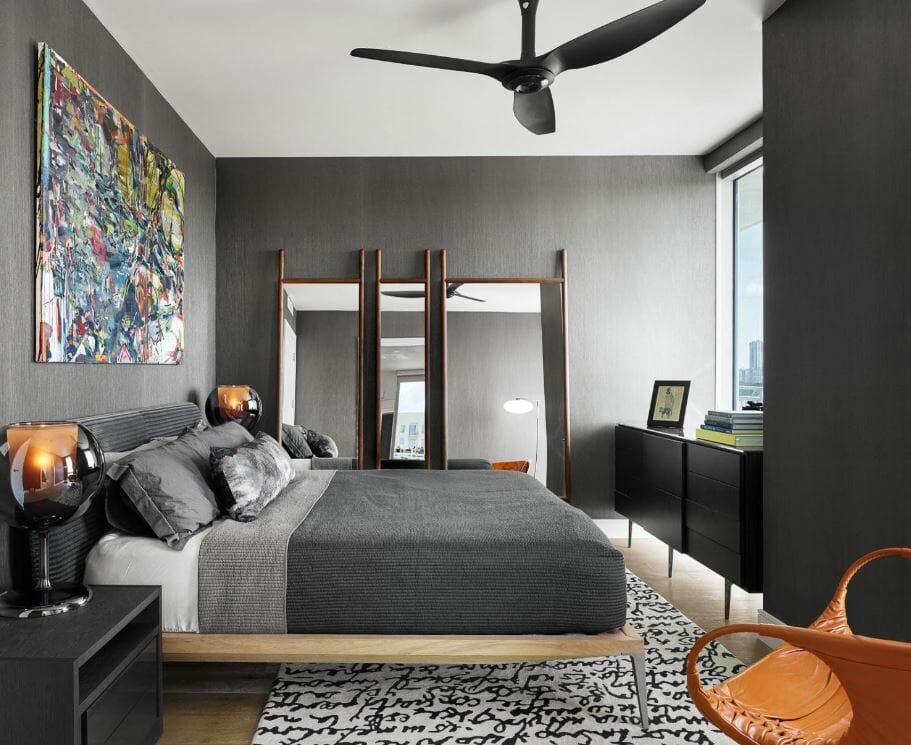 Are you confused about contemporary aesthetics? You are not alone. Contemporary design is all about clean, vibrant, soft, and sophisticated, also known as modern design. This style works for both feminine and masculine styles. It includes neutral and bold looks. The neutral look will make your bedroom light and airy; you will feel like you are on vacation every day. Use eye-catching colors in your bedding and furniture pieces for a bold look. Contrasting or complementary colors will also work since the juxtaposition gives your bedroom a modern look with an eye-catching vibe. A bold wallpaper or textured wall also delivers a contemporary flair.
18. Leather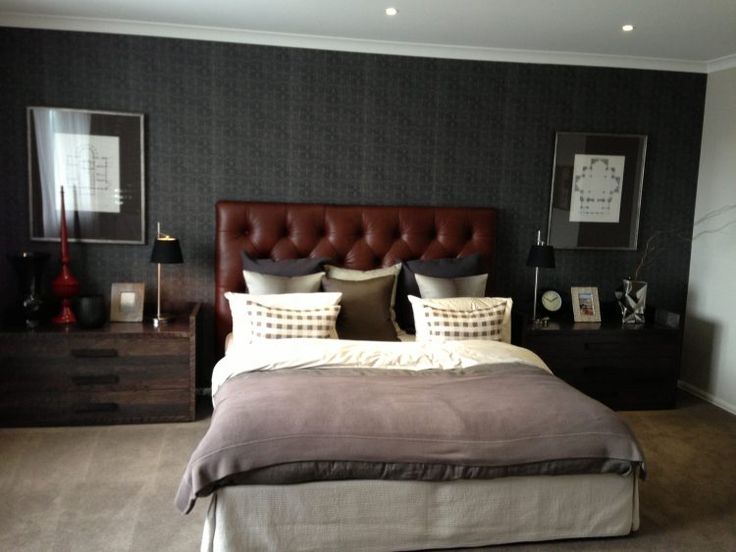 Done in a tasteful way, leather will look dapper in your bedroom. It will not make your bedroom look like a bachelor pad or just haphazardly put together. Pieces of leather furniture include an ottoman, chair, or bench seat. The dark tones of leather will complement your bedroom style, and leather has a traditionally masculine vibe. There are many tones when it comes to leather ranging from dark to light. This way, you can match the leather to the rest of your bedroom furniture and wall coloring. Leather comes in handy if you prefer the less is more decorating technique.
19. Minimalist Grandeur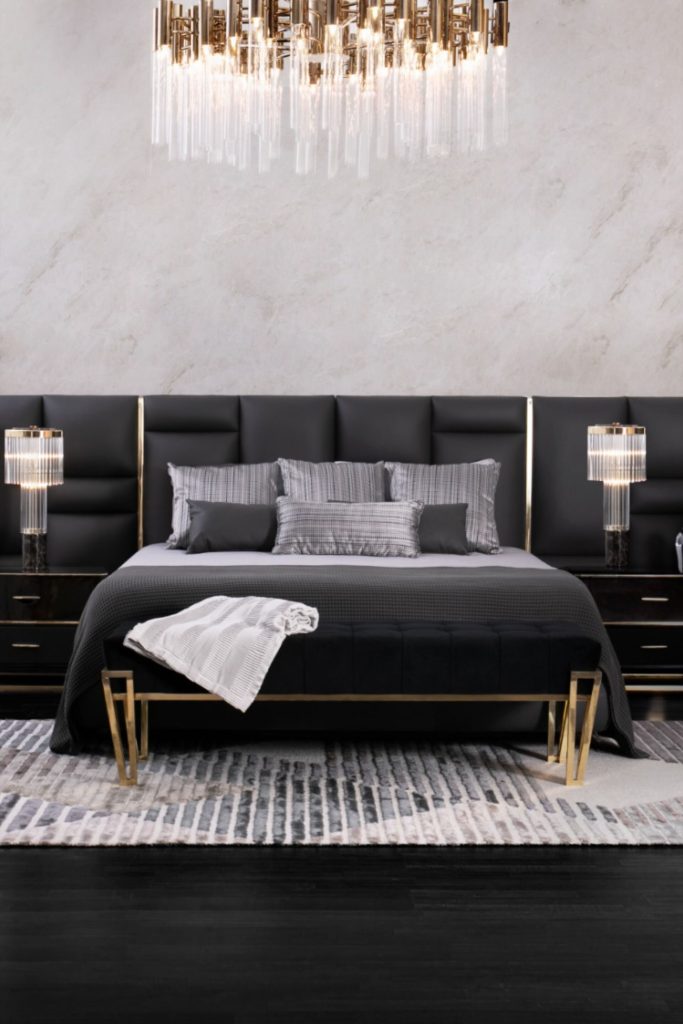 Just because you like minimalist decor, it does not mean everything is plain. There is minimalist grandeur for those with a luxurious taste. Your bedroom may include marble walls and tiles, a beautiful crystal chandelier, black wood floors, crystal lamps, furniture pieces with gold accents, and more. You should choose a few luxurious items so that they showcase your lavish bedroom. You will not fill any nook of your bedroom and bathroom with these items since minimalism is still part of this decor technique. Spread them all over your home so that your personal style flows from room to room.
20. Canopy Bed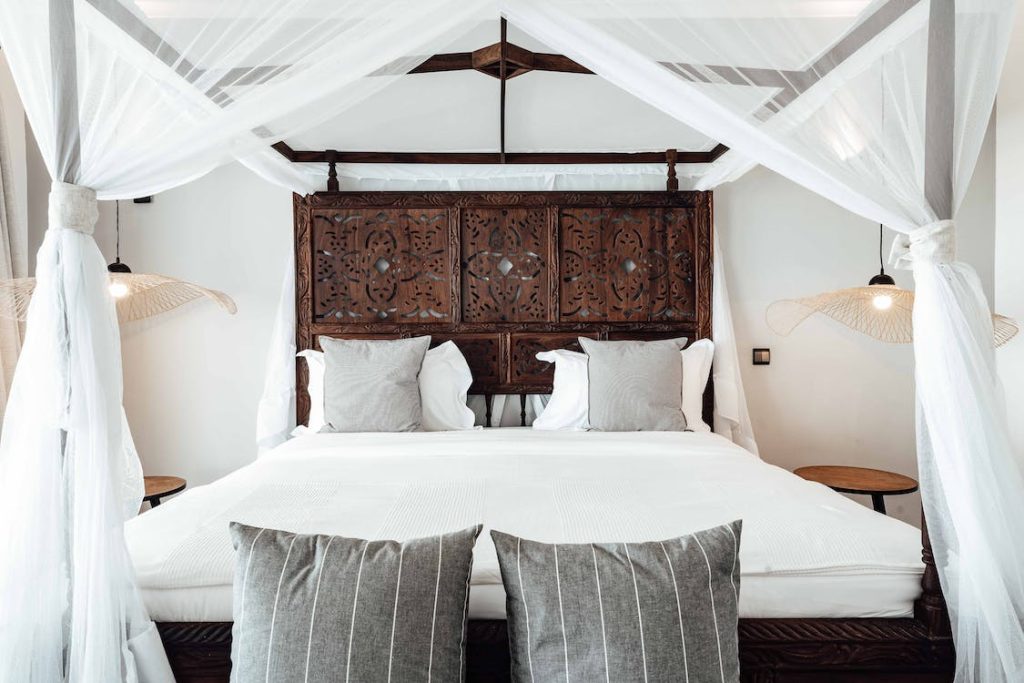 If you have read any classic literature, gothic tales, or Harry Potter, canopy beds are not new to you. Canopy beds had evolved from what you read when you were younger, from old classic canopy styles to new modern ones. They now look stylish, rugged, cleaner, and more modern. That is why they are perfect for a masculine ambiance. For modern frames, you can have metal or wooden ones so that they do not clash with the rest of your decor. These frames can be left open or draped with curtains, your choice. Canopy beds have made a comeback into the interior design world; they are trendy, dynamic, and urban.
See More: 13 Picture-Perfect Ideas for a White House with Black Trim
21. Feature Walls
Another thing you should think of when decorating your bedroom is a feature wall. A feature wall's design is different from the other walls of the room; hence the way. The wall's color, design, texture, or material will be distinct. Even with wallpapers, one wall could have paint instead of wallpaper to make a style statement. It is done for aesthetic purposes, to highlight that wall, or to frame a decorative element. This wall draws your eyes to it immediately since it breaks the room's design pattern. Nature and interior design are full of patterns, so when something is changed, everybody notices.
Tips on Decorating a Masculine Bedroom
If you need clarification about how to decorate your bedroom, do not worry; not everybody is an interior designer. Pick colors that you like and match your home's decor. You do not have to use all the space available in the bedroom; sometimes, no decoration is a decoration in itself. Minimalism is also a fantastic decorating technique; the less is more concept works for some people. The design of your bedroom should not get in the way of the bedroom's functionality; do not fill your bedroom with so many things that you can not even walk without bumping into things.
If you have a window, make good use of it when decorating your bedroom. Window shades and window nooks are a few suggestions you should keep in mind. Do not forget lighting and ambiance; they are equally important when refurbishing your bedroom. Find out which aesthetic works for you since all the design elements for your bedroom need to work together to form one cohesive idea.
Final Thoughts
You spend so much time in your bedroom as it is a reflection of you. You sleep, relax, rest, watch TV, read books, listen to podcasts or audiobooks, scroll through social media, take selfies, and recharge in your bedroom.
That's why you decorate it completely in your personal style and change it as your preferences evolve over time. The bedroom is an intimate part of your life, and that's why you only show it to people you trust.
Decorating does not come naturally to everybody, and that's why there are so many helpful tips on the internet. There are an unlimited number of decorating suggestions, and this article shows you 21 of those designs and ideas for your masculine bedroom.
Whether you like the classic or the rustic style, you can replicate them in your bedroom. If you do have a particular style you like, then this article will help you find one that you want.
Write down your favorite bedroom designs and suggestions in the comments below to share with those who might wish to get started with the creation of new possibilities.
Check This Next: 21 Decorating with Plants Ideas to Beautify Your Living Space