Are you bored with the same color or faded photo frame? Do you ever wish you could spray paint your photo frames a different color? Spray painting picture frames is the fastest and most straightforward way to completely transform the visual impact of your artwork in any given space. You will be surprised that painting any picture frame takes less than $35.If you spray before you paint, you will have an easier time achieving a smooth, even coat.
A wide variety of colors and finishes are available in spray paint. Almost any shade is available, and you can experiment with various paint effects such as copper, matte, stone, etc. You are all set to begin painting. You could need clarification on all the different paint colors available at the hardware shop. There are many hues, materials, primers, sealants, and manufacturers.
This comprehensive guide explains how to resurrect them and make your present frames.
Step-By-Step Guide to Spray Paint Picture Frames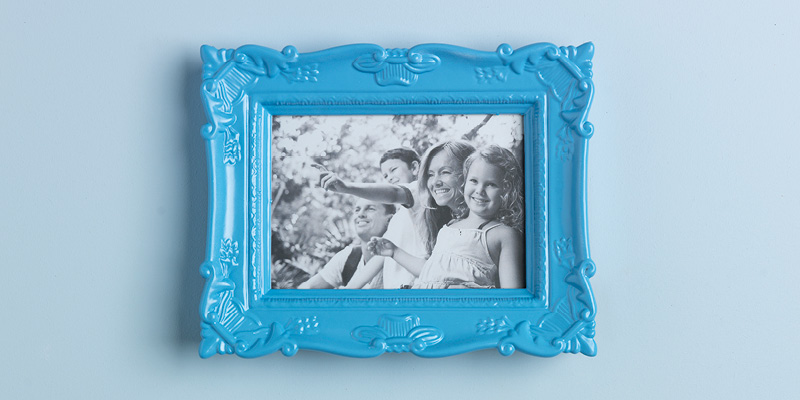 If you want to blend your picture frames with the rest of your decor and add some pop color into a room, give them a quick coat of spray paint. Suppose you want a budget-friendly option; it's best to search thrift stores to get like-new condition and make great personalized presents. Check out the detailed instructions below if you want to know how to accomplish it.
It's time to prepare your frames for painting once you've decided on the appropriate paint and color. Items required for the painting project are:
Similar Post: How to Make a DIY Lavender Spray
1. Take the Photo Out of the Frame
You should apply a piece of masking tape on the back of the frame and then cut it into the shape of the frame. The next step is to take the photograph out of the frame. After that, the frame's rear can be taken off simply unscrewing a few screws. After that, you can carefully slide the glass out of the frame.
2. Prepare the Canvas for Painting
This method for removing the glass and backing before spray painting frames prevents accidental damage to the glass. But you don't have to disassemble anything if you don't want to. Measure the interior of your structure and cut a piece of parchment paper to fit in.
The next step is to tape the glass and the paper together using painter's tape. You can now secure the parchment paper in place. Finally, remove any photo from the frame using a Xacto knife or utility blade.
You can improve the adhesion of the spray paint by giving flat frames a short sanding before applying it. However, you must be careful not to scratch them using sandpaper with a grain higher than 220. To some extent, you can skip this. Remember to clean sanding dust before painting.
3. Start the Painting
When you are ready to start painting, follow the instructions on the paint container to ensure the best results. Choose either a bristle or foam brush, depending on your personal preference. Use smooth, uniform strokes for the first layer of paint. Because of potential inconsistencies in thickness, the first coat is typically the least desirable. It's also possible that the old color will show through. Don't worry about it.
Wait two hours for the first coat to dry before applying a second. This additional layer will help bring out the color's best qualities and fill any bare spots caused by inadequate coverage.
It's time to let the second coat dry. After the second coat has dried completely, apply a third if necessary. To get a smooth finish free of paint blobs, chips, or discoloration, you should wait for each coat to dry before applying the next.
If your final product calls for a sealer, such as paint or wax, apply it after the last application has dried.
4. Allow the Frame to Dry
It is best to leave your frames in a room to dry out so the glass remains intact. Remove all the tapes and paper and leave the frames open for 24 hours for proper airflow.
Carefully reinstall the glass into the frames, making sure not to drop anything on the glass or the frames. And then make sure it lines up correctly when you reassemble everything. There is a possibility of shattered glass or other misalignment inside the picture.
Tips for Selecting the Ideal Colour Picture Frame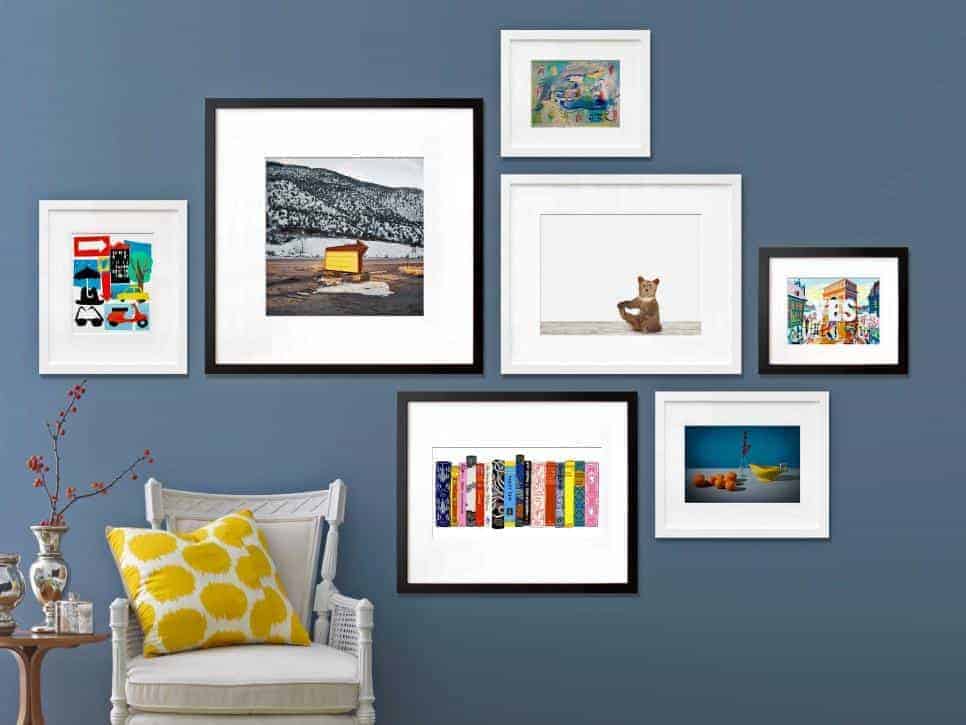 Choosing the best shade for a photo frame is trickier than you think. There is a wide variety of picture frames, including natural wood, metal, antique ornate, and traditional white. Read on for advice on picking the perfect frame for your artwork.
1. Pick a Colour from The Palette
Using a frame color already present in your photo is always a safe bet. It can highlight a particular color and provide a sense of continuity. You can make your selected hue a predominant role in the composition. When framing a monochromatic painting, using the same color as the piece itself sends a strong message of continuity. However, choosing a frame color that complements a subtle tone in the artwork will highlight that nuance. This technique will make your picture more noticeable and bring attention to the frame.
Also Read: 18 Beautiful Types of Ceiling Texture for Your Home Interior
2. Integrate Your Wall Color
When choosing a particular article for spray paint picture frames, it's essential to consider the color and the hues already present in the room where you display it. The primary components of a paint color are the bulk tone and the undertone. If you know its undertone, select a frame shade that goes well with the wall paint. For instance, silver frames complement red tones beautifully, while gold frames look fantastic with a warm tone. You should avoid frame hues that are too close to the wall color. An attractive contrast, such as a black frame against a beige wall, might draw more eyes to the artwork.
3. Strive for The Dramatic Impact
Selecting a frame color that is the photo's polar opposite might help create a more streamlined appearance. It produces an impression that centers attention squarely on the frame piece, no matter how organized it is; this method will be helpful. Putting in a frame of contrasting colors will draw attention to the work and create a strong statement.
A metal-style frame is an excellent choice to make a bold color statement without overwhelming the viewer with too much visual information.
4. Experiment with Color
While black and white frames are always reliable, don't be afraid to experiment with other colors if you believe they will complement your work. Your sense of style is the primary factor. It's best to visit some frame shops and explore various frames. You will get new ideas to apply to your picture frame.
5. Consider Neutral
A neutral-colored frame is a beautiful choice if you want a minimalistic style for your piece. The neutral color can create a strong statement by being crisp, simple, and elegant. It will help you design every shade in an image, which is especially effective with highly saturated art.
On the other hand, black frames are a timeless neutral shade that goes well with virtually any photo frame. Almost all the photo frame is black, which will also work for you.
Essential Painting Advice
Spray paint picture frames are the most accessible and affordable way to change your home's appearance dramatically. It gives old furniture or accessories a new lease on life. Even better, almost every surface in your house is suitable for painting. The ability to spray paint picture frames is a fun and flexible approach to experimenting with color. You may save a lot of cash if you buy used frames from thrift stores and paint them to look like new.
Before starting, make sure the painter's tape works on the frame. You should use tape to protect a canvas with no ill effects. However, it could ruin some canvases. Inspect thoroughly before application.
When spray painting, always use gloves. It's best to go to the shop and stock up on disposable latex gloves. When you spray paint, the tips of your fingers usually take on the color of the paint. You can avoid this problem by using gloves.
The more you shake, the better. Shake the spray paint can for several minutes before using. You haven't shaken the can long enough if the spray comes out thick or clumpy. Just keep shaking it as long as you can.
Finally, don't apply a second layer until the first one is dried. It's not uncommon for us to begin painting a second coat before the first has dried completely. Your paint will end up with odd lines and texture as a result.
Related: DIY Antiqued Mirror: A Basic Guide
Conclusion
Learning to spray paint picture frames allows you to express yourself creatively through color. There is a wide variety of paints to choose from. There are many hues and even variations in texture to choose from. You could also use craft shop paints like latex or acrylic, which would take much longer to dry. Using spray paint is my go-to method since I get the most significant results.
Applying a coat of primer is your best bet when painting black frames or transitioning from dark to light. Most paints advertise they have paint+ primer, which will improve coverage even more. Spray-painted picture frames can give a good look to the home.
Frequently Asked Questions
How Quickly Does Spray Paint Dry?
It takes five minutes to eight hours for spray paint to dry. The color needs at least 24 hours to cure completely. Climate, surface, paint, and material all affect how long it takes for paint to dry. If you need to paint quickly, use a color that dries quickly.
Do You Need a Primer Before Spray Painting Plastic?
You don't need to prime plastic before painting it using plastic-specific spray paint. Use a plastic priming spray before applying ordinary spray paint. You can check the demo videos before applying the final coat to the surface.
To What Extent Does Spray Paint Last?
Depending on the formulation, spray paints can remain usable for two to ten years if left unopened. Spray paints have a short shelf life of between two and five years. Different spray paints have different longevity periods, giving different use benefits.
How Many Times Should You Spray Plastic with Primer?
Hold the container upright and spray before the primer reaches the part to coat the entire substrate uniformly. Priming requires multiple applications with at least 15 minutes before each one to guarantee proper dying.
Check This Next: Fall In Love With these DIY Stud Earring Holder