When the pandemic hit the world, we went inside our homes and tried to distract ourselves from the pandemic by cooking a variety of dishes. As we started spending most of our time inside our kitchen, we realized how little we used to pay attention to our kitchen, the place we cook our meals.
While simultaneously working from the comfort of our homes, we thought, "Why not spruce this place up?" With this thought came brilliant ideas to make our homes feel classic and one-of-a-kind.
One of those great thoughts led us to openly think along the lines of outdoor kitchen bars, which are perfect for times when you cannot go out, but at the same time, you can get the feeling of "eating out" with your family! These kitchen bars are not really expensive and can be made even to the tightest of budgets without any hesitation.
So here are some ideas that you can use, even though we are not stuck in the pandemic!
Inspiring and Aesthetic Outdoor Bar Ideas for Your Home
1. Pergola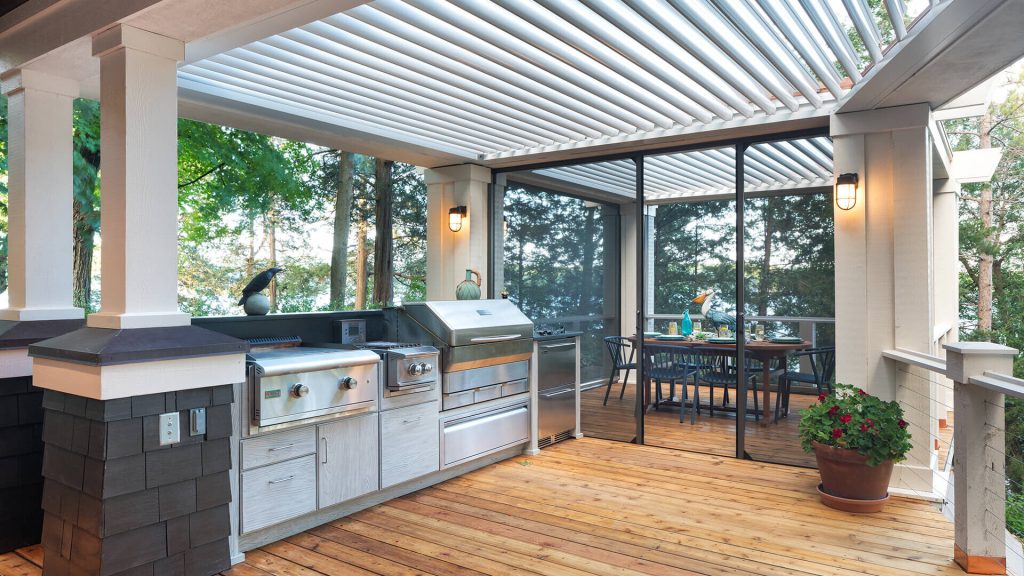 Pergolas add a defining touch to a home. They add an extra factor to the overall beauty while also being practical. Adding wooden textures and tall umbrella shades against the modern stainless steel kitchen appliances in your backyard is a great idea to make a cozy outdoor kitchen bar.
Not only that but by implementing this design, you can get an almost coastal feeling in your backyard! So why wait? If this is your vibe, go for it!
2. The Good Ol' Rustic Kitchen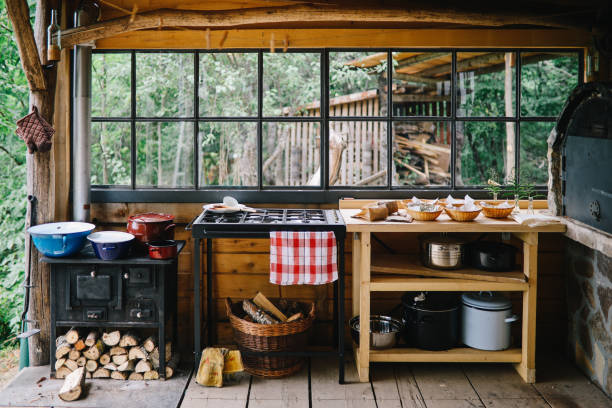 Who said that the past was boring? The old rustic kitchen, with its beautiful wooden textures throughout, will surely bring nature inside. You can get a feel for cooking in the woods or in your backyard. The wooden accents all over your backyard will help you not only bring a different feel to your kitchen but also imbibe a character.
It might be a bit more expensive than the other designs of outdoor kitchen bars, but it is definitely worth it. If you are looking to make your kitchen look modern but as well as classic, this style will definitely suit your needs.
3. The Kitchen on The Penthouse
There is no need to fret if you think that your apartment or penthouse does not have the facility for an outdoor kitchen! This style of penthouse kitchen has all the solutions to bring the feeling of being in your backyard to your apartment.
The roof terrace can easily be converted into a single wall with warm-toned cabinets, sliding glass doors, and a grill station. Another idea is that you can also add a small modern minibar to complete the outdoor kitchen bar look.
4. Green Outdoor Bars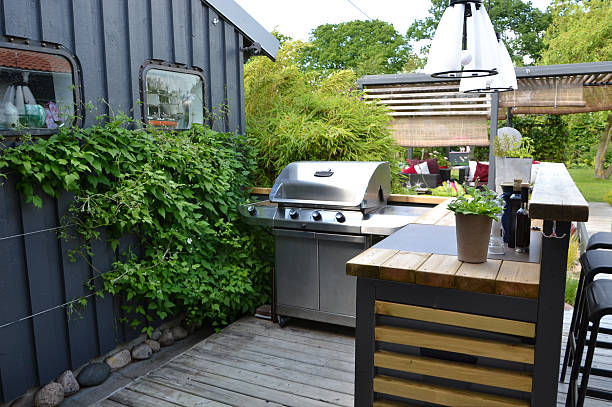 If you are blessed with a huge field behind your house or your garden but have no idea what to do with so much space, then you can definitely try this out! This outdoor bar that will be attached and blended with the greenery outside is perfect camouflage.
If you want to invite your guests to a very relaxed party where neither they nor you will be shocked every time you see a stainless appliance sticking out from the soothing green, go for it! We are sure it will soon become your go-to house party place on your property.
5. The Urban Pizza Kitchen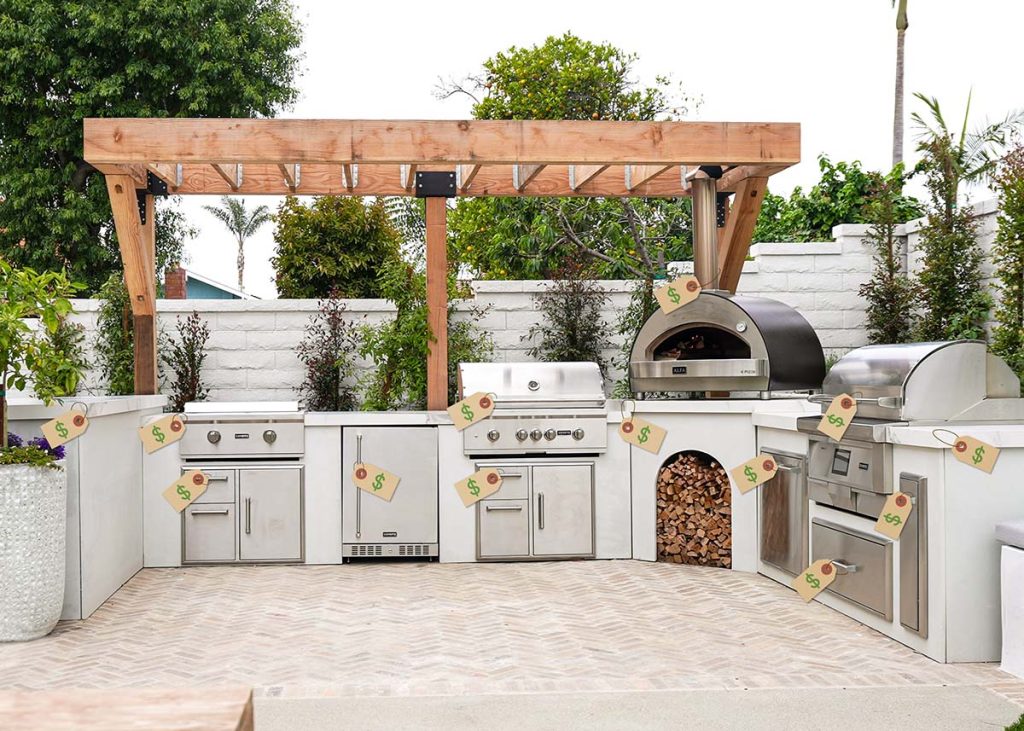 Who doesn't love a good homemade pizza, right? Especially if you are a pizza-lover, this idea will win your heart.If you want to experience a little taste of Italy sitting in your home, nothing will be better than a pizza and a Pinot Noir!
But if you want to take that experience a bit further, we would suggest that you install a brick oven as a part of your outdoor kitchen bar so that you can get the full experience of a brick oven pizza in your backyard! Be it a family gathering or just enjoying a relaxing spring day with friends or your loved ones, making pizza at home will be the perfect activity.
6. Kitchen on Wheels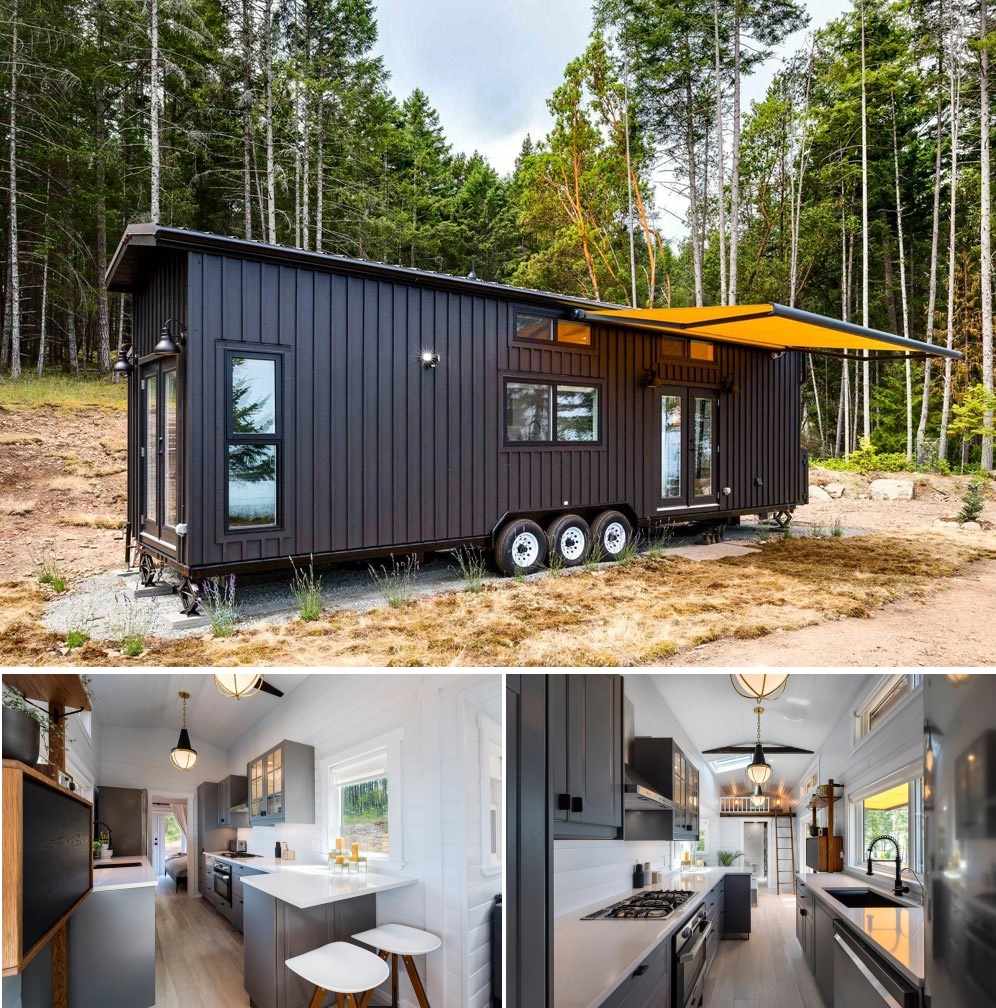 Tired of having to move your grill back and forth because of unpredicted rains? Well, the solution is here! Now you can enjoy having food outside but cannot go through the hassle of constructing a full outdoor kitchen, then a kitchen on wheels is the perfect answer.
This portable stand will hold all the necessary cooking equipment without being tied down in one place. This allows you to even move your kitchen to any place you want and enjoy the same facilities you get in the comfort of your home. So, find a picturesque spot and enjoy cooking!
7. The Screened Porch Outdoor Kitchen Bar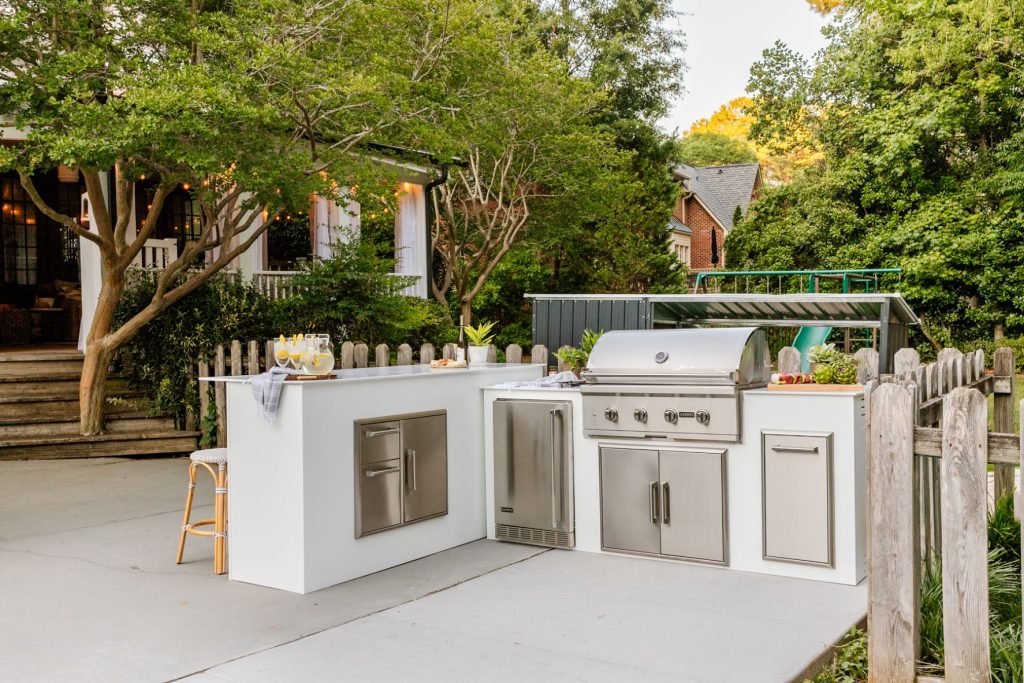 If you want to give a different character to your porch, you can turn that into a modular porch kitchen, where you can sit and enjoy a light dinner with your family or gather your friends for a barbecue party!
If you are worried that, mainly during summer, you might be a nice target for all the bugs and mosquitoes, this type of covered outdoor kitchen bar will definitely help you in avoiding that. The mesh will not only provide a form of protection but also bring nice privacy to your kitchen porch.
8. Kitchen by The Pool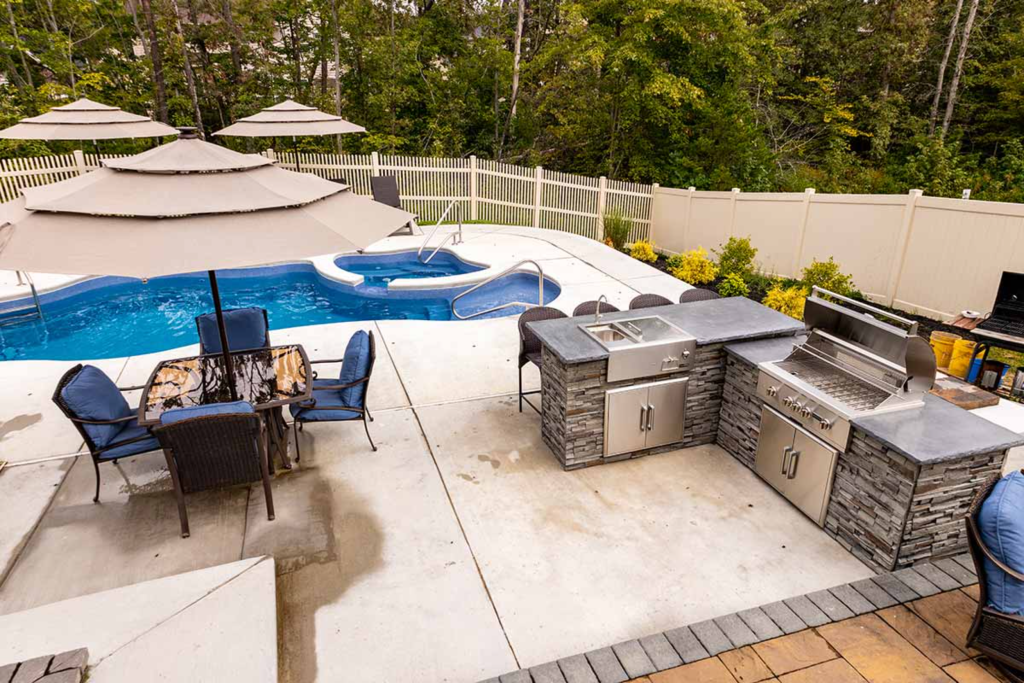 You know, after a good swim, you need those carbs that you just burned! But it is too much to go inside and then start cooking. What if we tell you that we have the perfect solution? You can enjoy the outdoor view while cooking by the pool.
To help you out, you can use this idea: a poolside kitchen. Sounds wonderful, we know. Having your kitchen just beside the pool will help you put down your huge pangs because the food got cooked when you were taking a lap in the pool.
9. Classic Modern Outdoor Kitchen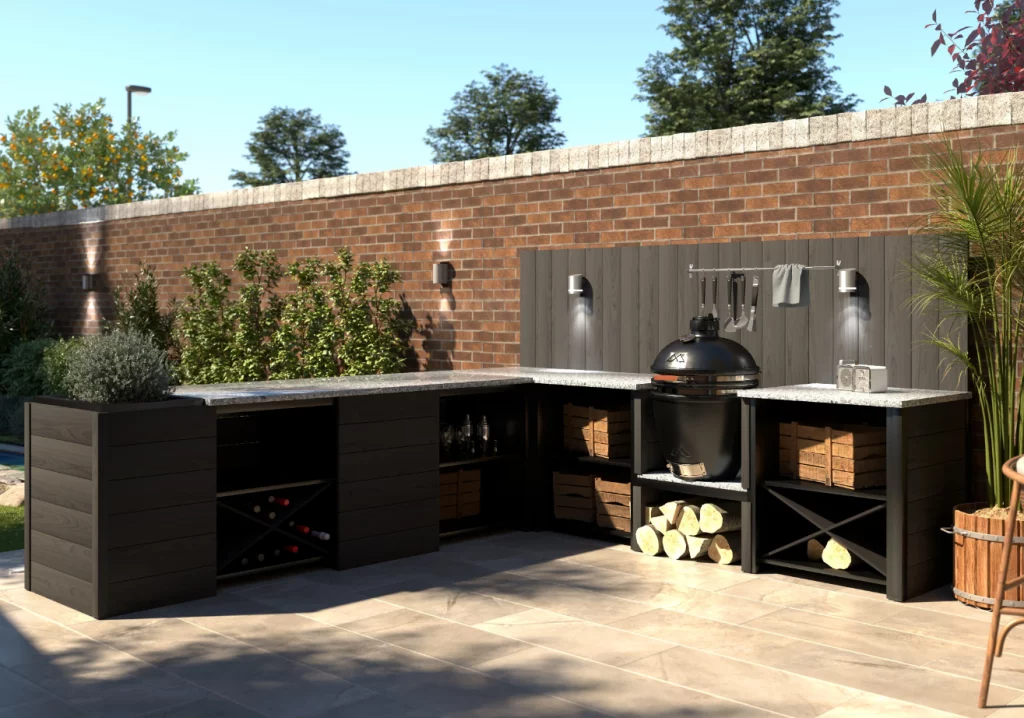 You love having classic designs and sleek exteriors throughout your home. So why not bring that into your outside kitchen bar? The sleek features of the kitchen island, classic storage, and modern cooking appliances will take your office dinner parties and special moments to the next dimension.
In this type of design, you will be rewarded with mainly monochromatic hues, which will be in complete harmony with the outside. Neither will it overpower and make your outdoor kitchen bar look abysmal, nor will it be subdued and look out of place.
10. Make Your Corner Useful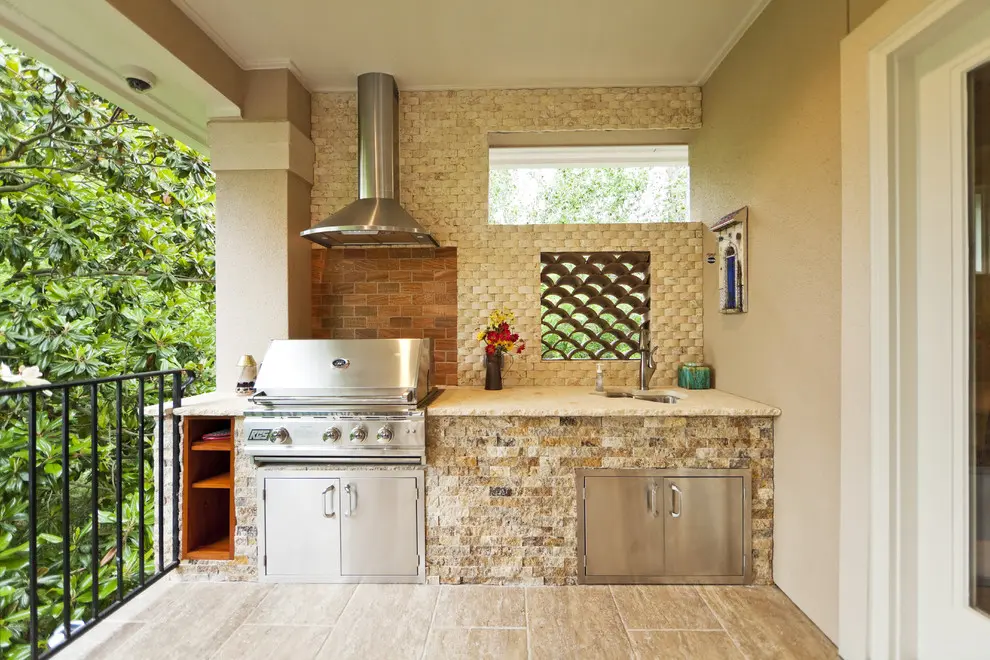 Do you ever wonder what the purpose of that corner on your balcony is that is too different to be decorated? Why not turn that corner into a small outdoor kitchen? The best part is that you can enjoy this corner kitchen in your apartment and have an enjoyable evening meal with your neighbors!
A Sunday dinner roast or a brunch is ideal for these kinds of corner kitchens. Most of the millennials and Gen Z reside in urban areas, where the availability of free space is a luxury. So, you can easily utilize that odd corner in your balcony as a small but effective outdoor kitchen bar!
11. Make Your Balcony Interesting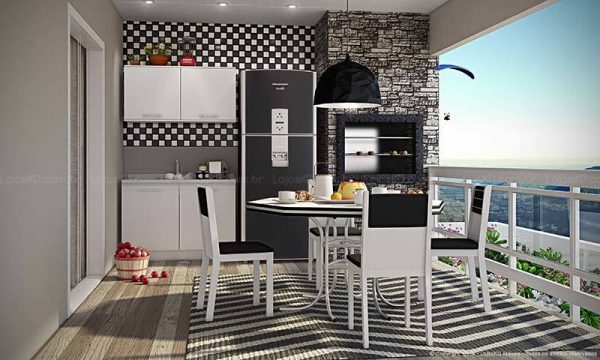 Living in an apartment and don't have much space to enjoy an outdoor bar? Don't worry, and there's a way. You have seen a lot of videos and pictures where the apartment balconies are turned into a green haven. Well, that's one way to utilize the open space amongst the concrete buildings. Or you can also turn your balcony into your own private outdoor kitchen and bar balcony.
If you want, you can build a DIY cover. Also, that blends with your background and portable kitchen appliances with storage spaces, then enjoy. Balconies are great spaces to be used as outdoor bars. If it is big enough, you can even call your friends over and have a house party.
12. Bring the Party Outside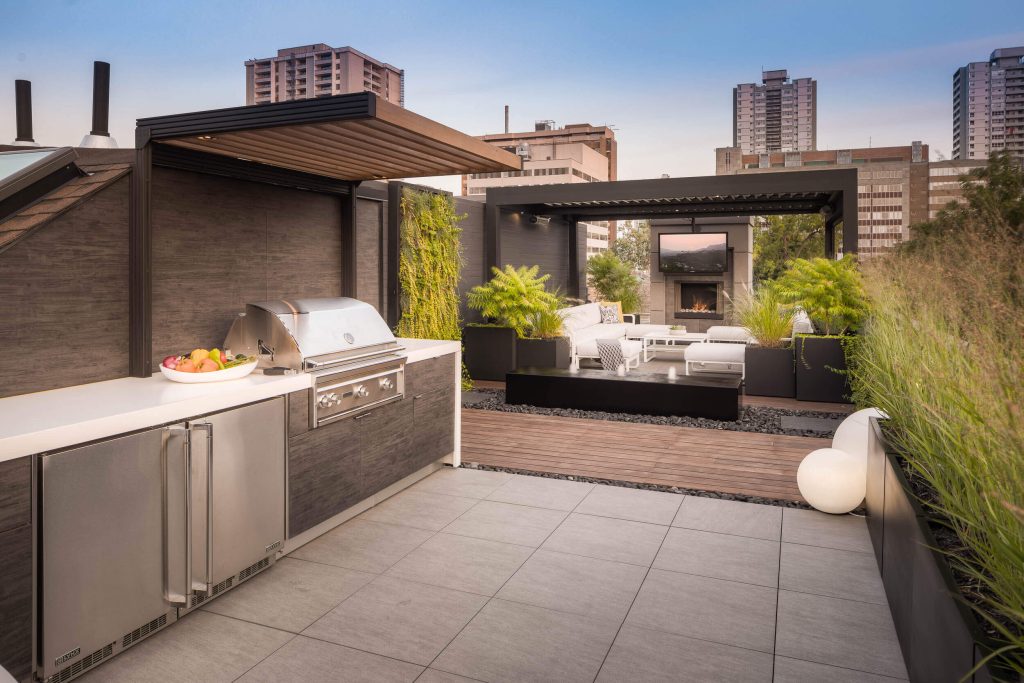 If we ignore the heat outside during the day, you can host a party on your terrace by constructing an outdoor terrace kitchen and bar. Just a few friends with your favorite drinks and finger foods will make your rooftop party the party of the year.
You can accordingly decorate your outside kitchen bar so that you can easily grab the food and drinks without having to make hundreds of trips up and down the stairs. This design will mainly focus on minimalism and chic. The architecture will mainly consist of light woods and earth tones so that it is neutral and soothing to the eyes.
13. Pull out Your Kitchen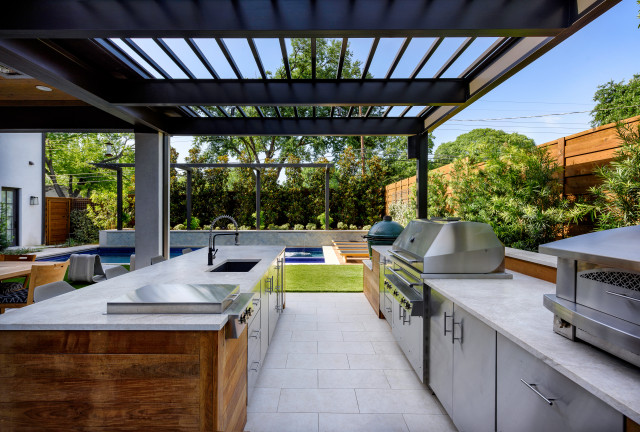 You can build a pull-out kitchen if you think that there is a real crisis of space in your apartment and enjoy cooking on your balcony. This pull-out kitchen bar will be camouflaged with your original kitchen, and mainly the framework is going to be light so that it's easy to carry. The wheels in these pull-out kitchens will help you to bring the heavy equipment to your balcony when you don't want to celebrate your special occasions inside.
These pull-out outside kitchen bars are extremely cost-effective and have a minimalist tone to them so that it works well with the surroundings. You can make the sliding doors and compartments of the pull-out kitchen with reclaimed materials, and in this way, you will be sustainable while enjoying yourself with your loved ones.
14. Island Cooking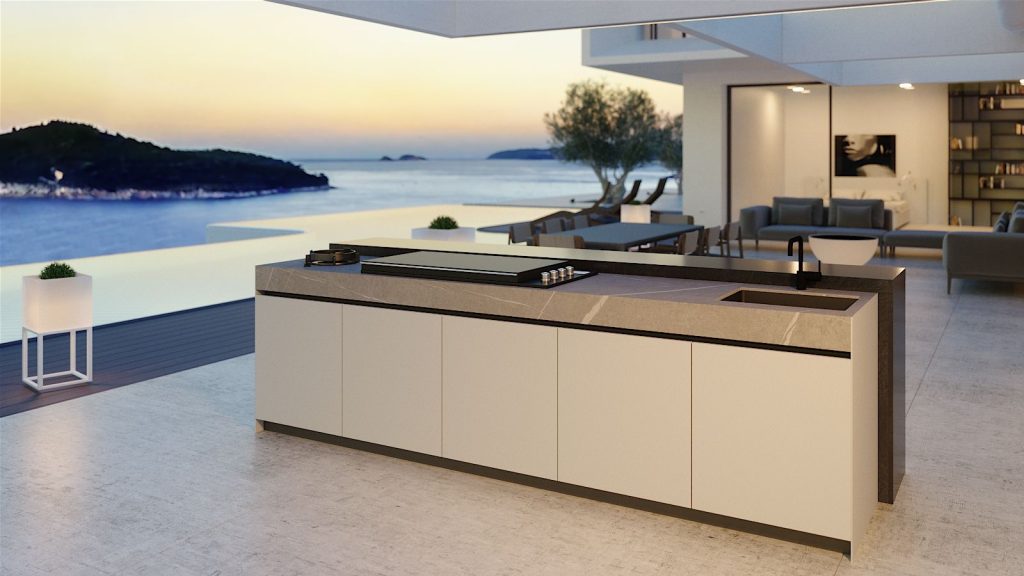 Why not turn your island into an outside kitchen bar? It can be used as a stovetop and a dining space, with storage spaces beneath. Kitchen islands are nowadays quite common in apartments or flats. Installing this kind of kitchen design in your homes with huge backyards will also help you in saving those additional extra costs.
You can carve out wooden stools and place them on the opposite side of the island, where it will be great to Converse with your friends while you cook. Also, you can build shelves and cabinets behind the island so that it is easy for you to reach for necessary items, and you don't have to make round trips to the kitchen whenever you want them.
15. The Kitchen Grill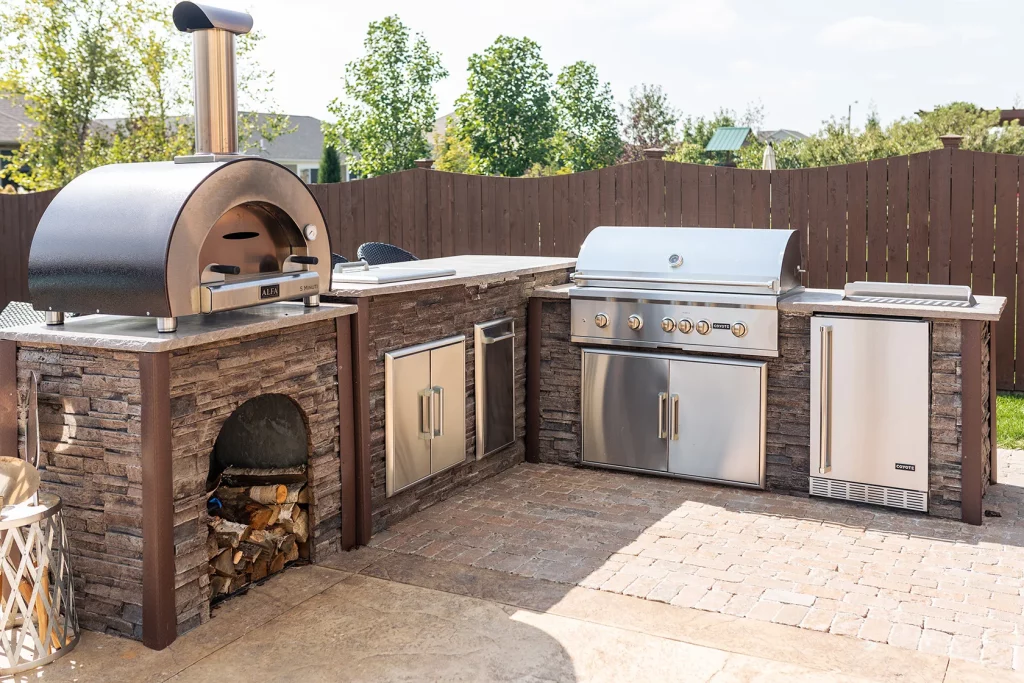 It would be incomplete if we did not talk about the good ol' kitchen grill that has taken up all the fathers around the world to show their barbecue skills! This kitchen grill which will be placed in your outside kitchen bar, will bring a cozy, warm, and nostalgic feel for all the time you spent outside grilling barbecues!
Also, the greatest advantage of having a single grill is: you don't have to invest in any other thing! It can be the sole focus point on your balcony. You might want to host a welcome party after you have just moved in. There are hundreds of cost-effective and good quality grills which are present in the market that will help you in achieving that. So, do not be stressed because you don't have a magazine-styled kitchen!
Final Thoughts
Cooking is a valuable life skill. We believe that rather than look at it as a task. We can turn that into a pleasurable experience! Our home is the next important place where we spend the rest of the day after our workplace.
Having an organized and beautiful kitchen can take most of the stress away because you know all the appliances are working, and you can make your food and enjoy it with your loved ones to remove the stress of the day.
Cooking a meal together with your family is a real bonding experience with your family members, and also it is a great place for children to learn the importance of family.
Having an outdoor kitchen bar will not only help in bringing your family and friends together when you cannot or rather do not want to go and hang out in a restaurant.
Frequently Asked Questions
Why Do I Need an Outside Kitchen Bar?
An outside kitchen bar is a new way to give a different life to your home! Having one in your home means you can entertain your guests anywhere, inside or out. You can enhance your guest's experience and relish drinks in a chill, laid-back experience. Be it a backyard party or a small get-together, an outside kitchen bar is a must.
Isn't It Costly to Build an Outside Kitchen Bar?
Well, no, it is not that costly to build an outside kitchen bar. There are a lot of tutorials on different websites where you will get to know that you can make that kitchen with reclaimed materials, and building it on your own is considerably easy! What we have suggested in the blog is quite pocket-friendly.
How Can I Have an Outside Kitchen Bar if I Don't Have a Backyard?
Living in our apartments, it can be difficult to have a backyard. Our blog here will help you to know that there are different ways you can spruce up your apartment balcony and have the same luxury as that of an outside kitchen! You can now enjoy an outside kitchen bar even from your balcony.