Does your laundry room seem like a dump yard? Do you find it difficult to step into your laundry room because of the clutter? If so, then we have the best laundry room shelving and designing strategies that can help you find a way to make your laundry room look clean and tidy.
Your laundry space does deserve some love and respect, just like any other part of your home. This is because it is a utility space, and you might have to spend significant time inside it during your weekends. Making proper shelves and cabinets and designing them with some aesthetic sense will help to make your laundry room look more appealing.
You can either choose to make a simple plan, or you can choose to make some elaborate designs depending on your budget. But whatever you do, you must give it an aesthetic touch to make yourself feel good about stepping inside the room. Below we have presented twenty-one ideas for you to design your laundry room.
Laundry Room Shelving Ideas
So, without further ado, let's jump into wonderful laundry room shelving designs and plans.
1. Wooden Shelves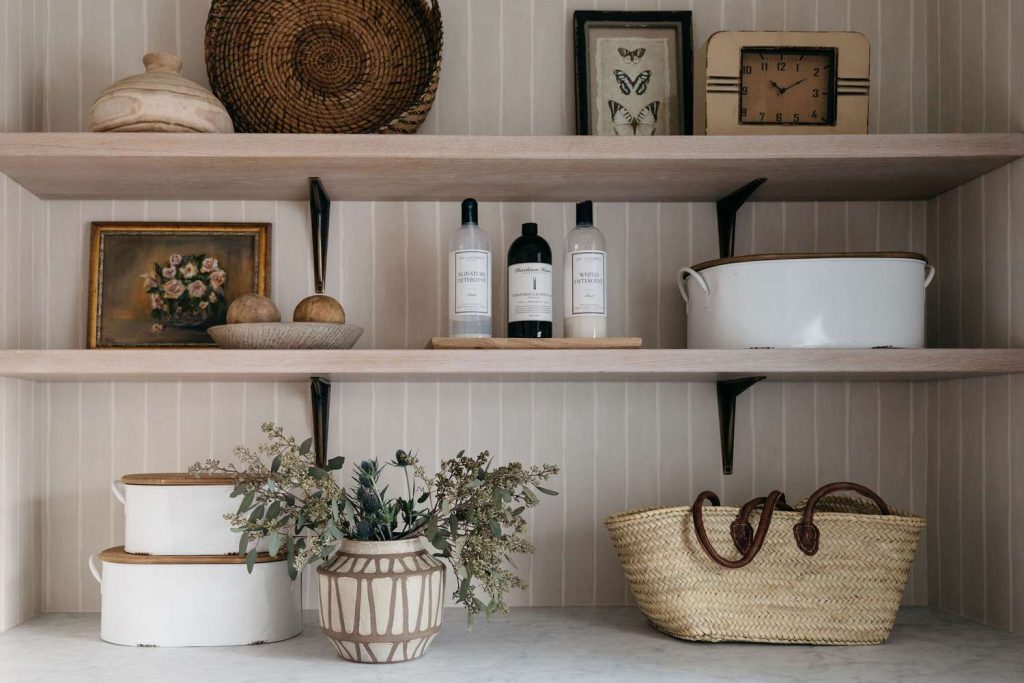 Your utility room can become the center of attraction when you use wooden material to cover the cabinets. Warm colors would create a spectacular look, and to create a contrasting look, you can use black and white wallpapers.
Further, you can choose some neutral-tone flooring options. Plant some green buddies around your washing machine. You can also try a mix of open and closed storage shelves not to make the room appear bulky, especially if your room is compact. Some hanging lamps can also add to the beauty of your utility space.
2. Install a Heavy-Duty Garment Rack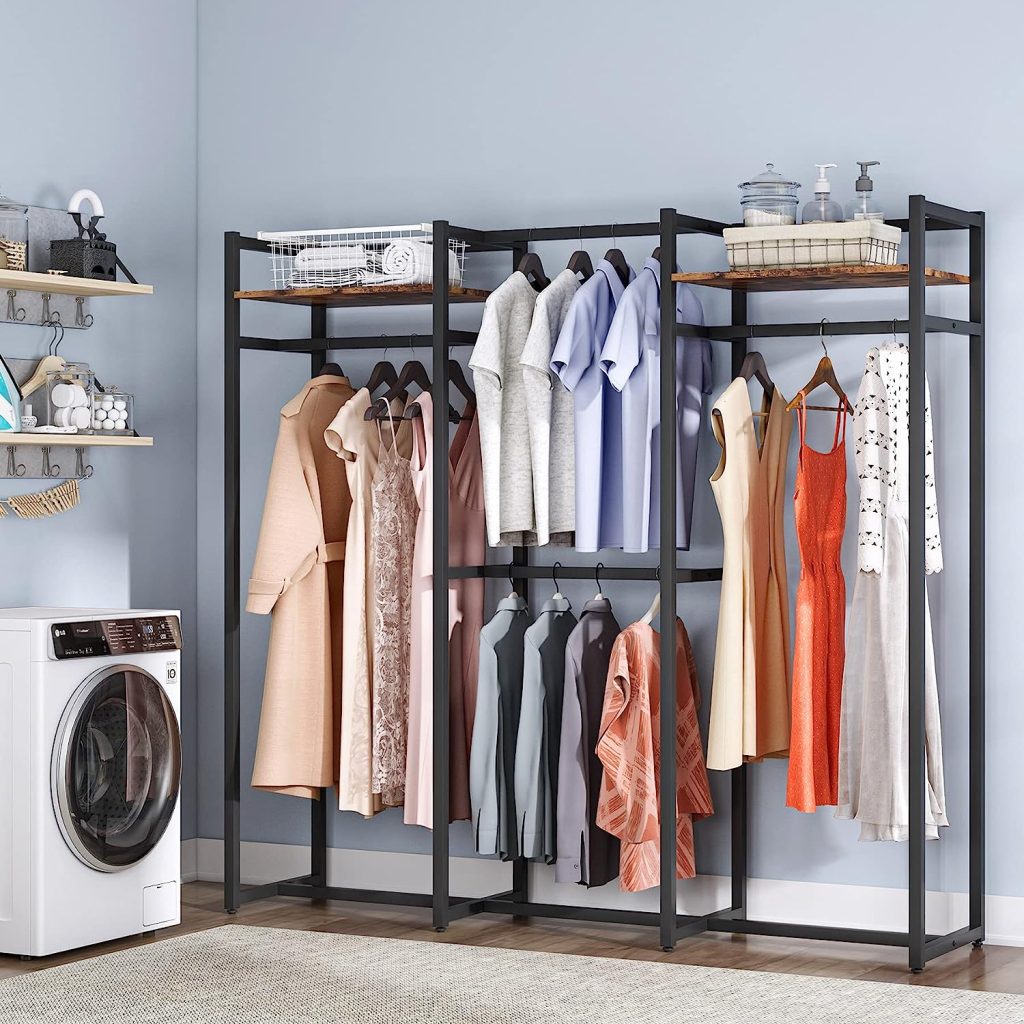 A four-tier heavy-duty adjustable freestanding closet is available on Amazon and can be installed in your laundry room. Along with it, you can fit in some cool appliances and creative wallpapers.
A chequered floor tile will further enhance the look of the laundry room, and some curtains and fabrics would complete the look.
3. Create a Floating Island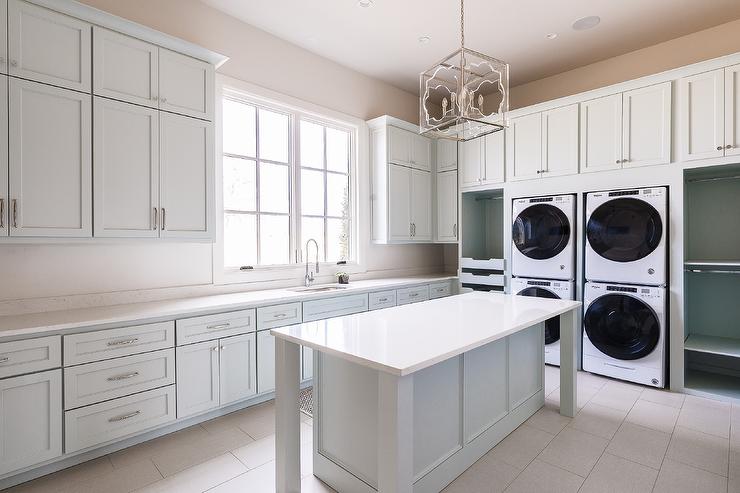 Place a portable center table having a steel base to store items. Some soft geometric tiles in offbeat colors, such as pale blue and white, and similarly subtle wallpapers will add to the charm of your laundry room.
Cabinetry and storage shelves on countertops can further make the room look aesthetic and organized.
4. A Galore of Cabinets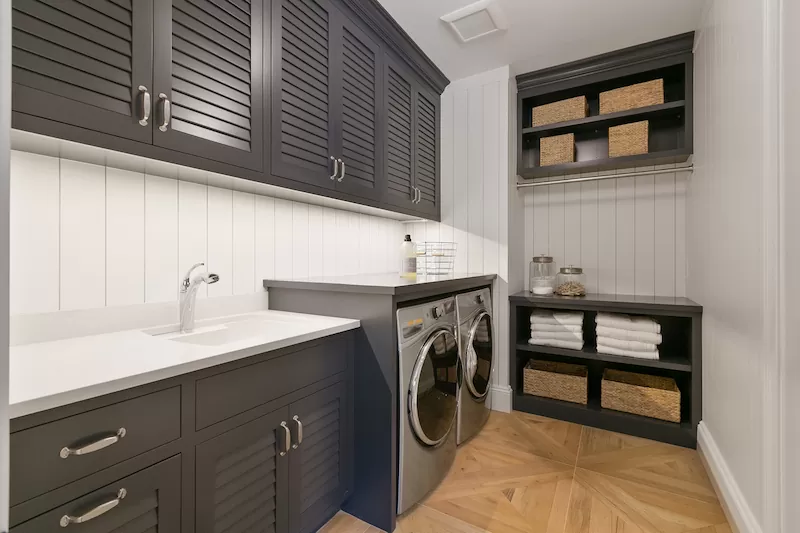 It is said that your laundry room shows your true personality and nature. Therefore, an unkempt utility space may not be an ideal way to represent yourself in front of your guests.
So, if you are considering renovating your laundry space, you may not want to begin with installing wood floors. Also, if you want to create an endless in-built storage space, you can do so with wooden cabinets as well.
5. Install Wainscoting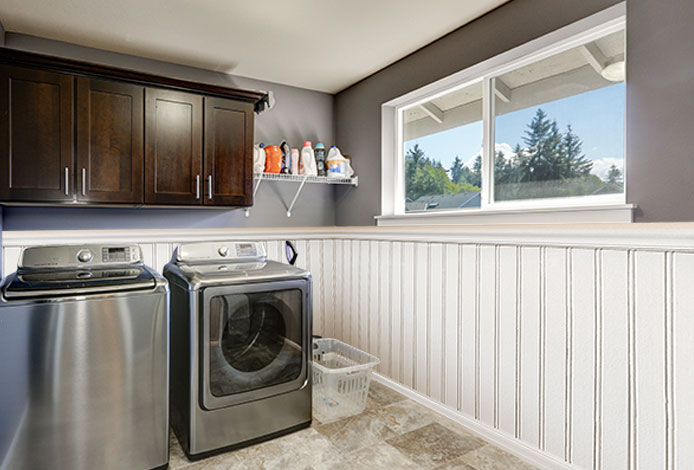 Another laundry room shelving idea includes wainscoting. Wainscoting is a way to create decorative wood paneling along the lower walls of your laundry room.
If you have installed black appliances in your laundry room, you can match them up with black wainscoting. For the walls, you can choose some graphic patterned or lively wallpaper. The floors can have geometric tiles.
6. Try Some Industrial Style
When you want to embrace something more industrially aesthetic, you cannot miss placing some stainless steel utility sink to give your laundry room an industrial appeal. Add pipes for hanging clean laundry.
Additionally, some black-colored cabinets and white tiles will create the perfect aesthetics needed for embracing the industrial style of your laundry room. You can also try some matching color schemes to match the rest of your house or go with some bold color schemes.
7. Window Seats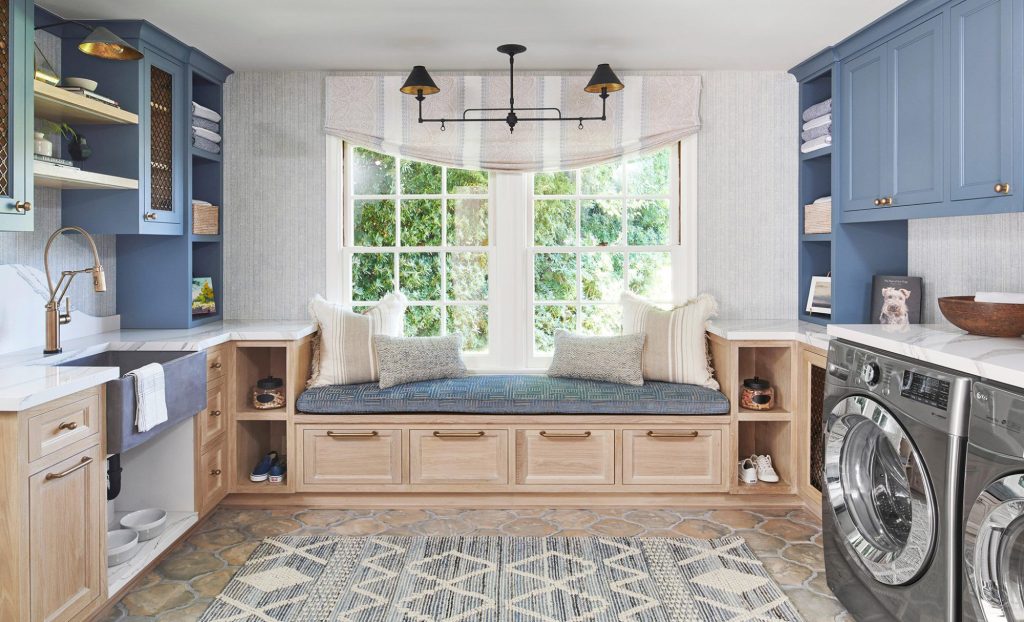 If you have built-in windows with tall windows, you can very much utilize this space for storage by converting them into makeshift shelves. Line them up with some interesting wallpaper or adhesive paper.
Place some plants or put some flower vases. Utilize the space to put out utility items by the window. Hang some floating shelves by the windows.
8. Add Some Simple Laundry Room Shelves
A shiplap wall with plenty of cabinets can be ideal for storing large amounts of supplies. A plain white countertop will act as the perfect folding and ironing surface.
Additionally, a long floating shelf and wicker baskets will add the necessary warmth and glamour to this otherwise simple laundry room. Some low-placed shelves will be perfect for reaching quickly for detergent and drying balls.
9. Install Floating Shelves for Some Stylish Details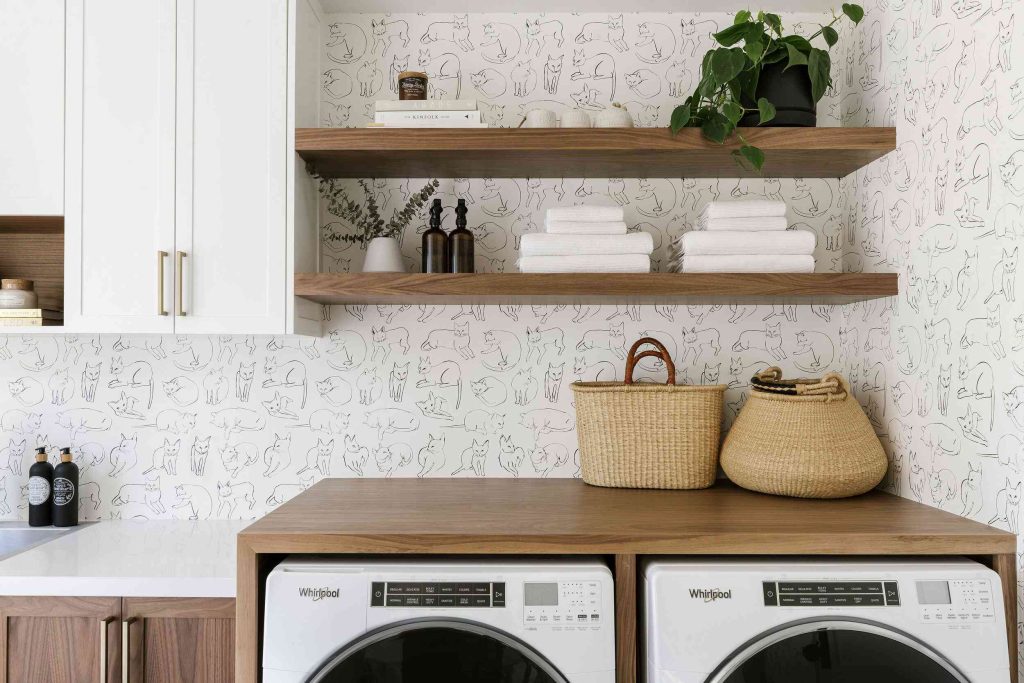 If you love being stylish, then your laundry room shouldn't be left unattended. You can create some specific style for your utility space too. Try placing some glossy black appliances there.
Floating shelves will offer a neat appearance. Add a touch of glam to your utility space with blingy gold accents over the storage cabinets. Some overhead lighting will add that extra attraction to your otherwise dark and dingy utility room.
10. Combine Open and Closed Storage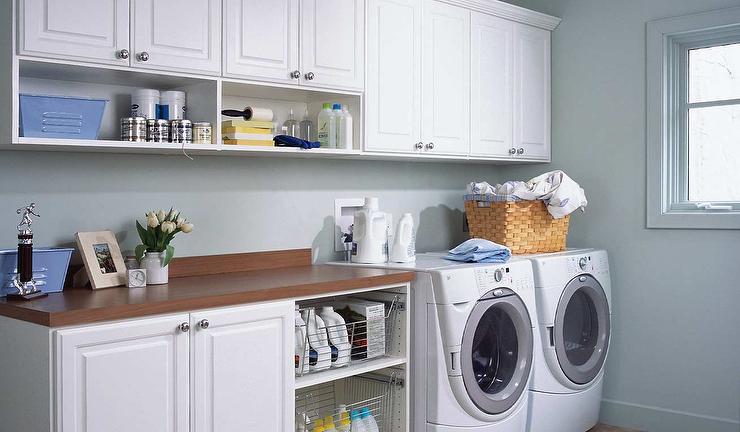 A combination of open and closed storage makes your laundry room look unique. Using closed cabinetry alone in a compact space makes the room look very heavy. Hence a combination of open and closed rooms is amazing for compact utility spaces.
Wall paneling, floor-to-ceiling cabinetry, storage baskets on the open shelves, and hanging racks can help you achieve a combination of open and closed storage space.
11. Hang Floating Shelves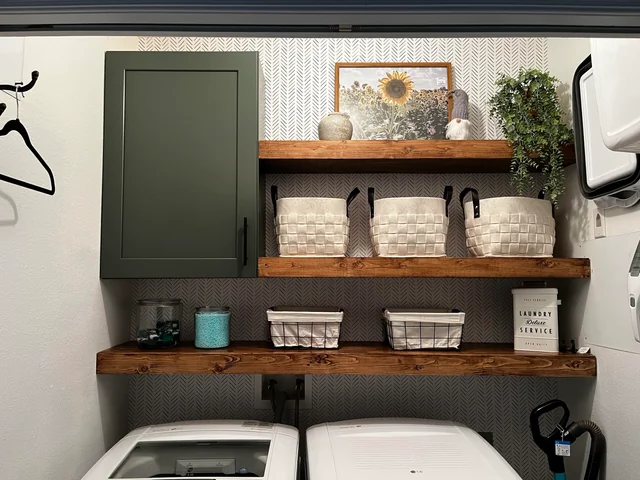 Hang some open floating shelves above the washer to make the laundry room look less cluttered and light. Also, having open hanging shelves has the advantage of making it easier to take supplies and place them back quickly. Thus, you would not need cabinetry, and you can also use wicker storage baskets to stash items.
Some floral wallpapers and white appliances will make the utility space gorgeous, and you might end up loving the space more than the rest of your house.
12. Bracket Shelves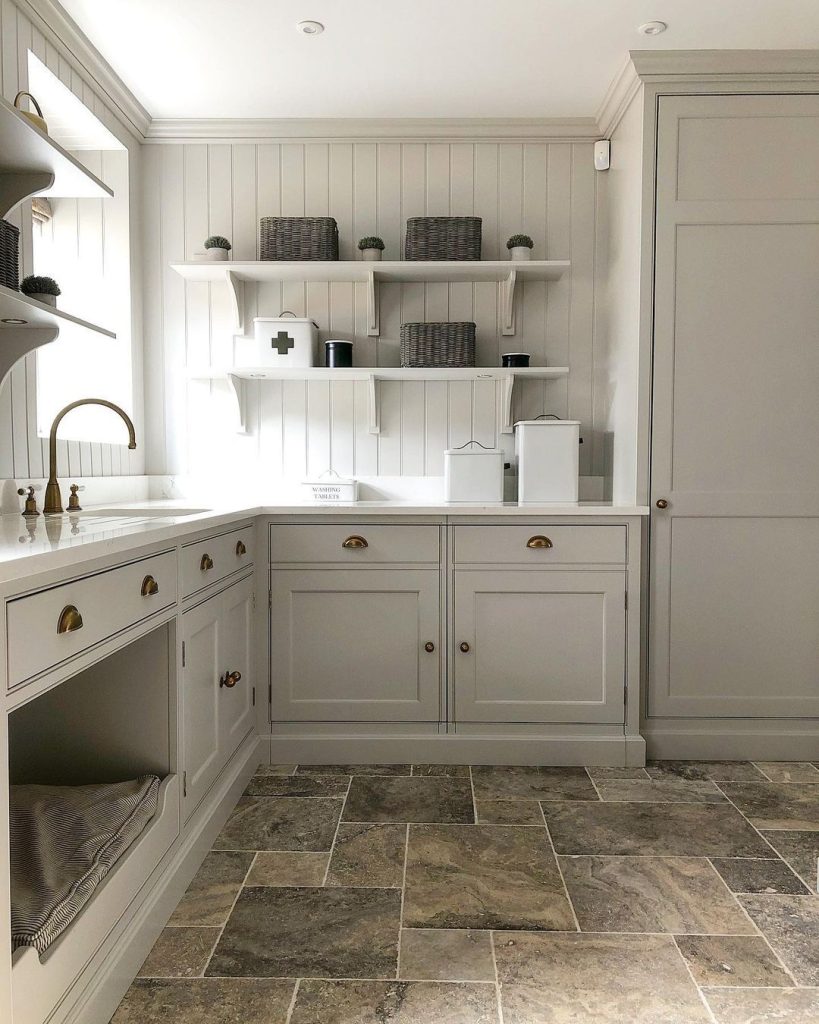 Another brilliant laundry room shelving idea is to make open shelves hang on brackets. What is important here is having easily accessible shelves to take and keep back detergents and stain removers.
You can add up some additional cabinets to have extra storage space above the washer. Decorate the laundry room with some plants and flowering pots. And that's it, and you have a cute utility space ready for yourself.
13. Wire Shelves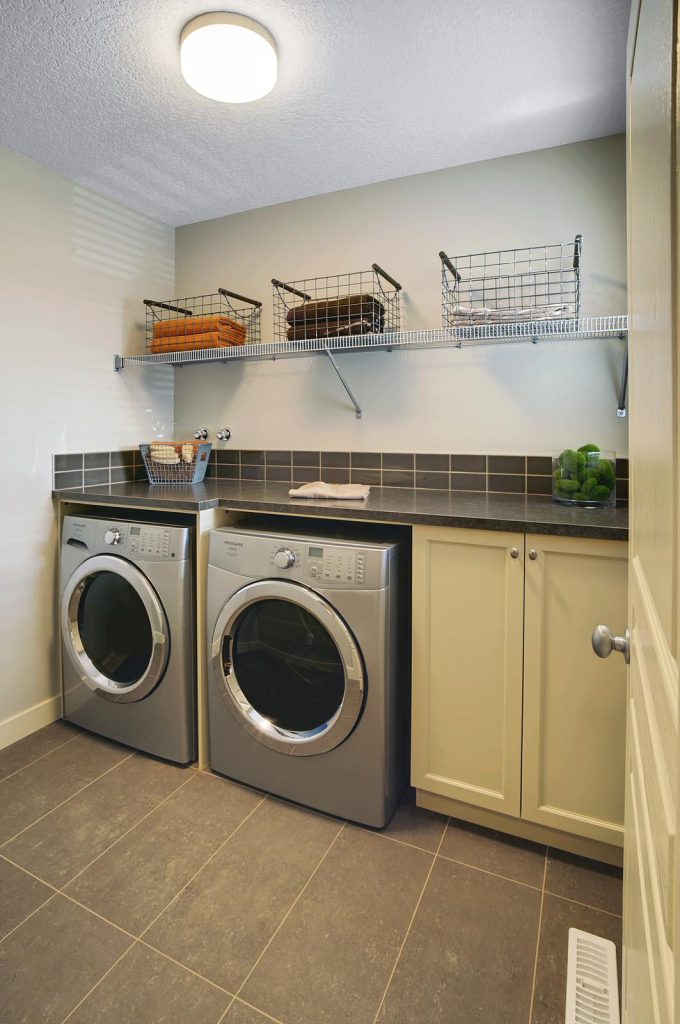 Wire shelving can be as practical and feasible as other laundry room shelving ideas. Adding wire shelves can also be economical, and despite being budget-friendly, it can help you address storage space problems.
You can also add some extra wire baskets on top of wire shelves to create additional storage space for your laundry room essentials.
14. Customized Shelves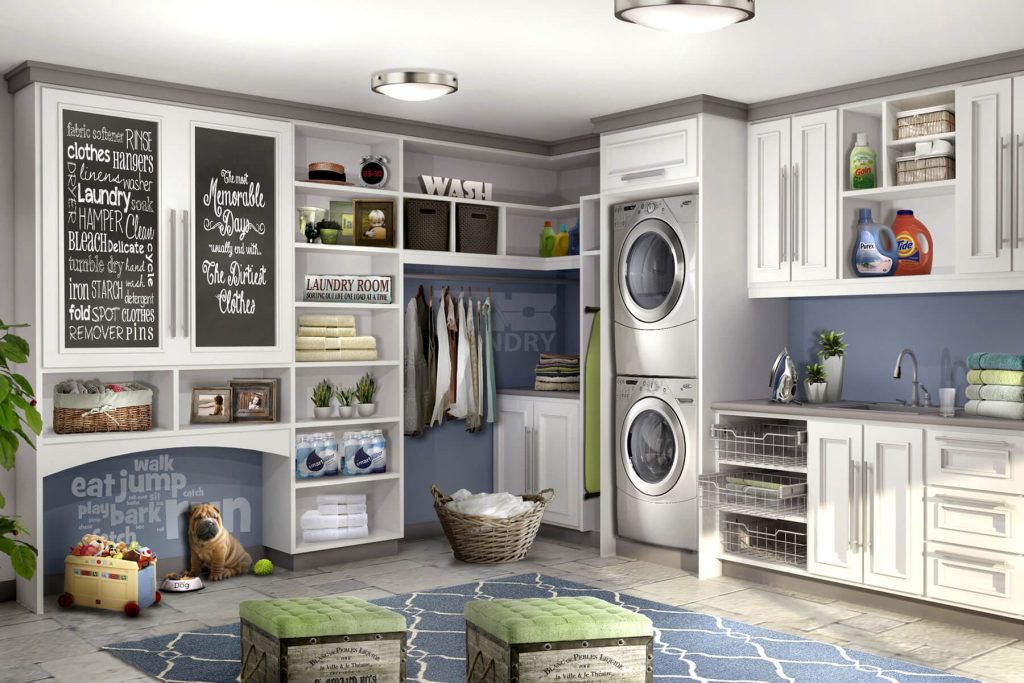 Make some customized cabinets and floating shelves above the washer and dryer. Rustic wood barn doors and butcher-block countertops will add to the warmth and glory of the utility space.
White tiles and neutral backdrops can allow the wood installations to stand out and make the laundry room appealing.
15. Set up a DIY Laundry Storage Station
If you don't want to stick to the contemporary designs given by interior designers, then you can do something of your own.
You can use a table with a storage chest. Place all your utilities on the shelves and the washer below the table. The table surface can act as a countertop and a folding station.
16. Built-In Laundry Shelves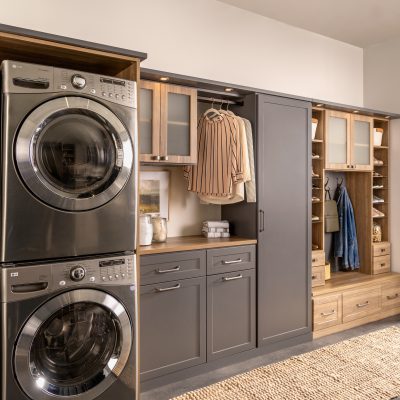 If you have an old establishment, you can easily benefit from traditional built-ins. They provide plenty of storage space, along with offering a vintage feel. Hide the washer and dryer with a linen curtain.
Place some wicker baskets and old rugs in front of the washer. Add some plants around for a homely and warm feeling.
17. Install Upper Cabinets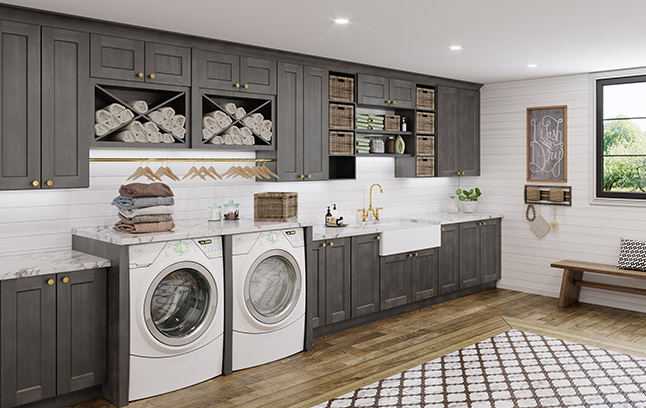 Two sets of vertically placed upper storage cabinets are apt for beating the clumsiness and keeping things tidy. Upper cabinets are good for small and compact utility spaces.
Further, you can design it with some aesthetic sense to make yourself feel good while doing your weekly laundry.
18. Boho Design for Your Utility Space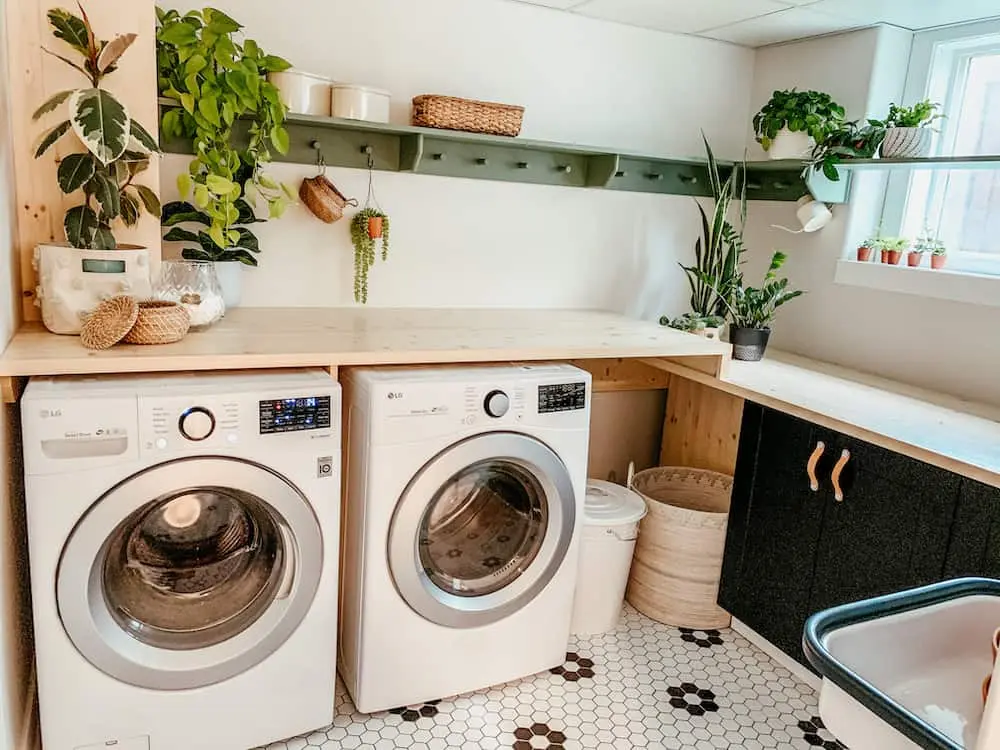 When in doubt, try the boho style. Boho style is a free-spirited expression of eclectic style. This style emphasizes more on natural and organic elements.
Revamp your utility space with some kilim rugs or Persian rugs. Wall hooks with Turkish towels, some Moroccan baskets, and for your cabinets, warm wood accents would just be ideal. For the walls, you could stick to white, neutral shades of brown, or even blue.
19. Casual Laundry Room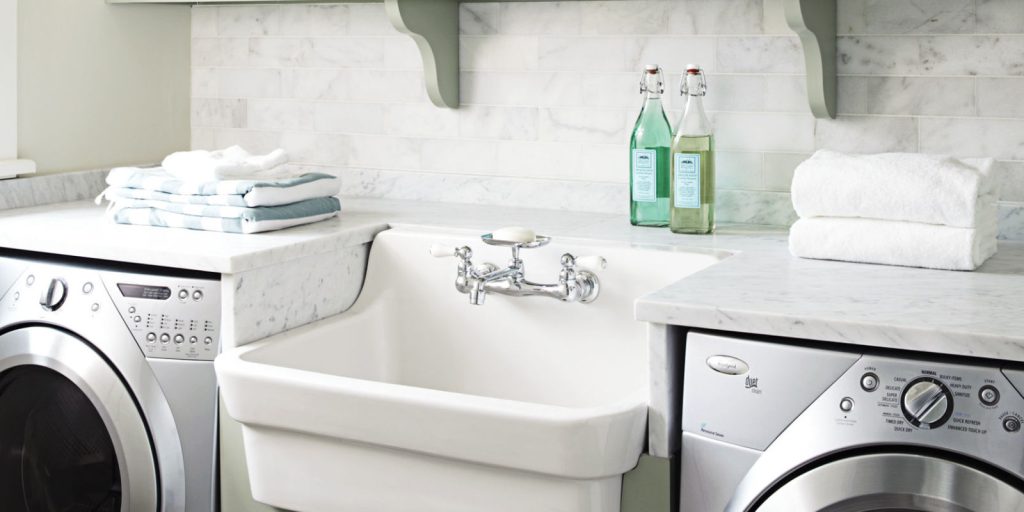 To give your laundry room a casual and chic appearance, you can place some classy-looking appliances, beige-colored cabinets, beige–colored rugs, and some countertop shelves.
You can also try installing an oven washer and dryer shelf that you can get from Amazon for $99.99 only.
20. Go Vintage with Your Utility Space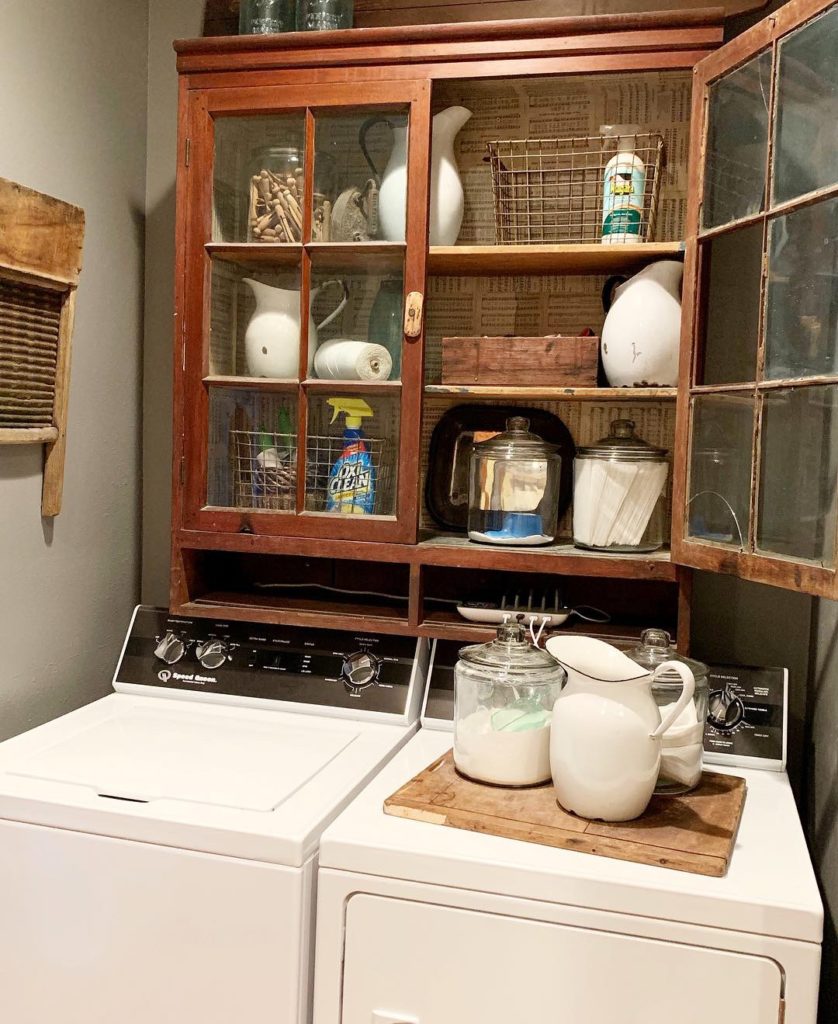 Vintage never goes out of fashion. You can incorporate an old-school zinc tub in the corner to add that vintage touch. Some retro-themed accessories on the walls aren't a bad idea to give your utility space that vintage feel.
A plywood countertop and some old baskets would also be great additions to create the old-school fashion for your laundry room successfully.
21. Create a Cohesive with Countertops and Shelves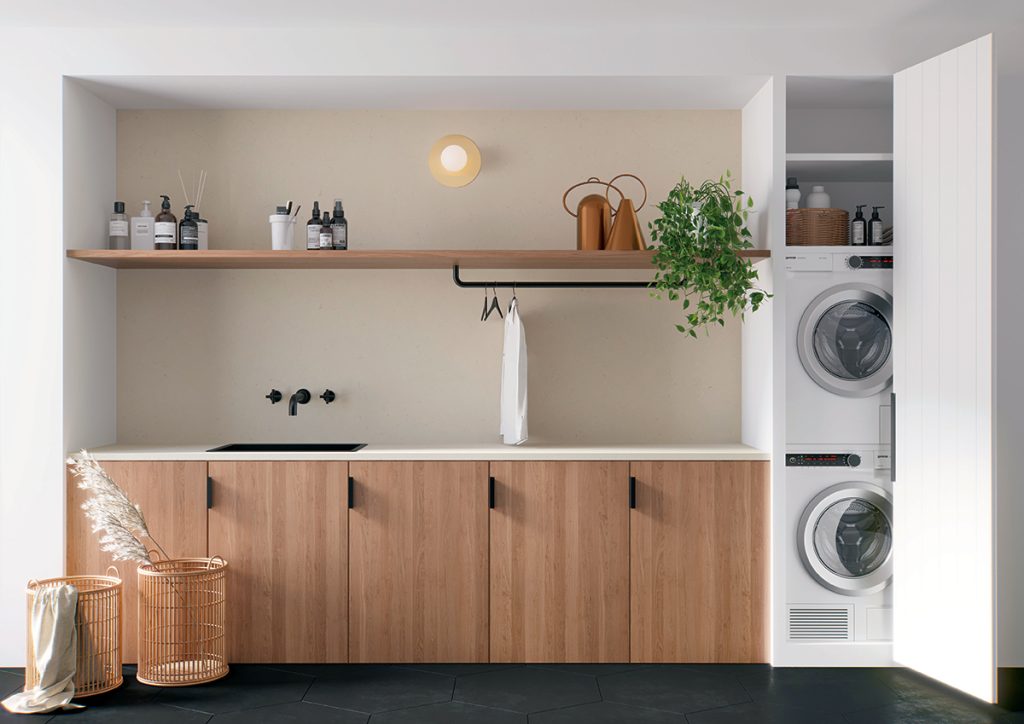 If you are short on storage space, you can consider hanging some floating shelves in front of the windows. You can also add some wood countertops. Add a painting and put storage boxes above. This would help attain a cohesive look for your laundry room.
Concluding Thoughts
So, next time you have to step inside your laundry room, you don't have to crib about spending a good part of your Saturday inside the dingy and stinky room. This is the importance of decorating your laundry room with well-stacked cabinets and other elements of decorations. Decorating your laundry room can also help you optimize the storage space.
You can use the laundry room shelving ideas shared in the above blog to revamp your old and boring laundry room so that the next when you step into the space, you will not feel like running away from it.
Once in a while, you may even feel like venturing into the laundry room to spend some time in solitude and enjoy your own company. You can either decorate your laundry room according to the rest of your house, or you can go experimental and bold with your design ideas. Whatever you choose to do, remember it's your home, and your comfort matters more than anything.
Frequently Asked Questions
How Do I Make Storage in My Laundry Room?
To maximize storage space in your laundry room, you can create some cabinets on the walls. You could also opt for making open shelves and countertops and even go for wainscoting. Furthermore, you could install hanging rods and place some bins and baskets.
How Do You Style a Laundry Room?
Adding stylish appliances, cabinetry, floating shelves, some curtains, graphic textured wallpapers, and designer tiles can give a stylish appearance to your laundry room. Doing these can also help you enhance the storage space in your laundry room and further help with keeping your laundry clean and organized.
What Size Are the Laundry Room Shelves?
Your laundry room shelves can be somewhere around 10 to 12 inches deep. You can also go for larger shelves that are up to 15 inches deep and broad, but they often require additional support. You can find ready-made shelves on Amazon too.
How Do You Organize a Small Laundry Room?
If your laundry space is compact, you can try some of these options, like installing a pull-down drying rack, adding floating shelves, or installing a pair of industrial rolling baskets for sorting your laundry. You can also consider placing your washing machine inside the cabinets to have more space.