An outdoor kitchen is a trending concept people enjoy nowadays. To spice up the traditional kitchen environment, the outdoor kitchen concept got the limelight. The notion of indoor cooking has always been plagued by many drawbacks like not proper air ventilation, cramped spaces, etc. Therefore, the outdoor kitchen got much-needed attention.
Nowadays, we can see how much improvisation happened in the outdoor kitchen concept. It is getting equal importance as indoor kitchens. The reason could be anything to have a modern outdoor kitchen, but people are in search of outdoor kitchen ideas to make their outdoor kitchen as contemporary as they can.
But implementation of the right outdoor kitchen idea in your yard is very important. In this article, we are going to talk about the concept of an outdoor kitchen thoroughly. This will benefit you while constructing your outdoor kitchen with the required knowledge.
To get more clarity on the subject, we are also going to share the list of 15 outdoor kitchen ideas inspired by the best designs.
What is Modern Outdoor Kitchen?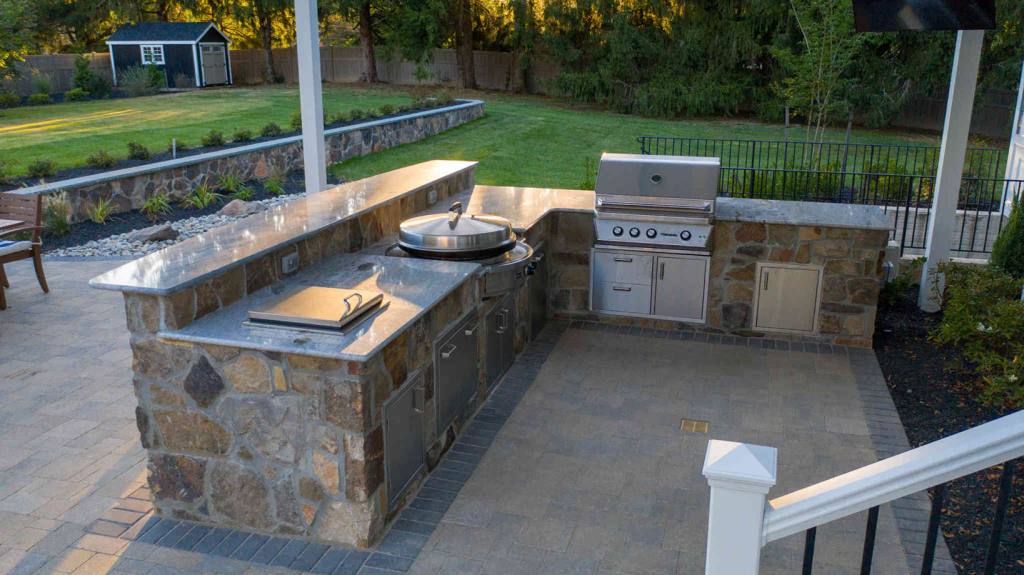 Having an outdoor kitchen in your yard is common these days. Everybody has their own purpose of adding an outdoor kitchen at their place. For instance, some people install it to get rid of indoor kitchens in heated environments, especially few regions with hot climates. Some people add it to enjoy occasional cooking or having cozy get-togethers with friends and family. For this, they want more ease to access their outdoor kitchen, and that's why outdoor kitchens got involved with more elements and became modern outdoor kitchens.
These modern outdoor kitchens are well-equipped and well-furnished, just like indoor kitchens. Modern Outdoor kitchens even replicate the cooking experience which we always get from indoor kitchen cooking. Nowadays, modern outdoor kitchen ideas provide hands-on accessibility for your cooking purposes. Modern outdoor kitchens are furnished with kitchen countertops, storage units, modular home appliances, bar or beverage counters, grill islands, and many more.
List of Amazing Outdoor Kitchen Designs
1. Compact Open Air Kitchen
This beautiful compact outdoor kitchen is surrounded by lots of greenery. Its unique natural stone-assembled kitchen countertop complements the surrounding area. It has an in-built gas grill, storage, refrigerator, and even a trash box. You can think of adding this stunning design to your open kitchen if you are searching for a compact outdoor kitchen idea.
2. Wood-Based Outdoor Kitchen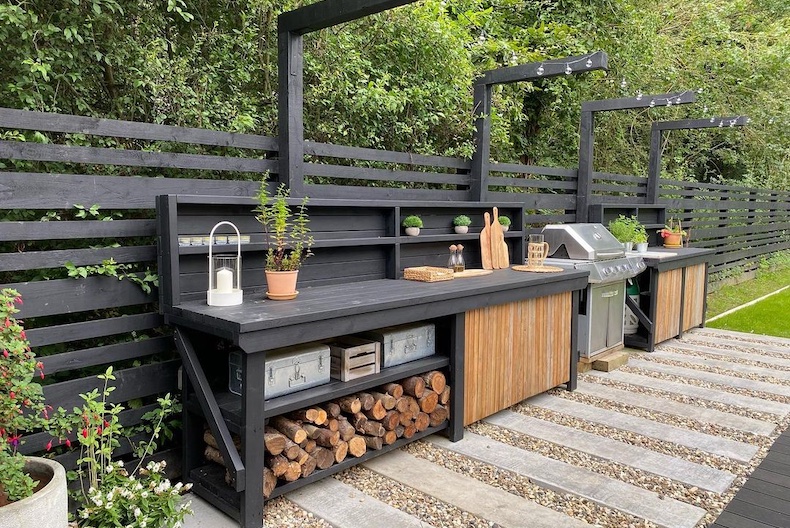 As we see, this design is mostly contained with wooden elements. Right from the kitchen countertop to the supporting wooden wall painted black gives an extraordinary look to this open kitchen. Apart from its structure, it has a stand-alone gas grill in the center. The kitchen countertop consists of minimum appliances, natural plants over it, and some lighting arrangements. This design even has storage space. It is the ultimate choice if you are planning your farmhouse open kitchen.
3. Mosaic Style Patio Outdoor Kitchen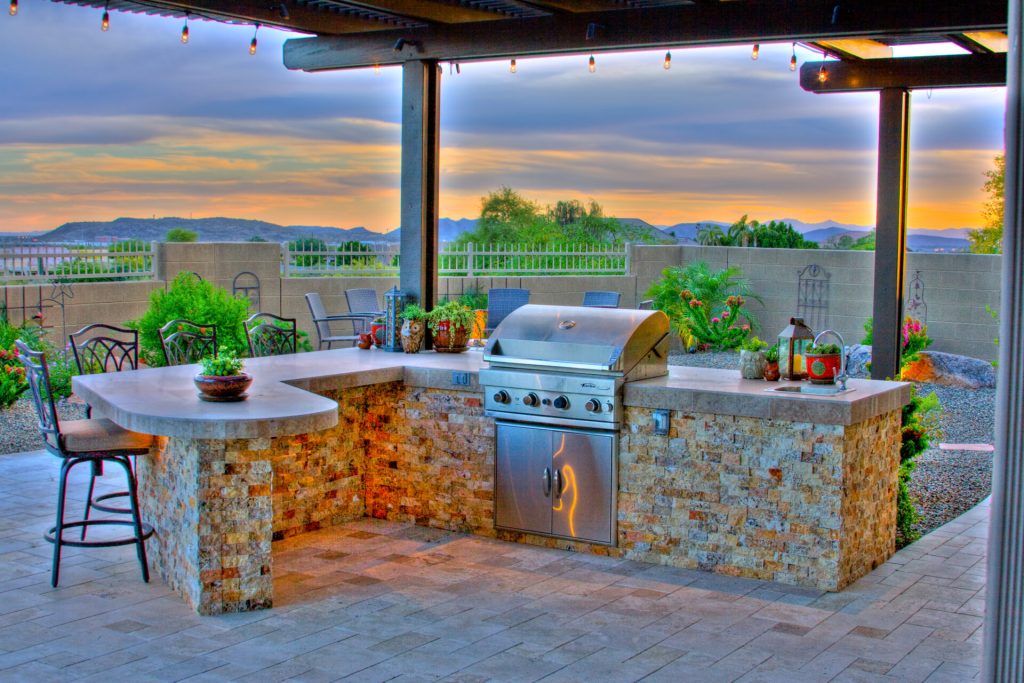 This patio-based, uniquely shaped mosaic art kitchen countertop gives natural vibes with its stone element. It provides some extra features apart from an in-built gas grill. It also has a small sink for convenience and a seating arrangement to relax n enjoy the food with your loved ones. Its pergola is decorated with small bulbs giving a warm feeling.
4. Attach Retractable Awning Outdoor Kitchen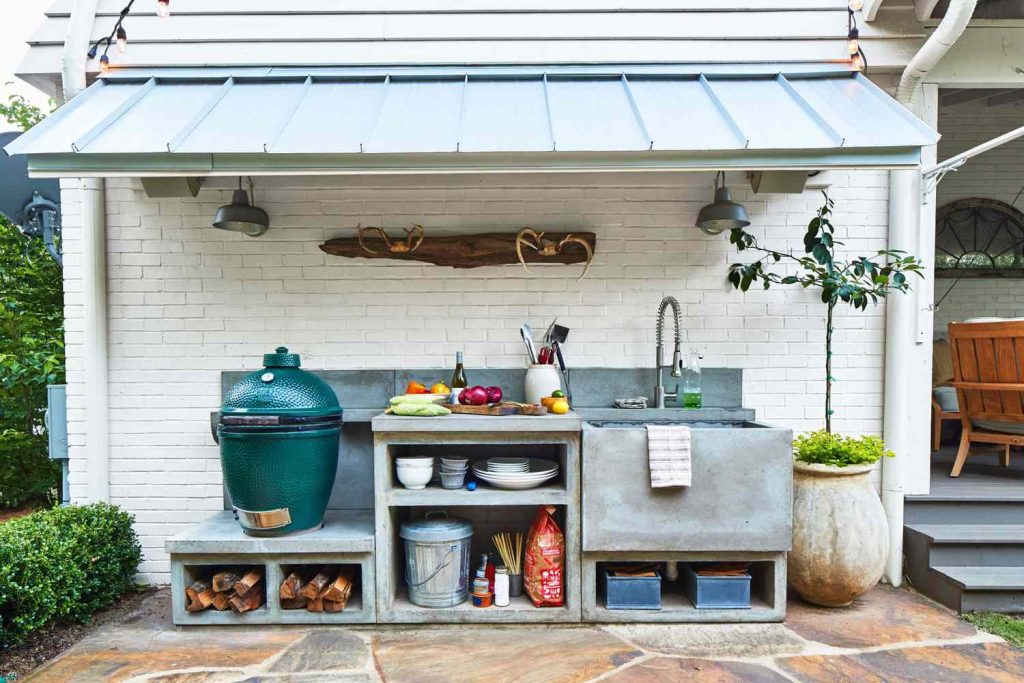 This small retractable awning (automatic roof) attached open kitchen is the best option for a small yard. Even though a small structure, it provides more features. Like an in-built sink, small kitchen countertop, and storage place too. A portable charcoal grill is placed at the lower corner area of the kitchen top. Overall soothing compact open kitchen idea you can add to your yard with minimum effort.
5. Classy Covered Outdoor Kitchen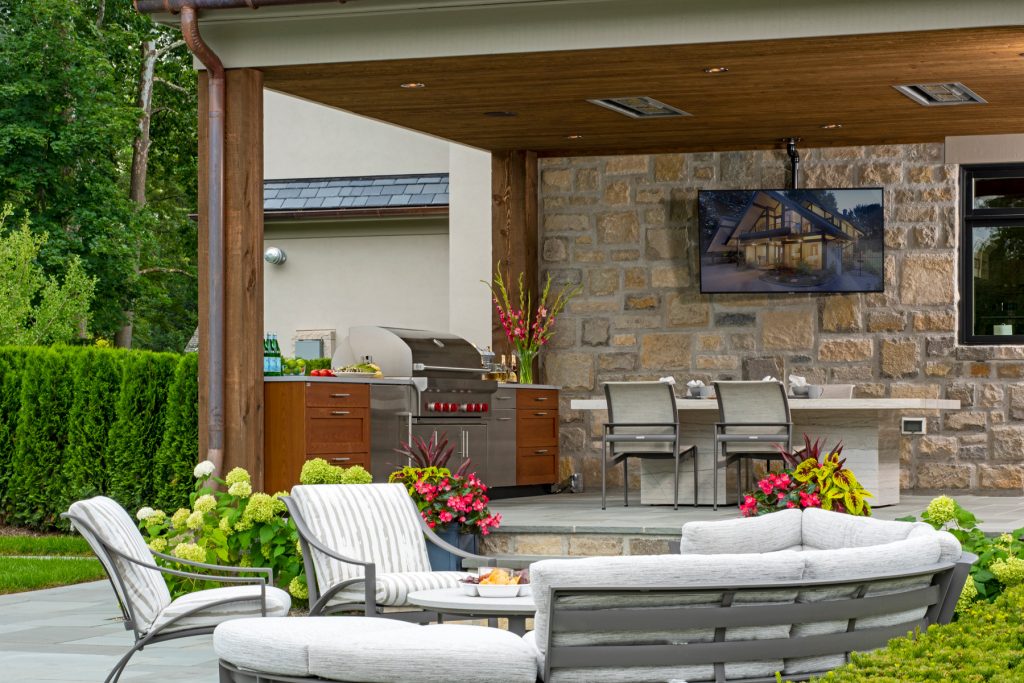 This outdoor patio kitchen design is an elegant choice for an outdoor kitchen. The open kitchen is covered with a beautiful custom wooden ceiling with skylights. Stonewall gives rust to the design. Upper TV with a small seating area where you can enjoy your food while watching TV. Kitchen countertop assembled with gas grill and storage. To get relaxation from the kitchen zone and enjoy an open-air environment spacious classic seating area gives a perfect look to this Outdoor kitchen design.
6. L-Shaped Simple Open Kitchen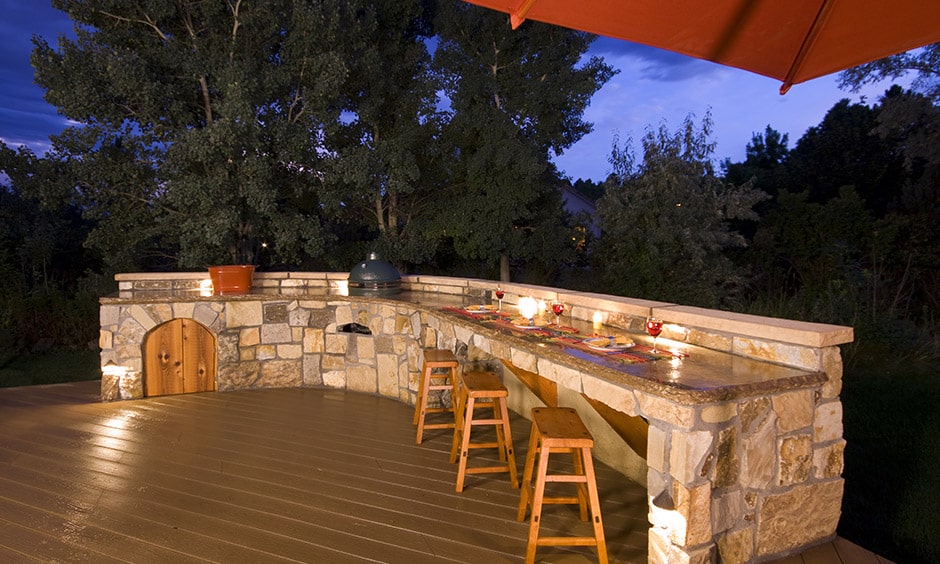 This design is very simple and alluring. With very few features, it will allow you to have your meal or a glass of wine on the same kitchen countertop. Its natural stone counter design is very attractive, and only a charcoal grill is placed on the top. To enjoy minimum cooking and chit-chat with friends, you can go with this open kitchen design.
7. Advanced Well-Equipped Outdoor Kitchen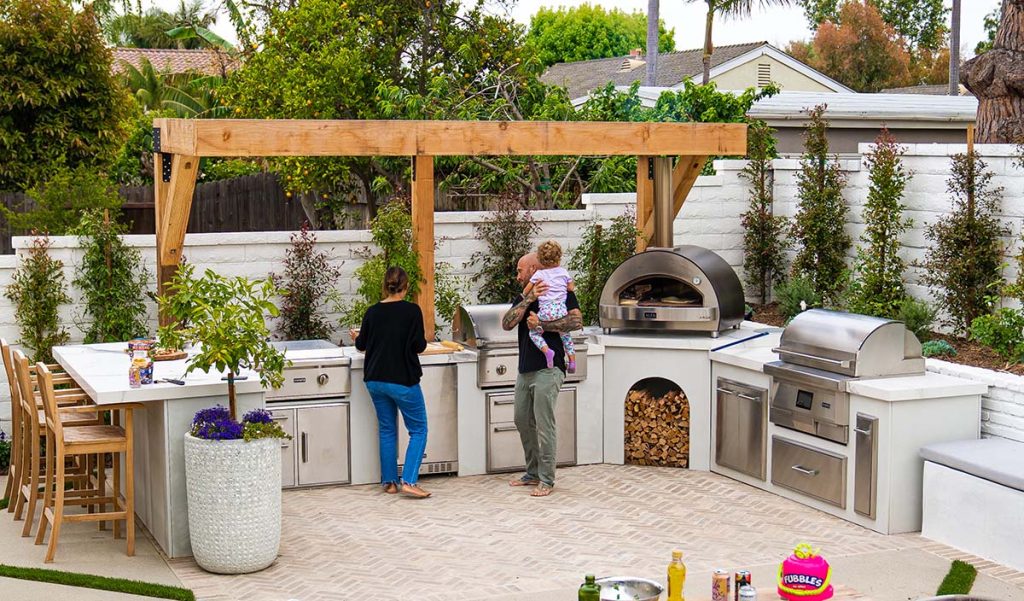 This stylish design is featured with lots of amenities in it. The grey kitchen counter has a charcoal grill, pallet grill, gas grill, as well as charcoal pizza oven. The structure consisted of a refrigerator, store counters, and an inbuilt trash box. A small seating area is available at the corner of the kitchen countertop to entertain your guest. If you have a huge space and have adequate funds available, then go for this one.
8. Village Style Outdoor Kitchen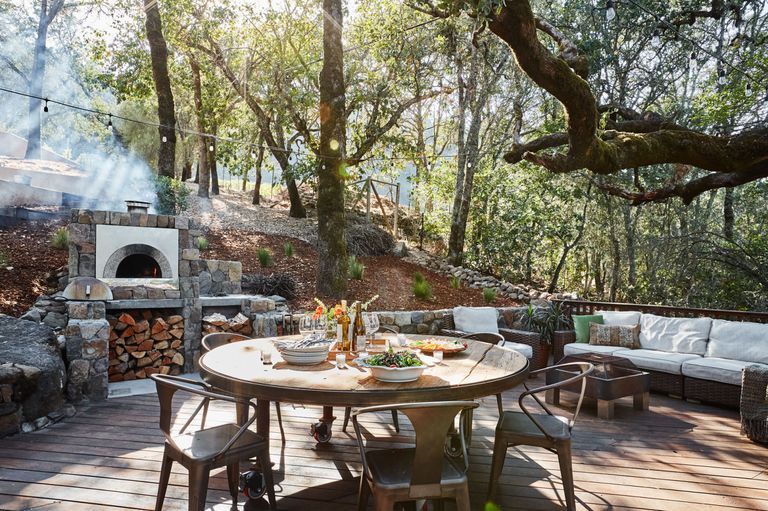 This design is more based on natural elements than modern ones. The grill in the design is purely constructed with natural stones. Seating and dining areas complement the overall structure. If you want to relieve your village memories, you can add this outdoor kitchen idea to your yard.
9. Dual Structured Outdoor Kitchen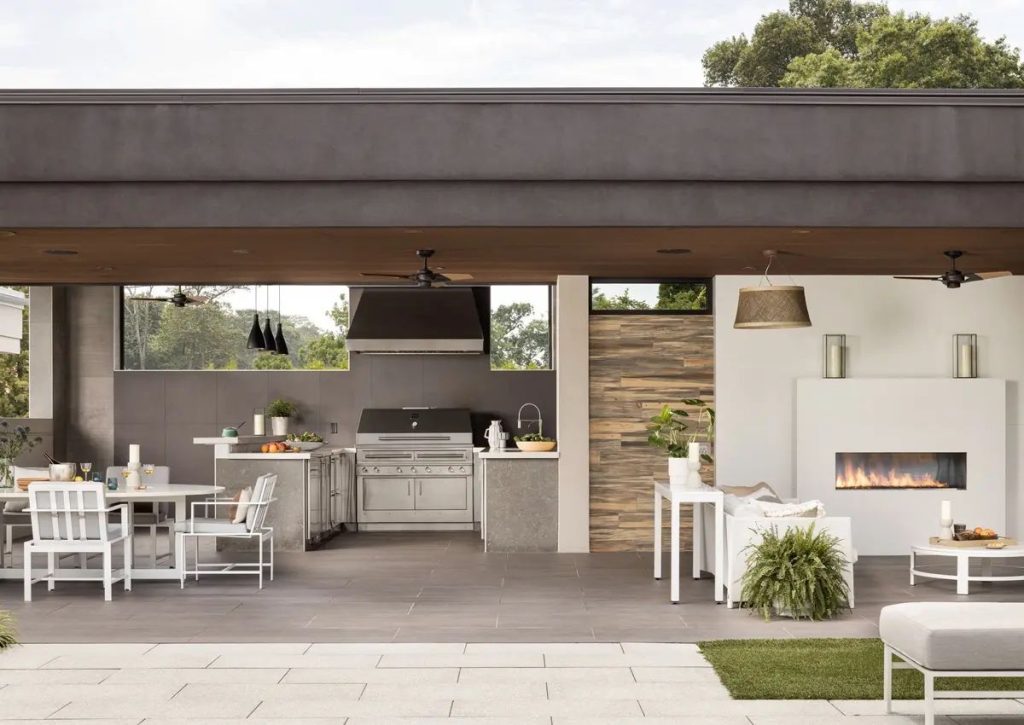 This design is very stylish and elegant, crafted to get a dual ambiance in one place. This fully furnished kitchen is covered with a roof. It has a TV, designer ceiling fan and fire pit too. So overall, this outdoor kitchen will give you a fun and functional environment at your outdoor kitchen.
10. Portable Outdoor Kitchen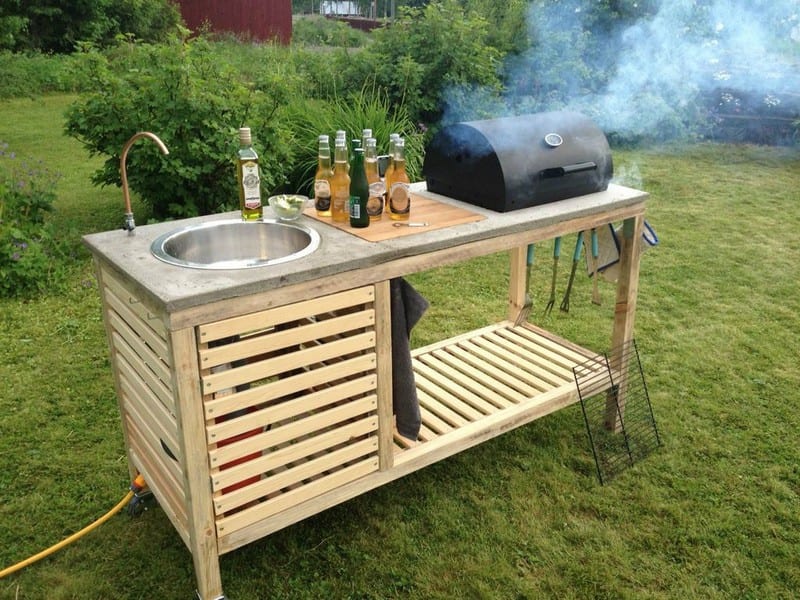 Looking at this design will understand this is a portable setup. As you see in the design, it is placed on the lawn. It has a Standalone grill island and a different counter for the sink. This setup provides storage and other elements too. You can plan for this outdoor kitchen idea if you are looking for a portable option.
11. Stand Alone Patio Outdoor Kitchen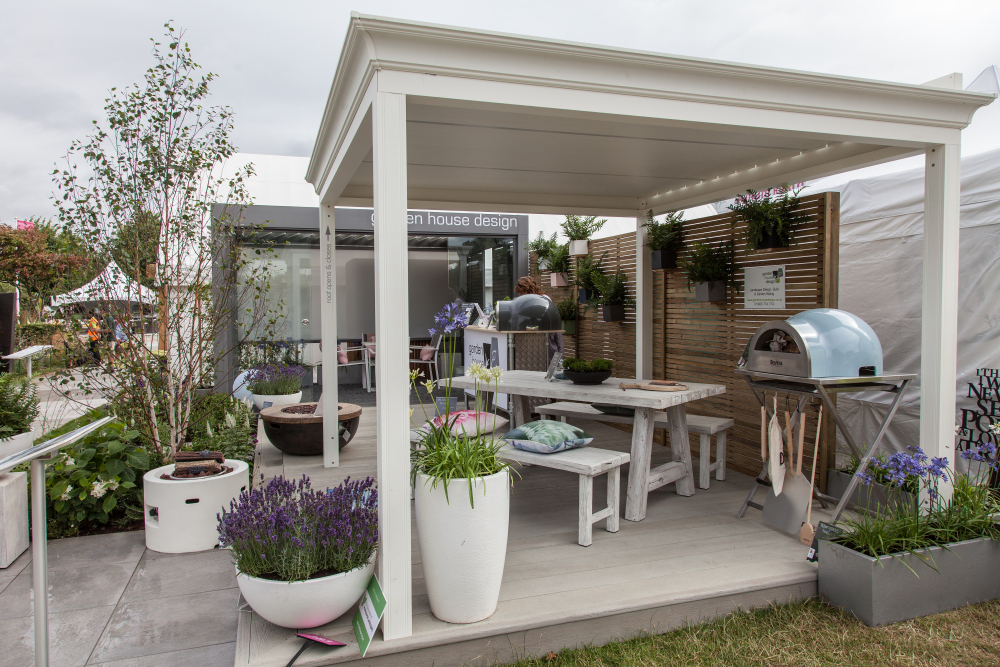 This design somehow looks simple, but it has a sort of elegance. It features a wooden wall decorated with natural plants and a small seating area covered with a ceiling. A patio is surrounded by a few flower plants. You can choose this one to give elegance to your yard.
12. Customized Outdoor Kitchen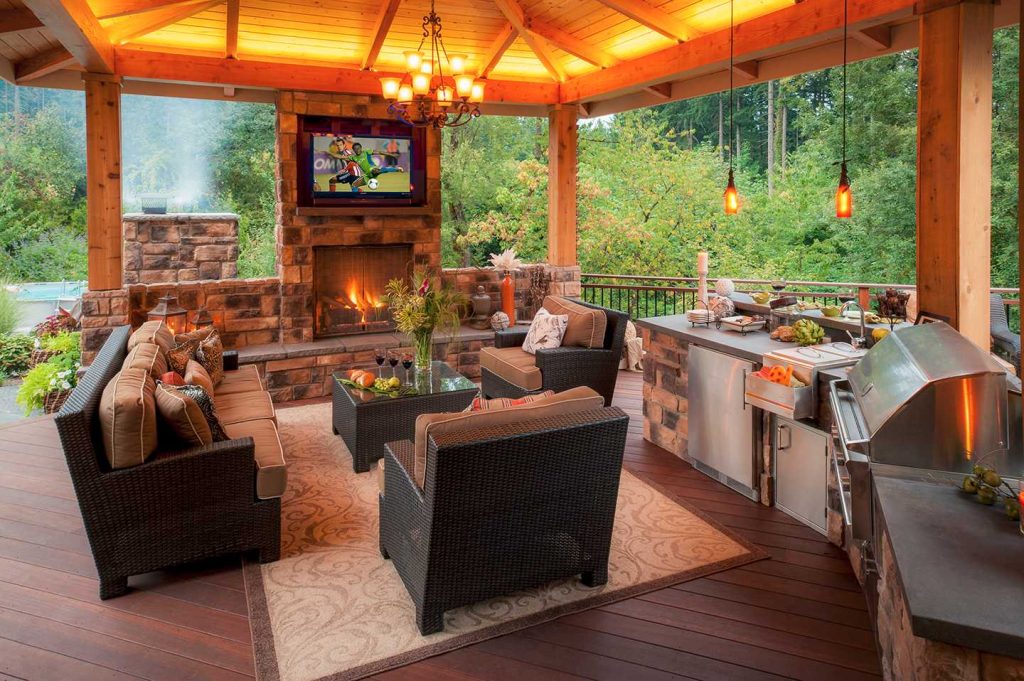 This design gives a combined look to the outdoor kitchen. It has half structured stone wall and kitchen countertop creating a natural environment. Extra accessories like a TV, fire pit, and chandelier enhance the appearance of the design. It has a customized ceiling with skylights on it. The kitchen countertop is equipped with an inbuilt gas grill, refrigerator, storage, and many more, complementing the whole kitchen. You can opt for this one if you love customized things.
13. Dual Outdoor Kitchen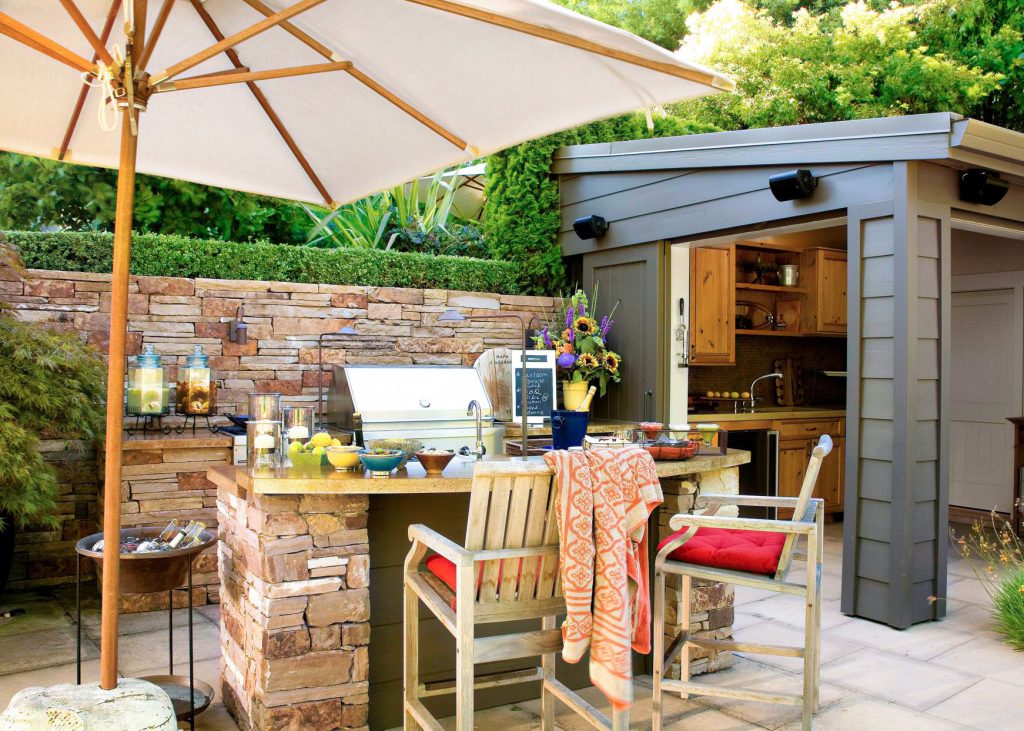 This design is amazing and convenient. In this design, two kitchen set-ups are there. One is an open kitchen, and the other is a covered kitchen. The outer kitchen is structured with stones and consists of a seating area in front of the kitchen countertop. It has a stand-alone gas grill and portable fire pit too. If you want to shift to another one, you can do it easily.
14. Coastal Outdoor Kitchen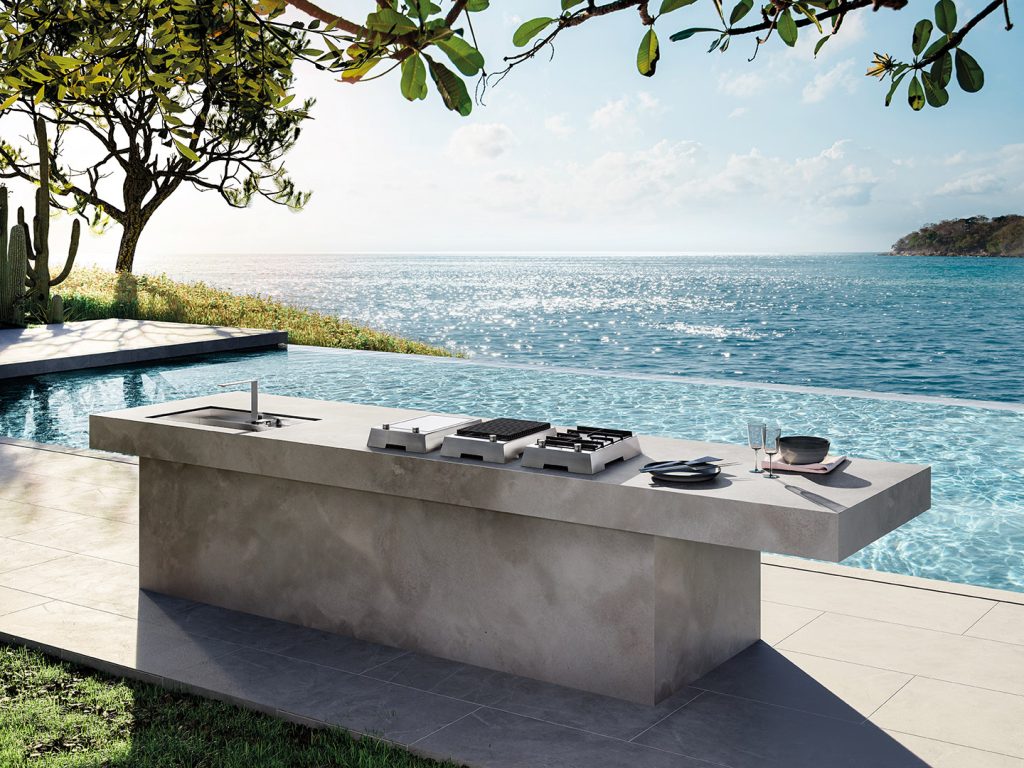 This design provides an elegant water feature to this concrete kitchen top. This kitchen countertop features minimum accessories like a sink and gas grilling options on it. If you live nearby a coastal area, this minimum surged open kitchen idea will work for you. Coastal areas are sandy and consistent with the wind all the time. So appliance damage is a concern due to sand. However, this minimal kitchen option will provide value to your outdoor kitchen.
15. Pool Side Outdoor Kitchen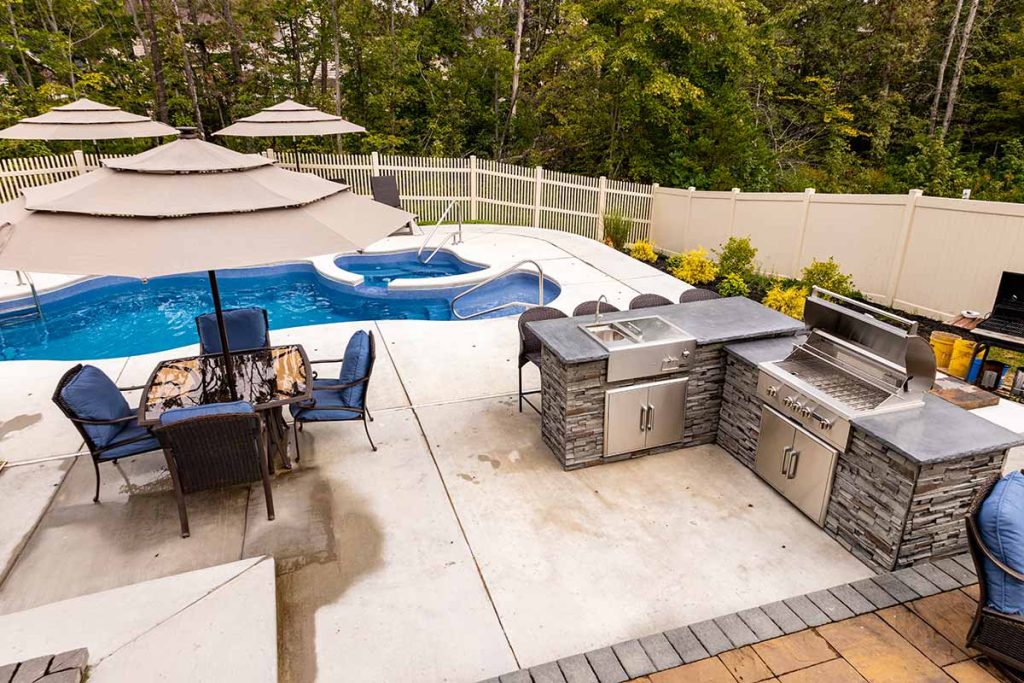 If you have a swimming pool in your yard, then having an outdoor kitchen nearby the pool is a great option. These kitchens also provide a fun and functional element to your yard. This design has L shaped Kitchen counter with an in-built gas grill, sink and storage, and built-in buckets for beverages. Cozy seating area across the pool covered with a beautiful umbrella. Try this fun and functional outdoor kitchen idea at your poolside place.
How to Choose an Ideal Outdoor Kitchen Idea for Your Space?
Adding the right thing in the right place is very important, and this rule applies to outdoor kitchens too. The following pointers will assist you in getting your perfect outdoor kitchen idea.
1. Decide the Location
While planning for outdoor kitchen location is a very crucial aspect You need to look for. Mostly the outdoor kitchen set-up you will find in the backyards of the house. Consider building your outlook kitchen around or close to your backdoor. It will provide more smooth accessibility to your house.
2. Predefine Option for Outdoor Kitchen Idea
Before starting construction of the outdoor kitchen, do look for how you exactly want your outdoor kitchen.
Size – Outdoor kitchen should have to be according to your available area or yard. If you have a huge space, then you can think of a spacious outdoor kitchen. Small space often allows a compact outdoor kitchen.
Structure – The structure of the outdoor kitchen should be land as per the surrounding environment, climate, and usage. For some reason, climate produces more heat in the environment, so the people over there opt for an outdoor kitchen, then an indoor kitchen full stop for them fixed structure of an outdoor kitchen Will be preferable. On the other hand, in cold and windy climate regions, residents prefer portable outdoor kitchens, so decide accordingly.
Appearance – To decide the look of an outdoor kitchen, it needs financial involvement. If you want a huge fancy outdoor kitchen, then you have to spend more. If you are considering keeping it simple, then it won't add more financial burden to you.
3. Think About Spending
You need to plan funds before installing an outdoor kitchen in your space. Various outdoor kitchen ideas are available in the market. You can hire a professional contractor to build your outdoor kitchen. Apart from it, to cut down, you can DIY your outdoor kitchen. But it will need your efforts as well as time too.
4. Determine Your Purpose for Outdoor Kitchen
Why do you want an outdoor kitchen? The answer should be exactly clear. Your answer will guide you throughout your outdoor kitchen construction journey.
Cooking POV – What kind of food are you preparing in an outdoor kitchen? I.e., barbecue, regular three-course meal, or just having a beverage. It will help you to add kitchen appliances accordingly.

Quantity of Involving People – How many people are using an outdoor kitchen? Sometimes outdoor kitchen has the involvement of many peoples. Like some want to prepare BBQ, some want to cook a typical meal, or some want to lead the bar counter. By getting this point in mind, you can structure your outdoor kitchen.

Amount of Time – How much time do you spend in the outdoor kitchen? Apart from meal preparation time, how much time you spend in the outdoor kitchen is a very important aspect to consider. To get relaxed after cooking, hosting parties, get-togethers, and quality time, you can add certain elements to your outdoor structure. For instance, open or mini bar, upper TV, swimming pool, hangout zone, leaving area, and many more.
5. Make a Wise Choice While Adding Elements
While structuring the outdoor kitchen, first make a list of required elements. It will help you to build your outdoor kitchen without any fuss.
Construction material – If you are planning to fix the outdoor kitchen, then make sure to use the best quality construction material. i.e., concrete, cement, stones, ceramics, etc.
Furniture – Decide the choice of furniture accordingly to the outdoor kitchen alignment. i.e., portable or fixed furniture, customized, simple, or compact furniture you want for your outdoor kitchen, etc.
Kitchen essentials – Making an appropriate choice of kitchen essentials is a must. Countertop, grill area, bar, sink, trash can, refrigerator, dishwasher, grill store, and many more.
6. Guard and Maintain Outdoor Kitchen
Ensuring the safety of your outdoor kitchen should be your first priority after installing it. Always maintain your outdoor kitchen essentials. Clean them after every use, and protect them from environmental damage. If you have a fixed outdoor kitchen, then cover it will the ceiling and install lights to avoid mishappening. Now let's move forward and see the 15 most inspiring outdoor kitchen designs to give you some ideas to set up your own outdoor kitchen.
Conclusion
Before planning anything, knowledge regarding that aspect. Especially in cases where your emotions are involved. Planning your house-related thing involves emotions. In this article, we have tried to give practical support to your emotional angle to get the best out of it.
In this article, we have elaborated on the concept of what is an outdoor kitchen and the pointers you need to know before deciding on your outdoor kitchen idea. We have also suggested some outdoor kitchen designs to give more clarity to your choosing process.
Do use these pointers and build your perfect outdoor kitchen.