Natural wood is an excellent choice for making different types of furniture or products as they have a long life, is sturdy, and looks great. However, their colors aren't that bright, so they have to be coated with wood stains.
Choosing the perfect wood stain for your project is important because if you choose wood stain colors that go well with the wood, you will enhance its appearance but choose the wrong color, your work will not look so good.
Wood stains are simply liquids or gels which are applied to wood to improve its appearance and increase its lifespan. They come in different colors, and they have to be applied through a carrier which can be oil, water, alcohol-based, etc. With so many wood stain options, you can be easily confused.
But don't worry because this guide will help you through it!
Best Wood Stain Colors for Any DIY Project
Depending on the wood stain brand you are thinking of choosing, the names might vary a bit, but still, these colors will be available as they are the most popular ones. Most of these stains will be available in oil or water-based forms, and you can choose the right one for your project.
1. Dark Walnut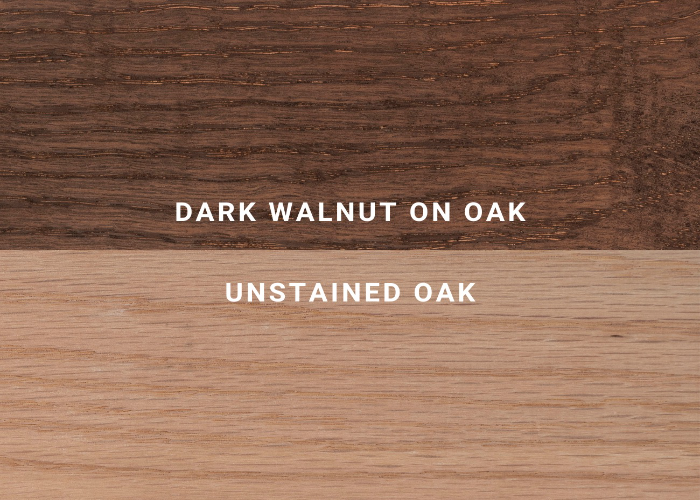 This is a medium-dark wood stain that will look great on pieces of furniture like tables, cabinets, or interior design, as it also has golden highlights. It is a rich color that adds a touch of sophistication to your project. It also looks different on different types of wood. It can be used for both traditional and modern projects, as it will look great regardless!
2. Red Mahogany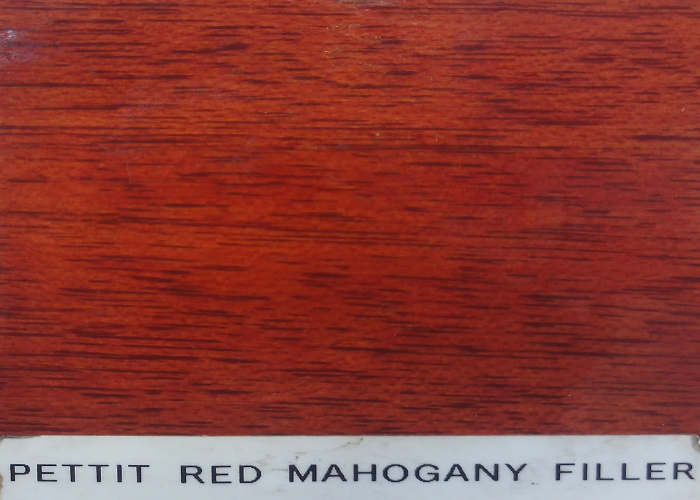 This can be a light red or a deeper red stain that looks royal. If you apply fewer coats, it will look slightly brownish red, whereas more coats of strongly pigmented wood stains will produce that enchanting deep red color. If you want some natural red in your project, this is the best choice.
3. Golden Oak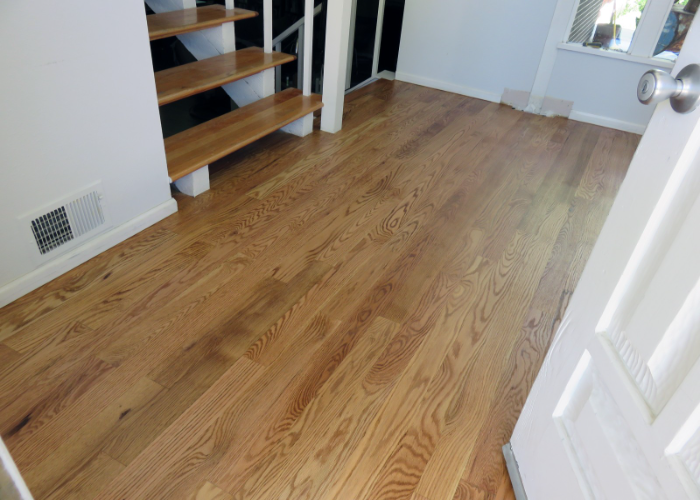 Due to its light brown appearance, it is commonly used in kitchen cabinets and on furniture. This goes well with a modern, minimalist project because it complements white very well. The color ranges somewhere between a sandal and light brown, depending on how many times you choose to use it. It is also commonly used on wooden floors and stairs due to its warm appearance!
4. Early American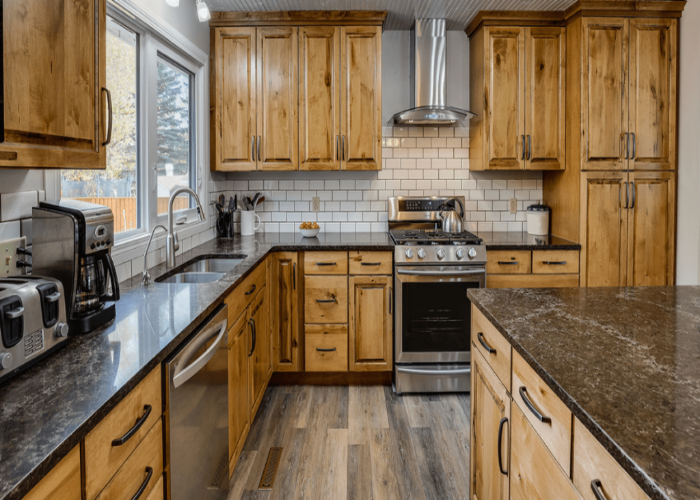 Although trends change over the years, this wood stain has retained a special place in the heart of designers and homeowners because it has been consistently used. For this reason, this shade of light brown is considered to be a classic. It has a warm undertone with a light tint of red. It also highlights the grain of the wood and produces a faded look.
5. Gunstock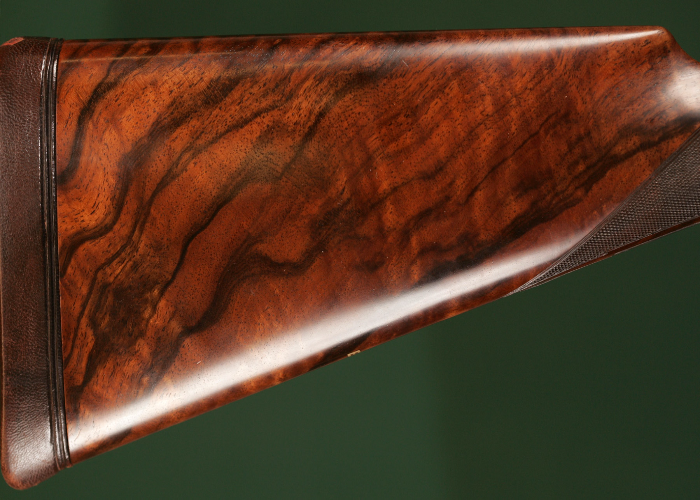 This has been the preferred stain for guns for a long time, but these days due to its appearance, it has been used for furniture and other projects as well. A glossy finish of this wood stain would be eye-catching. This was used to improve the grip of the gun handle by making it smooth and even. Therefore, this may be a good choice for your DIY project as it works well on objects.
6. Special Walnut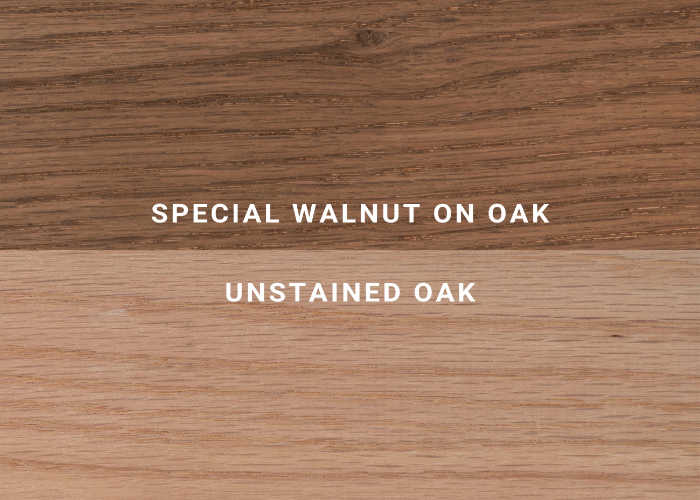 Similar to a walnut, this also comes in a light brown color. Although it may look similar to Early American, the trained eye will notice that it has no red undertones and is also a versatile stain. The commonly used special walnut wood stain is a semi-transparent one, and it highlights the natural beauty of the wood and its color. It is popularly used for furniture.
7. Cognac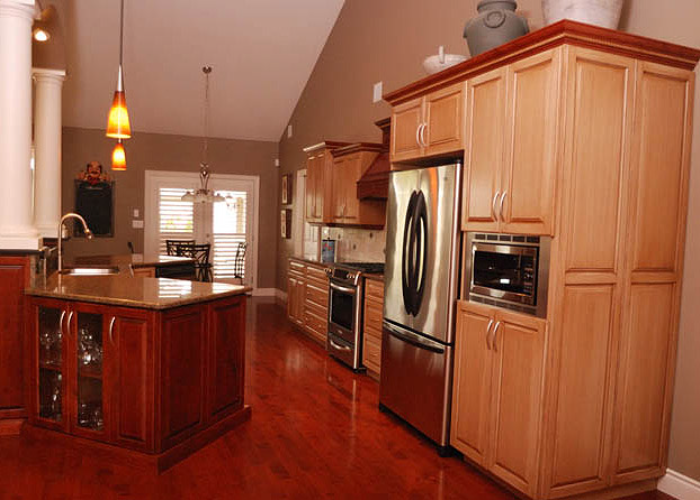 This wood stain color also produces a rich red look which gives off vintage vibes. It can be used for traditional homes or traditional-looking furniture, as this stain will make it look more timeless. This is also a very durable stain that retains its quality for several yards. It is named after the classic alcoholic drink, which has a similar color. Add this stain to your project if you want to create a classic vintage feel. This works especially well for traditional kitchens.
8. Ebony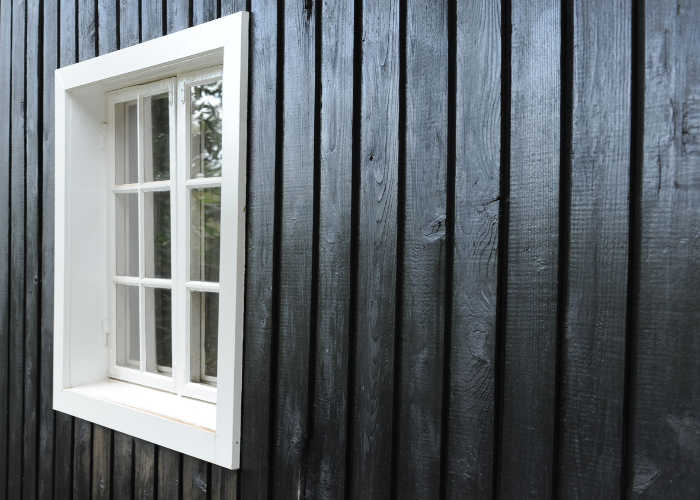 This is a darker stain that looks almost dark brown or black. It will look gorgeous, just like the original ebony wood. Ebony wood is very expensive due to its rich color and rarity, and this species is also endangered. Therefore, going for an ebony wood stain is a good alternative. The ebony tree is also called a million-dollar tree, and this shows its worth and sophistication.
9. Weathered Gray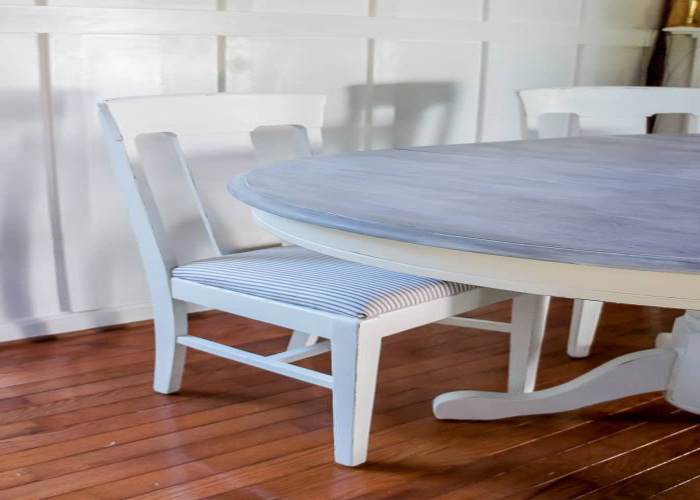 This stain is vastly different from others because it has a more modern appearance and looks a bit faded. It is available in different shades of grey, and this is how faded wooden products will look. However, it goes extremely well with a modern gray, white, and back aesthetic. If you like muted colors, then this might be a great option for your furniture. Due to its faded appearance, it adds value to your furniture or project.
10. True Black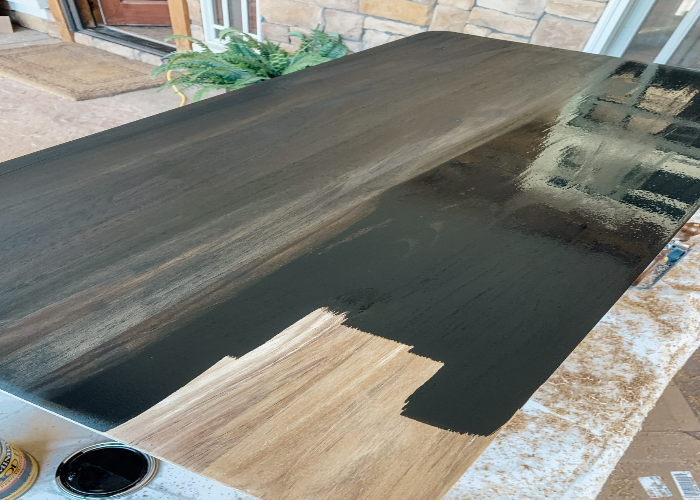 This wood stain creates a dramatic look, and you can choose this for a more edgy choice. This will look great for modern projects, just like weathered gray. But due to its higher pigmentation, it will look more striking in contrast. It is also darker than ebony and so it may not look completely like a natural wood stain, but regardless of that, it looks absolutely stunning, especially on floors with white walls or smaller furniture.
11. Golden Pecan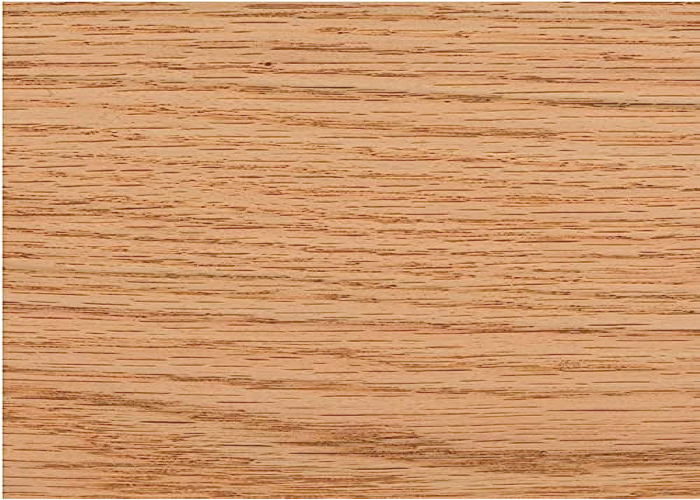 This resembles natural wood the most as it has a beautiful light brown shade with warm undertones. It is also a classic that has been used in homes for a long time. It will go well with a range of colors, and this is another reason why homeowners love this wood stain color. The natural grain of the wood will also be seen, which enhances the look of your DIY project.
12. Provincial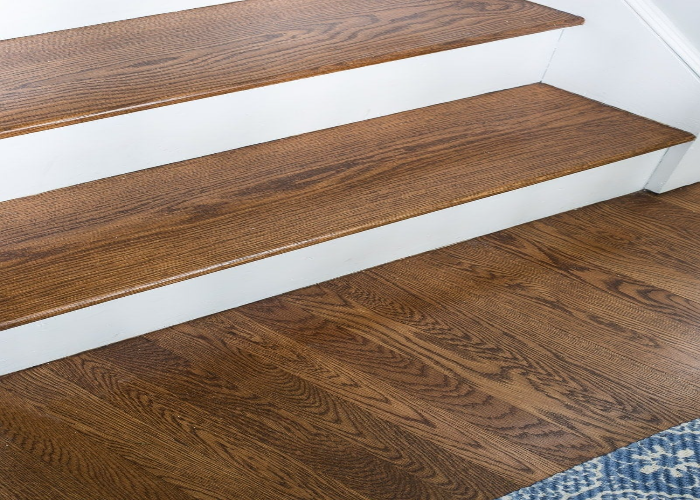 The color of this wood stain is a beautiful combination of toffee and cinnamon. It has a warm undertone, and it highlights the natural grain of the wood. Due to its classic color, it has been used for several years. It is not too light or too dark, and it also has a bit of golden color. This is a versatile shade that can go well with any color palette.
13. English Chestnut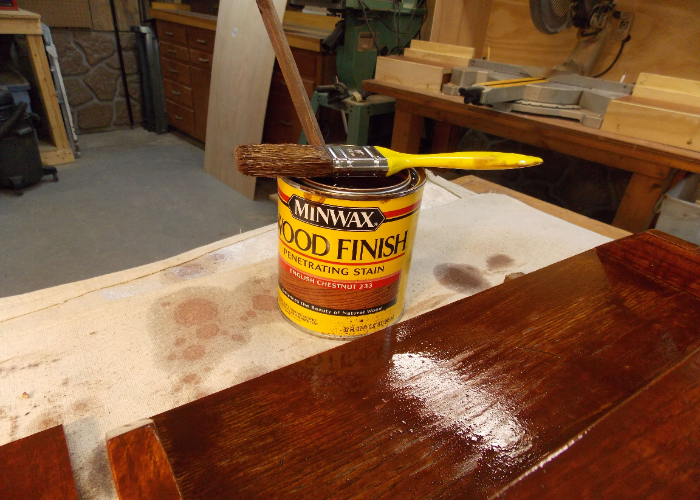 This is a beautiful brown stain that looks similar to a chestnut. But again, depending on the number of coatings, the color will vary. It is also a semi-transparent stain, and it can be used to create a classic look or a more natural look. It looks slightly different on different types of wood. For example, on cedar wood, it looks bright, whereas, on pine, it looks a bit darker. So look for more example photos before using this wood stain for your project.
14. Expresso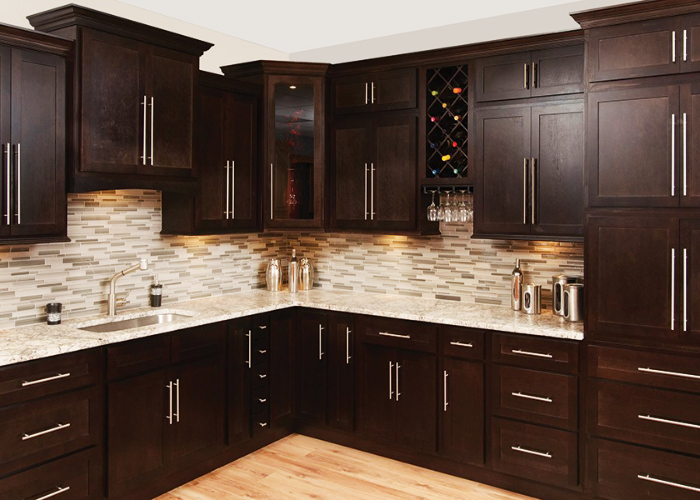 Both expresso and ebony are dark wood stains. However, they differ in their color. Ebony looks much darker with cooler undertones, while Expresso has a brownish shade with a red undertone. It is lighter than ebony, so if you don't want to go for a much darker color for your project, then you can choose expresso over ebony. This can also be used for furniture, floors, projects, etc.
15. Kona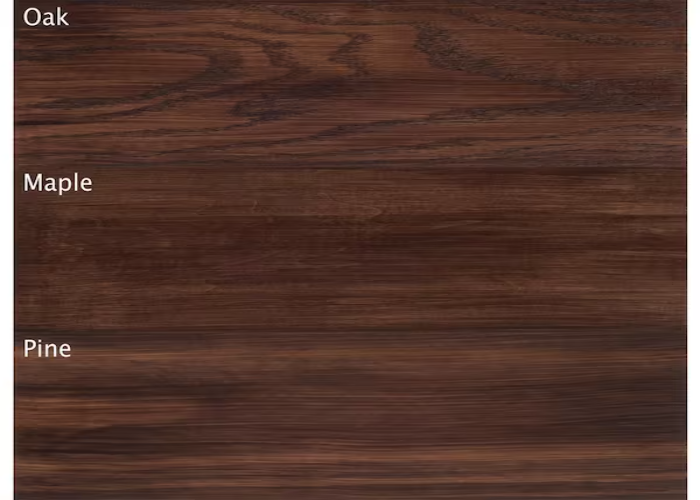 It has an earthy brown color with fewer golden highlights. This is commonly used for interior design due to its stunning color. It has a darker brown color when compared to special walnut. Just like other darker brown shades, this will also go well with lighter color palettes such as beige, white, light grey, etc. This is commonly available in gel-based types, and it also looks slightly different on different types of wood. For example, in Maples, the golden highlights are not brightly seen.
Different Types of Wood Stains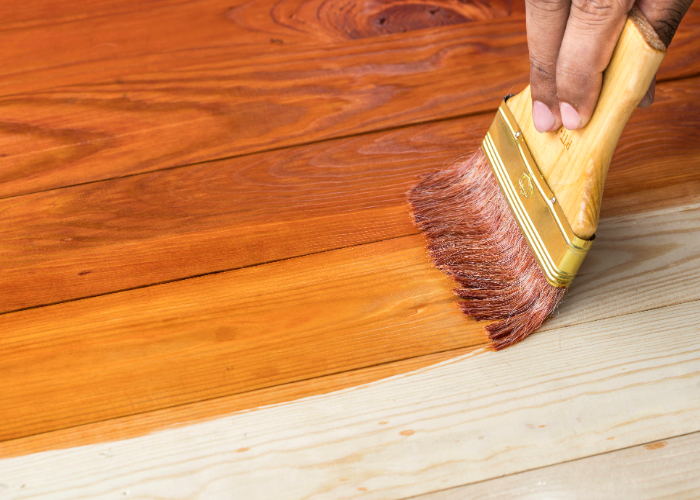 In addition to the type of wood stain, you also need to consider other important factors such as the color of the wood stain, the type of wood, how much coverage you want (transparent, translucent, or full), usage of the project, cost and where the product is going to be placed (indoor or outdoor). But now let us consider one of the most important decisions when choosing a wood stain: its color. Let us look at different wood stain colors that will look stunning on your next DIY project.
1. Oil-Based Stains
Traditionally these oil-based wood stains have been used as they are long-lasting and provide more protection to the wood. They deeply penetrate the wood and take a bit longer to dry when compared to other types of stains. For interior design products which will be often used, these stains are ideal as they can generally withstand greater use while retaining the color and properties of the wood. They can be applied with a rag, and this is considered to be the best method, but brushes can also be used. Oil-based stains are better when compared to other types of wood stains because the brush marks won't be obviously seen as they dry slowly and can flow well before they harden up. They are a bit difficult to clean, but they provide a deep, gorgeous color, so they are worth it!
2. Water-Based Stains
These are relatively newer wood stains, and they dry up easily. These don't penetrate the wood as deeply as oil-based stains, so they may not be very durable. However, they are ideal for projects where you need the wood stain colors to dry quickly. They are also considered to be more environmentally friendly and offer protection against mold and mildew. You can use a brush or a rag but be careful not to apply them in several strokes because these will be visible as they dry quickly. In addition, several coatings might be needed to produce an appealing wood color. Cleaning a water-based stain is not that difficult when compared to an oil-based one. However, they may be slightly more expensive than an oil-based stain.
3. Gel-Based Stains
These are thicker than oil and water-based and let you have more control over the color. These are especially great if you require a glossy finish for your wooden project. They can be applied with a rag, and depending on how much you rub them in, the color will vary. If there are any defects in the wood, it can be easily covered up using gel-based stains. Similar to oil-based stains, these may be difficult to clean up. They are available in both water and oil-based formulas. However, these may be a little expensive, and they also have a strong odor which may be irritating to some.
4. Lacquer and Varnish
Both of these are clear wood finishes and not exactly wood stains. They can be applied just like a wood stain for protection and to enhance the appearance. There are some differences between the two. For instance, lacquer dries up much more quickly and is more resistant to scratches. In addition, it is available in different sheens such as matte, gloss, satin, etc., but may be more likely to crack. Varnish is more flexible and takes longer to dry. Depending on the needs of your project, you can choose a suitable product.
Conclusion
Using wood for furniture, cabinets, and DIY projects will certainly add a warm and interesting characteristic. However, natural wood will not be that bright and shiny and would look rather dull without any products.
Wood stains are water, oil, or gel-based products which are used to create a shiny or matte look to natural wood. They come in different colors and look similar to natural wood like ebony, mahogany, oak, etc.
Depending on how many times they are coated, each stain will look different. There are some commonly used stains, such as Early American, Ebony, Walnut, Chestnut, Kona, red Mahogany, etc.
In addition, these wood stains are available in different artificial colors also, like blue, turquoise, pink, yellow, etc. Overall, adding these wood stain colors to your DIY project will make it more amazing.
If you have tried any of these stains, let us know!
Frequently Asked Questions
How Do I Apply Wood Stain Colors?
First, wear protective gear like gloves and eye protection and work in a well-ventilated area. Sand the wood so that it is prepared, then apply as many coats of the stain as you want. If there is excess, you can wipe it off and then let it dry for a smooth finish! You can apply the stain using rags or brushes.
What Are the Different Types of Wood Stains?
The most commonly used one is oil-based wood stains because they are durable and have a great appearance. Water-based wood stains are less long-lasting, but they are also effective. They dry faster than oil-based stains. Gel-based stains are also pretty effective, and they offer a very glossy finish. The brush strokes won't be visible in oil and gel-based stains.