When someone visits your house, the front yard makes the first impression. When you reach home to a welcoming front yard after a tiring day at work, it will definitely make you happy. In addition, your family can also enjoy a good time there. These are just a couple of reasons why front of house landscaping is important. Front yard landscaping simply refers to adding different varieties of plants and designing and installing walkways, patios, and other elements such as benches, etc. This will add value not only to you and your family but also to the property.
There are different aspects you need to consider, such as the type of plants you will include, the budget, the type of house, the size of the yard, etc.
But if you're not sure of how to go about it, here are 15 beautiful ideas for front yard landscaping that you can try!
Front of House Landscaping Ideas for Modern Houses
1. Using Grass to Your Advantage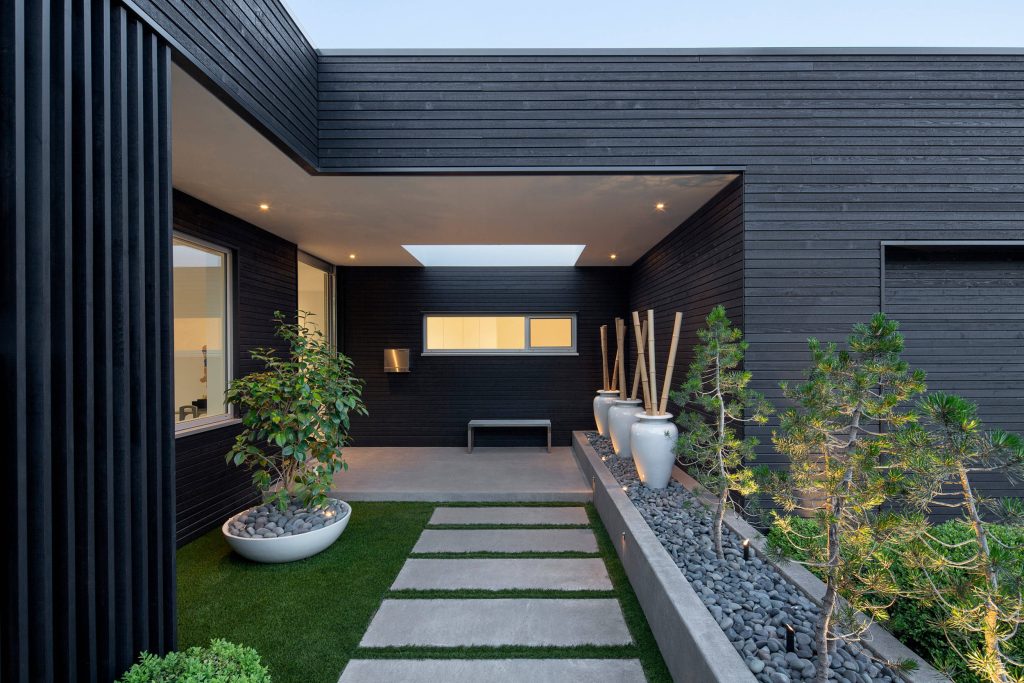 You can create this beautiful pattern using cement and grass borders where there are geometrical cement layers surrounded by thick grass. This will give a striking, modern appearance to your lawn. This can be used for small or bigger yards, which will work well for both.
Similar Post: 13 Simple and Cheap Landscaping Ideas for a Perfect Front Yard
Especially for smaller lawns, this design will create an illusion that your lawn is bigger than it appears. You can build these structures around the trees that are already there. You can also keep it simple by using different materials, not planting anything that will grow tall, have clean lines in terms of walkways or driveways. This way, the focus will be on the architecture of the house.
2. Grass and Gravel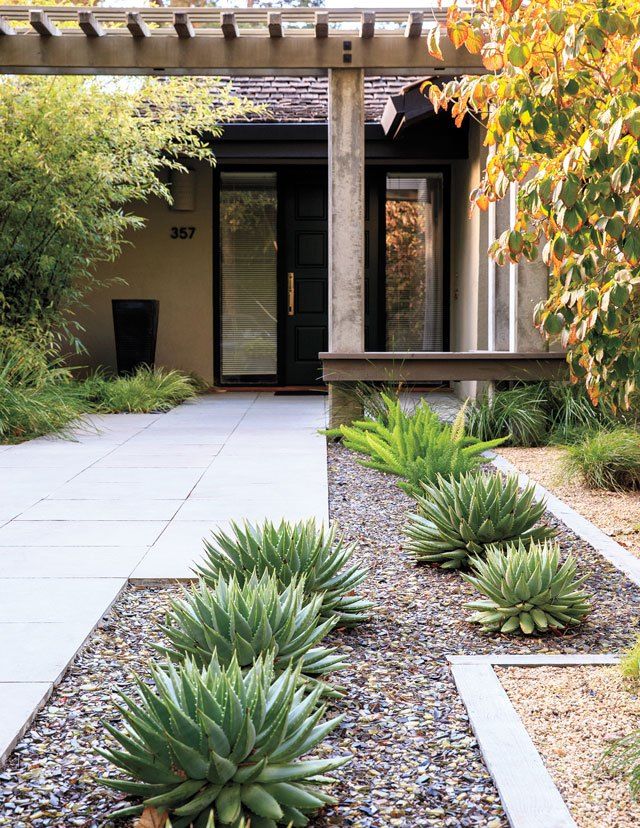 This front of house landscaping design will work especially well if the house is small but modern. You can use a good ratio of grass and gravel and apply it to previously finalized designs. Palm trees and desert plants, or ones that look very Californian, will match the design of this front yard. The walkways and the driveways can be made of cement, but this will work well if the gravel is of a light color, like beige or cream. Try to have yellow lights in your garden, and if there is more space, you can add a small wired table and chair to give that aesthetic feel. Make sure that the design is finalized before you start the actual work to see how it will look after it is done. You can add small statues for an interesting look!
3. Add a Fountain or Bench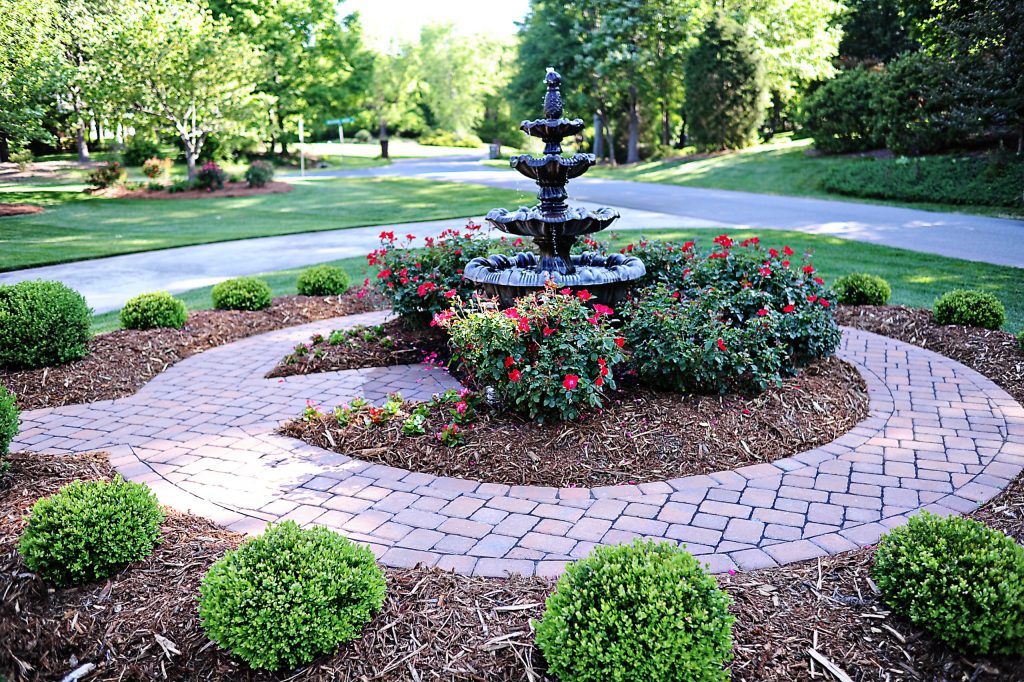 If the house has a large front yard, you will have ample space to include a fountain or a bench. These elements will give a sophisticated look to your front yard, and you can plan the type of plants you want around these elements as well. Since it is a modern house, more geometrical fountains will look more put together and coherent. You can surround these structures with potted plants so that these are highlighted. Ensure that you are growing plants that will match the design of these structures.
4. Match the Palette of The House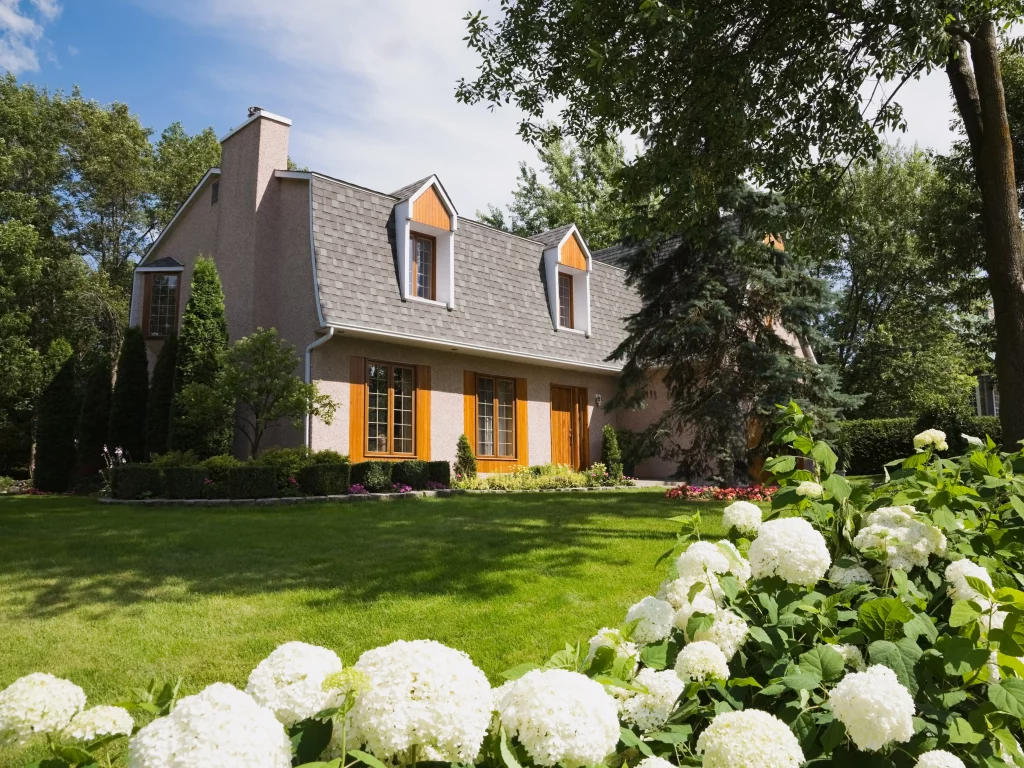 Modern houses will have a smaller color palette, and not all flowers or plants will go well with them. If your house is also of a specific color, you need to choose the plants carefully so that they match your house. Since your yard will have a modern landscape design, plants with sharp features such as pointed leaves or small flowers will work better. This way, you will have greenery that matches your front yard and house and also overall blends well with your house!
Also Read: 12 Unique Landscaping Ideas to Style-Up Your Side Yard
For Traditional Houses
5. Adding a Picket Fence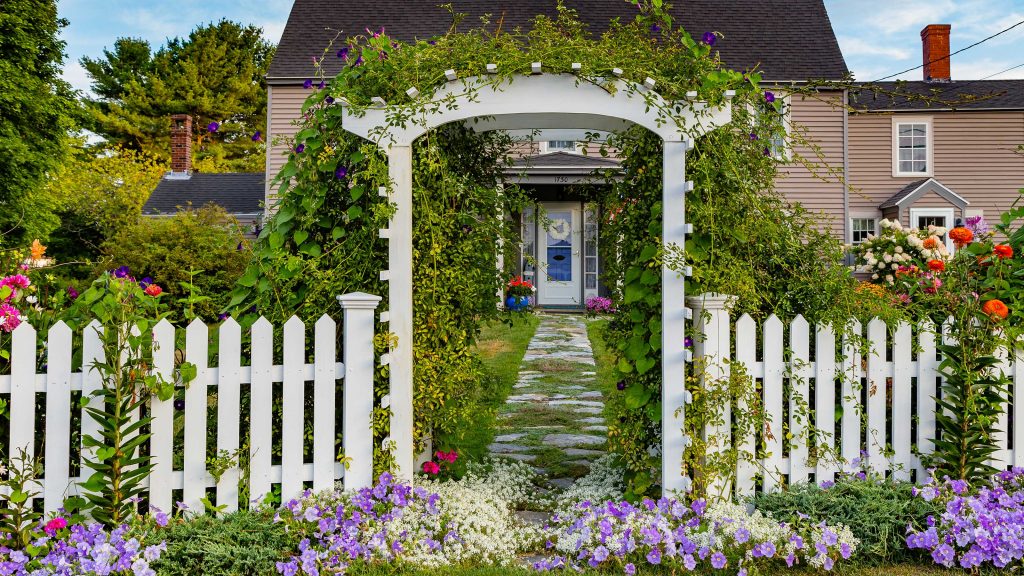 When we think of traditional houses, we think of small houses with huge trees and white picket fences. You can line your front yard with white or colored picket fences, depending on the color of your house. The architecture of your house will be highlighted if the picket fence is small. You can grow trees inside for a more majestic look. You can have small swingsor sandboxes in your front yard for the kids to play inside the fence. Having this picket fence will give a classic feel to your house and is always a great landscape idea.
6. Containers Will Add More Beauty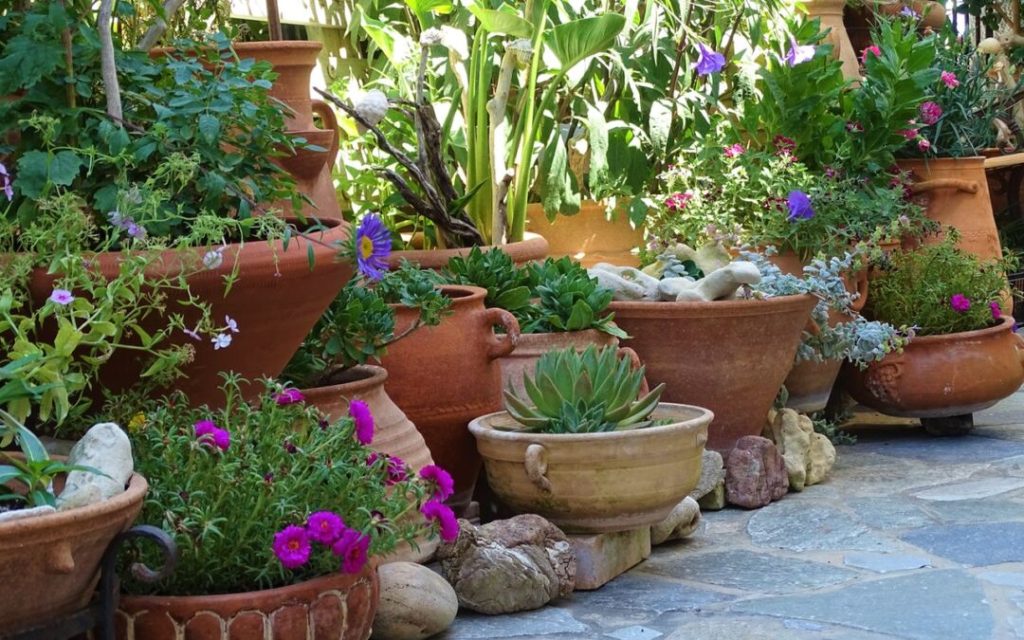 If your lawn is small and the house looks traditional, you can have a plain lawn and add contrasting huge containers full of plants. This design would look better if the potted plants were flowering ones. These plants can be big so that they look more striking, and they can line the walkway or the house. Bonus points if you grow flowers that are fragrant as well. You can try implementing a simple drip irrigation system for these containers so that the maintenance is also low cost and effort.
7. Split It Into Sections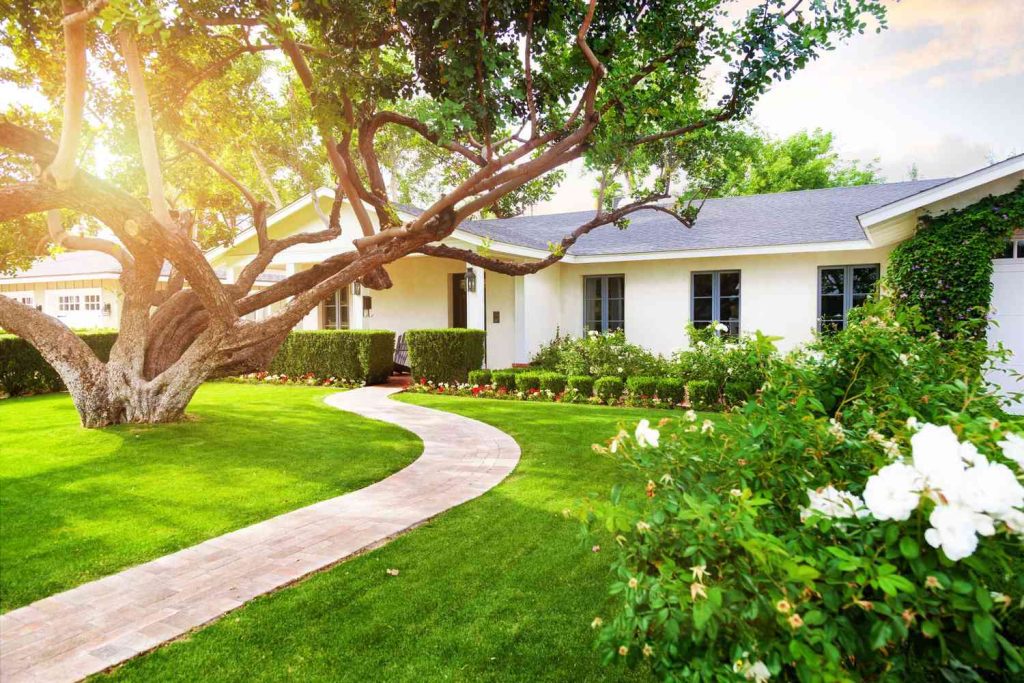 You can divide your garden into different portions and grow different plants in these portions as one of the prominent front of house landscaping. For instance, surrounding the walkway or driveway, you can grow plants that will act as good hedges. Inside, you can have a lawn or structures such as benches, fountains, etc. This way, it will be of low maintenance while looking aesthetic. You can split your front yard into perpendicular or curved portions. Don't try to add too many elements since there are different portions. This may look a bit crowded and will not look great.
For Small Front Yards
8. Fill Your Yard with a Variety of Plants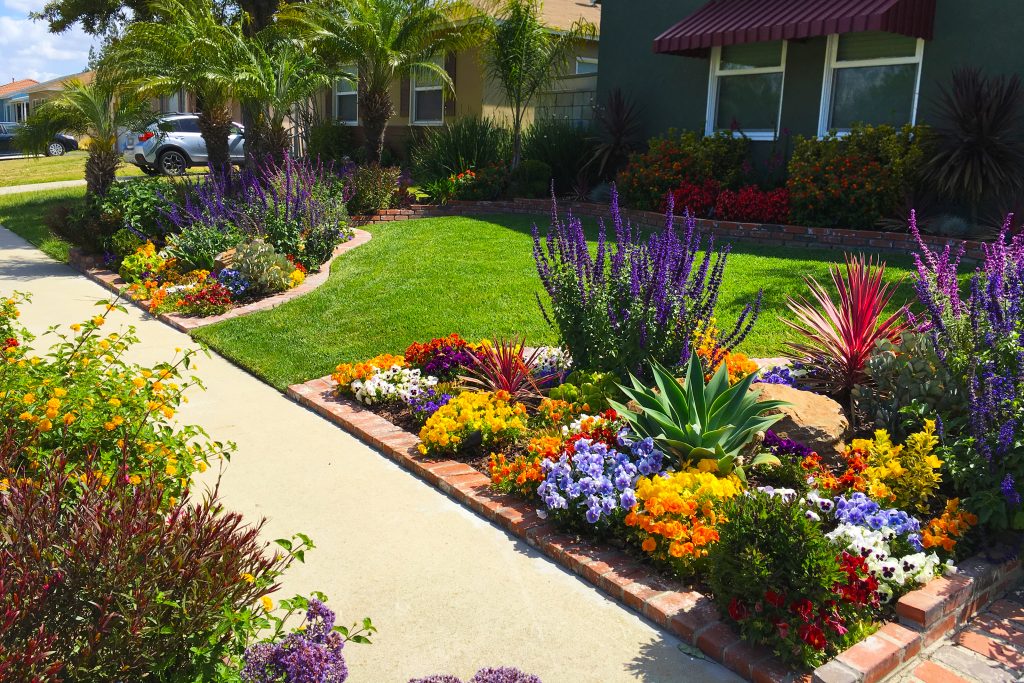 You can plant different varieties of plants with different types of leaves, flowers, and appearance. But try to grow medium-sized plants so that although they all look different, this aspect of size gives them a unified look. This will add more depth to your small front yard, and the flowers will invite a lot of butterflies and insects to your yard, making it look striking. Try looking at this design from different angles, such as from the street or from your windows, so that you can inspect how it will look to those outside your house.
9. Use Curved Edges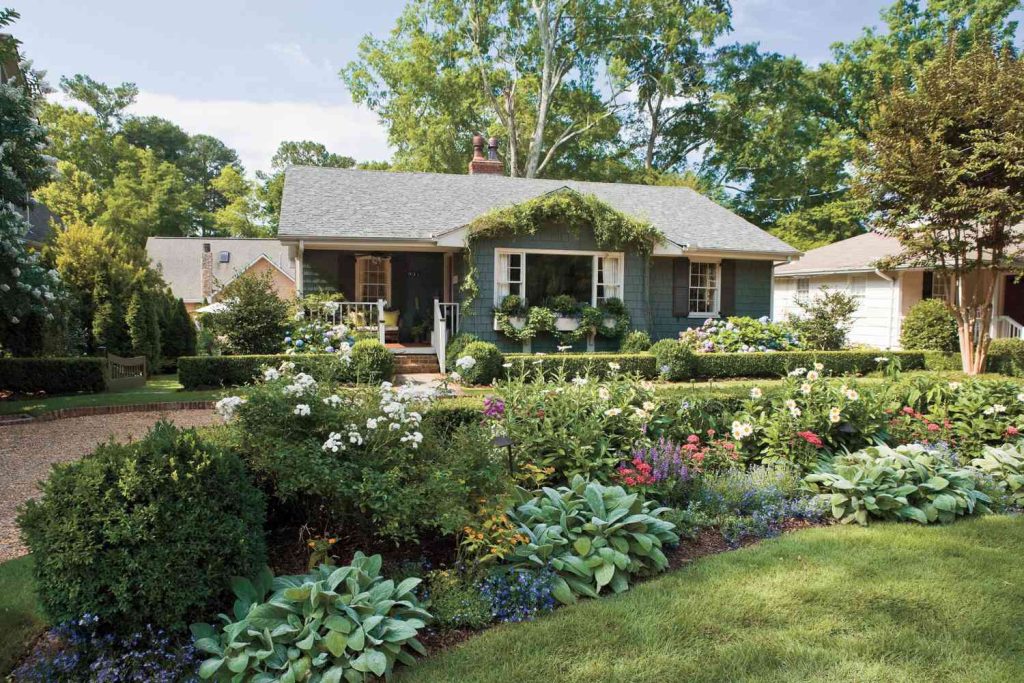 This design will work extremely well for small lawns and relatively big houses. If you create curved edges in the entrance, it will make the transition from the house to the yard look smoother. You can grow short hedges around your house, and the rest of the yard can be filled with grass. You can try growing ivy on the walls of the house so that it can easily blend into the yard and compensate for the small yard. Overall, this design will look compact but unique.
10. Choose One or Two Striking Plants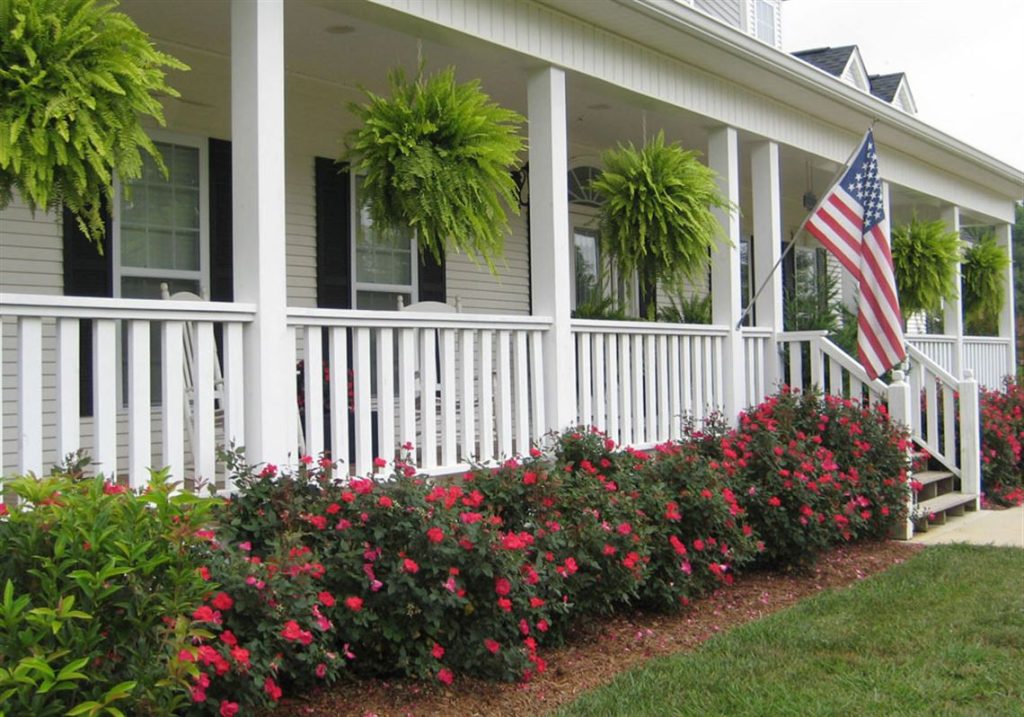 Since the yard is small, you can make a good impression by growing the same flowering plants throughout the yard. Or you can try raising the same variety, like roses or tulips, but they can be of different colors. Bright-colored flowers will look more striking, and one common way this design is implemented is by growing them around a structure which can be giant trees or benches, or the corners of the yard. This will require relatively less maintenance, and the budget also won't be that high.
11. Accent with Bright Lights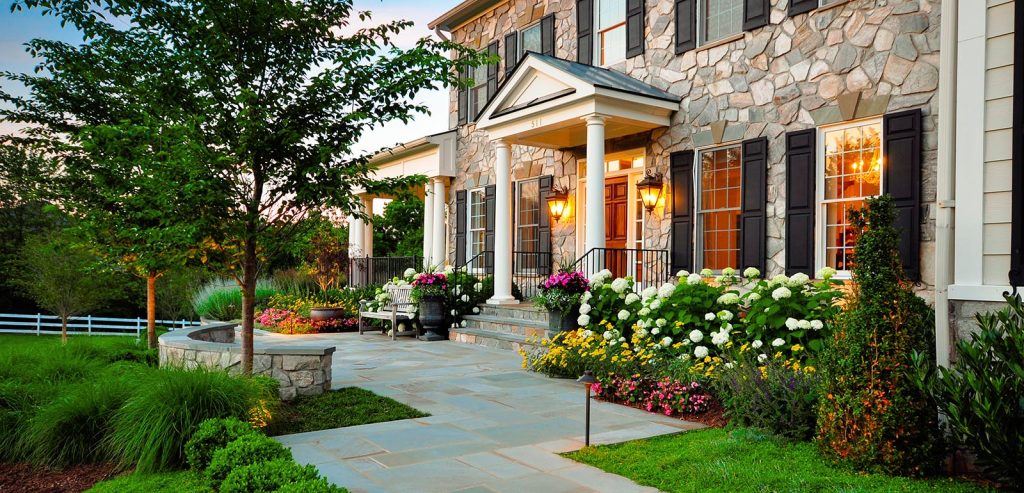 You can keep the garden simple and clean and add a couple of potted plants and a lawn for the rest of it. The walkway can be lined with small plants if you wish, or it can be made with gravel or cement. But the highlight of this design is the lighting and vintage touches to the front of the house. You can add yellow tinted lights on the door and in the garden so that it looks amazing at night. In addition, you can add some statues or vintage pieces like tables and chairs, etc. This yard will look more striking if you grow flowering plants in the containers that can be lined in front of the house.
See More: 14 Easy Low Maintenance Front Yard Landscaping Ideas
For Large Front Yards
12. Go for a Minimal Look
Since the front yard is quite large, maintaining it will be difficult. So you can keep it minimal with a few highlights that are striking. For instance, you can have grass throughout, but the border of your yard can be filled with huge flowering plants such as roses or hydrangeas. You can add elements such as benches or a fountain in the yard and surround this with these plants as well. You can focus more on the entrance to your house, and there you can add some more plants. Surrounding your driveway or walkway also, you can grow these plants or simply have hedges with plants that have stunning leaves.
13. Add a Stone Pathway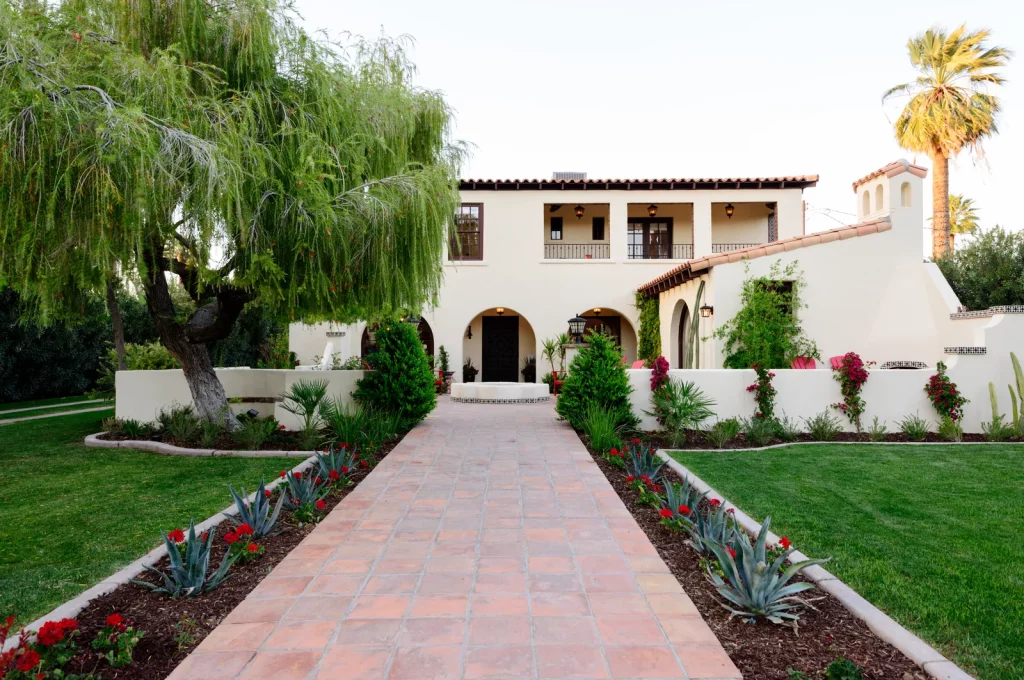 The walkway leading up to the house will also be long as the yard is large. It would be more impressive if you have a stone pathway, as this gives a sophisticated feeling to your yard because this design has been used in old castles and bungalows. Add a fountain or two to the yard and surround it with grass or hedges with flowering plants, and your front yard will look majestic. But this should go well with the type of house that you have as for more modern houses, some type of stone pathways (e.g., brown colored) may not fit well and more grey colored ones will look better.
14. Create a Small Garden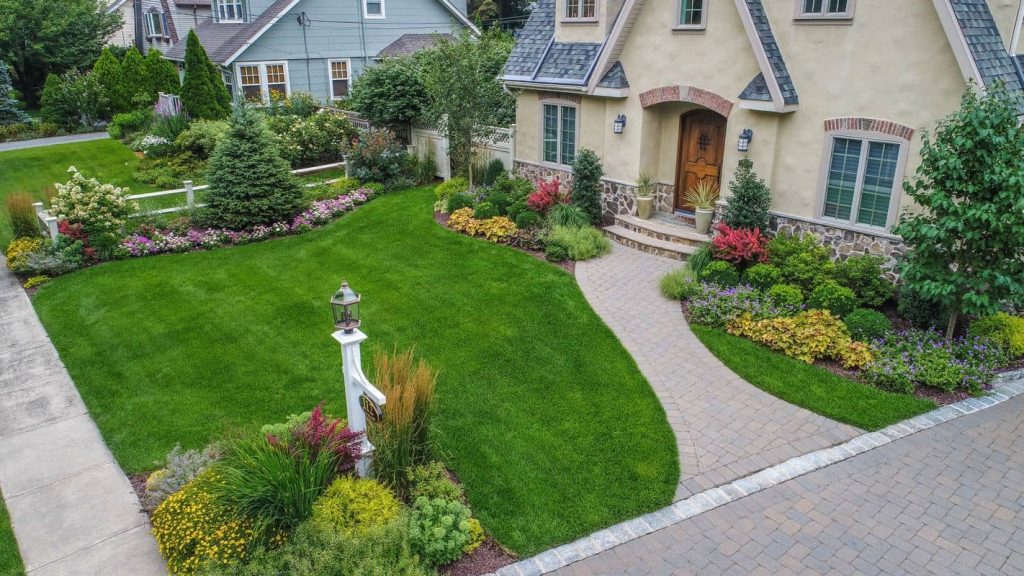 This front-of-house landscaping idea not only looks good but also is very functional when compared to other designs. You can grow different plants near your house and fill the rest with a good old lawn, and this design will look amazing. One also has the option of growing flowering plants or small ones that produce vegetables. Apart from that small statues in this garden can be included to add more character to it. Or you can try different styles of gardens in your front yard. For example, Japanese gardens are unique as they grow specific types of plants and include characteristic fountains or benches. Although they have different elements, in the end, the garden will have a harmonious look while being fully functional as well!
15. Plant Rows of Trees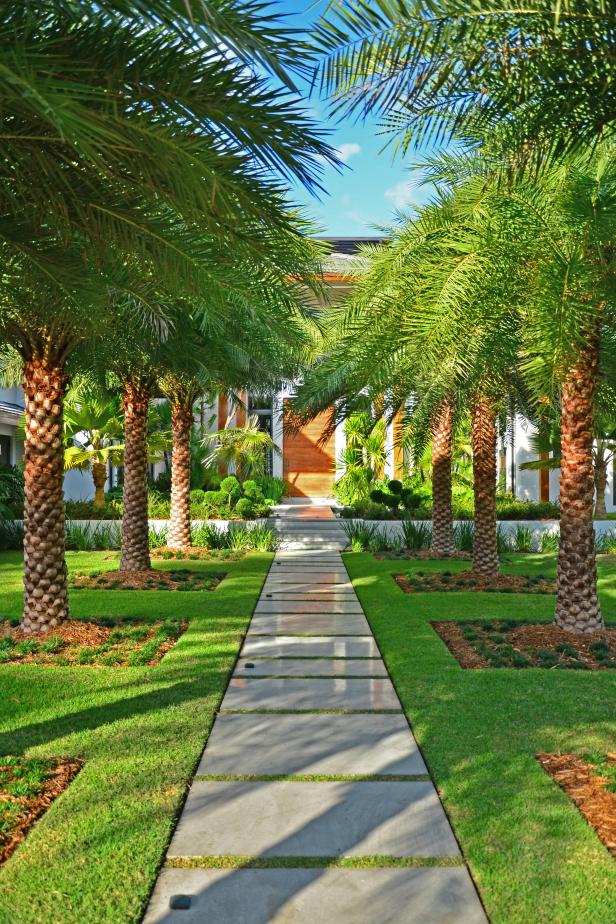 This design will work best for a large front yard only. There are some trees that grow only up to a certain height. These trees, which are not that big, can be grown in the yard. Below these trees, other small plants can be grown. Inside the yard, gravel or lawn can be added. These trees can be planted on the side of the walkway or driveway. They can also be planted on the edges of the yard and will act as a natural border. The trees need to be chosen carefully because there are varieties that flower and have beautiful leaves, and you don't want to lose out on anything!
Factors to Consider Before Landscaping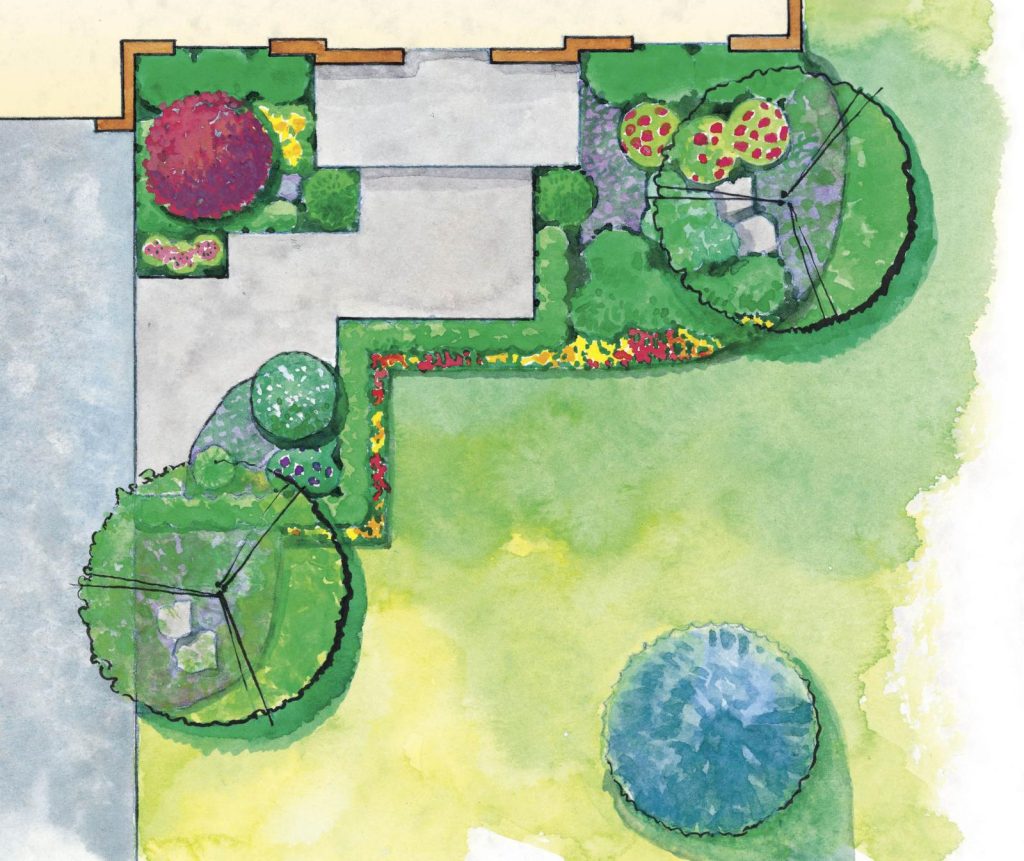 1. Budget for Landscaping
Depending on the size of your lawn and the design you want, the budget will vary. Plan the budget carefully because, for larger yards, the budget has to be big and may exceed easily as well.
2. Size of The Yard
If the front yard is small, then more compact and intimate designs will be better. For larger ones, you can think of including more elements such as benches or small fountains, etc. The size of the yard will also determine which plants and trees might work well.
3. The Style of The House
This is another important factor for front-of-house landscaping, as the style of the landscape and the house should be complementary. For houses with modern architectural designs, traditional landscape designs will not work.
Related: 15 Amazing Front Yard Landscaping Ideas with Rocks and Mulch
4. High or Low Maintenance
You need to state your preferences early on before the landscape design is made so that it can be planned accordingly. Some designs, like growing flowering plants, will require almost daily effort from your side for maintenance. On the other hand, growing small lawns with a cement walkway will require relatively less effort. So this has to be figured out first.
5. Type of Soil
Since plants are a major part of landscape design, you need to choose plants that will suit the soil of your front yard. You may want to grow specific flowering plants, but they will thrive only in specific soils. You cannot force plants to grow in your soil as it wouldn't suit their needs. In addition, you also need to consider the water and sunlight requirements.
6. Detailed Plan
This should be prepared well in advance before you start landscaping, and it should include details like the type of plants that will be planted, their requirements (sunlight, water, nutrition, soil), and other elements such as the design of walkways, driveway/s, benches, lawn, etc. The plan can also include sketches so that you get a better idea of how your front yard will look after the landscaping.
Summing It Up
The front yard of a house is the extension of your personality, so it has to be well maintained. Only then will your house leave a lasting impression on everyone who passes by it. In addition, you will also feel good about coming home to such an inviting yard.
However, to do this, you need to plan your front-of-house landscaping in depth by considering several design choices and factors. Depending on your house type, color, size, soil type, etc., the landscaping will change.
There are some ideas that will work well for modern houses, such as geometric pathways, fountains, etc., while some work better for traditional ones, such as picket fences. Accordingly, small yards might have to choose more intimate designs, while large yards can be used to create elaborate or minimal designs.
Therefore, consider these ideas in depth and let us know if you have tried something!
Frequently Asked Questions
How to Choose the Right Plants for My Front Yard?
Landscaping involves choosing the right plants on the basis of the plant's soil requirements, watering needs, optimal sunlight exposure, required nutrition, etc. You have to state your requirements for choosing the plant as well, e.g., if you need low-maintenance plants, flowering plants, how often you can water it, allergy information, etc. If you understand and finalize all these factors, then you will automatically choose the right plants for you!
Can I Do Landscaping Even Though My Front Yard Is Small?
Yes absolutely! Although your front yard is small, there are some specific but beautiful designs that will work with small spaces. If you love greenery, you can fill your front yard with a lawn and grow plants on the walls of your house, as this will look stunning. You can have potted plants that produce beautiful flowers. You can add lights to your garden, add small statues, create a hedge border, etc.
Check This Next: 15 Cheap Above Ground Pool Landscaping Ideas for Your House