Blue kitchens are famous and a unique combo of both traditional and modern interior design. But they can be designed in several ways with blue color. If you are thinking of painting everything with the same blue color, the last thing you want is to end up making it like a dummy and dull kitchen.
So how to plan the design of your kitchen color?
Blue kitchen cabinets are modern and trendy and give a homely vibe. You have a wide variety of options, from choosing the different shades of blue to complement them with other things, from painting the cabinets with blue color to utilizing wallpapers, antique art pieces, table cloth, and much more. Keep reading if you want to know more about the blue kitchen cabinets.
In this post, we have covered 21 beautiful blue kitchen cabinet ideas to make your kitchen more beautiful. We have covered kitchen ideas from high-shine blue kitchens to bright and light-colored cabinets, subtle blue kitchens to hints of golden color, and much more.
1. High Shine Blue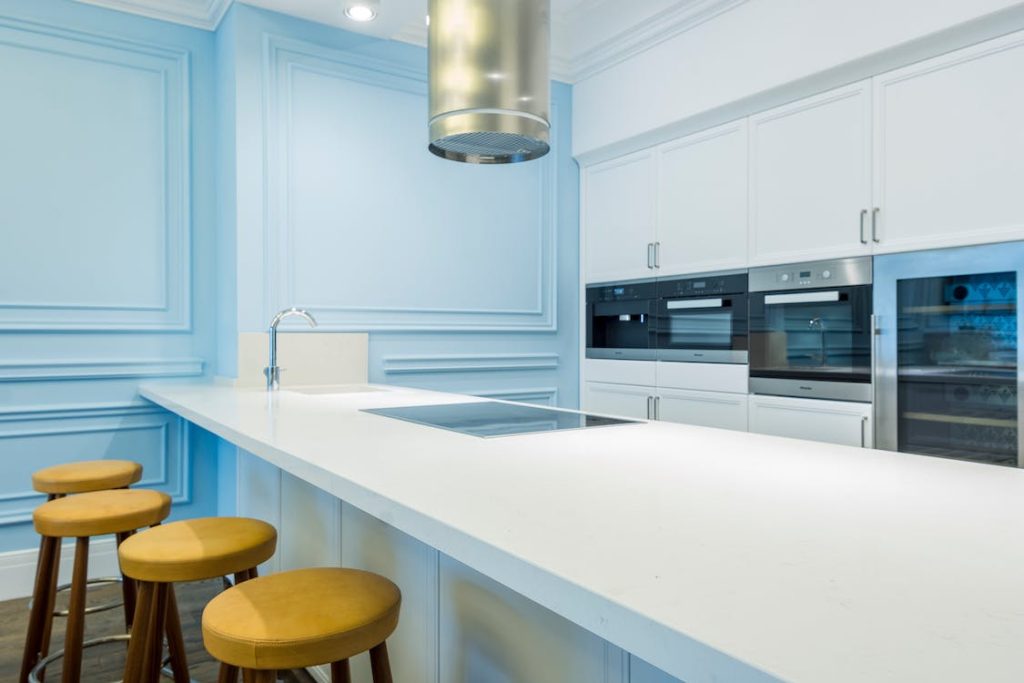 High Shine is a great choice for your blue kitchen cabinets to make your kitchen glossy and high in shine. For this, paint all the cabinets and drawers of your kitchen a blue color. It will make your blue kitchen cheerful, making you feel smitten by the look.
The light fixtures are illuminating, the backsplash catches your eye's attention, and the blue cabinets give a perfect look to make your kitchen galley calm and high-shiny. This type of kitchen design is the perfect choice for a kitchen made up of small areas.
2. Modern Farm House Kitchen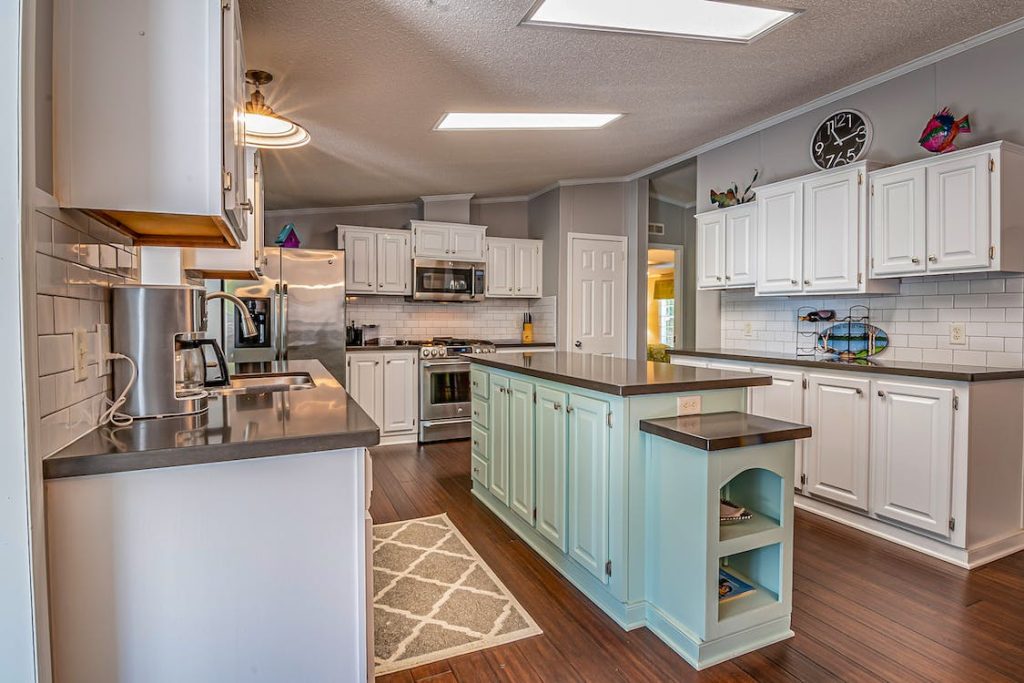 If you want beautiful designs that evoke comfort and warmth, the Modern farmhouse style is a good choice for your kitchen. This modern farmhouse style is prepared with the neutral color tones of paints and cabinets, making them more contemporary and less rustic.
To prepare this modern farmhouse kitchen, you must mix the wooden furniture with the salvage materials in your kitchen. Give space to the art and antique pieces to make it a farmhouse kitchen.
And most importantly, do not forget to add a farmhouse dining table to complete the kitchen look. This theme gives cozy and tangible vibes. You can give space to an open atmosphere in your kitchen to make it modern, infusing it with wooden items, white tones, and warm color incorporation in a few items.
The best thing about the modern farming house kitchen is it gives a classical look without looking like a museum, with a touch of comfort and traditional vibes.
3. Soft and Sweet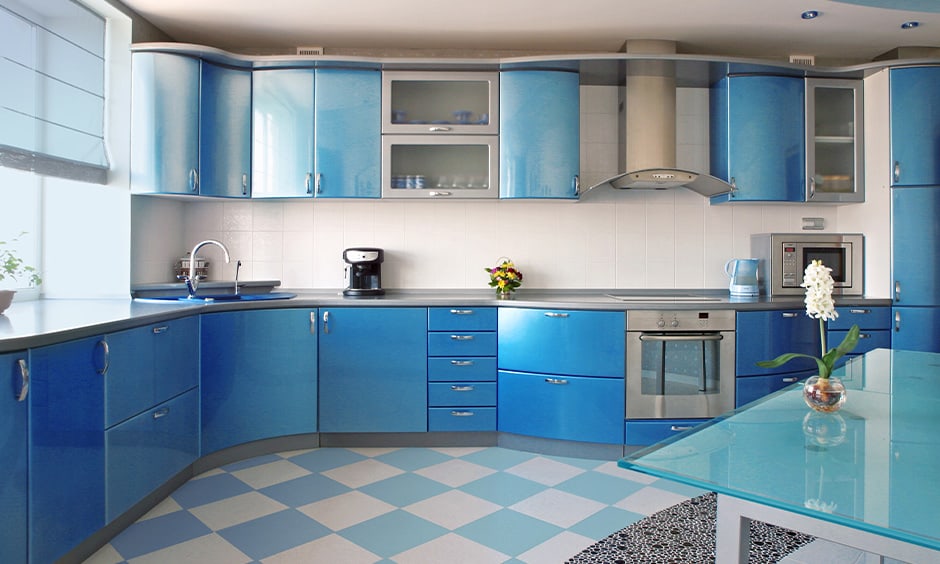 A soft and sweet theme is perfect for your kitchen decoration ideas if you have statement cabinets. The primary color tones of this type of kitchen are sweet blue and white walls. Paint the statement cabinets with light shades of blue to make them sweet and intimidating.
Keep the walls and backsplash white. These soft and sweet blue kitchen cabinets fit smaller kitchens, like in urban areas, where dining tables get a place outside the kitchen. This theme is perfect if you want to brighten up your small kitchen.
4. Gray Blue Kitchen Cabinets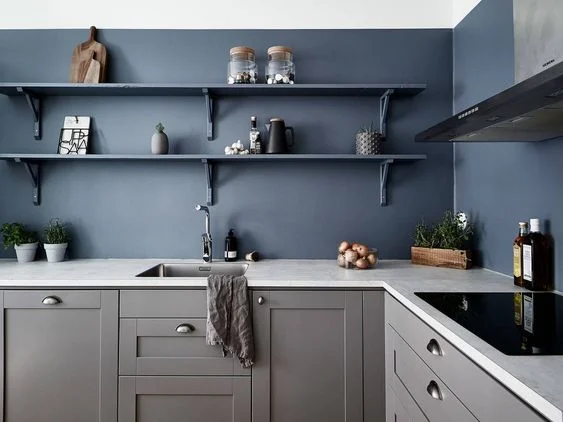 Gray Blue is the right choice if you want a lovely tone to add to your blue-colored theme instead of the high contrast of the blue-and-white combination.
You can paint the Kitchen walls and other nonwooden things by blue color. Meanwhile, paint all the drawers and cabinets grey to coordinate the kitchen vibe. This incorporation will make your blue-gray kitchen cabinets moody, cool, and perfect in shades.
5. Fun Custom Kitchen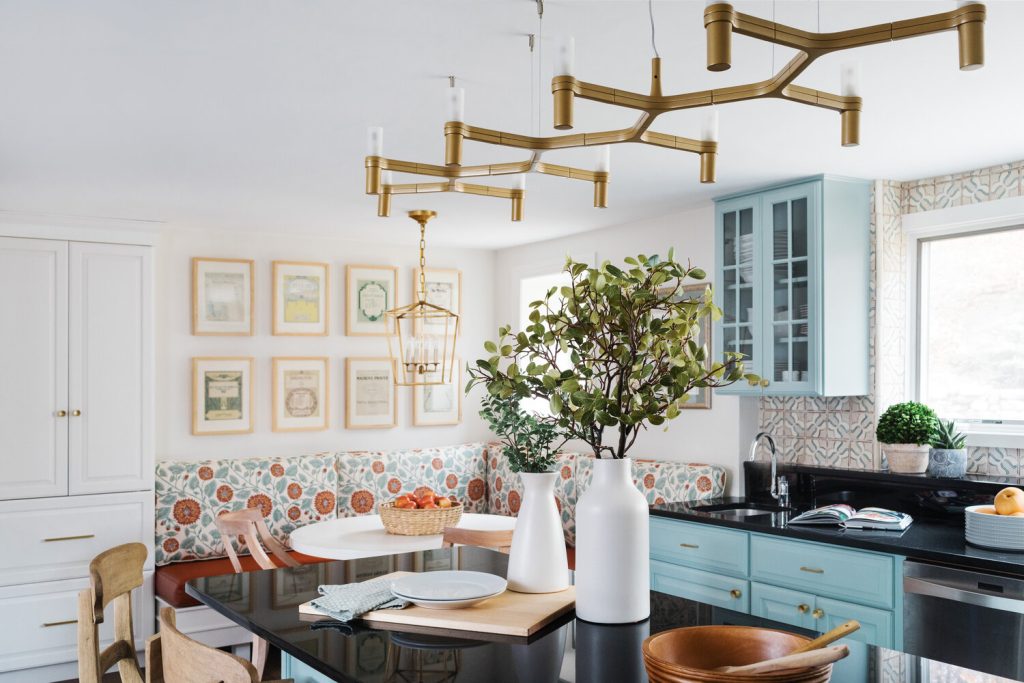 A fun custom kitchen is good if you want personalized kitchen design ideas. This kitchen idea gives sophisticated vibes with the addition of fun. Paint turquoise blue cabinet drawers to prepare your kitchen like the fun custom blue kitchen cabinets idea. Add the greenery with the flower pots and beautiful green leafy plants or bouquets.
To make it more interesting, hang the dramatic wallpapers on the ceiling of your kitchen. To make it brighter, you can hang the lamp instead of the dramatic wallpaper on the kitchen ceiling to make it brighter. You can also add a small cozy corner apart from the dining table in your fun custom kitchen.
6. Blue Island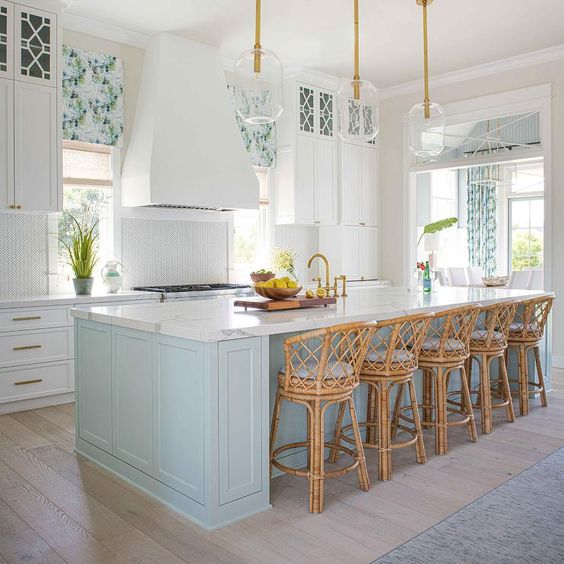 Select the bright blue or Hague color to prepare the blue island in your kitchen. If your kitchen slabs and countertops are wooden, this is a beautiful and perfect kitchen idea for you. Pair the bright blue with a few other light tones and fun colors. But paint the kitchen cabinets blue, and a few other things like hanging lights, chandeliers, chimneys, etc.
To make it like an island, use the display art and mount a few matching theme art on the kitchen wall. Pair the furniture with wooden stools, light-color cushions, and metal lanterns. This combination will make your kitchen elegant with design and calm.
7. Small Cottage Kitchen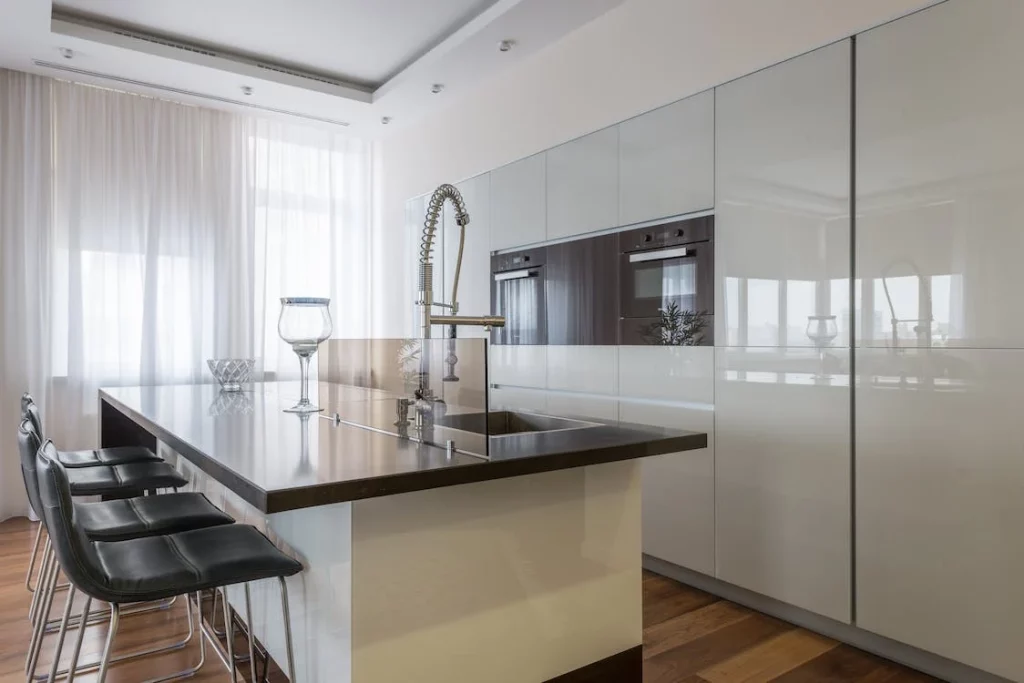 A small cottage kitchen might be the right choice if your kitchen is small or you have less area. Combine modern furniture with your kitchen items for cozy vibes. You can install taller shelves or cupboards to make up more space for other things. Paint these cupboards with a dusty blue color for a beautiful touch.
You can use the stylish cabinets to make it a modern cottage kitchen, along with subway tile backsplashes. Paint the kitchen walls with white or the faintest sky blue shade to coordinate the cabinet colors. Use the hanging nooks to hang up the big, frequently used kitchen tools. You can also use open shelves to give a fuller look to your small kitchen while maintaining enough open space.
8. Hints of Gold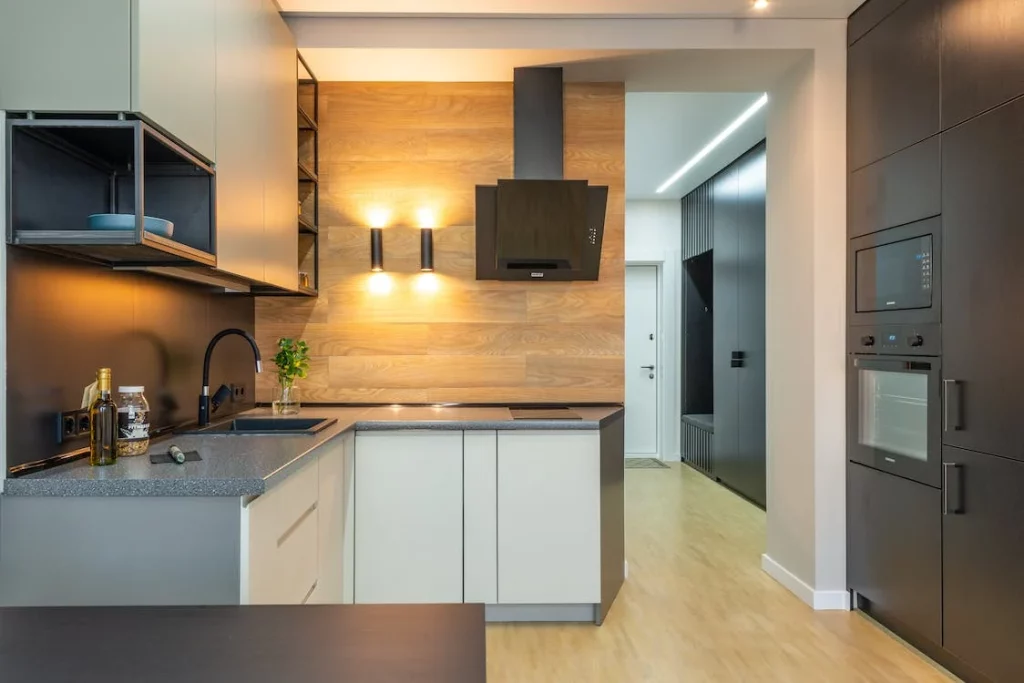 If you want to add vibrance and more colors to your kitchen, convert it into the kitchen island, as described above. In the kitchen island, incorporate a few tops and hints of golden color to make it more royal. Hang golden lamps or chandelierson the ceiling, and use golden color on the top of stools or chimneys. You can also paint the knobs, door, and windows with the golden color. You can also paint other metallic items like taps and handles with golden color. You can use bouquets with golden flowers or plant leaves to keep on the tabletop of your kitchen. Hints of gold in the kitchen island do not affect the sleek designs of cabins and backsplashes. It goes well with the island kitchen and white counterparts of your kitchen table. So, golden color or rose gold is the perfect choice to change the look of your kitchen.
9. Classic Duck Egg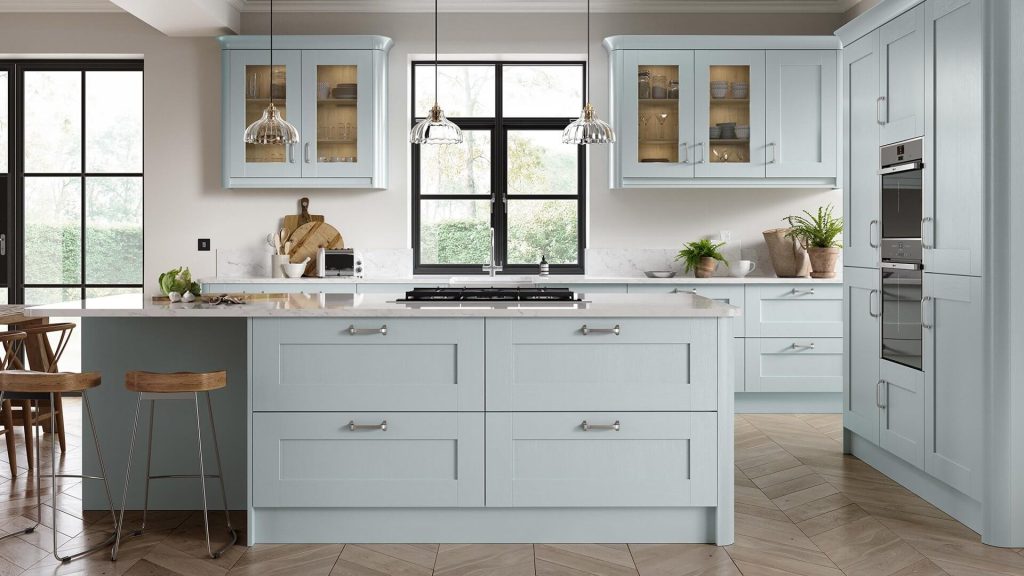 For a classic blue kitchen, select the duck egg blue theme. Paint your kitchen cabinets and drawers with the duck egg blue color, where the curves of wooden cabinets are colored with the green shine to make a strong impression of your kitchen. You can keep the kitchen walls and ceiling white and paint the sink with brass color to complete the look.
Add a few antique pieces to complement the theme to make it more classic. You can keep a few art pieces on the top of a table or mount them on the wall to make it a classic antique kitchen.
10. Tiffany Blue Kitchen Cabinets
If you want a beautiful and charming blue kitchen cabinet idea, Tiffany blue kitchen might be the right fit. It is a good idea if you want to renovate and redesign your old kitchen or consider constructing and rearranging the new one. Paint the kitchen cabinet with blue color and pair them with lighter shades of color like white and gray. Use a few green bouquets to give a new life to your kitchen. This Tiffany blue kitchen featured by the Glamour Nest is affordable to opt for and worth trying.
11. Full Moody Blue Kitchen Cabinets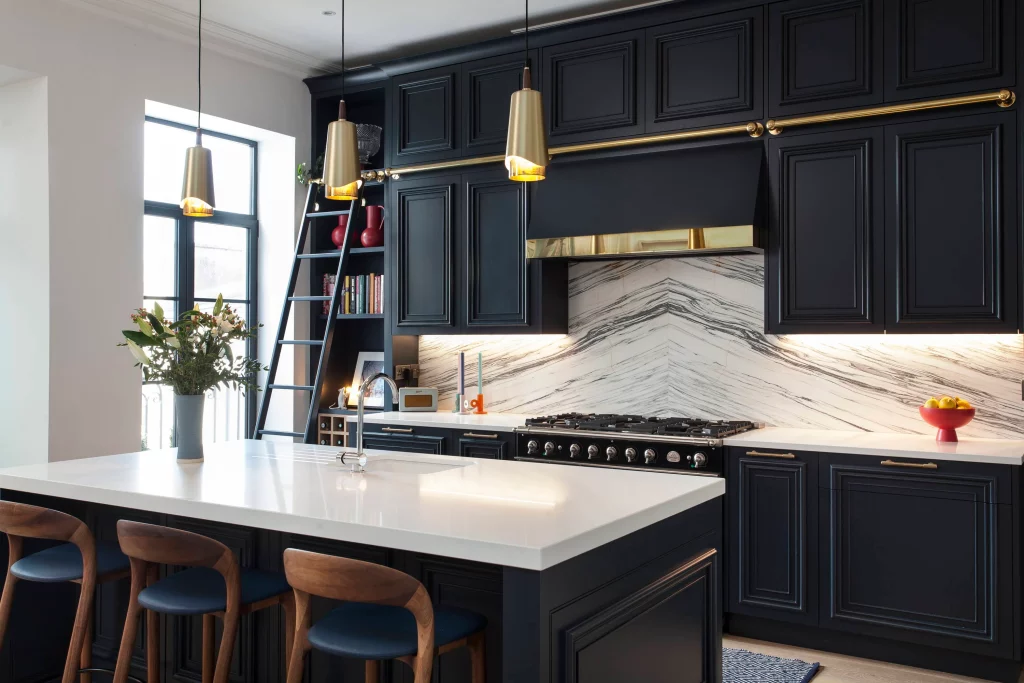 You will need deep and warm color tones and shades to pair up to create a beautiful blue kitchen cabinet with moody vibes. Paint the kitchen cabinets with deep blue and black colors. Pair both tones by painting one cabinet with blue, the second with black, the third with blue, and so on.
Paint the backsplash with bright and warm color tones, like a combination of brown and silver, to create texture or patterns. You can also use textures tiles for the backsplash. Bring the glow with the amber lights in the ceiling or mounted on the side walls falling directly on the backsplash to make it brighter and warmer.
12. White and Wooden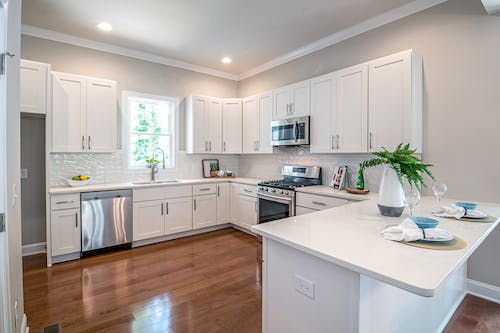 If you want light vibrance in your kitchen, a white and wooden theme is a good choice. Pair the blue and white colors with the wooden furniture. Prepare the textures by using blue, white, and mixed colors. It will give the minimalistic and everything-perfect vibes in your kitchen.
Use the golden color touch on metal items like ceiling hangings and taps. Paint the cabinet blue and keep the walls white and most shelves white. Arrange the wooden chairs carefully with the dining table to not steal or overshadows the kitchen. Use white chandeliers and ceiling hanging to add more beauty. Glorify the kitchen with wooden brims ceilings and open wooden shelves.
13. Make It Glossy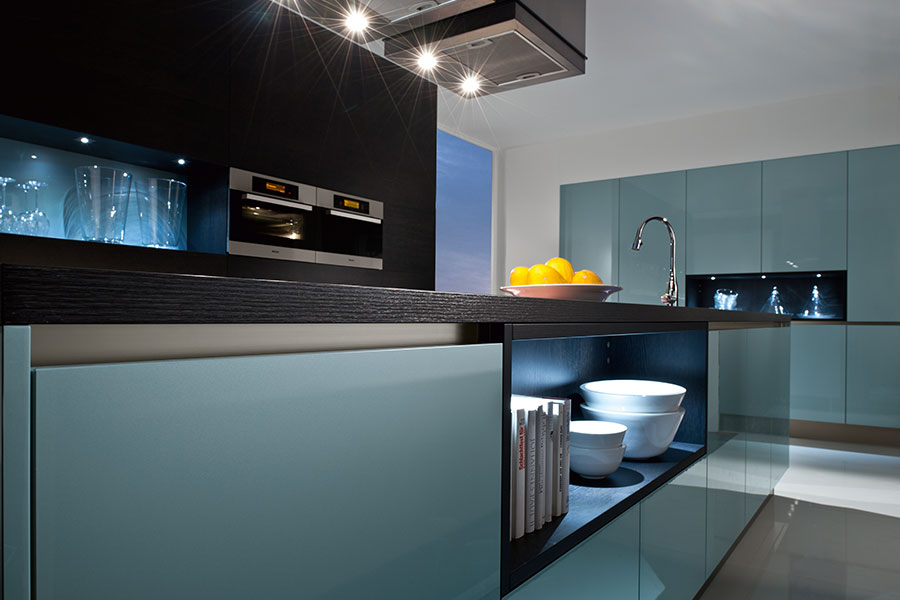 To make your blue kitchen cabinets glossy, paint the cabinet blue and incorporate the subtle black tiles for the backsplash. Make the finishing smooth and highly glossy to make your kitchen shiny.
You can prepare the top of counterparts with wallpaper, or marbles, use metallic open slabs as shelves, and the high flossy metallic chimney cover. Paint the knobs and handles with shiny metallic colors like gold or silver.
14. Play with Shapes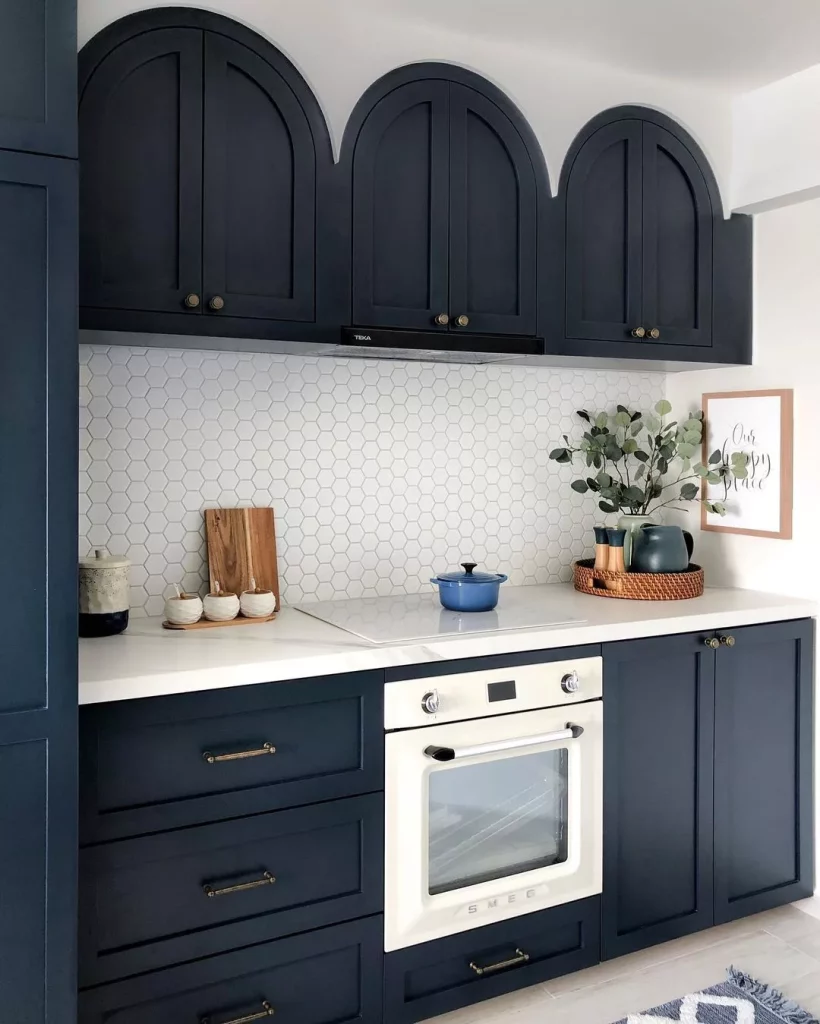 If you are using cabinets for furniture with different shapes and designs, then playing with shapes and incorporating colors according to them is a good idea. It allows you to add contrast to your kitchen with the help of bright and light colors.
Paint the kitchen cabinets with darker shades of blue color. If there is a unique design shape in the cabinets or between the drawers, keep it white or pain with the faintest shade of blue to add contrast. Do the same with the shelves and drawers on the wall near the ceiling.
15. Cover with Wallpaper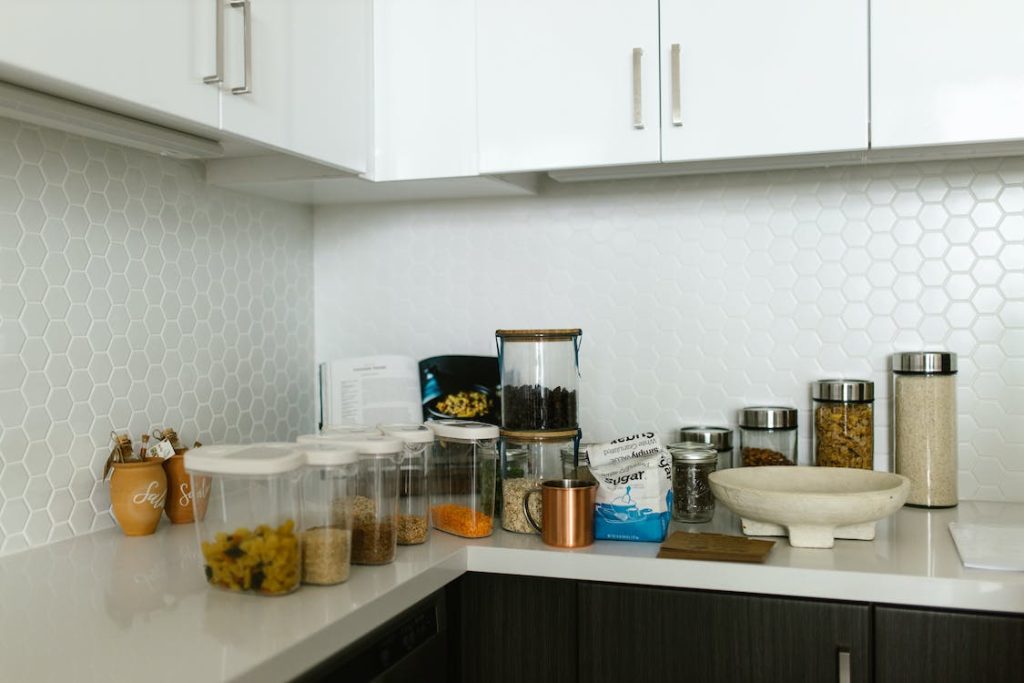 To make your kitchen modern and trendy in design, incorporate wallpapers in your design. Paint the kitchen cabinets with a classic blue color. Paint the handles and knobs with gold color, and use the wallpaper when it is about the backsplash. You can use monochromatic wallpaper, textures, or beautiful patterns for variation in the design.
Ensure that the wallpaper is good and made for the kitchen, suitable for kitchen use. So that it doesn't catch fire or tear up easily, go for a kitchen wallpaper that looks like the tiles incorporation and lasts for a few years at least.
16. Bright and Light Blue Kitchen Cabinets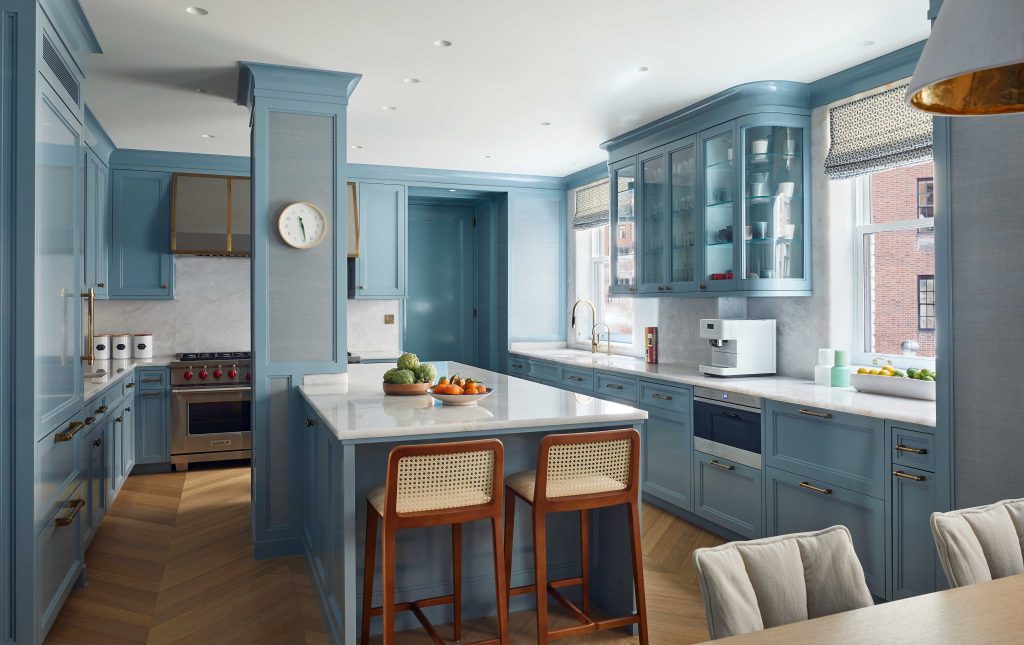 If you don't want to keep your all-white and looking for a more modern look, then this kitchen idea is for you. To make the kitchen area loungy and homely vibing, Pick up light tones of blue color shade. You can paint the cabinets and drawers with the faintest shade of sky blue color.
For the backsplashes and island, use the pale gray marble color as paint. You will not get formal vibes with these color combinations while preparing the food or having dinner together. The overall color combination will provide a glassy kitchen feeling with vibrant vibes.
17. Complete Blue Kitchen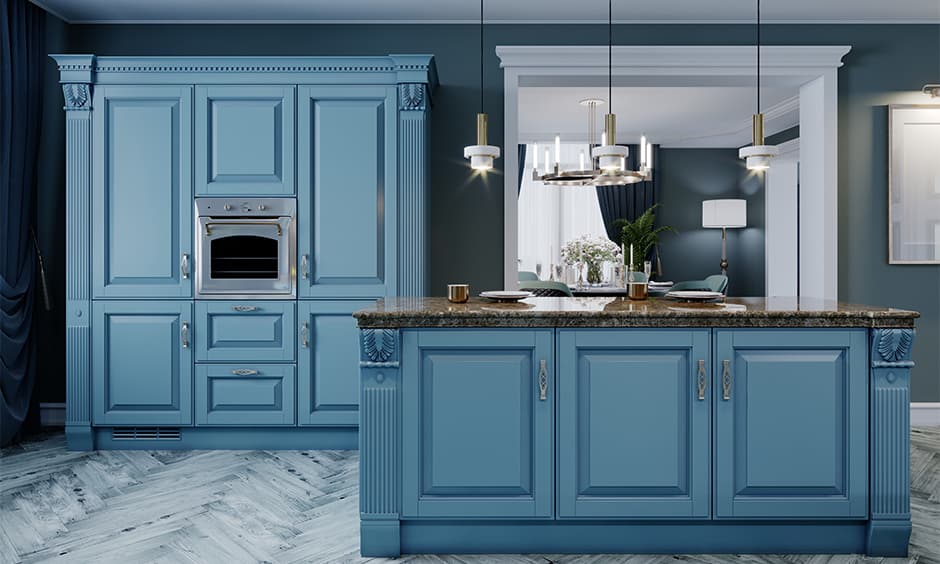 Use the different hues of blue color to make your kitchen completely blue yet beautiful. From the island, furniture, shelves, walls, and furnishing, paint everything with selected shades of blue. Use the faintest blue tone or steel furnishing in the counterparts. Paint the kitchen floor with a deep blue color and keep the ceiling the faintest blue to balance the kitchen perfectly.
18. Blue Paint and Black Tiles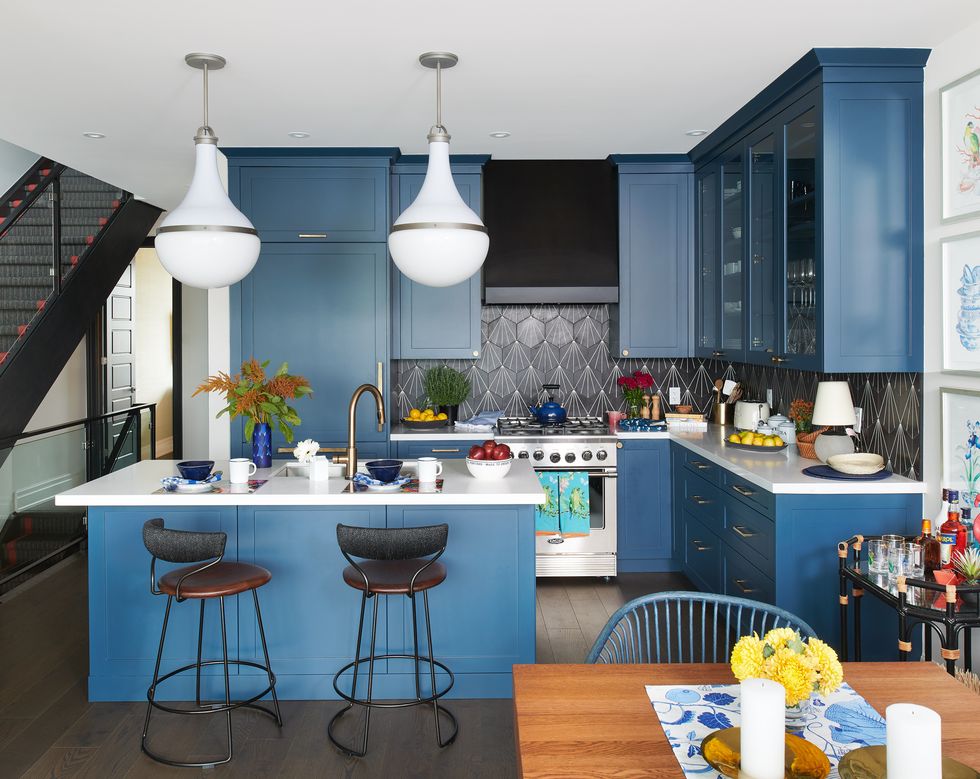 For this blue kitchen cabinet idea, you will need Deusen blue, saltillo tile, and black paint to paint your kitchen. For the backsplash, you can use black tiles or paint the tiles with color. You can also utilize black-colored tile wallpaper for the backsplash. Paint the cabinet and drawers of the kitchen with the deusen blue color.
For the slabs or Counterparts, use the London grey color paint. And soon your blue and black tiles kitchen will get ready. For the dining table, use the Landon grey, paint the chairs with Duesen blue color, and keep neutral color tone pillows or cushions like a tan or bridge.
19. Subtle Blue Kitchen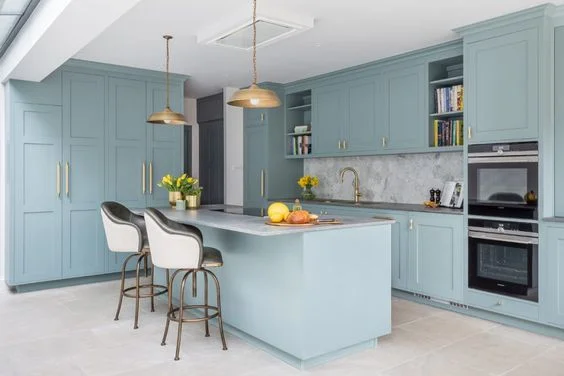 Are you looking for something to help you convert your blue kitchen cabinets into a subtle one? This choice is a good one for you. You do not need to make blue the primary or star color for your kitchen. You can give importance to several other things along with the blue color.
To prepare the subtle blue kitchen, you will need curtains, papers, table cloth, and paint color to complete the subtle look of your kitchen. Use the window and door curtains in vibrant red or pink colors that go well with the blue. Paint the drawers and cabinets of your kitchen in the blue color.
Use the table cover to spread on the slabs and top of the table to make them subtle with fine art and design. Spread the tablecloth below the dining chairs to provide a comfy feeling under the feet. Use the paper to cover or modify the backsplashes. And your subtle kitchen will be ready.
20. Blue Patterned Floor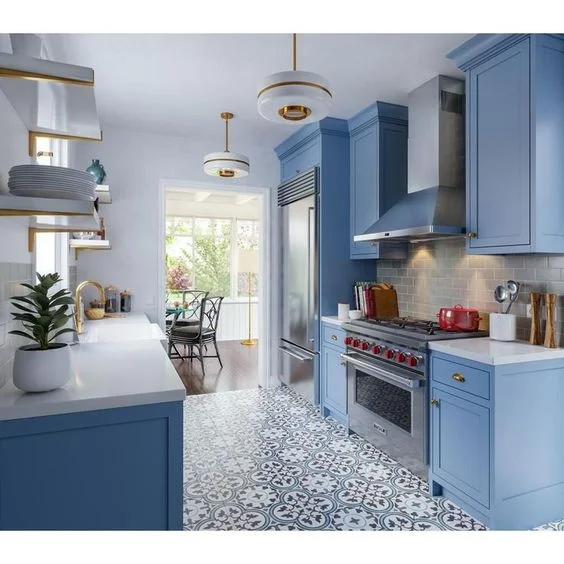 You can use shades of blue, from the deepest to the faintest, to create color patterns. Paint the kitchen cabinets with the blue color and the walls with the faintest blue color. Keep the counterparts and white and subtle white backsplashes.
To prepare the kitchen floor, incorporate white color. Create patterns or floral designs and use slight blue to attract the attention of the white floor to make it patterned with blue. Paint the ceiling with the faintest blue or white color to balance the kitchen look.
21. Drama Contrasting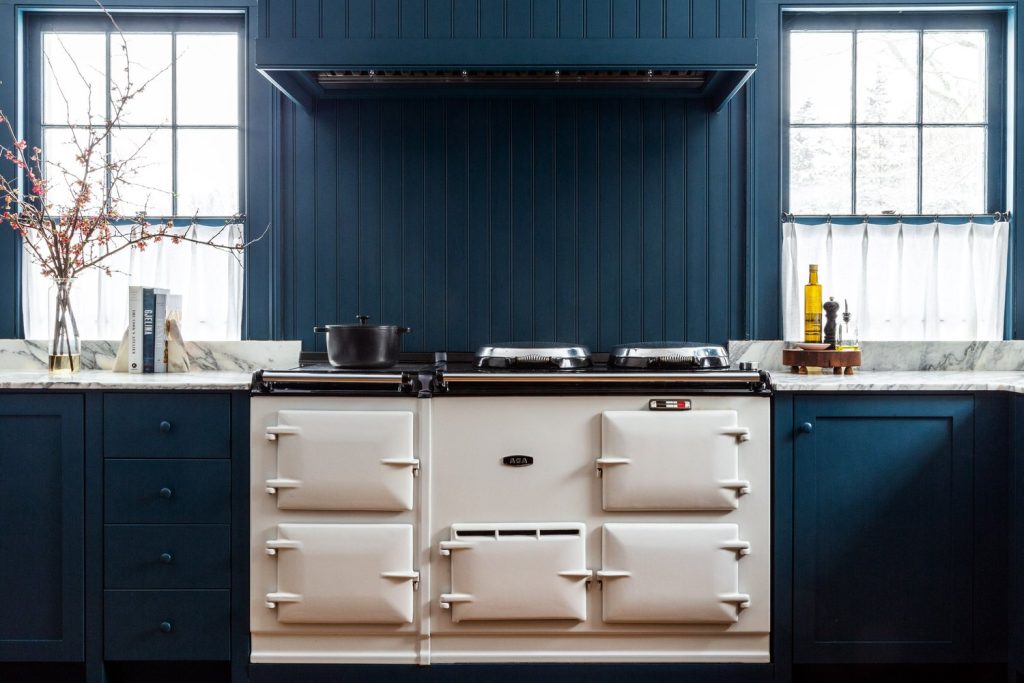 To create a contrasting look in your blue kitchen cabinets, use deep blue color and metallic furniture along with the wooden. The look will come out great with the metallic pairing. Paint the wall with gold patterns or florals. You can also use the kitchen wallpaper on the walls to add stunning looks. Keep the metal drawers and items in metallic color instead of painting them with a blue color.
Use the bold complimentary colors in your blue kitchen for maximum contrast. To manage the kitchen renovation or redesigning cost, use affordable paints, which are permanent and don't need sanding and frequent polishing. Keep the floor shade deep blue or black to create a dramatic yet charming blue kitchen.
Final Thoughts
Everybody wants their kitchen looks beautiful and modern, and choosing the right color combination with the blue color cabinets and drawers, along with the organized tables and other things in your kitchen, is the way to get there.
This post showed you 21 blue kitchen cabinets and beautiful ideas to help you design your kitchen. This post has shown you various ideas about blue kitchen cabinets, from a blue island to bright and light cabinets, from preparing your kitchen with the help of blue paint to tiles and wallpaper, and much more. You can utilize various shades of blue color to compliment the kitchen looks and add variation.
If you are looking for more ways to organize and design your home beautifully, sign up and get some best strategies to organize your home direct in your inbox.
Frequently Asked Questions
Which is the Best Color for The Walls of The Blue Kitchen Cabinet?
The best colors for the blue kitchen cabinet walls are neutral and lighter tones like white, cream, gray, faintest blue, yellow, pink, brown, and neutral hues. For a beautiful and suitable choice, look at the type of accessories you have in your kitchen, and select a color that can go well with those accessories or create a balanced contrast with the complete kitchen.
How Can I Add Variations to Blue Kitchen Cabinet Designs?
To add variation or different effects to your blue kitchen cabinets, use different shades, contrasting colors, complimentary colors, neutral and warm tones, and wooden and metallic items like chairs and tables. Incorporate pink and yellow to create a traditional design in your blue kitchen.
Use black and white to perfect pairing and sleek designs for more trendy and modern looks. Paint the strips, handles, knobs, and small shape designs with gold or silver color if they are wooden. If they are metallic, use copper and brass.