There is something timeless about a white house with black trim. Being one of the most iconic and popular decor themes, it has become a symbol of power and prestige among homeowners. A plain white house can look rather bland. Adding just the right amount of black can transform your house by adding a stark contrast. This combination creates a sophisticated design that is sure to be the envy of many.
Fortunately, there is no dearth of choices. You will be surprised how a blend of two colors can lead to such intricate designs that are a visual feast. With a vast array of options from classic to modern, bold to subtle, and traditional to chic, you are sure to find the perfect design for your house. Are you ready to add a touch of class to your white house with black trim?
Let's look at the top ideas of a white house with black trim, which is aesthetic in looking as well as functional.
1. Modern White House with Black Trim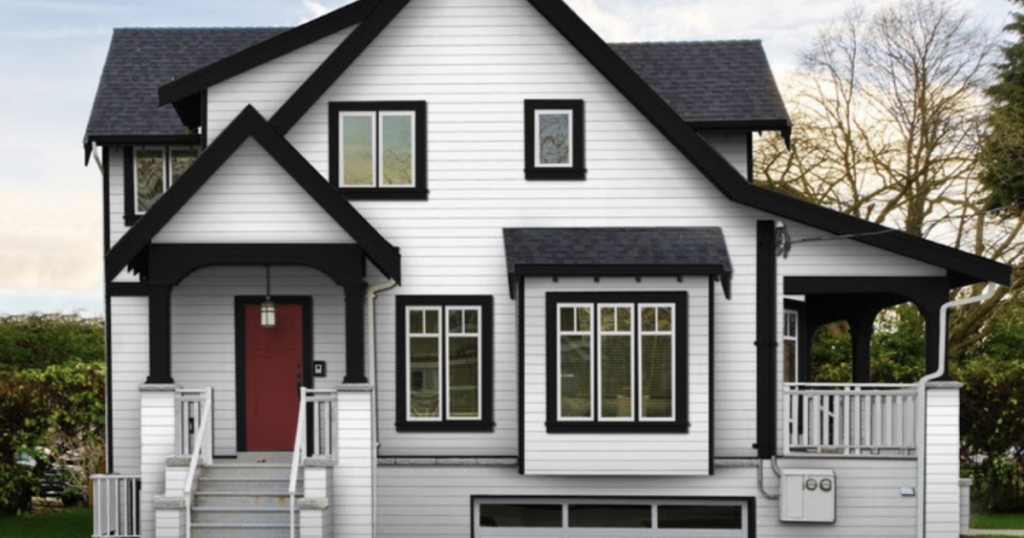 Being a classic and timeless design, sprinkling a modern twist can make your house look just perfect. The great idea is to have a crisp white color for the structure with a black border that accentuates the exteriors and features. It creates a spectacular collage of traditional charm and modern architecture. The deliberately straight exterior design makes the black shine through and gives a sense of boldness to the house. Coupled with a garden and a pool, your house will be a captivating presence in the neighborhood. Whether it's for a quiet dinner or music-filled parties, this style will be the talk of the town.
2. Modern Summer White House with Black Trim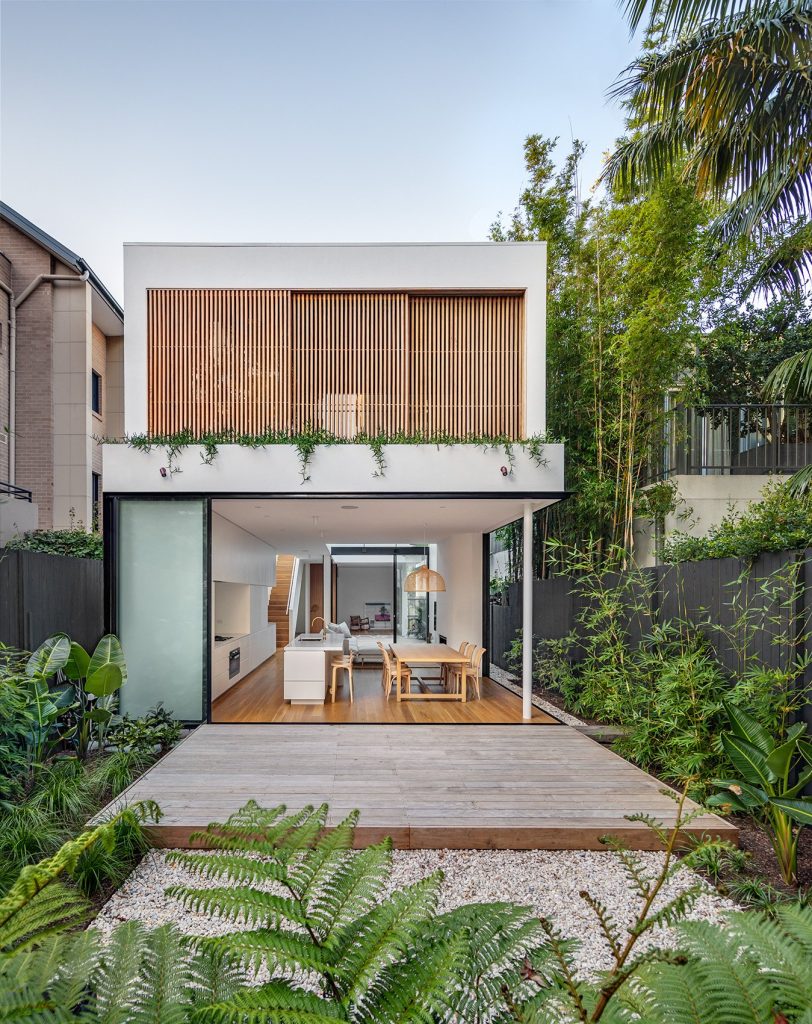 A modern summer house is the perfect weekend getaway for you and your family. It is the perfect way of enjoying the outdoors without actually leaving your house. It has a special aura around it that would make you want to sit by the pool for hours, soaking in the sun or even enjoying some delicious barbecue with your friends. A sleek black trim to the outer edges, as well as beams and windows, can give your house a simple yet effective touch of luxury and boldness. After all, you want a house where you love spending your weekend with your family and friends!
3. White Wooden House with Black Roof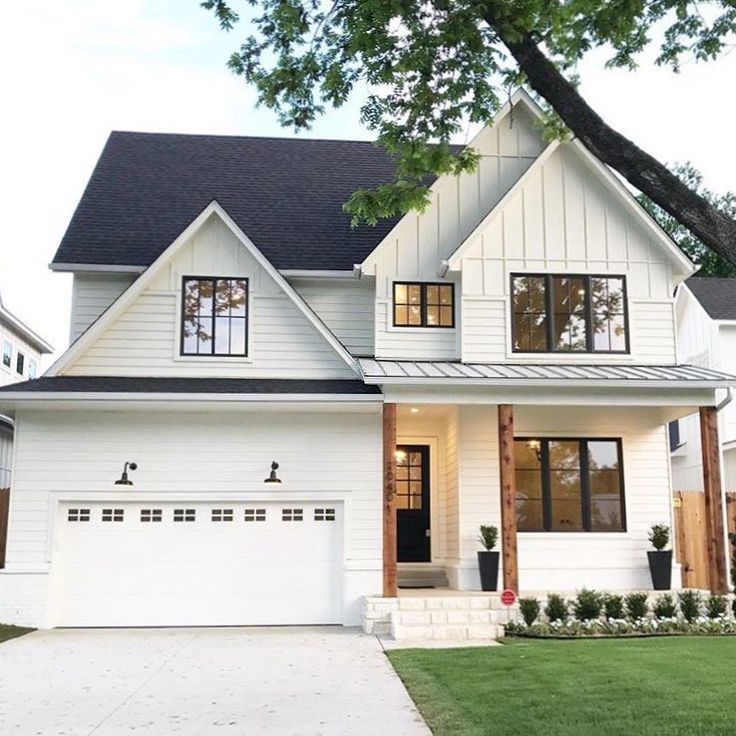 Known to be a timeless classic, wooden houses with black trim have been featured in many movies since time immemorial. They have an old, colonial charm to them that is accentuated by a bold, black trim. This serene blend of contrasting colors gives a rather homely, rustic, and cozy feel to the house. The elegant white finish glows in the sun and gives the house an inviting atmosphere, while the black adds a hint of luxury and class. With a classic and sophisticated look, this is surely a house you would want to grow old in!
4. Modern White Concrete Building with Black Trim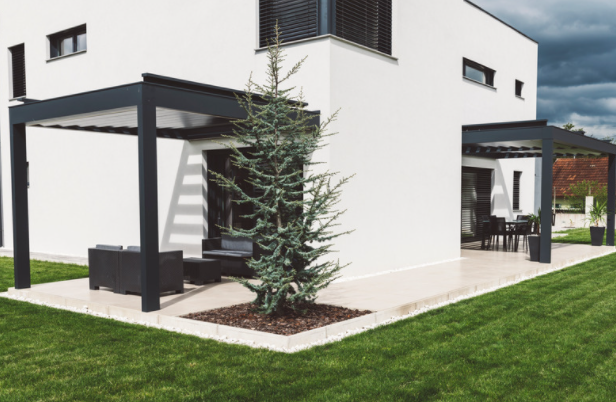 This modern design effortlessly combines a minimalist design with bold features. It is a beautiful architectural statement that gives an ultra-modern, contemporary feel to the house. The sleek black borders provide sophistication and add to the visual complexity. When coupled with multiple windows, this house gets a clean, elegant look with plenty of natural light. This design is a great way of letting people know that you mean business. When combined with other elements like a terrace or a garden, this design will be a standout in the neighborhood. Such an innovative layout can be used for residential as well as commercial purposes. It is the perfect home for a vacation, as well as a workcation!
5. White Historic House with Black Trim
Although modern houses are the pinnacle of technology and human ingenuity, they do not possess the same eternal aura that old houses have. These old colonial-style homes have the power to transport you back to Victorian-era England. They possess an ageless charm that gives a soft and cozy feel to it. A smooth white exterior coupled with black windows and roof can work as a worthy homage to the old houses of a forgotten era. It serves as a humble reminder of what we as a species have come from while maintaining a touch of class and elegance.
6. White House Black Window Trim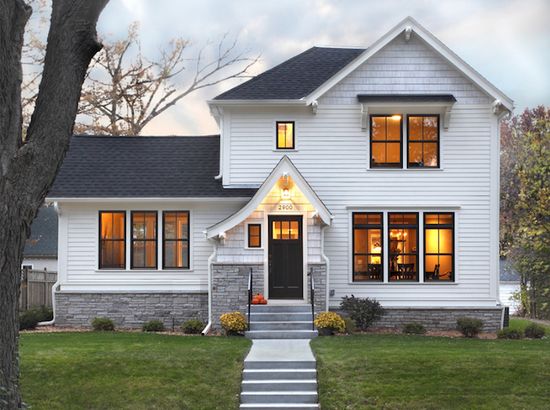 White farmhouses have been ever so popular for weekend homes. Adding black windows to the house gives it a modern look. Along with black windows, black beams and a wooden finish will certainly up the ante in terms of style and boldness. The black almost looks like a pristine, elegant painting on a crisp, white canvas. Especially if the house has the feel of a cozy cottage, adding a black window can give it a modern look. Window casings add another dimension to your design. This alluring fusion of tradition and modern design creates a dynamic feast for the eyes that is hard to forget.
7. Stucco House with Black Trim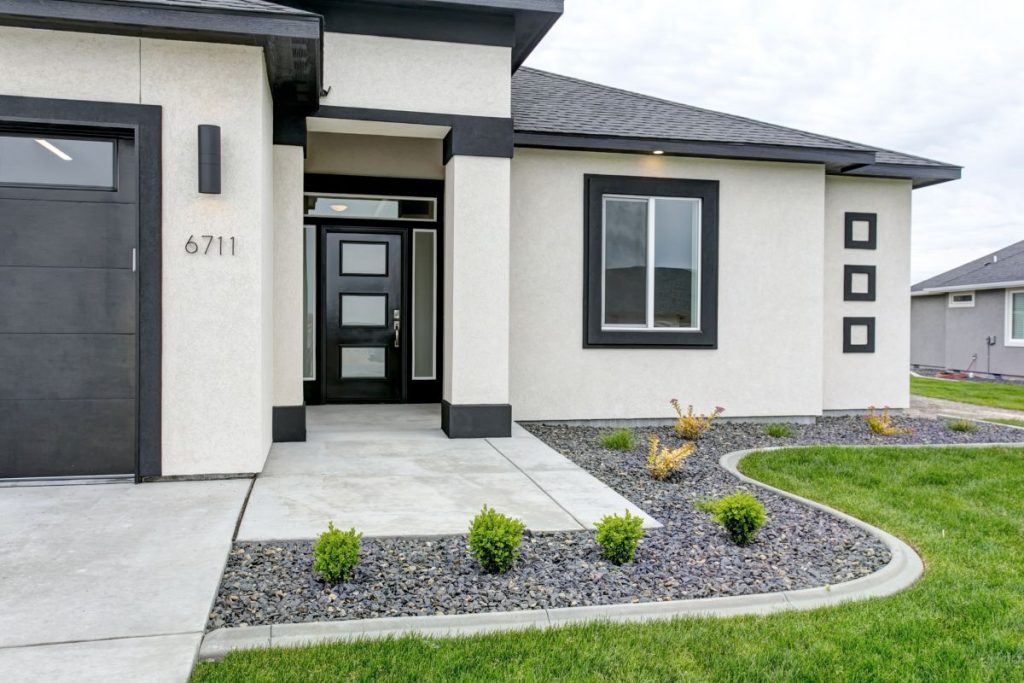 Stucco is a versatile material that adds a smooth finish to your exterior, giving it a modern and minimalist feel. It gives a unique and tangible feel to your house that creates a wonderful, tactile experience. The inclusion of a black trim provides a striking visual contrast that gives the house a signature air of sophistication. Adding other elements like trees and flowers will give this house an incredibly distinct character and set it apart from the others. The result is a wonderful house with a graceful style and look of its own.
8. Split-Level White House with Black Trim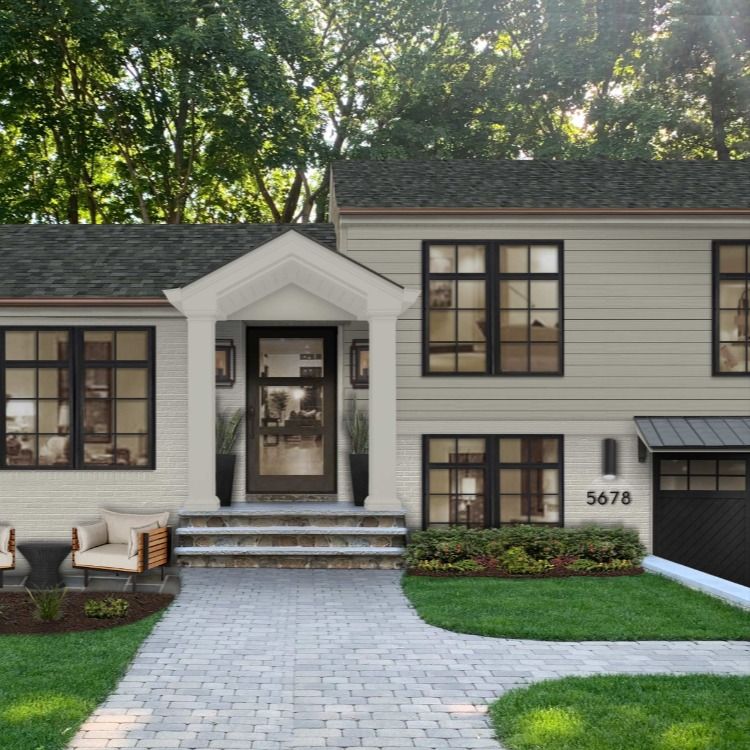 Even on their own, split-level houses are simply a thing to behold. They are an architectural marvel and extremely pleasing to the eye. A brilliant way to enhance your split-level house is by giving it a subtle yet sophisticated black trim. The layout already has a distinct look to it. Adding a smooth, black trim can accentuate the different levels of the house. You can add some more depth by making the doors and windows black. This house is a delicate balance between function and aesthetics. When surrounded by trees, the house has the potential to look like one from a fantasy book.
9. A Mix of Contemporary and Old Chinese Architecture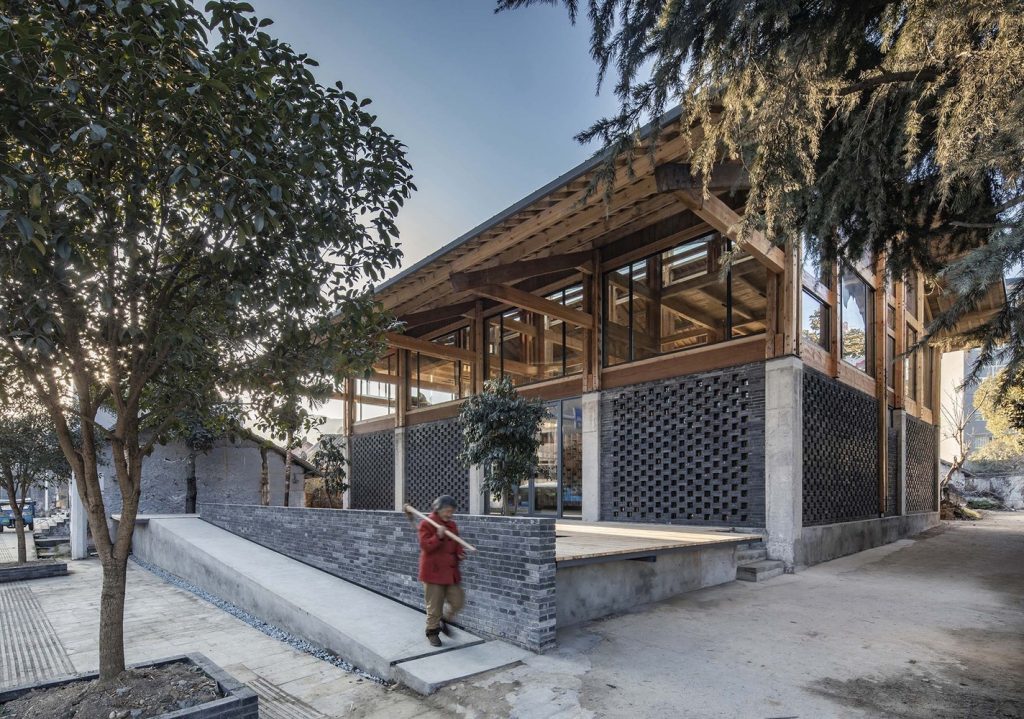 This is a great example of what happens when two vastly different cultures fuse to create an iconic structure to be remembered by everyone. The different elements have a sharp contrast yet come together gracefully to birth a true work of art. The pure white walls pair up expertly with the black tile roof and the window casings. The design is helped by exceptional woodwork, delicate glass facades, and well-placed flora. The blend of modern Western architecture with traditional Chinese methods has never been so seamless. It is a true testament to the peaceful coexistence of two vastly different cultures and traditions, separated by space and time.
10. White House with Black Chevron Detailing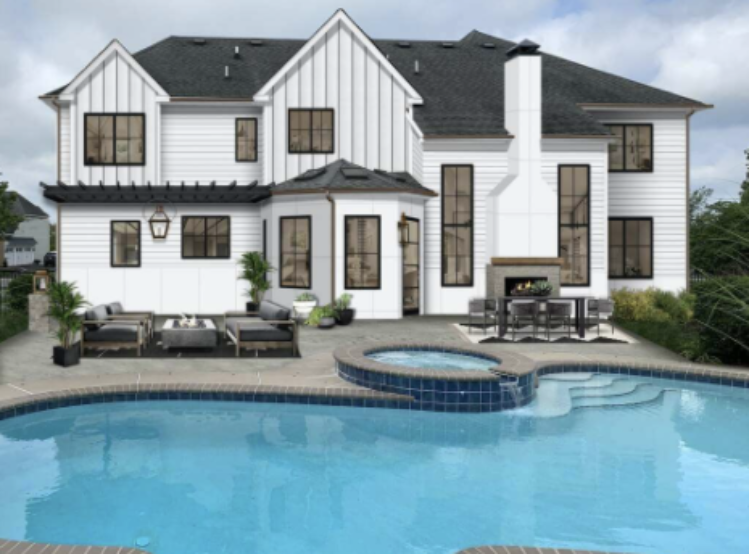 White and black is an age-old combination that makes your house look more defined and organized. An elegant yet fun way of mixing things up is by adding a chevron pattern to your black elements. They are essentially V-shaped zigzag lines that create a sense of motion. When used in the right way, they can be visually appealing. The design gives a smooth, geometric touch to the house that helps it stand out in any landscape. It oozes style, creativity, and architectural freedom. It is a rather eclectic style that may not be for everyone, but when used correctly, it can be a sight of beauty and sophistication.
11. White House with Curved Black Features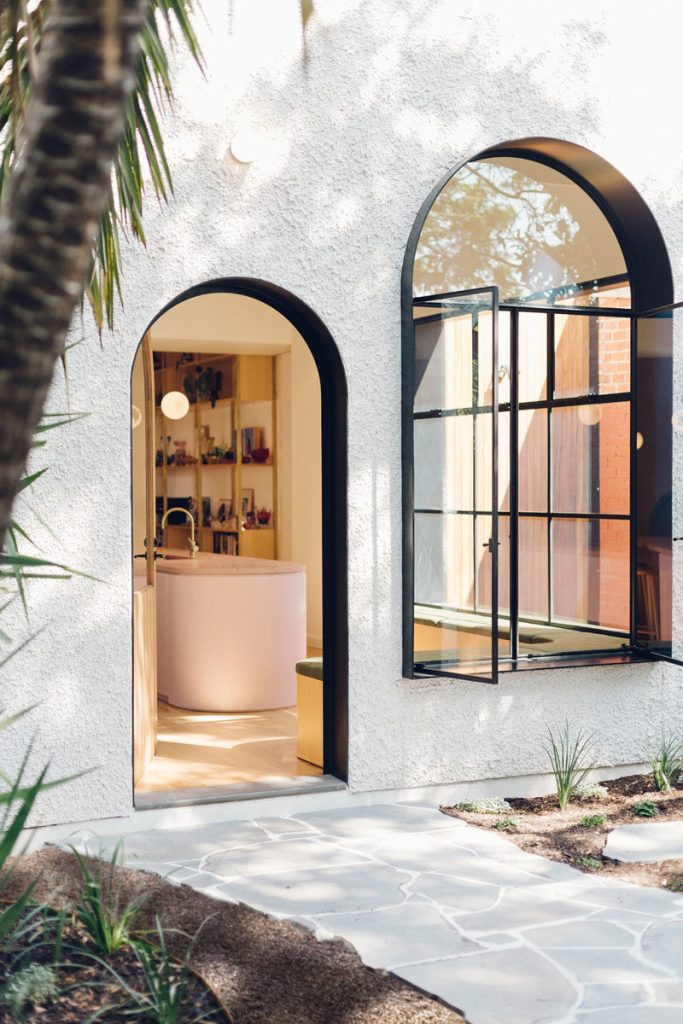 Adding curved features to your white house will give it an ethereal, otherworldly aura to it. Black trims usually add precise definition to your exteriors. With curved elements, it can transform your house into something else entirely. A tasteful blend of sharp angles and curved features can enhance the beauty of the structure. It adds a touch of character to the house and makes it unique. You can also add other curved elements to it, like oval windows and arched doors. They have the power to transport you into a fantasy world. Curved features go well with modern as well as traditional architecture.
12. White Coastal House with Black Trim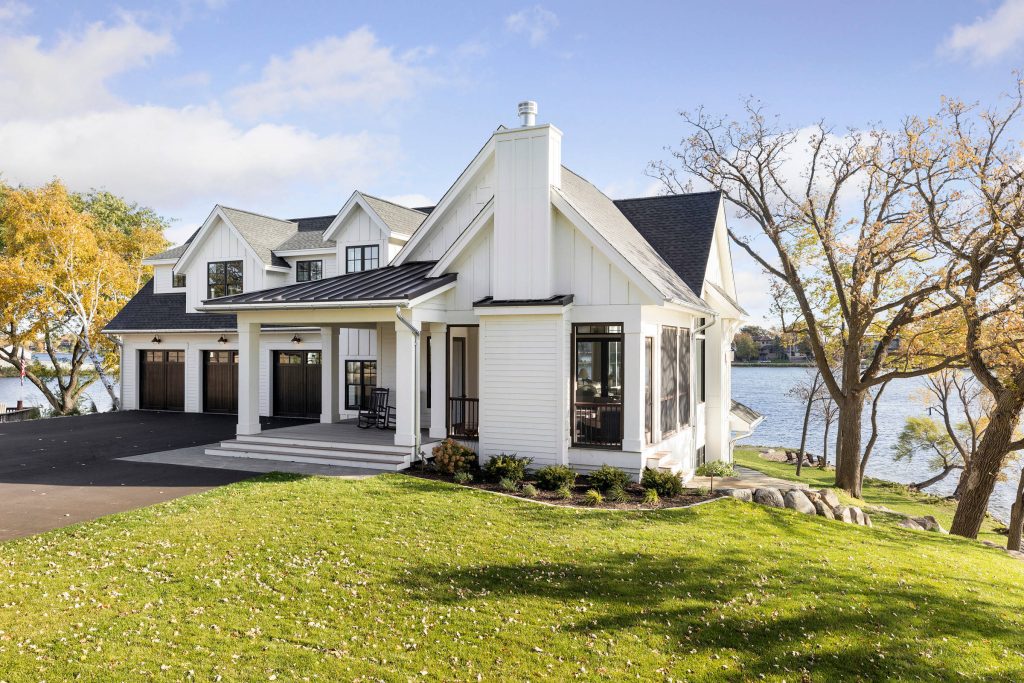 Coastal-themed houses capture the vibe of living by the sea. They have an air of relaxation. While extremely inviting, adding a black trim to your white coastal house can give it a splash of sophistication. This type of decor is perfect for people who want to relax, soak in the sunshine, and have a good time. Black trim on the edges, windows, and doors can enhance the coastal aesthetic; while giving the house a unique charm. This style can work on small cottages and coastal retreats. To make it more fun, you can add a touch of blue to get the seaside vibe out. When surrounded by coconut trees, it is a perfect haven to relax and take a summer break.
13. Minimalist White House with Black Trim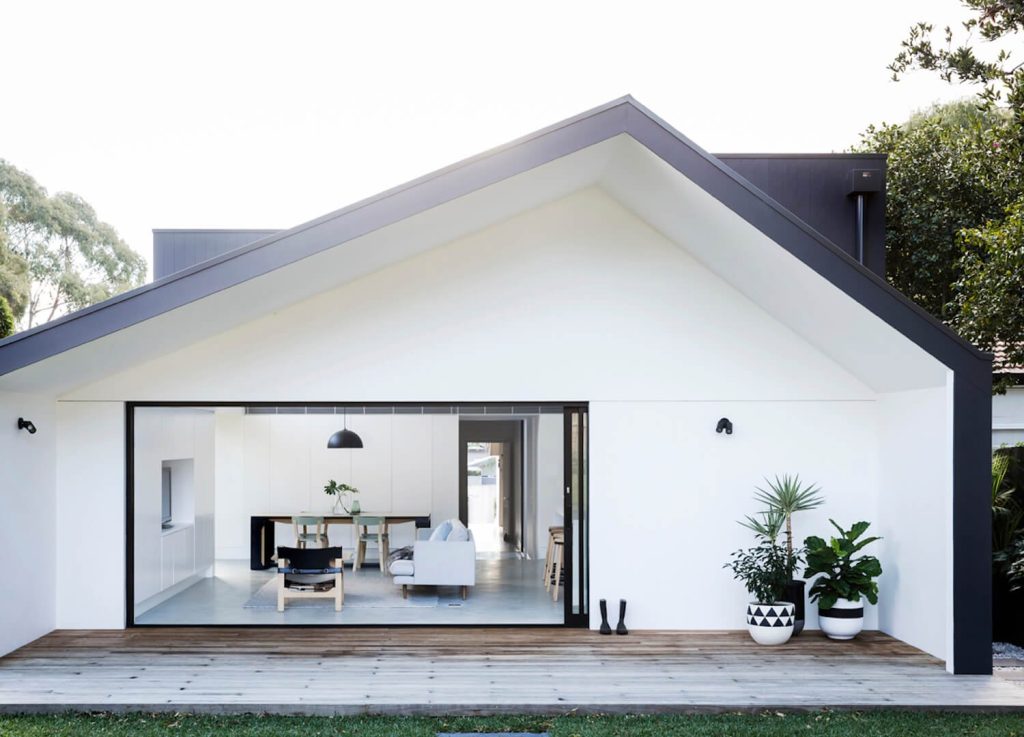 Minimalism is the embodiment of simplicity and purity. A minimalist house signifies that. They shy away from loud features and prefer to keep a plain aesthetic. It is perfect for people looking to have a cozy, quiet home that does not gather too much attention. A black trim to your white house adds some depth to the design and highlights the minimalism. It is a symbol of restraint; while showing class, elegance, and functionality. The design essentially speaks for itself. Such a house is incredibly calming to the eyes and relaxing to the soul.
Final Thoughts
A white house stands on its own like an architectural icon. Blending a sophisticated black trim to it can elevate its visual appeal to new heights. It instantly creates a beautiful contrast that is a feast for the eyes. A white house with black trim can be made to look modern, classic, colonial, or futuristic. It is a timeless idea that has been reinvented over the years without losing any of its charm. The sky's the limit when it comes to these designs.
You can incorporate many other elements into your design, like wooden paneling, metal roofing, stone walls, and bricks. All of these styles can be subtly blended to create modern fusions that will turn many heads. In the end, the possibilities of design are only limited by your imagination.
Which white house with black trim would you like to choose for your home?