The life of an average individual is entirely dependent upon the space where he relaxes, reconnects, and rejuvenates. If you are also looking for a change in your space, specifically your living room, then this article may help you.
Discover multiple ideas highlighting modern coastal living room designs that suit every taste and style. Whether you love the minimalist design or strive to go all bold, we have something that can fulfill everyone's needs.
A living room is a place that caters to family members and friends by providing maximum comfort, a place for relaxation, and a space where everyone can get together to do fun and create beautiful memories. You might also be looking for ways to make your living room an interesting place. We've got you covered.
In this article, you will find an extensive list of 15 modern coastal living room ideas inspired by the obsession and popularity of beaches among people. The theme is unique, as the name suggests, but the options are endless.
1. The Magic of Blue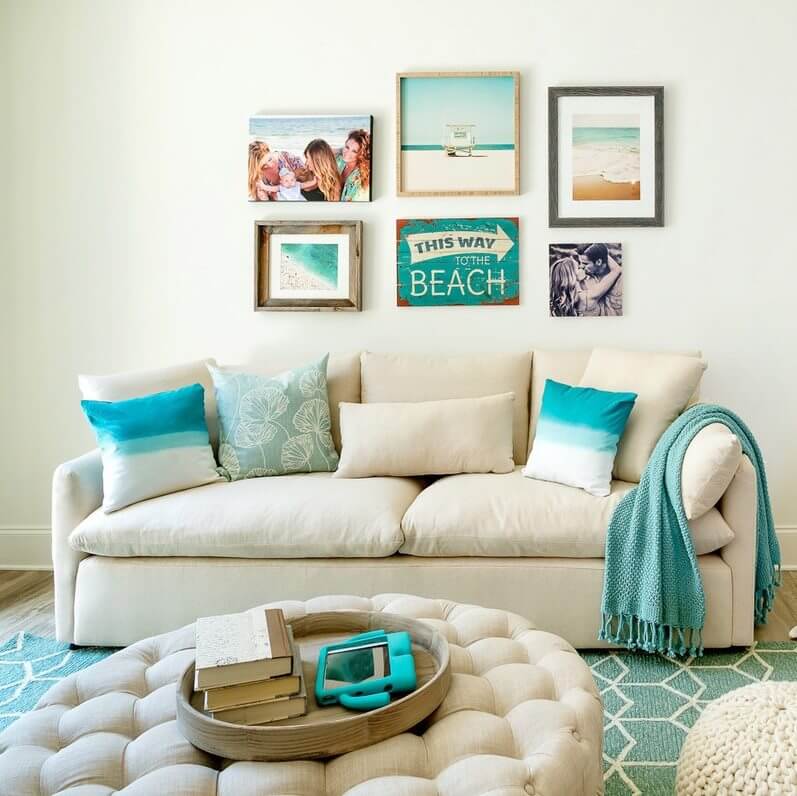 When we think of coasts or seashores in general, the very first thing that crosses our mind is the blue hue of the ocean and sky. Incorporating the blue color in the living room can be the best possible way to create a dreamy modern coastal living room. Unlike ancient beliefs, using blue color wallpaper that has some print of waves on it can turn out to be effective. You can also use cream curtains and introduce a cream sofa along with two or ottomans alongside to complete the look. The cool tones mixed with some neutral hues are the best possible way to escalate the appeal of your living room with minimal effort.
2. Introduce Swirly Patterns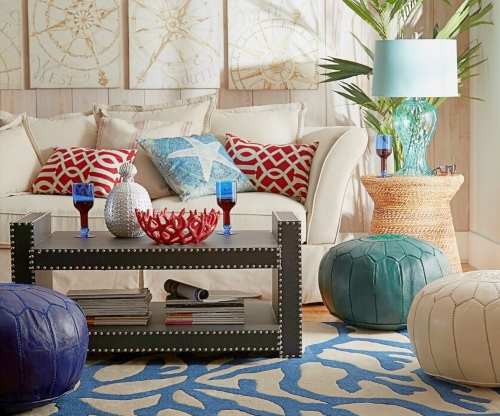 When it comes to decorating your living room in a modern coastal style, nothing can beat the striking swirl patterns. Use the swirl pattern grey marble floor or on the wallpaper of the room. The swirly pattern will take you on a wonderful yet magical ride reminding you about the beach and the impressive role of playful waves in lifting your spirit. The sound of the waves is known for its therapeutic impact on the mind and soul. And its undeniably difficult for you to stay on the beach to experience the same. Hence the best way to incorporate sanity is to introduce modern coastal living room designs in your space in different forms.
3. The Combination of Navy Blue and Sandy Beach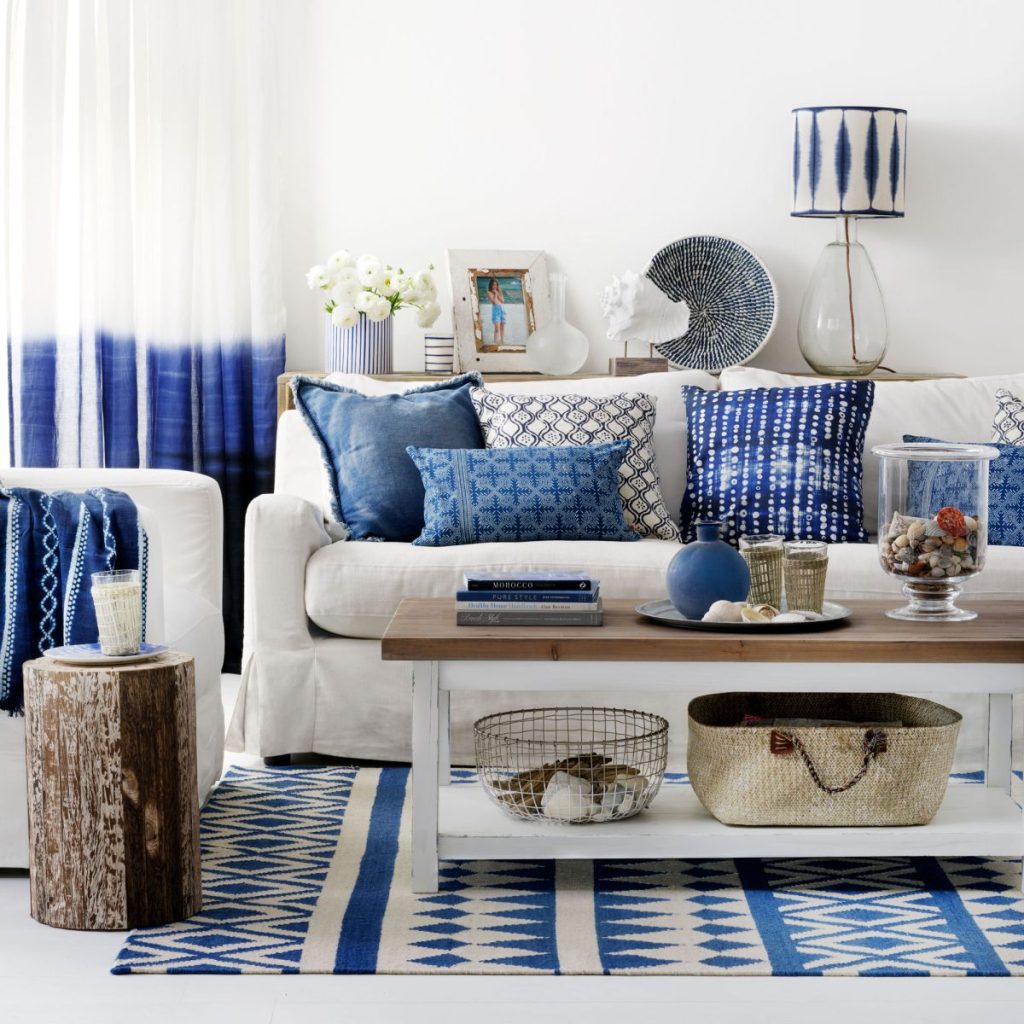 It is always a fun idea to mix and match and play around with colors while decorating your home. The beauty of the living room is accentuated with the help of vivid hues contrasted with neutral colors from the palette. Use Navy blue for walls and keep the decor, such as a couch, curtains, and ottoman, in Neutral colors. This contrast of colors will remind you that you are on a beach with your friends and family on vacation. The combination of navy blue and sandy beach is inspired by coasts or seashores, which works wonders for modern coastal living room designs. This is our favorite idea from the lists, and we would recommend you go for it without thinking much.
4. Patterns and Plants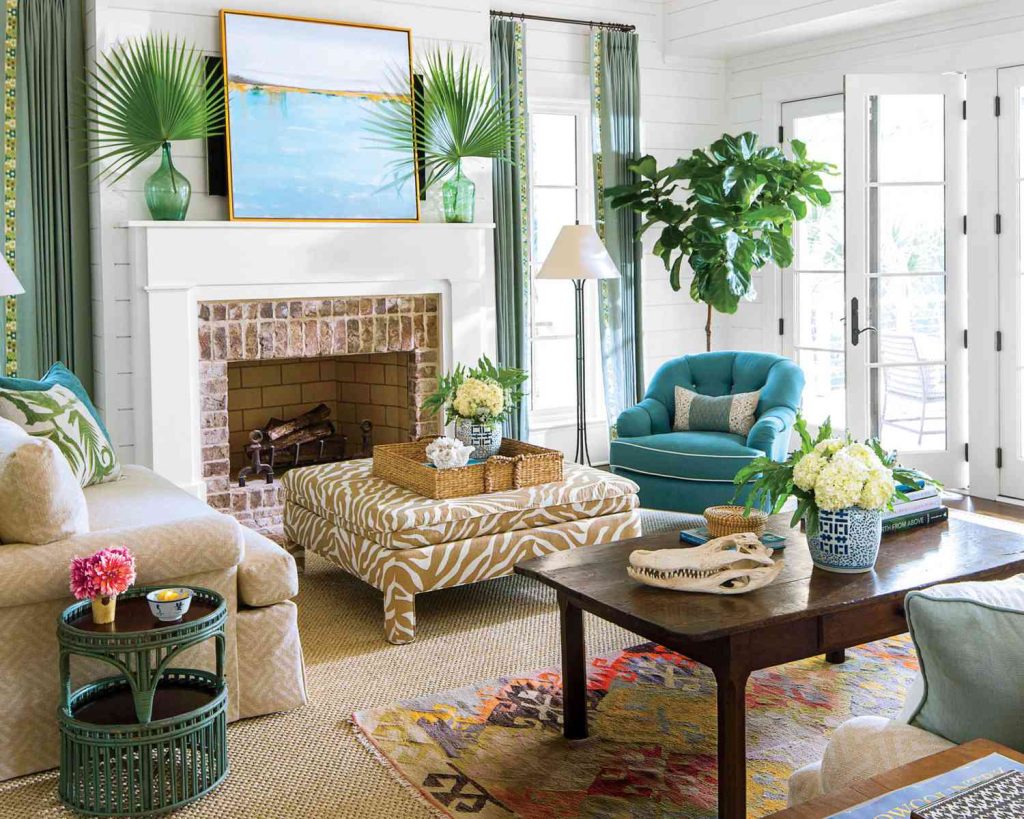 Do you want to spend less time deciding the decor of your living room but achieve maximum results? Then this idea is perfect for you to help you bring a coastal vibe into your living. You must be aware of the role indoor plants play in not only decorating your interiors but also purifying the air inside the house. Introduce a variety of plants in your living room to give it an aesthetic appeal. It will remind you of the massive trees witnessed near the seashore. Also, some carpets with patterns in blue over them will spread a charming effect in the living room. Keep the plants hanging on a slab or choose the standing plants that can be set on either side of the couch; the choice is yours. This idea will surely work wonders for your modern coastal living room.
5. A Standard Blue Couch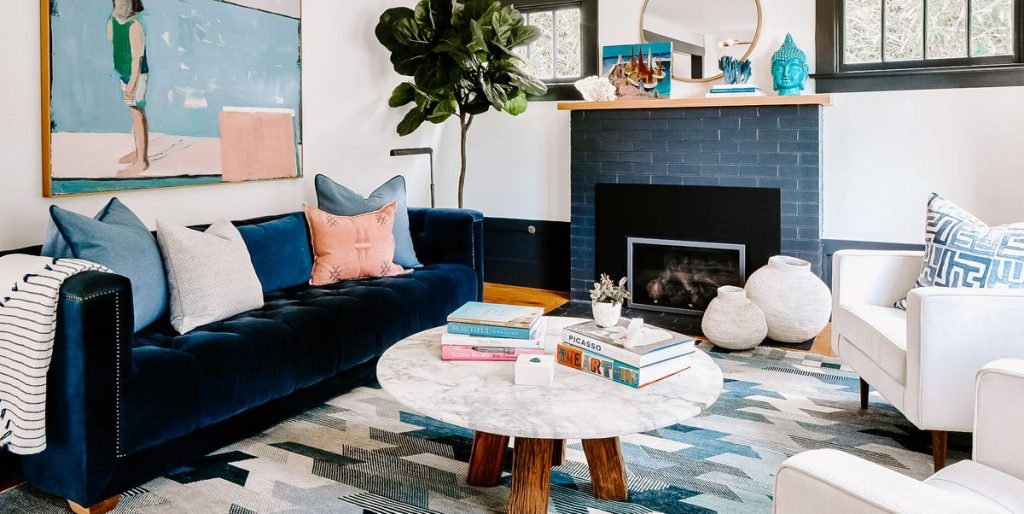 Are you a fan of a cozy, blue couch on which you can curl up, relax and snuggle? We've got you. Nothing matches the beauty of a warm cozy couch on which you can unwind after a long tiring day. Plus, the good news is it can solve the purpose of establishing a modern coastal living room design for your space. You can add some pastel cushions over the couch for an admirable appearance. Set a neutral lamp alongside the couch for a romantic yet modern appeal. Bring joyful cheers to your living room with vivid hues, distinct patterns, and cozy elements. Introduce a triumph of enthusiasm of the seashore with the help of the cozy blue couch.
6. Sky Blue Walls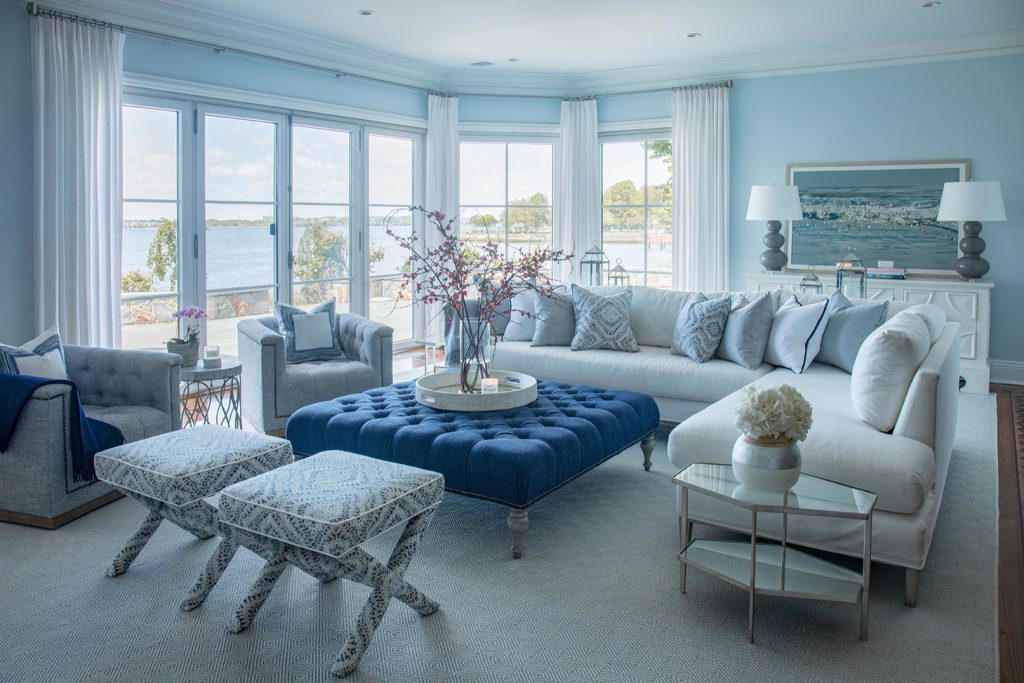 Sometimes you have to put a little extra effort into making your interiors stand out. And if you are aiming to match the vibe of your living room with the modern coastal design, the bar is raised even higher. But if you are tired of the expensive options available online and couldn't find anything that matches your budget and still manage to add that luxurious touch to your space, then painting your walls with blue color can do the trick for you. Discover the magic of sky-blue walls, drown in the serenity and peace provided by this hue, and make a haven for yourself and your loved ones. This is the best effortless way possible to create a modern coastal vibe in your space in no time.
7. Make It Airy and Allow Light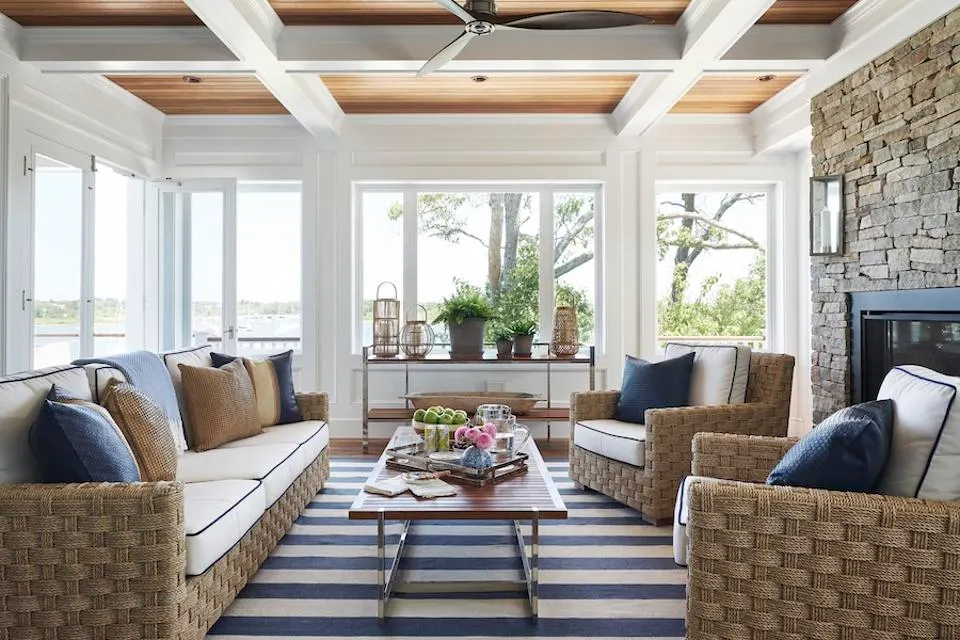 The significance of light and air in the house is known to most people worldwide. A fully ventilated home, allowing fresh air to enter the house, can make a big difference. Additionally, a house with light and luminosity can be a hub for positive vibes. People often visit beaches and mountains in search of fresh, open air to have a clear mind. How about making a space that can offer both light and air? Yes, it does sound interesting. Make good use of big windows and install light-colored curtains to allow the flow of light and air in your space. It will help to keep the bad energy at bay from your house, ensuring ample light to fill you and your family with hope as well as positivity.
8. Add a Dramatic Chandelier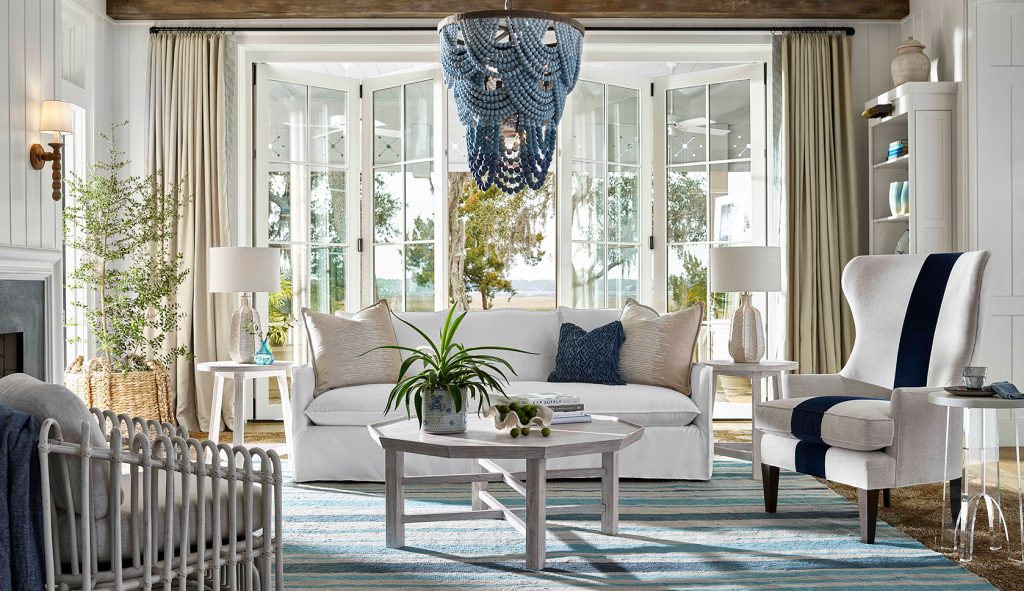 Whether you agree or not, a big beautiful chandelier in the living room can up your game of modern coastal living room design ideas. Gone are the days when people used to think a Chandelier was only installed in big mansions. Now, antique and aesthetic chandeliers are added to the interior of modern spaces to decorate them in a minimalistic way. The idea behind this addition is to amplify the look and introduce a source of light with a flare of sophistication and elegance. You can find many chandeliers online that are budget-friendly and perfect for your modern coastal living room designs.
9. How About Some Stripes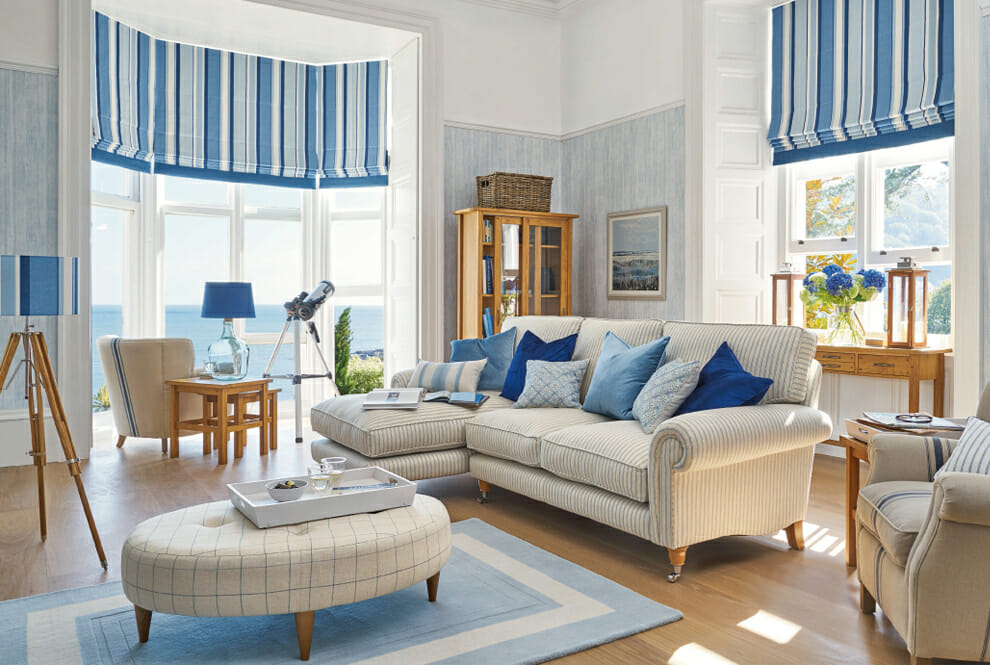 Some vertical lines alongside the neutral and light blue palette decor items can look extremely pleasing to the eyes. Give your eyes a treat of vacation mood by surprising them with a wonderful combination of stripes in your modern coastal living room design ideas. Leave your guests astounded by the theme you chose to decorate your living space. The selection of stripes should be made wisely, as too much of anything can ruin the whole look. Incorporate the stripes in the wallpaper or in the cushion covers, and make sure it compliments the rest of the coastal vibe of the living room. Do not think twice; you can trust this idea for a commendable result.
10. Warmer Tones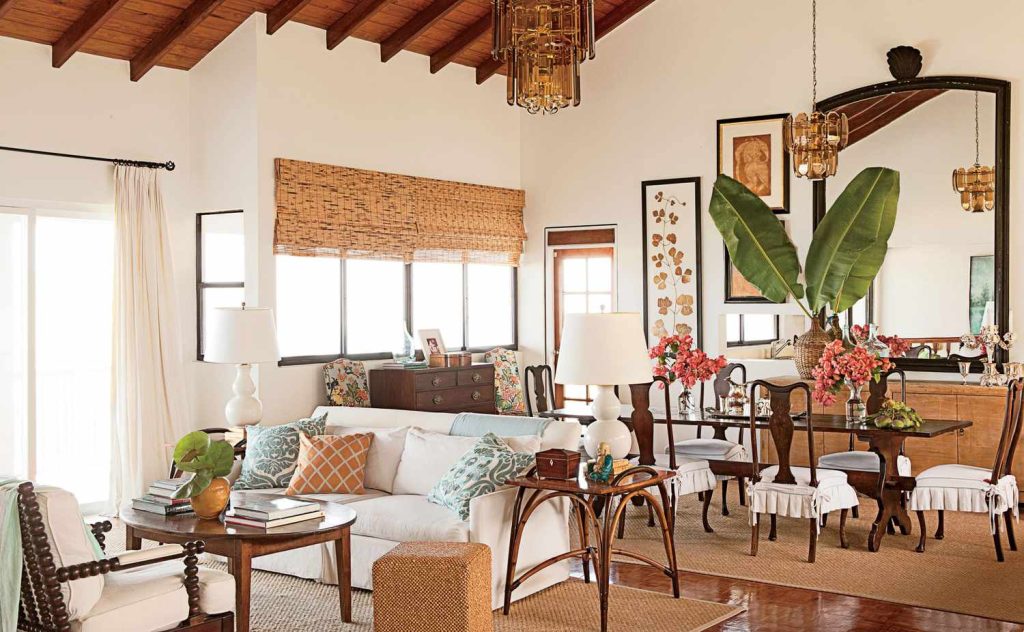 The fascinating thing about warmer tones is that they light up the whole surroundings. So, if your main aim is to bring a lively vibe full of happiness, joy, and positive energy, then introducing warmer tones in the modern coastal living room designs is a great idea. The market is full of designer items that are minimalistic and come in neutral tones. You can get your hands on these items through multiple online websites that sell minimalist warmer-tone decor items at much more affordable prices. Whether you pick warmer-tone curtains and carpets and choose to contrast them with vivid hues, the end result will certainly come out to be awesome.
11. Time for Denim Blues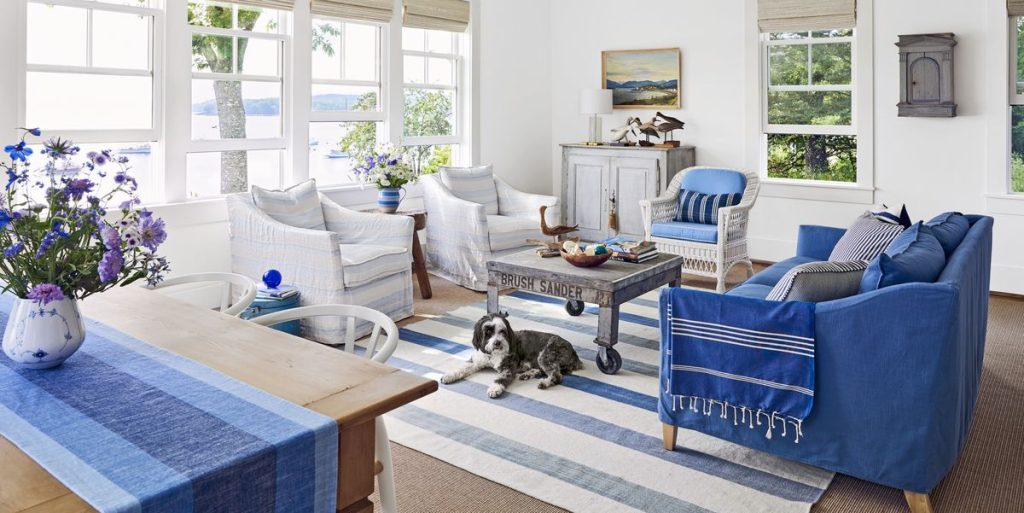 Denim is a versatile fabric that can be used in various areas, whether you use them in clothing items, decor items, or to make sturdy storage boxes. And denim sofas or couches can be used as decor items as one of the most underrated modern coastal living room design ideas. The perks of including denim sofas in your living space are many, including easy availability, cost-effectiveness, durability, and many more. Keep the whole vibe of the room neutral and place the denim blue sofas as the main highlight to bring the whole look together. The Blue color will remind you of fresh starts by washing away past.
12. Let the Textures Sit Pretty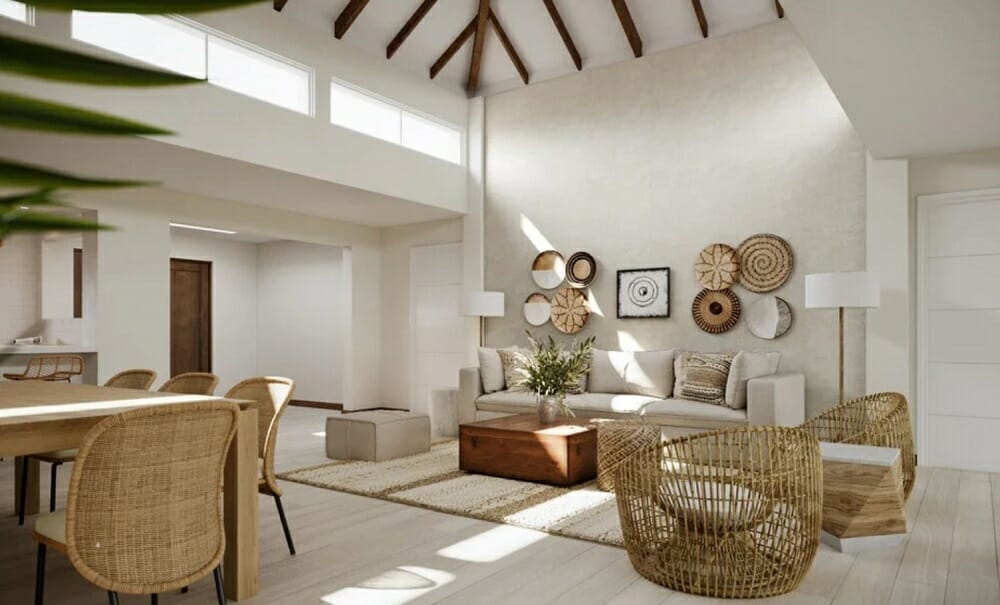 You may often visit luxurious and classy restaurants or cafes near the seashore when you visit beaches. But have you ever thought about bringing that elegant vibe to your modern coastal living room designs in the form of textures? You probably didn't. The basic trick to make this happen is to use decor items made from natural fibers like straw, jute, bamboo, and so on. You can use the straw baskets to cover the ceiling lighting and give your living space a coastal vibe. Before even realizing you will be able to create a space similar to the ones you visit when you go for vacations.
13. Some Vintage Details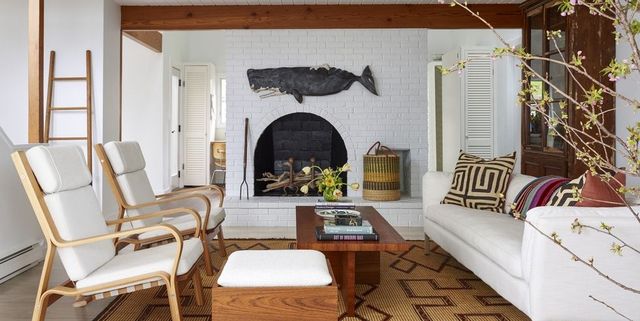 Old is gold; better done than said. You must have seen the old antiques adding beauty to modern spaces. One can never go wrong with proudly displaying Vintage items in modern coastal living room designs. It will help to trace the historical significance of these vintage items by showcasing them in the modern interiors. If you are a fan of old fashion and vintage items that inspire you, then you should definitely consider including vintage items. You can find them in the flea market near your area or explore the varieties of vintage items available online and add them to your space for a touch of past with a modern twist.
14. Pink and Clean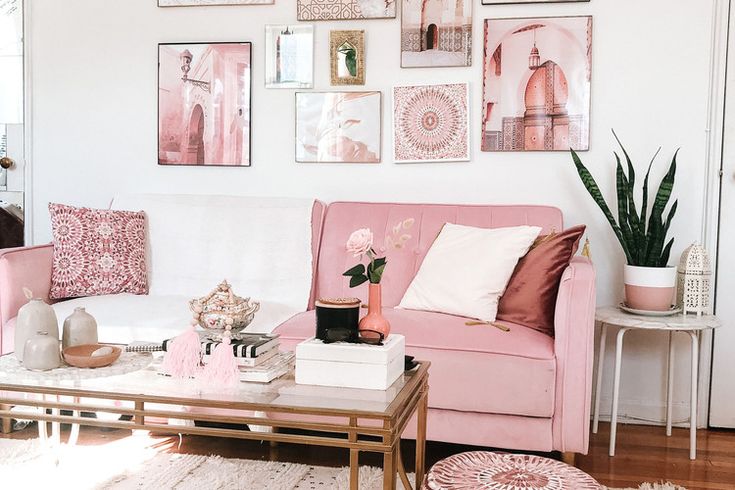 Sometimes the coastal vibe is not only about shades of blue. Another color from the palette, such as pink, along with its variations, can also do wonders for your modern coastal living room designs. Use pink colors here and there in the living room, such as carpet or curtains, or cushions, and keep the rest of the living space clean for a beautiful yet minimalistic vibe. Sometimes going overboard doesn't help to achieve the result you are aiming for. So, it is best to experiment with innovative ideas while considering modern coastal living room designs but also playing safe by keeping the space clean and minimalist.
15. Pearly White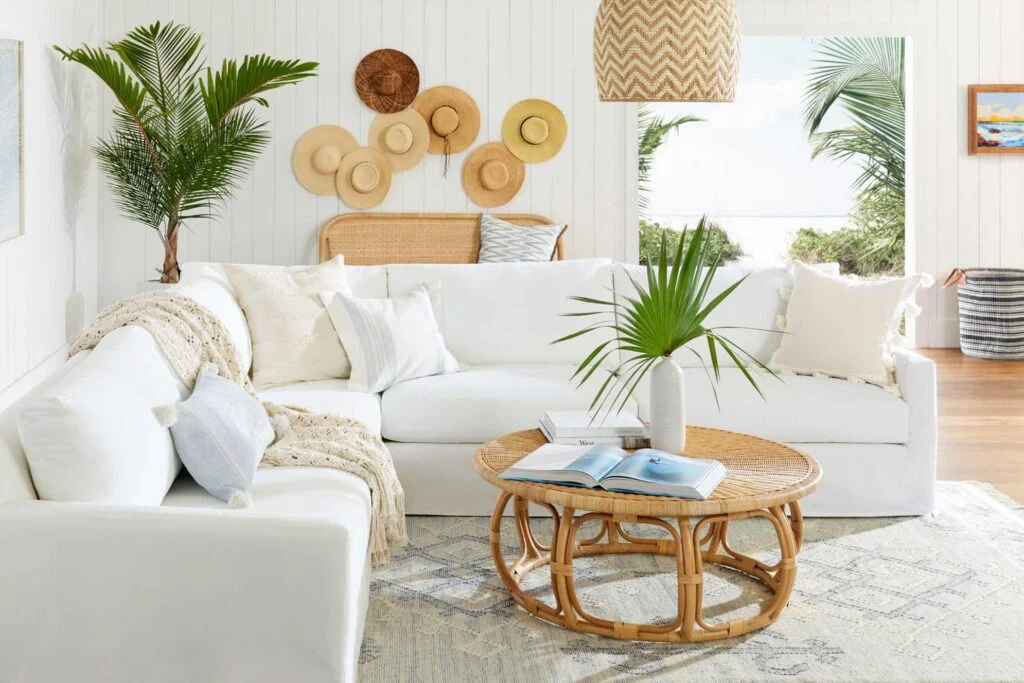 Do you want your living room to look like a dreamy haven? How about escalating the appearance of the space with pearly white? It sounds like some old-school Hollywood movie that features a room of the princess. White is a color that brings peace, serenity, and calmness to any aesthetic. And it is a great addition to a modern coastal living room design. Use the pearls in the embroidery of the cushions or in the delicate details of the ceiling by keeping the rest of the room spotless white. This will surely take you to vacation mode every day after the tiring work hour. Enjoy the vacation vibe with your friends and family without actually going on one.
Summing Up
A coastal living room design ideas include a serene, magical view that sets an exquisite tropical vibe. The ideas discussed above in the article are handpicked, given that you are focusing on modern coastal living room designs.
For people who like to keep things minimal to people who like to go overboard when it comes to designing the interiors of the house, we have considered everyone's needs.
And this list contains ideas that are budget-friendly, easily applicable, and can suit anyone's taste. So, do not sit back and miss out on turning your living room into a coastal haven. You have spent enough time scrolling through the internet for inspiration, and now is the time to execute some of the ideas.
Bring your creativity and mix-match some ideas as well to get a commendable outcome, leaving everyone astounded by your design skills. The coastal vibe is fresh, breezy, and fun to be introduced into your home to turn into a living haven.
Frequently Asked Questions
What Are the Key Features of a Coastal Design?
A good selection of color schemes, practicing simplicity, and a touch of modern elegance can help to achieve a coastal design in any space that you can't help but admire. Stick to the method of minimalism while focusing on little details for a desired outcome.
What Makes a Room Coastal?
Welcome a fresh coastal vibe in your space with the help of big glass windows through which ample light and air can exchange. Play around with neutral tones and add gauzy linen drapery to complete the aesthetic.