Every corner of a house always reflects the persona of its owner. Right from the front yard, side yard, and main building to its backyard expresses the personality of its owner. Although everyone likes all the aspects of your house, some get more adoration.
Most people enjoy their backyard the most. They spend the majority of their time in their backyard having morning tea, doing household activities, arranging small get-togethers, or just relaxing in the evening. The backyard has always been a cozy place for everyone.
However, when it comes to deciding its appearance, we always need clarification about what kind of look we want for our backyard, to get that exact look, what element we should add to it, and so on. In this article, we are going to disseminate one beautiful and warmth-generating element that you can add to your backyard landscaping. Adding a fire pit in your backyard certainly uplifts its feel and appearance of it.
We are also going to share the 13 best low-cost fire pit landscape designs to embellish the look of your backyard. Before starting further, let's just understand what exactly a fire pit is.
What is a Fire Pit?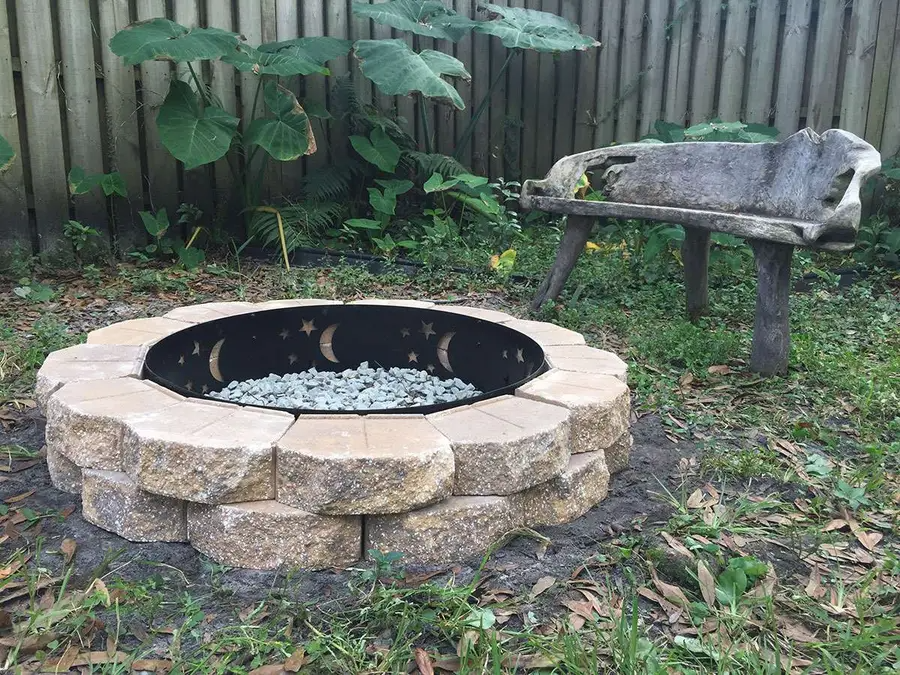 Eventually, the fire pit has been there for a very long time. It is a deep cart in the ground we used to use to place fire in it. Its deep-dug structure of it helps to control the fire and prevent it from subsiding. A fire pit has different purposes like getting warmth, in preparation of food, etc.
But nowadays, fire pits have created their own individuality. It can be placed anywhere. For instance, in the front yard, backyard even in the house, you can install it. There are lots of fire pit designs and ideas available these days that you can buy, construct or DIY it. But sometimes it will cost you very high and will confuse you with its applications and safety measures. You need to check a few aspects before adding a fire pit in your backyard.
Best Fire Pit Landscape Ideas
1. Stone Fire Pit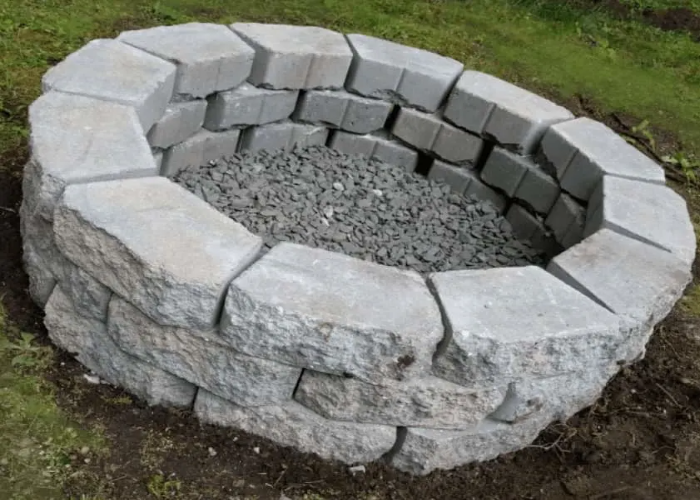 Stone fire pit gives a perfect rusty vibe to your backyard with different-sized and shaped stones. The stone used in the fire pits is fire resistant, like limestone or sandstone, etc. You can construct this fire pit with your required size and shape. This is a sustainable fire pit idea. You can use this low-cost fire pit idea in your backyard landscape. (Price can be varied according to the size of the fire pit)
2. Compact Portable Fire Pit Bowl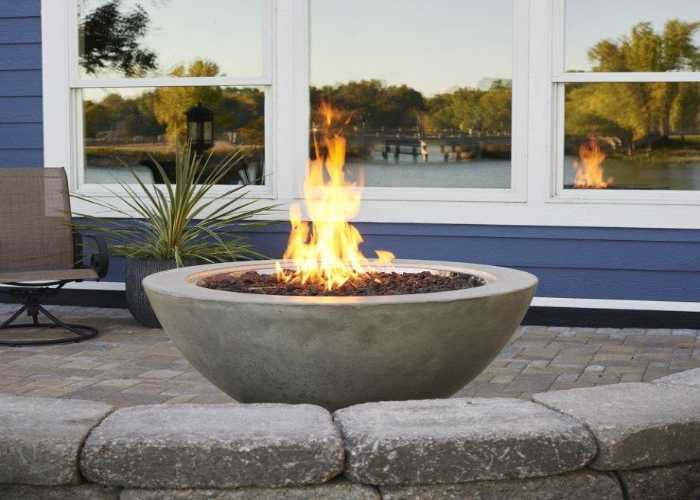 A rusty fire pit bowl is the best low-cost fire pit idea you can add to your backyard landscape. You can fuel it with gas, wood, and bioethanol. This compact portable fire pit bowl is often made of metal, concrete, ceramic, etc. You can try this out in your backyard.
3. Smokeless Stove Fire Pit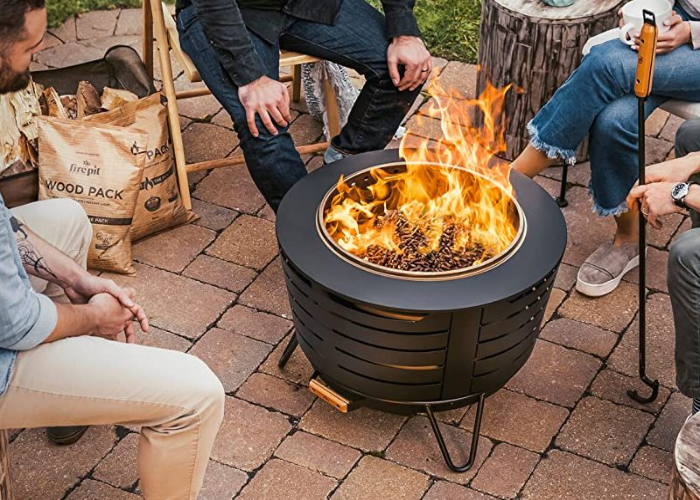 If you are struggling with a contemporary fire pit and don't want smoke and ash in your backyard, then switch to this beautiful smokeless stove fire pit. It needs the least maintenance and can use it on any surface. If you are concerned safety of your surface damage, then you can add a stand beneath it. This low-cost fire pit landscape design will add value to your backyard landscape for sure.
4. Hanging Fire Pit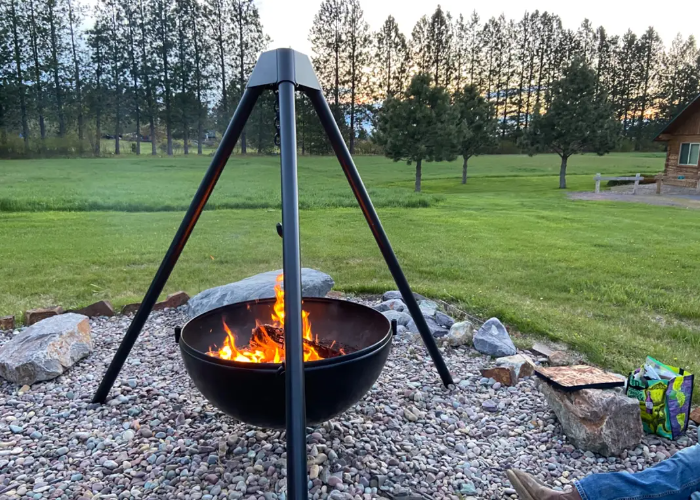 Hanging a fire pit with a unique tripod will definitely beautify your backyard to the next level. Apart from providing warmth to your backyard, it will let you enjoy refreshing BBQ parties with your friends and family. This tripod set hanging fire pit is made of steel with powder coating. It is a sustainable option you can think of.
5. Sunken Fire Pit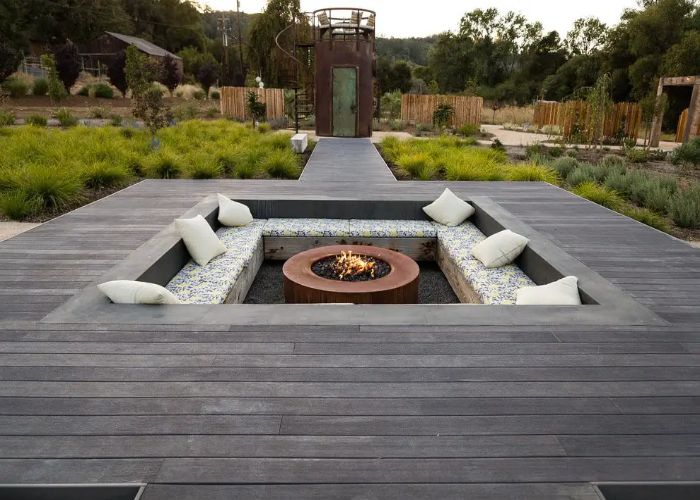 The sunken fire pit is the most stylish fire pit idea. It can be built with bricks, stones or concrete, or any fire-resistant construction material. It is a durable fire pit idea for your backyard. To add more comfort, you can construct a seating area or can use portable furniture as well. This is a most tending backyard fire pit idea you can plan for your backyard.
6. Rectangular Fire Pit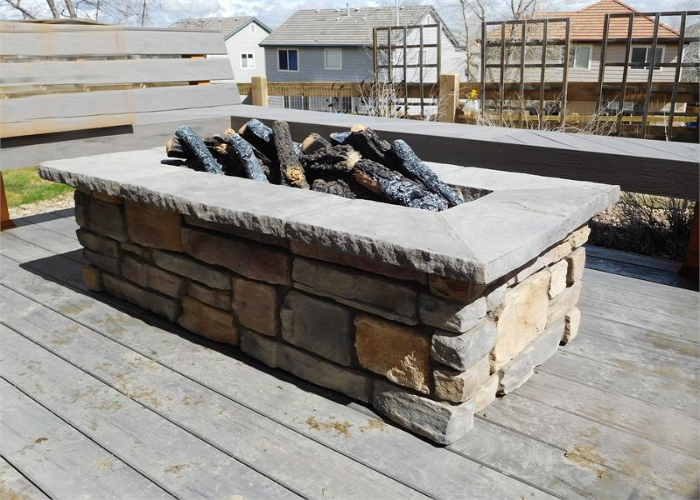 Nowadays rectangular fire pit is a popular idea that gives a sophisticated look. If you are not so much into rusty and portable fire pit options, then you can choose this classic rectangular fire pit in your backyard. For fuel, you can use wood, propane, natural gas, or gel fuel. It is available prefabricated. You can buy it anywhere, can construct it with labor, or DIY it.
7. Semi-Circle Fire Pit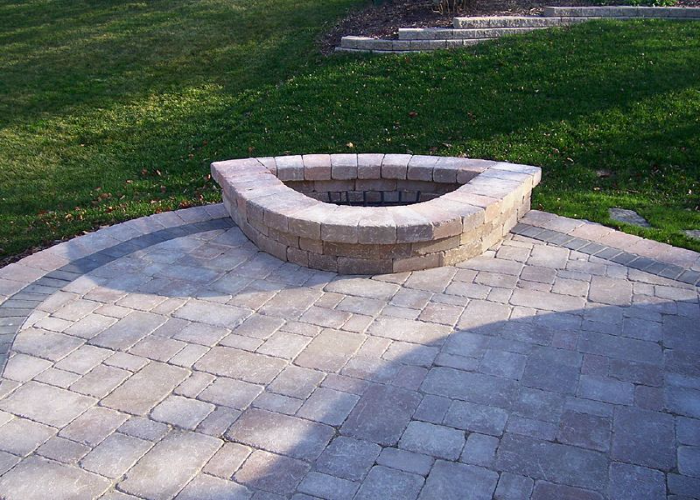 Semicircle fire pits are also eccentric fire pit designs. You can construct a semicircle fire pit with fire-resistant stones, bricks, or concrete blocks. It is also a long-lasting idea you can choose for your backyard landscape. Size of this fire pit you can decide accordingly to your backyard size. Add a seating area to get extra coziness.
8. Natural Rock Fire Pit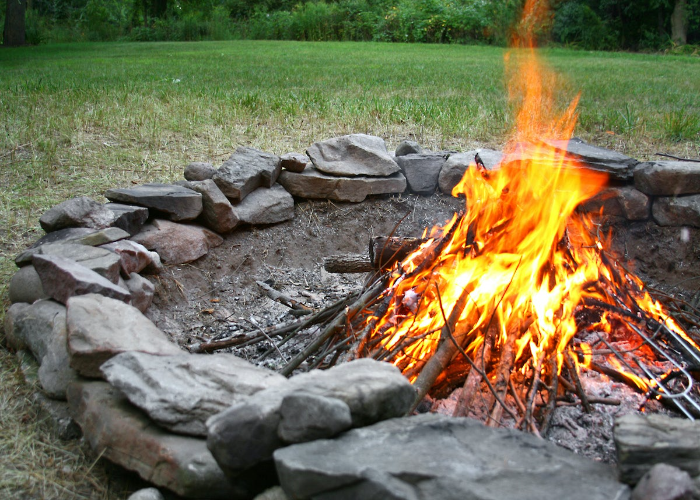 Using fireproof natural rock, you can build your own natural rock fire pit. You need to use hard rock for constructing this fire pit. Like marble, granite, limestone, etc., decide the size and shape and assemble rocks using construction adhesive.
9. Brick Fire Pit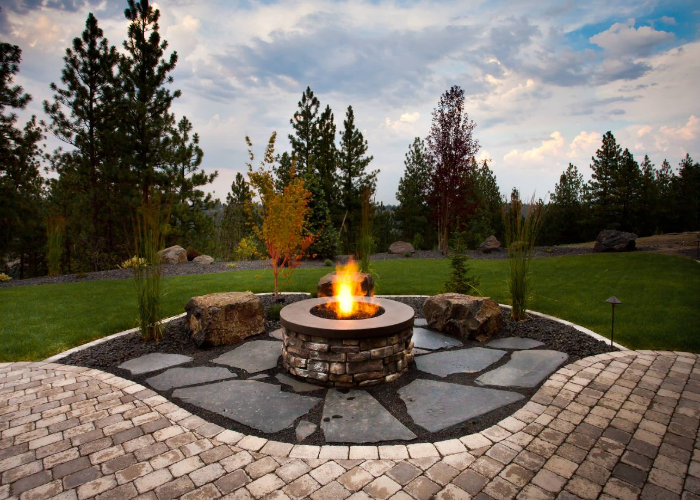 The brick fire pit is also a great idea to give an old-school look to your backyard. For brick fire pits, try to use kiln-fired bricks as they are fireproof and safe to use. This low-cost fire pit landscape design will increase the beauty of your backyard.
10. Square Fire Pit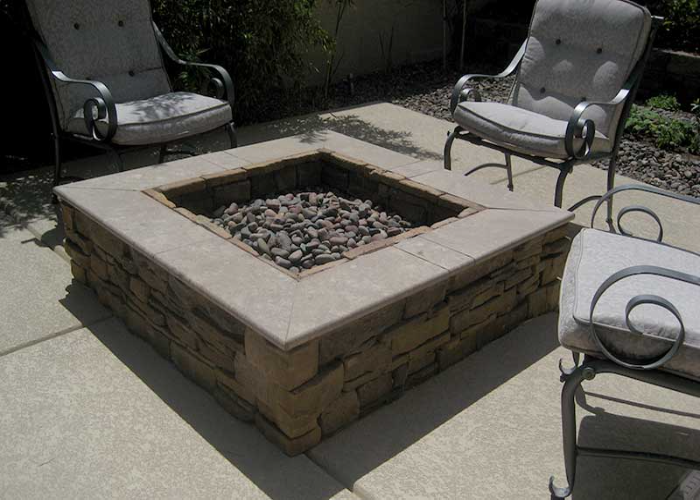 To make this square fire pit, you need to use regular retaining wall bricks to build a wall of the fire pit, and inside it, use clay fire blocks. After setting, congregate it with construction adhesive. It is the easiest DIY and low-cost fire pit landscaping idea you can go for.
11. Cast Iron Fire Pit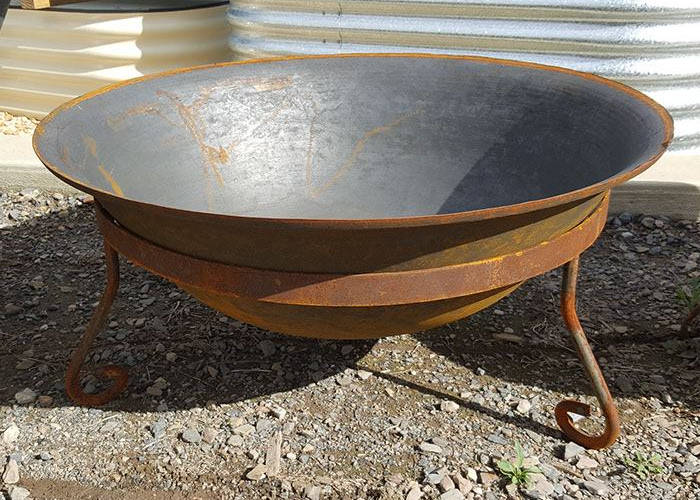 You can buy cast iron fire pits of your choice. Cast iron is the best material for a fire pit. It is the most portable fire pit idea you will find among all the landscape fire pit designs. This low-cost fire pit landscape design will be a really attractive idea for your backyard landscape.
12. Washer Drum Fire Pit
This DIY washer fire pit idea is the most affordable option you can try out. Using recycled washing machine drums, you can invent a charming fire pit for your backyard landscape. These drums you can get from scrape vendors at minimum cost. So do try this one.
13. Tabletop Fire Pit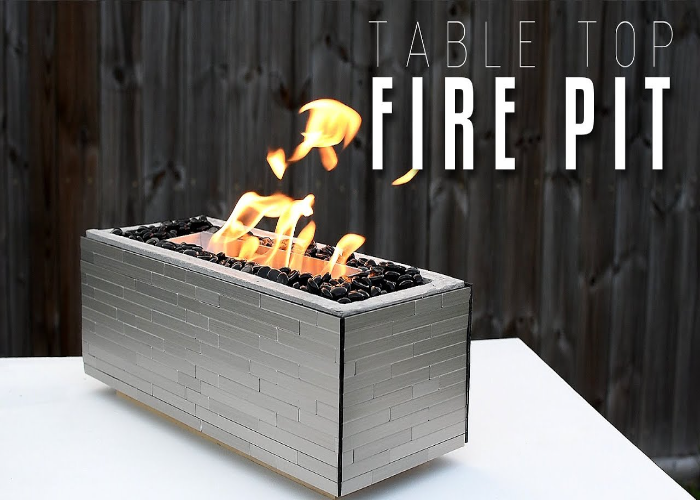 You can DIY this tabletop fire pit by using a ceramic or metal box and fireproof glass. Add lava rocks and fuel it with gel fuel. It will last up to 3 hours. This is a low-cost fire pit backyard landscaping idea you can try.
Points to Remember Before the Fire Pit Installation
Before installing the fire pit in your backyard, you need to decide on the safest location. Try to place it at least 10 to 15 feet away from your house.
Choose a fire pit idea according to your backyard's size and shape.
Always clean the fire pit after every use.
Avoid fire pit usage in windy weather.
Choose the proper fuel option for the fire pit.
Don't leave the burning fire pit unguarded.
Always be prepared with safety equipment, i.e., a bucket of sand, a fire extinguisher, or water.
Do check the above aspects before adding a fire pit in your backyard. Now let's move further to clear your confusion about which low-cost fire pit landscape design is best for your backyard landscape.
Final Thoughts
If you are planning to add a fire pit in your backyard, then first get knowledge of it thoroughly. It will help you to decide which one we can add to backyard landscaping. Rather than spending lots of money on fire pits, do look for low-cost fire pit backyard landscaping ideas.
It will help you to get an affordable and perfect fire pit without burning a hole in your pocket. In this article, we have discussed getting proper knowledge about fire pits. And to provide more clarity for choosing the right one, we have shared the list of the 13 best low-cost fire pit ideas.
So look at all the points shared above and make the correct choice of fire pit for your backyard landscape.
Frequently Asked Questions
What is the Safest Type of Fire Pit?
As for safety concerns, propane-fueled fire pits are best. A smokeless stove fire pit is a hassle-free and smoke-free idea you can use for your backyard landscaping. If you don't want smoke, ashes, and high-maintenance fire pits, then go for smokeless stove fire pits.
When Should We Not Use a Fire Pit?
Avoid usage of the fire pit in windy weather. Apart from struggling with enormous smoke, unstable flames, and messy ash all over the place, it can cause a disaster with a single fire spark. So try and avoid using a fire pit on windy days.
Can I Leave My Fire Pit Outside?
It is very dangerous to leave your burning fire pit unguarded. It can cause harm to structures or individuals. For safety purposes, always put out the fire with water or an extinguisher before leaving the place.