While the term 'Decking' originates from the maritime world, it also refers to a part of the architecture that, if incorporated into a living space, livens up the atmosphere, serving both aesthetic as well as functional aspects wonderfully. Composite decking refers to the use of 'Decks' that are composed of multiple materials in their construction, usually making them more versatile, durable, longer lived, as well as more customizable.
Composite decking allows for a whole variety of options when it comes to customization, choices of colors, the addition of accessories, etc., making it an excellent option for the modern home. They are not just aesthetic treats but also extremely functional and practical, making them ideal to be used across a wide variety of architectural applications. Exactly what we need for our homes to stand apart from the rest and showcase their uniqueness!
With that out of the way, let's take a look at 15 composite decking ideas to liven up your living space.
1. Curved Decking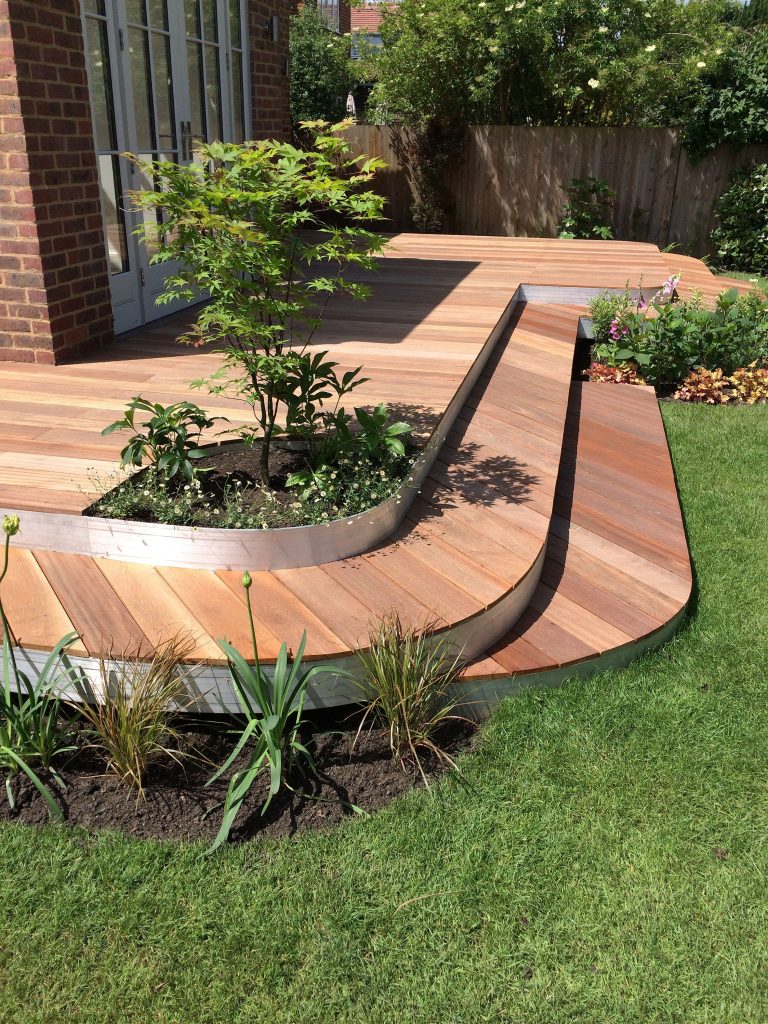 While decks are always rectangular and brutalist in appearance, curved decking is the designing of the decking in such a way that the edges are curved in various shapes, similar to an artist's palette, while also showcasing the arrow straight lines of the deck within, allowing for a beautiful contrast that's designed to treat visually.
Of course, it takes a little extra effort to achieve this. Steam bending, kerf cutting, and the usage of specialized curved decking products are necessary to create curved decks. Not only that, but it also requires specialized framing products and techniques in order to reinforce the curves and ensure long-term durability.
But once set up, curved decking offers a flowing aesthetic that blends wonderfully with natural surroundings, is safer, particularly for small children, with its less sharp edges, has great scope for further customization, and also sets you apart from the crowd, making it one of the easiest to recommend composite decking ideas ever.
2. Multi-Tone Decking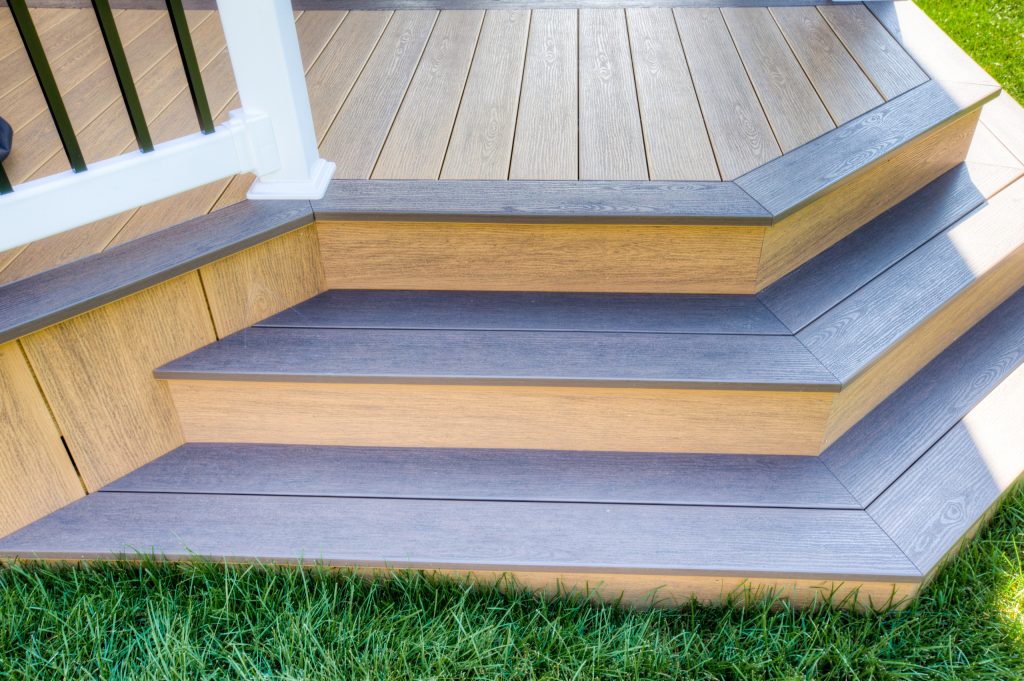 One of the greatest advantages of composite decking is the ability to choose from a wide variety of color choices. This also means that you can choose to have multiple colors at the same time within one decking system. The advantage of multiple-tone decking is the potential for personalization and the ability to choose colors that complement the vibe of your home, including the colors of your wallpapers, the colors of your accessories, etc.
Its possible to use a single tone for the main decks and just use a different color for the bordering of these decks for a more subtle look. Or you can go more creative and create patterns using different deck board colors. The sky's the limit. This is one of the most effective composite decking ideas to liven up your home.
3. Multi-Tiered Decking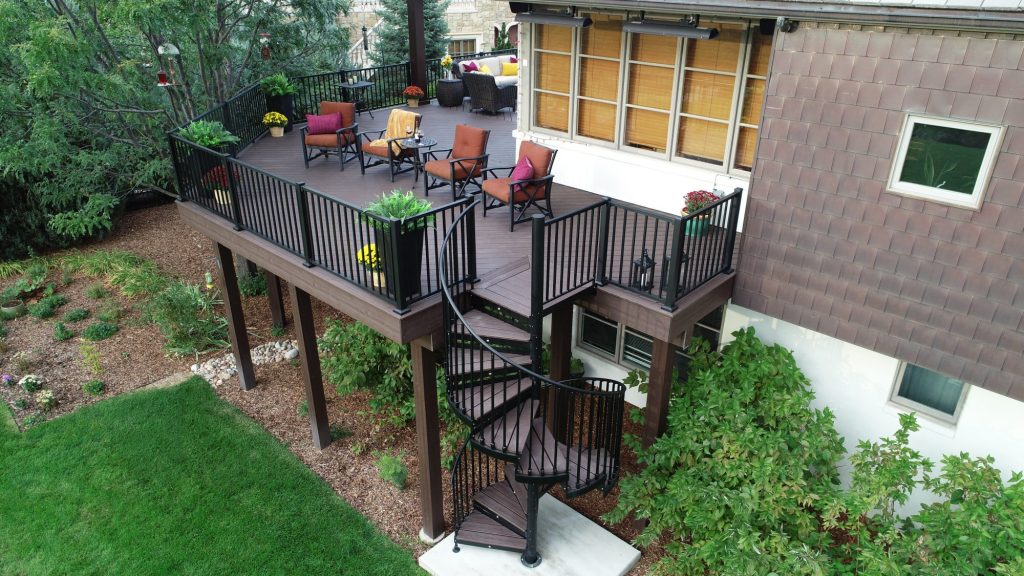 Decking need not be just about shapes and colors but can also include tiers or levels. Its possible to make the decking system in your home more comprehensive and include multiple tiers or levels in order to increase the reach of the aesthetics of composite decking in your home, making this one of the most useful composite decking ideas.
The tiers can be connected with stairs or ramps and can include spaces for various different activities such as dining, lounging, cooking, or hosting social gatherings, as the various zones are conveniently separated.
4. Decking with a Spiral Staircase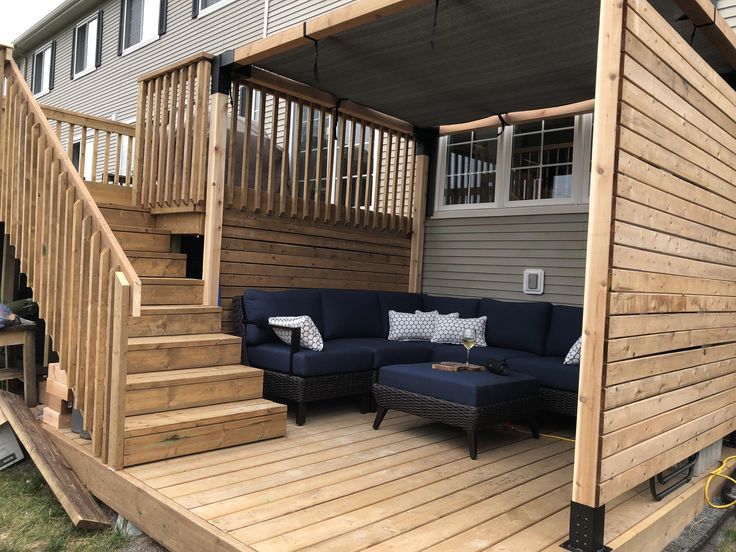 Continuing from our multi-tiered decking idea, decking with a spiral staircase is an amazing concept because not only do you get easy access to the multiple tiers, but you can also integrate the staircase to floors of your home itself rather than limit things to just tiers of the decking. Also, spiral staircases are an aesthetic delight, allowing for a well-rounded appearance for your home.
The spiral staircase offers safety and convenience as handrails and non-slip treads can be installed. Spiral staircases, in general, always save a ton of space, allowing you much more room to personalize your decking setup. Since its such an eye-catching addition, it makes for one of the most stylish and elegant composite decking ideas.
5. Decking with Pergolas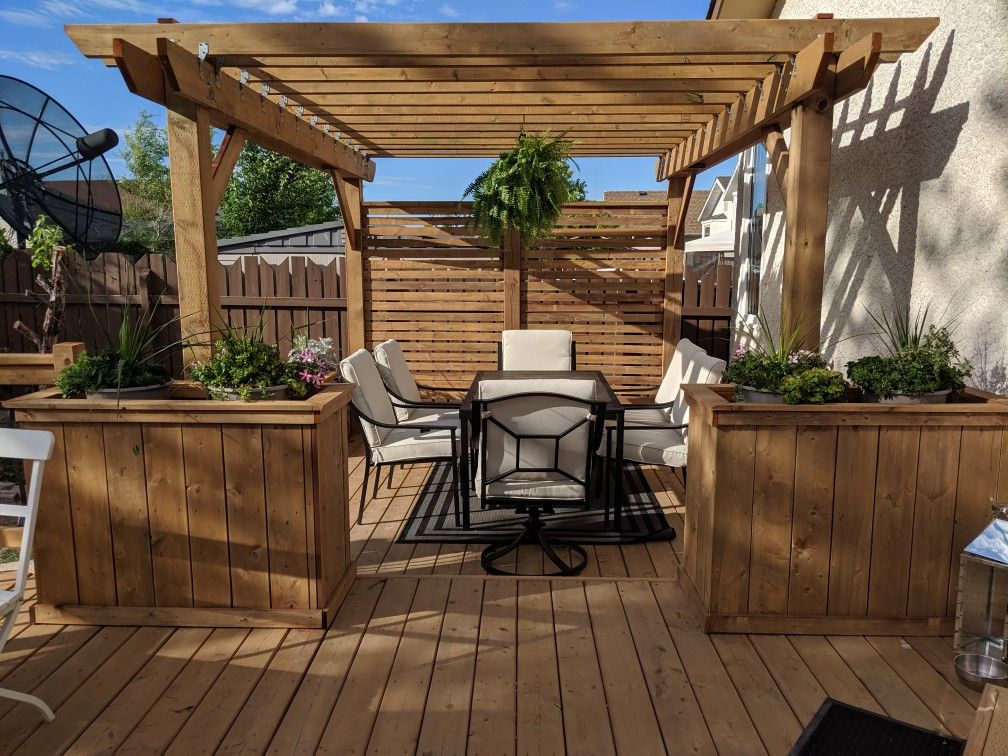 A Pergola is a unique addition to a deck as it provides shade using the help of an open lattice or a slatted roof hosted on an overhead structure supported with cross beams. This not only allows for the functional aspect of providing shade but also integrates beautifully with the aesthetics of your house, almost becoming a part of the architecture visually.
This provides a cozy hangout for socializing and spending calm evenings and lazy Sundays. Also, a wonderful spot for dining, hosting a barbeque, etc. This is why a decking system with a pergola is one of the most expensive, albeit compelling composite decking ideas.
6. Floating Decks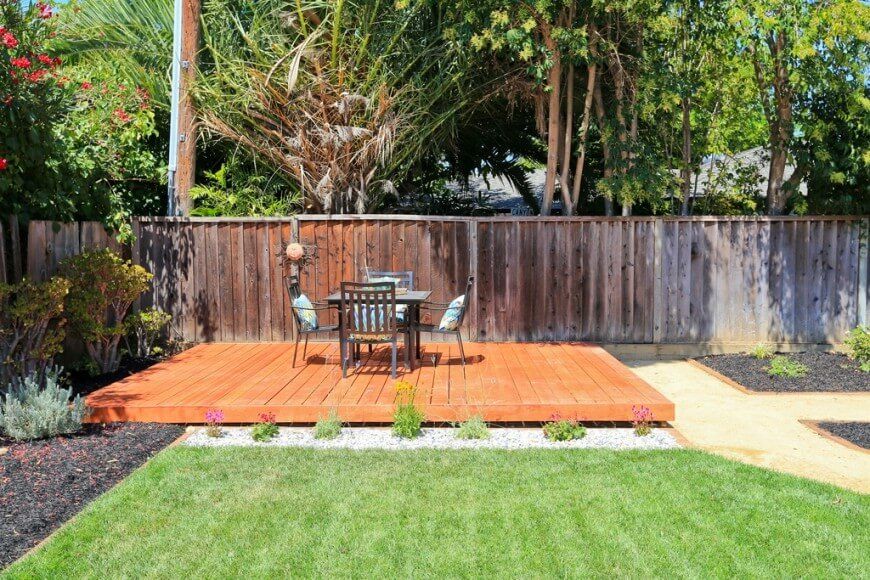 A floating deck is a type of deck that, instead of being supported by a building, supports itself independently with piers or post footings, creating the illusion of it floating. These are also alternatively known as ground-level deck or a platform deck. Floating Decks can be placed anywhere you wish since they are able to exist independently of primary structures like buildings. They help break up the boringness of the surrounding aesthetics by providing an interesting object of focus.
Floating decks are also much lesser expensive to build as compared to traditional decks, making them a highly sought-after value proposition and one of the best choices for composite decking ideas. Their only disadvantage is their lack of suitability when it comes to areas that are highly windy or prone to higher levels of seismic activity. They may also require a permit to be constructed, depending on where you live.
7. Decking with Storage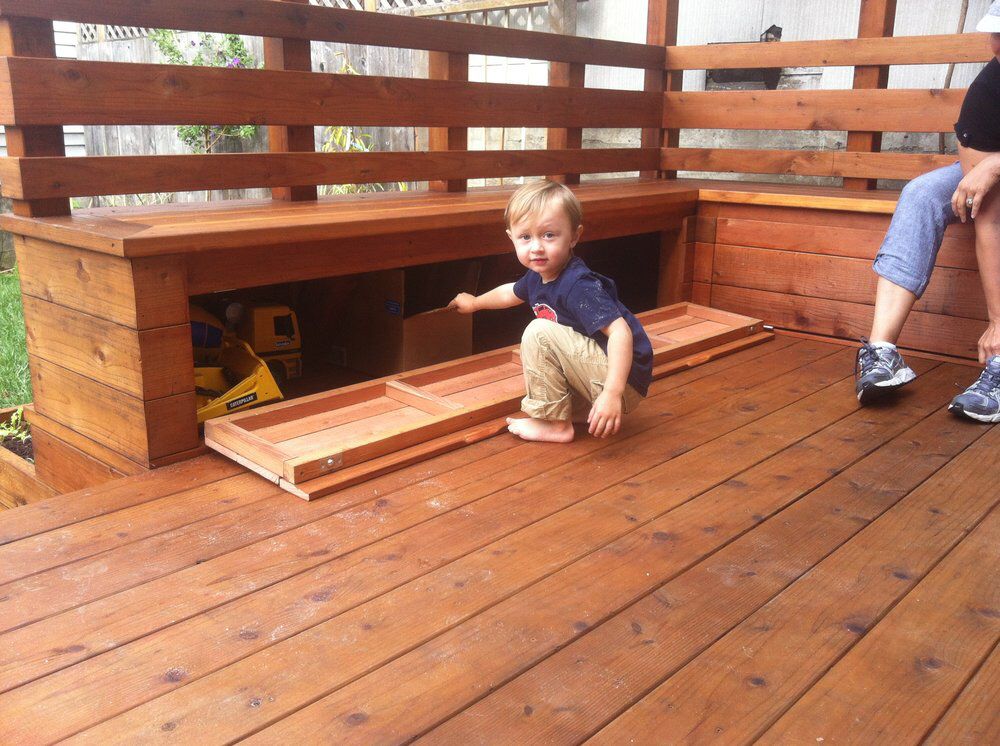 Let's talk about one of the most functional composite decking ideas ever. One of the most useful aspects of decking is the potential to incorporate built-in storage. This also includes hidden storage. Decking with storage allows you to de-clutter your home and store your things safely and securely in a discreet manner, allowing for cleaner aesthetics in your home. This is a particularly popular idea for those practicing the concept of minimalism.
The usage of waterproof cabinets and storage systems for outdoor decking can allow for the safe storage of items, ensuring that they do not get damaged by the elements. And the organizing bandwidth that this provides you ensures that you can keep track of where your possessions are stored without losing track.
8. Decking with Seating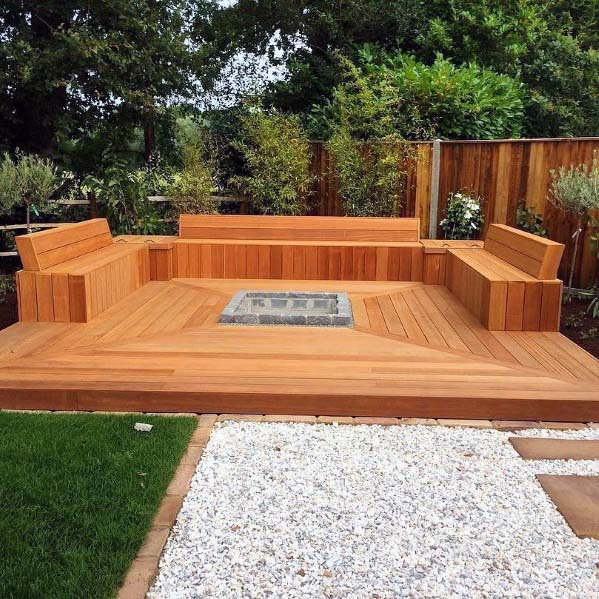 There's something comforting about immovable seating options. Perhaps, its the reliability. Perhaps, its the ease of cleaning. Perhaps, its the lack of messiness. Perhaps, its the fact that once set up, they remain as is, without needing occasional re-organization.
Decking with seating options is highly convenient as there's a lesser need to invest in furniture afterward. Moreover, they are durable, making for excellent outdoor all-weather seating propositions. They also have a wide scope for construction aesthetics, and you can easily incorporate backrests and armrests. These are great composite declining ideas as they are quite practical in nature.
9. Decking with Hot Tubs
Want to spice up the features of your home? Why not try decking with a hot tub? This is arguably one of the most special composite decking ideas because you add such a touch of luxury to your living space.
There are various parameters to consider here, including placement, placement from the viewpoint of privacy, the number of people that can be accommodated, lighting, covering, etc. But once set up, it provides an exclusive experience not many would be able to enjoy.
10. Decking with a Built-In Fireplace
A fireplace is just what one needs during cold, miserable winters. Nothing better than relaxing with a cup of coffee or cocoa in front of the warm embrace of a fireplace with a book in hand. Incorporating a fireplace into decking makes it one of the most comforting composite decking ideas ever.
The various options for the flame include traditional wood fireplaces that require chimneys, more convenient gas fireplaces that don't produce smoke or even more convenient modern electric fireplaces. Its possible to accessorize the fireplaces with seating, lighting, etc, to make the ambiance that much more attractive.
11. Decking With An Outdoor Kitchen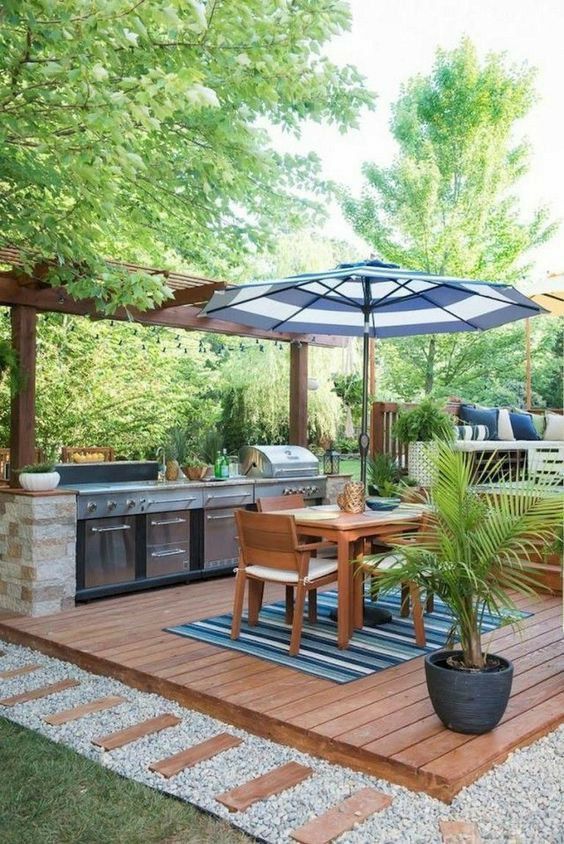 An outdoor kitchen is just the right way to spend a lovely Sunday. But if you're more adventurous, you can incorporate an outdoor kitchen into your outdoor decking system. This is one of the most convenient composite decking ideas since it allows for convenience as well as fun at the same time.
A grill or a barbeque, countertops, and prepping spaces, as well as storage cabinets, are the primary aspects to consider while designing an outdoor kitchen. Apart from this, seating areas for guests can also be accommodated to create an ideal weekend hangout with friends!
12. Decking with Integrated Lighting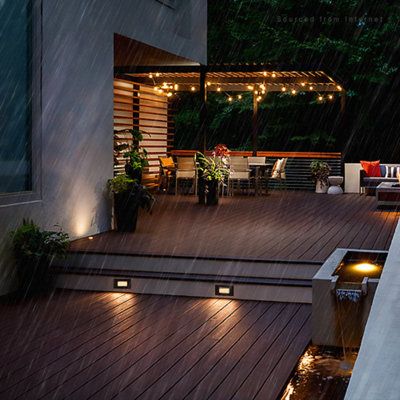 Want to enjoy the ambiance of a resort at your home truly? Try to integrate lighting with the decking. One must witness one of these setups at night in real life to truly behold how amazing they can look. The best part is that it isn't a particularly complex job to do. This is one of the most aesthetically intuitive composite decking ideas, really.
Recessed Deck Lighting, In-Deck Lighting, Under-Rail Lighting, Rope Lighting, and Post Cap Lighting are some examples of decking with integrated lighting that can truly transform the atmosphere of your home.
13. Decking with Planters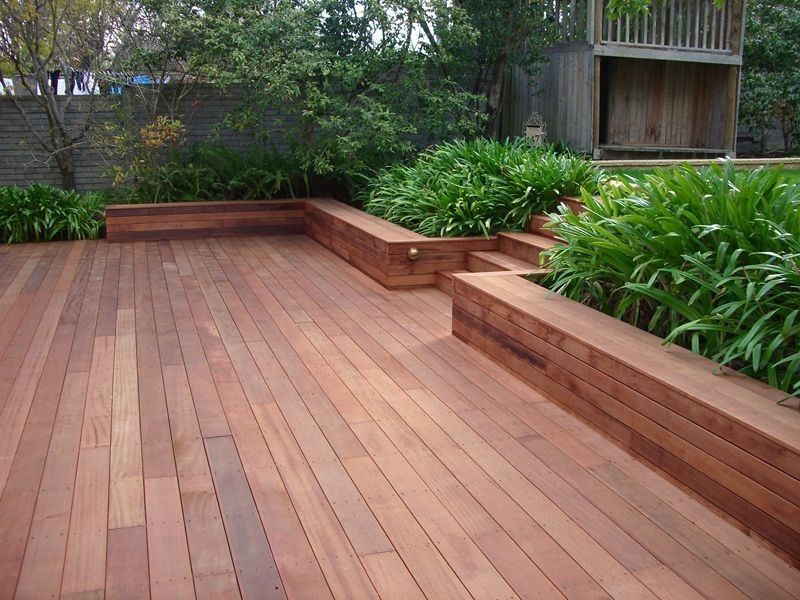 Are you a nature lover? To be frank, most of us are, at heart. Its no coincidence that house plants are such a popular accessory in general. Not only do they provide aesthetic relief, but they also magically inject life into what can often look like sterile, artificial surroundings. Now, taking this same concept into decking, house plants usually work very well as the composite deck boards usually have wood in them, making the external appearances of both complimentary.
Decking with planters allows for space optimization as your garden can now become part of your decking. They are also natural screening materials and also help as a micro-climate regulator. This makes decking with planters one of the most endearing composite decking ideas.
14. Decking with Gym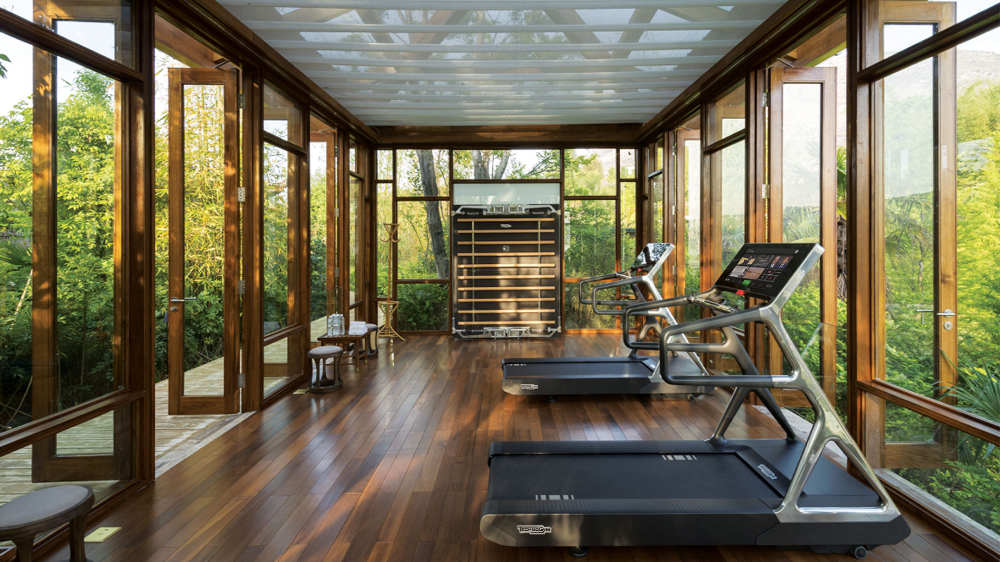 Are you a fitness freak? Even if you aren't, we all would like to keep our bodies fit. A gym integrated into composite decking would not only inspire you to work out more but also provide a wonderful outdoor setting to make your workouts just a bit more eventful.
The gym equipment can range from basic to advanced items, depending totally on your preferences. Its possible to design the system in such a way as to accommodate whatever machines or weights that you wish to use, including cardio equipment, strength training equipment, flexibility training equipment, etc. All this easily helps to make this one of the most healthy and beneficial choices for composite decking ideas.
15. Decking with An Outdoor Theatre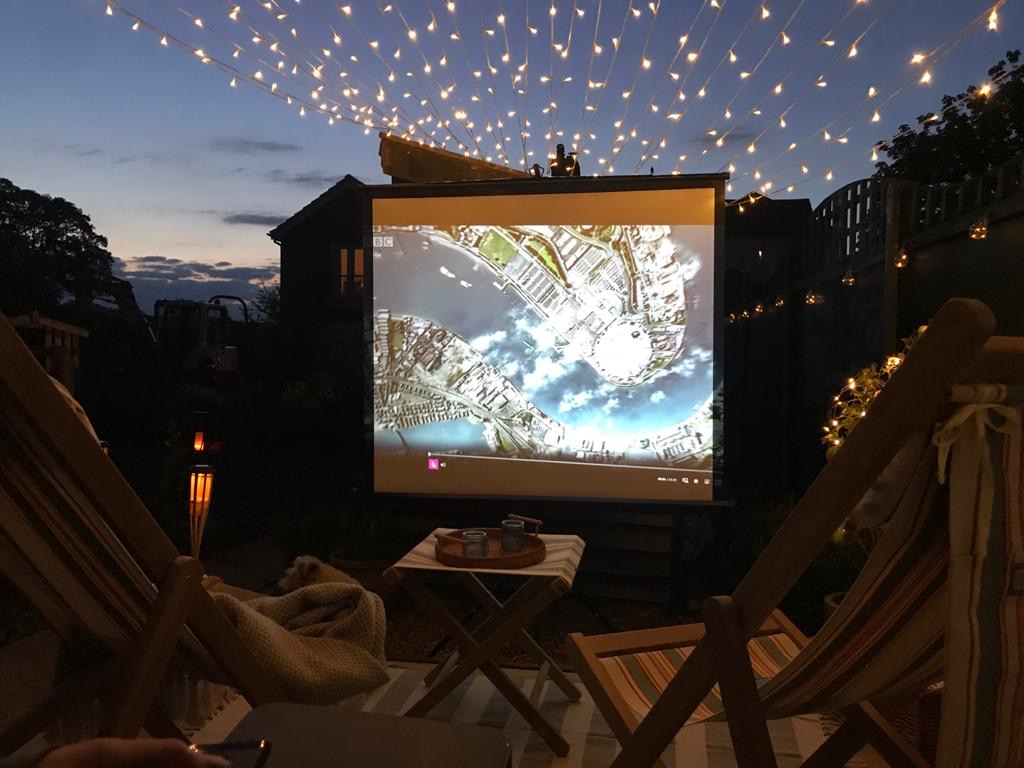 The ability to watch movies, TV shows, and all sorts of other multimedia content under the open sky within your own personalized outdoor theatre is truly a gifted experience. It is one of the most enjoyable outdoor composite decking ideas ever and is something everyone must aspire to have.
The layout must be carefully planned so as to allow for not just the setup of the tech but also seating and accommodation. The available space must be taken into consideration to calculate these variables. The screen and the projection system is the most important aspect as that's where our focus would naturally go to. To accompany the visual output, the audio system used must be equally competent to deliver the most immersive experience possible.
Apart from these basics, weather protection must be carefully planned in order to keep your outdoor theatre safe from the elements. All this may sound complicated, but the rewards that the results bring are truly ones that are so highly desirable. Not just for personal reasons, but also for social ones, as there's no better way to spend the evening with friends than at your outdoor theatre.
Final Thoughts
What we can conclude from all these captivating ideas is that composite decking is one of the most versatile and desirable features that you can add to your home to make it visually and functionally appealing truly. Not only that, but the use of composite materials in decking allows for a durable and long-lasting design aesthetic that should easily stand the test of time while also being versatile enough to modify, mix and match according to your own tastes.
Plus, the addition of the various accessories mentioned earlier, such as the outdoor hot tub, theatre system, etc., allows for a lot of personalization and is one of the greatest aspects of these composite decking ideas.
They are all blank canvases for you to truly exercise your creativity and make your very own home stand apart from the rest in such a distinctive way!