A sloped landscape looks wonderful in nature, but if it is in your backyard, then you want to renovate it to fit your vision. There are a number of ways to turn your sloped backyard into a beautiful garden filled with bright flowers and lush plants.
Important things like water runoff and soil erosion should be on your mind when making landscaping plans. You can do it by yourself or take help from a gardener or landscaper with this project.
For a sloped landscape, a retaining wall is the ideal solution. A retaining wall enhances the beauty of your landscape and retains soil, hence the name. The retaining wall stabilizes the soil and ground against the forces of gravity. In this article, you will learn 15 inexpensive cheap retaining wall ideas.
You will see which materials are economical, the different types of retaining walls, and important factors you should be aware of.
What is a Retaining Wall?
A retaining wall supports the soil laterally; this way, the soil is retained at different levels on both sides. Retaining walls can be built in your sloped backyard. This way, any sloped outdoor space will be practical and functional.
A retaining wall makes your backyard more beautiful, keeps the soil in place, prevents soil erosion or flooding, and keeps maintenance costs low. Retaining walls can be expensive and inexpensive. It depends on what type of retaining wall and the materials used.
There are so many economical and expensive materials that can be used to make a retaining wall. A few include pressure-treated wood, concrete blocks, oversized precast concrete, modular precast concrete, natural stones, wood, timber, brick blocks, cinder blocks, and many others.
How Much Will a Retaining Wall Cost?
The cost of a retaining wall depends on where you live, the retaining wall materials, the retaining wall's length, width, and height, and the retaining wall's type and style, base, and reinforcement materials.
| | |
| --- | --- |
| Retaining Wall Material | Average Cost Per Square Foot (USD) |
| Gabion | $4 to $40 |
| Boulder/Rock | $8 to $12 |
| Cement/Cinder Block | $10 to $15 |
| Brick | $14 to $15 |
| Wood/Timber | $15 to $25 |
| Poured Concrete | $20 to $25 |
Lists of Retaining Wall Ideas for Your Backyard
Now that you know what a retaining wall is, let's look over a list of cheap retaining wall ideas. Then you can decide which one is perfect for you and your backyard.
1. Timber Retaining Wall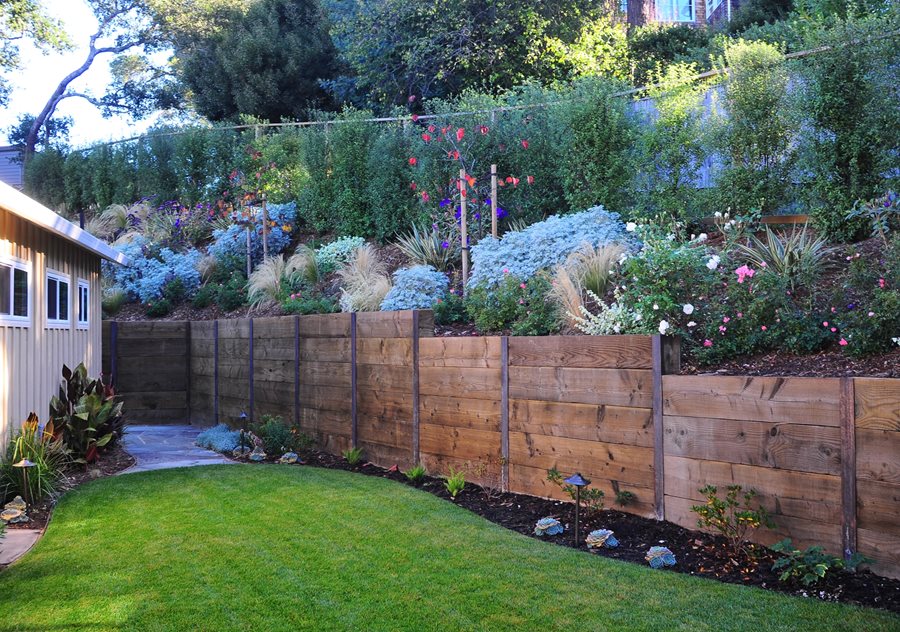 First on the list of inexpensive cheap retaining wall ideas is a timber retaining wall that will look wonderful in your sloped backyard. Timber comes in a wide range of colors, grains, and textures. The wooden wall will appear rustic due to weathered finishes or contemporary due to a lighter finish. The wood can be applied horizontally or vertically, based on your preference.
The timber wall's construction is simple and has low costs, which is why it is the most common choice, especially for a do-it-yourself project. The timber wall blends more naturally into the landscape; make sure to put in drainage structures so that your timber retaining wall lasts much longer.
2. Gabion Retaining Wall

A gabion wall is a wire cage, basket, or mesh frame; then, you fill the cage with rocks, concrete, slag glass rocks, or other materials. The gabion wall can be of any alignment and is well suited for steep slopes. A terraced gabion wall will give space for other landscaping projects, such as comfortable seating in a garden.
Gabion walls are easy to assemble and have low costs. Use different-sized rocks for better visual appeal. The drainage system is just as important as the retaining wall; check on the drainage annually and especially after heavy rainfall, for maintenance and updation.
3. Brick Retaining Wall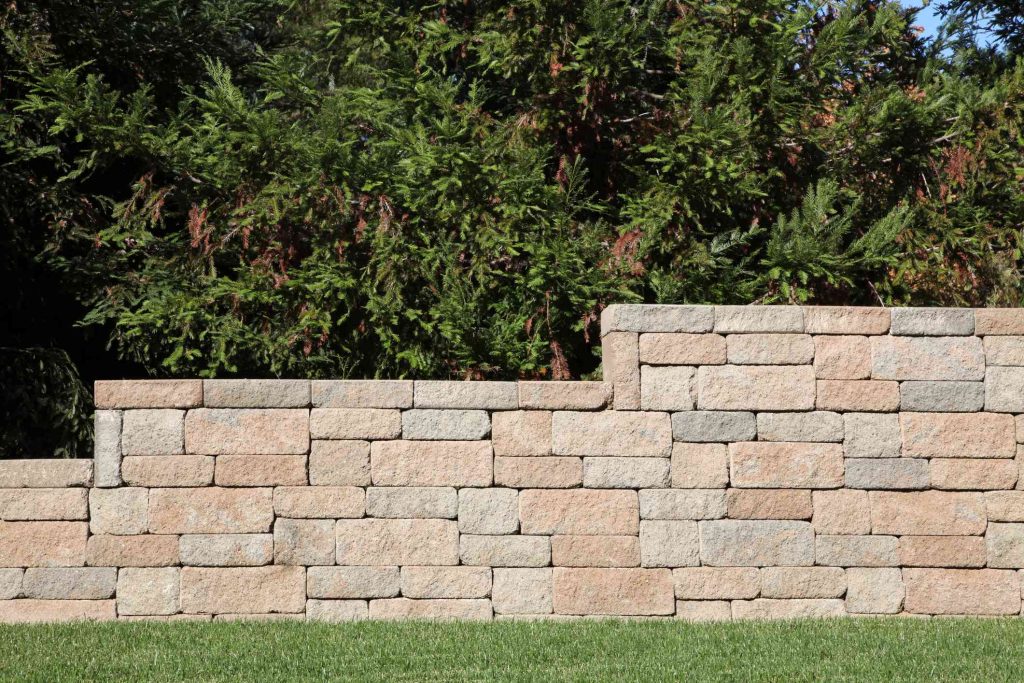 Brick is a popular material for retaining walls; it greatly complements traditional homes and landscapes due to its homely and warm vibes. Brick is easy to maintain as it retains the color quite well; this will make your life much easier after installation. They are eco-friendly since they can be repurposed for other projects.
Bricks are durable, so they will last a very long time. Weather conditions and natural elements can not cause much damage to the brick retaining wall. This brick wall will act as a barrier for added security, especially depending on the wall height. Your property or surrounding area will be protected by the brick wall.
4. Sandstone Retaining Wall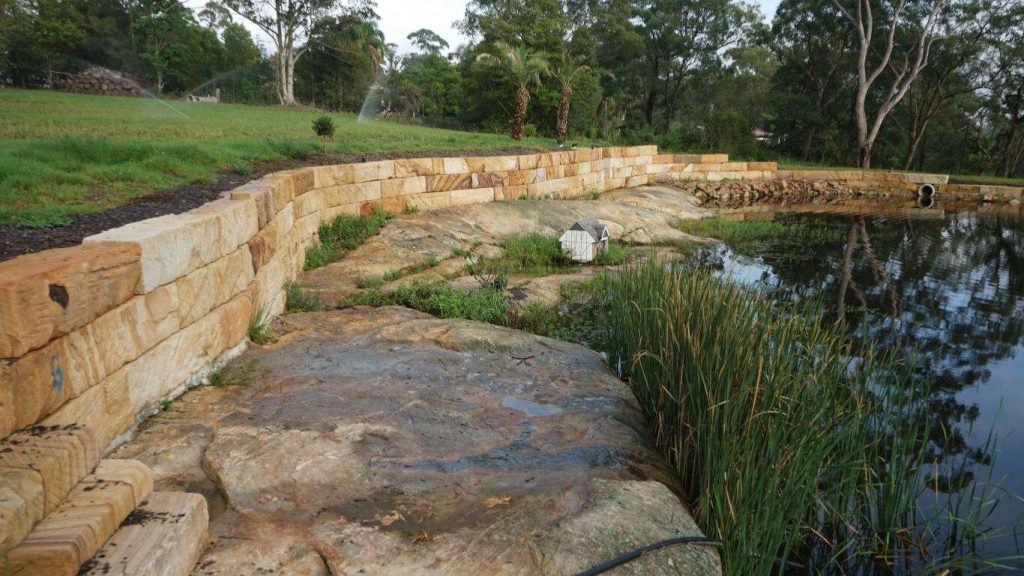 Sandstone comes in a wide variety of sizes, colors, and finishes, so you will find sandstone for every budget. With sandstone rocks ranging from small to large in size, you will be spoilt for choice. Along with retaining walls, sandstone can be used for garden edging and landscape borders. Add sandstone steps for a place to sit and climb the slope.
This low-maintenance option is practical and functional for sloped landscapes. They will look more natural and beautiful in your backyard. They are easy to install, so they are the perfect choice for any budgetary concerns. Increase the aesthetics and overall look of your retaining walls with sandstones.
5. Limestone Retaining Wall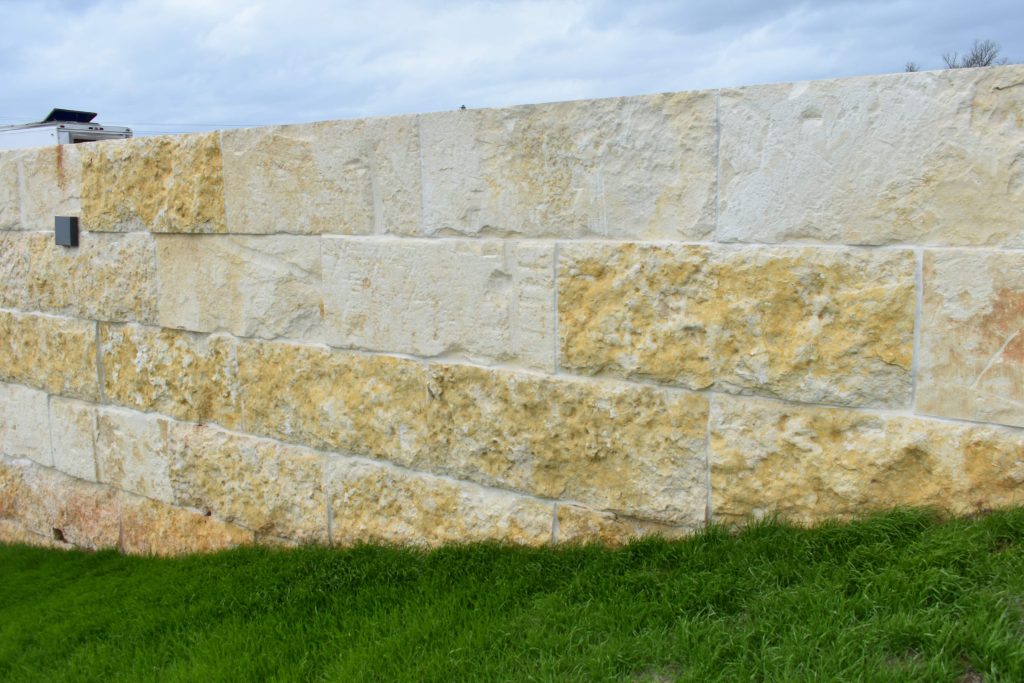 Limestone retaining walls offer a plethora of benefits that make them so widespread. The shades of limestone greatly complement any landscape, so you can pick the one which blends with the surroundings. A durable material like limestone will stand the test of time and is a great value for money.
You can even make other features, like a bench in your garden, out of limestone so that there is a consistent theme throughout; the limestone also shines a light on the other garden features, an example of limestone's versatility. It even adds value to your home should you ever need to sell it.
6. Tire Retaining Wall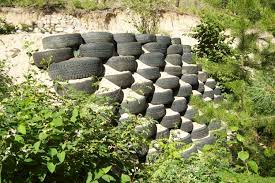 One unique material for your retaining wall is a tire. If you are environmentally conscious, then this tire suggestion is ideal for you; you are recycling materials. The tires are strong and durable. It is the perfect do-it-yourself project and is budget-friendly.
You just lay the tires on their sides and stack up the pile as much as you need it. The base layer of tires needs to be filled with rocks, sand, dirt, or a combination; compact it and add more filler material as needed. Since the tires interlock with each other, you will not need any reinforcing steel.
7. Boulder Retaining Wall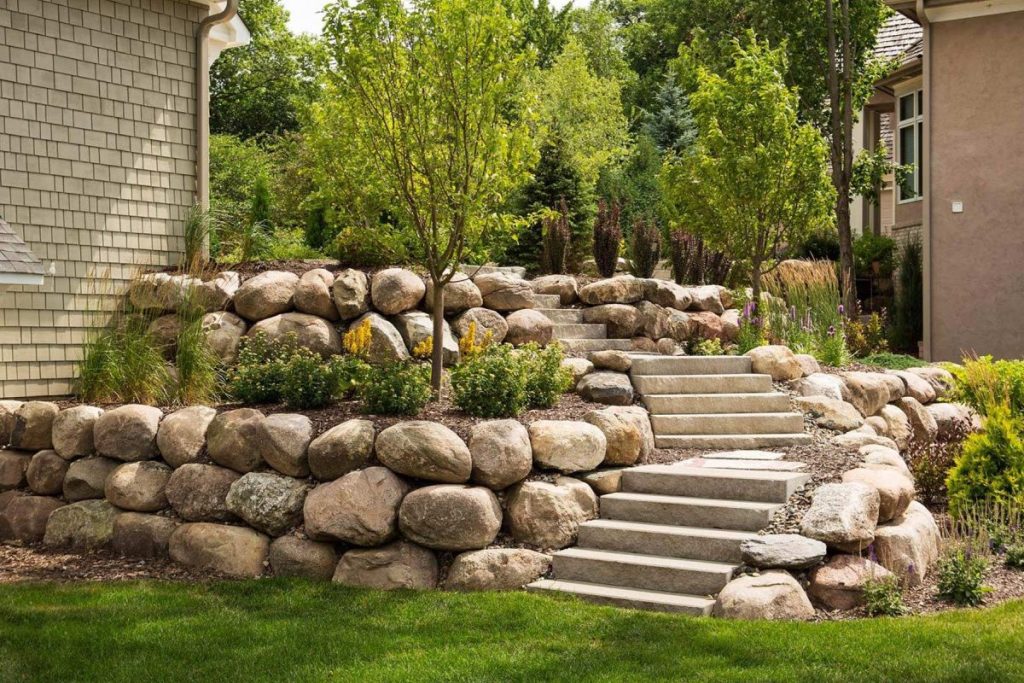 A boulder retaining wall should also be on your list of inexpensive cheap retaining wall ideas. This type of wall has a more natural look and blends with the other garden features; it is an extremely long-lasting structure and an organic style. They are resistant to weather erosion and can stand immense pressure.
You can even combine large and smaller boulders if you can not find boulders in one size; this gives you a unique retaining wall. As long as your boulder retaining wall is well built, it needs little maintenance; depending on where you live, a boulder wall is the most cost-effective option for you.
8. Pavestone Retaining Wall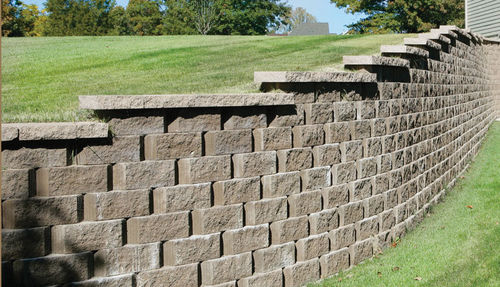 Pavestone retaining walls are becoming a popular choice these days. You will find a whole array of shapes, colors, and sizes. Use the same pave stone for other projects in your backyard so that there is unity. They are easy to install as the paving blocks need to be stacked in the layout of your preference.
This paved stone retaining wall handles water drainage very well down the slopes. Dirt, stones, or other things will not fall down the slopes due to the pave stone retaining wall, especially during the rains; your patio or garden will stay protected. Increase your garden's aesthetic with a stunning pave stone retaining wall.
9. Poured Concrete Retaining Wall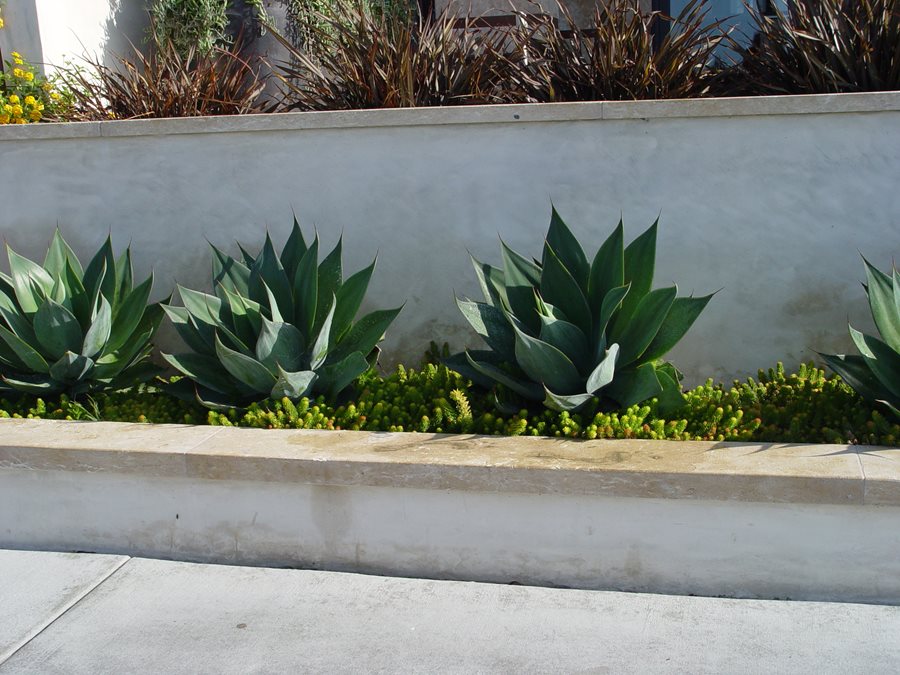 You probably have seen poured concrete retaining walls along the freeways. The same type of retaining wall can be installed in your sloped backyard. It is the strongest and most durable material for a retaining wall out there. You can use processes like staining, stamping, carving, or veneering to make concrete look like stone or wood. The concrete wall could have horizontal or vertical components.
This type of retaining wall will go perfectly well with a modern house. A terraced retaining wall can give you layers so that you can grow different plants and flowers in different rows. This will perfectly enclose your garden from outside elements.
10. Concrete Block Retaining Wall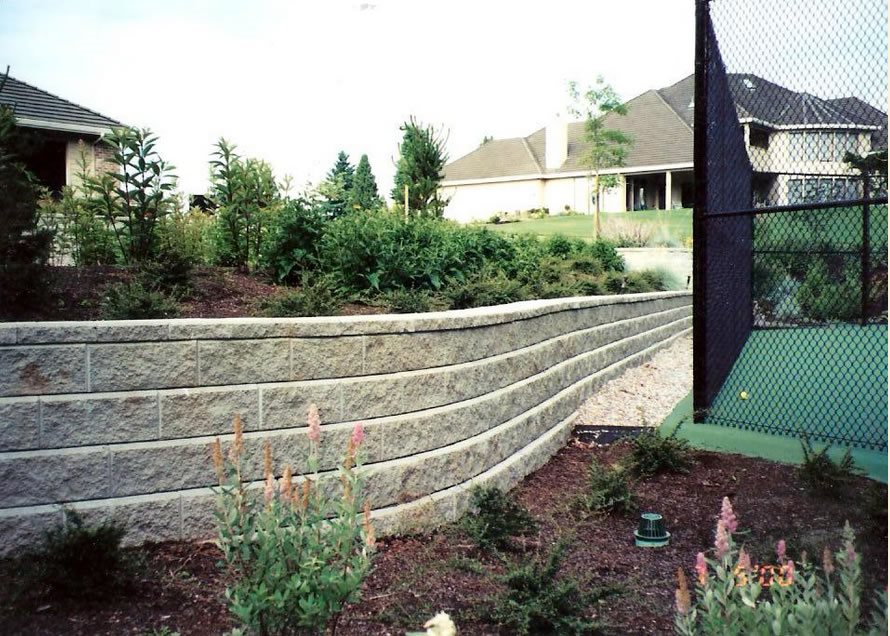 If you do not like poured concrete, then do not forget about concrete blocks. A concrete block retaining wall has an easy installation since the blocks fit all together; it also has a longer life span. With a retaining wall, you can really shape your garden space to your preferred look.
The concrete blocks will have a great contrast with the natural elements. Your gardening area will be protected, especially if you have a sloped backyard. Of course, this type of wall can increase the value of your house when it is time to sell. The soil is stopped from eroding and spilling into your backyard.
11. Fieldstone Retaining Wall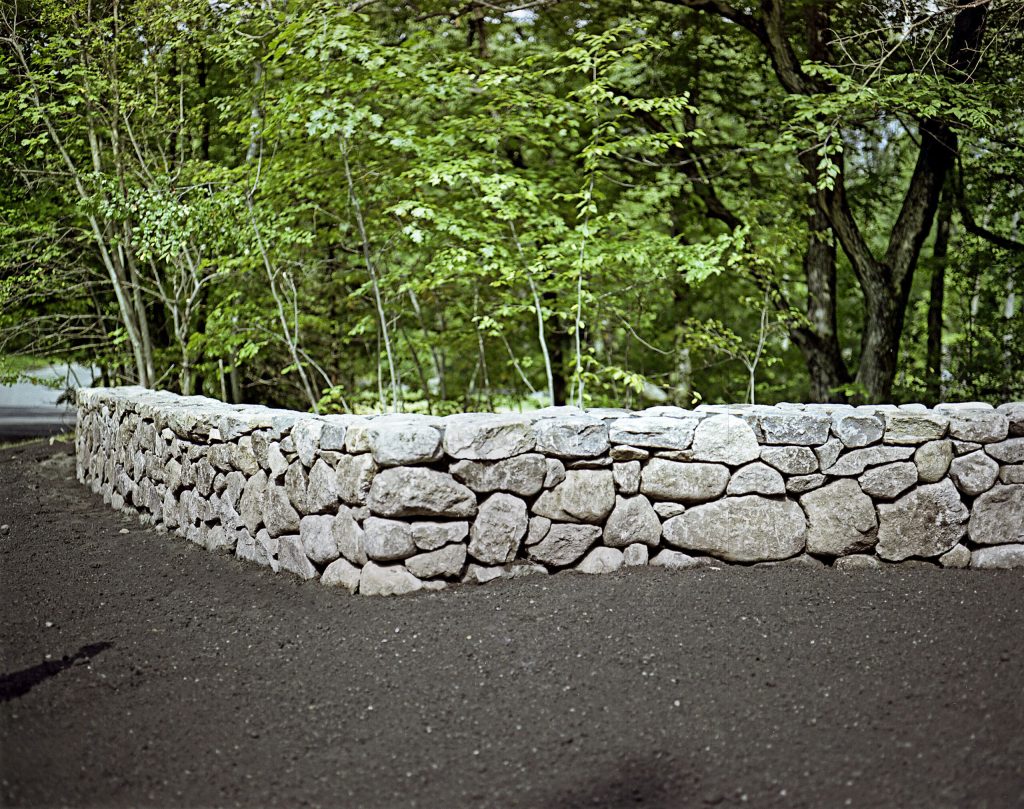 The fieldstone retaining walls will look gorgeous against the natural landscape; they also are great for property lines and fences. They are beautiful and practical at the same time. Build this retaining wall on undisturbed or compacted soil; level the stones to the sloping grade. The wall's top should be finished grade so that the heavy rains flow over the top of the retaining wall.
The heavier stones cap your retaining wall so that the stones will not move. The retaining wall requires little maintenance, and if you see any holes, add crushed stone; the holes happen due to the natural settling process.
12. Terraced Retaining Wall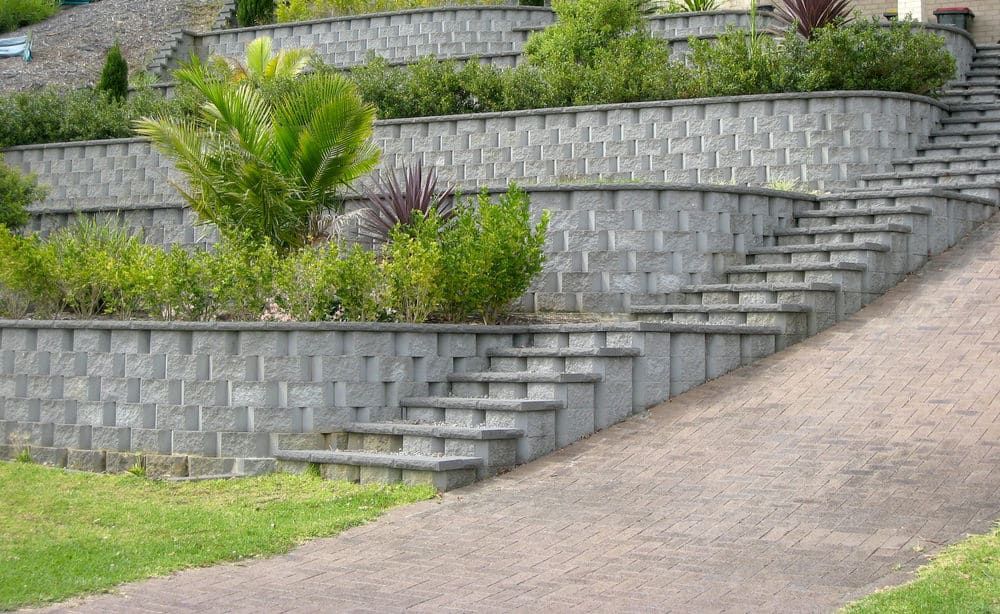 Next on the list of inexpensive cheap retaining wall ideas is a terraced retaining wall. A terraced retaining wall gives you so much space for growing plants and flowers. You can easily divide the retaining wall into sections over the slope. This wall will help transform your sloped backyard into an aesthetically pleasing gardening area.
These rows can even have seating areas for you and your loved ones; sit back and enjoy the view. Your flower beds will receive enough sunlight without blocking the plants in the next row. The shape of the terraces can effortlessly complement your style; any plant trimming and maintenance will become more accessible since they are contained.
13. Log Retaining Wall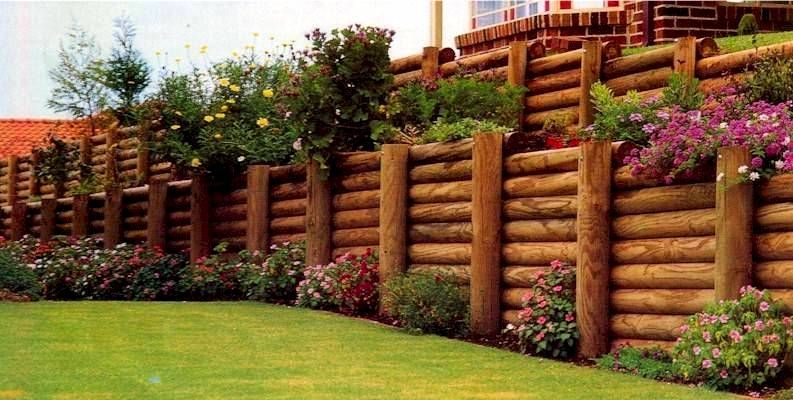 A log retaining wall is another good use of recycled material. You can grow many green plants and bright flowers nearby, as it will increase your garden's visual appeal. These log retaining walls can perfectly divide your yard and the sidewalk.
The rustic look of the logs blends nicely with all your plants and flowers. With the log boundary, your garden will have a more organic and forest vibe. There are so many different types of logs that you can pick from.
14. Railway Sleeper Retaining Wall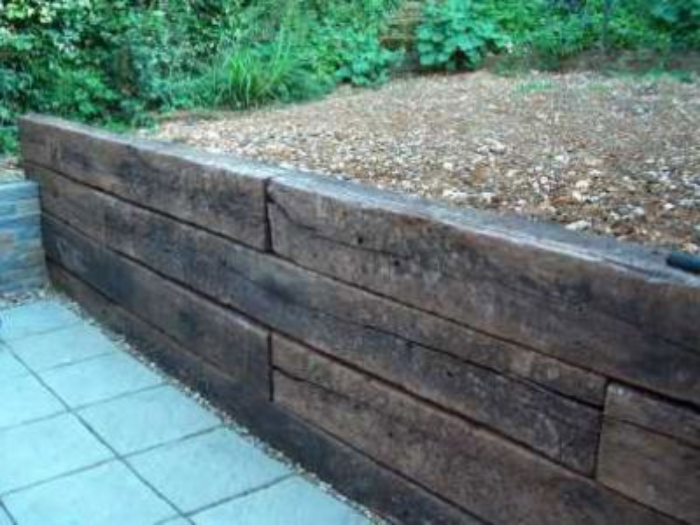 A railway sleeper retaining wall is well-known in traditional and modern landscaping; you can even use this material for garden dividers. Install them with or without supports, horizontally or vertically, and stack them on the short side or long side, depending on your sloped backyard.
Choose from reclaimed, hardwood, or softwood sleepers based on your needs; adequate drainage will help keep your railway sleeper retaining wall in good health for twenty to forty years. This vintage look will be the perfect addition to your traditional house or quaint cottage.
15. Steel Retaining Wall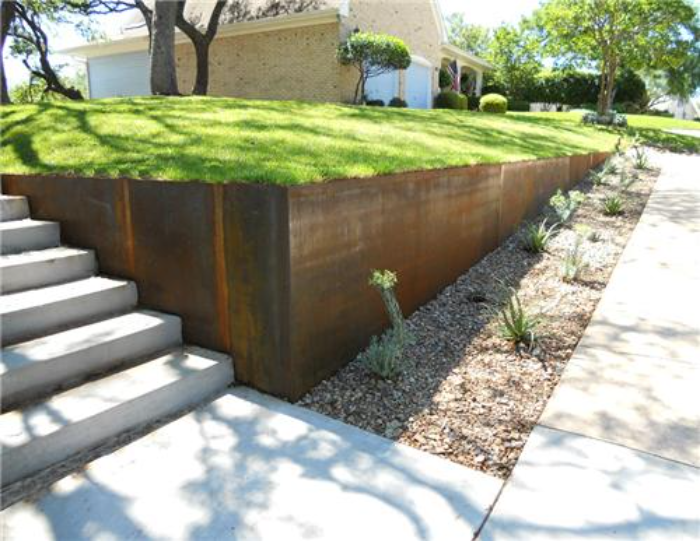 A steel retaining wall is a wonderful idea for your sloped garden. This is a cost-effective solution with a durable material being used for your retaining wall. Use plain and untreated steel so no harmful chemicals get into your plants and flowers.
With a modern and contemporary look, steel should be on your retaining wall list; you will also get the rustic look as time goes on. You can get more dynamic designs with steel, so you can really let your creativity show. Steel can also stand immense pressure from the soil.
Final Thoughts
Landscaping can seem intimidating, but it is possible, especially if you do the research. The process gets far more manageable once you know what you want and what you have. Now, there is a wide range of retaining wall types that you can pick from based on your budget, preference, or area.
This article showed you a list of 15 inexpensive cheap retaining wall ideas you should consider when deciding on your retaining wall. This list will help narrow down which retaining wall best fits you and your garden.
Write in the comments below whether you have a retaining wall, which material did you pick, how big is your retaining wall, how long did it take you to install it, why did you choose this particular retaining wall idea, and other essential details that everybody else would appreciate.