Are you thinking of transforming your bathroom with a coastal theme? Welcome to the perfect destination if you imagine yourself in a tranquil and refreshing bathroom that has the vibe of any coastline. There cannot be something better than when you enter your bathroom; you instantly get teleported to an ocean and get refreshing vibes before starting your day or after a tiring one.
The great thing is you don't have to worry about booking tickets to Hawaii or any other beach to enjoy this feeling. Yes, it can be a little difficult at some points, but the coastal bathroom doesn't only provide you with a "feel good" factor but also gather compliments from your visitors!
In this article, we have brought you the top 15 coastal bathroom ideas. Top coastal ideas that will urge you to make those modifications right away! So get ready, and let's start our journey.
Best Coastal Bathroom Ideas for Mood Uplift
1. Coastal Color Schemes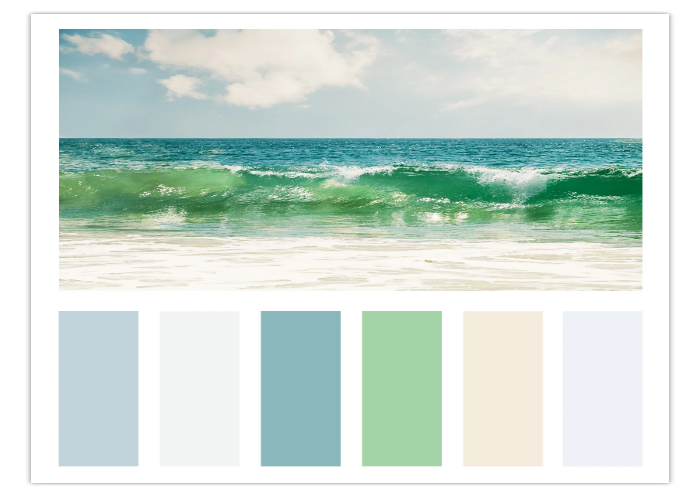 Coastal color schemes are obtained from natural elements, including the coastal environment, vast oceans, sandy beaches, sky, and coastal landscapes. These color palettes typically include a perfect blend of calmness and soothing colors.
Blue and White: This combination represents the ocean and the sky. You can use different tones of blue, including dark navy and sky blue.
Sand Brown and Seafoam Green: Drawing inspiration from sandy beaches and the gentle lapping of waves, this color scheme mix warm sandy tones with the color green of seafoam.
Coastal Neutral: To set a coastal color scheme, show the underrated neutral colors of driftwood, seashells, and other natural elements. Add different shades of grey, taupe, and beige, along with off-white or cream.
Tropical: Add a variety of coral tones, starting from peach and different colors of coral along with teal. This will give playful and energetic tropical coastal vibes.
2. Add Nautical Accents
>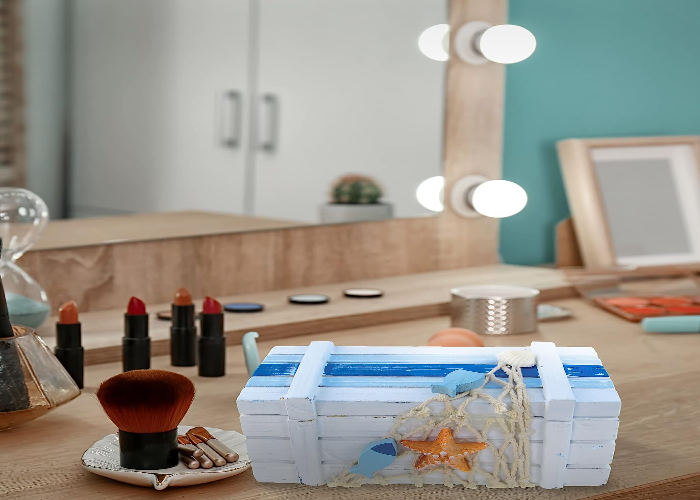 Before we move further, the nautical refers to 'related to navigation in marine cases.' If you choose to add the nautical accent, it will remind you of the fragrance of the ocean and the sounds of seagulls. The gentle shades of blue and white effortlessly transports your mind to a shore, making your surrounding calm and peaceful.
You can add a mirror framed with a rope so that when you approach the vanity, it gives you a feeling of a ship. Don't forget to make your sink in this nautical-themed.
3. Seashell Shower Curtain & Hooks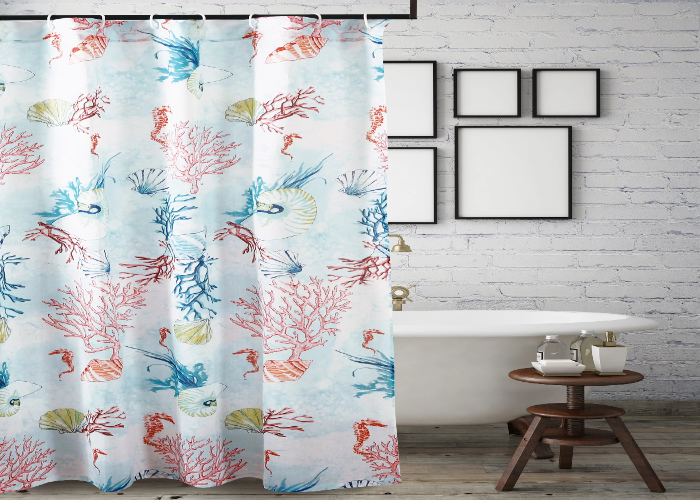 As you reach for the shower curtain, you feel the gentle touch of seashell-shaped hooks that are set with curtains. With a delicate pull, the seashell shower curtain glides along the rod, unveiling your beautiful bathing area. It would be enjoyable as the water from your shower will remind you of an ocean shower.
The seashells, with their realistic design, give a feeling of the real ocean. It gives a sense of smoothness to the overall experience.
4. Driftwood Décor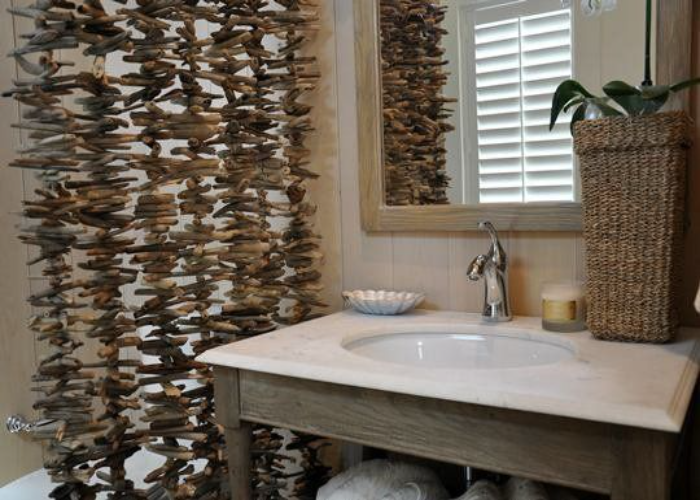 Driftwood, a weathered and eroded wood shaped by the water's flow, possesses an old-time vibe that is capable of enriching any domestic setting. Each individual organic and artistic form in driftwood décor carries its own shape by different natural forces like air and water. The curved nature of the wood shows a mesmerizing visual appearance with a touch of unique art in the room.
The neutral and brown colors in driftwood make it remarkably versatile across various design styles. Whether your room's theme has a coastal, rustic, or modern theme, driftwood effortlessly merges into the ambiance giving a natural warmth and amazing details. It seamlessly matches with a large number of colors, from white to blue and some dark tones.
5. Wicker Basket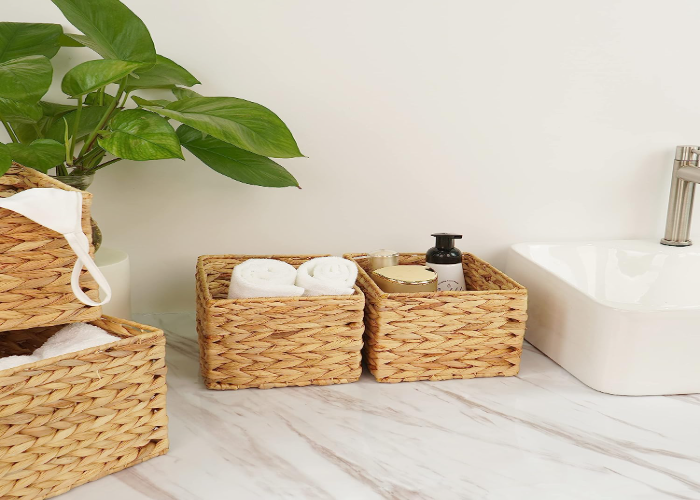 Adding a wicker basket into a bathroom with a beach-inspired aesthetic has a practicality in daily life. Its seamless addition to the coastal theme shows a profound sense of serenity.
The good thing about a wicker basket lies in its old design and natural textural appeal. The interlaced patterns of the basket explain the fine details put into it, fine preparing them. The warm and earthy tones that are in trend merge flawlessly with the cool blues and whites. These colors are often associated with beach-themed décor.
When it comes to functionality, a wicker basket proves to be an exceedingly versatile addition to a bathroom. It serves as a practical storage solution for a big list of items, facilitating an organized and uncluttered space. Towels, toiletries, and even beach essentials like sunscreen or flip-flops can be put into them without any worry. The open design ensures effortless accessibility, enabling convenient reach to the items as the need arises.
6. Rope Accent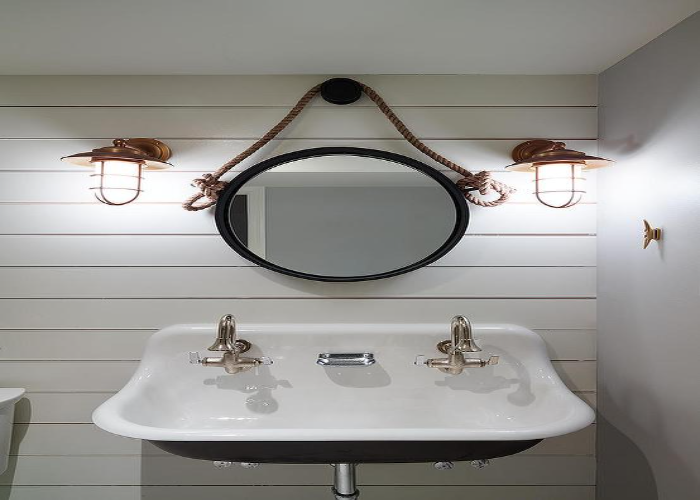 The specialty of the rope accent in the coastal bathroom theme is that it has the ability to provide an essence of living by the seaside. The organic texture and earth-toned colors of the ropes give a sense of peace and feelings for the natural world. This enriches the coastal theme in an exciting way.
The knots of the ropes make themselves the center of attraction, draw attention and give a sense of depth to the overall design. Rope accents can be used in various ways, ranging from serving as holders for towels and robes to framing the mirror and securing curtains. Thereby enabling boundless opportunities for artistic expression and personalized modifications.
Whether it takes the form of a weathered rope shelf or vanities, these accents enhance the space of olden times and an inviting coziness. The rope accents of coastal bathroom ideas have the power to transport your imagination to the beaches.
7. Vintage Beach Theme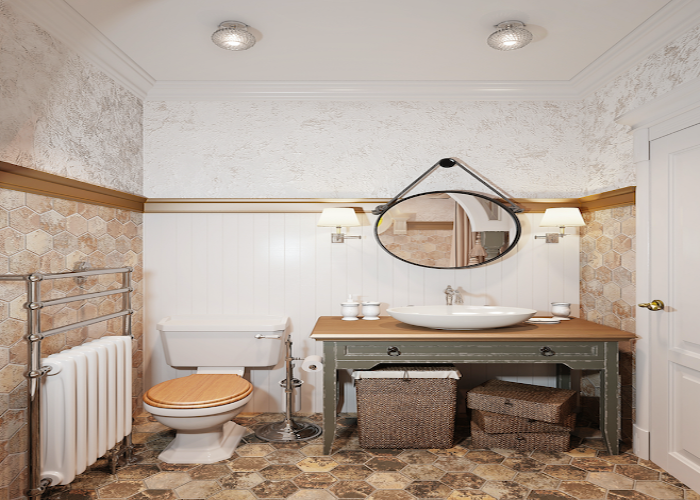 The beauty of a vintage beach theme in coastal bathroom ideas can be termed as cherished and attractive. It effortlessly gives you the feeling of an old-times era, where the seaside was set in a delightful simplicity, elegance, and natural touch. The vintage beach theme adds elements of never-ending designs and coastal inspiration.
Showing vintage-inspired fixtures, such as clawfoot bathtubs or pedestal sinks, gives an air of authenticity to the bathroom. Soft colors, like seafoam green or the soft blush of pale coral, make this theme perfect for your bathroom. The inclusion of weathered wood accents, antique mirrors, and carefully selected vintage-inspired accessories, such as seashell-shaped soap dishes or mercury glass jars, further contributes to the overall nostalgic atmosphere.
8. Coral Accent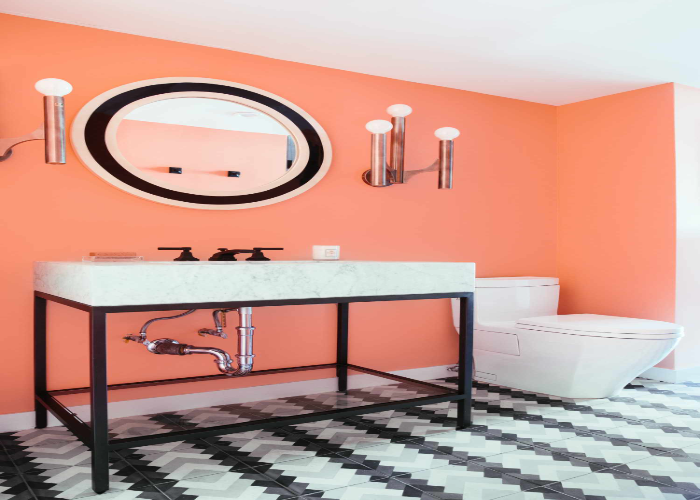 The coral accent in coastal bathroom ideas is a vibrant concept. Coral, with its vibrant color pallet from pastel pinks to lively oranges, gives your space a burst of energy and excitement. Introducing things inspired by coral into the bathroom design instantly evokes the beauty and ambiance of an underwater coral environment.
Putting coral-colored tiles on the walls or floors adds a vibrant touch. They also create a visually striking focal point that brings attention. Matching the coral tones with white backgrounds allows the dazzling shades to show beautiful views to the eyes truly.
Combining the coral theme with natural elements like seashells, driftwood, or pebbles further enriches the coastal atmosphere, introducing depth and texture to the overall design. This addition of soft and flowing curtains shows a soothing and dreamlike atmosphere, transporting you to a state of peaceful aura. This accent has the power to transform your bathroom into the most beautiful place like never before. This, in turn, will remind you of sun-kissed beaches.
9. Seaside-Inspired Vanity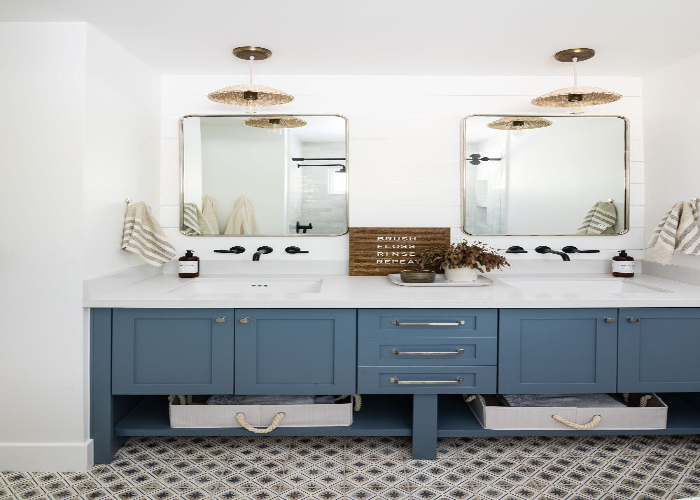 The seaside-inspired vanity in coastal bathroom ideas has the capacity to add the space coastal charm and an atmosphere of relaxation. Such a vanity often has designs that give the very essence of the beach. Using natural textures and colors enhances the vanity and adds depth and character. It sets a point of attraction within the bathroom.
Light blue, sandy beige, or seafoam greens further improve the coastal theme. Including seashell accessories, like specially crafted drawer pulls or knobs, further enhances the seaside aesthetic. The seaside-inspired vanity in coastal bathroom ideas can lift your mood at the beginning of the day or anytime you visit that magical place.
10. Ocean Inspired Wallpaper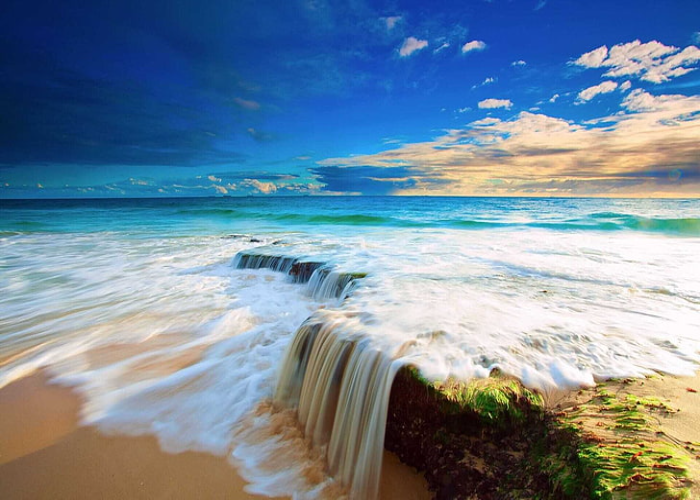 The ocean-inspired wallpaper in coastal bathroom ideas has the capacity to give the bathroom the serenity of the sea. The curvy lines and cheerful colors of the ocean bring sophistication and peace to any bathroom.
The varying shades of blues and greens generate a sense of calm and serenity. This will remind you of the vast depth of the oceans. The wallpaper plays the role of an amazing backdrop, matching perfectly with natural elements such as seagrass, thereby improving the coastal theme.
Moreover, ocean inspires wallpaper serves as a delightful way to start a conversation. These wallpapers effortlessly get the attention of guests and give them an unforgettable experience. They are suitable for your bathrooms but can also be set in the living room, where you will get that "feel good" sensation whenever you look at that wallpaper.
11. Beachy Flooring Options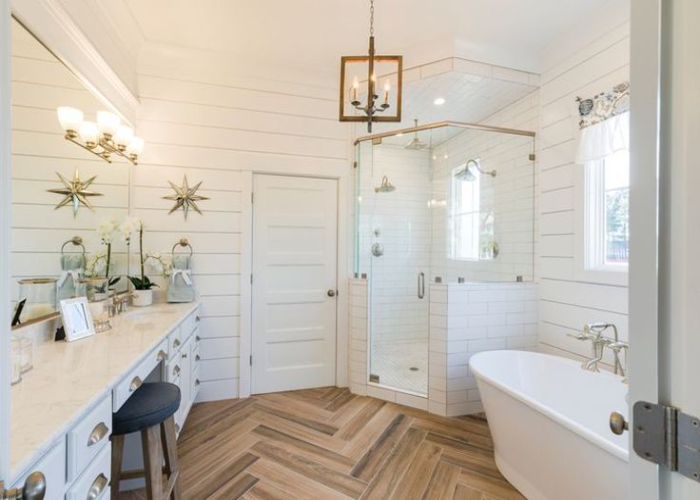 This particular idea is truly amazing. Whether you live near a coastline or simply seek to give your bathroom coastal vibes. Beachy flooring proves to be an ideal choice. Among the list of options available for beach-inspired flooring, natural hardwood stands out as an all-time favorite.
For those who prioritize durability and water resistance, ceramic tiles with a pebble design are a better alternative. Available in various colors of blues, grays, and whites, these tiles can capture the colors found along the shoreline. Also, they add an amazing look to your bathroom.
12. Ocean-Inspired Bathtub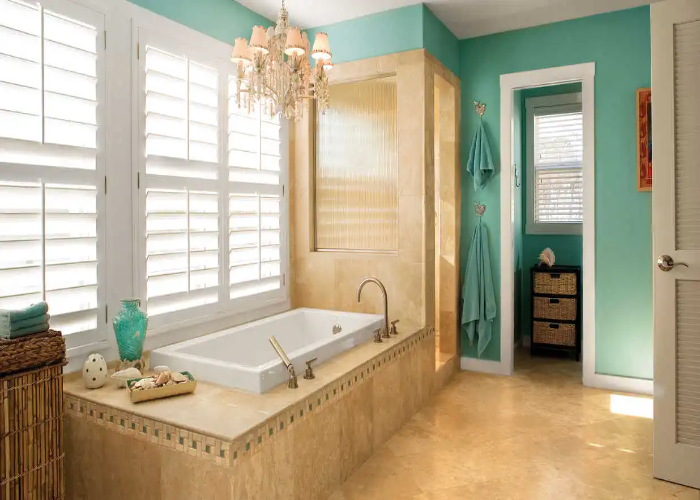 The ocean-inspired bathtub in coastal bathroom ideas is truly amazing. It serves as a beautiful addition that not only improves the looks of the space but also gives you a luxurious bathing experience. One of the most amazing facts about an ocean-inspired bathtub lies in its different design.
The material used in crafting ocean-inspired bathtubs further contributes to the experience they will provide. Many of these bathtubs are made from premium acrylic or resin, giving the opportunity to mold them into different shapes and designs. Some models even have translucent panels that show the appearance of water, creating an illusion of submerging oneself into a pool!
13. Coastal Tile Patterns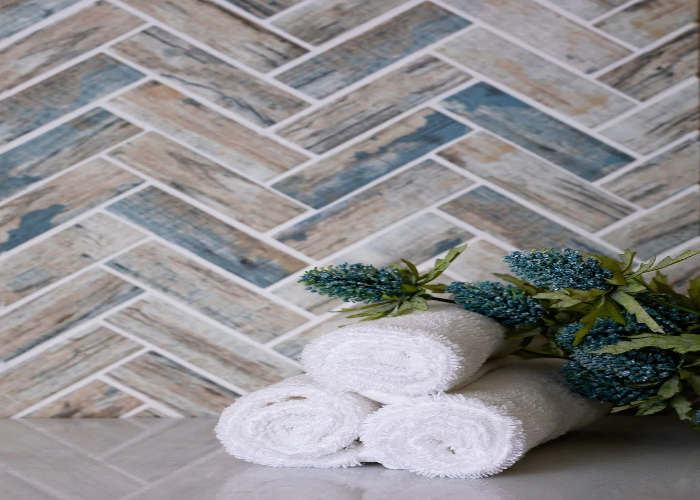 These types of tile designs are made by keeping natural things in mind. These include seashells, coral reefs, and ocean waves. Coastal tile patterns normally have a calming color palette made from the sea and the places around them. The variety of tile patterns available in the market allows for endless design. Arts like Herringbone, chevron, fish-scale, or mosaic patterns can all be used to achieve a unique and charming look.
In addition to their good looks, coastal tile patterns also have other benefits. These tiles are durable, moisture-resistant, and easy to clean. This makes them an excellent choice for bathrooms, especially in coastal areas where moisture levels are higher.
14. Hanging Coastal-Themed Art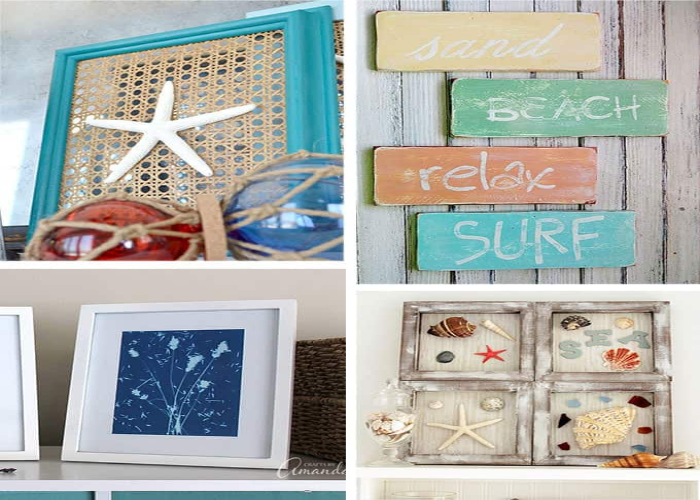 The addition of coastal art brings you to the soothing and peaceful vibes of the coast. This allows you to experience a seaside atmosphere with each visit to your bathroom. From ideas like beach panorama, abstract art, or even waves or seashells, various artworks exist to fulfill the demand of every preference.
Note: Correct placement of coastal art within your bathroom plays a major role in maximizing its impact. Consider using the wall above the bathtub in front of you, or place it as a centerpiece opposite the vanity.
15. Pebbled Floors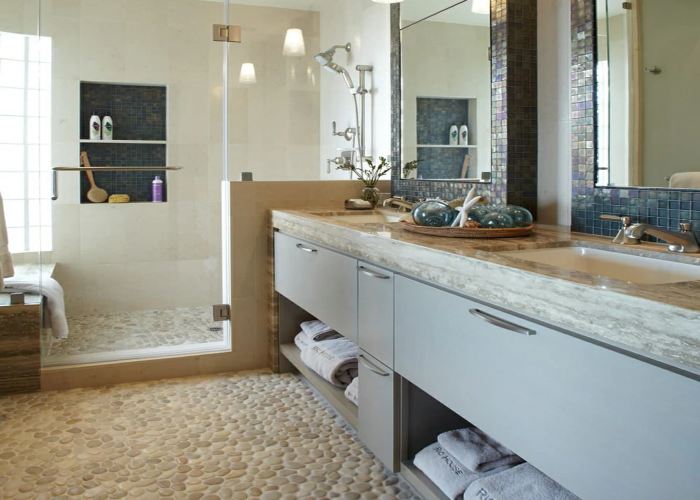 The pebbled floor in the coastal bathroom ideas is truly mesmerizing. It brings the essence of nature indoors and creates a unique and calming feeling. One of the major aspects of a pebbled floor is that it is naturally organic and gives a natural appearance. The rounded texture of the pebbles is like those found along the coastline, giving a connection to a beach.
The natural shades and tones range from beige to gray. This matches the colors of the coastal landscape. These bathroom designs can be mixed with the colors such as blue, white, and brown.
Beyond their appearance, the pebbles give a natural grip. This makes them slip-resistant and ideal for environments prone to moisture. This quality proves particularly useful in bathrooms where water and humidity take control. Moreover, the textured surface of the pebbles acts as a gentle foot massager.
Summing Up
These ideas aim at converting your bathroom into a peaceful coastline scene. This list has a diverse range of ideas that includes coastal color to modify the bathroom with the proper color of the sea. To enhance the nautical theme, it is advisable to decorate the walls with sailboat-patterned wallpapers. To further enhance the coastal aesthetic, seashell-inspired shower curtains and hooks can be added as a touch of the theme.
You can also create a beautiful space by adding coastal tile patterns of various designs, including seashells or ocean waves. To add a finishing touch to the coastal theme, hanging coastal artwork can provide a good backdrop.
Lastly, using pebbled stone floors brings a touch of nature indoors and ensures slip resistance. This, in turn, promotes safety.