Are you wondering about the ways that can help to boost the curb appeal of the exterior of your house? Well, look no further. This article will talk about effective and easy ways, like introducing beautiful shrubs in the front of your garden.
Plants play a role of great significance in human life, and when it comes to decorations, they are our best friends. The tendency of plants to add freshness, beauty, and positivity is endless. A variety of plants, particularly shrubs, are perfect for the garden of your house. These shrubs can help to improve the exterior of your house in a budget-friendly way without compromising the style.
In this article, we have curated a list of 15 best beautiful shrubs for the front of the house that will improve the exterior appearance. These shrubs are handpicked and kept on the list after doing extensive research.
So, scroll down and learn about some of the amazing options for shrubs for the front of the house.
1. Forsythia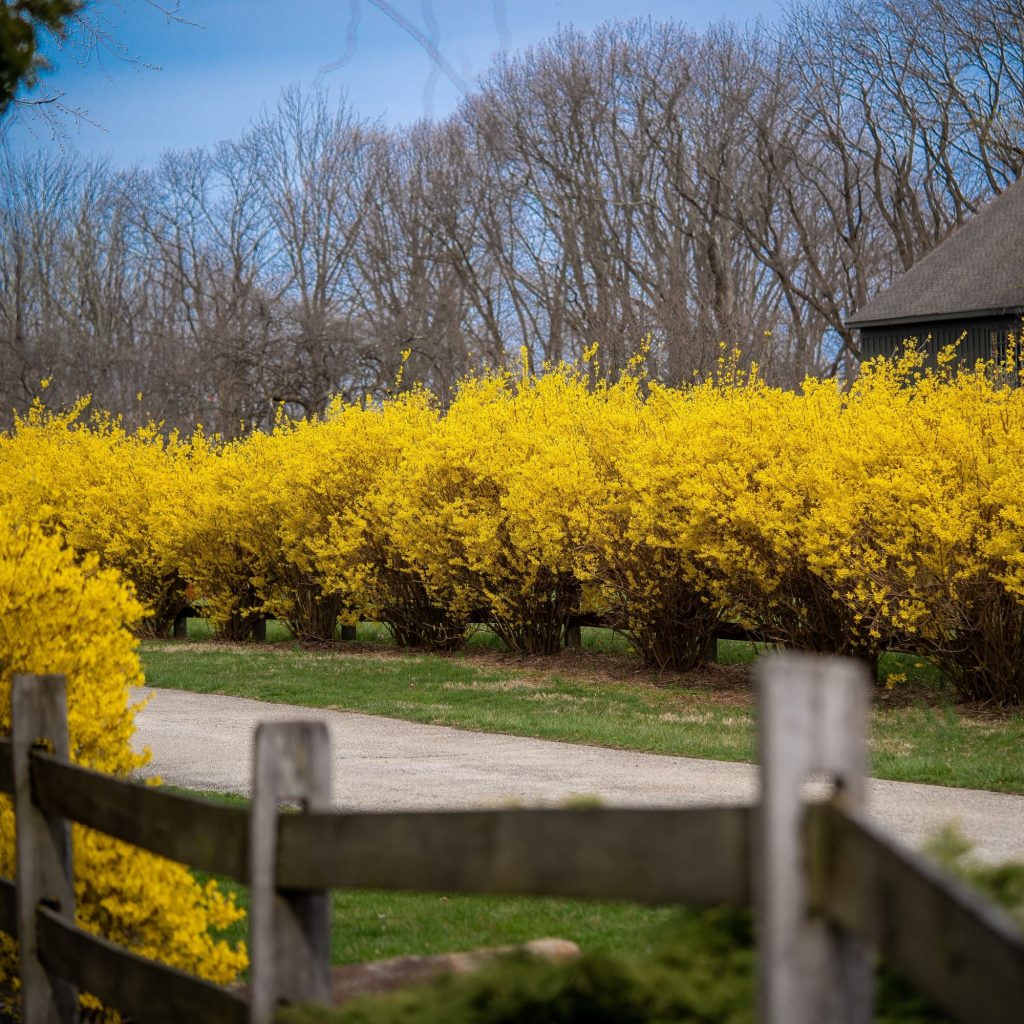 These yellow flowers bearing shrubs are a pretty addition to your landscape. Flowers are known for their property of adding beauty and aesthetic vibe to any place, given that forsythia shrubs will be ideal for solving the purpose. They grow and bloom in the early spring. The most amazing thing about Forsythia shrubs is their capability to adapt and hence can be grown anywhere easily. These are the deciduous shrubs native to China and Korea. They are known to set the aesthetic surroundings by contributing to bringing an exquisite appeal.
2. Shrub Roses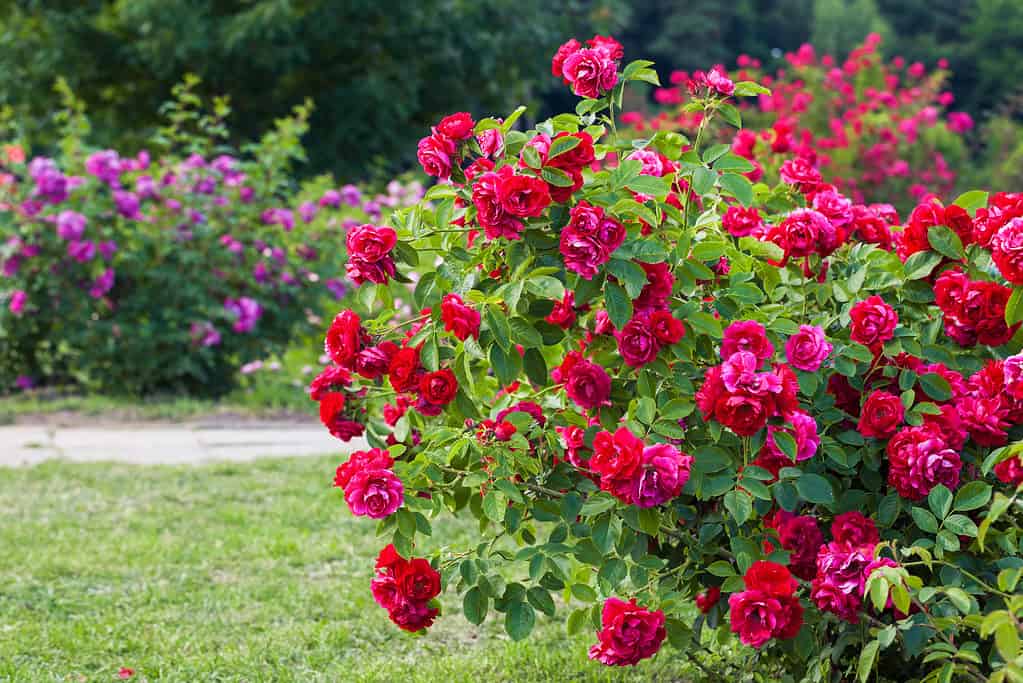 You must have grown up watching roses in the movies and how significant they are for setting the romantic setting. If there's any flower that has been known for adding love, romance, and beauty to any space, its roses. The beautiful flowers can be an ideal pick as shrubs for the front of the house. You can grow two or three shrubs together in a row to display the border as a statement. There are a variety of shrub roses present in the market that has vivid, solid hues to choose from. Pick a variety or mix-match to curate a landscape you can't help but admire.
3. Hydrangea
If you want your landscape to make a statement, then no shrubs are better than Hydrangeas. They bloom all summer like the morning sun and afternoon shade. Hydrangeas are available in a variety of beautiful shades adding beauty and joy to your garden. If you want your neighbors to turn their heads and catch the attention of all the passersby, then Hydrangeas is your ideal pick. Let the people discover your love for plants, particularly shrubs, and your interest in creating beautiful landscapes that can steal anyone's heart.
4. Showstopper Azalea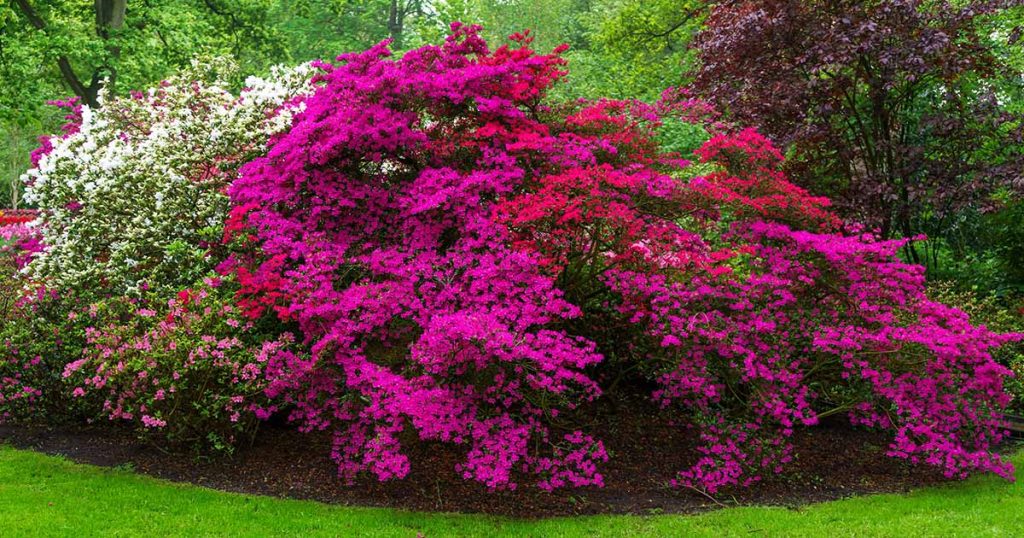 Do you want to bless the eyes of the people living near your house? Then Azalea shrubs might help you to do that. Azaleas are beautiful flowering shrubs that bear long-lasting blooming. And if your main aim is to create flower bed ideas, then these shrubs for the front of the house are a quick fix. The bright magenta-pink hue of the flowers of the Azalea shrub can be the reason why people use it in their landscapes to intensify their beauty. It is suggested to learn about the sowing as well as the pruning if you plan to grow them in the front of the house.
5. Wintergreen Boxwood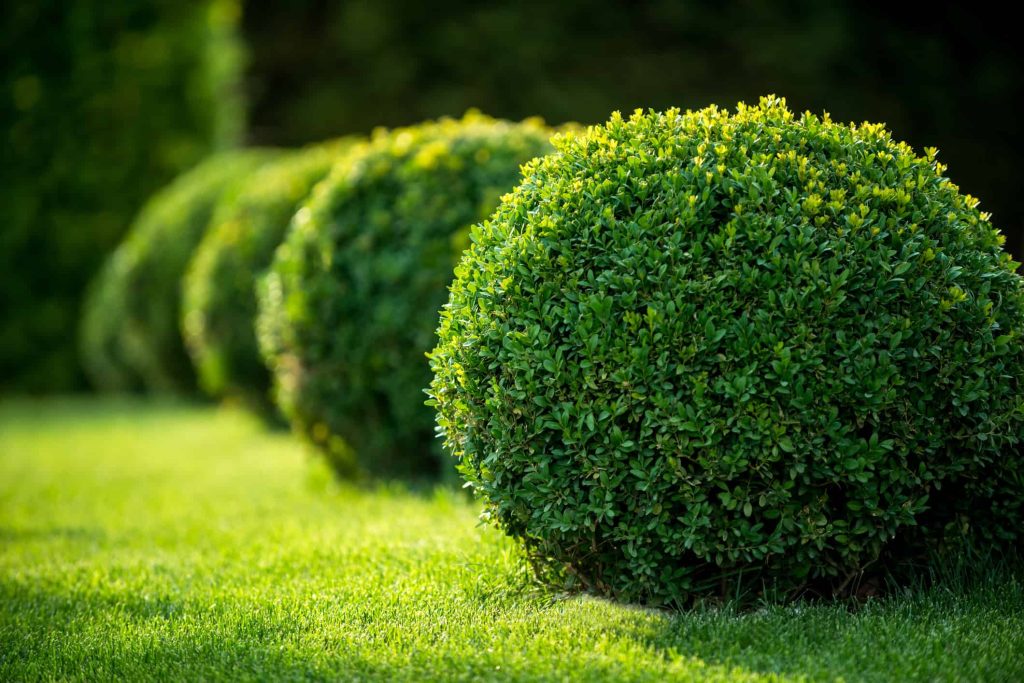 Most people get bewildered when it comes to choosing a shrub for the front of the house that can withstand extreme temperatures. With a wide variety of shrubs present in the market, choosing the correct shrub that can suit your taste and is not high-maintenance can be a challenging task. Do not worry; we have found a solution for you. Wintergreen boxwood is an ideal pick for you as it can survive in cold temperatures without losing its lush green charm. It will instantly boost the curb appeal of your house if introduced as a box or a border.
6. Evergreen Shrubs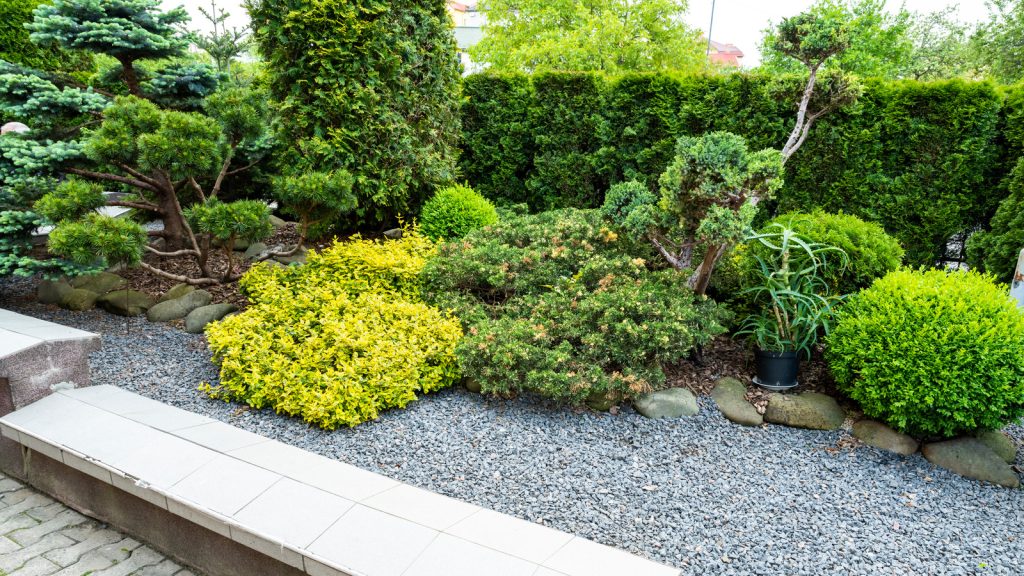 How about the shrubs that demand the least and provide the best lush green appeal you could ever ask for? Well, we have something for you. The evergreen shrubs for the front of the house are perfect for you. The evergreen shrubs are super easy to maintain and remain bushy as well as luscious green throughout the year. One can never go wrong with choosing evergreen shrubs to solve the purpose of adding freshness and healthy growth to their landscape. You can find inspiration from multiple music videos as well when they display these bushy evergreen shrubs for showcasing beauty and richness.
7. Tri-Color Dappled Willow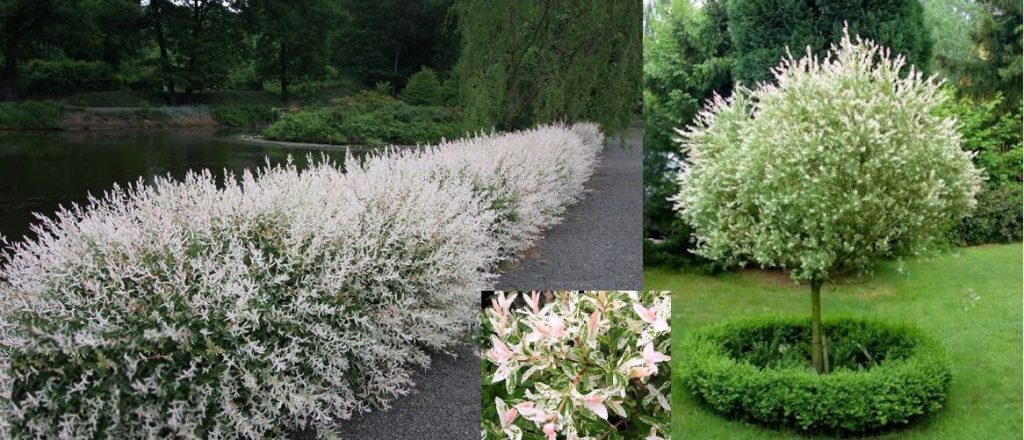 If you are looking for shrubs that can solve the purpose of making a good stand-alone or a hedge, then consider the Tri-color Dappled Willow shrub. These are special types of shrubs for the front of the house that bear pink and white leaves in spring and pink and green leaves in summer as well as in winter. These shrubs exhibit variegated leaves and will enjoy full sun with some partial shade in the afternoon when the sun is at its peak. Also, do not forget to prune these shrubs to maintain the freshness and beauty that will ultimately add to your landscape.
8. Camellias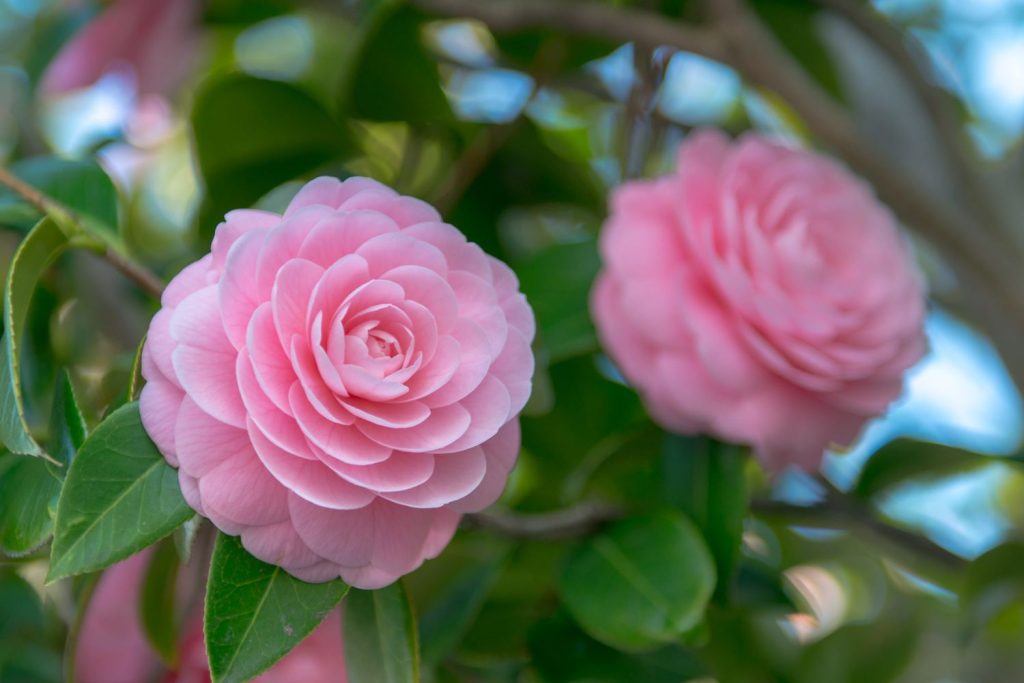 Among all the shrubs, the best type of shrub for the front of the house has to be Camellia. The intricate details and beautiful appearance has made this shrub gain popularity among people. In recent years, it has been reported that Camellias are being installed as shrubs in front of houses by many people worldwide. It may interest you to know that these are the only shrubs that bear flowers that offer cheerful bloom even in the dark season as well. It is often referred to as a 'Winter Star' by most people due to its tendency to grow in deep-dark winters.
9. Rhododendron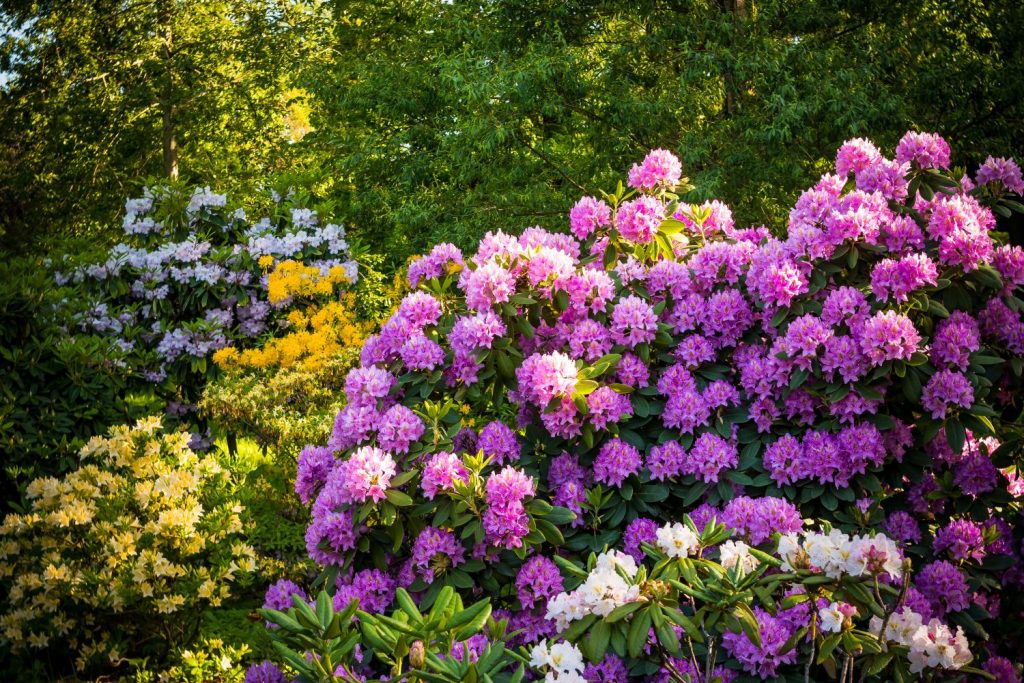 If you want something for your landscape that looks exactly similar to Hydrangeas but in a deeper hue, then Rhododendron is your ideal pick. Do not get confused by considering it a sunlight-loving shrub. These shrubs for the front of the house require 6 hours of shade and a little more care to maintain their health and prosperity, which will ultimately help you to have a great bloom in your landscape. You can plant them in a row or a hedge as beautiful luscious addition to the front of your house.
10. Ivory Hallo Variegated Dogwood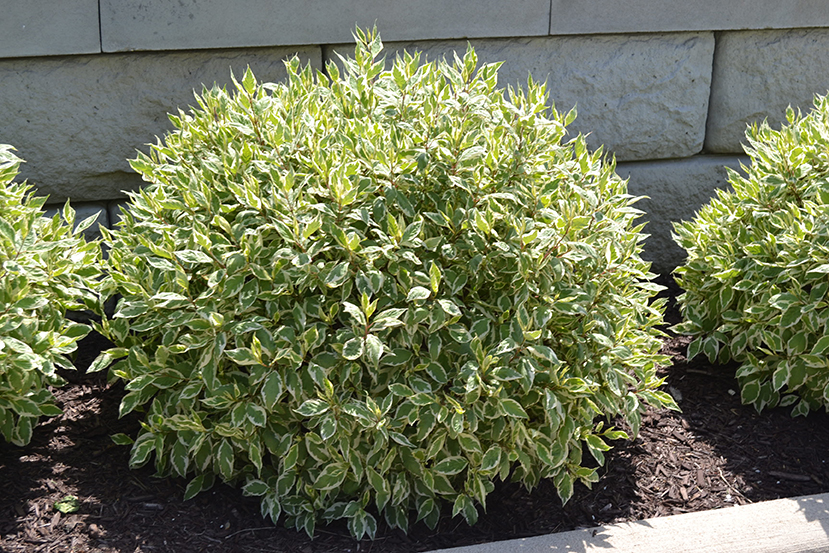 Do you want the front of your house to have a beautiful visual appearance? Are you confused about choosing shrubs that could do wonders for your landscape? Well, worry not. We have found the shrubs for the front of the house that will suffice your gardening needs and make your landscape visually appealing. Ivory Hallo Variegated Dogwood shrub is the one you may be looking for all this while. And when it comes to maintaining this shrub, it is a cakewalk for you as it only requires 3 hours of direct sunlight and some pruning to keep this shrub healthy and vibrant looking.
11. Sunjoy Tangelo Barberry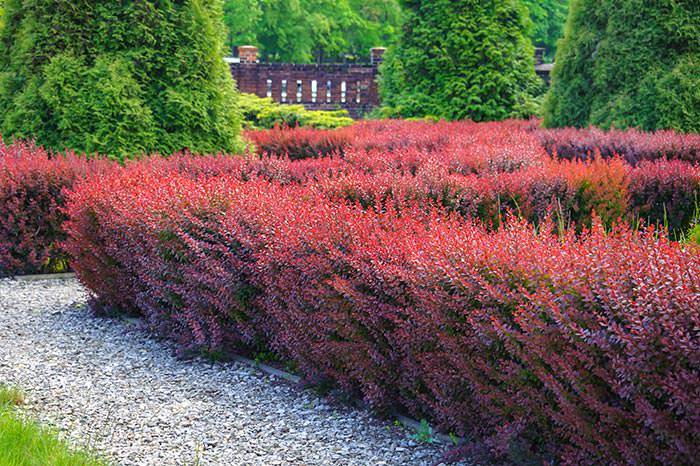 When it comes to adding vivid hues to your landscape, you can never go wrong with the Sunjoy Tangelo Barberry shrub, as it is the perfect fit in this list of shrubs for the front of the house due to its potential to bear bright-colored flowers that can win the hearts of many passersby and leave the neighbors astounded. The stunning orange-red shrub is capable of defining the beauty of your landscape. Moreover, it is easy to maintain these attractive bushes in comparison with burning bushes which can be quite invasive.
12. Lilac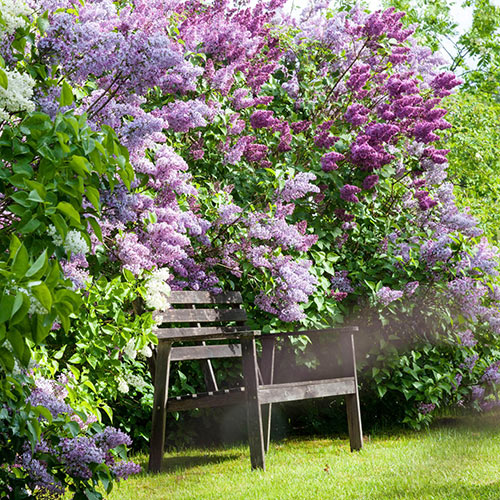 Is it just us, or you also can't help but fall in love with shades of purple? After pink, if there is any color that is considered soft, elegant, and reminds us of sweet romance, then that color would be lilac. And what is better than having these lilac shrubs in front of the house? You can create a mesmerizing view by growing them in a row as a hedge or pant them as stand-alone in your landscape. Talking about the sunlight requirement of Lilac then, it is suggested to keep them in full sun, and these shrubs are better bloomed in springs, so you can consider planting them in late winter.
13. Dwarf Japanese Cedar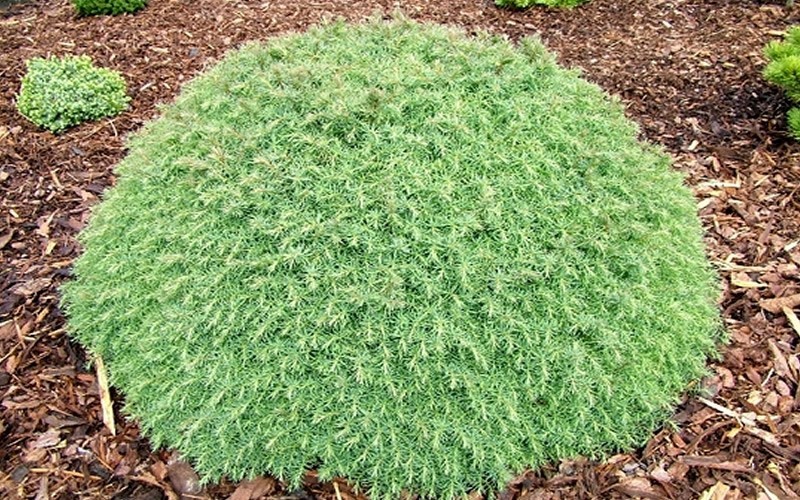 Are you struggling to find shrubs for the front of the house that can fit in a small space? Then, You can consider planting Dwarf Japanese Cedar in your space. Plus, the best part about these shrubs is that they grow at a comparatively slower speed than other shrubs so, saving you from doing pruning regularly. Also, this Dwarf Japanese Cedar is such a cute addition to your space that it can grow in a well-manicured way naturally. It may require full sun and looks phenomenal in a garden with a rock landscape.
14. Purple Leaf Sand Cherry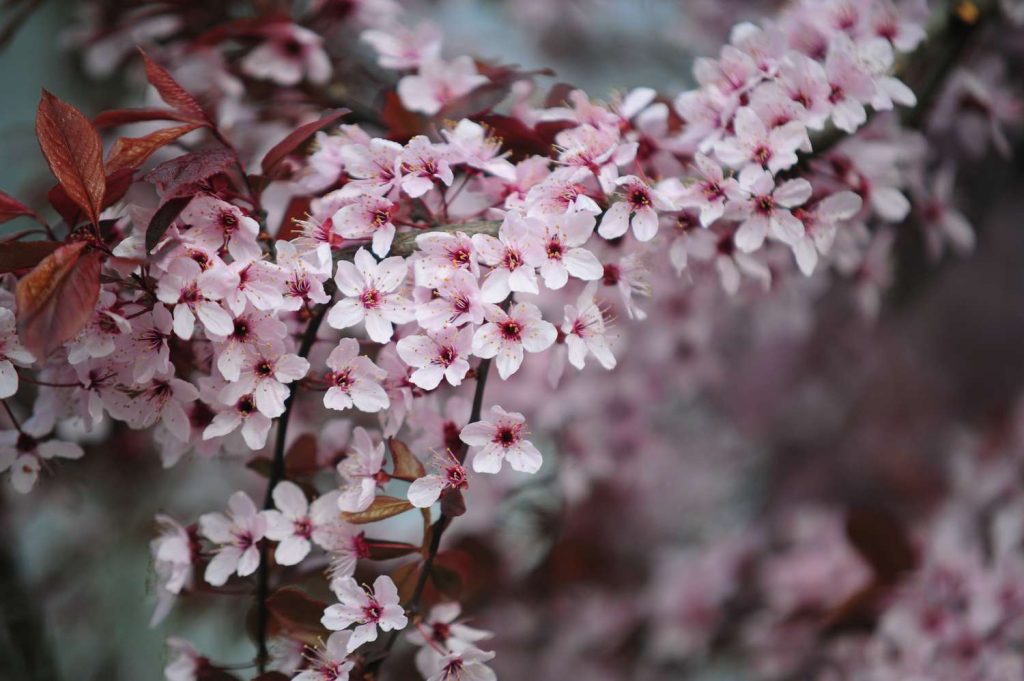 The name in itself sounds like something beautiful is going to bless the eyes of the viewers. Purple Leaf Sand Cherry bear leaves that are deep purple in color, standing out in your green scenery and blooming throughout the spring, adding a curb appeal to your landscape. This a great addition to your landscape as this is one of those shrubs for the front of the house that prefers full to partial shade. The light-colored flowers on these shrubs in the spring can steal the hearts of many nature lovers living near your area.
15. Baby Gem Boxwood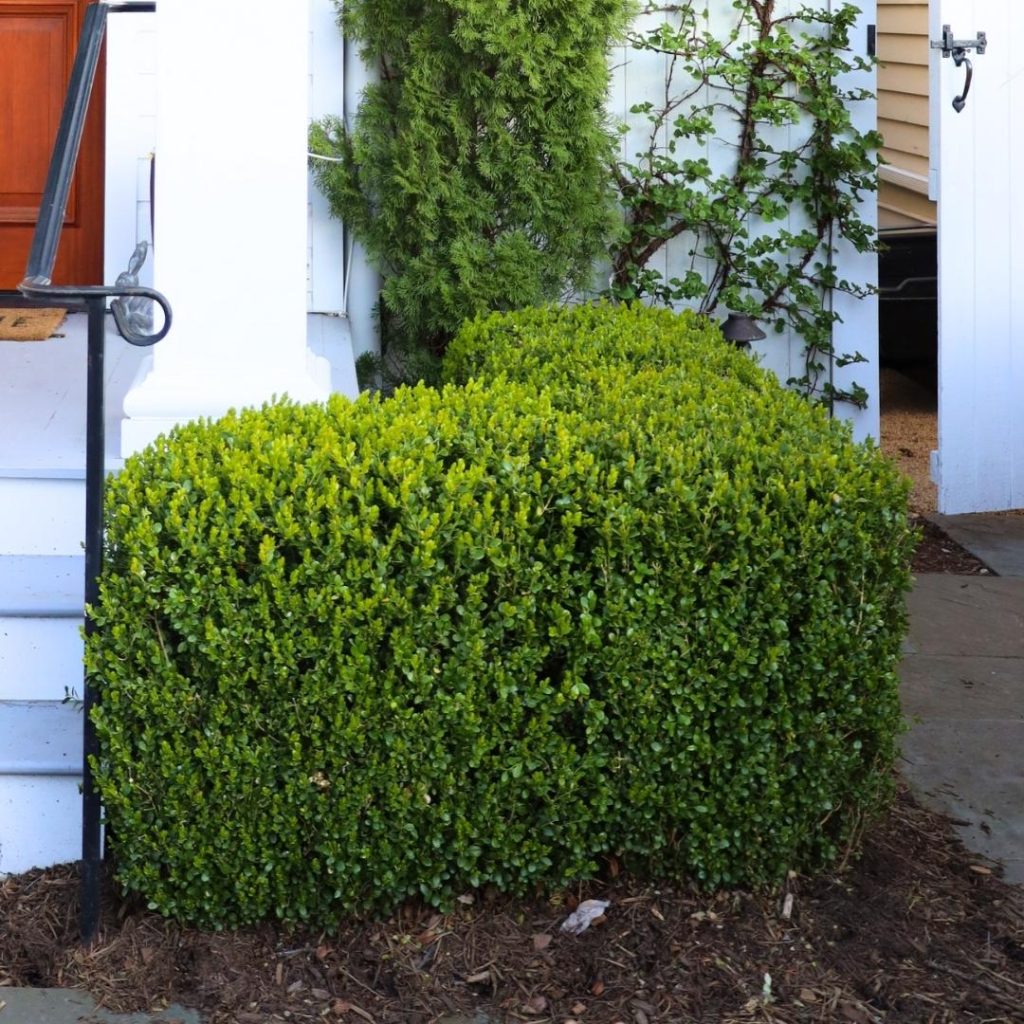 This one is for all the nature lovers who want to spice up their game by planting the best shrubs for the front of the house. The baby Gem Boxwood shrub is super easy to maintain, requiring partial shade. This cutie round hedge will do wonders for your landscape by adding a pop of green to it. Sometimes all you want is some greenery over fancy flower-bearing shrubs or plants. Therefore, Baby Gem Boxwood is a quick fix to fulfill all your desires of creating a landscape that embraces nature in its organic form and colors.
Summing Up
When it comes to decorating your landscape and deciding the ideal shrubs for the front of the house, anyone can get confused. So to make your process of selecting and planting the perfect shrub in your space seamless, we have tried our best to provide you with the most suitable suggestions through this article. You can find multiple options to choose from this list.
Whether you want shrubs for the front of the house that are low-maintenance, easily adaptable, and can add a pop of luscious green to your space or shrubs that require a little extra effort of pruning, daylight care, and bear flowers with vivid hues, we've covered it all.
Some of the most adorable species of shrubs are also mentioned in the blog and are famous worldwide, so as we said, we have something that can suit the taste of everyone. Hence, this article will be a complete hit to help you choose the shrubs for the front of the house.
Discover your favorite shrubs for the front of the house that will add beauty and cheers to your landscape. Happy Gardening!
Frequently Asked Questions
How Close to a House Can a Shrub Be?
Shrubs can be an adorable addition to your landscape. But too much of anything brings down the charm of it. Hence, it is suggested to keep a minimum of at least 3 feet distance of shrubs from each other and from the house to ensure the air circulation is not blocked. This will also prevent the situation of over-crowding of shrubs among each other.
How Tall Does a Shrub Grow?
Shrubs are the cutie and can bring cheers to your existing boring landscape. They are the best natural element a person can add to their space to add some spice and bring it to life. An average shrub is very small. However, it may vary from 3m-6m depending on the species you have planted in your area. Also, when the shrub is too branched, it is often referred to as a bush.