You must be thinking of having a tidy, exotic, well-decorated small walk-in closet in your bedroom to get the thing you want handy. You also would like to access your favorite dresses and belongings easily without any time taking effort. Many small walk-in closet ideas can provide you with many options to reorganize your closet to make it more spacious and better looking.
Closets are usually made at a place that is commonly accessible from the bedroom and shower room. This should have to be a place with enough lights and air to keep your things fresh. You must avoid having a shabby corner for your walk-in closet, which may affect your belongings and be difficult to use.
Also, count the 'walk-way' space within the closet to reach your things smoothly and safely while organizing the closet design.
Ideas to Organize Your Walk-In Closet
1. Choose the Right Place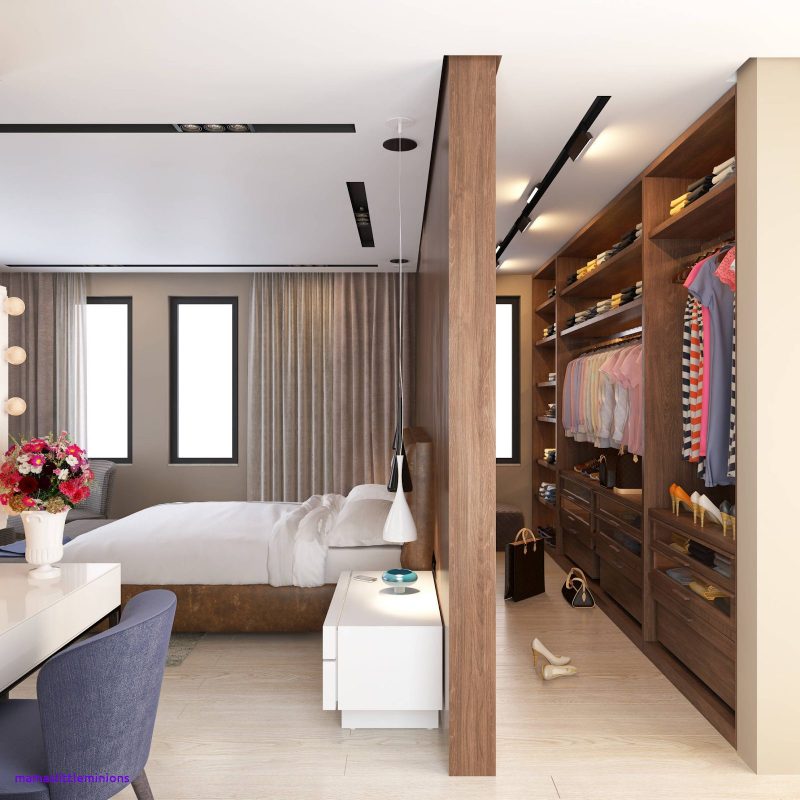 Finding the right place for your walk-in closet is undoubtedly an important decision. Always mark a location where you can add on more shelves or racks by height and/or width to create more space to keep your newer belongings. It will be ideal if you build your closed-door closet keeping a glass window inside for natural lights and fresh air. The positional advantage of a window will save your closet from being shabby.
Also, keep the walk-in closet within the common reach of your bedroom and washroom to change dresses. Ideally, it should not be placed far in a separate corner of the house for a distant reach every time.
2. Keep Enough Space for Your Easy Movement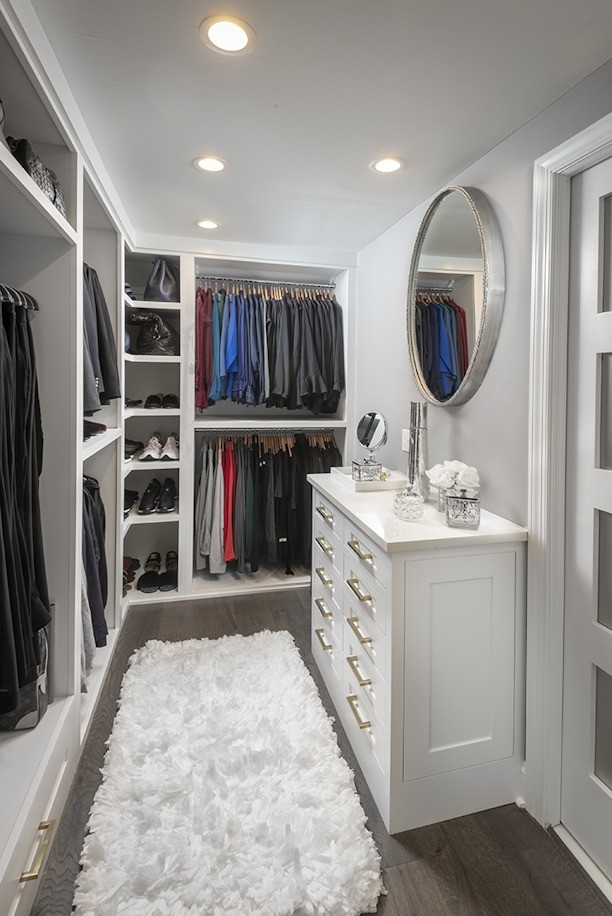 According to Small walk-in closet ideas, do not make your closet clumsy with more and more furniture. These may obstruct your free movement to every corner of your closet. You need to keep enough space to reach every shelf and drawer and to open them for cleansing and keeping things organized. If your selves go vertical, always keep a space for your ladder to reach those freely.
Sometimes, walk-in closets are commonly used for other family members or couples. If you use the closet together or dress up yourself or your child, always keep enough safe space for that. Less space for movement and dressing may result in an unwanted accident.
3. Allow Vertical Spaces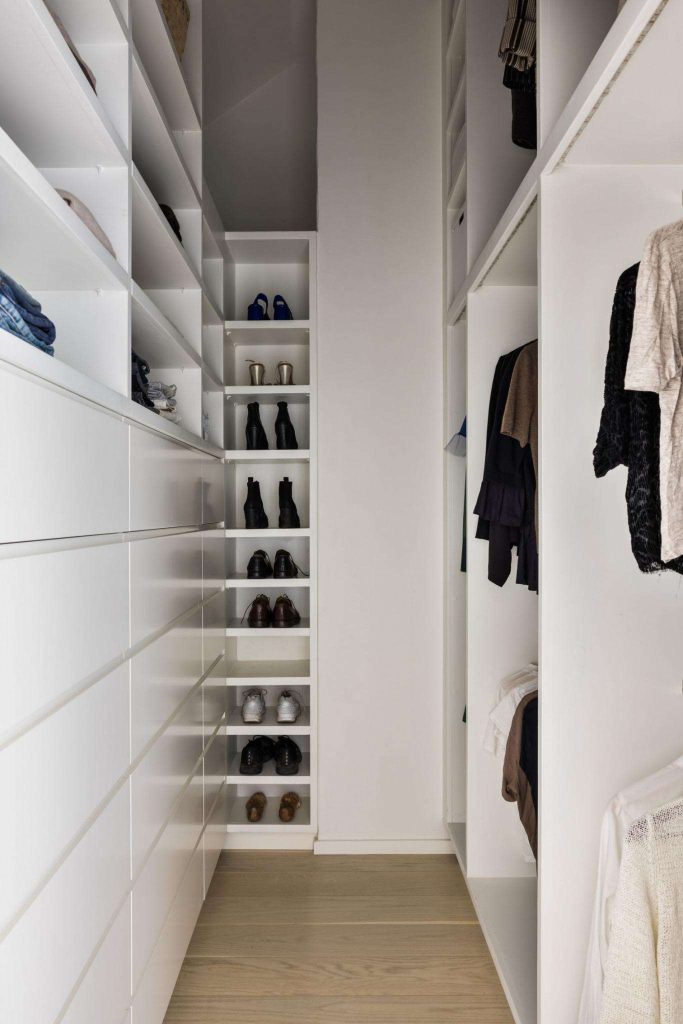 If you increase spaces vertically, these will not occupy places for other furniture. Rather, you can keep your closet in a single place without hampering the width. You can make vertical wall hanging shelves to create more space when needed. Please keep less using belongings in the top areas to reach those occasionally. Also, must keep an arrangement to reach them in top areas, like ladders or step-drawers, and space to avoid unusual happenings.
Vertical spaces in your closet also allow space in the lower segments which helps you to make space for dressing or movement. More you go up, the more space near the floor you will have for more usage.
4. An Open Area Provides More Options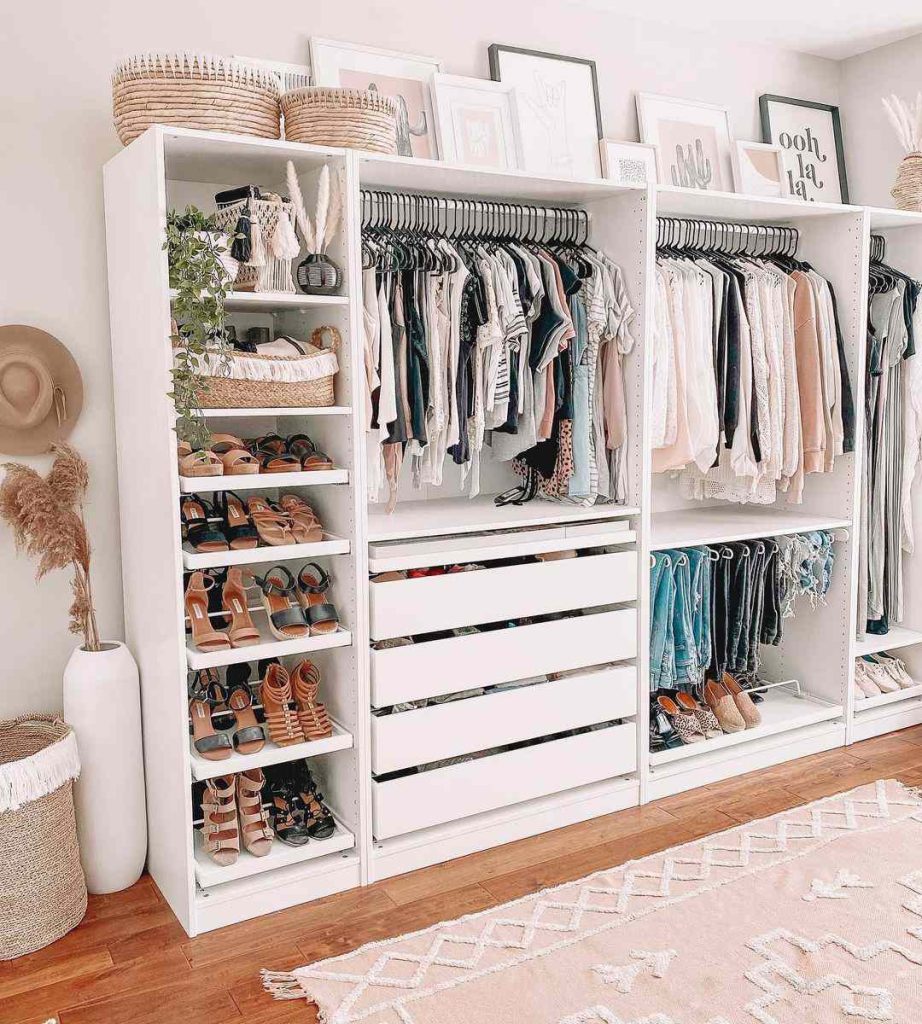 If you design your closet in an open area and like to keep it open, that would be less hazardous. In his idea, you need not worry about interim spaces for free movement, light, and air. These open patterns are easier to maintain and cost-effective to build and maintain. In an open closet, you can use the front space for movement and dress up, even sharing the same closet with your partner or kid.
It is less hazardous to clean and quickly pick up the belongings from their place. Moreover, an open closet can let you get more ideas about redesigning and creating more space if required without any comparative hassles.
5. Sliding Doors Are One of The Better Options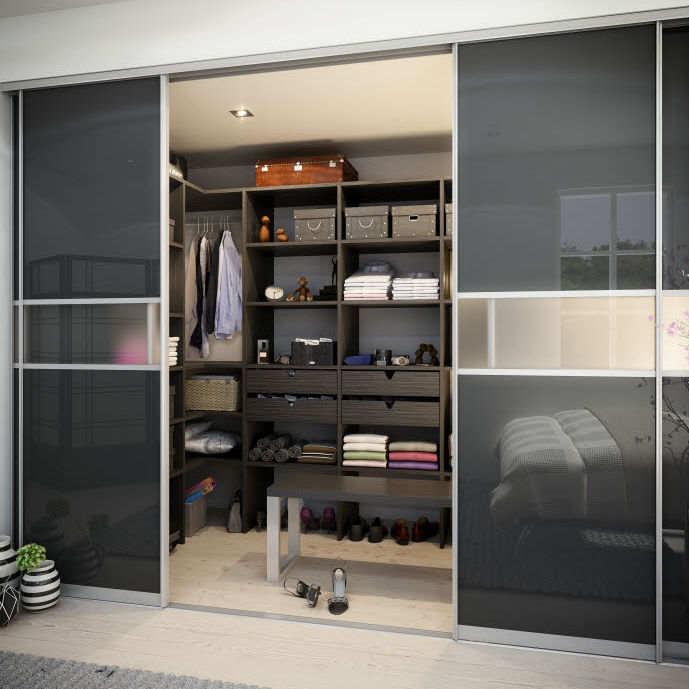 If you are building a small walk-in closet and want to keep it private with doors, sliding doors would be a better option. This is one of the better internal space-saving small walk-in closet ideas. A sliding door can save space for the door plate, allowing you to create more space for racks, drawers, or hooks. You can easily add up more shelves on the wall free from resting a door when opened.
Sliding doors also have the option to keep your closet open. Closed or semi-closed, apparently for its structure. Its glass cover on the sliding door is also easier, even keeping it half-open.
6. Glass Covers Make It More Luminous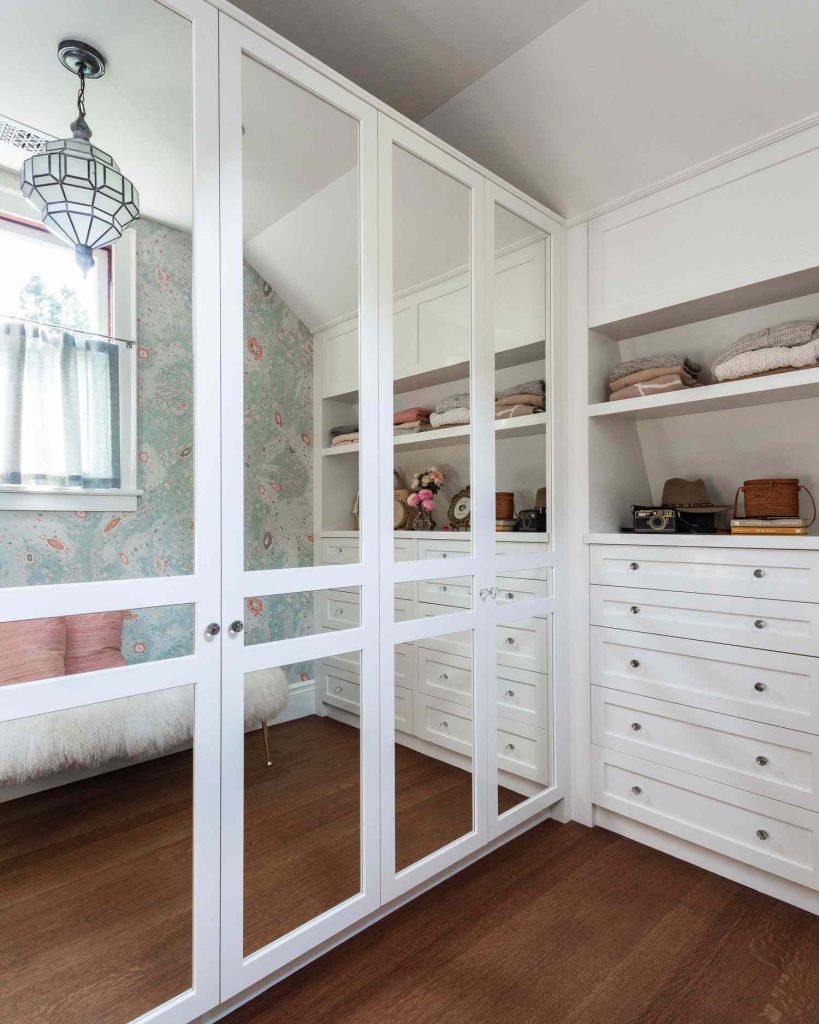 Glasses are always a good closet furniture cover as this allows lights to go inside and gives your decorated closet a stunning look. Always try to make the doors of your cabinets and the closet glass to make them more lively. The glass's transparency also helps you have a quick look inside. However, in your closet, always keep your very personal belongings in a usual hide without a glass cover.
Glass fittings reflections give your tidy closet a bright look and always allow a lot of light inside. This is needed to keep your belongings bright and fresh and less attacked by insects and pastes.
7. Keep a Mirror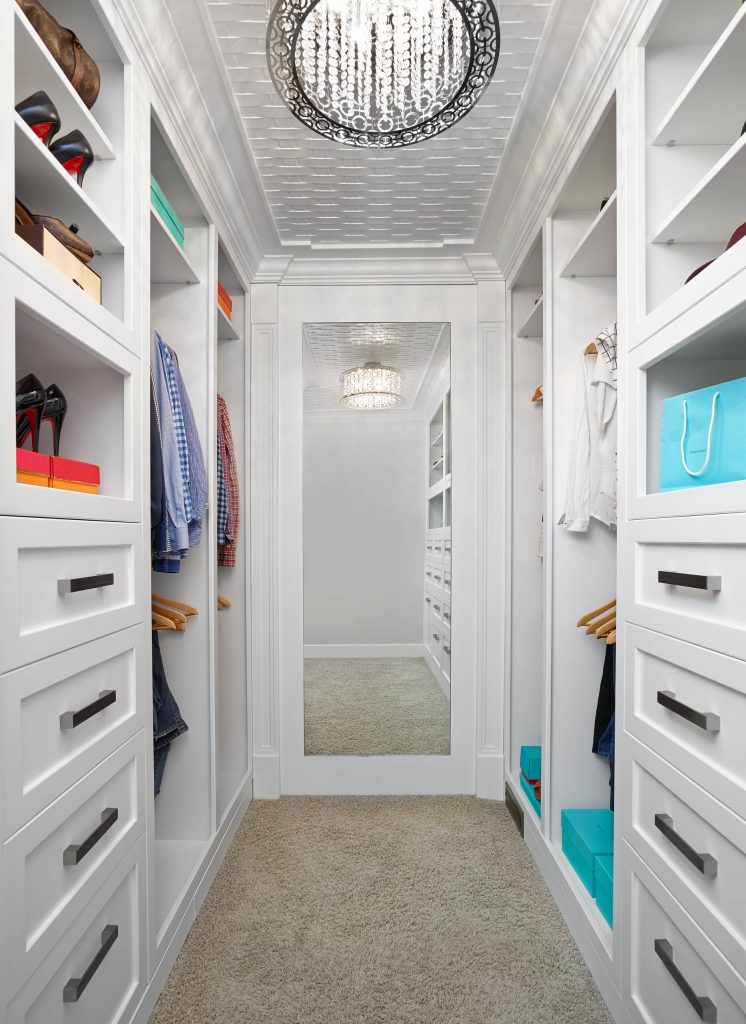 Keeping a wall mirror in the closet not only helps your dressing. This also helps to reflect light in different corners of the closet and keep it gorgeously reflecting. You can also go for a standing mirror which can be rotated to different angles. A mirror in the closet is a very helpful option for giving trials, making fittings, and giving a look upon yourself before going out on your favorite dress.
Moreover, keeping a mirror inside will help the closet to look bigger and more reflective. If you would like, you can fit multiple mirrors in different angles for a brighter look with multiple glittering and dressing advantages.
8. Make Detachable Fittings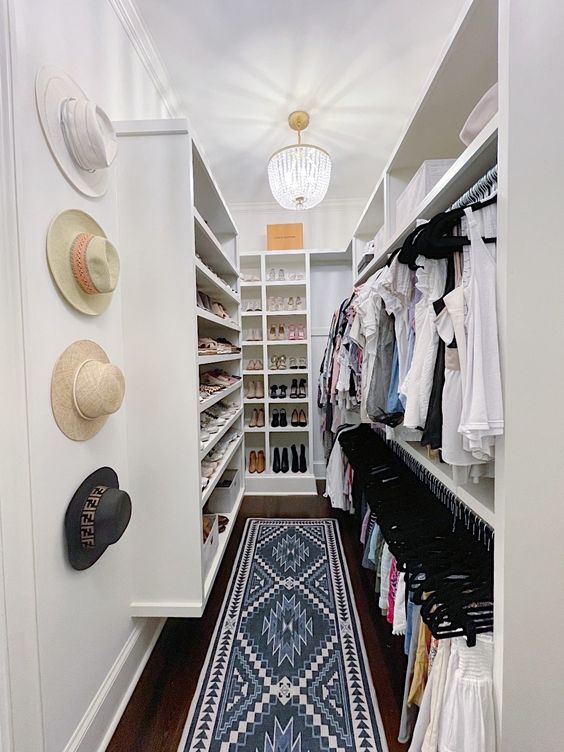 Always build your closet with detachable fittings so that you can easily redesign your closet, reshape the furniture or remodel them. It also helps to create more spaces as you can alter anything in requirement. Detachable racks, cabinets, and frames help to a quicker reframing even by yourself. These are easier to maintain and clean for their easier access to open and fit. These also help with the easy maintenance of the wall too.
Also, plan your detachable closet fittings to use a place for multiple requirements when needed. You can place options for detachable and folding racks, hooking, or rod placing points so that you can remove or add anything at a point when required.
9. Add More Drawers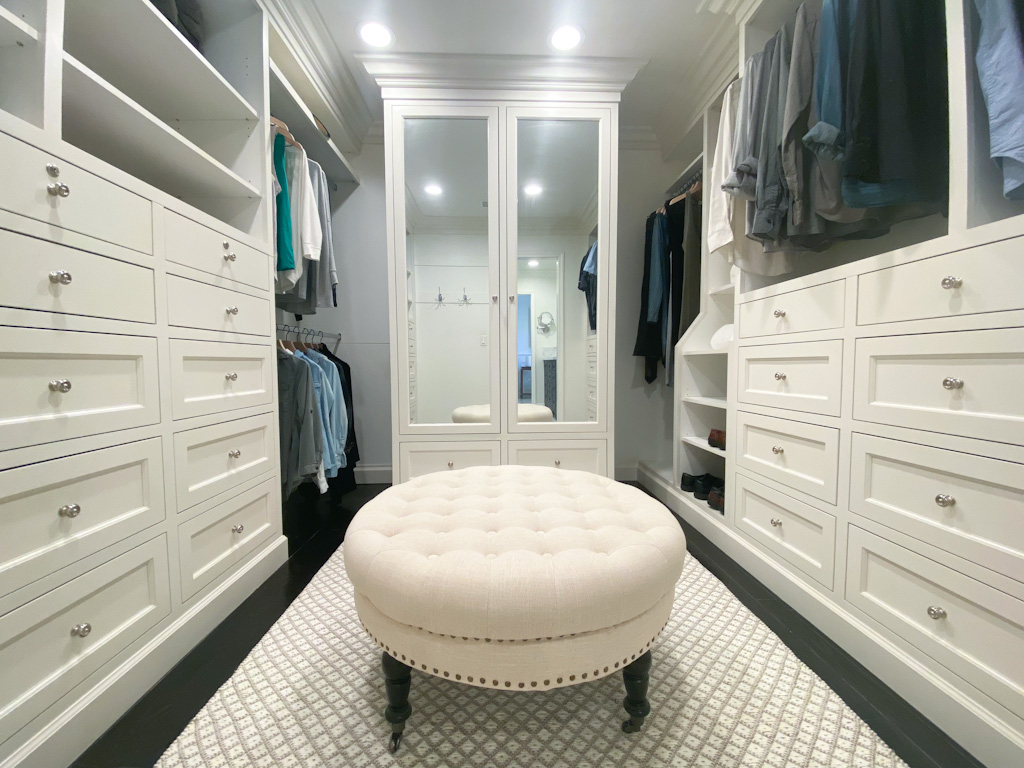 Adding more drawers is a good idea to create more spaces for more dress materials in your small walk-in closet ideas. A lot of rod panels would kill more space. Rather, you can put a lot of materials in drawers to save space. Drawers also come in a good help to keep your undergarments, handkerchiefs, shorts, and dresses not required to be always hung like suits, shirts, trousers, or gowns.
There are multiple designer drawers for closet ideas. Bigger and wider drawers for keeping dress materials and shorter drawers for folding or private things. You can also add fitting inside your drawers to keep your ornaments, watches, or cosmetic sets.
10. Add Sliding Cabinets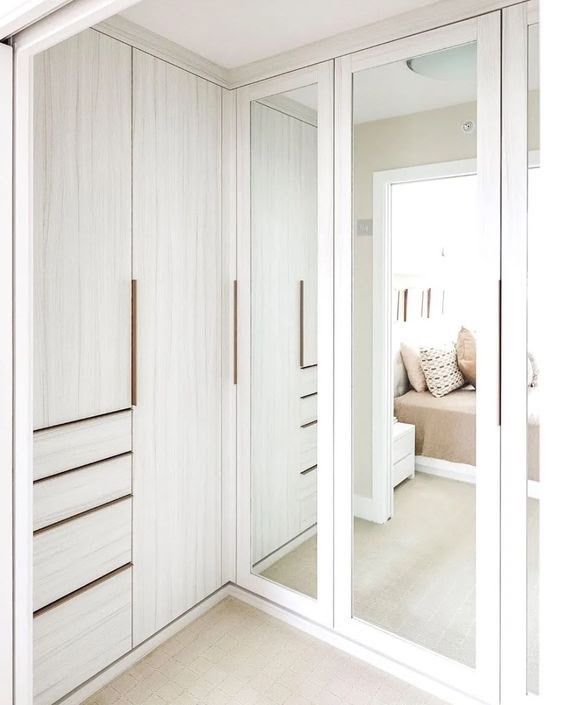 We would also recommend sliding doors to your closet furniture where there is no option for drawers. This idea could save internal space as well. If you want to keep the wardrobe or rods for hanging dresses covered, use sliding doors to save a lot of space in the closet for free movement. You can also have the option to open those sliding parts partially for free air to go inside for freshness.
Here, you can add glass fittings or mirrors to the sliding cabinets to make the cabinet 'invisible' and let the closet be more lighted. This helps to make you free from attaching a separate place for a mirror.
11. Optimize All Possible Areas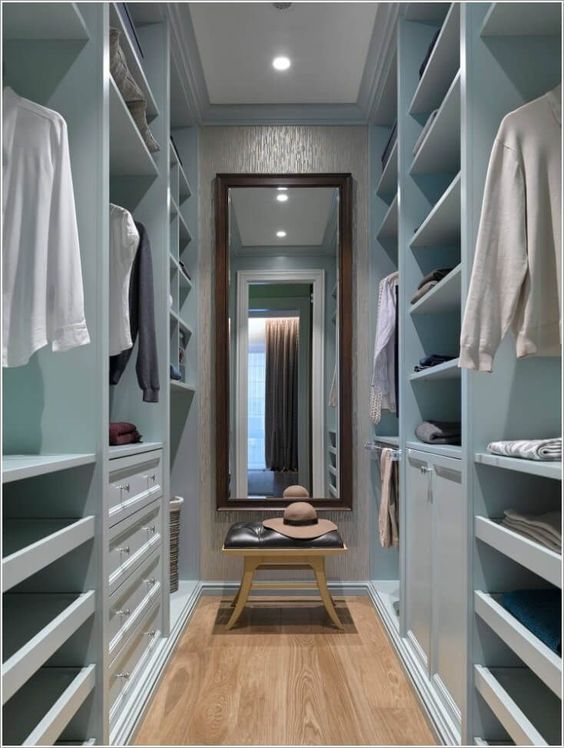 Plan your closet organization and buy furniture wisely. There are many foldable, wall-mounted pieces of furniture to help you place your dresses safely and use a single one for different purposes. They could be easily altered and used in multipurpose ways for your closet. Hence, plan all the possible places you can have to build the closet parts without disturbing any movement.
Leaving any corner or a place unused within the closet is not a good idea. Design the wall and angles so that you can add up even shorter fittings there. Think wisely about what to keep where and how before you design your closet.
12. Remember Easy Access Options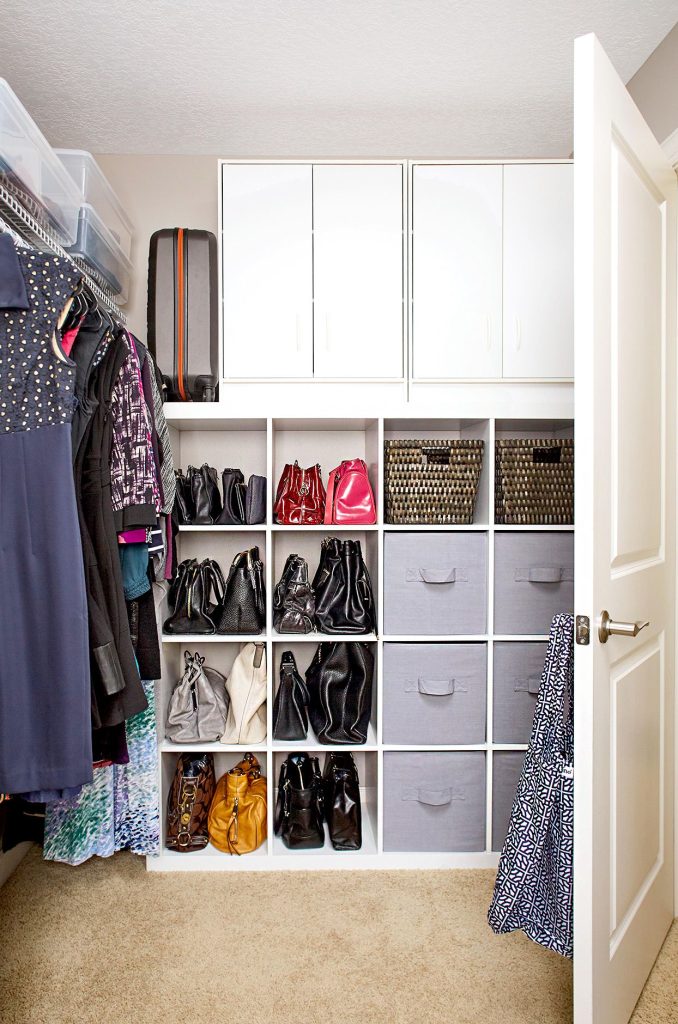 It is not like you build a closet, put all your dresses, shoes, and other belongings, and can not reach one when needed. Plan your closest furniture and keep your belongings nearer according to your needs. Moreover, keep enough access options to reach every corner, shelf, door, and drawer when needed. Make possible arrangements to reach every corner with the help of a stool, ladder, or steps.
Folding or rotating furniture is very helpful in this idea. You have to keep things panned every time so that you can find that next time very easily, or you can mark different cabinets and drawers for different sets of belongings.
13. Organize Hooks, Rods, and Shelves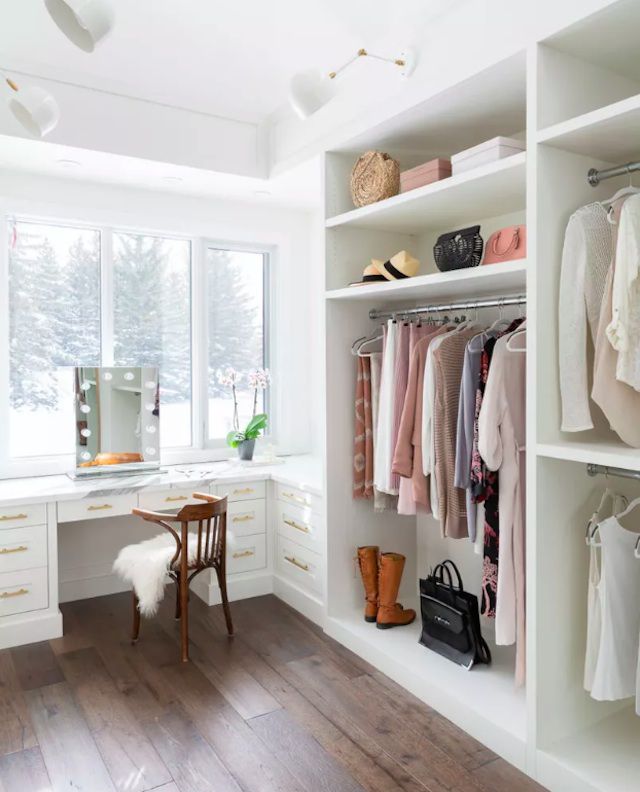 Organize your wardrobe and shelves according to your need with small walk-in closet ideas. Do not make it unnecessarily big or too short for upcoming garments. A bigger closet will be challenging to maintain, while a shorter one needs earlier development. Build cabinets, rods, drawers, and shelves according to your garments and future requirements. A lot of unnecessary hooks or rods will kill your space being occupied without reason.
We also advise you to go for multifunctional properties with detachable furniture. You can place multiple options for rods, hooks, or shelves. So that you can add or alter a few dress-keeping options according to the newer requirements.
14. Reorganize Your Belongings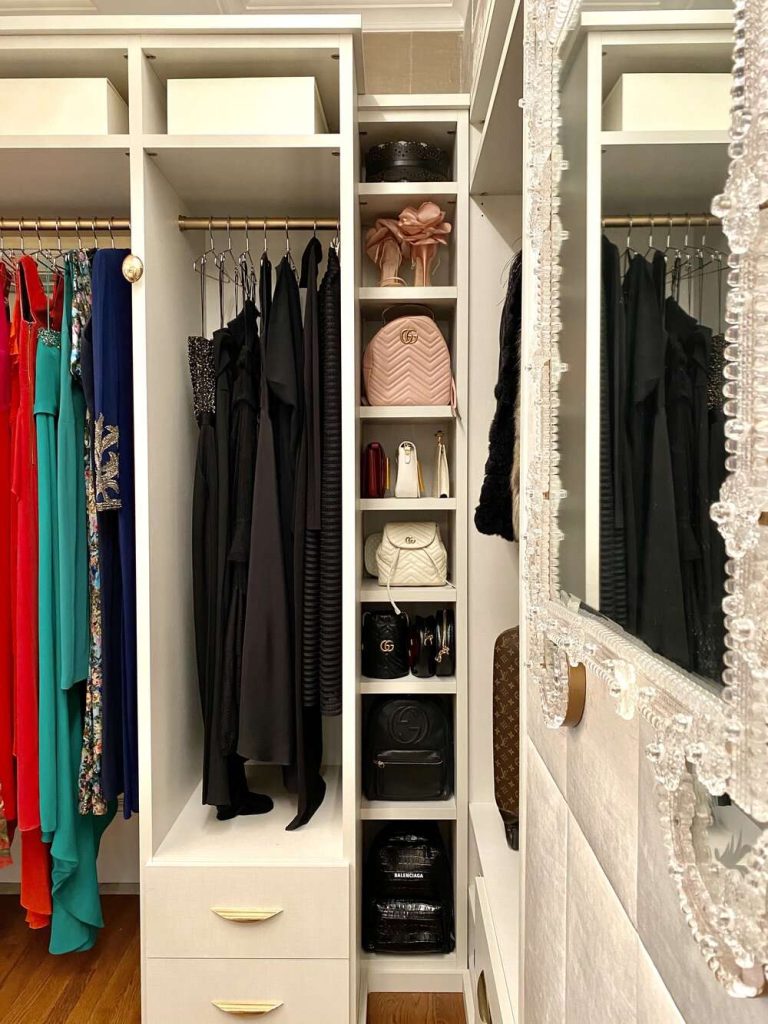 Always reorganize your closet. When you buy a lot of new garments in seasons and festivals, your closet will need more space. One of the better ideas is to replace unused ones which are old, not in good condition, out of fashion or out of size and shape. Rather your closet is much emptier for your important, using, and lovely dresses.
Many times, it has been observed that old fabrics are wasting places without any requirement. If you are changing seasonal dresses or casual wear in the new season, first check with your collection and decide accordingly. Discarding unused ones for newer reinforcements is a good idea for reorganizing our closet.
15. Do Not Waste Places
Be decorative in ideas. Keep your belongings right into place with proper folds and hangings. So that it would not make a mess around and you will find more places to use. If you have built up the closet in a particular area, leave some free spaces around for future extensions. Go step by step with proper planning according to your present and future requirements.
Be planful with how much space you have and how many belongings you have to allocate. Now design the cabinets, doors, mirrors, and drawers with multi-functional properties according to the requirements of every different piece. This will help you to save money, time, and space.
Conclusion
Your small walk-in closet is a crucial furnishing point in your home. So while building or redesigning your closet, make a plan to make it safe, compact, tidy, handy, and properly organized to find things with minimum effort. Also, make it a way to have enough lights and air to be fresh. According to your available space, you can make it an open or a door-closed closet matching the interior design of your room.
Make proper planning and calculation according to your need, as discussed above. This is very crucial to set different parts of the closet in the right place, defined by the usage of your belongings. Adding to the beautification of your closet, make a choice of wallpapers, materials, and colors in proper contrast with your room's other furniture and walls.
A tidy, beautiful closet can bring an addition of a beautiful interior design to your room.
Frequently Asked Questions
Is Building a Closet with Small Walk-In Closet Ideas Necessary?
Small walk-in closet ideas are important. If you are planning to build or rebuild your closet, be wise and articulate with the requirements and your budget. Proper planning can make it useful, tidy, good-looking, and futuristic.
Is It Necessary to Clean My Closet Regularly?
We would say keeping your garments and belongings in good condition is important. Also, please do not keep any dirty cloth or shoes locked inside, which may create a foul odor to others. Cleaning the closet and its belongings regularly and using fresheners are necessary.
Is There Any Chance that Pests or Insects Are Attacking My Closet?
There is always a chance of your closet being attacked by pests or insects. Use firm medicated fresheners always. Sometimes we clean the whole closet in a vacant situation. Naphtha-based pesticides or insect-killing sprays or balls may help your wooden closet and garments free from insect attacks. A good amount of sunlight during the day also helps you to keep your closet germless and fresh.