Do you have a front porch? Have you wanted to make it so gorgeous that it leaves your guests hanging around right outside your home before they step in? Then this article is for you!
A porch is not just a covered entrance. In fact, it is an architectural addition to your home that takes the sophistication a level up. Although their basic function is to provide shelter from severe weather conditions like rain before you can step in, in today's times, every corner has some sort of visual appeal. And a few gorgeous front porch decorating ideas can only make things better for you.
Adding a porch to your home helps you enjoy mother nature in its best form around the year. And what could be a better season to enjoy the goodness of the world around you than summer and fall? Having a beautiful porch makes enjoying seasons around the year easy.
Are you ready to explore what our experts have in store for you? Let's get started.
About Porches
The modern-day porch dates back about 125 years ago. It originated from Ancient Greece's popular architectural feature called the portico. This was not just an addition to the home's structure but also a symbol of being affluent. As times changed, so did this architecture. Several countries gave porticos their own twist – roofs and outdoor hallways were the most common.
The industrial revolution made it easier to manufacture porch parts, and that is how this beautiful architecture became a part of American households. As people started getting better jobs and earning more, they had more time to relax, and the porches gave way to leisure and luxury. The front porch decorating ideas that you will find in this article today have the culmination of modernism and vintage.
Here Are Some Amazing Front Porch Ideas for You
1. Front Door Decoration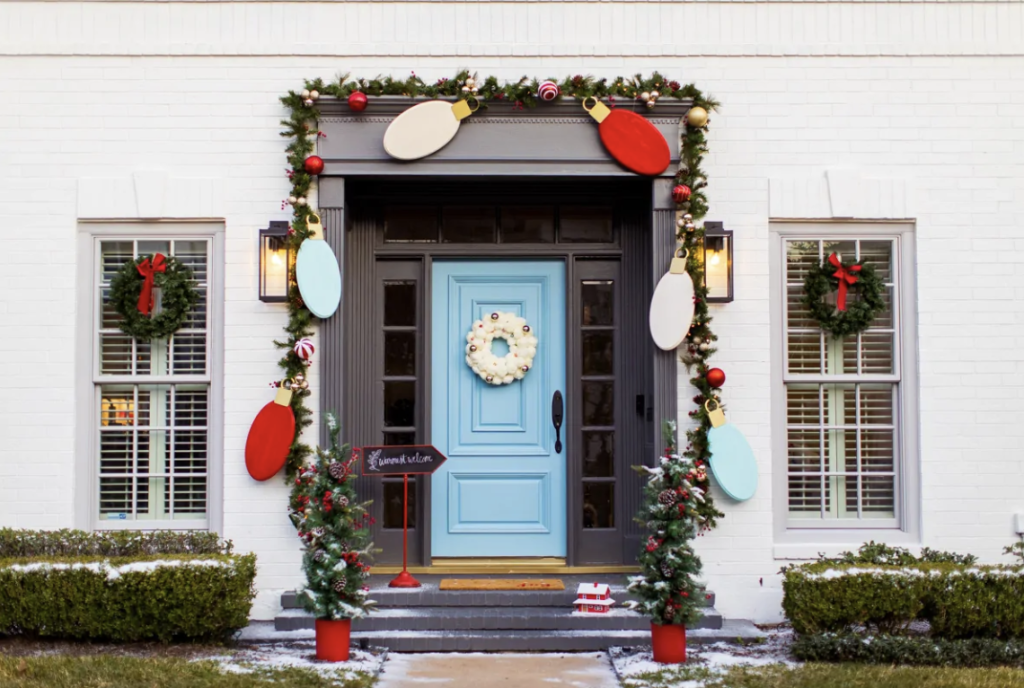 Do you like artificial decorations, or are you a nature lover? No matter what your pick is, decorating your front door is a great idea. It gives your entrance a personal touch and speaks out your style loudly. This season, give seasonal hanging decorative plants a try as one of the front porch decorating ideas. To make it a place where your guests can hang out if they like to, add a few easy chairs or jute/bamboo seating stools. They make the entrance more welcoming.
2. Make the Steps Symmetrical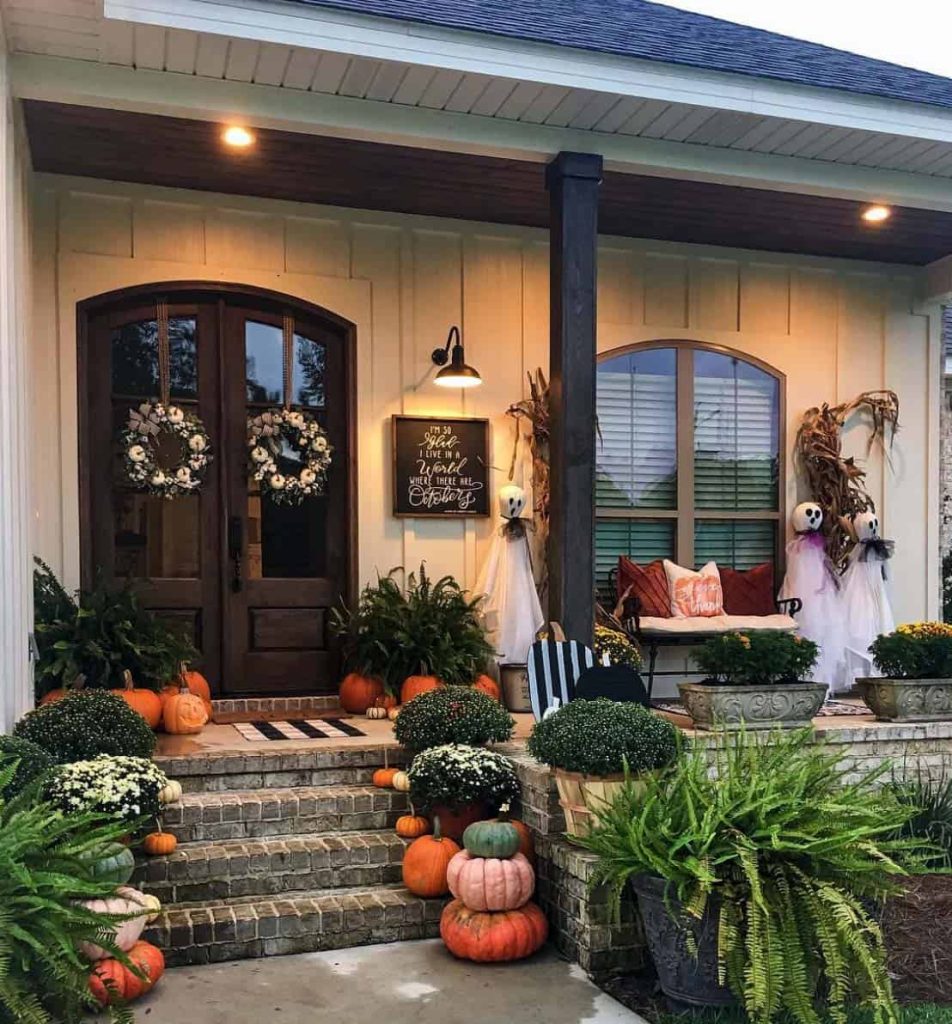 You might wonder how that is going to help beautify your porch! You will be surprised to know the amount of difference symmetry can bring as a form of visual appeal. For the steps that you have around the porch area, you can add plants or other decorative items. If you are creating symmetry with plants, you have to be mindful of the heights. Our experts suggest not buying plants that can grow very tall and disrupt the look all over again. Start with shorter plants for the step closest to your home and keep increasing their heights. You would be surprised by the results.
3. Contrast Decorations with Background
This can be a little tricky. But a little guidance from your design expert can go a long way to help you get the porch of your dreams. This front porch decorating idea is for those who are selective about style. It is always suggested that you choose the wall color lighter and the decorations darker. But you do not necessarily have to stick to this notion. Feel free to swap them and turn a few necks around. You can go for bright and bold colors and choose fall accessories that are subtle in nature. However, if you choose to experiment, we suggest avoiding extremely bright or neon colors.
4. Make the Space Cozy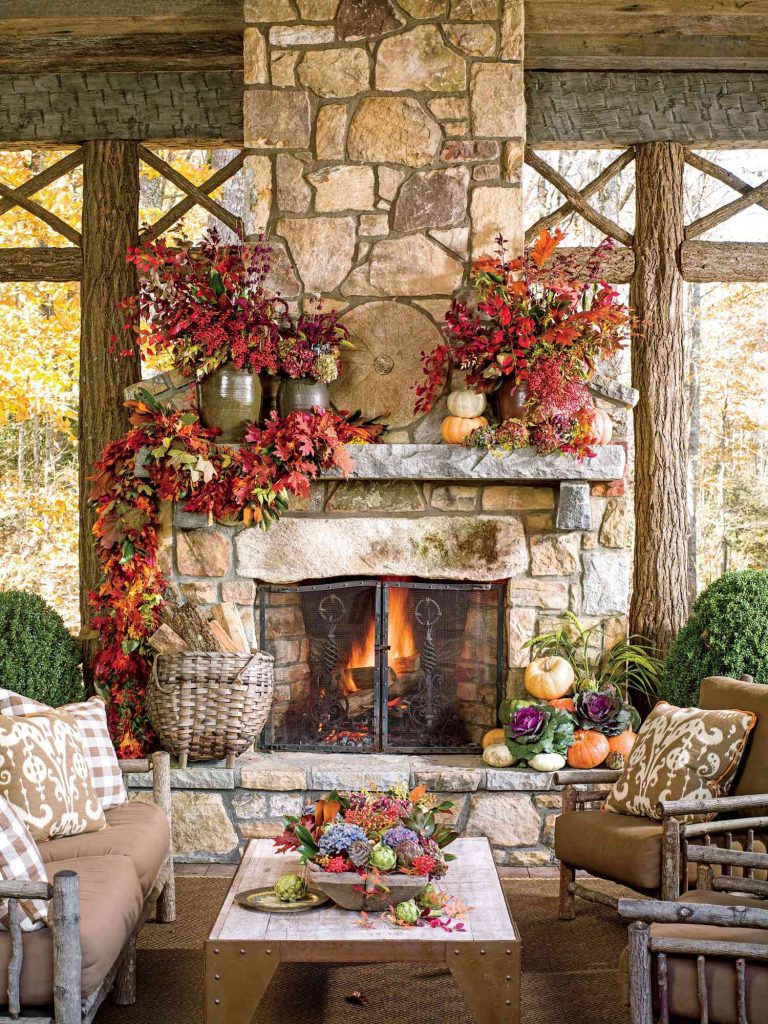 Wondering how to make the entrance cozy? We have got a few front porch decorating ideas that we believe you will love. With the change of colors and a little drop in temperature – fall is the season that makes you get a little cozy. Get a few wooden chairs around the area, use the same material for a tiny table, add rustic hanging lights, and throw a few pillows and blankets, and this beautiful corner is fall-ready. Watching the sunset or the leaves rustling nearby – making the porch area cozy will let you enjoy it all. You can extend it slightly to accommodate your loved ones.
5. Bring Elements of Your Living Room Out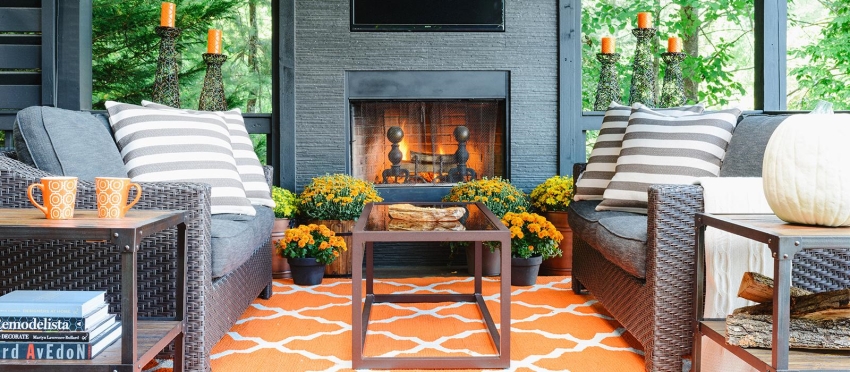 Our experts suggest this for homes with a relatively bigger porch. Adding pumpkins and wreath are common, but this fall season, don't hesitate to bring a few elements from your living room outside. Flower vases, lamps, rugs, carpets, and enough sitting space for everyone – that is all you need to redecorate your porch and give it a homely feel. You can even add a small coffee table. This not only remains a porch but becomes a guest area. Making this arrangement for your porch also leaves more space on the inside. However, if you choose to go with this design for your porch, make sure to have it well covered. We do not want you to keep changing seating arrangements every season.
6. Let It All Hang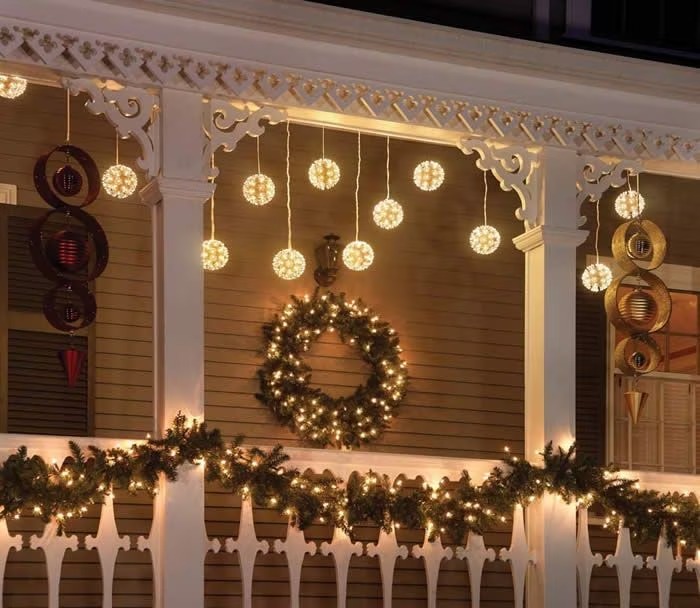 Be it plants, lights, or minimalistic decorations, our experts suggest that hanging things from the ceilings gives your porch a rustic look. This idea works even better if you have a wooden-colored palette around the house. It gives a sophisticated and vintage look and feels. This front porch decorating idea has been popular in many parts of the country. This is also one of the most inexpensive ideas. All you have to do is let the creativity flow.
7. Lighten up Your Porch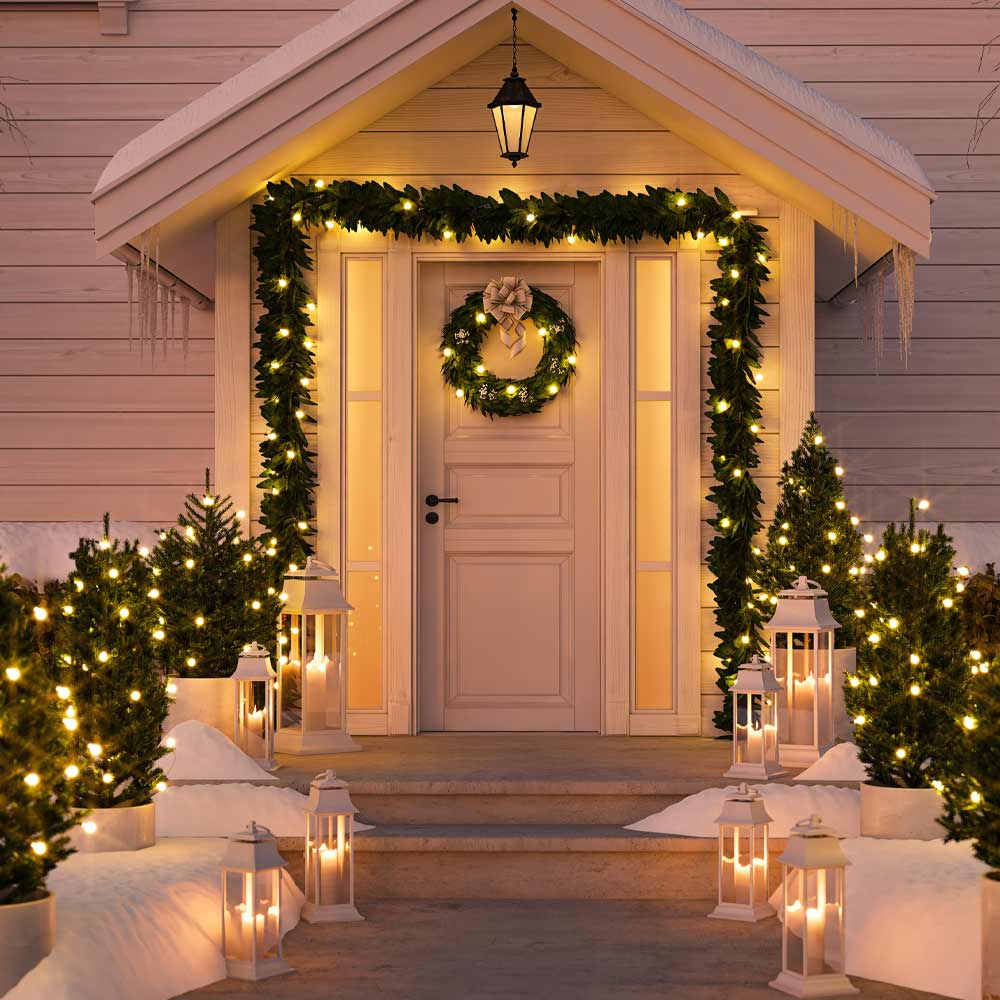 It is not just about adding brightness. Lighting up the porch gives your home a positive vibe right at the entrance. From large candles, surrounded with colorful, decorative plants and flowers to side lamps and hanging lights – there is nothing more beautiful than letting dim-lit lights lead the way. Adding such lights makes up for a warm and romantic evening.
8. Go Classic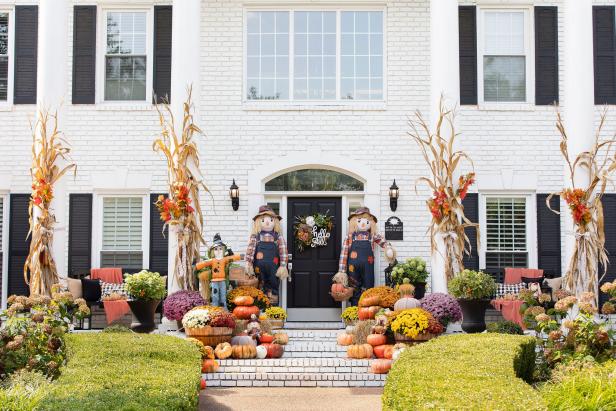 A traditional fall porch decoration idea includes pumpkins, lanterns, and a wreath. Not always do we have to go out of our way and make things different. Our experts suggest adding these classics because these days, classic is vintage. You can buy vessels that can be used around the year. Use these vessels to put pumpkins in them and add a few more to add a variety of colors to the path that leads to the porch. Use lanterns that have an age-old look to get the vibe you are looking for.
9. Use Grapevine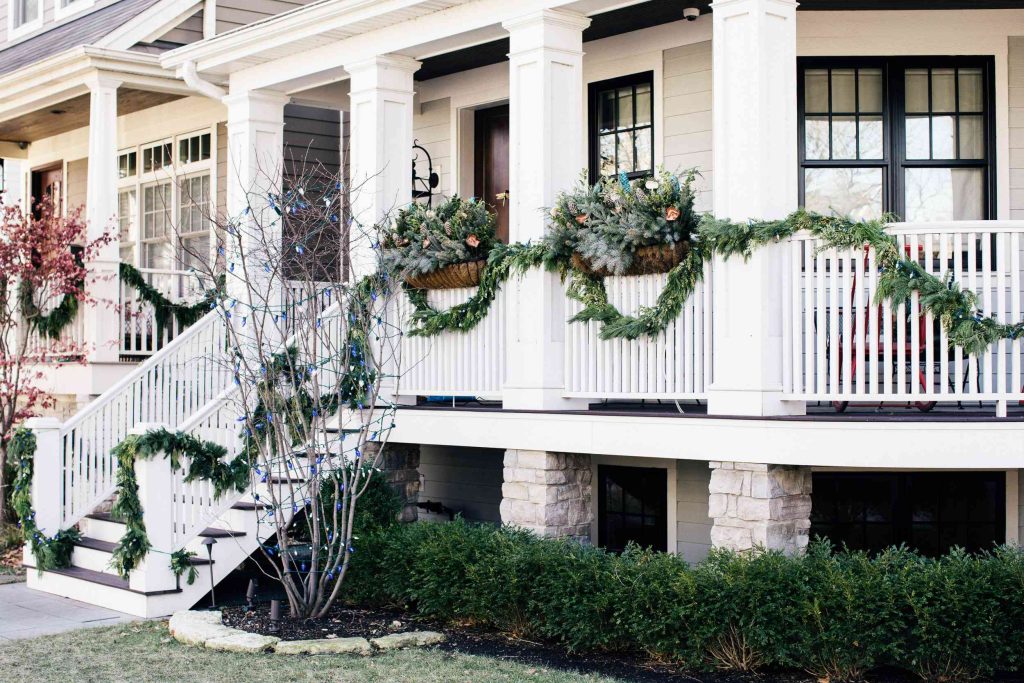 Use this front porch decorating idea over a pillar or on the railing or by the seating area – the use of grapevine continues to be a unique fall decoration. A fall garland or a mini copper wire mold accented in a grapevine manner, and it will definitely make your guests ask you all about them. Use a nail to make a hole in the rim of each mold and attach flowers of your choice to them. Make sure to thread fine gauge florist wire and use it to mold the grapevine.
10. Change to Orange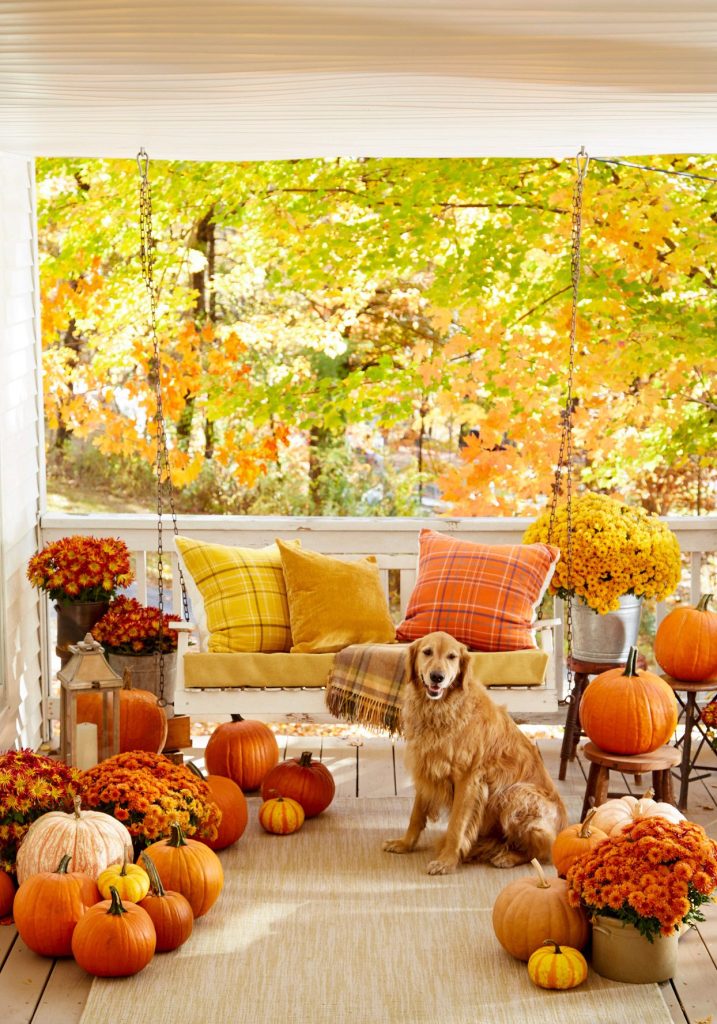 Whether you use the traditional pumpkin or not, the color orange stands for festivity and fall. This season, re-paint your walls or use decor that speaks festive. From decors like pillows and blankets, chairs and tables to lanterns and lamps, use the color orange for all that you buy. A strong hangout for fall, this will put you in a festive mood even if you aren't already. You can make space for guests and turn this area to welcome and entertain them. You can add a few pumpkins for decor to complete the look.
11. Let Your Seat Hang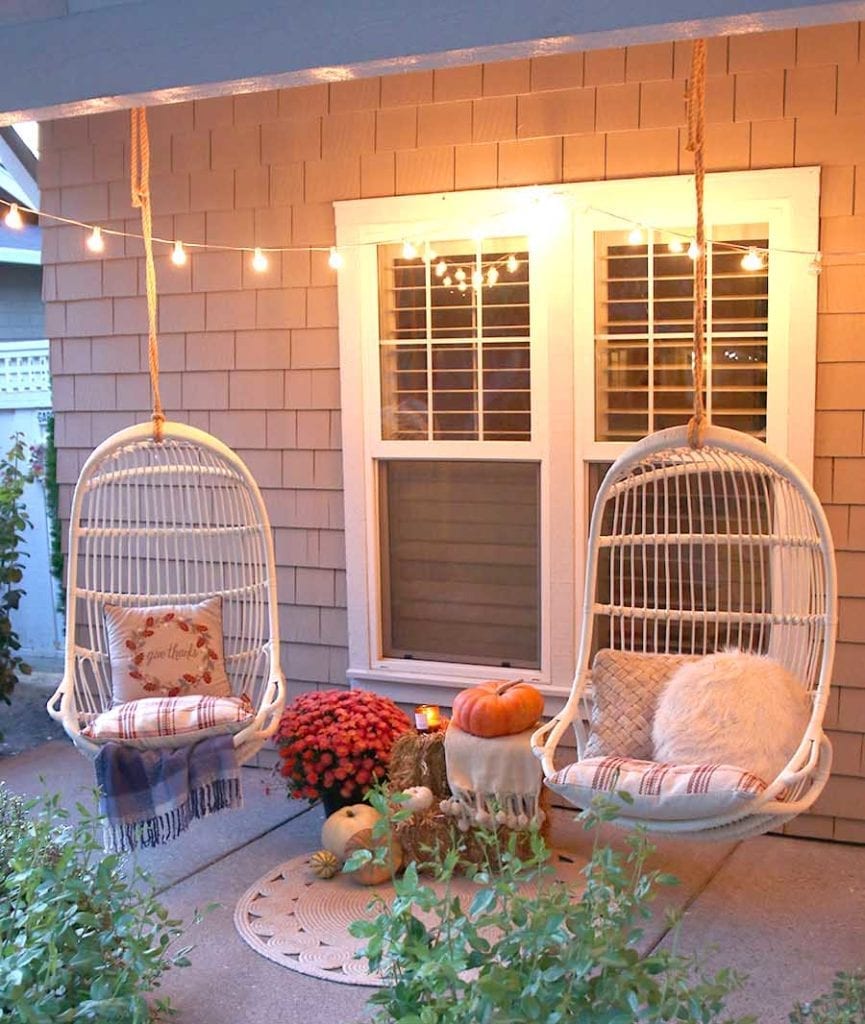 Earlier, we spoke about how hanging the decor gives your space a rustic vibe. Suspending your seat from the ceiling does exactly the opposite. A swing or a hammock, surrounded by the fall decor, gives your porch a modern contemporary look. It helps take your leisure to literally new heights. You can use light colors for your seating suspension as the decor around it is mostly bright and bold. An autumn-inspired throw pillow, a few cushions, and a plaided blanket will complete the modern porch look. Don't forget the plants, wreath, and the pumpkin behind.
12. Get Seasonal Flowers
Have you ever heard anyone go wrong with nature? Neither will you. The fall or the autumn gives a brand new look to mother nature. The season itself stands for new beginnings. As the trees lose their old leaves, they grow fresh new ones. And they brighten up the greens around us. This fall season, go minimal and choose a bouquet of seasonal flowers. Keep these flowers fresh, and your porch will bloom with their fragrance. Our experts suggest that you ground your seating set-up and add these gorgeous bouquets in every corner of the space. Light up a few scented candles and set the mood. Love this front porch decorating idea? Get your favorite flowers home today.
13. Add Layers to Your Decor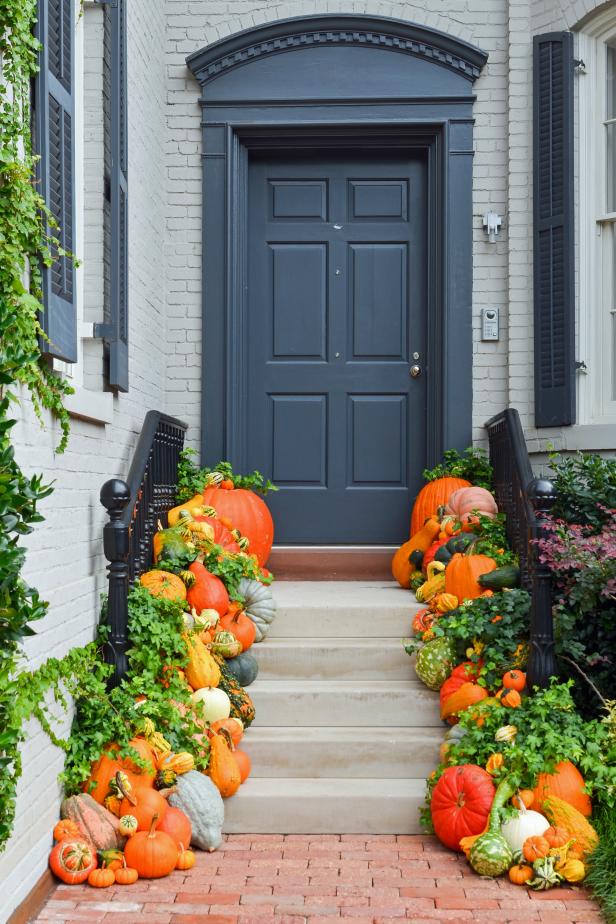 To achieve this correctly, our experts suggest that you set the foundation of this decor right. Choose the base decor – background colors and main decoration first. To add layers, start with the tallest items near the door, with the shortest ones in the front. Use a strong holder to hold the lanterns and the pumpkins. This will give them the elevation needed to complete the layers. You can use baskets of mums to fill in the gaps and add texture. Add a wreath to complete the fall look.
14. Add Plenty of Mum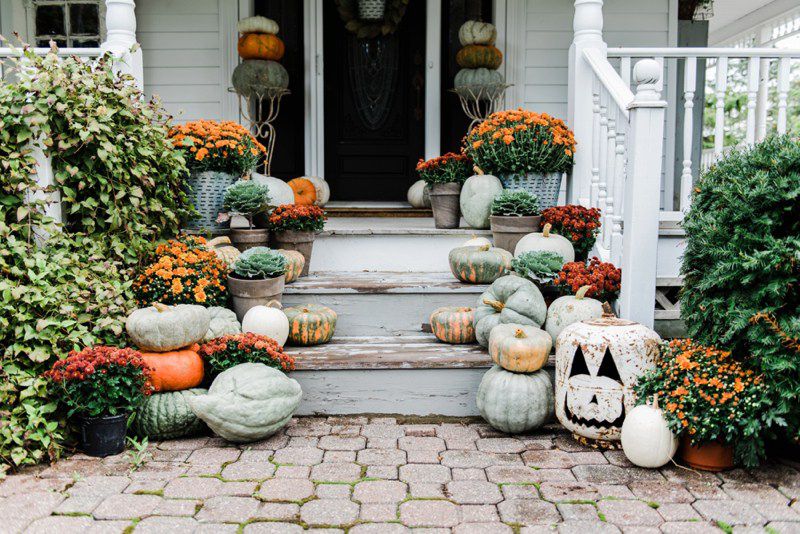 How many mums are enough mums when decorating your porch for fall? It is never enough, and our experts believe that we all can agree to that. This season, try carving a pumpkin and adding a mum into that. When adding mums as a part of your front porch decorating idea, it is smart to invest in pots and holders that you can use even after the season is gone. Adding mums to your front porch will also add a variety of colors, which gives a bright and festive vibe. This decoration is especially appropriate if you are going to have a lot of guests over.
15. Arrange an Alfresco Dinner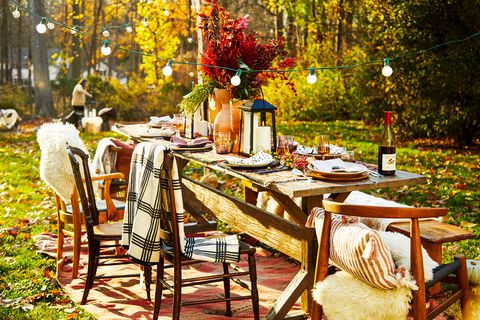 Porch and festivities go hand in hand with a grand alfresco dinner. Before you invite your friends and family over, make sure to cover the chair with fall decorative covers, light up a few candles across the table, add fairy lights above your head, and celebrate fall like never before. Spending quality time with your loved ones will make the autumn evenings and nights even more beautiful. You can use a gorgeous plaid blanket as a table runner. You can add seasonal greens around the table to bring everyone closer to mother nature.
16. Go Vertical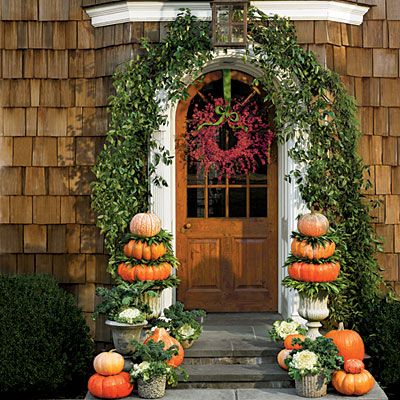 Most porch decorations with pumpkins get monotonous because of the way these are arranged. Instead of letting them flow around the porch area, stack them at the entrance and get the vertical height. Don't forget to add the greens with the pumpkins to maintain the color balance around. You can get a wide variety of pumpkins in different shapes and sizes that make this front porch decoration idea just the one you have been looking for. If you are adding a wreath along with this decor, make sure to add a stark contrast.
17. A Coastal Porch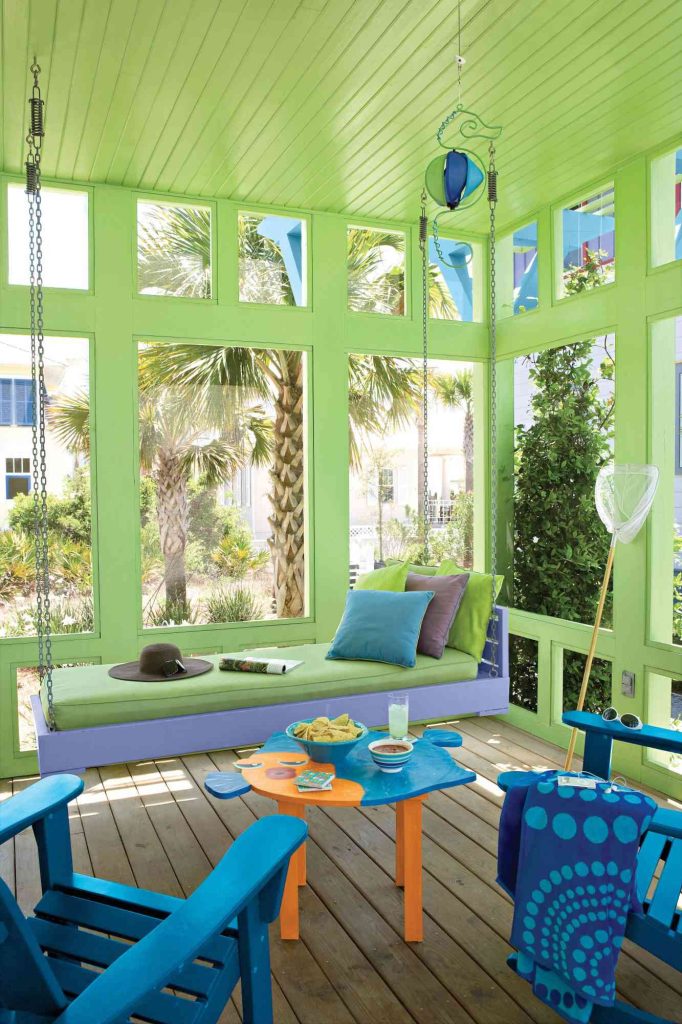 If you have been looking for ways to steer away from the mundane fall porch decoration, here is an idea that you will love. Take the paint bucket, add a few things to the area, and give this space a coastal vibe. From the walls to the door to the steps leading to the road, add elements of the sea. Use nature-inspired furniture like chairs and tables, add mums that are blue or shades of nature, and complete the look with greens all around. Just walk to the porch for a refreshing feel right around the house.
18. Pillows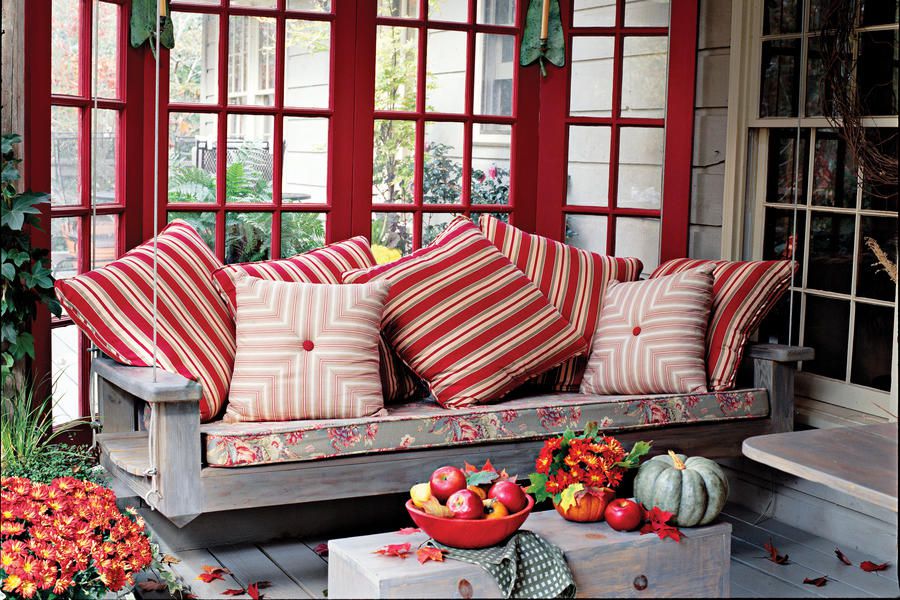 Add a lot of seating areas or extend the one you already have. Use festive colored pillows all across the place. Make this space your guest area and leave no dearth of pillows anywhere. Match your decor and the mums with the pillows. Use rustic or autumn colors to complete the look and feel. The best part of this front porch decoration idea is that you can never have too many pillows. To add contrast, you can use hanging plants or plant them just by the railing to add a hint of nature to your decor.
19. Let It Pop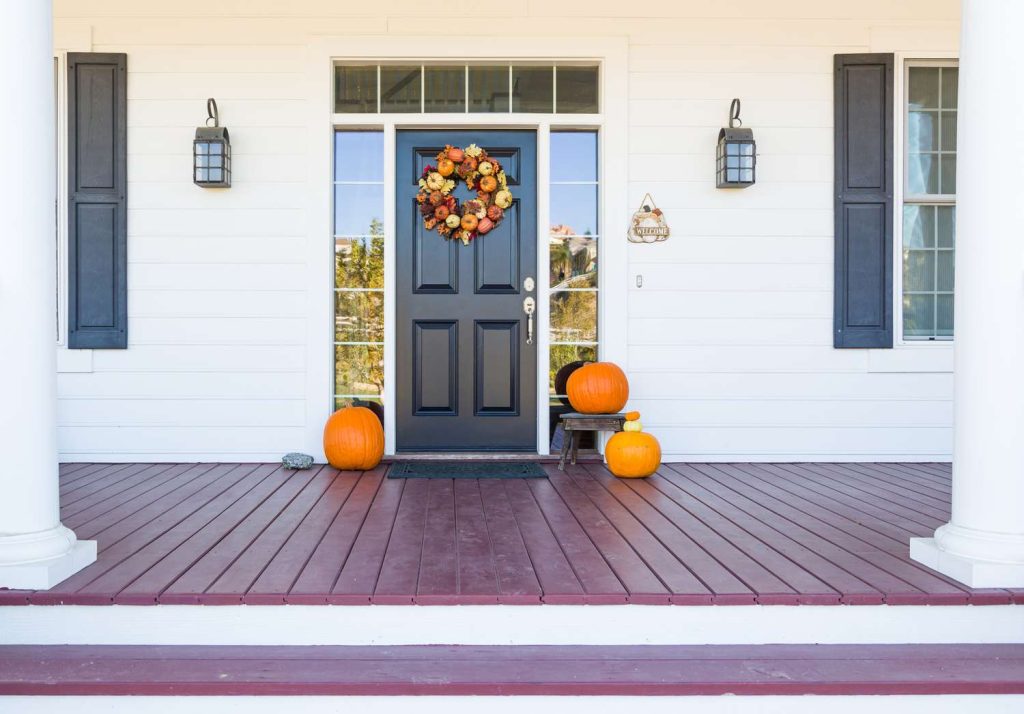 This is perfect for homes with light color exteriors, especially the ones in all-white. Add just a few elements of color and let it pop. You can add one or two large planters with different colorful mums or a wreath that stands out in white, or a few bright pumpkins. You can also consider lighting up with a relatively bright-colored light just at the entrance before the door, and the uniqueness that it will bring will leave you in awe. If you want to add pumpkins, do not go overboard with it. The element of pop loses its charm.
20. Add a Quilt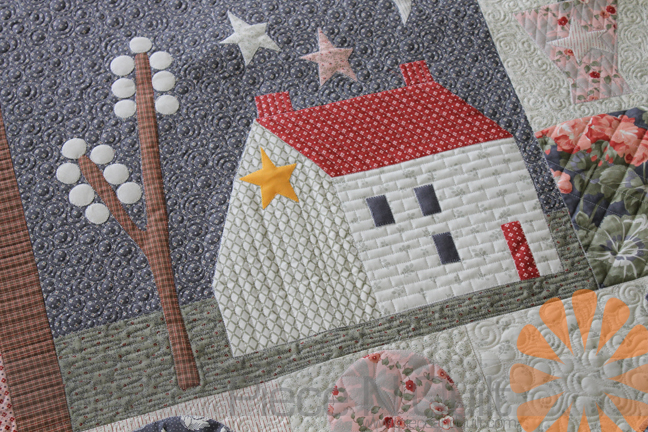 Have you considered adding a hand-made quilt to enhance your front porch's unique look? Use an all-weather material that would not be affected by the change in seasons, and hang it outdoors. If you are not convinced with the designs readily available in the market, you can let use of your creativity and create your own quilt. Use the colors and patterns of your choice, but make sure to create a contrast that turns your eyes. The size of the quilt will depend upon the amount of area you would want to cover.
21. Change the Welcome Mat
If you are someone who doesn't go crazy with festivity and fall, here's something minimal for you to try. This is a no-effort upgrade. Get a welcome mat made out of autumn colors like tan or red, and swap your regular one out. There are a lot of designer welcome mats available in the market. Choose one that suits your tone and personality and get a quick festive look outside your home.
Conclusion
There is nothing like the fall season to give your porch a makeover and a warm and inviting feel. We encourage you to enjoy the autumn spirit and bring joy to your homes and lives.
From vibrant decor to plantations that stand out, from a rustic look to a contemporary modern touch – you can do so much with the space just outside of your home.
Through our front porch decorating ideas, we have tried to uplift your mood so that you let the creative juices flow and your porch has a brand new look before the festivities arrive.
No matter the approach you want to take, traditional or contemporary, there is no dearth of ways to showcase your personality through your porch. All you have to do is spend some time thinking about the best possible way to showcase yourself.
When in doubt, always talk to an expert.