Bathrooms are one of the most crucial and used spaces in the household. It is the biggest irony that we ignore decorating these spaces precisely in terms of decor and accessories. Although cut to the current scenario, contemporary homes are given the most importance against the situation that existed around a decade back.
This brings the importance of special bathroom door materials and designs, which are enabled to resist moisture and humidity and can last for a longer period of time.
These doors are not just great options in terms of the flexibility it serves; rather are also low maintenance against the one made of wood. Besides, it is also capable of retaining its shape and quality.
We have compiled a set of some relevant bathroom door ideas in this segment that make up the most in terms of utility and aesthetics and give your bathroom a fine artistic touch.
Super Cool Bathroom Door Design Ideas
1. Small Bathroom Door Designs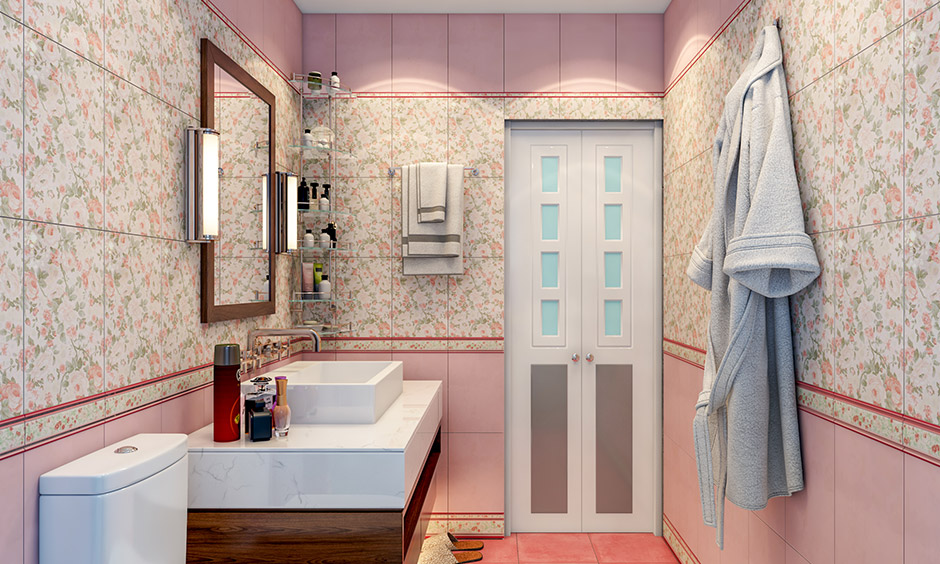 Do you have a small bathroom but looking to renovate it, then this door idea is the best option for you. This incredibly useful bifold bathroom door for small spaces makes up the best option and can be well-curated based on the internal theme of your Bathroom. Both doors can be opened completely to make better access altogether. The given combination of wood and glass makes up one of the smartest small bathroom door ideas.
2. Designer Bathroom Doors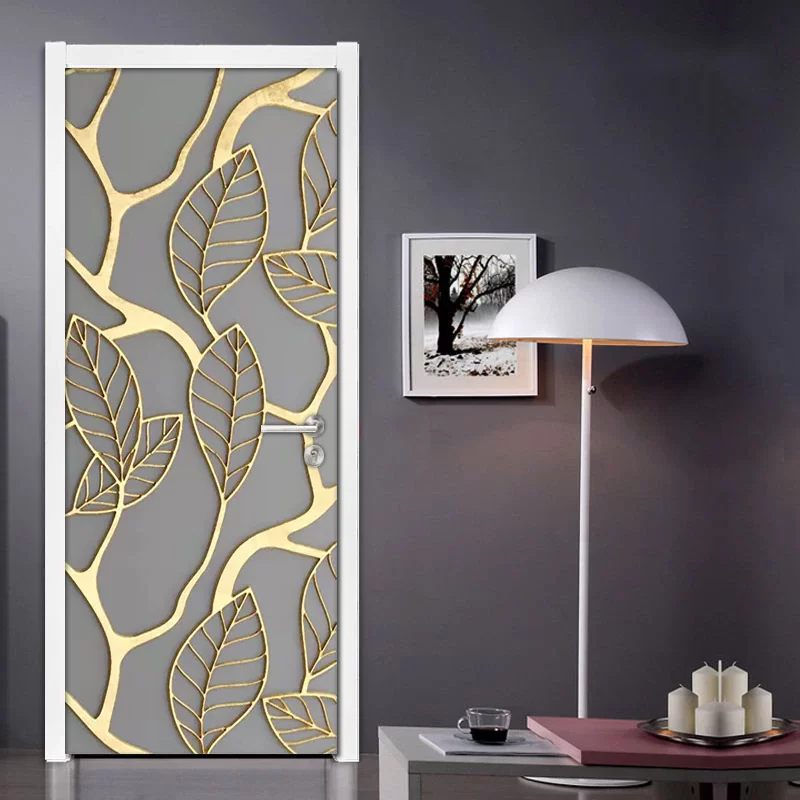 Once you have invested a decent amount for the expensive bathroom fittings, then why settle for less when you can have a relatively better designer bathroom door after spending a little more on it to boost the style game of a relatively neglected arena of your home? One of the best options on the bloc is the inclusion of the PVC panel door for your bathrooms with a designer touch based on one's own choice. This will help you give basic hints about the aesthetic beauty of your Bathroom's interiors.
3. Master Bathroom Door Designs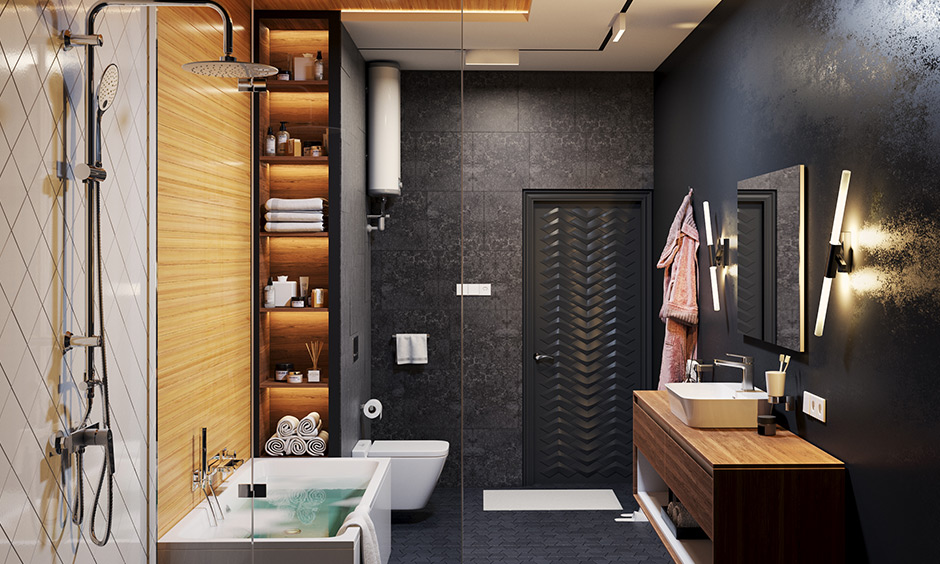 The master bathroom is ideally the biggest bath area of your home. So, it is essential that you maintain the entire look in a similar manner giving it an impressive touch of the highest order. Alongside being functional, you require a door that fits your bill. This dark-themed door completely matches the tone of your bathroom, where the look is artistically enhanced by the glossy printed design that is evenly spread across the length of the door, making the look irresistible.
4. PVC Bathroom Door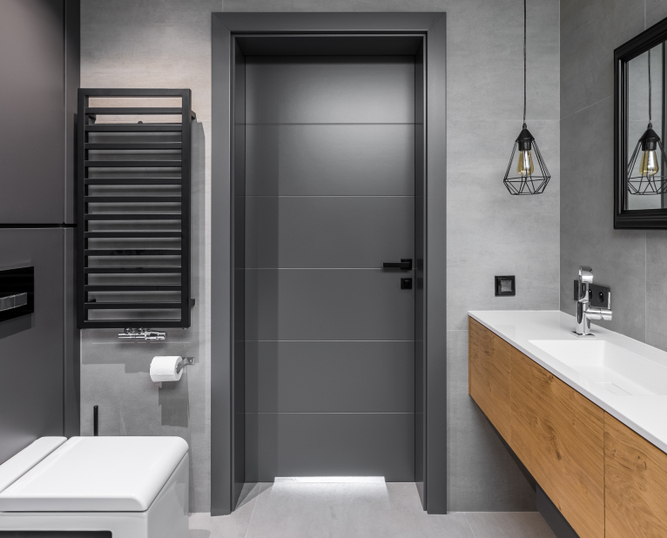 The most trendy and highly desirable door ideas for your Bathroom if you don't wish to opt for wood. PVC bathroom doors are not just cost-effective but highly durable as well. This kind of door mimics a conventional wooden material but uses a much more adorable stained effect. It comes with a set of frosted glass panels to secure the view that adds a beautiful look to the interior. The best part of the PVC doors is that they can be played in any way possible based on the desire and requirements of the people.
5. Aluminium Bathroom Door Ideas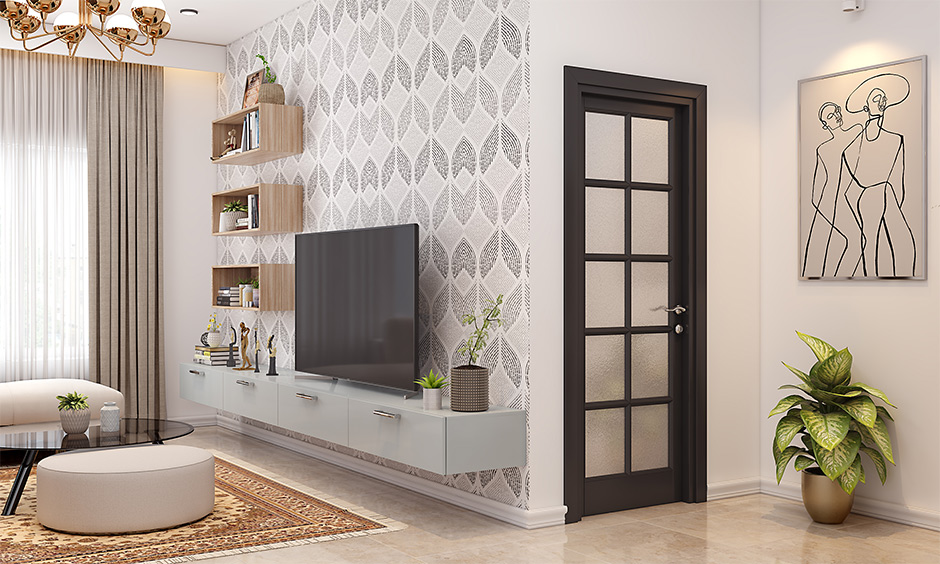 Another trendy bathroom door idea of immense utility. Aluminum doors are not just lightweight and are resistant to corrosion. These kinds of doors are best for the bathrooms that are outside, where delicate wood or glass materials cannot last that long. The bathroom door design of your living room in the image depicted above is beautifully complimented by the opaque glass in rectangle-shaped compartments to give it a functional design.
6. Plastic Bathroom Door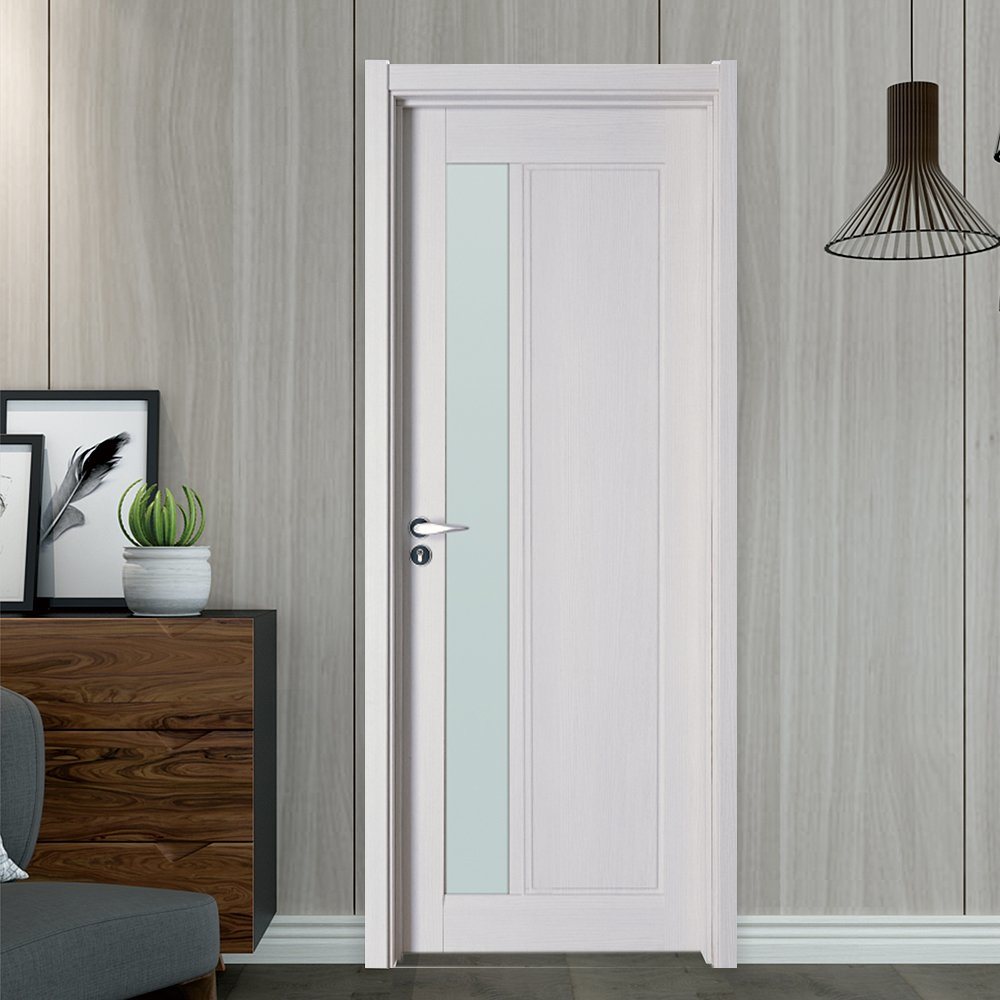 Plastic makes one of the ideas of the finest, simple, and most basic materials for bathroom doors. Plastic doors are highly durable and all-weather proof making them one of the smartest and perfect choices for the Bathroom and the toilet areas. This is a single-paneled door; the best part of plastic doors is they can hand a super stylish touch to the bathroom doors on a limited budget.
7. Sliding Bathroom Door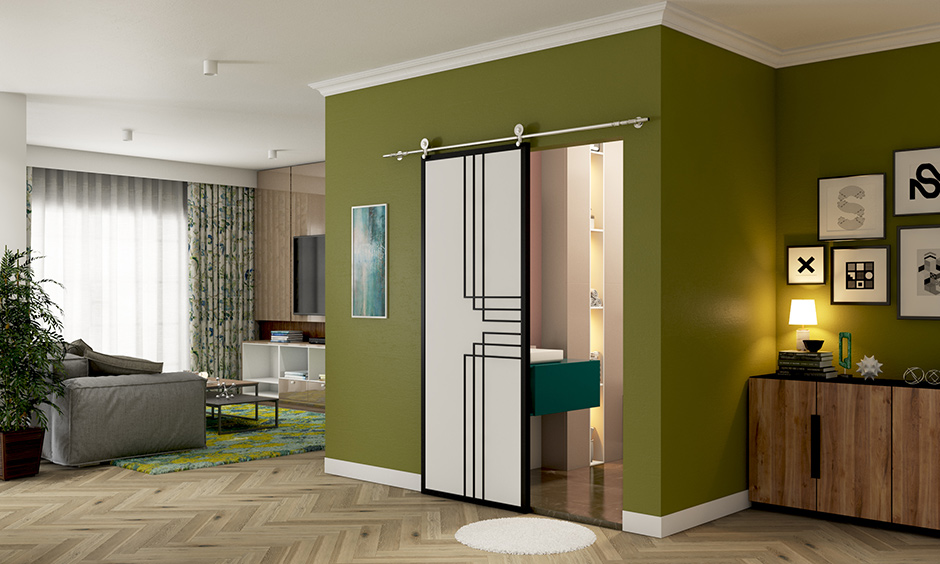 An old-world charm can well be added to your house just by playing with the design of your Bathroom. The above-paneled door is the best example of the same, where a wooden door is hung atop a rail to create this kind of unique sliding door. Besides being a well-performing door, such designs also enhance space utilization. Such kinds of doors can be easily played along with a range of different designs. You can also opt for the two-way sliding doors for the bathrooms that have plenty of space outside.
8. Bathroom Glass Door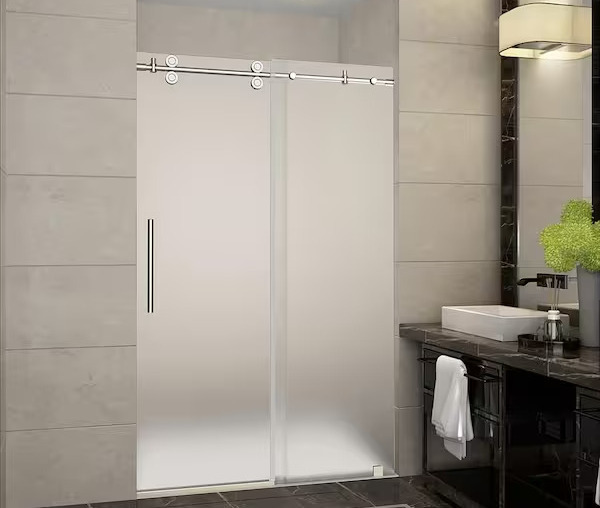 Glass also makes up a great option for bathroom doors that helps in enhancing the aesthetics through multiple folds. A glass slider can be brought into use to separate your bedroom from the shower area. The glass panels are effective in preventing water from leaking out. This can also be curated to maintain privacy with a shower curtain.
9. Wooden Bathroom Doors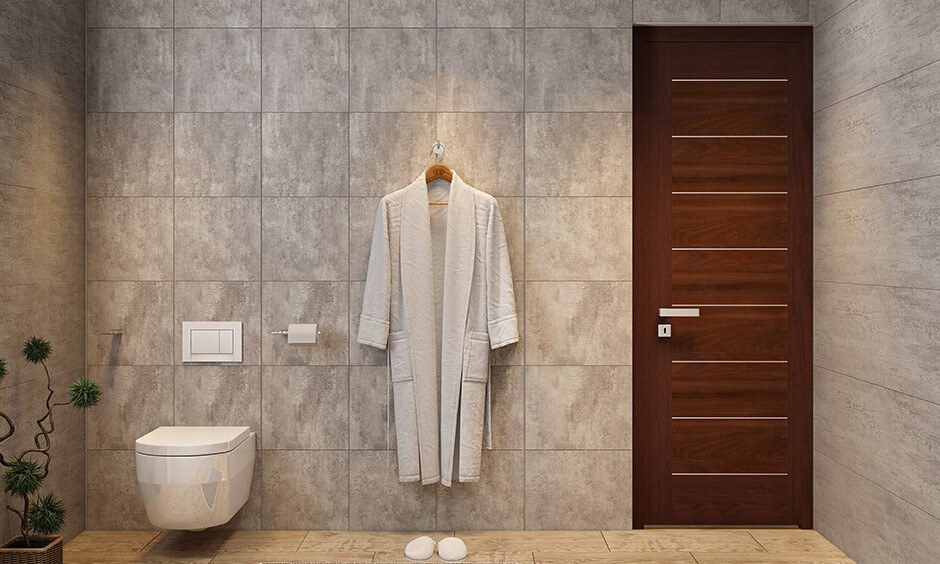 Though there are plenty of other options that have taken center stage for the prominent options for the door. But the aura of the wooden doors is still irreplaceable. The gorgeous doors add an exotic touch to the interiors and the exterior portion of your bathroom region. The premium quality paneled doors amplify the fittings, but it must be noted that for the bathrooms, either in the open or that open outside, you must never consider wooden doors as the continuous water and moisture exposure will eventually deter their life and durability.
10. Folding Bathroom Doors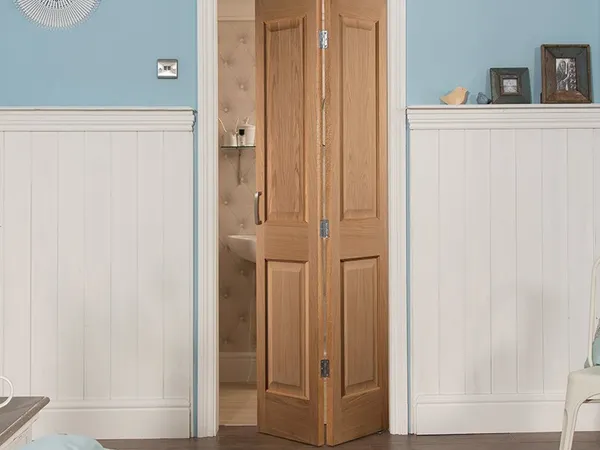 These are one of the best options on the bloc to utilize your space alongside catering to the essential style of your interiors. These folding doors are different from the bi-fold doors; it is different from the one above that opens up, which opens on both sides, while this opens on only one side with a joint flap bolted at the center. A range of designs can be taken to enhance its overall appearance.
11. 3D PVC Bathroom Door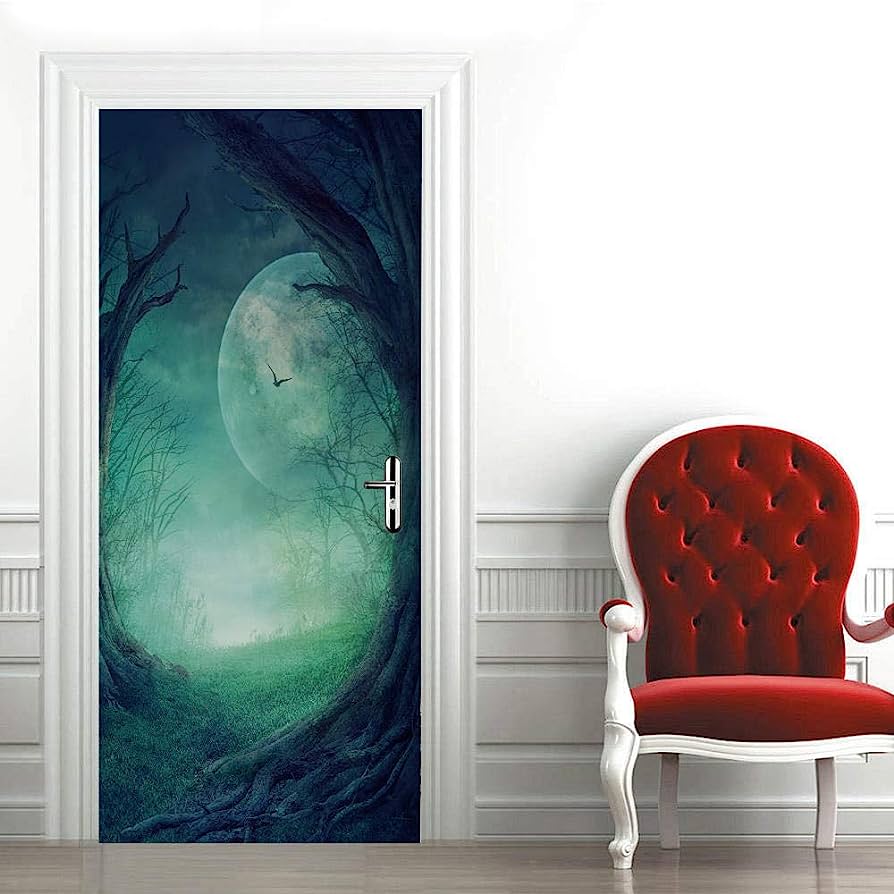 One of the youngest ideas on the bloc and in the market in the segment of PVC bathroom door design ideas. Customers, though, are widely divided on this. It is one super cool idea that gives artistic touch better more amusing than any other option. The 3D door suits the best for a kid's Bathroom more than an adult living room or the master bedroom. Undoubtedly it adds up the fun element and enhances the overall look, not just that of the Bathroom but rather of the area where the doors face outwards.
12. Digital Print PVC Bathroom Door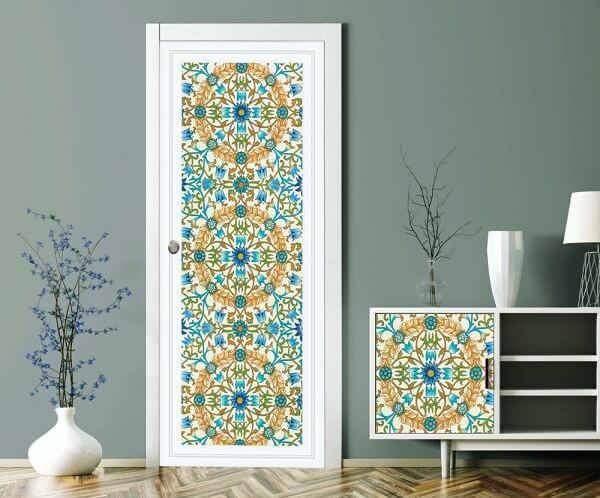 A popular choice that is again taking the market of home decor by storm. Traditional PVC door designs are adorned by a range of digitally printed designs. This can come in a range of themes, including floral, abstract, wildlife, and a lot more. All the designs are digitally imprinted on the door, so it gives a plethora of options to match up the overall aesthetics of the room and the ambiance in its entirety.
13. Opaque Glass Door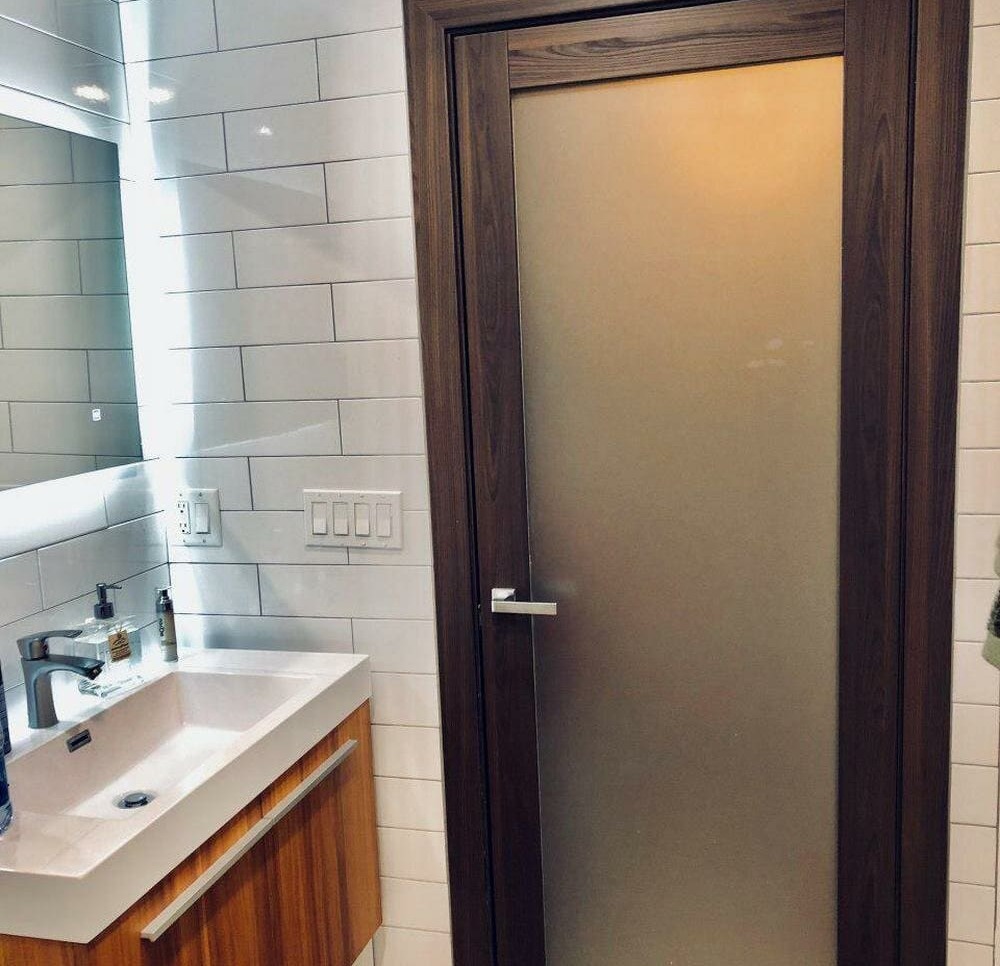 Another perfectly suited option for bathroom doors with glass in contemporary homes is as trendy as it is stylish. The glass panel is surrounded by a wooden frame. You can opt for this option if delicacy is a concern at your end with the glass door idea presented above in the list.
14. Barn Style Sliding Bathroom Door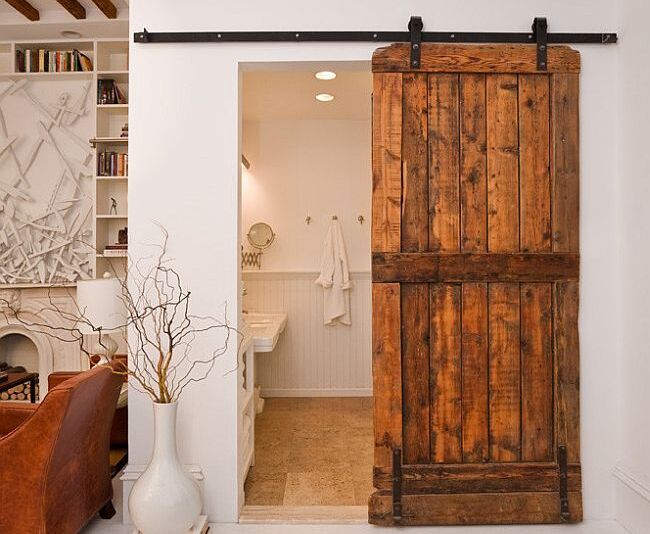 Artistically appealing and super cool barn-style door enhances the tone of one's Bathroom and creates the finest impression for the homeowners. This sliding door design uses rustic elements to give a traditionally perfect design adding a playful aspect. The barn designs can be crafted in any number of ways and make up the most appealing design on the bloc.
15. French Bathroom Door Design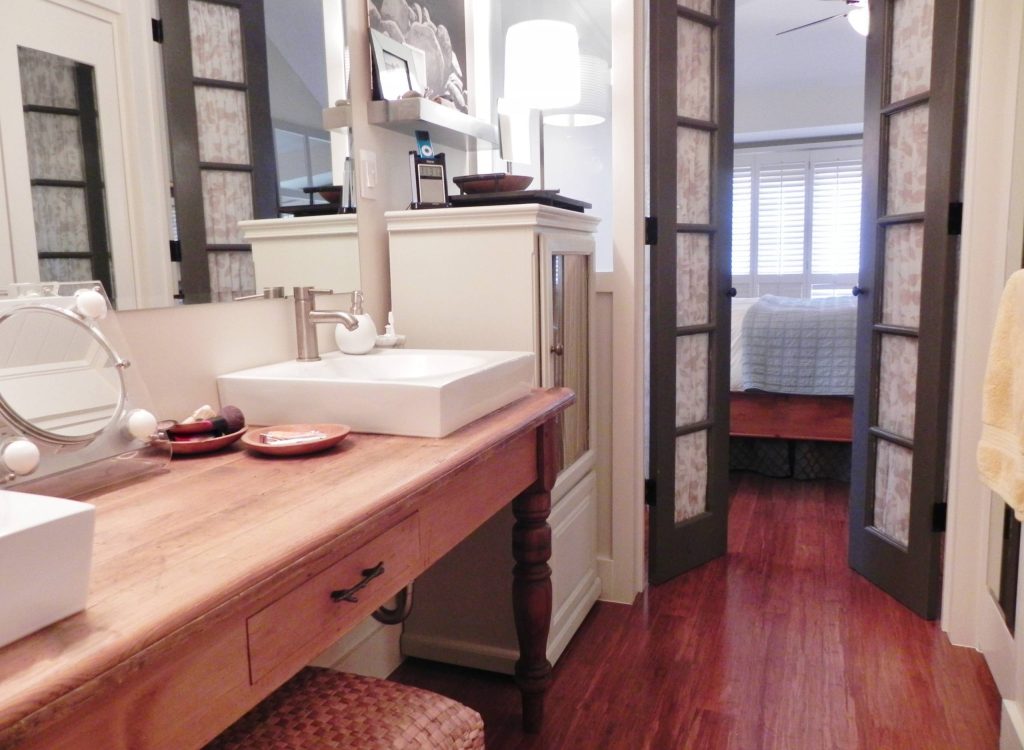 Luxury and elegance are not far with this simple and sober French-styled bathroom door idea. These doors elevate the look of the space wherever it is placed and fits perfectly into it. French doors are double doors with glass paneling. It brings along options as well as how well you wish to turn things into. With the presence of glass, you can either choose the opaque or the designer panels in the glass, whichever suits your home's ambiance.
16. Mirrored-Style Sliding Door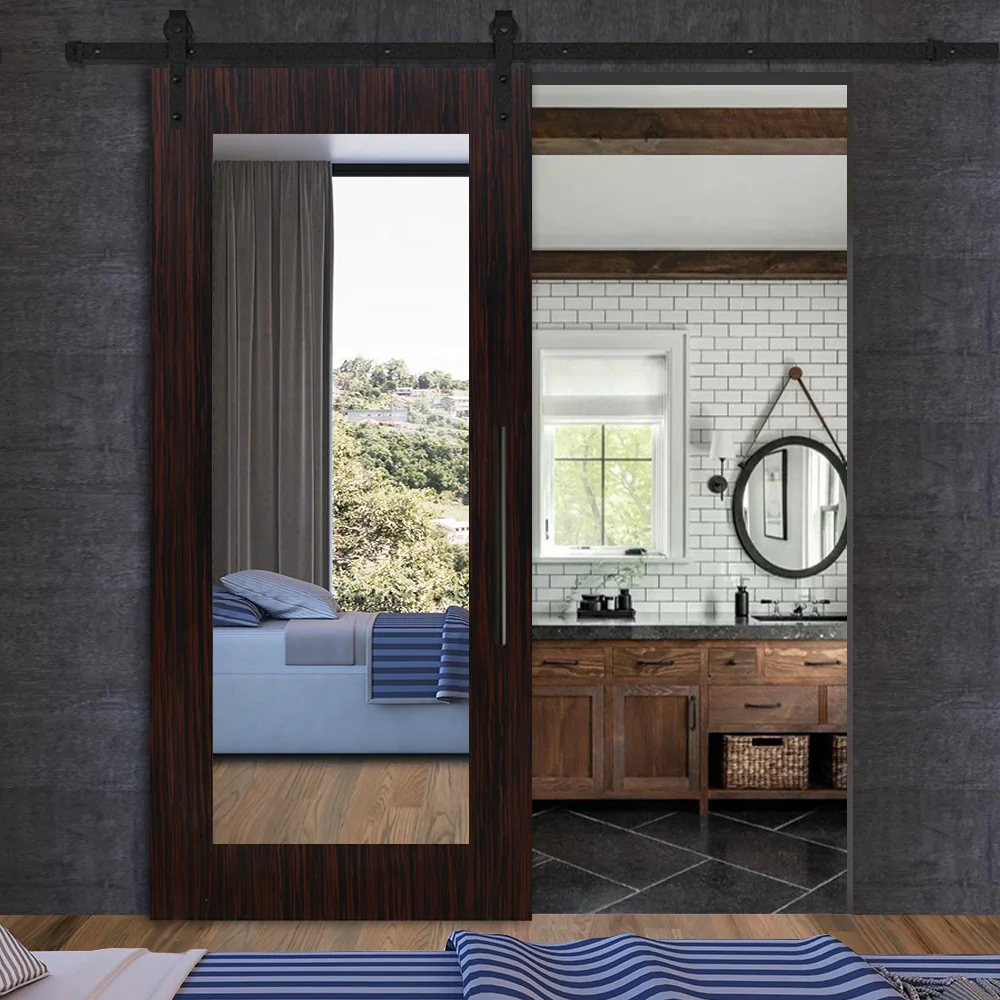 The designer mirrored style bathroom door idea is an incredible two-in-one combination. The bathroom entrance is disguised as a mirror with a barn design; just sliding the mirror to the opposite side paves the way to your Bathroom. When not in use, mirrors can be used to style oneself. Its unique design and multipurpose utility makes it a desirable choice for homeowners of all divisions and income class.
17. Polished PVC Bathroom Door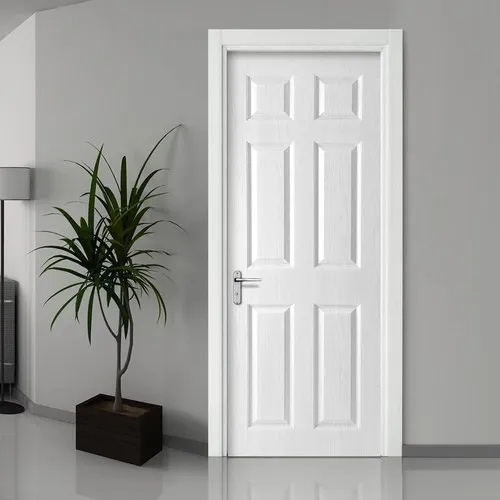 If you are trying to install a door that stands decently apart and isn't overwhelming, a simple polished solid bathroom door is the best option for you. It is the most accessible and affordable method for a contemporary door design. It can range in different shades of colors, including Red, Yellow, Green, and Blue, or a simple white would also do. Metallic designs are widely used in polished doors. It is well under budget and hands the perfect ambiance to the room and the bathing area as well.
18. Marble PVC Designed Bathroom Door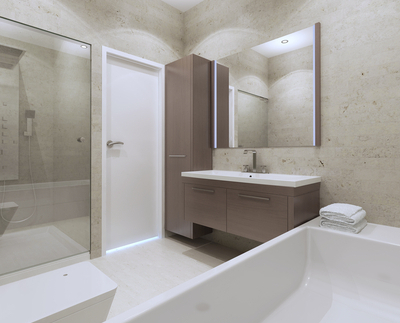 With the passing of time, PVC's demand has immensely grown due to its multipurpose trait, and it is the most sought bathroom material for your home interiors. It is not just durable but rather also caters to the longevity and the aesthetic of your home. It satisfies the range of purposes. The only issue is with the budget, as marbles are not that cheap. However, it is a great one-time investment and can serve the purpose at large besides amplifying the ambiance of your interiors.
19. Stylish Glass Bathroom Doors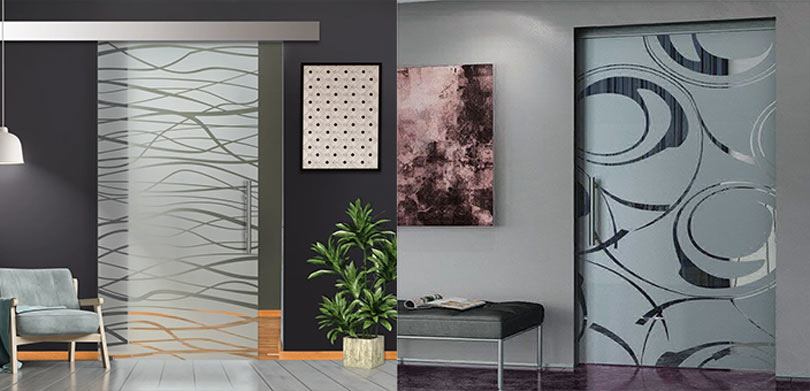 Yet another option on the chart is associated with glasses. This designer glass door is timeless and adds up to the overall style statement of your house, Bathroom, and personal you. These kinds of doors create an illusion of space and provide an elegant touch. Glass doors come in different styles, ranging from clear, simple, etched, and frosted. One popular option is a frameless glass door. Over to that, it is important for one to ensure that the door you are using is tempered and meets the safety standards.
20. Trendy Bathroom Door Designs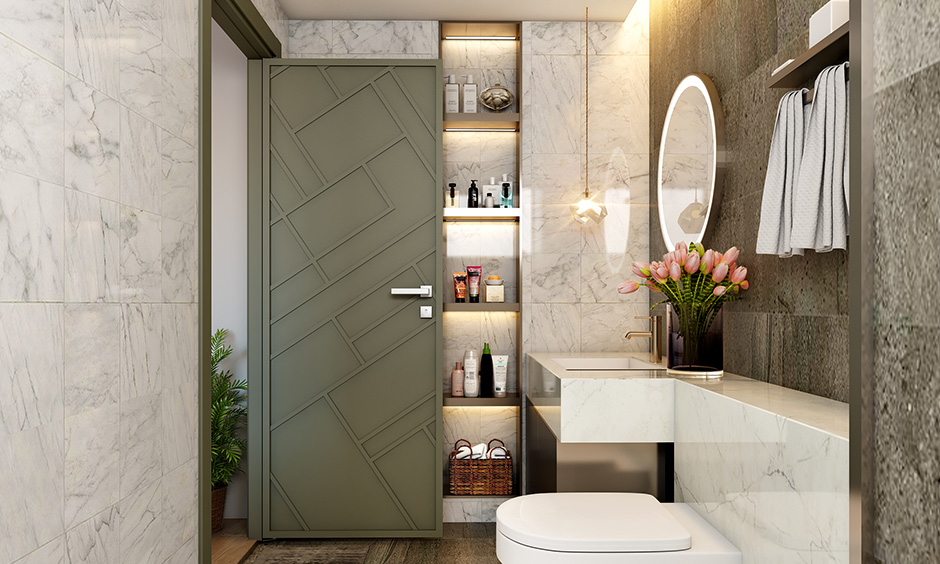 These contemporary trendy bathroom door designs can amp up the look inside your home to a whole new level. This kind of door can add a completely different look to your interior house decor. While choosing the perfect designer trendy doors for your Bathroom, you must consider whether the option is for mater bathroom or a normal bathroom. Such doors can satisfy each of your requirements and can contribute to the overlook aesthetic of your home. Such a kind of Bathroom can also satisfy the theme of the broad range and can help you match the pre-existing theme of your interiors.
21. Waterproof Bathroom Doors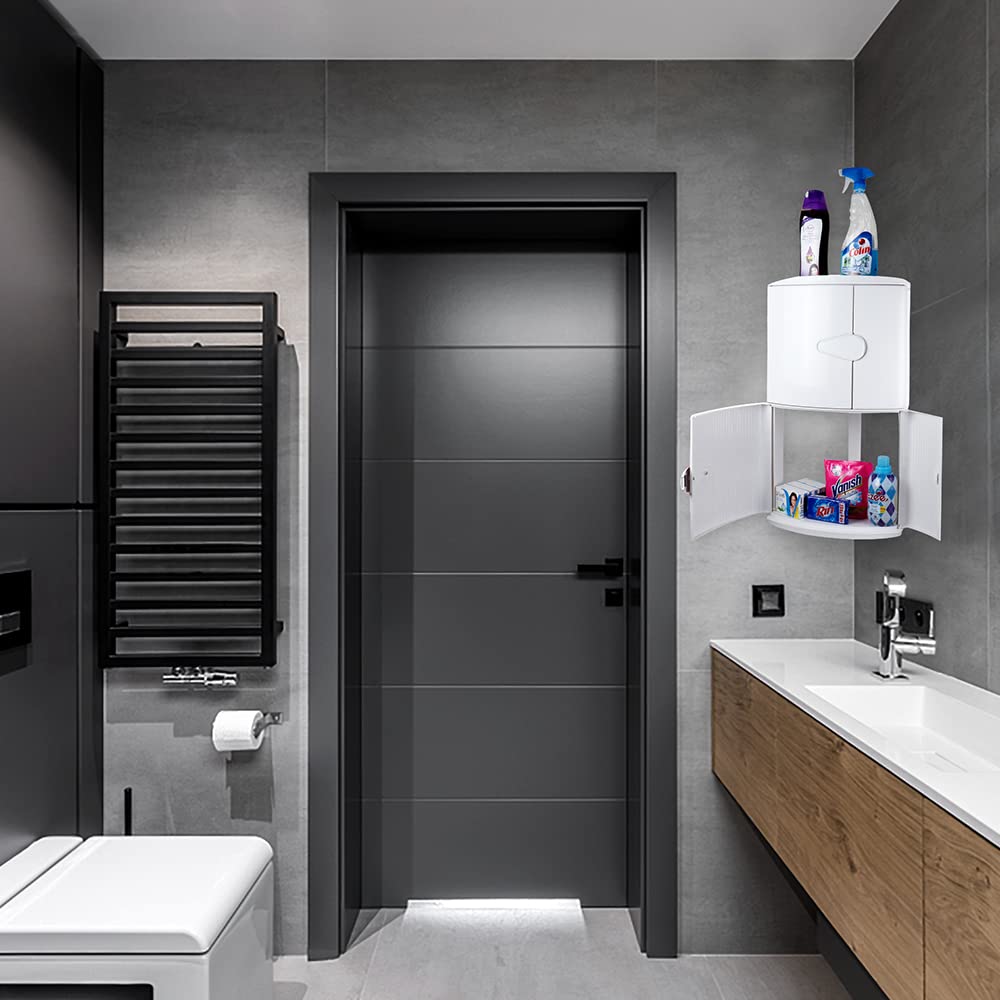 Investment of every single penny must be utilized in the best possible manner. Go for doors that are not just stylish and multipurpose but waterproof, Yes! You heard that right. Waterproof doors are in huge trend these days and add a great touch to your bathing area apart from cutting down your load to consistently maintain the shine with polishing and cleaning it from time to time. These kinds of doors are specially designed to withstand the higher level of moisture and humidity. Waterproof doors are one of the most suitable options for bathroom doors and are made up of various materials involving PVC, fiberglass, and aluminum.
Selection of the material and the door style is one part. However, there are a few essential checks that you need to cater to before zeroing in on your choice. The investment should be properly made, keeping the long run in mind.
Things to Consider Before Finalizing the Bathroom Door
Choose the right material for your bathroom door that grounds the purpose in the best possible manner matching all the aspects of your home interiors. If you are finalizing your choice with wood, make sure that it is water-resistant and doesn't get swelled up. It is suggested to take up metal or aluminum doors for commercial places.
Keep the swing of the door in mind; on which side do you want the door to open, inward or outward? This is the important question that most of us don't pay much heed to. The door's movement must be free and not interfere with the fittings or your closets inside the Bathroom.
Designing is yet another crucial factor that needs detailed deliberation. You can choose from a wide range of patterns and styles of doors matching the ambiance of your home interior and the theme in which your house is set.
Which Type of Door Is Best for The Bathroom?
There is no specific answer to this question. Each of the mentioned door ideas has its unique set of advantages and satisfies the purpose when set in a perfect place and setting of the home. It is important to mark your needs and align all of your requirements to the specifications the door provides.
Conclusion
Every single door idea presented above has its own share of efficacy; everything comes down to the point of how well you are utilizing your space alongside the bill of investment in it because these are specifically the two biggest limitations one has in dealing with the installation of doors in your bathrooms. It is essential for you to look forward to the utility that the Bathroom serves and the practicality that it has.
For a few reasons, PVC doors are the best owing to the versatility it provides and the range of design that can be pulled off with these. PVC doors also do not require much investment and are extremely low on maintenance.
They always retain their original shine despite extensive daily use. You can carve out absolutely any design out of it and have around 20 options in just one particular element.
The majority of PVC doors are environmentally friendly and can be easily recycled.
Frequently Asked Questions
What Type of Doors Are Best for Small Spaces?
Sliding bathroom doors are the best choice for small spaces; the option for sliders brings and makes space utilization in the best possible manner. Apart from the sliders, Bifold or Folding Doors also make a great option for the Bathroom with small spaces.
Is a Waterproof Door More Expensive than The Regular One?
These kinds of doors are specially designed that can resist high levels of moisture and humidity, which, yes, makes them a bit more expensive than regular doors. But these kind of doors are the best one-time investment and has extremely prolific durability. These doors are also enabled to prevent minor damage and help maintain the overall structure in the longer run.
How to Choose the Ideal Door as Per the Bathroom Decor?
Keep under check the essential factors like style, color scheme, and the existing ambiance of your Bathroom. You must go for that kind of door that matches the overall pre-existing settings. A contrasting setup will also do well enough to create a bold statement.
Which Type of Pvc Door is Best for The Bathroom?
When it comes to PVC, one gets a wide array of options that suits a variety of aesthetics and the theme of the house; PVC doors design like framed, teak, 3-D door, and plastic frame are among the top choices by homeowners to provide their bathroom home with a fine touch of the highest order.