Everyone loves enough breathable space in their pantry, and if the pantry is organized, it is always a bonus, but creating enough space in a small pantry is a tough job. The struggle to organize a small pantry while creating enough space and finding the items is difficult.
What's worse is when you try to organize them in your way, the condition of the pantry again becomes like the one it was two days before. No worries, we have curated this list of 25 pantry organization ideas for organizing a small pantry to help you organize your items and their storage containers smartly to make your pantry experience smooth and hassle-free.
This post covers the simple organizing idea for a hidden pantry, compact closet, slim storage, open Shelving to organize the small pantry, spice rack storage, and more ideas to organize a small pantry in your home.
1. Keep It Simple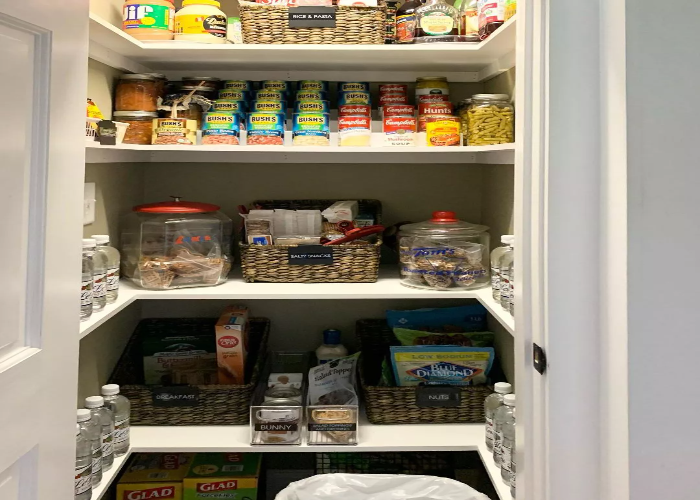 The most suitable way to organize your pantry space is to keep it simple. The simple organization of the pantry is all about categorizing and stuffing things in a basic and simple approach. Simple pantry organization keeps the big, heavier items in the bottom parts or shelves.
If you have jars or containers that are risky to carry and can break, like glass jars, then organize them in the workspace area. Keep the light items on upper shelves or racks. You can keep the light packets or packaged food on the upper shelves, And finally, the things you need occasionally keep them on the uppermost shelves of your pantry.
2. Clear the Decks to Organize Small Pantry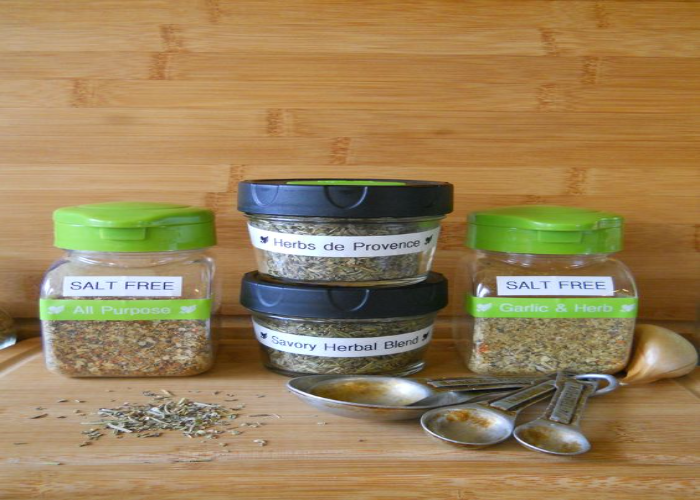 As clearing the home and bedroom is important, clearing the pantry decks are equally important. Start from decluttering the big items to the spices. Examine if they are in good health or not. Separate the usable items and remove expired ones, like drinks, spices, and food packets.
Throw or dispose of these expired products. Clean the decks and pantry to make them fresh again. Only organize the pantry items as before, according to your convenience. You can also organize them in one of the ways mentioned here in this post.
3. Straw Bins to Organize Small Pantry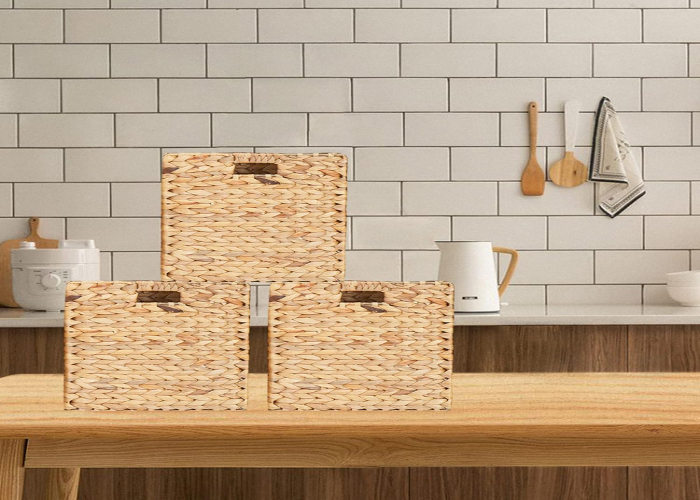 The most widely used bins are straw bins which find a place in the pantry, playroom, and office buildings. With the smooth storage, they also maintain the aesthetic vibes of the room and your pantry. You can store stuff in them by grouping and categorizing methods.
For instance, store the vegetables in one straw bin and keep the fruits in the other. Organize the food packets and the sauce and flavor bottles in the other. In this way, you can neatly organize small pantry stuff in the straw bins, making it easier to pick up the item when needed.
4. Hidden Pantry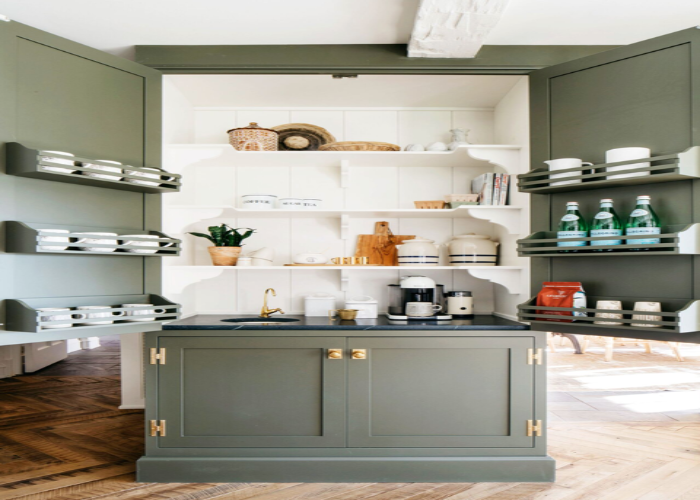 If you want to create a secret storage space for some of your items that are too much, precious, or getting older, and you don't want to flaunt them, try the hidden pantry storage organization in your pantry. By creating the cabinet, you can easily convert one of the side walls of your kitchen center or counterparts into the hidden pantry.
Hide it with the seamless design and similar paint so rare people can't recognize it easily unless they know that here is the secret pantry organization storage zone. You can organize your stylish or designer jars, mugs, glass, essentials for the guests, and special items.
5. Organize the Small Pantry by Grouping Items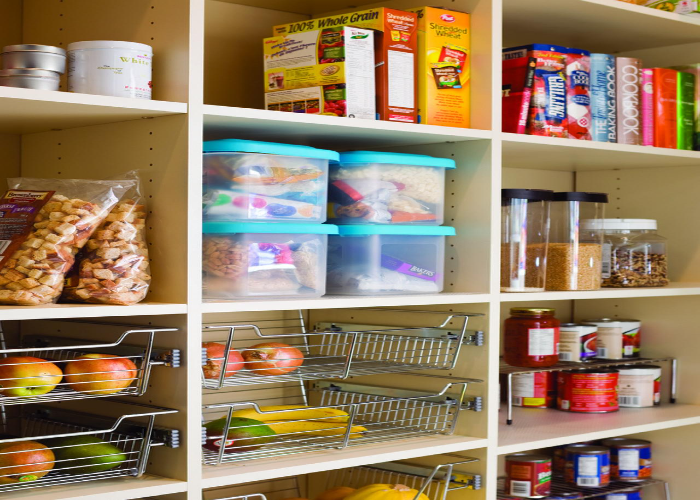 Grouping the items like food and drinks will help you to keep things simple and within the reach of your hand. You can group all the pulses, like keeping them all near. Keep the alike fruits together, like all tomatoes, in one basket or small container, then potatoes, then other fruits and vegetables.
Keep the drinks and liquid on separate sides like oil, cooking oil, fruit drinks, and flavors, and also group them according to their niche, like all oil bottles together and then flavors bottles together. Grouping the things like this will not only help you to organize things neatly, but it will also help you to find them smoothly without any hassle.
6. Shelves Into Drawers Transformation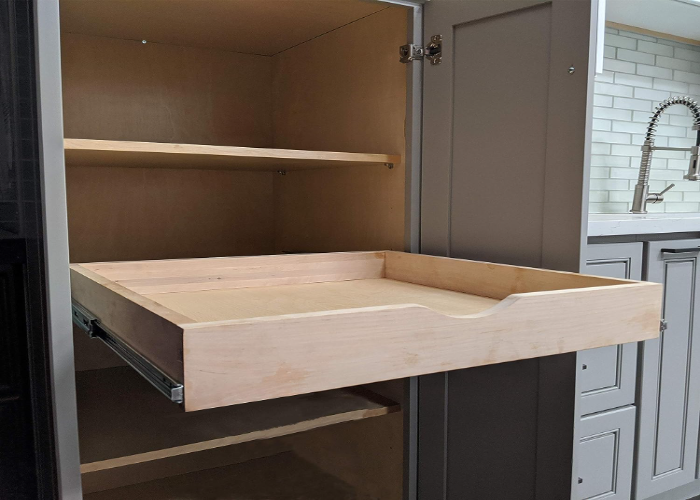 If you want to organize small pantry items more neatly on your shelves and cupboards, think about creating or installing drawer space. You can easily install and fix drawers into individual shelves depending on the depth of your shelves and the space they have.
By fixing drawers in them, you will have multiple options to organize the stuff, like grouping, according to frequent usage, seasonal stuff, kids-friendly stuff, spices, etc. They also allow you to store more and more items where each drawer works, like the individual shelf or pull-out storage bin space.
7. Reimagine a Closet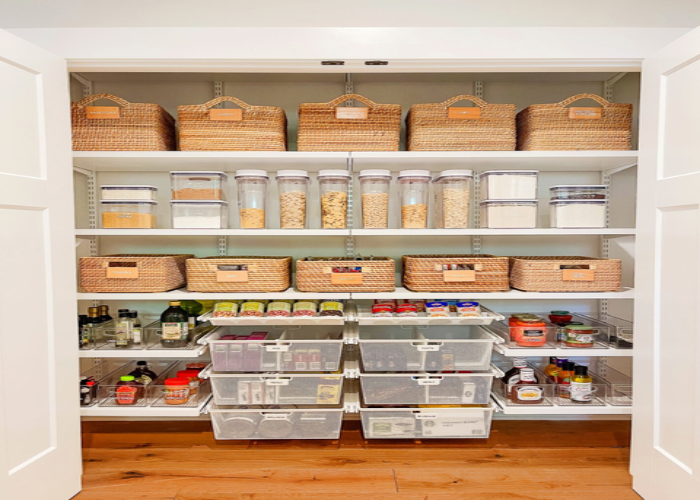 If you want to use most of the space in your closet, reimagine it and bring it in the compact organization style. In this theme, you will store things and everyday usage items in acrylic organizers and storage bins. This organizing style makes things easier for grouping, and you get enough space in your closet to store more items and stuff.
The compact closet makes a larger storage space by compacting the storage style and making your pantry aesthetically pleasing. This storage style also runs longer without spreading the mess in your closet decks. So it's time-saving organization ideas as well.
8. Transparent Storage Jars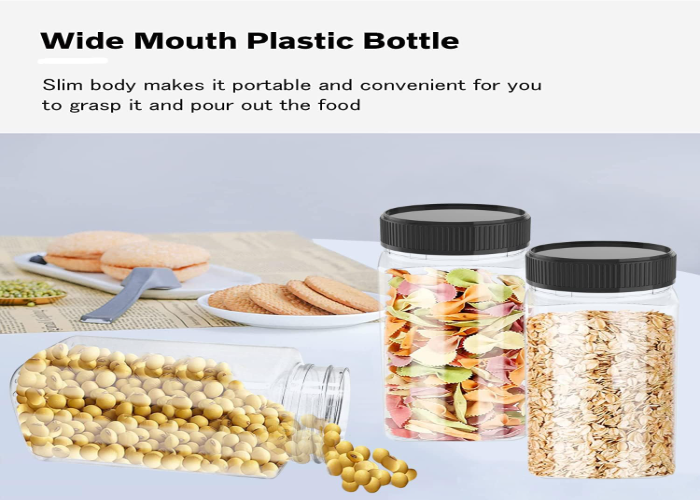 Half of your struggle disappears when you store the pantry items and things in transparent jars. It means you don't have to regularly check which container you have stuffed the particular flavors or spices. Transparent storage jars will help you with their visibility, and you can pick up things easily when you need them without opening their lid.
Therefore transparent storage jars are a great way to organize a small pantry well. Another benefit of transparent storage jars is that they look clear and aesthetic, boosting visually appealing vibes. And they are also good when it comes to health and environment as compared to colored jars.
9. PegboArd Mount to Organize a Small Pantry
Hanging things on the walls can give your enormous space in your pantry that is breathable enough. So instead of stuffing and trying to fit everything in your cupboards or shelves, use the pantry walls. Mount a peg board that is strong and sturdy enough to provide safe space for your pantry items by bearing their load for a longer duration.
Hang the heavy pans, pots, utensils, and big spoons with holes or handles in the pegboard mount. You can easily pull them out from the peg mount board when needed, and you will have enough space in your pantry.
10. Organize Small Pantry Pull-Out Cabinets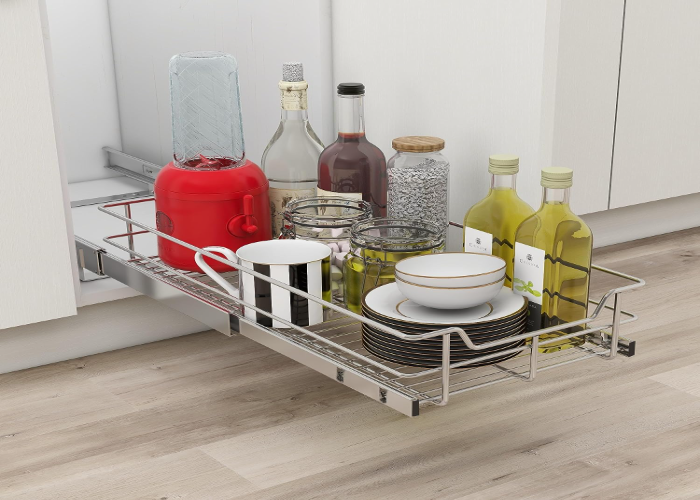 You can use the pull-out storage to organize a small pantry to store the spices, cereals, and more frequently used eatable items that are requirements of daily life. So install a pull-out rack in the large cupboard or cabinet to expand the storage capacity.
It will make things easier for you when you need and want to use them. Pull-out cabinets are good organizing ideas for unbreakable containers and storage jars or lightweight packets. Avoid storing glass jars in them or heavier things that can easily fall out. Else it might cozy you heavily later.
11. Slim Storage to Organize Small Pantry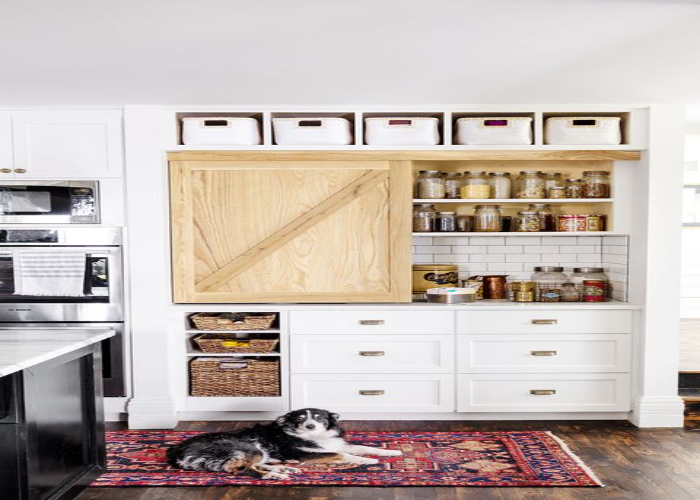 Using storage spaces that can cover from floor to ceiling heights fairly enough can provide you with enough storage space, especially when your pantry is very small. So this slim storage idea for the small pantry space is worth trying. Narrow and slim pantry organizations help you store large amounts of stuff by providing enough space.
So you don't have to worry about the space on the floor as it will be plenty enough space on ground level. Keep the lower part of the slim pantry organized for big and heavy stuff like machinery or big containers. And organize the light items along with the packets of bottles that are not breakable on the upper shelves.
12. Repurpose Crates to Organize Small Pantry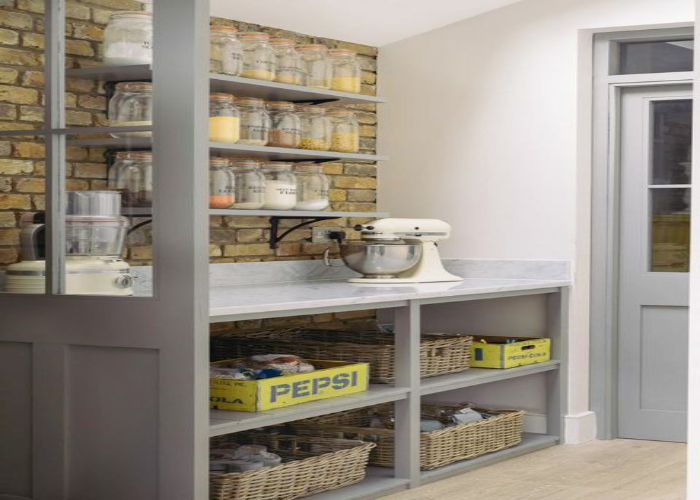 You can always add more storage space by repurposing the crates that allow for storing more stuff. They are good for storing the things that you don't need frequently. When it is to crates, you can use wooden crates, hard cardboard crates, basket crates, fiber crates, and whatever durable material you have available as already prepared crates.
If you have enough time, you can create and repurpose the old crates and boxers with DIY to make them brand new. You can also store the occasional dish preparation stuff in them as you need them monthly or fortnightly. Another good thing about the crates and repurposing crates is that they can spice up your storage space in the pantry.
13. Spice Rack to Organize Small Pantry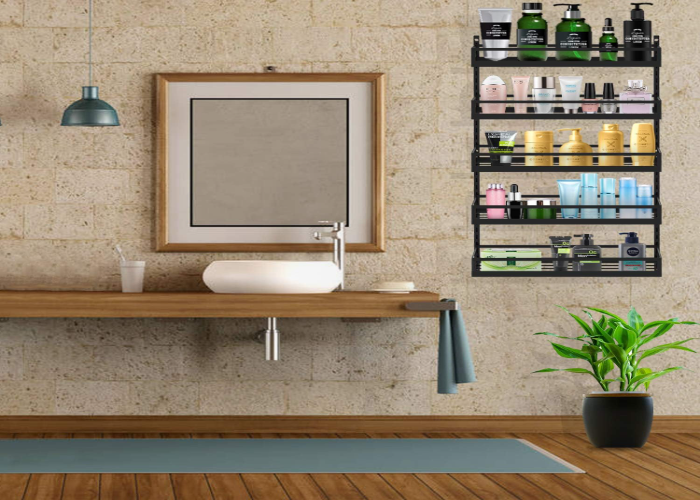 Creating a dedicated space for organizing spices can improve your cooking experience. If you don't want to mess with the spices while picking or using them, neatly organizing is always a good decision and idea. You can use transparent storage jars or spice bottles to store and organize them further.
If all the storage containers are similar in size or style, organizing them in the spice rack will be easier. You can place them in the all-spice racks or acrylic spice storage racks. And the same style can be repeated for several other things, like storing the pulses.
14. Shelves in Cupboard Doors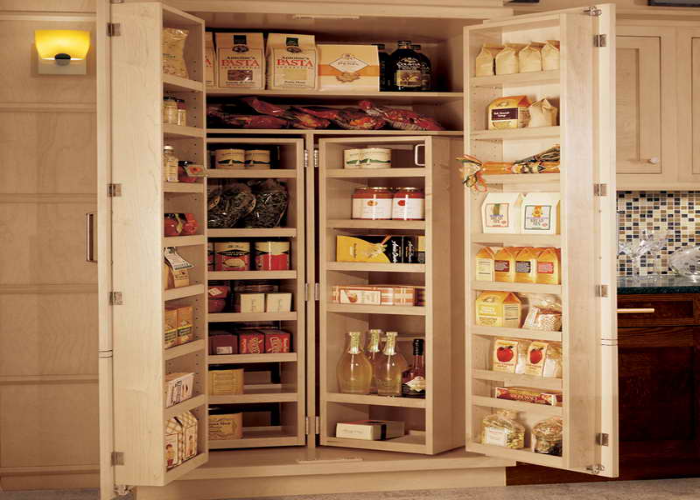 Have you ever felt that it is easier to organize so much stuff in the refrigerator while it is much smaller than in the pantry space? Because the refrigerator has multiple shelves from the main interior to the refrigerator door from top to bottom. So you can create organizational shelves in your pantry like the refrigerator storage space.
Install the shelves in the cupboards' doors according to the space so that nothing will be harmed when you try to close them, and the door should close properly. By installing these shelves, you will have enough storage space to store the smaller items like spice jars or bottles in the cupboard doors.
15. Drawer Separator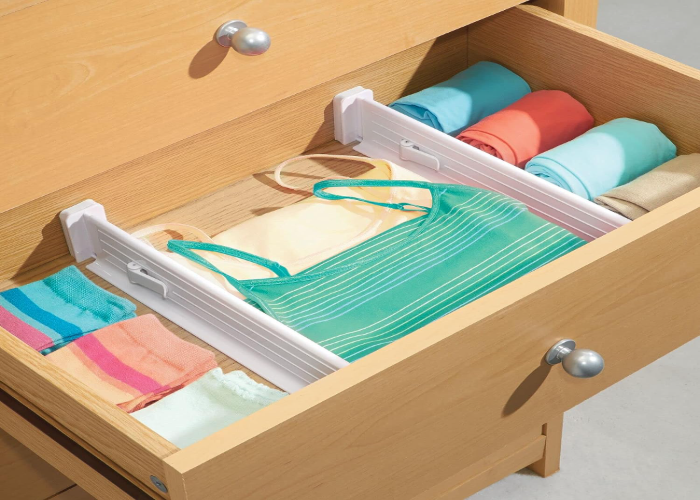 You can use the separators to keep all the containers, long jars, and bottles in a small, tight space. From the wall mount separators to the drawer separators, they offer a wide variety to pick up and use them where ever you want to store things neat and organized. A drawer separator can hold tightly your sauce bottles, oil bottles, flavor bottles, drink bottles, or anything stored in the glass and can be secured and held in a compact space with the drawer separator.
You can install drawer separators that are flexible in size that can easily fix and fit firmly in your drawers. Ensure that these drawer separators offer good resistance and support to the glass bottles without breaking them.
16. Pot Rack Mount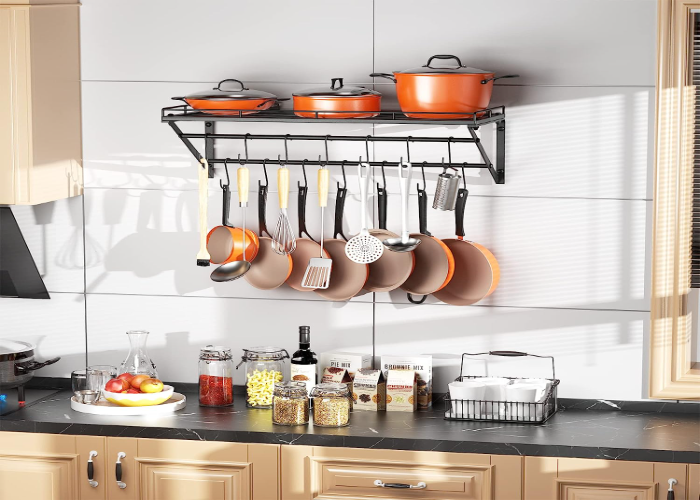 When creating enough space in the pantry without investing much, mounting the racks or storage zones on the pantry walls is the easiest way. It is an affordable, easier, and popular organizing idea many people use. Organizing all the big utensils and pots will give you enough space to store other time in your pantry.
So mount the metal pot rack on one of your pantry walls. Ensure the pot rack mount is strong and sturdy enough not to fall out from the wall, as it will damage your costly pots. Now you can easily hang your pots and pans on the pot mount rack.
17. Open Shelving to Organize the Small Pantry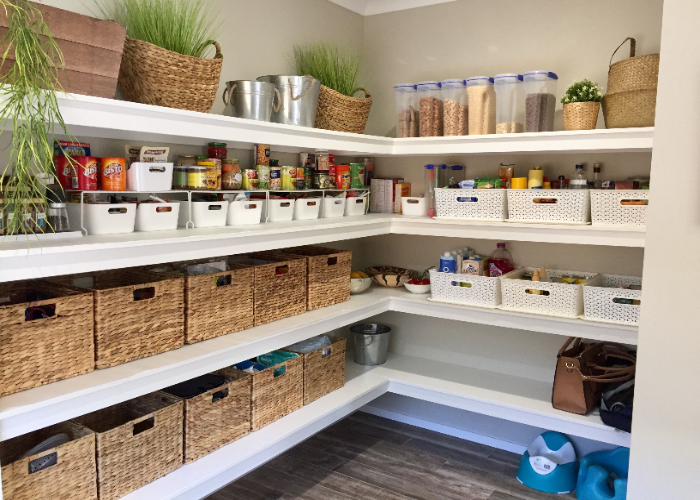 If you are considering the pantry renovation, open Shelving is worth trying and creating in your pantry. You will not struggle in the small pantry space from the floor to the ceiling height if you create an open shelves space. This open storage is a great way to create enough storage in the pantry space.
If you want to hide the mess, you can always install the doors on the open shelves converting them into cupboards with deeper shelves. The good thing about open Shelving is you can hide specific areas or parts of the open shelf according to your comfort. For instance, you cover the left zone with the door to hide the stuff and big utensils. Cover the shelf like the upper or lowermost to hide the stuff you don't want to flaunt.
18. Cover the Walls to Organize the Small Pantry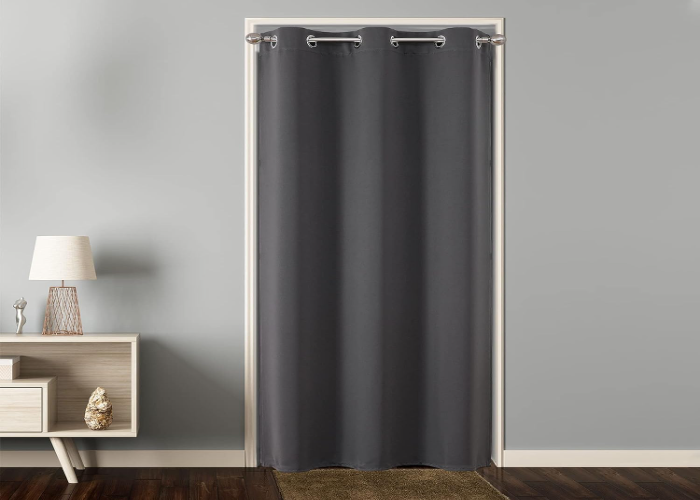 If maintaining aesthetic vibes is your main concern after organizing the pantry item according to your comfort, this organizing hack is for you. Cover the pantry storage items and area with the curtains. It will save you hours or organize things according to aesthetic or color coding.
It will also save all your extras efforts, as nothing can give a more pleasing visual experience than the sight that hides all your stuff smoothly and reflects the creativity over it. You can also use headboards and cover them with wallpaper for more strong hiding zone. Cover the whole pantry storage area with the wood doors like the wall closet for permanent hiding sight.
19. Arrange Baskets to Organize Small Pantry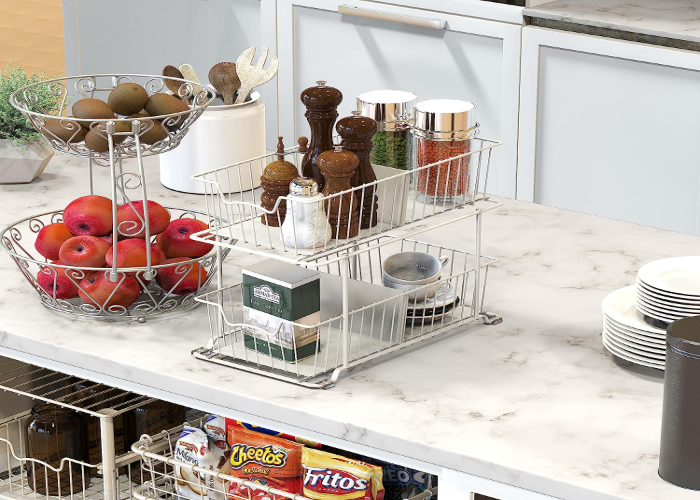 Organizing small pantry items in a high and low manner is always beneficial and common as it provides enough space to organize them most efficiently. Create a more organized storage space in your pantry by installing or creating vertical deck separators. Now you can fix the baskets in the further newly created zones of the storage space.
Keep the seasonal items on the uppermost shelf, in the baskets, or in the storage containers. Keep the frequently sued, heavy, and kids-friendly items on the lower shelf in the cabinets and storage basket according to your comfort.
20. Pantry Door Storage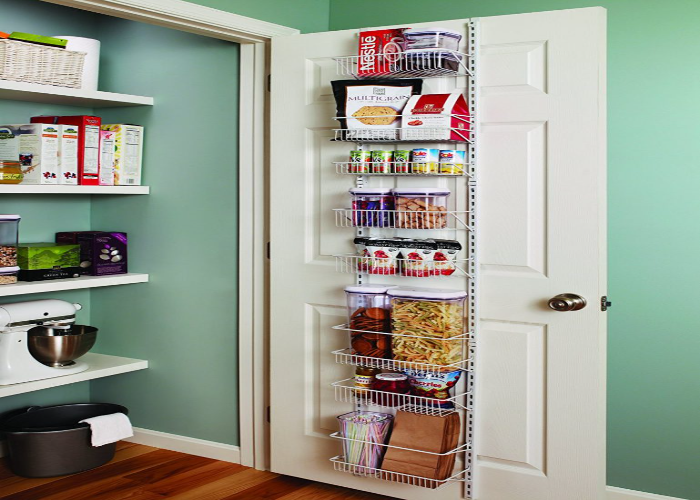 The more options you have to store the items in your pantry, the more relaxed and open you will feel, even when your pantry space is smaller. So don't miss the chance to convert your pantry door into a storage space idea and create enough space in your pantry.
You can use the door to organize the unbreakable bottles and containers of spices or hang the pans and big utensils you want to hide in the pantry. You can also organize the frequently used things and items behind your pantry door so that it will be easier for you to pick them up when you need them.
21. Double Cabinet Space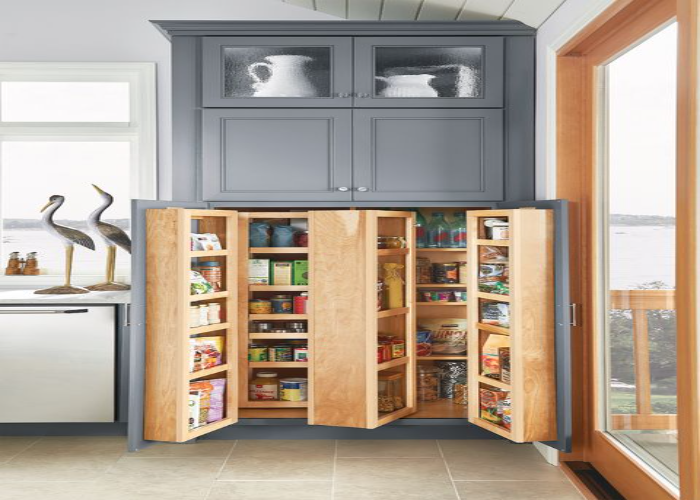 Creating a double storage space is another great way to store a maximum number of items in your pantry without consuming much space. These double cabinets have multiple door sections. And each door has multiple storage sections that offer you more neatly organized space to store multiple items.
The only downside of multiple or double cabinet space is that it will be more costly than many other affordable organizing ideas. So if you are ready to invest that large amount, this can be your best investment for your small pantry. These double-space cabinets come separately, or you can also install them as storage doors inside your cupboard or behind the pantry door.
22. Glass Cabinet Transformation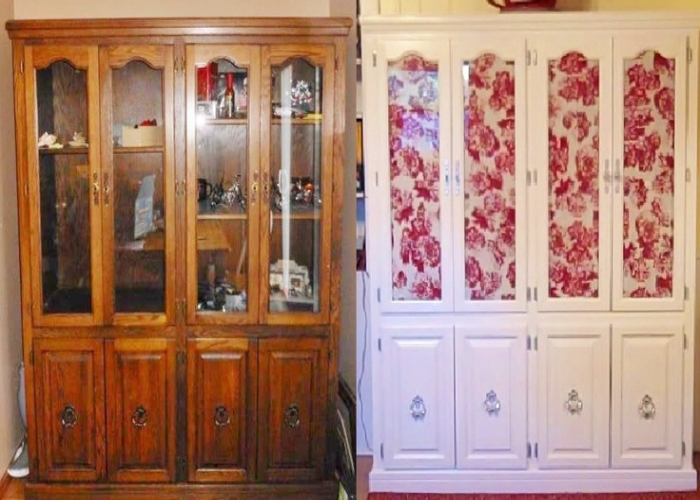 If you want the most aesthetic and minimal organizing storage idea for your pantry, the Transformation of a glass cabinet is worth trying at any cost. You can organize all the Important items kept clean and organized by utilizing the shelves and baskets. Use the baskets to store the packets and smaller things.
Use the jars to store the drink items, spices, pulses, and solid stuff that can be poured and stored in glass containers. The galas Storage transformations help you store a maximum number of things from your cupboard and keep the aesthetic vibes of the pantry or kitchen zone.
23. Pan Lid Storage to Organize Small Pantry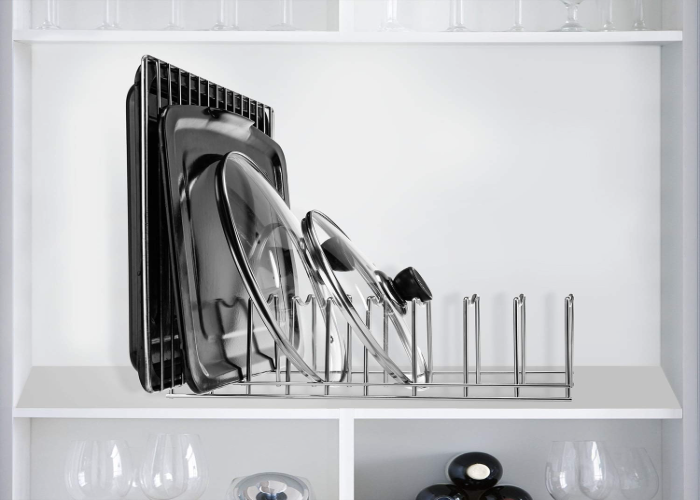 Use separate pan lid storage space for the less frequently used items and bigger utensils that are hard to store in the cupboards. If you keep them in the cupboard, they will take away enough space, and you will have much less space to store other items because pans have round and sphere bases, and the handles make storing these items like the stack difficult.
If you keep them in the open, they might look weird or awkward, affecting the aesthetic of your pantry space. So you can organize them in the slim or narrow storage zone behind the pantry door.
24. Modular Shelves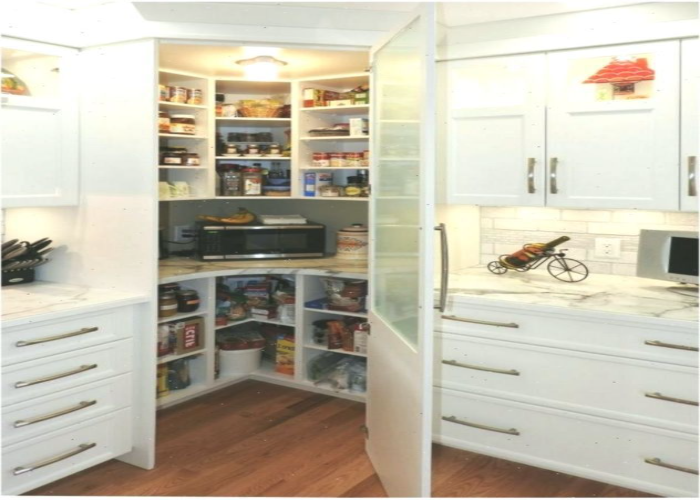 If you store the pantry items in the Kitchen, create a separate nook so that the cooking and storage zones will be in different directions. This organization will help you to store the pantry items more casually and nicely. Use the modular shelves to store the pantry items in your Walk-in pantry zone.
This idea contains closed and open shelves that can create a slightly strong storage space while making removing the racks or storage zone easy when needed. You can store the big containers and utensils in the cabinets or cupboards to hide them in the lower zone. Keep the light items for the open shelves and the pantry storage racks that are temporarily fixed.
25. Rolling Cart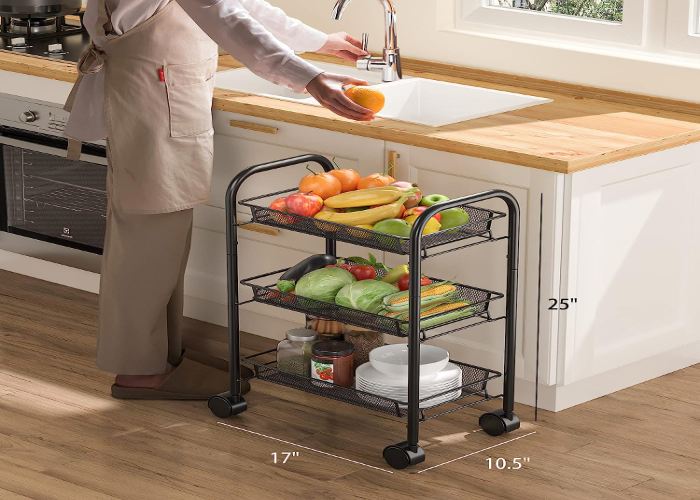 If you are looking for the most flexible idea that doesn't need installation, DIY, or renovation, consider a rolling cart for your pantry storage. The rolling cart offers additional storage space; you can easily move it to any corner. Another best thing about rolling the cart is moving it out from the pantry when you need enough space. So you can organize the unbreakable light stuff in the rolling cart, mostly in packets or metal containers.
You can also organize the drink metal cans in it and metal cans of food flavors. You can also store the vegetables and fruits in the rolling cart to get sufficient air and last longer than those stored in the pantry cabinets or drawers.
Final Thoughts
Everyone wants their pantry space organized with enough breathable moving space. Use a suitable organizing method according to your pantry and items storage requirement to get there.
This post showed you 25 ideas for organizing a small pantry that you can easily utilize without much effort. Most of these ideas about organizing a small pantry will help you to create enough space after storage in your pantry.
For instance, transparent storage containers are always easy to make your cooking experience easier and hassle-free. You can use them to organize a small pantry with any theme.
If you are looking for more creative and smart organizing ideas that help you to organize your home, sign up and get our best strategies sent to your inbox.