Walk-in shower tile can be luxurious and economical at the same time. The line that differentiates both is which tile you choose. There are endless designs, colors, themes, and price points from which you can select one.
A walk-in shower is a better option if you're looking to renovate your bathroom. The most important thing is to choose the right tile for your shower. With the endless designs and patterns available, it is hard to choose one.
We have short-listed 21 best walk-in shower tile ideas from which you can choose one. Regardless of your bathroom amenities, walk-in shower tiles give an aesthetic touch. The best thing about walk-in shower tiles is they are washable and waterproof. From aesthetic, modern, and minimalistic to funky and natural, there is something for everyone.
Best Walk-In Shower Tile Ideas
1. Transparent Walk-In Shower Tile Design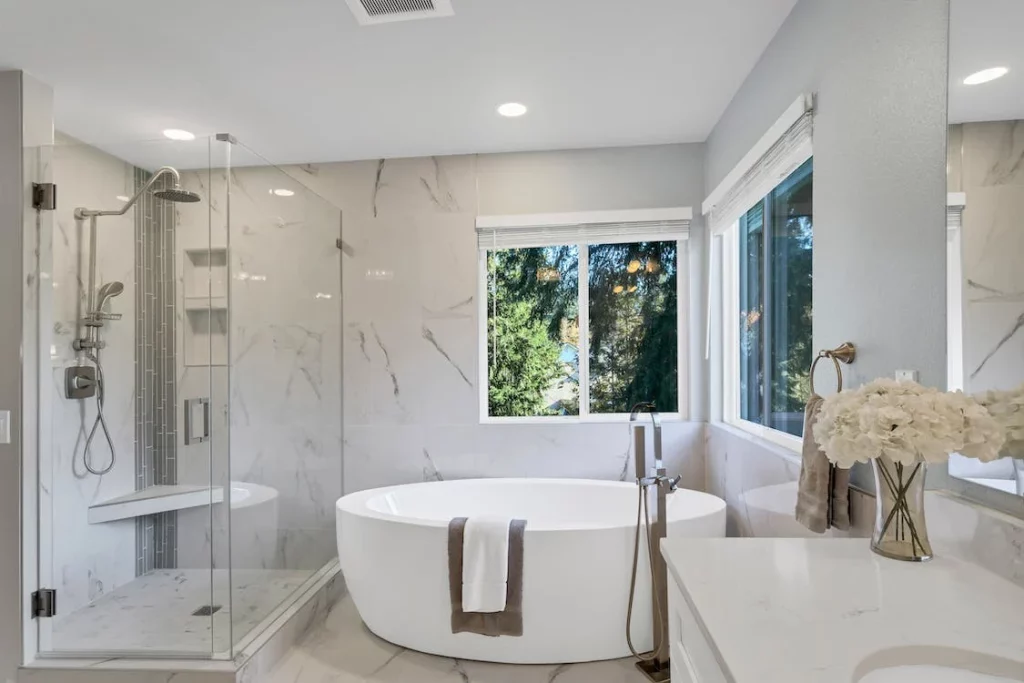 The transparent walk-in shower tile is a stunning and avant-garde design that adds a sleek and modern touch to your bathroom. The transparent glass lets the light pass through, making the bathroom look spacious and majestic. The transparency makes it easier to spot any dirt or crack. White can be a better option if you want a transparent bathroom.
However, the installation of the transparent walk-in shower tile design requires dexterous hands to fix since it needs to be handled with precision to ensure a watertight and seamless shower experience.
2. Ocean Inspired Shower Tile Design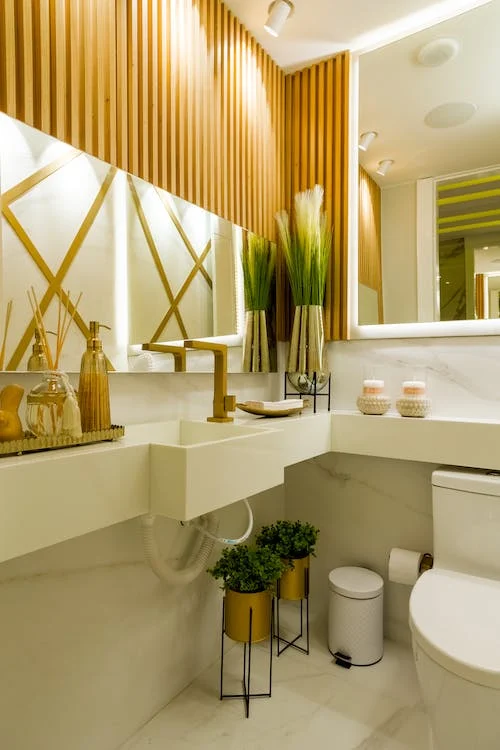 Ocean-themed tile can be a great pick if you're an ocean lover. Ocean-themed walk-in shower tile design can transport you to a calm and serene place even when you are living in the middle of a bustling city. The touch of blue hues and ocean-inspired motifs soothes your mind every time you see them. The theme gives a calm and serene look to the bathroom.
Its color merges easily with water, and blue soothes your mind. The design best suits people who seek a spa-like atmosphere in their bathroom. The green and blue color combo creates a tranquil atmosphere and is reminiscent of the ocean.
3. Personality-Inspired Tile Design
Installing a personality-inspired shower tile design is the best way to flex your unique style and creativity in your bathroom. It allows you to showcase your interest, be it your favorite anime series or your favorite tv show, or an aesthetic painting; no one is going to restrict you.
Since it is your bathroom, feel free to unleash your creativity and develop a tile that best suits your personality. Go for some dark colors if you're daring and adventurous. It makes yours stand out from the endless banal bathrooms.
If you're calm and composed, go with blue or green tea. If you want your bathroom to look spacious, go for white since it reflects light and gives your bathroom a spacious look. Why not create a space that truly represents you, Now?
4. Mind the Floors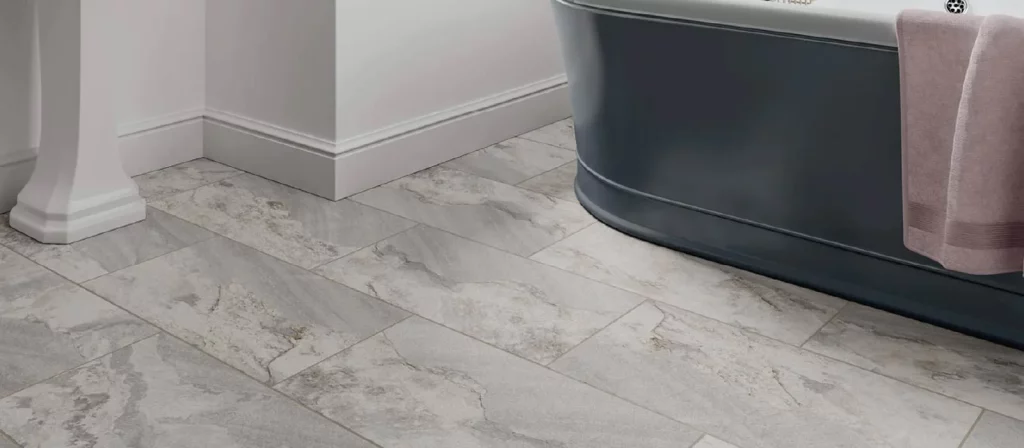 The floors are as important as the tiles. Floor tiles are essential for safety and functionality. They provide traction, thus preventing slips and falls. While wall tiles are meant for beauty, floor tiles are ultimately for safety, especially in wet areas. Textured and non-slippery are best recommended for bathroom floors. Especially porcelain and ceramics are highly durable and easy to clean.
Make sure the floor tiles match the wall tiles to have a complete look. You can even play around with contrasts and get creative with the design.
5. Seashell-Inspired Tile Idea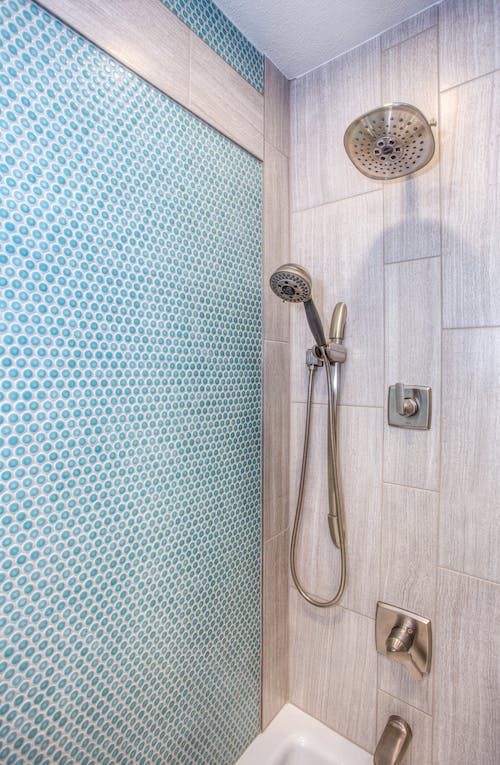 A seashell-inspired walk-in shower tile design brings the ocean to your bathroom. Soft and neutral colors create a calm and composed atmosphere and add a serene reminiscent of the beach. The theme suits people who want a natural touch to their bathroom best. The unique designs give a feast to your eyes and make it visually pleasing.
6. Go Minimalistic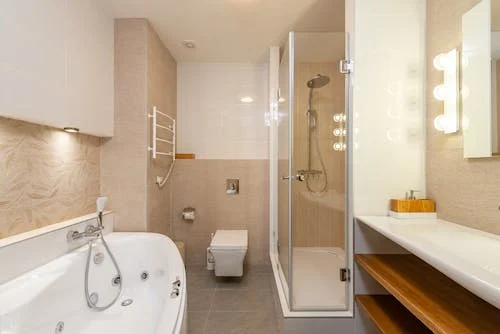 Pick some neutral colors and a wood tile to make it look classy and minimalistic. Colors such as white and beige are perfect for a minimalistic bathroom. Besides making it look grand with simple means, it gives a grandiose look to the bathroom. When added with large format tiles, it unleashes a whole new look. Porcelain Tiles are the best choice for a minimalistic bathroom. Porcelain is made at a high temperature, making it denser, thicker, and more durable.
They are often used in bathrooms and places where moisture is a concern. They are water-resistant and non-porous. Apart from making the bathroom spacious, it adds a personality to your bathroom. There are plenty of small walk-in shower tile designs available for a minimalistic shower.
7. Anti-Slippery Tile Ideas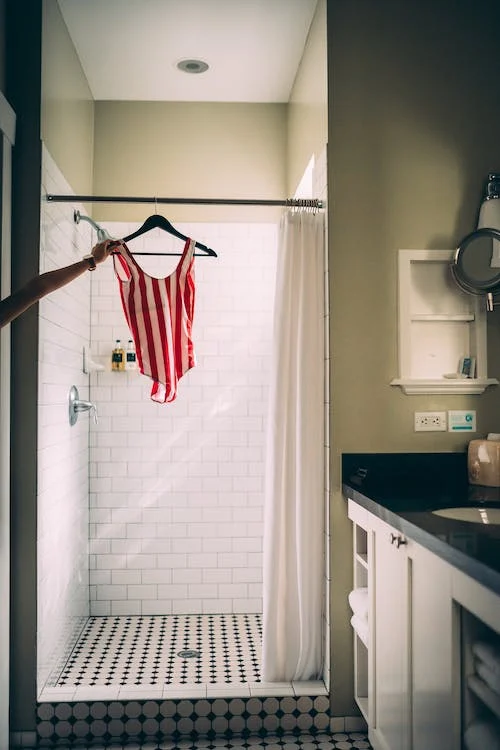 Anti-slippery walk-in shower design prioritizes safety while still maintaining style in the bathroom. Textured tile with matte finishes provides tractions making it anti-slippery, especially in wet areas. If you have a clumsy kid, fearing they'd slip on the floor. Go for an anti-slippery design such as porcelain and ceramic to reassure your kid is safe.
Installing a non-slippery walk-in shower tile is necessary, and a precautionary measure is taken in the house with clumsy children, the elderly, and people with mobility issues. The floor can be wet, resulting in serious damage and fractures.
8. Tile that Suits Your Space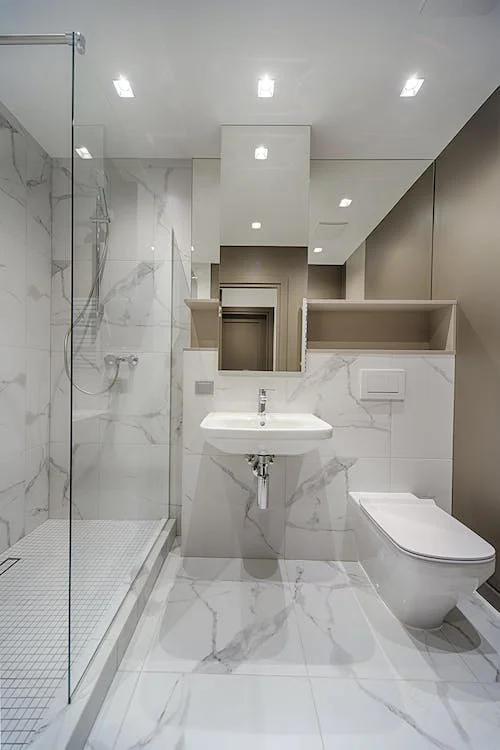 Choosing the right tile is crucial if you want to create an aesthetically pleasing space. From modern to funky and classic, there is a wide variety of tile options available for every person's liking. You may have a different idea about where to build your bathroom. If you want it grand, you can choose light-colored tiles. If you have a small bathroom, you can choose more oversized tiles to make the bathroom look bigger.
9. Digitally Printed Porcelain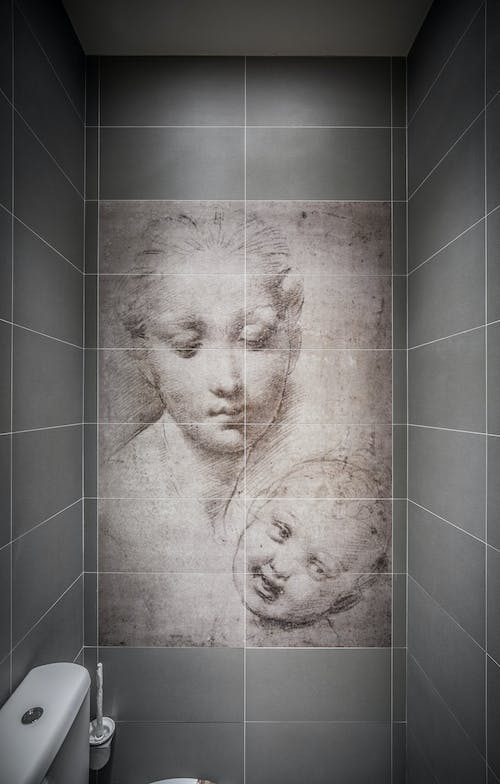 Digitally printed porcelain walk-in shower tile design features intricate and complex designs and images to be imprinted in the tiles to create a seamless view of the bathroom.
If you are choosing tile for a hotel, Ceramic is preferable. It makes the bathroom look grand and classy. It is used in places with high traffic; it stands up to dirt, is easy to clean, is impervious, and does not retain dirt and odor. Digitally printed tiles give your bathroom a classy outlook. You can digitally print images of your interest and install them.
10. Funky Tile Design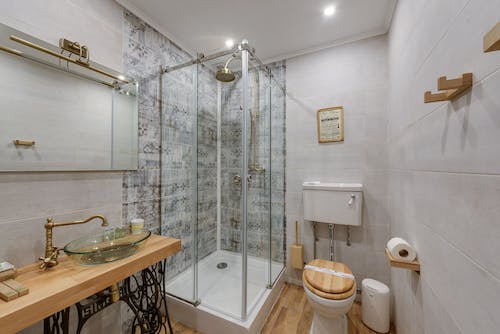 A funky walk-in shower tile design injects a bold and playful touch into your mundane bathroom. Funky tile designs feature unique patterns, unconventional designs, and bold colors. The funky designs and unconventional patterns create an electric atmosphere.
They are self-reflexive and show the individuality of the house owner. It is perfect for those who want to add a personalized touch to their bathroom. Moreover, they increase the value of the house by standing out from the sea of mundane shower tile designs.
11. Industrial Tile Design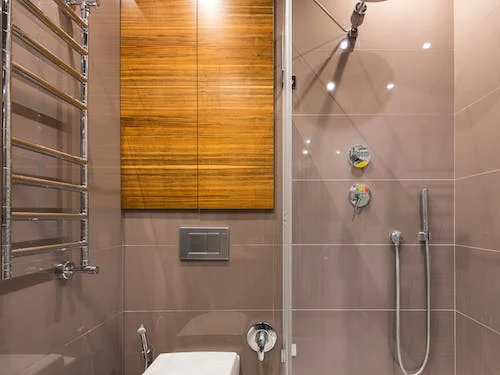 Industrial walk-in shower tile design is popular for those seeking a modern and minimalistic look. This design features large, neutral-colored tiles with a matte or textured finish, such as concrete or slate. The tiles are often arranged in a grid pattern or stacked vertically to create a sleek and organized look.
The industrial walk-in shower tile design is perfect for people seeking a durable, easy-to-maintain shower. This design does well in contemporary urban spaces and can be complemented by metal accents and exposed pipes for an added industrial touch.
12. Wood-Inspired Tile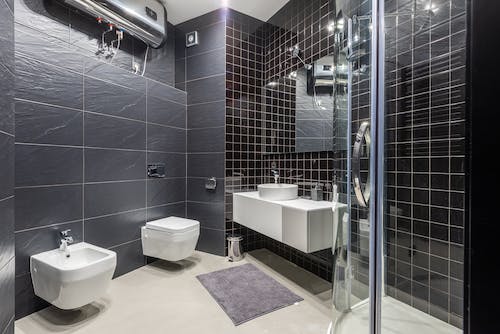 A wood-inspired walk-in shower design is a great way to add warmth and natural beauty to your bathroom. This design typically features wood-look tiles or panels that clone the look of real wood and gives a realistic touch to the bathroom. It will create a beautiful atmosphere when accompanied by some fragrant green plants. It works fine in modern bathrooms and can be paired with natural stone or metal accents for a cohesive look.
13. Monochrome Your Bathroom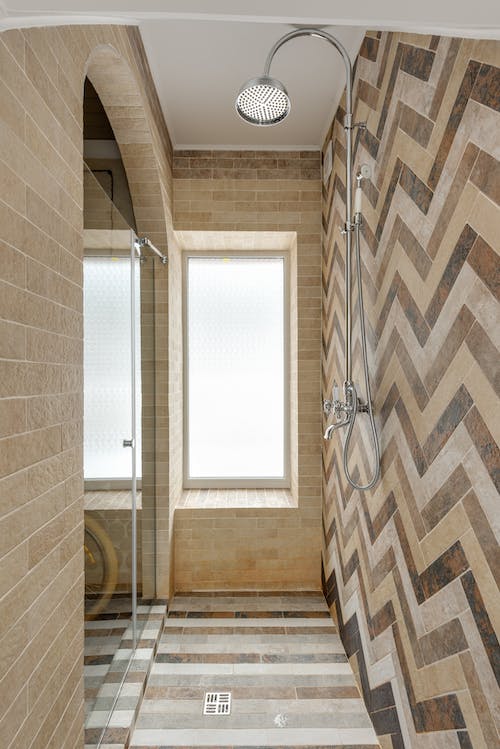 The Monochrome walk-in shower tile design is a timeless and sophisticated choice for any bathroom. The design usually contains black and white tiles arranged in a pattern or used in a gradient to create a dramatic and sleek look. These designs can be achieved in a lot of ways, such as using large tiles with intricate designs to throw a minimalistic look.
Monochrome walk-in shower tiles are versatile and can complement any design, classic or contemporary. It suits modern and minimalistic bathrooms and can be complemented by metallic accents. Overall these designs best suit people who need an aesthetic and chic bathroom.
14. Chevron Pattern Tile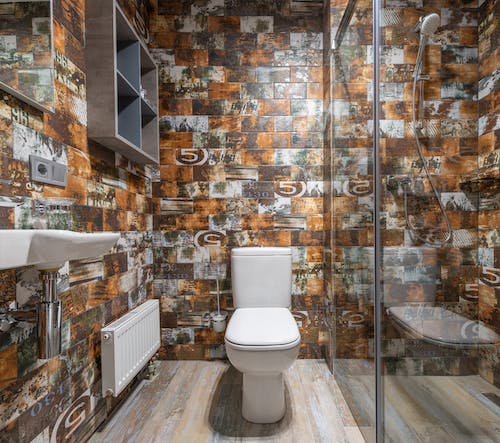 A chevron-patterned walk-in shower tile adds a trendy and modern look to any bathroom. The interesting zig-zag pattern makes the bathroom playful and visually interesting. Chevron patterned tiles come in various patterns and designs that fit every bathroom. Chevron Pattern walk-in shower design is stylish and eye-catching for those who want a bit of personalized touch in their bathroom. Chevron patterned tile features V-shaped, creating a dynamic look. It suits contemporary bathrooms with bold colors and metallic accents.
15. Square Tile Designs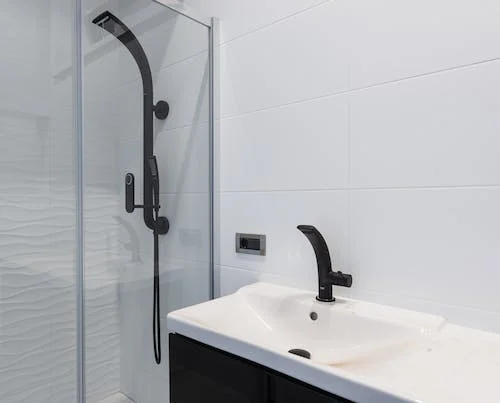 A square tile walk-in shower tile design is a timeless and classic tile option for your bathroom. Square tile design gives your bathroom a down-to-earth look. The perfect square design suits minimalist aesthetics. It is primarily handcrafted and easy to install.
It is widely used in contemporary bathrooms. They are available in various patterns, designs, and colors. They are easy to maintain and clean, making them best for a busy bathroom. Square tile designs come in various designs and patterns that fit any bathroom style and size.
16. Contrast the Grout Design Idea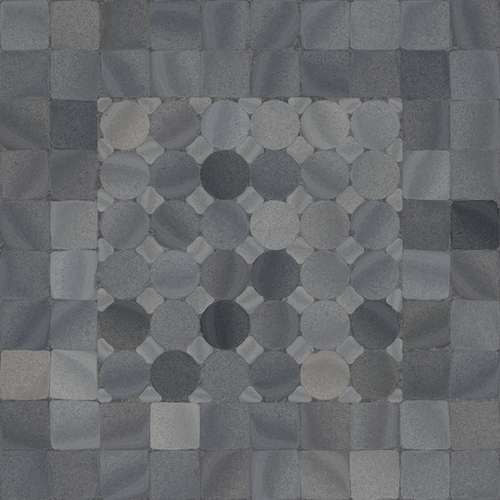 The contrast grout walk-in shower tile design is contemporary. It features contrasting colors, making the bathroom unique and giving a personalized touch. The usual duo colors are white and black, Beige and charcoal. Even if you have a small bathroom, installing contrast grout tile can make it up for it. The contrasting colors give your bathroom a magnificent look.
17. Structural Tile Design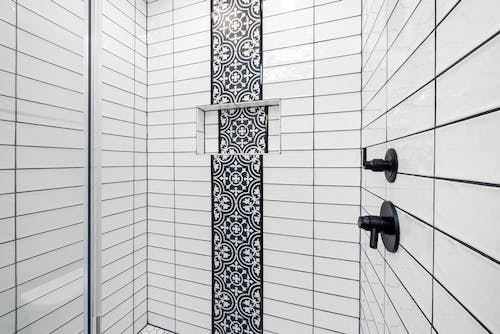 Structural walk-in shower tile is a modern and minimalistic approach to tiling a shower. It presents large tiles with minimal grout lines, creating a seamless and minimalistic look. Structural design can make a small shower look more spacious, complemented with natural stone accents and a bold color scheme to add beauty.
Structural walk-in shower tile design needs to be carefully planned and installed to ensure effective and satisfying results. The shower floor must be built accordingly, not to pool water. The tiles must be sturdy and have a level base.
18. Geometric Tile Design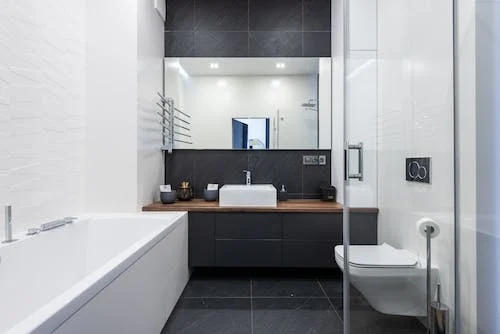 Geometric walk-in shower tile design is a popular trend that uses tile with different shapes and patterns to create an eye-pleasing space. Mostly the designs are hexagonal, diagonal, and triangular, and the uniqueness is achieved by arranging them in various patterns. For an added impact, they can be added with contrast grouts.
The installation of a geometric walk-in shower tile design needs careful planning and precision to create a cohesive look. The tiles should be placed accordingly to create a visually pleasing look. Waterproofing and sealing must be ensured to avoid water damage.
19. Black and White Tile Design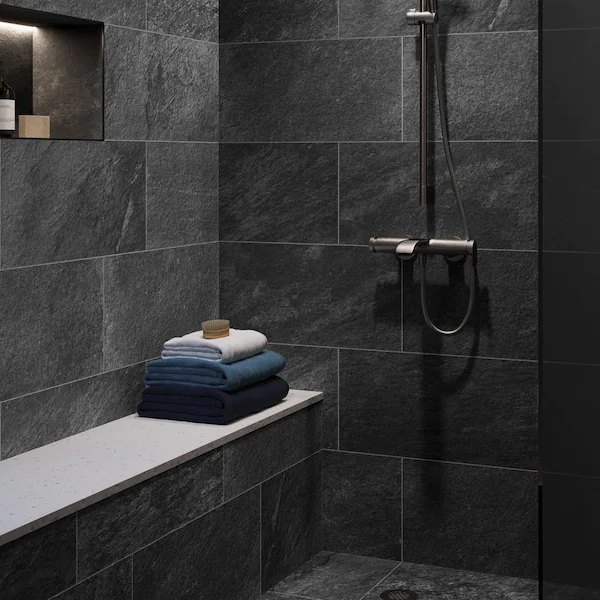 The black and white shower tile design is a classic and timeless shower tile design. The contrast between the colors creates a bold and striking look, while the simplicity of the color scheme can create an elegant and sophisticated look.
The tiles are easy to clean and maintain, making it a practical choice for the contemporary bathroom. This design can be achieved by various tile shapes and patterns to create a personalized touch.
20. Moody Bathroom Tile Design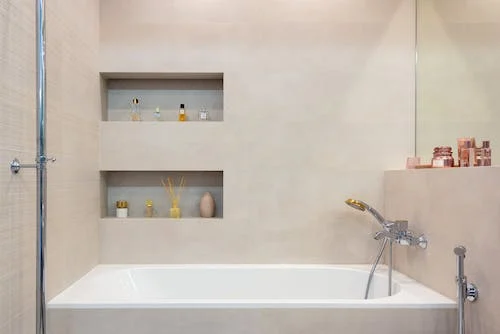 Moody walk-in shower tile design gives a personalized touch to your bathroom. Black gives a sense of boldness and confidence to the bath. It is not news that black is a color of class. It provides a classy outlook.
The contrast between the colors adds depth and dimension to your bathroom. A moody bathroom makes your bathroom look sophisticated by adding depth and dimension to it. The design suits people who need a touch of glamour and luxury.
21. Custom Tile Layout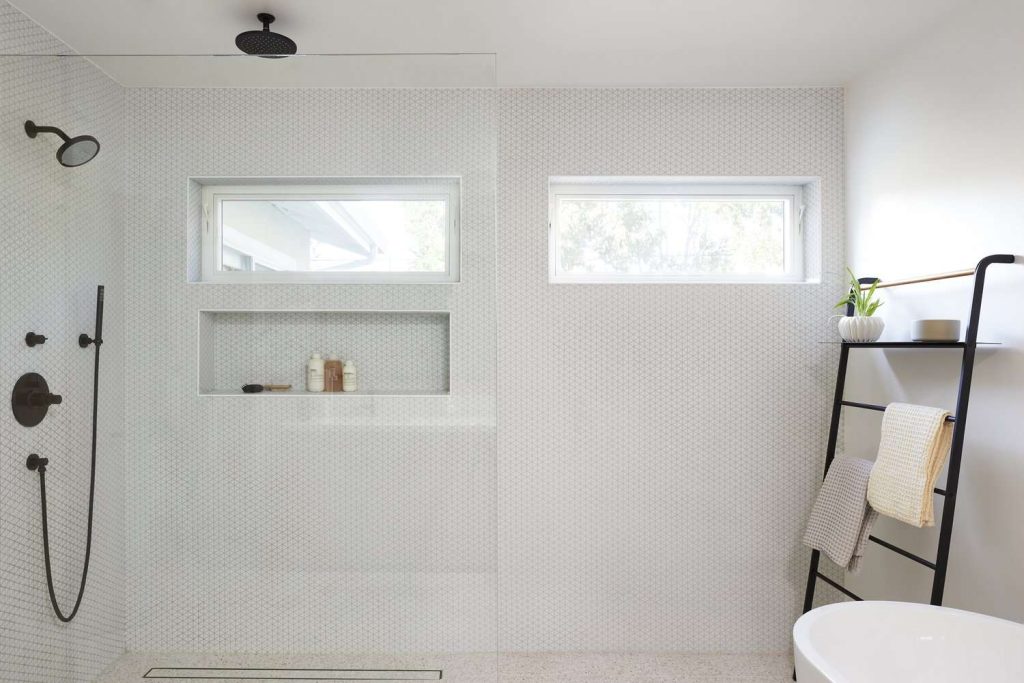 Custom tile layout features customized tiles of desired shapes. It can be designed to make the bath more beautiful and comfortable. You can add space within your hand's reach to place your shampoos and lotions, which will cut down the cost of buying bathroom accessories, or you can cut the tile to make unique patterns that would make the bath stand out.
The place where we head first thing in the morning should be intimate and relaxing. The shower tile should please us while we get lost in our thought in the shower. At the same time, the tile shower tile should be easy to clean and budget-friendly.
Final Thoughts
The shower is the space where our mind works at its best. That is where we get a lot of inspiration. Such a place needs to be peace-inducing and aesthetic. Adding a touch of personality will help you connect to the personal space even better.
There are plenty of tile designs and patterns available for a walk-in shower. Considering the never-ending search, we have provided you with 21 hand-picked walk-in shower tile designs that best suit your shower.
The place where we head first thing in the morning should be intimate and relaxing. The shower tile should please us while we get lost in our thought in the shower. At the same time, the tile shower tile should be easy to clean and budget-friendly.
Whether you need a minimalistic one, an Industrial one, a themed one, or a printed one, our picks will have you covered.