Are you ready to explore the world of revolutionary digital art to enhance your home interiors that can also reflect your style? A printable digital art print is an easy, affordable, and unique way to transform any space.
All you have to do is look for artwork from free or paid online portals, download the desired designs from a site or email link, and get it printed at home or using professional services. If you are unsure about photo labs, check where to print digital art in your vicinity.
To ensure optimal quality of your digital print, you can choose from different resolutions and paper types like cotton rag, alpha-cellulose, resin-coated varieties, or home print sheet types like matte, watermarked, coated, and bond paper that is available in different weights too.
Now, let's take a look at the steps to download digital art, the best places to access them, and where to print digital art.
Accessing Digital Art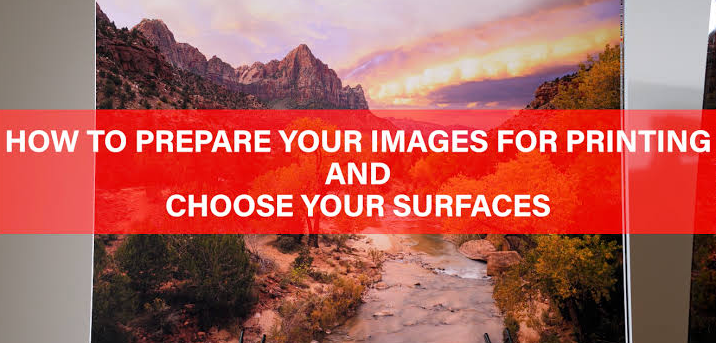 Art prints in specific colors, images, or quotes are available online and in home decor stores.
You can either buy them offline or look for artistic prints on Amazon, get them printed on a paper of your choice, choose the canvas size frame dimensions, and get them delivered right to your residence.
For art fanatics and digital-savvy collectors, you can follow these steps to access your printed art.
Access digital files: navigate to your favorite art portal to look for popular designs and prints in different categories. If you have an account with the online service, sign into your account to get personalized picks. Remember to use your desktop or laptop computer rather than your phone to view sharper details and inappropriate pixel density.
Choose prints: now that you have spent enough time with dreamy fine art prints, quotes, and signs on wood or canvas, add the artwork to your cart. To help complete your purchase, look for file size, specifications, and features highlighting handmade digital products.
Purchase prints: once you choose a preferred design, enter in your residential address and payment details to process your order. If you are already logged into your account and have some designs saved, go to the 'Purchase and Reviews' section to access the files and add them to your cart.
Similar Post: 15 Inspiring Staircase Runner Ideas for Your Home
More Measures to Access Your Printed Art
Download digital files: Once the payment process is complete, you can check your digital art in the 'view downloads' section and click on the downlink. Some portals also send you an email link that can be used to transfer the file to your device.
Print digital downloads: Use your home printer, a photo store, or an office supply service, of which the latter gives a more professional print. Whichever mode you choose, remember to check the print size and finishing styles.
Display your print: after getting the digital reproduction, choose a frame and hanging support to display your digital art. If you want to keep the artwork away from your wall, you can also use photo tiles or peel-and-stick wallpaper that will make your digital art stand out.
With offline collections, check where to print digital art and pay to acquire the creative piece. Ensure to choose the right kind of paper, design, print size, and color scheme before printing the digital art.
You can also pick different finishing styles like matte glossy and opt for unique printing options like canvas, wood, metal, vinyl, and fabric.
Printing Digital Art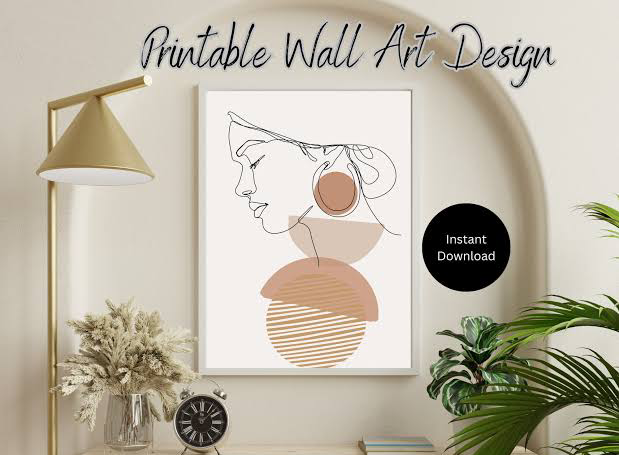 Artists who want to sell digital art must prepare the piece according to industry standard resolutions for adequate sharpness and make adjustments to ensure your artwork looks professional.
You can also choose from pigment-based inks, high-quality materials, and efficient printing services to get the best price for your artwork. Some art portals like Etsy, Walgreens, Staples, Walmart, and Photoshop software allow you to create decorative pieces using their templates and print them easily.
Ways to Print Digital Art
 If you are looking to acquire a digital file, choose from fine art or matte prints to enhance the artwork and know different ways to print digital art as listed below:
Choose material: if you are unwilling to invest too much in digital artwork, try downloading free templates or illustrative works and print them on your home computer. Instead of regular paper printing, switch to a cardstock, coated sheet, photographic finish, recycled, and synthetic options to get unique outputs. With printing services, you can experiment with varied materials like canvas, metal, and glass and choose different objects to get an imprint of the digital file.
Preparing digital file: adjust the sharpness for a desired resolution, fine-tune hues to match the color wheel, change brightness, and contrast, if needed, or use Photoshop features to add filters, overlay images, and apply different palettes. Once you make the necessary modifications, save the file in the required format.
Select pigments and material: for vibrant art or text, use dye-based inks with glossy paper. Some tints sometimes fade over time so that you can substitute them with pigment-based shades lasting decades. Then, choose a coated paper in matte, semi-matte, and glossy finish, which vary in reflective abilities.
Opting for professional output (optional): if a budget does not constrain you, choose Gilceé print for sharp, clear images that are reproduced on archival paper with pigment-based inks. Use the correct color mode and prepare the paper or material for printing.
Frame Your Digital Art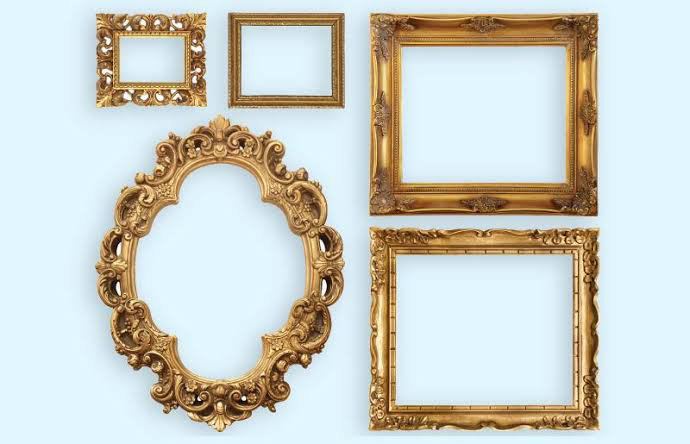 Another optional step is to get the digital art framed. You can choose from beautiful metallic gold and silver, vintage designs, or simple monochromatic frames to customize your art. Additionally, get a structure to support your artistic piece on a wall.
Now that you have a copy of the purchased electronic image check the following section to understand where to print digital art using local and professional services.
Where to Print Digital Art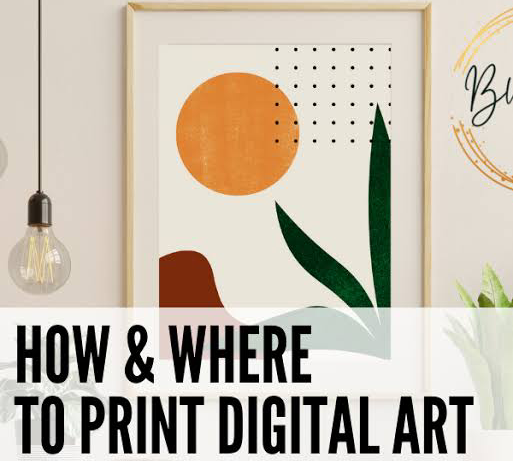 Once you have a digital file, the next question arises as to where to print digital art and ensure the technical aspects are taken care of.
You can choose home printing or opt for services like Shutterfly and Snapfish that deliver your prints or check with local stores and FedEx them to your residential or work address.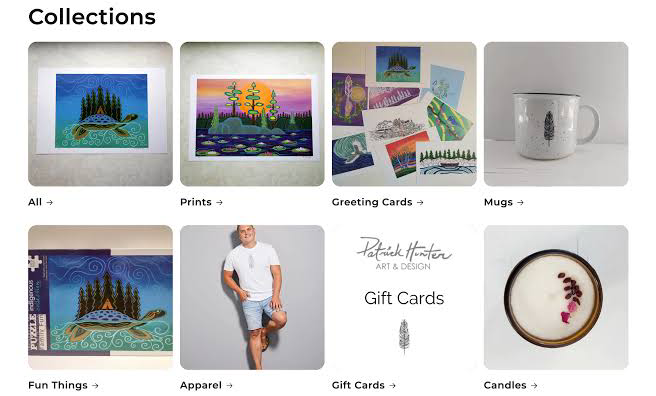 Also Read: 11 Gorgeous String Art Patterns You Can Print for Free
Options For Printing Digital Art
Another popular place to get printable art at cost-efficient rates is Posterjack, which allows you to transform digital files from Etsy to custom-made formats using unique aspect ratios.
Popular services also include Walmart for convenient and durable prints, Staples Copy & Print Center for canvas designs and posters with same-day prints, and Vista Print, which helps you create digital calendars, workbooks, stickers, and Walgreens for basic and fine art prints.
Besides Etsy, another alternative is to try a custom service called Prints of Love that ships your prints within 2 to 3 days. However, if you decide to opt for Posterjack and other personalized services, take note of the aspect ratio or contact the seller to confirm the paper size and other dimensions of the frame.
Another advantage of using such online services is checking customer reviews before placing your order and ensuring you get the best print at the best price.
Other online services include FinerWorks©, ArtisanHD, Picture Salon, CanvasPop, and Candela Fine Art Printing or Prints Giclee Shop for high-quality products. These services also offer digital art to be printed on bamboo panels, canvas fabric, posters, and creations made with acrylic paint.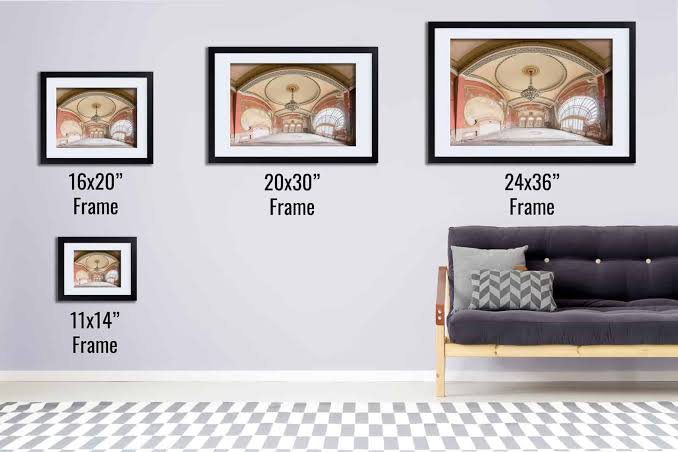 Commercial Options
However, you can also try print companies, online fulfillment centers, and local shops that use archival ink and fine art materials like giclee. Save your digital file on a USB drive and choose the best size, paper, and finishing style for printing your digital art.
If you find it difficult to spot local printers in your vicinity, Google 'where to print digital art,' 'art prints near me,' or 'printing services nearby.'
The next best choice would be visiting office supply stores like Office Depot, CVS, Staples, and Costco, which also offer cardstock prints for all celebratory occasions with templates and dimension suggestions to get the perfect print.
Additionally, you can also add a vintage-style frame to make the artwork look more authentic.
Showcase Your Art
As an artist, if you are confused about exhibiting your digital creations, check where to print digital art. Selling prints is a great way to earn money while securing the original work for eternity.
Choose an appropriate type of material and canvas size to inscribe the artistic piece. Further, if you want to ensure optimal print quality, look for a size guide that gives details about the page dimensions and pixel size of the final output.
You can choose from a hahnemühle or Innova etching photo rag with a textured surface that is hundred percent cotton, acid-free, and considered best for digital prints. For a 3D look and metallic finish, you can pick the Slickrock metallic pearl variety or use fiber papers made in collaboration with professional photographers or industrial printers.
You can also choose a photo printer at home or outsource your work if you choose to have your creations printed on mugs, calendars, custom apparel, blankets, and canvas prints.
Tip For Professional Setup
To work with a professional service, remember to check about the 'setup fee' that is charged to scan and match the colors of your artistic piece.
(Tip: Remember to choose the print dimensions to ensure the quality is not compromised and get the artwork framed and laminated.)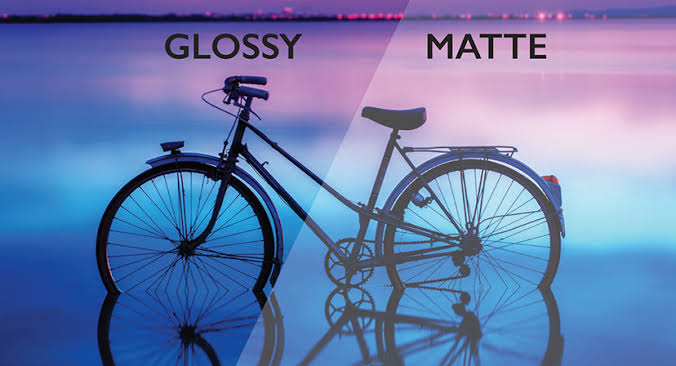 Once you have printed artwork, look for art competitions, exhibits, and festivals, or interact with the network of artists and illustrators nearby to help sell your creations. For optimal quality, provide Gilceé prints with the maximum resolution, precisely matched ink on an archival surface.
Another way to get high-quality prints is to choose matte or semi-gloss inkjet paper rather than glossy reflective prints that tend to look washed out over time.
Besides artists, photographers and digital designers can create imprints at home with professional imaging software and check where to print digital art to look for image printing shops and services, photo labs, or those specializing in custom art, archival designs, panoramic portraits, and Gilcee prints.
Related: DIY Spackle Art: How to Create Your Own Abstract Art
Final Words
Whether you are a designer or a buyer, get an artistic piece from online stores or art portals to enhance the appearance of your home.
You can check out offline services like conventions to get artistic prints at affordable prices or look for creative markets to find printed pieces, vector graphics, illustrated texts, templates, and digital icons or fonts.
Besides, if you want to support amateur painters, you can search artist's websites or online personal portfolios for specific categories of digital art prints. Before you buy art online, remember to look at the license agreement to ensure your printed art is not used for commercial purposes or to avoid infringing on copyrights.
To further save on a purchase, you can order reprints of original artwork or use free services that enable you to download and print art pieces.
Choose from any of the portals and services listed above to order digital artwork and decorate your home.
Frequently Asked Questions
How Can You Access Digital Prints and Download Them Easily?
Once you choose the best portal to purchase a digital art piece, prepare your home printer or opt for professional services to choose ink, material, size, or other aspects to download the artwork, frame, and deliver it.
Can Digital Art Be Printed on Acrylic?
Digital art acrylics have a smooth, glossy appearance and make vibrant colors pop. Hence, it is an ideal choice for high-quality results with large prints without causing pixelated or blurry images.
After Downloading and Purchasing a File Online, Where to Print Digital Art?
Besides getting digital prints delivered to your home, you can opt for home printing or look for photo labs, professional services, print companies, online personalized stores, and office supply stores.
What Aspects Need to Be Considered Before Printing Digital Art?
Check the resolution, printing size, and material with the total fees to be paid. Make any adjustments, if needed, since digital prints on paper, canvas, metal, and other surfaces can generate different results.
Check This Next: Efficient Techniques for Spray Painting Picture Frames