Clothes are one of the most basic necessities for humans. The number of clothes you pull out of your closet each day is directly proportional to the washing load you face whenever you do the laundry. But we know that doing the laundry is not a very easy task. The majority of us treat this as a disliked chore and try to avoid it as much as possible.
So is it possible to turn this highly demotivating job into something fun and interesting? Many of us treat the laundry room as a boring space and do not look at the functional or aesthetic aspects of the same. The result is a room that is unkept, disorganized, and sometimes even smelly. Does it have to be like this? Not necessarily!
Here we bring to you 21 small laundry room ideas that will make the chore enjoyable besides making your life simpler.
1. Give a Rugged Look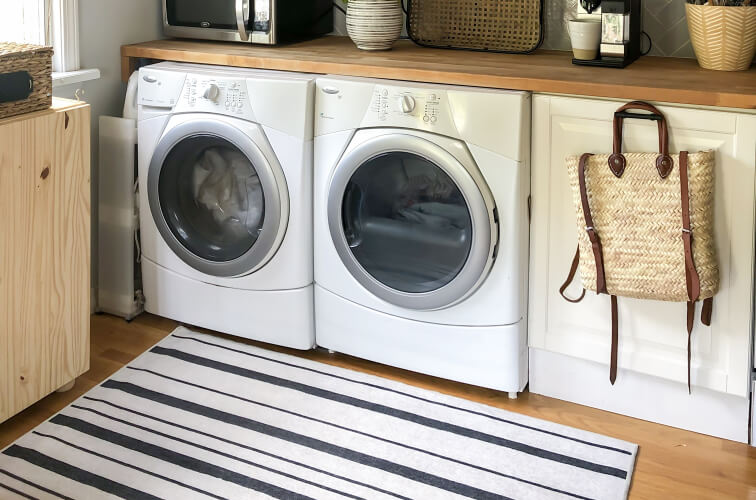 When we think of a rug, it is mainly in the living room or the bedroom. The laundry room is the last place we may think of putting a rug in. But this may not be the case all the time. You can very well use a rug in your laundry room too. You may feel that a rug in a small laundry room would be a hassle, but not if you choose it correctly. The material of the rug here plays a very important role.
Look for waterproof or water-resistant materials like an outdoor patio rug, or look for rugs that you can easily wipe clean, such as vinyl rugs. Another great option is a machine-washable rug!
2. Nature at Its Best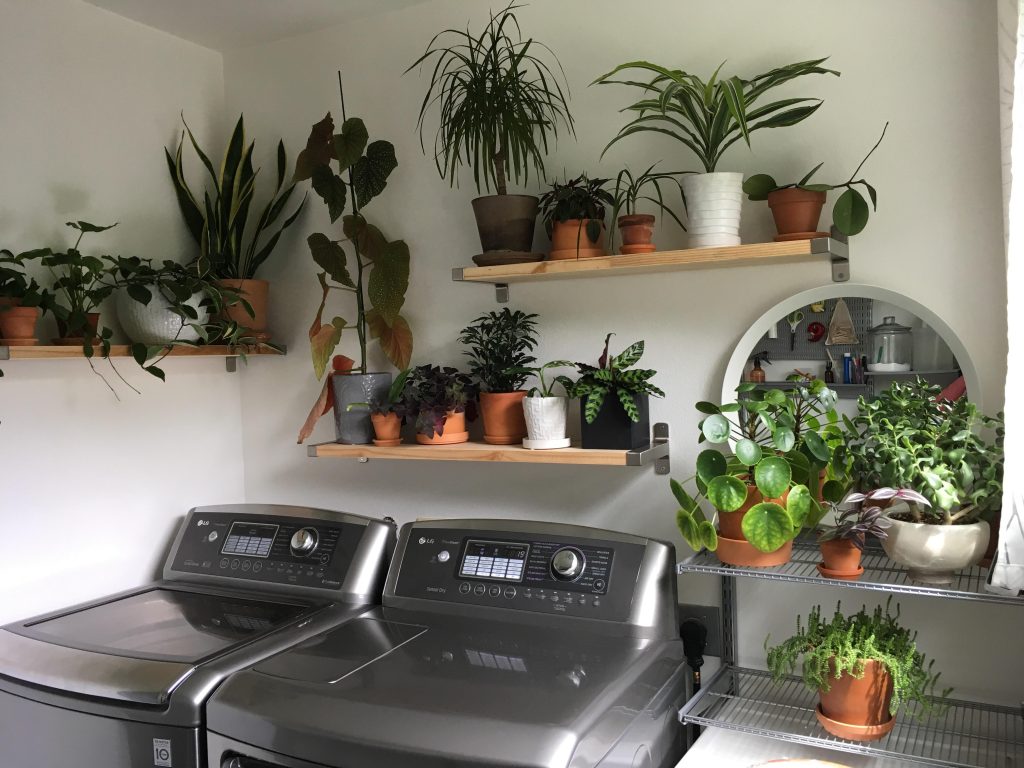 Who says plants look good only in your living or dining room? They can surely have a space in that small laundry room of yours too. Not only will it make the small space look fresh, but will also give it a more lively look. You can even talk to your plant when you are in there doing your laundry and watch it grow in front of your eyes! Indoor plants are great options for this and do not require much maintenance.
One of the best plants for a small laundry room is ivy. It is the best air-cleaning indoor plant that has been known to be able to absorb airborne toxins such as benzene, formaldehyde, and even mold and mildew. Alternatively, you can even go for faux plants that do not need any maintenance yet give a refreshing look to the space!
3. Fabric at Play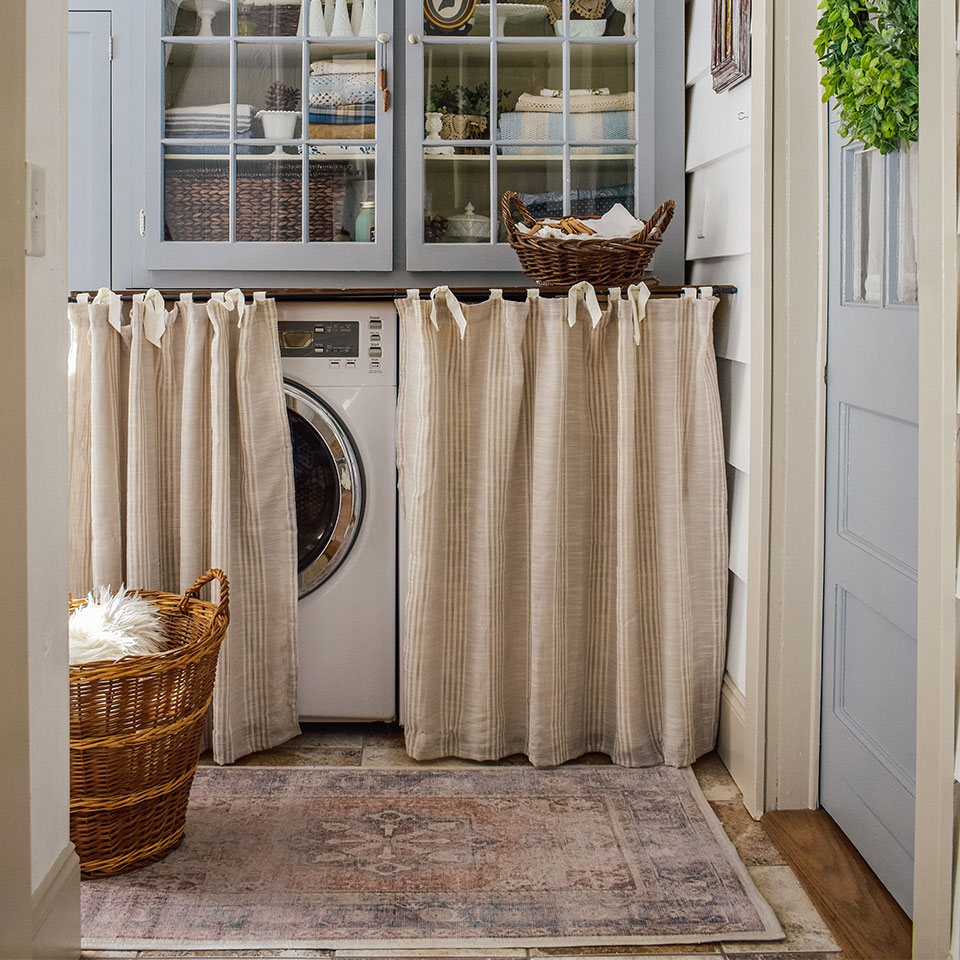 A small laundry room means less space to open the cabinet doors outside. These may restrict access to the other things in the room and make the room look cluttered unnecessarily. They also reduce the movable space in an already cramped-up area. To solve this issue, you can always use fabrics instead of doors. Hide your washing appliances behind curtains, and there you go.
You can use solid opaque color curtains to hide the clutter or sheer curtains if you have a window in the space. Use polyester curtains in areas where there is water, while microfibre curtains can be used in place of shelved doors.
4. Splash of Colours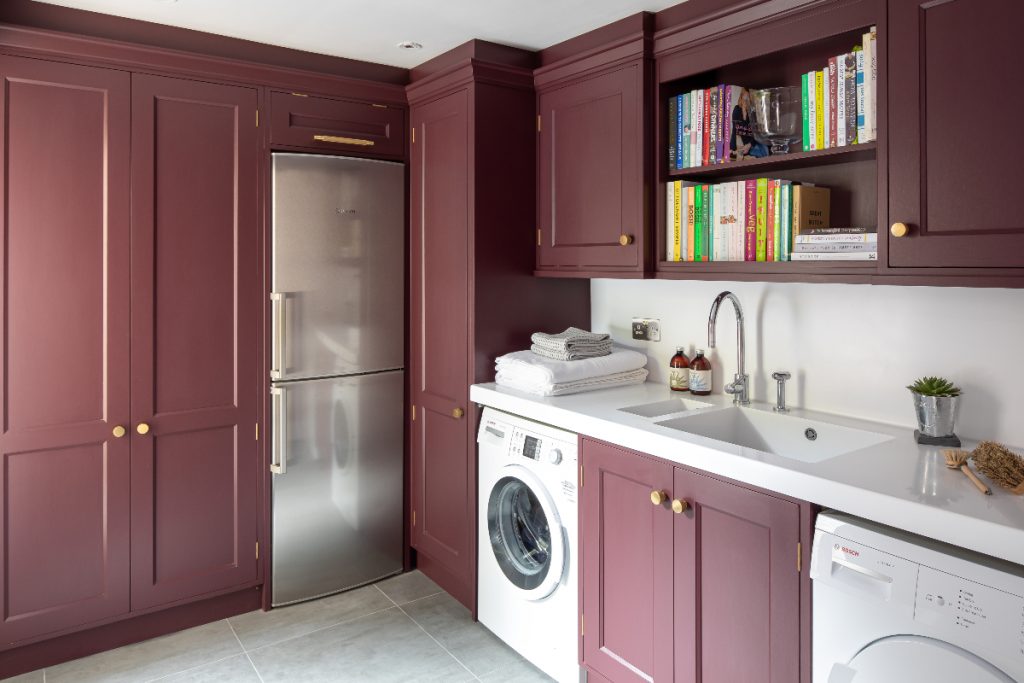 You can play with colors as much as you want while designing your small laundry room. From pastels to bright neons and from an in-your-face backdrop to the classic white, you can pick and choose from whichever spectrum of the color palette. You can choose to keep the color combination of the vintage to the modern contemporary interiors. It all comes down to how you want your mood to be when you get inside that tiny laundry room of yours.
You do have to keep in mind one basic color rule which is darker colors will make your room smaller than it is, while brighter colors may make the space look bigger in dimension.
5. Wallpaper is the Word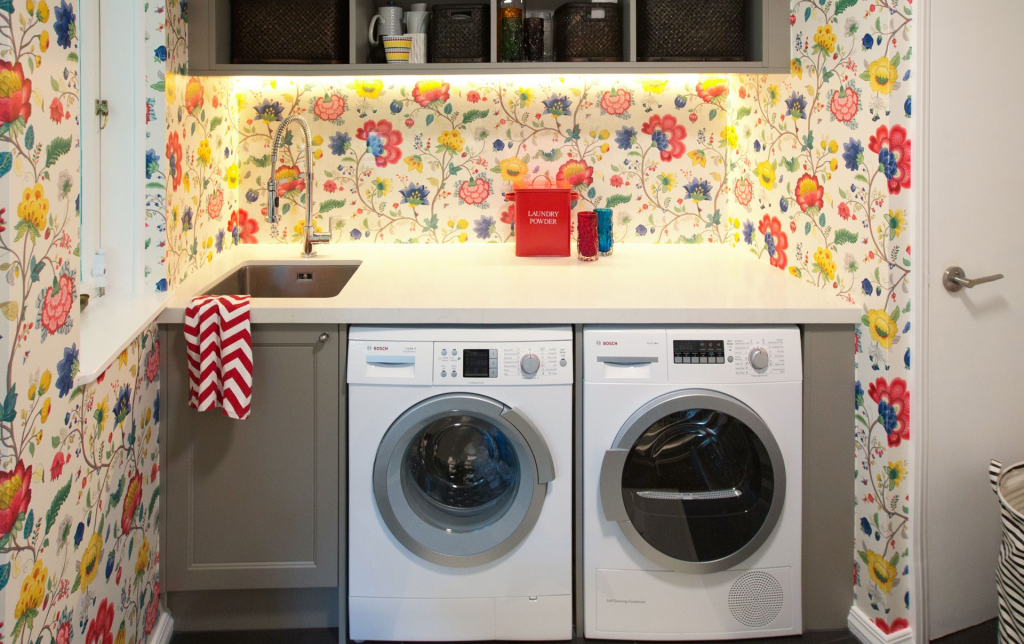 If you do not want to go with the routine colors, you can even think of getting the walls of your laundry room papered. Nowadays, there are a variety of wallpapers you can opt for, from different textures and finishes to colors and patterns. The choices are as vast as the sky. Florals, abstracts, prints, ad whatnot. You can also decide on a theme for your laundry room and choose the wallpaper accordingly.
Tropical wallpapers give a small laundry room a cozier look. Palm trees also add an invigorating touch to a tiny space. You can even get vinyl wallpapers that are steam and water-resistant and can be maintained easily.
6. Magic of Mirrors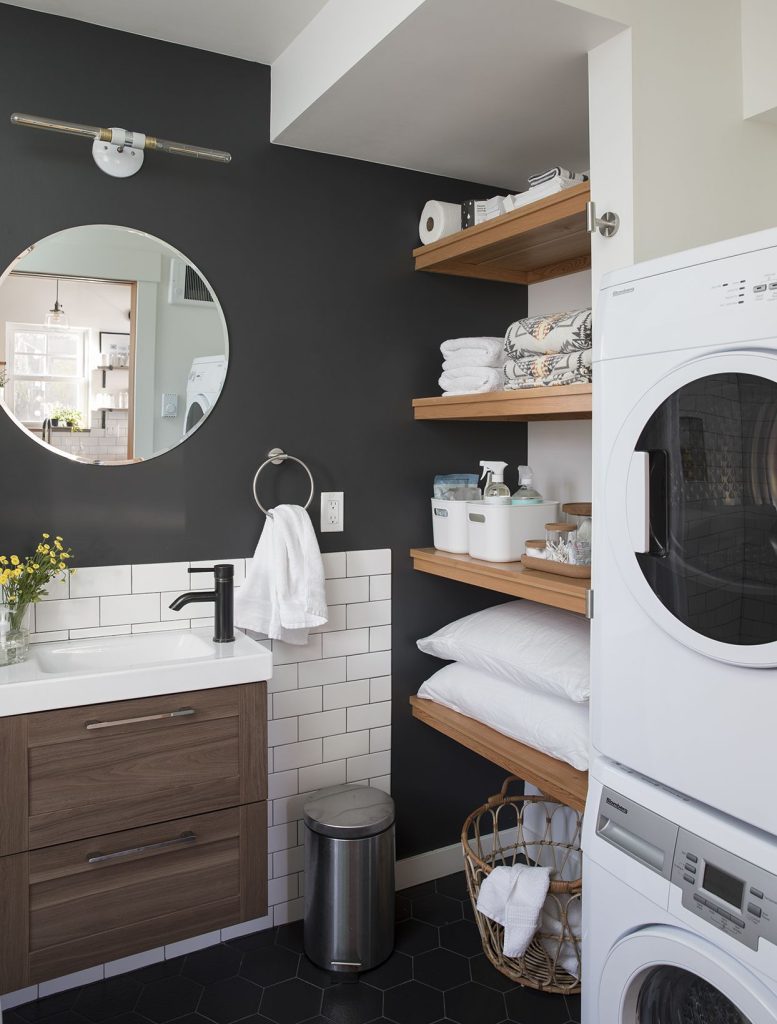 Mirrors add a different dimension to a smaller room. They can make a tiny room look luxurious and spacy. Expanding walls, amplifying light, and breaking up visual clutter, mirrors can be used to solve almost any design dilemma. If you have a blank wall and do not know what to do with it, just use a mirror. You can do up the space with decorative mirrors too.
Either one big mirror or a few small ones. Whatever you choose, we guarantee it will spice up the interior of the small space to another level. This can definitely be a decor game changer and give your small laundry room the much-required space.
7. That Small Island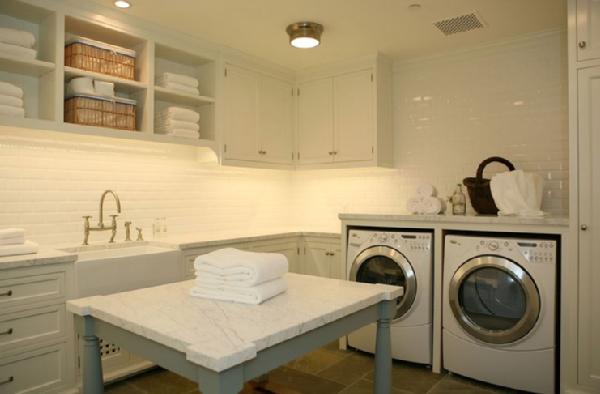 The island can be used as a multifunctional utility in a small laundry room. It can be used as a folding and sorting surface, it can double up as an ironing board, and it can even act as a closet for your laundry essentials and storage for your laundry baskets. Not just that, if on wheels, you can even move it to a side and double it up as a laundry cart.
You can store the island under a table top and remove it as and when required to utilize the space better. Make sure that the island doesn't become heavy enough and difficult to move, especially in a smaller space.
8. Dry It, Rack It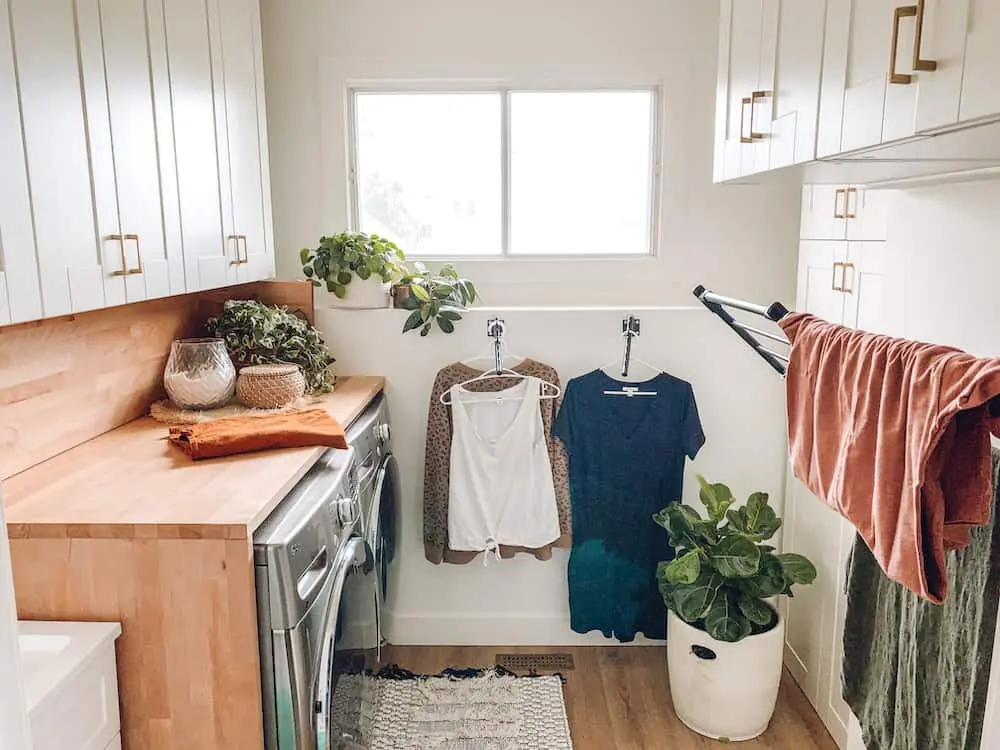 A small laundry room may not always free space for a drying appliance. In this case, you can install a drying rack in your laundry room. This rack can be wall mounted or pulled down from the ceiling as and when required. You can even have a foldable drying rack that may fit into a tiny nook in the laundry room.
This can even help you move the rack outdoors on a dry or non-windy day. You can even have a drying rack that folds up in the wall. Drying racks are best for small clothes that may get spoilt in tumble dryers as it keeps the laundry flat and secures it from any damage.
9. Cabinets to The Rescue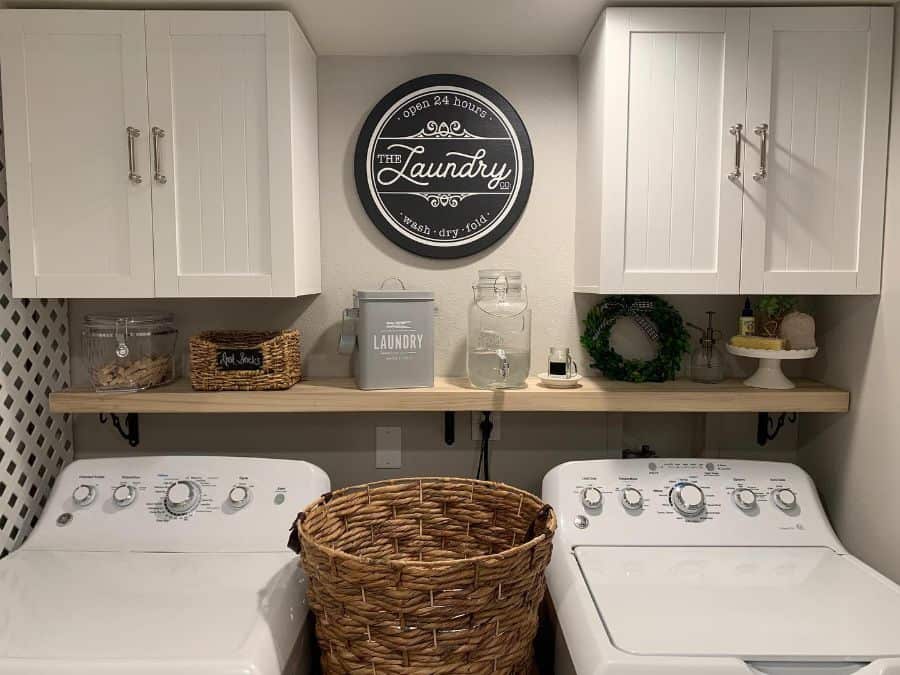 Usually, when the laundry room is small, you tend to lose out on the storage space. Vertical cabinets are the best option to optimize storage in a rather cramped laundry room. They will keep your clutter inside them, making the room look organized and tidy. You can even color block or color code the cabinets as you wish.
They can be classified according to soiled and washed clothes or the clothes category like colored and whites or even the family member to whom the clothes belong. They can even double up as storage space for those clothes that are not regularly used and would eventually take up space in your bedroom closet.
10. Keep It Simple but Classic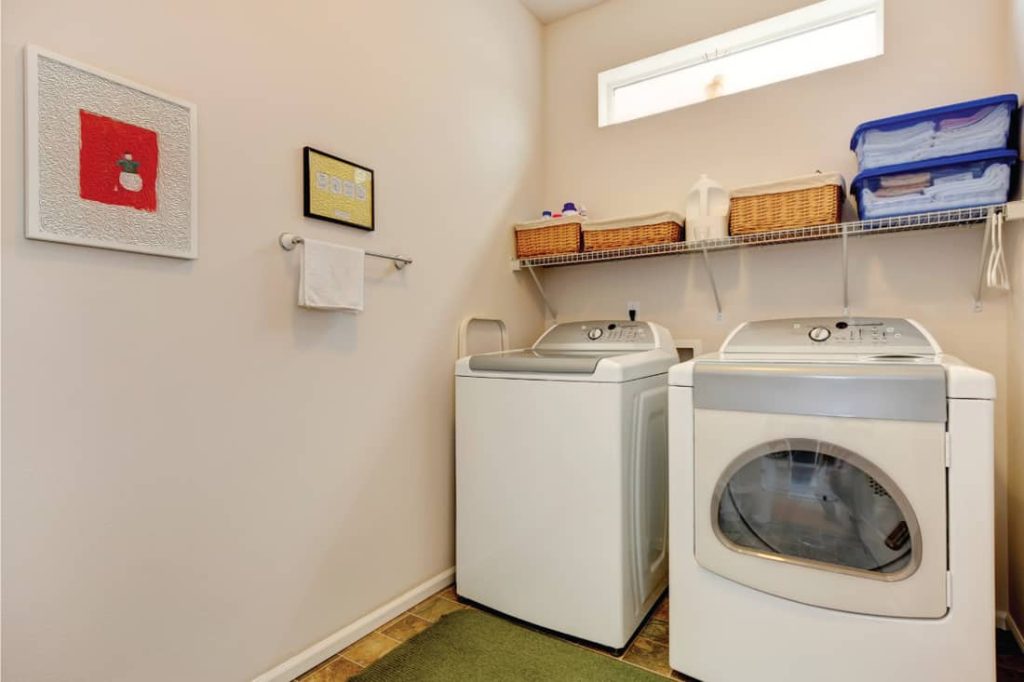 Classic can be a synonym for the minimalist. Keep only the most essential things in your laundry room without adding too many things to the space. Keep it free of unnecessary things to make it look neat and organized. You can use simple glass jars to keep the washing soaps and powders and stack them on a shelf. You can use statement flooring that elevates the design of the room. Attractive cane baskets also make the room look classic, besides being helpful in dumping your dirty laundry as well as your clean clothes. The bottom line does not keep anything that is unwanted in your laundry room, and you are good to go.
11. Pull out The Ironing Board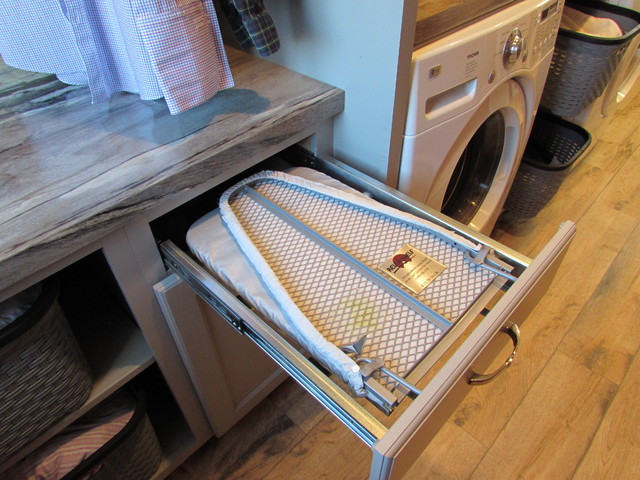 Ironing or steaming stations are very much required in a laundry room, but they tend to occupy a lot of space. A great alternative to use the already small space judiciously is to hang the ironing board on a wall or inside a cupboard from where you can easily pull it out. After finishing, you can slide it back inside the cupboard or mount it on the wall again. You can also use a built-in design for the board in which there is a small space in the wall itself to hang the board. This will keep the iron board hidden and way out of sight when not necessary.
12. Incorporate a Window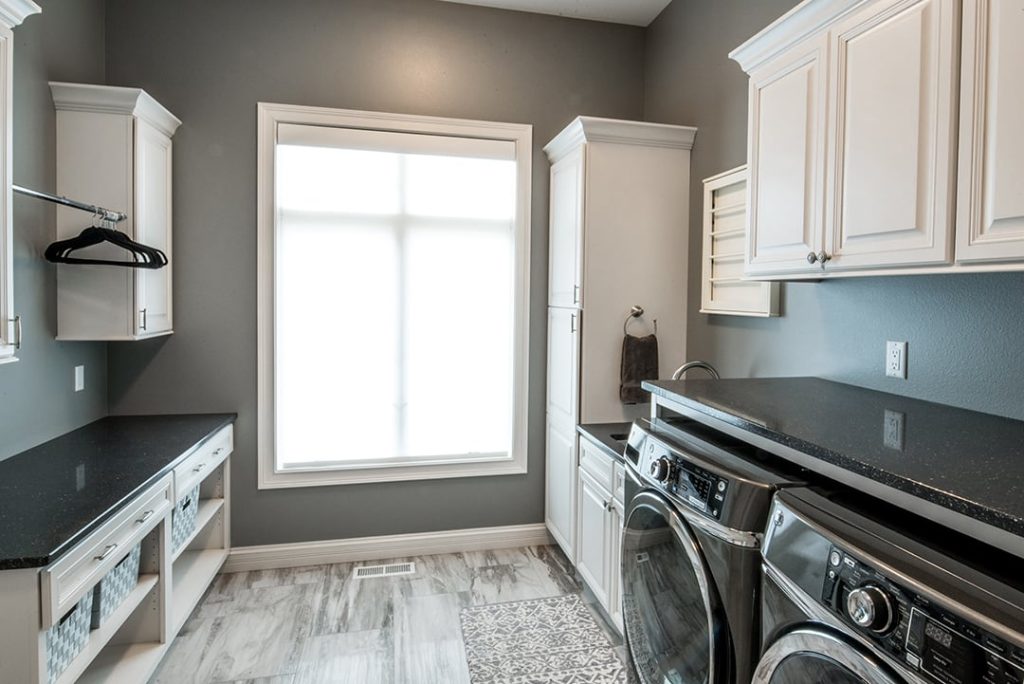 If feasible, try adding a window in a small laundry room. This may not always be possible, but if done, this addition can become a defining element of the room. Laundry rooms tend to become stuffy with the lint and the soap smell, and smaller laundry rooms are more so. The window will serve as a source of ventilation and help remove the dampness from the room. Besides the functionality, it can also look aesthetic. You can try giving the window a vintage frame, some blinding drapes, or statement curtains to make it stand out. It can also serve as a source of light if you opt to keep plants in the room.
13. Glorify the Laundry Cart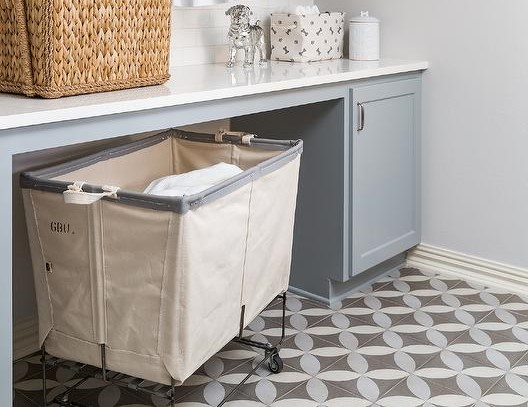 Laundry carts are essential for storing dirty laundry before loading it into the washing machine and then transporting stacks of folded laundry back to your closet afterward. You may probably use this cart multiple times per day. You will easily find laundry carts that can glide under countertops or into closets. The table in the laundry room can act as a perfect spot to line the cart leaving the space in the room clear. Foldable carts are also available online and can save up a lot of space in small laundry rooms. Tuck them under the closet, and you are done!
14. Dedicate a Sink Corner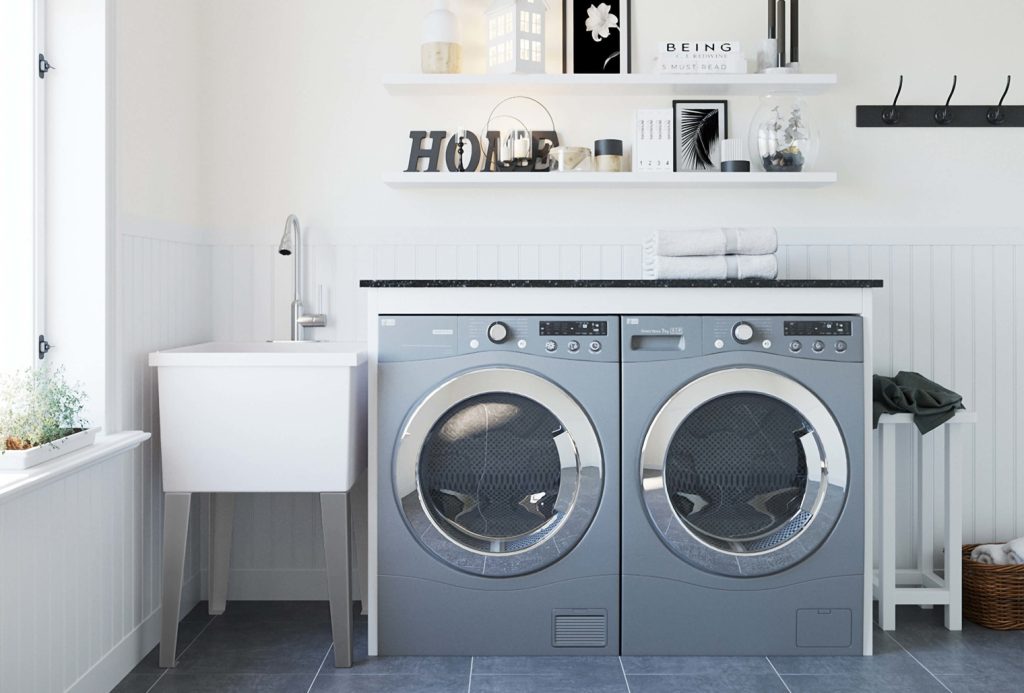 If your laundry room has a tiny nook that cannot be used for anything, this can be a great space to dedicate for a sink. The laundry room sink will help you easily rinse attachments and wipe the surfaces clean. It also provides a convenient space to hand-wash delicate items and rinse swimsuits of chlorine, sand, and/or salty water before putting them in the washing machine. It will prevent excess mess in your washing machine as well as your kitchen. You can go for a deeper sink that can also double up as a soaking tub for your soiled clothes. You can keep your washing machine near the sink to directly put the soaked clothes in the machine as well.
15. Space for Art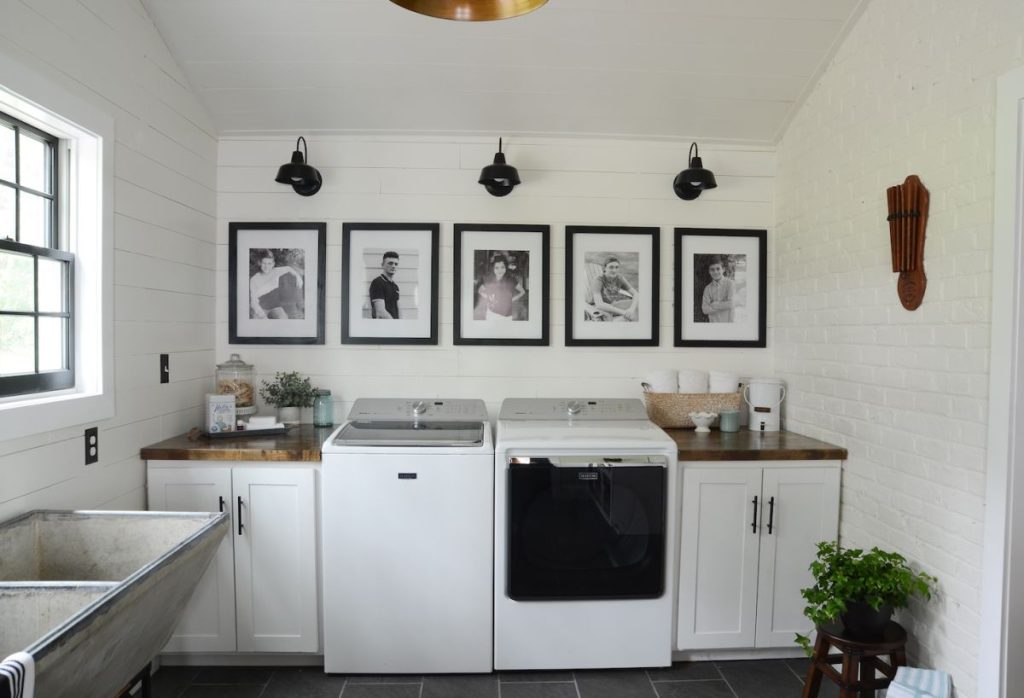 Paintings, murals, posters, and quotes in a small laundry room can make it fun and entertaining too. You can display any kind of art here. Hang a photograph you have clicked or a dream catcher you have made, a wall hanging, or a hand-painted bottle. Your laundry room can become your very own art gallery, and why not! A smaller wall space, like the one between the corner and the door of your room, is the perfect blank canvas for hanging framed art. You can visually expand your space by stacking a series of smaller framed artwork vertically towards the ceiling. Or you can even hand-paint the wall yourself!
16. Tray of Must-Haves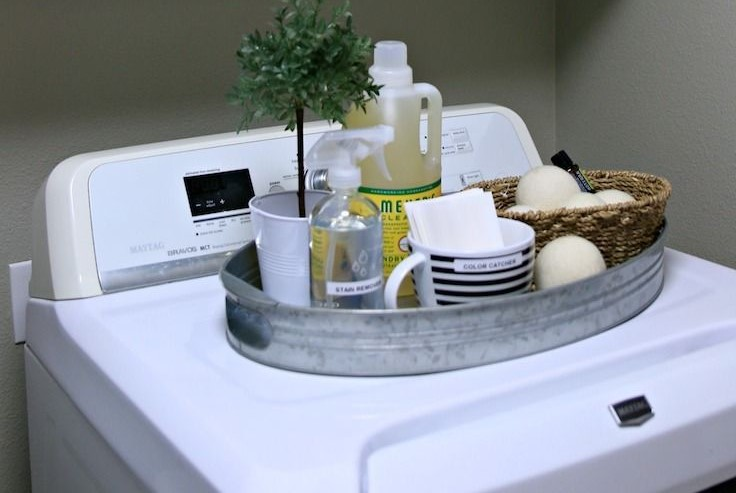 Small trays can be used in little laundry rooms to organize all the laundry must-haves, depending on the use. This will also help you to find nifty things like clothes pins at hand, and you may not lose them. Stackable trays are best when you cannot add shelves to the laundry room. They will help keep your countertops neat and give the room a well-organized and finished look. This is especially helpful when you do not have large enough countertops, which is the case in the majority of the smaller laundry rooms.
17. Stack It Up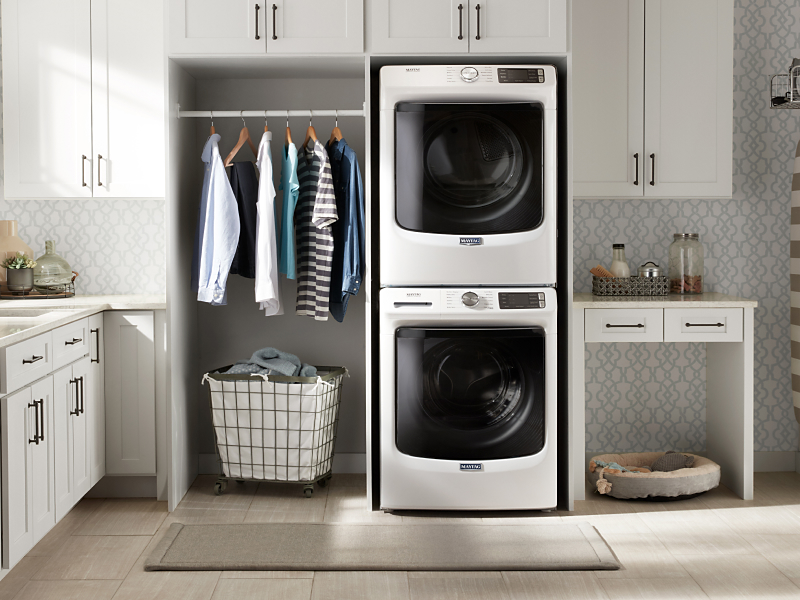 Smaller laundry rooms may not have the capacity to store very large appliances. In such a case, you can try stacking up the appliances one on top of the other to reduce the use of horizontal space. Usually, the washer and dryer are stacked up, the washer being in the lower compartment, thus reducing floor space. You can even stack them and hide them behind the door to keep your small laundry space neater. A closet can also be made for the stacked combo to keep them out of sight. This is a brilliant idea when you are using small areas like under the stairs as a laundry room.
18. The Lighting Effect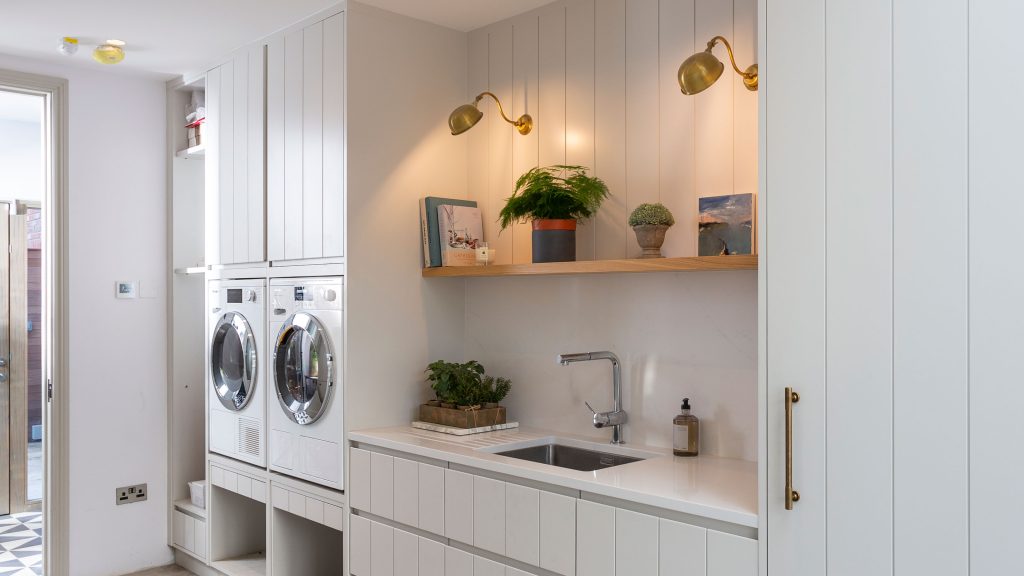 Bold lighting is used frequently in kitchens and living rooms, then why leave your laundry room behind? A small addition of a bold hanging light can transform the look of your laundry room. Besides giving out light, it can also work as a statement piece in the room and uplift its looks. Besides the ceiling light, you can also consider other forms of light, like recessed lights over the countertops and inside the cabinets. This will give greater visibility on the tops and inside cabinets, plus add that little oomph to the otherwise tiny laundry room.
19. Big Baskets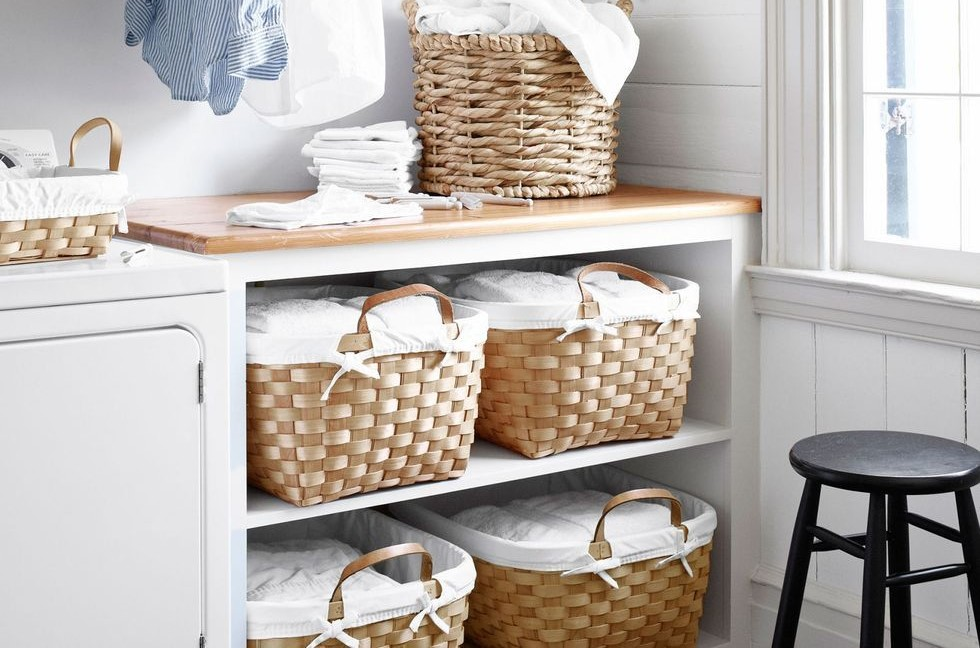 Big baskets, small baskets, and more baskets. If you have a small laundry room, you may, the majority of the time, run out of storage space. Baskets are an easy solution to this problem. You can get a large variety of baskets, from jute woven to cane to plastic and metal. It can serve to keep your laundry tidy and your laundry supplies organized. They will also add a different texture and break the monotony of the laundry room, if any.
20. Make Yourself Comfortable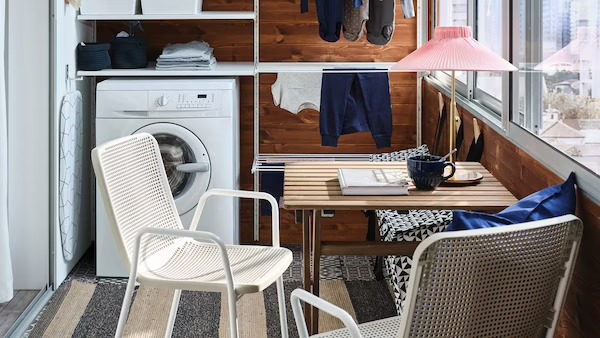 Usually, we do not think that we may spend a long time in the laundry room, but eventually, we end up doing the same. It becomes exhausting to stand this entire while when you are doing your laundry, and hence a chair or a stool is a very refreshing addition to the laundry room. In a smaller space, you can go for a high chair or a foldable chair. It does not have to be anything cozy. Just something you can rest upon while folding your laundry. A wheeled stool may do the job as well.
21. DIY Your Laundry Space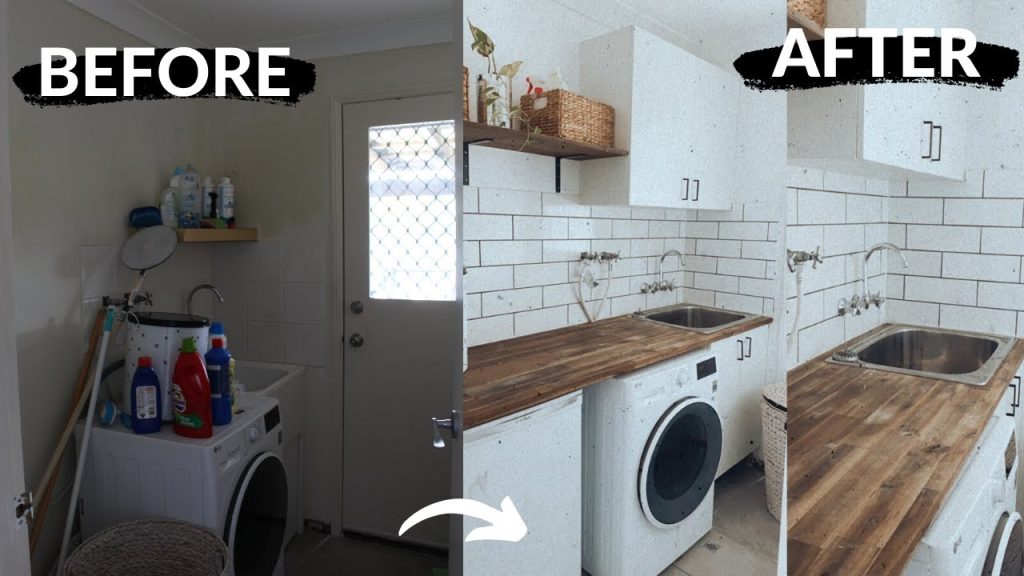 Your laundry room is your baby. You can customize it the way you want to. You can paint the walls yourself, make your tile pattern or even build your own furniture. If you already have a laundry space, you can give it a makeover all by yourself, depending on your preferences. After all, the person who does the laundry owns that tiny space, and it is up to them to decide what is the best environment functionally as well as esthetically for them to work in!
Summing It Up
All in all, the space needed to build the laundry room will vary from house to house. From the area available to the number of people living in the house, there can be numerous considering factors while constructing a laundry room.
It is not always necessary to have a big spacious area to do your laundry. If things are properly organized according to your needs, even a small laundry room may do your job and do it just fine.
You need to understand how to make the laundry room more functional and make full use of that minimum amount of space. So choose a few of the above-given ideas and get the most out of the smallest laundry space.
Set up a fully aesthetic yet functional laundry room that is not only pleasing to your eyes but will even help you keep all your laundry essentials handy.
So get going and keep all your washing worries at bay!