If you are looking to transform your fireplace into a stunning place, then there is no better option than peel-and-stick tile, as it is easy to install and gives a beautiful and elegant look.
Tiles around the fireplace have gained popularity in recent years, and people are looking forward to adding them to their decor. Peel and stick types are cost-effective and hassle-free solutions. They come with a wide range of designer colors and textures to suit all your needs. One of the best things about peel-and-stick tiles is that they are so versatile, with strong adhesive backing, which makes installation easy.
You can use the peel-and-stick tile for around far places at any place in your room as per the design you like. It provides a wide range of options to select from, which gives an advantage to a variety of design patterns where there is an option for everyone. The durability of the peel-and-stick tiles depends on the quality of the product and the strength of the adhesive backing.
In this article, we will talk about how to install peel-and-stick tile on a fireplace surround in step by step manner and also discuss various types of peel-and-stick tile. We will help you provide tips and tricks for your smooth and easy installation of tiles around the fireplace.
Types of Peel and Stick Tile for Fireplace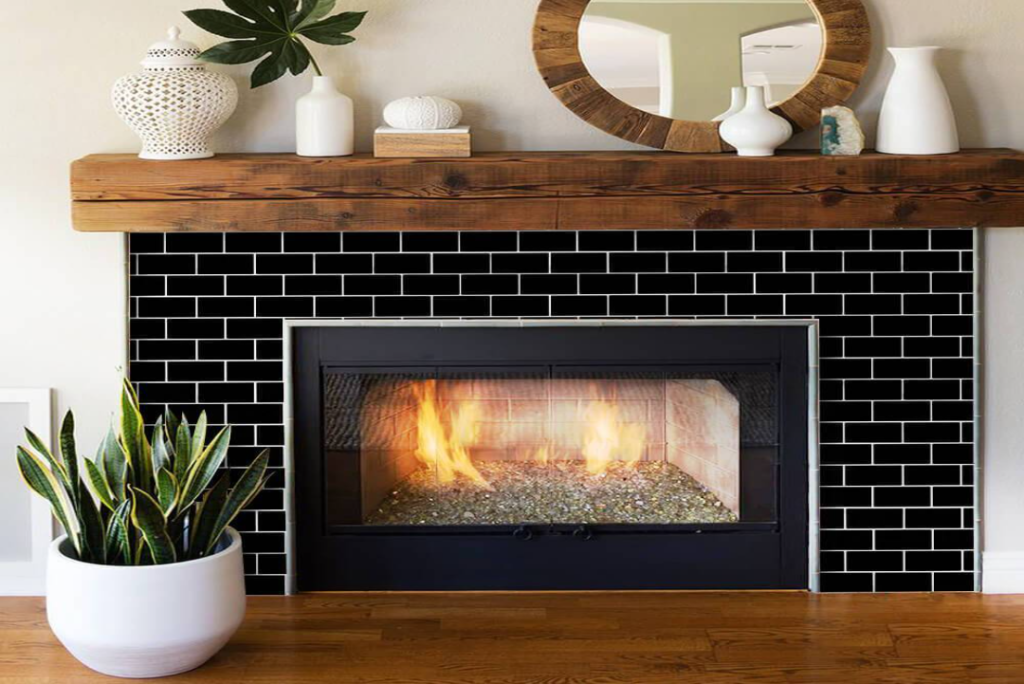 Vinyl: these are the cheapest ones in the market and are mostly preferred by customers. They come with plastic backing that attaches the back of the tile to the base. But this type of tile is not much heat resistant, so it can be used in all places.
Stone: These types of tiles for around the fireplace have the look of a real stone and add some extra effect to your fireplace. They are a bit costlier than vinyl type but can enhance the beauty of your place 100 times.
Metal: These types of tiles around the fireplace are made of metals to resist heat coming from the fireplace. These are generally made of aluminum metal and absorb heat and moisture, making them more suitable for all types of fireplaces.
Glass: If you want to give your fireplace a stunning and incredible look, then the glass-type peel-and-stick tile is the best option to go for. They enhance the beauty of the fireplace but come at double the price of the vinyl-type peel-and-stick tile.
Gel: These tiles for around the fireplace are made of 3D gel printing. They are cost-effective but can not absorb heat and moisture.
Tips and Tricks to Install Peel and Stick Tile Smoothly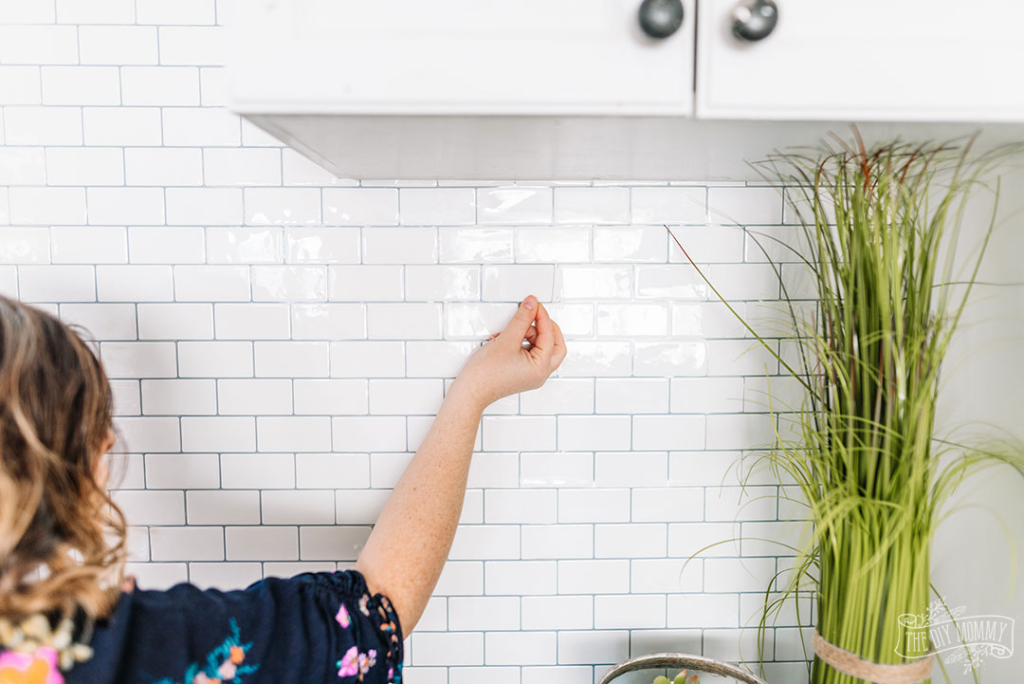 Measure the dimension of the fireplace on which you wish to apply peel-and-stick tile, and then cut the tile to the desired length.
The surface on which you are going to install the tile must be cleaned thoroughly, and the surface should be flat and even for effective installation.
Before installing the tile on the surface, make sure you place the tile in the exact location where you wish to install the tile, as once a tile has been placed, it becomes tough to reposition it because the adhesive does its work so fast.
If you wish to install The tile in its exact position, make sure you do your work calmly and accurately.
Essential Tools Required for Installation
Peel and stick tile
Measuring tape
Pen
Utility knife
Straight ruler
Cutting board
White caulk
Process of Installation of Tiles for Around Fireplace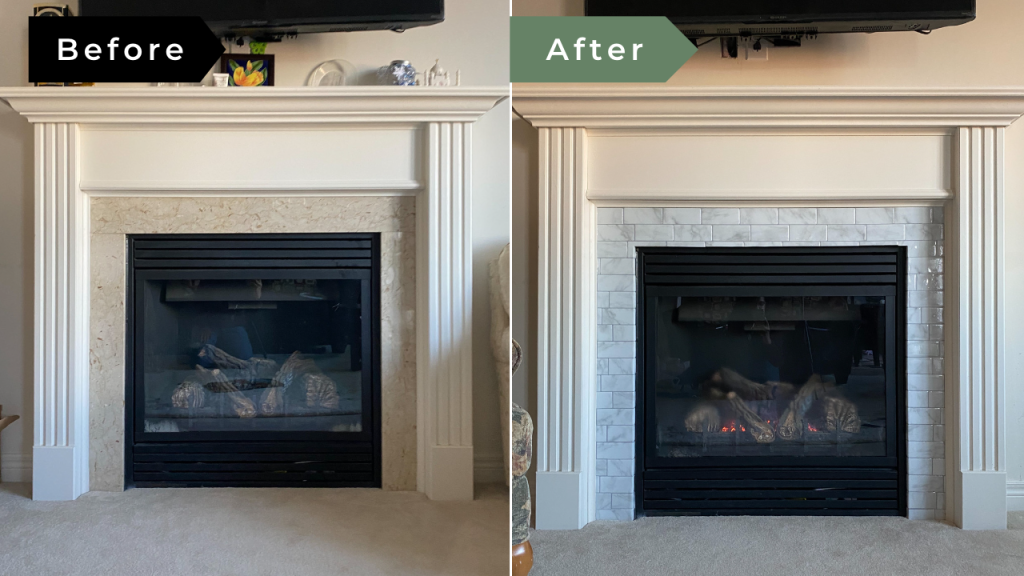 Step 1: Prepare the surface on which the tiles are to be installed. We will start the installation from the center to make a pattern of our desired type. Make the surface even and remove all the bumps if present on the surface.
Step 2: peel the backing of the tile and place it in the position earmarked. Press with some force till it is completely attached to the surface. Then take the following tile and, with the matching pattern, place it next to the first tile and repeat this process for the whole surface. Make sure to check the pattern before installing.
Step 3: Repeat the process until the whole surface is covered with the tiles around the fireplace, and at last, when the whole surface is covered, the extra tile is to be cut off smoothly using a utility knife.
Step 4: Finally, when all the tiles are placed in their place, then the white caulk is used to fill the gap at the edges of the tile to make it look more clear. This is not a mandatory step, but it gives the look of a real tile.
Advantages and Disadvantages of Using Peel and Stick Tile
Advantages:
Let's discuss the advantages of peel-and-stick tile for fireplace surround.
Easy installation: Peel and stick tiles around the fireplace are easy to install as they only have to be peeled and attached to the surface, measuring the dimensions in a smooth way. It does not require any specialized tool or skill for installation. You don't even have to worry about cleaning the area after installation, as it does not leave behind any waste.
Versatility: peel and stick tiles around the fireplace provides you with a variety of different options for design to choose from to give your place the stunning look your desire. With the presence of such a large number of options, there is always a product for what you have in mind regarding your decor.
Easy maintenance: It offers you easy maintenance, just like your traditional tile, where no extra effort is to be made to clean it. Cleaning can be done just by the use of regular detergent solution only when there are spills or marks. No routine cleanup is required in the case of peel-and-stick tile.
Easy updation: For a moment, if you feel like you are unsatisfied with the design and decoration so this peel-and-stick tile design allows you to remove it without any extra effort and install a new tile as per your desired look you want. Removing the time does not require any specialized tool or skill, and it does not damage the surface below.
Disadvantages:
Since it has advantages to having it in our house, there are some disadvantages also to using peel and stick tiles for around the fireplace. We have listed some common disadvantages below.
Poor Longevity: There are several peel-and-stick tiles that can last long if installed properly. However, the cheap models may start to fall down in a year or two. This is common in the place where there is a heat source. Furthermore, if you want longevity, then you need to invest more.
Wrong Impressions: Well, there is also a high chance that these peel-and-stick tiles create a very wrong impression on the prospective buyer. This is because renters or buyers might think about the quality of your home. And this situation can be true if you use cheap options like vinyl. If any of your prospective buyers or renter can spot a major quick fix can assume that you have applied quick fixes to other places in the house as well.
Cheap Appearance: There are certain companies that produce designs that look super close to the real thing. However, it is not the situation with the cheap peel-and-stick tiles around the fireplace. Costlier options look far better, such as the metal or glass design. However, they can be very expensive, almost the price of real tiles. But the cheap quality one can reduce the look of the place.
Difficulty During Removal: Peel and stick tiles around the fireplace seem convenient and easy to apply but can be a headache to remove. You'll need a knife or other sharp object to pull out the tiles when you want to revamp the look of the place. Also, if you want to remove the tiles and leave them as it is, then that would not be a smart move to make. This is because the area looks ugly after the stick tiles are removed. You will have to come up with an alternate solution.
These were some major disadvantages of using peel-and-stick tiles around the fireplace. However, we have mentioned some advantages as well that are strong enough to appeal to you. Choose what is best for you.
Final Thoughts
A fireplace is a spot in the house that gives warmth and coziness. Thus it is important to make that spot look very fancy and yet give a homely vibe. Using peel-and-stick tiles around the fireplace can be an excellent idea as it will refresh its look and bring some vitality and shine to your living space.
As we have mentioned above that most of the designs are heat resistant and can be durable or stay in position for a very long time. That clearly means that you won't have to spend your time and energy and also money on putting up real tiles.
With less hassle, you can have great outcomes for your house. These stick tiles for around the fireplace are an excellent option, and you can totally consider it, but if you want to have a good impression, just go with the expensive type one as they give a more realistic look than the cheaper quality one. So we have mentioned all the advantages as well as disadvantages of using peel-and-stick tiles.
All you need to do is go into the market and choose the best from the options given for your home.