Being a Harry Potter fan, the idea of the cupboard under the stairs really fascinated all of us. If you also think you can ingeniously utilize tiny spaces in your house for practical purposes, then you can consider installing hidden doors.
A hidden door used as a secret entrance can conceal rooms, doorways, and internal passages or be a camouflaged space to store essentials. These space-saving entryways called Murphy doors are efficient options for houses with minimal floor plans.
Hidden doors are functional options to utilize under-cabinet space, create storage compartments, or design a cozy nook that can be used for practical purposes.
These days modern hidden doors are designed creatively to conceal a home office, game room, kitchen cabinets, and valuable collections. These doors also provide opportunities to utilize basement or attic space for storing seasonal clothes, extra produce, or other kitchen essentials.
Fun and Functional Hidden Door Ideas
1. Hidden Staircase Door
The unused space under the staircase can be transformed in two ways. First, you can lift up the stair treads and attach hinges on the inside to create storage space. Since indoor spaces are not affected by moisture or harsh weather conditions, you can stash all winter wear without worrying about mildew.
The other alternative is to attach a magnetic touch latch door that serves as an entryway to an adjacent room, a foyer, or an open kitchen. You can also use a paneled door to reveal a hideout or a small restroom with basic amenities. To obscure the hidden staircase door, place plush armchairs or other lightweight furniture that can be easily moved.
2. Hinged Bookshelf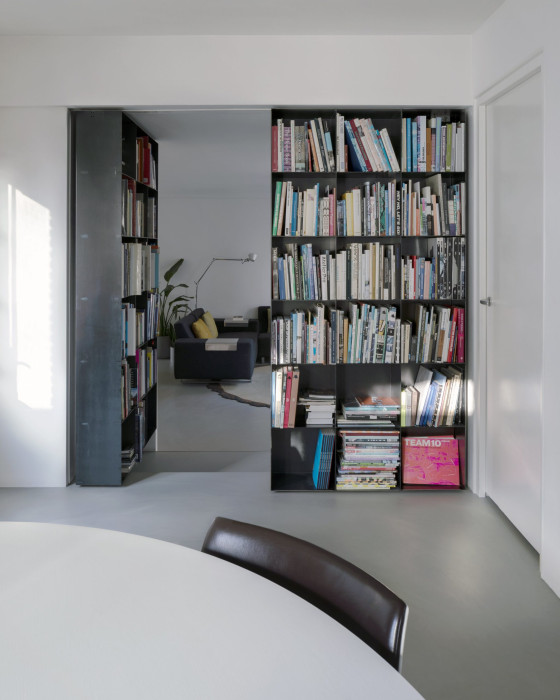 For avid readers, having a huge shelf to store books is a great way to save space. However, your bookshelf can also open to reveal a whole new space! A built-in bookshelf held with the help of invisible hinges can become the secret door to your home office. It can also serve as a separation between your home and workspace, giving you the privacy to focus without distractions.
If you do not have a fixed bookshelf, use hardware services to get an InvisiDoor bookcase installed with trim moldings that match your wall. To secure the door, an electronic locking system can be used with mounted lights that detect motion and switch on as soon as the secret door is opened.
3. Wall Pivoting Door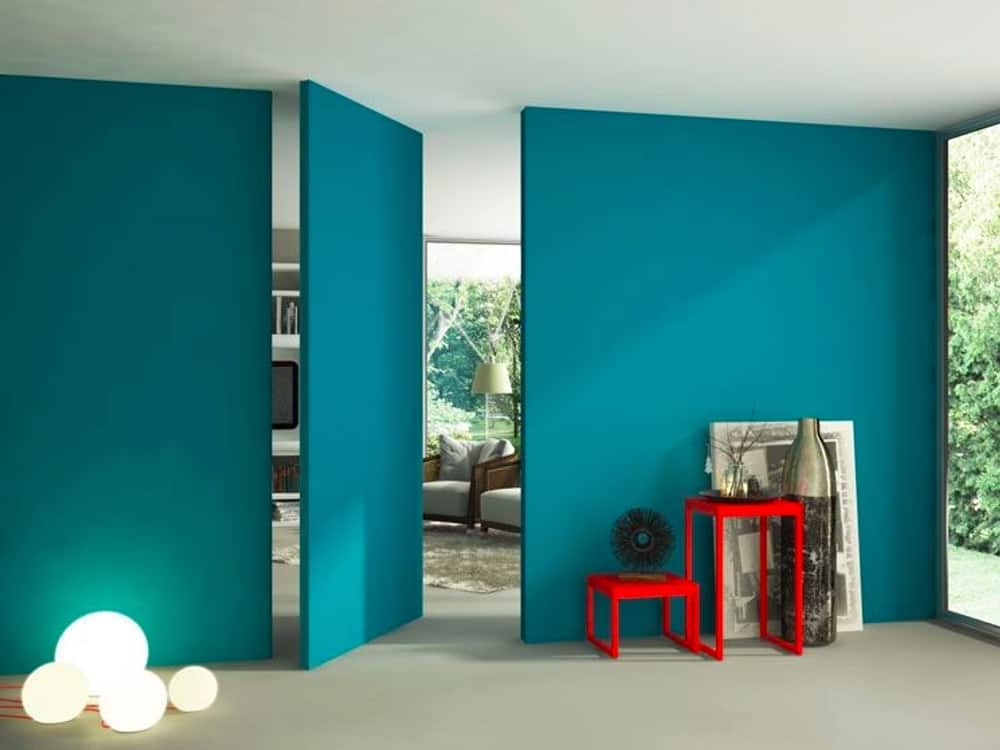 A flush wall in a closed position can be rotated along its vertical axis, creating a minimalistic functional passageway between rooms. The appeal of a pivot door is that it creates a movable wall that can also be used as a partition between spaces. Each pivot door can be opened and closed independently of the other, thus giving a streamlined look. Aesthetically, the door assembly is hidden from plain view, and the easy installation available for all standard walls ensures a stable, sturdy frame that does not crack any plasterwork.
If you wish to remodel a pivot door from existing furnishings, simply use modular panels made from wood, glass, marble, steel, or copper and use intersectional hinges.
4. Basement Hidden Door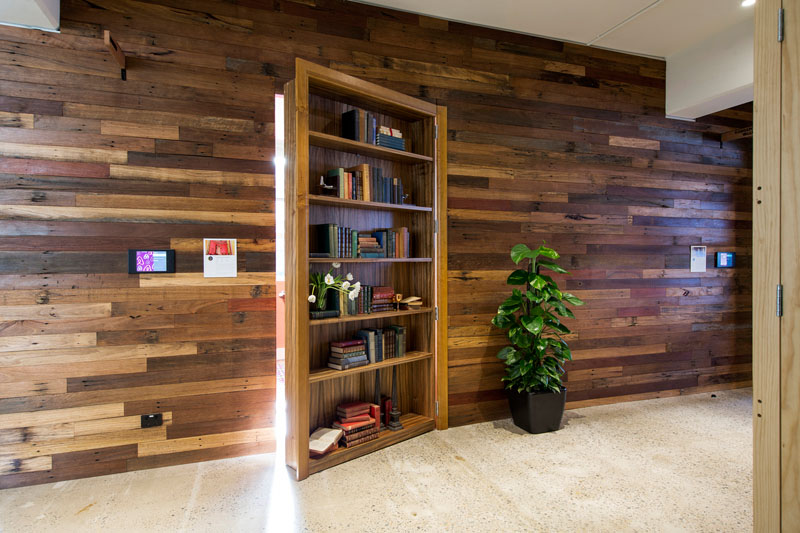 Often referred to as a smuggler's hole, a basement trap door covered using a carpet or rug leads to the basement or attic. For houses that have limited floor space, trap doors are an ideal way to create utility areas without interrupting the overall appearance. A sliding or hinged door attached to the floor can be mounted on a linear actuator (used to convert rotational motion to simple linear or pull/push movements) to create a trap door, providing easy access to your basement.
Some homes also have trap doors with rooftop access, accessible via retractable ladders. You can also use the same principle to design ceiling trap doors and use the space to store maintenance equipment.
5. Floor Storage Hidden Area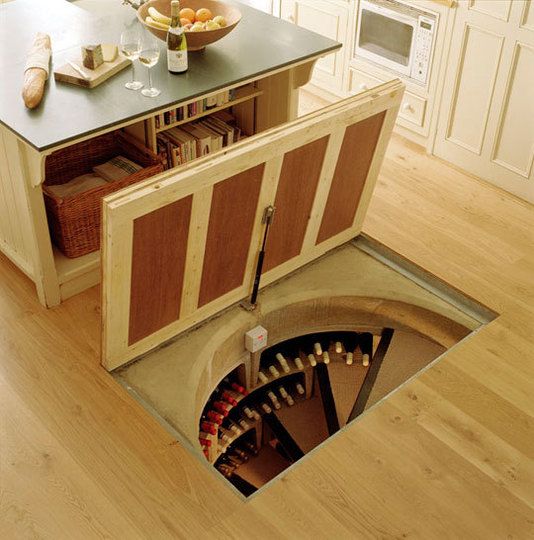 Underfloor spaces hidden with trap doors are used to stock exotic alcoholic drink collections. Like a traditional wine cellar, you can create a spiral staircase that leads down to the storage area. Even if you are not a wine enthusiast, under-floor spaces can be best used to create hollow drawers. These unique compartments designed for different rooms are used to store additional household essentials for varied weather conditions.
For instance, in smaller kitchens, you can replace cabinet baseboards with hidden cavities to store items that are not used on a daily basis. Besides, unused floorboard space in the bedroom can be used to keep blankets, books, etc.
6. Artwork Hidden Doors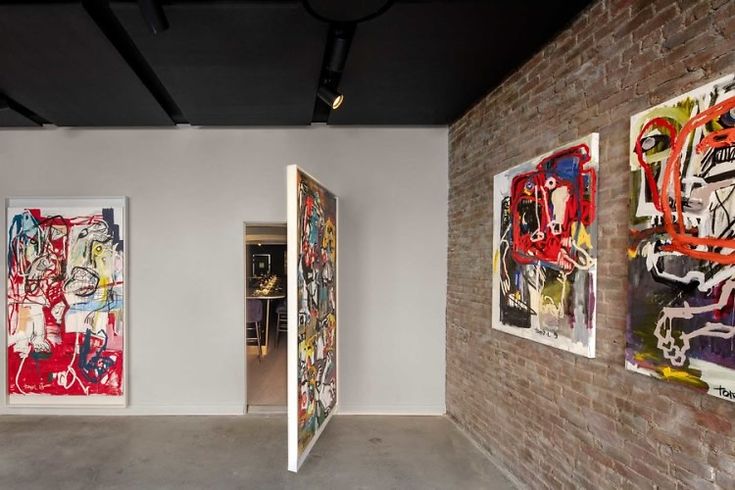 You may have seen several movie shots where a famous painting, mural, or wallpaper is simply moved to hoard money or reveal some hidden treasure; well…..that is the exact idea behind this hidden door.
Instead of the usual secret door approaches, this piece of home decor can be hung using hinges. You can disguise the painting or painted mural with wallpaper and use standard door handles that are not apparently seen.
While some use this hidden space to save precious artwork indeed, you can use a painting or wall mural to create a stylish entrance to a private home theater experience, an entertainment area, a home cinema room, or a secret comic book collection.
7. Decorative Molding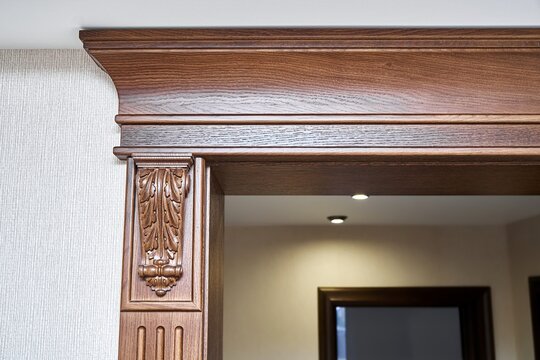 Jib doors without casing are a fun way to camouflage entrance passageways and secret rooms. Another option is to add a raised panel that can resemble wall moldings and act as a secret door. A built-in bookcase is also a way to implement the hidden door idea so the wall molding looks like a permanent piece of furniture. To further disguise it as a wall, you can also add shelves and mount small decorative pieces (if you lift a carved bust, the door may open….magically!).
The same idea can be used with window molding to repurpose the mainframe as a secret slide-out compartment to hide valuables or cover a door that can serve as an exit passage to the patio.
8. Obscured Sliding Door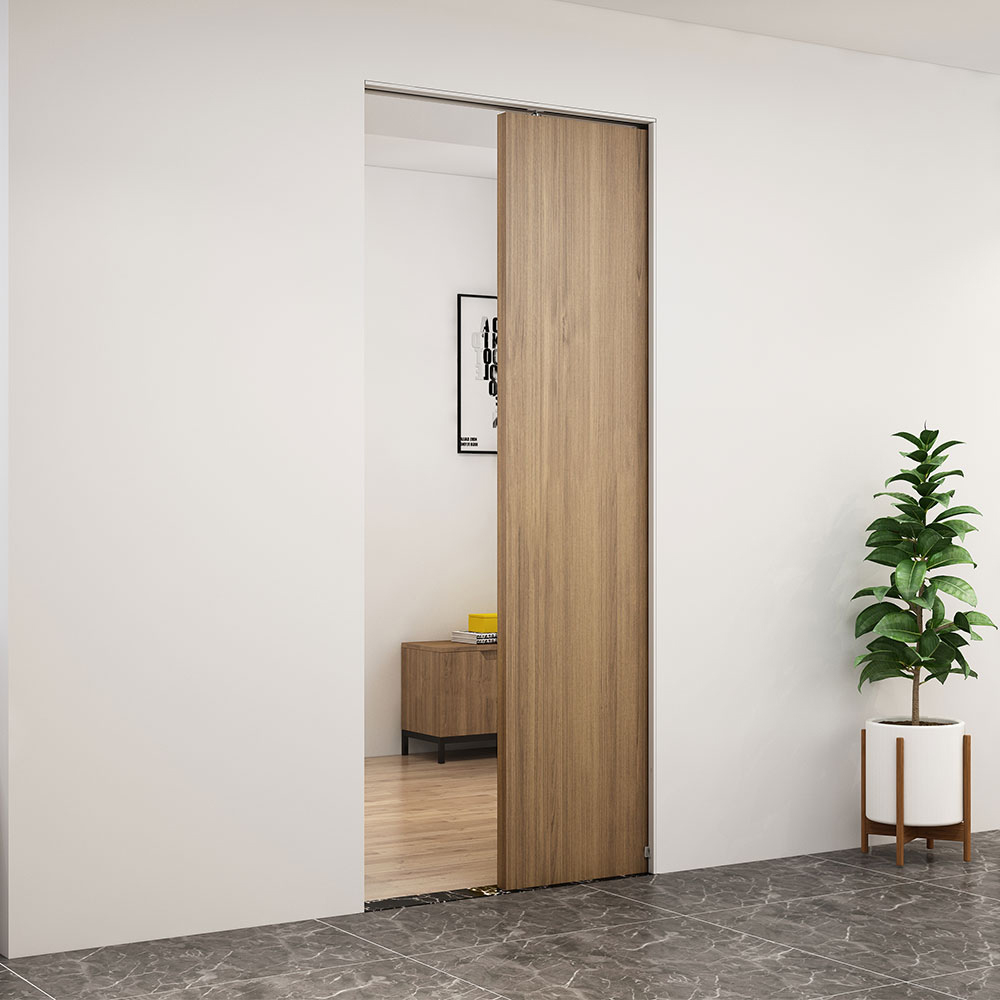 An innovative solution to the patented sliding gateway is the pocket door that can be operated using a push-button panel. The standard pocket door can be used for chambers, living rooms, and dressing rooms. At the same time, the comfort pocket door (a two-wing divider) can be used to create a barrier between large spaces. For smaller spaces, the parallel pocket style with cascading doors can also be used. If you want to create separate areas within the same room, the parallel or latent hidden door pocket design that is aligned with the wall outline can serve the purpose.
The surface can be personalized with elegant flush doors and glossy lacquering, inward or sideways swinging, and matching, or contrasting panels that will ensure your door becomes the focal point.
9. Mirror Secret Door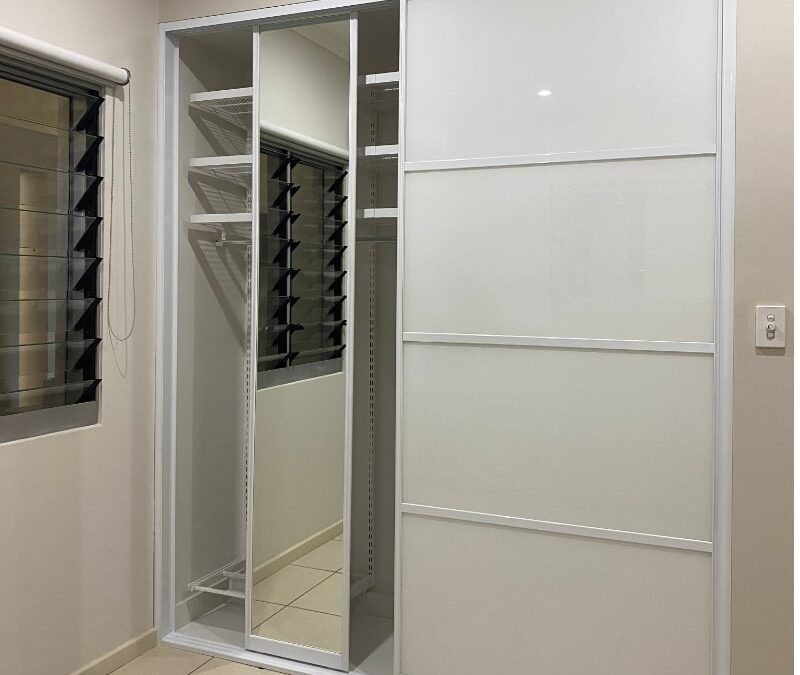 While full-length mirrors or wall mirrors are a great addition to your bedroom suite, these mirror installations can also be effectively used to create a hidden door/entrance to your extended closet space or private den.
As mirrors reflect light, they brighten up the space and give a feeling of a larger surface area. Having a paneled mirror also gives you the opportunity to install a hidden compartment that can be used to store small valuables.
The mirror can be designed with decorative knobs that can serve as an actual handle to open the hidden door or enter your walk-in closet.
10. Stone Hidden Door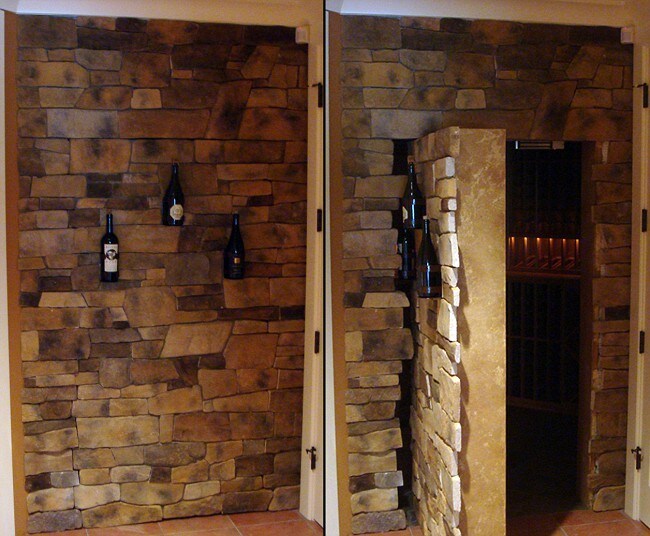 Do you remember the time when Hagrid, in the Harry Potter movie, tapped a few bricks to reveal the magic entrance to Diagon Alley? Well, you can't do that exactly, but you can use a combination of a brick or stoned wall section to create a secret entrance to your private bar. While a stone pattern or decorative rock design can create a handle for this concealed hidden door idea, you can also offset a stone pattern to hide the door outline and hinges.
If you prefer a warm, pleasant vibe as opposed to the stone-hidden door idea, use wood accent wall planks that can be arranged to resemble normal walls. To further give a natural appeal, you can complement the look by adding galvanized fasteners.
11. Armoire Hidden Room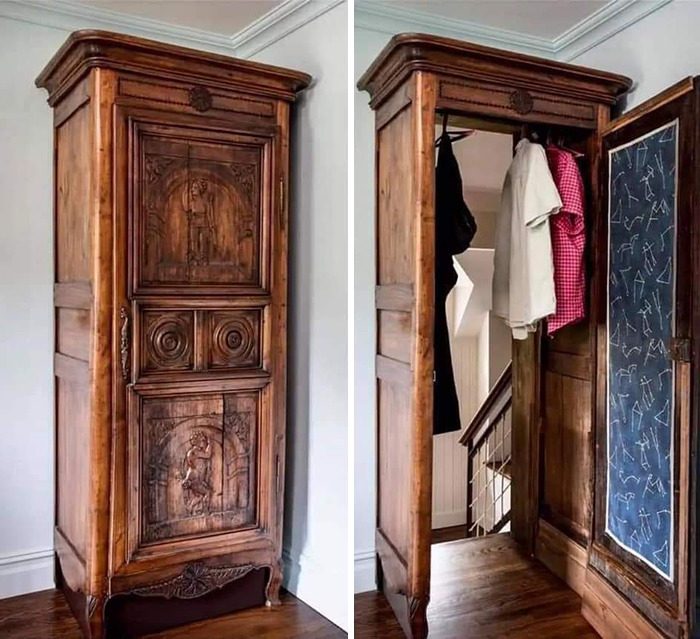 If your childhood fantasies are inspired by Narnia-themed coat closets, use an armoire hidden door idea that can lead you to a charming hideout. If you have a small space, the closet door can also be used to create a relaxing cool reading nook. Drawing inspiration from the movie, the armoire door could actually lead to a kid's room that can be decorated with fantasy movie posters, enchanting murals, favorite movie character figurines, and more.
For a playroom, you can further use hatch doors to create secret compartments that store dolls, play mats, cars, puzzles, balls, blocks, and other fun toys, ensuring the place always looks neat and organized.
12. Convertible Hidden Door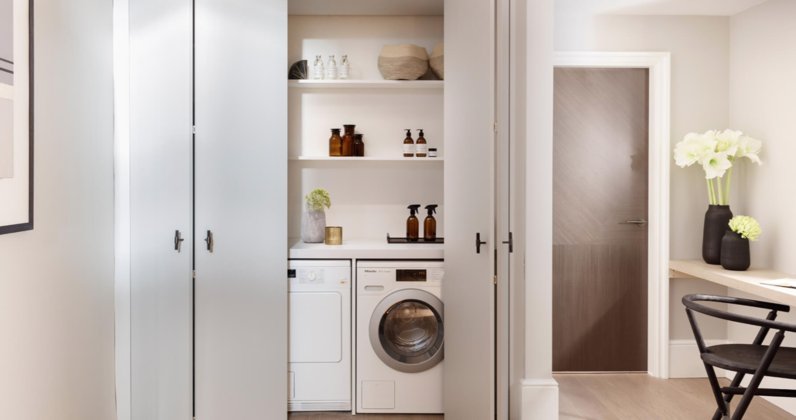 For quick and easy functioning between the kitchen and laundry room, a hidden door that serves as an open shelf is a great option. The sliding door lock design can be used so that no door handle or knob is required.
If you opt for a minimalist concept, adding a textured accent wall, a functional rustic wood panel, or a modern hidden door flush is the way to go! You can also use this secret hidden door idea to create space between your bedroom and your home office.
While a hidden door creates a secret entrance, another feature that can be added is the hidden storage compartment in it. You can design drawers that open with a pull handle or knob and maximize the utility of this door.
13. Basement Hidden Door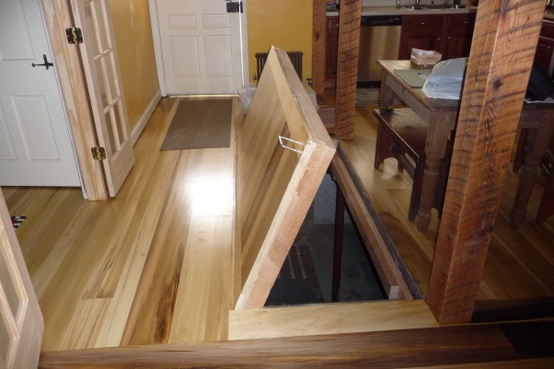 For a basement kitchen with a slanted ceiling, you can use a shiplap case and paint it the same color as the wall to maintain a seamless look. You can also modify the existing floor plan to make a trapdoor that leads to an underground pantry. Since some basements can attract more moisture, you can wainscot the lower half of walls to prevent dampness by using prefabricated pieces or decorative raised trim panels.
In small floor space areas, if you do not have room for built-in stairs, you can also use a trapdoor to draw out a collapsible ladder that gives access to the underground room.
14. Swinging Kitchen Unit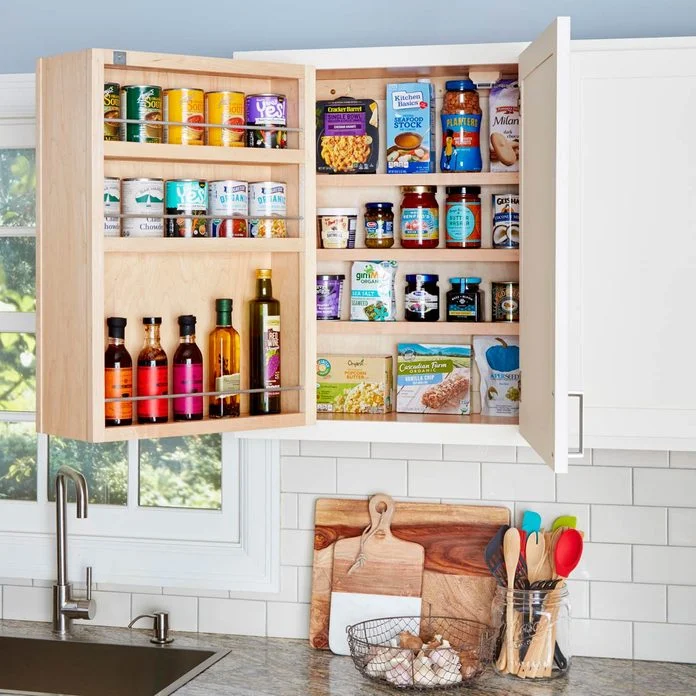 If you have rows and rows of shelves lined with pantry staples and other kitchen essentials, you can apply a hidden door idea for your kitchen and connect it to concealed cabinetry.
Alternatively, a false cabinet that blends into your existing hardware is another way to design custom cabinets for your kitchen. For instance, a hidden door can be positioned beside stacked appliances to reveal the additional kitchen unit.
Reshape your current pantry door to add a swinging unit for extra storage without disturbing the original wall structure. A similar hidden door idea can be applied to create a two-sided kitchen trolley where additional compartments can be used to stock small utensils.
15. Hidden Garage Door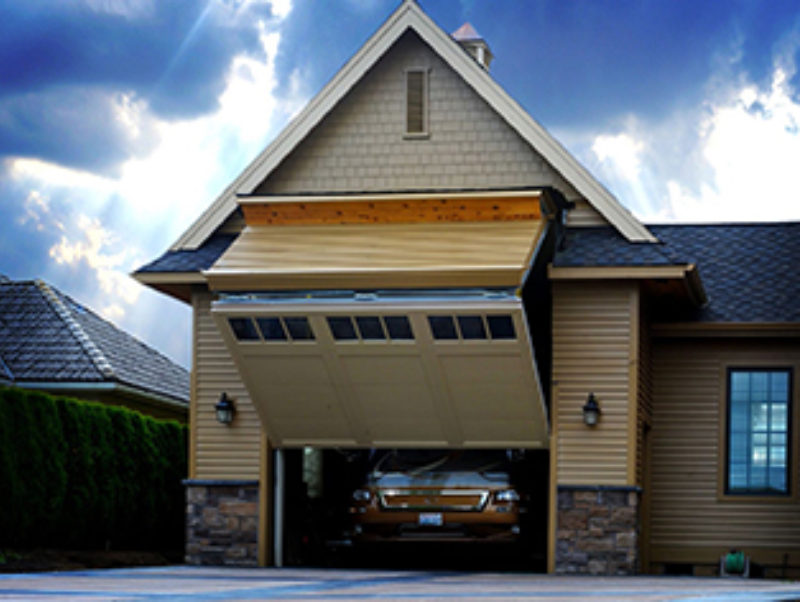 While a simple trap door in the garage can be used to store mechanical supplies, tools, and car accessories, a hidden door can also be installed to create a passageway between the garage and your home.
For homes that do not have a dedicated garage space, you can camouflage home exteriors to build a secret garage door or design a bifold designer entrance that can be operated using an automated latch system and remote controls.
Another alternative is to make the door vanish into integrated aluminum or wood cladding. Since the door is seamlessly aligned with the main entrance, the external appearance is not affected.
Conclusion
With a combination of access pathways and aesthetic architectural elements, this unique hidden door idea can disguise valuable collections, staircases, storage compartments, or an entire room. You can either use a hidden door idea for a wall or ingeniously transform existing panels to build hidden doors. If you are working on a tight budget, hang tapestries or blend the hidden door with the same color scheme as the wall so that it does not attract attention.
Whether you want to recreate Harry Potter-Narnia fantasies or have a private corner for some 'me' time, use hidden door ideas to create a secluded space in your home. You could order hardware equipment and follow simple instructions from self-help guides to install your secret door or simply order DIY kits to accomplish the project.
Frequently Asked Questions
What is an Invisible Door?
Unlike regular doors, a jib door does not have visible framing, casing, or other hardware components. Features of an invisible door allow it to blend with the wall, thus providing a concealed appeal to the room/access you are trying to conceal.
What is a Murphy Door?
A Murphy door is used to hide access or a room within the house. For homes that have limited surface area, Murphy doors can also serve to create partitions and create multifunctional spaces.
How Can Secret Spaces Be Created without Doors?
If you want to create private spaces without implementing any hidden door idea, use accordion-style barriers or use temporary room-separating apparatus. You can also use wall decor, hang drapes, or other decorative items to conceal secret entrances.
What is the Simplest Method to Hide a Door?
One of the easiest ways to hide an existing door is to use colorful wallpapers that can camouflage the entire wall, giving a seamless look. You can also use hidden door ideas like designing an accent feature or textured wall.