A house is built with extreme hard work and with a lot of patience. Along with all this, it also needs love and care to have it functional for a long time. Thus, basement egress windows are an essential safety feature for any home with a basement. A basement is an underground space with some purpose, according to the person.
However, it requires ventilation and natural light to make the space more habitable and comfortable. Therefore, these basement egress windows are used to make the space worth functional. If you are looking for a guide to know the complete process of installation and the cost of installing the basement egress window, then don't worry.
We have got you covered. In this guide, we will walk you through the process of basement egress window installation, step by step, along with mentioning the cost of investment.
What is a Basement Egress Window?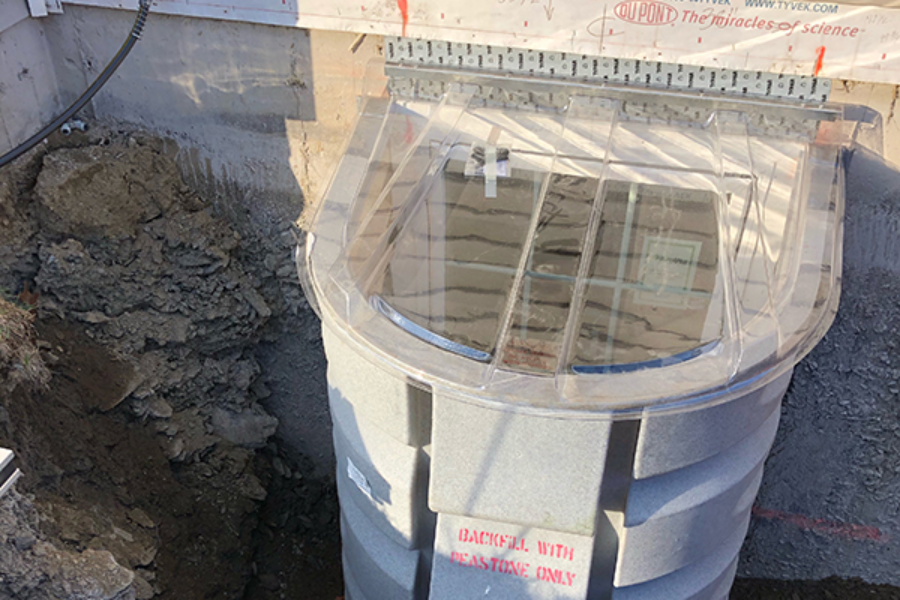 In order to understand the installation process, you must know the basic details about what it is and why it should be installed it. Basically, the basement egress windows are specialized windows installed in the basement of a home to serve as emergency exits and provide safety in case of fire or other emergencies. If you are worried about the space, these windows are designed so an adult can crawl through without discomfort and reach a safe space outside the home.
Moreover, this is not it. There are some other benefits of installing these basement egress windows other than the safety outlet.
They significantly improve the safety of occupants, ensuring a quick and easy way to exit the basement in emergency situations.
Egress windows bring natural light and fresh air into what is typically a dark and poorly ventilated space, making the basement more inviting and habitable.
Also, they reduce artificial light consumption during the daytime. Thus, it saves power and is value for money.
It increases the value of your home as well as meets the building code.
If you use the right materials, you can create a beautiful centerpiece outside your home.
All in all, these windows are value for money and serve the purpose well; thus, installing these in your home is a must if you have a basement.
Is It Necessary to Install Egress Windows?
Egress windows are primarily used for the basement. Thus, if you have a living space or bedroom in a basement, you need to have egress windows for emergency exits. This is because we never know when any mishappening occurs, and therefore, it is important to ensure the safety of your home. Also, it ensures compliance with the building codes, which is a plus point while building a house.
Along with being functional, it will also add to the aesthetics of your house. If you use materials like wood, then the wooden window frames look durable and are also long-lasting, along with being visually eye-catchy.
Material Required to Install a Basement Egress Window
To install a basement egress window, you will need various materials to ensure a safe and effective installation.
Egress window
Window well cover
Window Frame
Flashing and sealants
Excavation Tools
Safety equipment like googles, gloves
Insulation
Step-by-Step Process of Installing the Egress Windows
Installing basement egress windows can be expensive, but it is worth installing as it serves its functionality according to its cost. Thus, we have mentioned step by step process of installing egress windows.
Step 1: Check Local Building Codes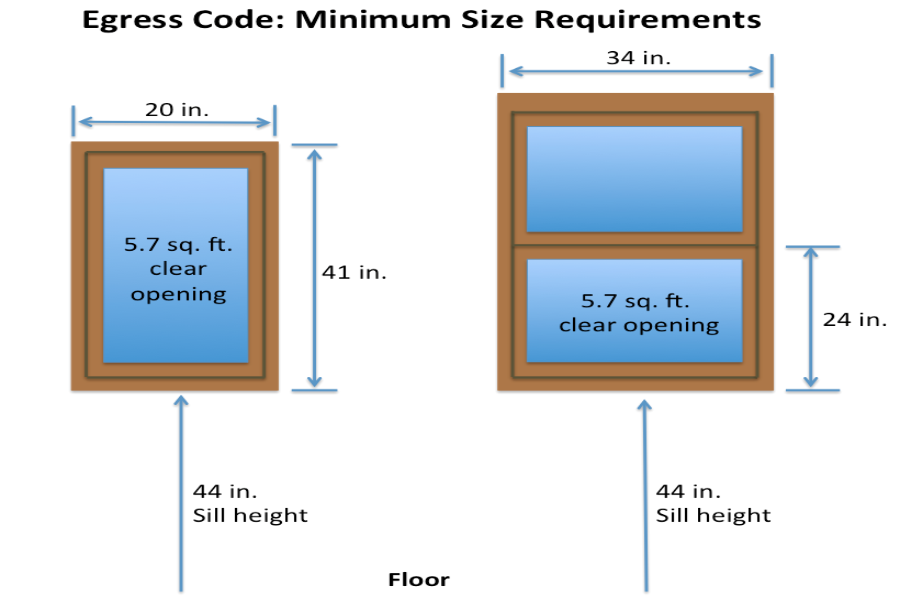 This is the initial step in installing the basement egress windows. This is an important step to familiarize yourself with the local building codes and regulations. Different regions have specific requirements concerning the size, location, and safety features of egress windows.
This step is essential to ensure your project is compliant and meets all safety standards. Moreover, it is a check of the safety standards beforehand and which is a necessary step.
Step 2: Choose the Right Location
Choosing the right location is important as it affects both the cost of installation as well as the window's vitality. It should be accessible from inside the basement and lead to a safe area outside, away from obstructions like air conditioning units or fences.
The window should also be easy to open and large enough for an adult to crawl through comfortably. Common locations include near stairs, in utility rooms, or close to bedroom areas. Moreover, the cost of egress windows changes more in the local areas than in the main city. So it is also a factor in determining the location factor, an important step.
Step 3: Choose the Type of Egress Windows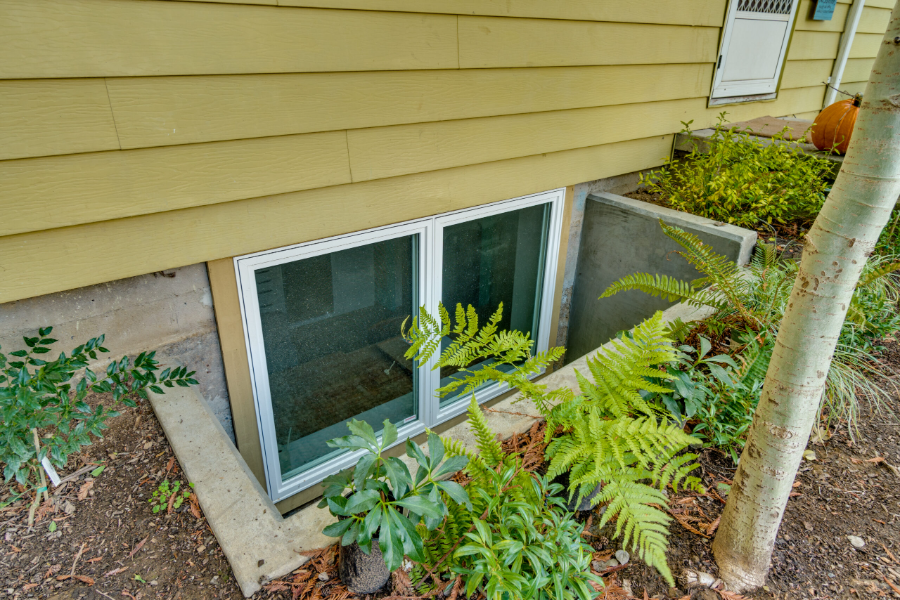 As mentioned above, there are six main types of egress windows to choose from a casement, sliding, and hopper, etc. Moreover, each type of egress window has pros and cons, so consider factors such as ventilation, ease of use, and aesthetics. Casement windows are popular choices due to their wide opening and ease of operation, but ultimately the decision should align with your specific needs and preferences.
Also, it would be best if you chose the window according to your budget and the dimension of your basement. This is because various types come in different sizes, which can suit your space.
Step 4: Excavation and Cutting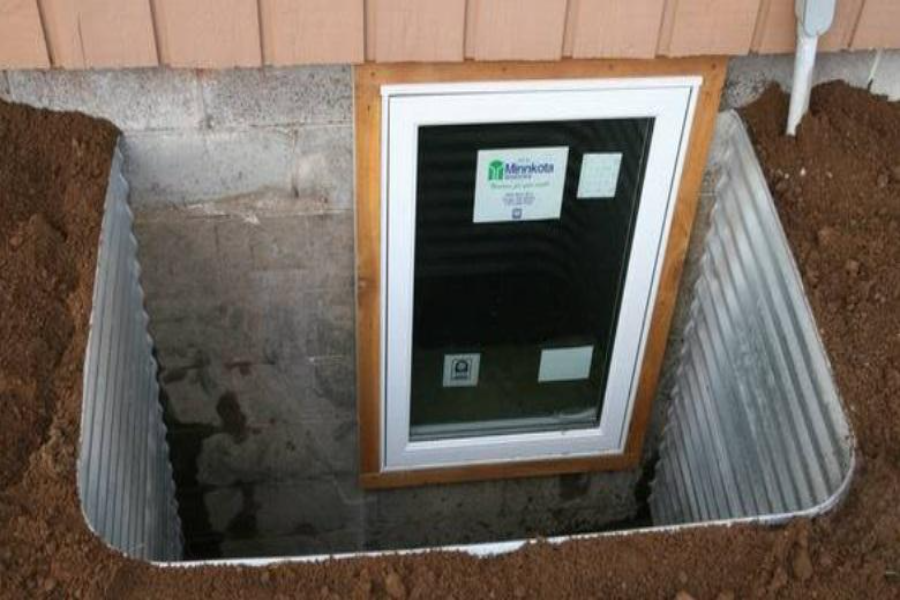 The installation process begins with excavating the area outside the basement wall to create space for the window well. The window well prevents soil from collapsing against the window and allows more natural light to enter. The size of the window well should be large enough to accommodate the egress window and comply with local codes.
Next, a precise opening is cut into the basement wall to fit the chosen egress window. This step requires careful measurements and the use of proper tools to ensure a secure and leak-free installation.
Step 5: Install the Egress Window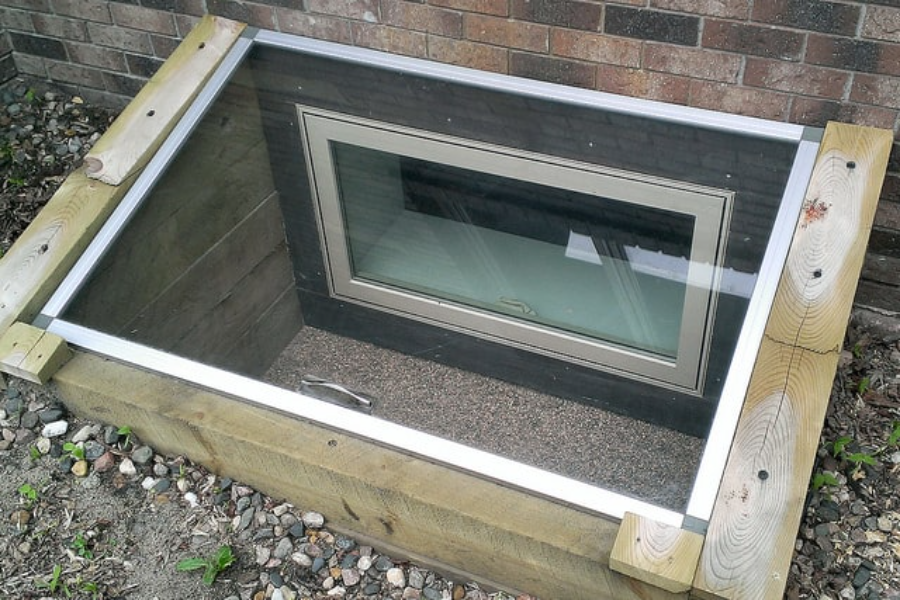 Now you have done all the basic steps and reached the advanced step of installing the egress window. All you need to do is place the window well and the opening cut to install the egress window safely. In this step, you need to attach the window frame to the wall. However, choose the frame according to the window type that you have selected.
Along with that, you can choose the right frame that will enhance the overall look of your space. Furthermore, it would be best if you sealed it using sealants in order to protect it from water leaks and secure the window in place. However, if you feel like getting help from a professional, don't hesitate to take help to ensure a proper and safe fit.
Step 6: Add Ladders or Steps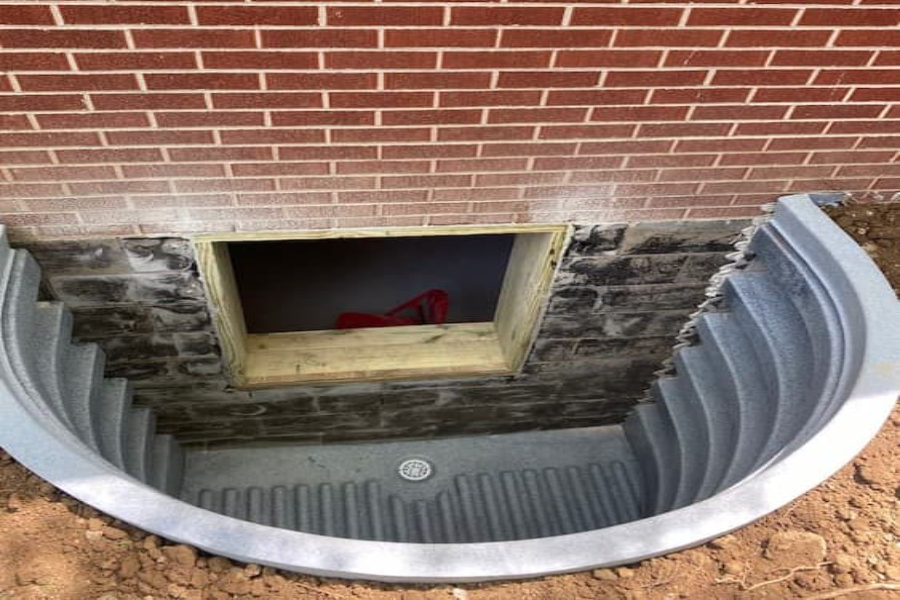 To make the escape route safe and accessible, consider adding ladders or steps inside the window well. These aids allow people to climb out easily in case of an emergency. Ensure the ladders or steps are securely attached and positioned to provide a straightforward path to safety.
Accessibility of the basement will also improve al to if you place ladders and step along the way. You can easily clean, maintain, and repair anything in the basement if required if you have ladders and a basement leading to it.
Overall Cost of Installation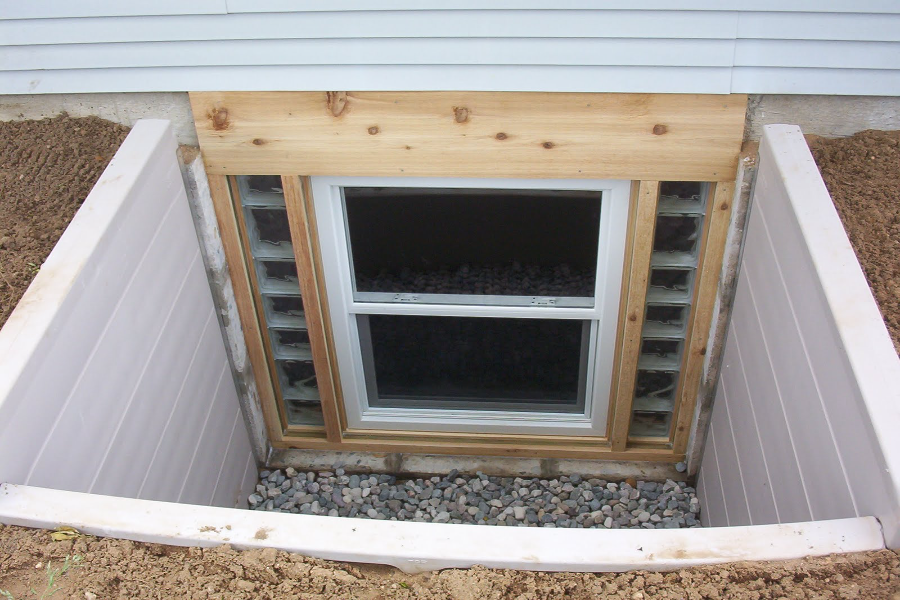 The cost of installing a basement egress window can vary depending on factors like location, window type, and labor costs. On average, the total cost can range from $3,000 to $10,000. Here's a breakdown of potential expenses:
1. Labor and Permits
This is not a one-man job. Thus it requires professional and skilled personnel. You can expect approximately $40 per hour for the labor to install egress windows. However, the installation of the window above the ground level can be done for around $500 and $1000. However, the window that is below ground level needs to be excavated, and this process is time-consuming as well as takes a labor force. Thus, you might need to pay between $2,400 and $4000.
Moreover, installing egress windows usually need a permit. It is like if you need to install the window, you need the permit for excavation. However, this can cost you around $50 to $200 each.
2. Material and the Number of windows
In the process of installation, it requires a lot of materials, and every material has its unique price according to its brand. Moreover, the number of windows also affects the total cost of the installation process. According to the international building code, there should be at least one egress window below the fourth floor in each sleeping room in a basement. Thus, one window can cost around $500 to $700.
3. Quality
Glass Quality affects the egress window cost. The double-pane glass window costs around $200 to $500 per window. On the other hand, the single-pane window costs a bit less than the dual-pane.
Types of Basement Egress Windows
Basement egress windows come in different types, and every type has unique advantages. However, the choice is up to you and the aesthetics that you have in your home as well as functionality. Moreover, the egress windows cost around $100 and $700 per window, depending upon the size and type. We have mentioned some common types below:
1. Basement Egress Windows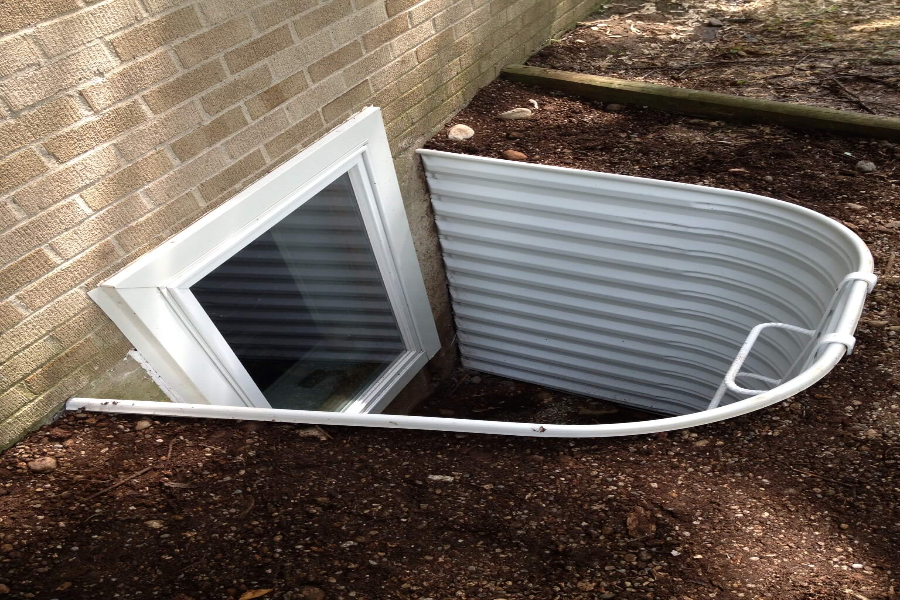 Basement Egress Windows is the most popular choice as well as the common type. To identify this type of egress window, look for the one hinged on one side and open outward like a door. Moreover, the outward door of the window allows it to fit in smaller areas of a basement. Therefore it is a popular choice along with its price as it runs between $200 and $500 per window.
2. Sliding or Horizontal Egress Windows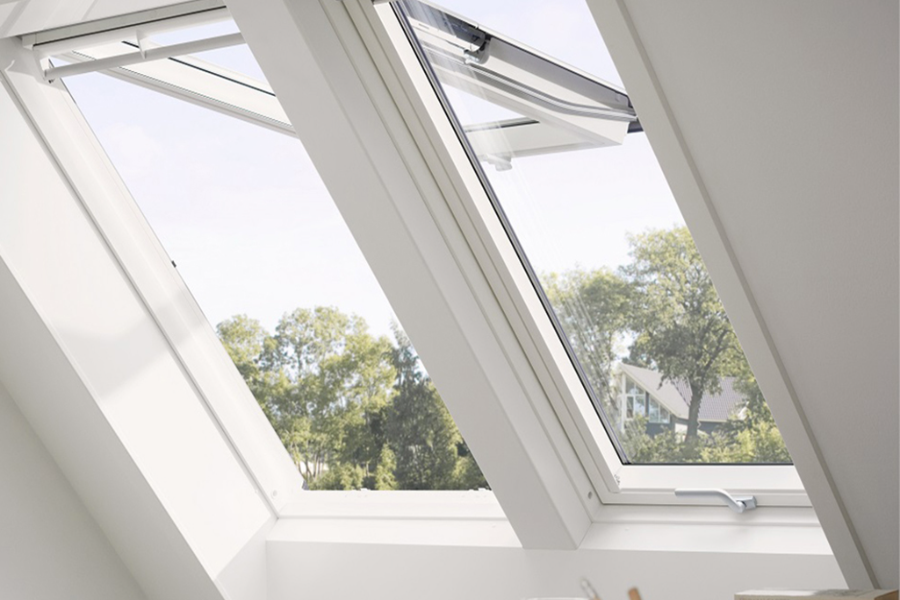 Sliding windows have sashes that slide horizontally, offering a more space-efficient option for egress. While they may not provide as large an opening as casement windows, they are still compliant with egress requirements and offer simplicity in operation. Moreover, a horizontal window needs to be a least 4X4 in size to be an egress window. These sliding egress windows can also cost around $150 and $700.
3. Single-Hung Egress Windows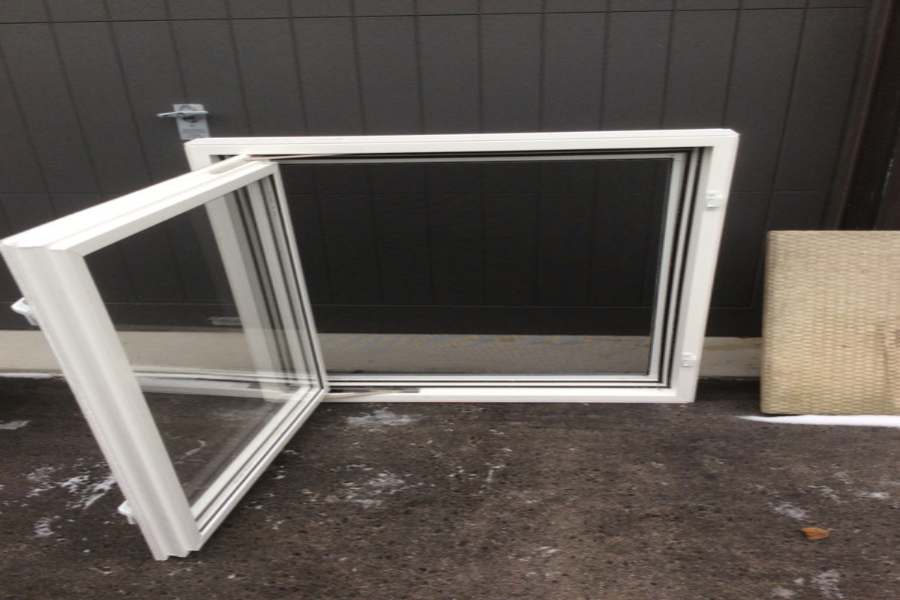 The single-hung egress windows have two panes of glass with different functionality as the bottom sash moves up and down while the top sash remains static. While they may not provide as large an opening as casement windows, they are still compliant with egress requirements and offer simplicity in operation. A single-hung egress window needs to be at least 20×24 inches in order to be an egress window. Moreover, this option is budget-friendly, available at $100 to $400 per window.
4. Double-Hung Egress Windows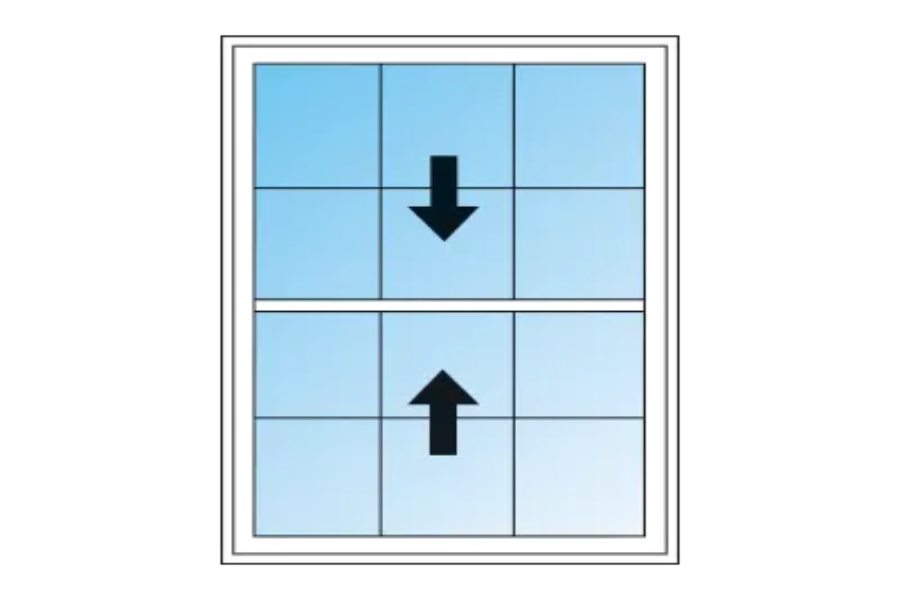 Double-hung windows have two operable sashes that can be moved vertically, providing top or bottom ventilation options. Like single-hung windows, they can be used for egress if they meet the necessary size criteria. Moreover, they come in sizes 24 to 60 inches high by 28 to 60 inches wide. Moreover, they cost around $250 and $500 per window.
5. Hopper Egress Windows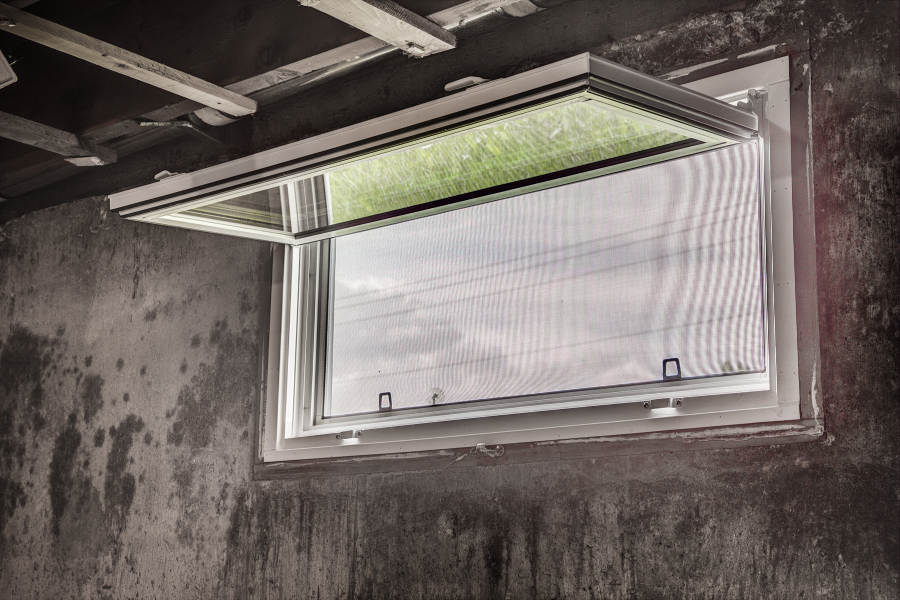 Hopper windows are hinged at the bottom and open inward from the top. They are often used in smaller spaces and can provide good ventilation even when partially opened. However, they may not offer as wide an escape opening as casement or sliding windows. They cost around $350 to $700 per window.
6. Awning Egress Windows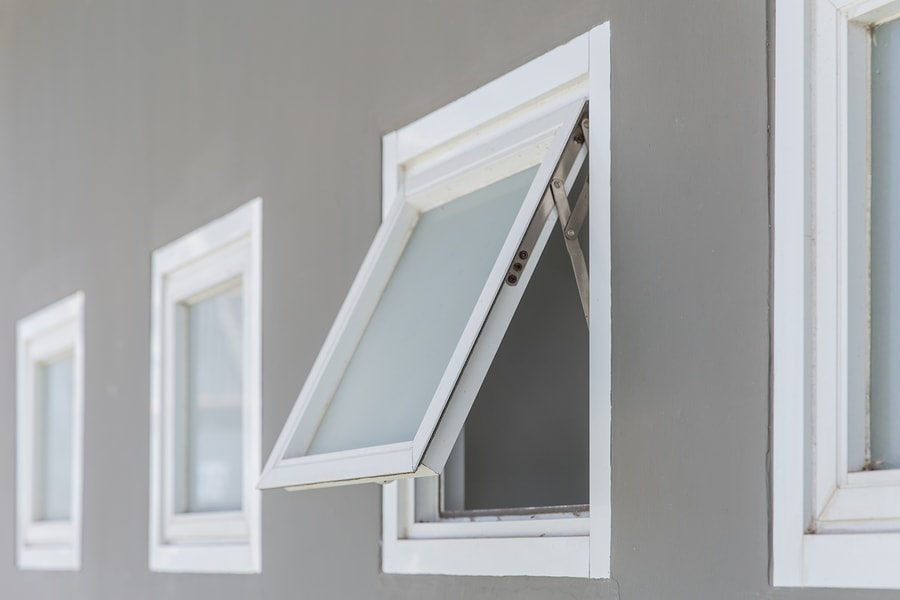 Awning windows are hinged at the top and open outward from the bottom. They offer good ventilation even during rain, making them a favorable option for certain basement spaces. Moreover, they are suited well for larger spaces. Also, they cost around $295 and $655 per window.
Conclusion
Installing basement egress windows is a wise investment for the safety of the members of your family. Moreover, it also improves the livability and the value of the property. Make sure you follow all the mandatory steps for the installation of the egress windows. Also, you need to take all the safety measures while you are installing the windows.
Wear glasses and gloves and do not allow the kids in the working area as that can be dangerous. While the cost of installation can be significant, the peace of mind and added safety are well worth the investment.
If you're uncertain about any aspect of the installation process, it's always best to consult with professionals to ensure a successful and compliant project.
Frequently Asked Questions
Can I Install a Basement Egress Window myself, or Should I Hire a Professional?
While it is possible for some skilled homeowners to install a basement egress window themselves, it is generally a complex and labor-intensive project. Improper installation can lead to safety hazards, water leaks, and code violations. Hiring a professional contractor experienced in egress window installations is highly recommended to ensure the job is done correctly and meets all safety standards.
How Do I Maintain the Installed Egress Windows?
You need to do a regular check in order to maintain the quality of installed egress windows. Moreover, if your basement is underground and you have installed egress windows, then check for leaks. Run water into the window well so that you can check the drainage system and the time duration that it takes. Check for cracks in the basement or the foundation of the window panel.
Can I Install a Basement Egress Window in An Existing Home?
Yes, you can install a basement egress window in an existing home. While it can be more challenging than new construction, it is possible with the right expertise. Professional contractors experienced in egress window installations can retrofit a window into an existing basement wall, ensuring compliance with local building codes and safety standards.
Do Egress Windows Affect the Property's Resale Value?
Yes, installing basement egress windows can positively impact a property's resale value. These windows enhance the safety and livability of the home, making it more attractive to potential buyers. Additionally, the added natural light and improved basement space can increase the overall appeal and value of the property.
Can I Install More than One Egress Window in My Basement for Additional Safety?
Yes, Installing multiple egress windows in the basement can provide additional safety benefits, especially in larger spaces or areas with multiple rooms. Multiple escape routes increase the chances of a safe exit during an emergency. However, each window must meet the size requirements and comply with local building codes independently to ensure proper safety standards are met.