An above-ground pool is an excellent architectural feature for families to relax and rejuvenate together. If you are someone who loves to go away for the weekend and stay dip in a pool with your favorite beer and wine by your side, setting up an above-ground pool might be a good idea.
But having an above-ground pool is not enough; what is more important is to decide what your yard should look like as a whole. While pools might be a major attraction, without the right kind of landscaping, they will most likely look abandoned. It can not only feel out of place. In fact, the other elements around the yard might overpower its charm altogether.
To help you stop beating yourself up about choosing the right kind of landscaping, our experts bring to you some amazing cheap above-ground pool landscaping ideas that you will fall in love with in the first instance.
Cheap Above-Ground Pool Landscaping ideas
You can make your above-ground pool appear as a permanent part of the residence when you have thought out the landscaping well. Another important thing to remember, in this context, is that it is important to tidy up the landscaping every now and then. You do not want the lush around to interfere with the serenity while you are taking a dip.
1. The Natural Landscape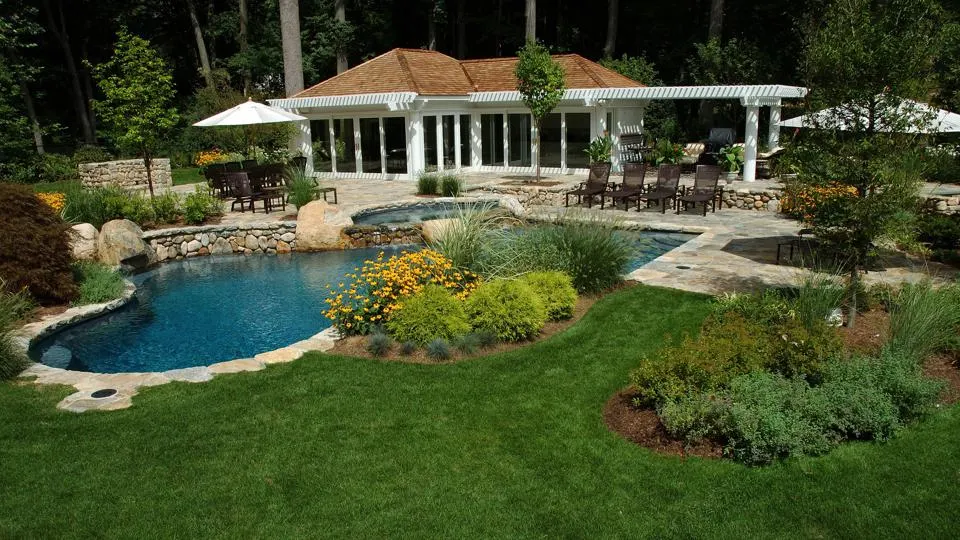 Nature can do wonders when you do not interfere with her business. What is crucial here is to plan well. It is advisable to plant fast-growing trees of at least mid-size while you are setting the pool up. As time passes on, the trees around will grow, and they will create a natural towering shade on the pool. The best part is that this cheap above-ground pool landscaping doesn't look artificially landscaped. Instead, it automatically becomes a part of the surrounding. If you are looking for a budget-friendly way, this is, indeed, the top idea. This doesn't need too much effort or maintenance.
2. Create a Concrete Walkway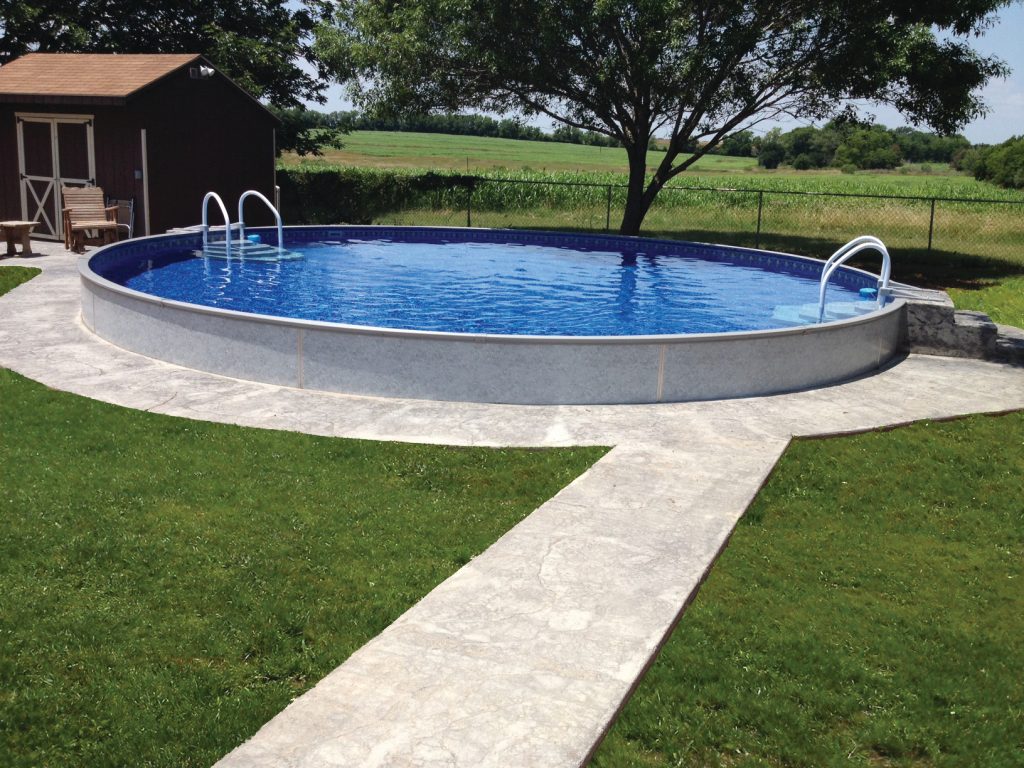 Opposite to in-ground pools, the above-ground pools aren't surrounded by concrete. Our experts suggest building a concrete walkway. This will help prevent taking dirt along with you in your freshly-cleaned pool. You can use as simple as a few stepping stones or choose to use something more detailed to keep your feet and the pool clean. You can ask your design expert for suggestions on different shapes and alignments to create this walkway. This walkway is not just budget-friendly in itself but also is super easy to maintain. All you have to do is throw a bucket of water, and your walkway is as good as new.
3. Frame Your Pool with Flowers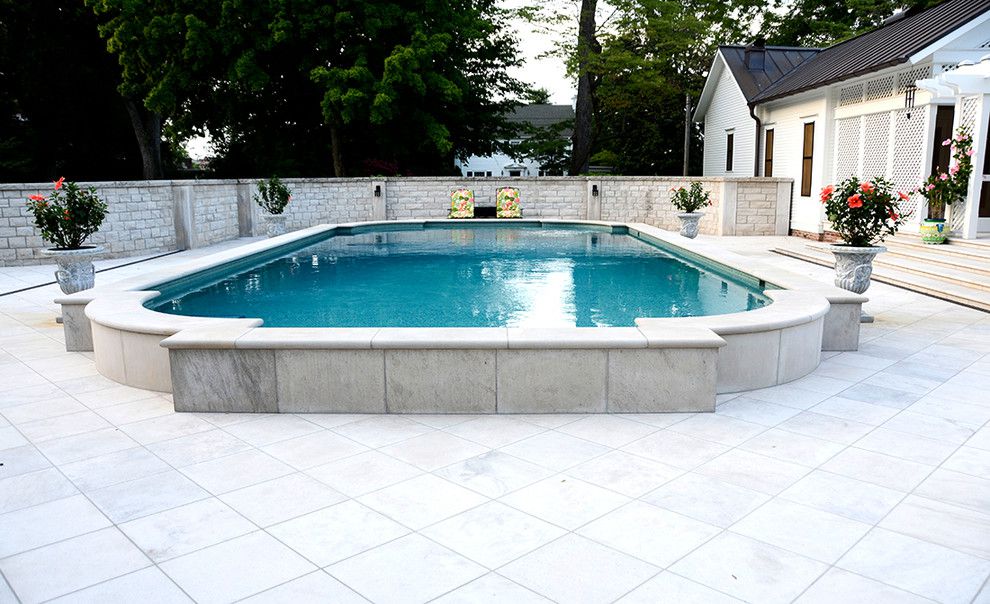 Have you ever seen pools look ugly when surrounded by flowers? You will never. Our experts believe that this is a cheap above-ground pool landscaping idea. Use vibrant flowers; they are an inexpensive way to give your pool an oasis-like look. You also have to place them strategically to give them a certain kind of pattern. Keep them in close proximity to the poolside to let the fragrance and natural flavor spread to their maximum capability. Choose flowering plants of different heights and colors to bring variety and visual appeal. The floral framing adds a different kind of charm to your pool, keeping it lively and refreshing.
4. Pool and Palm Trees – Best Combination Ever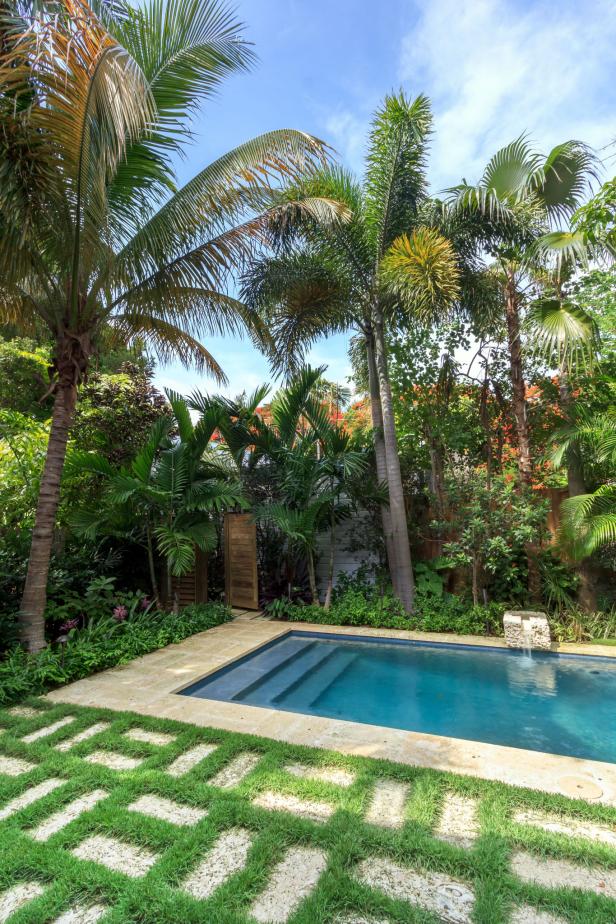 Do you want your poolside to have a coastal, Mediterranean touch? Palm trees are exactly what you are looking for. Our experts suggest that this cheap above-ground pool landscaping idea can actually make your poolside extravagant. Line your pool with a series of palm trees and get the beach vibe right in the backyard. Experts say that our brains associate palms with vacations and exotic getaways and offer a sense of relaxation. These series of palm trees will also give you privacy and sophistication, making your poolside exclusive from the rest of the place around. Make sure to talk to experts about the variety of palm trees suitable for the climate you live in, and you will certainly enjoy years of relaxation right at your home.
5. Reveal the Countryman in You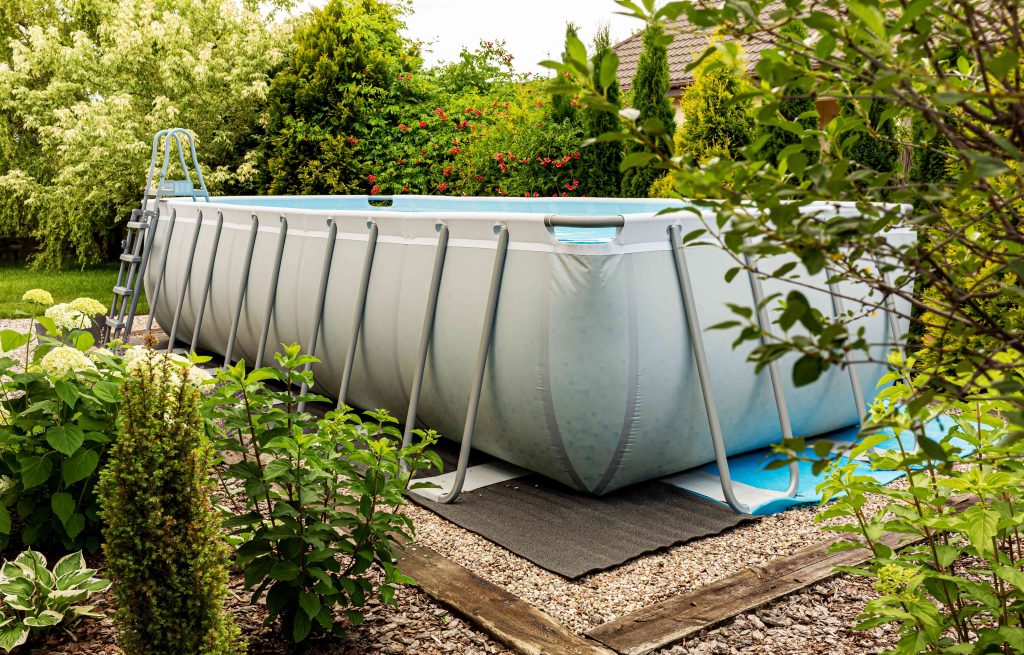 Bring a stark contrast to your poolside, separating it from the regular commercial look. Set up a country-inspired garden and soak in the water and nature together every day. You can add natural elements like wooden fences and trellises around the pool for a nostalgic and cozy vibe. Vintage lanterns and wooden signs are a few more ways to add the flavor of the countryside to your pool. If you want to take this a level up, you can consider adding wooden seating a little away from the pool to complete the country feels. This charming and relaxing setup will soothe you of all stress and help you reach simpler times.
6. Build a Bed of Nature on The Patio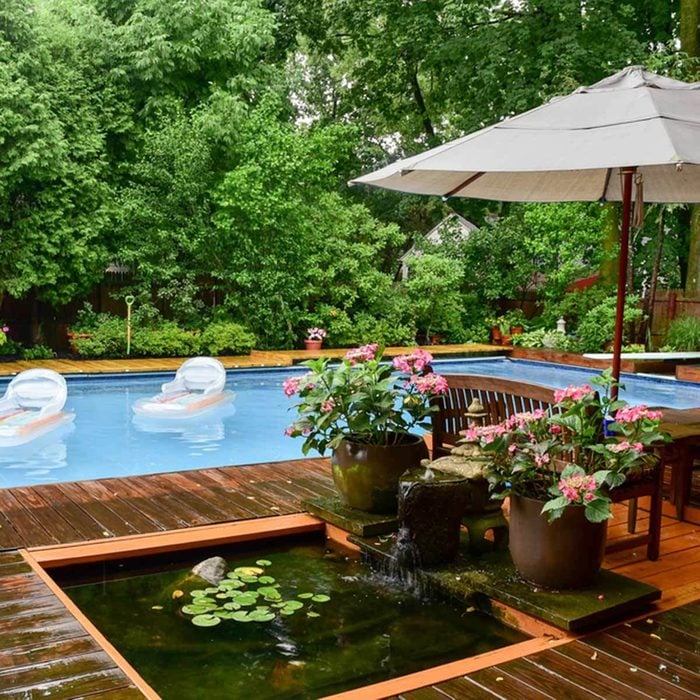 Many modern houses come with a lack of greenery in the surroundings. If that is the case for your home too, our experts suggest adapting this cheap above-ground pool landscaping idea. Build a bed of flowers or grasses inside of the patio – this is a cost-effective way. Even if you have enough green space, this idea will help make a seamless transition between the background area and the pool. Our experts also suggest filling the patio bed with nutrient-rich soil and plants that are suitable for the climate. Use all-season herbs and plants, which help keep the place around the pool looking clean all around the year.
7. Build a Gazebo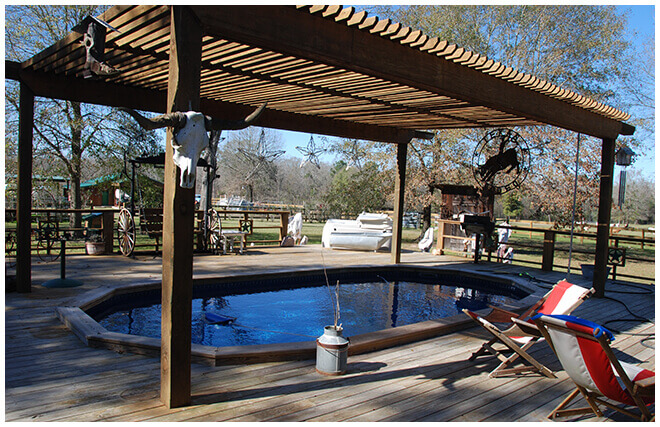 Want to segregate your pool from the rest of the background? Here is a brilliant idea. Build a gazebo to set up the pool. This is not only affordable but also adds a lot of functionality to the pool. You can enjoy the peace in a sheltered area and enjoy an extravagant ambiance. Make sure to choose a design that is aesthetically pleasing and fits well with the overall set-up of the background. One common belief that most people have is that a pool on a gazebo needs to be huge. That's not true. Choose the size you had originally thought of for the pool.
The purpose of the gazebo is to accentuate the look and feel of the pool, not to make a dent in your pocket. Position the gazebo strategically so that it doesn't hinder any other functional element. Setting up a gazebo for the above-ground pool also helps you make this an entertaining space by adding a few elements and separating it from the rest of the background.
8. Bring the Desert Oasis Home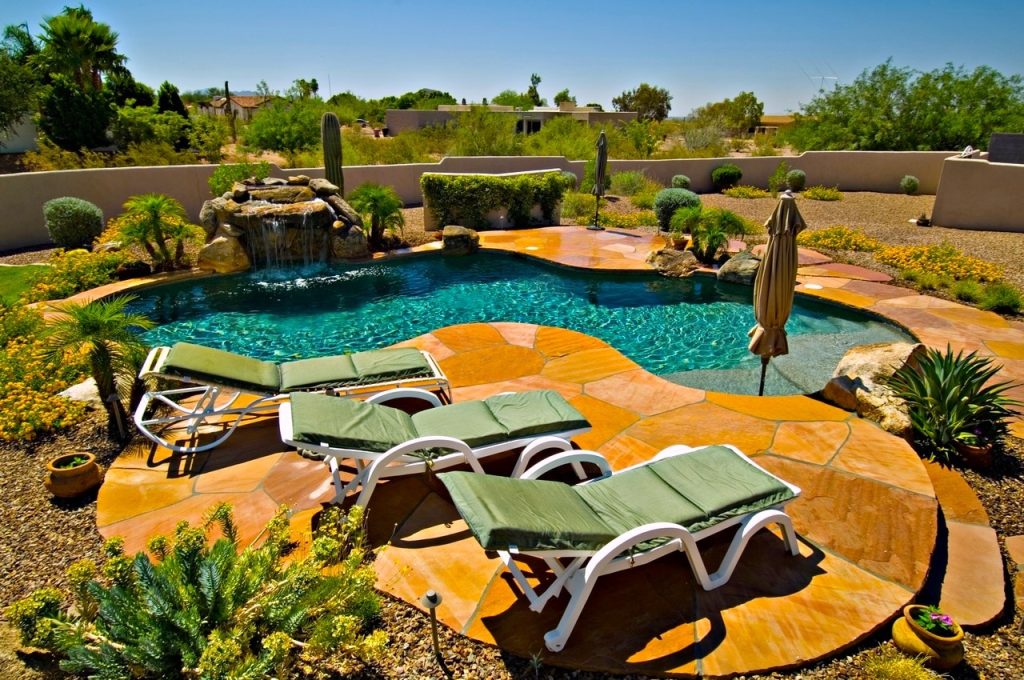 We all know the concept of an oasis, don't we? Our experts have an amazing cheap above-ground pool landscaping idea that helps you bring the desert oasis vibe home. Create a unique and captivating outdoor space by setting the path with desert stones and desert plants. Having a gorgeous pool right in the middle might appear to steal the show, but that is seldom the case. The stones usually used to create this kind of look are not very expensive yet look rich. You can also add light color gravel or sand around the pool area to accentuate the desert-like look. The most common plants used here are cactus. However, there are other plants that are easily available and can survive in almost all moderate climates. Take the entire feel a notch up with a hammock or lounge seating.
9. Let the Vines Grow in The Backyard Wall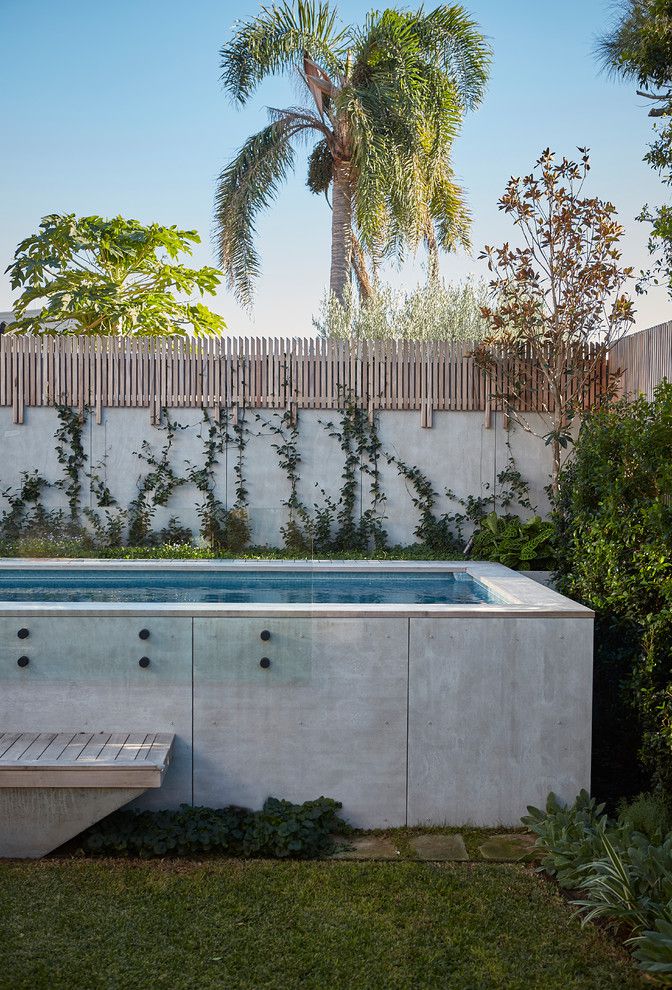 Another extremely inexpensive way to add an exotic look to your above-ground pool area is by letting vines grow around the backyard wall. As more such wines grow, they create a lush green look all around the pool, which makes the pool center of attention. Build the pool strategically so that some of the vines can even creep up around the pool. Make sure to choose plants that are fast-growing and in all seasons, and watch a green curtain surround your gorgeous pool. These vines are not just aesthetically pleasing. They attract birds, which makes your home a great place to enhance the ecosystem. This is a very inexpensive, simple landscaping choice that will go a long way to maintain the beauty of your pool.
10. Let Nature Grow Below Your Pool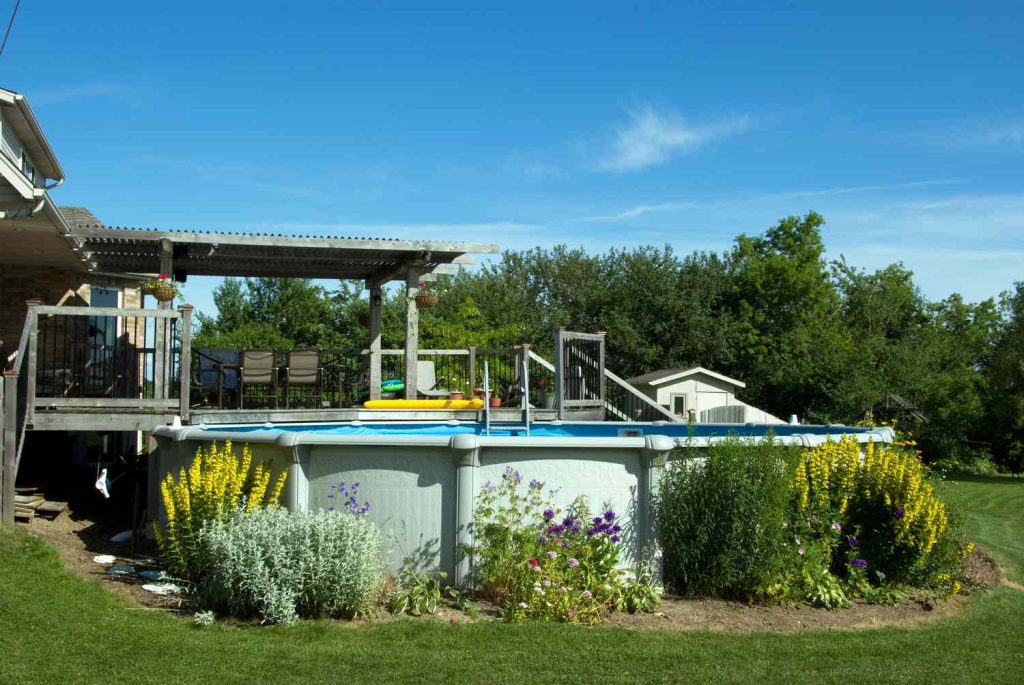 While our experts have a lot of suggestions to let flora grow around and above your pool, this cheap above-ground pool landscaping idea will certainly turn a few heads. Build a garden using a variety of plants below the pool and let this inexpensive idea reveal its beauty. It adds a visual appeal and helps create layers. Make space for your garden by digging a shallow area and adding decorative borders to prevent soil erosion. You can choose all kinds of flowers and trees. Feel free to add a few stepping stones to walk by the flora and settle into the calmness of the pool. With the right planning and an even better selection of plants, you can add depth and texture to your above pool area.
11. Segregate the Home from The Pool with a Garden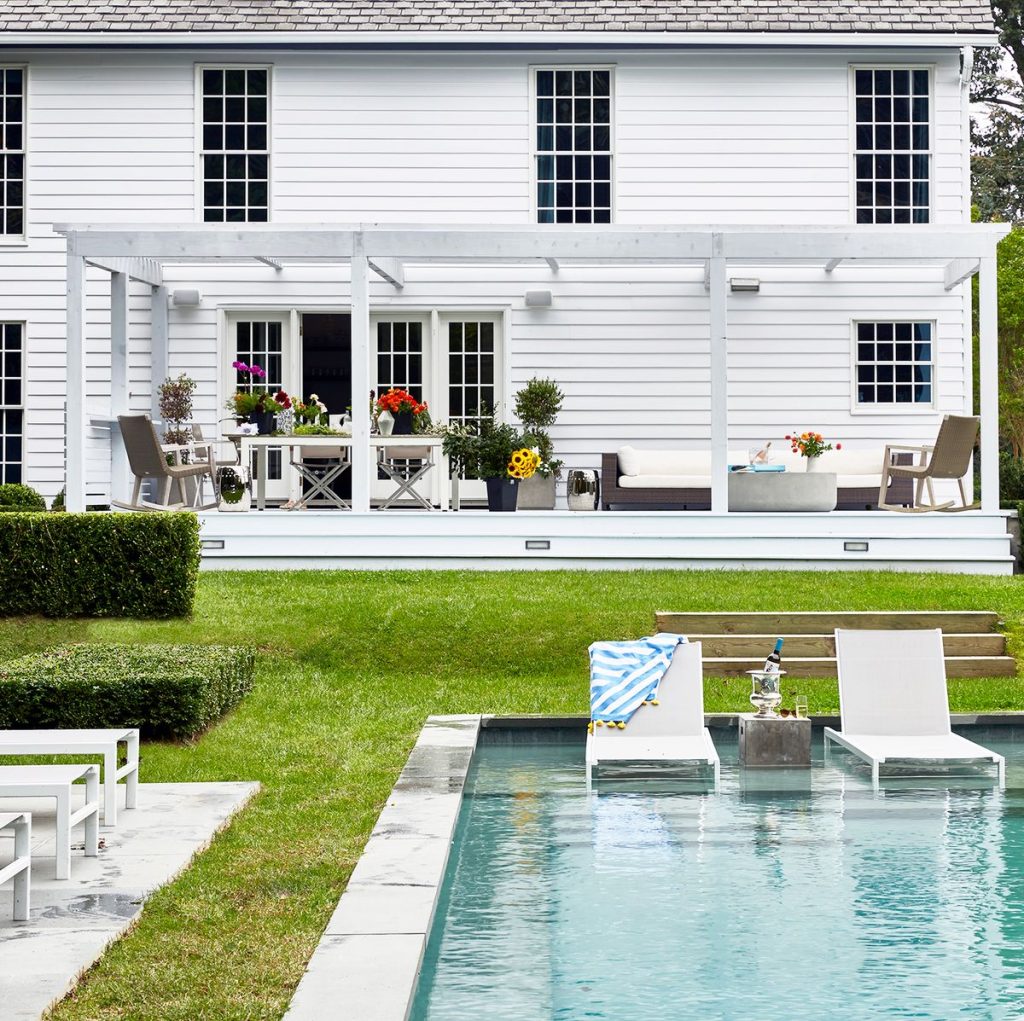 Add a harmonious transition from your home to the outdoors by adding a lush garden as a separator. The area between the house and the pool is often left alone, which attracts a lot of dust. Adding a garden in this area is a smart way to utilize this space and add to the greenery around it. Begin with planning the look of the garden, consider factors like the amount of rain and sunlight the area receives, and choose plants accordingly. Add a mix of herbs, shrubs, and flowering plants to add variety. Make sure to add a clear-defined path that leads from the home to the pool, or else you might risk stampeding the greens. You can also add seating areas and other decorative elements like a wind chime. Such setups help you stay inside the home and outdoors at the same time.
12. Make a Mix of Stones and The Greens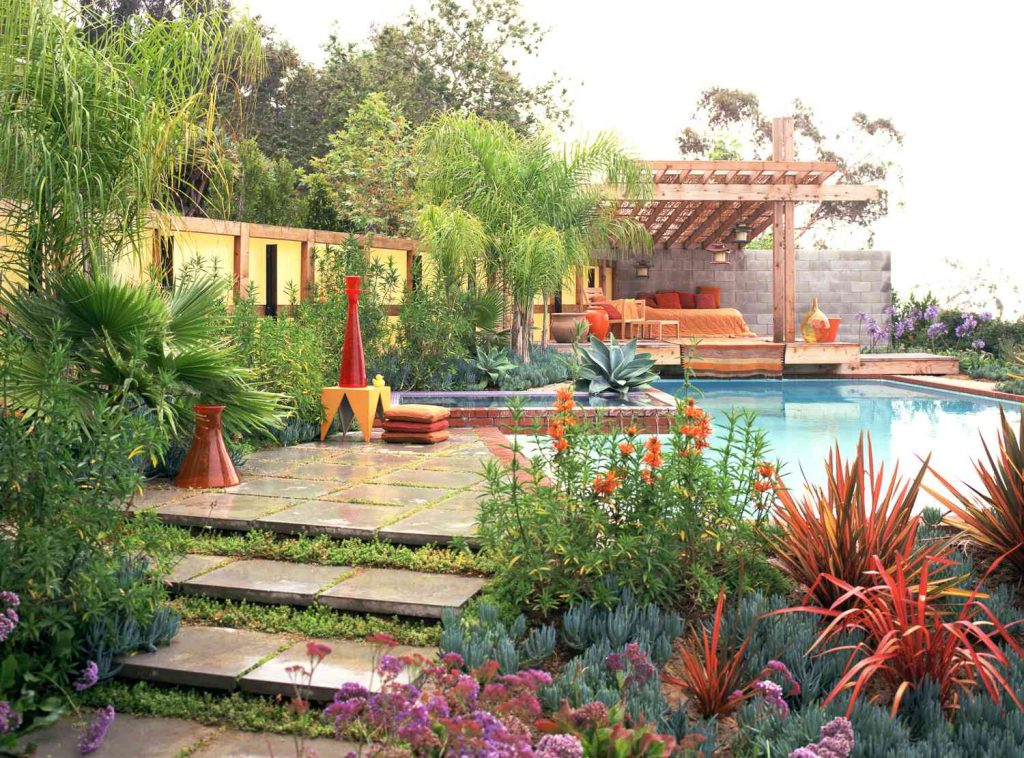 Your paving stones do not necessarily have to be made of all concrete. Leave space for the greens to grow. You can even add them externally. Our experts believe that this cheap above-ground pool landscaping idea is a great way to integrate greenery all around. It is visually appealing, practical and makes the space a lot more charming. While choosing stones, pick them in a variety of patterns and colors to make them dynamic. For greens, add low-growing grasses, moss, or groundcover plants. They add vibrance and texture, creating a seamlessness between the rest of the area and the pool. Adding the greens also helps absorb the heat and maintain a cool environment. These two together make for an inviting pathway for the swimmers and make relaxing an even better experience for you.
13. Get a Great View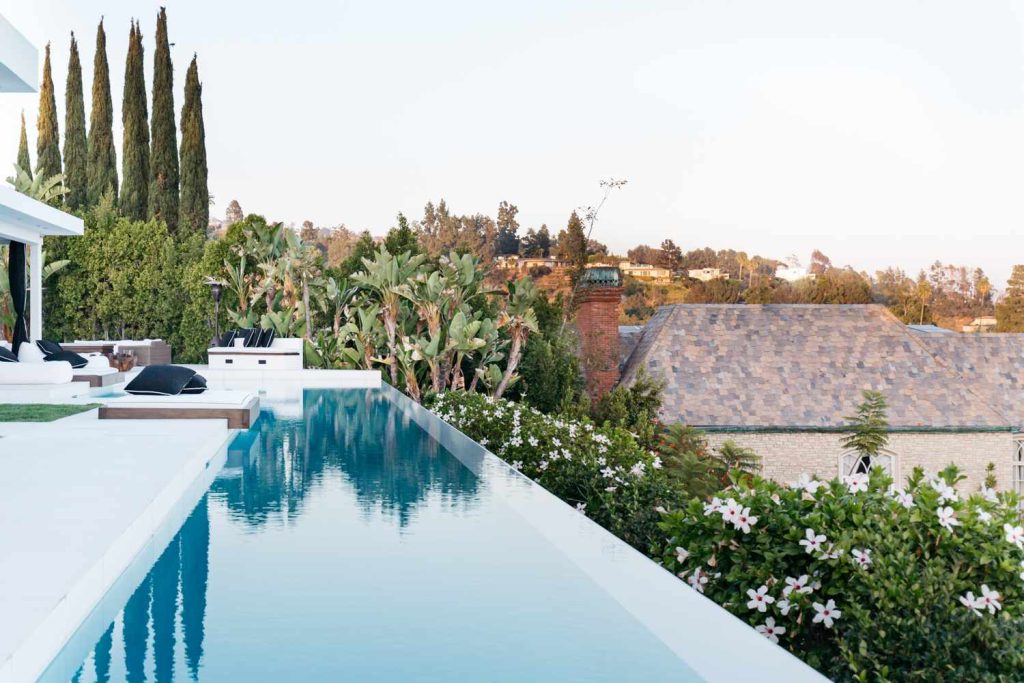 Giving your above-ground pool isn't just about decorating it well. Sometimes, it is as simple as placing it strategically, which gives you an amazing view. Pay special attention to the direction of the landscapes, sunset, or architecture that can take the vibe to the next level. Trim down obstructing shrubs or trees to open up the blocked view. You can also make sure that the focus goes in the right direction by adding a water feature, sculpture, or a well-designed outdoor one. While choosing this cheap above-ground pool landscaping idea, make sure to keep privacy concerns in mind. Add climbing vines to create a seclusion or sense of privacy.
14. Add Sand to The Poolside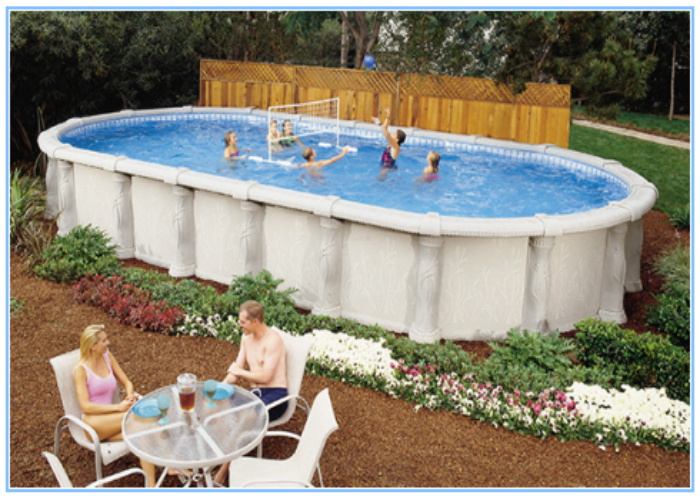 If giving your poolside area a beach vibe is your focal point, then adding sand is the right way to go about this. However, our experts say there are a few things to consider. Designate a specific side of the pool to add the sand, or else you will attract a lot of dirt and dust to your pool. When choosing the sand, choose the right kind. Seek expert opinion if needed. Avoid choosing extremely grainy sand. Fix the desired depth of the sand before you bring it into use. Create a gentle slope from the pool for smooth drainage. Add a low fence around the sand area to prevent it from spreading everywhere. Placing lounge chairs, towels, and maybe, the huge umbrella will complete the beach vibe that you are looking for.
15. Make a Good Pairing of Tall and Short Trees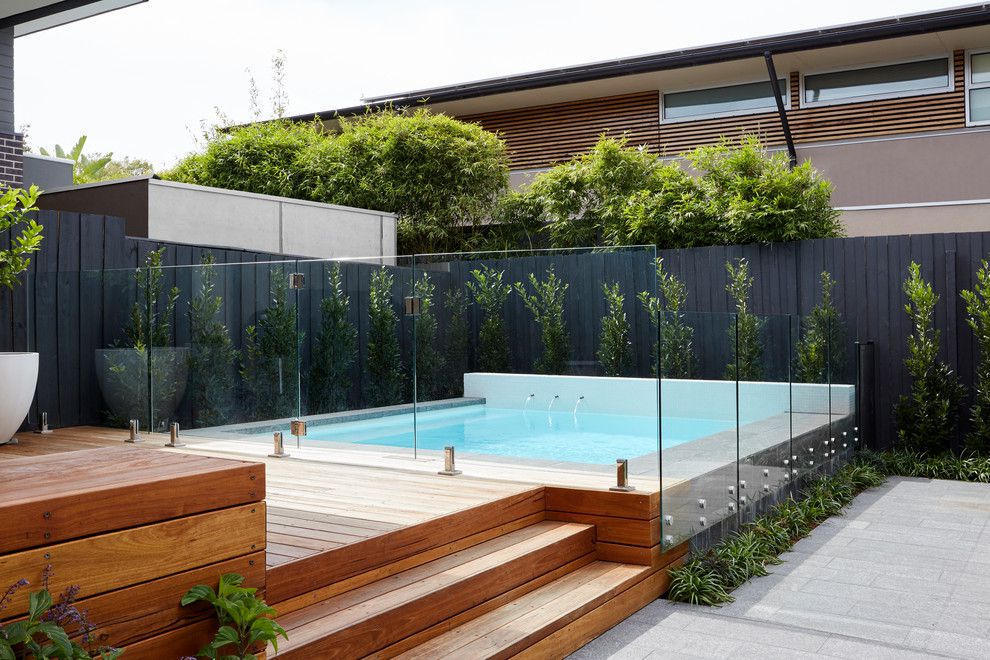 When done correctly, pairing tall and short trees are a great way to add a visual element and depth. Start the selection of plants by picking the ones suitable for your climate conditions. Groundcover plants for short ones and taller shrubs make an amazing combination. Place the shorter plants strategically around the above-ground pool and the taller ones behind them for the layering you are looking for. This gives a vertical height to the landscape. If you want to add colors to the plant section, make sure to choose the right contrast. Pay attention to the shapes and add a variety of them for an aesthetically pleasing look. Make sure that all plants get equal amounts of sunlight, water and that they are easy to maintain.
Fencing: Important Determinant of An Above-Ground Pool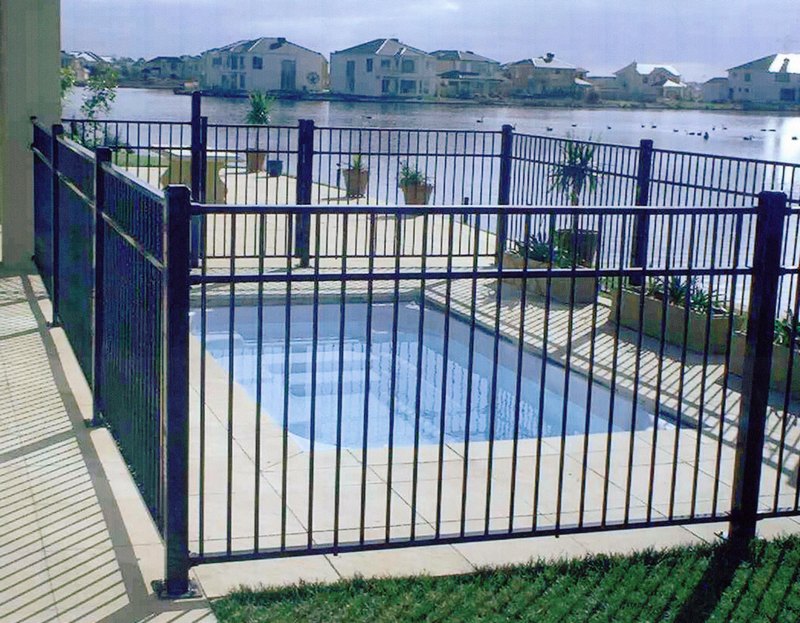 Before we get into the details of these above-ground pool landscaping ideas, here is a very important factor to consider – the fencing. Investing in a good fence is key when you want your pool to be the highlight of your yard. There is a minimum standard set by the International Swimming Pool and Spa Code for swimming pools and other aquatic setups, including fencing standards in a residential property.
Our experts suggest that the pool wall isn't enough partition. Installing a fence or a barrier on top of the pool wall is important. You can add security to it with a permanent or removable gate/ladder. You must check with the local officials about pool safety standards. After all, adding extra layers of security will go a long way for you and your family to have endless fun.
Conclusion
Landscaping the above-ground pool needs patience, creativity, and a smart outlook. Adding beauty doesn't really mean making a dent in your pocket. The cheap above-ground pool landscaping ideas by our experts are meant to give you an insight into how you can beautify your pool in a budget-friendly way. With a little planning and smartness, your rejuvenating zone can easily be the one that inspires many. From a walkway that creates easy access to your pool to create a bed of plants that help the ecosystem thrive – you can do so much.
While elements like palm trees and country-inspired décor add a cozy vibe, the gazebo and a pool with a view make up for a more modern-looking ground poolside. Building a garden above or below the pool, letting the vines creep, or making a mix and match of stepping stones and greens are great ways to add visual appeal and charm.
Plan well, seek expert help, and turn your above-ground pool area into a relaxing space.