Be it the Sunday morning coffee or a family barbeque get-together, the backyard deck can satisfy a variety of your needs and is a great addition to your backyard. Backyard decks provide a comfortable place to sit down and enjoy the great outdoors, see your pets goof up, or just keep an eye on your children when they are busy playing. They are very versatile as far as utility is concerned and also increase the value of your house.
Backyard decks can be connected to your house or detached. They can be built in different sizes using different materials depending on your choice. You can DIY your backyard deck too.
If you are someone on a financial crunch but still want to enjoy the summer sunbathing in the backyard, these 15 budget-friendly backyard deck ideas may just be what you were searching for!
1. Clean Your Deck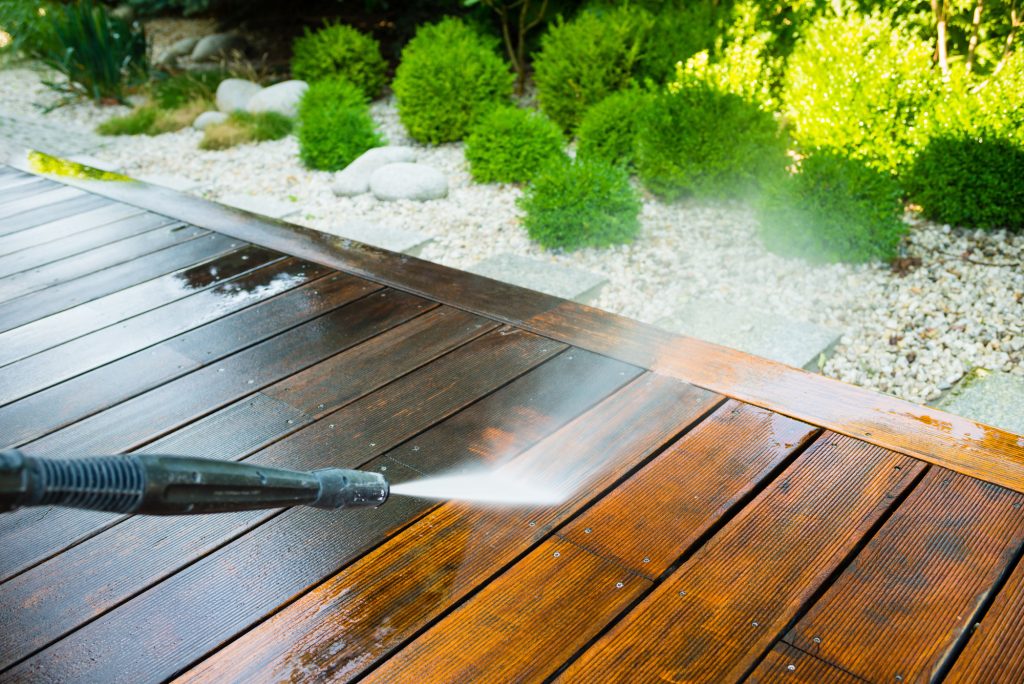 Cleaning your backyard deck regularly will help in maintaining it. Being in the backyard, decks are prone to get dirty and messy over time. Mopping and sweeping your backyard deck will minimize the build-up of dust and mold. The simplest and most economical way to make your backyard deck squeaky clean and look brand new is to pressure wash it. Giving your deck a pressure wash will also increase its longevity. Various solutions can be used for washing, but the most popular choice is a mixture of bleach and water in a ratio of 1:1. Start cleaning from the top and work your way downwards away from the house. This prevents the pooling of water. Also, make sure you are wearing protective equipment while working.
2. Rugs to Rescue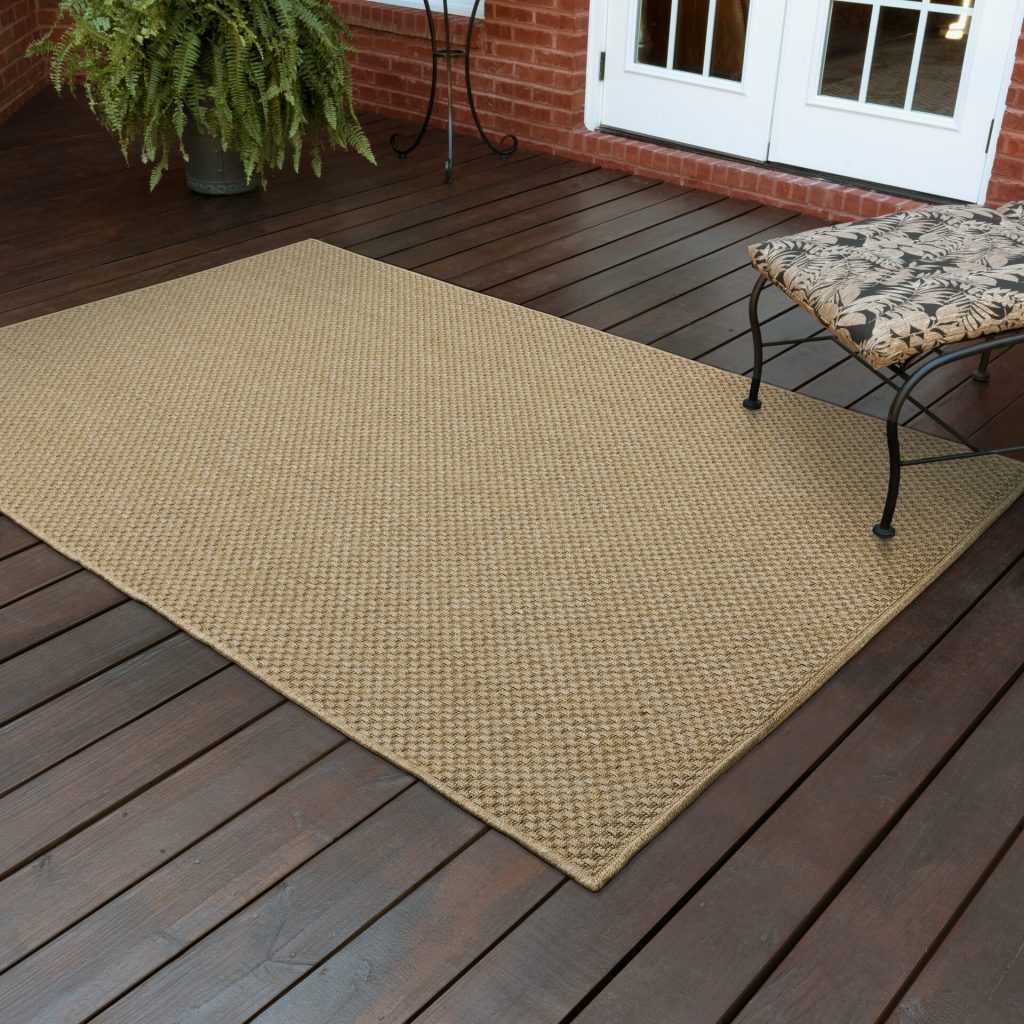 Another cheaper alternative to give your backyard deck a makeover is to invest in some outdoor rugs. These are available in a variety of shapes, sizes, and colors. You can choose according to the theme of your deck. Outdoor rugs will make your deck space cozy apart from making a statement in itself. They are very user-friendly when the deck space is less and can be used to delineate different areas on the deck. Rugs made of plastic straw, polypropylene, and nylon materials are the best for outdoor rugs. They can handle heavy foot traffic and moisture, are stain and fade-resistant, and are easy to clean too. Also, they are durable and hence do not work out to be expensive considering the period of time you use them.
3. Paint It Fresh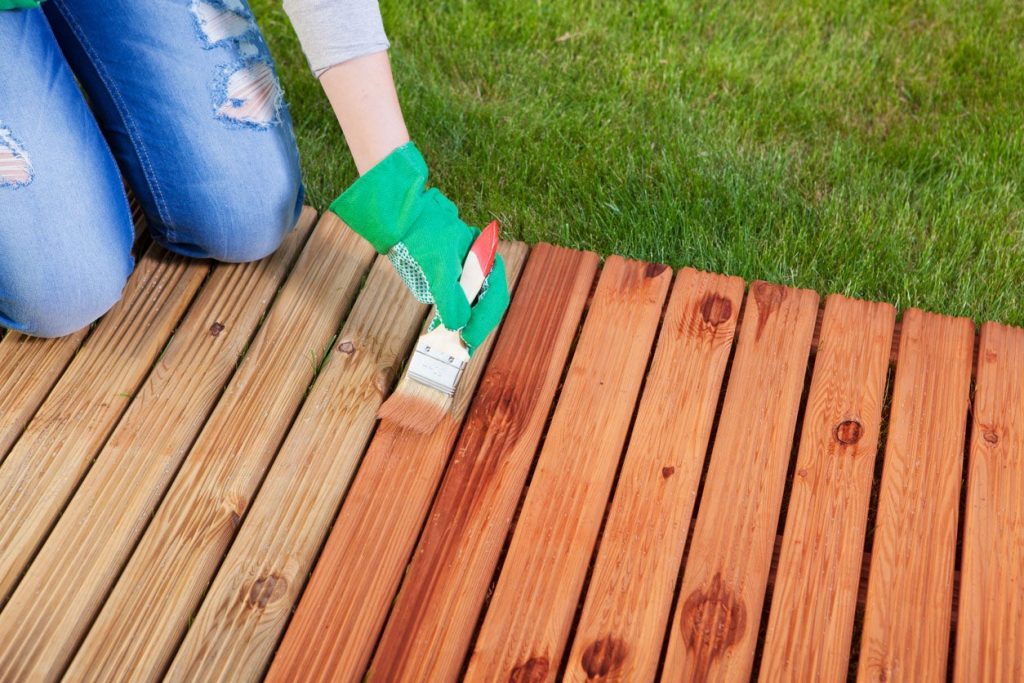 Add color and breathe new life into your backyard deck by using different finishes, stains, or paints. These are very affordable and can fit into your budget easily. You can mix and match different colors. You can even stain different batches in multiple colors. A fresh stain will help refinish your deck if you do not want to give your deck a new look. This will not only make your old deck look more vibrant but also increase its durability. Sealants and stains are available in a wide price range, and you will find one to match your budget easily. The painting will also help hide any surface flaws in the deck and leave it with a smooth texture.
4. Hanging Planters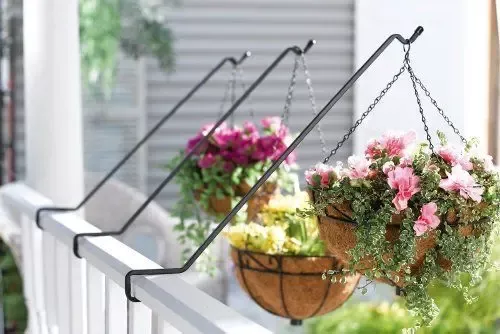 Yet another cheaper option that will help turn your backyard deck into a beautiful place to hang out is to use hanging planters. This is also great if you do not have enough ground space for plants and your deck is already small. You can even DIY your planters by recycling old plastic bottles and containers. Recycled water or soda bottle cut in half and even repainted old pots or coffee mugs are some of the creative ways you can use to make your planters. Vertical hanging planters, along with being cost-effective, are also low maintenance. Use of succulents or a good mix of year-round flowering plants can surely transform your deck into a garden of Eden.
5. Illuminate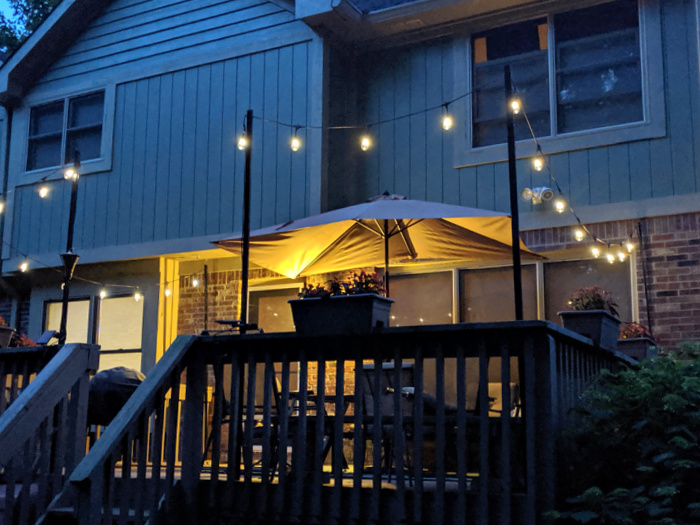 If you already have some lighting facilities on your backyard deck, you can update the same, or else you can install new lighting to change the look of your back deck. Illuminating your back deck will not only increase the visibility in the evening but will also set the mood for the night. Light has the power to change the feel of your outdoor space and highlight its features. It will also make your backyard safe. You can paint and add string lights or opt for LED deck lights. Solar-powered lights work well in areas that get direct sunlight throughout the day. Not only are these economical, but their power consumption is low too.
6. Color Containers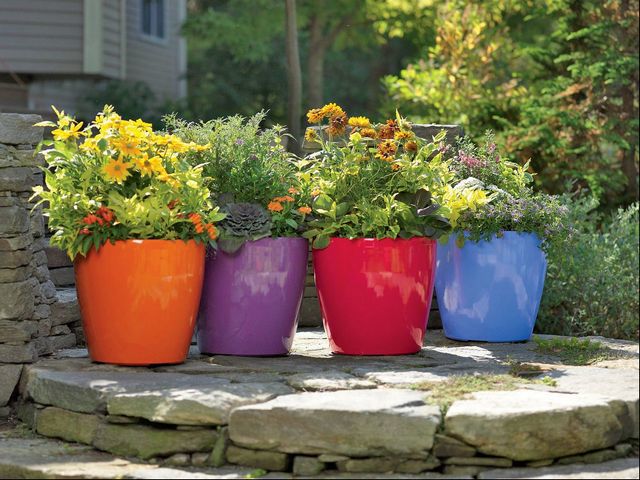 Colorful knockout containers look marvelous on a backyard deck. Even one such container can change the entire look of your deck completely. Identify areas on your deck that can hold these containers. You can buy containers in vibrant colors or hand-paint them, and you are good to go. Apart from flowering plants, you can even plant vegetables in them and have your kitchen garden in your backyard. Tomatoes are the easiest to grow in such planters, along with a variety of herbs. Use natural material containers like terra cotta, stone or pressure treated, or composite board. Food cannot be grown in board containers, but they are inexpensive as well as water permeable and hence allow good drainage through evaporation.
7. Outdoor Fabrics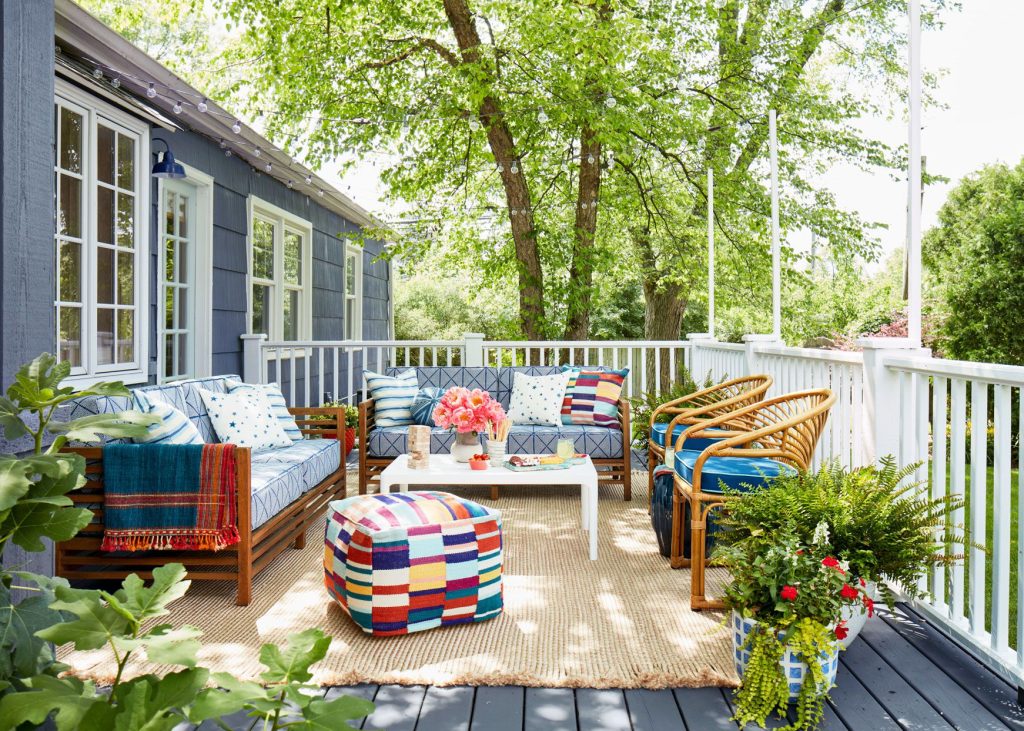 Fabrics are affordable options not just for indoors but for outdoors as well. If used smartly, they can give your deck a complete makeover. They can be used as curtains to hide some plumbing or as a shade for your deck to protect you from the sun. These also include the fabric on your furniture and cushions. You can choose from different colored water-resistant as well as waterproof fabrics. Acrylic, polyester, and vinyl fabrics are less expensive and easily available, but they have their limitations. Select vibrant complementary colors. Another fabric element you can think about is a deck umbrella to spruce up your backyard but consider storing your umbrella in a covered area when not in use to protect it from weather damage.
8. Inexpensive Perennials
Perennials are plants that live longer, for around two years. This means you can save your money in the long run by cutting down on the landscaping aspect. Watch your colorful perennials blooms to their fullest throughout the spring. Some of the easiest-growing low-maintenance perennials include peonies, daisies, geranium, and coneflower. Before choosing any plant, consider how much sunlight your deck receives and the frequency with which it would be possible for your to water these plants. Also, make sure that they drain well. Perennial plants will also attract pollinators like bees and butterflies, and what fun would it be to sit and enjoy them in the summers!
9. Accessorize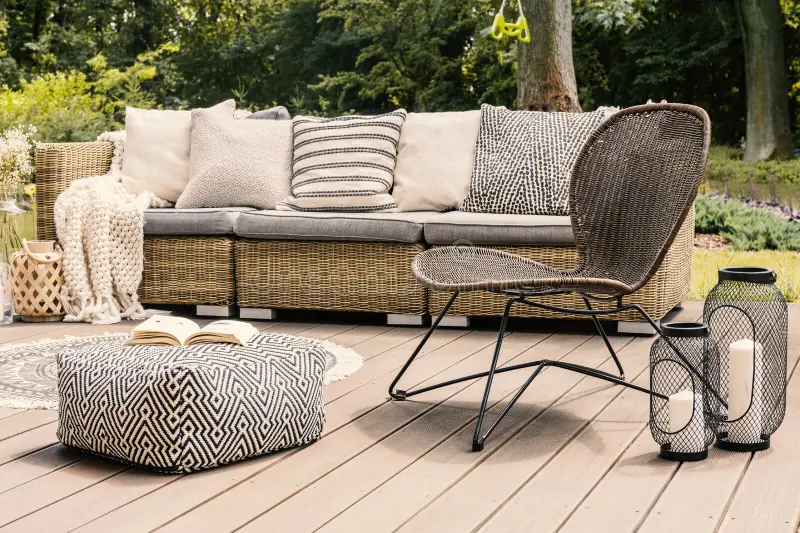 Accessorizing is a fun and easy way in which you can change the look of your backyard deck, and it does not require a lot of money too. Poufs can prove versatile additions to your deck, they double up as seatings, and you can use them as tables as well. Another accessory you can add to your backyard deck is some lanterns. These come in a variety of shapes and can be made of glass as well as paper. You can even paint the glass in your favorite color, and they look gorgeous in the evenings when lit up. Besides these, you can also hang wall art on your deck to create some drama. It is possible to change these accessories as and when you want to!
10. Outdoor Bar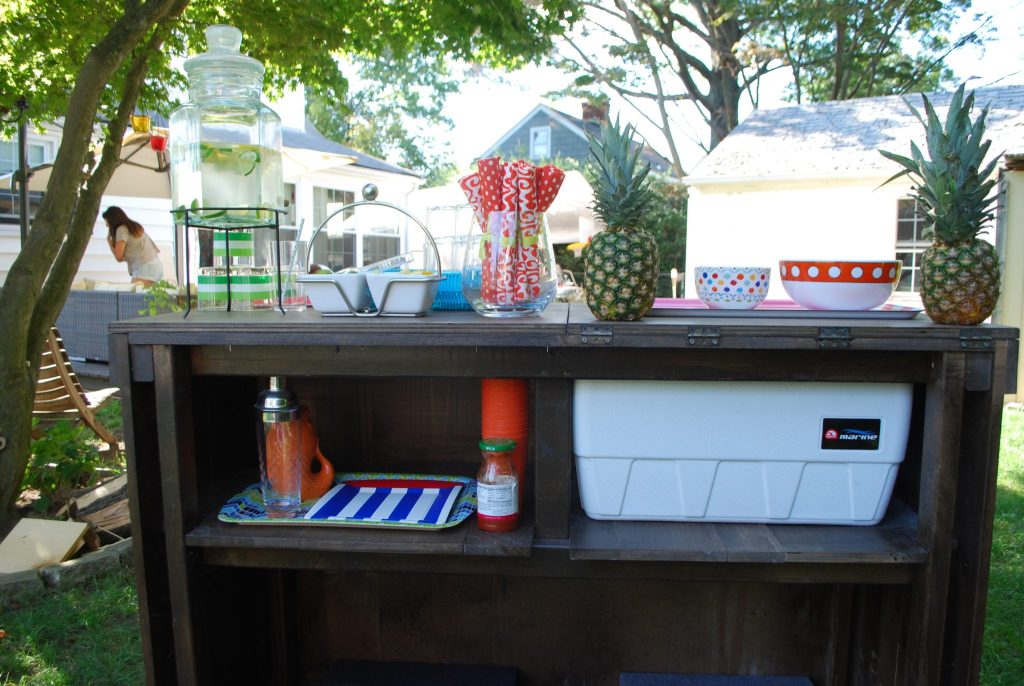 An outdoor bar is a wonderful addition to your deck if you are someone who loves sipping wine in the open. And who said that you need to stock only alcoholic beverages at the bar? It can also serve as a juice bar for those summer days when you need some cool refreshments. Choose a stable cart or a shelf unit, and add some extra hooks or cubbies to it to store your glassware and cocktail-making ingredients. Add a simple drop-in tub in a wooden unit to store ice and make chilled cocktails at your fingertips. Entertain your guests here with their favorite drinks, and let this become their favorite hangout spot in your house!
11. Dine on The Deck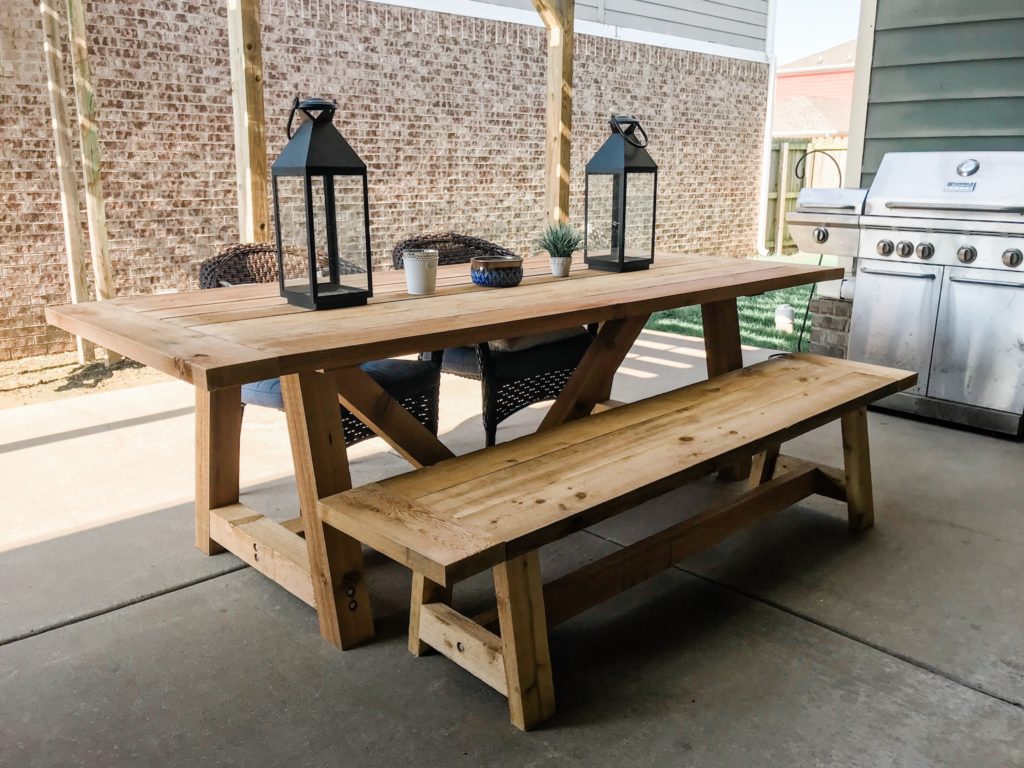 Set up your dining table on your backyard deck to have a peaceful dining experience in the outdoors. You can get a sturdy outdoor table (or build one yourself), throw in some chairs that match the table, and an overhead umbrella for the summers, and you will always be ready for that romantic candlelight dinner with your partner. If you expect more people, benches are better options than chairs, there are some comfortable cushions, and all you need is tasty food! You can easily set a barbeque grill on your backyard deck for the same, but be careful about the fire and take proper precautions to protect your deck from any cooking hazards.
12. Replace Your Railings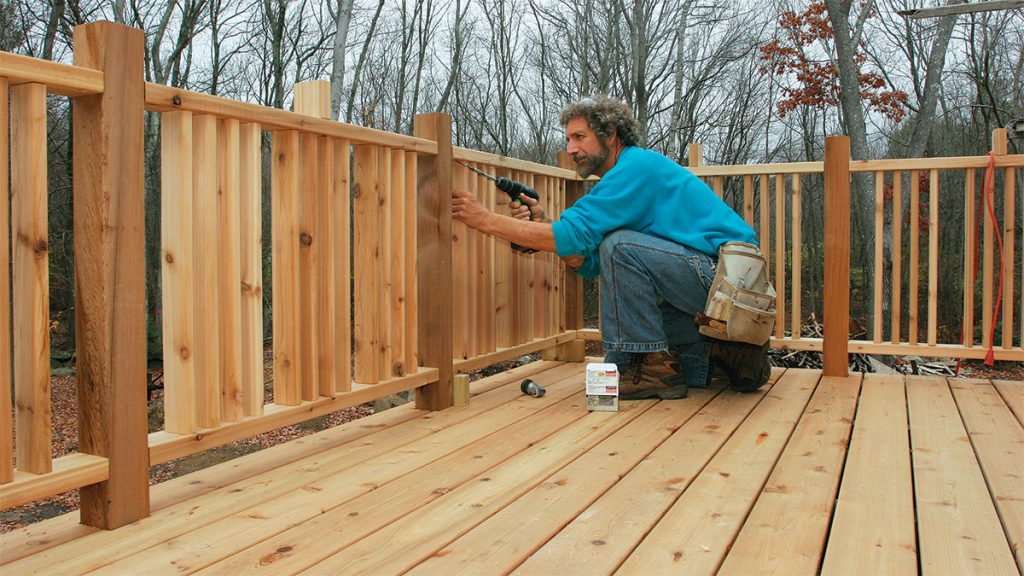 Railings add safety to your deck and even help enclose it for some privacy. If updating your railings has been long overdue, you can think of starting from this aspect to change the look of your deck. Remove the old ones and replace them with an exact match of the same wood, or you can also choose from other inexpensive materials like vinyl, aluminum, or even a combination of the two. Paint your railings with some outstanding colors or just give them a rustic polish and see how your backyard deck starts looking brand new.
13. Fire It Up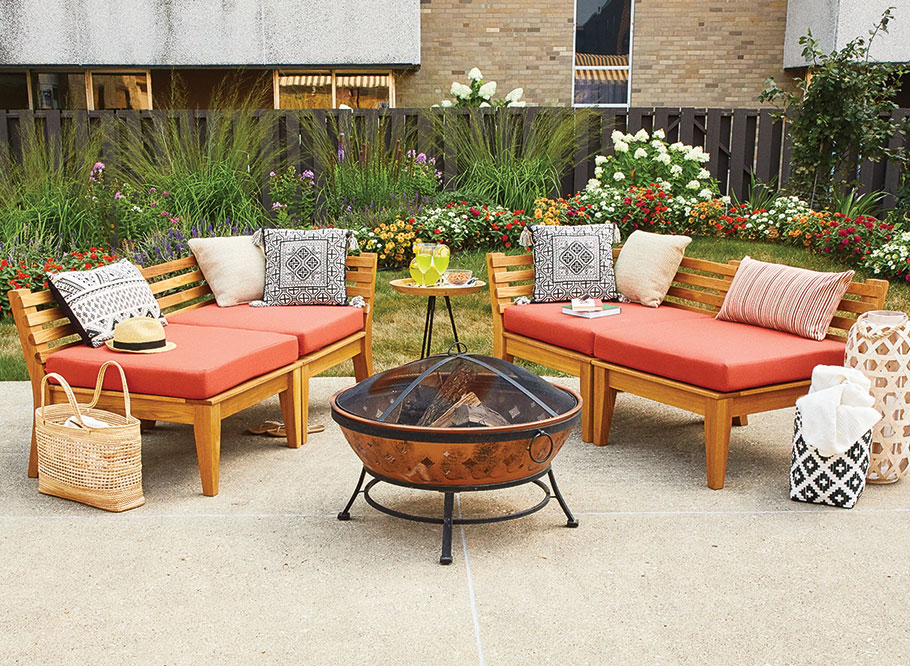 The warmth of a firepit adds to the coziness of a backyard deck. Portable firepits and firepots are easily available and not too expensive. These are go-to solutions if you are looking to have a warm winter's night outdoors. If you are a creative person and believe in DIY, you can make a firepit on your own using a concrete pot and come charcoal. It will give you the same feel as a fire pit without you paying a hefty price. You could have a non-combustible pad underneath the fire pit for protection, just in case your deck is made of inflammable material.
14. Pave Your Way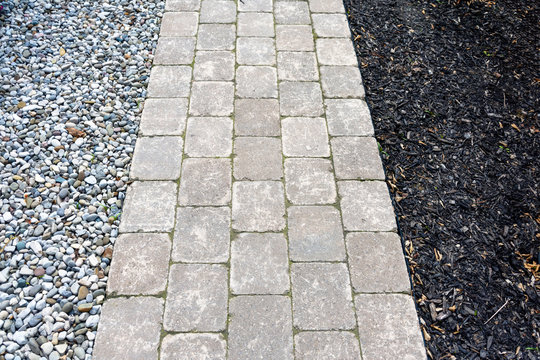 Although this is not something that you can put directly on your deck, the surroundings of your backyard deck can be paved to elevate the look of the deck itself. Paving can be done in many ways, and the cheapest material used is stone and gravel. It can be as simple as setting some stepping stones in some decorative gravel or an intricate design of cut bricks. Paver blocks can fit into a tight budget too. You can use them to make a paver pathway leading up to the deck. Cobblestones are also durable paver material. The pavers will change not only the look of your deck but your backyard too!
15. Furniture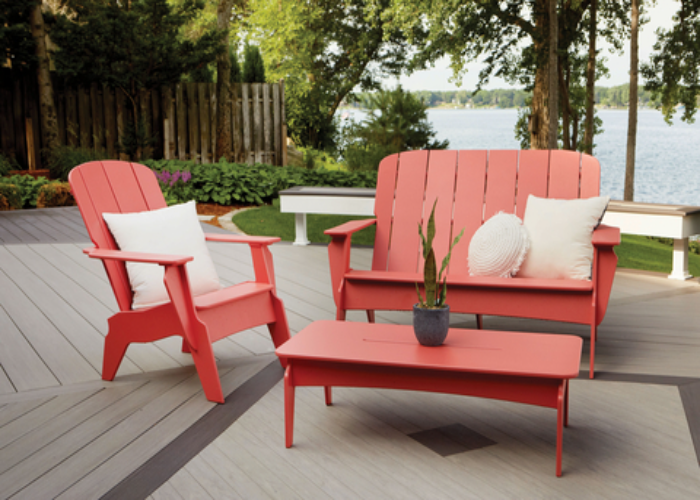 Who doesn't like some furniture? No matter what room or place in your house, carefully chosen furniture can give the space a new look altogether. Along with being functional, it can also add to the elemental aspect of the area. You can add and play around with textures and colors. You can easily DIY your outdoor furniture using compressed wood, concrete slabs, or old storage boxes. Simply spray paint some old metal chairs in vibrant colors and ass the much-needed spark to your deck. Your backyard deck can be used to occupy a variety of furniture like a coffee table, a bar cart, a swing, ottomans, a gaming table, lounging chairs, and whatnot.
16. Isolate Yourself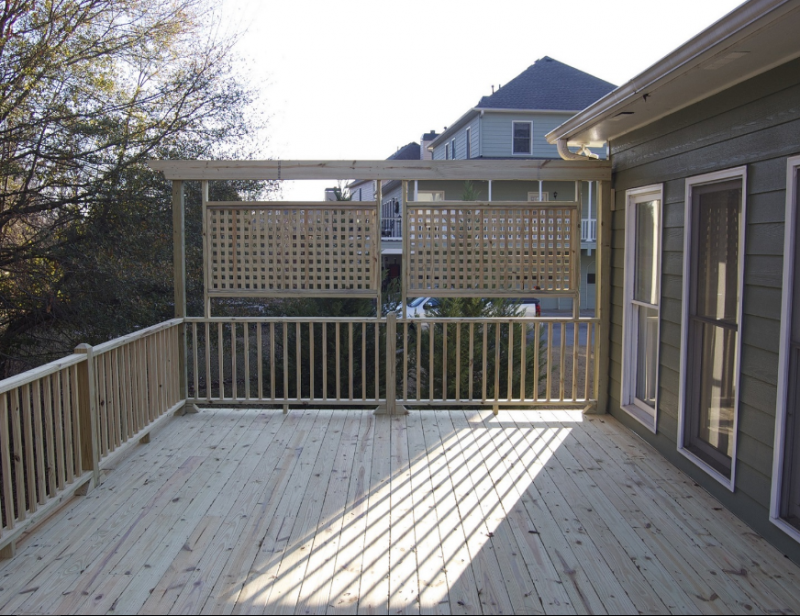 Screens are the best options to extend your living space onto the backyard deck and also feel a little more private. They are freestanding or integrated fixtures that serve to shield your backyard deck from the view of neighbors and passersby without hampering your view of the skyline.
You can DIY your privacy screen using materials like lattice or wood. Other inexpensive and commonly used items for privacy screens are tin roof panels, PVC pipes, large planters, or vertically stacked planters and decorative panels. Premade screens are available too. These can be easily mounted on your deck and are not very costly. You can choose from different materials and colors according to your mood and theme.
Final Thoughts
Although backyard decks can elevate the look of your house and also provide you with innumerable other benefits, there are a few things you need to consider before installing one.
Think carefully about the size and scale of the deck, the layout features of your backyard, the material you want to use, and also whether or not you need any building permit to install the deck. Once these things are clear, you can go about with the construction.
You do not need to make it an elaborate and expensive affair too. Just a few smart choices, and your backyard deck will start looking classy and cozy. You can try these ideas yourself.
It is recommended you use the tools and equipment cautiously and avoid injuries. So get into action and transform that boring backyard into something fun and interesting.
Invite your friends and family and spend some quality time with them on your very own backyard deck!