Just as fall and winter are around the corner, the craze for Christmas decorations heightens. Popular Christmas decorations include bells, candles, garlands, pinecone wreaths, snow globes, snow sheets, and, of course, the Christmas tree.
But these decorative items cost exorbitantly on Amazon and eBay. Wouldn't it be wonderful to make some of these items yourself?
One such easy decorative piece that you can make on your own is the wreath. Designing a DIY pinecone wreath is a fun activity that you can do along with your kids or friends at your home.
Pinecone wreaths can be made using all-natural items, and they can be completed quickly within a short period.
So, let's learn from this tutorial how to make a DIY pinecone wreath this year for Christmas. From this tutorial, you will learn how easily you can assemble the needed material to make a wreath to make your front door appear gorgeous.
The History Behind Pinecone Wreath
The word "wreath" originates from the old English word writhen, which means to twist.
The tradition of having Christmas wreaths came from the Romans, who would hang wreaths to symbolize either their victory in a battle or showcase their status in society.
Wreaths weren't just part of some decorative tradition but were also a part of fashion. Women would wear wreaths as a headdress made of twisting evergreen branches into a circle and then decorated with pinecones and a red bow.
The wreath would symbolically represent Christ's eternal love, strength, and creation of new life. Evergreens denote eternity and strength. Christmas wreaths, as per Catholic traditions, included four candles: three of purple, which denoted penance, and a pink one, which symbolized the upcoming joy.
Traditional pagan wreaths also comprised evergreen circles of four candles, each representing the four elements – Earth, fire, water, and air. The pagans used the wreaths in certain rituals to ensure the continuity of life's circle.
Similar Post: 21 Dining Table Decor Ideas to Transform Your Christmas Theme
What Do You Need to Make a DIY Pinecone Wreath?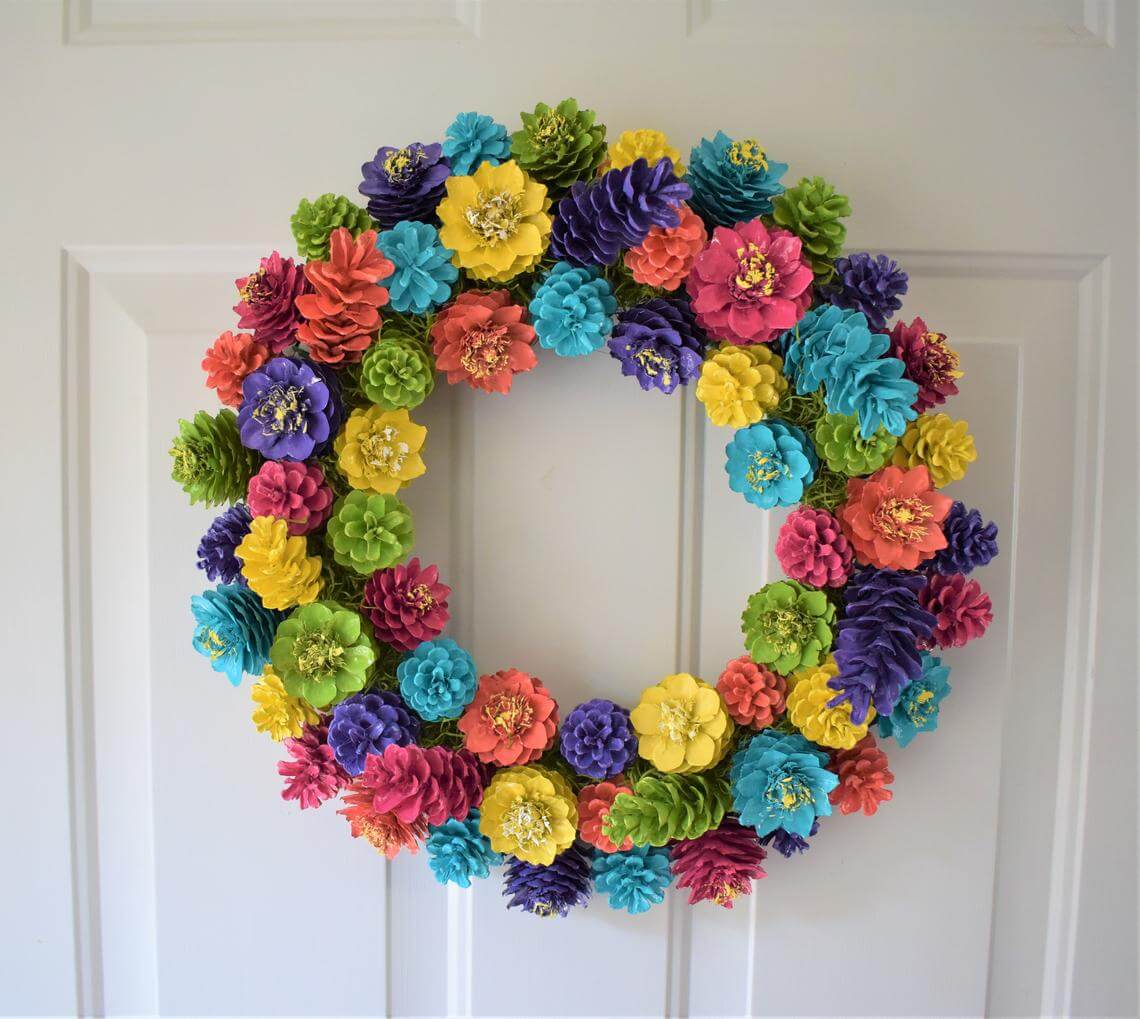 Pinecones of various shapes and sizes: You can buy pine cones in bulk from Amazon.
Hot glue gun and hot glue sticks: You can purchase a pack of 30 non-yellowing hot glue sticks.
Ribbons: 100 yards of 20-color satin ribbons can be purchased from Amazon.
A wire wreath frame of your choice: You can get 8 pieces of wire wreath frames, each being 12 inches in size.
Faux greenery (optional)
Simple Steps to Make a DIY Pinecone Wreath
In the below segment, we have described how to make DIY pinecone wreaths for Christmas, Thanksgiving, and Halloween.
1. Creating a Circular Pinecone Wreath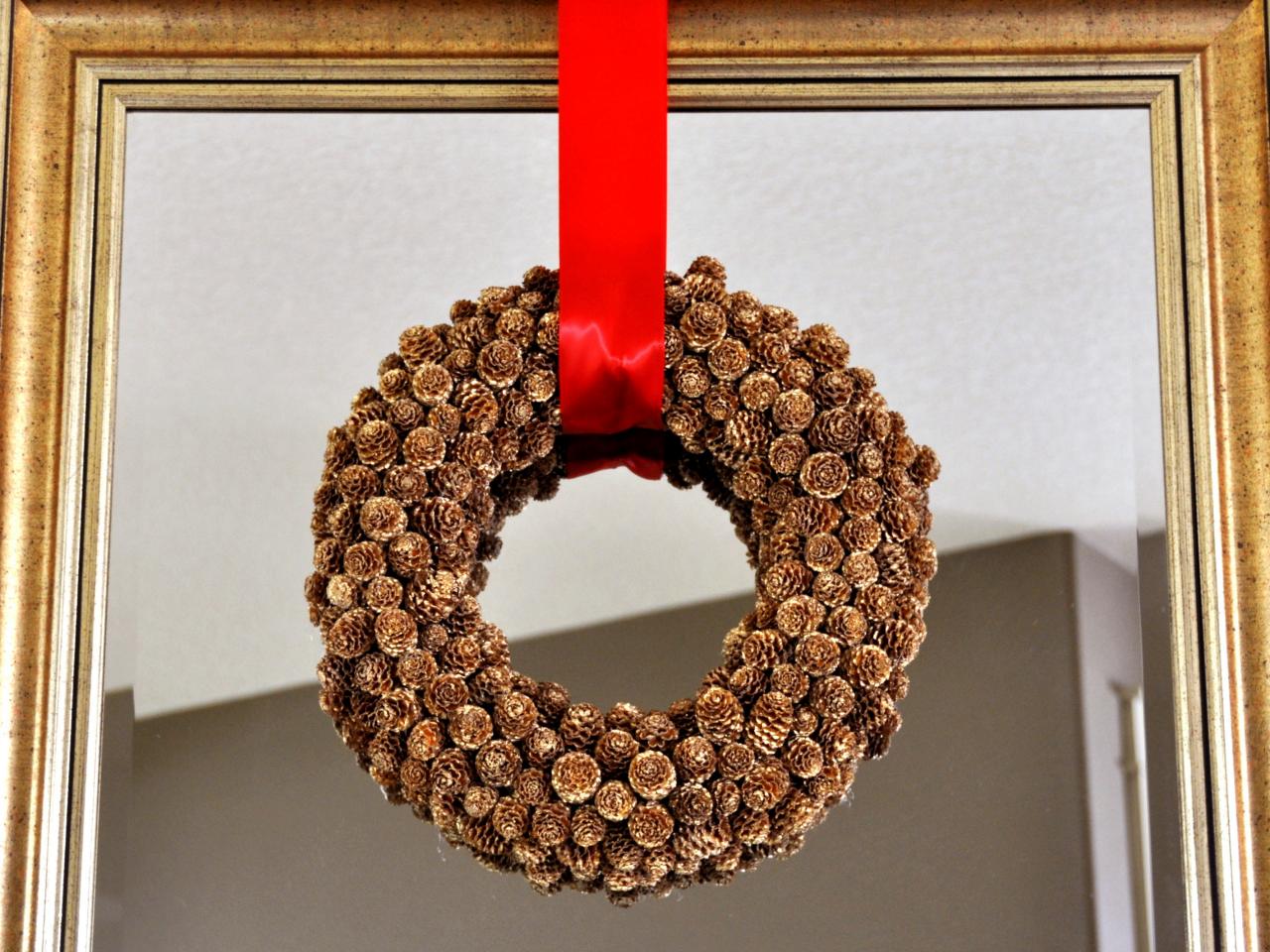 These circular DIY pinecone wreaths can be created using a grapevine wreath base.
Using a pre-styled wreath makes the work a lot easier; however, you can use a wire wreath form.
If you have gathered your pine cones from the garden, ensure to bake them in the oven first to remove bugs and then wash them thoroughly to remove dirt. After this, let them dry and again bake them in the oven for 30 minutes at 225 degrees Fahrenheit.
Now begin by sticking the pinecones to the grapevine wreath frame to cover the front entirely. Ensure as many pine cones as possible using the hot glue gun to make the frame appear full and lush.
If you want to add some dimension to the wreath, apply some latex paint to the pinecones. Dip your paintbrush into the paint and apply it to the cones. Ensure to dab out most of the paint on a piece of cloth before applying it to the pinecones to facilitate quick drying. With the brush, color the edges of the cones to highlight their texture and shape. You can use some peppy colors like ice blue, red, and purple to cheer up the mood.
If you want to embellish the wreath further, you can tie small ribbon bows or twine bows all over it with satin ribbons.
Once you have completed decorating the pinecone wreath, you can spray some dust over it.
Finally, hang it above the front door or mantle or place it at the center of the table.
2. DIY Pinecone Wreath using a Heart-Shaped Wreath Form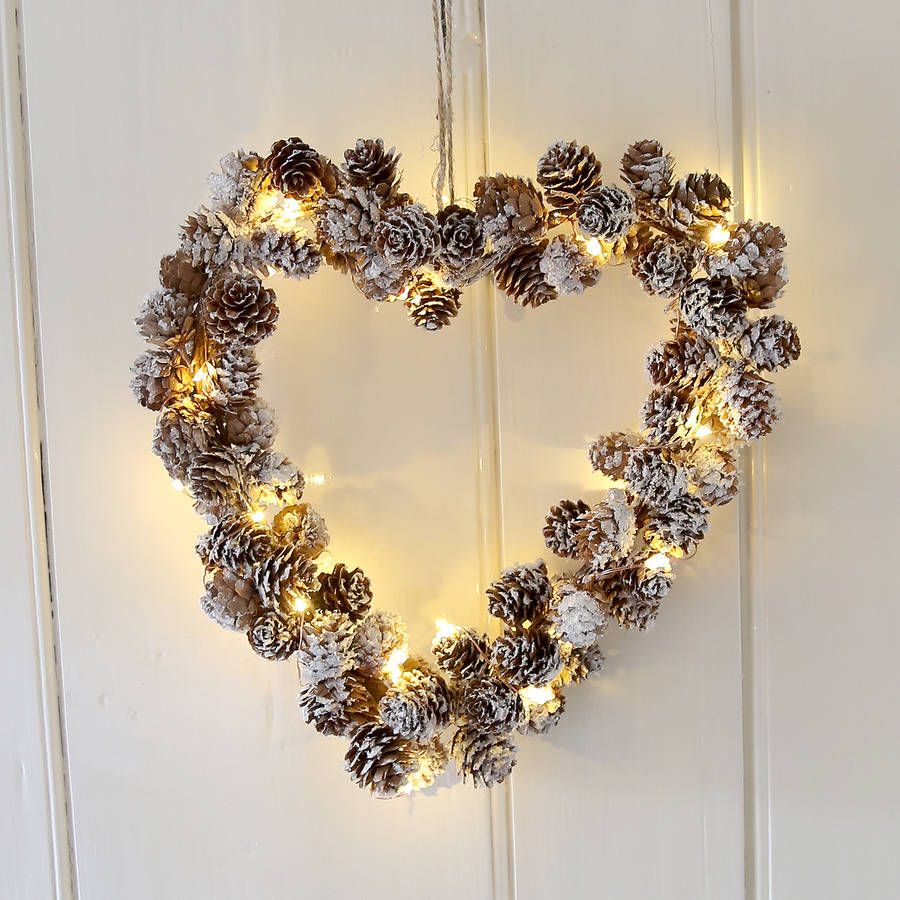 Here are the steps to making a wreath using a heart-shaped wreath frame.
Take the heart-shaped wreath frame and, using the hot glue gun, begin sticking your pinecones to the wreath form. Begin with sticking the larger frames first and filling out the wreath with the smaller cones.
You can also use a bit of floral wire to wrap the pinecones to the wreath form to ensure they don't start falling out.
Continue sticking the other pinecones in the same order till you have filed the wreath completely.
To make the structure more fuller, cover any exposed wire with the smallest pine cones.
Keep picking the wreath periodically to check if any pinecone is falling off or not. If you find some loose pinecones, re-attach them with the floral wire or hot glue.
Remove any hot glue strings that may have formed.
Once done, sprinkle some glitter all over the wreath.
Finally, hang it with a piece of ribbon above the front door.
How Do You Store Pinecone Wreaths After the Festive Season?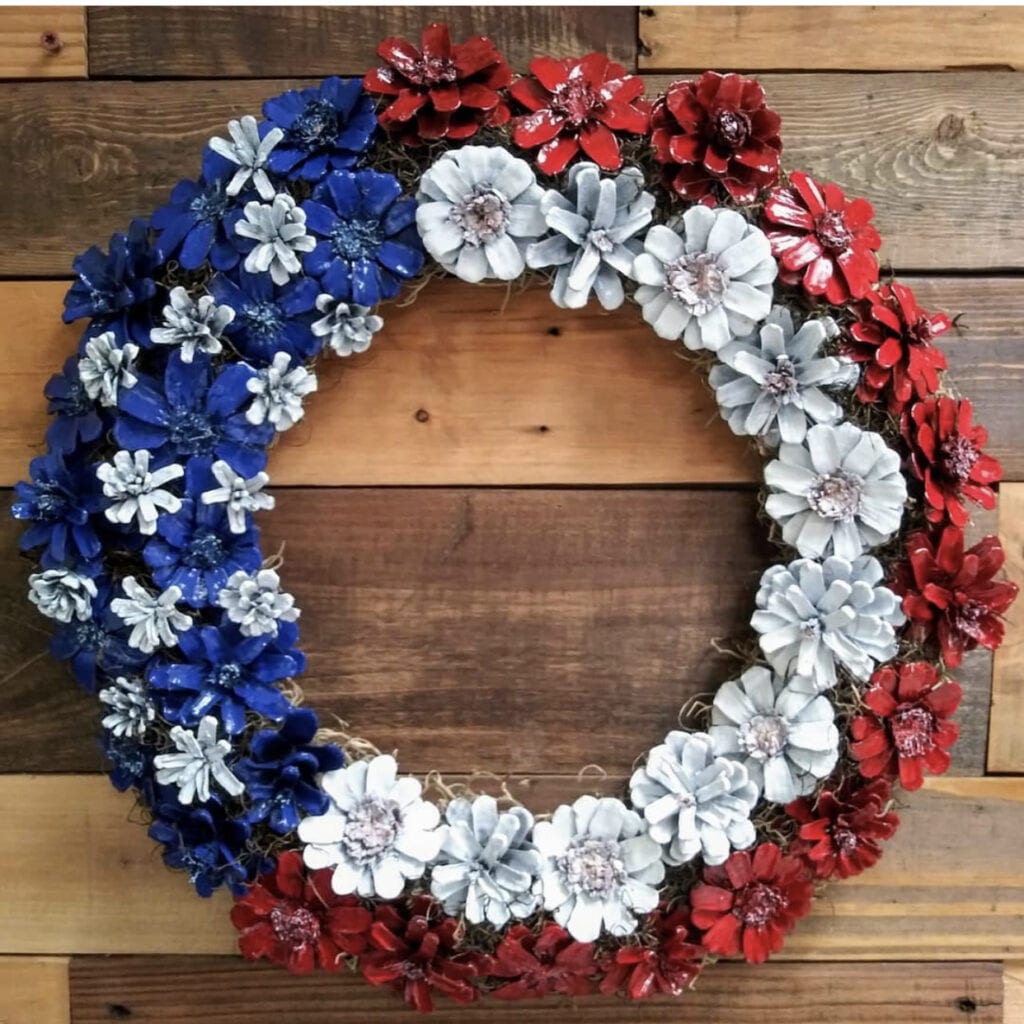 Although pinecone wreaths are not meant for use only during the festive season and can be hung for decorative purposes throughout the year, if you still want to reuse your DIY pinecone wreath for a few more years, here's how to store them.
Keep your wreaths hanging: You can pack the wreath in a transparent storage bag to save it from dust and debris and keep it hanging in the attic or storage room. This will ensure that the wreath doesn't get smashed against other objects.
Place the wreaths on the shelf: You can again pack multiple wreaths in a transparent plastic bag and place them on an empty rack.
Pack the wreaths in cardboard boxes: You can pack a bunch of wreaths in a single, big cardboard box, separating each wreath with a newspaper to prevent entanglements as it could spoil the fragile structures. Otherwise, you can pack each wreath on individual cardboard boxes and keep them in racks or shelves to prevent spoiling and falling of pinecones.
Keep the pinecone wreaths in plastic boxes or fabric boxes: As pinecone wreaths are delicate structures, other alternatives for storing wreaths include packing them in fabric containers or plastic containers.
Also Read: 21 Front Porch Decorating Ideas to Transform Your Home's Look
Best DIY Pinecone Wreath Ideas
If you have a plan to make a wreath for your home and you don't know which idea would fit you best, try one of these if you are completely out of one.
1. Green Cones and Red Pom-Poms for Bright Christmas Wreaths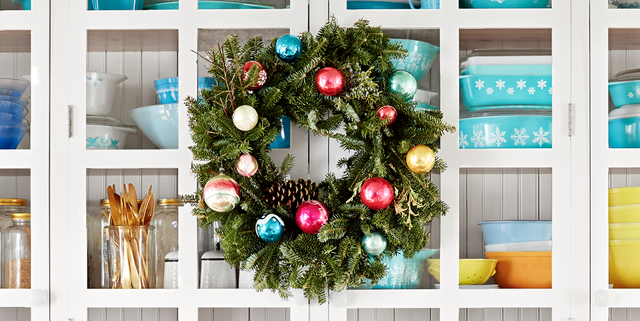 Use green pine cones and red pom-poms to create the brightest possible Christmas wreaths.
Choose a cardboard base to start with; try a sturdy one
Paint your pine cones green, and you can engage children in doing it.
Stick everything together and ensure you apply the right amount of glue.
2. Snowy Frosty Cones and Crimson Berries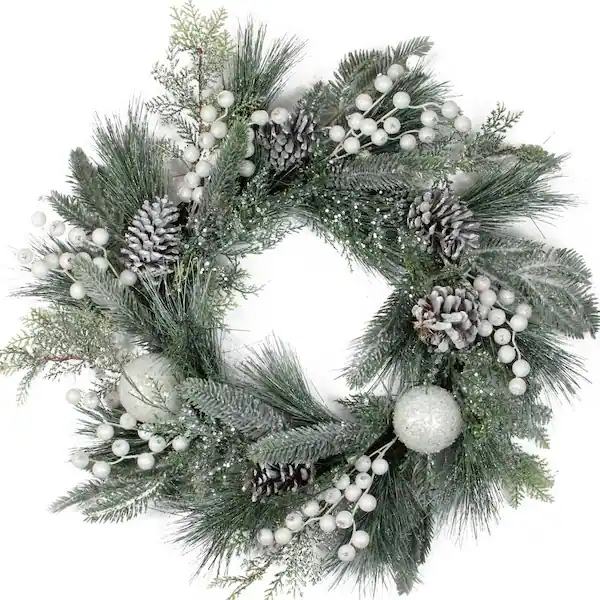 Great for the ultimate farmhouse look, try out these frosty cones and tag them with crimson berries.
Take together pine cones and spray them with a flocking powder. Use any flocking powder of your choice.
Use the silky red damask ribbon, and spray paint even the holly sprigs
Make it as big or small as you want.
Try a buffalo plaid bow for a change.
3. Heart-Shaped Natural Pinecone Wreath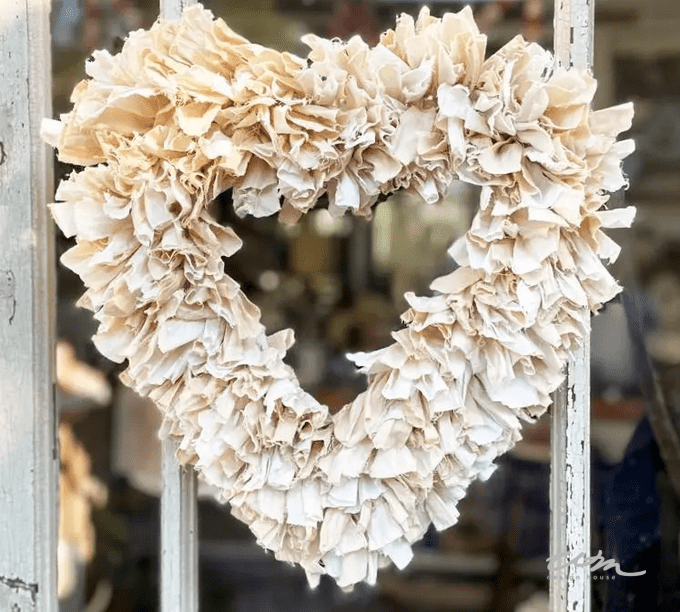 A heart-shaped wreath could also do wonders, and you can try one. If you don't want to stick them together, you can sew them together.
Use differently shaped pine cones and consider their sizes.
When you are done, scatter a bit of glitter on it to make it more livelier and merrier.
4. Chestnut and Pinecone Wreath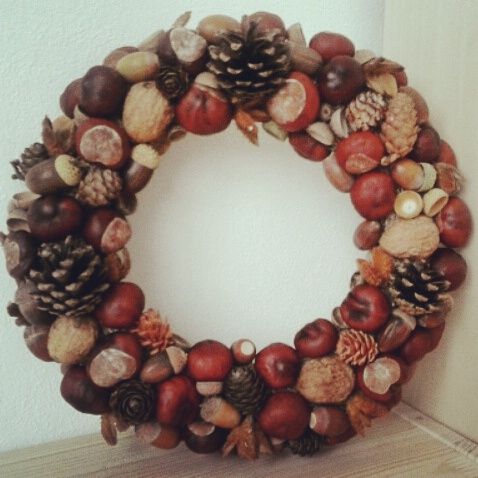 Where pinecones are as plentiful as chestnut, one could try sticking them together to make a wreath that goes well with the decor.
First, stick the pinecones together and then pull together the chestnuts on top of them.
Use good glue, as chestnuts tend to slip and fall since they are quite round and smoother.
Try it with large block candles or a hurricane vase for a centerpiece idea.
Related: 15 Outstanding DIY Fire Pit Ideas You Can Finish in a Day
Conclusion
What you can get from Etsy or Amazon for $25 to $100 can be made on your own easily at home with a few supplies and some fun time. Hopefully, this Christmas or Halloween, you can put up your DIY pinecone wreath at your front or back door and be ready to surprise your friends and guests at the Christmas or Halloween party.
Pinecone wreaths will help to add that rustic vibe to your accommodation, especially if you are a fan of cottagecore decor.
The steps shared in the above tutorial can teach you how to make pinecone wreaths with your kids, friends, and other family members. You can make pinecone wreaths in numerous colors, like white, brown, blue, and beige. You can make more than one pinecone wreath in no time.
Pinecone wreaths are not only a great way to showcase your creativity, but it's also an exceptionally eco-friendly way to decorate your home during Christmas.
Frequently Asked Questions
Do Pine Cones Usher Good Luck?
The existence of pinecones spans ancient civilizations and millennials. There is a traditional belief that if pinecones are hung above the front entrance of the house, they can invite good health, hospitality, and good luck. Pinecones are fruits of the evergreen conifers and hence symbolize longevity and eternity.
What is the Spirituality of Pine Cones?
Pinecones are prevalent in the art of Mesopotamia, Asia, Assyria, and Aztecs. They later appeared in Christianity, too. Pinecones embody rebirth. Pinecones represent our link to divinity. The essence of the majestic pine tree is captured in the symmetric cones.
What is Another Name for Pinecone?
Pinecones are also known as conifer cones. Pines are gymnosperm plants. Pinecones are woody, ovoid to globular in shape, and include scales and bracts around a central axis. The woody cone is the female cone, which produces seeds, and the male cone is herbaceous and less conspicuous, which produces pollen.
How Long Do Pinecone Wreaths Last?
The pinecone wreaths usually last for years as long as they are carefully stored. Ensure to hang them in covered areas. Protect them from rain or snowfall. After taking down the decorations, store them in airtight containers. Don't keep them jumbled up with other objects in the attic or storeroom, where they will get crushed under the weight of other objects.
Check This Next: 13 Simple and Cheap Landscaping Ideas for a Perfect Front Yard