The interior decor of your home signifies your sense of beautiful living. The ceiling is one of the important parts of your home's interior decoration. The type of ceiling texture you choose with a particular room's shape, size, color, and furniture defines your taste and sense of beauty.  We have seen many ceiling textures implemented that sometimes go gorgeous and simple but beautiful too. It depends upon your choice of the environment you want to create in the room with the ceiling.
There are so many home interior ceiling decoration plans where the texture brings beauty. You can plan for your ceiling decoration with wood, boards, panels, and exotic shades and lights. It depends upon the purpose of the room. We would recommend you go with different ceiling ideas for different rooms.
For example, the ceiling of your sitting area or drawing room and bedroom must be different from the environment of the room you want to keep. The type of ceiling texture differs for every room, with a lot of variations.
Beautiful Ceiling Textures for Your Rooms
1. Ceiling with Wooden Panel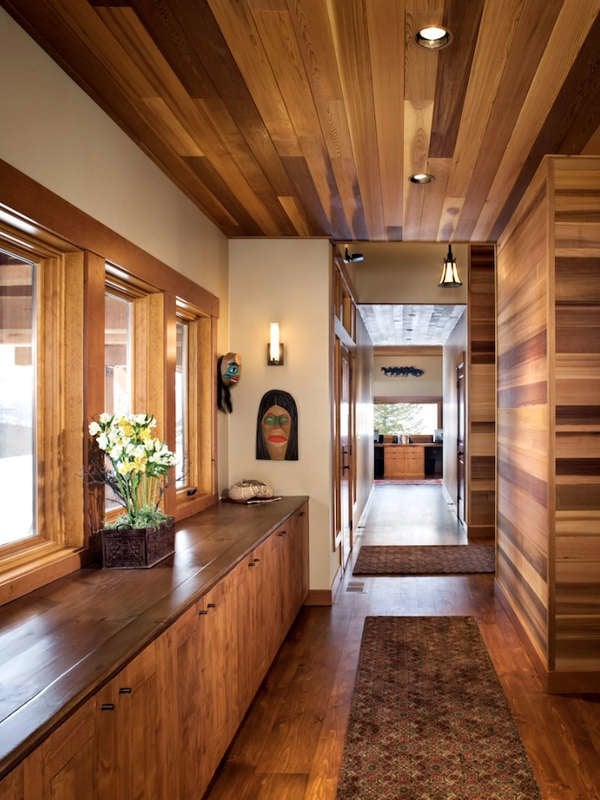 Wood is one of the oldest but one of the most exclusive home decor materials. If the ceiling is designed with wooden panels matching the colors of your furniture, it gives a vibrant look. Adding soothing LED lights with wooden panels brings a different glow to the room. If you choose scented woods like oak, pine, or rosewood, it also adds a fresh aroma to the room's environment. There are different types of wood panels with different sizes and shapes. We recommend decorating a few parts of the ceiling with wooden panels, not the whole. The combination of wooden panels and base ceiling layers creates an exclusive contrast with scattered deemed lights.
2. Ceiling with Glass Panel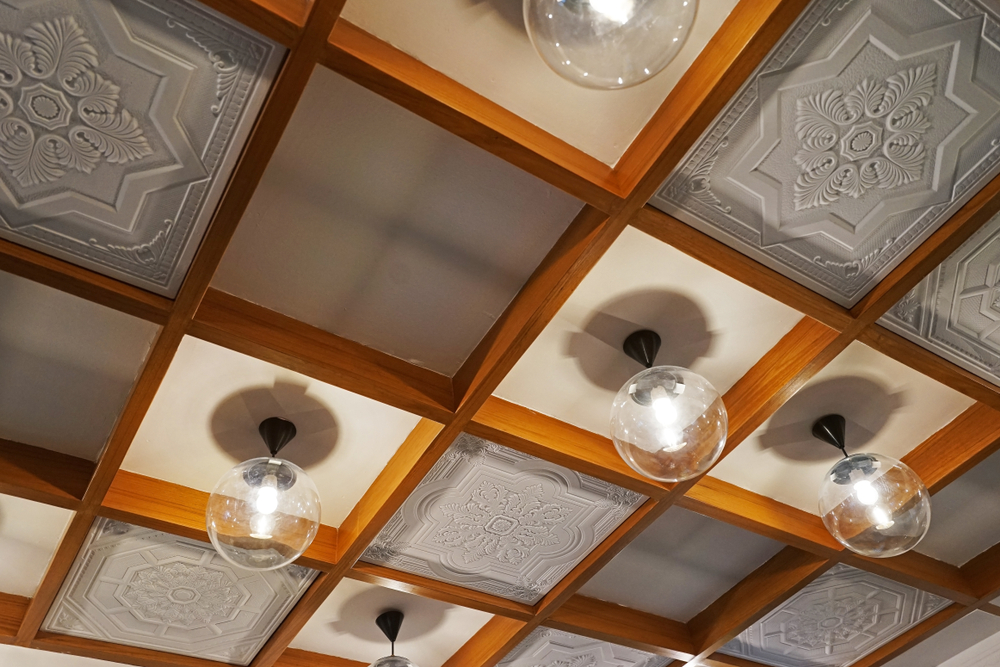 Making ceiling panels with glass is a very artistic type of ceiling texture. You can use colored glass, tinted glass, painted glass, or even mirror glasses mixing with wood, gypsum, or other panel materials or individually only with glass. Glass panels are easier to make any shape of the panel you want. Most exclusively, glasses are ideal materials for reflecting lights. You can put lights on the sides, in between, or inside the panel to create a dreamy environment in the room. If you use colored glasses, it can create different colored lighting in your ceiling decor. Glass panels, if fitted in the proper place in the ceiling, make the room look bigger and tidy. These are also easier to clean rather than other panel materials.
3. Vintage Bars & Beams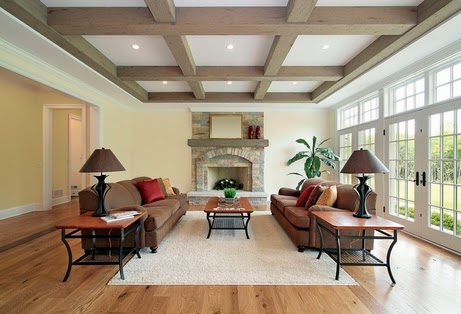 The bars and beams combination gives your ceiling a vintage ceiling look. Fans and hanging lights from the middle of the crosses or angular focus lamps from the beams can create a wonderful piece of ceiling decor. Wood is the best option for a gorgeous look of your bars and beams combination in the ceiling. However, you can use metal bars or PVC bars with an almost similar wooden finish to cut down your cost. Also, if the quality of the wood in your bars and beams are not that superior, there are chances that these would not be so durable. We would recommend a light color combination in the ceiling and wall that can make a good contrast with the wooden colors of your ceiling bars and beams. 
4. Ceiling with Gypsum Panels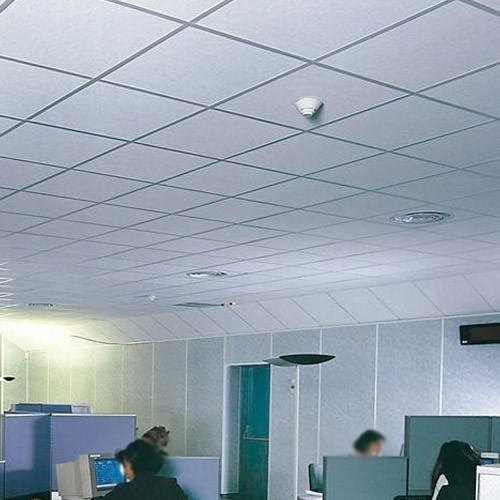 Gypsums are being used widely for the type of ceiling texture. Gypsum panels are easier to cut into different shapes and fix. It is also easier to fix designed parts into it. Gypsum, if kept in its natural whitish shade in the ceiling, gives a marble-like beauty in lights. However, you have the liberty to put your chosen colors on the gypsum ceiling, matching your lights, wall, and furniture. Gypsum ceiling panels are most popular with internal lighting from side panels and a center design or whitish ceiling with fixed art. The biggest advantage of gypsum panels is they can be modified to any possible ceiling frame you like.
5. Ceiling with Recessed Lights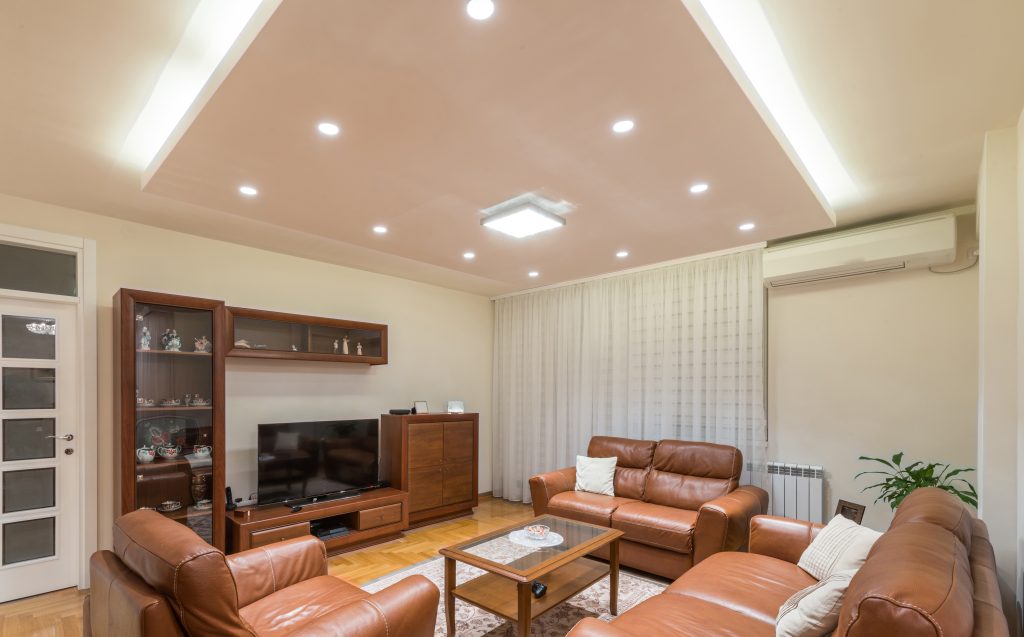 Recessed lighting in the ceiling is another exotic idea. You can make frames with any shape you want and put your recessed lighting with these. The secret of the idea is the panel. You can make the panel of any shape you like, put LED lamps inside, and cover it with a designed lid. The design of the cover will be transparent to glow the light in a dark color background. Now, your ceiling with recessed lighting is ready to reflect the very design made on the transparent cover and create a unique ambiance in the room. Remember, other lights in the room must be deemed to bring out the glow of this ceiling lighting.
6. Ceiling with Unique Shaped Panels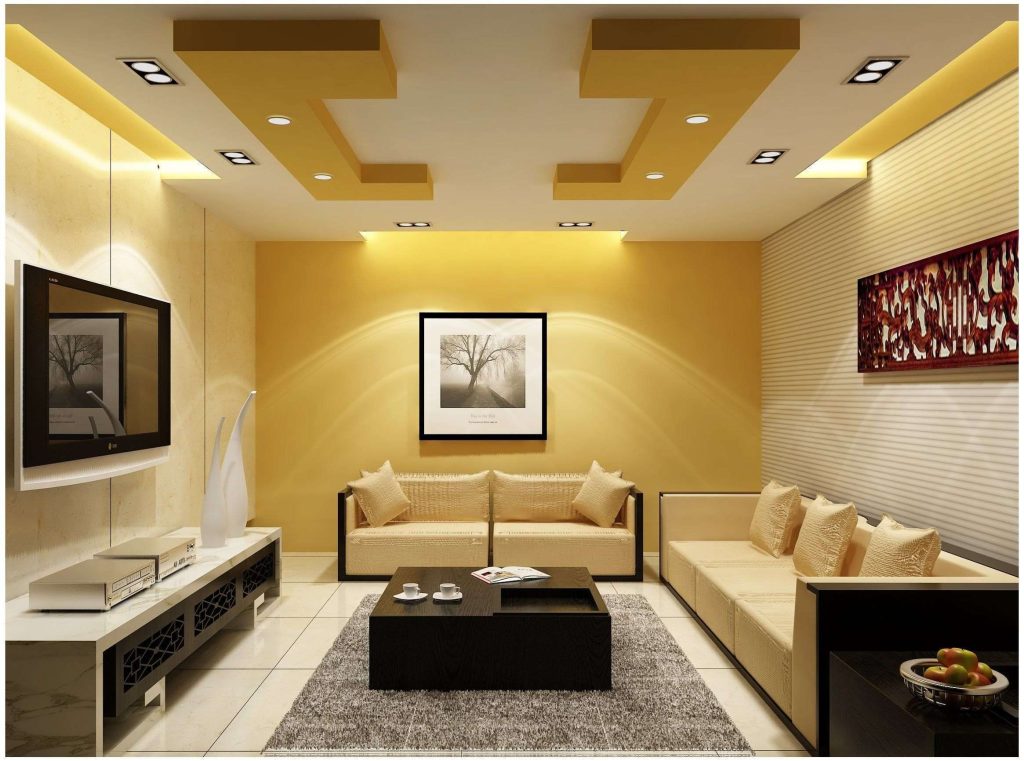 Shapes of the fittings of your ceilings are crucial for the beauty of the ceiling. This type of ceiling texture has some unique shapes besides exclusive ornamental design panels that can add a special beauty to your ceiling panel. Gypsum, glass, and fluorescent sheet covers are made to such beautiful designs that a single shape with lighting is good enough for the whole ceiling. Floral or heart-shaped panels are mostly wanted shapes in unique panel designs. Just imagine a cloud-like heart-shaped dimmed lighting panel over your bed! However, you can choose any unique shape for the ceiling of a particular room. As you know, designs may differ according to the purpose of the room.
7. Ceiling with Wood & Glass Combination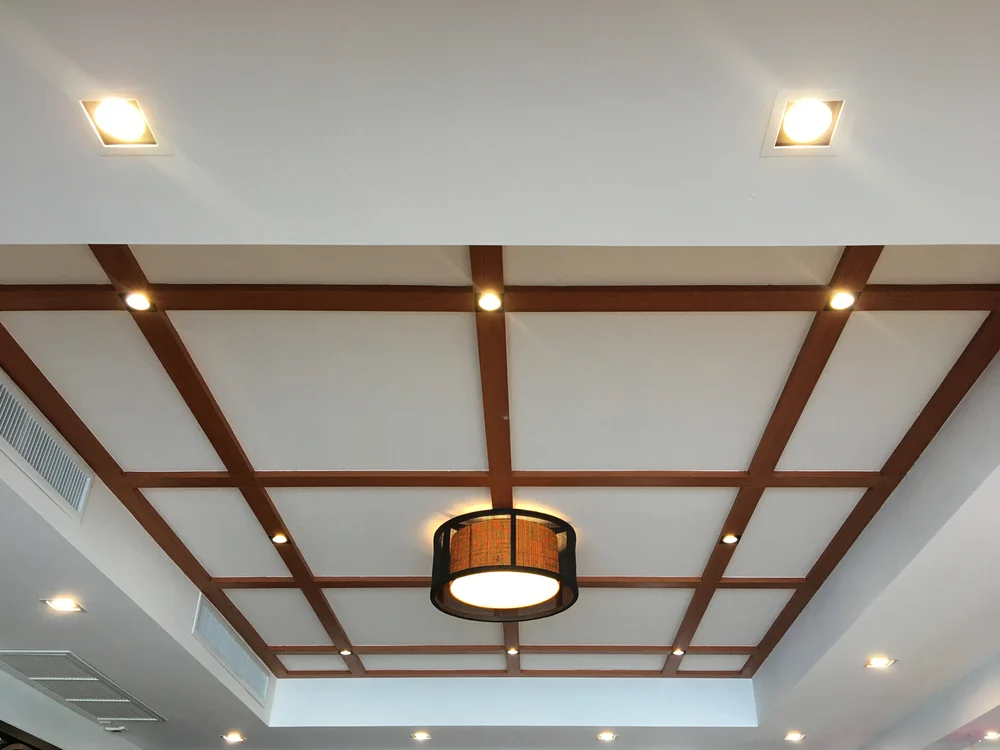 There are many ceiling decor ideas with wood and glass. Here, we can recommend you go with a combination of both wood and glass in a single frame. Wood has its own exclusiveness, while glass has its reflective and glowing character. Many unique frames can be designed combining these two for exotic contrasts in the ceiling. Placing glass panels or designs with or within wooden panels gives an extraordinary combination look to the ceiling. You can freely set ceiling fans or hang lights from these panels without blocking the beauty. However, be conscious about the color combinations of the wood and glass panels to contrast with the base of the ceiling, wall, and floor.
8. Coffered Ceiling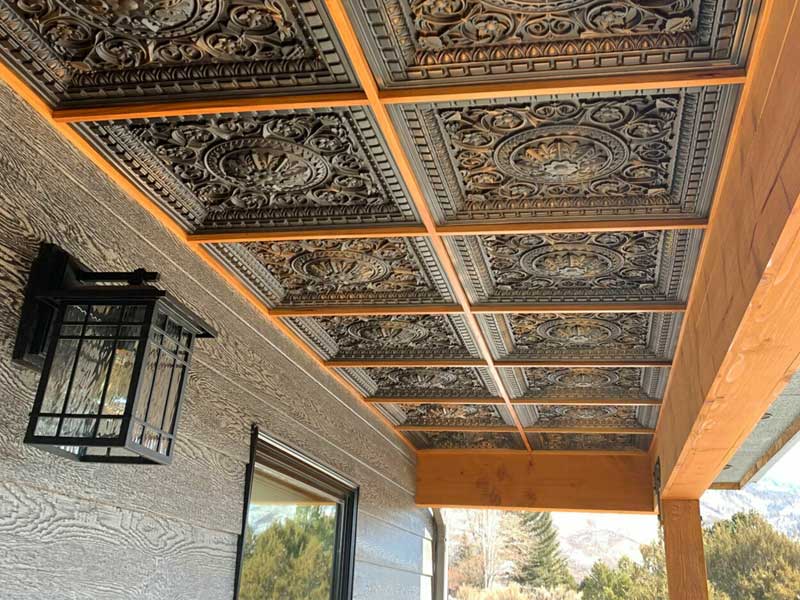 Coffered ceilings are the type of ceiling texture usually divided into multiple rectangular frames with a larger frame at the center. Usually, you can fix tinted or painted glasses and designs of murals in the coffered frames. You can fix backlighting or hang glow lamps from the coffers. The frame and coffered base colors are set with a proper contrast with the light and wall. If you prefer tinted glasses or glass paintings, we recommend using inside or side lamps on frames to glow and reflect. You can also go for wooden or gypsum bases into the coffered boxes fixing designs on them.
9. Crisscross Design Ceiling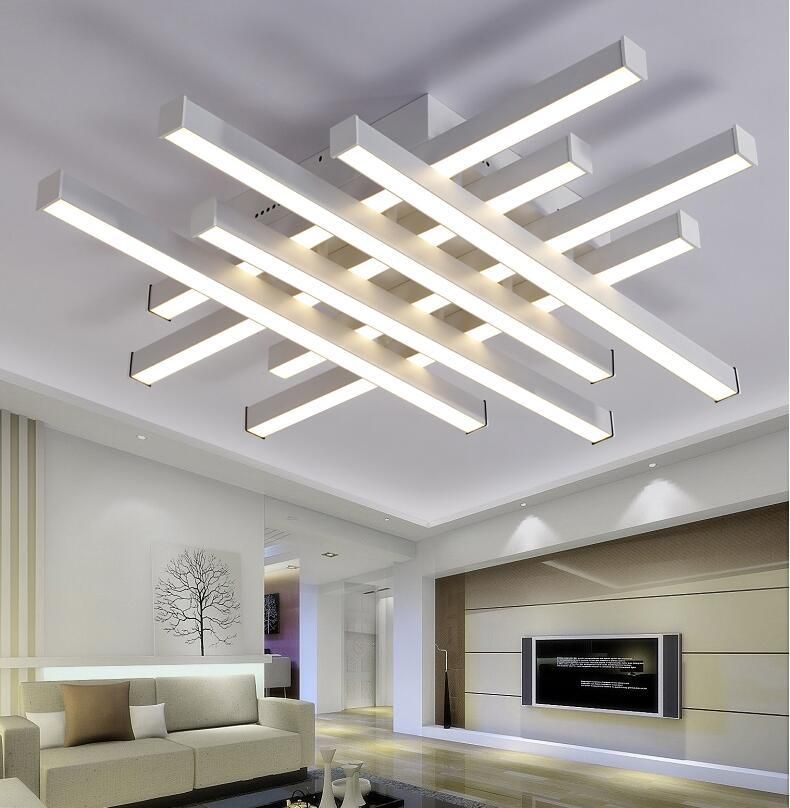 Crisscross is one of the latest and unique patterns for your ceilings. These are made with narrow bright metal pipes arranging them in a way to create crisscrosses in a zigzag pattern. The metal has to be colored in brighter shades combined with the base of the ceiling. You can even put multiple colored crisscrosses affixed together side by side or asymmetrically. Lights are recommended to be fixed from the ceiling base behind the crisscrosses. These can be aligned at the center of the ceiling base, at a side, or with a scattered movement of different angles. We would recommend leaving some free bases along with the crisscrosses to make a good contrast to reflect the lighting.
10. Metal Panel Ceiling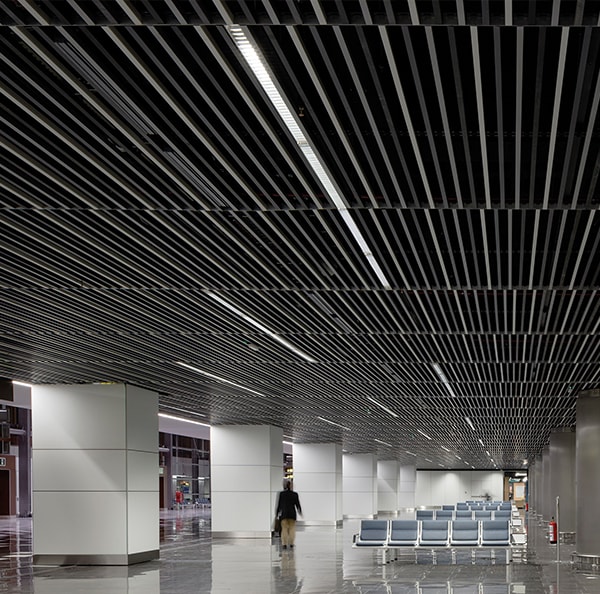 Metal panels are also a bright option for your type of ceiling texture. Usually, light metals like aluminum are coated with different colors and lights. Ceilings in broader or larger areas are ideal for metal panel ceilings. Usually, focus lamps are used on the panels for lighting the area. Moreover, you can add any designs you like to the metal panels as a frame. In modern panel designs, metal strips are also used with glass and other board designs as a relief. Black, copper, white, Gray, or Cobalt blue metal threads are used randomly for contrasted ceiling panel art. Metals are also durable, like quality woods, and less expensive for a long-term interior investment.
11. Circular Ceiling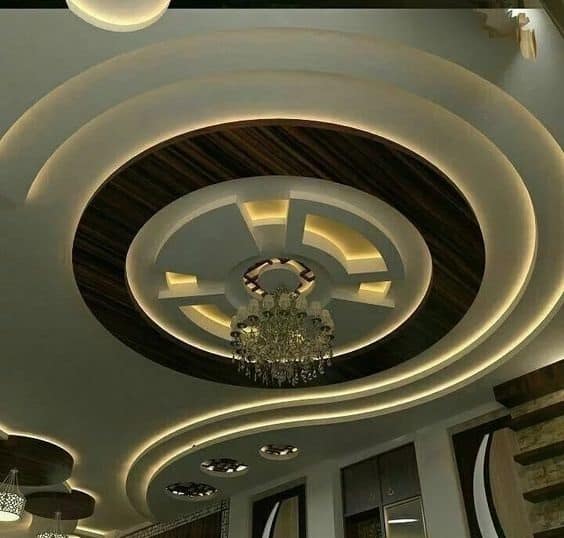 A circular ceiling is one of the basic ideas of ceiling design. It looks very beautiful if made in a square-shaped room. It may be oval-shaped or parabolic in rectangular rooms. Commonly gypsum or board works are used for this design. The circle is made with a hollow from the sideboard works. You can put artistic designs on the corners, sides of the frame, and the circumference of the circular space. You can fix a gypsum or board design on the center and hang your fan or a good-looking hanging light shade from there. The circular ceiling gives the room a simple, pleasant look. We would recommend white-based shades and contrast them with the color of the ceiling and the walls.
12. Ceiling with Honeycomb Pattern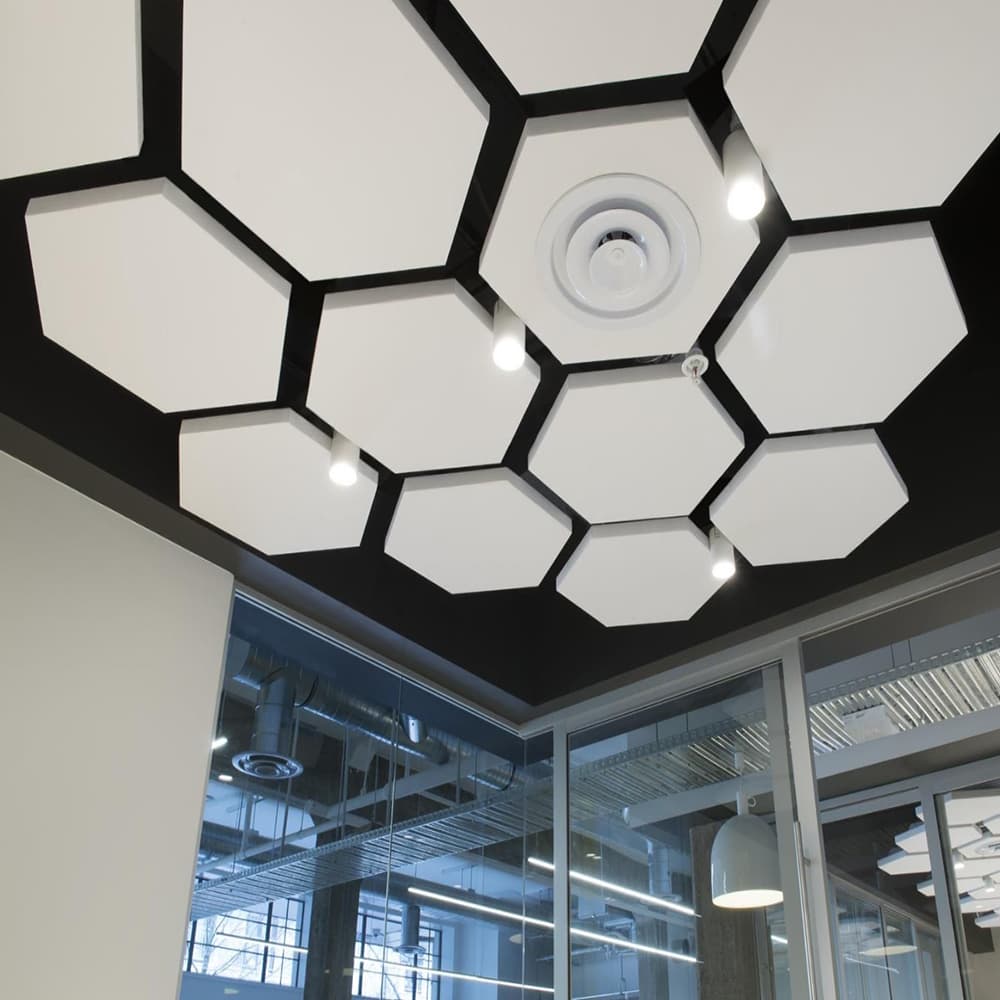 This pattern is very simple but exotic in the type of ceiling texture. Several square-shaped fittings are aligned by the sides, making a honeycomb pattern. Lights are fitted from the back to glow out from the sides. The design is fitted with most of the center part of the ceiling, asymmetrically placed in different corners or laid to the wall from the ceiling at times. The magic plays when the contrast with the base and honeycombs glitter with their backlights. This design is very easy and cost-effective to create and affix with lights. Honeycomb patterns are ideal for an even shorter room or passage ceilings to give it a broader view. 
13. Eccentric Ceiling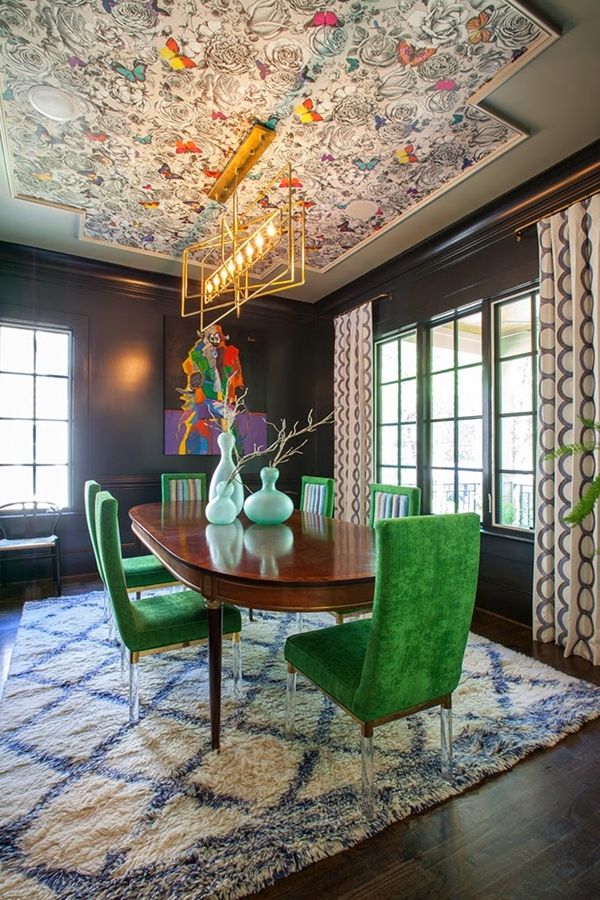 Eccentric ceiling designs are gorgeous and fitted with crafted designs. These may be anything for the designing materials. Eccentric designs have a wide range of variations, from vintage, classic designs to the latest off-bit designs. There are a lot of base materials that can be used for eccentric designs, even with various combinations. It is also observed that vintage-style designs are set with modern frameworks. Eccentric ceiling design lighting differs in various models and combinations to match the design and color combinations. The beauty of the eccentric designs has millions of combinations to set, and many of them are scattered from the ceiling to the wall with a complete room interior decoration.
14. Ceiling with Multiple Fluorescent Shades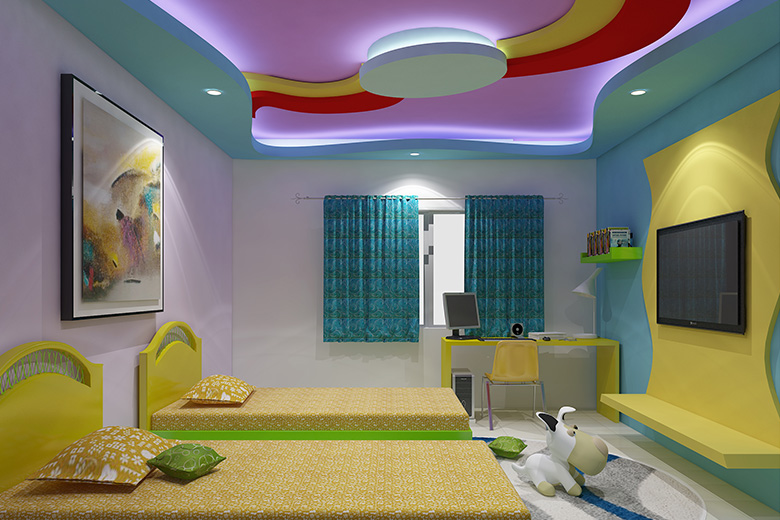 Color plays a big role in such type of ceiling texture. Multiple drawing figures are set with a combination of fluorescent shades to enlighten the room with an extra colorful glow. Such designs are ideal for a bright environment for kids' rooms, garden rooms, or poolside balconies. Many different materials may be used; however, gypsum and board bases are ideal for making colorful, unique patterns. At times you can also use the color patterns in the ceiling wall directly without any separate base frames. Both hanging lights and focused LEDs can be used to light up such designs. We would recommend placing the light in such a room wisely to reflect and bring out the glow of the fluorescent shades.
15. Floating Ceiling
Ceilings are designed in such a way it looks 'floating.' Never mind, you don't need to arrange large water tanks around to make your ceiling float! It is all about layering tinted glasses with watery waves, and light plays the next part of the role, making wave-like movements within. If you watch from the bottom, it will look like waves are going on your ceiling! We recommend a light-shaded ceiling base and wall with corner dim lights not visually to distract the wave effects. You can make a bluish or dark frame surrounding the watery glass or no frame at all. Floating ceilings are not very costly. Only you need to choose proper wavy glass fittings for effect.
16. Ceiling with PVC Frames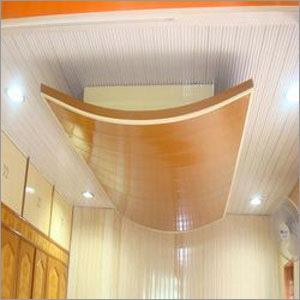 PVC frames are very famous now for different kinds of interior work, including designing your type of ceiling texture. PVC frames are available in many colors and have finishes like wood or metal. You can use these frames instead of using proper wood or metal fibers to cut down the cost. PVC frames are not long and durable like wood or metal panels; however, they can give you a good result if maintained well. The other advantage is you can make different shapes and fix them easily. PVC frames and ceilings are easy to maintain for their smooth fittings. Compared to the pricing, as it is too low with respect to wood or metal, PVC frames are becoming popular day by day.
 17. Asymmetrical Ceiling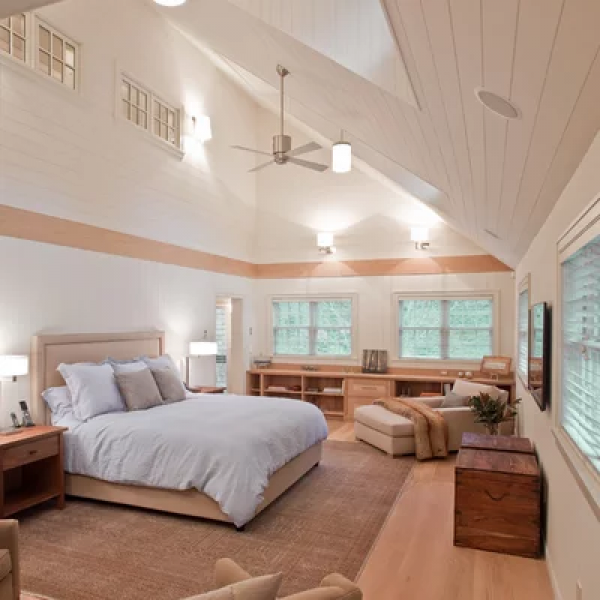 Asymmetrical ceiling designs are getting more popular for their unique design shapes and lighting advantages. You can create any asymmetric ceiling design with different patterns or geometric shapes you like with gypsums or boards. The proper color combination of base and shapes with hidden spotlights from the back or corner gives the design a unique luminous environment. Never get very much worried about the design shapes. If you want to make it uncommon, make designs of shape either from one side or a corner that may extend up to the other side for a complete ceiling coverage of the design and lights.  The uniqueness of asymmetrical designs on the ceiling gives it an uncommonly beautiful look. 
18. Layered Ceiling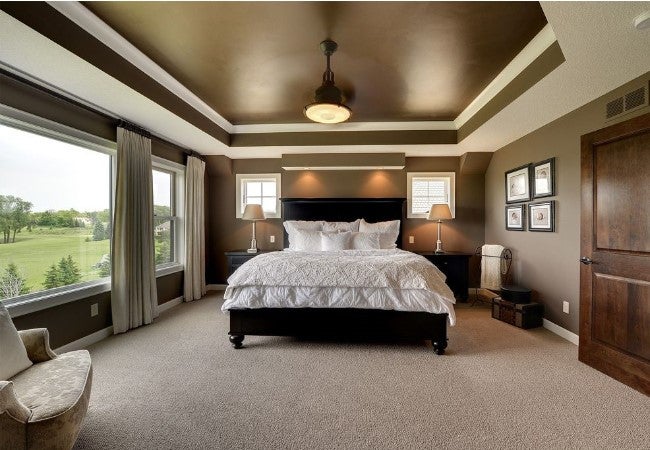 Layered ceiling designs are also a nice idea to make your room more dreamy and beautiful with the type of ceiling texture. In these layered designs, there are multiple layers of frames with any design. They are set one after another making layering steps with lighting from every base. Gypsum or board layers are made one after another from the widest in the bottom. The design may be anything like a geometrical shape or an asymmetrical design. Lights, usually deemed focus lamps, are placed on steps. This way, the layered ceiling shows a beam of light on every layer to make a unique glow from the ceiling. Wisely chosen color contrast with the ceiling base and the layered frames and lights in between can create a cool dreamy environment in the room.
Final Thoughts
The ceiling is one of the important parts of your room, which helps create an environment. Never forget that it would create beauty with a proper contrast of walls, floor, furniture, and linens (in the case of the bedroom).
Make a proper plan with all these for every room and set a ceiling design that would be the best fit. Remember, the proper shape of ceiling designs with required lighting is the key to having a good-looking room.
If you want to make it within a budget, there are many cost-effective ways to make the type of ceiling texture for the entire house. You have to plan for the materials of your design and the lighting as well. Always keep in mind a particular ceiling design may not be suitable for a room for its size, shape, and requirement of lights.
Planful ceiling designs will bring you unique-looking rooms in your house, showing your beauty taste.