Imagine entering a flawless patio with a deck that takes you right to heaven. The expertly constructed deck provides a smooth transition from indoor to outdoor living. Its design beautifully combines with the surrounding landscape's natural characteristics, including vivid flowers and lush vegetation.
The deck is wide, with plenty of space for relaxing. While deliberately arranged potted plants and gentle lighting provide a calming ambiance, comfortable and attractive furniture invites you to relax. Wow, you sure can't stop dreaming about this ideal setting, right?
If you also want one such patio, welcome to our informative guide on creative backyard deck ideas. It will assist you in converting your outside area into a gorgeous patio with a deck. We have compiled a list of 21 incredible ideas for a patio with a deck to suit every taste and budget.
So, let's get started and learn how to make a beautiful outdoor sanctuary on a budget.
1. Pallet Deck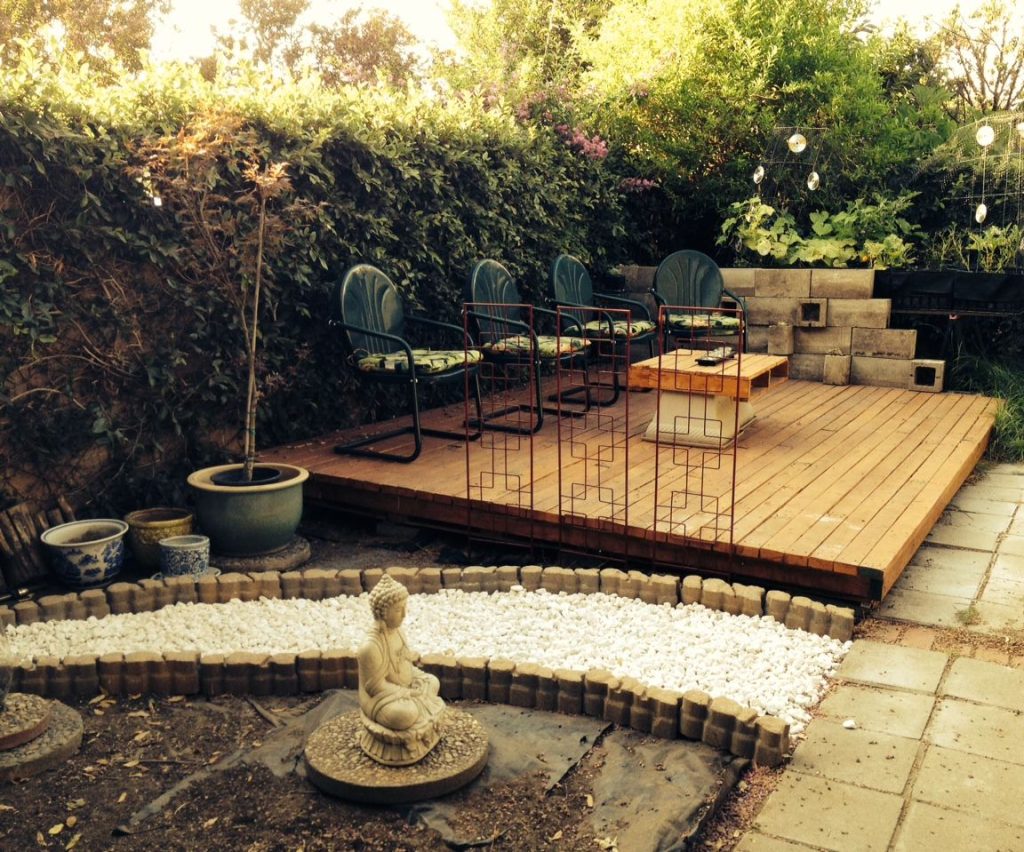 The most affordable and versatile materials for a low-cost backyard deck are pallets. With a little effort, cheap pallets can be quickly transformed into stylish decks. Sand them down, paint them in vibrant shades, and then arrange them in vibrant shades, and then arrange them in a pattern you want. By making this decision, you'll not only be able to save money but also infuse your patio with a trendy, rustic vibe.
Furthermore, repurposing pallets is an eco-friendly option that reduces waste and promotes sustainability. To add some extra flair to your new deck, consider adding outdoor lighting or potted plants. You can also use wooden pathways to enhance the walk through your garden.
Additionally, using pallets for your deck allows for easy customization and flexibility in terms of size and shape. You can easily expand or rearrange your deck as needed without having to invest in expensive materials or professional installation.
2. Gravel Patio with Elevated Deck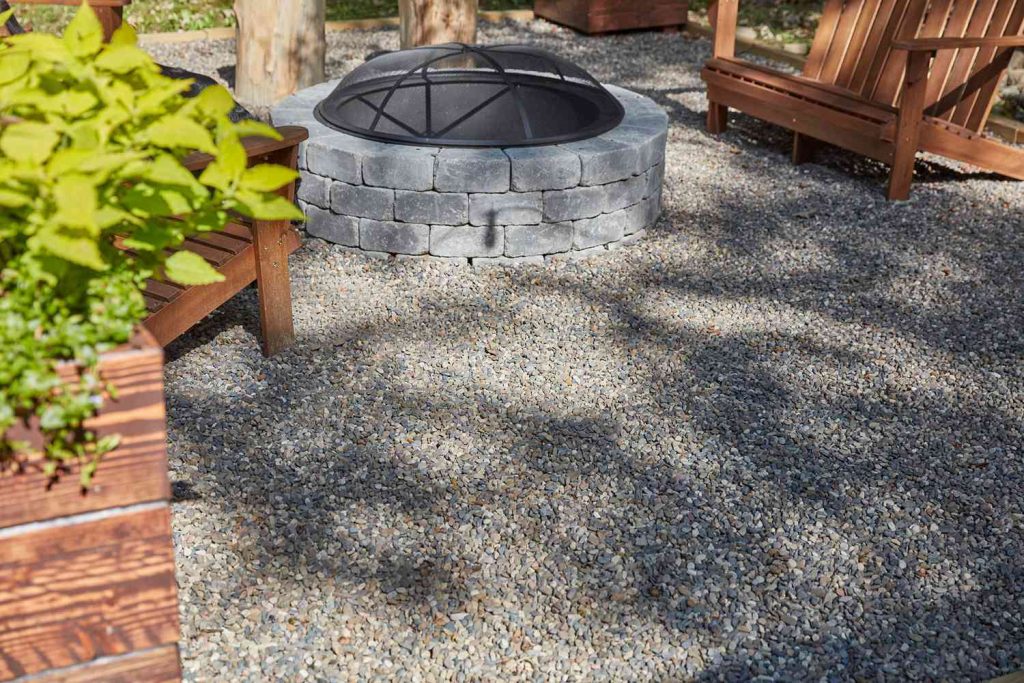 If you want to give your backyard more depth, think about constructing a gravel patio with an elevated deck. Level the ground first, then spread the weed barrier cloth over it. For a firm base, scatter gravel over it. If you can throw in some extra cash, you can use glow-in-the-dark pebbles for an added charm. After that, construct a raised wooden deck on top to provide a fashionable and comfortable place to unwind. Your patio will have a distinctive and eye-catching appearance thanks to the deck and gravel combination.
To complete the look, add some potted plants and outdoor furniture. Choose plants that complement the color scheme of your deck and patio, such as vibrant flowers or lush greenery.
To create a cozy atmosphere, consider adding string lights or lanterns to illuminate the space at night. And don't forget to accessorize with outdoor pillows and rugs to add a touch of style and comfort.
3. Floating Deck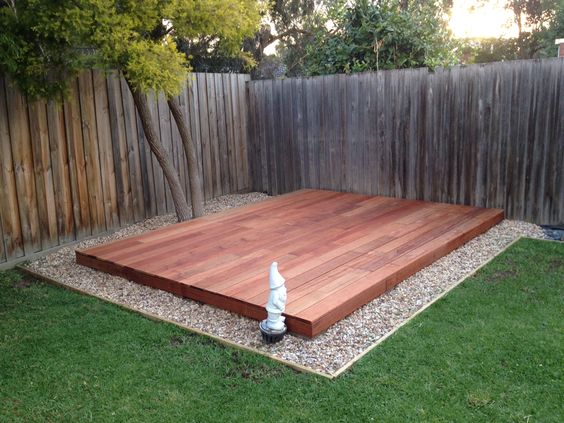 If you want a simple, inexpensive deck design, a floating deck is a great choice. These decks can be constructed directly on the ground and are not attached to your house.
You can build a strong foundation by using precast concrete deck blocks as a base. To improve the aesthetic appeal, add a coat of stain or paint, and then take pleasure in your own backyard!
These blocks provide a strong foundation that will keep your deck level and stable for years to come. Once your deck is in place, you can add a coat of stain or paint to improve its aesthetic appeal.
4. Concrete Pavers and Wooden Deck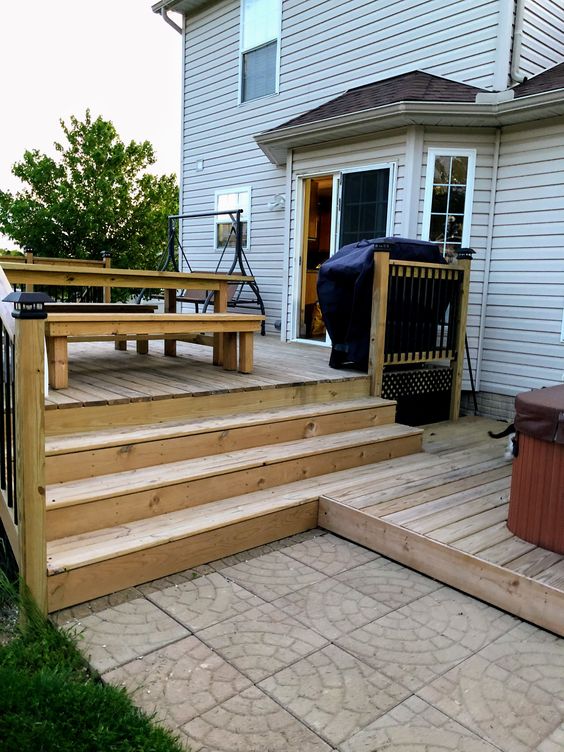 If you adore the warmth of wood but don't want to spend a lot of money decking out your entire patio, think about combining concrete pavers with a small portion of wooden decking. Build a deck on the remaining space after installing concrete pavers in a distinctive design. This combination keeps prices low while giving your backyard a contemporary flair.
Additionally, consider incorporating outdoor furniture and decor that complement the modern aesthetic of your patio. Sleek metal chairs and a minimalist table can provide a stylish seating area, while string lights or lanterns add a warm ambiance for evening gatherings.
For added privacy, consider installing tall plants or trellis with climbing vines to create a natural barrier. And don't forget about functional elements like an outdoor grill or fire pit for cooking and entertaining.
5. Repurposed Shipping Pallets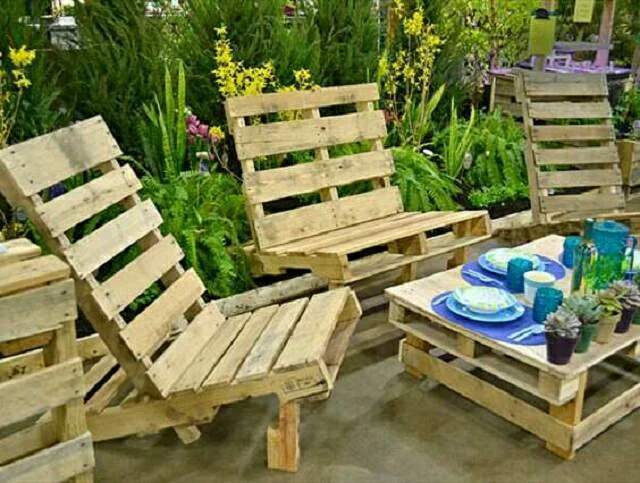 With a little creativity and effort, you can transform a pile of pallets into a stylish and functional patio. So why not give it a try?
Use your imagination to transform shipping pallets into a reasonably priced patio with a deck. Build a platform-style deck using wooden planks and disassembled pallets. The wood can be stained or painted to match your outdoor aesthetic, and you're done! You've built a beautiful, environmentally friendly deck for your backyard.
Not only is this a cost-effective way to create an outdoor living space, but it's also a sustainable option. By repurposing shipping pallets, you're reducing waste and minimizing your carbon footprint. Plus, the unique look of the pallets adds character and charm to your patio.
6. Deck with Built-In Seating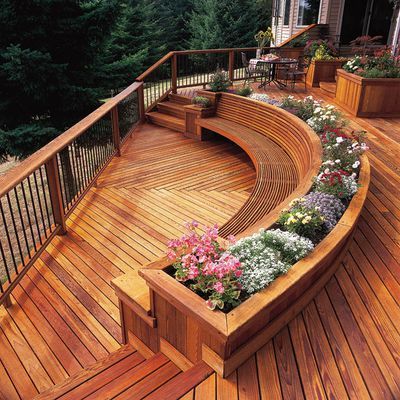 By adding built-in seating, you can increase the usability of your deck while saving money on outdoor furniture. Utilizing the same materials as the deck itself, construct benches around the deck's perimeter. This not only adds a cozy seating area but it also gives your patio a modern, polished appearance.
In addition to built-in seating, consider incorporating other features into your deck design to enhance its functionality. A pergola or awning can provide shade protection from the elements, allowing you to enjoy your outdoor space in comfort.
Consider installing a fire pit or outdoor fireplace for warmth and ambiance during the cooler months. Finally, don't forget that adding plants and flowers around your deck can create a beautiful natural setting for your outdoor living space.
7. Stone Pavers and Deck Combination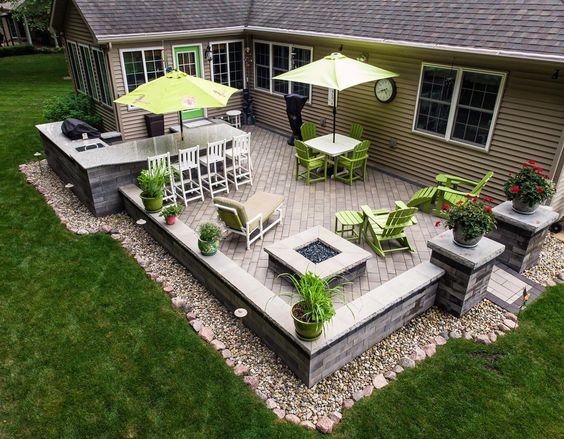 Stone pavers and a wooden deck can be combined for a touch of elegance. To make a clear route leading to your deck, place stone pavers in a symmetrical or random arrangement. Your patio will have a chic and welcoming atmosphere thanks to the contrast of warm wood and natural stone.
For a more cohesive look, consider adding some greenery around the edges of your patio. This can be achieved with potted plants or by creating a small garden bed. To complete the space, add some comfortable outdoor lights and furniture, such as a cozy sectional or a set of lounge chairs.
8. Deck with a Pergola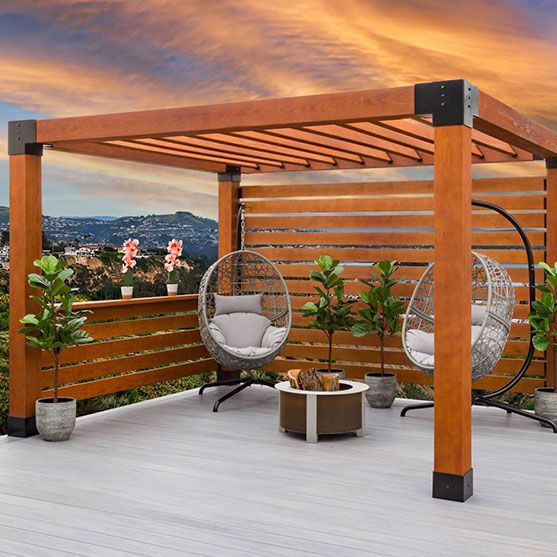 Include a pergola to give your backyard deck charm and shade. By adding a pergola over your deck, you can create a designated area for socializing and relaxing while also shielding yourself from the sun's rays. To add an attractive and useful element to your patio, select from a variety of pergola sizes and designs.
Some popular options include a classic wooden pergola or a modern metal one. You can also choose from different shapes, such as square or rectangular, and add decorative elements and ambiance. Also, consider incorporating comfortable seating options like outdoor sofas to make your pergola area more exciting.
9. Tiered Deck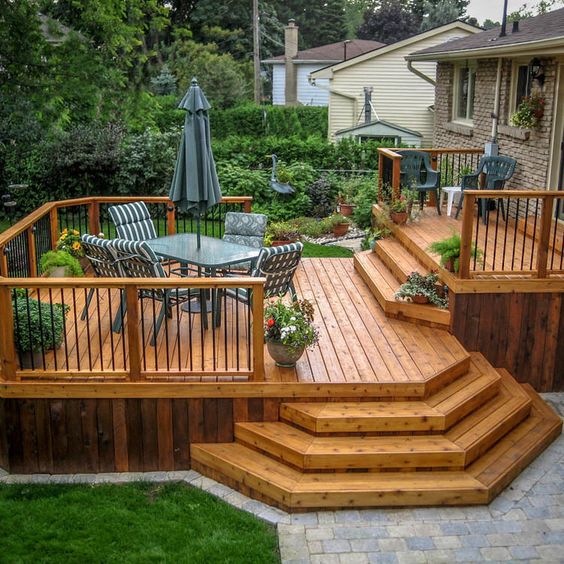 Build a tiered deck if your backyard slopes to make the most of your outdoor space. You can maximize the space you have while giving your patio a visual flair by building numerous levels.
Not only does a tiered deck provide functional benefits, but it also adds aesthetic appeal to your backyard. The varying levels create depth and dimension, making the space more visually interesting.
A tiered deck is also a great way to create designated areas for different activities, which can be especially useful for larger gatherings. For example, you could have one level dedicated to grilling and dining and a third for games or activities.
10. Deck with Trellis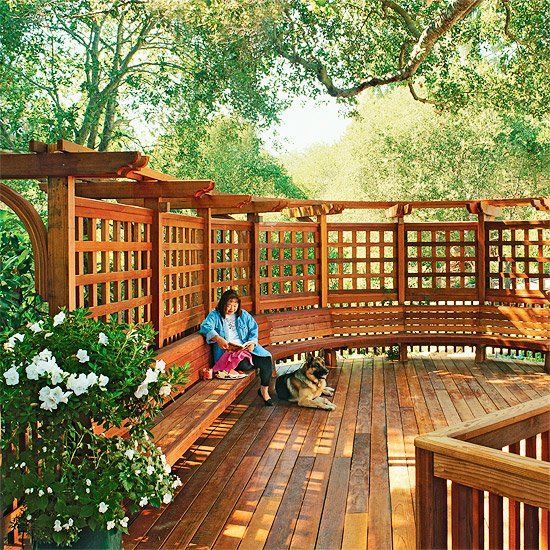 Imagine sitting back and relaxing on your porch while taking in the beauty of the nature that surrounds you. With the right design elements, you can transform your patio into an oasis that is both functional and visually appealing.
The design of our deck plays a crucial role in enhancing the overall look and feel of your patio. By incorporating the trellis, you can add a touch of charm while also creating a support structure for vines or plants that climb.
By using a trellis in the design of your deck, you can improve the patio's aesthetic appeal and sense of privacy.
11. Deck with a Fire Pit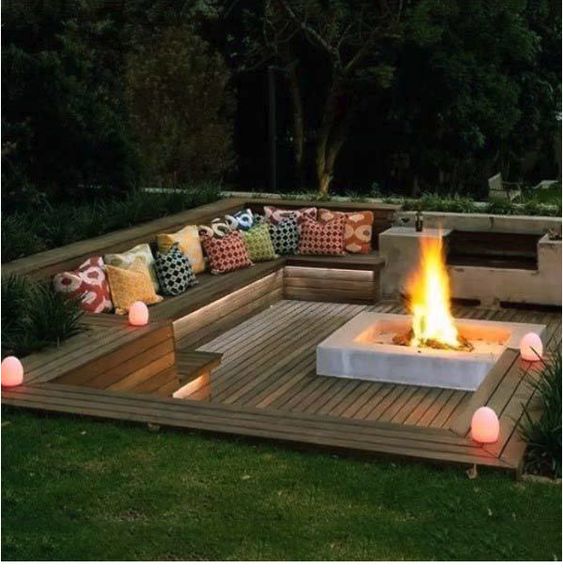 Imagine gathering with loved ones on cool evenings, roasting marshmallows, and sharing stories around the flickering flames! By adding a fire pit to your deck, you can create a warm and welcoming ambiance in your backyard. Whether it's a portable wood-burning fire pit or a built-in gas fire pit, pick one that matches your style. Your deck will become a gathering place for family and friends with this addition, ideal for creating memories on chilly evenings.
As you consider adding a fire pit to your backyard, there are a few things to keep in mind. First, think about the size and style that will best fit your space and aesthetic. You may want to opt for a portable wood-burning fire pit if you have limited space or want the flexibility to move it around. On the other hand, a built-in gas fire pit can provide a more permanent fixture that seamlessly blends into your deck design.
12. Deck with Outdoor Lighting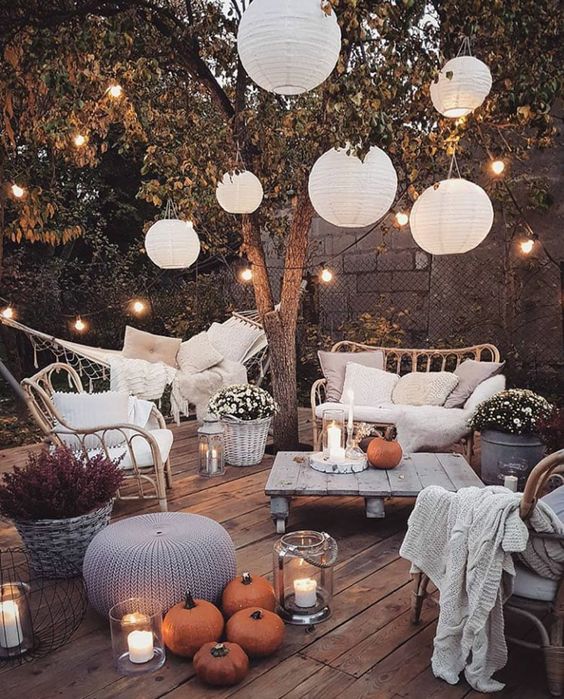 Not only do outdoor lights add functionality to your deck, but they also enhance its aesthetic appeal. Recessed deck lighting provides a sleek and modern look, while string lights create a cozy and romantic atmosphere. Lanterns offer a more traditional and rustic feel.
Regardless of your preference, outdoor lighting can transform your deck into a versatile space for entertaining or relaxation. Outdoor lights can also improve safety and security on your property.
13. Deck with Privacy Screens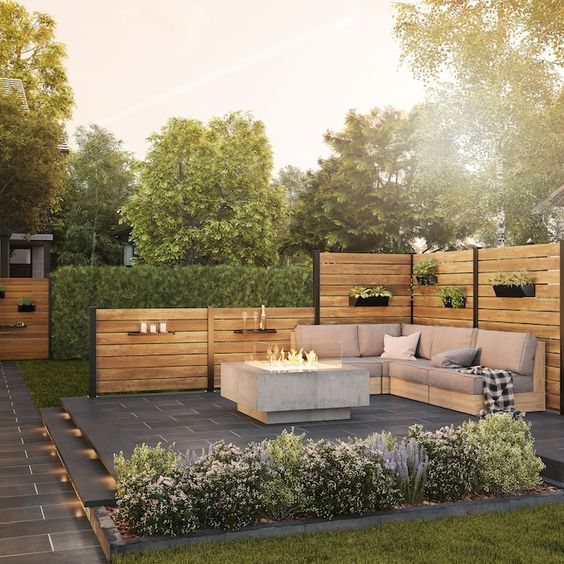 Consider adding privacy screens to your deck if you value your privacy while using your outdoor area. Lattice panels, cloth curtains, or even salvaged doors can be used to create these. They offer privacy and also give your patio design a fashionable touch.
Privacy screens are an excellent addition to any outdoor space, providing you with the seclusion you need to enjoy your deck without prying eyes. With a variety of options available, including lattice panels, cloth curtains, and salvaged doors, you can create a stylish and functional design that complements your patio's aesthetic.
These screens not only offer privacy but also add an element of sophistication to your outdoor area.
14. Deck with Barbecue Area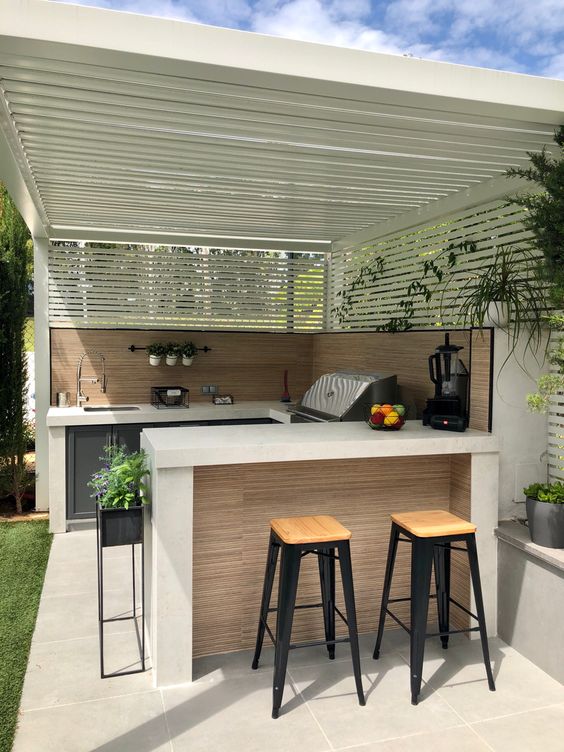 Imagine hosting a summer party with friends and family, grilling up some burgers and hot dogs while everyone enjoys the beautiful weather. With a barbecue space on your deck, you'll be able to entertain guests while cooking up a storm!
Create a distinct barbecue space on your deck for the best outdoor cooking experience. Install a countertop, a built-in grill, and some cabinets to store your kitchenware. With this arrangement, you can easily entertain guests while cooking wonderful meals.
By installing a countertop, a built-in grill, and cabinets for storage, you'll have everything you need at your fingertips to create delicious meals while enjoying the outdoors. This designated space will allow you to cook without interruption.
15. Deck with a Water Feature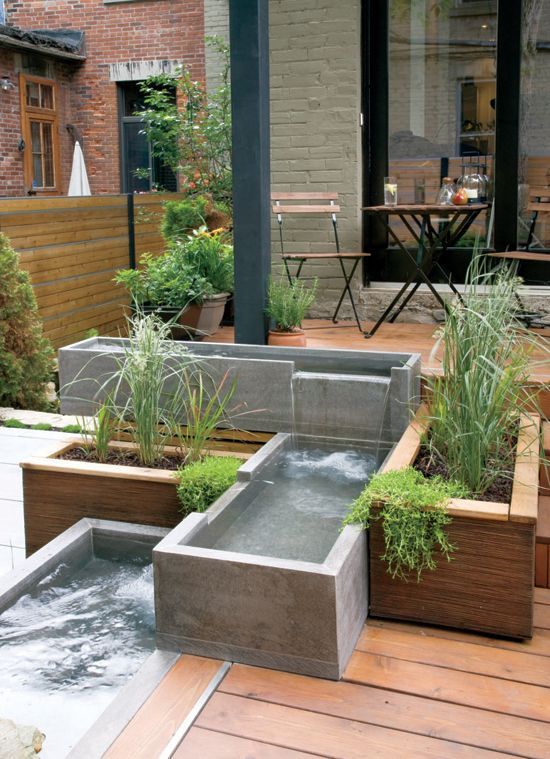 Add a water feature to your deck to turn it into a serene haven. The sound of rushing water provides a relaxing atmosphere. To create a delightful getaway, combine the tranquillity of the lake with the warmth of your deck.
Add some comfortable outdoor furniture, a few potted plants, and some soft lighting to create a cozy seating area. If you have a larger space, consider adding a fire pit or outdoor kitchen for entertaining guests.
To further enhance the peacefulness of your retreat, add some wind chimes or bird feeders to attract wildlife. Finally, don't forget to incorporate some personal touches, such as artwork or sculptures, that reflect your personal style and taste.
16. Deck with Planter Boxes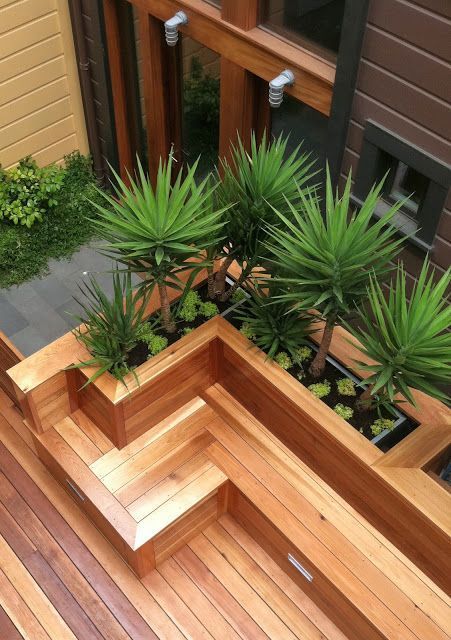 By including planter boxes in your deck design, you can add a little bit of greenery to your patio. These boxes may be integrated into the deck itself or positioned in carefully chosen locations all around it. To create a lively and revitalizing outdoor space, plant bright flowers, fragrant herbs, or even small shrubs.
In addition to the aesthetic appeal, incorporating greenery into your deck design can also have practical benefits. Plants can provide shade and help regulate temperature, making your outdoor space more comfortable during the hot summer months. They can also attract beneficial insects and pollinators, creating a healthier ecosystem in your backyard.
When selecting plants for your deck, consider the amount of sunlight and water they require, as well as their growth habits and potential for attracting pests.
17. Deck with Outdoor Curtains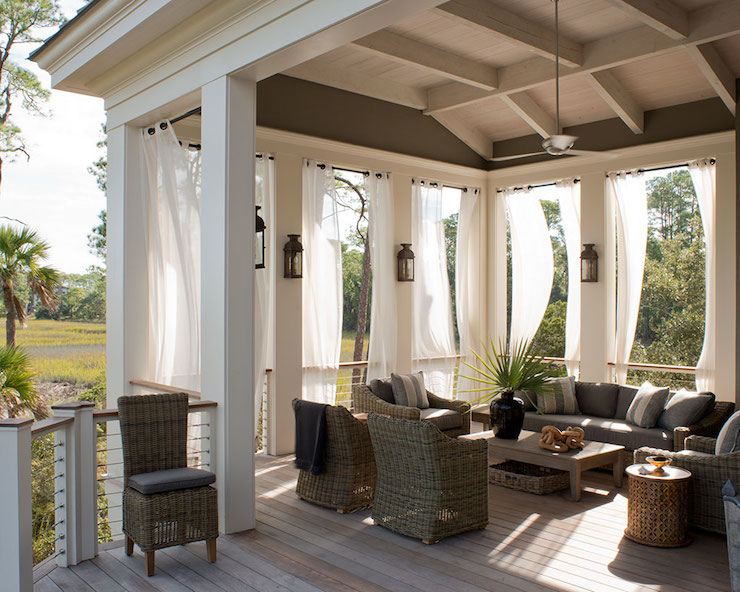 Installing outdoor curtains will improve your deck's attractiveness and adaptability. In order to create a romantic and private feeling, hang sheer curtains around the room's perimeter.
They give you shade and privacy and also add a luxurious touch to your patio. Outdoor curtains can also serve as a functional barrier against insects and other pests.
They can be made from a variety of materials, such as weather-resistant fabrics or bamboo, to suit your specific needs and preferences. With the right installation techniques, outdoor curtains can withstand harsh weather conditions and last for years.
18. Deck with a Hot Tub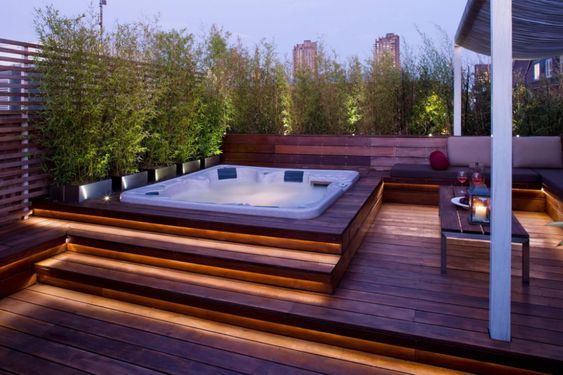 Include a hot tub in the design of your deck to create your own little hideaway. Imagine sitting on your deck, taking it easy in a warm, bubbling pool, and admiring the scenery. Make sure your deck complies with all safety regulations and can sustain the hot tub's weight.
Not only will a hot tub add a luxurious touch to your outdoor space, but it can also provide numerous health benefits. The warm water can help soothe sore muscles and joints, reduce stress and anxiety, and improve circulation.
When choosing a hot tub for your deck, consider the size and style that will best fit your needs and the space available. You may also want to invest in a cover or privacy screen to enhance the ambiance and ensure your privacy.
19. Deck with a Sunken Lounge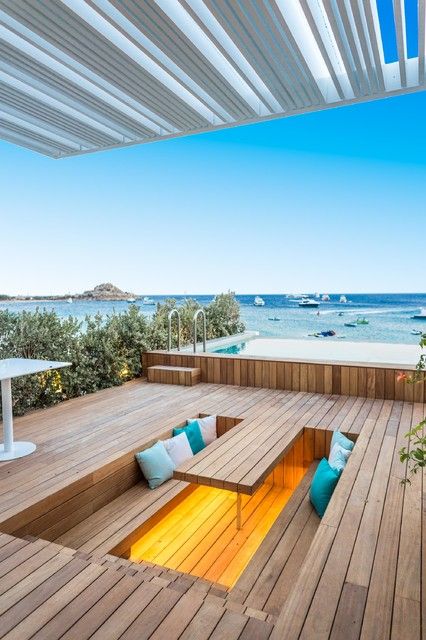 Consider constructing a sunken lounge on your deck for a distinctive and inviting seating spot. Create a seating area with cushions and pillows below the surface of the earth by excavating a portion of the ground.
In addition to adding a contemporary touch, this design offers a cozy and private spot for unwinding. The sunken lounge is a unique and charming addition to any outdoor space.
By incorporating this feature into your deck, you can create an inviting seating area that is both stylish and functional. The design involves excavating a portion of the ground to create a cozy and private spot for unwinding.
20. Deck With An Outdoor Kitchen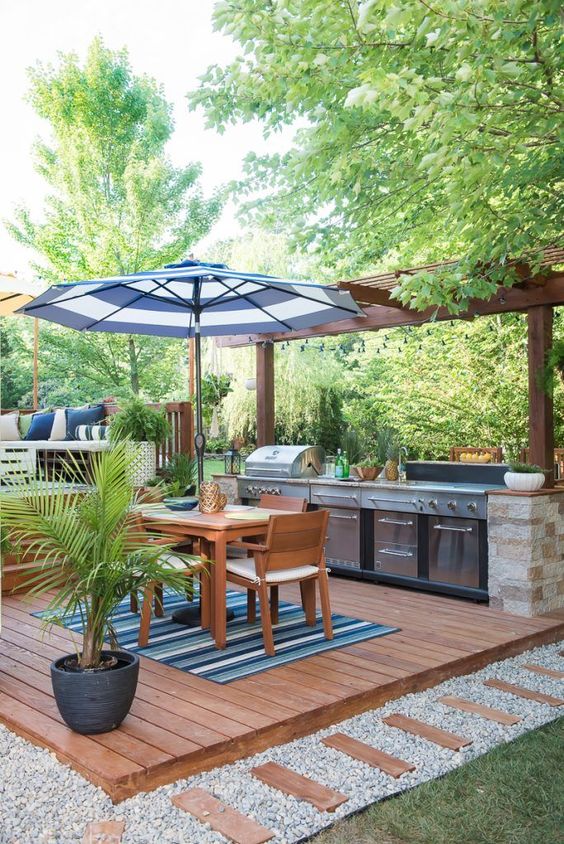 By including an outdoor kitchen with all the necessary amenities on your deck, you can elevate your outdoor gathering. Install a countertop, sink, refrigerator, and possibly a pizza oven or grill that is built-in.
With this setup, you may cook and dine outside and have a memorable dining experience. Not only will your guests be impressed with the convenience and luxury of having an outdoor kitchen, but you'll also be able to enjoy the beautiful weather and scenery while cooking and entertaining.
21. Deck with a Play Area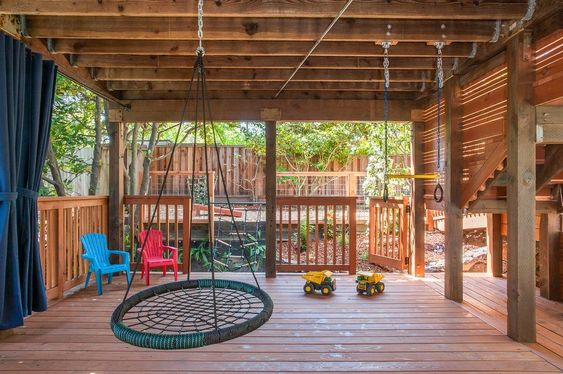 Consider including a distinct play space in your deck design if you have kids. To occupy the children, install swings, a slide, or a small rock climbing wall. With this arrangement, you can watch your children while relaxing on your deck.
You can slo incorporate some comfortable outdoor furniture to make the space more inviting. Consider adding a dining table and chairs for outdoor meals or a cozy seating area with cushions and throw pillows for lounging.
Don't forget to add some shade with an umbrella or pergola to protect you from the sun's rays. To enhance the ambiance, add some string lights or lanterns and potted plants.
Final Thoughts
So this was our list of the 21 best budget-friendly backyard deck ideas for creating a stunning patio with a deck. We hope these suggestions have inspired you to turn your outdoor space into a dreamy retreat without breaking the bank.
Remember, the key to successful budget-friendly projects is creativity, usefulness, and a dash of enthusiasm. Some wonderful ideas include outdoor furniture, good lighting, proper greenery, and other stuff like a barbecue area, fireplace, etc. Also, be patient with the design as well as yourself. Enjoy the process.
So roll up your sleeve, gather your tools, and let your imagination run wild as you embark on this exciting journey of transforming your backyard into a patio with a deck.