Home decoration ideas in vogue this year reflect the post-pandemic mindset. From repurposing furniture that can help you achieve work-life balance to transforming the living area into family game rooms, our design choices establish the creation of functional entertainment spaces that encourage comfort and relaxation.
Remodeling your house, renovating specific rooms, or decorating the living area is a great idea. Introducing new designs, upgrading amenities, revealing the potential of unused spaces, and switching to eco-friendly alternatives improve your lifestyle and well-being. With the changing seasons and trends, it is necessary to repair home furnishings and reassess the color scheme and overall layout. However, reserving a budget to redecorate according to recent trends can be difficult.
You can thus opt for affordable home decoration ideas to consider, which include changing the layout, re-organizing furniture, shopping for decor pieces from thrift shops, and using DIY kits to minimize expenses.
Amazing Home Decoration Ideas for 2023
While using decorative pieces and themes with supportive hues is functional, accessorizing your home with stylish embellishments is a chance to put your spin on it. So, even if you are not artistically inclined, you can use any of the following inspirations and apply home decoration ideas to curate a comfortable, versatile, and inspiring space using the top 10 home decor ideas:
1. Multifunctional Spaces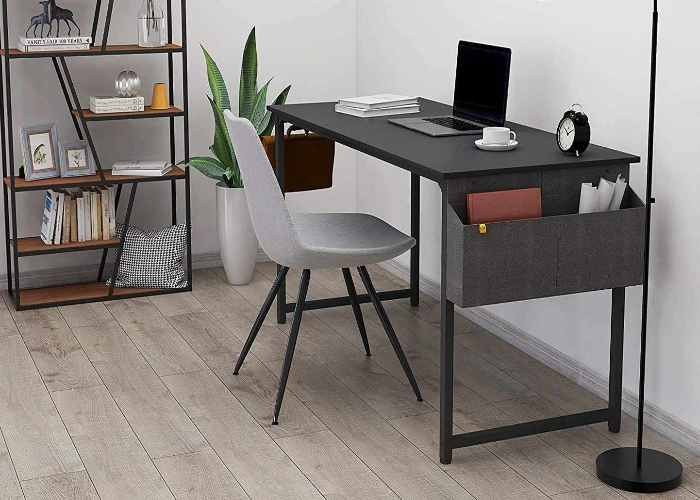 Since the post-pandemic time, the focus on socializing and entertaining indoors has increased. If you prefer to host guests at home or prefer unwinding in the living room, switch to modular sofas and multifunctional chairs and create communal lounging areas.
Fashion a WFH station out of an old cabinet or armoire to increase productivity. If you cannot spare a room, create a dedicated space to enjoy reading or unwind with your favorite tunes.
To create a functional space for your home office, you can order a that has plenty of legroom, a drawer to store your essentials, and an ergonomic chair to ensure maximum comfort and efficiency throughout long work hours.
2. Statement Corners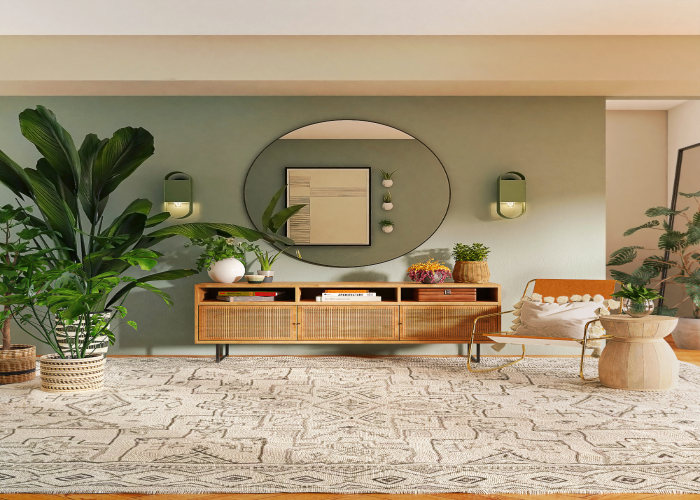 Bring your personal style to your living space with statement pieces like decorative mirrors, stylish chairs, wall art, symmetric rugs with distinctive prints, striking silhouettes, bright florals, and abstract prints that can liven any corner of the house.
Hand-quilted panels, embroidered patterns, or those adorned with fringe-trimmed drapes, embellished shades, and other handcrafted details can elevate window treatments.
Another popular idea to create a statement look is the usage of a white marble slab or other natural stones for your kitchen, mantle fireplace, and bathroom.
3. Vibrant Accent Walls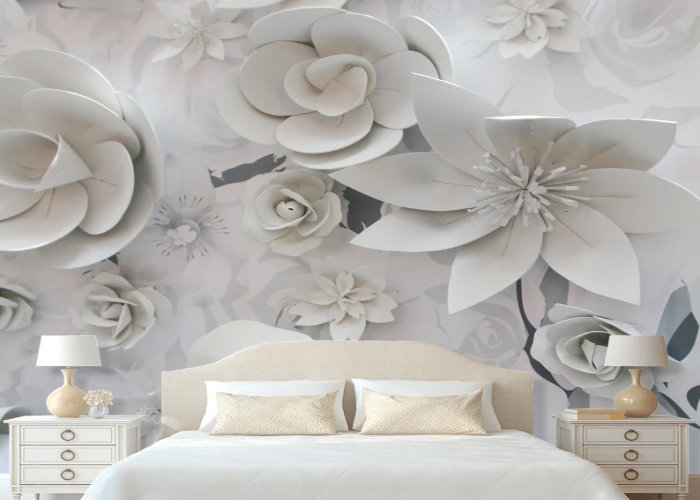 Bold tones, intricate murals, striped patterns, ceramic styles, soothing hues, and vibrant shades are eye-catching wall designs trending this year. If you are not keen on experimenting too much, you can use the accent wall pattern to paint only one wall or a section of the room with interesting designs and patterns.
While black accents, tan, rich emerald, and navy-blue tones add contrast to neutral shades, luscious, bold-colored walls decorated with ancestral heirlooms and repurposed antiques are a chic trend for your living room.
For a DIY, budget-friendly experience, check out inspirational project ideas that will help you design color-blocked accent walls. Other affordable options include installing accented wallpaper, decorative panels, wall tiles, or simple woodwork.
4. Timeless Minimal Luxury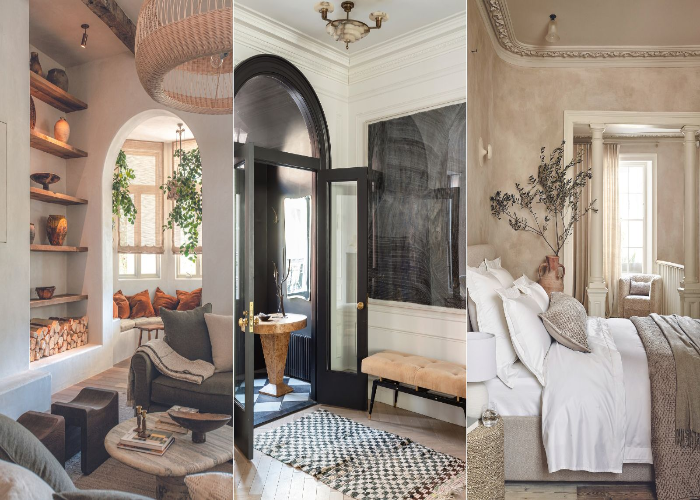 Luxury does not necessarily mean expensive and fancy looking. A laid-back setting showcasing only essentials in the room gives a refined and welcoming look. Elegant pillows and throws, rugs in rich colors, warm-toned furniture, and layered textures are ways to create modern, sophisticated, luxurious spaces.
Incorporating neutral shades, layered textures or lights, clean accents, and fabrics like silk, linen, and velvet can give a modern minimalistic appeal. The minimal, luxurious trend can be best achieved using easily accessible upholstered velvet chairs, sofas, and drapes.
You can draw inspiration from home decoration ideas by using subtle beige palettes, all-white interiors, and natural influences to get a timeless appeal.
5. Classic Traditional Styles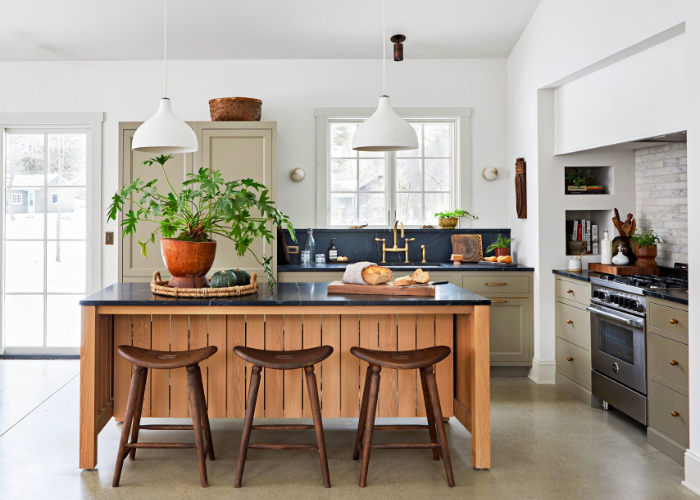 Vintage-inspired patterns and dark wood-toned finishing have made a comeback in kitchen cabinets, coffee tables, and media consoles. Reclaimed iconic pieces, archived aesthetics, nostalgia from the 60s or 70s, and retro-styled furniture can be upscaled to bring back old memories.
Another trend being embraced this year uses animal-printed designs or clashing patterns to create Insta-worthy styles. Uniting eclectic historic pieces and modern fittings with creative shapes, bright colors, and mid-century decor give living spaces a homely appearance.
You can shop online for traditionally styled wood furniture pieces like a side table, nightstand, kitchen cabinet, vintage coffee table, oak finish computer desk, teak leather upholstered chair with ottoman, ornate dresser drawer, and more.
6. The Metallic Touch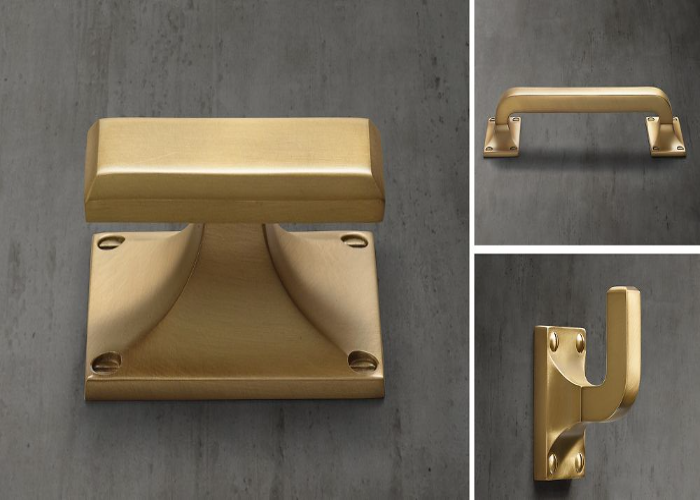 Gold tones used for doorknobs, handles, curtain rods, and other hardware furnishings can add a contemporary look. You can also use mixed metals to add visual interest to kitchen cabinets and lighting fixtures.
Pull handles made from unlacquered brass and faucets made from polished nickel give an antique, timeless look. To create a modern chic look, you can add small touches like vintage handle knockers with golden elements in lamps, ceiling lights, and wardrobe doors.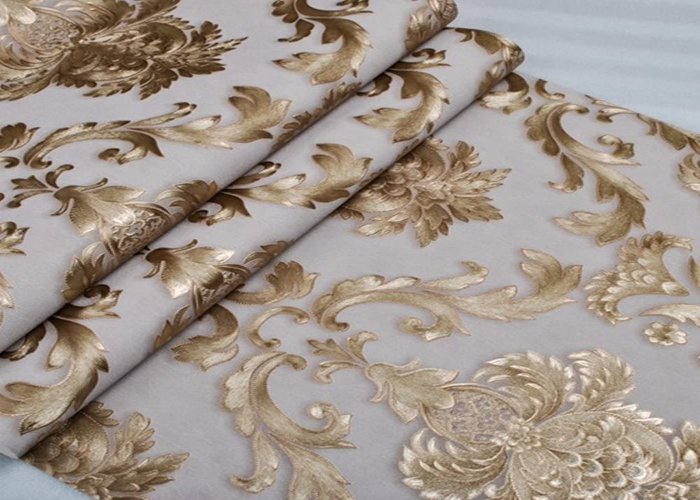 Shimmery gold, pleasant warm hues like the sun, and gold leaf designs are used to make wallpapers. They enhance light reflection, making the room look brighter and radiant even after sunset.
You can use the peel-and-stick varieties to decorate your wall or use gold wallpaper stripes to enhance the existing decor.
7. The Mindfulness Mantra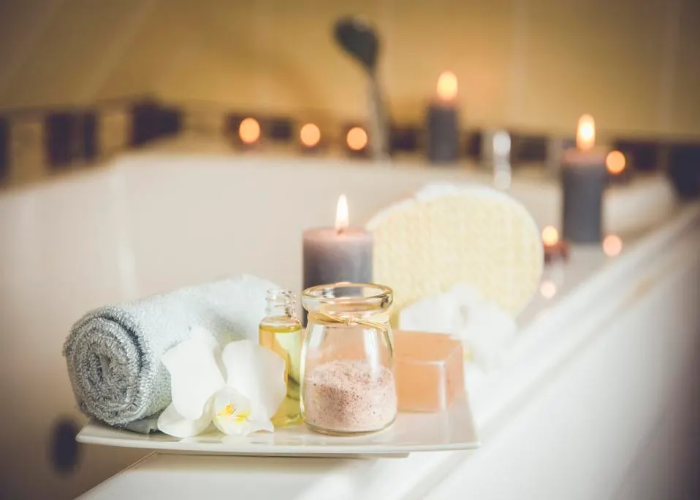 In order to improve well-being and practice self-care, you can use open floor plans to allow the natural flow of natural light and further bring in indoor plants that induce a sense of relaxation.
Alternatively, you can revitalize the living area with warm woody tones, breezy curtains, sumptuous couches, luxurious cushions, plush seating, and luxurious bedding. Some specific corners in your home, including the bathroom, can be redesigned using calm tones and textures, natural materials, comfortable furniture, and soothing lights.
Moreover, you can order a spa kit consisting of nourishing vitamins, relaxing aromas, essential oils, scented candles, bath salts, and scrubs to pamper and revitalize yourself.
8. Contemporary Light Fixtures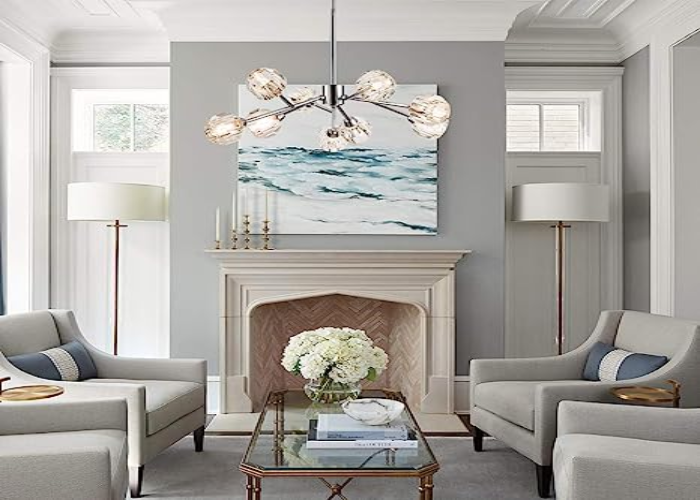 Latest shapes like a funnel, conical, oblong, and tubular are used to create flexible silhouettes and multifunctional lights for open-plan living and dining areas, while carefully positioned wall lights can beautify any ambiance.
Oversized pendant lights and aesthetic earthenware fixtures are trending this year. Elaborate lamps with shades made from fabrics, paper covers, ceramic tones, and those in unique patterns or mounts are quite popular and eco-friendly.
You can also use portable floor lamps, salt lamps, table lamps, or small lamps on kitchen islands to bring a cozy feeling.
9. Sustainable Sensibilities
Celebrate artisan craftsmanship and designs with handmade objects, natural fiber rugs, and rattan/wicker decor that can give a cozy feel to your home. Used as an economical alternative to underfloor heating, cork flooring provides natural heat insulation and adds a warm tone.
While recycled metal is used to make lightweight chairs, the practice of designing eco-friendly fabrics is also trending. Repurposed materials and recycled plastics are used to create high-quality, stain-resistant, washable rugs and textural weaves using environment-conscious methods.
10. Organic and Natural Materials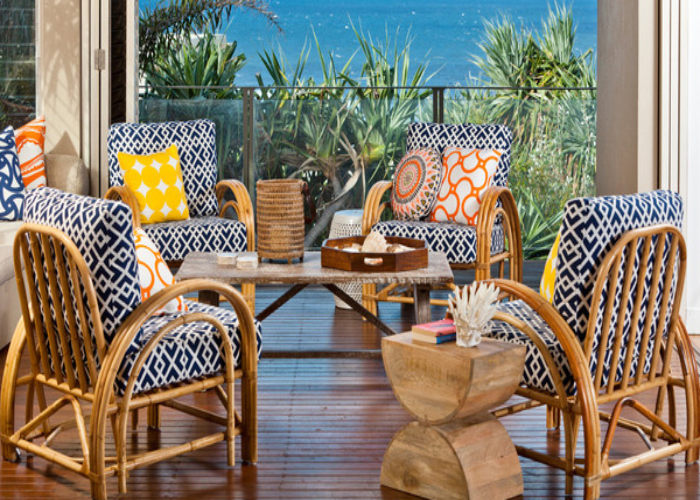 To continue on the sustainability track, you can further use wicker chairs and organic materials like clay, wool, and silk to decorate furniture pieces. Using natural materials like wood, bamboo, and cork can also add character and texture to a space while making you feel closer to nature.
While light fixtures are decorative and functional, you can maximize internal lighting using big bare windows, reflective surfaces, and white shades that also help in improving sleep patterns and your mood.
Besides, you can also try hallmark trends for spring and summer months, including mismatched vintage pieces and asymmetrical and modern coastal-style furniture. The best aspect of these home decoration ideas is that they can withstand weather conditions and extreme temperatures, so you can enjoy them for years.
Final Thoughts
Choose the look that suits your interior space and floor plan without going overboard. If you are not very keen on experimenting with bold ideas, try to change the look of a small corner of your house. Another great idea is to use 3D software where you can upload a picture of your wall/home and try different ideas to see how it can turn out.
Opt for bright hues, sustainable materials, and luxurious materials, or pick any of the above-listed home decoration ideas to create a statement, contemporary, functional living space.
So, which home decoration idea are you going to choose? Let me know in the comments below!
Frequently Asked Questions
Which Home Decor Trends Are Outdated in 2023?
In 2023, home decoration ideas that are not very popular anymore include huge open-plan interiors, media-centered living rooms, over-layered beds, and non-functional furniture that end up cluttering the space.
What is the Key Decorating Trend for 2023?
With sustainable furnishings becoming increasingly popular, you can additionally choose bolder colors, and borders for door frames and windows, embrace textures and patterns, or apply DIY skills to upscale existing home decoration ideas.
Is Gray Not in Trend This Year?
While gray is a versatile color, it is not very popular this year. Some neutral and dark shades like gray, black, and sunset blue can create a cold and gloomy atmosphere, as opposed to pink, green, and warm sunny shades.
Which Minimalist Trends Will Be Popular in 2023?
Modern functional trends that align with the minimalistic concept include nominal furnishings, creating open spaces, increasing natural light sources, designing crescent-shaped arches and modern curves, and using contemporary shaped and rounded furniture.
How Can an Entertainment Space Be Created in The Living Room?
Your living room can be transformed into an entertainment-focused space using game-centered settings, circular seating, or conversation pits to reconnect with your favorite people and create a friendly atmosphere.