Are you the one who is still confused about which fireplace to be installed in your backyard? Lacking some outdoor fireplace ideas? Well, no need to worry about that, as we are here to sort out all your problems related to fireplaces.
People who have well-designed homes want a fireplace to be installed in the backyard. Outdoor fireplaces are something that will add more charm to your home and the backyard as well.
Most people in Western countries have these fireplaces in their backyard or somewhere outside the home. There are numerous outdoor fireplace ideas that one can have.
You can make them either with wood, concrete, or marble. This article will be helpful for those people who do not have any outdoor fireplace ideas but desire to have one.
Amazing Outdoor Fireplace Ideas
As we have discussed above, to have a good and decent outdoor fireplace, you will have to do some research about their procedure, their built quality, spacing required, how to install them, etc.
1. Poolside Fireplace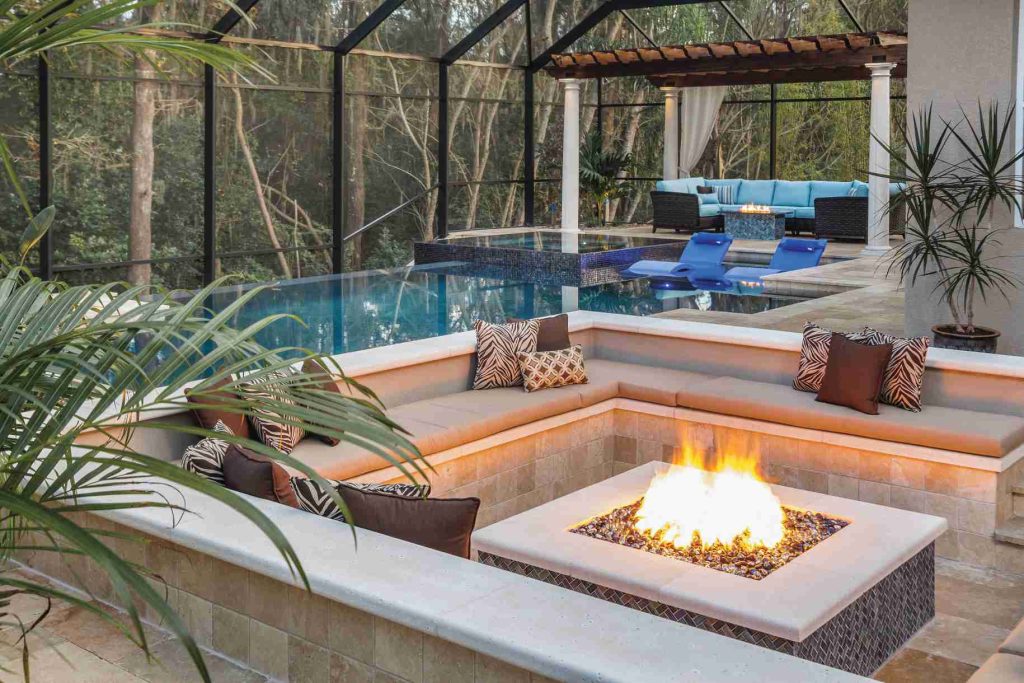 People rarely put their fireplaces into their pools. One can enjoy sitting beside the pool in an armchair which can be worth relaxing, and the fireplace. It will bring more charm to your pool.
Not only that, in the evening time when it is dark, you can come with your friends and family and can relax near the fireplace area. The design and color contrast are amazing, as you will be able to see in the picture.
There are different types of other styles available, but you can even have the fireplace custom-made according to your own requirements.
2. Fireplace in Your Backyard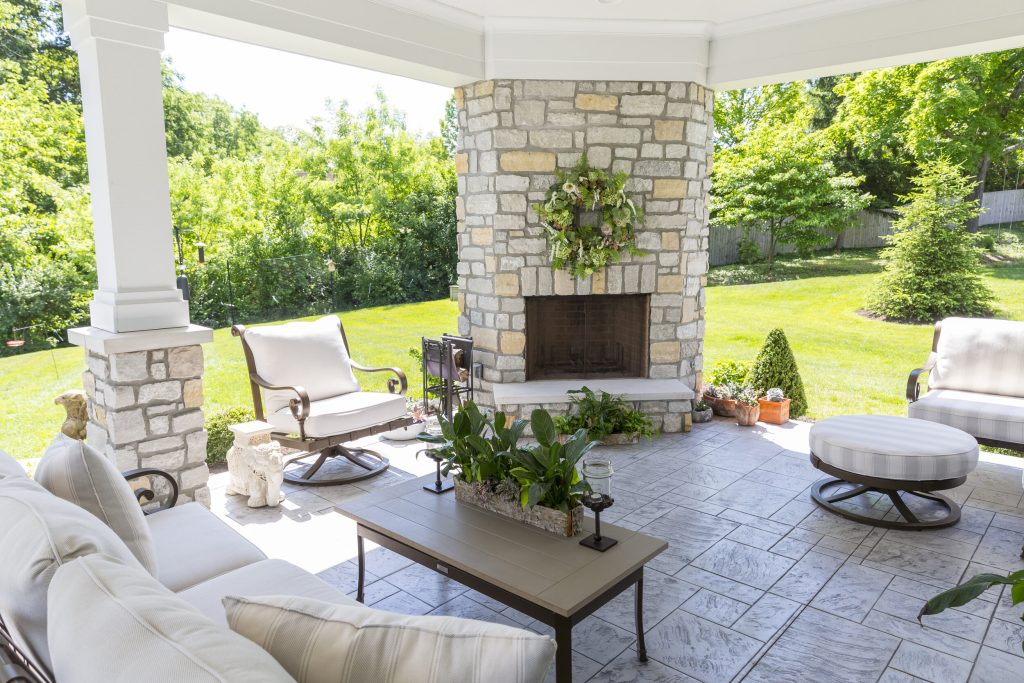 Having a fireplace in your backyard makes you feel excited, right? One can easily make their own fireplace in their background, but they have to have a good amount of space where they will be putting or installing their fireplace.
This will be a great spot for relaxing with your parents and other members while sitting around the fireplace, and at the same time, they can enjoy the view of nature as well.
You can have a big couch or can have armchairs near the fireplace for relaxation. You can either make your fireplace with rocks or with the cement itself.
Similar Post: DIY Guide to Transform Your Fireplace with Peel and Stick Tiles
3. Fireplace with a Small Shelter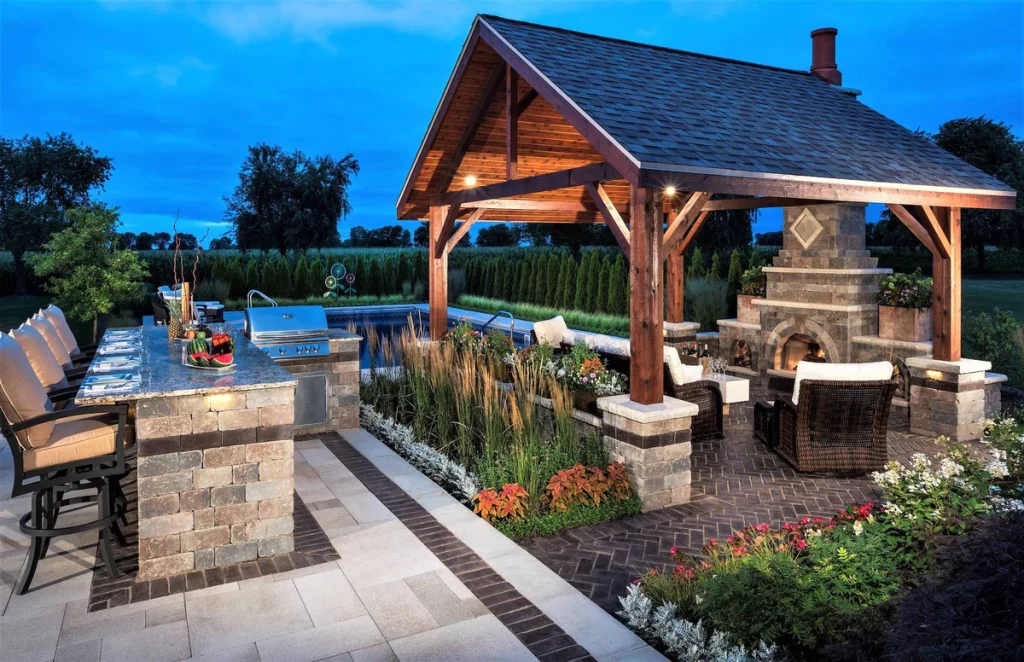 Another good idea is to have a small shelter outside where you can have your fireplace with a good sitting area. You can also host your guests and have a good time with them.
The purpose of this shelter is not just for style, but it is to prevent strong windy breezes. Overall, you can have a ball of time in these types of fireplaces.
It is a great place for small parties, gatherings, and conducting memorable events such as birthdays, anniversaries, or a grand Christmas dinner.
4. Fireplace with Cooking Area
Want to cook for your loved ones outside along with a fireplace? Then this idea might help you to get yourself one. You can have a fireplace on one side and on the other side a small outdoor kitchen for yourself, or you can have both attached in one place.
Just like the above picture, as you can see there is a fireplace and a cute little cooking area with a sink. You can have everything just like a modular kitchen. There are other different types of fireplaces with cooking facilities which you can have.
But if you want something like what we have mentioned, then this idea will prove to be a great one.
5. Vintage Fireplaces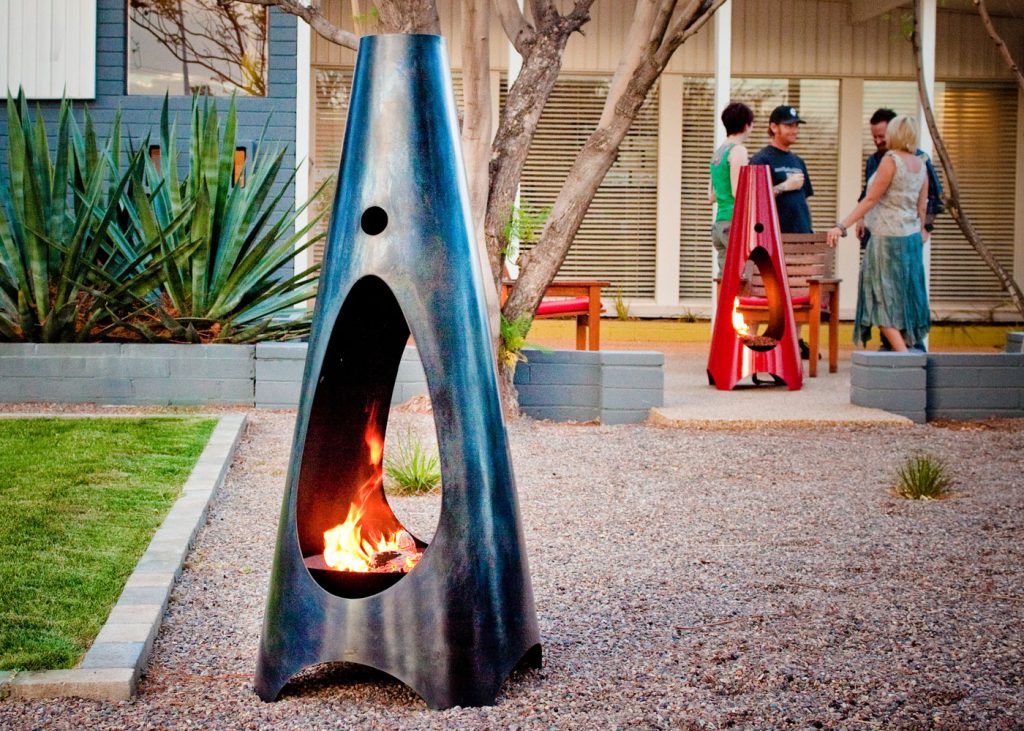 Vintage-style outdoor fireplaces are seen mostly in the homes of old people or in homes where people have an obsession with vintage stuff. Having a vintage-style fireplace in an outdoor setting can add charm to your backyard.
There are different types of vintage fireplace ideas that you can have in your place. You can have a vintage-style fireplace by just making it with stone.
Or else, you can have a small chimney along with a small sitting area in your backyard. It solely depends on what amount you have in your backyard.
6. Small Fireplace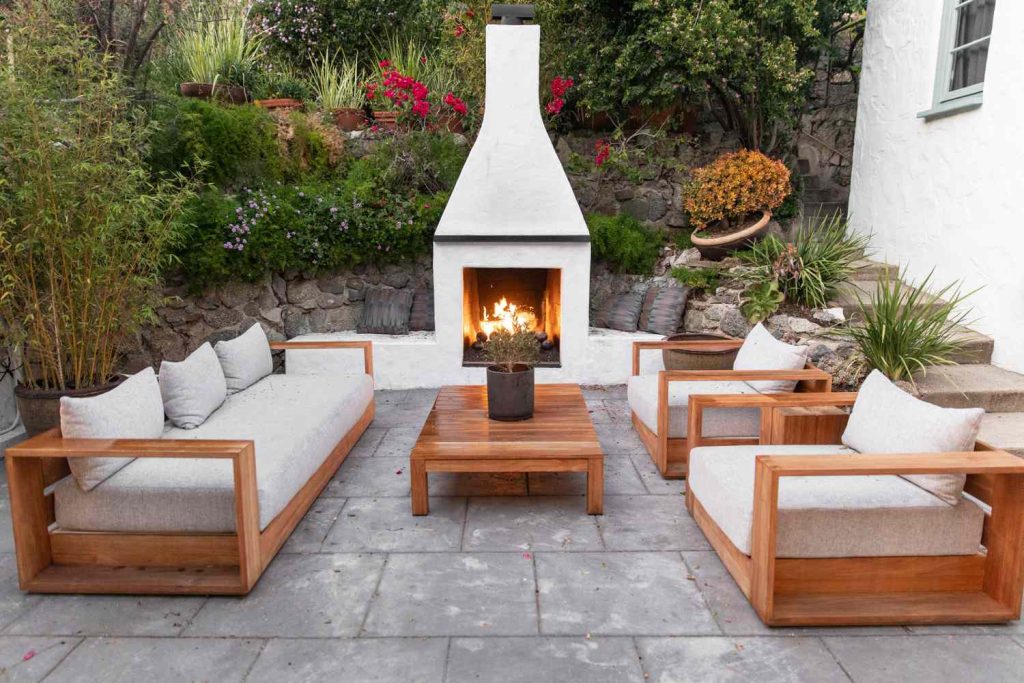 As we have discussed earlier for a bigger fireplace, you need to have a decent amount of space in your backyard. But if you don't have a big space, you needn't worry as there are many small fireplaces you can have in small areas.
These small fireplaces are made of iron, and they are very convenient to carry from one place to the other. These small and cute-looking fireplaces are very useful, especially when you are going on a camping trip.
And they are inexpensive, which will reduce your expenses too if compared with the big ones. Put some small wood into it and keep yourself warm in the chilled weather.
7. Double-Sided Chimney Outdoor Fireplace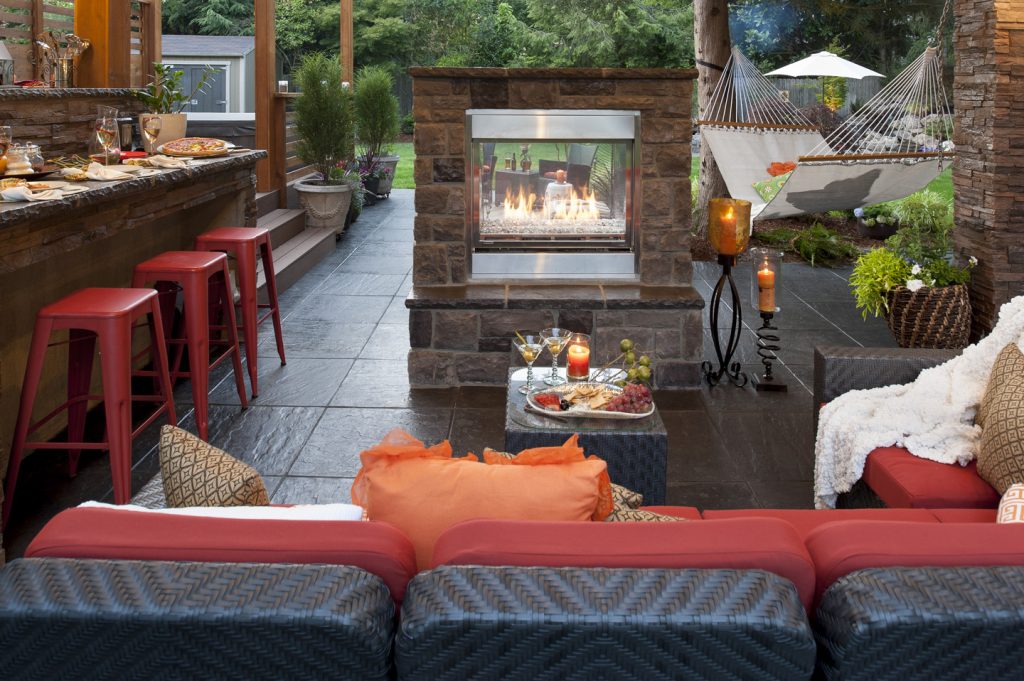 A double-sided chimney fireplace will not only be the showstopper. However, it will be a bit expensive if we see it from the pricing point of view.
With these types of fireplaces, you can make your sitting arrangement on both sides because it has the advantage that people on both sides will receive the same amount of warmth.
These can be made with wood or with stones.
8. Fireplace of Curving Stone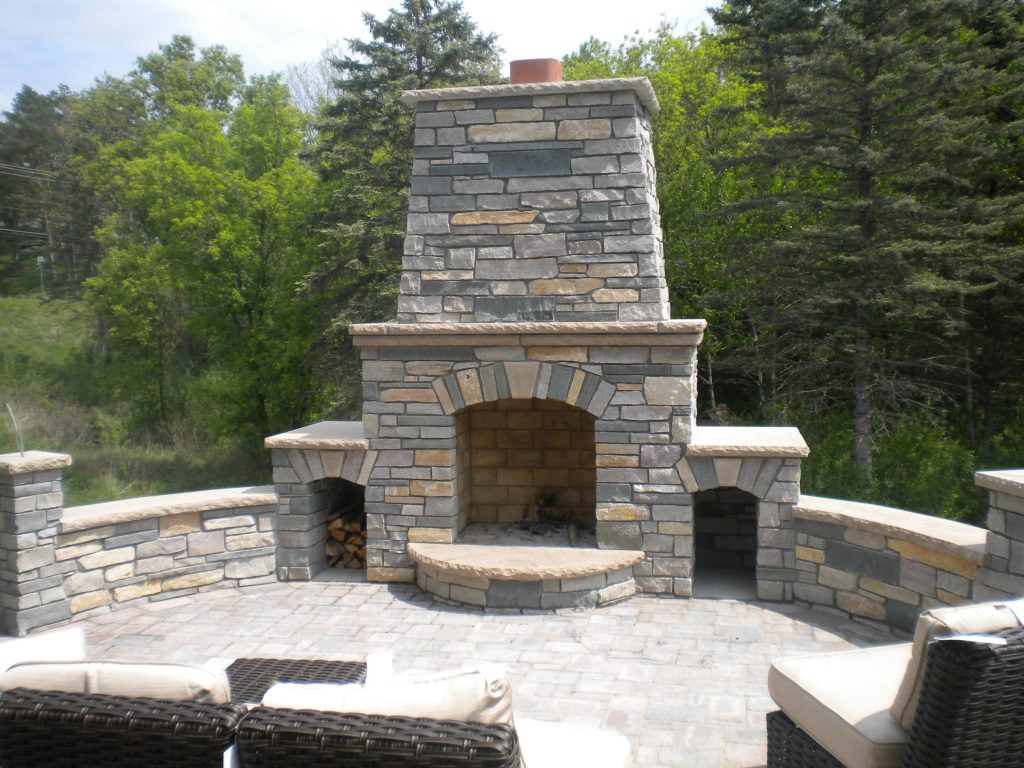 As we have discussed earlier, sheltered fireplaces and curved stone with roof fireplaces are other ideas that you can have in your place. Having a curved stone fireplace can be more dignified and bring a more classy look to our fireplace.
Along with that, you can add some beautiful ceiling lights to bring more charm. Place a couch or a sofa in front of the fireplace, and you are good to go.
9. Fireplace with Grill Facility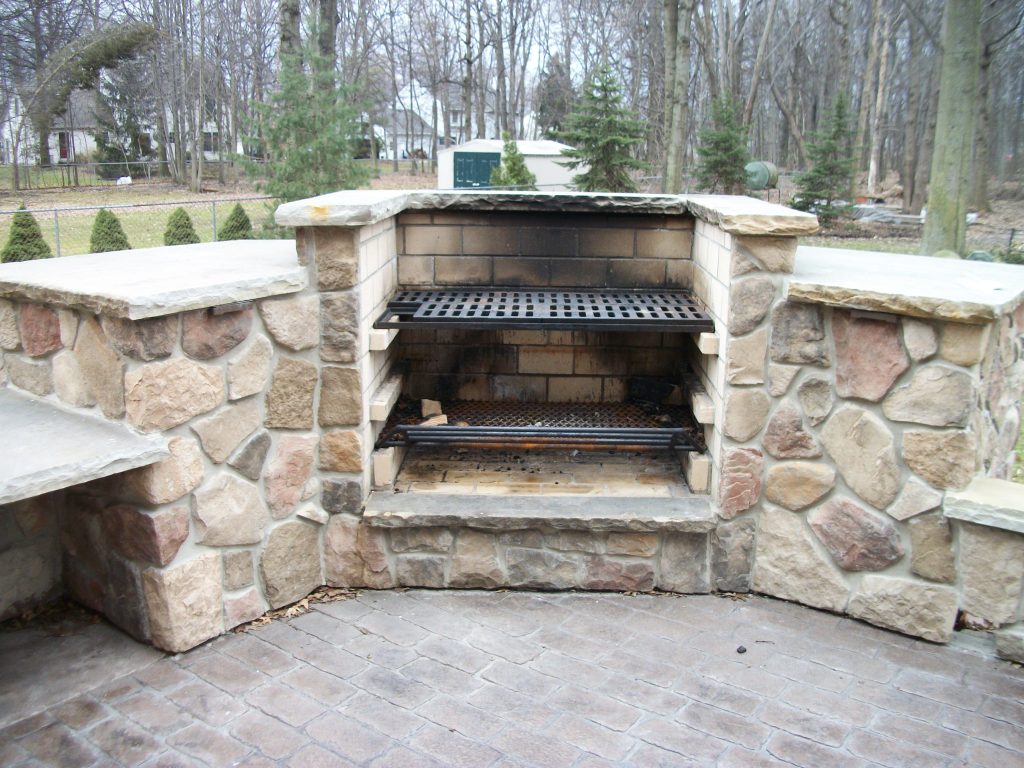 You will see that people mostly have a bigger fireplace in their backyards with a grill facility to enjoy the fireplace and have a barbeque at the same time. You will have to combine both in one area, which will be more convenient and easier.
There are different types of grill facility fireplaces that one can make. With proper sitting arrangement under nature, you will be able to enjoy the beauty and barbeque both at the same time.
Also Read: Top 13 Outdoor Tv Ideas for Your Home and Backyard
10. Fireplace in The Gardens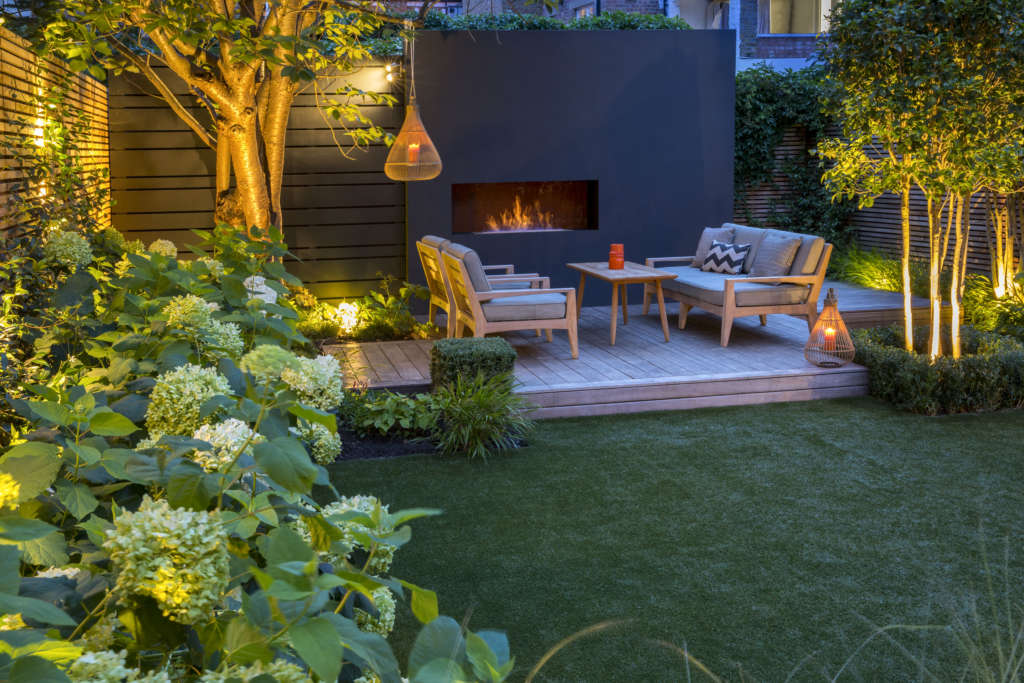 Gardens are the best space for one to relax and reconnect with themselves. But having a fireplace for the winter can be an added advantage. Many people add fireplaces to their gardens.
There are different sizes available for your garden space, but it solely depends on how big your garden is. Always remember to keep your flowers and plants away from your fireplace so that it doesn't catch fire.
11. Dining Fireplace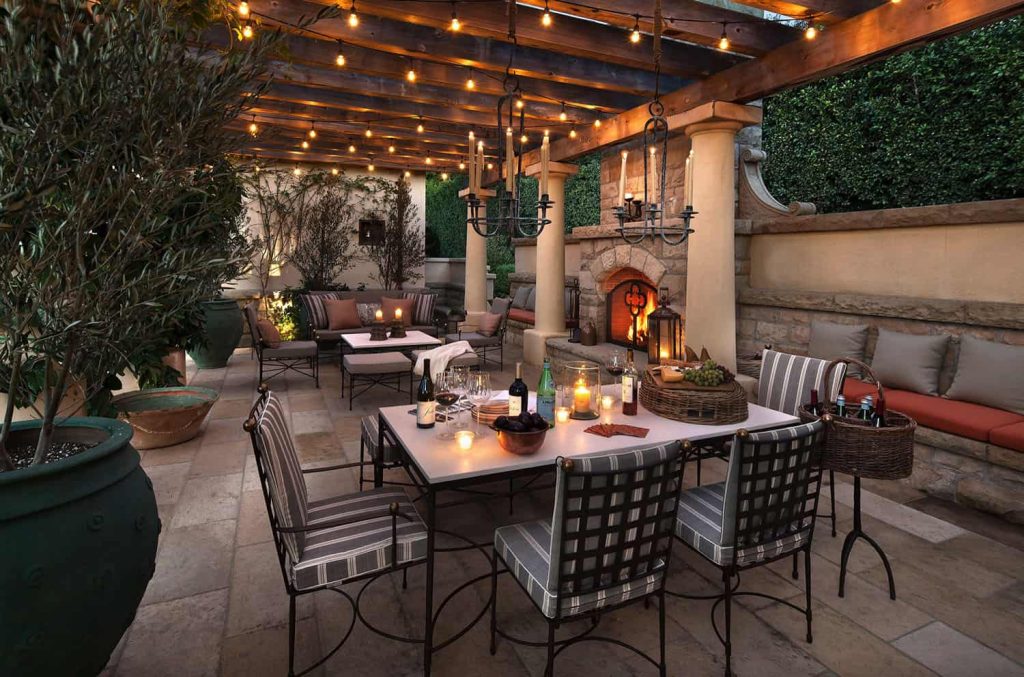 Dining with your family near a fireplace can be beautiful and enjoyable. You can have a ball of a time having a fireplace in your dining area. You will need a big fireplace for your dining since there will be many people gathering. However, it will cost you more, but to maintain comfort, one should get it for their own dining space.
You can either have a fireplace made of wood, marble, or made of stone. After installing, Invite your family and friends to your new outside dining space with a fireplace for dinner.
12. Fireplace for Camp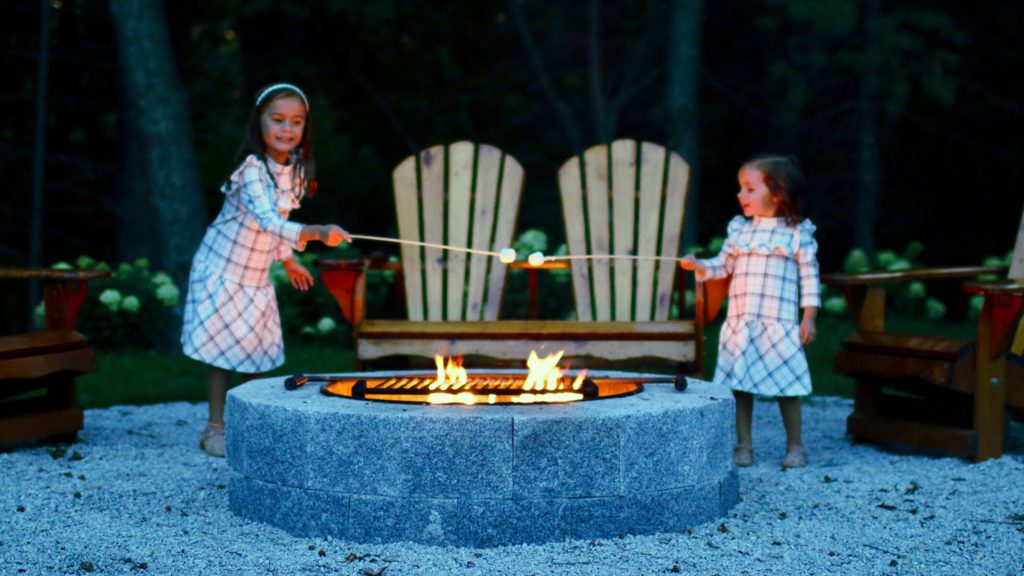 In camping, especially in winter, people enjoy the natural vibes along with bonfires. Without this, one cannot even think of going to camp in the winter seasons. There are different types of fireplaces available for camp.
But the most important thing is that you have to see which one will be easy and convenient to carry, and cheaper as well. Grab your fireplace and bring it to the camp so that you can have a good time.
13. Fireplace with Pizza Oven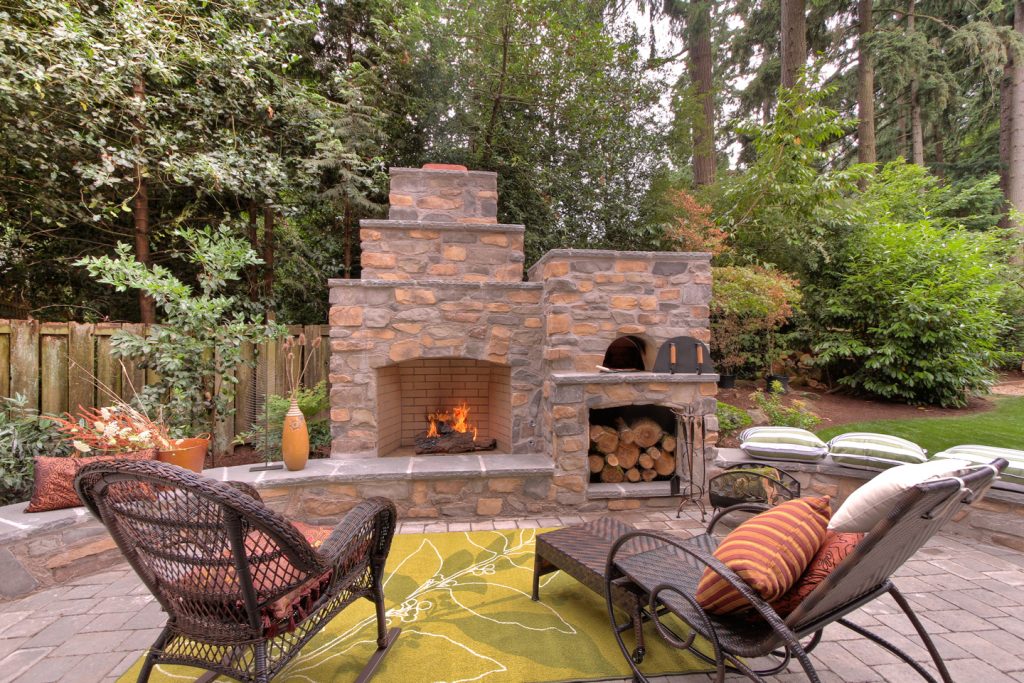 Want to have pizza under the lap of nature along with sitting under the fireplace? Then why not have your fireplace with a pizza oven feature? You will find that many people have ovens along with the fireplace.
These fireplaces are either made of stone or wood or even made with concrete. From the cost point of view, it is not that much costlier to install. But, the most important thing is the space.
How much space you have for these fireplaces matters the most. So, what are you waiting for, go and grab the materials and make your pizza oven fireplace.
14. Fireplace with Beach View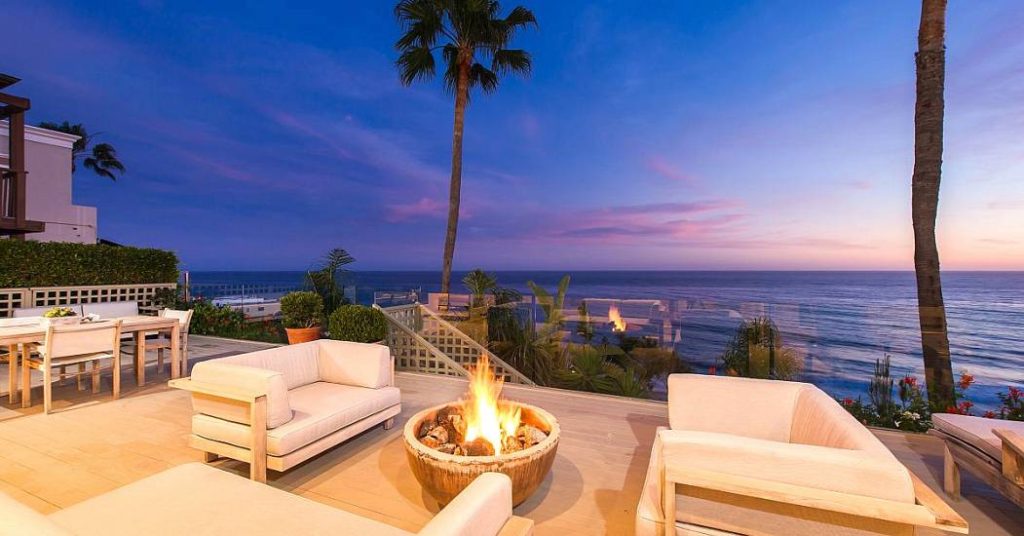 If you have a beach view from your backyard, then you can have a good time just by relaxing and enjoying the view. But if you add a fireplace along with a sitting area, that will be more beautiful as it will bring more charm to your garden. You can also add a small cooking area where you can cook while enjoying the beach vibes.
There are plenty of fireplaces with beach view ideas, but you have to see what amount of space you have.
Through the above picture, you will be able to get a rough idea of it. Once you get the idea, you can make it according to your wish.
15. Fireplace in Cottage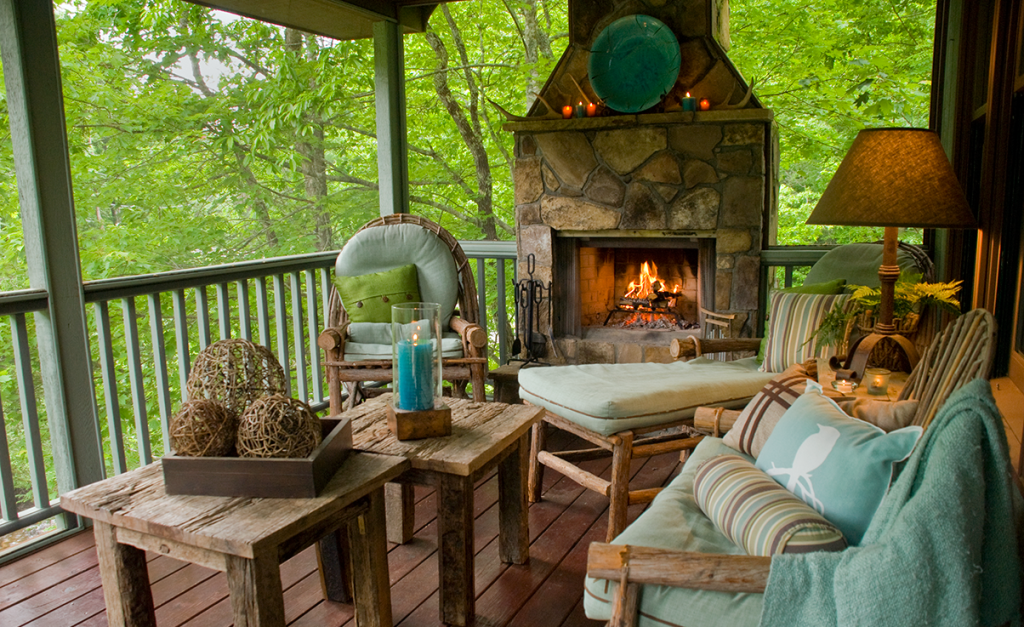 People mostly built cottages in their backyards for having a ball of time with their loved ones, and having a fireplace in your cottage will add more charm. You can either have a fireplace made of wood, or you can have a stone-made fireplace.
If you are having a woody or concrete-type fireplace, then you can paint it according to the contrast of your cottage. Add a couch or a pair of chairs for sitting purposes, and with that, you are good to go.
Bring your family and friends and enjoy the fireplace in your outside cottage.
Related: 17 Stunning Under Deck Ideas to Design Your Home
16. Fireplace on The Mountain Side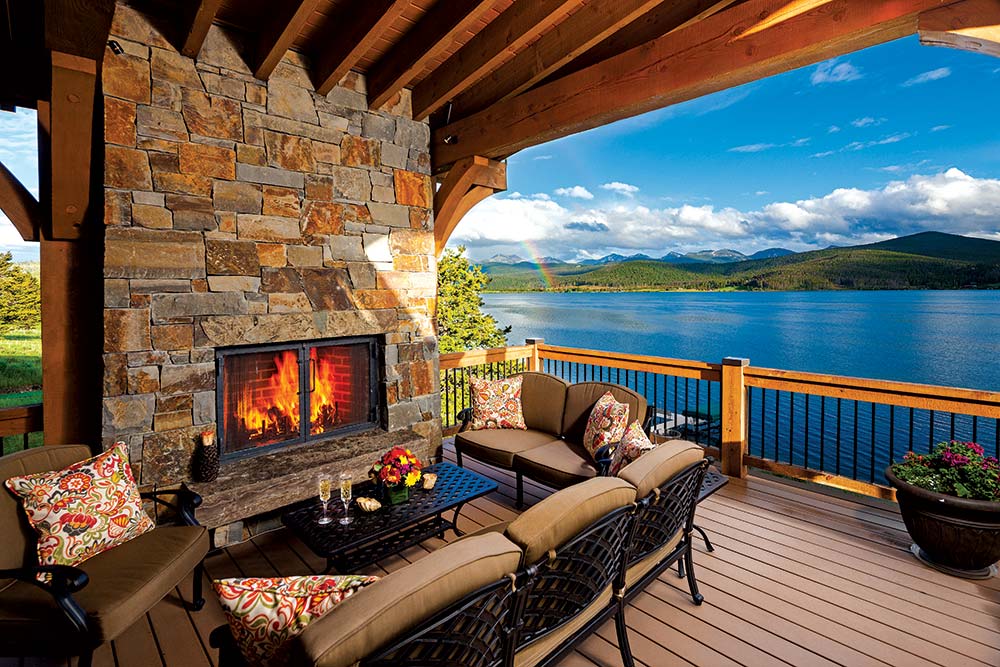 You can have a fireplace in the mountains as well. Whether it is a home in the mountains or the backyard of your home, wherever you want, you can have a fireplace. In this picture, you can see that a home has a fireplace on the balcony with a view of the mountains.
People who want to have a fireplace in their backyard can either have a standard wall-fitted fireplace with a chimney. Or they can have a fireplace that is just in the shape of a well which is shown in the above figure.
Inside that, you will be able to put some wood and can have a beautiful time by sitting around the fireplace.
17. Fireplace in The Lake Side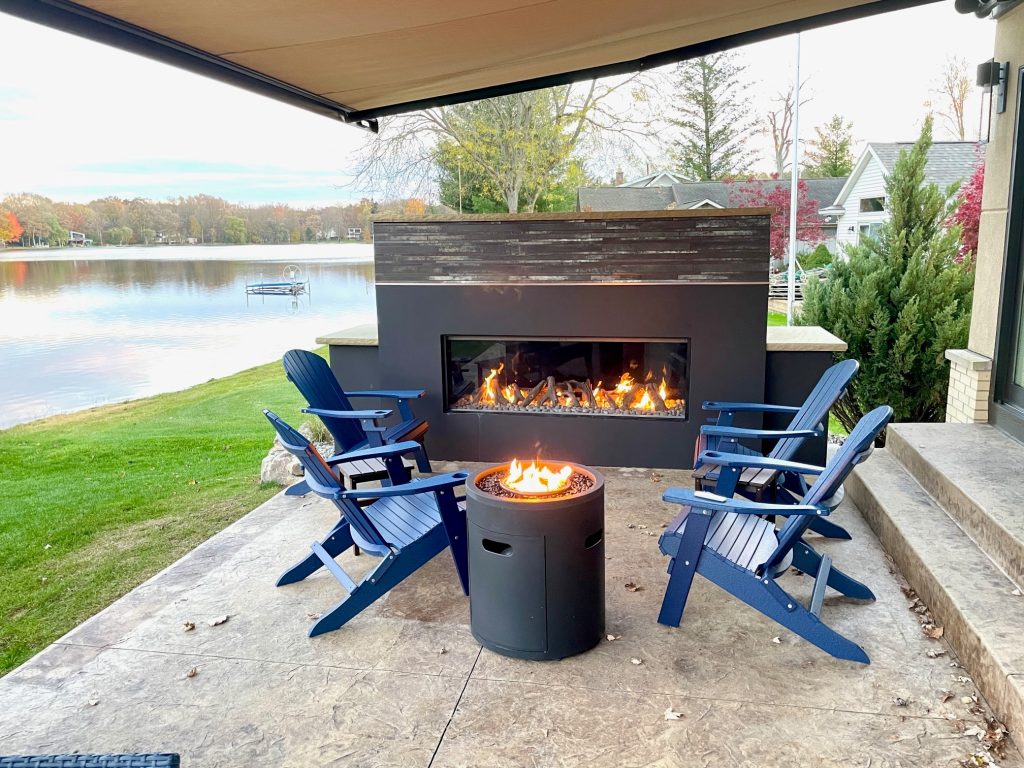 Just like having a fireplace on the poolside, one can have a fireplace on a private lakeside as well. If you have a small lake along with a small backyard, then you can make a small fireplace area with a decent sitting space. But if it's the opposite, then you can go for a bigger fireplace.
In the above picture, you can see that there is a cute sitting area under the shade of the tree, along with a fireplace in front facing the lakeside. Add some chairs and a small table to give it a good finish.
You can also add some tiles for the floor as it is depicted in the picture. You can make a floor with wood as well.
Final Words
We have discussed different types or ideas of fireplaces that one can have in different locations. Apart from these 17 outdoor fireplace ideas, there are numerous other ideas and types that one can have in their backyard. But the most important thing that one has to remember before having a fireplace is the space.
We have mentioned this point several times in this blog so that one remembers before installing or having a fireplace. Apart from that, the cost will also play a major factor in having a fireplace.
We hope that from the above-mentioned ideas, you will be able to pick some for yourselves.
Check This Next: 12 Unique Landscaping Ideas to Style-Up Your Side Yard