An enclosed patio is a versatile addition to any home, and it is like a transition between indoor and outdoor living spaces. Whether you want to create a cozy retreat, expand your living area, or simply want to sit in a place to observe silence and peace, an enclosed patio is the perfect solution. "Can I afford it?" The answer is yes! In this article, we will explore 11 enclosed patio ideas in your budget.
We will delve into a variety of creative ideas that cater to different financial considerations, allowing you to choose the one that is best for your budget and aesthetic preferences. We will explore affordable materials, such as lightweight and durable fabrics, and cost-effective construction methods. In addition, we will uncover some DIY solutions and provide tips on repurposing and reusing existing structures.
Regardless of your budget, the below 11 ideas will serve your purpose. Let's dive in and discover the possibilities for creating the perfect enclosed patio.
1. The Front Porch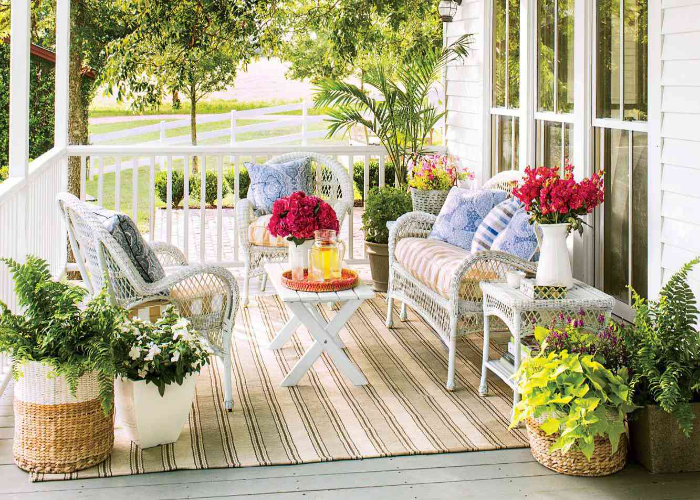 You just need to paint the ceiling, the wall, and the pillars to the color of your liking. As we know, the porch is the entrance to your home, and the porch speaks volumes about the state of a home. If your porch was empty, dusty, and rusted for so many years, now it's time to give some revamp. An appealing front porch will make you feel more at home and at ease.
As we discussed, give some good color to the front porch. Maybe choose white or wood-brown as your standard colors. Place limited seating or, according to the space, a low-profile simple sofa and chair with colorful cushions. Since it is white, any color will go with white. Floor rug to make it cozier, a rug with white color mixed. It is a front porch, so it will be incomplete without flowers and some plants. Keep enough plant pots across the porch but let there be some space to breathe. It will be a perfect place to enjoy your evening tea.
2. The Beautiful Backyard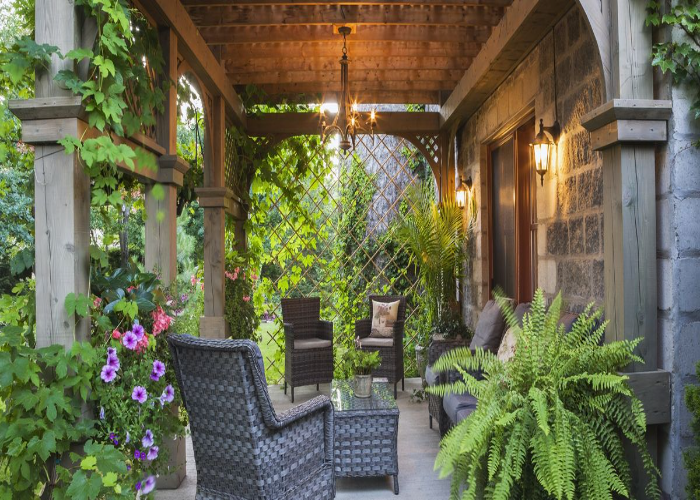 If you have a backyard, which is pretty big and can nearly accommodate 3 to 4 people, then why waste the space? Convert the space according to your liking, and make it a hangout spot with friends or family. And mostly, the backyard setup will be more peaceful than any other place at home. If you feel like spending some ME time, it is the perfect place.
The backyard is closed with compound walls or semi-closed, covering the ceiling when there is no extension ceiling from the house. Redefine the place with slightly dark and subtle colors. This would give a cozy vibe for the evening. And of course, chairs and sofas for sitting and I even suggest going with a hanging chair. Create a small roundabout with chairs and a coffee table at the center. Perfect hangout spot, isn't it? Since it is the back of the house, the natural lighting may be less, so install some retro-style lamps for better lighting and aesthetic look. Plant climbers to be a decorative item for the wall, and some colorful flowers which will reflect the lighting in the space.
3. The Barbeque Setup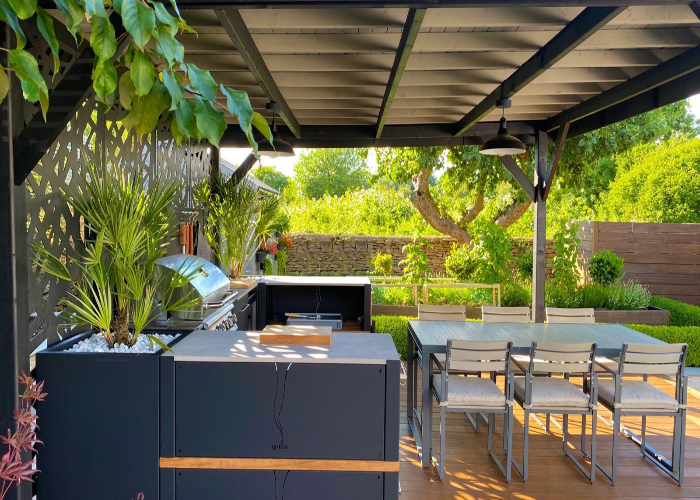 How about a small outdoor kitchen for a change? The patio is not only for hanging out. It can also be for some food, fun, and quality time. A patio enclosed with a barbeque setup will be a great idea for family time or a small dinner party with friends. Basically, a great idea during summer time has food on your patio enclosed with a barbeque setup and get some air. It will be a small investment in the barbeque setup and the items to build the outdoor kitchen. But it is worth the cost, as it is not only used once. You can resume the barbeque setup for many other occasions.
Since it is almost a kitchen set up, covering the patio ceiling is best than keeping it as an open patio. As you use it during summer times, it is better to have a ceiling and use strong wood or concrete overhead to be saved from direct sunlight. Set some fairy lights across the ceiling, which gives an aesthetic look and feel during the evenings. Paint the enclosed patio according to your own color and taste. We would suggest going with a wood brown color or wood flooring itself, as the fairy lights with orange-red color will complement the space. Place small dining with desired seating you want.
4. Balcony Patio Enclosed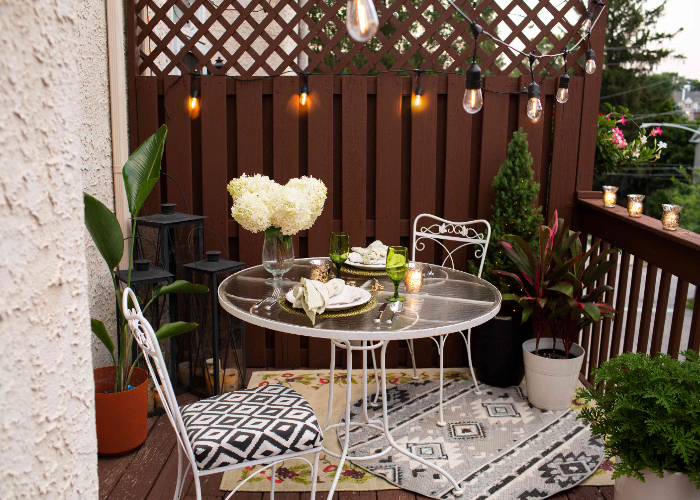 When you have a higher view and lot space available inside the house, Why build a separate patio enclosed? The balcony at home is always a go-to place since it has a higher view from the ground. The view, the air, the breeze, and sometimes silence is always special about the place. If you have an open balcony and want to enjoy rain sometimes just by watching it, why not convert it into a small retreat place on a low budget? Here are some tips on how you can convert the empty balcony into a cozier retreat spot.
As we said. Suppose you have an open balcony; then close the ceiling. It is not necessary to construct with wood or concrete. There are good, weatherproof material patio covers available on a low budget, like shade sails or soft pergola roof canopies. Since the balcony is the smallest place in the entire home, do not stuff it with many things. A small, low-profile sofa will do good. Plant some climbers to climb in the pillars, so the rain and the sun will feed them what they need. A small cute little rug on the floor and some lighting will go with basic patio lights.
5. Patio Enclosed On the Lawn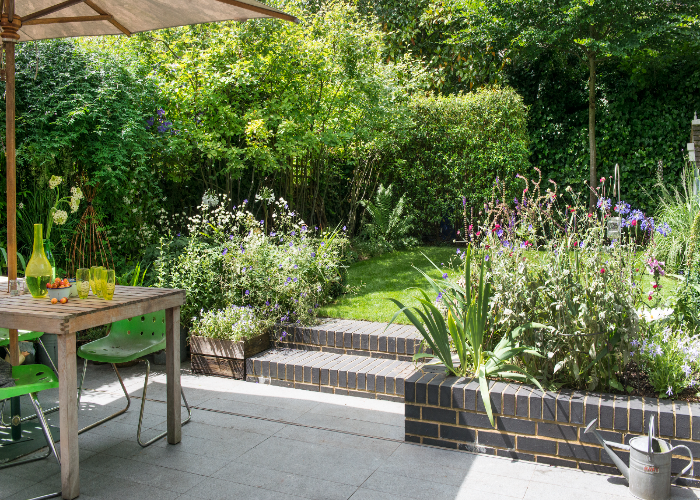 A lawn or maybe a garden will suit best, as already the mood in the place is set, so it needs only some vibrant changes. Instead of sitting in the direct sun during summer and in cold climates during winter, let us create a space to enjoy serene nature without any constraints. Clear out and choose a place on the lawn to construct an enclosed patio. It need not be a big space; a small and breathable space will do good. You can build a patio using concrete or wood, and it depends on your budget. We would suggest building a stage with wood flooring.
Create a border around the stage with bricks or even rocks to plant some flowers and plants. Rather than closing the ceiling with concrete, use shade sails which are affordable and weatherproof material too. Place a small 2-seater sofa, 2 weather-resistant chairs, and a coffee table at the center. As you have built the wooden stage, go for the furniture that complements the color, the sofa cover and chair cushion can be of subtle colors. How can we forget about the tiny details that will actually make the place wholesome? Buy some fancy vases or reuse the old vases and show your creativity.
6. Pool Patio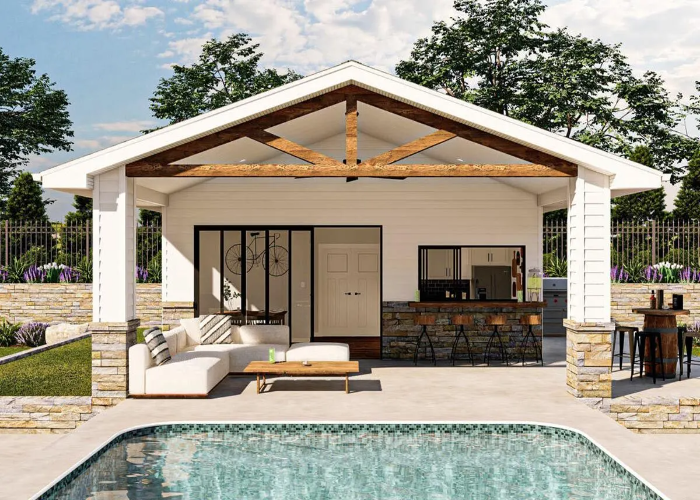 Yes, let us get chill in summer; as we know, patios are meant to be a hangout spot; why not make it more fun by setting up one near the pool? Yes, everyone enjoys swimming and playing in the water; during summer, having high-degree temperatures build a patio to get relaxed after swimming. Not only just summer, but you can also host pool parties, hang out with small friend groups, or have family gatherings with some fun in the water. Choose the bigger side of the pool and set up your patio. If there is a ceiling extension from the house, that will be the biggest cut-off in the budget.
Use the space; if it is empty or not according to your desire, change it to give color to the pillars and ceiling, and my suggestion is to go for white color. It will look appealing as it is beside the pool, and the white color will reflect in the pool water, which makes the place brighter. You place a sofa and beside that place swimming pool lounge chairs. Arrange a mini counter for food and drinks to be served. Since it will be an open area, the small round dining table will do good. Fill the place according to its size and reuse furniture if it goes with the space.
7. Private Patio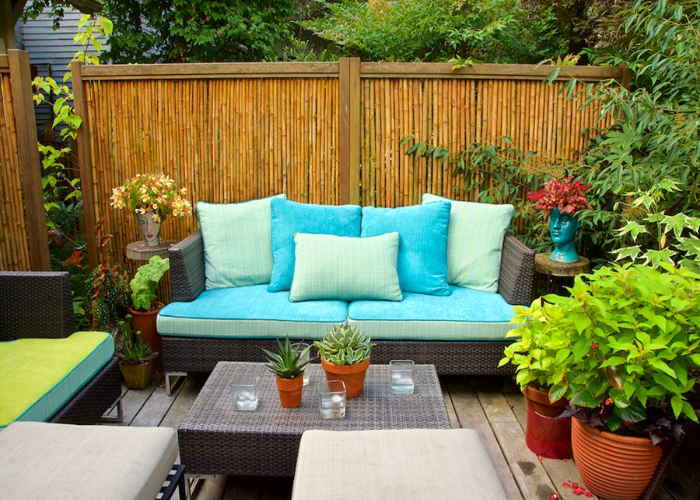 When we say private, doesn't it ring a bell? That it will be the go-to place for comfort and peace. So, ME time can be spent in a silent space where you are surrounded by nature and plants. It also gives positive vibes and helps you to clear your mind. Let us build a place like that at home at our own convenience. Since it is private, choose a much more private area to which only house members have access. You are not going to host a party or invite any friends. The ceiling for the patio can be open, and we will surround it with walls.
You can construct using concrete or wood, and better low-budget options use bamboo to build a wall. Since it is an open one, we will place furniture that is weatherproof. So, be it rain, the sun, or even the wind, the place is not spoiled. And how can we even forget about installing a nature of our own taste, going for climbers for the bamboo walls, some colorful flowers which can tolerate any climate? Place a low-profile sofa or standing swing chair.
8. The Bar Setup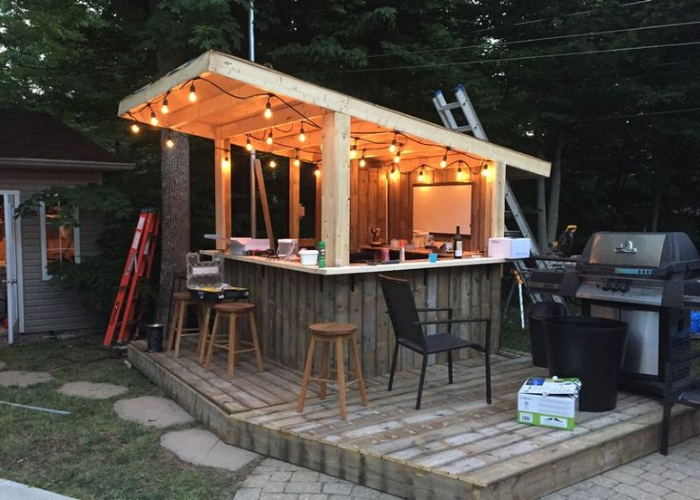 Private bar everyone wants their own private bar, and incorporating it with an enclosed patio will be a good idea. This can be a little costly, but let us try to resume things. It is not necessary to enclose the whole patio area; maybe we can only cover the bar area and seating area alone. Build a stage; use wood to build the stage because it is cost-effective. Choose a place in your backyard since the bar setup must be private. You can host your own party in your own private little bar.
You need a counter to place the drinks and serve drinks. If you have chosen an open area, raise one side of the wall and leave the other 3 sides open. Build a small counter for serving drinks with wood. Keep the minimum height of the counter, as it will be convenient for everyone. Place some wooden stools or steel stools around the counter. Hang some lights on the outer side of the ceiling, as we are built with wood, and the lights will brighten the area in the evenings.
9. Patio Theatre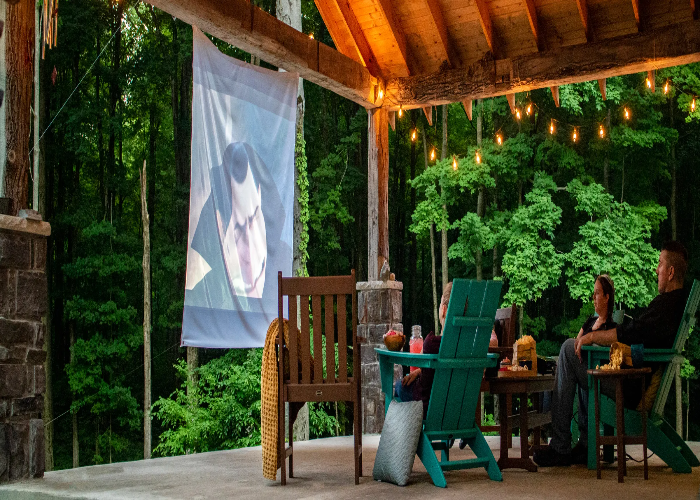 By bringing theatre to our home, we can ensure some quality time with family and movie nights with friends. Let us build a Patio theatre; instead of watching movies inside the house. The climate, the movie, and the loved ones around are definitely a YES to patio theatre. If there is already a space or any extension from the house, we will use the space for setting up the theatre.
You need a white screen for visuals, and you cannot move the whole tv screen to your garden, and no need to invest in a projector screen. Use a clear white cloth for screening, and you need a projector. The projector can be rented or borrowed, so that is a cut-off in the budget. Discussing seating arrangements, you can pull out the chairs, sofas, or bean bags from the house itself. Thus, we have built a low-budget patio theatre.
10. Simple Backyard Extension
There is a small empty and unused space at home; why leave it unused and empty? Let us convert it into a nice hangout spot or tea time spot. Clean the place; if you think the space needs a revamp, go for it or give another coat of the previous painting itself to make it look new. Since it is an extension of the house, there is no need for any construction. Just make the place lively by decorating it.
For decorations, placing wall hangings, nice posters, or hanging plants will also be a good idea. For posters, choose a theme according to the place's mood; you can also design your own posters. For some potted plants around the place, I would suggest succulents or boxwood plants. Seating area, go for a 4-piece sofa or a round coffee dine-out. Place the furniture according to the space and do not overfill the space, and keep it minimal.
11. Central Ground Floor Patio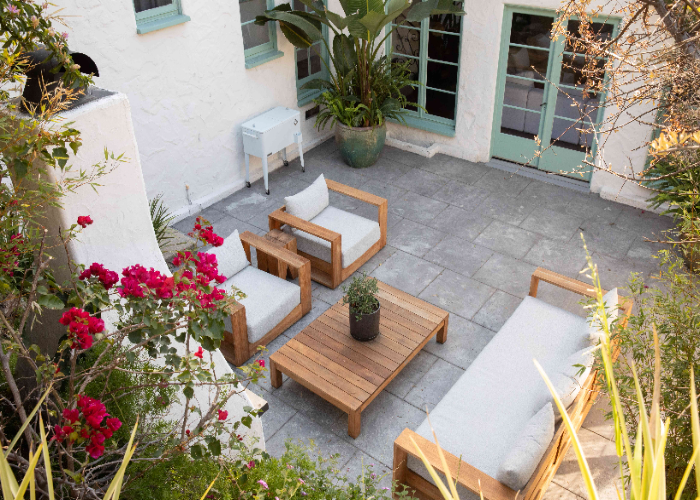 So far, the patio enclosed was outside, on the lawn, backyard, near the pool, or an extension of the house. When there is an open area in the middle of the house, we can convert that into a patio for cozier vibes. Since it is the central part of the home, let us not close the roof and keep it open and already surrounded by four walls. The ceiling is open; we need to consider the weather factor, too, so choose a material that is weatherproof. Go for a theme-based setup. Make everything white, some retro theme, or classic French style.
In classic French style, paint the walls in white. Any doors or windows in the open area paint them with bright primitive colors like blue, yellow, red, or turquoise. The central part of the house probably it is spacious enough, for furniture you can place a sofa, or set up a dining area. For the flooring, don't keep it concrete; place artificial grass for a garden-like look. And, of course, plants succulents or large decorative plants with big leaves, fake hanging leaves for the walls for decoration. Fairy lights across the patio are enclosed for a festive look.
Summing It Up
In conclusion, creating an enclosed patio that suits your budget is feasible and an exciting opportunity to enhance your outdoor living space. Throughout this article, we explored 11 diverse and innovative ideas for enclosed patios, each having different financial constraints and personal preferences.
The article gives you a vivid idea of choosing the material to build the patio, cost-effective constructions which align with your financial goals. We have emphasized the importance of creativity and resourcefulness. Repurposing and reusing the structure, incorporating DIY solutions, and focusing on cost-saving techniques.
So, whether you imagine a cozy place, an entertainment area, or a serene garden room, the ideas presented here will inspire you to embark on your enclosed patio project. With careful planning, you can transform your outdoor space into a peaceful haven.
Create the enclosed patio and live your dream lifestyle.