While reading the headline, did you stop for a moment to think about your home's deck railing that has stayed barren for years now? Some of our experts say that while most of us put a lot of thought into adding beauty and glam to the decks, the poor railings often stay out of focus. But we believe in adding the quintessential beauty to every part of the home, and that includes the deck railings.
Adding beauty never means causing a splurge or making a dent in your pocket. That is why we have put together some inexpensive deck railing ideas that you can create yourself. Whether you want to add some fun or functionality or plan to sift through multiple ideas before you pick the right one, we have your back.
These ideas will not only help you reinvent the spaces available but also make you fall in love with them all over again.
Inexpensive and Cheap Deck Railing Ideas
1. Bring Those Pallets to Use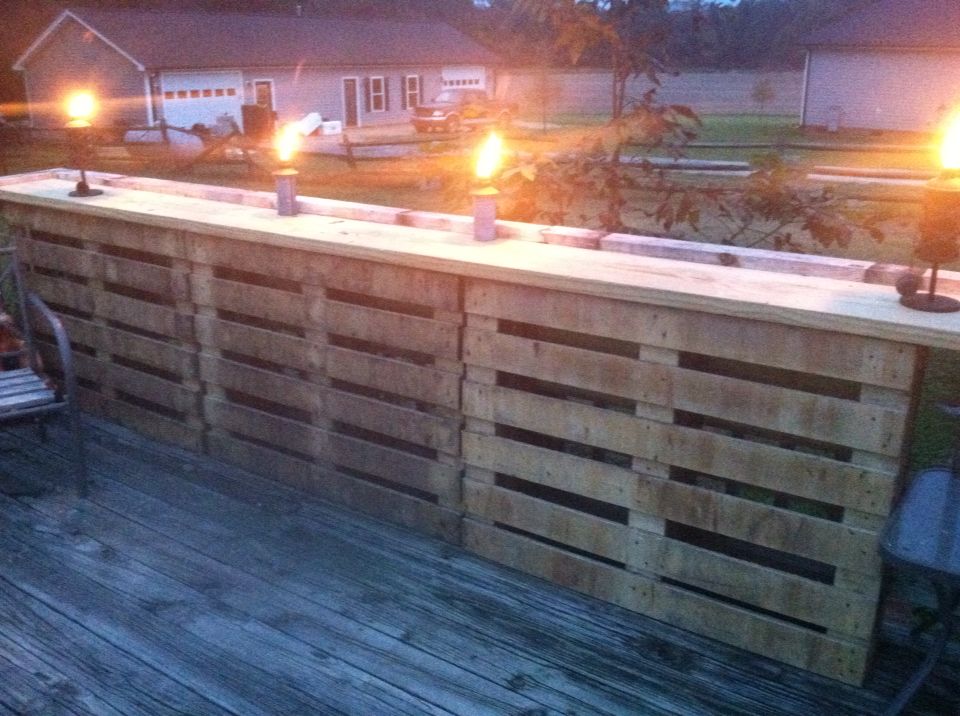 This cheap deck railing idea is absolutely amazing for those of you on a tight budget. You do not necessarily have to adapt to this idea if you are short on money. You can just use this idea to set that deck railing up. If you recently had a lot of construction around the house or found pallets lying around, this can be a good way to put them into use. Get as many pallets as you need, let your creative juices flow, and get them arranged in a way that can spice up the look of your entire deck. If you have a knack for carpentry, then this should be a cakewalk for you.
2. Add a Landscape Retaining Wall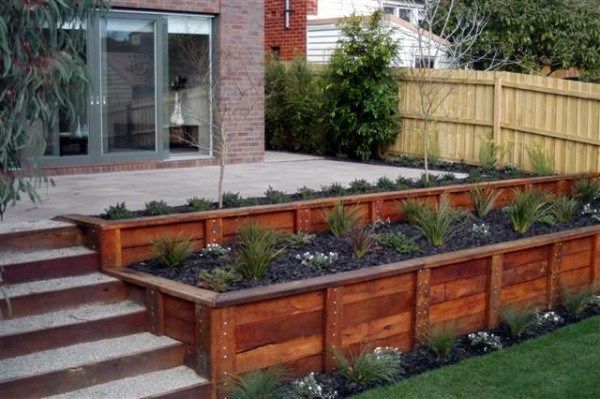 In love with nature? Here is a great way to bring beauty to the deck railing while including nature in it. It is functional and stylish. You can use the existing design and space around your deck, just include sturdy wooden posts in a way that creates a safe enclosure. You can add a wide variety of greens and flowering plants to enhance the beauty instantly. Consider creating a mix of potted plants and the ones that can creep up onto the railing, watch them grow, and be surrounded by nature without spending a few big bucks.
3. Glam up The Glass Panel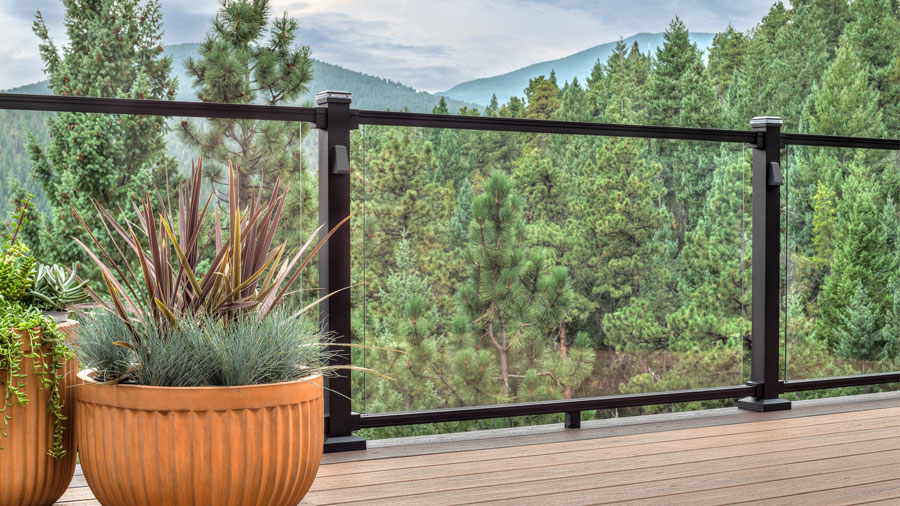 Do you already have an enclosure with a glass? Our experts suggest that we can keep updating the decor of our homes every now and then, and it needs very less effort. This inexpensive deck railing idea suggests that you cover the top of the glasses with a metallic rim. This is ideal for people staying in warmer climates. If you already do not have a lot going on in the deck area, then maybe, you should consider adding some relaxing furniture by the railing. This can become an amazing outdoor space for you to sit and relax, spend some time with your loved ones, and do so much more. Oh! And it isn't necessary to buy new types of furniture; you can bring some of the indoors outside.
4. Stick to Natural Materials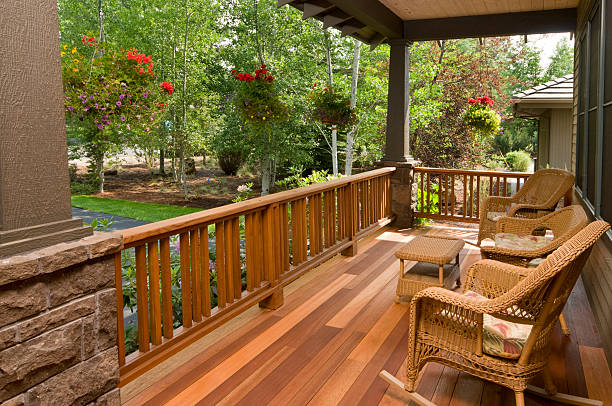 At the beginning of the article, we mentioned putting some thought into the materials that you want to use. It should complement the rest of the house well. Our experts suggest using natural materials like wood to create the railings of your deck, especially if you have the rest of the house in wooden color and material. You can get into a little carpentry yourself to put the railings in design. This natural material looks especially gorgeous if you have a pool surrounding the deck. Keep nature's charm intact, and this will help you add a hint of calmness to the outdoors. Feel free to go crazy with the designs you make using the wood.
5. Railing with a Wagon Wheel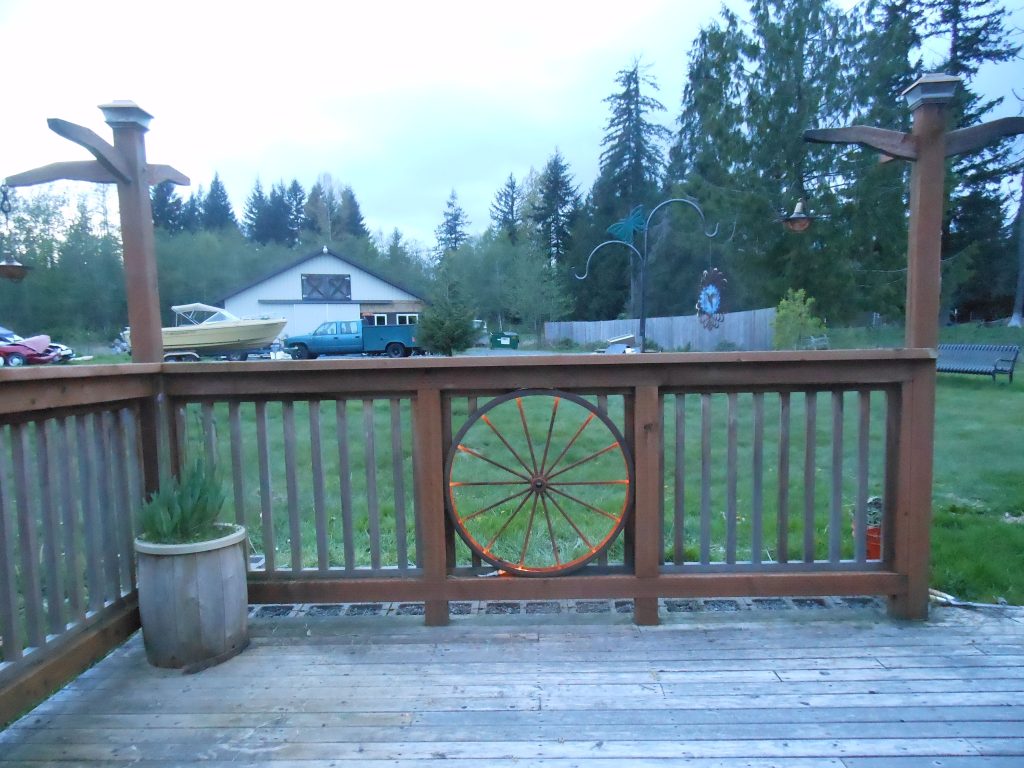 The name itself sounds interesting, doesn't it? They look more extravagant than you can imagine. These can be installed in a variety of patterns. You can create sleek railings and use these wagon wheels in between them. You can also use them one after another if there are no existing railings. These wagon wheels are very easy to procure and install. You can just collect old ones from the neighborhood or purchase new ones at a negligible cost. The ones found in the neighborhood are usually rustic, and you can use them if you want a vintage look. If you want a relatively modern, chic look, our experts suggest buying them from a store. If you have been looking for a cheap deck railing idea for a neat and crisp look, you might want to try this one out.
6. The One with The Branches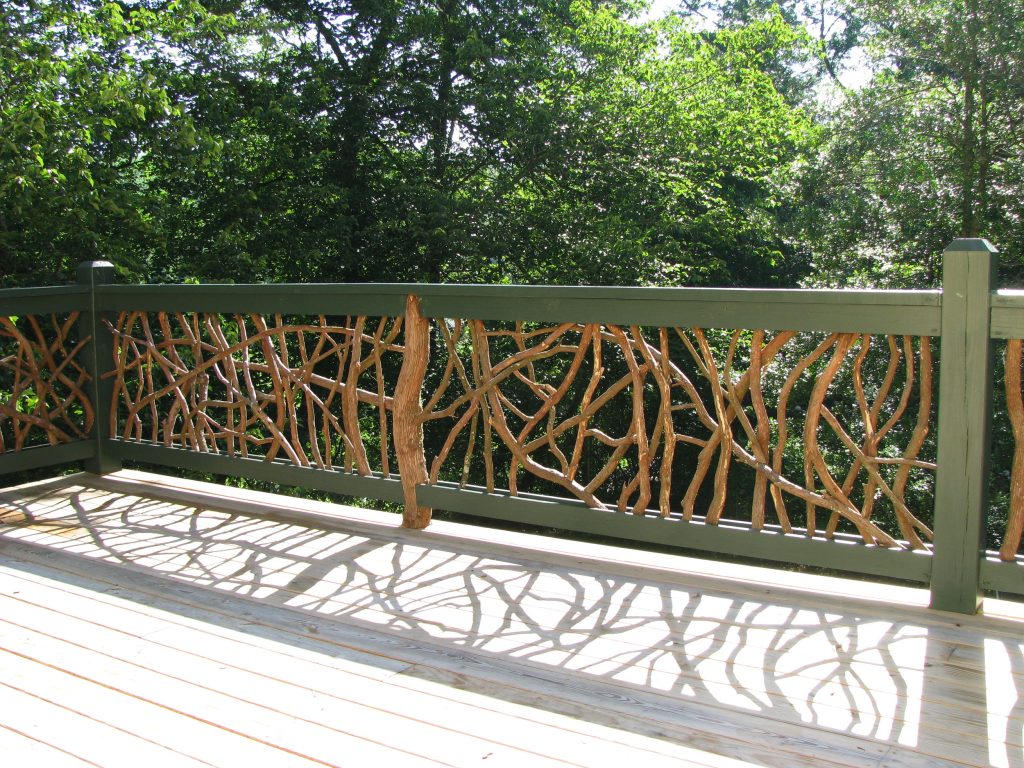 This DIY hack takes bringing nature closer to home a notch higher. If you are tired of the falling branches, then here's something you can do instead of burning them. Measure the height in between the borders of the railing and chop the branches to fit the area. Use them to make sturdy, all-weather railings. This does not require you to spend even a dollar. Just replace the normal spindles with these branches and watch nature work wonders for your home. Just like the wagon wheel, this is a very neat DIY idea. They are extremely easy to maintain. All you have to do is fix them well so that they do not fall apart.
7. Use Opaque Deck Railings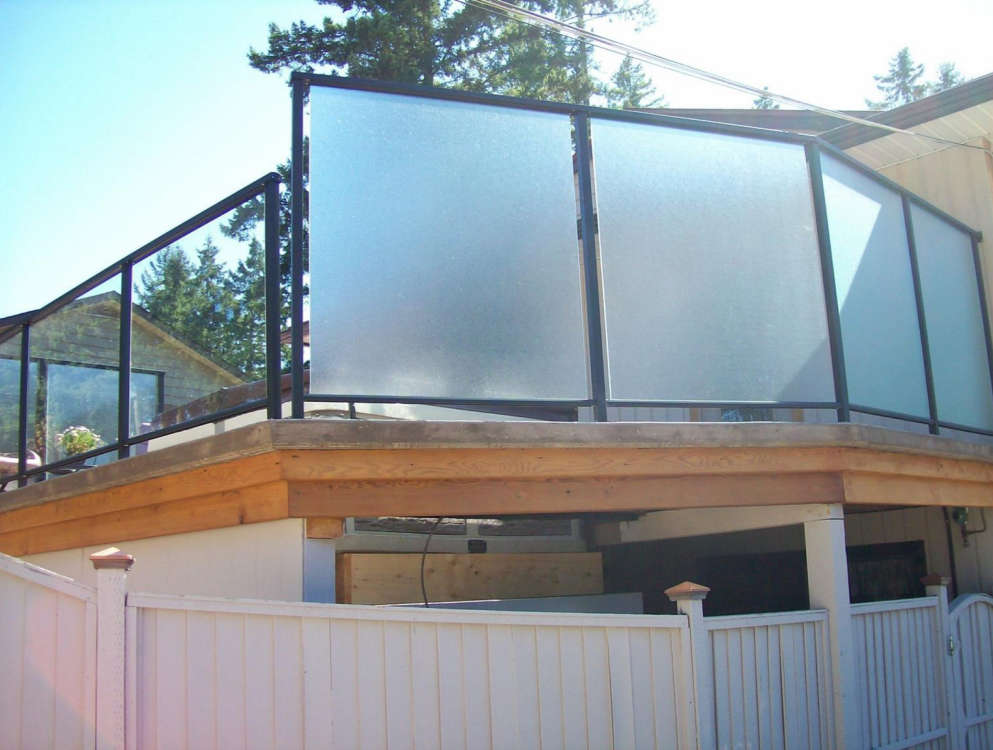 If you are someone who enjoys alone time, peace, and quiet, then this inexpensive DIY deck railing idea is made just for you. Our experts suggest using solid, opaque panels or walls to build the railing. Are you afraid that this would make the railings plain and bland? We have an idea for that too. Use strips of greens or plant flowering pots by the railing and watch your deck railing turn into a beauty. This railing blends beautifully with the surrounding, giving it a camouflage vibe. Make your alone time a pleasant one with absolute privacy. This idea is also amazing when you have kids or pets around. This prevents creating unnecessary space between the railing, which in turn helps prevent unwanted accidents.
8. Let the Pillars Blend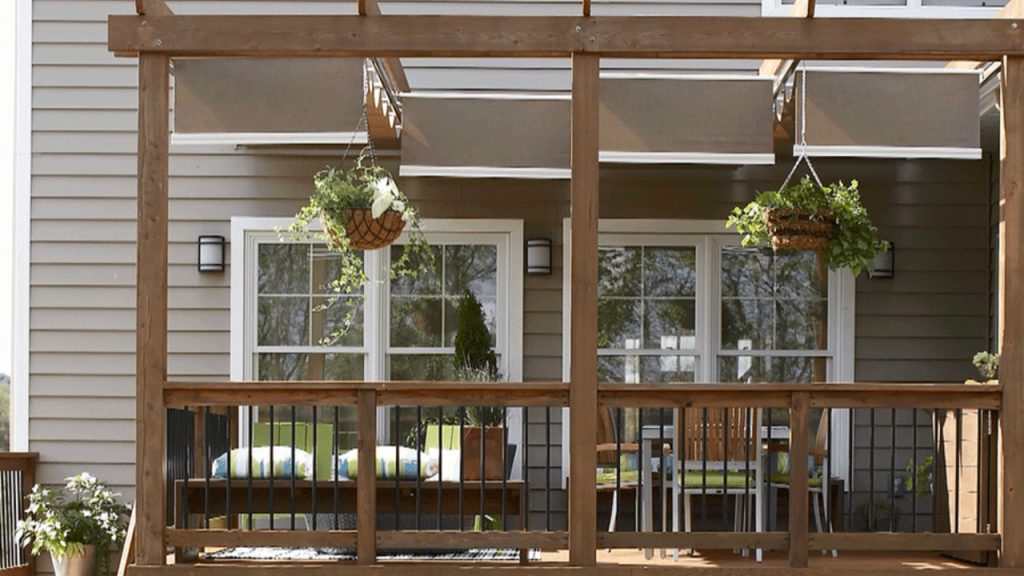 Does your outdoor have a lot of tall green trees? Then this deck railing design idea might be what you are looking for. Add tall pillars around the deck and use the same colors and materials to create the shorter railing. The purpose of these pillars is to create a synchrony with nature around them. They become the natural elements amid the railings. Use clean white paint and simple pieces of furniture to turn the deck area into a beautiful event hosting or entertainment zone. The subtlety and minimalism that this idea carries turn your space into a breathtaking one. You can get this idea integrated with your deck at a very minimal cost.
9. Wood Lattice Screen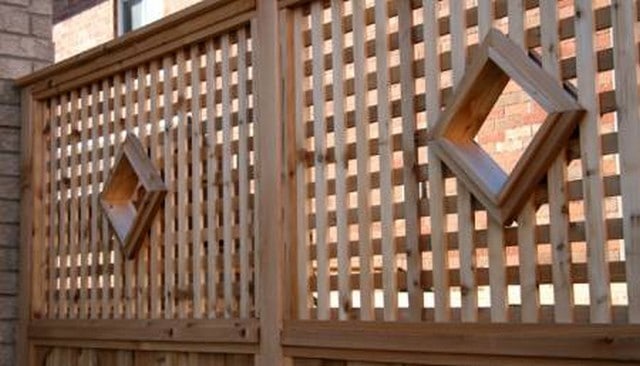 A beautiful deck becomes the center of attention of the house. But being a popular place to relax and entertain, it often lacks privacy. Our experts believe that privacy isn't just limited to the bedroom and other rooms; your home should be exclusively yours and not for others to meddle unless you want them to. This cheap deck railing idea is designed to serve the purpose of increasing privacy around this beautiful area. All you have to do is construct a wood lattice screen. They are affordable and versatile, and it is up to you to create a design that suits you. The crisscross patterns give it a contemporary look, while the use of wood adds to the rustic element of the house. To add to the durability of the wood, you might want to consider the use of a weather-resistant sealant or paint.
10. Mount Posts on The Outer Edge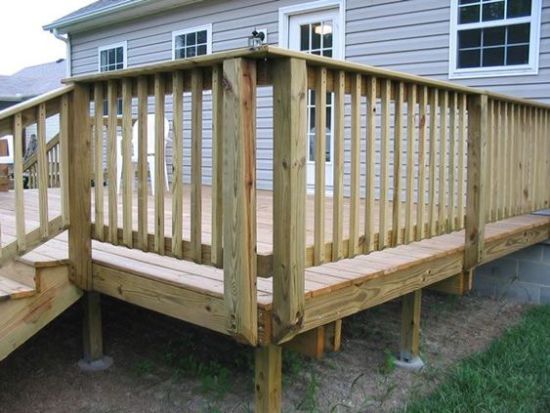 Have you been loving our ideas and are ready to start building a gorgeous deck railing already? If you want to go for a cheap idea that gives a traditional look, then this one is for you. Simply mount posts on the outer surface of the deck railing. It is a cost-effective choice and eliminates the need to visit the hardware store. All you need is sturdy wood or metal posts, then decide on the placement of these posts. Make sure that the posts are securely adjusted with the railing to avoid accidents. Our experts suggest using appropriate anchors or brackets. The minimalist design not only helps you save a lot on the pocket but also ensures there is no blockage of the view. Enjoy an open and spacious outdoor environment for yourself and your guests.
11. Get Sliding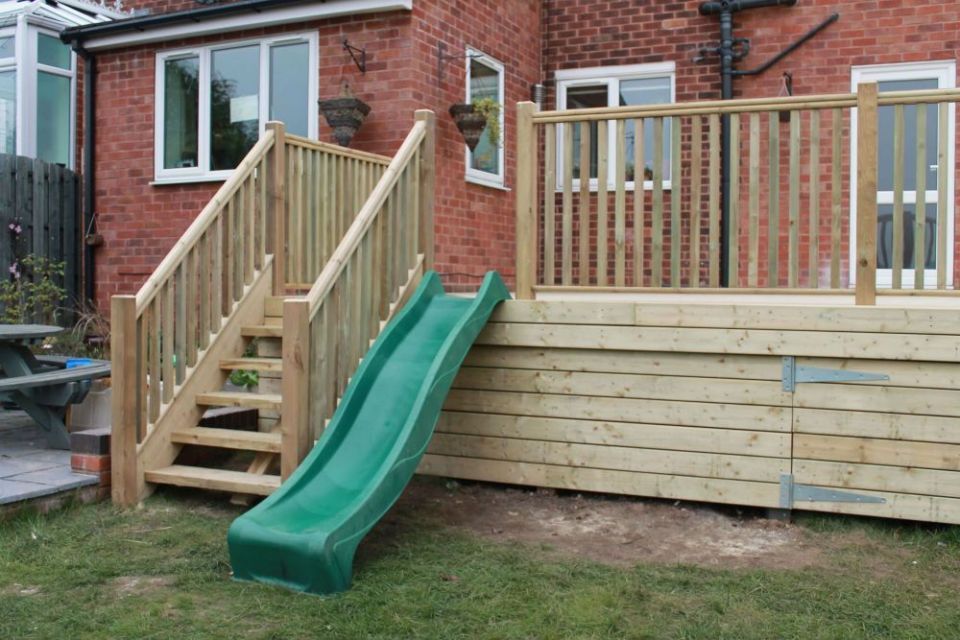 Another amazing and fun way to upgrade your deck railing is by adding a slide to it. This is an extremely functional way to enable people with wheelchairs to get the best of your deck side. If your deck is slightly higher than usual, then this inexpensive DIY deck railing idea can be a fun way to add entertainment for your toddlers. Our experts suggest avoiding extremely cheap materials to build this slide as it can add inconvenience instead of beauty. Use metal or lumber anchors to the deck to make sure of maximum safety. You can use this DIY project to involve your kids and have an amazing time. Adding a slide to your deck not only ensures entertainment but adds a whimsical touch to it. Love this idea? Get what you need and start building this now.
12. Match the Outdoors with The Inside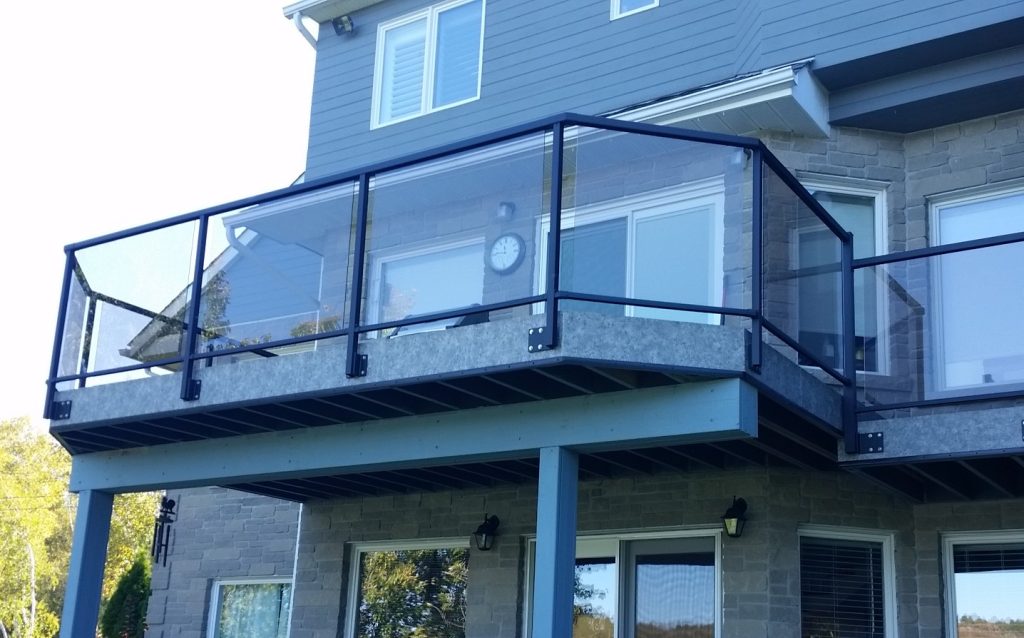 While there is no dearth of options when looking for cheap deck railing ideas, this one is for those who are very particular about what's on the inside and outside of their home. While this is a no-brainer, failing to apply this the right way can result in a complete blend. Keeping in mind the need to separate the deck as an individual entity of a home, our experts suggest matching the outdoors with the indoors or the surface wall on the outside of the home. Make sure to keep a thorough transition between the two, though. Create separation with natural elements like tall plants, hanging plants, etc. This DIY idea helps the deck blend with nature. The best part of this one is that it is a maintenance-free idea.
13. Block the Colors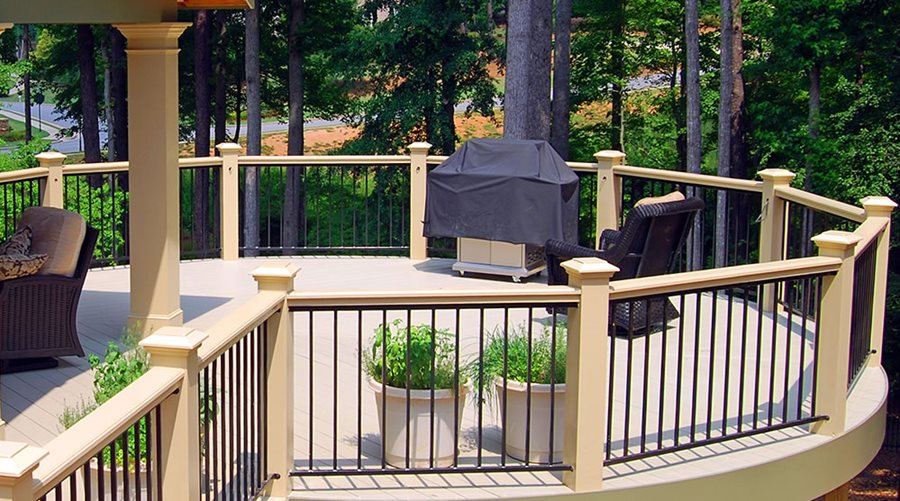 It is a trendy and budget-friendly DIY idea for your deck railings. If you want your deck to feel like an outdoor living room, think no more. This is one of the best ideas to create seamlessness in the environment around. Let us explain how this works. For example, if you have a white railing, the easiest and most convenient way to color block is to integrate a wooden railing or slats of natural tone. You can choose two or more contrasting colors that complement the overall aesthetics really well. This DIY idea helps you personalize your deck to your liking and make space to exhibit your styles and choices through this outdoor space.
14. Get that Bar Railing
Talk about merging convenience and style – this inexpensive deck railing idea gives you both. Bar railings offer a sleek and modern outlook to the deck while maintaining overall safety. The addition of the bar doesn't mean a complete overhaul of the deck. It simply means pumping it up. All you have to do is broaden the area over the railing, add a few seating arrangements around it, and voila! You have yourself a minibar right in your deck. To create more space to enjoy that drink after a long day, you can build some cabinets and seats across the railing by the wall. This DIY idea ensures there's no obstruction of the view, and you have all the elegance you need to make your deck brand new.
15. Rope Railing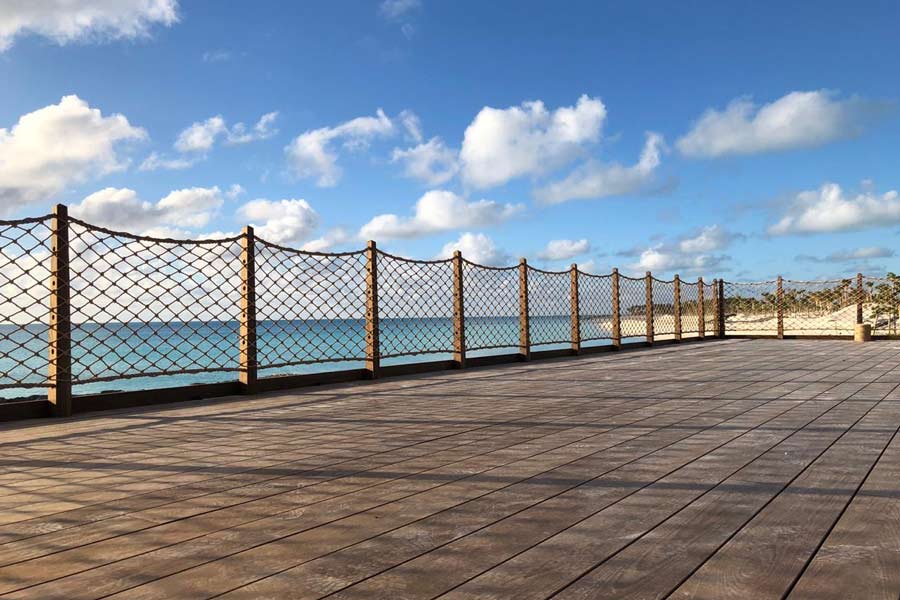 To bring this DIY idea to life, all you have to do is invest in sturdy ropes. They offer a charming and nautical-inspired look to your traditional deck. The vintage touch that you have been looking to add to your deck can easily come with this hack. This is great for houses in the suburbs or in the countryside. Feel free to create a different kind of pattern throughout the railing or mix up several tying techniques. The best part of this DIY hack is that you can not go wrong with it, no matter what you do. Just make sure to tie the knots properly and cut off any extra lengths.
16. Wire Railing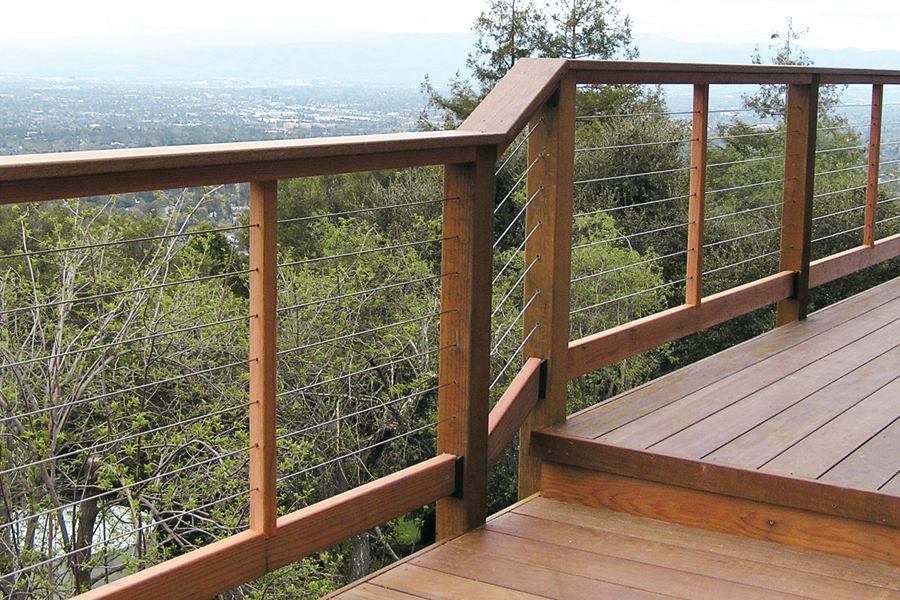 While this cheap deck railing idea gives your deck a sleek and amazing look, you need to plan this well. The use of sharp wire can be extremely risky, especially if you have kids and pets. If your deck overlooks a nature-guarded backyard or a waterbody, the wire railing DIY idea is ideal for you. It is simple to implement and makes for a sturdy railing. However, our experts suggest that it is best if the wires are covered, ensuring consistency and proper tension. The wire railing creates an open and airy feeling. This is a minimalist design and will certainly never go out of style.
17. Pipe the Railings Up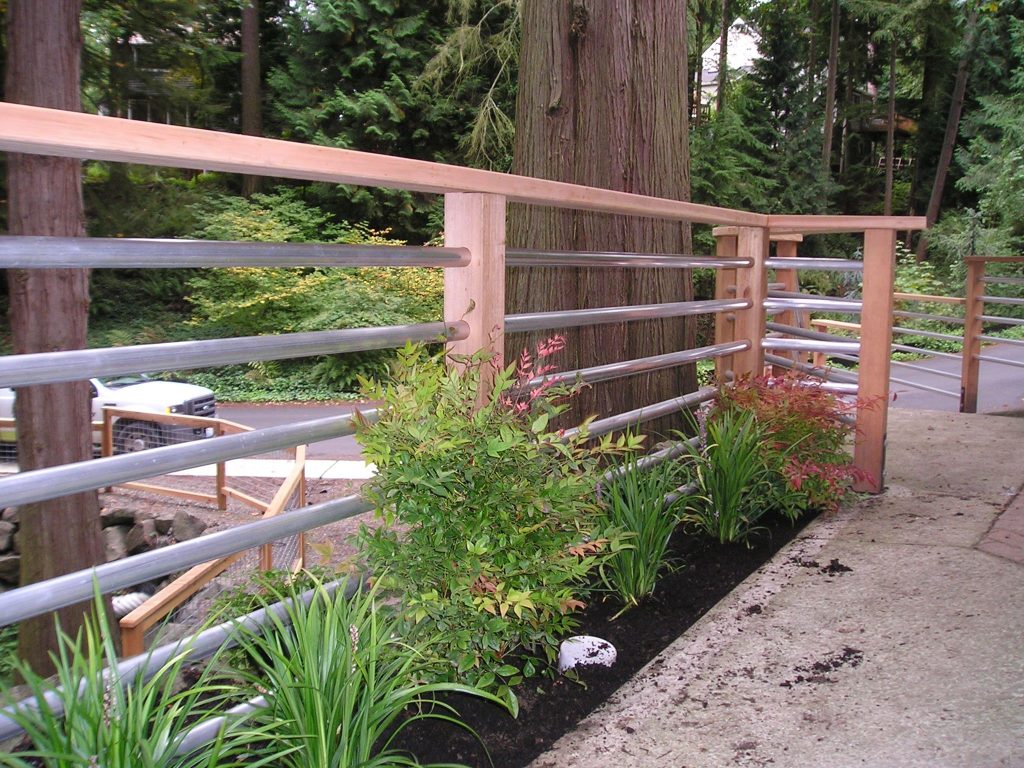 One of the most unique yet cost-effective ways to add railing to the deck is through the use of galvanized pipes. This industrial-inspired solution is extremely effective for you to get the security that a railing needs. It might look simple, but the idea is unique, and you won't see many people doing this. All you need to do is measure and cut the pipe, ensure proper spacing between each other, and secure the posts with fittings and connectors, and your railing is ready. You can consider painting it with a color of your choice for a naturally galvanized and unique look. These pipes add durability, security, and style to your decks.
18. Kid-Friendly Metal Railings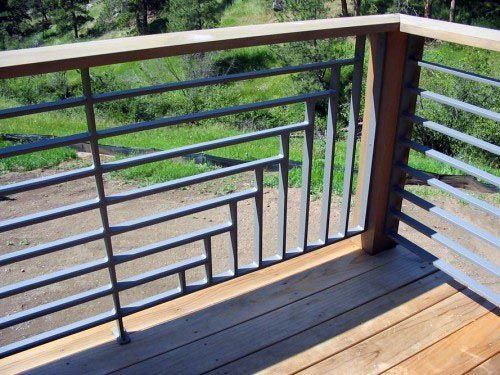 If you are a parent with growing kids, you probably worry too much about their safety and security. And we understand the immense anxiousness that parents constantly struggle with. Instead of adding to your woes during their playtime, here's something that can actually make these moments peaceful. This inexpensive deck railing idea suggests the use of metal railings that are kid-friendly and comes cheap. That doesn't mean they aren't sturdy; it simply means that they are a cheaper material. Add a child-friendly height trail or a second layer of railing to enhance the protection layer. Make your deck an enjoyable atmosphere for everyone in the house.
19. Invisible Railings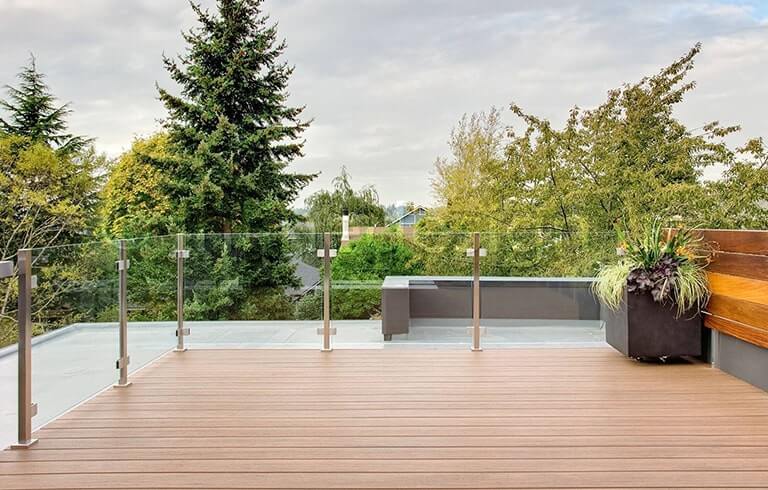 Are you in love with the concept of camouflage? Here's an idea that might interest you. When glass is installed properly in the form of railings, it can easily blend. However, keep in mind that glass railings can be tricky, especially if you live under extreme weather conditions. In such cases, we suggest that you avoid this. It can damage the glasses, and you might end up in a mishap. Make sure to maintain them well by cleaning the glasses regularly. The part of the house that opens to the deck no longer gets obstructed view with these invisible railings. Make the most use of the deck space by using complementary furniture; they make it an amazing entertaining space.
20. Use a Lot of Plants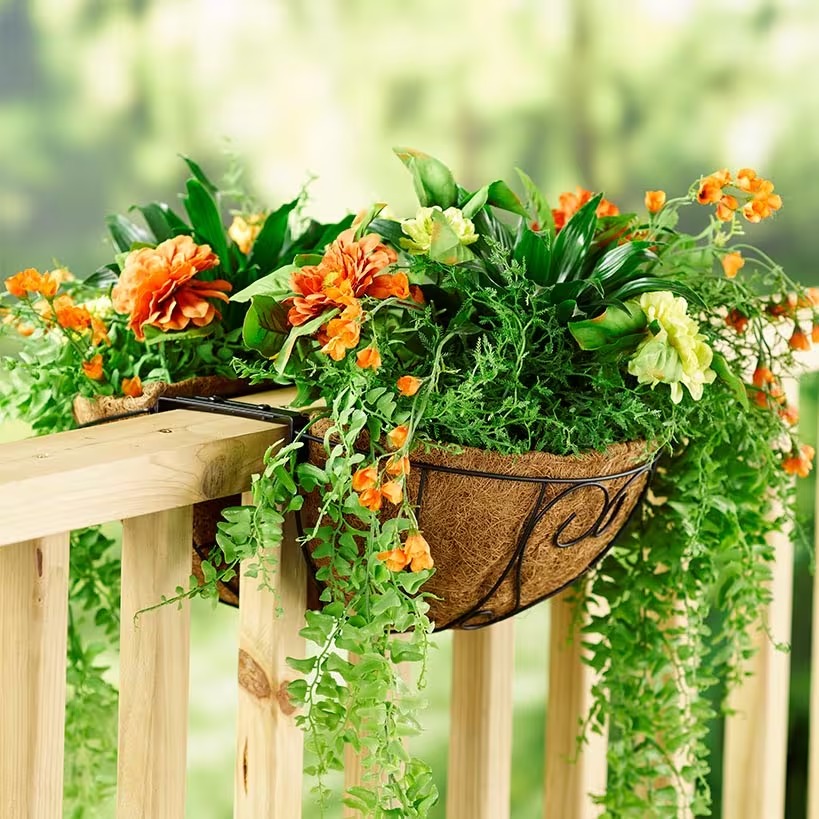 No matter what kind of vibe you are looking for in your deck, this cheap deck railing idea is amazing for all of them. Adding a lot of plants by the deck railing helps uplift the spirit of the space and makes it live in a jiffy. You can use any kind of railings – glass, wire, rope, pipes, wood, etc., just add a lot of creepers and tall plants to cover the railing space entirely. This not only helps retain the freshness of the deck but also helps attracts butterflies and birds. The aura you create by adding a lot of plants is simply beyond beauty.
21. Use the Railing as a Decor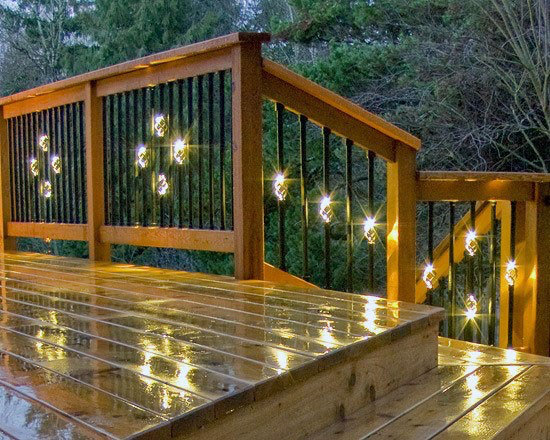 So far, we have shared so many DIY railing ideas, and we have kept the best one for the last. Did you know instead of breaking your head about how to make your railing more beautiful with these DIY ideas, you can do something very simple? Use the deck railing as a decor itself. This is an ideal option when your deck doesn't have a lot of space. Hanging chairs, a double-sided staircase, and lighting the deck all around are some of the amazing ideas to beautify the deck railing and give them a view worth remembering.
Final Thoughts
A unique and affordable deck can deck up your deck railings easily. These inexpensive deck railing ideas have been put together to help you get inspired in 2023 and give your home the look you have been looking for without making a dent in your pocket. From repurposing landscape walls to using lattice screens, from making the railings kid and pet friendly to pumping it up for the physically disabled – these DIY options are designed to help suit your liking.
Embrace nature or add it separately, add colorful patterns or texture, and see the space open up even further. We encourage you to explore unconventional options like rope railings and ones with galvanized pipes and let your guests get awestruck.
Remember, while doing a DIY project, it is important to keep your safety and that of your loved ones' in mind. Install them well or add a protective layer to keep the deck gorgeous for years to come.