Do you love birds and their pleasing chirping sound? Want them to roam around your yard or your garden? Then you might want to invest or build your own perfect DIY birdhouse. Installing birdhouses in your yard will give you a close-to-nature feel, and watching their activities and exploring their breeding period will make you feel relaxed and calm. To get a nice birdhouse, you don't need to go anywhere. You can build your own birdhouse using some DIY hacks for around $5 cost only.
In this article, we are going to share 9 free DIY birdhouse plans with minimum expenditure. Use these DIY birdhouse plans and make swift entries for birds in your space. Before starting your DIY birdhouse building work, you need to get knowledge of certain things. It will help you to decide on the perfect birdhouse plan for your yard.
Things to Keep in Mind Before Starting DIY Birdhouse Plans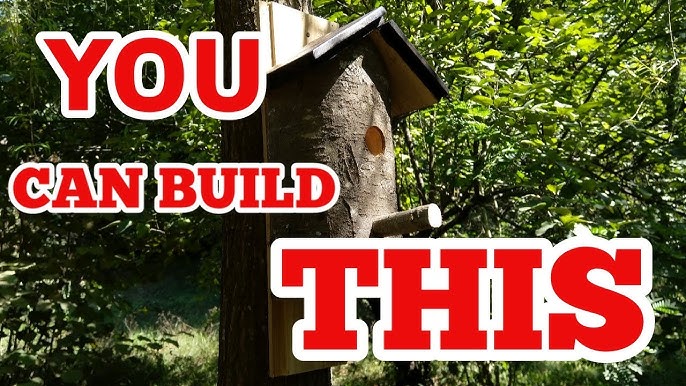 Look at which species of bird you often see around your yard or garden. It will help you to choose an appropriate DIY birdhouse plan.
Every bird has a different size and shape, and they need different sizes of nests or habitats. So build a birdhouse entrance and hole size accordingly.
Try to use wooden material for DIY birdhouse formation. Wood gives the required amount of warmth to birds.
For long-lasting purposes, try to use cypress wood, pine wood, cedar wood, redwood, and exterior grade plywood.
Prefer cavity-nesting birds for your birdhouse plans. I.e., House Wren, Swallows, Woodpeckers, Western Bluebirds, etc.
While building the birdhouse, build a slopping rooftop to restrict rainwater entry into the nest.
Provide proper ventilation holes in the DIY birdhouse for birds' calm breathing.
Don't put anything, i.e., nesting material, in the birdhouse.
Try to keep a birdhouse natural by avoiding painting and other chemical elements. Sometimes it will be harmful to birds.
After the formation of your DIY birdhouse, decide on the place very carefully. Don't hang it where it won't stay stable, or it will swing. Hang it on a hard sturdy tress surface.
Don't hang too many birdhouses closer to each other. Try to maintain distance between birdhouses.
Free Diy Birdhouse Plans costing Under $5
1. Basic Wooden Birdhouse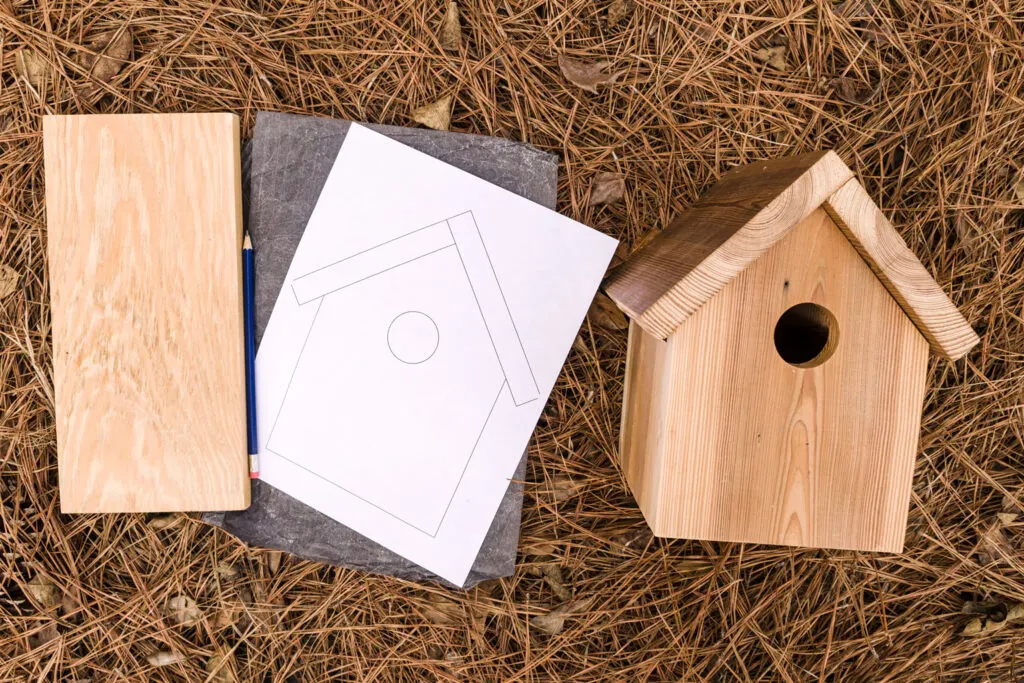 This birdhouse plan is very simple and inexpensive. Even children can build this DIY birdhouse with the help of adults. You can use cedar wood to create a sustainable birdhouse. To form this basic wooden birdhouse, you just need to open your toolbox and start working on it. It will cost around $3 to $5 only.
Required Tools

Required Material

Measuring tape or ruler
Hammer
Long nails
Pencil
Hand saw
Drill bits

Cedarwood (Long- 4 feet, wide- 6 inches wide, Thick- ½ inch)
2. DIY Gourd Birdhouse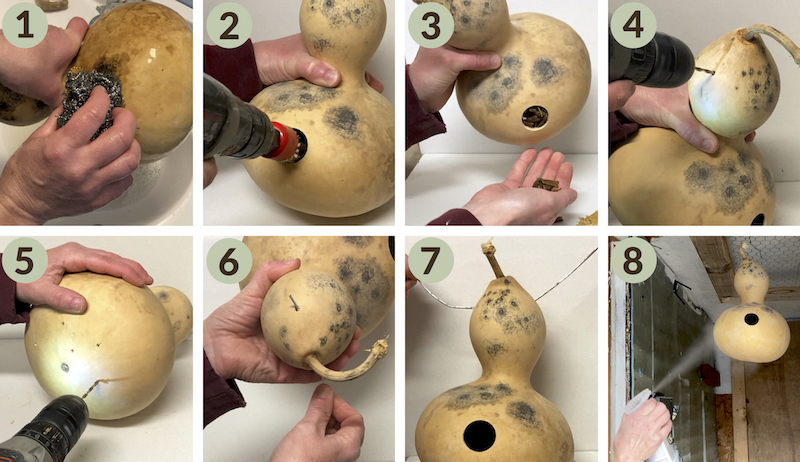 This DIY birdhouse idea is totally homemade. You can use guards from your own yard or borrow them and place them in the sunny area of your house to let them completely dry. In addition, you can use any shape gourd to create your DIY birdhouse with minimum equipment. In this process, you need to clean the guard and just need to drill to remove the seeds from it. Apart from that, you need to construct holes for ventilation and water drainage by drilling.
| | |
| --- | --- |
| Required Tools | Required Material |
| | |
3. Log Birdhouse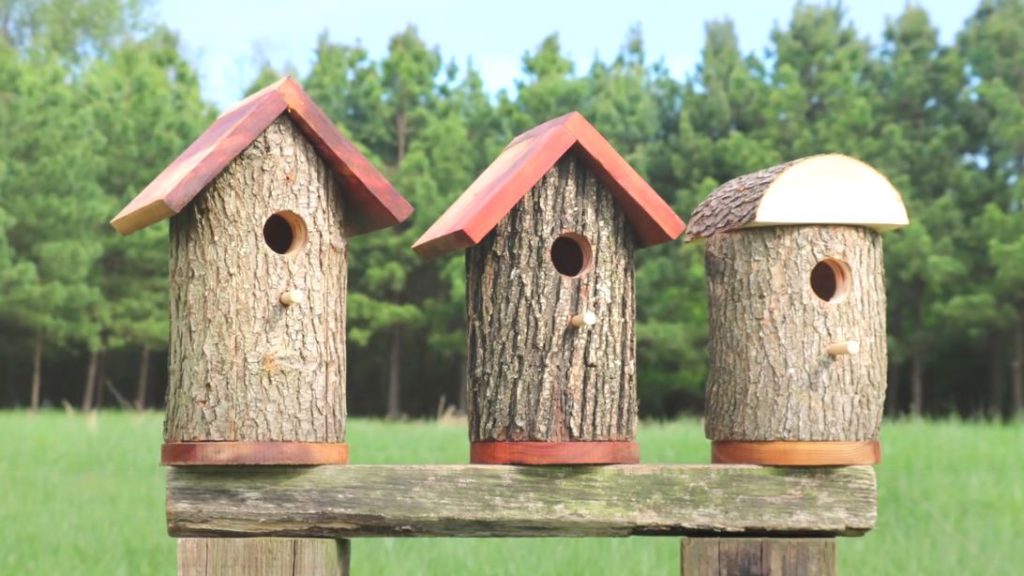 Log Birdhouse is the best DIY birdhouse plan to conduct with minimum elements. For this DIY, you need a waste of wood and some shallow tools from your toolbox. You can choose the size of the log according to which species of bird you see around your yard. This birdhouse costs you less than $5. You can go for this DIY easy birdhouse plan.
Required Tools

Required Material

Hand saw
Drill bits
Screws

Natural Log (6-inch diameter circle)
Plank
4. One Board DIY Birdhouse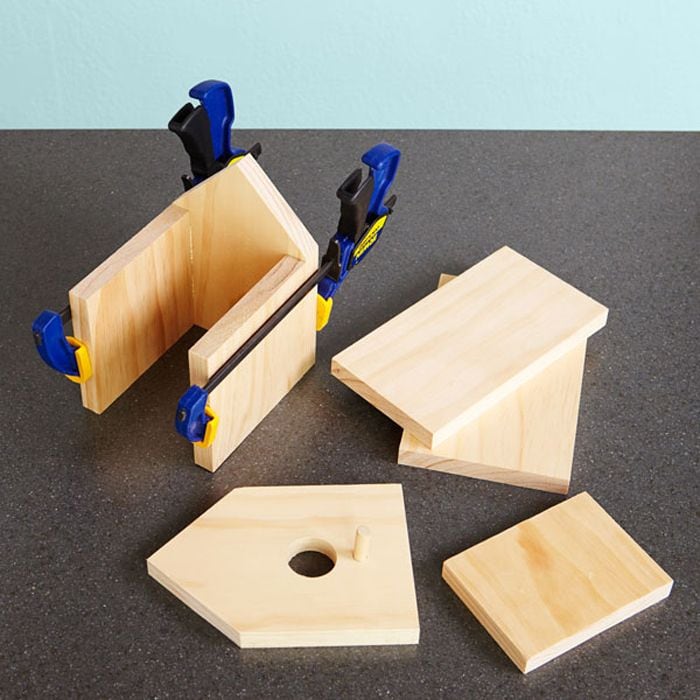 Using only one board, you can make this easy DIY birdhouse with minimum tools. For this effortless birdhouse plan, you need sustainable wood, so go for cedar wood. It is the best option for constructing a long-lasting birdhouse.
Required Tools

Required Material

Circular saw
Drill bits
Nails
Measurement tape
Glue
Hammer
5. Old Tea Pot Birdhouse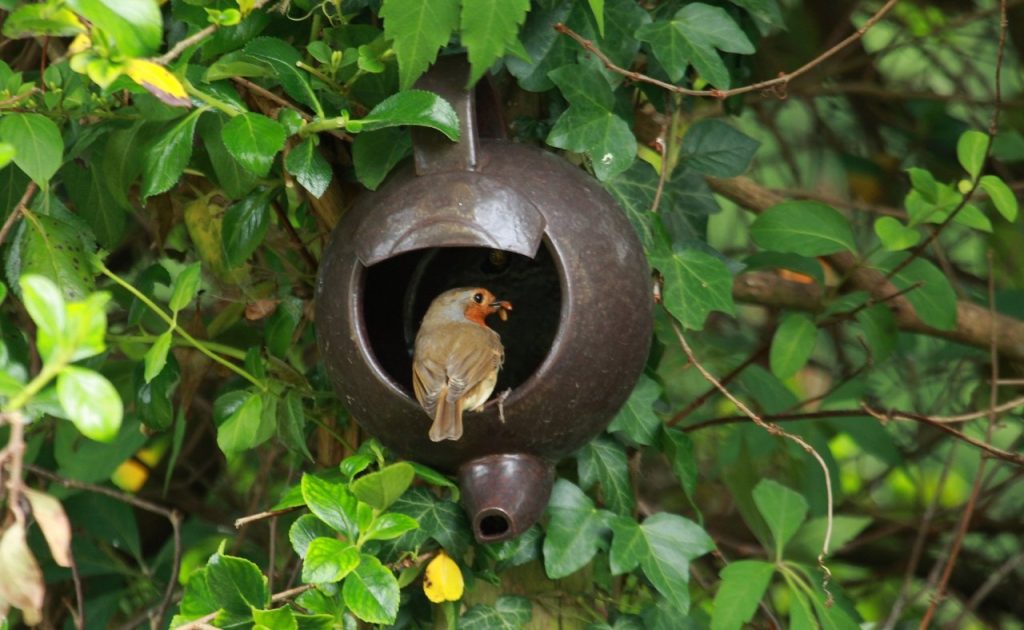 To create this homemade DIY birdhouse, you just need an old teapot that is lying in your waste room. Get that old teapot to work and construct a beautiful DIY birdhouse for your yard or garden. This birdhouse plan needs minimum types of equipment, so it is a cost-effective plan you can go for.
Required Tools

Required Material

Old teapot
Hanging hooks
Plank
6. Box Birdhouse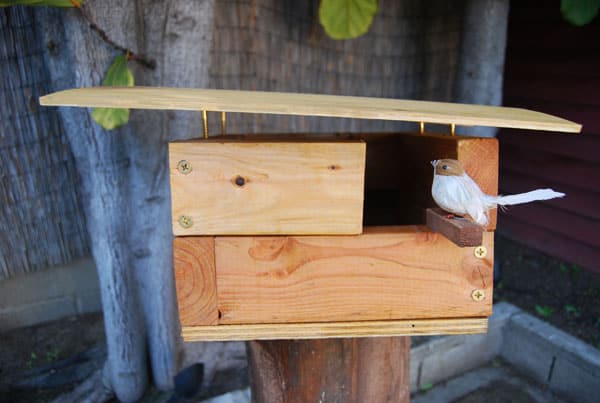 Box birdhouse is also an easy DIY birdhouse plan you can go for. For constructing a box birdhouse, you need a wooden waste box and some tools to assemble the birdhouse. Trust us; it won't cost you more than $5. So plan your DIY Box birdhouse activity ASAP.
| | |
| --- | --- |
| Required Tools | Required Material |
| | |
7. Wood Scrap Rectangular Birdhouse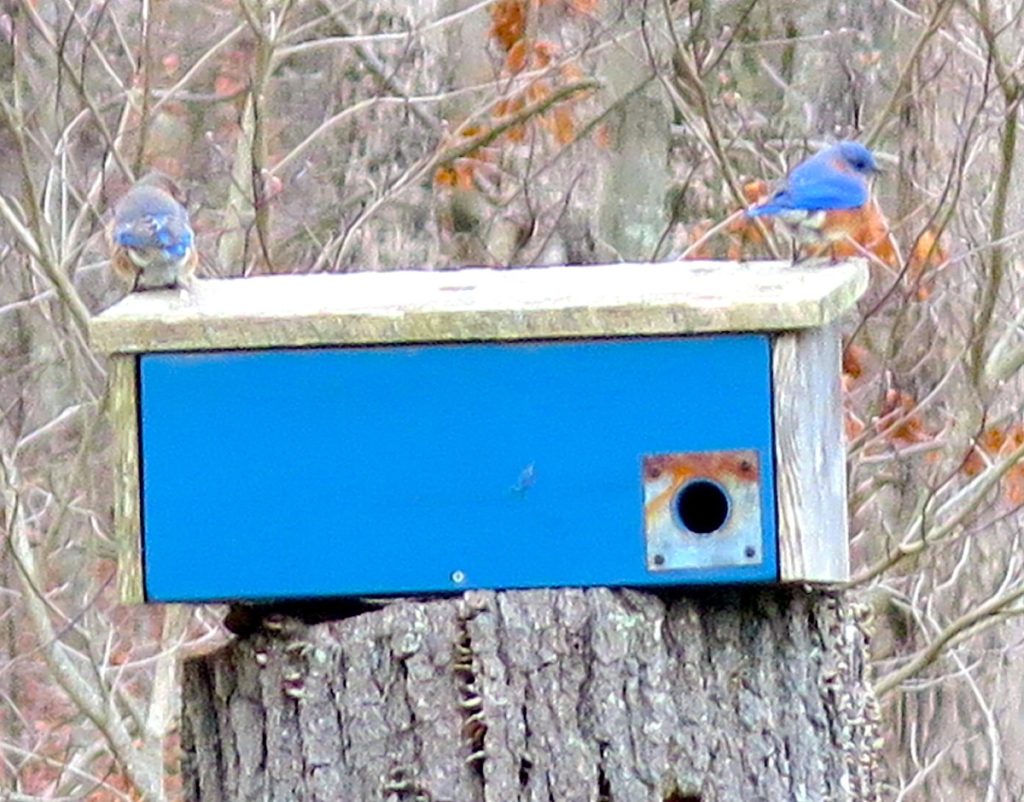 If you have scraped pallet wood by your side, then you can use it to form a DIY wood scrap rectangular birdhouse. Using your scrape, you can produce an aesthetic birdhouse for beautiful birds roaming around your space. This is an inexpensive DIY you can try out within a day.
Required Tools

Required Material

Electric hand saw
Screw
Screwdriver
Measuring tape
8. Scrap Post Rustic Birdhouse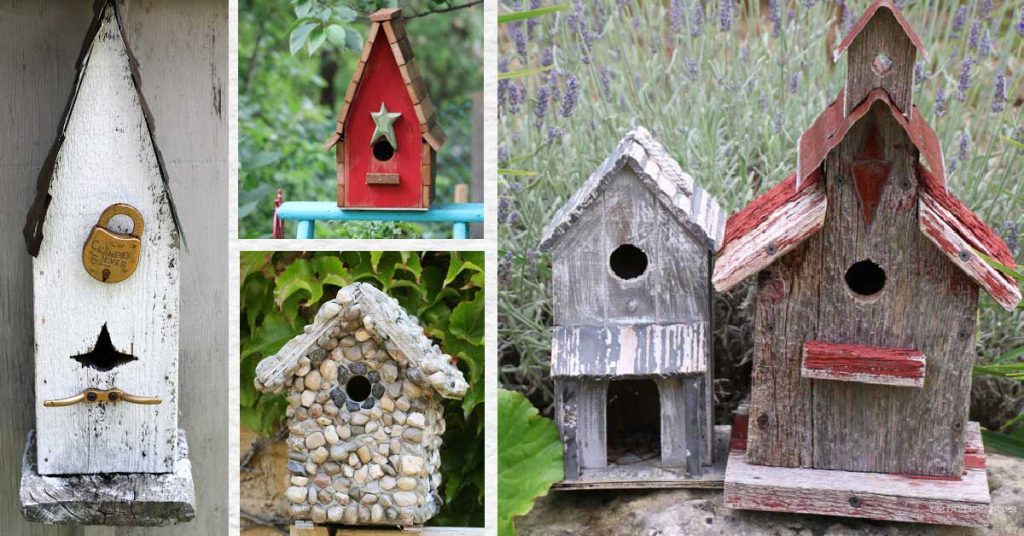 If you have some wase post and used tins alongside you, then use them to invent a unique birdhouse. To build this scrap post rustic birdhouse, pick your material from scrap and the least tools from your toolbox. It will cost you below $5 and even will change the look of your yard. Enjoy this DIY birdhouse plan and invite birds to your yard.
Required Tools

Required Material

Waste post
Scrape rusty teens
9. Nail-less, Screw-less, and Glue-less Birdhouse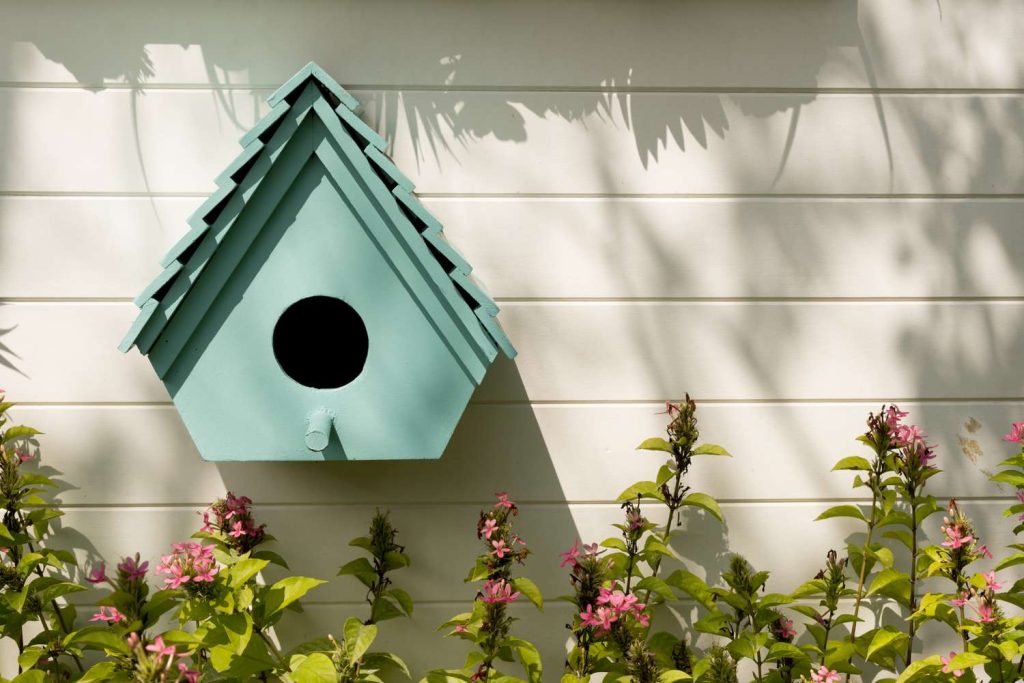 This is a very unique concept of building a DIY birdhouse. To build this birdhouse, you don't need typical items which we often use for DIY birdhouse plans. For instance, nails, screws, and glues. Even though these are important elements of assembling your DIY activity but there is an alternate option for that. Try using mount tapes and fasteners as adhesives. It is a low-cost unique birdhouse plan you can choose.
Required Tools

Required Material

Electric hand saw
Measurement tape
Pencil
Sand sponge
Mounting tape
Drill bits
Fasteners

Any wood (prefer cypress/cedar/redwood)
List of Necessary Tools for Your DIY Birdhouse Activity
Below are the necessary tools listed that are required for your DIY Birdhouse Activity:
Hand saw or electric saw
Drill bits
Measuring tapes or ruler
Nail and screws
Screwdriver
Hammer
Pencil
Glue
Mounting tape
Sand sponge
Summing It Up
All in all, you need to make some effort to bring natural elements into your space, whether you want greenery in your yard or calling beautiful birds in your yard. Somehow providing a comfortable house for bird species is quite a challenging task. Although you can buy it from wherever you want even, you will find it in various shapes, specifications, and even at different prices.
But you will get the satisfaction of creating a nest for a small living creature. If you want that creative satisfaction, then try DIY birdhouse ideas and construct a cozy nest for these little species. In this DIY birdhouse-building activity, you will might get stuck or will have doubts as well.
In this article, we have tried to resolve your doubts regarding DIY birdhouse planning. Getting the perfect DIY birdhouse plan might be difficult, but you can explore ideas to get your perfect one.
To clear your confusion to some extent, we have discussed a few things regarding birdhouse plans, like what you need to know before planning your DIY birdhouse activity and what kind of tools and materials are required. To be more precise, we also shared 9 free DIY birdhouse plans for $5 and with limited tools.
Above discussed point will guide you through your beautiful birdhouse construing journey.
Frequently Asked Questions
How to Make a Simple Birdhouse?
If you want to make a simple birdhouse, then choose a basic wooden birdhouse plan. In this plan, you will need good quality wood that will be long-lasting, like cedar wood or redwood, etc. With minimum tools like a hand saw, measuring tape, and drill machine, you can make a simple birdhouse at home within a day. Even your kids can enjoy this activity with adult assistance.
Are Birdhouses Good?
If you choose the correct plan to provide shelter to these beautiful birds, then it will be great. You have to take care of a few things before placing a birdhouse in your yard or garden, like which species of birds you see mostly around your space, their shape and size, etc. After going through these aspects then, place a proper birdhouse that will be harmless and useful for the bird.
What is the Best Wood for Birdhouses?
Before buying or building a birdhouse, you need to look for which kind of wood has been used or has to use for DIY. This is a very important thing to take care of. Birds are very delicate species, so try to use natural wood rather than treated. Cedarwood and cypress wood are the best options to use. Apart from them, you can use pine wood or plywood, but their durability is less.