Everyone deserves privacy in their homes where they can do what they enjoy doing the most. When designed especially for women, such an area in a home can be called a shed.
What's worse is if you have the freedom to prepare a small SHE shed outside the home in nearby areas, but you have no idea how to create one where you can fully relax and feel like you have visited the small natural luxury space for a holiday break.
No worries. We have curated this list of 13 awesome Greenhouse SHE shed DIY kit ideas for you and her to help you prepare one.
We have covered Greenhouse shed ideas from wood frame greenhouses to aluminum frame greenhouses, Gabriel Ash Wishley greenhouse shed to demand privacy greenhouse shed, and much more.
1. Wood Frame Greenhouse
The wood is the main element to prepare the frame for the Greenhouse, shelves, and door. Strong and long-lasting wood materials such as red cedar or strong pine wood are taken according to the regional climate and requirements so that the Greenhouse can last longers.
The greenhouse shed can be prepared by covering the frame with minimal things or customizing it into a full room. You need cedar redwood pieces or wood plates to prepare the frame with DIY. Consider the width around 10 to 20 ft and enough length for requirement and relaxation. Once the frame is ready for the Greenhouse, you can cover it with a glass or plastic sheet. You can also use the Polycarbonate side walls if you want more privacy.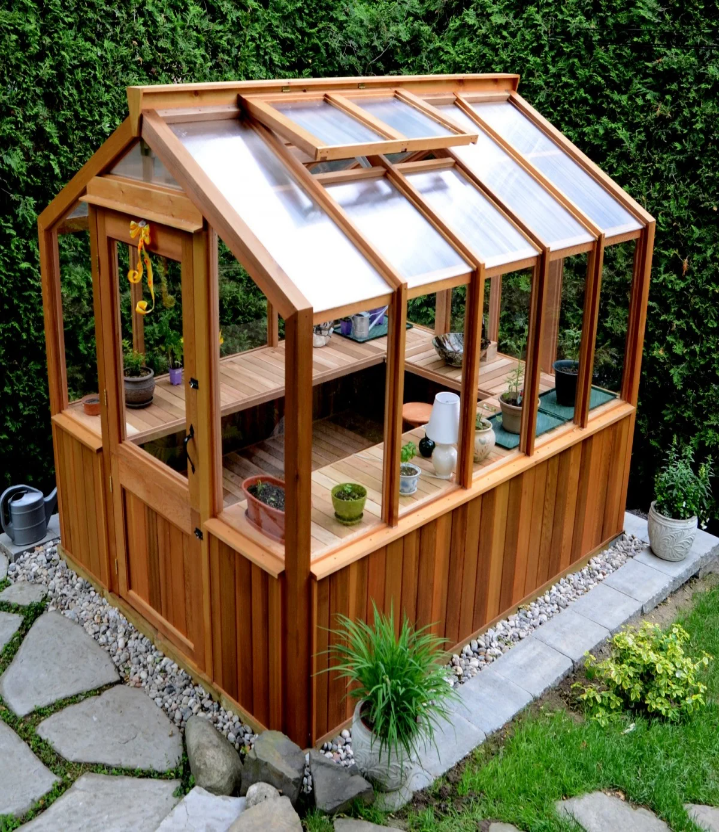 2. Nantucket Greenhouse Shed
This Nantucket greenhouse kit is worth trying if you want a charming double-door greenhouse idea. The asymmetrical roof makes it creative and adds enough space for star gazing, making it a good choice for spending the night well while relaxing. The double doors give the feeling of enough open room, making it airy, and let the doors open if you want to feel the freshness of nature while relaxing in a private space. The warm color tone wood frame complements the Greenhouse well with the surrounding and shed.
Cover the frame with a glass material strong enough to withstand harsh weather conditions. Keep the cover material transparent enough so she can freely gaze at the stars while relaxing inside. And this greenhouse shed for her is the perfect gift, especially if she wants to spend a relaxing night under the sky with a sense of privacy.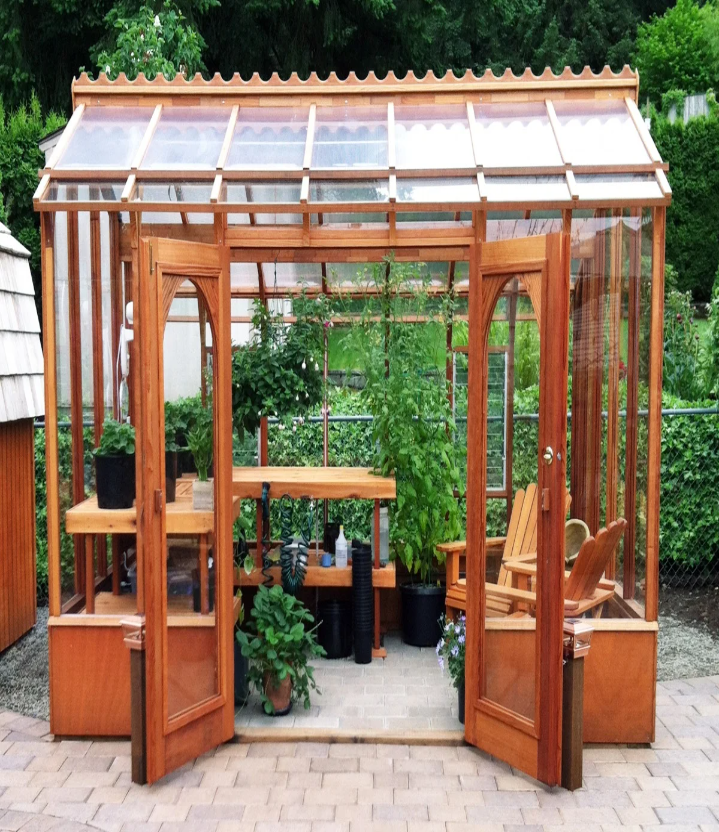 3. Gabriel Ash Wisley Green House
This greenhouse shed is worth trying if you want to convert the Greenhouse into a classy theme design. You have the wood frame greenhouse ready, as shared above. You can change the width and length of the Greenhouse by changing how much length of the wood piece you are using white preparing the free. For instance, you can keep the width 20 feet and length 25 to 35 feet for a larger greenhouse. And use the smaller dimensions in the case of the smaller Greenhouse.
Cover the roof of the wood frame greenhouse with tempered safety glasses so that your Greenhouse stays sturdy during all weather conditions. Add the water drainage and collection features with the aluminum gutters and downspouts. And install a small ventilation system to get rid of excessive heat regularly.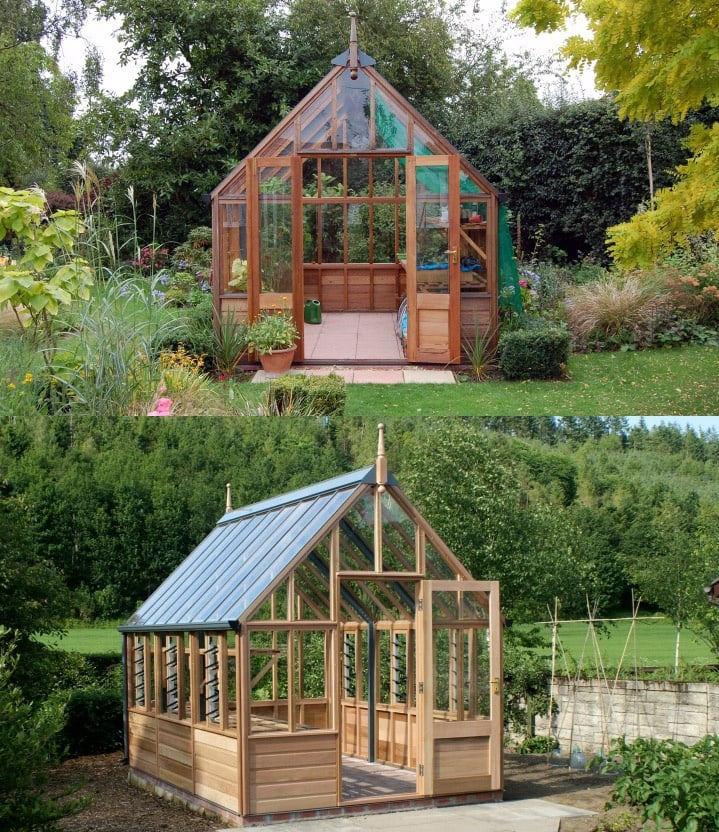 4. Quaint Coffee Spot Greenhouse
If you are a coffee lover, this Quaint coffee spot greenhouse theme is a perfect idea to work on. This theme is perfect for spending a good morning or an evening day. The coffee spot will help her return to work after relaxation or before sleeping. Though it seems a little thing to do, kindly focus on the fact that she doesn't overlook the small things she prefers and loves.
The warmness of coffee and the soothing effect of nature will lighten up your mood. If you do not prefer coffee but love tea, you can add the tea preparation material. You don't end much effort into this. You need just a coffee or tea kettle or stove with water storage and a few cups to pour the coffee or tea and enjoy it while gazing the nature and its natural beauty.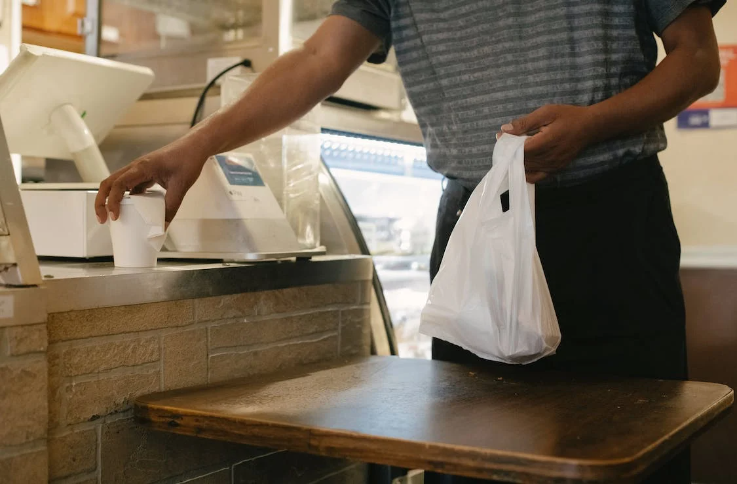 5. Demand Privacy Greenhouse Shed
If you want to control the entrance of light and the touch of transparency, this is the perfect theme you can pick up while creating the DIY greenhouse shed for her. The wooden frame of his Greenhouse has mounted angle walls that give the freedom to control light and airflow. You can easily cover the frame with plastic or glass sheets that are not fully transparent for privacy purposes.
Greenhouse curtains can also cover the wood frame and are a good choice to control the light flow entering the greenhouse shed. Each curtain can control the flow and entrance of light inside the Greenhouse because of the angle-mounted frames of the shed. To make it soothing, add your favorite plants in the surroundings and inside for a personalized touch.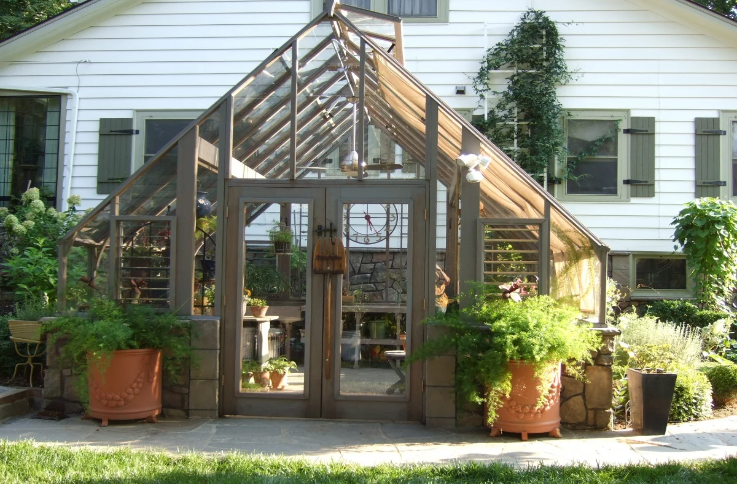 6. Greenhouse Shed with Fire Pit
This fire pit theme is perfect if you are looking for a cozy vibes idea or a greenhouse shade theme. The fire pit allows you to sit by the wood fire and make it ten times much better, especially if it is a chilling day or night. You can prepare this theme with any greenhouse shed idea. It doesn't after whether it is a wood frame, aluminum greenhouse shed, or has different styles and features.
The special highlight of this theme is installing a fire pit that goes well with any greenhouse shed for you. With the fire pit, you can always add a sitting area with chairs or stools to enjoy the moment fully.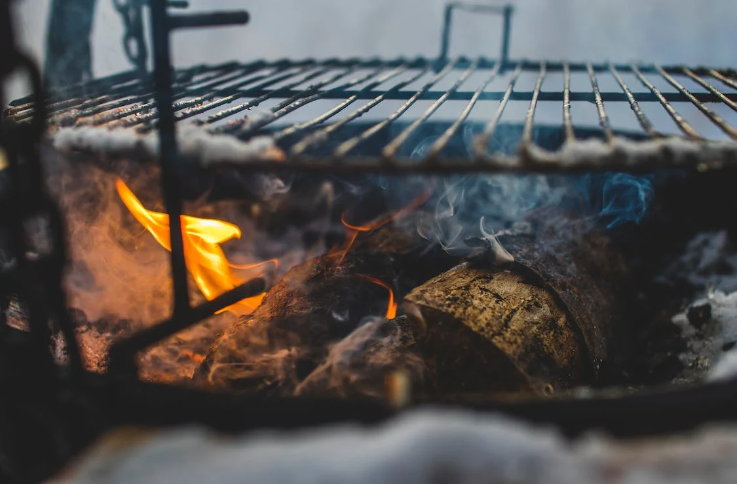 7. Gothic Style Greenhouse Shed
This is a unique Gothic-style greenhouse. The minute decorative details and features make it different from the other greenhouse styles. Like the arched panel and crown entrance, the steep roof pitch makes it wonderful and unique. You can easily create this look with redwood or cedar by creating a DIY wood frame and adding the design and roof layers in different ways, as shared here.
Cover the wood frame of this Greenhouse with glass to create a transparent look and let the mini garden vibes make it a high aesthetic and soothing space for your relaxation. You can cover the surrounding of this Greenhouse with green herbs and shrubs or flower plants making it relaxing and a perfect shed spot for you.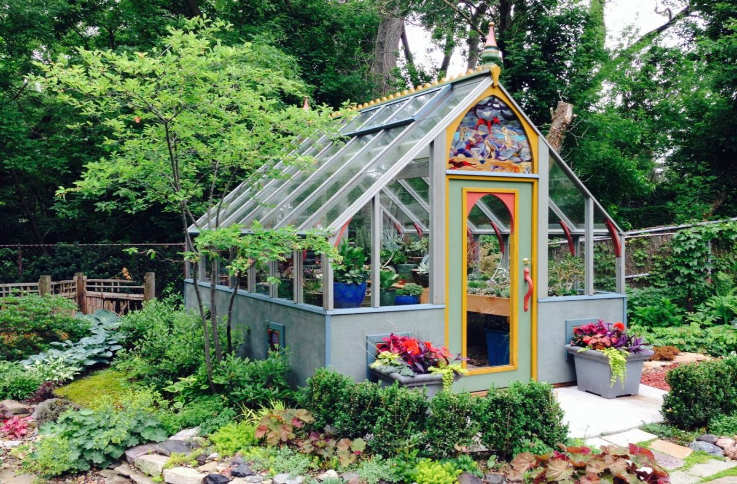 8. Garden Green Houses
These greenhouse houses have a large skylight roof and several windows. Depending on your requirement, the door is a normal or split Dutch, and the roof has overhangs. This Greenhouse provides the entrance space to enter sufficient natural light and air in the house. And it offers chilling spring nature vibes. The garden house is not simple to DIY, but you can take professional help.
This theme needs heavy-duty construction, but it is worth it, and you can easily and safely use it for the upcoming five to six years. You can make it smaller or larger according to the space you need. For instance, for smaller greenhouses, 8 x 10 ft, and for larger, 10 x 20 ft.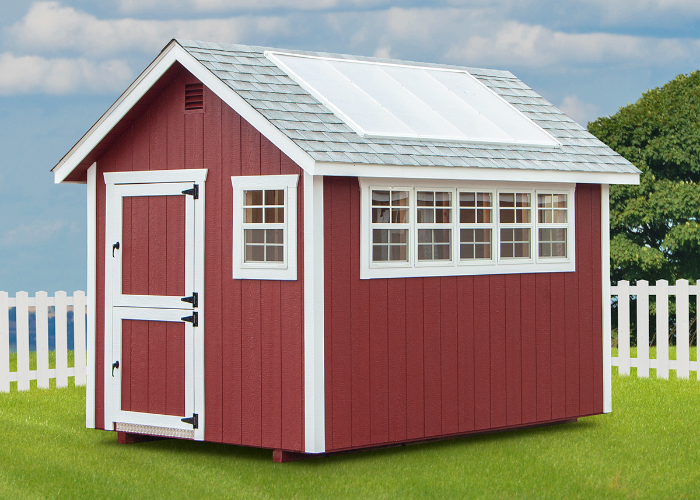 9. Wood Sun Room Greenhouse Shed
The Wood sunroom greenhouse has several windows in the walls. The roof is clear, and the standard vented room is sufficient to drain the rainwater. This theme is perfect if she wants a private space for her hobbies, work-life space, or even relaxing while caring for plants.
You can easily DIY this Cape Cod Style Garden Sunroom by taking the dimensions ten by 10 ft wooden frame pieces for a smaller room. Prepare the wooden frame for four walls. Fill two frames with wooden parts as two adjacent walls. Keep one side of the frame for windows, and add the door feature in the fourth one. Cover the roof, and your wood sunroom is ready to enjoy and relax.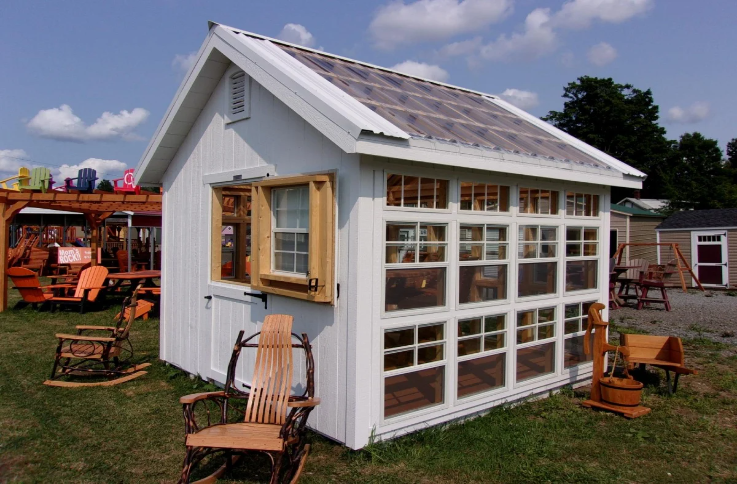 10. Expand She Shed with Outdoor Patio
For a more welcoming and homely feeling in the greenhouse shed, you can create the extended patio work outside the greenhouse shed for her. You can create a wooden patio as an extended version of the wooden greenhouse shed. You can also extend the flagstone or natural patio for affordable ways and less maintenance. Create a seating area outside the greenhouse shed, too, for relaxing in the fresh air if she wants.
And attach the sitting area with at least two sitting chairs or stands so that if you get company, you can dive into the deep relaxing conversations. Make the shed and outdoor patio area more creative with string lights or light lamps to make it a perfect shed area for a good chilling and relaxing night.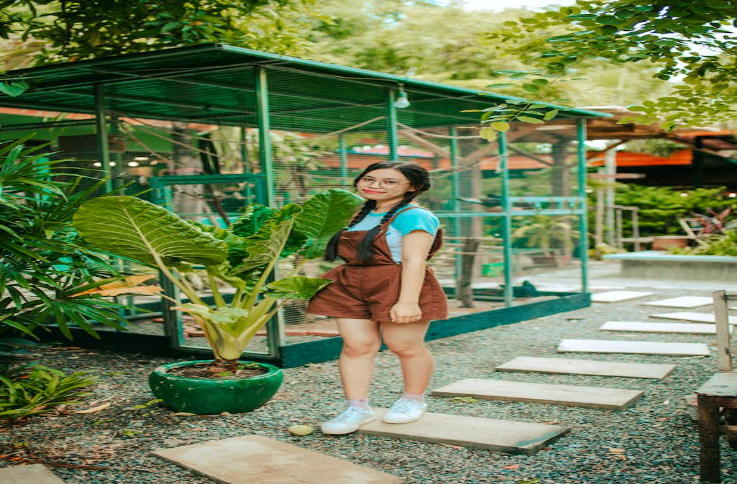 11. Greenhouse Shed Combo
This Combo theme is the perfect greenhouse shed idea for her. The greenhouse DIY kit is similar as described in some of the above sections. You can cover two sides with wood completely. Add the door feature remaining two sides. Add one main door on the smaller side, and create a door section, leaving it empty without filling it with wood in the remaining wall. Attach half wood frame shed with this door section side.
Cover the wood frame with transparent glass sheets. Cover the overall roof of the greenhouse shed combo in a sloppy shape. Plant the flowers or plants in the transparent glass sheet combo shed area for freshness and to complete the combo greenhouse shed.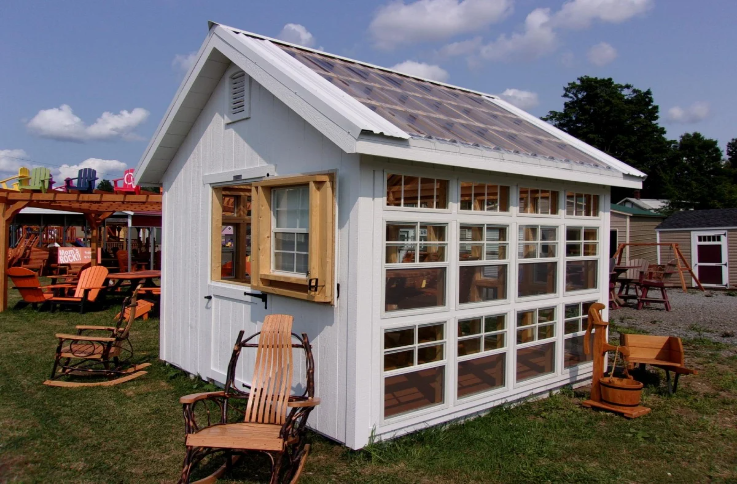 Aluminium Wood Frame Greenhouse Shed
No worries if you don't want to use the wood as the frame. Aluminum is a good alternative to wood for the greenhouse kit or shed preparation. You can create the aluminum frame shed house with DIY. You can proceed with the remaining process described in the first point about the wood frame.
Once your Aluminium frame greenhouse kit is ready, you can cover its wall and roof with glass, strong plastic sheets, or Polycarbonate side walls. Keep the roof sloppy so that it can easily drain the rainwater. And customize the doors or windows to add a personal touch for you.
13. Decorate the Shed Like Your Home Extension
If you are not looking to create a greenhouse shed away from home, you can try the Home extension shed theme. The good thing about this theme is that it is not inside the house where she again feels trapped, and it is not away from home where she starts thinking and worrying about the family again. This theme works like a large and open room under the deck area. So She will get a homely and safe feeling while relaxing in this zone.
You can make it aesthetic and cohesive by painting it with the color of your home to make it your home extension and to keep it as a part of the home but especially reserved for her.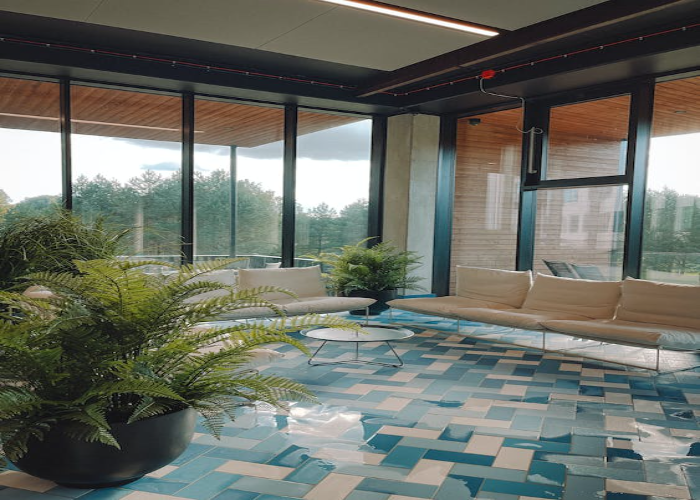 Final Thoughts
You crave a personal space to escape and indulge in your hobbies and quality time. Then creating a personal relaxation zone for you by choosing the right greenhouse DIY idea, appropriate location, and personalized comfort zone is the way to go.
This post showed you 13 awesome Greenhouse She Shed DIY kit ideas that can be easily prepared without hassle or extra professional help. This post covered the various greenhouse DIY kit ideas, from the frame to the shed to the combo. Take a look and give yourself enough time to analyze what pleases and meets your requirements.
You can select and merge or customize a few themes according to your needs. Once the Greenhouse She Shed is ready, you can easily make it your relaxation and comfort zone.