What is the best way of spending a hot summer day other than hanging out with your family and friends by a pool and clinking glasses on some old and fun memories, but the only thing that is stopping, is your tight budget from having your dream pool in your backyard.
So, here are some backyard pool ideas on a budget that can take your backyard up a notch and be the place to hang out and have a get-together at. However, a question arises about how to add a pool when the backyard is small or has an awkward shape with trees around it. But who says a pool needs to be a traditional rectangle?
Here are some ideas to make your backyard the star of the summer and add another jewel to your crown.
1. Shipping Container Pool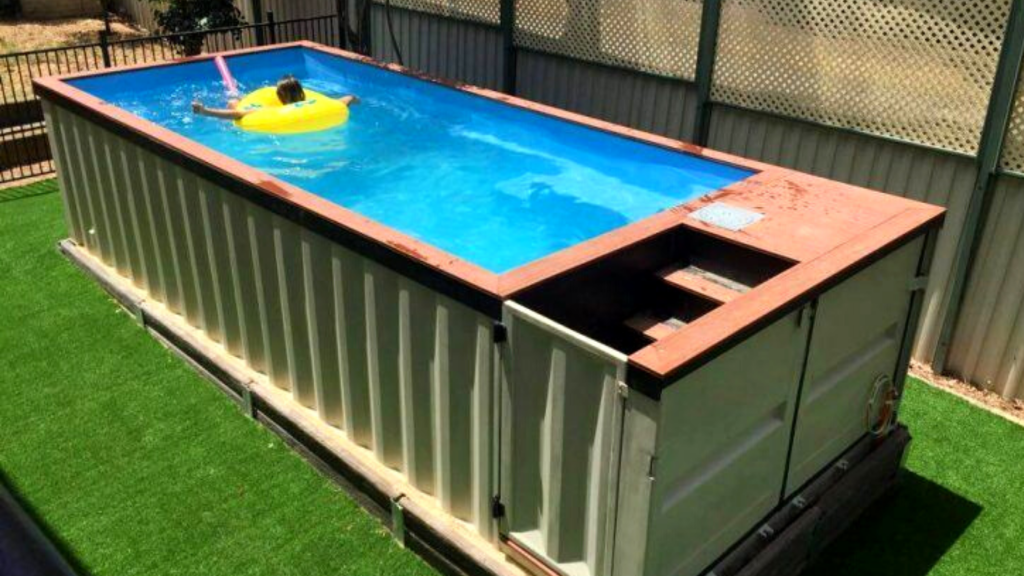 A budget-friendly and innovative, stylish option for a backyard pool. A shipping container pool is made from a used/modified shipping container that is fitted with a coated steel interior, plumbing, filtration, and heating systems. A shipping container can cost anywhere from $20,000 and up, considering the size and features.
A shipping container pool can be easily transported and installed as an above-ground pool or as an in-ground pool. The Pool is much cheaper than a traditional pool and has a life span of up to 20 years, and is eco-friendly and easy to transport in case you need to shift.
2. Small Square Pool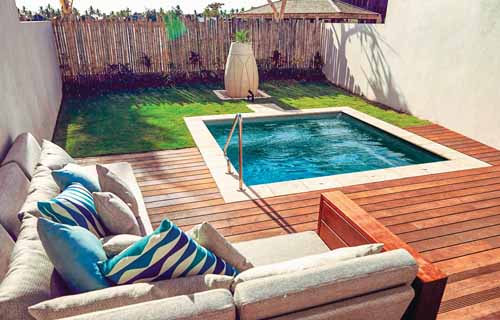 It is a simple and elegant option when it comes to a budget-friendly pool. A cozy and relaxing poolside spot can be easily created by a small square pool that is about 10 feet by 10 feet or less. By adding a few lights, fountains, or sprinklers, it can become more fun and attractive, creating a serene atmosphere to sit in during summer evenings.
A small square pool can cost from $15,000 to $20,000, which is a better alternative to a traditional above-ground pool which can range from $30,000 and above, which makes it a seamless better option as it gives more intimate space and is easy to maintain.
3. Natural Pool with a Floating Wetland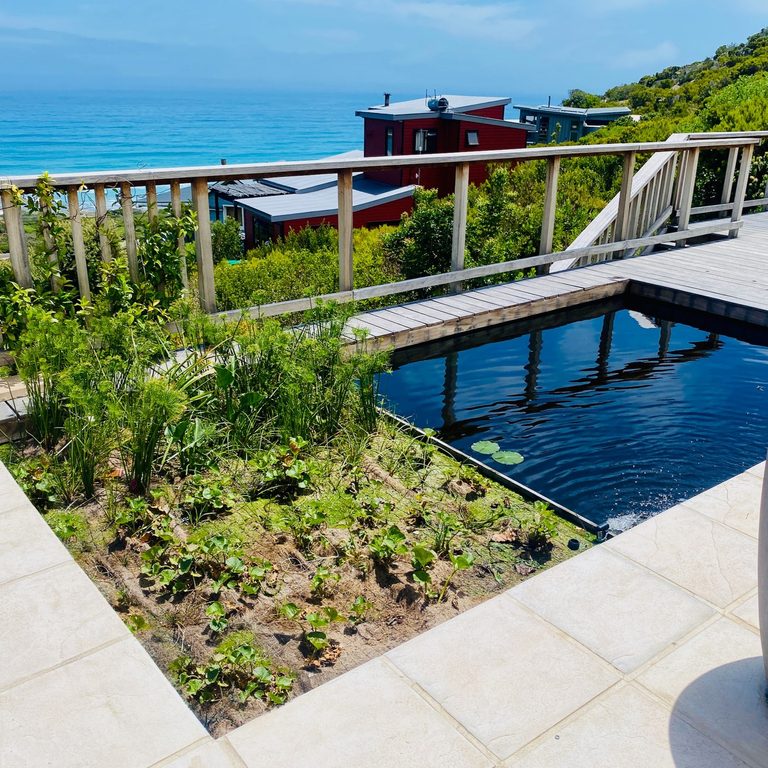 A more eco-friendly and low-maintenance option makes it a proper backyard pool for someone who is on a little extra budget. A wetland is a healthy and cheaper alternative to expensive chemicals and filters as they are made of plants that naturally clean the water, as their root hosts microbes that use carbon and algae in the water as their food source.
Though its installation is expensive, it saves tons of money due to adding a wetland saving up to $3000 to $4500 per year because no chemical cleaners are used, and no filter is installed, due to which filter cleaning costs are also obsoleted.
4. An Above-Ground Pool with Deck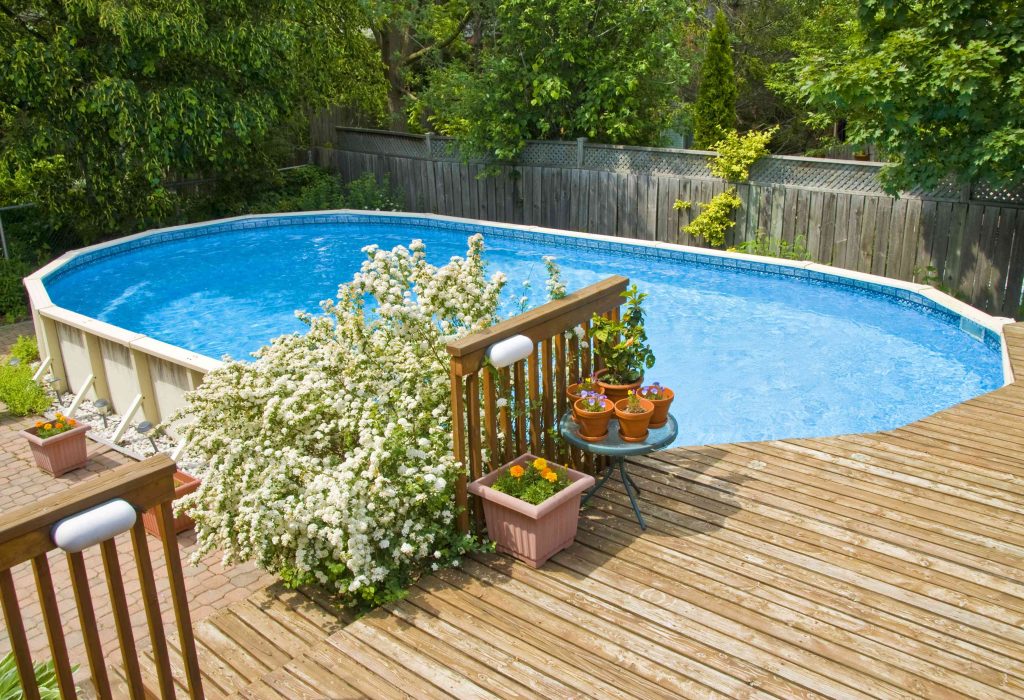 Another extremely backyard pool budget-friendly idea is that of an above-ground pool which can cost as low as $300 to $3600 considering on the size and features of the pool, and then by adding a nice deck around it will give it more of a premium feel making it more attractive, lively and functional, giving more privacy and an area to enjoy.
An above-ground pool with a nice deck can cost around $10,000 to $15,000 depending on the size and design of the deck, and adding additional features like stairs, plants, railing, and furniture like a beach chair or umbrella table can make complete the look.
5. A Pre-Cast Plunge Pool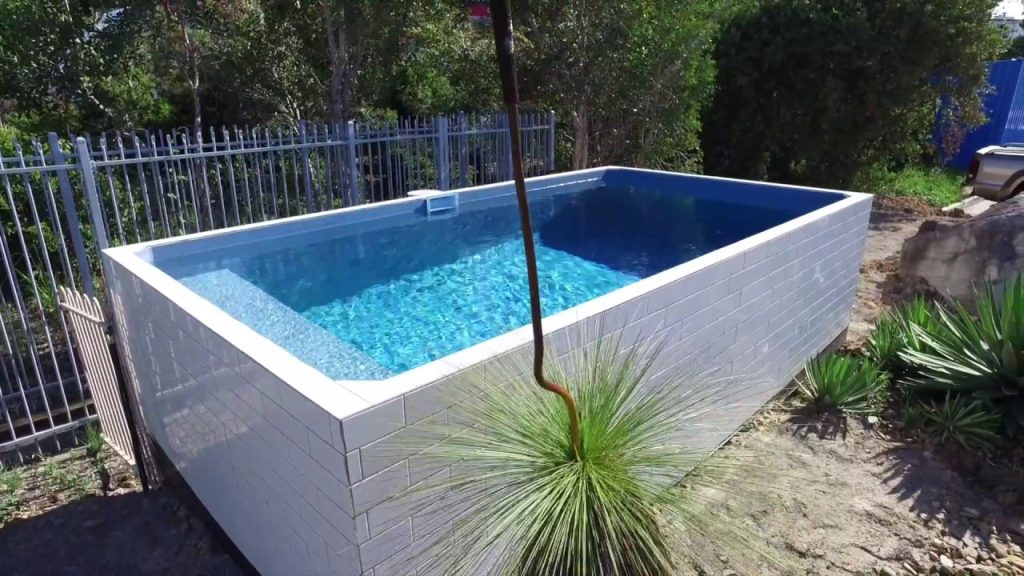 A pool that can be used all year round and is budget friendly can be nothing more than a dream that came true, and fortunately for us, a pre-cast plunge pool is nothing but just that. It is a compact and convenient option for budget-friendly backyard pools to cool and relax in. It is made of concrete and prefabricated, so it can be installed faster and cheaper than a pool built from scratch.
With temperature control and security cover, this pool can cost anywhere from $20,000 to $25,000, but the only downside of the pool is that it can't be used for swimming laps if that's what you and your family are interested in.
6. Semi-In-Ground/In-Ground Stock Tank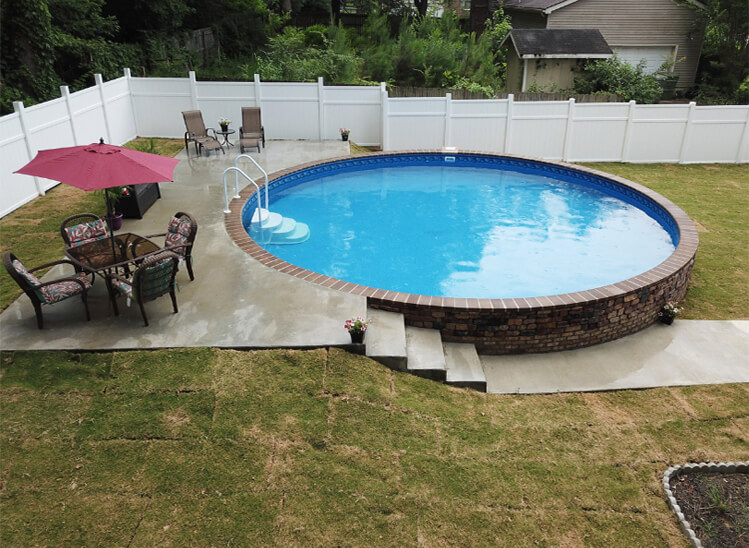 This semi-in-ground or in-ground stock tank pool is a much cheaper, pocket-friendly, and more in-fashion option than a proper in-ground concrete pool. A stock tank is a very large plastic/ metal container that is usually used to store water for livestock. A stock tank can be easily bought for less than $1000, and installing a pool liner and a sand filter pump to make it durable raises the total cost up to almost $2500.
Adding additional features like stone furniture like chairs, plants and etc., can make it comfortable and convenient, and considering its size and area, it consumes gives you a lot of space to still have a properly functioning backyard to work with.
7. Seasonal Hay Bale and Plastic Pool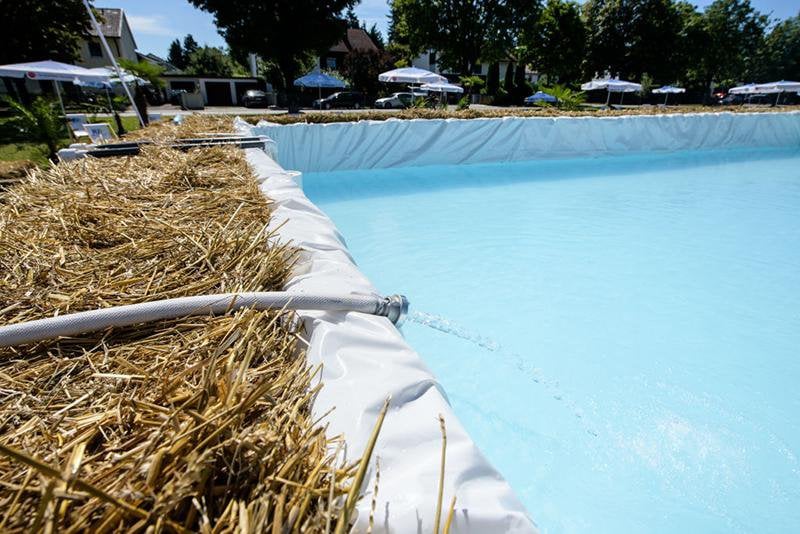 What could be more appealing than having a DIY Project every year with your kids, which is fun and money friendly as well? A seasonal pool is basically a rectangular trap on a flat piece of land with hay bales spread around it acting as walls; then, a thick trap is spread over it till the desired shape is not obtained. Try not to make it too high. Put a bunch of 5 to 10-liter plastic containers filled with water all around the sides on top of the edges, against hay tightly.
It is the cheapest above-ground pool, as two tarps can cost up to $40, and hay can cost up to $300. A more permanent version of it would be using a wooden pallet above-ground pool and instead of hay bales, use a wooden pallet, rounded wooden sheets, and a tarp.
8. DIY Concrete Pool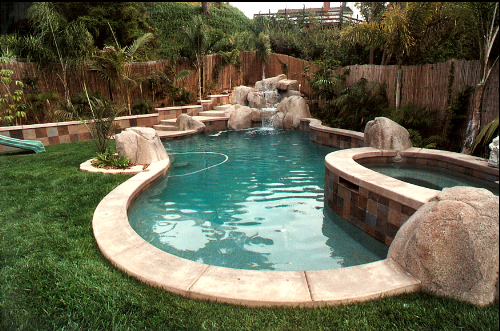 A traditional concrete pool can cost anywhere from $50,000 to $70,000, while this DIY concrete pool is a wallet-friendly version of it. This can cost as less as $10,000 while being and giving the looks and feel of the same pool that would have been professionally built, but the only difference would be you rolling up your sleeves and getting your hands dirty.
Being a self-made pool gives plenty of opportunities to customize it at your own will with minimal cost while still giving it the best treatment without any compromise. It is the best investment for money while giving your backyard the lift it deserves.
9. Wall-Mounted Pool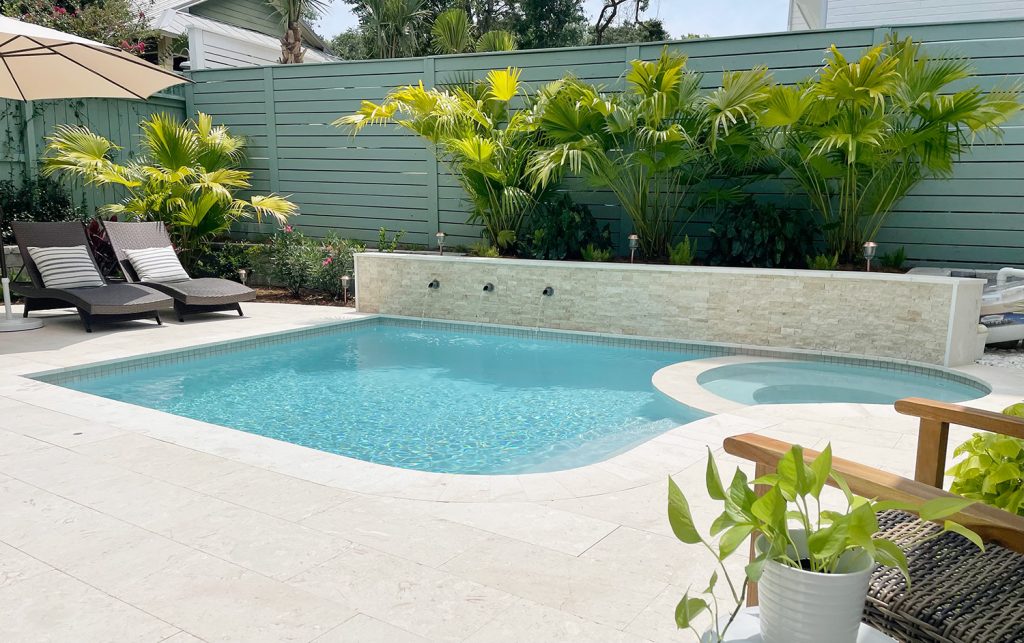 A stylish and sleek design that is pocket friendly and is a favorite backyard pool idea. So, basically, this pool is a small pool designed to be mounted on the wall. It takes up very little space and can be easily installed, and it can be used as a water feature or a splash pad. It is mainly a metal box that holds water with a jet spraying water from outside.
A wall mount can be an elegant backyard pool with adding lights or a movie curtain on the wall while relaxing on the other side. This budget-friendly backyard pool cost can range from $5000 to $10,000 depending on the construction and heating costs.
Bonus Backyard Pool Ideas to Consider
10. Pool Deck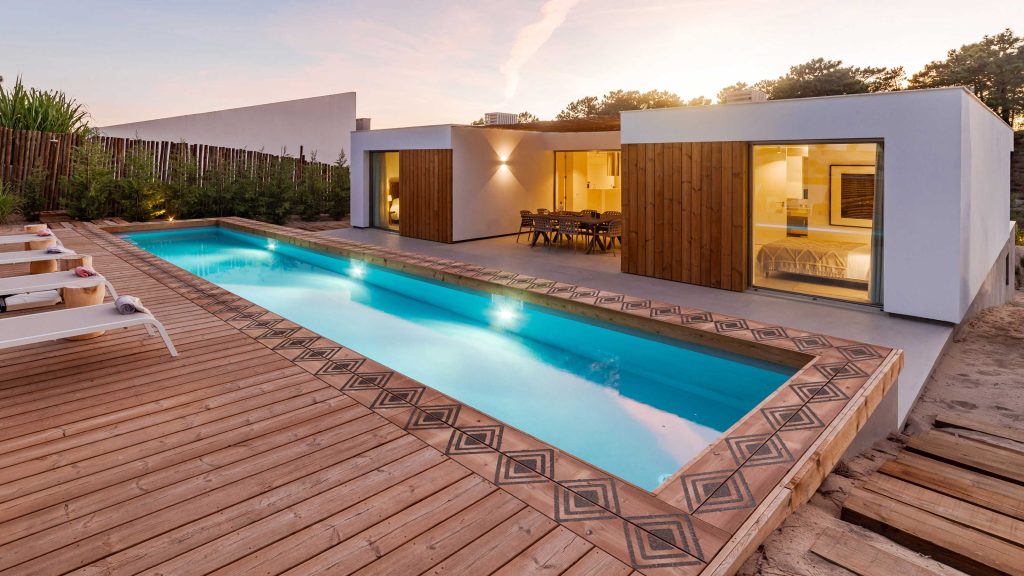 Adding a wooden or concrete patio can be a great way to make your pool easy to access and a great place to add some seating area to spend some time by the pool.
11. Fire Pit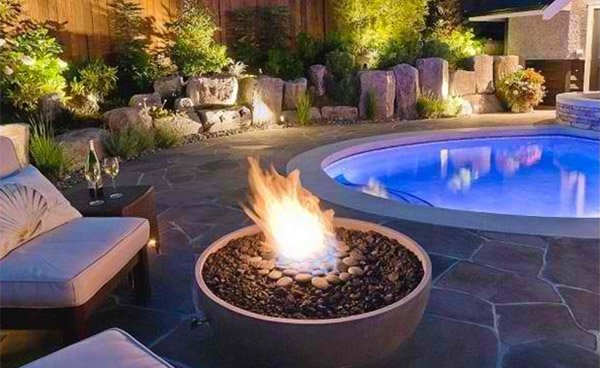 While adding an aesthetic Instagram feel to your pool in the backyard, they can also be useful as they can provide warmth during cold days hence extending the use of the pool.
Amazon Links to Some Fire Pit
12. Outdoor Furniture
It is an exceptional feature to add as it can provide a place to lie down in the sun or sit by the pool watching your kids enjoy the pool after school.
Amazon Links to Some Furniture
1. Chairs: Pool Chair
2. Table: Deck Table, Floating table, Table with Umbrella
3. Umbrella: Deck Umbrella, Mesh Umbrella
13. Decorations
Adding decorations like lights, sprinklers, beach toys, and plants can improve the entire ambiance around the pool, giving it a more scenic visual and fun to be around.
Amazon Links to Some Decorations
1. Lights: LED Pool Lights
2. Sprinklers: Temperature Controlled Sprinklers, Floating Sprinklers, Wall Sprinklers
3. Plants: Floating Plants, Pot Plants
Final Thoughts
Apart from these, there are still plenty of other options, but these are the few budgets and pocket-friendly backyard pool ideas that can give your backyard that class and lift that can make it the talk of the town all summer long and transform your once plain and boring yard into a fun and relaxing place to enjoy during hot summer afternoons.
Having a tight budget or not having enough space in your backyard shouldn't stop you from having a pool that you have dreamed of, whether it is a stock pool or a pool with jets and sprinklers, or a wall-mount water jets with a shipper container pool let your imagination run wild and enjoy some quality time with yourself or with your family the way you always wanted.
Now, it is time for you to put on your construction belt and give your backyard a look that you have always wanted without investing more money than you want to with these backyard pool ideas on a budget
Frequently Asked Questions
What Are Some Backyard Pool Ideas Which Are Budget-Friendly?
Using a small pool are top preference as they are more affordable and require less material and labor. Installing a Pool Kit can be another budget-friendly idea as installation of these kits are important as it contains all the necessary materials required to build a pool, and this can easily be installed by anyone. The biggest and most pocket-friendly idea could be an Inflatable.
What Are the Most Cost-Effective Pool Features?
Some of the cost-effective features are saltwater pools over traditional and commonly used chlorine pools. LED Pool Lights are better as they have less electricity consumption or use Solar Pool Covers as they can heat up the pool free of charge and can also reduce evaporation; setting Variable-Speed Pool