Aesthetic and pleasing patios change the whole mood and look of the home, and they are suitable for stable pathways. Suppose you are thinking about creating aesthetic villa views with the softest and most affordable patio floor ideas without considering important aspects. In that case, the last you want is to ruin the patio during the rainy season or with a heavy load.
So aesthetic patios or modern patios floor ideas are worth trying?
They are durable if you follow proper instructions before installing them. Most of these patios are affordable and worth trying. If you want to know more about the different types of patios you can use for your floor, keep reading.
In this post, we have curated a list of 15 different types of patio floor ideas you can use for your floor setting, both indoor and outdoor.
1. Concrete Molds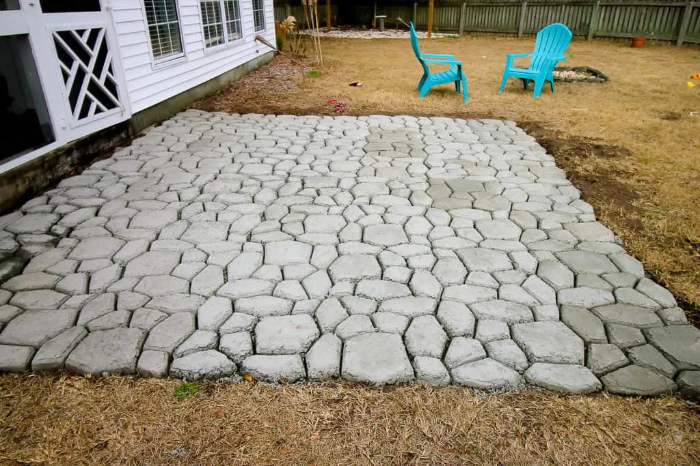 You can prepare this DIY concrete patio floor idea with plastic molds. For this DIY, pour a mixture of Quikrete Concrete into the plastic molds. You can add liquid cement color for the colorful Concrete Patio for variation. You can replace concrete with a plastic patio to DIY plastic pieces instead of concrete.
Fill the mold with a 2:1 concrete and greased oil ratio for better stability. When the concrete mold hardens and becomes super solid, you can remove the plastic molds according to the requirement.
2. Concrete Pavers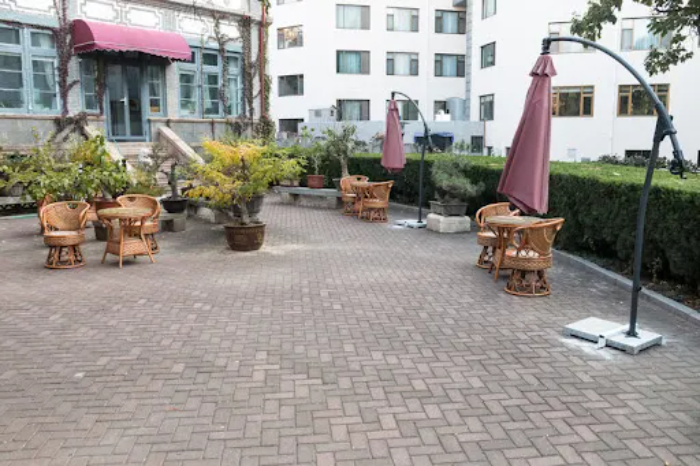 The concrete pavers are more likely natural stone patios. You can prepare concrete pavers with a simple monotone or resembling blocks. They can easily look like they consist of natural stones. Before laying the pavers, prepare the ground beforehand, as it will decide the setting of the concrete pavers.
You can use interlocking or noninterlocking pavers to prepare your desired concrete pavers. You can also utilize the patio on a pallet concrete paver to prepare the base of your concrete paver.
3. Hardwood Tiles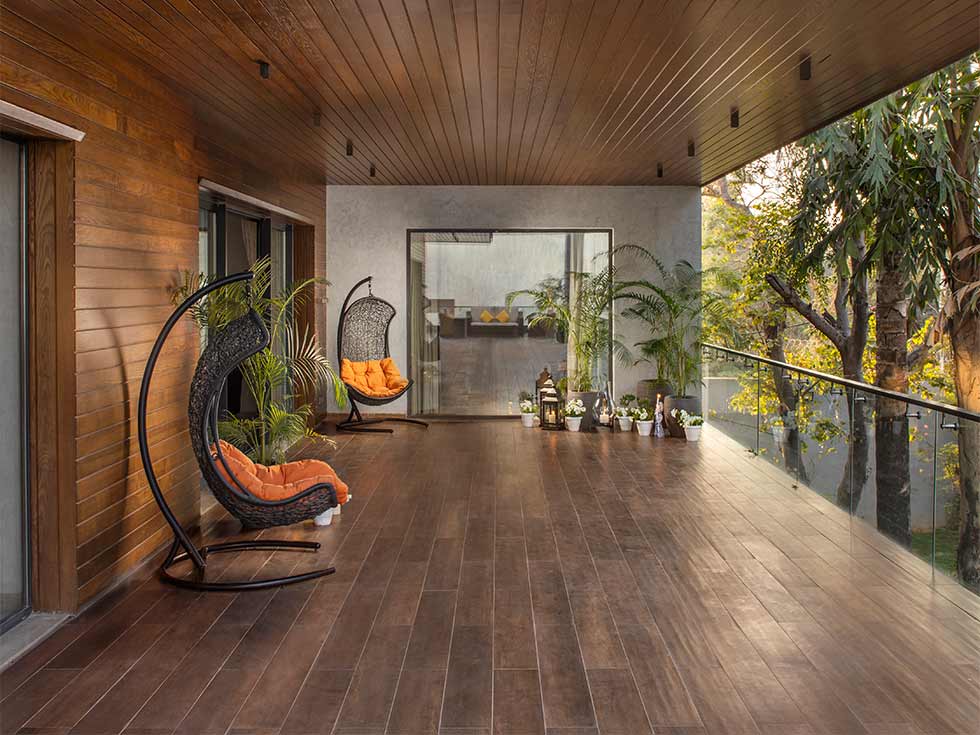 Hardwood tiles add a renovated, pleasing appearance to the patio and offer a great walking experience compared to plastic. You can use Hardwood tiles indoors or outdoors, as they are easy to maintain and clean.
Ipe hardwood is considered the top-notch and exotic species for hardwood piles and patios. Some more recommended examples are – Redwood, Cypress, Teak, Mahogany, and Western Red Cedar. You have to take proper care of wood with proper cleaning and sealing before installing it on the patio so that they don't get wrecked by the seasonal changes and water.
4. Conventional Cemented Patio Floor Ideas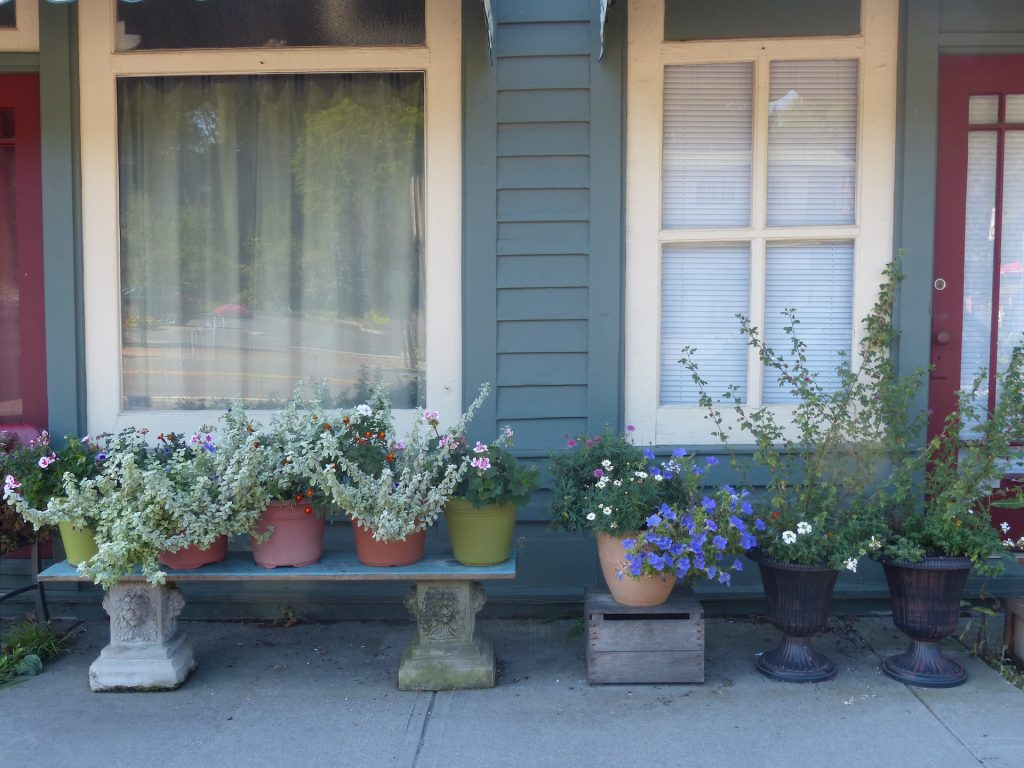 If you are looking for conventional patio floor ideas which are smooth and durable, then the conventional cemented floor or pavement is a good choice. Add flowers or nature to the outdoor pavement to decorate and brighten the space.
For a classy vibe, utilize wood furniture or window frames with the conventional cemented as a compliment. They are easy to clean and maintain and last for several decades.
5. Stepping Stones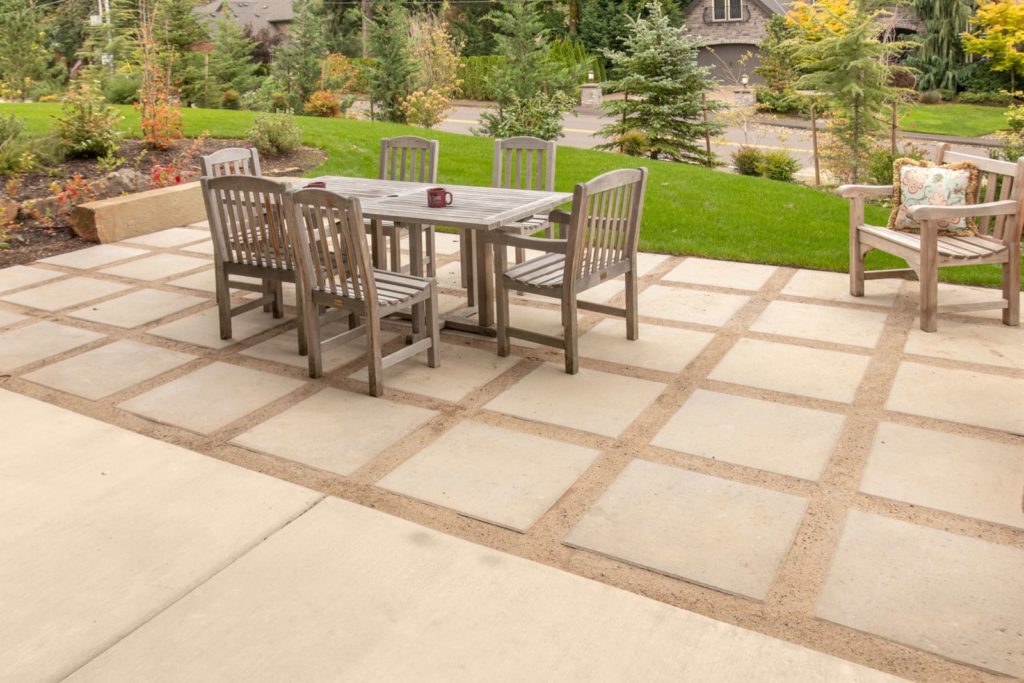 If you don't want to use cement and are looking for a cheap patio floor ideas pavement, a stepping stones patio is a good idea. You can try square stepping stones or different shapes and sizes according to your requirement.
For variation, you can add colored stepping stones to brighten it and make it more vibrant. Before installing the stepping stones patio, ensure that the surface is even and leveled so that stepping stones can lie down on it easily.
6. Brick Patio Floor Ideas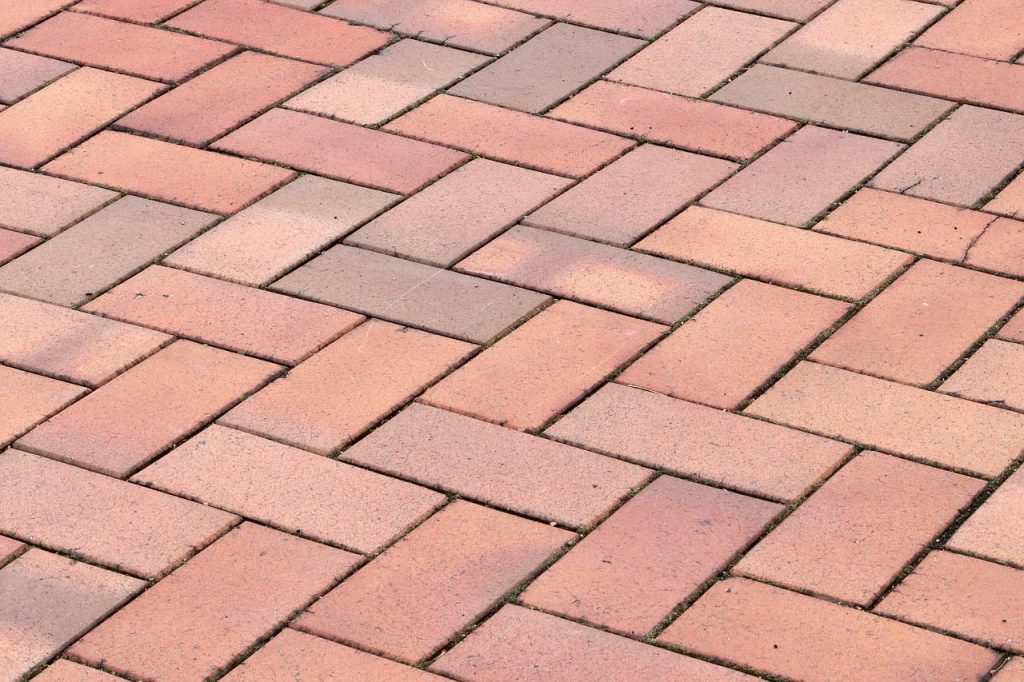 Bricks patios can prepare several different pavements with different layouts. For more variation, you can use different colors of bricks for patio pavement. Before setting them, ensure that the ground surface is flat, even, and well-prepared so that the bricks don't lift with a slight push or load.
After setting the bricks at the surface level, fill the gaps with dry sand for proper setting. If you want an inexpensive yet elegant and durable patio floor idea, bricks are a good choice.
Bricks pavers are easy to install, maintain and handle. For hygiene, you must sweep the sand and leaves and occasionally wash them with water. They usually cost somewhere between 14$ to 30$ per square foot.
7. Wood Patio Floor Ideas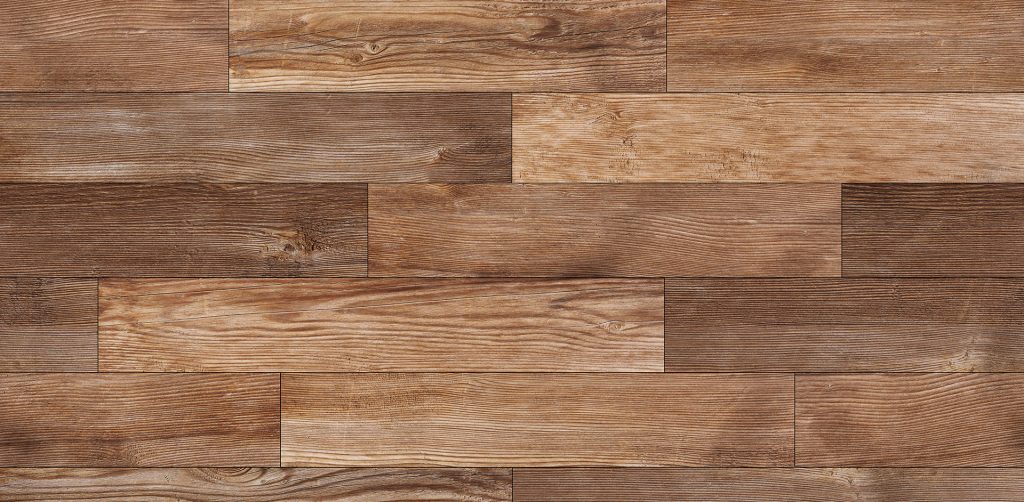 If you want something rustic and stylish yet versatile, natural wood is a great choice that offers a home's feel, aesthetic appearance, and good quality. For a trendy and modern look, you can polish their surface.
Wood patios or decks can fit any background or landscape. The installation of wood patios costs you somewhere 15$ per square foot. It will also need sealing yearly, costing you $3 per square foot.
8. Pea Gravels Patio Floor Ideas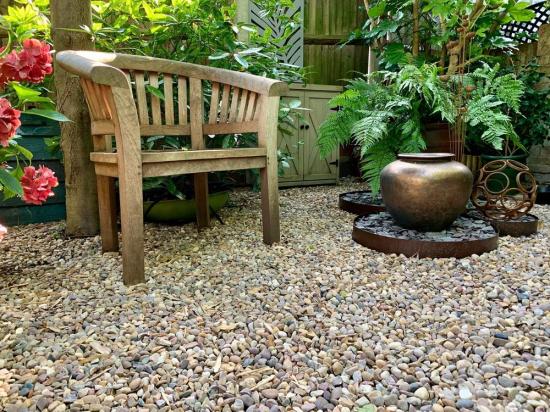 If you are looking for one of the cheapest, most versatile, and most affordable types of patio, then gravels are the one. Pea gravel patio consists of tiny stones or pebbles filling the patio surface. Before loading the pea gravel, you must fill the base level with hard clay soil, compact sand, and landscape fabric to properly set and stabilize tiny stones.
Pea gravel offers a smooth texture to the pavement or floor, which looks simple yet elegant at the same moment. They provide a calm look and complement the outdoors if there are plants or pools in the surrounding.
You can select one color of pebbles, like grey, for a unified look, or you can also select colored pebbles for variation and a colorful patio floor or pavement.
9. Artificial Grass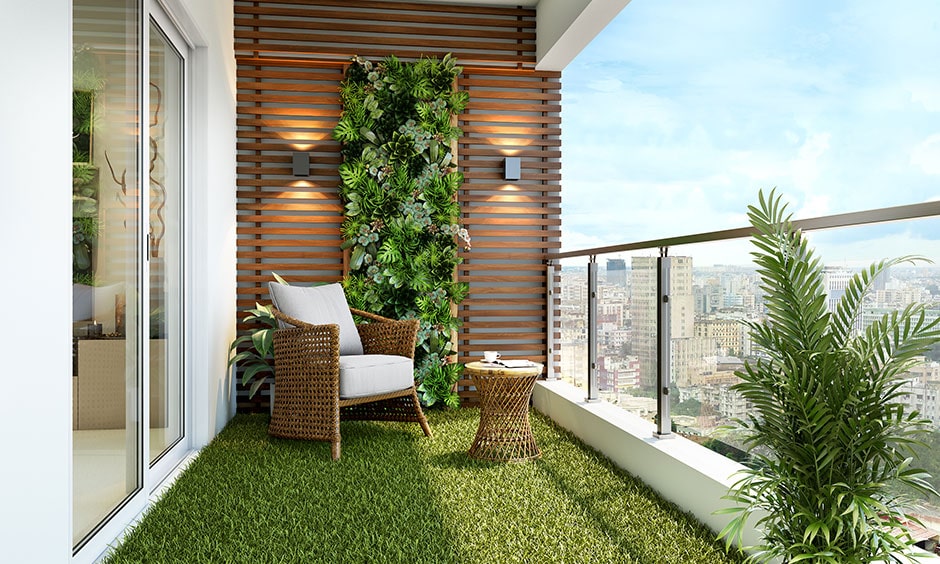 If you want your patio with a soft, natural, delightful, covering look, green grass is worth covering the patio. So there are two options with natural grass and artificial grass. If you want to avoid regular and extra care of natural grass, artificial grass is a good option, saving you time to manage it.
Artificial grass patio floor ideas also make it trendy, modern, and a good choice if people or kids love to play outside. The comparatively artificial grass patio is not the most affordable but easy to DIY and install. You have to follow the drainage guidelines to clean it and maintain it for the long term.
Artificial grass also comes with a one-time investment as you don't have to spend more for fertilizers, gardening care, sprinkles, etc. The only downside is that the upfront cost is high, and it is unsuitable for hot sunny days and hotter regions, as it retains the heat. It comes in two forms, sheets and artificial tiles. You can choose one of these according to your courtyard or pavement requirements.
10. Composite Wood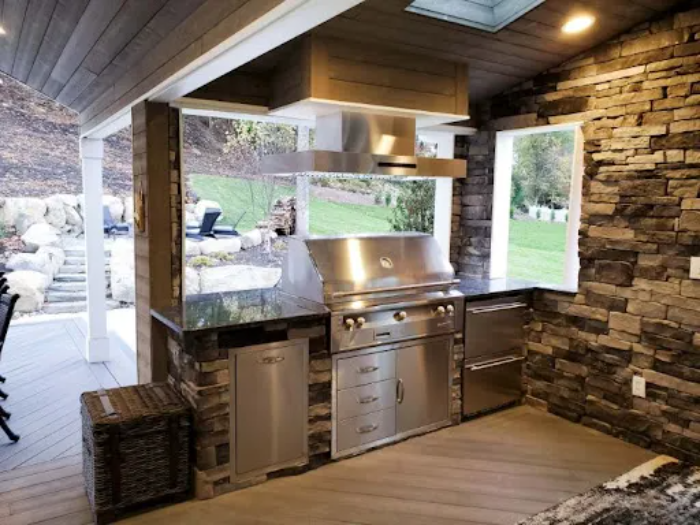 Composite wood is a great choice if you want a combination of traditional and modern patio floor ideas patterns. It is affordable and flaunts the gorgeous pavement looks. Composite wood needs less maintenance than real natural wood.
Though composite wood retains more heat than real wood, it gets warm soon on hotter days and seasons. Therefore, avoid using it if you are in hotter regions. Composite wood costs you around $17 per square foot, apart from the installation cost.
11. Natural Stones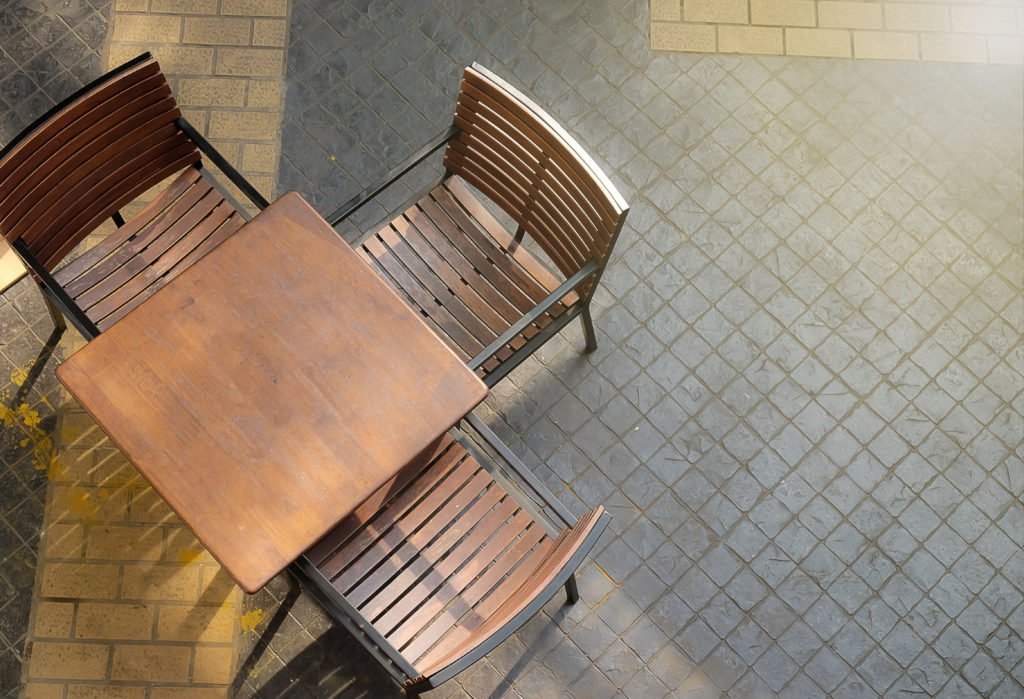 Natural stones are a good option for organic and natural patio floor ideas. They cover the patio like the flagstone floor and create harmony. You can easily create a straight or curved path patio with neatly cut flagstones, which come in regular and irregular forms.
The natural stone patio is sturdy, gorgeous, strong, and long-lasting. Natural stone patios are expensive, so you can look for local natural stones to maintain your budget. For a unified aesthetic look, use regular and same-colored stone that matches the landscape color of your surroundings.
12. Rubber Paves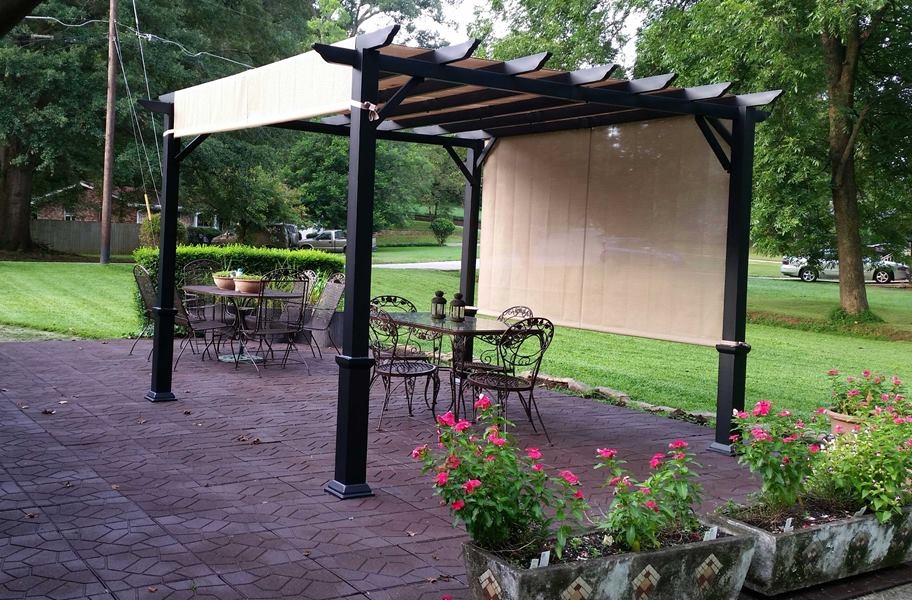 Rubber paver patios are durable and prepared with the help of flagstone rubber. These are installed and set over the cracked concrete patios over the grass or roof. You will need a flat surface and a base to install the rubber pavers. They will not set and work well on uneven concrete patios.
The best thing about the rubber pavers is you can relocate them, as they are removable. They provide a soft patio layer and are smooth and lovely to walk over. So as they are removable, to fit them, you have to bind them to your patios with adhesive.
After adhesive binding, let them dry and set. They will be ready in two to three days. If you want a comfortable patio floor idea for kids and older people, then rubber tiles and pavers are a great choice.
13. Plastic Pavers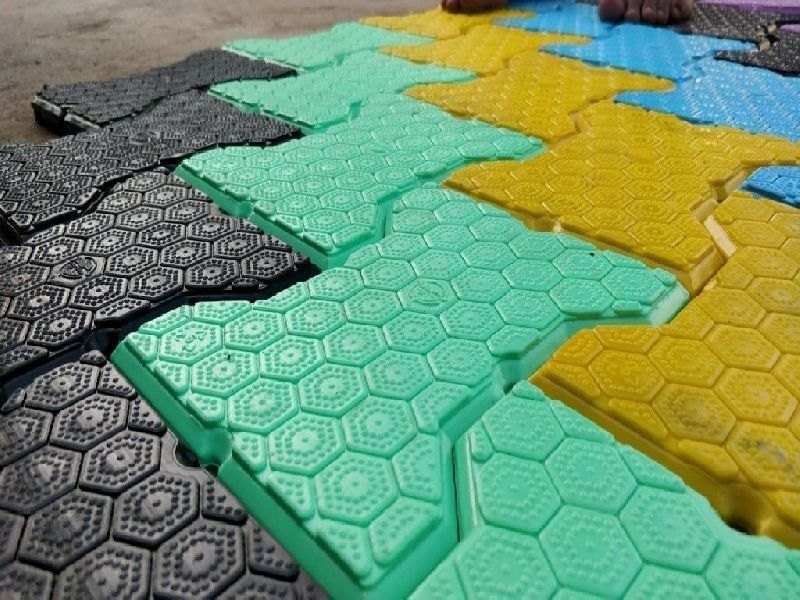 Plastic tiles are versatile and easy to use, so they are a good choice if you are looking for one of the most affordable and long-lasting patio ideas. They are easy to handle, clean, and suitable for patio floor ideas.
Plastic tiles are widely used on patios as they allow water drainage easily and offer traction even when wet. They are also mildew resistant, safe, and hygienic. Plastic pavers and tiles consist of hard plastic that is stable even after continuous exposure to UV rays, so they are also a good choice for outdoor pavers. Though these patio pavers do not provide comfort, they are a good idea if you are looking for something stable which is nonslippery.
14. Slate Pavers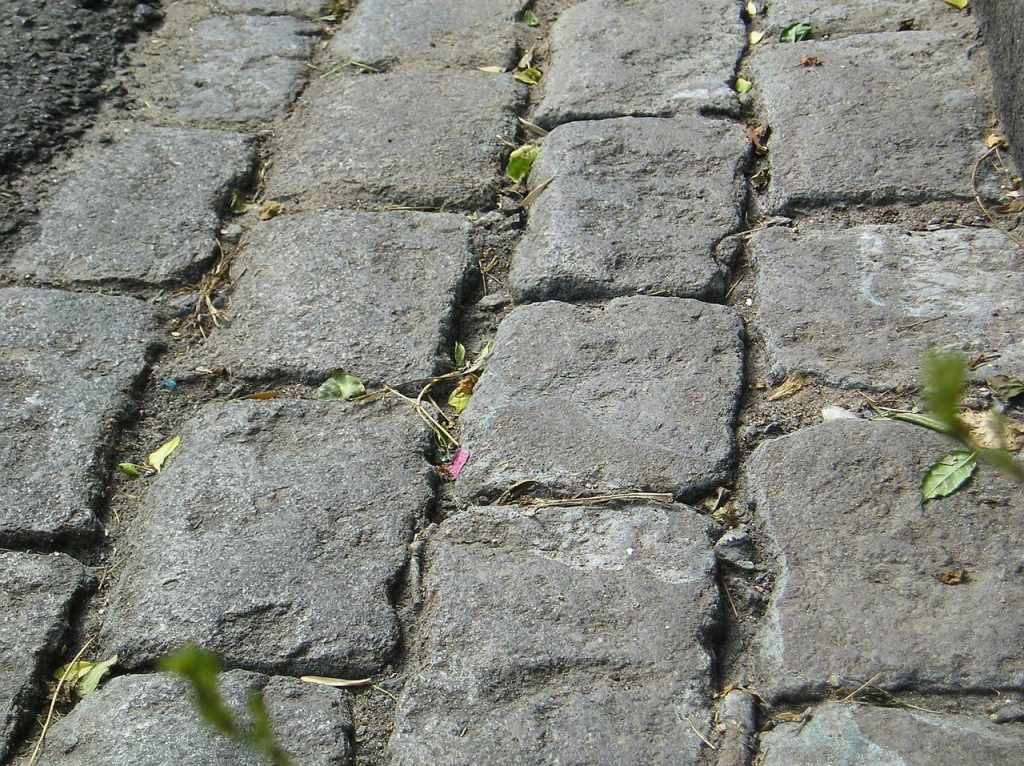 Slate pavers are a good choice if you are looking for tough pavement and a natural appearance patio floor ideas. Slate pavers are affordable. They are durable. However, they are not much water resistant and not easy to maintain.
For proper filling and setting, install the slate plates on the mounted plywood or concrete before setting them. For higher and greater moisture and water resistance, use a silicon-based sealer with them. The slate pavers cost you from 1300$ to 1850$, including the slate plates' material and the installation labor cost.
15. Court Flooring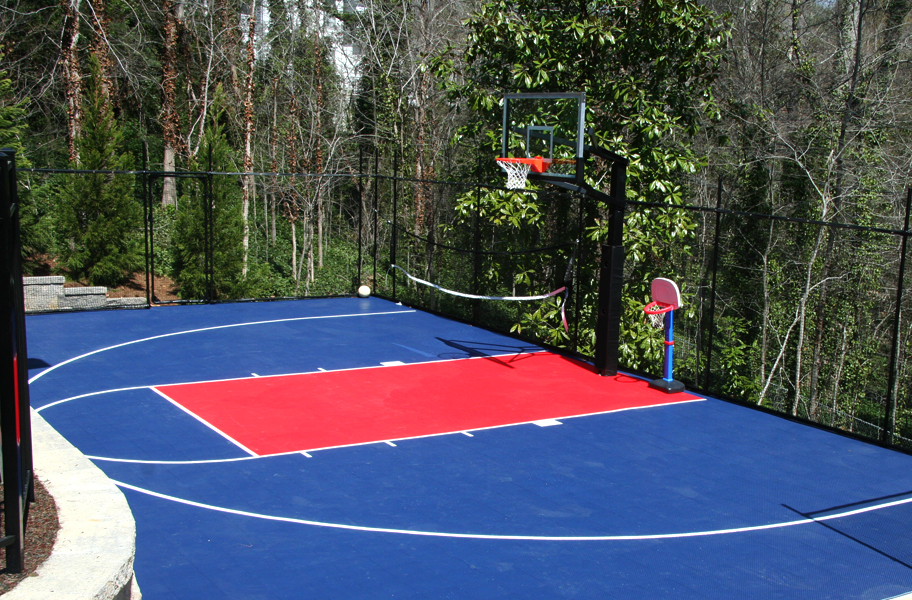 If you are a sports person or fond of games and want the pavers according to your active lifestyle, court patio floor ideas are a great choice.
These outdoor sports floor tiles are nonslippery and offer easy water draining/court flooring is stable and suitable under UV rays, so they will not fade their color soon. The installation is easy and really simple. Though court flooring is a great option for highly active or sports people, they are not highly absorbable regarding the fall impacts.
Tips for Outdoor Patio Floor Ideas Selection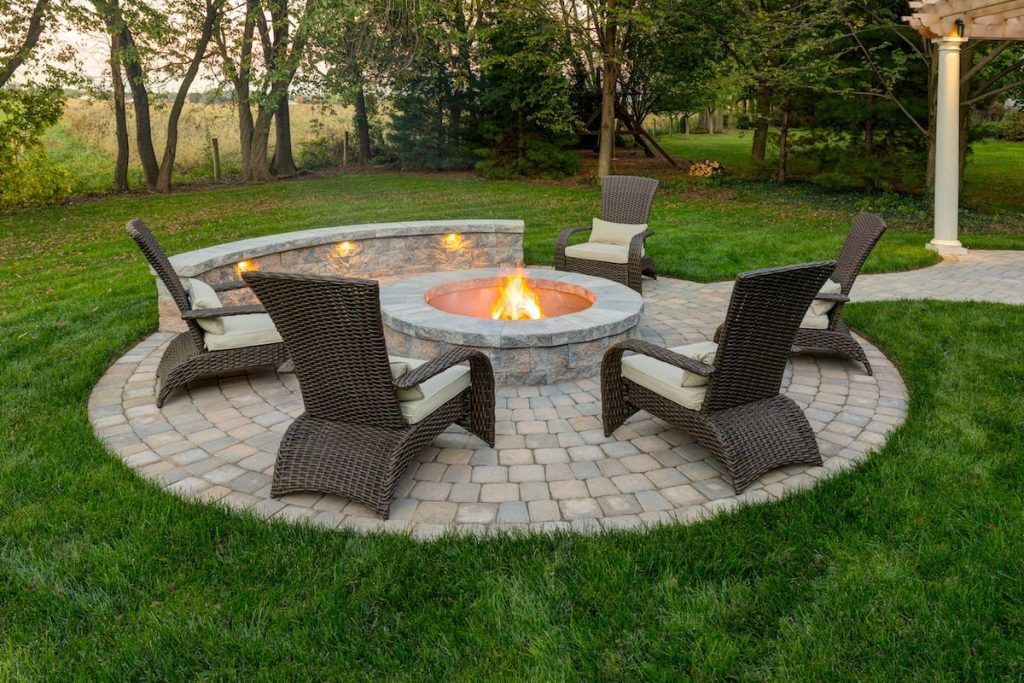 Durability Of Patio – Choosing a durable patio idea is very important so that it will last long after installation, and you don't have to struggle with uprooting and reinstalling again and again.
Non-Slippery Patio Floor Ideas Material – The next factor to look for is the slip-resistant patio idea, which offers water drainage comfort. It will save both maintenance and unexpected incidents. Concrete pavement is nonslippery, while wood pavers have comparatively low slip resistance.
Price and Affordability – Selecting the patio idea according to the overall cost is important, especially if you want to do maximum in the minimum budget.
Complimentary Aesthetic of Pati Floor Ideas – Ensure that the patio idea you will try should complement the overall look of your home and the surroundings and landscape.
Patio Floor Ideas Maintenance – Finally, look if it is easy to maintain and clean so you don't have to bother about hygiene and insects frequently.
Final Thoughts
Everybody loves aesthetic beauty and good patio floor ideas; selecting and installing the one according to your location and requirements is the way to get there. Don't forget about the seasonal durability and maintenance.
This post showed you 15 different types of patio floor ideas you could install on your floor outdoors or for outdoor purposes. We have covered natural stone to artificial grass patios, rubber to plastic pavers, stepping stones to hardwood tiles, pea gravels to slate pavers, DIY concrete mold to bricks, and more.
Each patio has specifications, goods, and downsides, so you must be careful when choosing the most suitable one. If you are looking for more ways to make your home beautiful and aesthetic, sign up to receive the best strategies directly in your inbox.
Frequently Asked Questions
What Are the Easiest Patio Floor Ideas for Outdoors?
The easiest outdoor patio floor ideas are concrete, bricks, rubber tiles, slates, and stones. So you can try natural stones, stepping stones, DIY concrete, conventional concrete, and many more patios, as described above. These patio floor ideas are durable and nonslippery, making them easy to maintain and great options. These patio floor ideas are affordable too.
What Are the Cheapest Patio Floor Ideas?
Pea gravels, concrete, and stepping stones are the cheapest patio floor ideas. They are easy to maintain, clean, affordable, and install. Their durability reduces the frequent maintenance cost. Hence only the upfront cost is the one who has to consider these patio floor ideas.