A hillside or slope is a wonderful natural phenomenon that gets in the way of your landscaping plans. It does look intimidating, but it can be done. You need to keep essential things like water and soil runoff on your radar when making landscaping plans.
Though hills provide you with a magnificent view, plants grown on hills look like a river of flowers flowing seamlessly. Any gardener or landscaper worth their salt can work on a hillside to make it look beautiful.
Even if you are a novice, you can change the look of your sloped backyard with hillside landscape ideas. In this article, you will find out about 21 hillside landscaping ideas on a budget. You will learn all the tips and tricks on how to conquer the hills with flowers, shrubs, vegetation, rocks, wood, brick, and stones.
Afterward, your hillside backyard will look spectacular in no time.
Hillside Landscaping Ideas on a Budget
Now that you are ready to landscape let's get into budget landscaping ideas that will brighten up your hilly backyard. It will look natural, and a budget-friendly garden renovation is easier on your wallet as well.
1. Hillside Stone Wall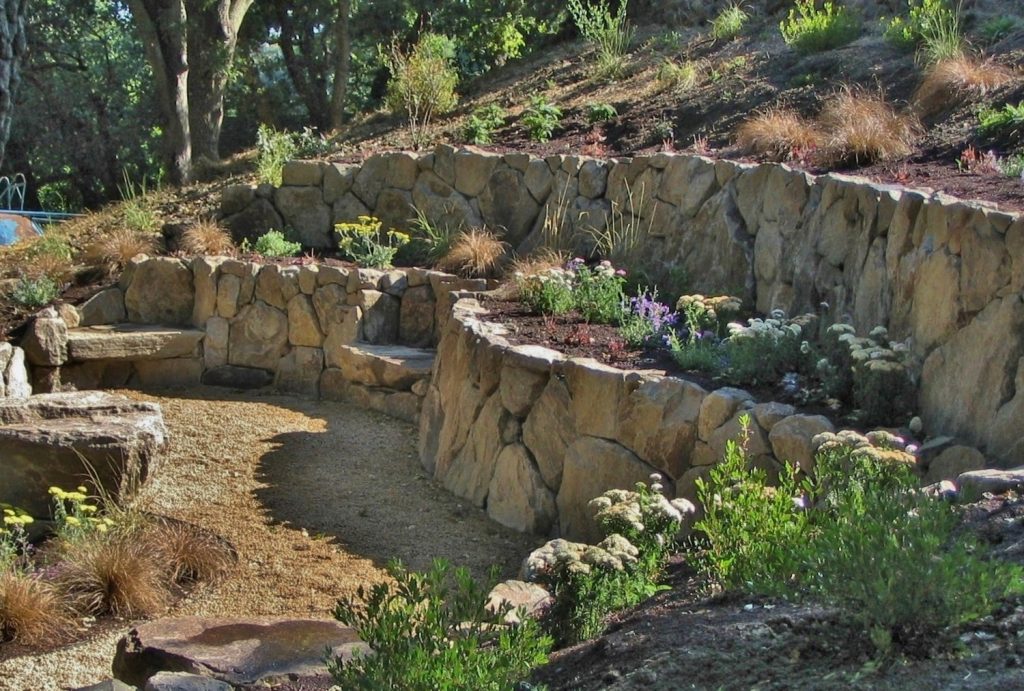 First on this budget landscaping list is stone walls. Stone walls are the perfect way to terrace a hillside. In the beginning, there will be a lot of work setting these stones, but once it is over, it will look wonderful. With these stone walls, you get plenty of space to grow flowers and plants; the planting area is wide enough for you to work in and around. They will give a classic look to your hilly backyard. The stones heat up in the sun and retain the heat during the night; this creates a microclimate that will help you grow plants.
2. Vegetable Garden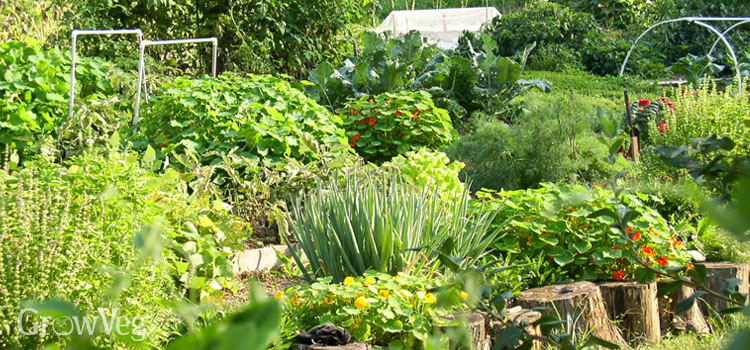 If your hilly backyard is south facing, a vegetable garden is the best thing. Take advantage of the terraced landscape and plant your vegetables; your plants will be at eye level, so you do not even need to bend down to check up on them. You can even plant flowers on the side of the rows to spruce up your vegetable garden. Each vegetable row will get the sun directly without shading the row in front of it. Since watering a terraced vegetable garden can get tricky, you might have to think of putting in drip irrigation and pathways between the hilly rows.
3. Rock Garden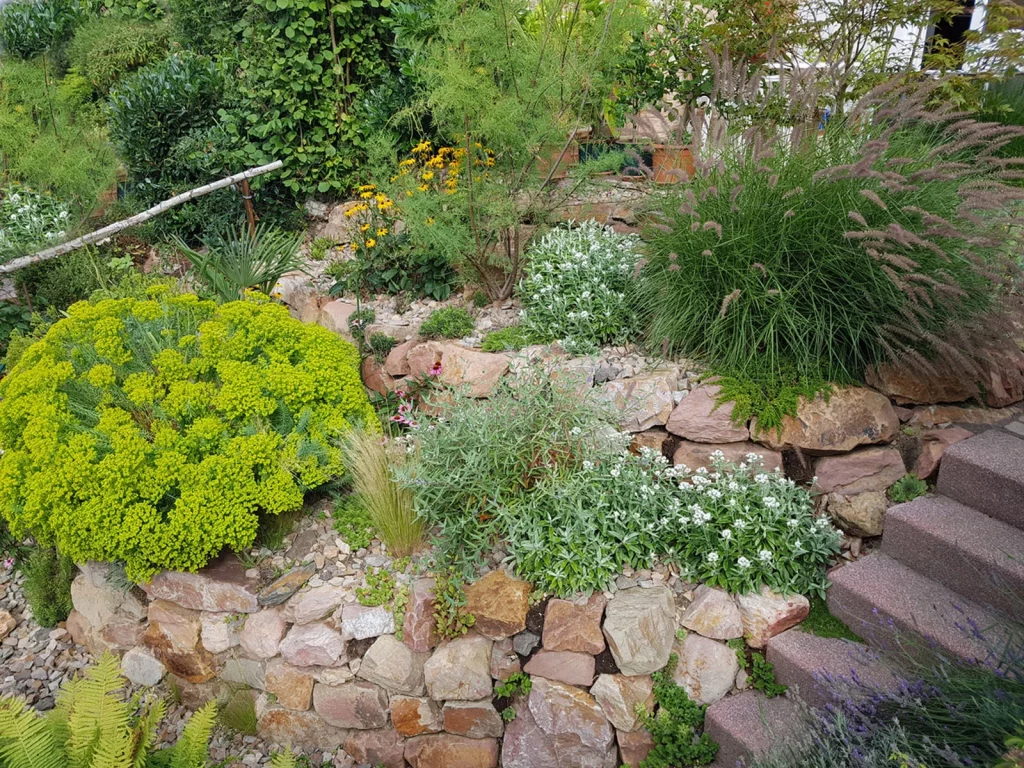 If you do not want to terrace a hillside backyard and plant things in flat areas, putting large rocks and boulders is the perfect alternative; this way, the soil will be anchored, and the plants and flowers will take hold. Plants need to be established; otherwise, they will wash down the hillside and ruin the look. Your garden looks natural, like a forest, and the rocks will land where gravity takes them. With initial weeding and little maintenance, the plants will spread out to fill in the gaps. This way, it will look like your rock garden evolved organically.
4. Garden and Walkway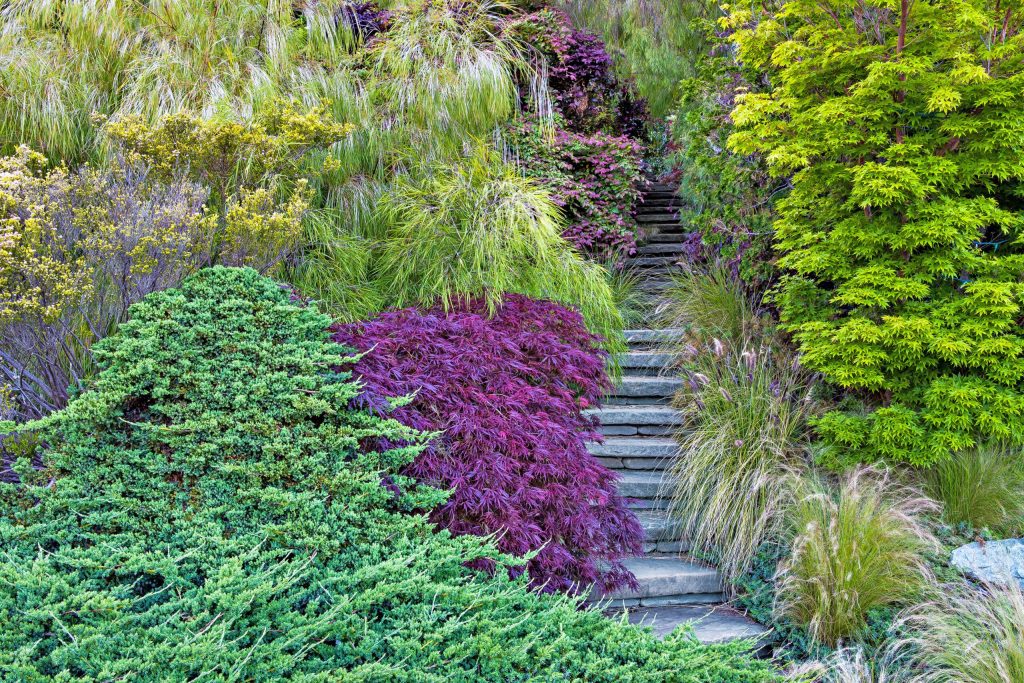 You can make a stone walkway in your hilly yard. All the plants and flowers are already planted on the hillside, so why not add a pathway? This way, it will look like you are taking a walk through the forest. The stone pathway will help you or any visitor walk and admire your garden without hurting any vegetation and plants. Anybody walking on the path will feel protected by lush plants and vibrant flowers on both sides as they explore your garden. The stone pathway will also make sure your steps are steady as you explore this hilly terrain.
5. Cover the Hillside Ground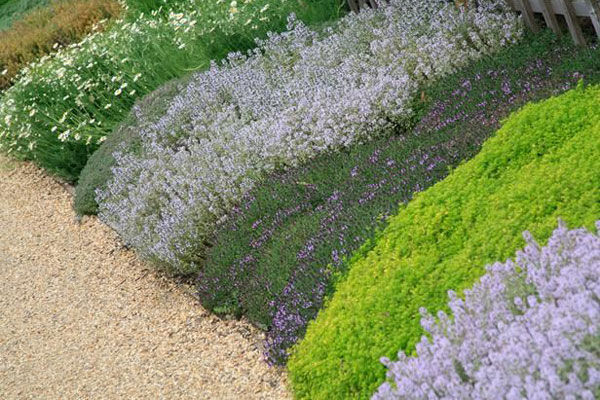 If you have a gentler slope, you should try planting groundcovers. They are low-growing plants and, once planted, spread fast to create a dense cover. These plants will cover the ground with their colorful flowers, and they will look like a long and beautiful carpet. An evergreen perennial will be the perfect groundcover and border plant in this hilly landscape. Groundcovers protect the topsoil from drought and erosion. The list of groundcovers includes Amethyst in Snow, Lady's Mantle, Creeping Pohlo, Bunchberry, Creeping thyme, Lilyturf, Creeping juniper, Honeysuckle, and many more. If your lawn is connected to a wooded area, groundcovers will be the ideal bridge.
6. Retaining Wall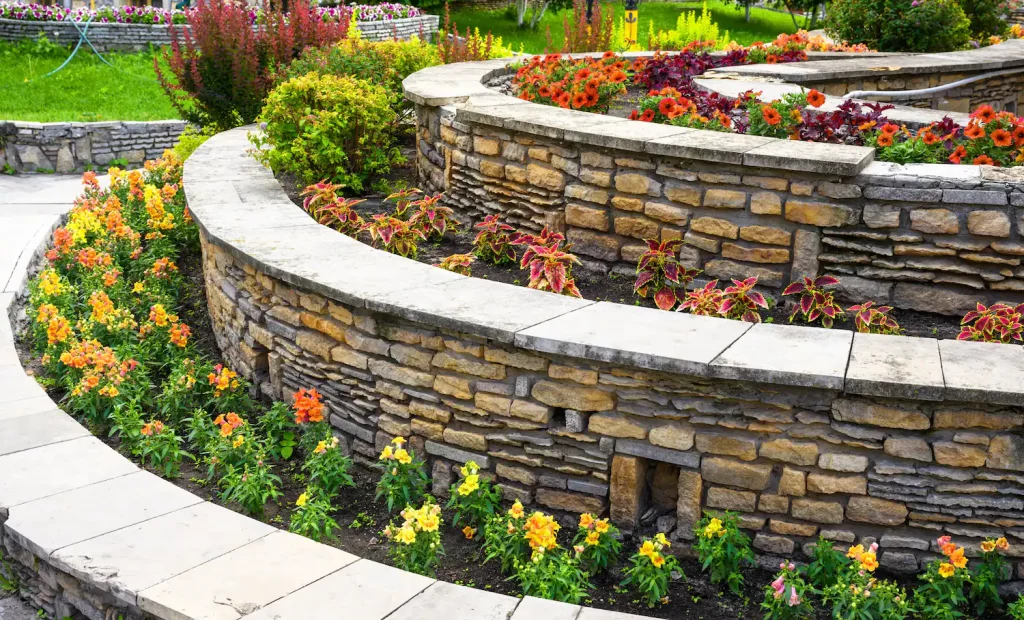 Next on the list of hillside landscaping ideas on a budget is a retaining wall. Tiers on a hilly landscape will avoid soil erosion, and you can grow a wide variety of plants and other landscaping elements; you and your family can enjoy a practical and beautiful garden. There are a lot of materials you can use to build your retaining wall. The materials include concrete blocks, cinder blocks, bricks, stacked stones, boulders, and others; wood or vinyl fencing can be used for smaller retaining walls. A retaining wall gives you an opportunity to make and keep flat spaces for gardening projects.
7. Raised Garden Beds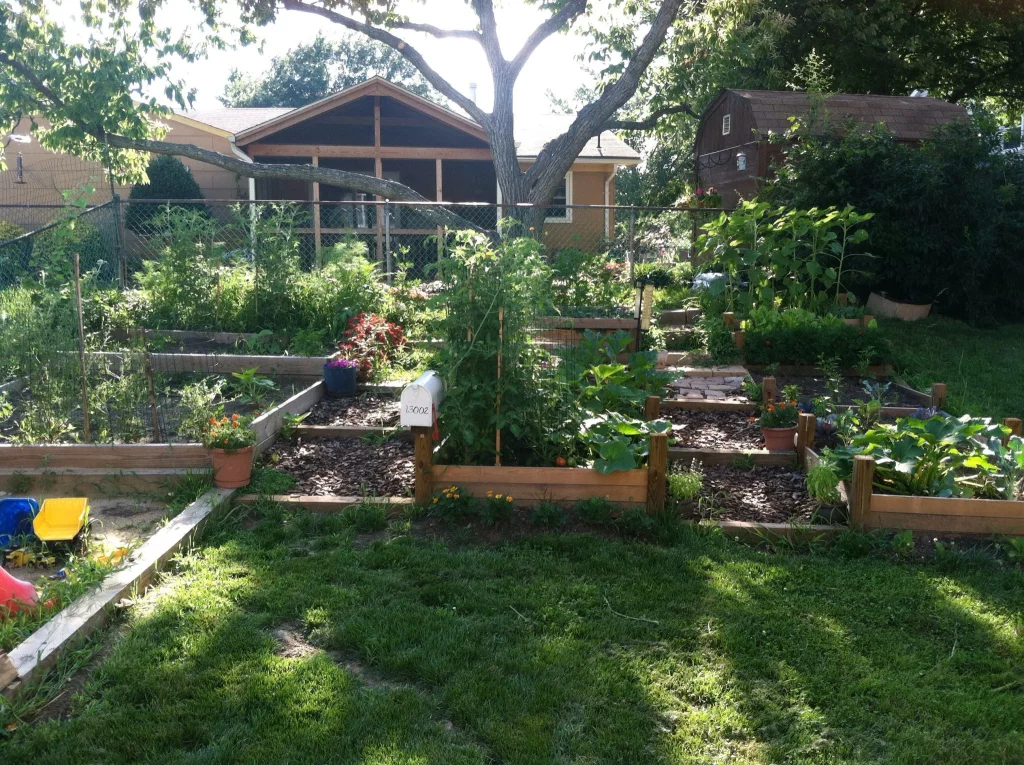 If you are going to grow plants and flowers in your hilly garden, raised garden beds should be on your list. These garden beds will keep your plants in a contained place instead of all over the garden. Weeding becomes easier; just pluck them out as soon as you spot one. Garden beds are excellent use for your garden, and it uses fewer building materials, unlike creating them on flat land. For steep hills, you can even build raised garden beds into retaining walls, but the side of the hill must be dug out in order for stepped-level surfaces to exist.
8. Waterfall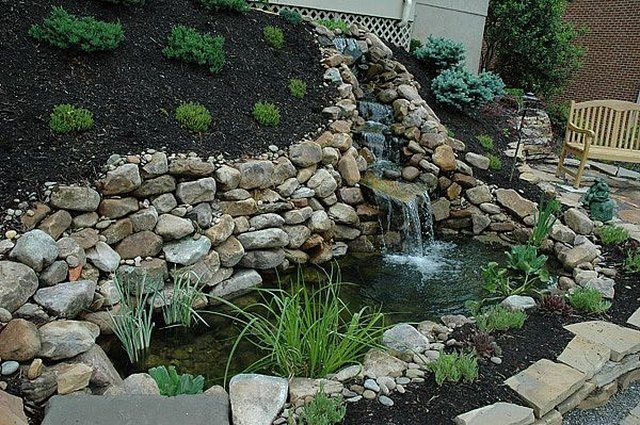 Upgrade your hillside garden with a waterfall. The best thing about a slope is that the water easily flows downhill; gravity does all the hard work for you. The water will drain into a pool and return to the top due to a water pump. The waterfall's speed is highly dependent on the slope's length. The longer the slope's length, the faster the water will flow. You can place rocks and grow plants and flowers around the waterfall to give an idyllic atmosphere. A thing to remember is that a downhill slope will remove some friction if you make an upcycled water feature.
9. Playground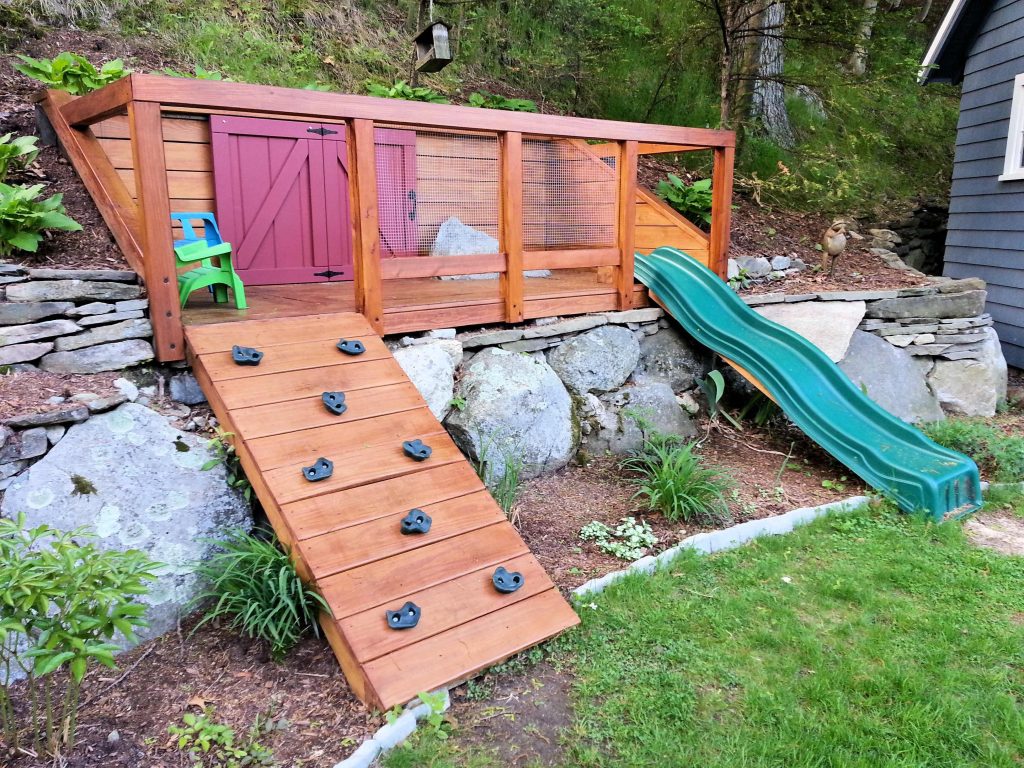 If you have children, nieces, or nephews, a playground in your yard is the best thing. Children should always have the opportunity to run around and play games outside; it is a hallmark of a wonderful childhood. So, turn your garden with a slope into a playground; due to the slope, the playground does not even have to be elevated. A playground will take good advantage of the natural slope of your backyard. You should really consider an outside play area as it serves a purpose and will get the most use out of it, especially in the summertime when children have holidays and energy to burn.
10. Fire Pit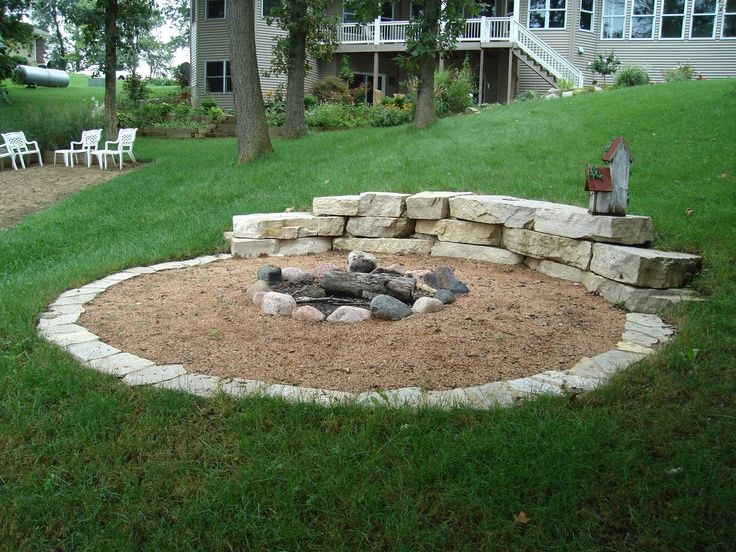 Do you like sitting around a fire and telling ghost stories while camping? Then a fire pit in your hillside garden should be on your radar. The fire pit is a useful and attractive idea for your garden; it gives many hours of entertainment outdoors for you, your friends, and your family. Sit around the fire, talk about anything, eat smores, lounge under the night sky, and spend time with loved ones, all at the fire pit. The fire pit turns your hillside garden into a wonderful outdoor space where everyone will want to come. Extra tip: fire pit and hot tub on a sloped landscape go really well together.
11. Sheltered Seating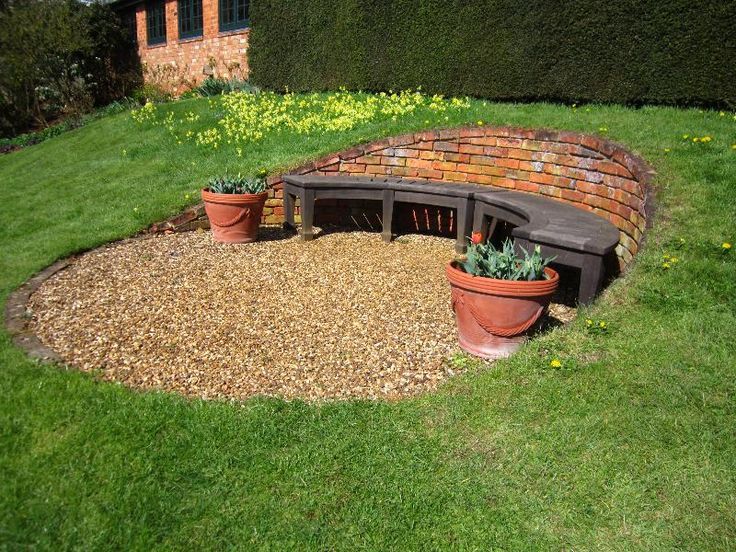 If you like cozy nooks in your home, consider making one in your hillside garden. This sheltered seating idea will be ideal for your sloped garden. Use bricks to make this seating arrangement; use reclaimed wood instead if you do not have bricks. Both options will look gorgeous once you are done installing them. You can put benches or chairs there so you are comfortable. For extra decoration, place plants and flowers being grown in pots nearby to liven up your sheltered seating. This is perfect for when you want to take a break from gardening, read a book outside, listen to a podcast, have a nice chat with your neighbor, or host your barbeque party.
12. Deck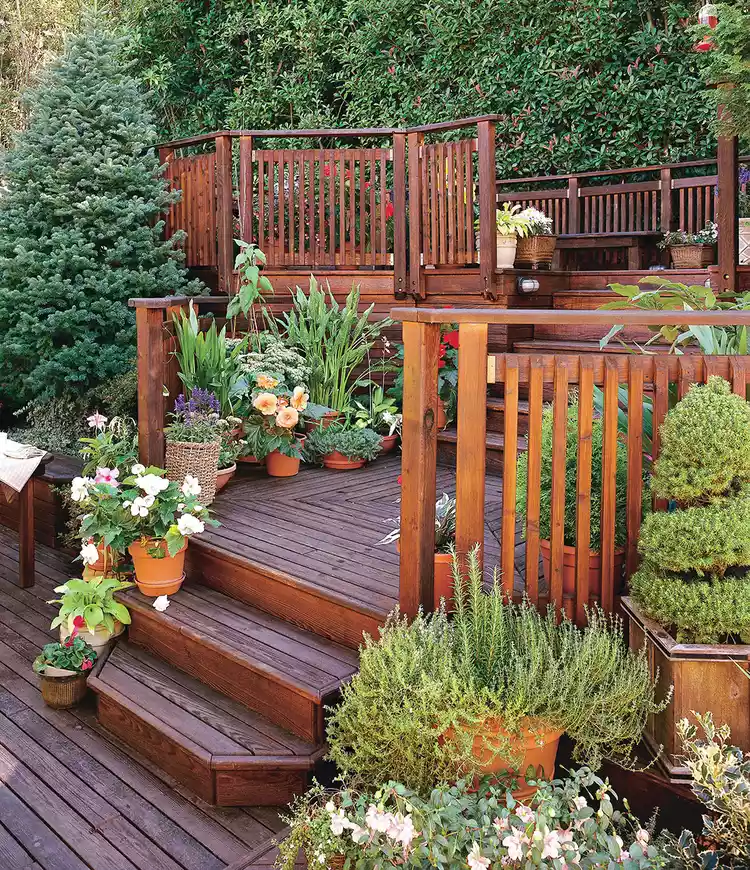 A deck should also be on your list of hillside landscaping ideas on a budget. A splendid thing to have if you like outdoor cooking, outdoor entertainment, and mingling at an outdoor party. Put a barbecue, chairs, tables, or awning on your deck since now you have expanded floor space. If your sloped garden has any weird angles, uneven ledges, or bizarre protrusions, a deck will hide away all these landscape irregularities from prying eyes. You have the option of making a single-level or a multiple-level deck based on your slope size. This will improve your home's appeal and increase the property value.
13. Stock Tank Swimming Pool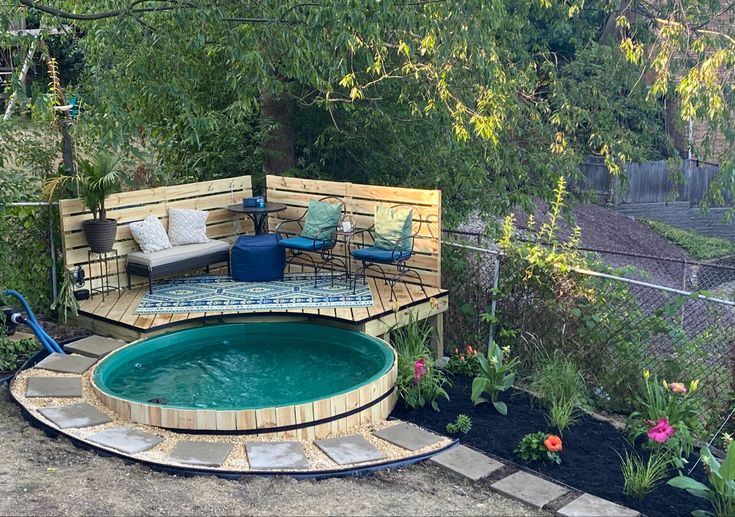 Who wants to go for a dip in the summertime? Beat the heat with a stock tank swimming pool. Just because you have a hillside backyard doesn't mean you can not have a pool. Do not deny yourself or your family any luxuries in life just because you have set a tight budget. Build the swimming pool you always wanted but never had the chance. A backyard slope should not stop you from this dream. You can get a secondhand stock tank for a reasonable price. Then you can enjoy hours of soaking or swimming by yourself or with friends and family.
14. Backyard Seating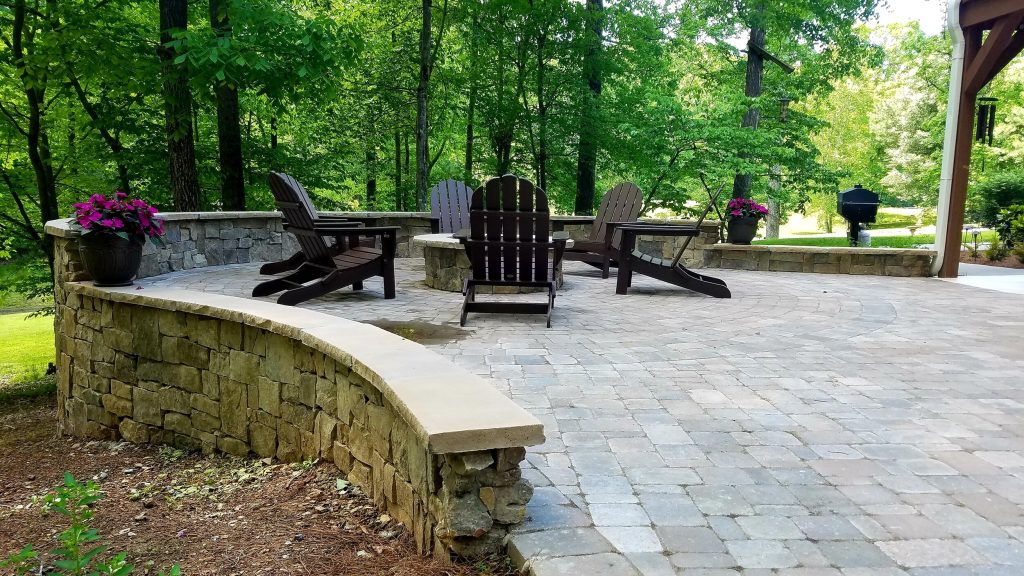 As you know, uneven land is extremely common if you live in or near a mountainous region. If you are going to spend a lot of time in your hillside yard, consider installing a seating area. Everybody wants a place to sit and relax in their backyard, and a sloped backyard should not stop you. Enjoy the outdoor living and natural beauty as you sit back on your chair; the beautiful visual appeal of your hillside garden will increase tenfold with this landscaping design. Everybody deserves a stunning outdoor living space, whether you have a sloped yard or flat land.
15. Hot Tub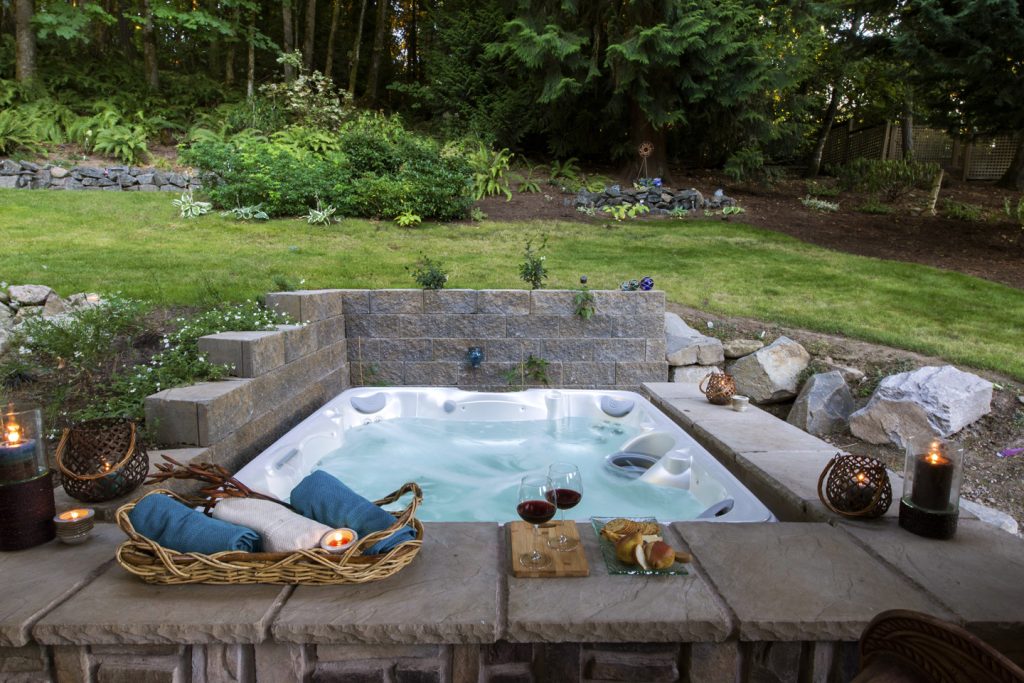 Hot tubs may seem like a luxury, but they can be built on a budget. Even a hillside yard should not stop you from having a hot tub. Bring your vision of outdoor living and entertainment to life even with a budget; it can be done. The sloped landscape adds an extra element to your hot tub, which you can not get on flat land. Enjoy the sunken hillside as you soak in your hut tub with a lovely bottle of wine and some snacks. Unwind in your hot tub after a long day of work and enjoy the sun setting over your hillside.
16. Chicken Coop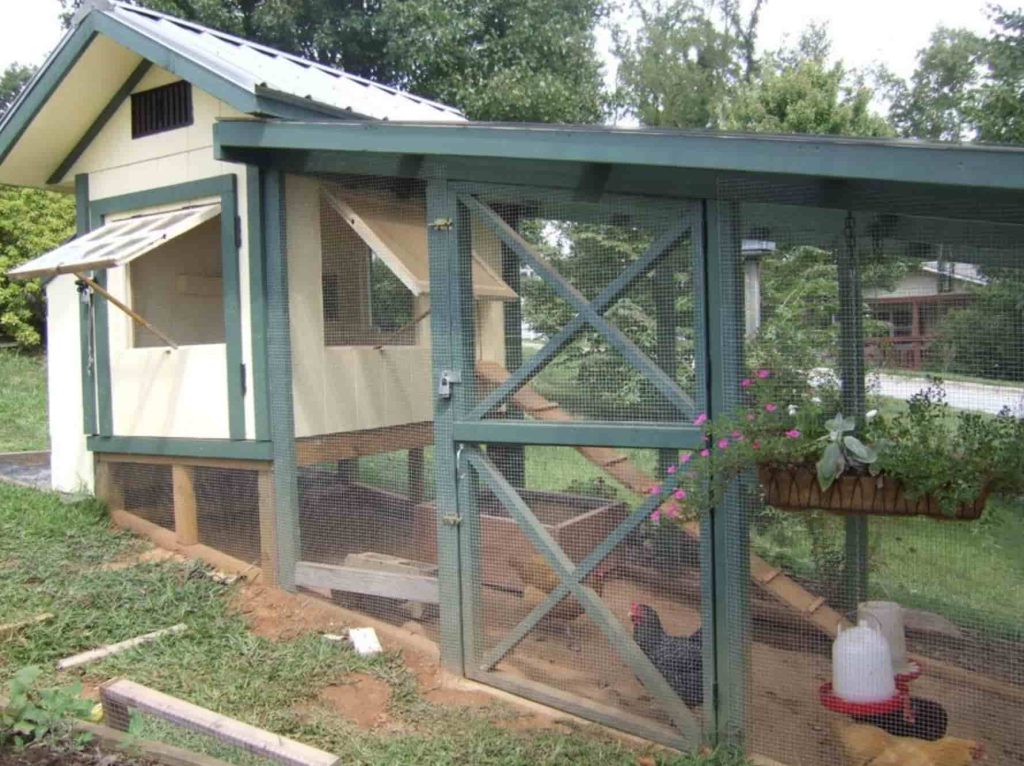 Building a chicken coop on hilly terrain may sound challenging, but it can be done. Your chickens deserve a safe place to live, and your slope backyard should not be the reason you can not raise them. With a level foundation, your chicken coop can be made; the chicken coop must be built at a particular height above ground level to avoid any possible flooding. Use sturdy materials like hardware mesh or a solid block for the foundation to keep predators from burrowing into the chicken coop. Get secure locks on the coop's doors and windows. A ramp can also be built for an easy chicken run.
17. Water Trough Garden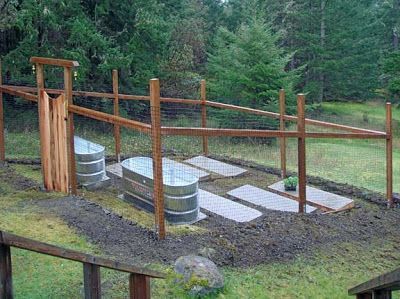 Water trough gardening should be on your gardening research; it is becoming a rising trend in the gardening community. Water troughs are affordable gardening systems, and you can use or reuse them for a wide variety of things. They come already assembled as opposed to raised garden beds, so you just need to place them in your garden. This gardening system helps conserve water which is perfect if you live in a drought-affected area; they hold a lot of water inside them. If your area has poor soil quality, these troughs can be filled with good quality soil you bought from the store. Small hilly backyard? Do not worry, as troughs can be used in small or big gardens. You should not be limited by your garden's landscape.
18. Upcycled Water Feature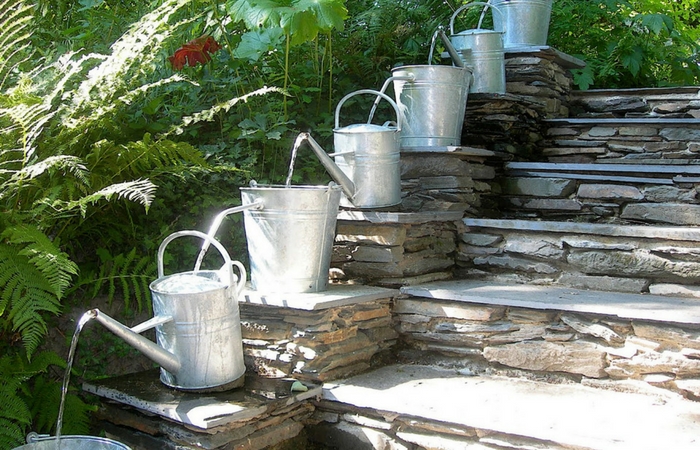 The upcycled water feature is next on the hillside landscaping ideas on a budget. There are many DIY upcycled water feature suggestions out there. You can use watering cans, vintage enamelware pitchers, old barrels, old metal wash tubs, steel buckets, and much more. A lot of these items can be bought at thrift stores, yard sales, flea markets, or antique shops. Along with a water fountain pump, you can easily install an upcycled water feature in your sloped backyard. You have the freedom to be really creative with this landscaping project. This water feature will make your garden stand out from all the other gardens, so instead of buying a fountain, build an upcycled water feature with your hands.
19. Beach Garden
Yes, you read it correctly. Your eyes are fine, and you are not hallucinating – a beach. You can make a beach in your sloped backyard. Do you love the beach and/or live far away from the beach? Then bring the beach into your backyard. With dunes made of decomposed granite and sand, you will feel you are back at the beach without leaving your home. Paint your wooden fence to imitate the sea and sky; even a mini fire pit will look right at home on your mini beach. Add weathered logs and plants mimicking beach grasses to complete your beachy environment.
20. Rustic Stone Steps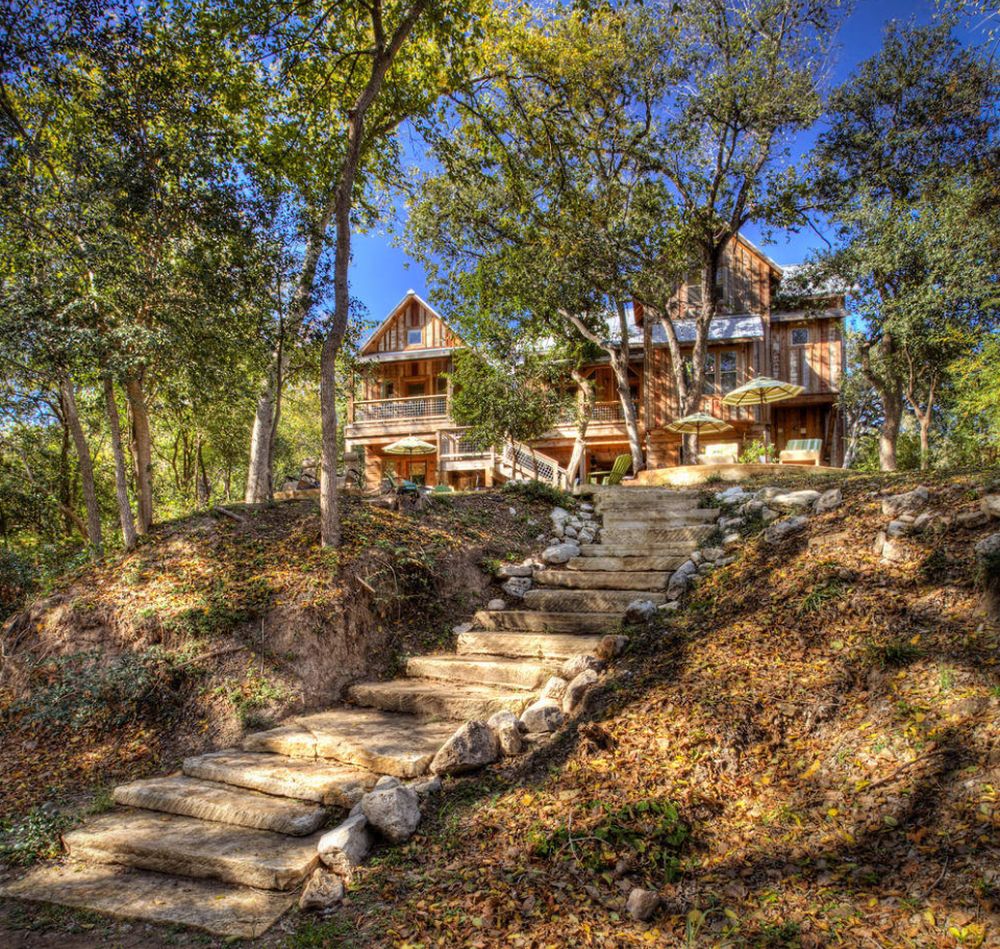 You can place rustic stone steps onto your hillside backyard if rustic is more your style. Flagstone stones are a great choice for this landscaping project. These stone steps will fit perfectly into the natural garden landscape and make a beautiful addition to your sloped backyard. Stone steps and rustic homes complement each other wonderfully, so why not take advantage of this dynamic duo? Give your sloped garden a makeover with these stone steps, especially if you are on a budget. These stone steps emphasize your garden's lush and sloped landscape. You will feel like you are walking around a forest.
21. Pond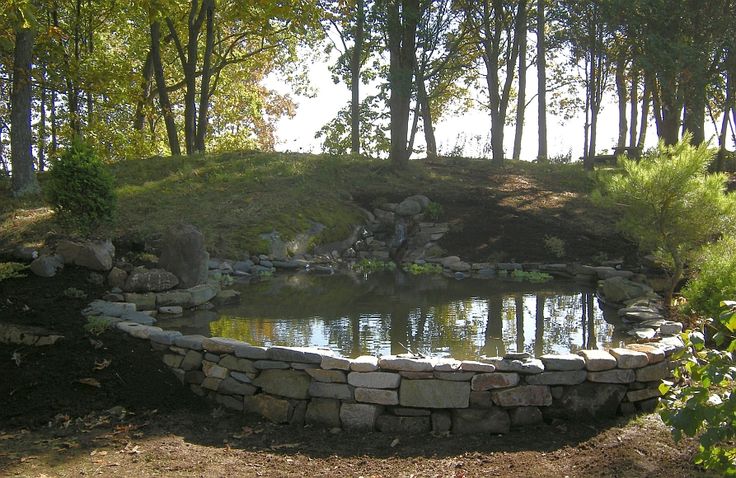 Your dream of lounging by a pond is about to come true. Plenty of gardens have ponds, but if you have a sloped backyard, you can still have them. Make the pond boundary out of rocks because it looks more natural. Water always adds a new dimension to any garden. You will feel like you are in a forest with a beautiful aquatic centerpiece in your backyard. If you are on a budget and/or have a small backyard, you can make a small pond, and it will still look amazing. You can turn your pond into a fish pond also if you want to make your pond more natural.
Final Thoughts
Hopefully, if you were feeling daunted by your sloped backyard, those feelings are now long gone. You should be able to make landscaping plans for your backyard, even if it is sloped. You deserve to have a backyard just like you want it.
This list of hillside landscaping ideas on a budget will help you pick the landscaping element you want. You can get really creative with a landscaping project, whether it is for flat land or sloped land. There is a wide range of project ideas waiting for you to discover. Hopefully, this article has provided you with plenty of ideas and photos to peruse.
Please write in the comments below your experience with backyard landscaping on a budget; what have you installed, why did you pick this element, did you install it yourself, did you hire a professional, how long have you had this element, and many more thoughts will be appreciated.