The patios of any house are like a comfortable space for everyone. Spending time outdoors area of your house is possible because of patios. Hence we always try to make it more cozy and functional in every possible way. However, there are dozens of outdoor patio ideas you have to scroll down every time you seek a makeover for your patio. But unfortunately, you will get stuck with lots of confusion.
For instance, what style do you want for your patio? Which aspect should be the best fit for patios? How to get an awesome contemporary look to your patio? And so on.
Hence we are trying to give you more clarity regarding the same through this article. This article is contained information on various elements which you can add to your patio and upgrade the visual appearance as well as the comfort of your patio. Moreover, to make the concept clearer to you, we will talk about 15 contemporary outdoor patio ideas to decorate your patio effectively.
So, let's begin with the significant component you may include to beautify patios.
List of Contemporary Patio Decorating Ideas
1. Covering Patio with Greenery
This patio is enclosed with the maximum amount of plants. It gives beautiful nature vibes all over the patio. The durable wicker furniture with elegant cushions and pillows makes a cozy environment on the patio. The unique vintage vase and hanging planter coordinate very well with the brick wall. Overall this open outdoor patio idea will best suit you if you are a nature-loving person.
2. Patio with Natural Focal Point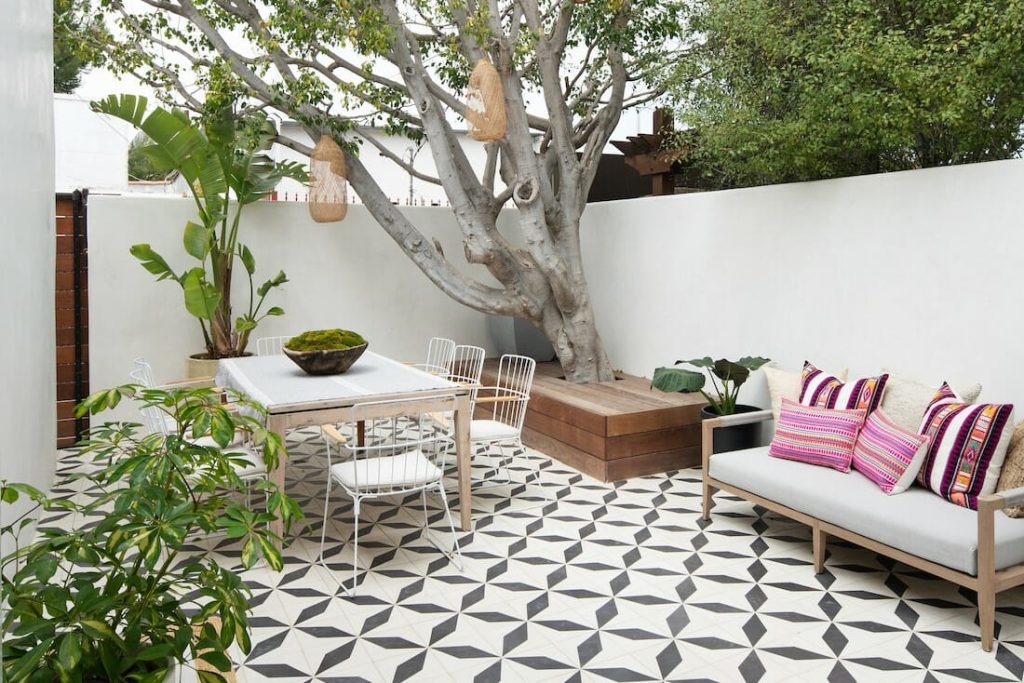 The old tree on the patio is the ultimate focal point of the patio. Beautiful lanterns hung on the branches of the tree, upgrading the look of the patio. Stencil tiles make the place look more stylish. A nice cozy seating area kept very simple with colorful throw pillows. The dining area contained a wrought iron dining table and chairs where you could enjoy small meals with your loved ones.
3. Patio Screened with Curtains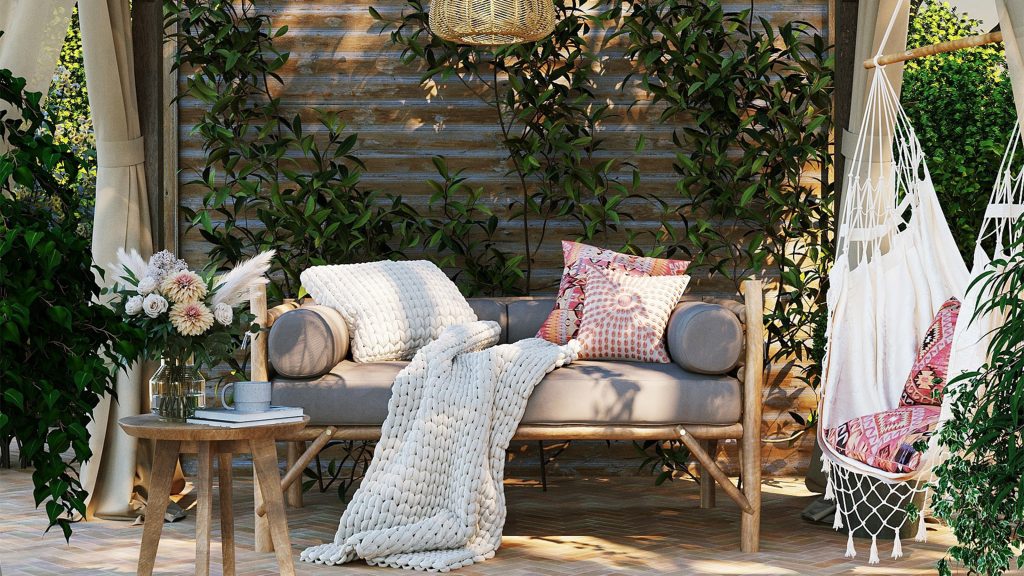 The small patio can be utilized very well with the accessories shown in the pictures. This patio is semi-covered with heavy curtains. The red brick wall behind it is covered with climbing plants that have a nice rustic plus modern look. The cane furniture with off-white chunky knit blanket, pillow, outdoor pillows, and cushions creates a cozier environment on the patio. The hanging chair beside the furniture is a relaxing and fun element in this whole patio.
4. Patio with Artificial Grass Tiles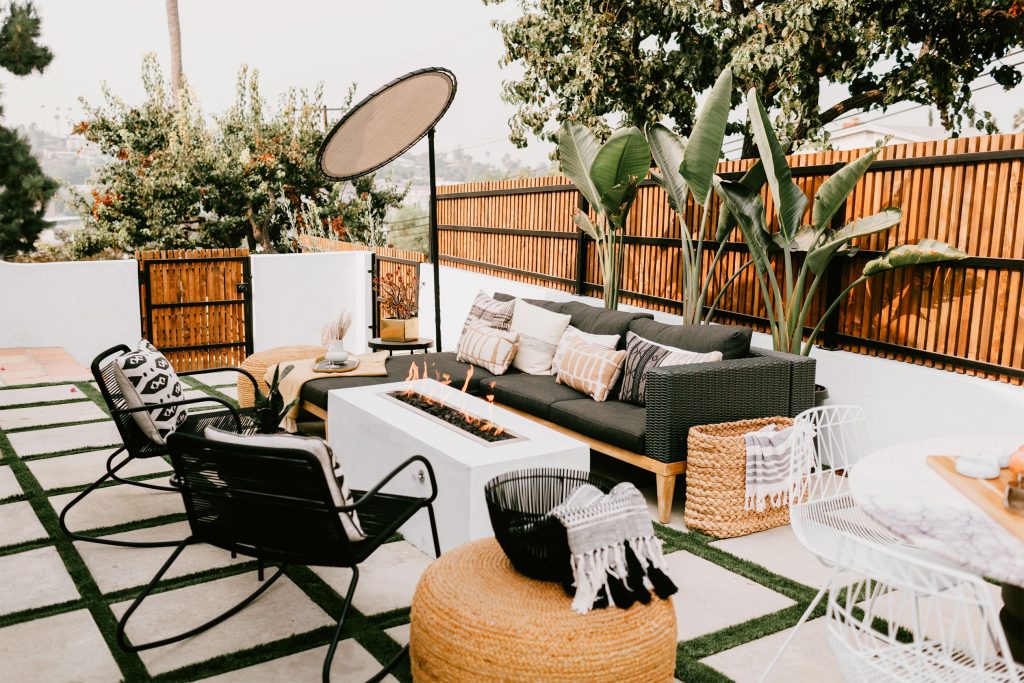 This patio flooring has artificial grass tiling. The patio is screened with a wooden fence and contains minimum greenery. The rattan furniture and wrought iron furniture combination are creating good visual appearance on the patio. The firepit enhances the beauty by creating warmth on the patio. The dining area is well coordinated with the surrounding elements giving a rich look to the patio.
5. Patio with Roofing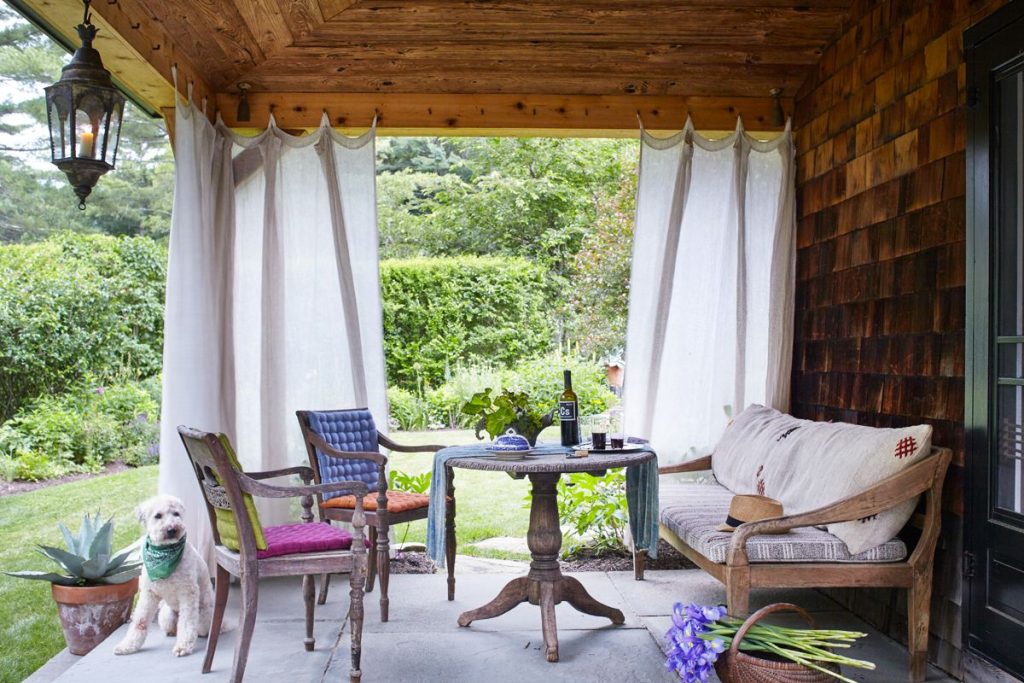 This patio especially delivers an antique look to the place with vintage antique elements like a dining table, chairs, and the lamp hung to the roof. This garden-view patio is covered with wooden roofing and simple white curtains used for screening. Altogether this is a nice small-size outdoor patio decorating idea to think of.
6. Patio with Pergola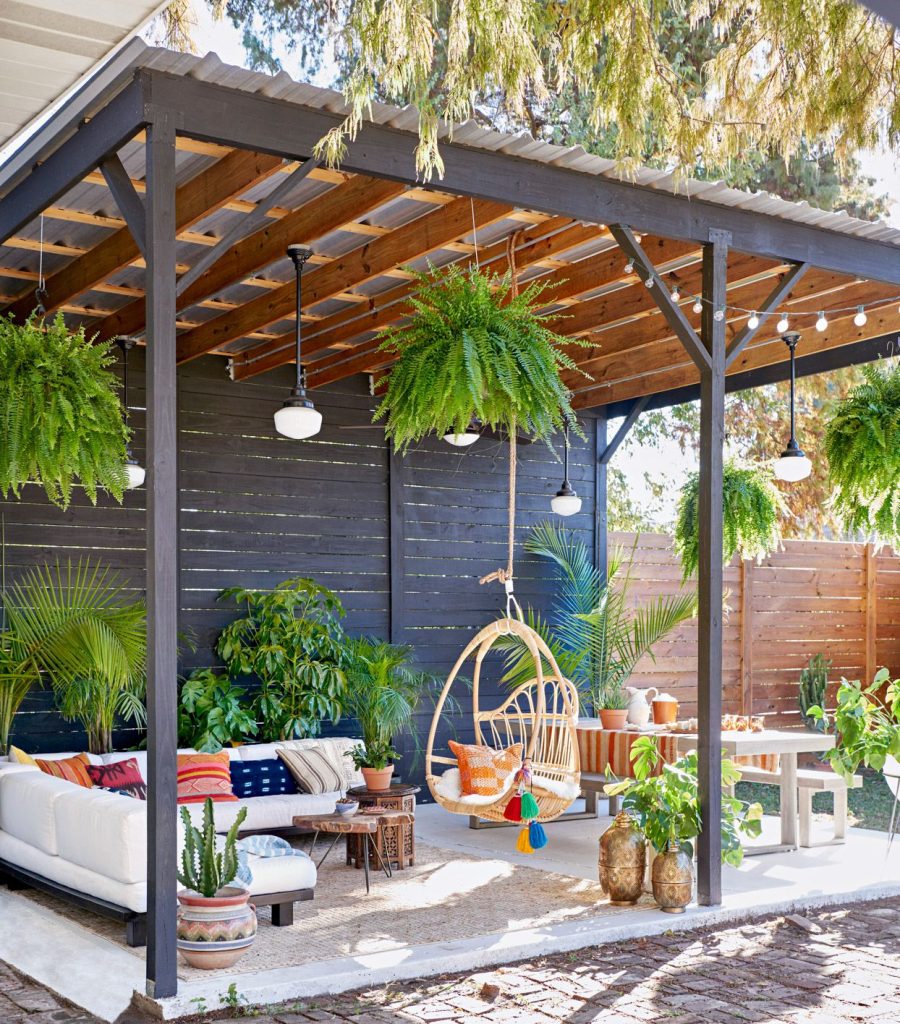 Installing the pergola on the patio will change the look of the patio. This patio is covered with a pergola and enclosed with ceiling lights and small string lights providing a nice modern touch to the patio. The patio has nice hanging plants all over the patio. This patio has a beautiful contemporary seating area and dining area too. The further components like a wicker Kane hanging chair, metal vase, and planting pots accelerate the look of the patio.
7. Patio with Lights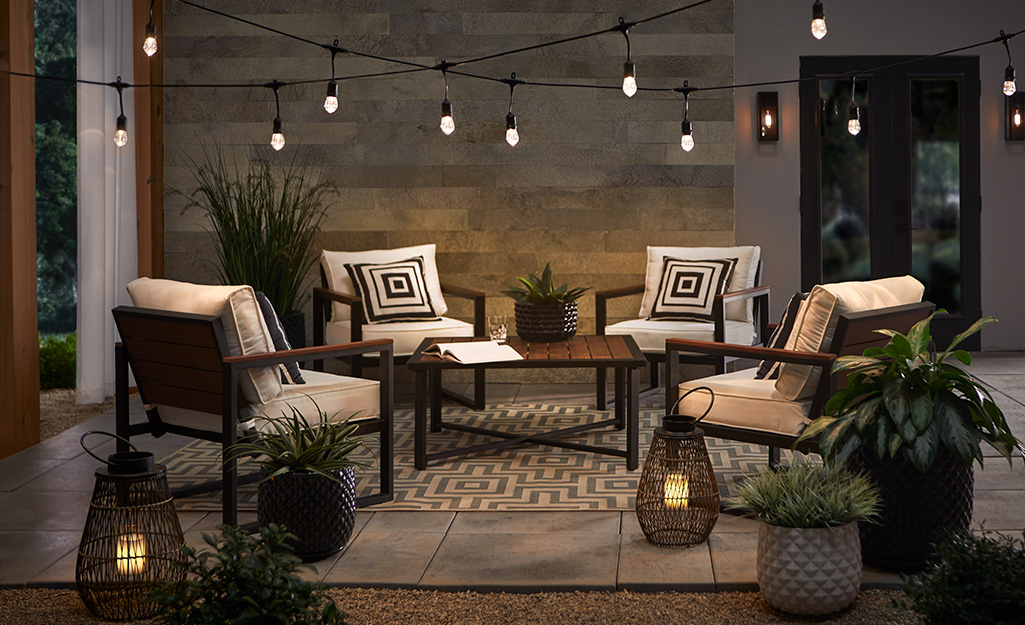 The lighting element is very important during patio decoration. This patio featured modern lighting options like string lights over the patio and elegant rattan floor lamps enhancing the patio's appearance. Minimal furniture with trendy cousins, pillows, and carpet beneath gives contemporary vibes to the place. The patio has a soft green touch with outdoor plant pots. This outdoor patio idea will work best for small-size patios.
8. Patio with Partition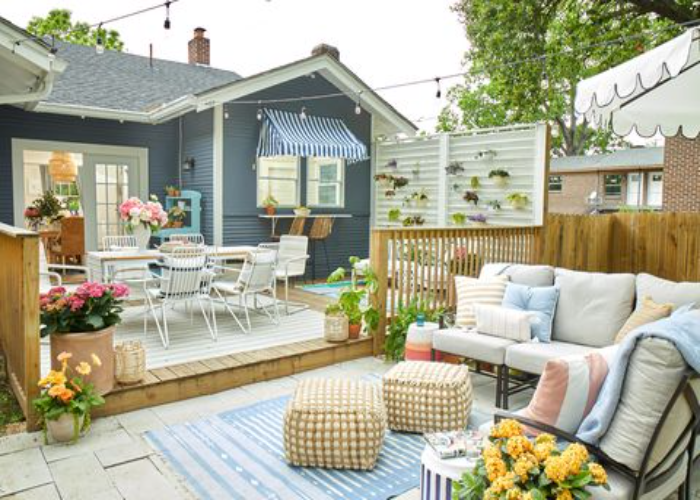 If you want to create two separate areas for dining and living areas, then this outdoor patio idea will do best. As shown in the image, the patio is sectioned using a small wooden fence. And actually, it looks cozy and comforting. The balance with the right kind of furniture for both sections and the carpet assembled very well with the structure. The string bulb lights and flower planting give freshness to the patio. This will be a good idea if you want to have sectioned patio.
9. Patio with Provisional Roofing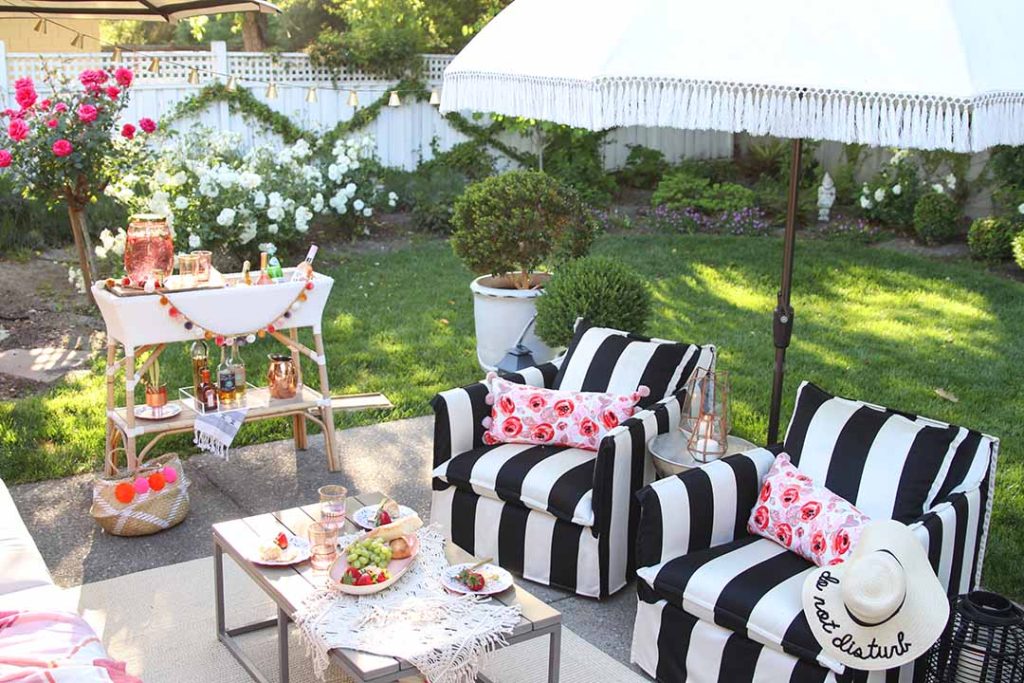 This patio is surrounded by a lawn and has covered with a fence. Lots of natural colors are added to this patio through colorful flower planting. Two striped armchairs, a coffee table, and a beverage cart alongside are mingling very well with each other. A patio umbrella is the best part of this open patio. It gives a shed on sunny days and can be excluded when there is no need. Hence if you don't want to add permanent roofing for the patio, then this provisional patio idea is a good choice.
10. Patio with Porch Swing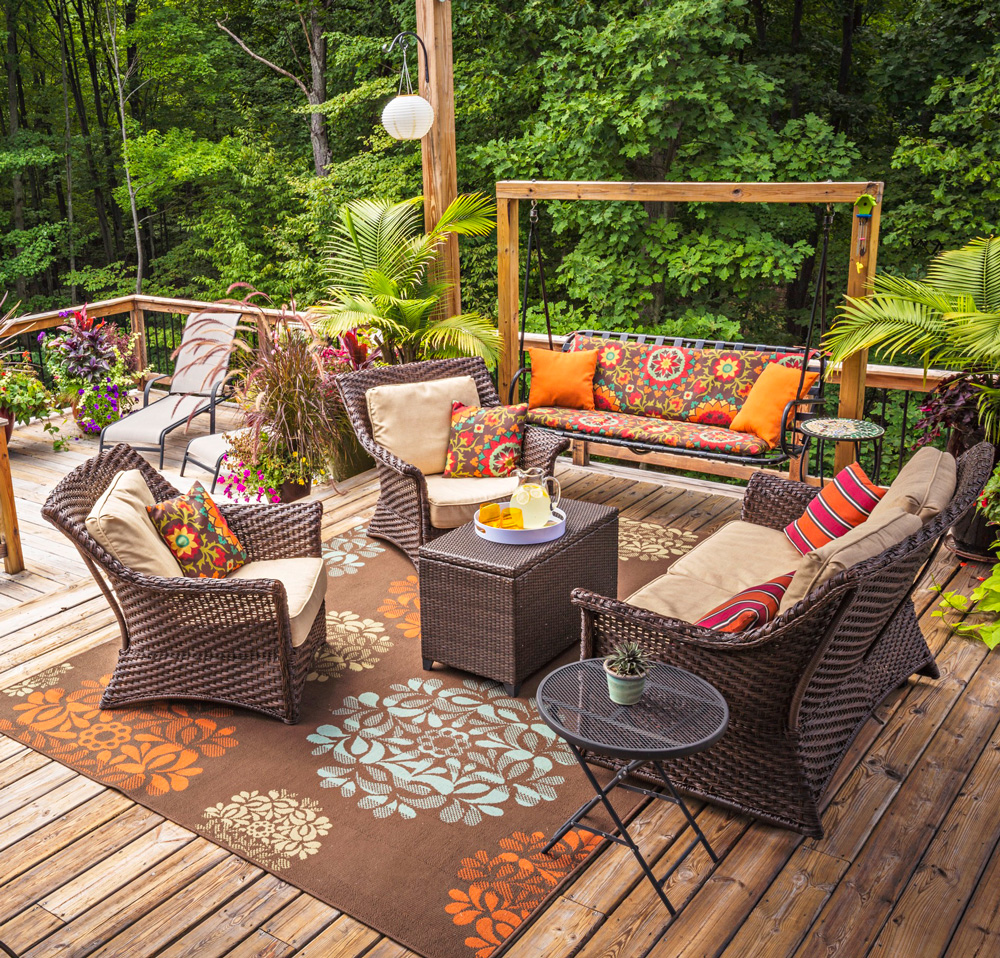 This patio is covered with lots of nature, making a good combination with featured wooden furniture and wooden decking. This day bed porch swing is the heart of the whole patio. A few plants lying around the patio and wicker furniture with a dark color are just going awesome with the patio. This calm outdoor patio idea is indeed the best option for a countryside patio.
11. Patio with Outdoor Kitchen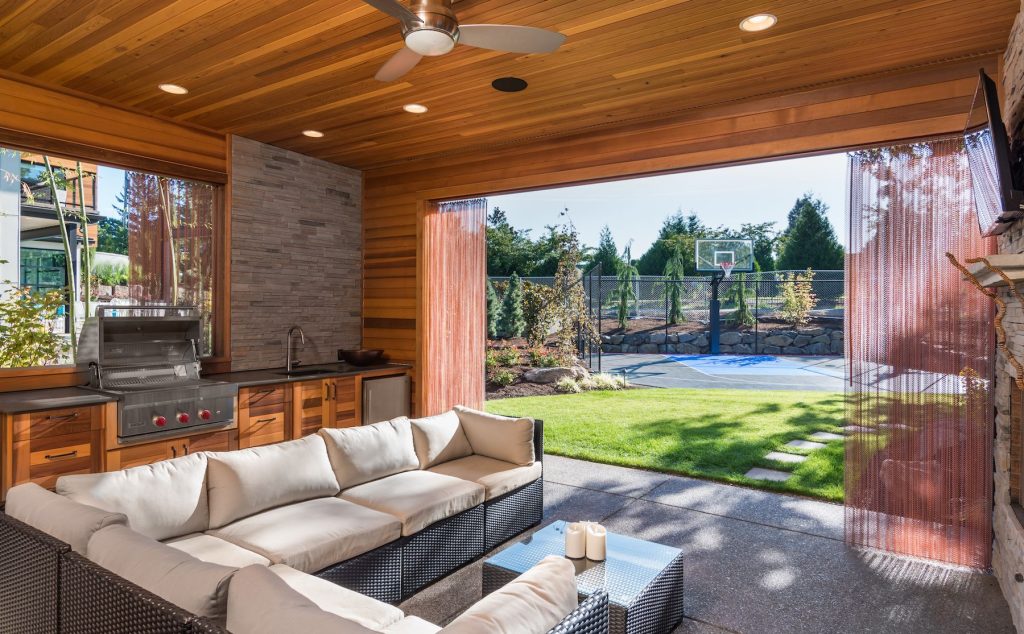 This could be a good idea if you have a larger patio space. You can see in the image this patio is covered with a wooden ceiling and semi-screened. The kitchen countertop has an inbuilt grill, sink, and storage unit. A huge seating area has nice elegant furnishing options. Overall you can choose this outdoor patio idea if you are an outdoor cooking lover.
12. Patio with Compact Furnishing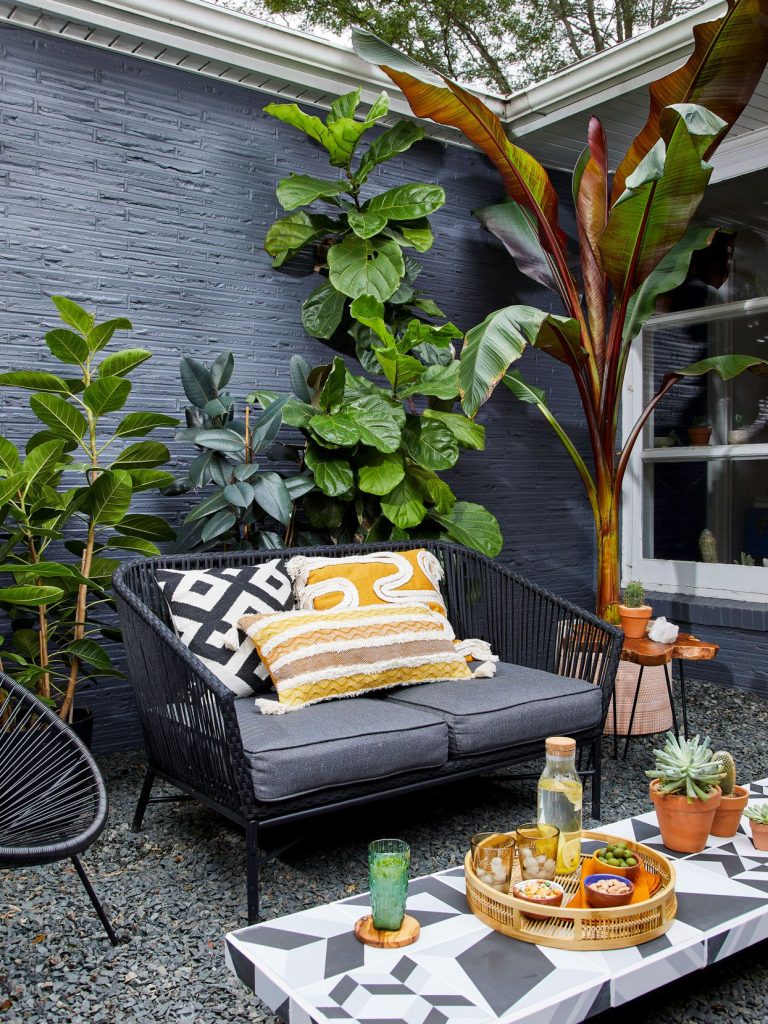 This is the best outdoor patio idea for compact-sized patios. Two seater rattan sofa, stool, a simple outdoor chair, and a rectangular coffee table have completed the look of this small patio very effectively. Planting alongside going well with the structure. This can be a good suggestion for small patios to look more vibrant.
13. Patio with Wall Mounted Lamps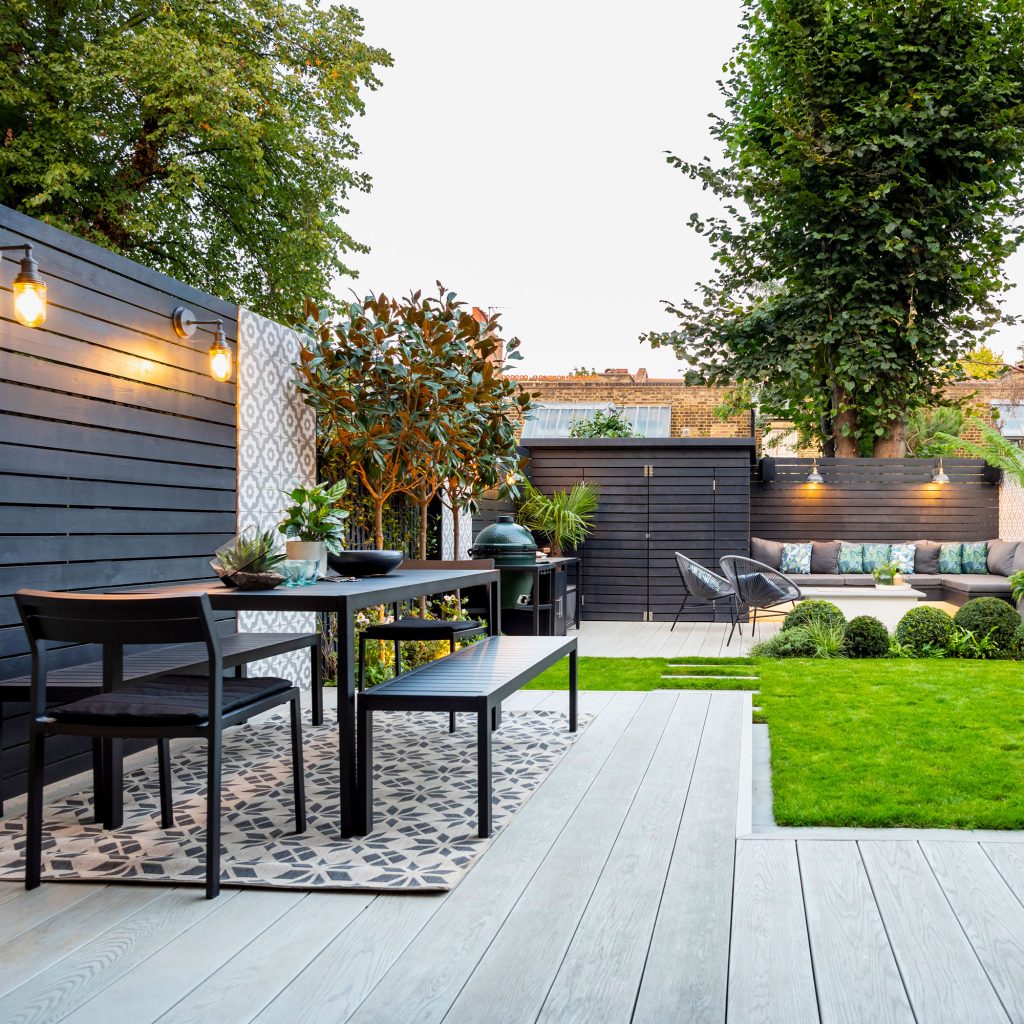 This patio is a perfect example of a rich and elegant patio. Wooden flooring combined with artificial grass complements it very well. The lamps give brightness to the patio. The dining area, cooking area, and seating area flaunt their individuality very well. This outdoor patio idea gives a super rich visual appearance to the patio.
14. Patio with Firepit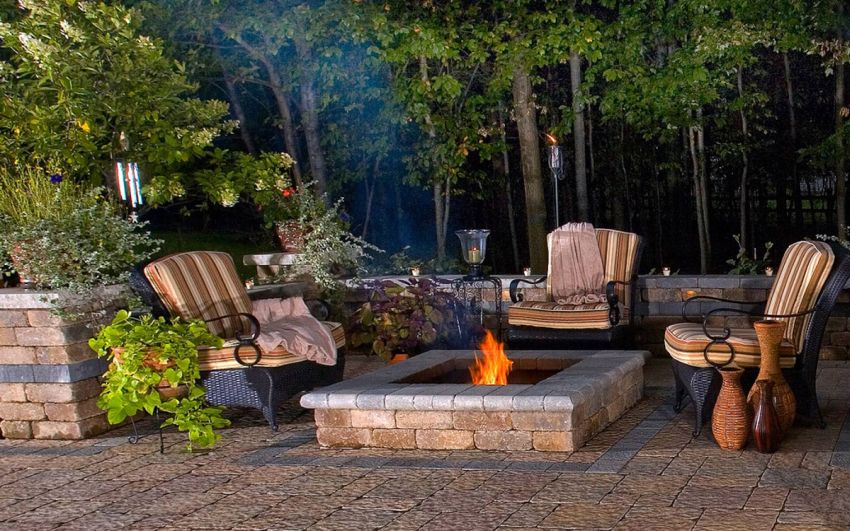 This patio has a rustic look with a stone fire pit. Weatherproof pavers match very well with the firepit. Wrought iron chairs enclosed with brown-colored cushions create a cozy environment on the patio. The antique vase enhances the style of the patio.
15. Patio with Paper Lanterns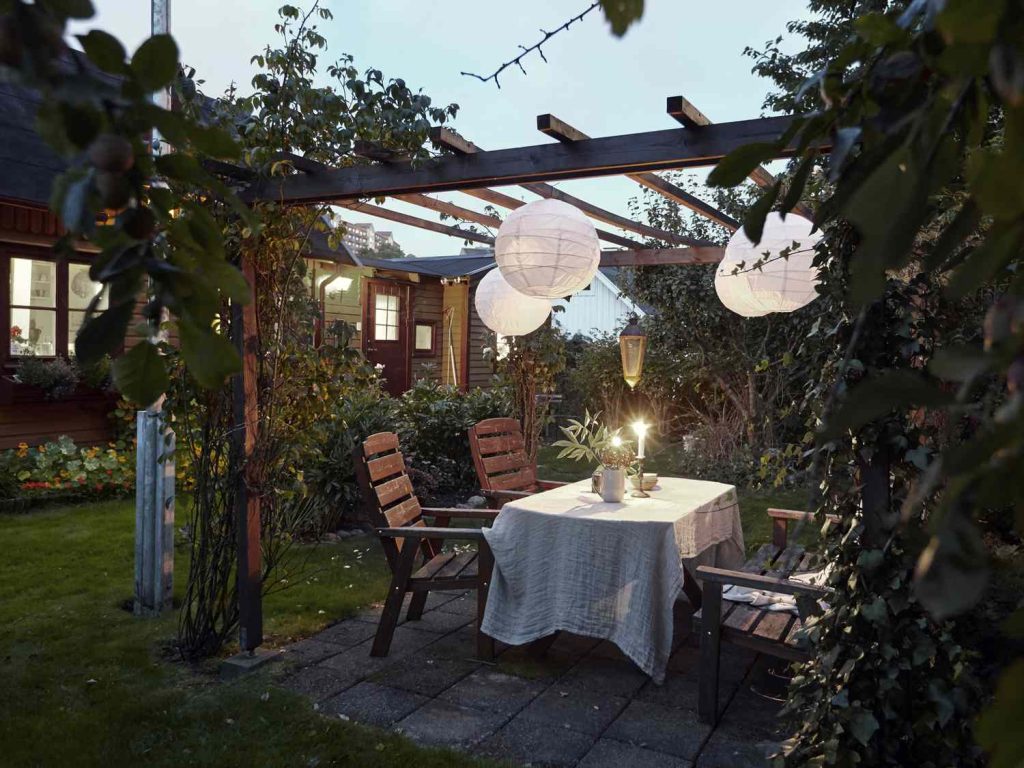 This individual patio is covered with a wooden pergola creating a nice intimating atmosphere on the patio. The white paper lanterns hung over the pergola; it is expressing romance in the air and the perfect dating destination. This outdoor patio idea you can opt for if you want to impress someone you love the most.
Significant Components of Your Outdoor Patio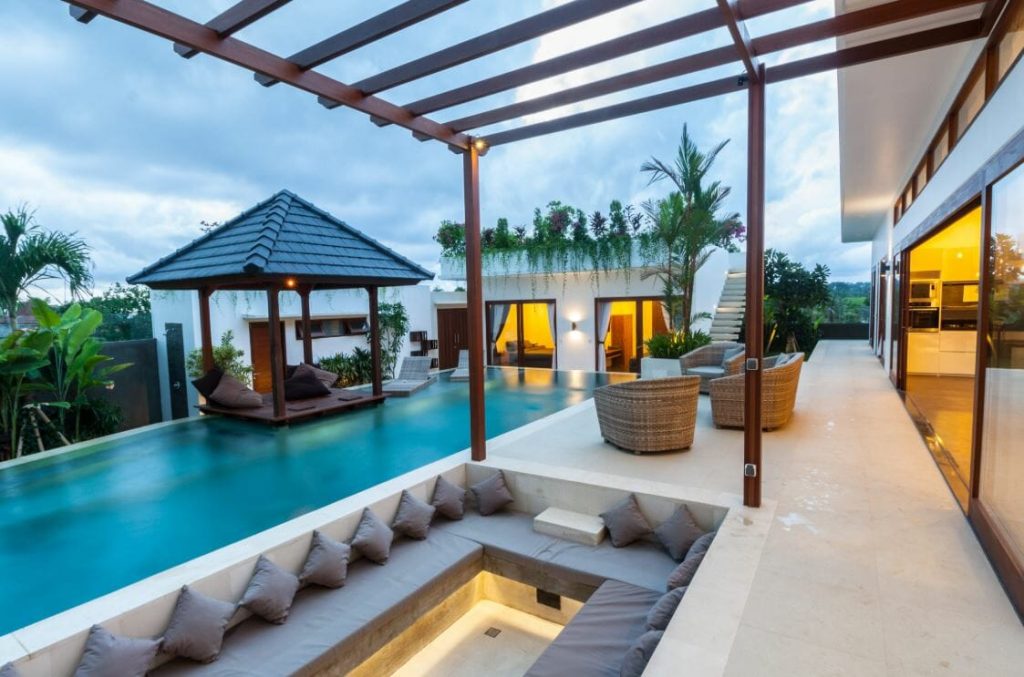 1. Flooring
Outdoor areas often demand sustainable flooring options. However, we care about durability and safe strolling aspects, but still, we want its appearance to be top-notch. To get the best of both, there are many choices available for outdoor flooring.
Pavers – There are many options available in pavers like concrete, brick or natural stone pavers, etc.
Tiles – you will get tons of variety in tile, i.e., terracotta, marble, plastic, rubber, foam tiles, and artificial grass tiles for outdoor flooring. These options are also sustainable and provide elegance. These different kinds of tiling choices are slip-resistant and durable forms for outdoor flooring.
Hardwood – However this flooring option needs extra care and maintenance, but still, you can include this hardwood flooring with durable materials like teak wood, redwood, cedar wood, etc.
2. Roofing
A patio roof or patio cover can be useful for patio longevity. Extra sun exposure could be irritating sometimes, and to control this exposure, you can cover the patio with permanent or provisional roofing.
Permanent Roofing – Permanent roofing or a pergola is the best option if you are looking for a fixed structure for shade. You will get a variety of materials for permanent roofing, i.e., metal, steel, aluminum, vinyl or wood, etc.
Provisional Roofing – There are flexible structures that are also available in roofing. For instance, patio umbrellas or retractable roof panels.
3. Screening
You can include screens on your patio to get some privacy. For inexpensive patio screening, you can hang curtains around the patio or can create garden screening through DIY activities.
If you want some solid material, then different mesh or screen options are also available, i.e., fiberglass, aluminum, steel mesh, etc. Apart from this, you can use wood or metal screens for patios.
4. Seating Area
It is obvious that the patio has a seating area, but it is a sort of neglected part. Having a comfortable and cozy seating area is essential in an outdoor place.
Eventually, outdoor places like patios get directly in contact with the natural environment, and somehow, it gets to suffer from some environmental damage too. Hence, for outdoor furnishing, try to choose durable materials for furniture like rattan, wicker or wrought iron, etc.
To give some warmth to the seating area, decorate furniture with suitable cushions, throw pillows, rugs, etc.
5. Firepit
Whether you have a small patio or a huge patio, it does not mind when it comes to including a beautiful warmth-generating firepit.
Firepits can be customized according to your requirements, or you can have off-shelf portable firepits too. To get more specified options in the firepit, you can try DIY fire ideas to give a personal touch to the patio.
6. Cooking and Dining
You can include an outdoor kitchen and dining area if you have a spacious patio. It is a next-level enjoyment to cook outdoors and cherish the meal with friends and family.
The outdoor kitchen can be set in a permanent or portable manner. You can build fully furnished kitchen countertops or can add stand-alone portable kitchen countertops.
For the Dining area, there is weather-resistant dining furniture available in the market. Nowadays, an extendable dining table is trending in outdoor kitchen ideas to save space. You can try these options too.
7. Gardening
Having green elements around you makes it peaceful and close to the natural environment. Hence do include some greenery on your patio too.
You can add this greenery through simple flower planting, climbing plants like honeysuckle, bougainvillea, vine, etc. If you are interested in gardening, try out vegetable gardening or useful herb gardening too. Container gardening is also the best option to include on the patio.
8. Lightning
Spending evening time on the patio is out of a world experience. To enhance this experience, brighten up your patio with lights.
Nowadays, there are specific outdoor lighting options you will see. Like small bulb string lights for the pergola for the entrance, or even you can install LED lights on the green part of your patio, i.e., plants or small trees around the patio. You can even install wall-mounted lights, solar lamps, lanterns, etc. You can add starlights on the patio roof. This lightning element is worth it for outdoor patio ideas.
After looking at the primary element for outdoor patio ideas, let's see how practical it will appear. The following 15 contemporary patio decorating ideas will give you some inspiration to go for the correct outdoor patio idea.
Final Thoughts
Patios can be decorated as you want them to be. However, it is not always possible all your imagination will take the right place while decorating. Before starting the makeover of your patio, you need to get some basic knowledge of the concept to get better results.
In this article, we have tried to clear the outdoor patio concept. And to get the best contemporary look for your patio, we have shared a list of some essential elements. Using these elements, you can craft an ultra-modern patio. Apart from this, we have also given a list of 15 contemporary patio decorating ideas with their specifications which will inspire you correctly while your patio decorating activity.
Overall this article contains a detailed description of the outdoor patio idea to help you build your patio more effectively.