Do you long to bring dreamy modern appeal into your space, especially your bedroom? We relate with you as well. Who doesn't want their bedroom to look similar to the one seen in the movies or films? The modern fixtures, delicate designs, and dreamy appearance seen onscreen rule the hearts of many enthusiasts who yearn for contemporary style.
When we think about the word 'modern,' it is natural to picture things that include fancy fixtures, luxurious items, and elegant pieces. As a result, you might also relate modern interiors with things that have intricate details, but it's the exception and not the rule. Sometimes, minimal changes can create a big difference when you think of bringing modernity; it can easily be achieved with the help of existing furniture by adding a personalized touch.
In this article, we present you a list of 15 modern master bedroom ideas that you can consider when planning to renovate your bedroom and introduce modern elements in your space.
1. A Strong Wallpaper Game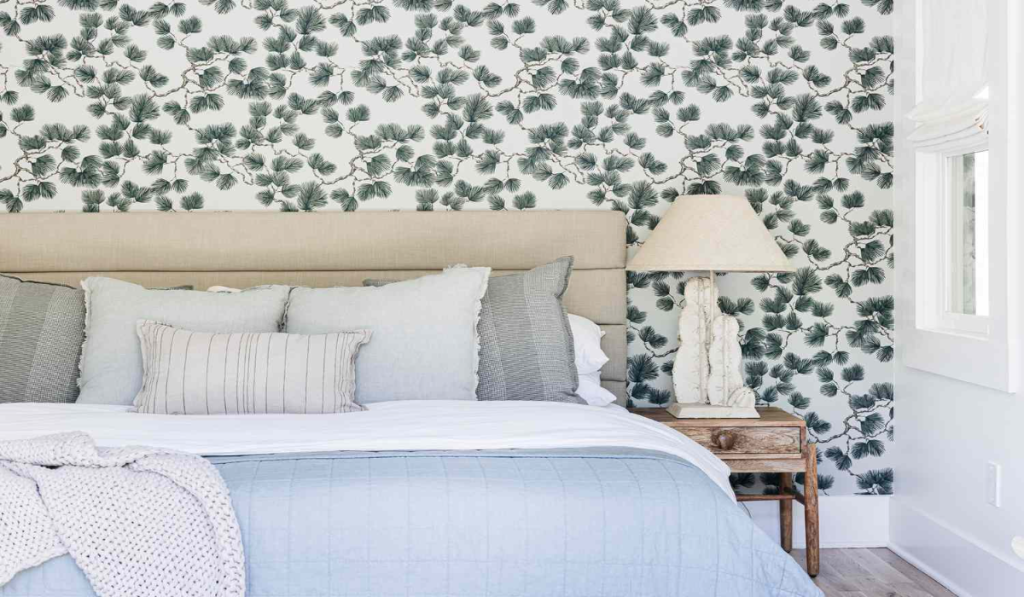 There are many factors responsible for enhancing the appeal of your master bedroom. You can pay attention to little details or introduce a whole new commodity. And in order to bring a modern look, you can choose anything depending on your taste and needs. But if you are looking to include things that would not burn your pocket and are budget-friendly, then considering wallpaper can do the trick for you. Beautiful wallpaper with intricate details and soothing colors can bring a vibe that anyone can't help but admire. A strong wallpaper game is a perfect solution for modern master bedroom ideas.
2. Glass Sliding Wardrobe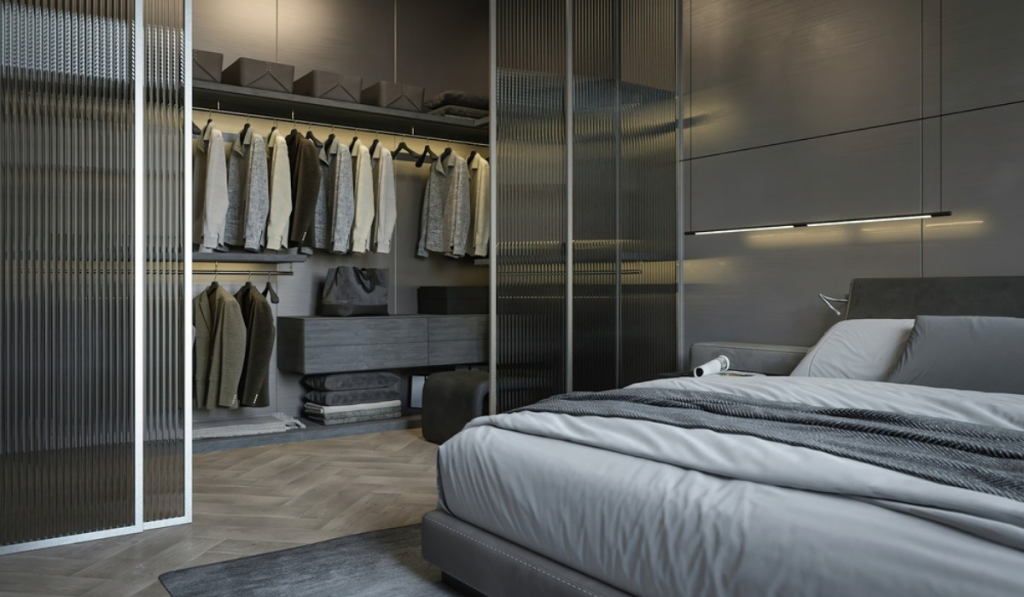 Do you want a space that can take care of decluttering your items without compromising the way they look? We've got you covered. A glass sliding wardrobe that provides ample space for you to put your stuff in an organized manner and also manages to look aesthetically pleasing is a perfect addition to a modern master bedroom idea. The glass door can reflect the sunlight in the golden hour, creating a dreamy vibe to uplift your spirit. A refreshing touch can be added with some green plants to bring the whole look together. One can make it more personalized by adding some dream catchers over the glass sliding wardrobe for a boho look.
3. Luxurious White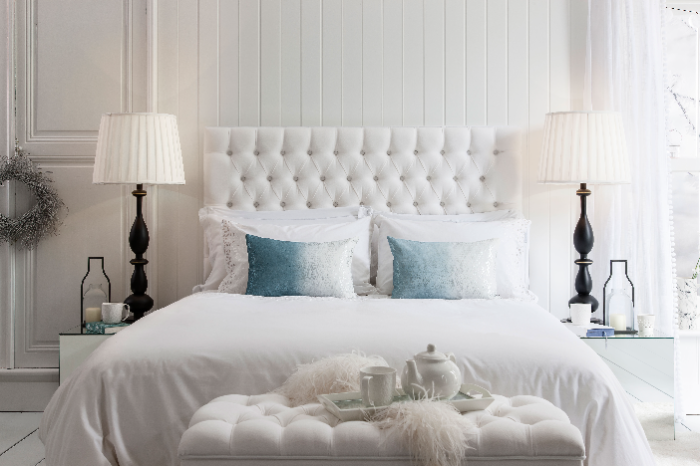 White is a color that evokes an emotion of peace and calmness. But other than that, it also has a specialty of adding a luxurious touch with its simplicity. Create a luxurious-white modern master bedroom by adding white color in multiple areas, such as sleek white tiles, a white fancy fan, white curtains for a dreamy experience, and a bed with white borders to help you escalate the whole look of the room. You can even use the white in your window panes, side tables, and wardrobe to create a bedroom that can make anyone fall in love at first sight. Do not forget to consider different shades of white for an excellent result.
4. Embrace the Pastel Vibe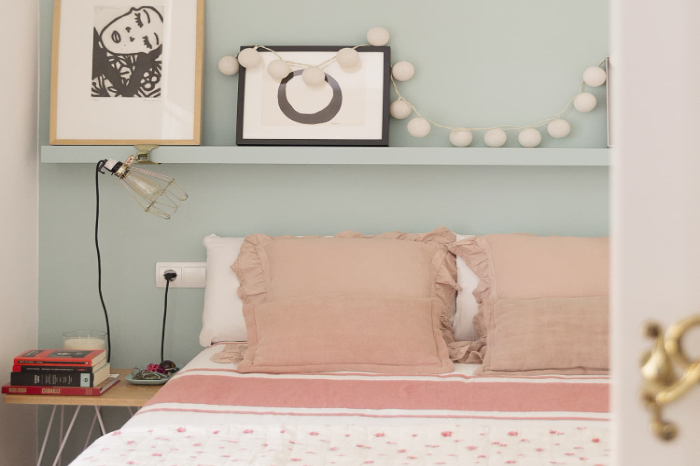 If you love a soft vibe, tender details, and a monochromatic look, then design your modern master bedroom using the pastel color scheme. It helps to bring a cozy and snuggly look allowing you to live a dreamy experience. Use soft pastel green color in window panes, on the wall beside the master bed, and anywhere possible for a lively appearance. This idea is budget-friendly, meets the standard of a modern master bedroom idea, and is simply easy to apply. From candy pink and soft blue to fresh pastel green, there are plenty of hues to choose from when it comes to designing your modern master bedroom with pastel colors.
5. Funky Headboards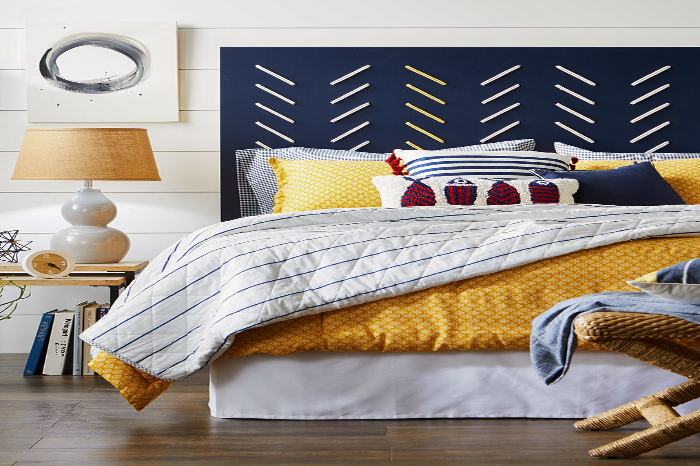 Sometimes funky headboards with uncanny color combinations can also make a statement. Embrace the humor and showcase it in your modern master bedroom ideas. An all-white bedroom contrasted with a beautiful blue hue bed wall is sufficient to create a cool contemporary look. If you want to put minimal effort into the interiors but still want the modern look for your master bedroom, then this is the trick for you. Pair it with vintage decorations to bring the whole look together. This idea can surely amaze anyone who visits your space.
6. Magic Moroccan Wallpaper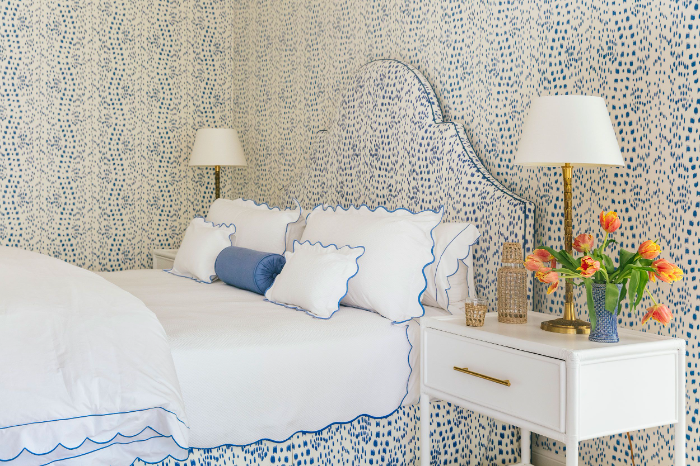 Are you a fan of ancient designs and want your modern interiors to reflect the same legacy? We empathize with you. Transform your master bedroom into an airy and breathable space alongside a hint of drama brought by a beautiful patterned Moroccan wallpaper. Nothing can beat the beauty of ancient designs and cultural details showcased by these Moroccan wallpaper. In order to solve the purpose of space optimization without compromising the appearance of the room, this Moroccan wallpaper is one of the best choices for a modern master bedroom idea.
7. Cream Tones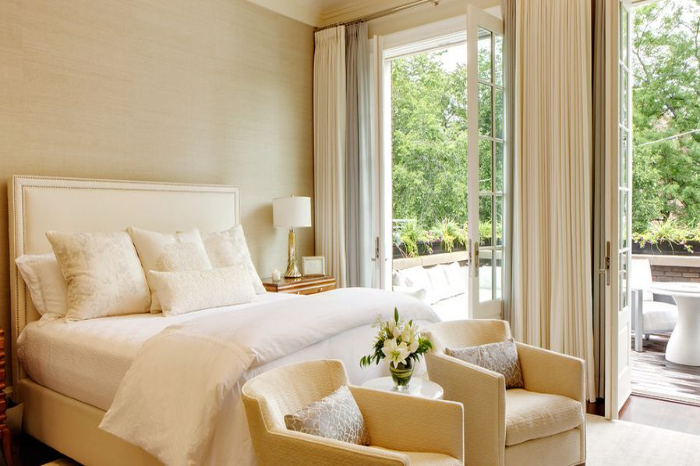 Introduce some luxurious cream tones in your master bedroom for a touch of elegance and comfort. Add a hint of a pristine beige color in the master bedroom alongside the Indian wallpaper and vintage scones lights. If you are aiming to turn your bedroom into a hotel-like luxurious bedroom, then this master bedroom idea is just perfect for you. You can achieve a high-class, elite-look bedroom with minimal effort, and the best part is it is cost-effective. Also, you must be aware of the magic of white, neutral colors in radiating an adorable vibe that you can't help but admire all day long.
8. Floral Mood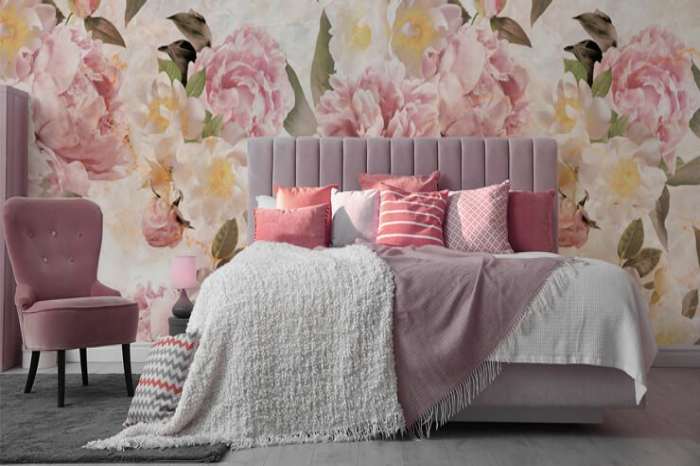 Do you want your master bedroom to have a beautiful floral appearance? Then, consider introducing florals in multiple areas of your room. Use vibrant floral wallpaper with cozy and comfortable cushions that match the vibe of the room. Do not forget about the color of the curtains as it can also help to elevate the look of the bedroom. To complete the look, choose a soft fur mat and a side table that has a ceramic vase with pampas in it to create a rich, luxurious vibe. This vibe will certainly solve the purpose of master bedroom ideas that has ample storage and a beautiful as well as cozy appearance that can help you rejuvenate after a long tiring day.
9. Fun with Pop Colors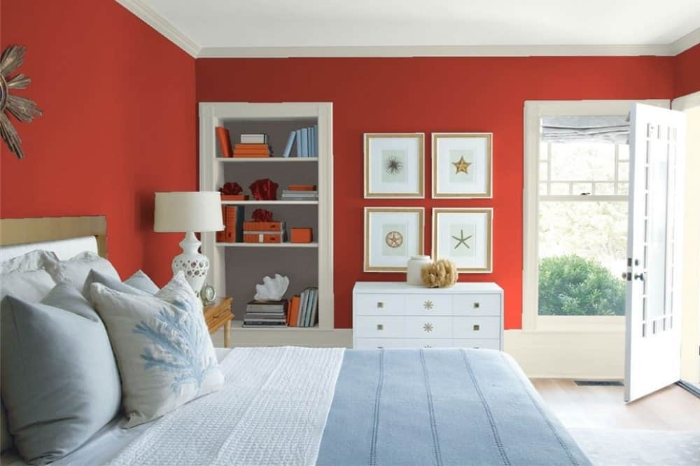 Colors play a vital role in creating a fun and interesting vibe in your space. A splash of hues from the color palate can be a real game-changer in your modern master bedroom ideas. Choose any color front the variety of colors available and use it on a bedroom wall, while some striking contrasting colors in other parts of the room would not do any harm. Instead, it will help to accentuate the lively vibe spread by the pop of colors in the interiors of the room. Discover the other fun elements, like posters of classic old Hollywood stars like Bob Marley or Jennifer Anniston, to give your room a modern aesthetic look.
10. Feature a Van Gogh Wall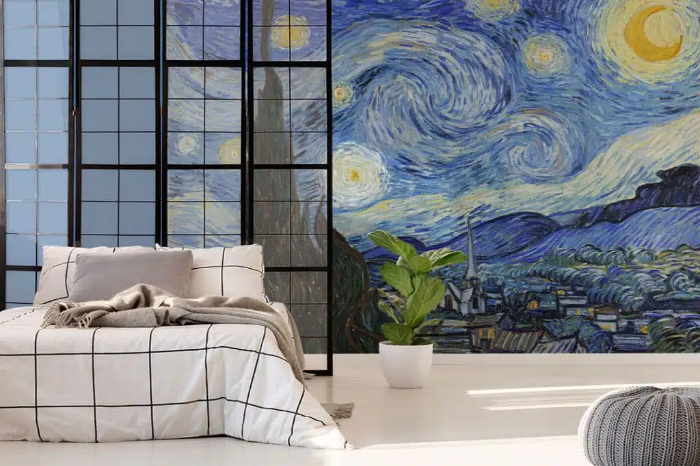 This modern master bedroom idea is ideal for all art lovers who have endless love for art and culture. People who pray for art and view it as a muse to live their life in the most wholesome way possible cannot miss out on this one. You can feature the bedroom wall that has a big famous starry night painting of Van Gogh for a delusional yet dreamy experience. It will be the main spotlight for your master bedroom and will win the hearts of guests who will visit your room. You can indulge in an artistic ride with this bedroom that has a Van Gogh wall to uplift your spirit by admiring this masterpiece in your bedroom.
11. Let the Headboard Be the Spotlight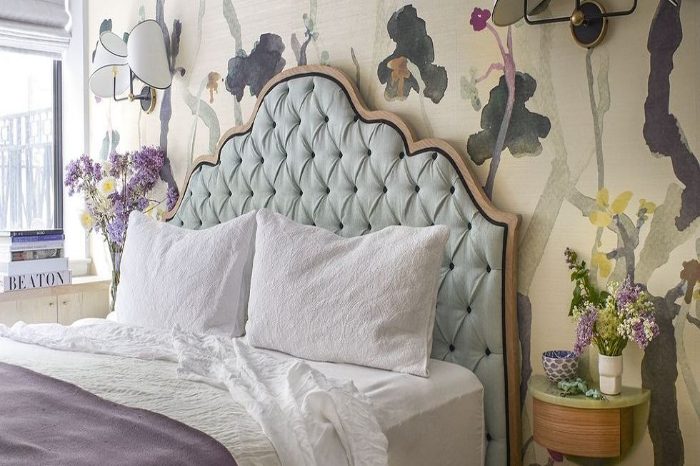 When you do not have any idea and are tired of scrolling through the internet to hunt down the ideal modern master bedroom that can fit your taste perfectly, you can definitely consider this one. Bring the spotlight on the Headboard behind your Master bedroom. Choose the color and texture of the headboard that suits your taste. You can even use the matching curtain and a vintage rug to complete the rich-luxurious look of the room. Sometimes you do not have to run after big, expensive, and fancy decor items in order to give your room a modern look. There is no best way to do things in the correct way. Just trust your gut feeling and pick up the decor items that are directed by it.
12. Game of Chairs and Side Table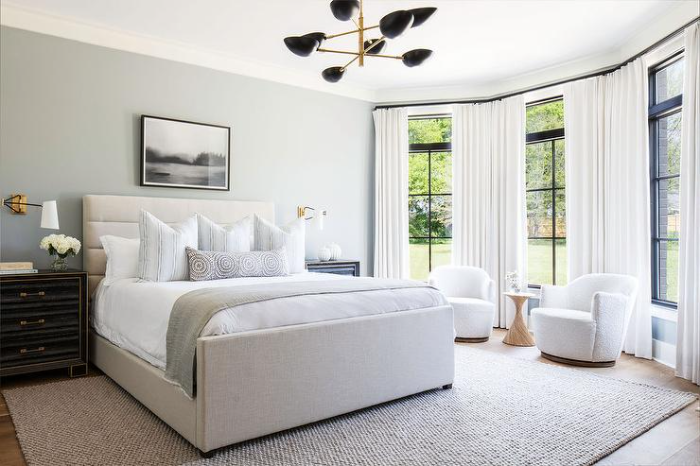 Nothing can beat the vibe of gorgeous chairs. Bring some luxurious chairs in your modern master bedroom as a perfect addition to your space. Also, do not forget to bring a side table as well that can complement the master bed. The idea behind this whole look is to pick and place a few things here and there to complete the cool contemporary look without compromising the aesthetic appeal of the room. You can choose neutral colors that compliment the bed and the whole vibe or go for contrasting colors for a different experience. The choice is ultimately yours, but the options are endless.
13. Floor Bed Design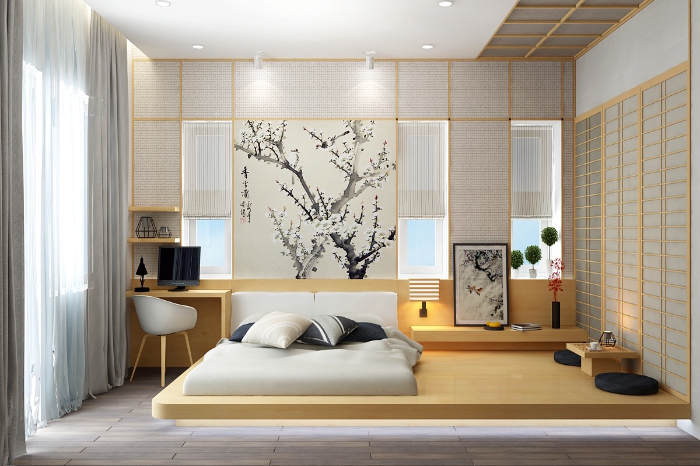 Are you fascinated with the wooden floor beds seen in Japanese movies and TV shows? We totally relate with you. So keeping the same desire in mind, we have brought this amazing idea of introducing a floor bed design in your modern bedroom ideas. The bed will be the center of attraction, whereas a rugged rock face wall complements the modern look of the room. Some house plants placed on the side table in the room will escalate the vibe of the room as well. The desires of the people are fulfilled based on their expectations. So if you are yearning to accentuate the minimalistic style, this idea is perfect for you.
14. Savor the Macrame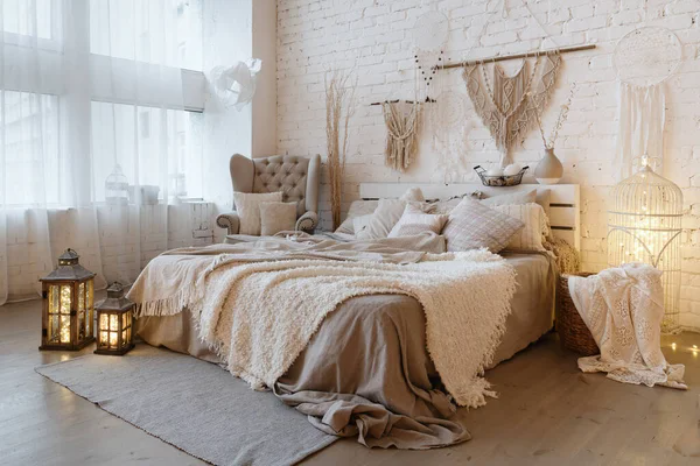 If you are up for a boho look in the interiors of your bedroom, then this is one of the best modern master bedroom ideas out there. Play around with the neutral colors while showcasing a big beautiful macrame on the bed wall. The unique touch given by this macrame is to die for. Along with it, place some beautiful scone lights on each side of the bed. The whole look will be a vibe of a modern luxurious household. With the bare minimum efforts and budget-friendly ideas, you can achieve a contemporary look with this spectacular idea.
15. Mini Pendant Lights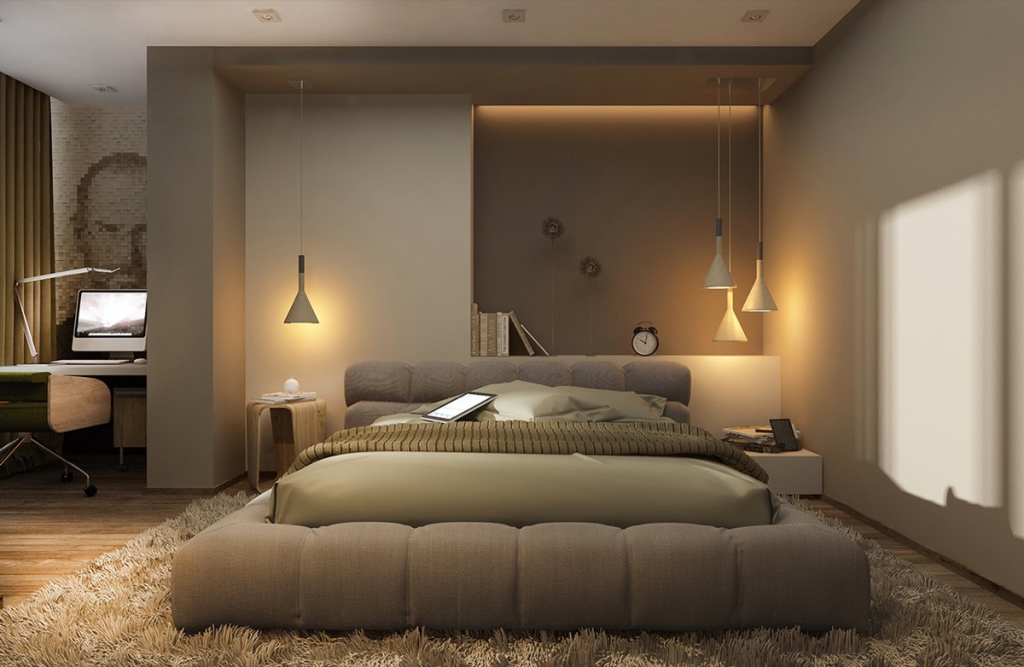 Nothing can beat the beauty of beautiful luminous lights that are known for their potential to instantly set the mood and set the perfect tone to relax after a long day. Use fancy pendant scone lights for a beautiful appearance, and make sure that you choose the light golden metal accent to enhance the whole look. These enchanting mini pendant lights are a perfect addition to modern master bedroom ideas. And if you want to bring focus to the details and then these delicate items will definitely do the trick for you.
Summing Up
Our bedroom is a place that energizes us and prepares us to work efficiently the next day. Therefore it should provide us with the right amount of comfort, allow us to feel peaceful, and also look presentable if anyone from outside visits this place.
After going through this extensive list of 15 modern master bedroom ideas, we are sure that you must have found your favorite idea, which you will incorporate at the time of renovation of your room. You can choose any idea front the list or mix and match to get the desired list. We tried our best to shortlist the ideas that can suit every taste and fit each personality.
We hope this list of modern master bedroom ideas helped you in some way. We are curious to know about your pick. Please do not forget to comment down below!
Frequently Asked Questions
What Makes a Bedroom Modern?
The idea of considering the fancy, luxurious items in your bedroom in order to make it modern is undeniably overrated. Unlike rich and fancy items, minimal things and neutral colors that can make your space airy and peaceful are the vibes most people strive to achieve in a modern master bedroom.
Is There Any Specific Size for a Modern Bedroom?
There are no specific dimensions when it comes to the modern bedroom. However, it is good if you have a large space as it allows you to play around with different items and provide the space to showcase such items confidently.