Gardening is a calm way of relaxation for many while also elevating the outdoors of your house. It requires proper maintenance and a lot of effort since gardening is a step-by-step gradual process. However, it doesn't necessarily have to cost a lot of money.
There are many ways to fit your favorite hobby into a budget through recycling, reusing, and repurposing old household objects. In addition, if you like to use homegrown plants, vegetables, and herbs, a raised garden bed might be just perfect for you.
Tending to a raised garden bed has several advantages over a traditional garden, as we further elaborate in our guide. If you want to combine progressive and affordable gardening, the following inexpensive raised garden bed ideas will suit you well. Along with these themes, we have also compiled a step-by-step guide on how to work on a DIY-raised garden bed. Read on to find out!
Inexpensive Raised Garden Bed Ideas
1. Stick to The Basics
Keeping it uncomplicated is the mantra for gardening beginners. Go for a simple structure made from untreated wood and braces to begin your gardening experience. Not only is it one of the most inexpensive raised garden bed ideas, but it also allows you to experiment with a range of various plants, flowers, vegetables, and herbs and learn the skill at a slow pace.
2. Form Chambers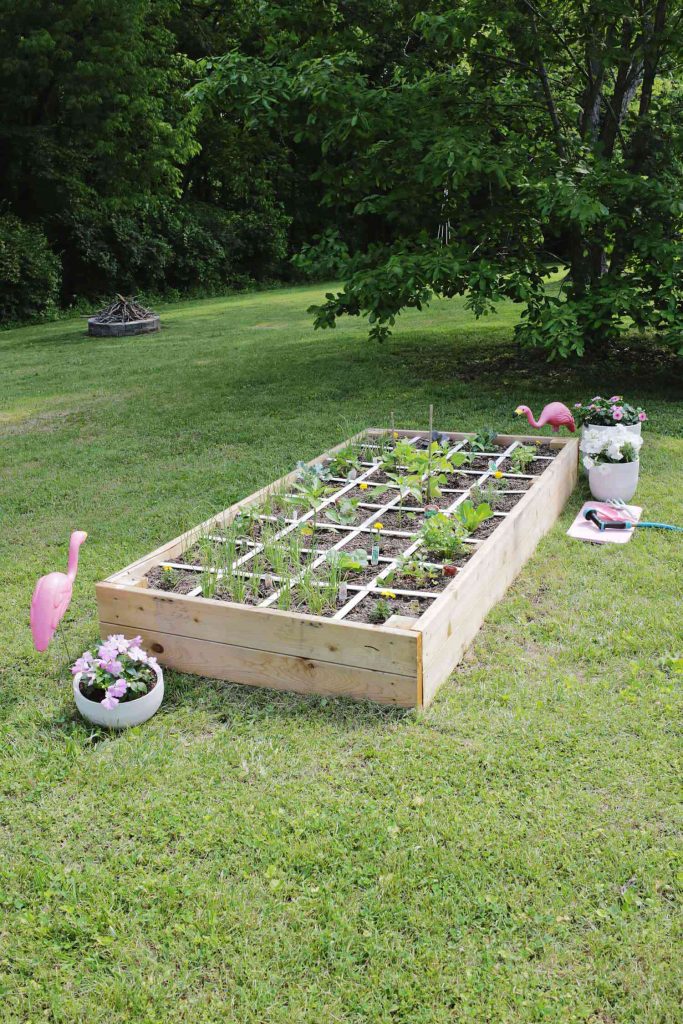 Once you comprehend how to build a basic frame for a raised garden bed, you can innovate as much as you want. For instance, try creating separate enclosures for the plants in the same frame. It's a great way to keep the various plant species segregated while making the process of tending to the garden easier. Feel free to accessorize with flower pots.
3. Incorporate Tiers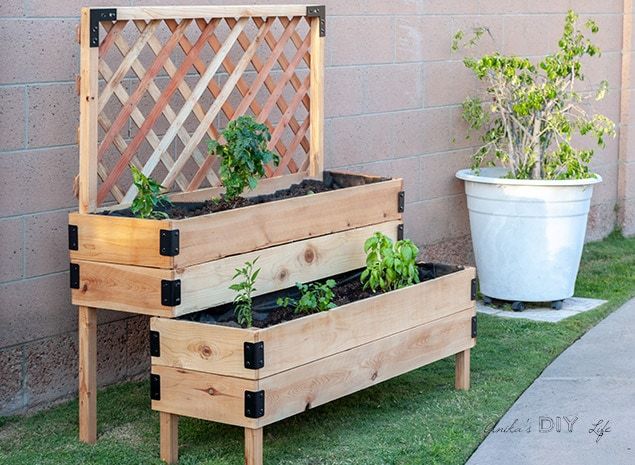 A raised garden bed only gets more elegant when multiple tiers are added to it. You can grow different types of plants in each of the tiers since they are already partitioned. If you wish to go DIY, we recommend using cedar fencing and braces to construct the frame. Additionally, you can add a trellis or other decorative elements to beautify the structure more.
4. Stock Tanks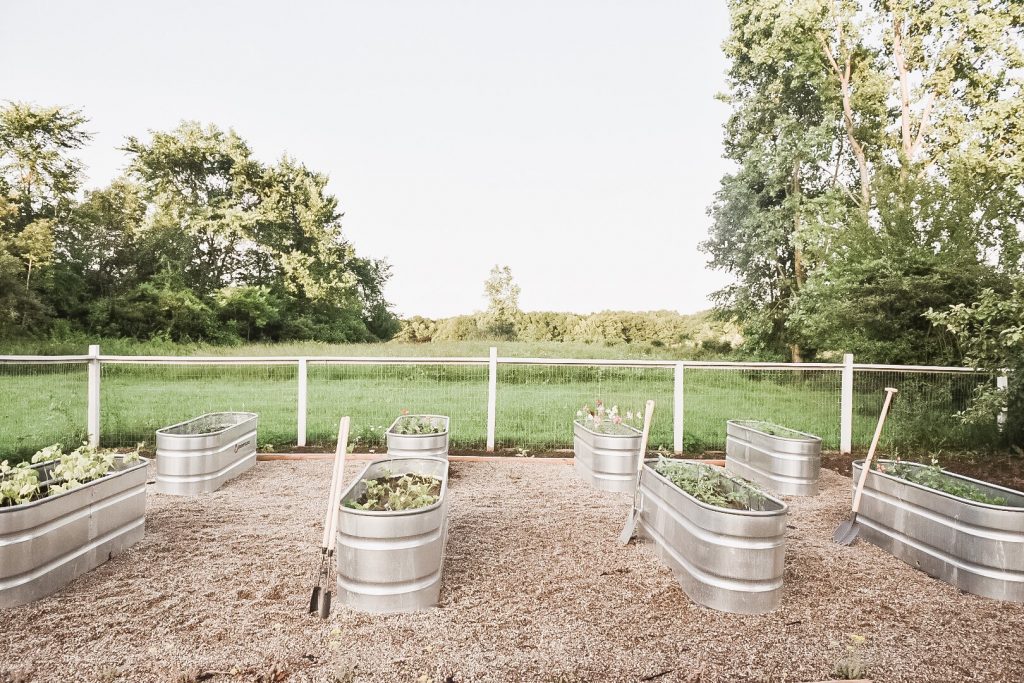 Stock tanks are incredible for separating the different plants or herbs. Or, instead of those, you can also use steel bins designed extensively for gardening. Not only do they add a sleek look to your garden, but they are also easy to clean, weed, and maintain. Lay them on a bed of gravel in the backyard, and your personalized herb plantation is good to go!
5. DIY Trellis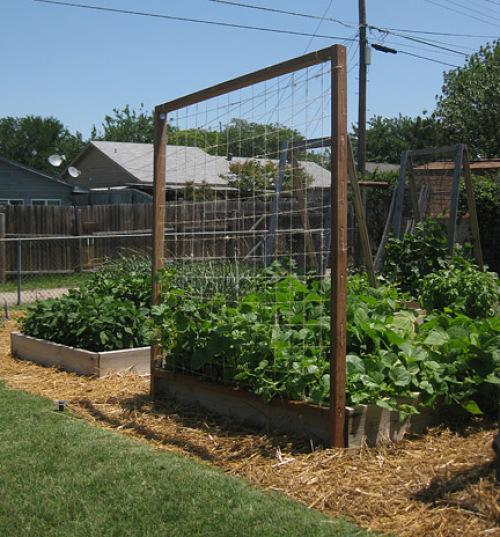 If you're exploring inexpensive raised garden bed ideas but also want to go for a natural look, this DIY tomato trellis is apt. You can use pine boards or repurpose the wood from old furniture for constructing the frame. Since it weathers over time, you can achieve the perfect rustic aesthetic for your garden. Additionally, it also doubles up as a gorgeous flower bed!
6. Arched Trellis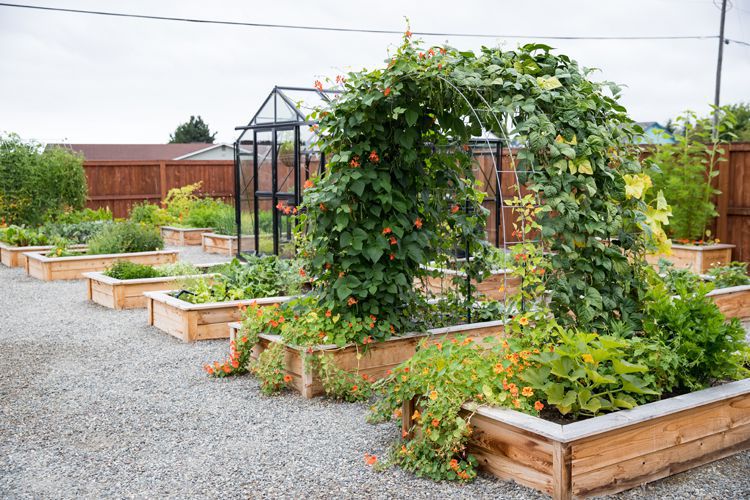 It is a beautiful theme for amateur gardeners who already have a trellis in their courtyard but wish to elevate it. As a bonus tip: stretch it over two garden beds as shown in the picture to create a gorgeous arch. You can grow creepers or flowers to add a romantic touch. However, executing this idea takes plenty of outdoor space in the garden.
7. Fluctuate the Sizes
Adding more diversity to any collection has never proved wrong. While you can always include a variety of pots and frames, one way of executing inexpensive raised garden bed ideas is to fluctuate the heights and sizes of your beds. Also, if you happen to have simple wooden garden beds already, you can repurpose them to create this theme.
8. Add a Cage Cover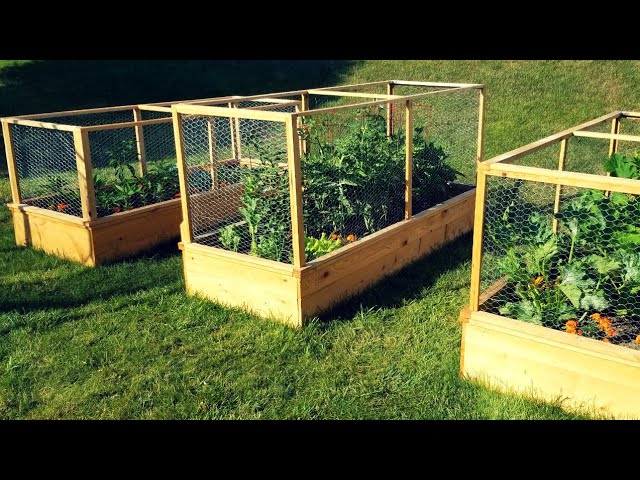 We would recommend this idea if your plants face the threat of being grazed or chewed up by animals. Adding a caged cover will protect them and help them grow better. Moreover, you can easily construct a frame with old household materials. Or check out these DIY iron or copper meshes on Amazon and fashion them however you like!
9. Create a Utility Station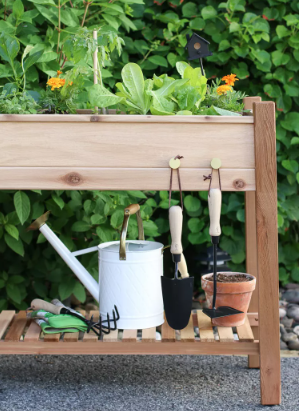 As long as you're building a raised garden bed, why not construct more aspects and transform it into a complete utility station? For instance, you can create hooks, drawers, and shelves to store your gardening accessories. Furthermore, try painting it with different themes and colors to beautify your all-in-one utility station even more.
10. Fashion a Coffee Table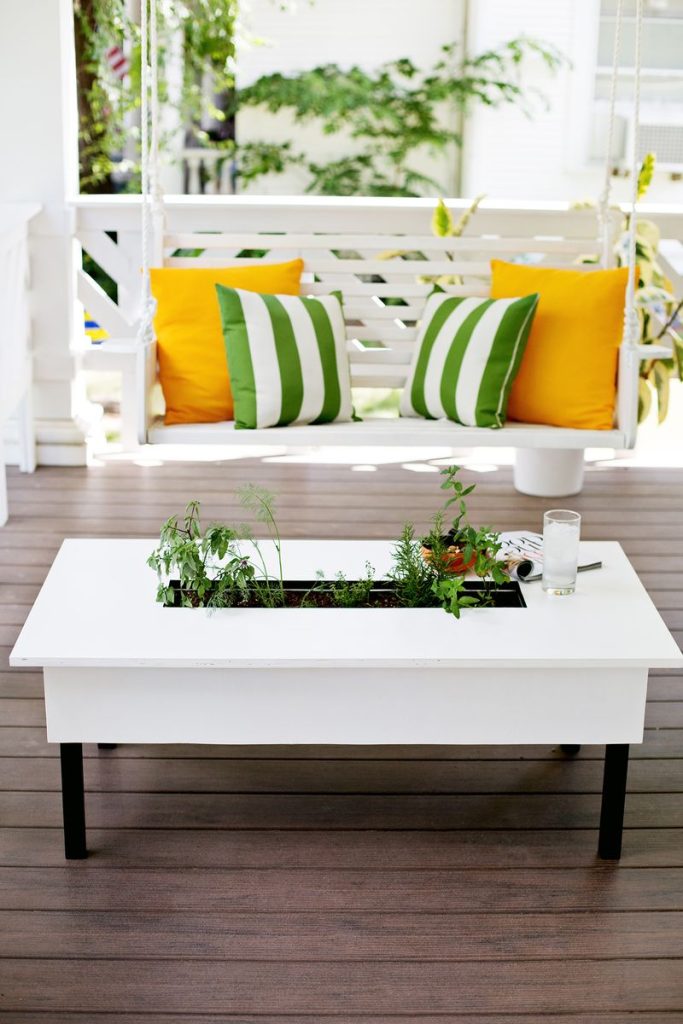 Construct a raised garden bed coffee table for under $100 to style on your porch. You can easily build the project with plywood. All you have to do is create a raised platform for the garden bed and then cover it up to create a coffee table while also leaving space for the plants to come up. However, the plants you grow must be small, like herbs.
11. Repurpose a Wine Barrel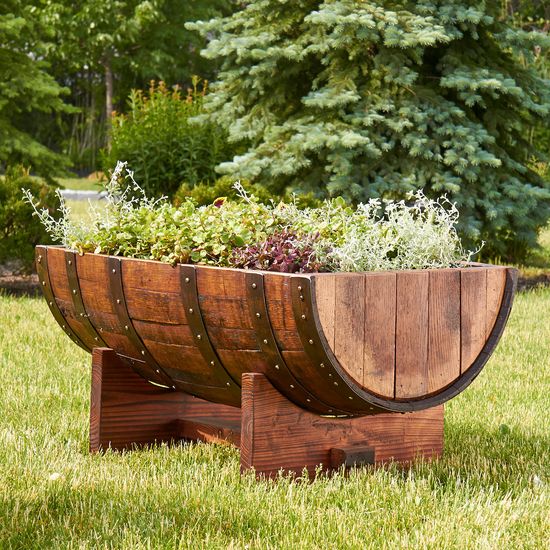 Upcycling an old wine barrel is a perfect way to add a vintage touch to your garden. It will make your courtyard seem country-style. Since the dimensions of wine barrels are usually quite large, it is advisable to grow bigger plants in them as your resulting raised garden bed will be huge. They're typically made from weathered wood and hence, also seem organic.
12. Plant In a Wheelbarrow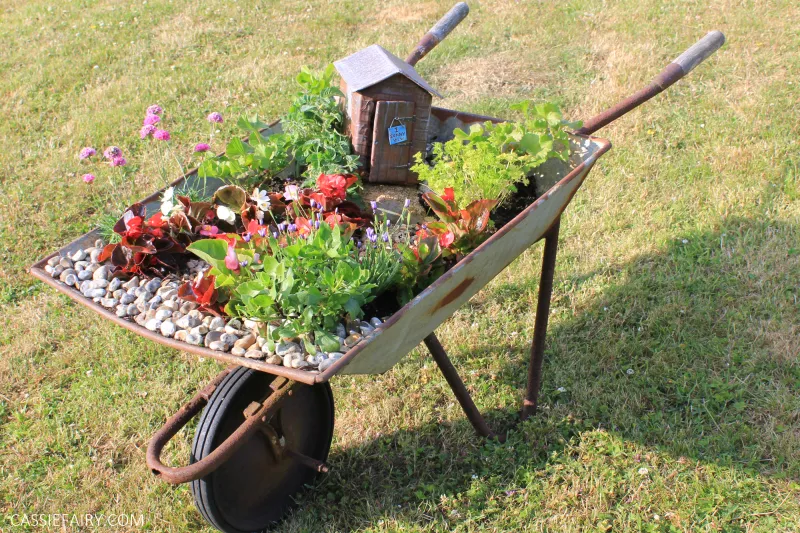 Growing flowers or small plants in an old wheelbarrow is one of the most creative and inexpensive raised garden bed ideas. Not only are you recycling old household items that are no longer in use, but it will also add a funky twist to your garden. Paint it in bright colors to further beautify the entire setup.
13. Upcycle a Wooden Ladder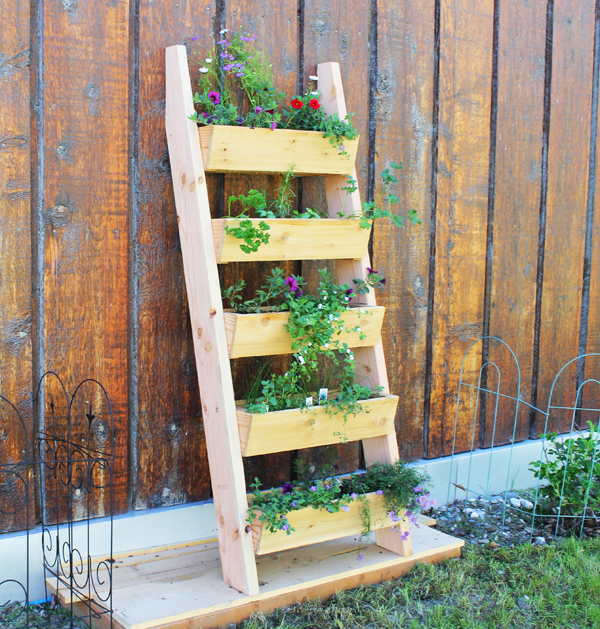 Although executing this theme will take several components, it is still affordable and cheap. All you have to do is take an old wooden ladder and fashion it in your garden with pots of different sizes. You can keep the larger pots on the lower steps and style the smaller ones on the top steps to create a gorgeous hierarchy of flowers.
14. Geometrically Beautiful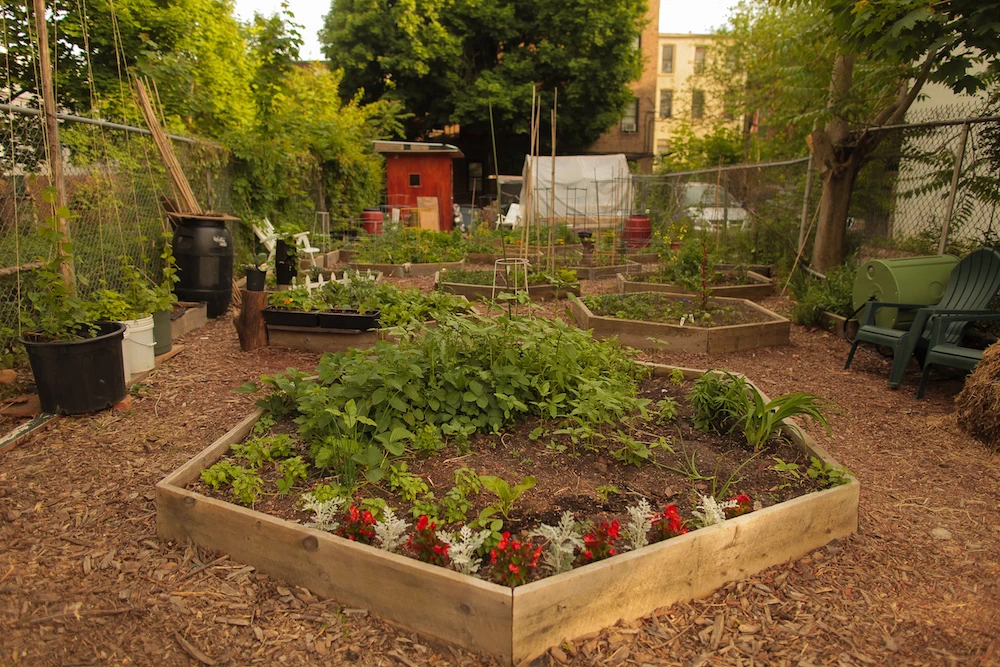 When constructing wooden garden beds, our most natural line of thought edges toward rectangular or square frames. But why not spice it up? You can build them based on any structure you like. You can go for a pentagon, a hexagon, adjoining trapezoids, or anything you find fascinating. Spruce up your garden with some old-fashioned creative geometry!
15. Color It Red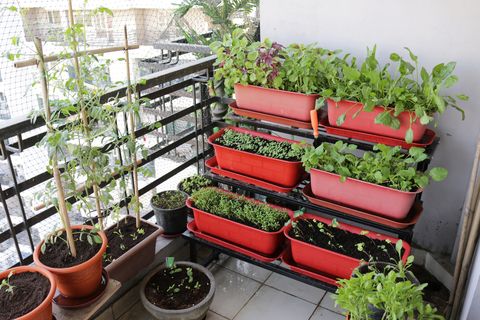 Since gardening is a gradual process, the flowers and plants take a lot of time to sprout. Due to this, your garden will probably have an abundance of greens for the maximum amount of time. And what's a great color that complements the greens? Red, of course! You can paint your wooden raised garden beds red or even go for flowering pots having different shades of red.
16. Innovate with Bricks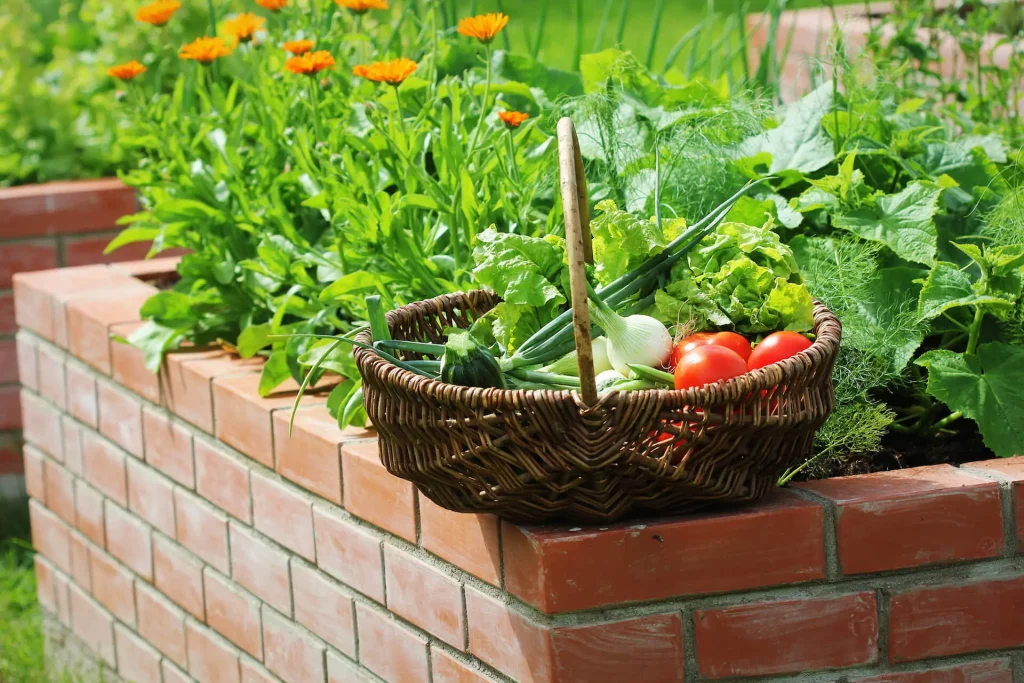 Constantly working with wooden planks to construct garden beds can eventually seem boring and monotonous. To add some innovation, you can build your garden beds with an edging of bricks. You can also paint it in different colors or designs to show your creativity. Moreover, bricks are also quite durable and long-lasting if you're looking to construct a tough and resistant project.
17. Get a Planter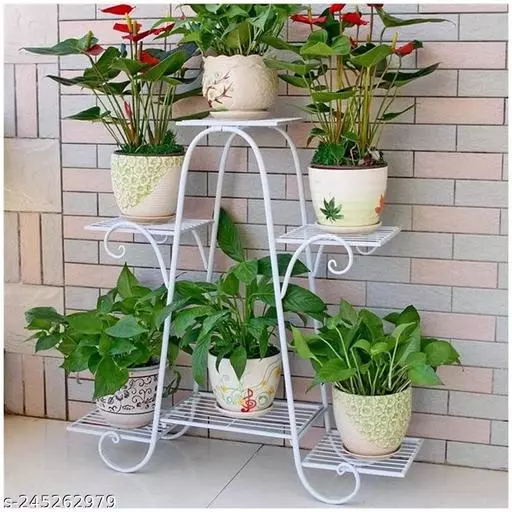 A planter is perfect for those who don't plan to have a large garden. It is apt for small vegetables, herbs, and flowers – basically as a portable kitchen garden. You can also keep it indoors. However, building a sleek and elegant planter by yourself can be tough. You can get it made by a professional or explore it online.
18. Bench It from Around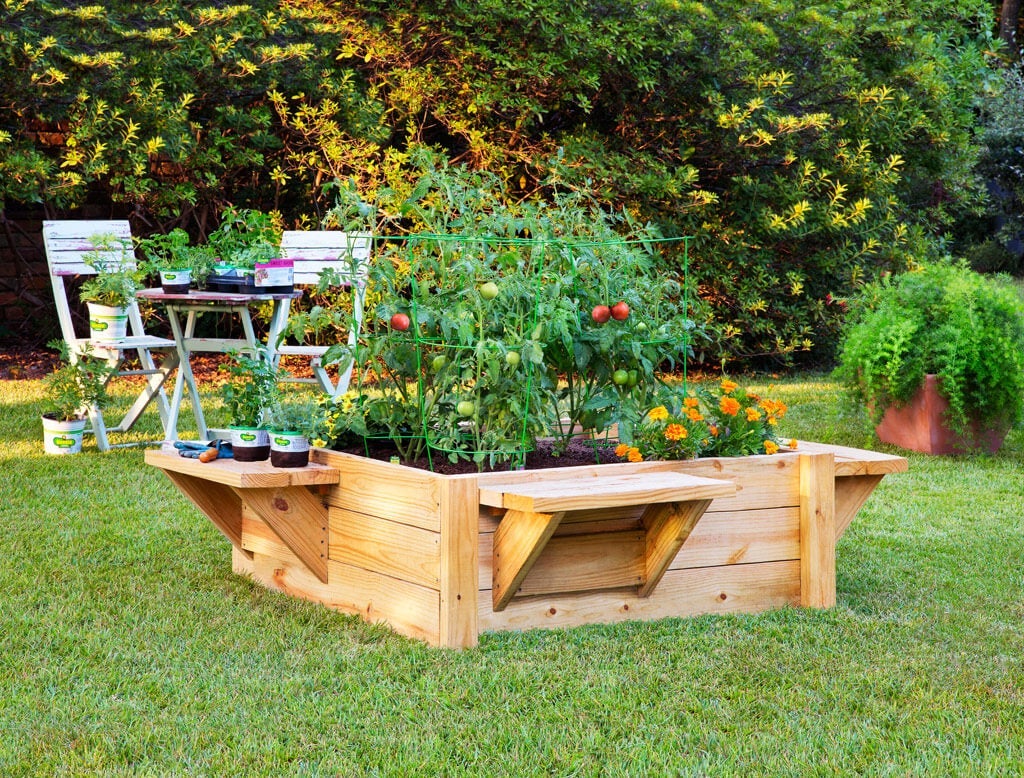 Planting stunning flowers in your wooden garden bed is an amazing way of beautifying the courtyard. If you like to spend time in your garden admiring those flowers, this theme is perfect for you. All you have to do is extend the wooden garden beds and construct benches around them, as shown in the picture, and voila! Your abode of serenity is ready!
19. Grab Some Old Shelves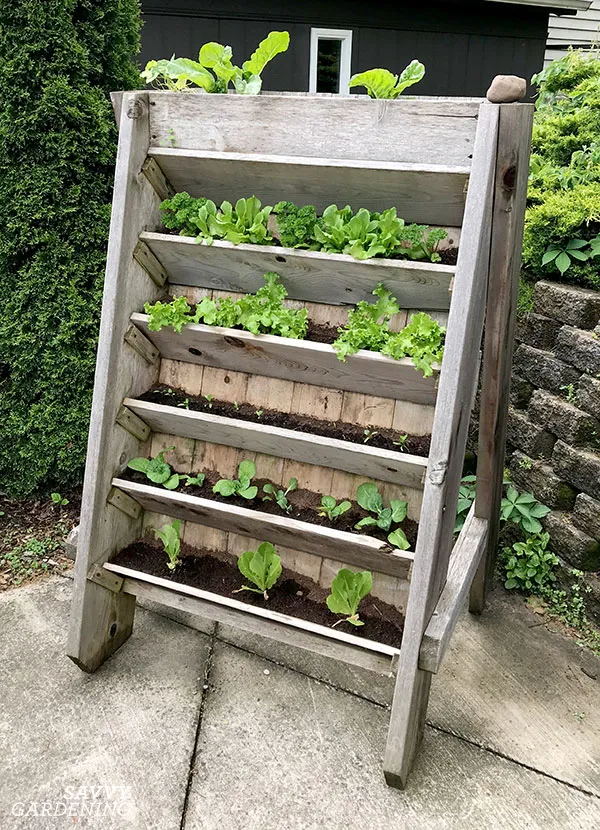 This suggestion is not only an elegant and rustic theme, but it also helps you recycle old furniture. You can use the old bookshelves or racks at home and fashion them as garden beds. You can design them to accommodate small pots, flowering plants, or herbs, as shown in the picture above. You can also plant vines, creepers, and climbers along the shelf.
20. Tree Stumps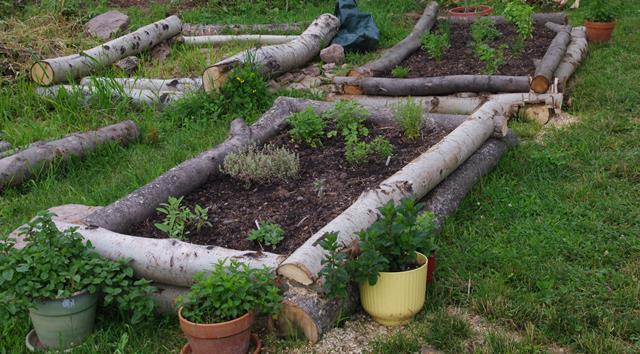 Using wooden, concrete, or old furniture to elevate your gardening isn't a rule set in stone. If you're exploring inexpensive raised garden bed ideas where you can adopt a completely organic theme, consider tree stumps. You can easily use them to create a barrier by stacking them on top of each other. You can also place a larger trunk horizontally to create an organic fence.
21. BathTub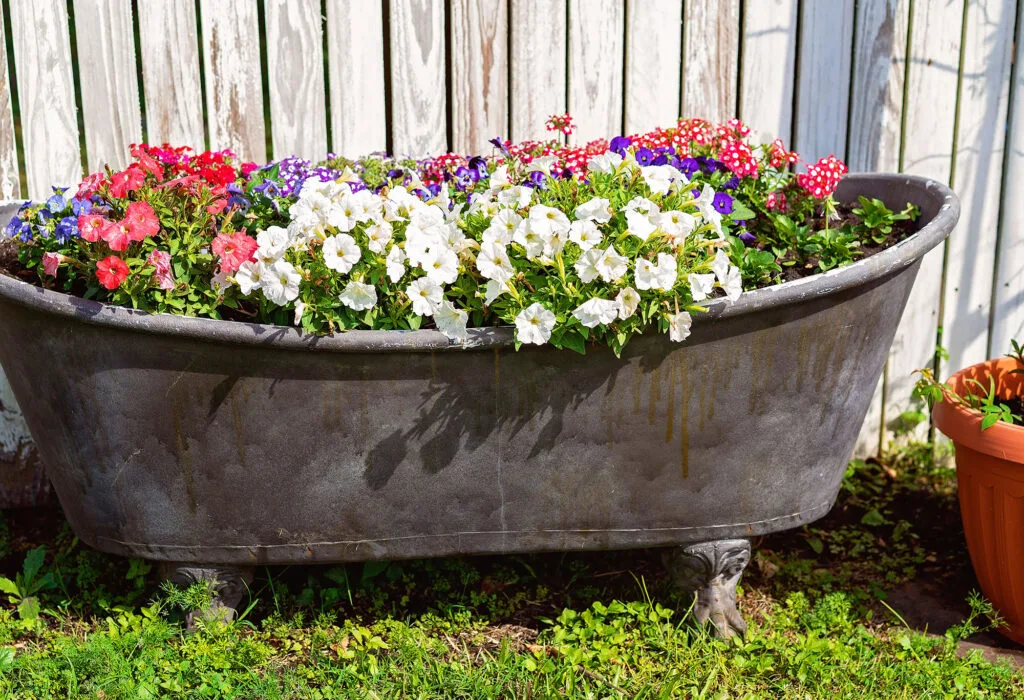 Along with being one of our most inexpensive raised garden bed ideas, this is also the most unconventional and creative one. If you recently had some renovation or restyling work done around the house, you might have an old bathtub that is no longer in use. It can double as a wonderful eco-friendly garden bed since you don't have to pitch in for more resources.
How to Materialise Your Inexpensive Raised Garden Bed Ideas?
DIY garden beds are usually easy to construct and install in your courtyard. However, if you're a beginner who has recently started gardening, worry not. We have compiled a guide on how you can install a raised garden bed in your garden. Continue reading to learn how to construct a simple wooden one by yourself!
1. Finalise a Location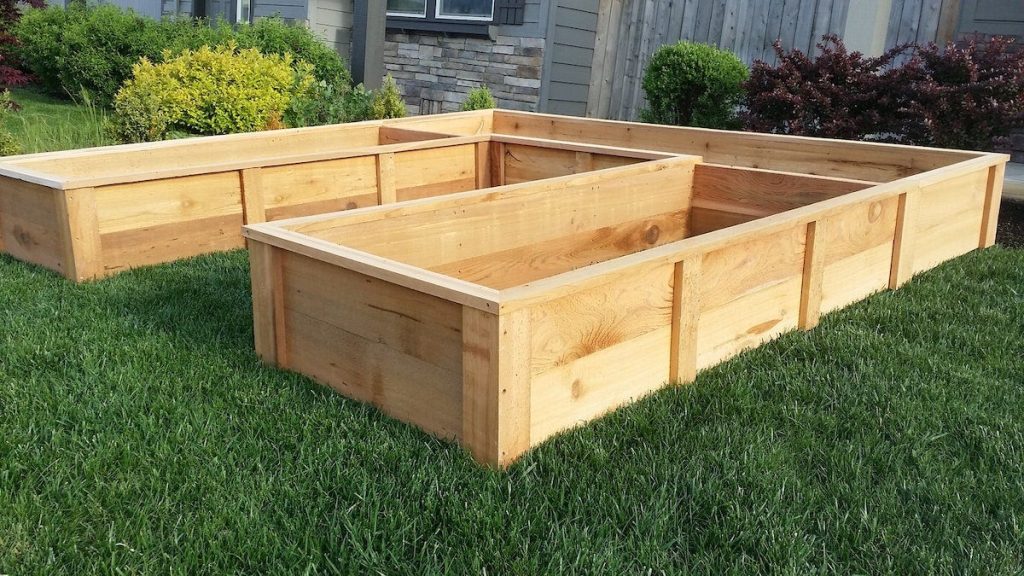 Even if your garden is small and compact, a garden bed is a solid, long-lasting structure that usually takes effort to shift. Hence, you should settle on the ideal spot in your garden before you begin planning for the entire project. Preferably, select a level that receives enough sunlight.
2. Organize the Components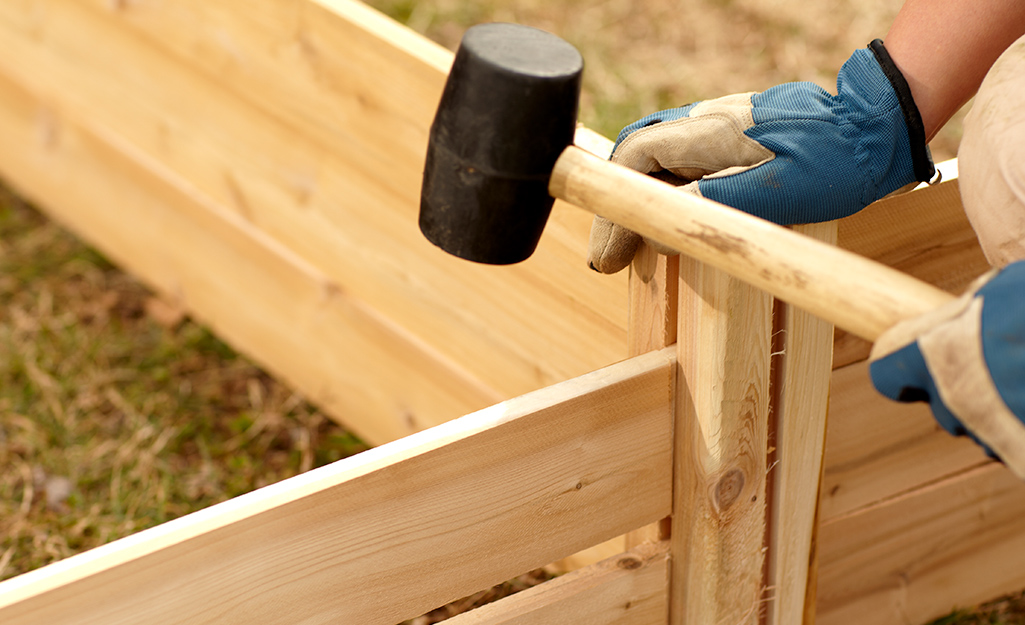 Since a raised garden bed is an elaborate structure, it is advisable to build it in steps. Break it down into different components so you can start working accordingly. Next, assemble the parts in the garden. Make sure that each side is level with the ground and fix it properly a few inches into the ground.
3. Fill In The Bed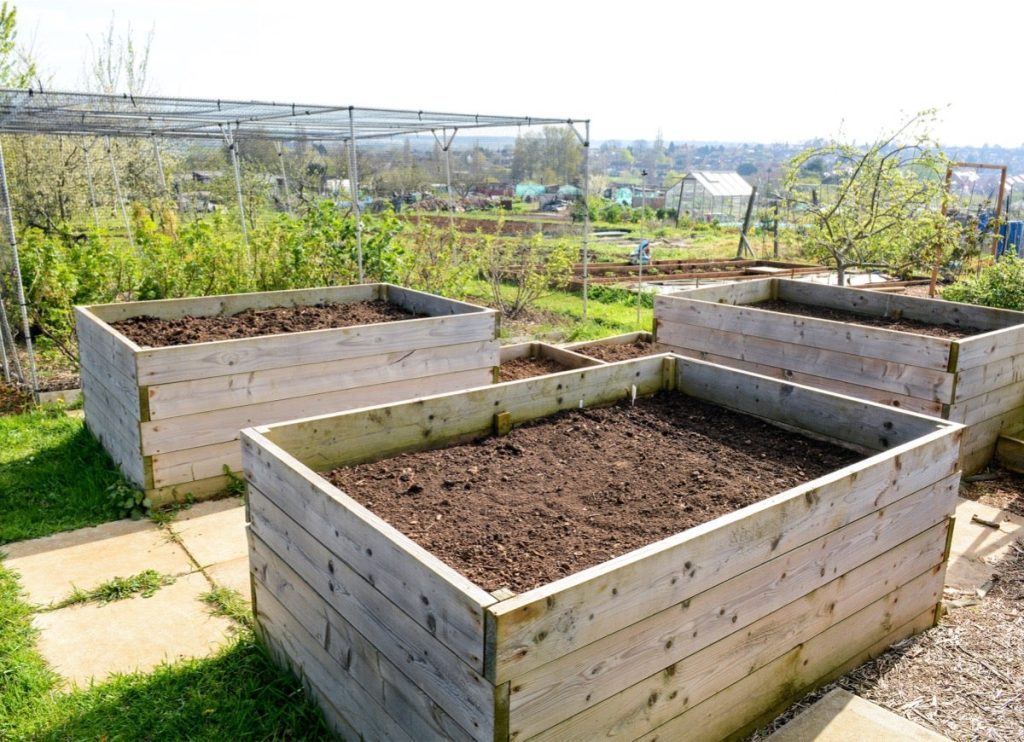 The next step is to fill in the frame of your raised garden bed. You can use any soil supplements or organic fertilizers you want. As an added tip: line the bottom of the frame with newspaper or cardboard and wet it thoroughly before you put the soil. This will ensure the stability of the bed.
4. Fashion Your Plants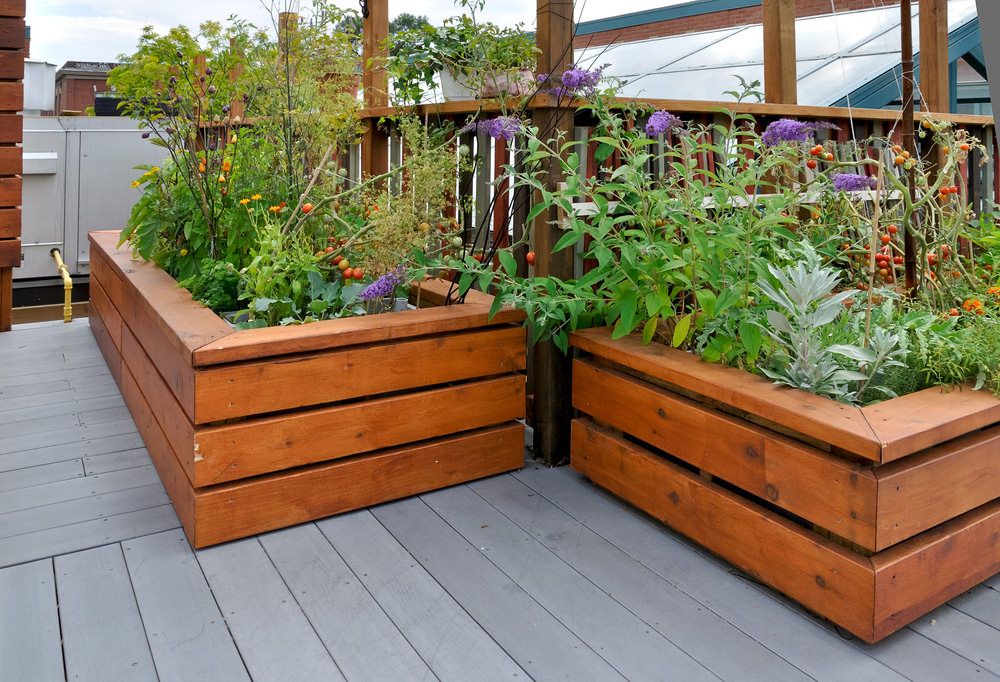 Lastly, you can plant any flowers, herbs, vegetables, or ornamentals you want in whichever way you like. You can experiment with different colors of flowers, separate the various species, or even mix all of them and plant them together for a more organic and natural-looking garden bed.
Why Prefer a Raised Garden Bed?
Other than the aesthetics, a raised garden bed has many advantages over a traditional gardening layout. We have listed some of the top benefits below.
Convenience: Raised garden beds take much less effort when compared to traditional gardening. You don't need to add fertilizers and soil supplements routinely to maintain the fertility of the soil. Instead, you can directly add manure, compost, or mulches to the top of your soil bed.
Ease: Since you can mount your raised garden beds anywhere you want and at any height, the need to bend down in the sun and work on the soil vanishes. It will help you reduce agonizing back and joint pain, which has developed due to stringent gardening over the years.
Safety: Here, by safety, we imply the safety of your plants. Many experienced gardeners have vouched that the fear of critters, slugs, and other harmful insects is much less in a raised garden bed. Especially if you border your structure with copper flashing, you can say adios to worrying about an infestation.
Drainage: It's been proven that raised garden beds support a better drainage system. In regions experiencing constant floods and heavy rainfall, this is a stark advantage since, sometimes, it might be the only way to achieve a full growing season throughout the year.
Temporary: In today's fast-paced world, people prefer renting apartments over buying houses since it allows them the freedom to move whenever they want to. If you are in constant motion as well, then a raised garden bed is apt, as the small ones are portable and temporary.
Purity: Soil contamination is an ever-rising threat, especially for people living in urban areas where chemicals and heavy metals like lead are absorbed by the soil. This contaminated soil can result in toxic vegetables unsafe for consumption. A raised garden bed is a safe way to keep your kitchen produce pure.
Best For Beginners: Because of the easy process of installing a raised garden bed, they're highly suitable for amateur gardeners or those who are just beginning. Although the initial investment might be a little much, the results are great and almost always assured.
Conclusion
As elaborated in our guide, raised garden beds are not only an incredible way to beautify your garden on a budget but they are also well-suited for beginners who wish to explore gardening. The procedure of installing one is quite simple as well. You begin by exploring inexpensive raised garden bed ideas and select a theme you like.
Once you construct the frame or structure of the bed, you add the soil, compost, manure, and other supplements to enhance its fertility. Next, you can plant any vegetables, herbs, and flowers you like, and there! You're good to go!
Raised garden beds are also more beneficial than normal gardening techniques since they're portable, temporary, more convenient, employ better drainage, and ensure the safety and purity of the produce.
While installing a raised garden bed in your courtyard, what has been the most challenging obstacle you overcame? Let us know in the comments section below!
Frequently Asked Questions
How to Save Money on Raised Garden Beds?
The easiest way to save money on raised garden beds is to repurpose the old household materials and upcycle them to construct a frame. You can also use wood or concrete since they're inexpensive materials for building the structure of a raised garden bed.
How Deep Should a Raised Garden Bed Be?
In general, raised garden beds should be at least 8 inches deep. This allows enough depth for drainage and for the water to seep naturally. Many plants that are sensitive to excess water thrive in a setting of raised garden beds.
Which Soil is Best for Raised Beds?
To obtain the best results in a raised garden bed, you should preferably use sandy loam soil. It is loose, rich in organic matter, and drains well. Hence, it has a better advantage over the native soil typically found in courtyards.
What is the Best Size for a Raised Garden Bed?
The best size for a raised garden bed is between 4 feet and 10 feet long. For wooden garden beds, the frame can be constructed with boards that are eight feet long since it is also the most economical decision.
What Are the Different Types of Raised Beds?
Raised garden beds are usually preferred since they work to lift plants and their root systems above the ground. The three types of raised beds are raised ground beds, supported raised beds, and container-sized raised beds. You should pick the one that suits your needs and garden space the most.