Rock gardens grow naturally in high-altitude areas, but how can you prepare them organically and with rocks in your region? If you are thinking of just placing the rocks in your garden to make it a rock garden, the last thing you want to do is ruin the original beauty of the original garden.
So how to create manufactured rock gardens?
You can also create Rock gardens in low-altitude regions with the help of rock garden flower plants, rock stones, pebbles, or boulders. You must carefully select the plants according to your region near your home, business office, or where you want to create the rock gardens. You can make them visually appealing, vibrant, low maintenance, and evergreen.
This article covers the 28 best modern rock garden ideas to help you prepare one. We have covered several modern rock garden ideas, from building appetite ponds to wild rock gardens and plants to flower selection and rock stones type; for these modern rock garden ideas to help you make better choices.
1. Rock Garden Curving Bed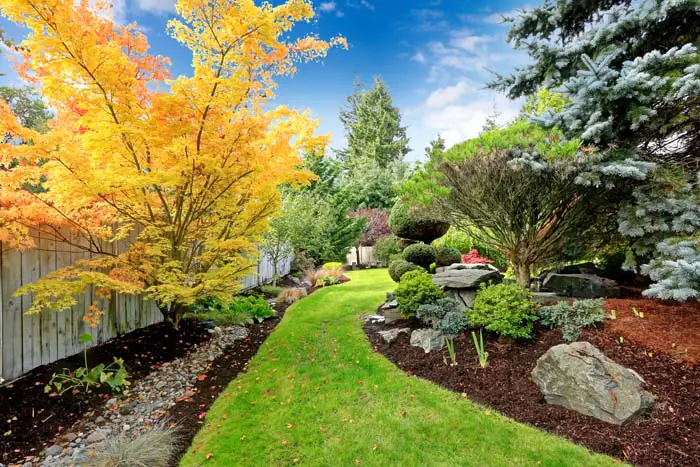 If there is already vegetation in its full growth and nature in your nearby surrounding, then a curving bed rock garden is the best option to make it creative. Make a curving path between the perennial beds for casual or meandering walks. Use rock stones that are similar in size to separate the path and perennial beds.
Plant the flower plants near the rock stoen boundaries, opposite the path. You can choose blossom and ornamental flower plants to make your rock garden more vibrant. Mature trees automatically remove the shadows and create different shades in your garden area.
You can also plant a few trees that grow fully to cherish the beauty of nature, as they will keep growing slowly and add a different look to your rock garden, making it an evergreen rock garden forest. Place one or two benches for sitting purposes to gaze at the beauty of this rock garden while relaxing.
2. Build a Petite Pond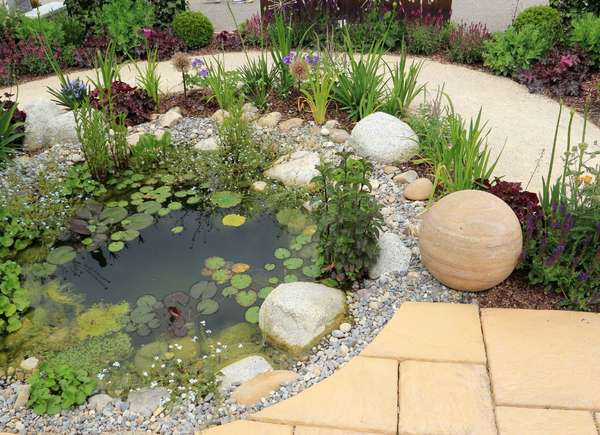 Create a little pond in your rock garden to make it more creative and stunning. Fill it with the small fish and grow lily pads on the boundaries. Add the small pebbles and different sizes of stones around the pond to make thicker boundaries. Create the flagstone or slate patio around the stone boundaries of this little pond to make these modern rock garden ideasmore creative.
For pebbles, you can use Caribbean Beach or Mexican pebbles. Grow flower plants near the outside boundary of the patio to make it a rock garden with a petite little pond.
3. Desert Rock Gardens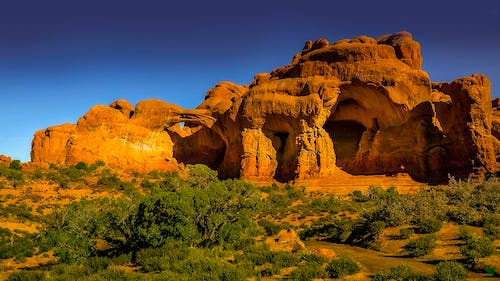 You can still prepare a desert rock garden in the appropriate climate areas. Use the garden's cacti and succulent desert plants to create desert rock garden vibes. To make it like a complete desert rock garden, select the color of the rocks to make them consistent and aesthetic. Red rocks and similar shapes are a good option to make a desert look.
Use gravel as the borders to retain the moisture for the long term. You can also use a few small stones inside the rock garden near the flower plants to retain moisture for them in harsh conditions.
4. Landscapes Rock Garden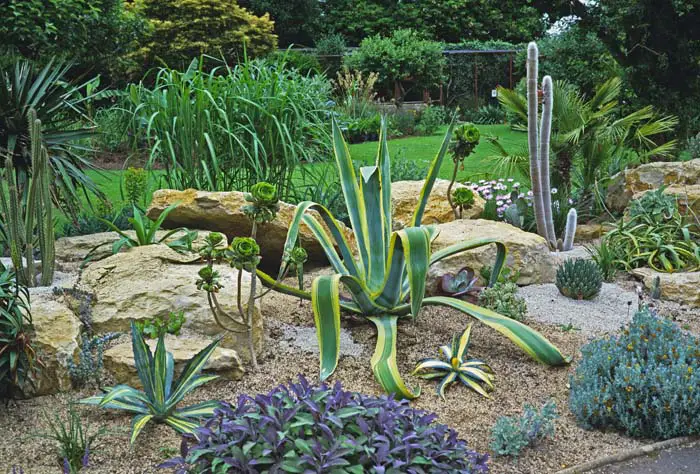 You can try easy landscaping or desert landscaping, depending on the soil conditioning of your region. For easy landscaping, create and use the rock stones as a border around the lawn area.
Use a few wooden posts to place them on the borders to create vertical boundaries. Fill the space of the border with gravel. Like the balanced modern rock garden ideas, you can use flower plants and clumping grass to cover the ground.
For dessert landscaping, you have to use the ground cover grass that can sustain in the hotter sand and areas and tolerate the drought conditions. Plant cactus and succulents instead of flower plants to make it a desert landscape.
5. Wild Rock Garden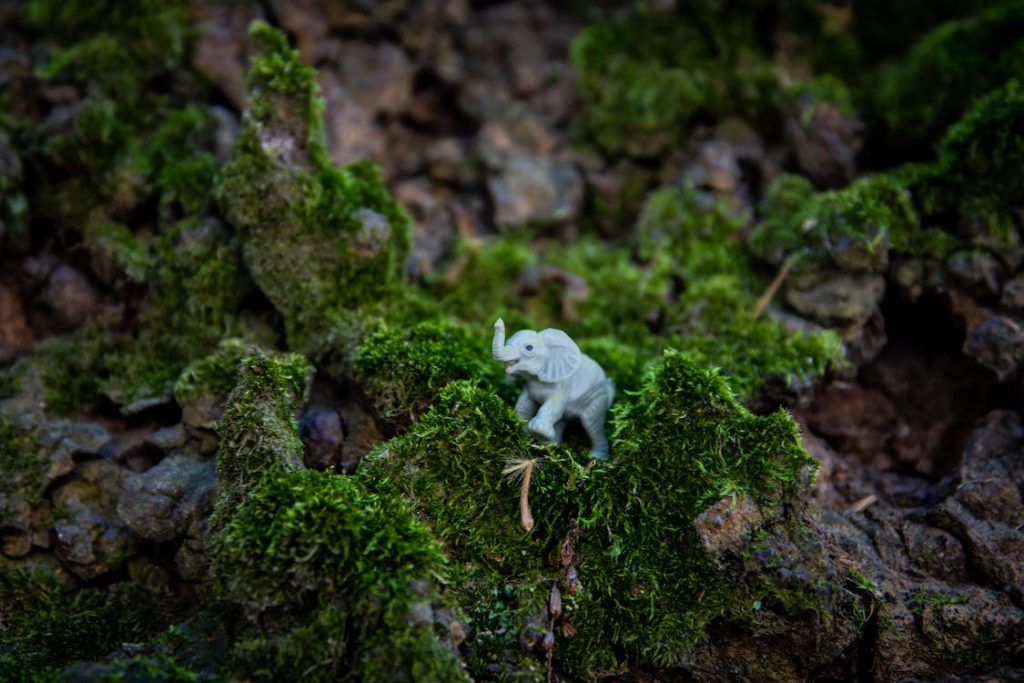 If you are fond of nature and natural wildlife, Wild Rock Garden is the best rock garden. You can create this garden near your home, business office, or other places where you want to build it.
Use river and mountain rocks to prepare this rock garden, and plant wildflowers suitable for your region's environment. You can get them from the nearest nursery store or nearby wildlife natural areas if permitted.
6. Trendy Modern Rock Garden Ideas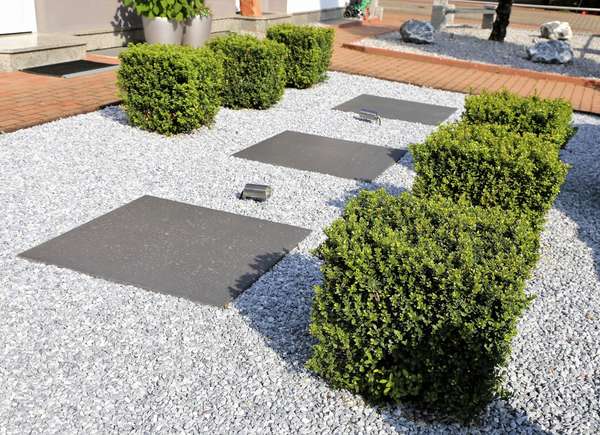 If you want to create a trendy and low-maintenance rock garden, these modern rock garden ideas are worth trying. This modern rock garden is great for people who love discipline and everything organized and in line.
To prepare this modern rock garden, you will need pruned shrubs and square pavers that are oversized and monochromatic stones. Cut the leaves of pruned shrubs to give them the shape of a square or rectangle.
Use marble chips instead of rock stones for the minimalistic modern rock garden ideas. Place the monochromatic rectangular stones between the planted pruned shrubs to create the overall look of your minimalistic modern rock garden ideas.
7. Gravel In The Garden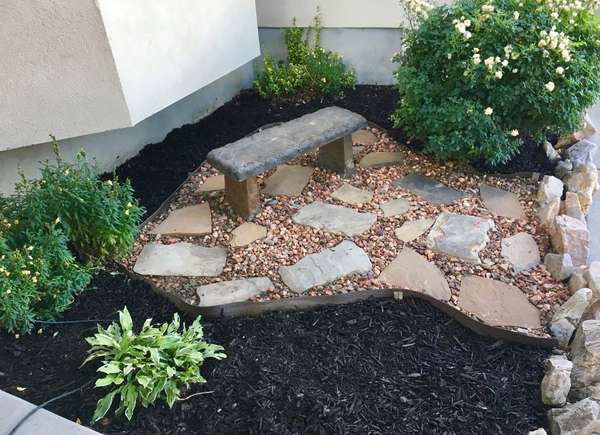 Create a simple flat bench in one corner or center of your rock garden. Put the gravel beneath it with the flat rocks and stones. Create a creative gravel patio below the rock bench. This combination will look visually appealing from a distance without the flower bed.
Beside the Gravel patio, put the black or red mulch, and use small colored pebbles or stones to fill the space. Plant the flowery bushes to create boundaries in your rock garden, and use the small plants that blossom in contrasting colors to the mulch and gravel patio will make your rock garden stunning.
8. High Altitude Planting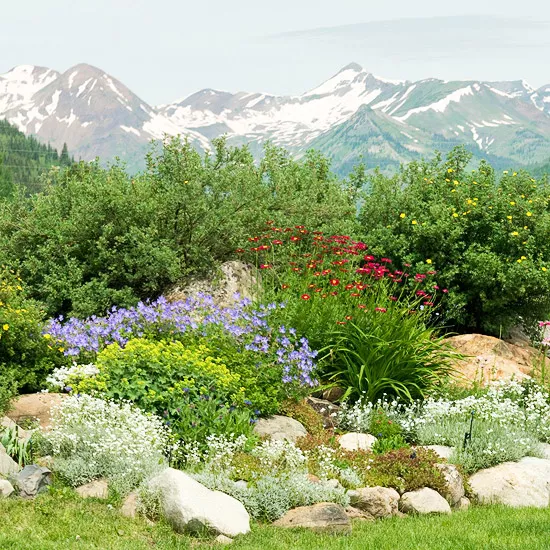 Generally, common and natural rock gardens grow on high mountains. You can find them where they can withstand harsh conditions like drought, fast breezes, winds, and hard base ground.
You can also create common natural rock gardens for yourself or your area. Plant wildflowers that have complimentary hues to make them more aesthetic.
Incorporate mounded plants between the big plants and shrubs. Carefully lay down the mountain stones in between or near the flower plants at a sufficient gap so that they do not affect the growth of flower plants. To create a boundary for your rock garden, use vertical plants or shrubs that grow stronger and protect the wildflowers, other delicate herbs, or smaller plants.
9. Asian Style Rock Garden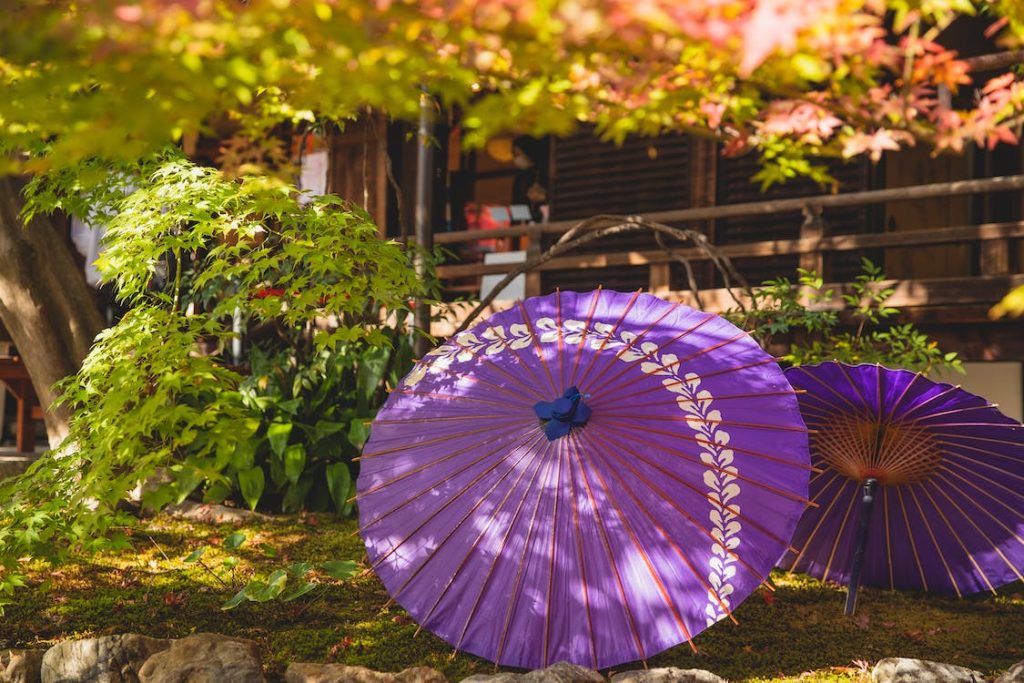 If you are thinking about beautiful rock gardens that look graceful and you want the vibes of nature, opt for the East Asian rock garden themes. To complement the rocks in an Asian garden, you can also incorporate a few Asian symbols, pagodas, and Asian plants.
To create it an evergreenrock gardem. Add Bonsai plants and other evergreen plant species suitable for your region's soil. You can design your asin theme rock garden with Zen experiences for calmness and peaceful vibes.
10. An Otherworldly Atmosphere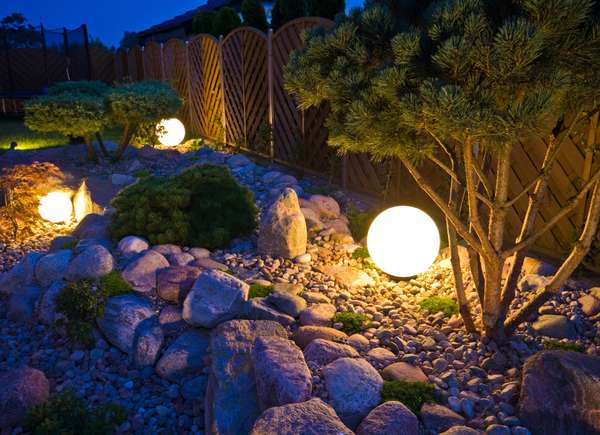 If you are a night person and love to spend a few hours outside the home in the natural air, then this otherworldly atmosphere idea is worth trying. This rock garden idea completely changes the vibes of outdoor living space.
You can enjoy sitting in a cozy corner of this rock garden under the waning light, unwind, and eye-pleasing scenarios. To create this rock garden, you can use the big rocks to blend into your garden background.
During the evening or after sunset, this garden looks like a moonscape by the effect of softly glowing lights. Use different sizes of rock stones to fill the space and plant a few trees to make it stand out. Use the low-grown grass to fill the space of rock stones and to create small green bushes in the rock garden.
11. Divide and Conquer a Large Lawn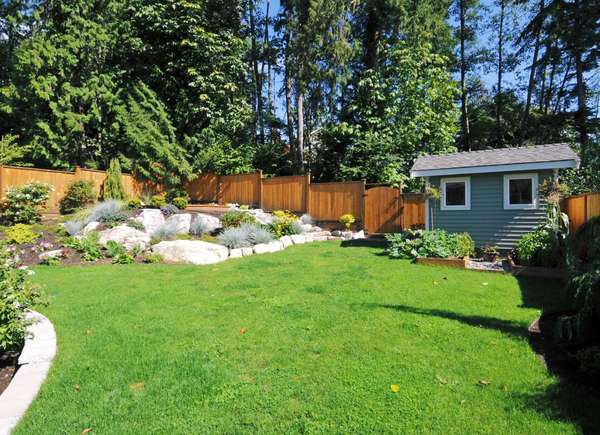 If your house has a large yard and the grass grows quickly in your region, dividing and conquering the lawn is a great idea to make it visually appealing. Divide your lawn or yard area into multiple spots and grow the rock gardens in the corners.
Use boulder rocks to make it an affordable and creative rock garden. As suggested in this post, you can create any rock garden by divide and conquer. You can create her gardens or bee garden in the leftover lawn spaces and the rock garden.
12. Retaining Walls Around Patios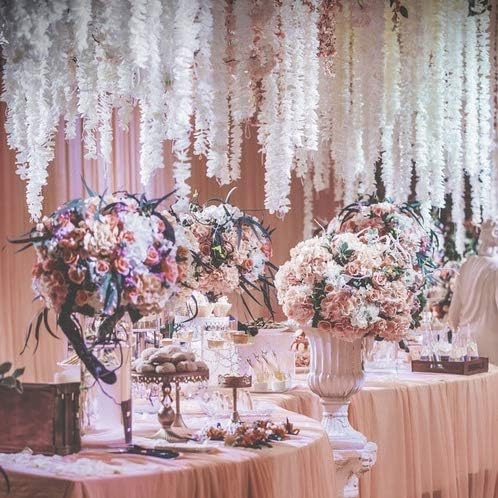 If your yard has hills or steep levels, retaining walls around patios are worth trying. Create two different levels to prepare the rock garden. Use the lower level for the seasonal planting, prepare the flower beds, and build a fireplace.
Use the flower or plant vines to cover the area and make it natural for the upper level. You can use the white wisteria vine plant if it is sustainable in your area's soil, as it needs great maintenance and a supportive structure for proper growth. You can also use the artificial White Wisteria Vine if you don't want to spend much time maintaining the upper-level retaining walls. This vine will cover the solid retaining wall and fill the area with circular shape flower vines.
13. Smart Hill Side Solution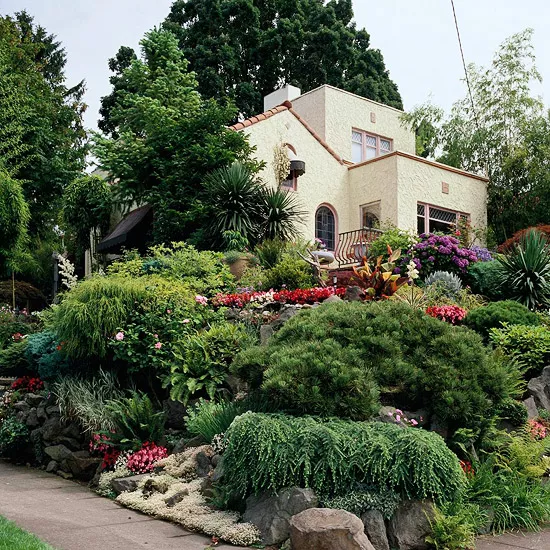 Want to create a rock garden that becomes a street-side stopper? Smart Hillside rock garden is the way to make one. You can easily create a smart hill garden if a sloping yard is in front of your home. Convert the sloppy front surface into a hillside rock garden by planting the rock garden flowers.
You can use pines, yucca, creeping cedar, ornamental grass plants, and many others like these. Plant a variety of eye-catching rock garden flowers and plants to make your rock garden more vibrant and place boulders from your locality. Organize the boulder and stones to create the boundaries in your rock garden.
Using ornamental plants over these rock boundaries makes them like a natural plant layer. Smart hillside rock garden doesn't need mowing, and it looks so pleasing to the eyes and provides a soothing effect.
14. Defining Space with Structure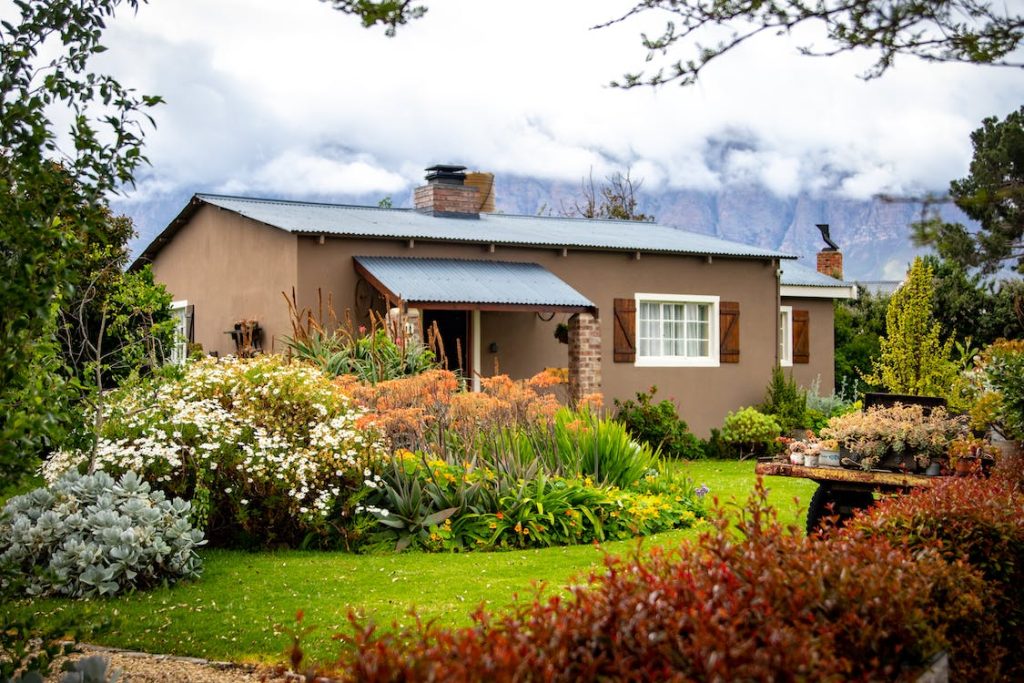 If you have a large yard in front or back of your home, this theme for a rock garden is worth trying. You can incorporate structural elements to make it more creative and give different vibes to the lawn look. Plant a few trees that will grow like mature or full trees to make the space natural.
Create a fenced area for your rock garden in any corner or between the yard to separate it and protect the kids or pets from entering it. Create the flagstone path to join the different structure or connect it with the main path, street, or road. Plant the flower plants with blooming colors around the flagstone patio path to make it more vibrant.
15. Stunning Dwarf Conifers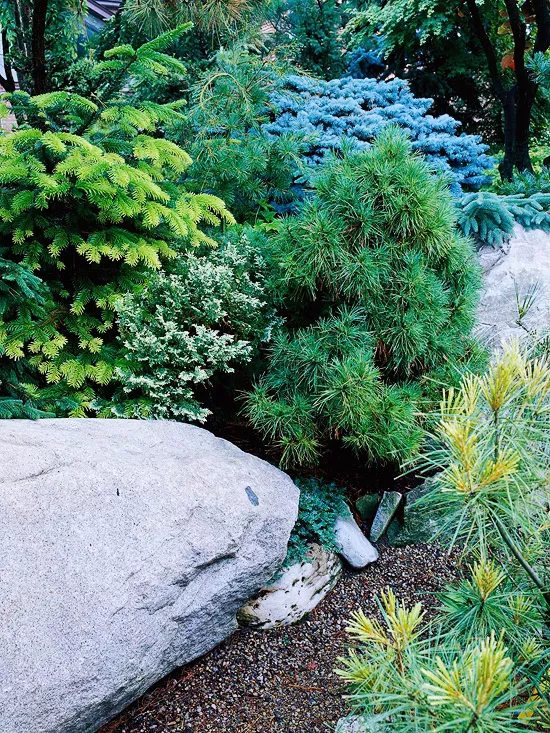 If you want to create a cohesive look with the short heightened plants in your rock garden, this stunning Dwarf Coniferrock garden theme is a great choice. Stick to a particular color theme, such as silvery blue, to make it unified, and you can use different foliage textures in the unified theme.
Plant these dwarf conifers between the rocks, or mix them with the low-grown plants to maintain and create balance in your rock garden and make it more stunning.
16. Balancing Colors and Shapes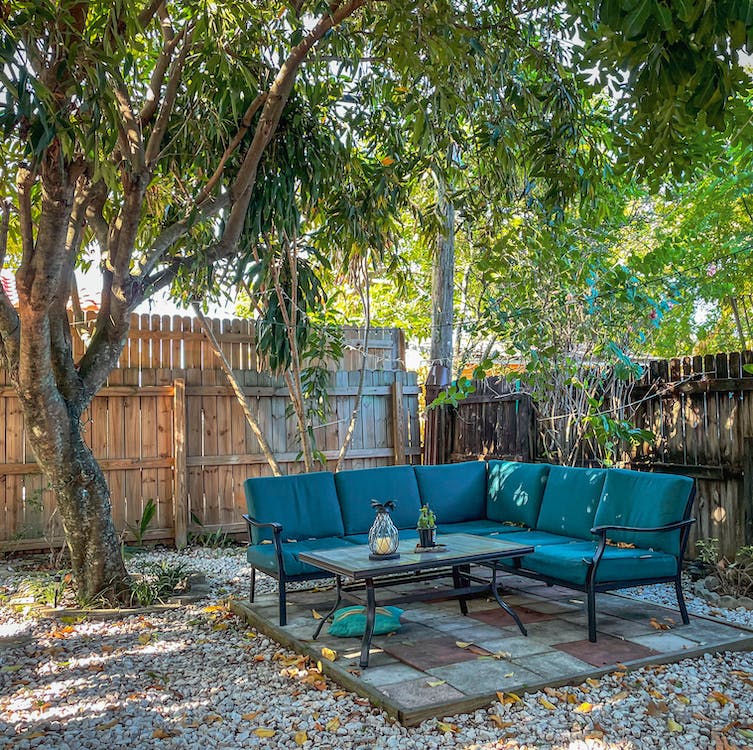 If you want to prepare a creative and affordable low-maintenance rock garden, then keeping in mind colors, shapes,s and textures will help you to prepare it and make it stunning. Prepare a modern outdoor sitting area attached to your garden or lawn areas.
Use moisture-proof furniture to make it sustainable for the long term. Install a propane stone fire dish to make it like a rock garden. Use neutral or gray color tones to make it visually appealing.
Plant the ornamental or flower plants on the boundaries of the sitting area to make it a part of the rock garden. Use the contrasting color blossoming plant to make it attractive and strike a balance.
17. Colorful Planting Partners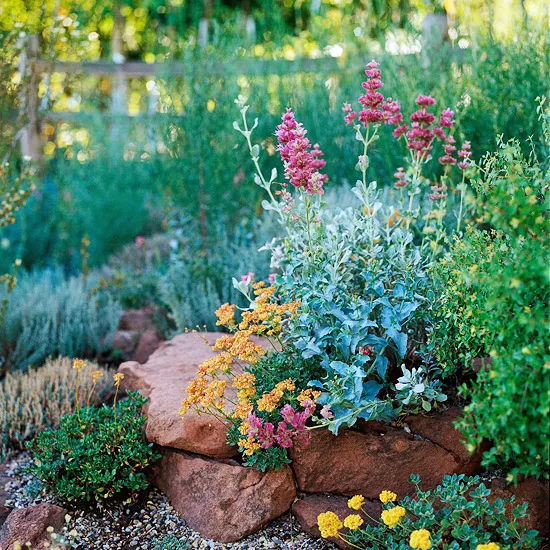 If you want to paint the complete garden with different natural colors, this colorful planting rock garden idea is worth trying. Use the eye-catching vignette shades of plants and flowers that can cover the landscape area of your rock garden. Use yellow, red, orange, and white colored flowers to compliment the green and light blue plants.
Smartly put the natural stones so they can become the support instead of restrictions for the flower plants. Plant the flowers that can thrive naturally with little or no maintenance and can tolerate the harsh drought conditions and air so that the landscape of your rock garden looks colorful throughout the year.
18. Color and Texture Rock Garden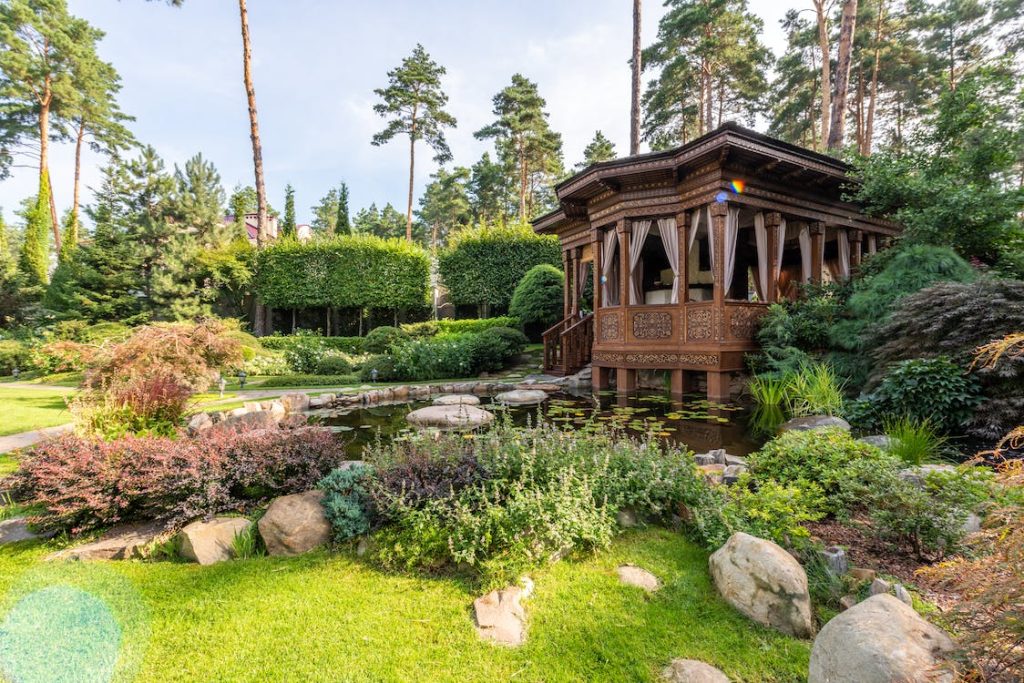 If you want to create a rock garden that dramatically impacts the eyes of garden visits, then the Color and Texture rock garden is a great choice. You can use pair striking plant foliage that grows with colorful flowers or buds. You can use flower plants that have leaves like feathers, and they can also add a good contrast with the colorful flowers of the rock garden at the same time.
Place some rocks between the colorful bloom to create more contrast, and use the evergreen drought-tolerant ground cover plants like junior juniper to cover the rest of the space of your rock garden.
19. Bridging the Gap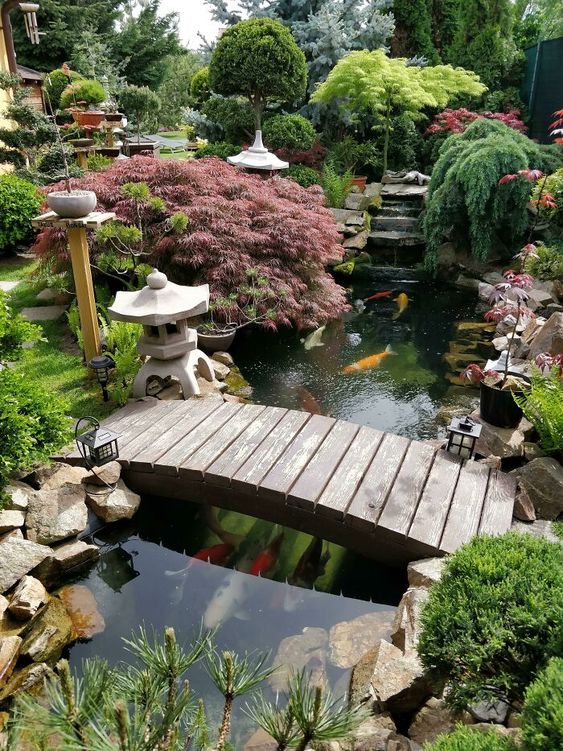 If creating a small pond or stream in your rock garden, make it more attractive and creative by adding a bridge to cover the gap between two edges.
To keep it natural, either paint it according to the theme of your rock garden or create a wooden bridge. This natural vibes bridge will create a stunning visual accent to your rock garden.
20. Cottage Garden Abundance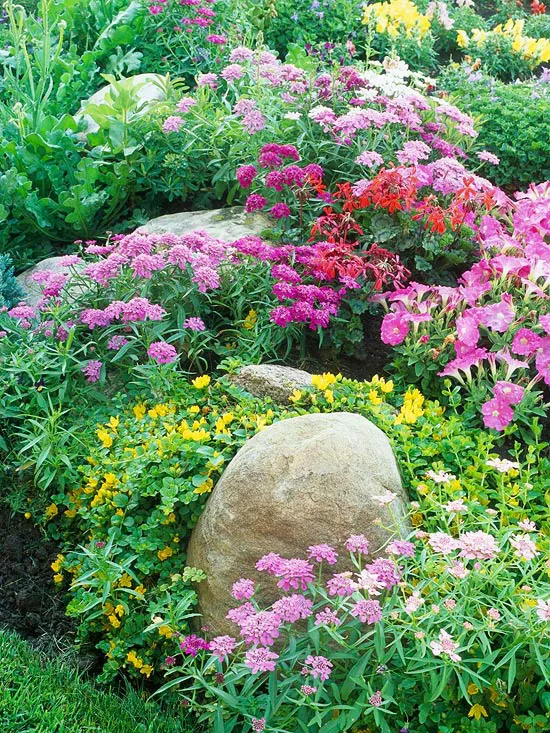 If you want to convert your garden into a rock garden with lush vibes, this cottage garden abundance is worth trying. Use flowers that have warm color tones like pink, yellow, and red.
Plant the flowers closely to make a group of tight bed flowers. Create several such groups, and lay the rock stones in the space between them. Fill the empty leftover areas with green grass.
21. Sculptural Beauty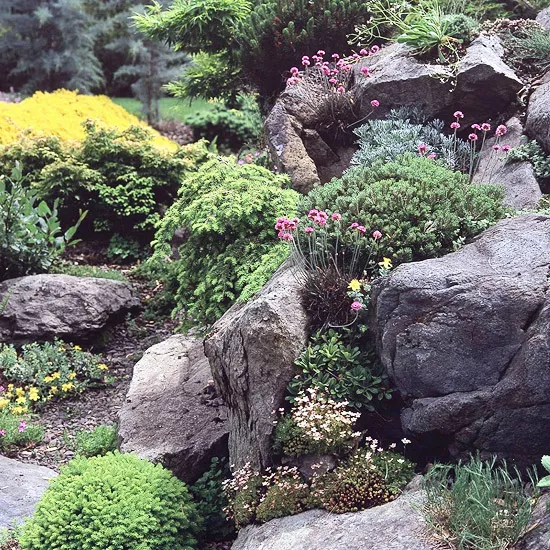 If you want to design your rock garden with rocks and plants, then a sculptural beauty rock garden is worth trying. Use the plants that grow with round texture and remain evergreen through the seasons and year. Place the rocks to create themes like rock beds, chairs, and shores, and get more creative with arranging them.
Plant the ornamental flower plants between the empty rock space to fill them. To create it aesthetic and visually appealing, choose the complimentary colors that can go well with the sculptural beauty.
You can use blossom plants like pink blooms of perennial Sea Thrift to plant in the space between the boulders and rock stones.
22. Stone Pairs Perfectly with Succulents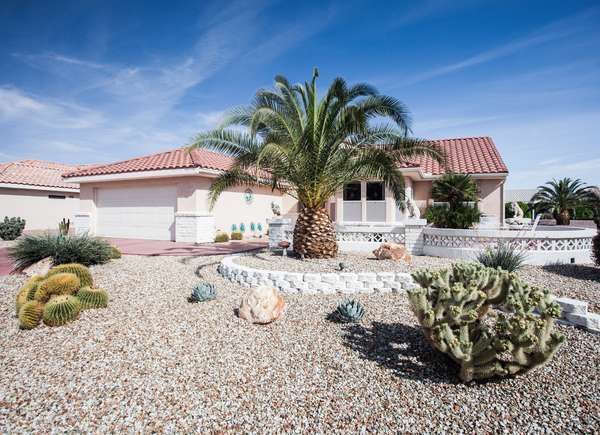 Stone pairs are the most suitable rock garden in drought areas. You can use pebbles of different colors to prepare the ground cover of the rock garden. Plant a few palm trees at a greater distance and prepare a smaller ground around them with the help of rock stones.
Plant the succulents with a red and green hue to make it like a garden. You can also prepare a few flower beds of succulents to make it a more vibrant, visually appealing, and bloomy rock garden.
23. Rock Garden Color Combination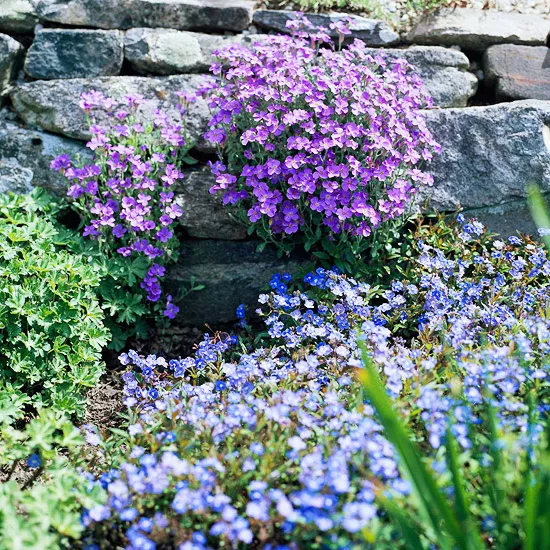 If you want to create a rock garden that can help you to calm your mood regularly, choose the right color combination for your rock garden. Use the groundcovers with analog hues that can grow faster in a cool environment. For instance, you can plant blossom plants that grow as blue and violet tiny flowers.
You can use the Waterperry Blue and Royal Blue ground cover plants to make it aesthetic. to cover the stone steps of your rock garden. In your rock garden, you can create a rock stone steps nook on one side or two to four corners.
Leave the space in the center of the rock garden for the flower beds. You can also grow Flower plants between the rock steps to make the rock garden more eye soothing and gentle.
24. Keep It Simple with Stones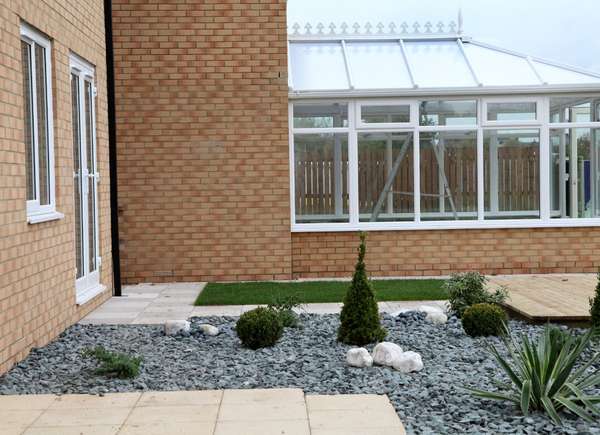 If you want to create a background of a rock garden, like a velvet ground cover, this option is worth trying. You can bring the attention 0f eyes or visitors to special things like small-grown flower grass plants, ornamental grass flower plants, or even notable rocks.
Fill the ground cover with local stones or smooth pebbles. You can use pea gravels, chinky creek rocks, or snowy white stones to make it a complementary and creative rock garden by keeping it simple yet beautiful.
25. Creative Edge Treatment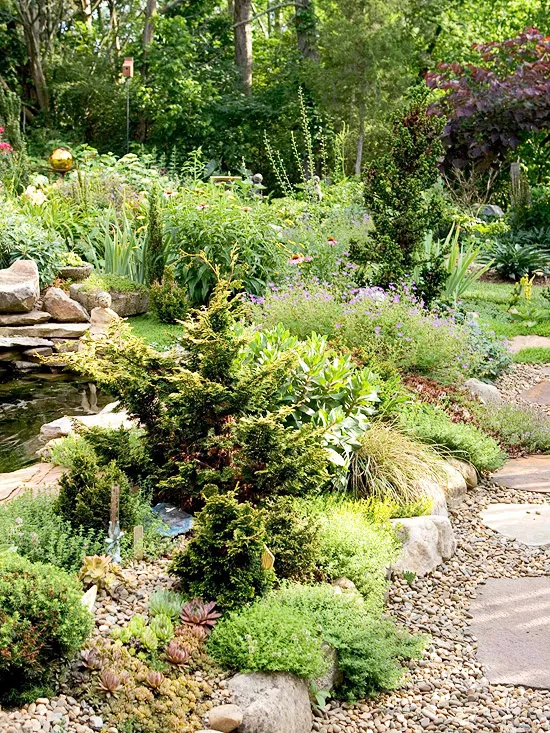 If you want to create a seamless flow in your rock garden, try the theme of creative edge treatment. Create theme areas with rocks or flowers around the rock edges to make the boundaries or narrow paths for more creativity.
You can also create a boundary with a curvy row of rock stones to separate it from the nearby walkways and grow the flower or green low-grown plants on the edges of these rocks.
Ensure that the plants you use to create positive vibes in the rustic nature of your rock garden. You can use the plants such as Purple coneflower, geranium, sedum, and more like them for the complimentary visual rock garden.
26. Small Format Flair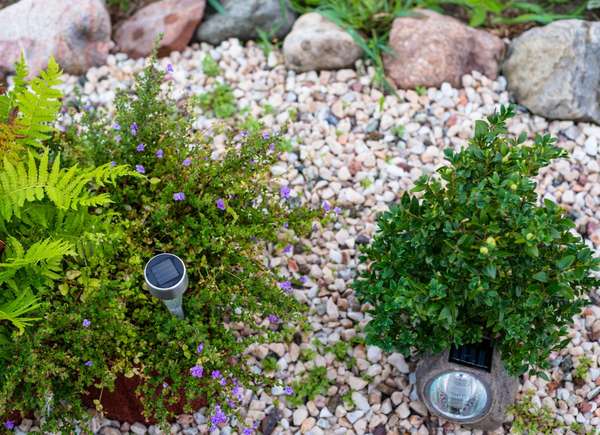 To prepare the small format flair rock garden, you must focus on the accent of rocks and gravel. You can prepare this rock garden if you have a small yard or want to get creative around the outdoor steps of your house.
Place a few rock stones to create the boundaries. Fill the ground cover with gravel or big decorative colorful pebbles to make it attractive. Plant a few blooming flower species to make it like a small garden. You can create a dramatic rock garden with moonlike lava stones or black pebbles.
27. Designing with Succulents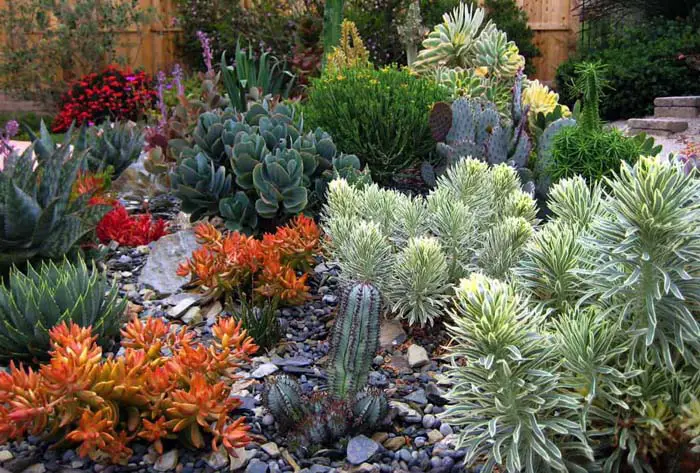 If you want to make your rock garden shiny and diminutive, succulents are worth trying to convert it like that. Plant the hens and chick succulents into the crevices of rocks and use the contrasting red and green hues to cover the ground of the rock garden.
To maintain this rock garden, you need to take a little care and need maintenance to keep this rock garden alive. Succulents can thrive in dry conditions and hotter areas, so the maintenance requirements are lower than in other rock gardens.
28. Fireside Chats Modern Rock Garden Ideas
If you love spending time with your family outdoors for cozy meetups or gatherings during the chill evenings, the Fireside modern rock garden ideas theme is worth trying. For this, you have to create a sitting nook in the rock garden and a fireplace in the center of the sitting nook.
Around the sitting nook, you can plant small growing flower plants, and around those small flower plants, create the boundaries with the growing cover grass and rock stones. To make it minimal, use gravel or small size stones.
Final Thoughts
Every rock garden owner wants to make the most beautiful evergreen rock garden, and selecting the right type of rock garden plants and flowers to complement them with the right type of stones, boulders, or pebbles is the right way to make one.
We recommend the petite little pond for the smaller rock gardens or keeping it simple with the stone's modern rock garden ideas described in the post above. For the large lawn, Divide and Conquer is a suitable option; for night lovers, a magical atmosphere rock garden is the most suitable.
This list has covered 28 beautiful modern rock garden ideas to help you make your rock garden beautiful. Pick the modern rock garden ideas according to the area where you will build it, like smaller or bigger.
Frequently Asked Questions
What Modern Rock Garden Ideas are Suitable for Small Backyards?
Modern rock garden ideas suitable for small backyards are Petite little ponds, dwarf conifers, Retaining walls around the patios, Small format flair, Stone pairs perfectly with succulents, and keeping it simple with the patio. Get creative with the shape of the small rock garden and a selection of blossom plants. Use swings or floating benches instead of floor furniture for sitting or relaxation. Use these modern rock garden ideas in a small backyard using gravel or pebble stones instead of boulders or big stones.
What Modern Rock Garden Ideas are Suitable for Large Backyards?
Modern rock garden ideas for large backyards are Rock garden curvy bed, divide and conquer lawn idea, gravel in the garden, an otherworldly atmosphere, defining space with structure, designing with sculptural beauty, and creative edge treatment.