Do you think houses look incomplete without gardens? If so, then you would agree that having a beautiful front yard essentially increases the show of your house. Designing your front yard raises the worth of your property and adds an aesthetic touch to your home and its surrounding area.
According to Garden Pals, 55% of Americans involve themselves in daily gardening activities, and 35% of them prefer growing their vegetables and fruits. One can create flower beds, plant trees, and add some watering features to make an attractive landscape. A trend that has been popular through the decades is designing the front yard with stones and mulch.
So, if you are looking for front yard landscaping ideas with rocks and mulch, here is an interesting piece collating the 15 best ideas to decorate your front yard with rocks, stones, and mulch.
Front Yard Landscaping Ideas with Rocks and Mulch
1. Create a Rock Garden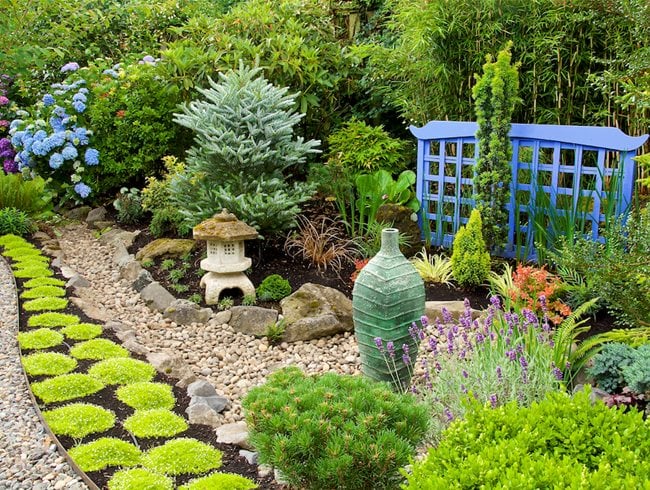 If you want to create a rock garden, all you need is big boulders and some attractive stones and rocks. The advantage of having this type of garden is that it won't require much maintenance over the years. One also doesn't need to use much water, and hence this idea is best suited for arid regions. Large boulders, a cemented bed for some foliage, and a few succulents would complete the look.
2. Try the Desert Look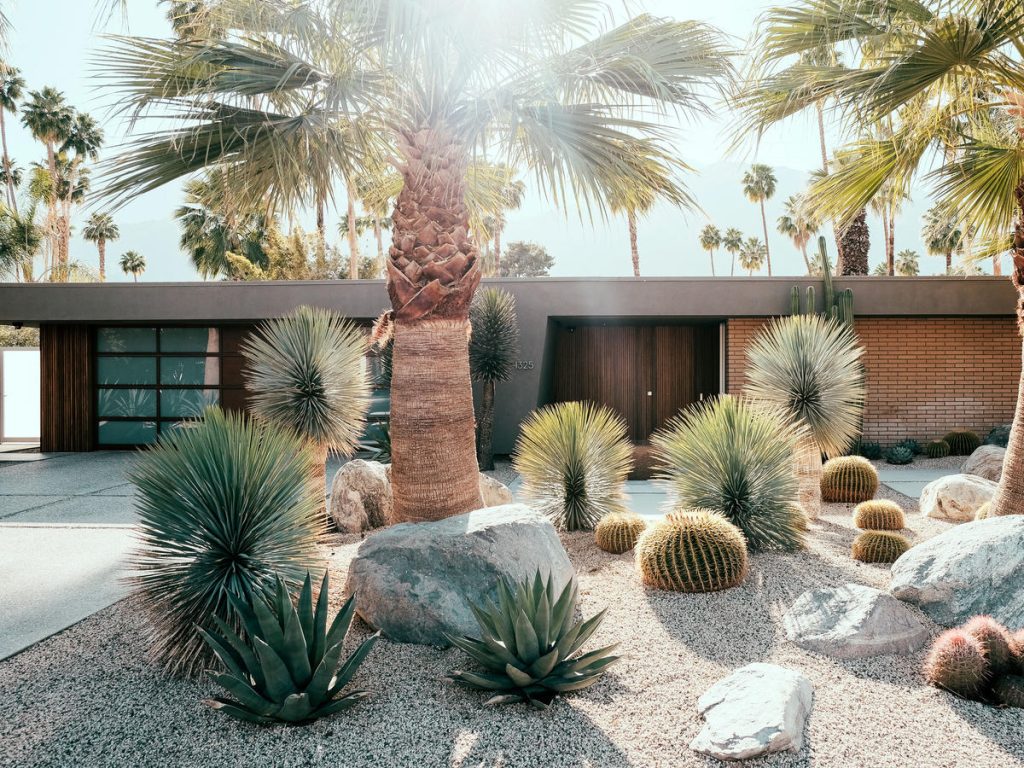 A desert oasis is perfect for relaxation and garden meditation. This kind of front yard landscaping would look marvelous for homes in the mountains and, of course, arid regions. Cacti and succulents will form the perfect flora, and along with it, you could use stones and gravel to complete the look.
3. Stone Walkway Design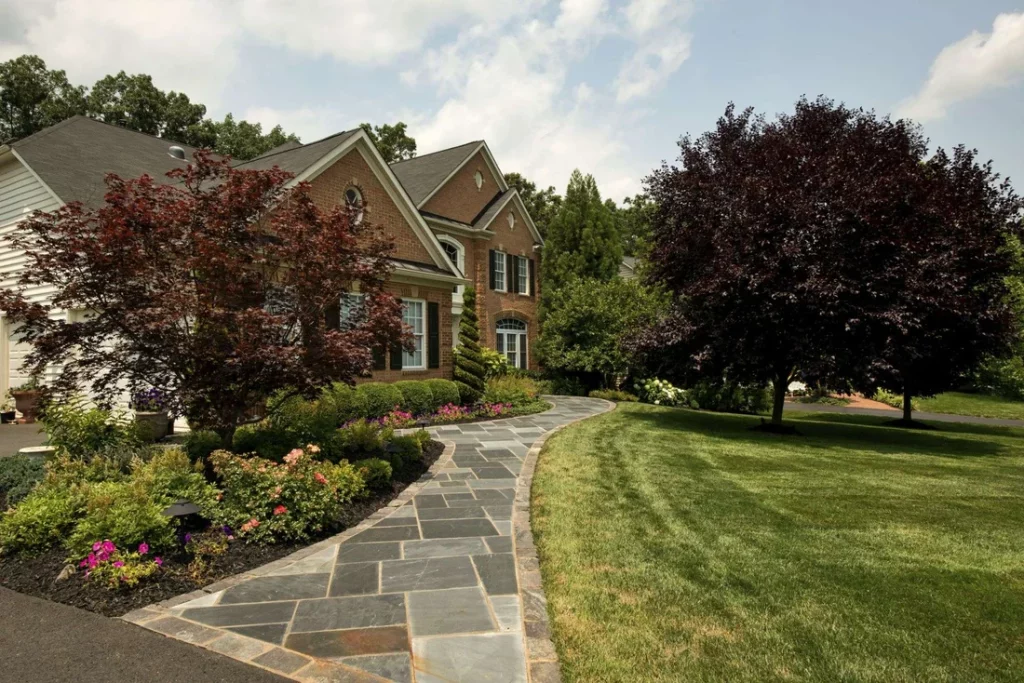 Another way of front yard landscaping ideas with rocks and mulch is to create a stone walkway. Doing this would create a natural walkway from your main entrance to your house's front entrance and also be the pivotal point of your front yard. Colorful stones would make your walkway attractive. You could also use stones of different sizes.
4. Elegant Front Yard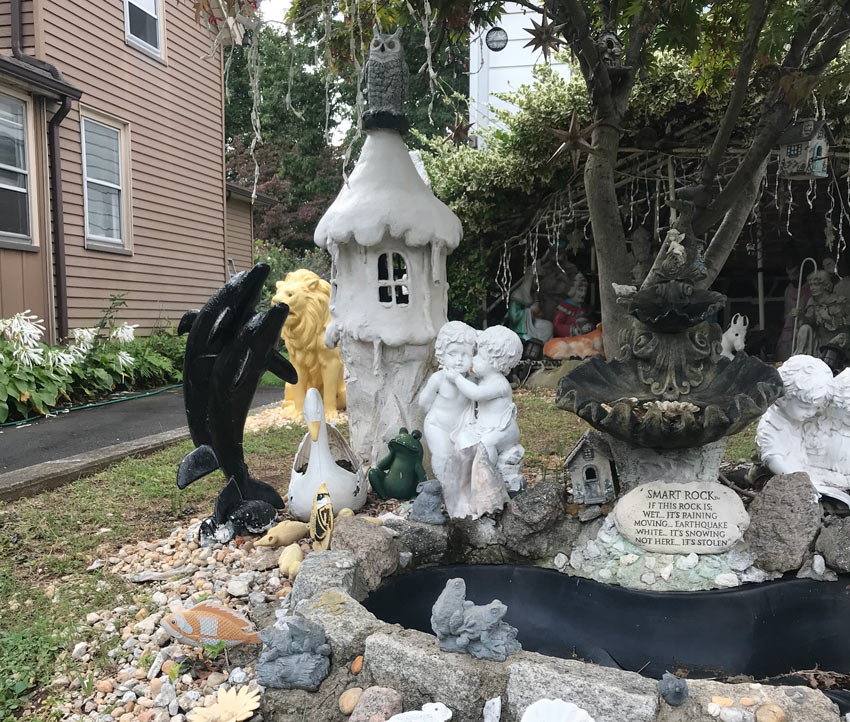 Floral plants, ferns, pines, ponds, and garden sculptures are the key ingredients of your front yard if you want to create an elegant formal garden. Mulch will form an essential element in creating this kind of front yard landscaping.
This idea is great for homes with lots of yard space and will enhance the show of your house immensely. It will also increase your property's worth and make your house stand out in the crowd of buildings and apartments.
5. Eco-Friendly Driveway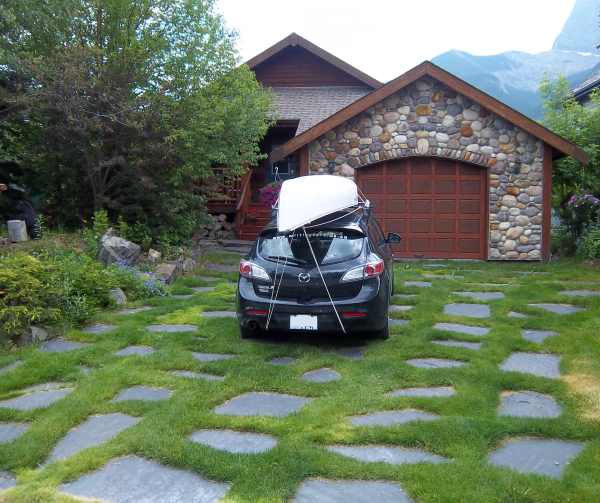 Are you one of the environment-conscious people out there? If you are, you could opt for creating an eco-friendly driveway. Wondering how? Well, all you need is two different varieties of granite, including decomposed granite and crushed granite. Additionally, you also need to use Flagstone. This way, you can ditch the toxic and expensive landscaping materials and have an eco-friendly driveway.
6. Beds and Borders Landscaping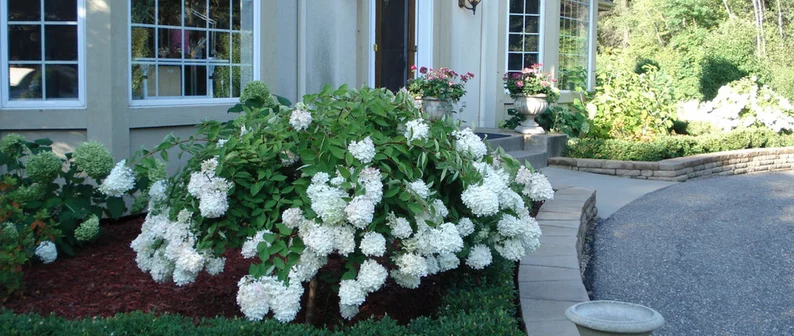 Beds and Borders is an urban landscaping design that includes creating flower beds and raised beds of greenery around the house. This is followed by using stones and gravel around the flower beds to create distinct and beautiful borders.
This is best for homes with modern architecture and flat-roof homes. You could also add an outdoor fireplace and a place for grills and cooking. Mulch and stones are both key ingredients of this kind of front yard landscaping.
7. Use Rocks Instead of Grass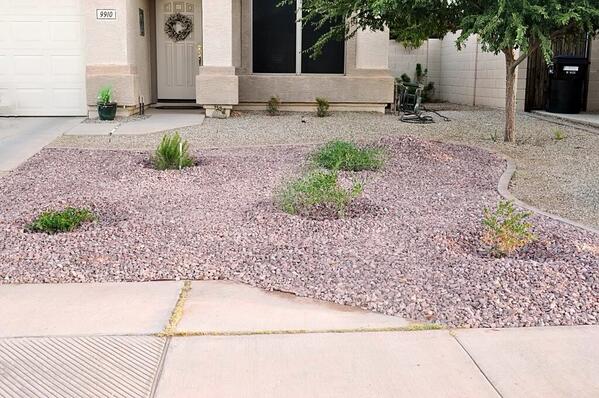 What do you need to create a drought-resistant landscape? Here is another front yard landscaping idea with rocks and mulch. An easy way is to eliminate lawn grass with rocks. Using rocks could also save the time required in maintaining lawns, mowing grass, and watering them. Colorful stones can look as attractive as grass. Rocks require less maintenance and are also good at eliminating weeds.
8. Make Floral Patterns with River Rocks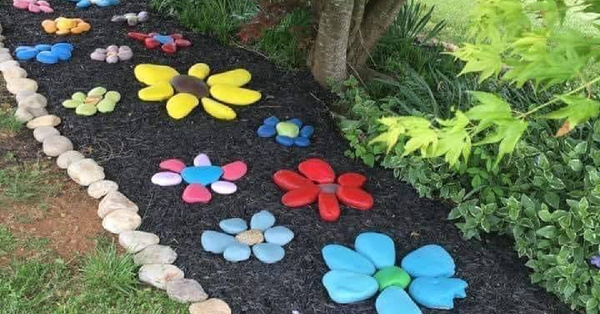 Here is another vibrant front yard landscaping idea with rocks and mulch. You could utilize river rocks of different colors to create floral patterns. You could do this alongside the walkway or around your driveway.
This would add that missing charm to your otherwise elegant home. Spiral structures are another way to design your garden space. For creating spiral structures, you could use round rocks
9. Create Stone Steps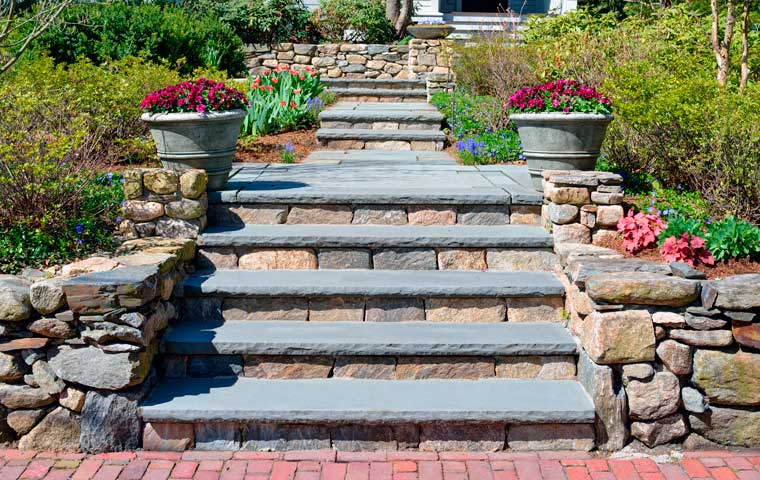 Having an uneven ground level is good for creating stone stairs. Large stones can be used to make flat, surfaced stairs. Limestone, granite, and bluestone become the ideal candidates for designing stone stairways. This would make walking on uneven surfaces easy and would also add an aesthetic touch to your front yard.
10. Eclectic Estate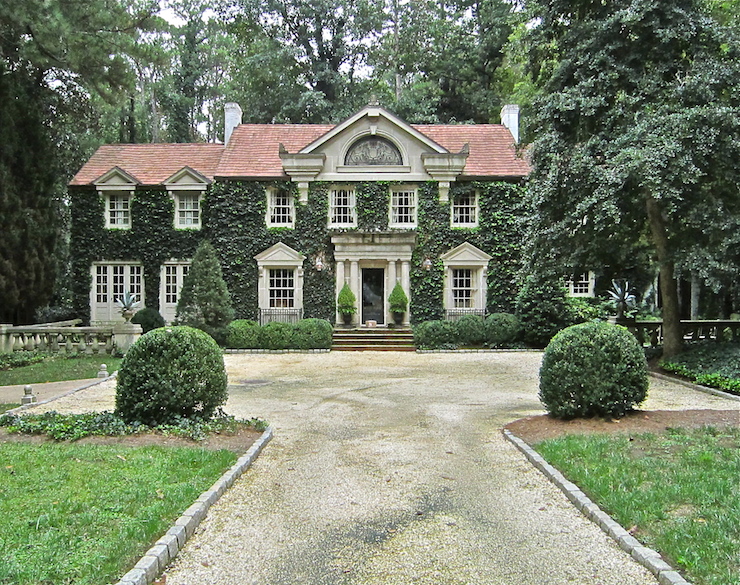 You have bought an estate of your dreams lately and set up your interiors. What do you want to do next? How about doing something about your barren front yard?
So, if you are wondering what to do, you can start with planting ferns, figs, and pines around the estate. You could also create a peaceful lawn in your front yard and border it with stones and rocks of uniform size. You could also add a stone walkway and solar lamp posts to complete the classic look.
11. Mulch Pathway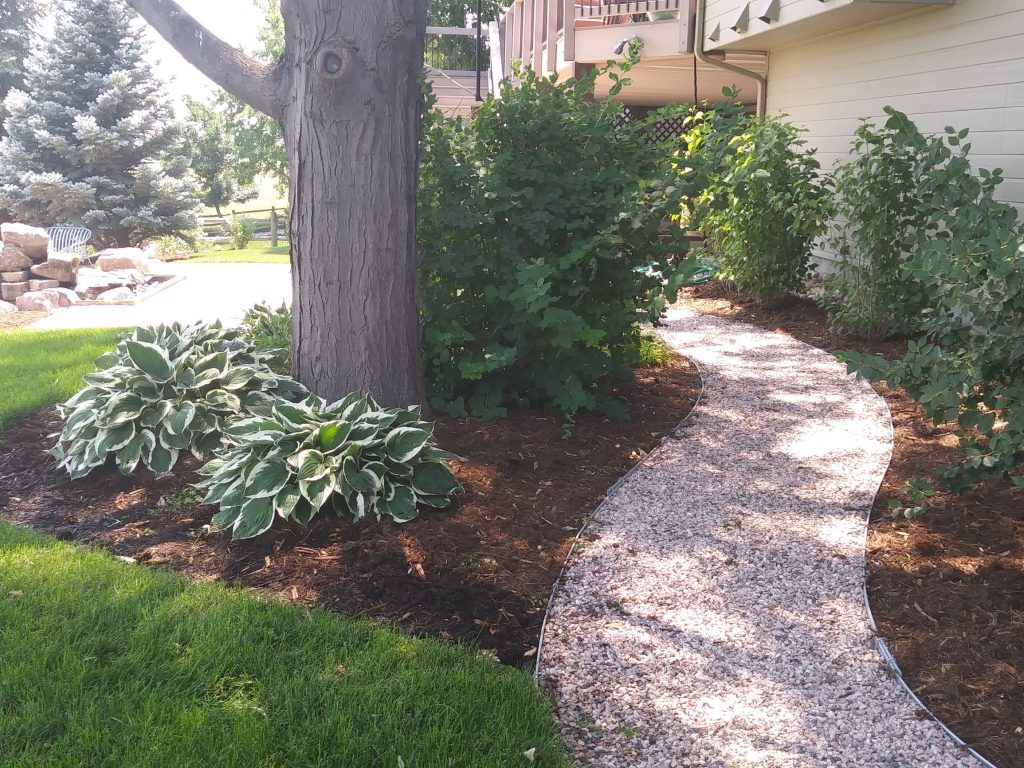 When it comes to finding front yard landscaping ideas with rocks and mulch, you could consider mulch as an ideal candidate for lawns and gardens. Mulch imparts nutrients to plants. It is inexpensive and gives a neat appearance to your front yard. Red and black mulch will also create a perfect contrasting appearance with the greenery of your garden.
12. Contrasting Your House with Rock and Mulch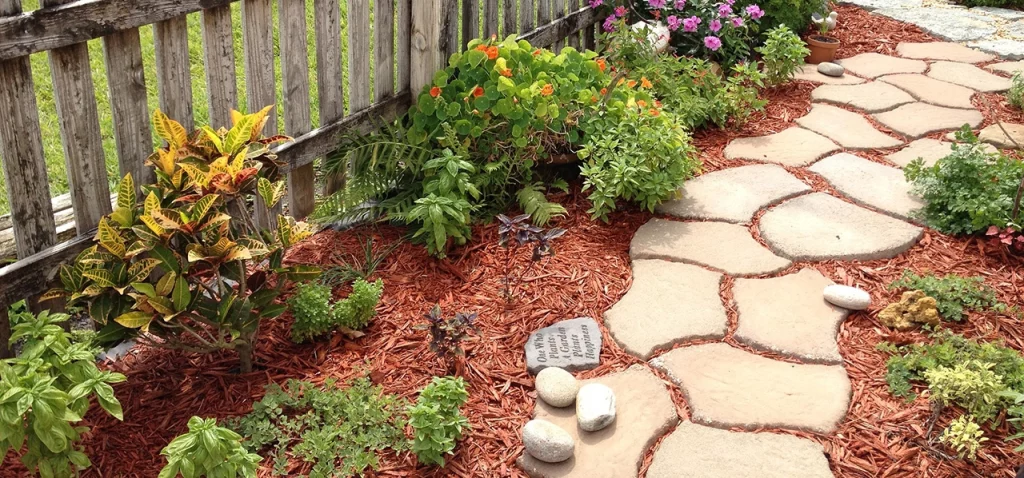 You can have a mulch bed on which you can plant flowers and other smaller plants. Further, you can use stones to line the path around the raised beds. Using footing stones is a great idea, followed by using some small and mid-sized rocks. This will create the perfect contrast you need to attract the attention of passers-by to your house.
13. A Walkway Made of Gravel and Pebbles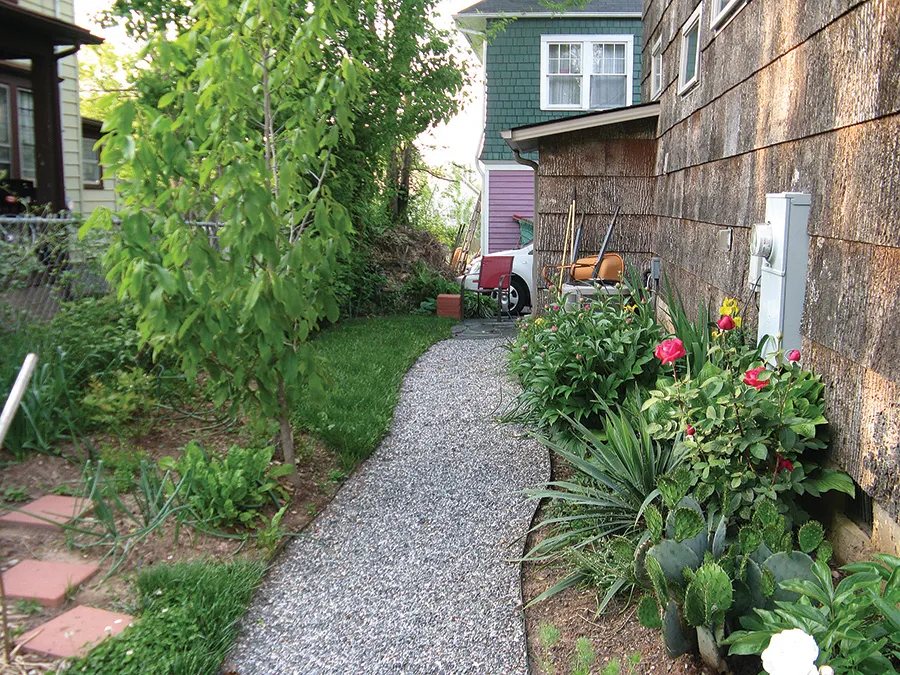 If you have kids at your house, it is better to use gravel to line the walkway as it is safer than big rocks and stones, which can hurt anyone should they fall down.
Installing a gravel path is also easier compared to making a pathway of stones and mulch. Pea gravel makes an excellent choice for installing a gravel pathway. Pea gravel has a smooth texture and comes in various colors.
14. Waterfall in Your Front Yard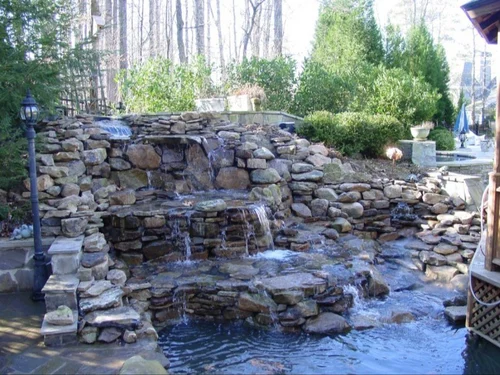 A cascading waterfall in your front yard is another way to impress your visitors. To create a wonderful stone waterfall, you need 30-40 stones of varying sizes and shapes.
You also need to install a submersible pump, pond liner, and some tubes. Some sand might also be needed to make an adjustable bed before lining the pond. And voila! Your stone waterfall will make heads turn.
15. Archway Landscape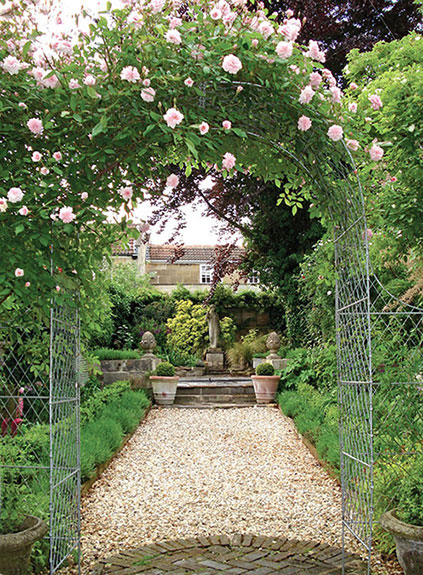 Walking under dense foliage is an ethereal feeling on its own. To create a natural archway landscape, you need to plant trees that grow up to great heights around a cobbled walkway created with boulders and stones.
You could also line the walkway with red mulch and small floral shrubs. This kind of front yard landscaping is excellent for people who love to walk while processing their thoughts.
What Is Front Yard Gardening and Its Different Types?
The front yard refers to the front portion of your villa or bungalow. To beautify your front yard, you must think of a plan first and make a selection of materials as per your budget. Based on your house exterior, you can decide which colors would look appealing in your garden.
Mulch and stones are excellent options to make your garden appear impressive. Mulch acts as a protective covering comprising dry leaves and flowers, compost, and other materials frequently found in gardens. It acts as an ideal material to add nutrients to the soil and is chosen by gardeners who love to sow vegetables, flowering, and fruiting plants.
Whereas rocks and stones are obtained from other locations such as river beds, lava rocks, and other places. Rocks and stones prevent soil erosion and flooding and facilitate water drainage and absorption. Thus, they become a suitable choice of landscaping material for places that receive heavy rainfall or are located across coasts, hilly areas, etc.
There are four distinct types of front yards.
Rain gardening – Suitable in dry climatic conditions, this type of front yard landscaping is situated adjacent to water bodies to absorb rainwater and prevent its complete drainage into nearby streams. Thus, it collects and reuses rainwater.
Container gardening – Using containers, bags, and pots to grow vegetation refers to container gardening. It is a modern and minimalist gardening approach and is well-suited for houses with limited yard space.
Xeriscaping – In this type of landscaping, less water is utilized to nourish the soil, thereby reducing the wastage of water and enhancing air quality.
Hardscaping – This common landscaping technique includes installing stones and gravel, planting trees, and maintaining a captivating look.
Concluding Thoughts
Designing your front yard raises the worth of your property and adds an aesthetic touch to your home and its surrounding area. Taking a walk in your front yard during the summer evenings and winter mornings can refresh you.
Besides this, a walk in your front yard or backyard can help you reflect over the day. Furthermore, gardening itself serves as a fantastic hobby and can boost your mental health. It can also act as a form of daily physical activity if you are not a fan of gymming or outdoor gaming.
So, you can make use of any of the above front yard landscaping ideas with rocks and mulch to make your front yard look spectacular. Even if you want to deck up your front yard on a low budget, we have got you covered with one of our ideas. Stones are inexpensive and rarely require replacement, so they can fit a low-budget plan easily.
That's it, folks! Further, you can let us know which idea seemed the easiest or most interesting to you by leaving your thoughts in the comments section.
Frequently Asked Questions
What is the Most Popular Landscape Stone?
When it comes to knowing which are the most popular landscape stones, you will see that river rocks, lava rocks, stone mulch, pea gravel, flagstone, fieldstone, and boulders form common choices for front yard decoration and beautiful landscaping. Nowadays, these landscape stones can be used for decorating your home's front yard and backyard.
What Rocks Are Best for Mulch?
Lava rocks are preferred for their porosity and lightweight, as these qualities enable them to retain water. Other than this, Pumice stone is also another expert choice due to its water retention properties. Both lava rocks and pumice stones come in attractive dark colors too.
Is It Good to Put Rocks Around Your House?
Rocks are effective in diverting water around the house and aid in water draining by preventing water logging around the house. Thus, it prevents basement flooding and is useful in houses situated at lower altitudes, cities with drainage problems, flood-prone areas, and coastal belts.
Which is Better – Rock or Mulch?
Mulch is a protective covering composed of dead leaves, compost, and other materials. Mulch is a favorite choice of gardeners when one wants to make the soil naturally fertile to grow plants and vegetables on it.
Contrary to this, rocks are great at preventing weeds, preventing water logging by promoting fast absorption owing to their permeability, and decreasing soil erosion. So, depending on the landscape, one should choose rocks or mulch.